Madrid is a city that never falls short of surprises. There's always something new to discover – a hidden corner, a charming alleyway, or an unassuming restaurant that serves the most delicious tapas. But when you want to take a break from the hustle and bustle of city life, it's good to know that you can take plenty of day trips by train.
---
---
Best Day Trips by Train from Madrid
In this article, we'll share the top 10 best day trips from Madrid by train. From picturesque medieval towns to stunning natural parks, these destinations are perfect for culture vultures, nature lovers, and history buffs alike.
So pack your bags, put on your walking shoes, and get ready to discover some of the most beautiful corners of Spain.
1. Toledo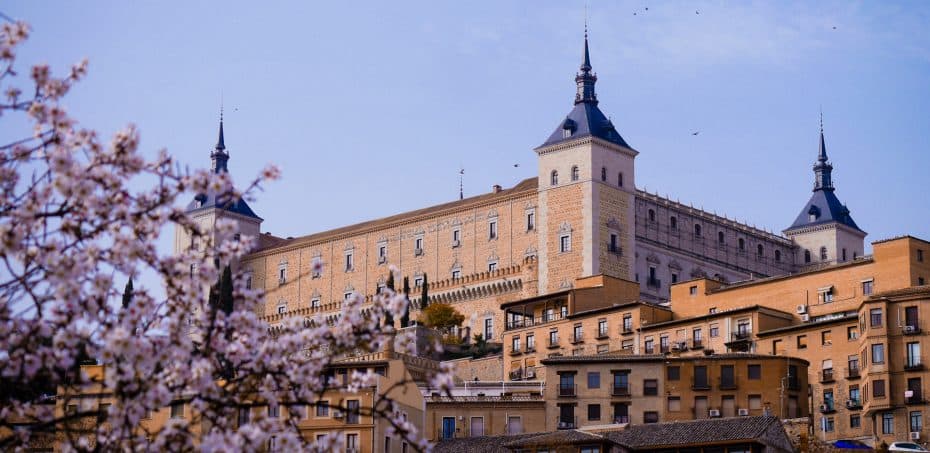 Toledo is a historic city in Spain, well-known for its unique blend of Christian, Muslim, and Jewish culture. It is located around 70 kilometers south of the Spanish capital, making it an ideal day trip destination by train from Madrid.
There are several significant attractions in Toledo. The Alcázar of Toledo is a medieval fortress situated at the highest point of the city and has served various purposes throughout history. Now housing the Army Museum, it offers stunning views of the surrounding city. Another notable site is the Toledo Cathedral, a remarkable example of Gothic architecture. Originally constructed in the 13th century, it houses an extensive collection of religious art and artifacts. Not far is the El Greco Museum, which contains various works by the famous Greek painter.
The former capital of Spain also boasts two ancient synagogues from the 12th and 14th centuries: Synagogue Santa Maria la Blanca and Synagogue del Tránsito. Both demonstrate Mudéjar architecture's influence on religious structures of the time.
To get to Toledo from Madrid by train, passengers must first arrive at Madrid's Atocha train station. Renfe, Spain's national railway operator, offers a range of train options including high-speed trains (AVE and Avant). These trains typically take about 30 minutes. Train services are available on a frequent basis with approximately one departure every hour during peak travel times.
The average cost for a one-way ticket on a high-speed train varies between €12 and €22. Prices are subject to change depending on purchase time and fare availability and can be booked online or at train station ticket counters.
---
2. Segovia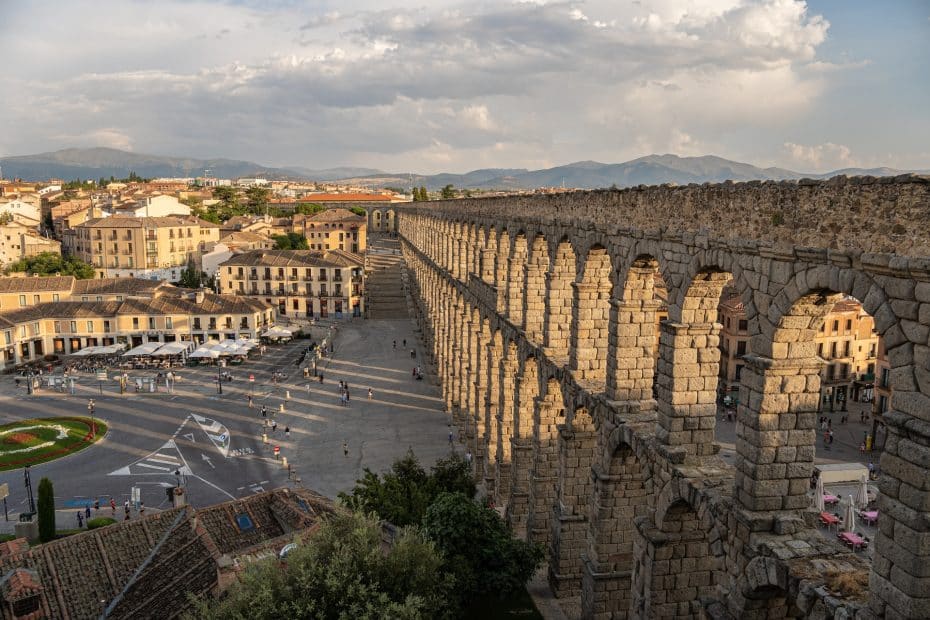 Segovia is situated about 96 kilometers (60 miles) from Madrid and is known for its well-preserved architecture and rich cultural heritage. It is considered one of the top 10 best day trips from Madrid by train, offering several attractions that capture the essence of this medieval city.
In Segovia, one of the most famous landmarks is the Roman Aqueduct. This ancient structure was built in the 1st century AD and is still functional today. Another significant point of interest in Segovia is the Alcázar. The castle was built in the 12th century as a fortress and later served as a royal palace, prison, and military academy over time. The structure's unique design, with its towering turrets, offers spectacular views of the surrounding landscape from atop its hillside location.
In addition to these historical attractions, Segovia's Old Town invites travelers to explore its charming narrow streets and plazas lined with shops, cafés, and restaurants. Various churches and monasteries can be found across town, including Segovia Cathedral – a prime example of late-Gothic architecture – situated in Plaza Mayor.
Reaching Segovia from Madrid by train is a convenient way to visit this UNESCO World Heritage City. Departing from Madrid's Chamartín station, travelers can choose from two types of trains: high-speed AVE trains or regional trains. The journey takes about 30 minutes on an AVE train or approximately 2 hours on a regional train. Train frequency varies throughout the day with a general timetable of one train per hour during peak times. Ticket prices range between €10-€20 for regional trains and €20-€30 for high-speed trains depending on the time of booking and available discounts. Check train schedules & fares.
---
3. Aranjuez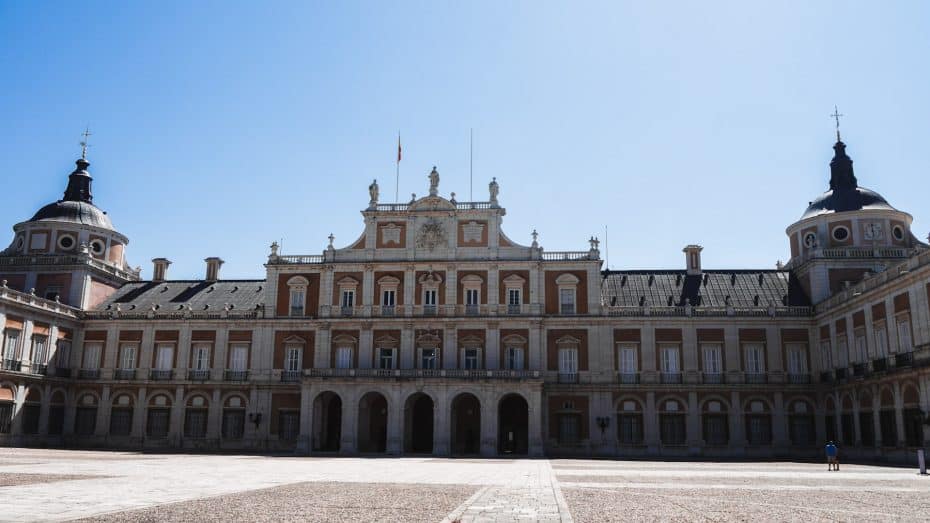 Aranjuez is located 42 kilometers south of Madrid. The city features numerous attractions and is a somewhat overlooked tourist destination despite its cultural and historical richness.
The Royal Palace of Aranjuez is an important landmark in the city. The palace was designed by Juan Bautista de Toledo, a Spanish architect known for his work on El Escorial. The palace, built in the 16th century, showcases magnificent halls such as the Throne Room and Porcelain Room. Surrounding the palace are the expansive Gardens of Aranjuez, which cover a vast area and feature various fountains and sculptures.
Another noteworthy attraction is the Museum of Royal Feluccas, which exhibits historic boats used by the royal family on the Tagus River. The collection includes an impressive array of boats that date as far back as the 17th century.
For those interested in horticulture, the Casa del Labrador is located within the extensive Prince's Garden. The building itself is a fine example of neoclassical architecture, with its interior containing lavish decorations, ceramics, and paintings.
To travel to Aranjuez from Madrid by train, passengers depart from Atocha Train Station. At Atocha Station, there are two types of trains available; Cercanías (commuter trains) and Media Distancia (medium-distance trains).
The journey on Cercanías's C-3 line takes approximately 50 minutes while Media Distancia trains take around 45 minutes to reach Aranjuez. The frequency of Cercanías trains is every 30 minutes during weekdays and every hour during weekends and holidays. Media Distancia trains operate less frequently.
Average costs for these trains differ; a one-way ticket on the Cercanías train costs around €3.50 while the Media Distancia ticket ranges from €9 to €13.
---
4. San Lorenzo de El Escorial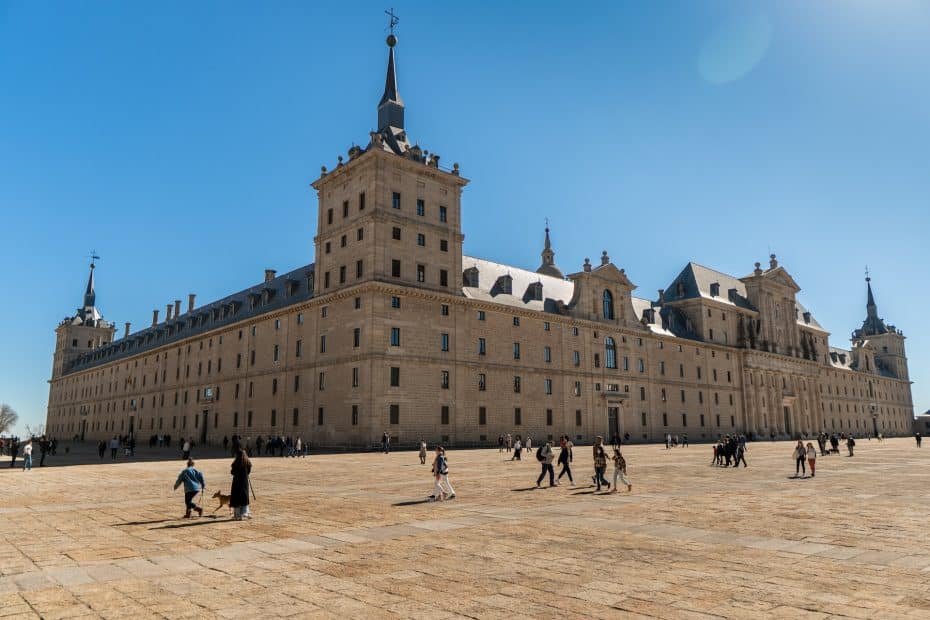 El Escorial is a historical residence and monastery complex located in San Lorenzo de El Escorial, Spain. It is considered one of the top attractions around Madrid due to its cultural and historical significance.
The Royal Monastery of San Lorenzo de El Escorial is the main attraction in the town. This 16th-century architectural masterpiece was commissioned by King Philip II and designed by architect Juan Bautista de Toledo. The monastery complex houses the Royal Palace, the Basilica, and the Royal Library, offering a glimpse into Spain's rich history.
The town of San Lorenzo de El Escorial provides an opportunity to experience traditional Spanish culture. The streets are lined with small shops, restaurants, and cafes where you can enjoy local cuisine and absorb the charming atmosphere.
To travel from Madrid to El Escorial, you will need to take a train from Madrid's Atocha Railway Station or Chamartín Station. Both commuter-focused Cercanías trains (line C3) and regional trains are available for this journey. The trip usually takes around an hour, depending on the type of train chosen.
Train services operate frequently throughout the day, with departures roughly every 20 minutes during weekdays and slightly less frequent during weekends and public holidays. Prices for a one-way ticket range from 4-6 Euros on average, but can vary depending on factors such as ticket type and time of travel.
---
---
5. Salamanca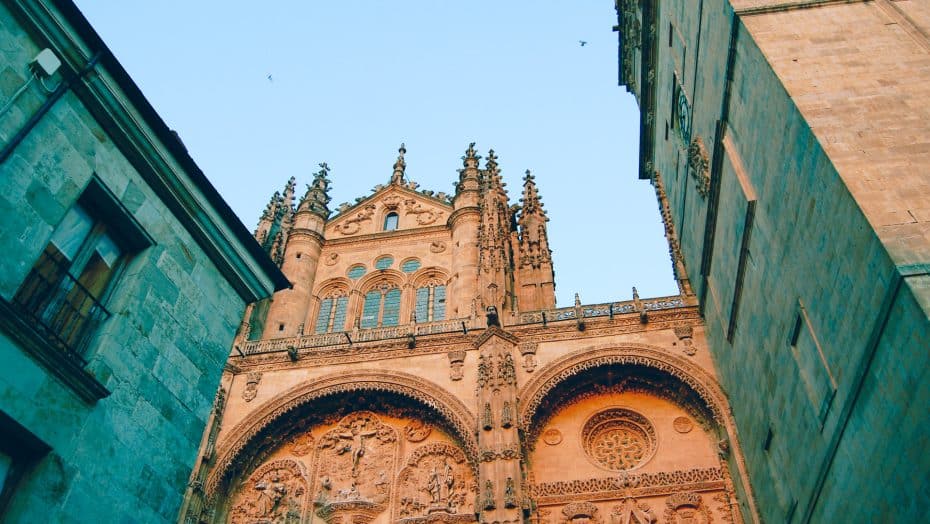 Salamanca, a city in western Spain, is an ideal destination for a day trip from Madrid by train. This historic city is home to numerous attractions that make it a worthwhile visit.
The Old City of Salamanca was declared a UNESCO World Heritage Site in 1988. It is well-known for its beautiful architecture, which can be seen in buildings such as the University of Salamanca, the oldest university in Spain and one of the oldest in Europe. The university's buildings include a stunning façade with intricate carvings and are open for exploration.
Another must-see attraction is the New Cathedral (Catedral Nueva) and Old Cathedral (Catedral Vieja). Both cathedrals are located side by side and showcase different architectural styles. The New Cathedral displays beautiful Gothic and Renaissance elements, while the Old Cathedral represents Romanesque architecture. The climb to the towers offers panoramic views of the city.
Plaza Mayor is at the heart of Salamanca, a bustling square surrounded by Baroque architectural buildings. It is an ideal spot to soak in the local culture and indulge in some traditional Spanish dishes at nearby restaurants or tapas bars.
Traveling from Madrid to Salamanca by train is convenient and straightforward. Trains depart from Madrid-Chamartín station, which is easily accessible via metro. Two types of trains are available for this route: Alvia trains and Media Distancia trains. The Alvia trains offer a faster journey, usually taking approximately 1 hour 30 minutes, while Media Distancia trains take around 2 hours 30 minutes.
Trains between Madrid and Salamanca run frequently throughout the day, with departures approximately every hour or two during peak travel times. Average costs for a one-way ticket range from €20 to €35 for Alvia trains and €14 to €20 for Media Distancia trains, depending on the time of booking and seat class. Check train schedules & fares.
---
6. Cuenca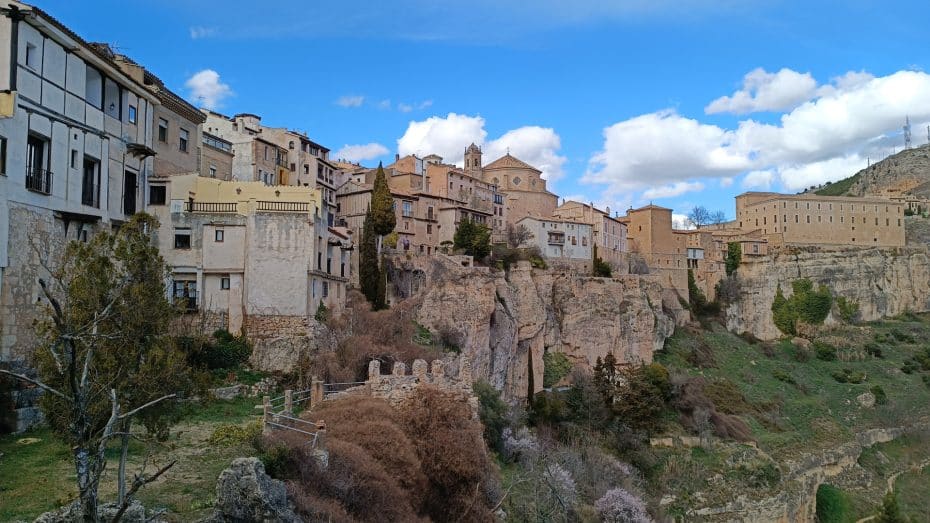 Cuenca is a city in the Castilla-La Mancha autonomous community. It is known for its remarkable architectural and natural beauty, making it a top destination for day trips from Madrid by train. The city boasts several attractions worth exploring during a visit.
The Hanging Houses (Casas Colgadas) are a notable sight in Cuenca. These 15th-century houses cling to the cliffs, with wooden balconies overlooking the Huecar River gorge. Another must-visit location is the Cuenca Cathedral, built in the 12th century. It is an impressive structure showcasing Gothic and Romanesque styles, with an ornate facade and beautiful stained glass windows.
Nature lovers will appreciate the Ciudad Encantada (Enchanted City). This natural park features unique rock formations created by erosion over thousands of years, resembling figures and animals. The park offers walking trails for visitors to explore these geological wonders up close.
To reach Cuenca from Madrid by train, travelers should head to Madrid's Atocha Train Station. Two types of trains provide service to Cuenca: high-speed AVE trains and regional trains (Media Distancia). The high-speed AVE trains offer a faster journey, taking approximately 50 minutes to 1 hour, while regional trains take about 2 hours and 30 minutes. Train frequency varies depending on the day and time but generally averages around one train every hour or two.
The cost of train tickets depends on the type of train chosen. A one-way ticket on an AVE train typically ranges from €25 to €40, depending on the class and booking time. Regional train tickets tend to be less expensive, with prices varying between €10 and €25 for a one-way trip. Planning and booking in advance can help secure the best fare options.
---
7. Alcalá de Henares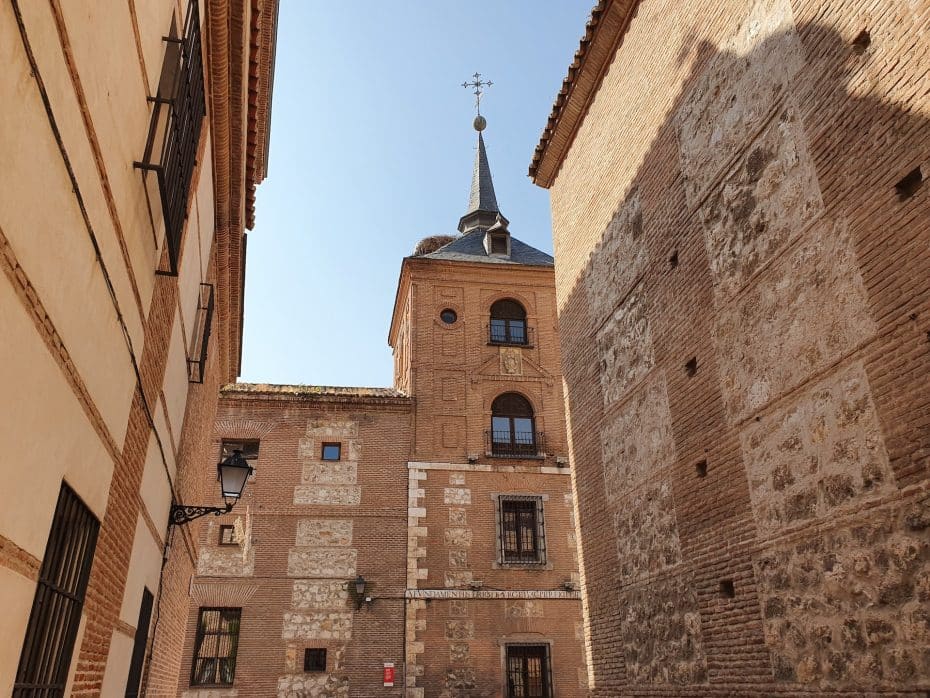 Alcalá de Henares, located in the Autonomous Community of Madrid, Spain, is often considered among the best day trips around the capital city. This historic town is known for its rich cultural and architectural heritage, earning it the designation as a UNESCO World Heritage Site.
In Alcalá de Henares, one can explore its impressive array of monuments and landmarks. Among these remarkable sites is the University of Alcalá, founded in 1499. This historic university is recognized for its beautiful Plateresque style architecture and illustrious alumni, including the famed Spanish writer Miguel de Cervantes. Cervantes' birthplace is also present in this town, now transformed into a museum that provides a glimpse into 16th-century Spanish life.
Another notable site in Alcalá de Henares is the Archbishop's Palace. This architectural wonder sates back to the 13th century and has witnessed numerous historical events, such as being the residence of royals like Ferdinand II and Isabella I. In addition, one should visit Calle Mayor, one of the longest porticoed streets in Spain, bustling with various shops, cafes, and restaurants.
Reaching Alcalá de Henares from Madrid by train is straightforward and convenient. Departing from Atocha Station or Chamartín Station in Madrid, travelers have several options to choose from – either local Cercanías trains or longer-distance regional trains. The journey takes about 30-40 minutes on a Cercanías train with routes C2 or C7. These trains operate frequently, departing approximately every 10-15 minutes during peak hours.
The cost of train tickets varies depending on factors like travel time and type of service chosen but remains affordable for most travelers. A standard Cercanías ticket costs around €3.40 one-way. For those who plan to stay in the city for a while, investing in a 10-trip ticket at a discounted rate is recommended.
---
8. Ávila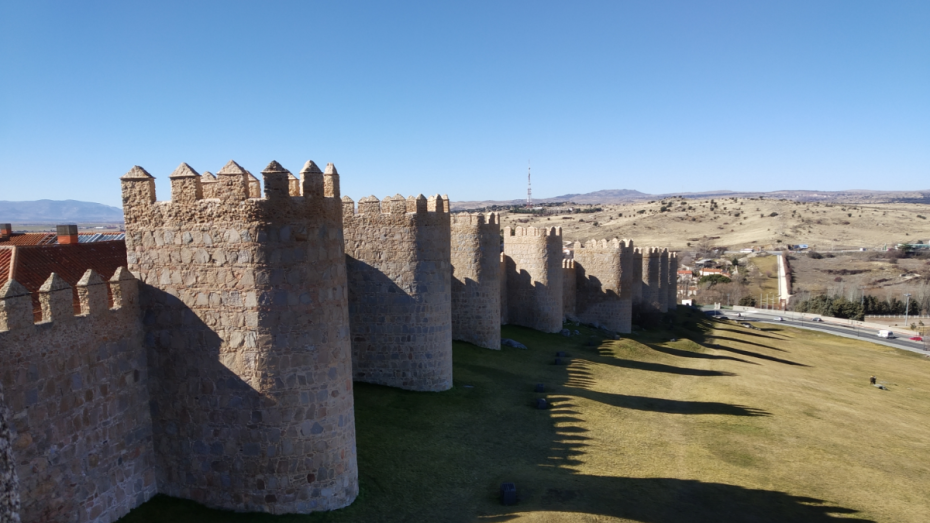 Ávila is a historic city and one of the best day trips by train from Madrid. The city is famous for its well-preserved medieval walls, numerous churches, and old town charm. Travelers often choose to visit Ávila to experience its rich history and culture.
One of the main attractions in Ávila is the Walls of Ávila, which surround the entire city and date back to the 11th century. These walls have nine gates and over eighty towers, offering impressive views of the city. Another notable site is the Cathedral of Ávila, one of the first Gothic cathedrals in Spain. It showcases a mix of Romanesque and Gothic architectural styles.
Besides its architectural marvels, Ávila also has museums worth exploring. The Museum of Ávila exhibits a collection of archaeological finds and objects that illustrate the city's history. Additionally, Saint Teresa Convent and Museum offer insight into the life of Saint Teresa of Ávila, a prominent 16th-century mystic writer, reformer, and Carmelite nun.
To get to Ávila from Madrid, travelers should head to Madrid's Chamartín railway station. From there, they can choose between regional or high-speed trains operated by Renfe, Spain's national train company. The high-speed Avant trains take approximately 1 hour and 30 minutes to reach Ávila, while regional trains may take up to 2 hours. Train services run frequently throughout the day; travelers typically have access to a train every hour.
The cost of a train ticket to Ávila depends on the type of train chosen and when it is booked. On average, ticket prices range from €20 to €40 for round-trip journeys. It is always advised to book tickets in advance for better availability and discounted fares. Booking can be done online or at the Chamartín railway station's ticket counter.
---
9. Navalcarnero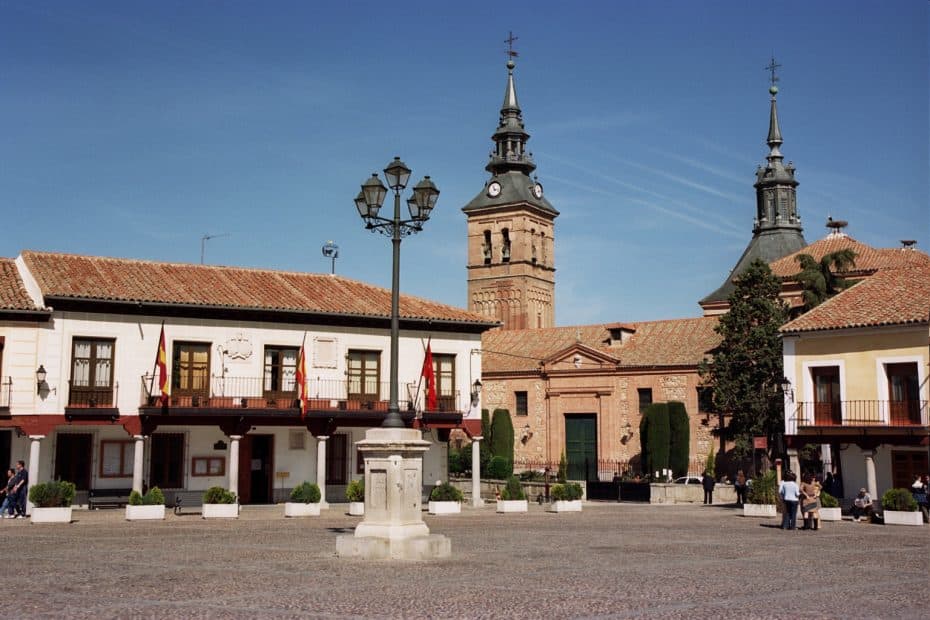 Navalcarnero is a picturesque town located near Madrid and is recognized as one of the top 10 best day trips by train from the Spanish capital. Its rich history, stunning architecture, and vibrant culture make it an ideal destination for a leisurely getaway.
The town's most iconic landmark is the Plaza de Segovia, a beautiful square which showcases 16th-century architecture. Here, visitors can admire the historic Church of Santa María Magdalena and explore its striking interiors. In addition to the church, there are numerous buildings and old mansions that display traditional architecture.
Navalcarnero is also well-known for its wine production and has several wineries that provide wine tasting opportunities for those interested in experiencing the local flavors. One popular location is the Wine Museum. The town often hosts lively events such as cultural fairs and religious parades, providing glimpses into local customs and traditions.
To travel to Navalcarnero from Madrid by train, one must begin their journey at the Atocha Train Station in Madrid. There are multiple types of trains available for this route including Cercanías commuter trains and Avanza buses. The journey typically takes around 60 minutes on average.
Trains between Madrid and Navalcarnero are frequent, with departures generally scheduled every 30 minutes during weekdays and approximately every hour during weekends. Travelers can expect to pay an average cost of about 8 Euros for a one-way ticket.
---
10. Cercedilla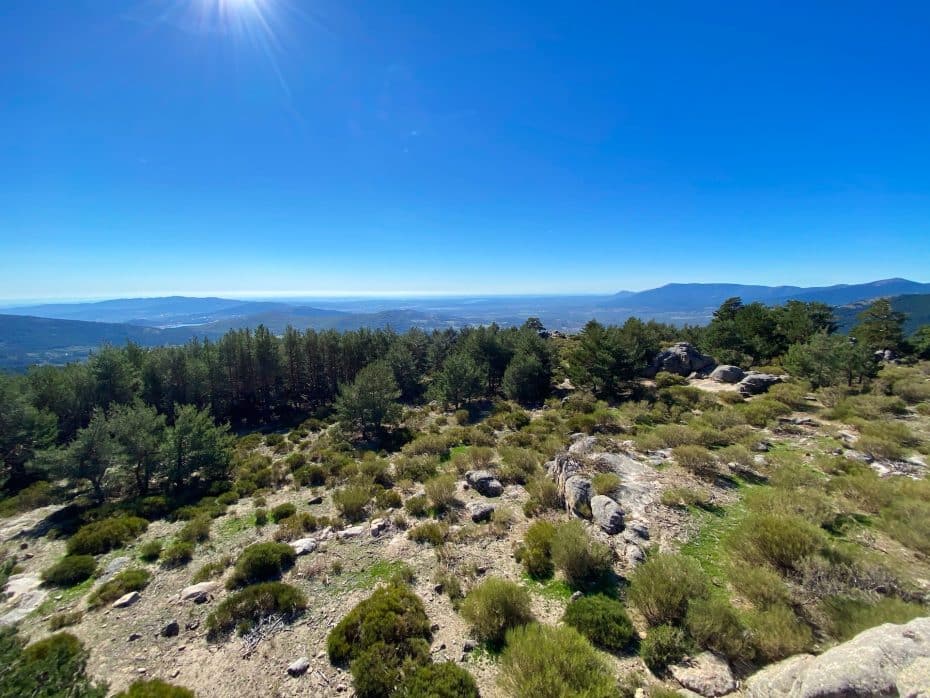 Cercedilla is a town located in the mountains of Madrid, Spain. It is known as a popular destination hiking around Madrid.
One significant site in Cercedilla is the Roman Bridge (Puente Romano), an ancient stone bridge on the Senda del Río Cercadillo trail. Walking along this picturesque trail, visitors get a glimpse of the town's history while enjoying the beautiful surroundings.
The Church of San Andrés Apostol is another historic landmark in Cercedilla, dating back to the 16th century. For nature enthusiasts, the Fuenfría Valley offers scenic walks filled with lush forests and mountain views. In this valley, hikers can find the Camino Schmidt, a well-known path named after a German cartographer who lived in Spain.
Traveling to Cercedilla from Madrid by train is straightforward and convenient. The journey begins at Madrid's Chamartín Railway Station. Journeys typically take around an hour and can range from €3 to €6 depending on discounts or seasonality.
---
---