Madrid, the vibrant capital of Spain, is a city where history elegantly mingles with modernity, and tradition seamlessly blends with the avant-garde. In this ever-evolving metropolis, travelers are spoilt for choice regarding luxurious and boutique accommodations. Join us on this journey through Madrid's top 21 luxury and boutique hotels that will flawlessly cater to your every desire.
---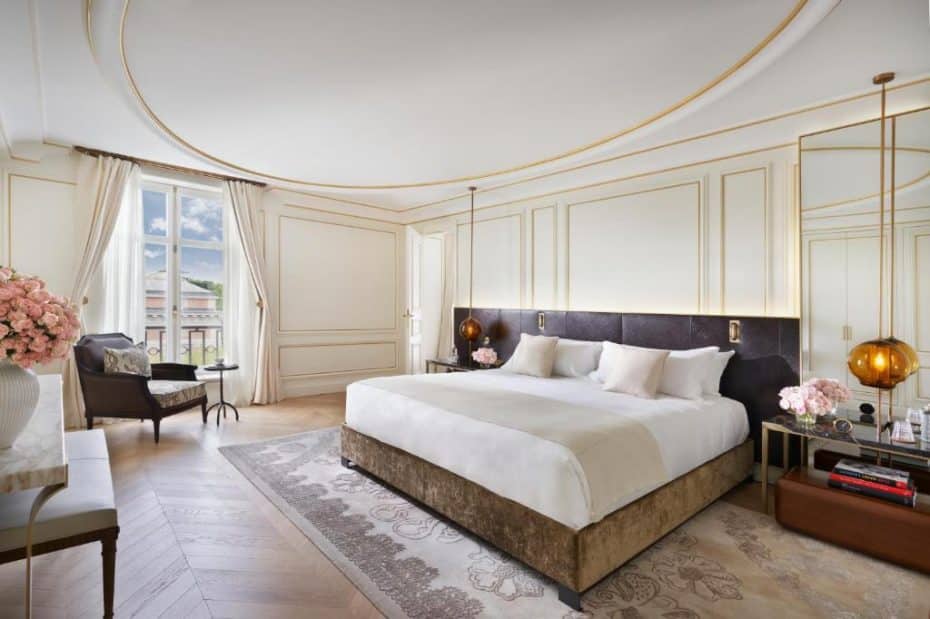 Each hotel on this list is a masterpiece in its own right, featuring a unique blend of traditional and modern designs that pay homage to Madrid's rich architectural and cultural tapestry.
However, not just their stunning visuals set these luxury and boutique accommodations apart. Here in Madrid, luxury extends far beyond aesthetics. Guests can indulge their senses with first-class dining experiences or unwind in their spas and infinity pools.
Whether you're looking forward to through the quaint streets of La Latina, shopping in Salamanca, or marveling at the grandeur of the Royal Palace, Madrid's top hotels are an ode to good taste and unparalleled hospitality.
For this list of the top luxury and boutique hotels in Madrid, we have hand-picked a selection of the best-rated four and five-star properties in the Spanish capital.
---
The Best Luxury & Boutique Hotels in Madrid
1. Four Seasons Hotel Madrid
C. de Sevilla, 3, 28014 Madrid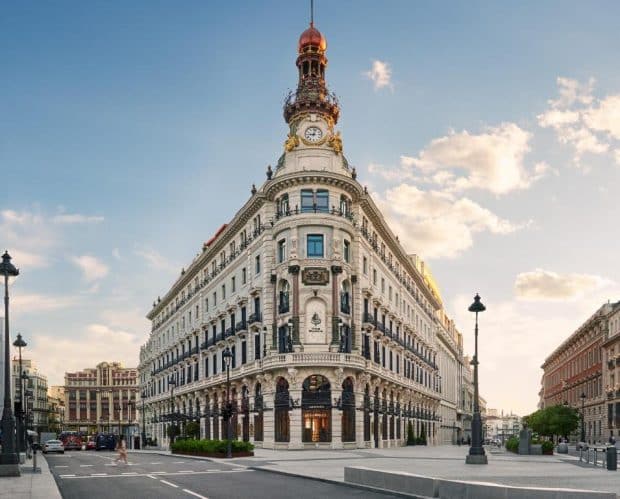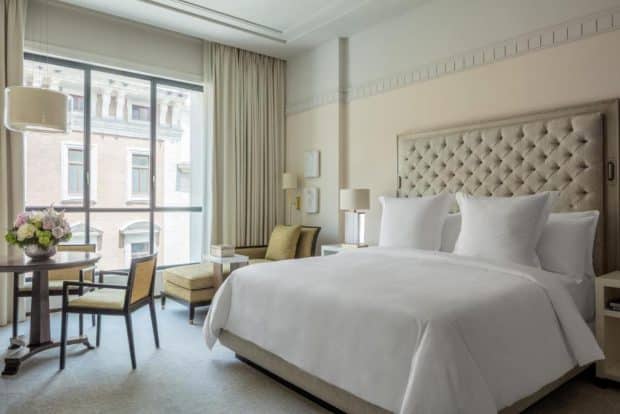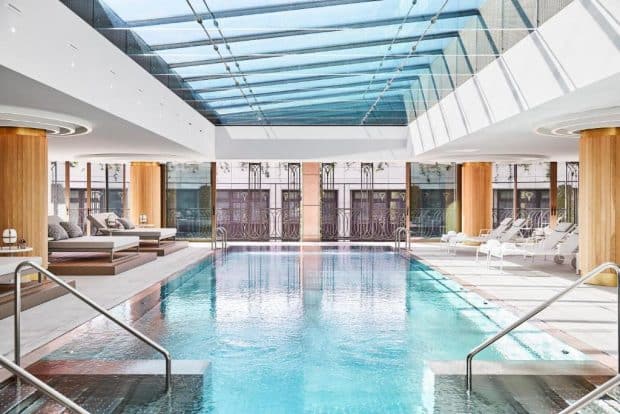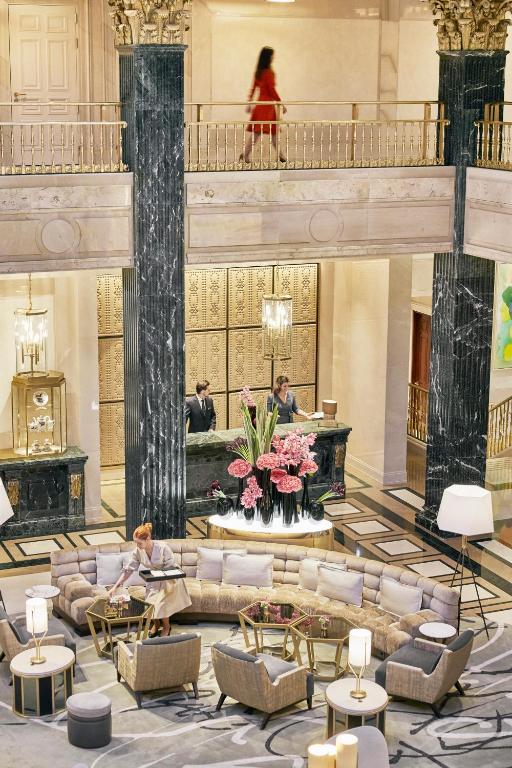 The Four Seasons Hotel Madrid is a luxurious and elegant hotel in the heart of Spain's capital city. This stunning establishment offers guests world-class amenities, including a full-service spa, rooftop pool, and gourmet dining options. The hotel's beautiful rooms and suites are designed with comfort and style in mind, combining contemporary furnishings with classic Spanish touches.
---
2. Mandarin Oriental, Ritz Madrid
Pl. de la Lealtad, 5, 28014 Madrid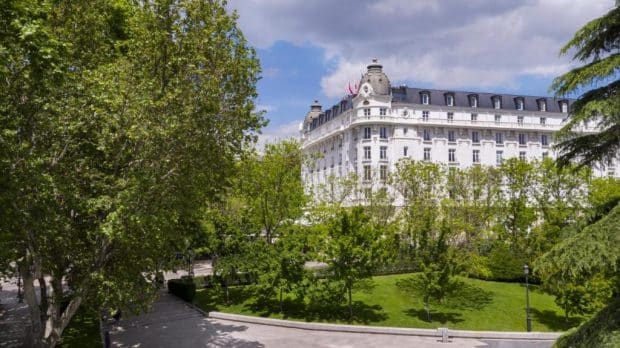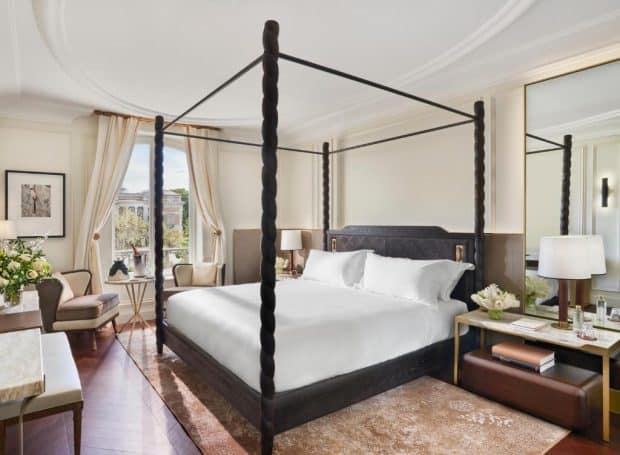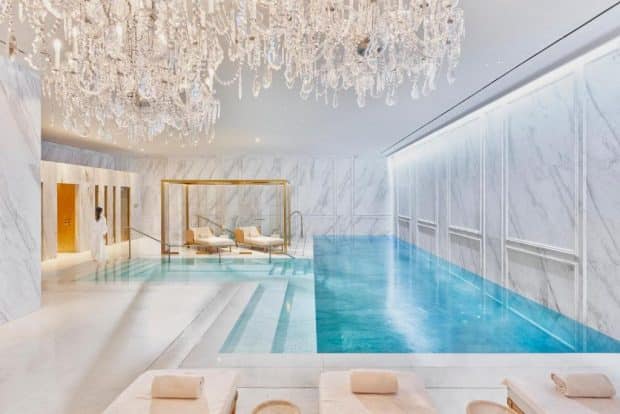 Steeped in history and grandeur, the Mandarin Oriental Ritz Madrid has provided exceptional service and accommodations since its opening in 1910. The hotel is within walking distance of iconic attractions such as the Prado Museum and Retiro Park. Each room and suite is elegantly appointed with opulent furnishings that reflect the hotel's rich heritage. Guests can indulge in fine dining at the hotel's award-winning restaurants or relax in the soothing ambiance of their world-class spa.
---
3. Gran Hotel Inglés
Calle de Echegaray, 8, 28014 Madrid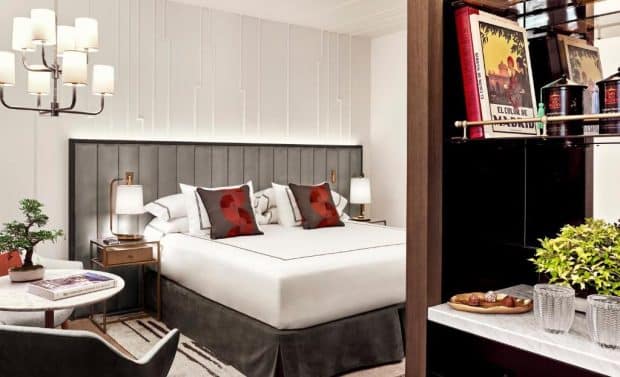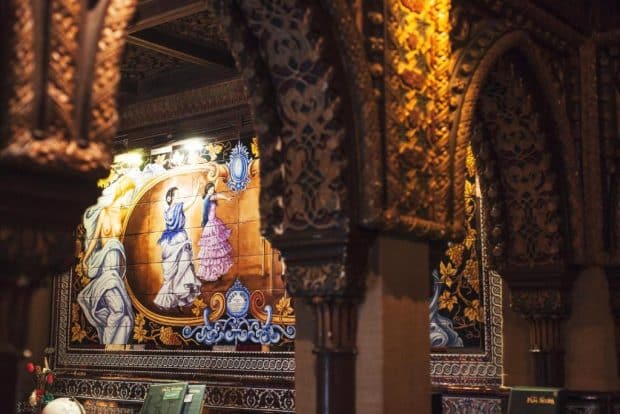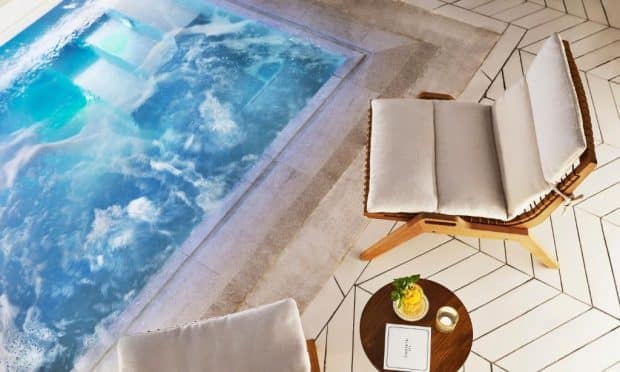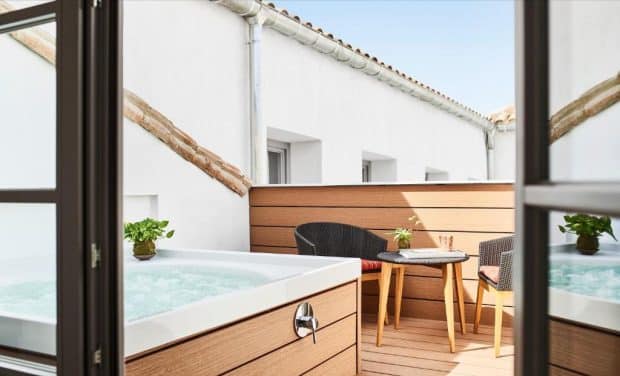 Situated within the lively neighborhood of Barrio de las Letras, Gran Hotel Inglés offers its guests a blend of stylish design and historic charm. As one of Madrid's oldest luxury hotels, this establishment has committed to providing top-notch service that suits its esteemed history. Each room embodies elegant sophistication while subtly incorporating modern amenities for ultimate comfort. Guests can experience Spanish cuisine with a contemporary twist at Lobo 8, their signature restaurant.
---
4. Santo Mauro
Calle de Zurbano, 36, 28010 Madrid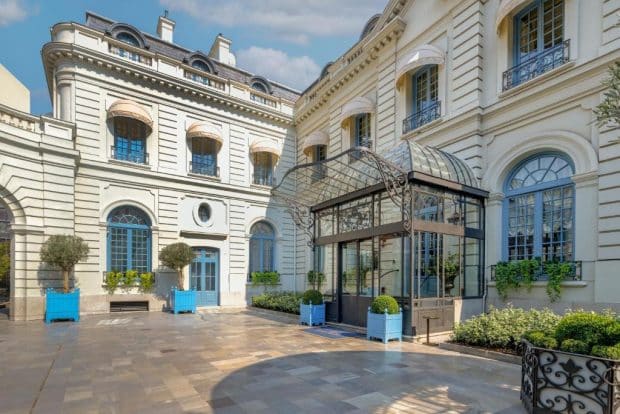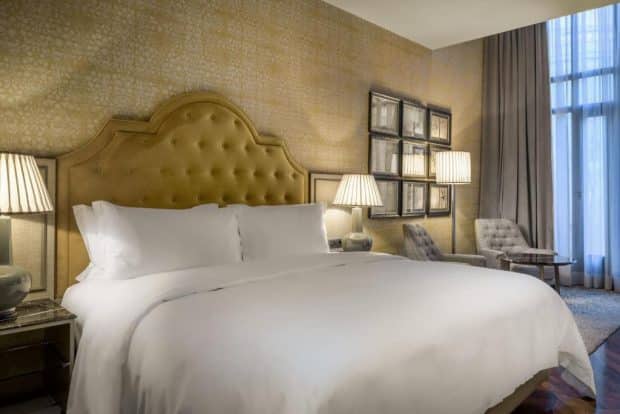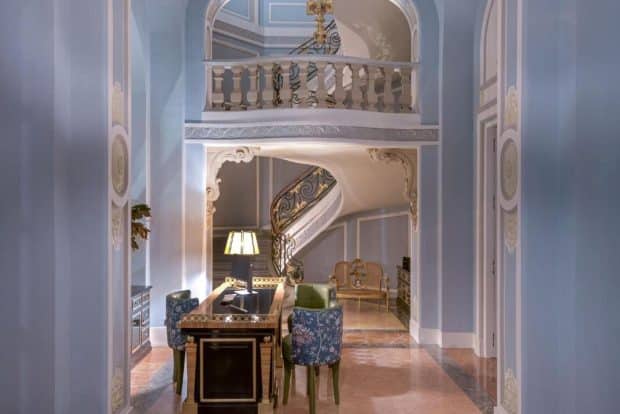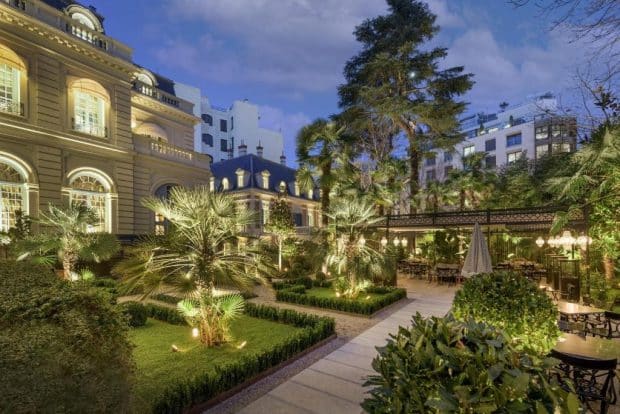 In Madrid's prestigious Chamberí district, Santo Mauro, a Luxury Collection Hotel, is an exquisite hotel with an unparalleled experience of luxury and elegance. This historic palace-turned-hotel, which is located in the former residence of the Dukes of Santo Mauro, provides a breathtaking ambiance with its stunning architecture, lush gardens, and opulent interiors. Guests can expect impeccable service, sumptuous accommodations, and an array of upscale amenities such as a gourmet restaurant, a relaxing spa, and sophisticated meeting spaces.
---
5. VP Plaza España Design
Pl. de España, 5, 28008 Madrid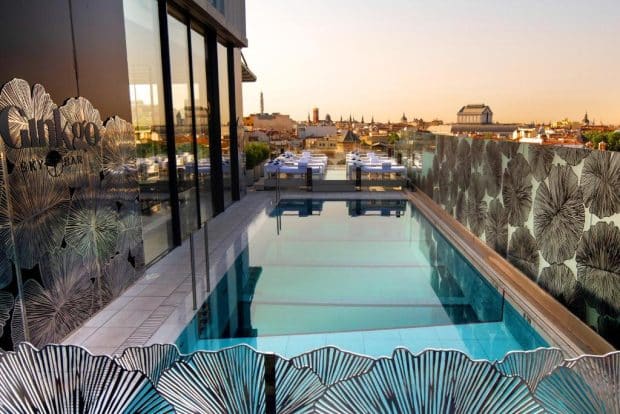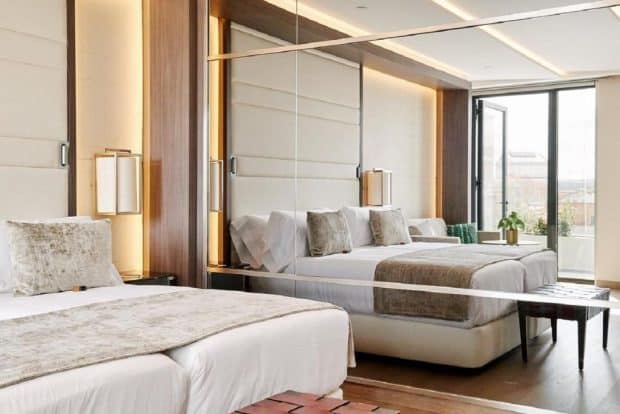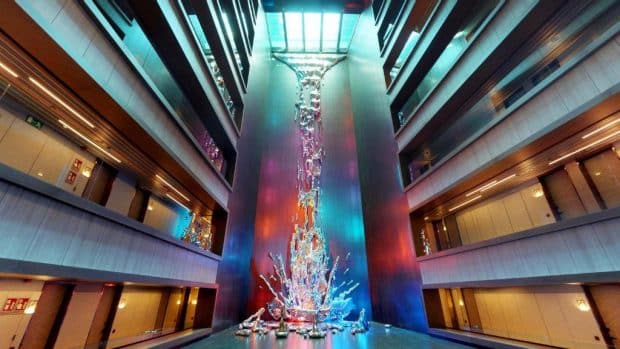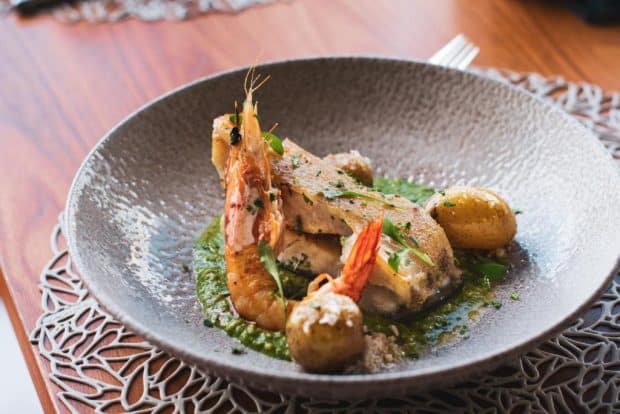 VP Plaza España Design: The VP Plaza España Design is a luxury hotel in Madrid's heart, offering stunning views of the Royal Palace and Plaza de España. This design-focused hotel boasts elegant, modern décor and state-of-the-art facilities, including a rooftop swimming pool and an on-site gourmet restaurant. Each room is uniquely designed, making every stay at the VP Plaza España Design a personalized experience. This hotel is perfect for travelers seeking sophisticated accommodations with exceptional amenities.
---
6. Palacio de los Duques Gran Meliá
Cuesta de Sto. Domingo, 5, 28013 Madrid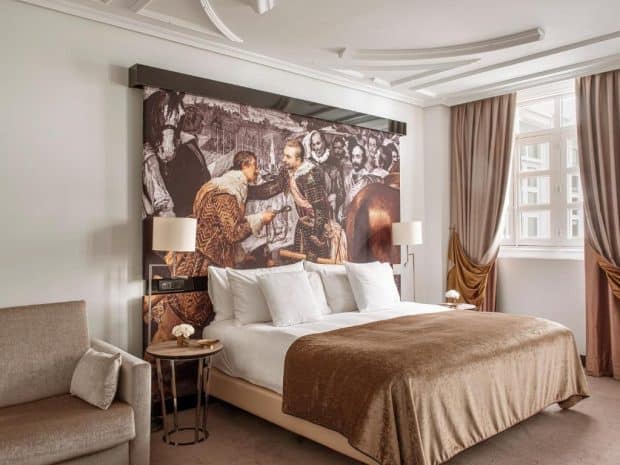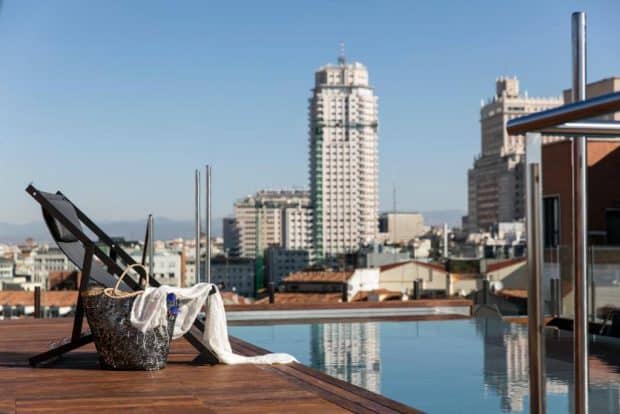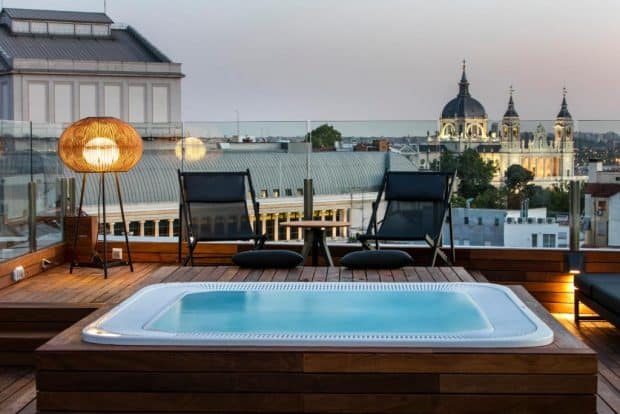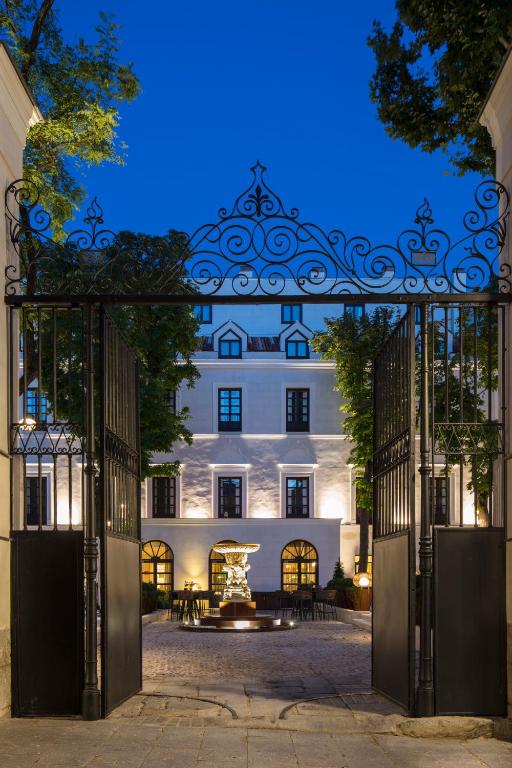 The Palacio de los Duques Gran Meliá is a five-star luxury hotel in a magnificent historical building once home to Spanish royalty. This exquisite hotel offers guests an authentic taste of Madrid's rich heritage while providing unparalleled comfort and service. The property features beautifully restored frescoes, elegant gardens, and a serene spa to help visitors relax after exploring the bustling city.
---
7. Hotel Regina
C. de Alcalá, 19, 28014 Madrid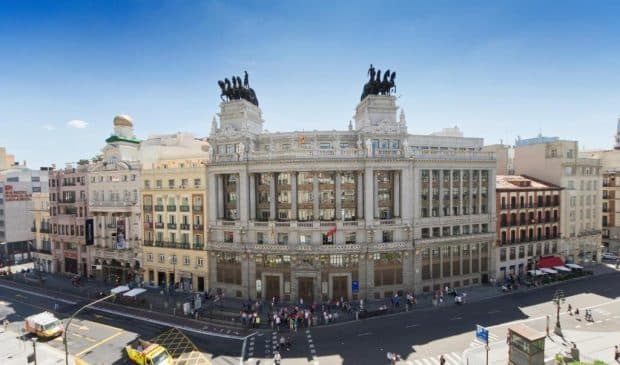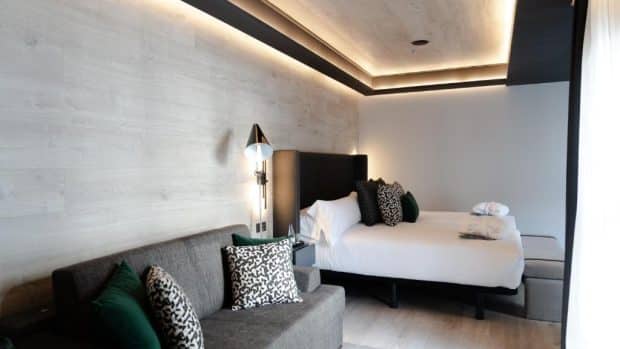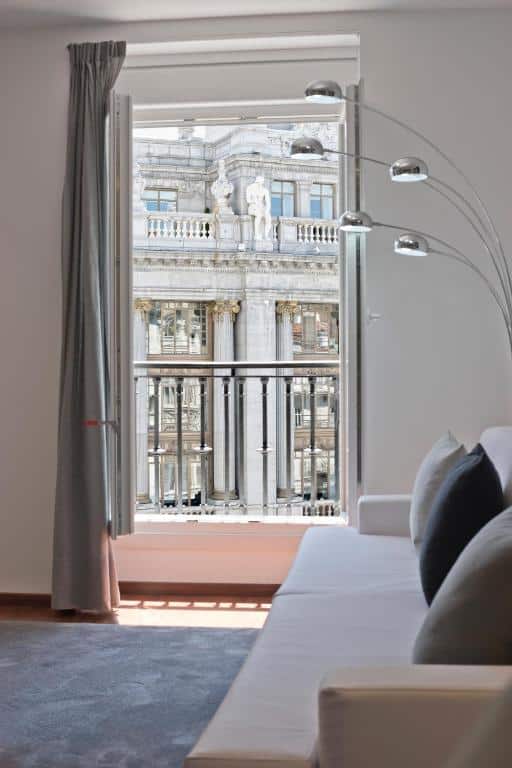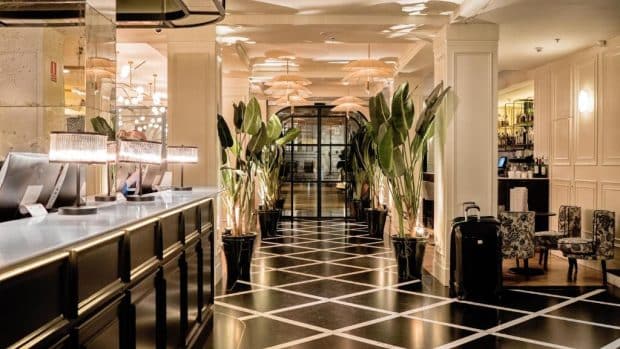 Located on Calle de Alcalá, one of Madrid's most central areas, Hotel Regina is a 4-star hotel offering stylish accommodations and impeccable service, making it an excellent choice for urban explorers. This boutique hotel boasts a contemporary design fused with classic architectural elements. Guests can enjoy the on-site Mediterranean cuisine restaurant or enter the bustling city center to explore Madrid's renowned cafes, shops, and cultural landmarks.
---
8. The Madrid EDITION
Pl. de Celenque, 2, 28013 Madrid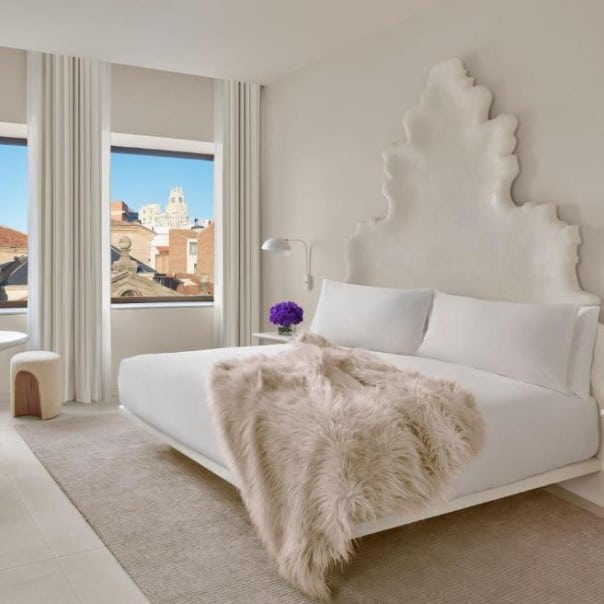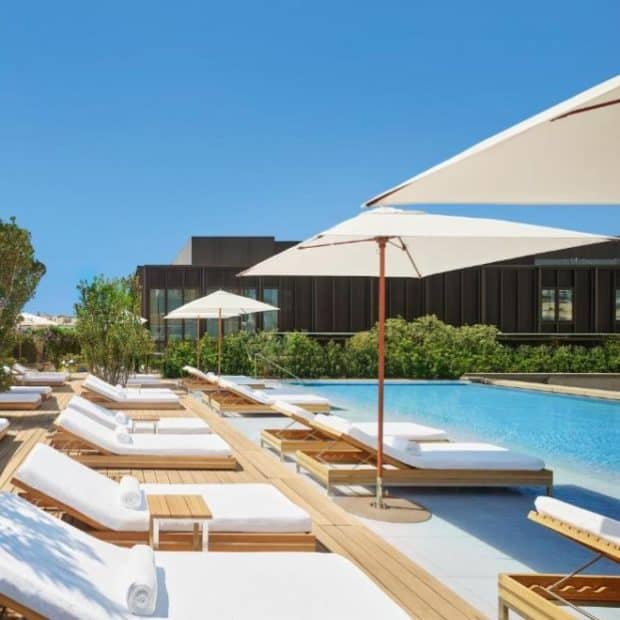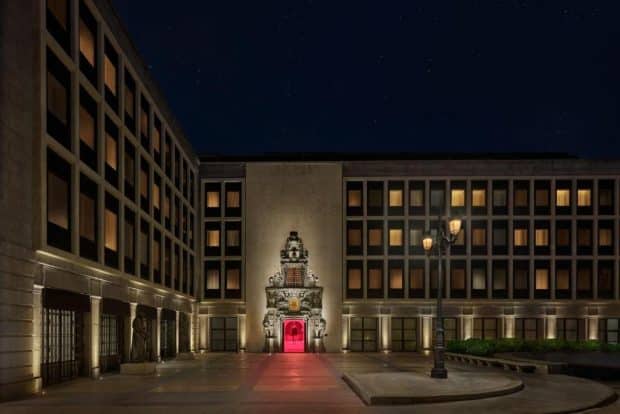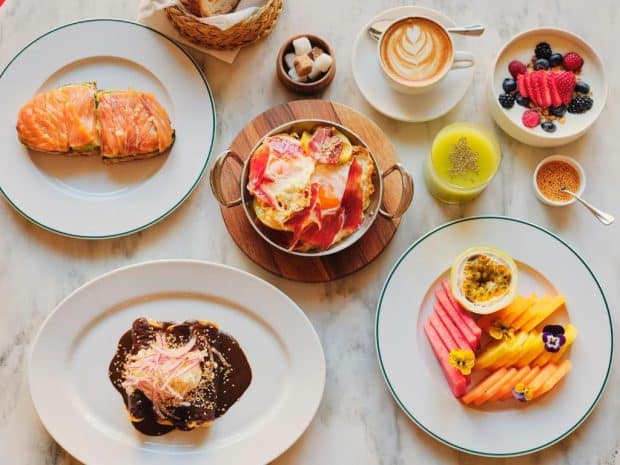 As part of the prestigious EDITION brand by Marriott International, The Madrid EDITION offers unparalleled luxury combined with curated experiences for an unforgettable stay. Featuring 200 guest rooms and suites designed by Spanish architect Lázaro Rosa-Violán, this hotel exudes elegance and sophistication at every turn. The on-site dining options include a renowned rooftop bar and a modern Spanish brasserie.
---
9. URSO Hotel & Spa
C. de Mejía Lequerica, 8, 28004 Madrid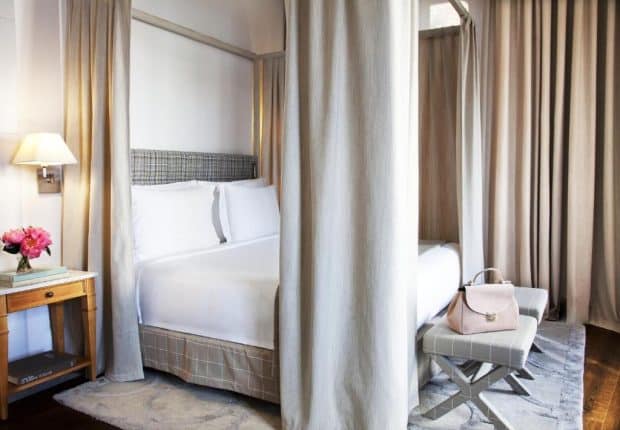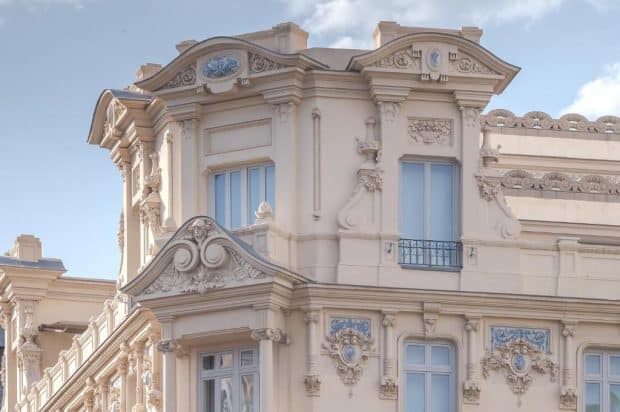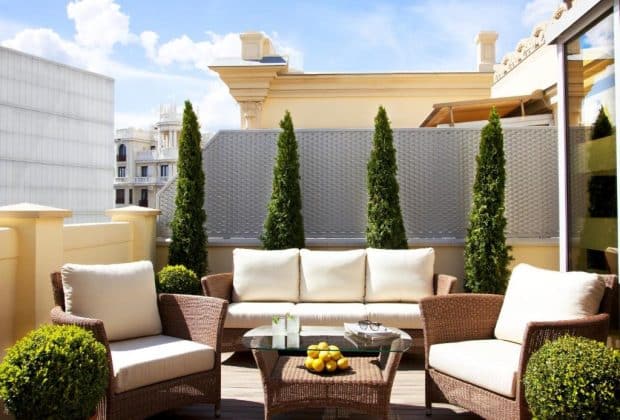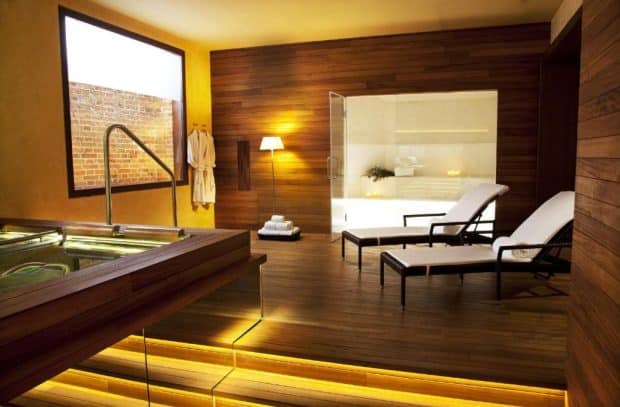 URSO Hotel & Spa is an elegant and luxurious establishment located in the heart of Madrid, offering a refined and relaxing retreat for its guests. As a member of the prestigious Small Luxury Hotels of the World collection, this boutique hotel ensures world-class service, gorgeous accommodations, and top-notch facilities. Guests can indulge in the hotel's spa or dine at their restaurant while enjoying five-star service. With its prime location in the Justicia district, near Madrid's most famous attractions, URSO Hotel & Spa provides an unforgettable experience.
---
10. CoolRooms Palacio de Atocha
C. de Atocha, 34, 28012 Madrid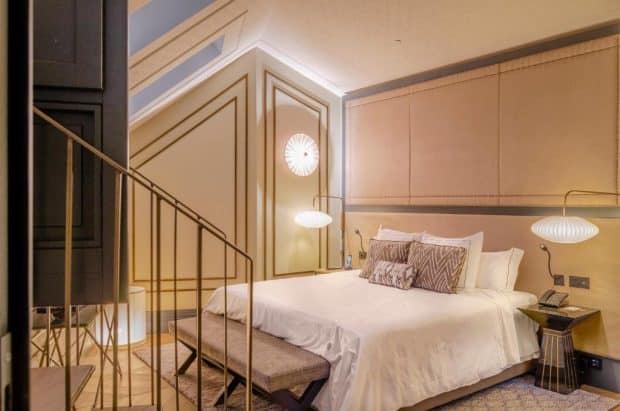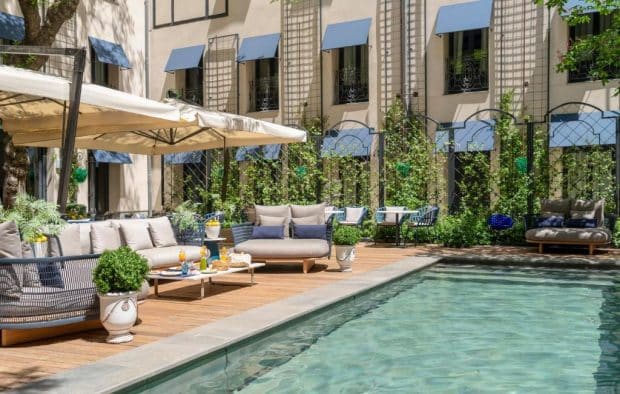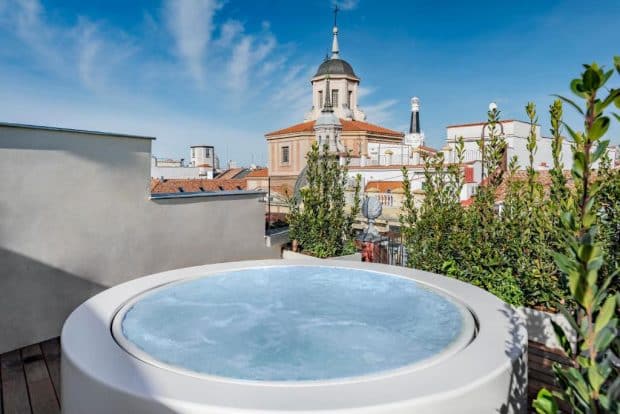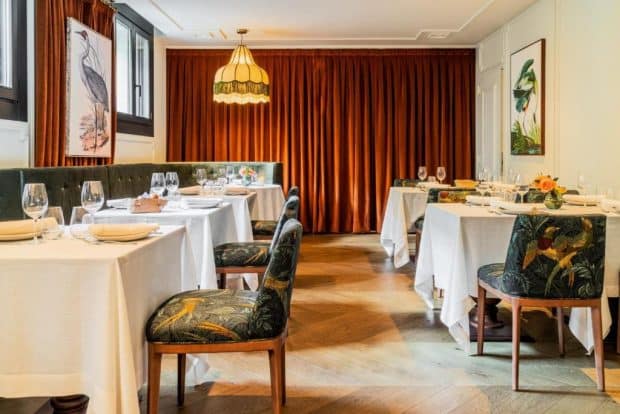 CoolRooms Palacio de Atocha is a chic boutique hotel that seamlessly blends traditional charm with contemporary luxury. Conveniently located near Atocha train station in Madrid's historic district, this stunning establishment offers beautifully designed rooms and top-notch amenities – from an upscale bar and restaurant to an inviting outdoor plunge pool.
---
11. ICON Casona 1900
Calle de Don Ramón de la Cruz, 10, 28001 Madrid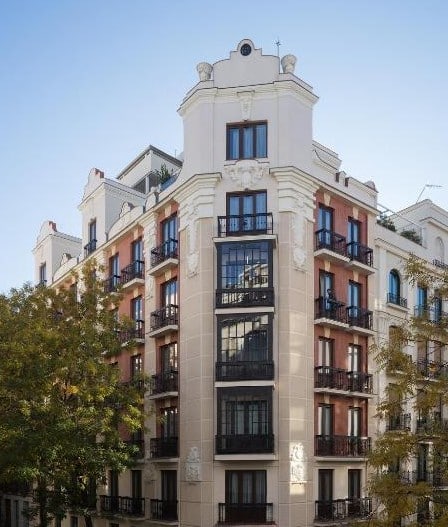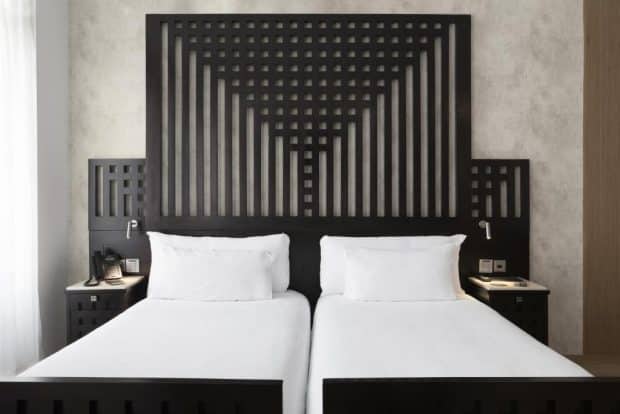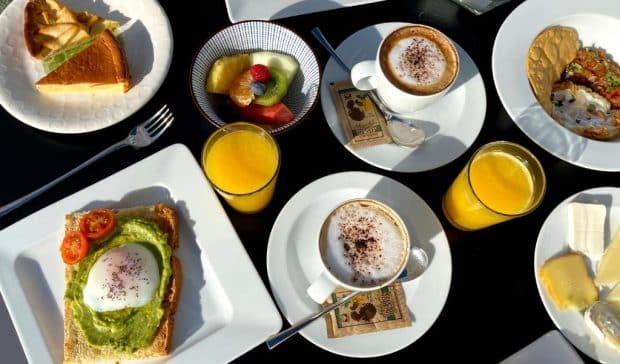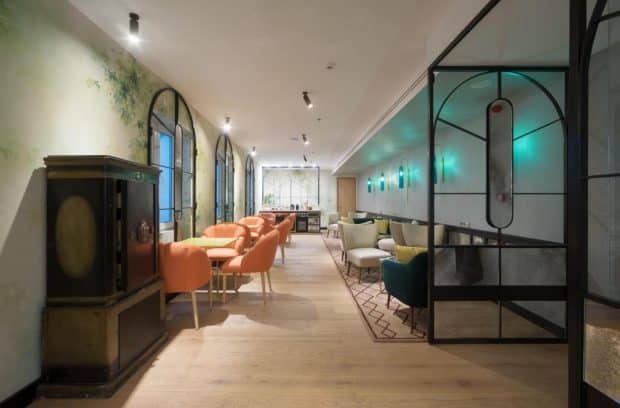 ICON Casona 1900 is a luxury boutique hotel in Madrid's upscale Salamanca neighborhood. This beautifully restored 19th-century building boasts elegant, modern interiors while retaining its original charm. Guests can enjoy a comfortable stay in one of the hotel's individually decorated rooms, each featuring unique artwork and amenities. In addition to its prime location, ICON Casona 1900 offers impeccable service and an intimate atmosphere.
---
12. Hotel Atlántico
C/ Gran Vía, 38, 28013 Madrid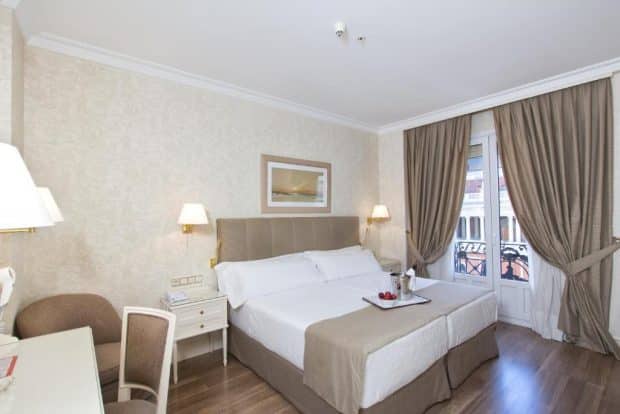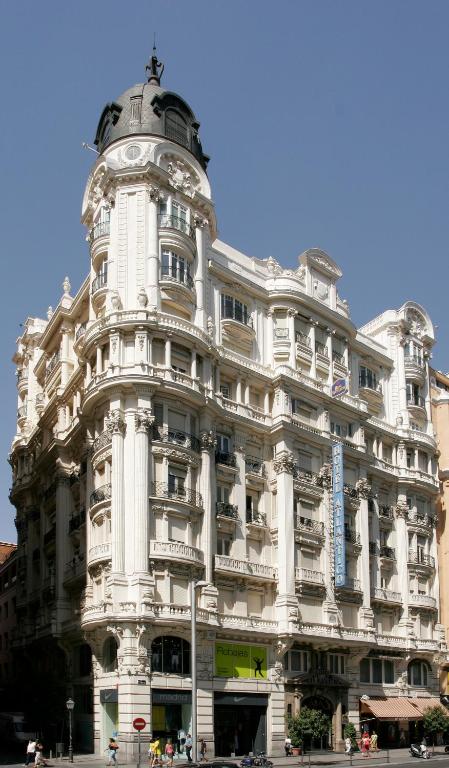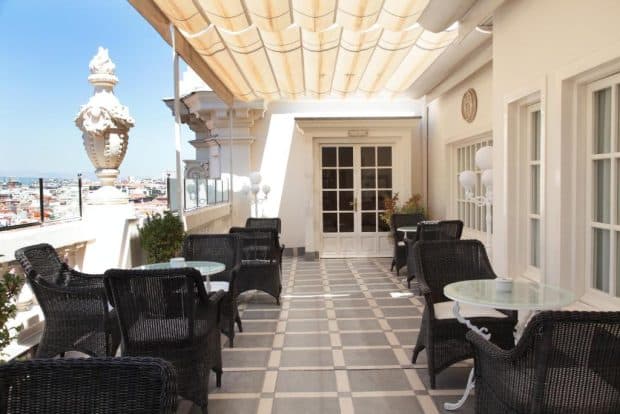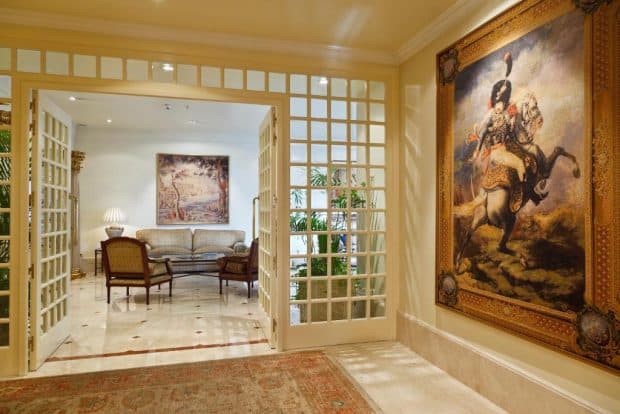 Located on Madrid's famous Gran Vía, Hotel Atlántico is a stunning luxury hotel that offers its guests unparalleled comfort and style. The hotel boasts elegantly decorated rooms with modern amenities while preserving many of the building's original Art Nouveau features. Guests can enjoy the views from the hotel's rooftop terrace or relax in the lounge.
---
13. Barceló Imagine
C. de Agustín de Foxá, 32, 28036 Madrid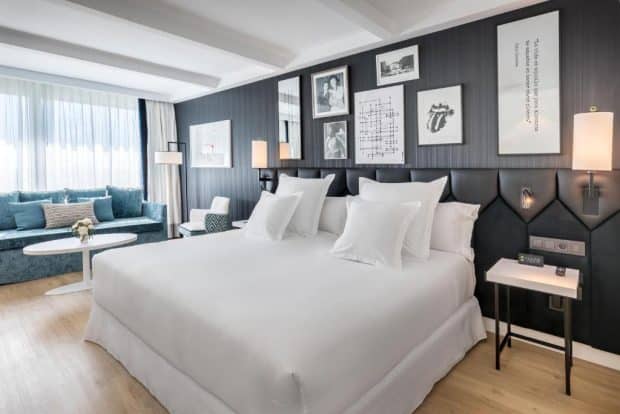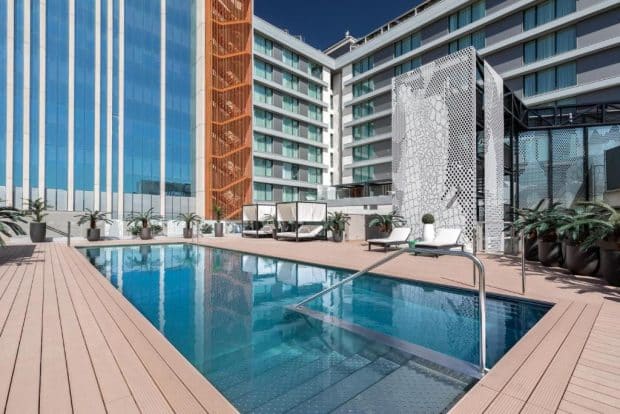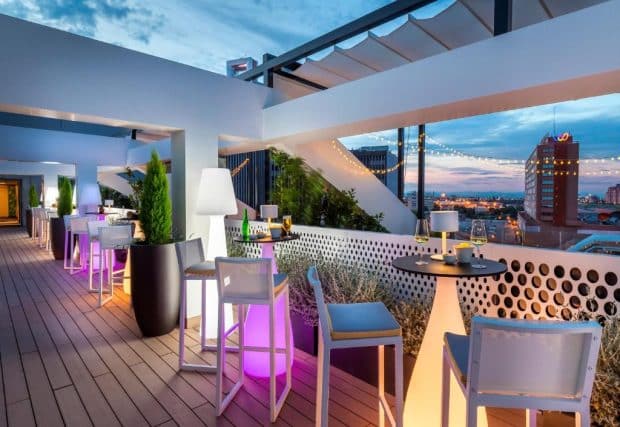 Barceló Imagine is a contemporary luxury hotel in the bustling Chamartín area in Madrid. This stylish boutique hotel incorporates music-themed design elements throughout the property, making it an ideal destination for music lovers. Each room showcases a unique artistic touch and has all the modern amenities you would expect from a top-tier establishment. Barceló Imagine also features an on-site restaurant serving creative international cuisine and an elegant rooftop pool and terrace.
---
14. Only YOU Boutique Hotel Madrid
C. del Barquillo, 21, 28004 Madrid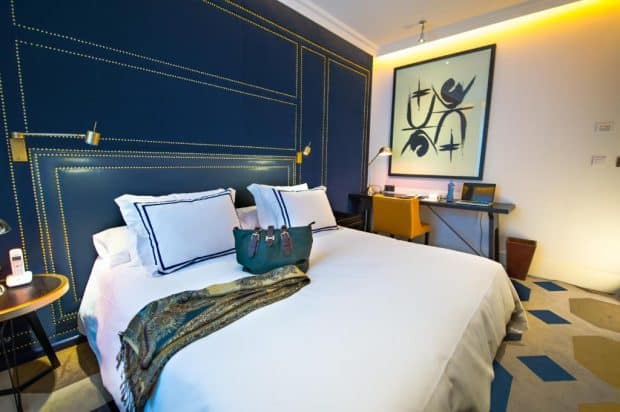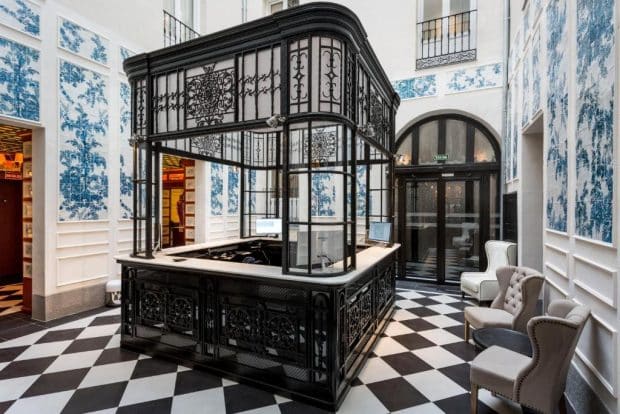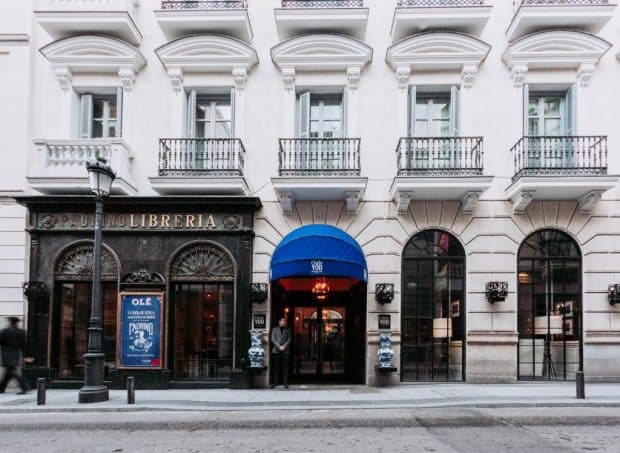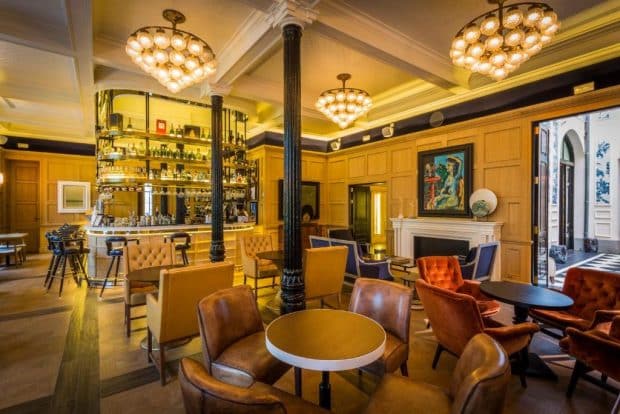 Located in the vibrant Chueca neighborhood, Only YOU Boutique Hotel Madrid provides guests with an exclusive and chic experience infused with local culture and charm. Each room is individually decorated. Guests can indulge in exquisite international cuisine at the on-site restaurant or relax at the stylish bar.
---
15. Sonder Malasaña
Calle del Divino Pastor, 9, 28004 Madrid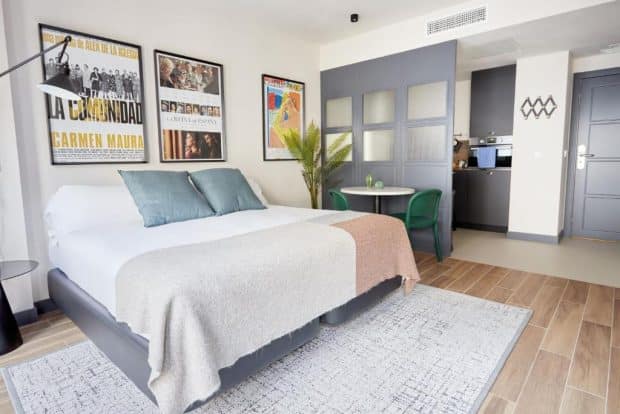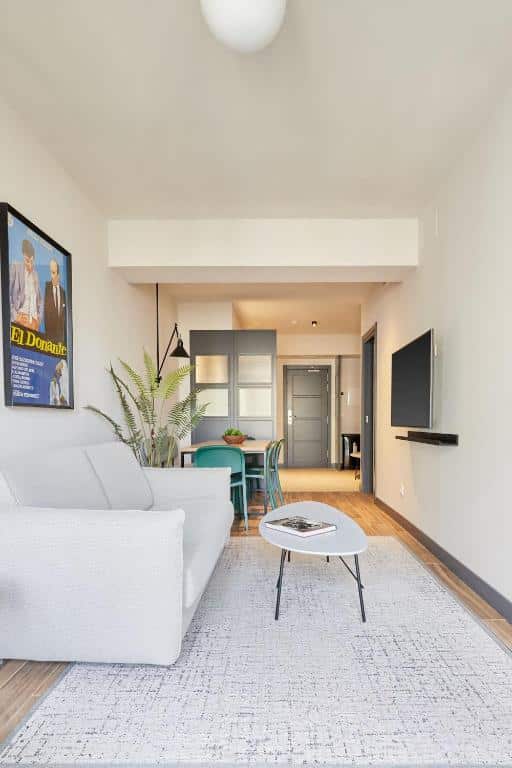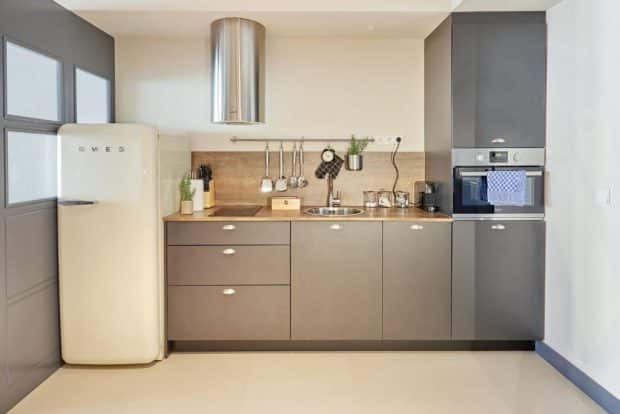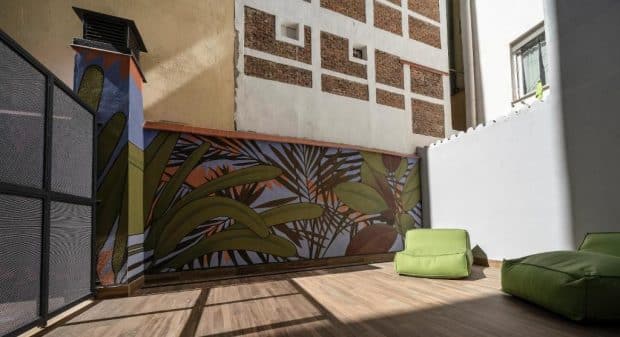 Sonder Malasaña is a boutique condo hotel in the trendy neighborhood of Malasaña in Madrid. Known for its stylish design and comfortable accommodations, this hotel offers guests a unique experience in the city's heart. Each apartment is thoughtfully decorated. With its convenient location near shopping, dining, and entertainment, Sonder Malasaña is an excellent choice for travelers to Madrid.
---
16. Pestana Plaza Mayor Madrid
C. Imperial, 8, 28012 Madrid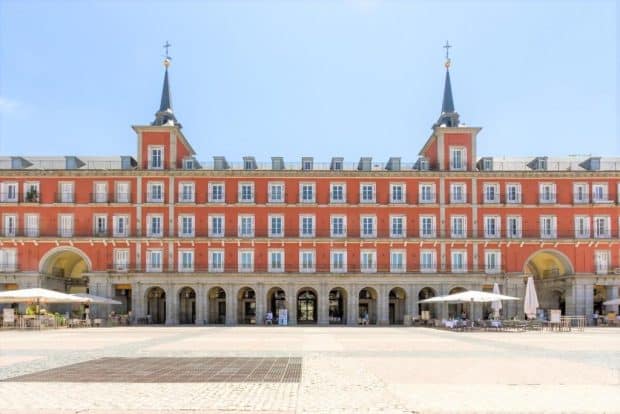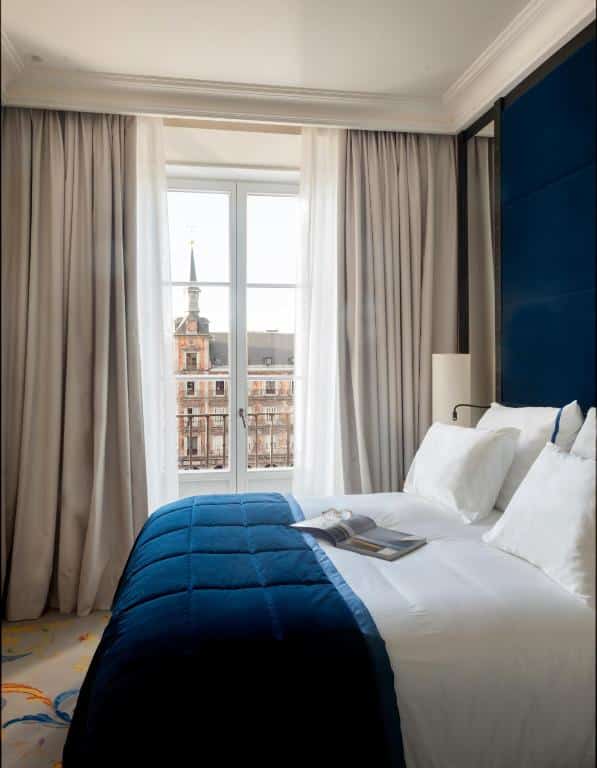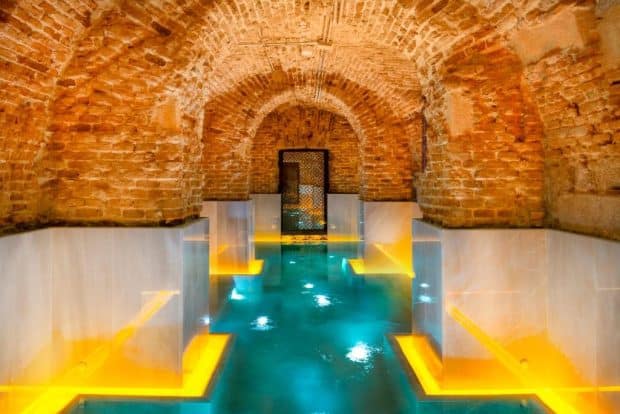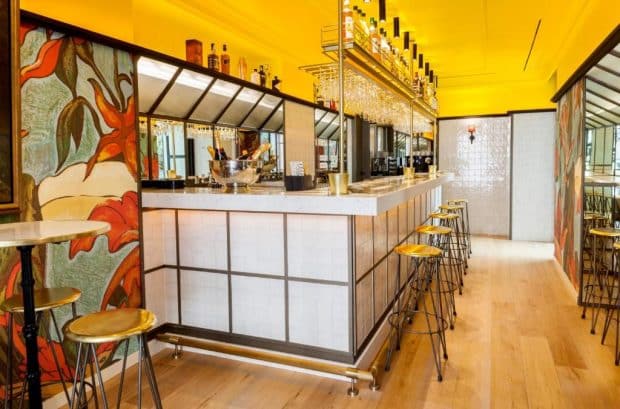 Nestled within the historic center of Madrid, on the iconic Plaza Mayor, Pestana Plaza Mayor offers luxury accommodations in a stunning setting. This renovated 17th-century building maintains its original charm while providing guests with modern amenities. The hotel features a rooftop swimming pool, exquisite on-site dining options, and panoramic views of the Old Town.
---
17. Riu Plaza España
C/ Gran Vía, 84, 28013 Madrid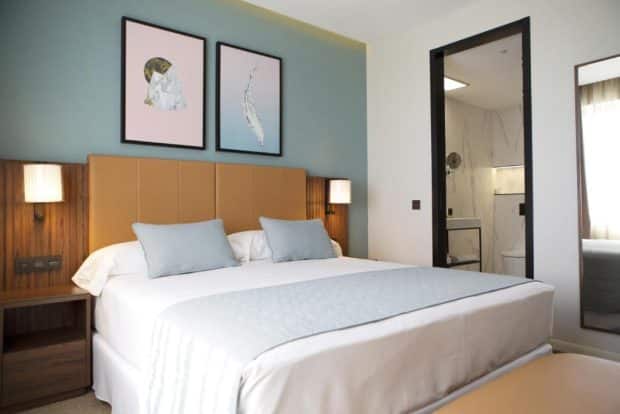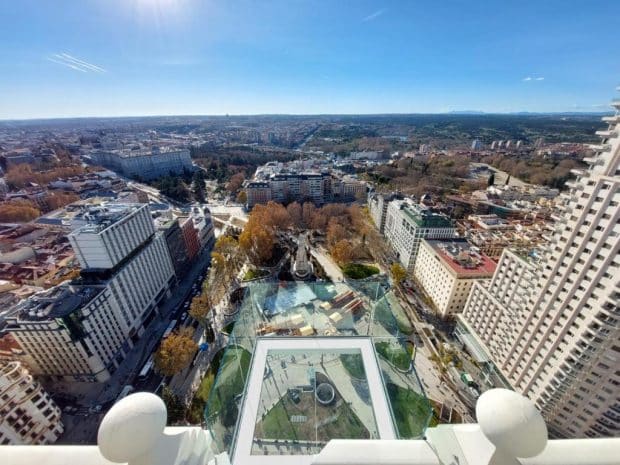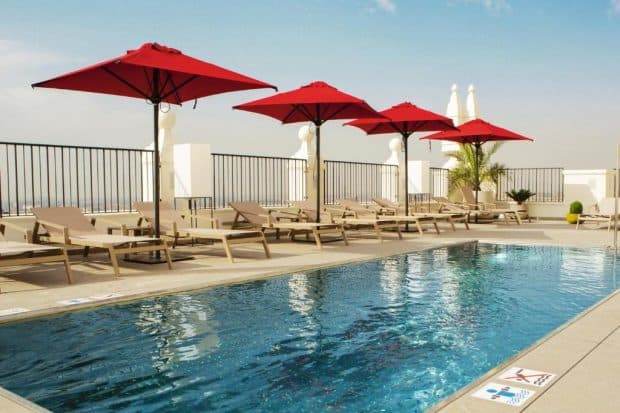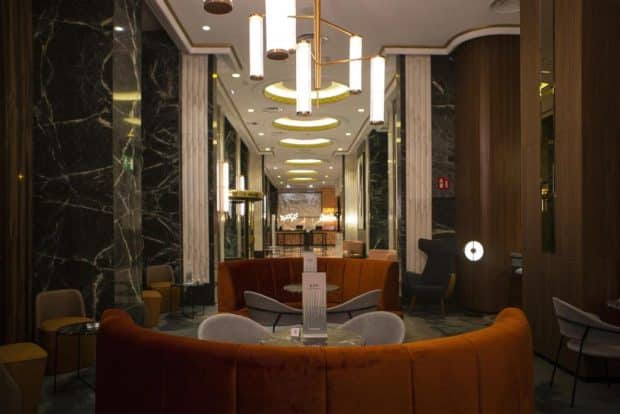 Riu Plaza España is an elegant luxury hotel in one of Madrid's most iconic buildings, Edificio España. This beautiful hotel boasts 27 floors of rooms and suites that offer breathtaking views over the city skyline. Riu Plaza España provides a variety of amenities for guests to enjoy during their stay, including a fitness center, a fantastic rooftop pool, and gourmet dining options. With its central location within walking distance of major attractions such as Gran Via and the Royal Palace, Riu Plaza España is one of the best luxury hotels in Madrid.
---
18. Rosewood Villa Magna
P. de la Castellana, 22, 28046 Madrid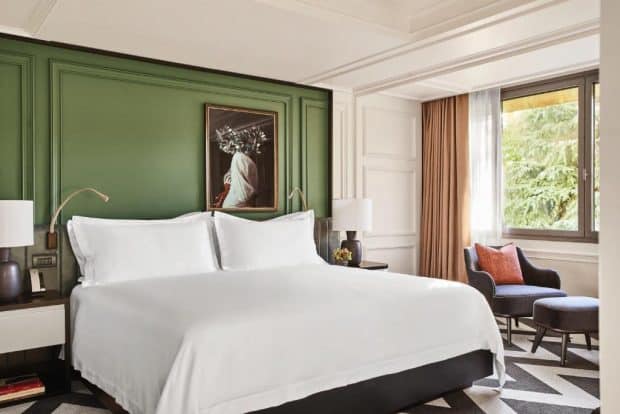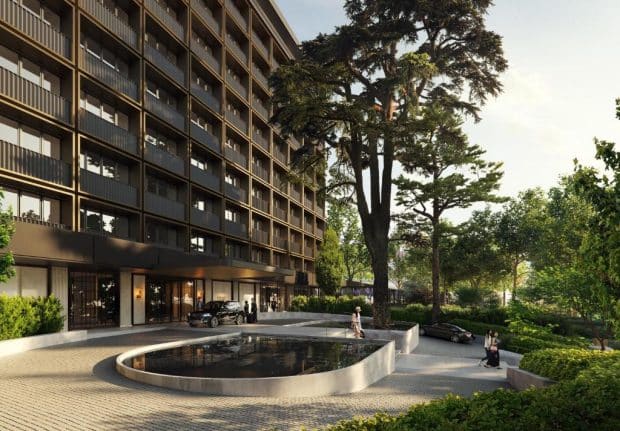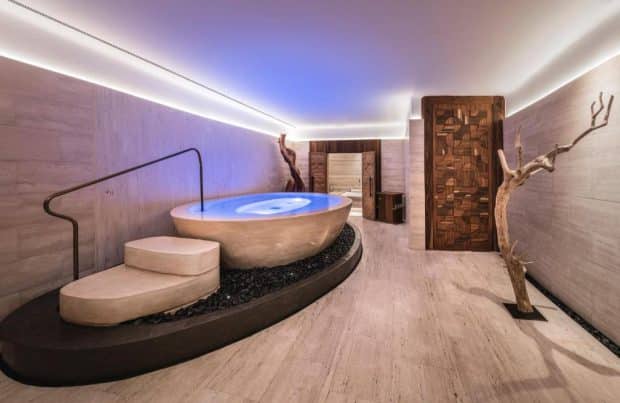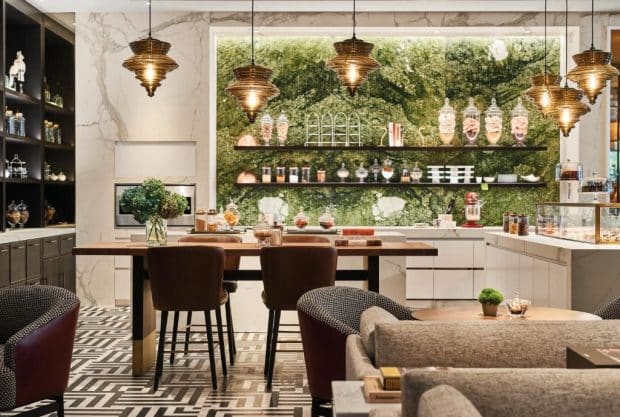 As one of the most prestigious luxury hotels in Madrid, Rosewood Villa Magna offers an unparalleled experience of elegance and sophistication. Its prime location on Paseo de la Castellana is close to numerous upscale shops, fine dining establishments, and world-famous museums. The hotel's opulent guestrooms are designed with world-class amenities and exceptional attention to detail. Guests can indulge in the hotel's award-winning spa, Michelin-starred restaurants, and stunning cocktail lounge.
---
19. Relais & Châteaux Heritage Hotel
Calle de Diego de León, 43, 28006 Madrid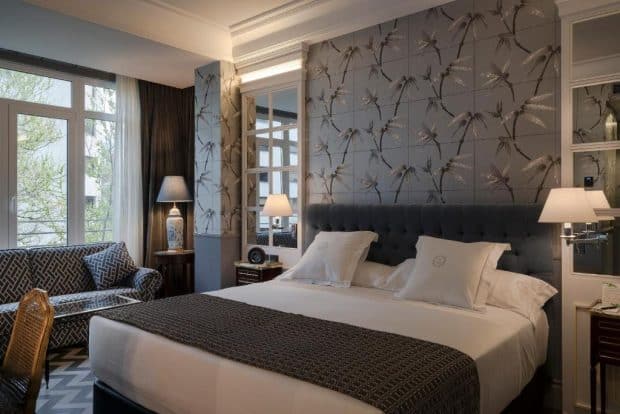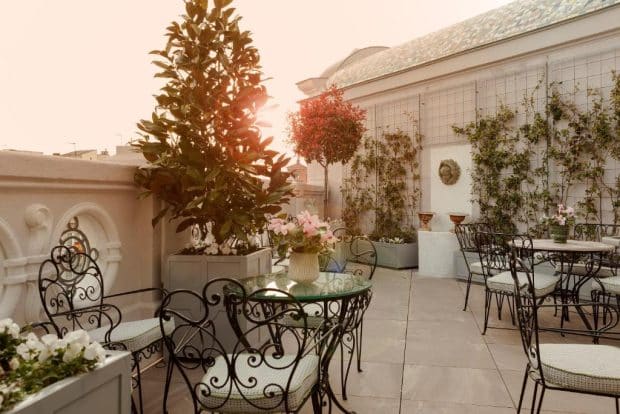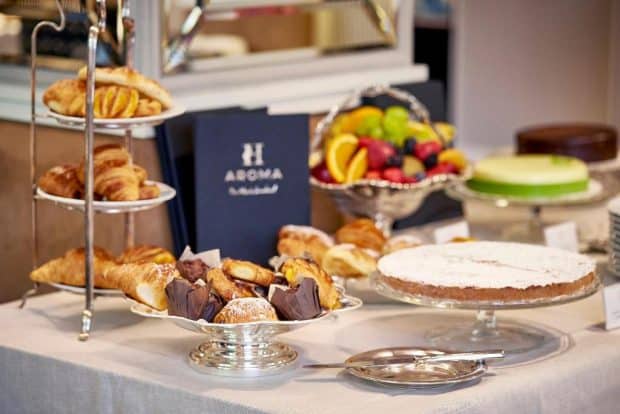 Located in the exclusive Salamanca district, the Relais & Châteaux Heritage Hotel offers travelers a luxurious and boutique experience. This elegant hotel features beautifully appointed rooms with refined furnishings and modern amenities for a comfortable and memorable stay. The on-site restaurant offers exquisite cuisine, showcasing the best Spanish gastronomy.
---
20. BLESS Hotel Madrid
C. de Velázquez, 62, 28001 Madrid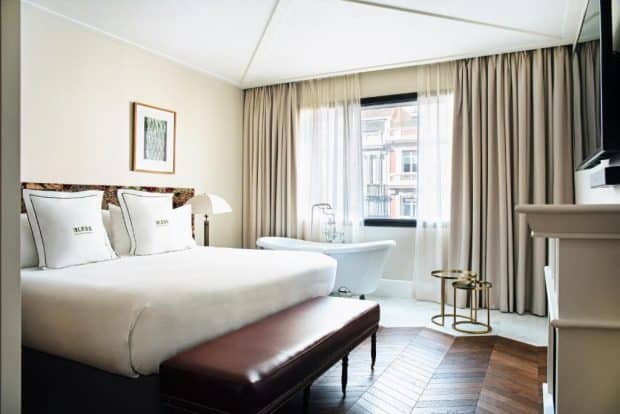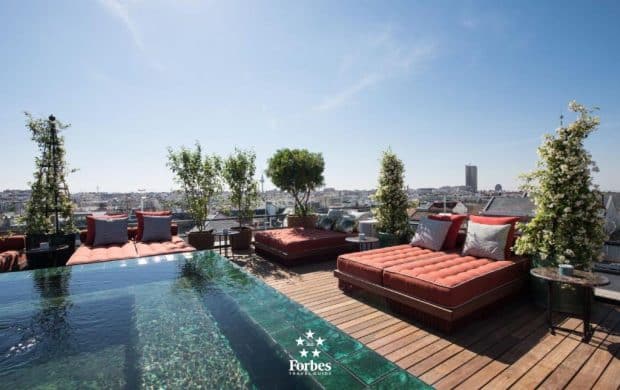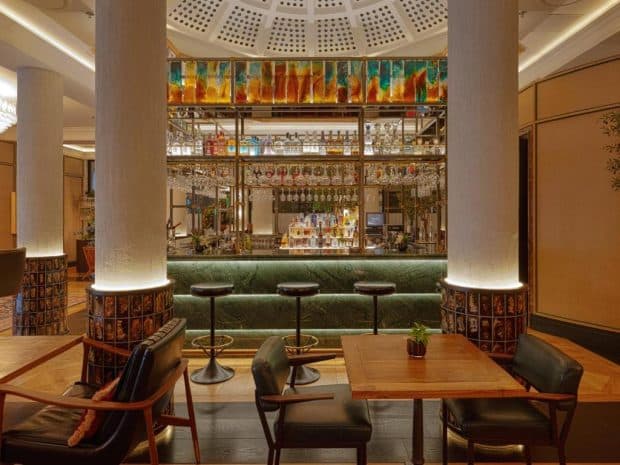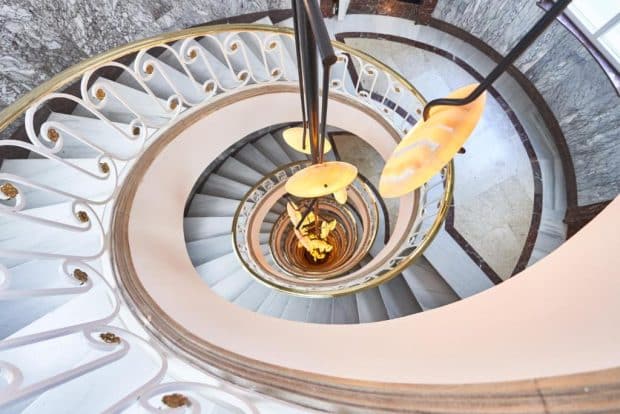 One of the leading hotels in Madrid, BLESS Hotel Madrid – The Leading Hotels of the World offers a chic and luxurious experience. Located in the fashionable Salamanca District, this five-star establishment boasts 111 elegantly designed rooms and suites with the latest technology and amenities. Guests can enjoy gourmet dining at Etxanobe Atelier, helmed by award-winning chef Fernando Canales Etxanobe or indulge in world-class wellness treatments at the on-site Spa by Natura Bissé.
---
21. TÓTEM Madrid
C. de Hermosilla, 23, 28001 Madrid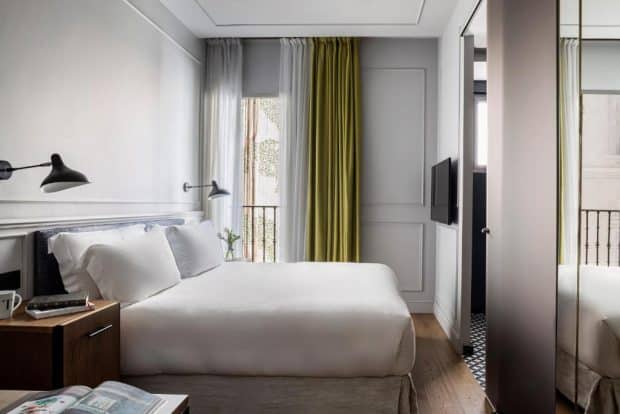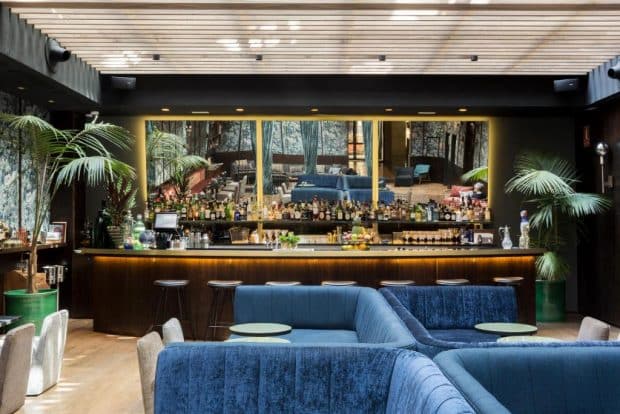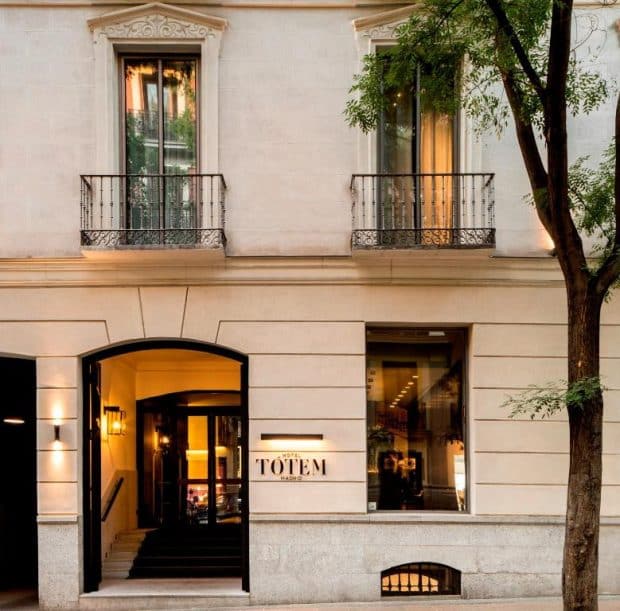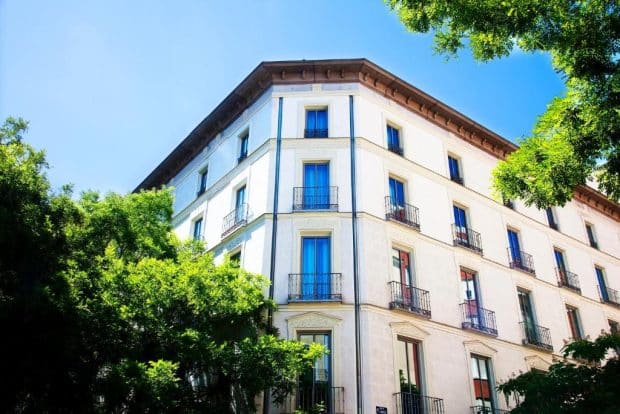 TÓTEM Madrid boasts an enviable location in the stylish Salamanca neighborhood. As a member of the prestigious Small Luxury Hotels of the World collection boasts sleek, modern design elements that blend harmoniously with the original architectural features of the 19th-century building. The hotel's well-appointed rooms provide ultimate comfort and sophistication, while its on-site restaurant serves innovative Spanish cuisine in an intimate setting.
---
Madrid is home to some of Europe's most luxurious and sophisticated hotels, each offering unique experiences and exceptional amenities for travelers seeking the best. Whether you're looking for opulent interiors, breathtaking city views, or innovative dining options, Madrid has it all.
---
---
Share on Pinterest
---