Train travel has always held a romantic allure, providing unique opportunities to connect with the landscapes and cultures that would otherwise remain hidden. This is especially true when journeying through Spain, a country steeped in history, astonishing architecture, and breathtaking natural beauty.
---
The Allure of Train Travel in Spain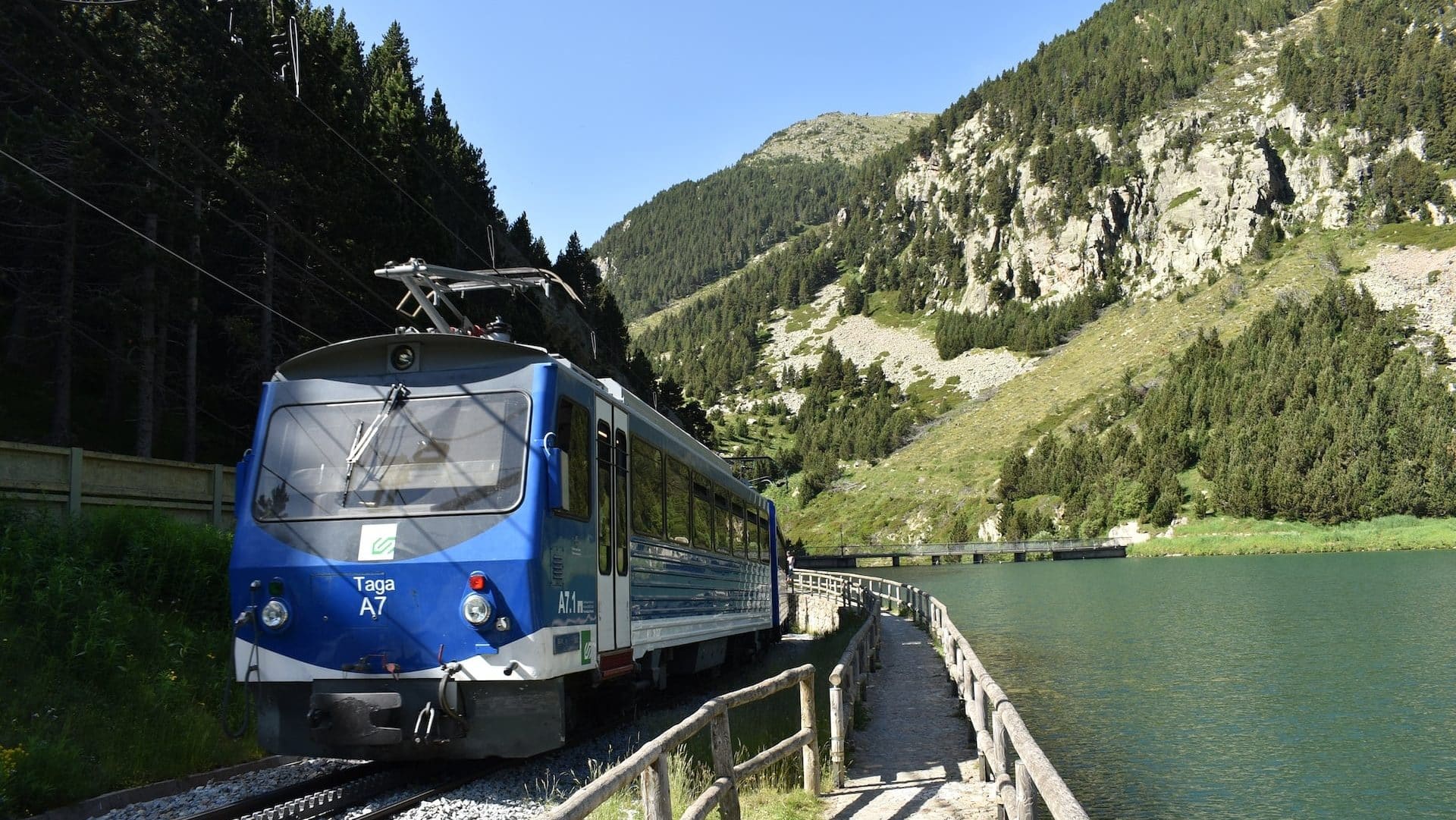 Moving about Spain by train offers passengers a chance to truly appreciate the sprawling countryside and beautiful coastline at a leisurely pace while avoiding the stresses and hassles inherent in other modes of transportation. The country's extensive high-speed railway network, which includes services such as the famous AVE, makes it possible to explore this wondrous land with speed and comfort, making train travel an unmatched mode of transportation when exploring Spain.
---
History of Train Travel in Spain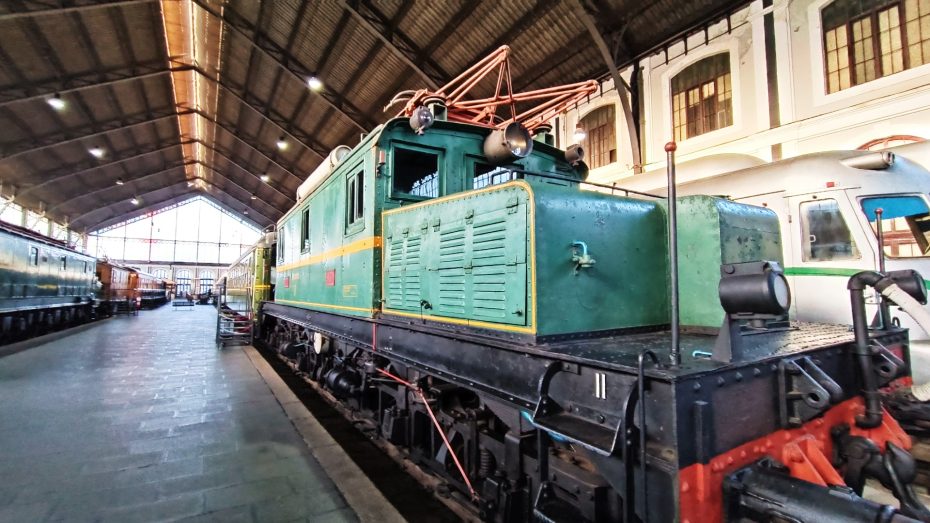 Spain's railway history has its origins in 1834 when the La Habana-Bejuca Güines line was inaugurated as the first railway line in Cuba, then an overseas Spanish province. However, it wasn't until 1848 that the first railway line on the Iberian Peninsula was built between Barcelona and Mataró. In the following years, lines such as the Madrid-Aranjuez line were opened, and by 1864 a line had been built reaching the French border.
By 1863, the Spanish railway network had reached the Portuguese border. In 1900, the La Poveda-Madrid line was the first to be electrified, and in the following years, electrification was extended to other major routes. In 1941, the Spanish railway system was nationalized with the creation of Renfe, which took over the private companies that had built and operated the network until then.
During the Franco era, Spain's railway system saw little investment, and by the 1980s, it was in a state of neglect. However, during the last half of the decade, the country began investing heavily in its railway network, and in 1992, the AVE high-speed train began operating between Madrid and Seville. The Madrid-Barcelona line was opened in 2008 and reduced travel time between the two cities to just over two hours.
Today, Spain has an impressive high-speed rail network, with AVE services connecting most of the major cities in the country. The AVE is one of the world's fastest and most modern high-speed trains, with trains reaching speeds of up to 310 km/h (193 mph). In 2019, the Spanish high-speed rail system alone carried some 31 million passengers.
The Spanish railway network is known for its speed, efficiency, and comfort, making it a popular choice for domestic and international travellers in Spain.
---
Book Cheap Train Travel in Spain
---
Unveiling the 20 Most Beautiful Train Stations in Spain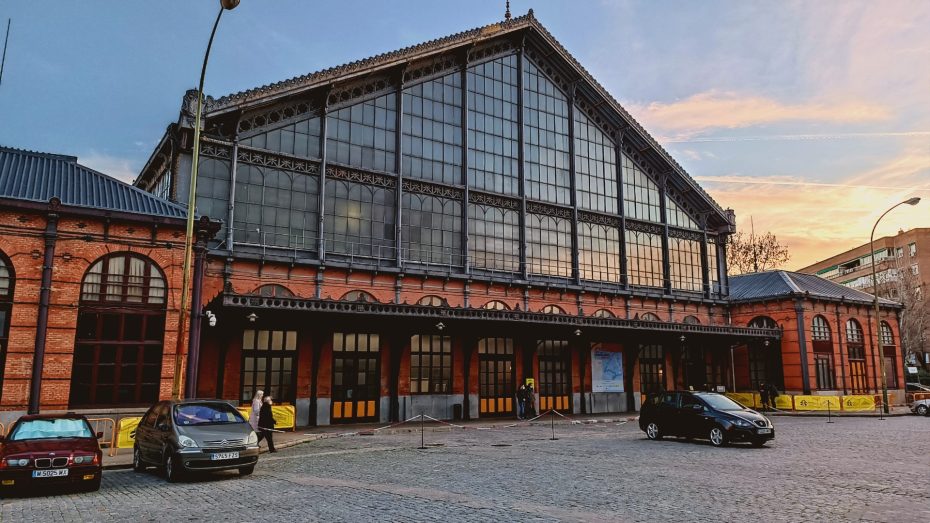 Spain's train system is renowned for its variety of beautiful stations. From stunning historical landmarks to modern architectural feats, there is something for everyone to appreciate.
The architecture of Spanish train stations varies from region to region, but the predominant styles are Modernista (Art Nouveau), Art Deco and Gothic Revival. In this article, we will explore some of the most beautiful train stations in Spain, examining their unique styles and features.
For this article, we will focus only on train stations that are still in operation and offer regular train services. Examples such as Barcelona's Estació del Nord, which is now a bus terminal or Madrid Delicias, currently the Railway Museum, won't be included. Likewise, we are not including metro stations, as we will cover those in another post.
This is our ranking of the 20 most beautiful train stations in Spain.
20. Santander ADIF (Cantabria)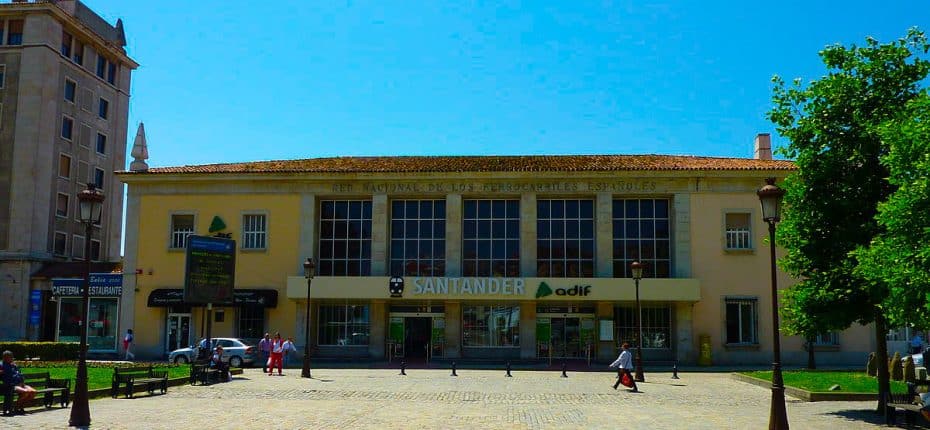 The Santander ADIF train station is a true architectural jewel along Spain's coast.
Located in the heart of Santander, Cantabria's capital, this station is one of the largest in Spain. It features a striking blend of styles that seamlessly integrates classical and modern elements, and it's priced for its austere beauty and streamlined architecture.
Designed by the renowned Spanish architect Luis Gutierrez Soto, the station was inaugurated in 1943. It is serviced by several local, regional and intercity lines, connecting passengers to regional and national destinations.
---
19. Vilanova i la Geltrú (Barcelona)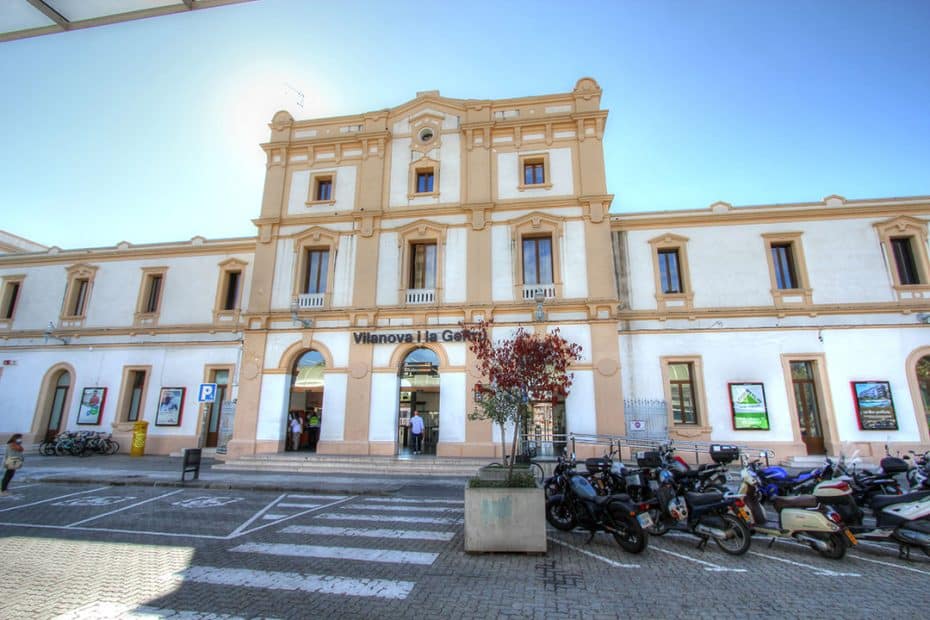 One of Catalonia's most beautiful train stations is located in the small coastal town of Vilanova i la Geltrú.
This station is a prime example of Modernista architecture, boasting incredible tilework, wrought iron details, and stained-glass windows. The station was designed by the renowned architect Jeroni Granell i Manresa and was inaugurated in 1881.
Vilanova is served by several lines, including the R2 Sud line, which connects Barcelona with the southern Mediterranean towns of Garraf, Sitges and Costa Dorada.
---
18. Sigüenza (Guadalajara)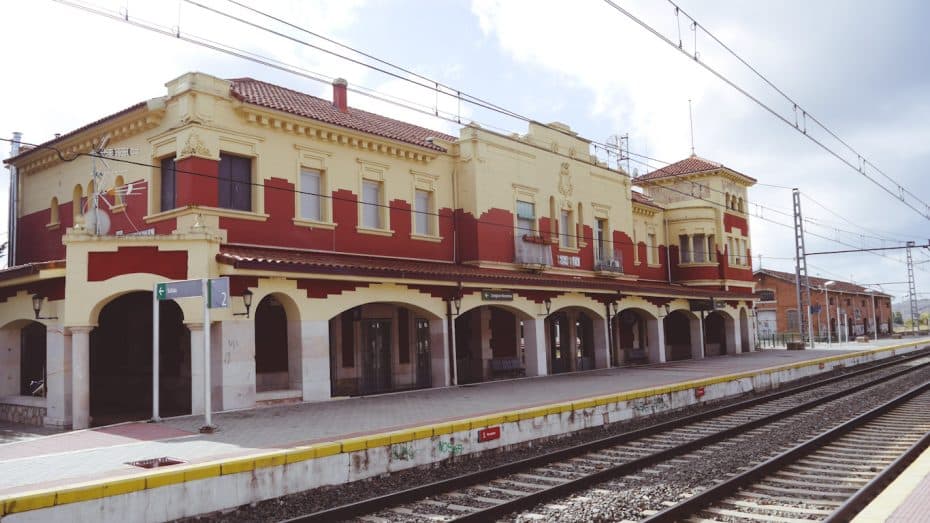 Moving on to another impressive train station, the Sigüenza train station in Guadalajara is a true architectural gem.
The station was inaugurated in 1862, with the opening of the Jadraque – Medinaceli section of the Madrid-Zaragoza railway line by the Compañía de los Ferrocarriles de Madrid a Zaragoza y Alicante or MZA. However, during the Spanish Civil War, the station was destroyed and was later rebuilt with its current design.
It is a relatively small station with only two tracks, but it serves important regional and long-distance lines, including the popular Madrid-Zaragoza-Barcelona line.
The station's location within the city is also noteworthy, as it offers stunning views of the medieval town of Sigüenza and its impressive Cathedral.
---
17. Aranjuez (Madrid)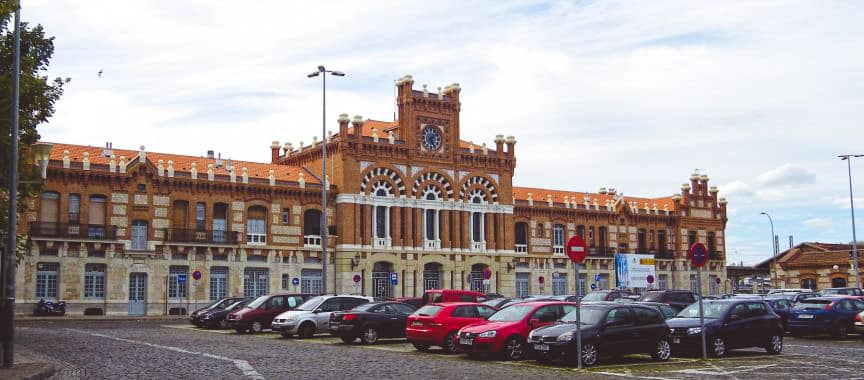 Moving on to one of the standout stations in Comunidad de Madrid, the Aranjuez train station is a must-visit for architecture and history enthusiasts alike. This grand station was built in a Neo-Mudéjar style – a nod to the city's longstanding Moorish history.
The station is located in the historic centre of Aranjuez, near the Royal Palace and Gardens and was built in the mid-19th century. Architect Narciso Pascual y Colomer designed the station, blending traditional Mudejar and Moorish influences with modernist elements.
The station has four tracks and serves trains from the C3 line, connecting passengers to Madrid and other regional cities.
What sets Aranjuez apart from other stations is its architectural beauty and historical significance, as it played an essential role in developing the region's railway system.
---
---
16. Cartagena (Murcia)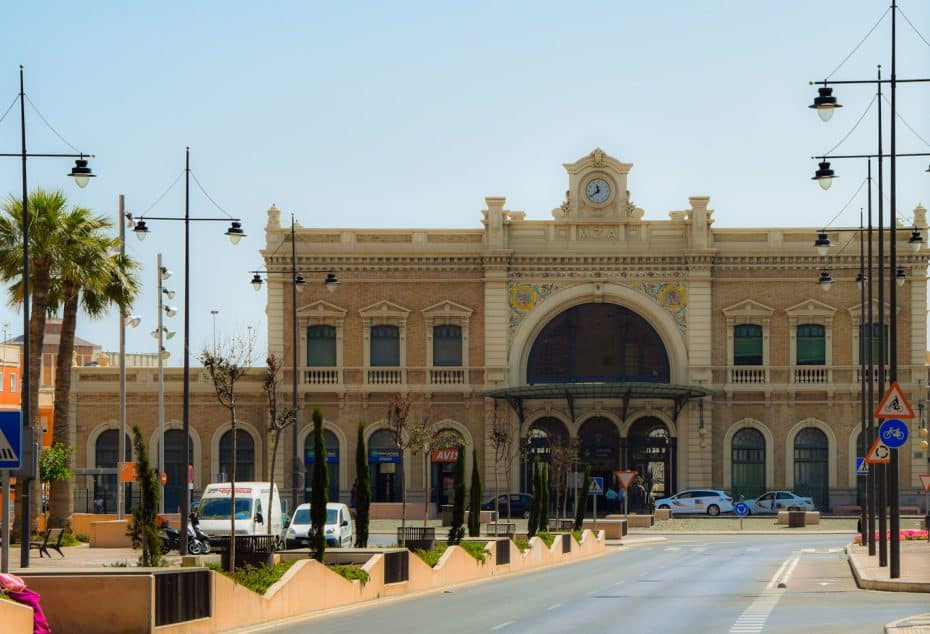 Cartagena is home to one of the country's most impressive train stations. The Cartagena train station is a stunning example of Art Nouveau architecture, with its beautiful floral patterns and intricate ironwork. It was designed by architect Emilio Antón Hernández.
The station is located in the heart of the city, north of the Old Quarter, and is easily accessible by foot, bus, or taxi.
Aside from its striking appearance, the station has a rich history that dates back to the early 20th century (it was built between 1903 and 1908), and it serves several regional and long-distance lines on the Mediterranean and Madrid-Levante corridors.
---
15. Santiago de Compostela (Galicia)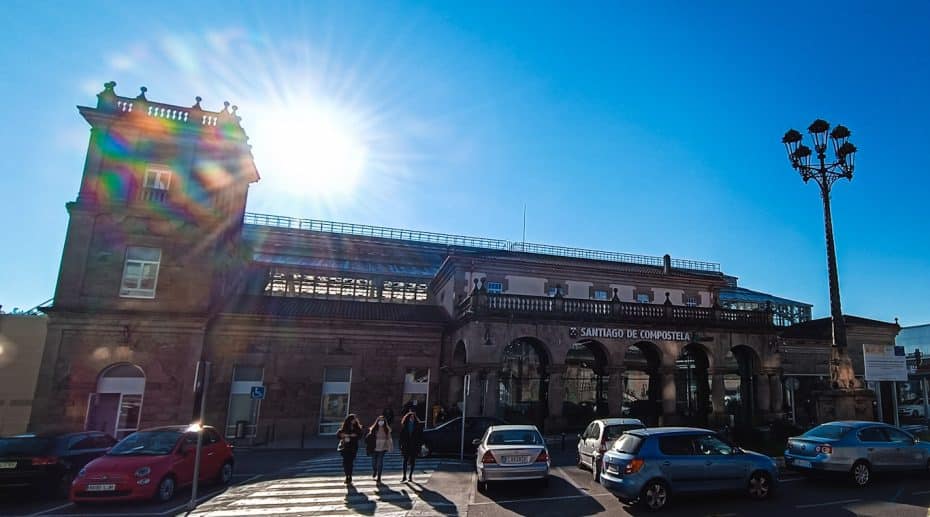 The Santiago de Compostela train station is an impressive example of regional Galician architecture, as it follows the style of the local pazos (traditional manor houses found in the Galician countryside).
The asymmetric building consists of a two-story central pavilion flanked by two lateral wings with two square towers at their ends. It is located in the city centre and dates back to the 1940s.
The station handled more than three million passengers in 2019, connecting the region with the rest of Spain and international destinations.
---
14. A Coruña San Cristovo (Galicia)
Another impressive train station in Galicia is A Coruña train station. It is located on the southwestern outskirts of the city.
The A Coruña San Cristovo train station was built in the 1930s. The station has a unique design sets it apart from other train stations in Spain.
Its exceptional style features a functional and expressive design that combines steel and concrete in a Neo-Romanesque style to stunning effect.
The station serves regional and national lines, including the popular high-speed trains connecting A Coruña to Santiago de Compostela and Madrid.
---
13. Príncipe Pío (Madrid)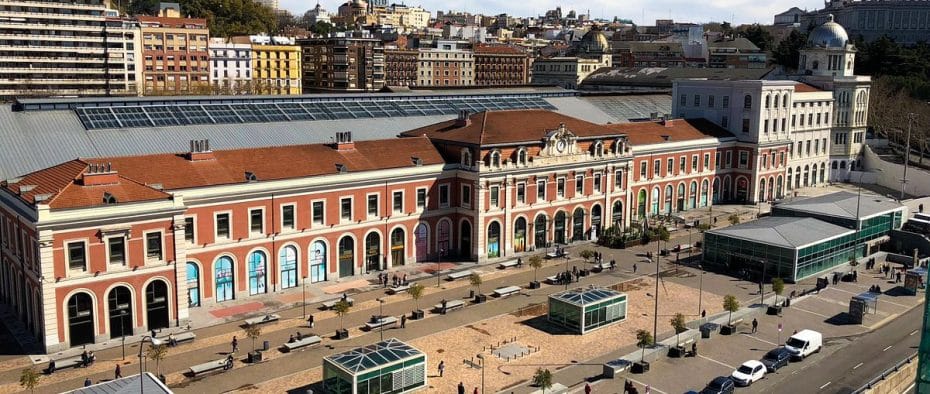 Príncipe Pío is one of Madrid's most important train stations, serving as a major transportation hub for the city and connecting its residents and visitors to local and regional destinations.
The current Príncipe Pío station was initially called Estación del Norte. Built as a terminal in Madrid for the General del Norte or Imperial line, which ran from Madrid to Irún, a city on the French border, the station began its construction in 1859.
The station is located in the Moncloa-Aravaca district, on the city's west side, near the Royal Palace.
The station's intricate brickwork, colourful tile decorations, and elaborate arches and domes make it one of Madrid's most visually striking landmarks.
---
---
12. Antequera-Santa Ana (Málaga)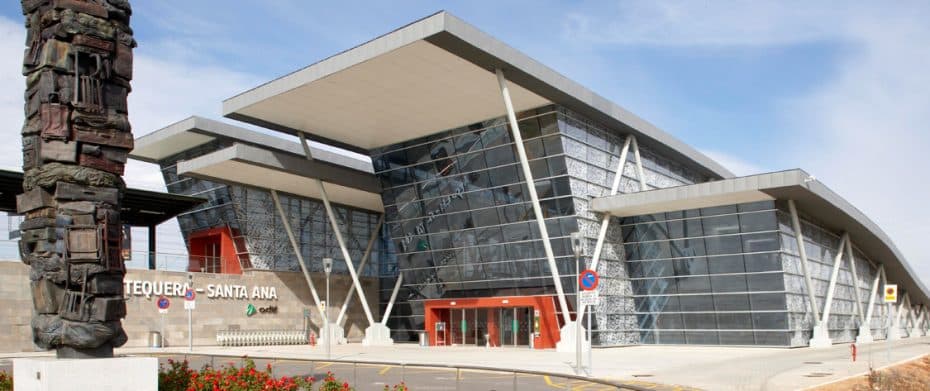 Antequera-Santa Ana is a modern train station that's been around since 2006. The station boasts a sleek, contemporary style that incorporates elements of traditional Andalusian architecture.
It looks more like an ultra-modern airport terminal than a traditional station, and it's the only contemporary-style structure featured on this list of the 20 most beautiful Spanish railway stations.
The station is located a few miles outside the historic city centre of Antequera. It serves several regional and long-distance lines, including high-speed AVE services connecting Malaga, Seville, and Madrid.
This station is remarkable because of its size and eco-friendliness; it features solar panels, rainwater harvesting, and energy-efficient systems.
---
11. Valladolid Campo Grande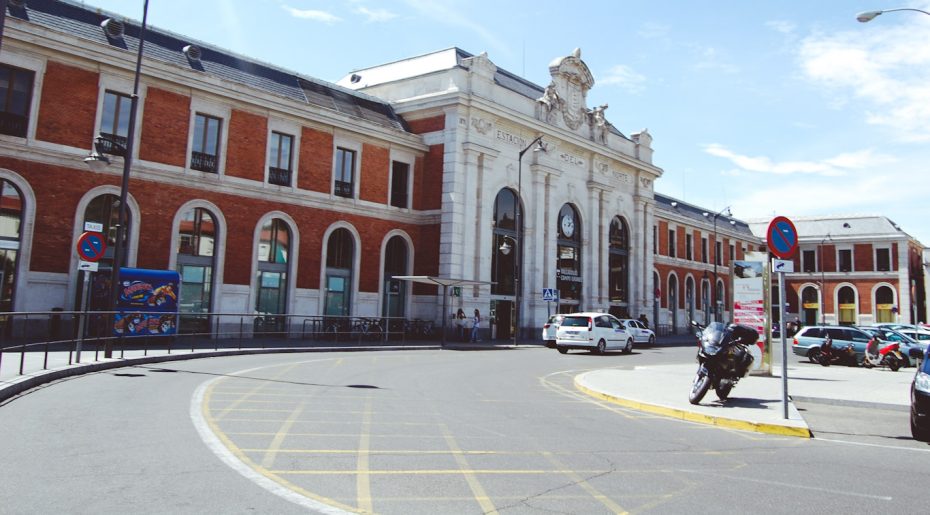 Moving towards the centre of Spain, we come across the Valladolid-Campo Grande train station. The station is located in the heart of Valladolid city and is one of the largest train stations in Spain.
Opened in the late 19th century, the station was built in a neoclassical style. The picturesque surroundings, with the Campo Grande Park just to the south and the Pisuerga River just to the north, only add to the station's grandeur.
Its grand architecture, ornate façade, and spacious interior make it a true marvel of both engineering and art.
This station is serviced by several regional and national lines, including high-speed trains connecting Valladolid to Madrid, Segovia, Barcelona and other major cities.
---
10. Almería Station (Andalusia)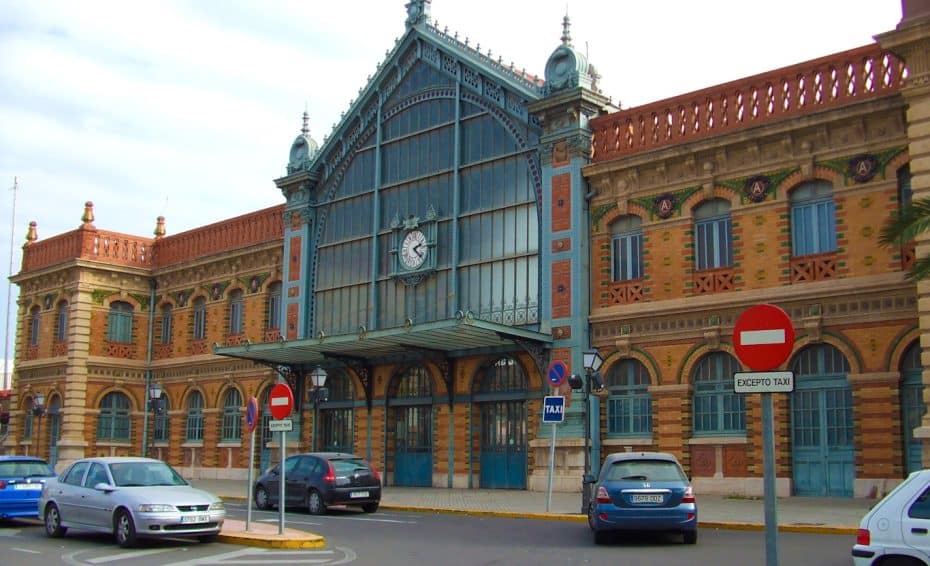 Almería Train Station is a historic railway station in the city centre of Almería, Andalusia.
The station was built in 1893, and its architecture is characterised by an eclectic mix of styles, including neo-Moorish, neo-Renaissance and neo-Gothic.
The station's grand façade, with its intricate stonework, glasswork and ornate decoration, is an impressive sight to behold.
The next-door Intermodal station serves several regional and long-distance lines, as well as bus lines.
---
---
9. Lleida-Pirineus (Catalonia)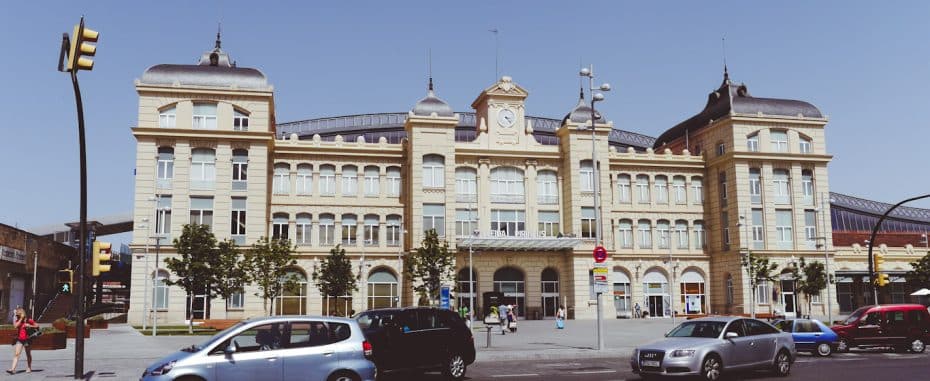 Lleida-Pirineus Station is located in the Catalan city of Lleida, north of the city centre, in front of the Ramón Berenguer square. Despite its name, the station lies some 180 km south of the Pyrenees mountains.
The station was built in 1927 and underwent a significant renovation in 2003.
Its large, airy platform hall is adorned with modernist architectural elements, and the station blends seamlessly into the urban landscape.
Lleida-Pirineus is a major transportation hub for the region, serving several high-speed and regional lines, including AVE services to Madrid, Barcelona and Zaragoza.
---
8. Zamora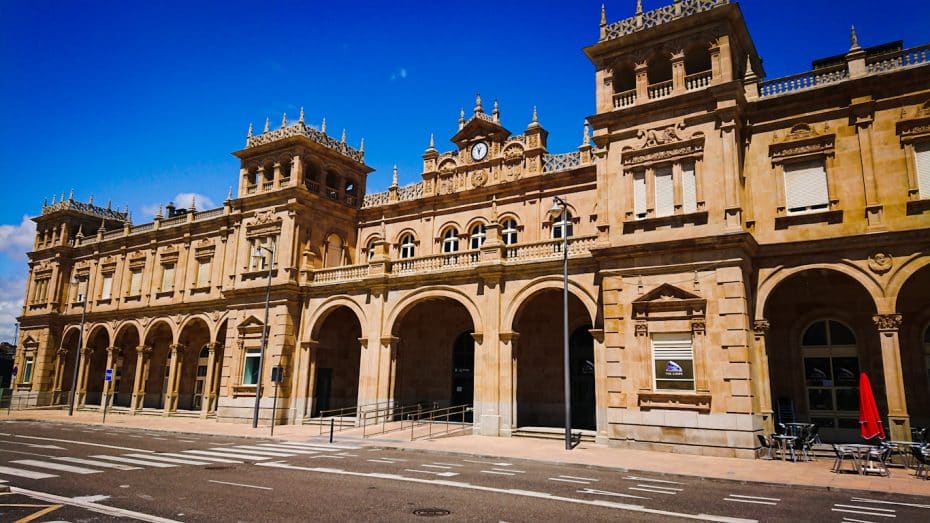 Zamora Station is a stunning example of grand architecture in Castile and León.
The station was inaugurated in 1958 after long works that began in 1927 and underwent a significant renovation in 2003 with the arrival of the high-speed lines on the Madrid-Zamora-Ourense line.
The Neoplateresque-style building was built with golden stone from Villamayor and features a main 88-metre long façade.
The station's exterior features intricate stonework, and its interior is just as impressive, with soaring ceilings, grand arched windows, and a stunning glass ceiling in the station's main hall.
Long-distance traffic mainly focuses on connections with Madrid, Galicia and Levante, provided by AVE and Alvia trains. Regional connections service Valladolid, Puebla de Sanabria and Medina del Campo.
---
7. Madrid-Atocha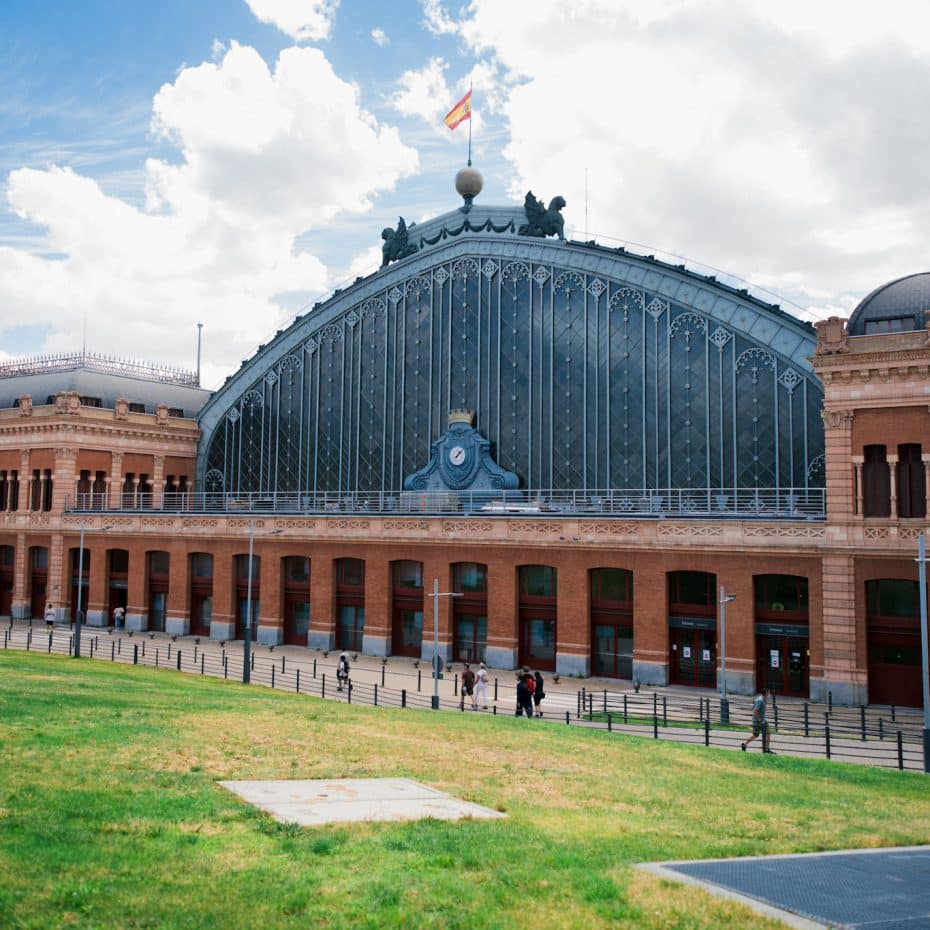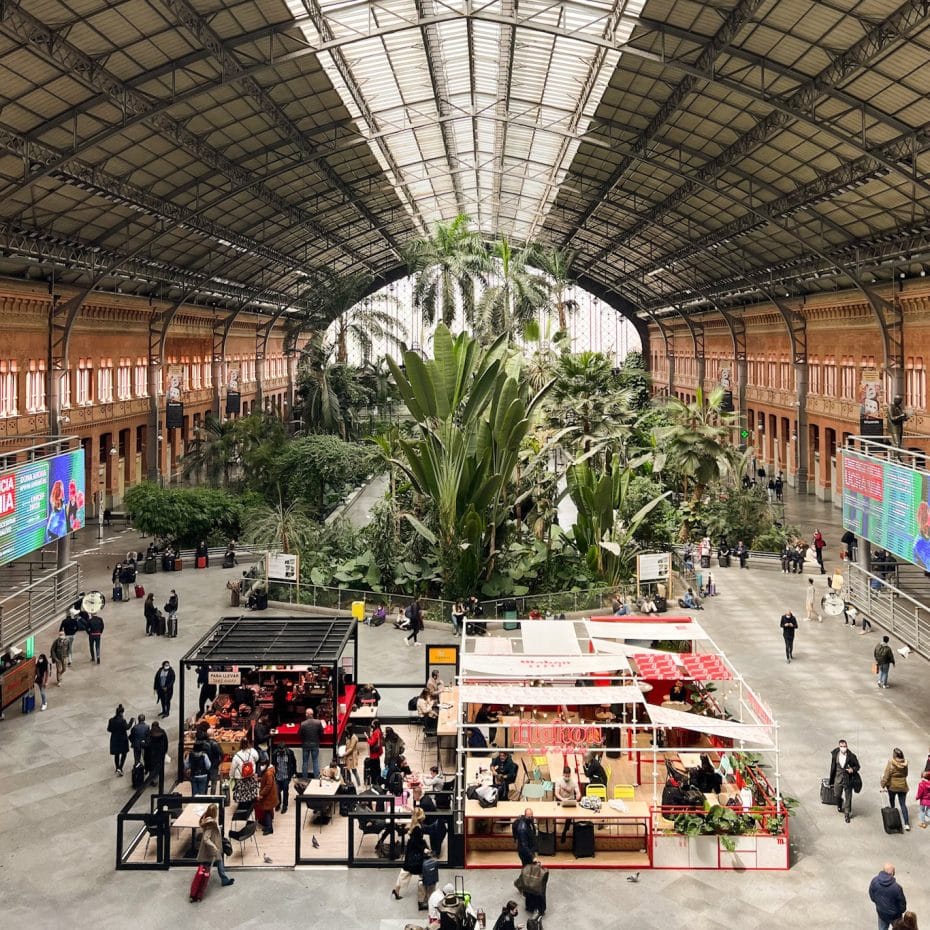 Madrid-Atocha Station is undoubtedly one of Spain's most beautiful and impressive train stations and a masterpiece of industrial architecture. It is characterised by its grand size, exquisite design, and spacious interior.
The station was initially built in 1892, named Estación del Mediodía, and underwent a massive renovation in 1992. The upgrades brought in a modern twist to the station while maintaining its original style. One of the most striking features of this station is the indoor garden, which covers an area of 4,000 square metres and features over 7,000 tropical trees and plants.
Since 1992, long-distance railway traffic through the station has been handled by the adjacent Puerta de Atocha Station, while local services go through the underground Atocha-Cercanías.
The Atocha stations serve a wide range of regional, national, and international lines, including the high-speed AVE trains, which connect Madrid to other major cities such as Valencia, Seville, and Barcelona.
---
6. Bilbao-La Concordia (Basque Country)
The Bilbao-La Concordia station, also known as Estación de Santander, is a true gem of Basque architecture and is considered one of the city's architectural and historical highlights.
The station, designed by the architect Severino Achúcarro, was opened in 1902 and represents one of the most striking examples of Art Nouveau architecture in Northern Spain.
Currently, it offers commuter and medium-distance (regional) services operated by Renfe Cercanías for lines C-4 and R-3b, as well as the regional lines R-3 and R-4.
---
5. Estación del Norte (Valencia)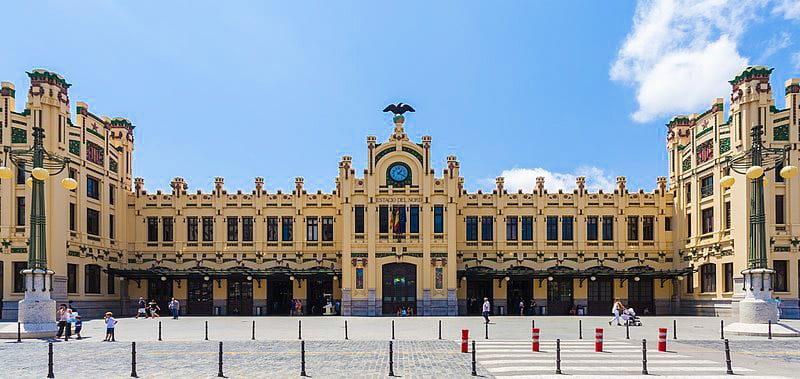 Estació del Nord is the main railway station in Valencia, Spain.
It was built between 1906 and 1917 and designed by architect Demetrio Ribes in the Valencian Art Nouveau style, known as Modernisme.
It is a hub for commuter trains, long-distance services within Spain, and international routes to France. The station is also an essential bus, metro, and taxi connection point.
It features beautiful mosaics, ceramics, and stained-glass windows representing various destinations and transportation means of the era. Estació del Nord is considered an architectural masterpiece and is one of Valencia's most prominent landmarks today.
---
4. Barcelona Estació de França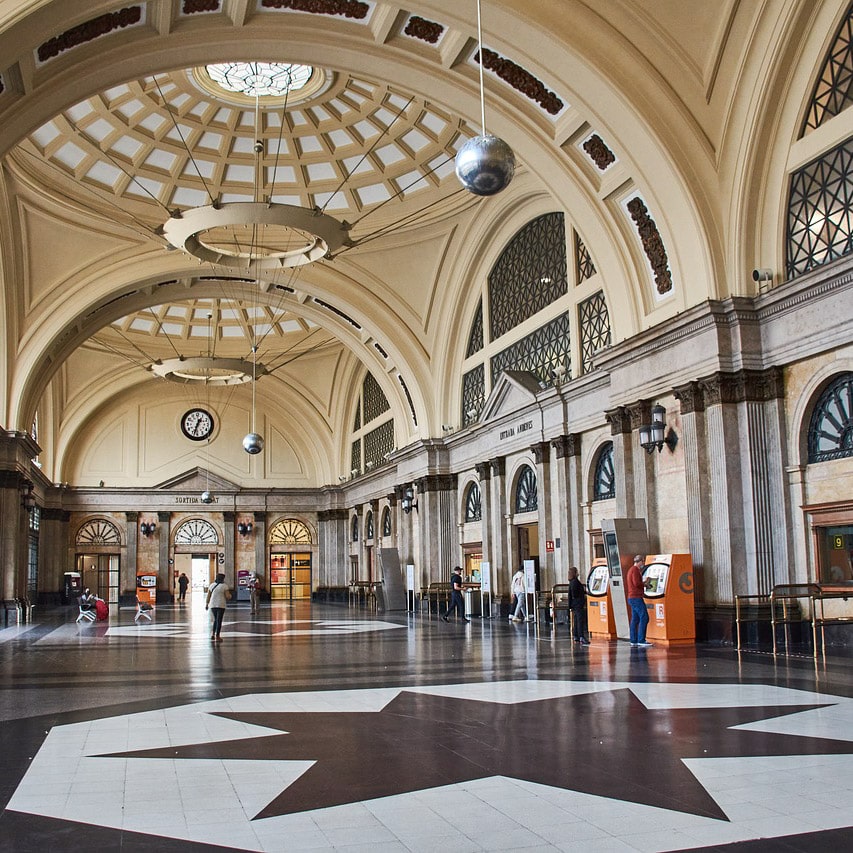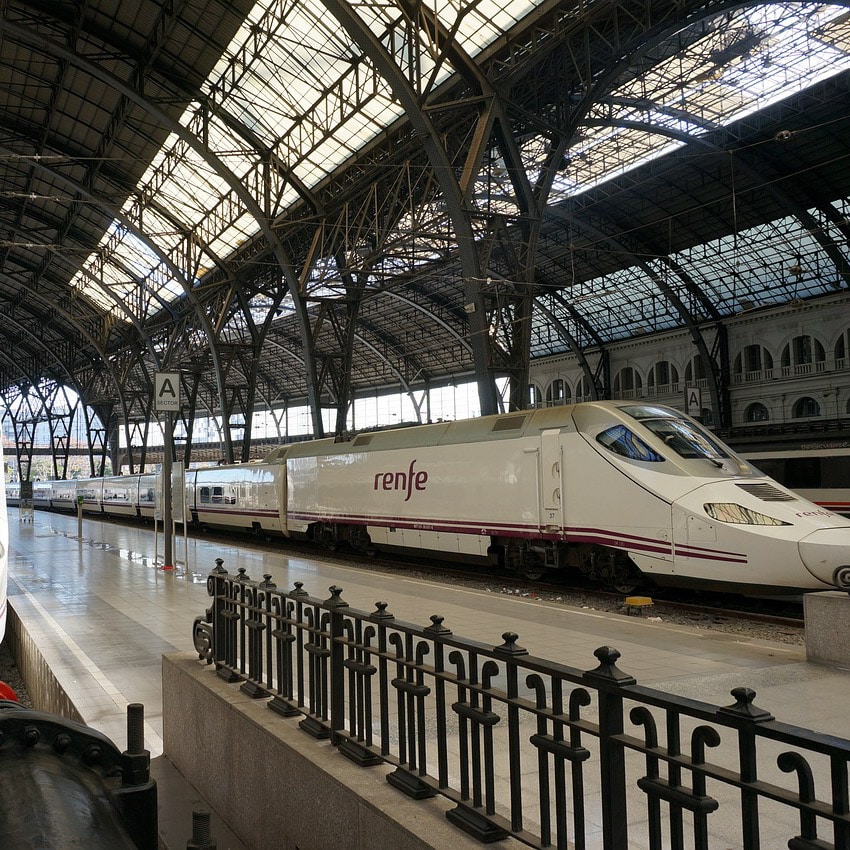 Barcelona França railway station, also known as Estació de França or simply La França, is a major railway station in Barcelona, Spain.
It was built in the 1920s with a combination of classical and modern architectural styles. It was designed by Pedro Muguruza and Andreu Muntaner.
The station operates regional and long-distance trains, primarily serving destinations in France and Eastern Spain. Though not as busy as Barcelona Sants station, it remains an important transport hub featuring 13 platforms and a grand concourse adorned with marble and bronze decorations.
---
3. Canfranc International Railway Station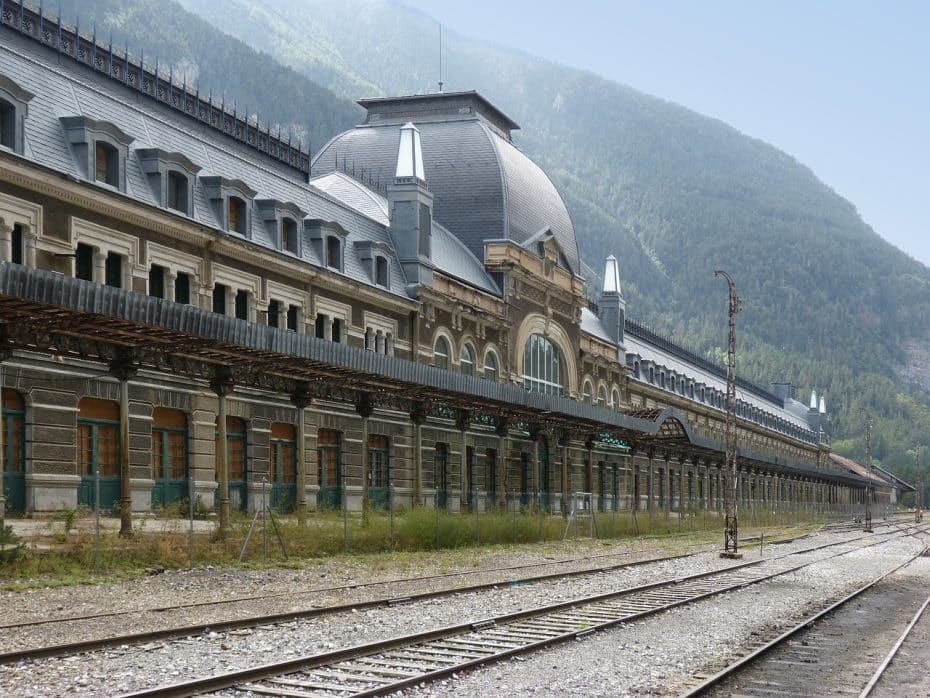 Canfranc International Railway Station is located in the village of Canfranc, Spain, near the French border.
It opened in 1928 and was once an important transit point between Spain and France but lost its significance after a bridge on the French side collapsed in 1970.
The station is well-known for its vast size and architectural brilliance, with the main building stretching over 240 metres long. It has experienced several historical events, including smuggling during WWII and a controversial visit by Adolf Hitler.
Currently operating limited domestic services, there are plans to reopen the international line and rehabilitate the area by Spanish and French authorities.
---
2. Jerez de la Frontera (Andalusia)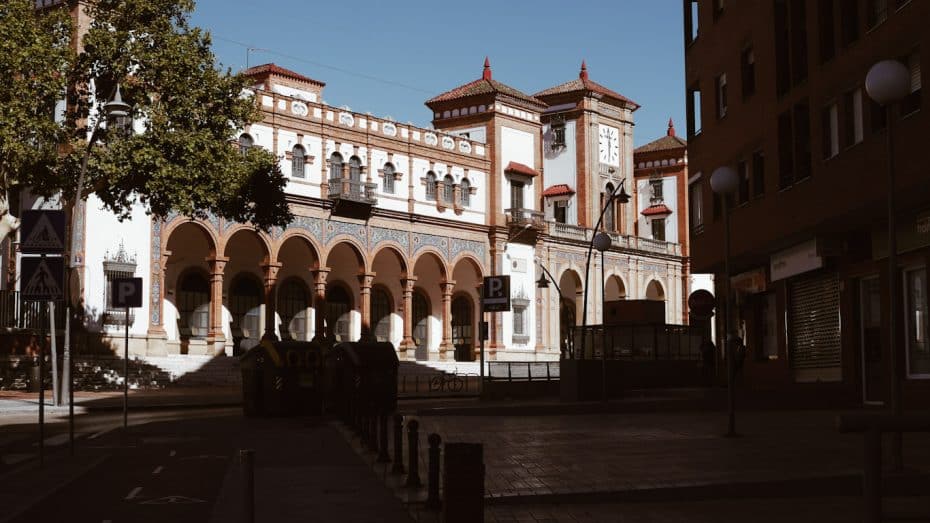 Jerez de la Frontera railway station is an important hub for local and regional rail services.
The current station building was inaugurated in the late 1920s. The Jerez station passenger building combines the historicism of the Neo-Renaissance style with Mudéjar elements.
The main façade is characterized by a central body and a tall tower that houses the station's central clock. The station is decorated with stone and brickwork, but its main feature is the use of traditional Andalusian tiles. The scenes represented are allegories or mythological figures presided over by the Second Spanish Republic's coat of arms, a truly unique feature in Spain.
The station offers high-speed, medium-distance, and commuter train services. The line connects the city with other major destinations such as Seville, Cádiz, and Madrid.
---
1. Toledo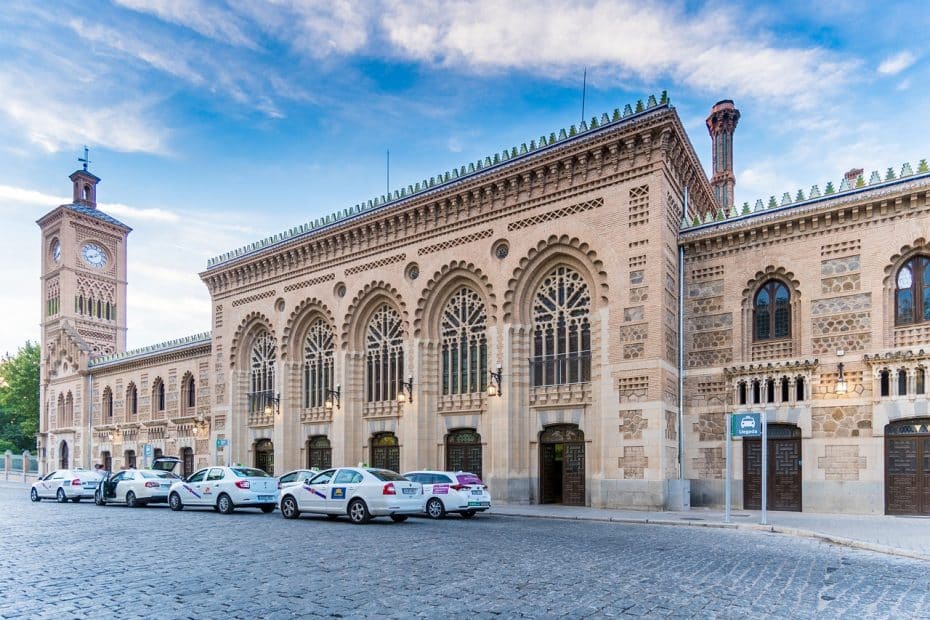 Toledo Train Station is one of Spain's most beautiful stations and holds significant historical importance.
It was designed by Narciso Claveria and inaugurated in 1919, replacing the previous station dated back to 1858.
The station's architecture showcases a blend of Art Nouveau, Neo-Mudéjar and Neo-Romanesque styles that exude a grandeur unmatched by other contemporary buildings. It is impossible to miss the station's 162-metre-long façade, decorated with beautiful tiles and a clock tower.
Apart from its design, the station is also renowned for its location within the city, at the entrance of the historic Old Town.
It serves the Madrid-Toledo high-speed line. The original Madrid-Toledo train line was inaugurated on November 16, 1858, by Isabella II of Spain. It was the second railway built in Spain, after the Barcelona-Mataro route.
---