A relative newcomer to the international travel scene, Bogotá is a vibrant and cosmopolitan metropolis waiting to be discovered. As clichéd as it might sound, the Colombian capital is truly a city of contrast. Bogotá is famous for its quaint colonial Old Town, impressive art museums and exciting nightlife, as well as for its up-and-coming fashion and restaurant scene. If you are looking for the best areas to stay in Bogotá, you have come to the right place.
Located in the heart of the country, and nestled 2,640 meters (8,660 feet) above sea level, among high Andean peaks, Bogotá is the largest and most populated city in Colombia and one of the leading business and transport hubs in Latin America. From a tourist's standpoint, Bogotá is known for being home to the Botero and Gold museums, Monserrate Hill, and La Candelaria district. The Colombian capital is quickly becoming one of the most visited destinations in South America for luxury travelers and backpackers alike, with new boutique hotels, as well funky hostels constantly being opened all over town.
It doesn't matter whether it's your first time visiting Bogotá or if you're an expert in all things South America, keep reading to find out more about our selection of the best areas to stay in Bogotá for every type of traveler. We've also included a safety section in each area for you to take into account when choosing where to stay in Bogota.
---
Accommodation Options in Bogotá
---
Where to Stay in Bogotá, Colombia: A Summary
If you don't have the time or the patience to read the full post, here is a quick summary of our recommended areas to stay in Bogotá. Read on to discover more information about each of these neighborhoods.
---
What's the Best Area to Stay in Bogotá?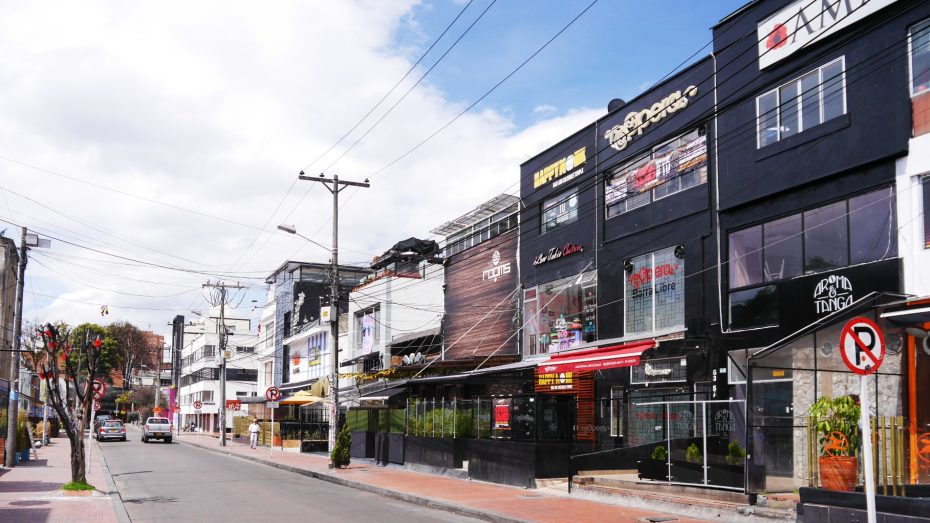 The best area to stay in Bogotá is Zona Rosa, especially if you are a first-time visitor or a foreign tourist. Zona Rosa, also known as Zona T, is an upscale dining and shopping district home to several of Bogotá's top shopping centers and hottest nightclubs. Although it's not the cheapest area in town, this section of North Chapinero offers some of the best boutique and luxury hotels in the city while being relatively close to other must-see areas and attractions.
Find available accommodation in Bogota's Zona Rosa.
Best Hotels in Zona Rosa
---
---
The Safest Areas to Stay in Bogotá, Colombia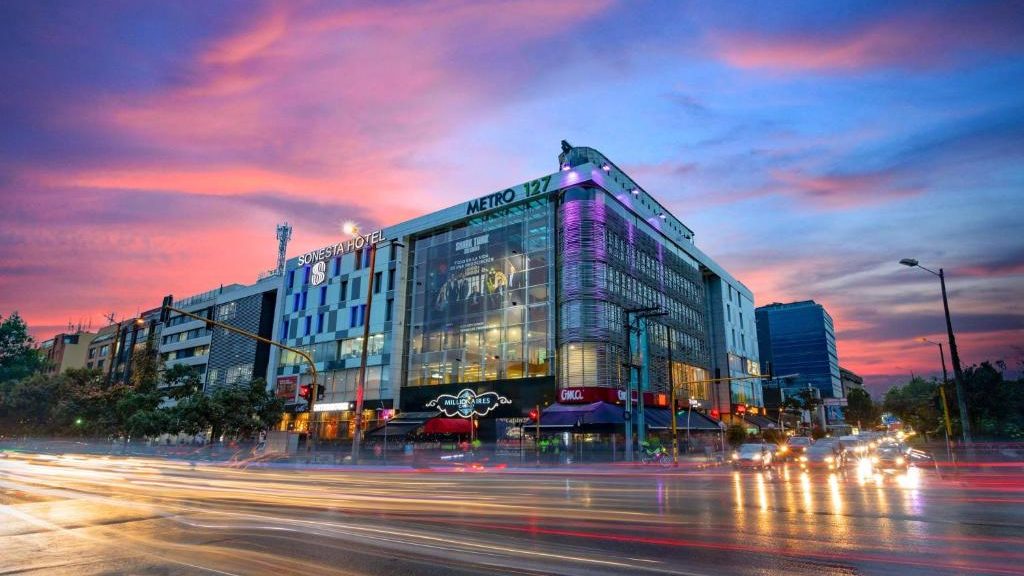 While Bogotá is a safe city to visit for South American standards, personal safety is still a big concern among tourists, especially international travelers. As a rule of thumb, districts in the north are wealthier and safer than those in the south. Here are some of the safest areas for tourists in Bogotá:
Chicó, located directly north of Zona Rosa, is one of the most exclusive residential areas in Bogotá. This barrio, one of the safest areas in Bogotá, offers attractions such as the Parque de la 93, Parque del Virrey & Museo del Chicó. Some of the best hotels in Chicó include Hotel Vintage, The Click Clack Hotel Bogotá, and Best Western Plus 93 Park Hotel.
Usaquén is an upper-class district located in Bogota's north end. Previously an independent township, it is now a major residential, commercial and financial area complete with business developments, upscale shopping centers and many of the best-rated luxury hotels in Bogotá. Some of the best places to stay in Usaquén include Sonesta Hotel Bogotá, Biohotel Organic Suites and NH Collection Bogotá Royal Teleport.
Zona Rosa is, as mentioned above, the best area in Bogotá for foreigners and those looking for a centrally-located yet safe location in the Colombian capital. While Zona Rosa is famed as a nightlife district, the area is still very safe day and night.
---
The Best Areas for Tourists in Bogotá: District by District
1. Zona Rosa: Best Location in Bogotá for Nightlife & Shopping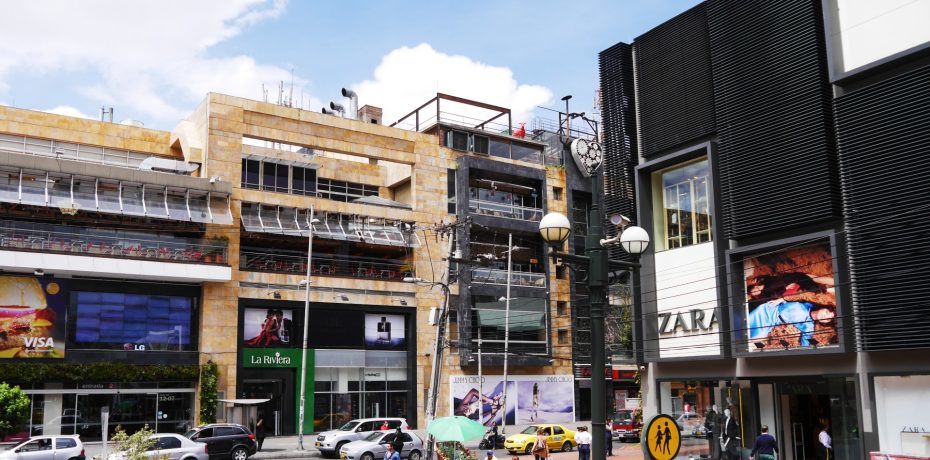 Why is this the best area to stay in Bogotá:

Best area for nightlife
Great food scene
Safe area to stay
Shopping streets & malls
Luxury & boutique hotels
Relatively central
Bogotá's Zona Rosa, also known as Zona T, is the best place to stay in Bogotá for those seeking sophistication and fun. This vibrant nightlife and commercial district is home to some of the hottest nightclubs in the Colombian capital, as well as restaurants, shopping centers, and designer boutiques.
Located between calles 82th and 84th and carreras 11th and 15th, this area marks the beginning of what we can consider North Bogotá. Largely pedestrianized in recent years, Zona Rosa is connected to the rest of Bogotá via TransMilenio, buses, and taxis.
Some of Bogotá's most famous malls, including the upscale Centro Comercial Andino, as well as many local and international clothing brands have their stores here.
Zona Rosa offers numerous accommodation options. While most properties in the area are boutique and luxury hotels, there's also a handful of cheaper accommodations including backpacker hostels and tourist apartments.
Thanks to its attractions and relatively central location, Zona Rosa is one of the best areas to stay in Bogotá.
Is Zona Rosa a safe area to stay in Bogotá? Although caution is always recommended, Zona Rosa is a safe area to stay in Bogotá or to walk around both day and night.
Best Hotels in Zona Rosa
---
2. Chicó: Safest Area to Stay in Bogotá
Why is this the best area to stay in Bogotá:

Safe location
Parque de la 93
Luxury hotels
Shopping centers
Peaceful district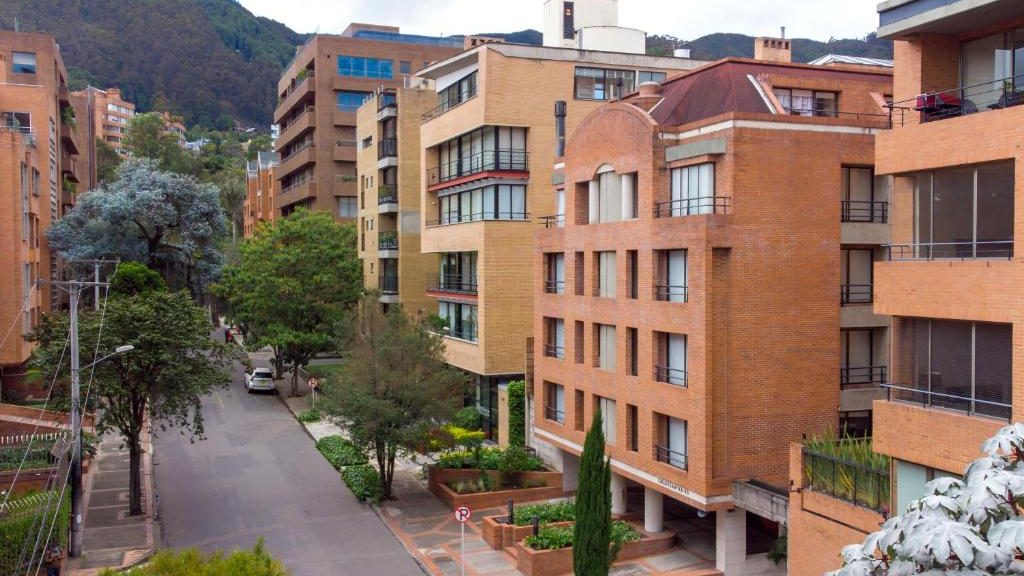 Chicó is located next to Zona Rosa in North Bogotá. It is a succession of upper-class neighborhoods dotted with parks and shopping centers.
Probably the nicest park in Bogotá, Parque de la 93 is surrounded by cafés, restaurants, and a great selection of upmarket hotels.
This area is a bit far from the Old Town, but there are direct connections by TransMilenio, and you can always take a taxi.
Chicó is the best area to stay for a luxury holiday and for those looking for a safe location. That said, upmarket and safe does not have to equal boring; this area is filled with shopping centers, boutiques, galleries, restaurants, and beautiful parks.
Is Chicó a safe area to stay in Bogotá? Chicó is probably the safest area to stay in Bogota, and taking a stroll at any time shouldn't be a major problem.
Best Hotels in Chicó
---
3. La Candelaria (Old Town): Best Location in Bogotá for Culture & Sightseeing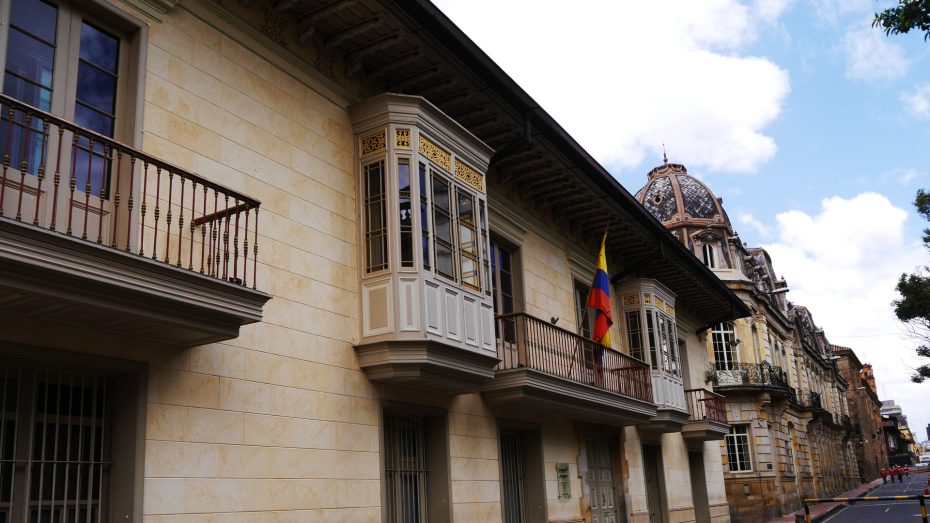 Why is this the best area to stay in Bogotá:

Central location
Colonial architecture
Cheap accommodation
Bohemian vibe
Botero & Gold museums
Authentic Colombian experience
La Candelaria, also known as Centro Histórico is Bogotá's Old Town.
Established by the Spanish in 1538, Bogotá's quaint central district is home to the city's best museums, beautiful churches, colonial homes, and gorgeous squares. It is also where most of the local and national administrative buildings are located.
At its heart, Plaza de Bolívar is Bogotás main public square. This massive plaza is flanked by some of the most important buildings in the city, including the colonial-era Cathedral, the National Capitol, the Independence Museum – Casa del Florero, and Museo de Santa Clara.
A few blocks away, on 11th street, lies one of South America's most important cultural corridors, home to the most visited museums in Bogotá: Museo Botero, with works by Fernando Botero and other contemporary artists, the Gold Museum, featuring one of the most important collections of pre-Colombian goldsmithing in the world, and the Banco de la República Art Collection.
Nearby, the Chorro de Quevedo area is popular for its colonial architecture, urban art, small bars, and bohemian cafés.
Although La Candelaria can be a bit rough around the edges, especially when compared to the pristine neighborhoods of North Bogotá, this historic district offers an authentic Colombian experience.
Another great reason why La Candelaria is one of the best areas to stay in Bogotá is its sheer amount of accommodations. Here, you can find everything from boutique hotels set in refurbished colonial mansions and small family-run inns to cheap-and-cheerful backpacker hostels and budget tourist apartments.
Is La Candelaria a safe area to stay in Bogotá? Yes and no: La Candelaria is safe during the day, but caution is strongly recommended after the sun goes down.
Best Hotels in La Candelaria
---
4. Chapinero: Best Area for Hipsters & LGBT Travelers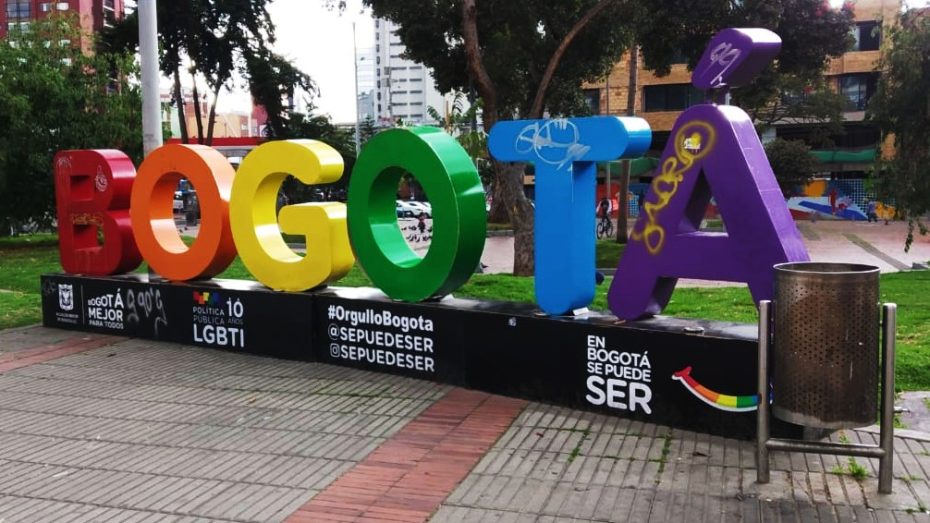 Why is this the best area to stay in Bogotá:

True center of the city
Great nightlife
Best restaurants in town
Very well-connected
Great range of accommodation options
Young atmosphere
Bogota's gay district
Chapinero is a centrally-located district comprised of several smaller neighborhoods. It is one of the largest and most diverse localidades in town and is known for its English-style architecture, busy commercial roads, and nightlife areas.
Locally known as Chapigay, Chapinero is Bogotá's gay neighborhood, with dozens of venues catering to the LGBT community, including the famous Theatron nightclub. The nightlife here also includes alternative bars and dozens of clubs where you can dance the night away to genres ranging from Latin rhythms to techno and electronic music.
Chapinero is also home to Zona G, known as the Soho of Bogota, this recently created area hosts high-end restaurants and bars.
Thanks to its perfect location halfway between the relatively humble Old Town and the exclusive northern neighborhoods, Chapinero is the most convenient district to stay without a car.
Like a miniature Bogotá, Chapinero has a strong north-south divide; while its southern portion (roughly between streets 40th and 72nd) has a down-to-earth vibe, its northernmost neighborhoods are some of the fanciest in Bogotá.
As a result, accommodation in Chapinero is extremely varied and includes a bit of everything, from cheap inns to luxury business-oriented hotels.
Is Chapinero a safe area to stay in Bogotá? Chapinero's southern and central areas are safe during the day and its busiest streets are fine at any time. That said, lonely or dark areas should be avoided after sunset. North Chapinero and Zona Rosa are safe day and night.
Best Hotels in Chapinero
---
5. Usaquén: Great Location in North Bogota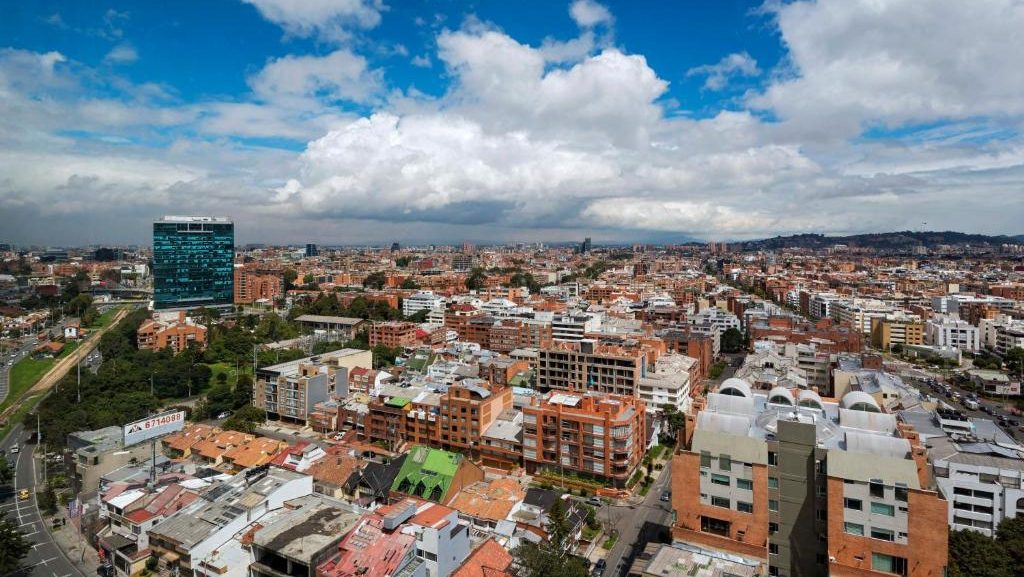 Why is this the best area to stay in Bogotá:

Safe area to stay
New financial district of the city
Shopping centers & nightlife
Usaquén Flea Market
Luxury & business hotels
Previously an independent town, Usaquén stretches up from 100th street and occupies Bogotá's north end and is an upper-class district home to some of the most exclusive neighborhoods in the city, business areas, and shopping centers.
Parque de Usaquén, the former town's central square still retains some of the area's old colonial charm. Around it, you'll find the church of Santa Bárbara de Usaquén, the old Town Hall, and a bustling restaurant nightlife and shopping area.
Usaquén comes to life every Sunday with the popular Mercado de las Pulgas de Usaquén, a flea market with food stands and stalls selling handmade jewelry, artisanal produce, coffee beans, ornaments, furniture and featuring street musicians and shows.
Other than the park's immediate area, Usaquén is by and large a modern part of town, with massive residential developments and several financial and business districts.
Most hotels in this area cater to an upmarket clientele. This area is home to several big-chain business-oriented hotels by local and international brands.
Is Usaquén a safe area to stay in Bogotá? Usaquén is one of the safest neighborhoods in Bogotá.
Best Hotels in Usaquén
---
6. Bogotá International Center: Best Location for Business Travelers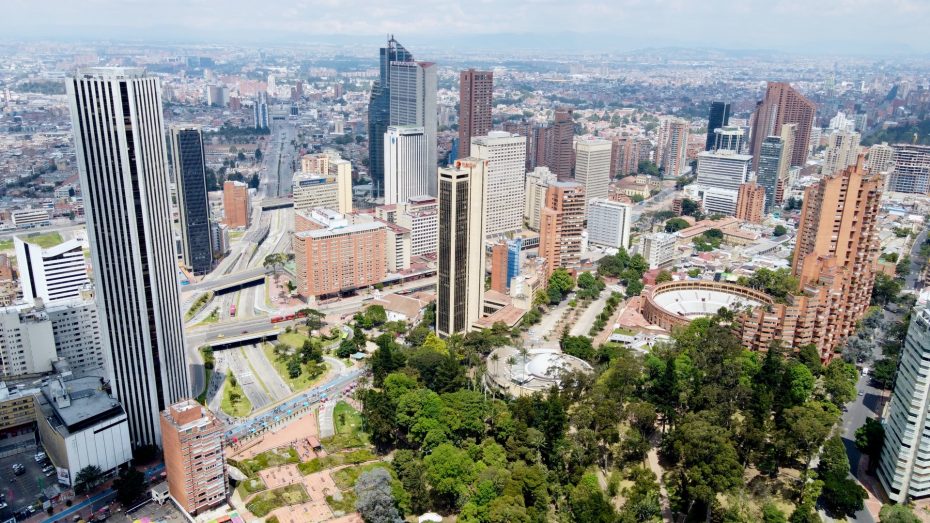 Why is this the best area to stay in Bogotá:

Very central
Financial District
Museo Nacional
Budget hotels
The Bogotá International Center is one of the most modern areas of the city. It is located north of La Candelaria and south of Chapinero and is Colombia's leading finance hub.
Considered Bogota's downtown district, Centro Internacional is characterized by its tall office buildings and is home to the Colombia Stock Exchange, several conference and business centers, and some residential developments.
Tourist attractions in this area include the National Museum of Colombia and the Plaza de Toros de Bogotá .
The Financial Center is the best location in Bogota for business travelers. It offers several modern hotels with business facilities and excellent restaurants. That said, there are also several budget accommodations in this area.
Centro Internacional is also home to the main TransMilenio hub station, so moving around the city is relatively easy.
Is Centro Internacional a safe area to stay in Bogotá? Although it's not as unsafe as La Candelaria, caution is recommended at night in this area.
Best Hotels in Centro Internacional de Bogotá
---
7. Teusaquillo & Corferias: Best Location in Bogotá With Kids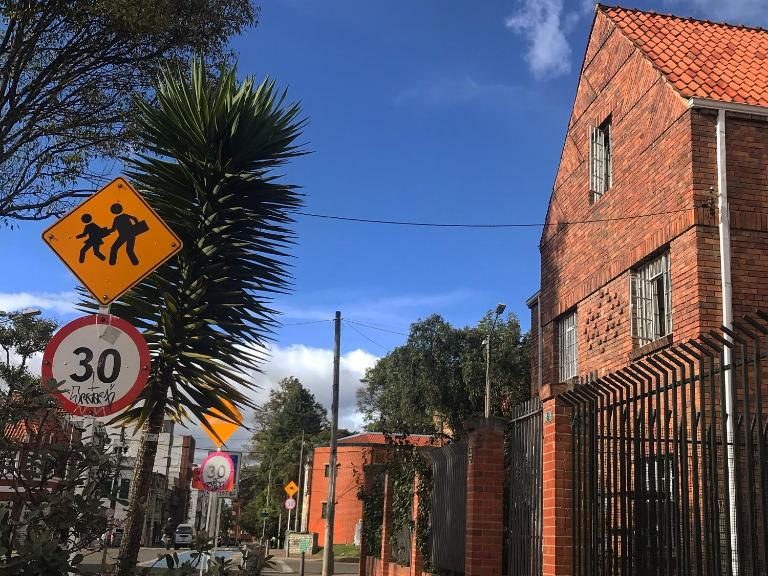 Why is this the best area to stay in Bogotá:

Centrally-located district
Family-friendly attractions
Peaceful district
Great for business travelers
Teusaquillo is located west of Chapinero and is a quiet district with lovely parks, Tudor-style houses, and historical monuments. It is mostly known for hosting the main campus of the National University of Colombia.
This somewhat unknown corner of Bogotá offers several family-friendly attractions including Parque Metropolitano Simón Bolívar, an extensive central park with bike lanes, a lake, and several playgrounds, the Salitre Mágico amusement park, and Museo de los Niños, with exhibits and interactive activities designed for children.
Other attractions in Teusaquillo include Movistar Arena, El Campín stadium and shopping centers like Gran Estación and El Salitre.
On Teusaquillo's southern end, you'll find Corferias, Bogotá's largest events and conference center. This is also where you'll find most of the accommodation options in the district.
Is Teusaquillo a safe area to stay in Bogotá? Teusaquillo is a quiet area during the day, but caution is advised at night in lonely or dark areas.
Best Hotels in Teusaquillo
---
8. Near Bogotá El Dorado International Airport: Best Location for a Layover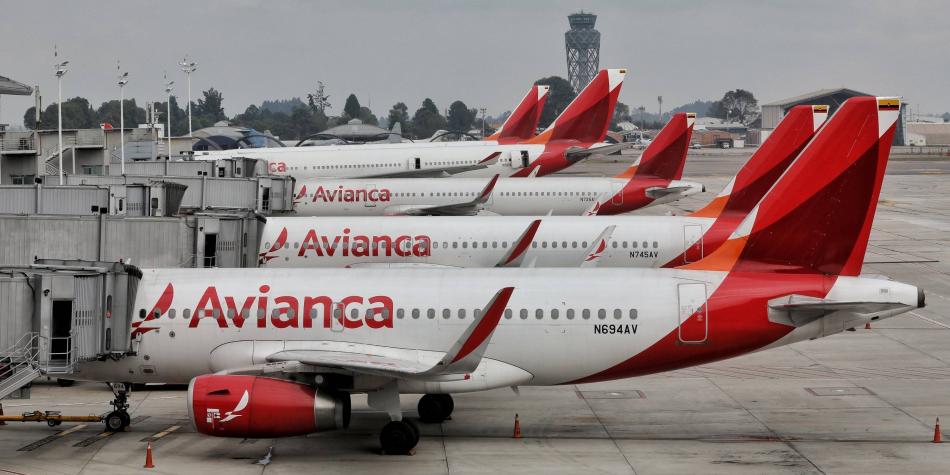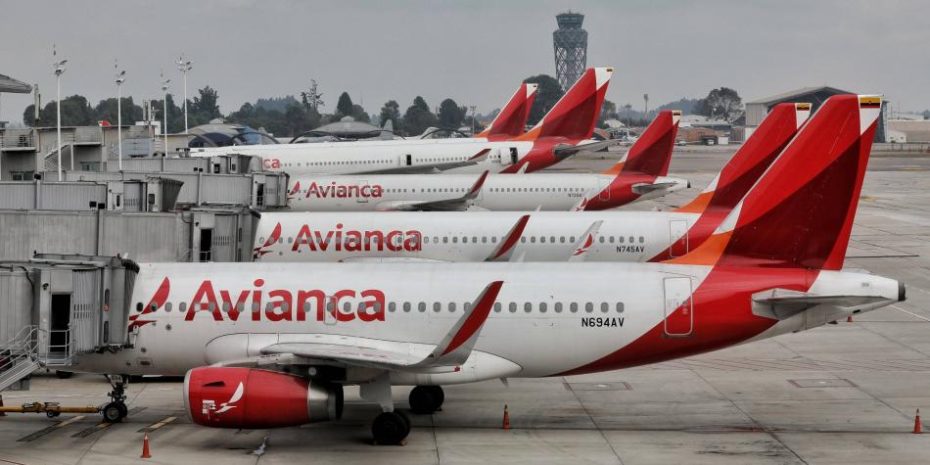 El Dorado International Airport is the most important airport in Colombia and one of the busiest in South America.
It is located in Fontibón, about 12km (7.5 mi) west of the city center and is the main hub for Colombian flag carrier Avianca, offering hundreds of connections to Colombian, North American, and European destinations.
Best Hotels Around Bogotá Airport
---
Where to stay in Bogotá: Useful Info
Bold and exciting, Bogotá is one of the Latin American cities that has the most to offer. The capital of Colombia and the department of Cundinamarca is an interesting destination for lovers of history, fashion, and art as well as for those seeking to discover its vibrant nightlife and gastronomy.
Bogotá is the third-highest South American capital behind Quito and La Paz since it is approximately 2625 meters above sea level. As such, it has a temperate mountain climate with average temperatures hovering between 5 and 19 ºC (41 – 66 ºF) year-round. The best times to visit Bogotá go from January to February and from June to August, as they usually come with clear skies and warmer temperatures.
Despite being a huge city, Bogotá does not have a metro network. The main mean of transport in the city is the TransMilenio, a rapid transit bus system with designated lanes that travels through most major streets and avenues. Other transportation options in Bogotá are taxis, buses, and mobile applications.
Read this post in other languages
|ES| Dónde dormir en Bogotá – Mejores zonas y hoteles.