Madrid offers a captivating experience for first-time visitors. This two-day itinerary provides an informative guide to exploring the heart of Madrid, visiting significant landmarks, embracing art, and enjoying the city's green spaces. Follow this 2-day itinerary to discover the Spanish Capital.
---
---
How to Spend 48 Hours in Madrid
Day 1: Exploring Madrid's Heart
Start your day at Gran Vía, a major street in Madrid, Spain. It was constructed between 1910 and 1931, and its most iconic building is Edificio Telefónica, a 90-meter-high structure completed in 1930 and designed by architect Ignacio de Cárdenas. It was once the tallest building in Europe.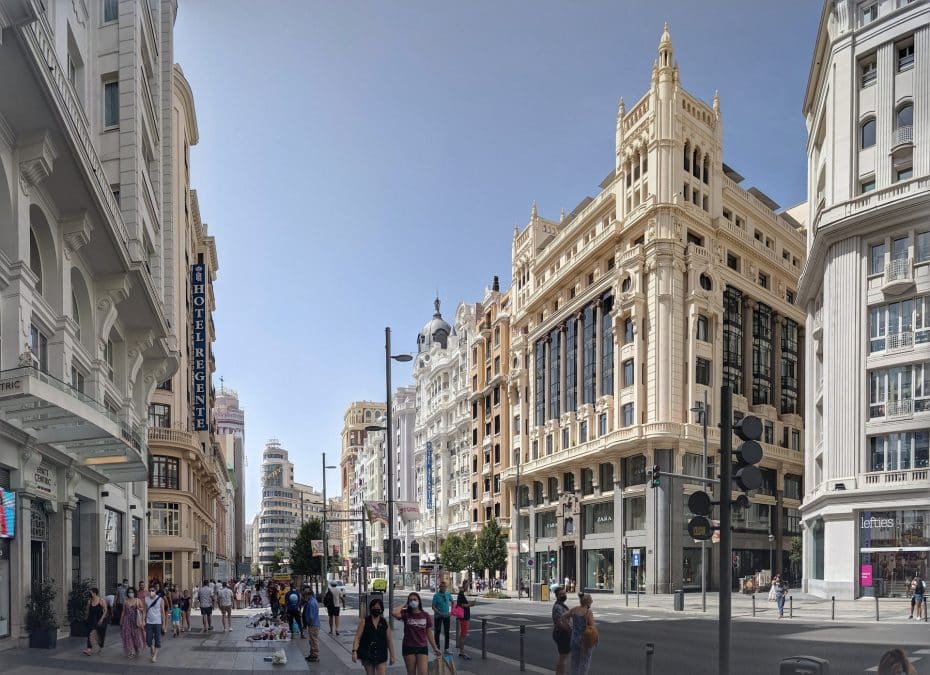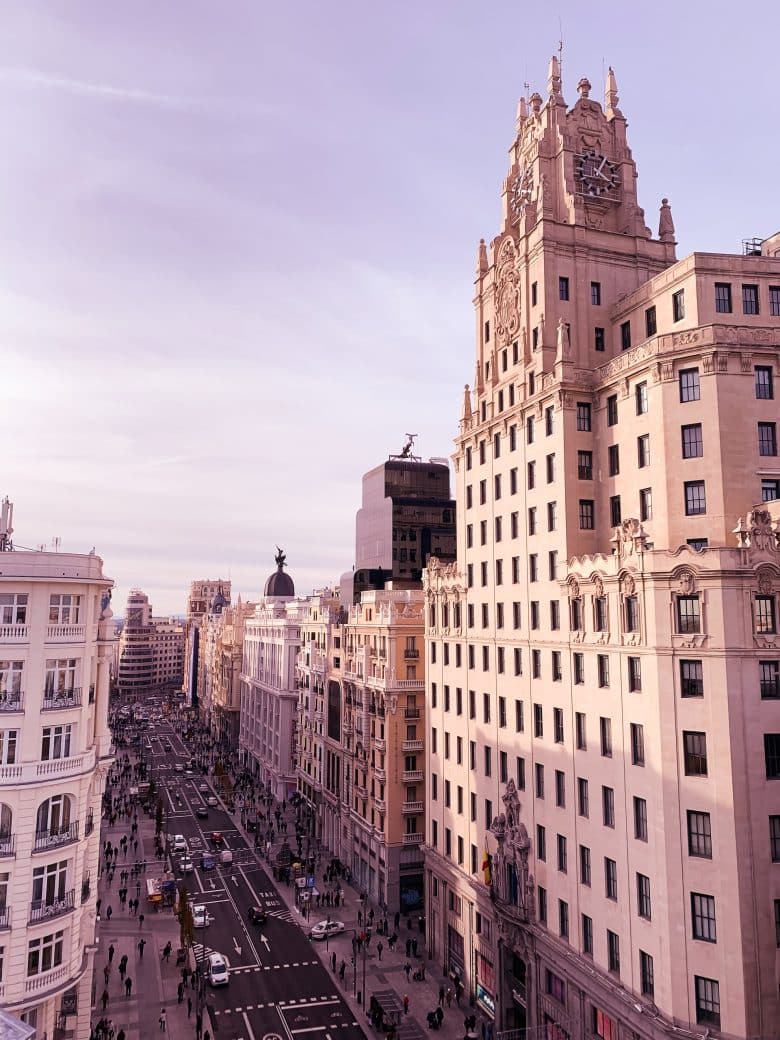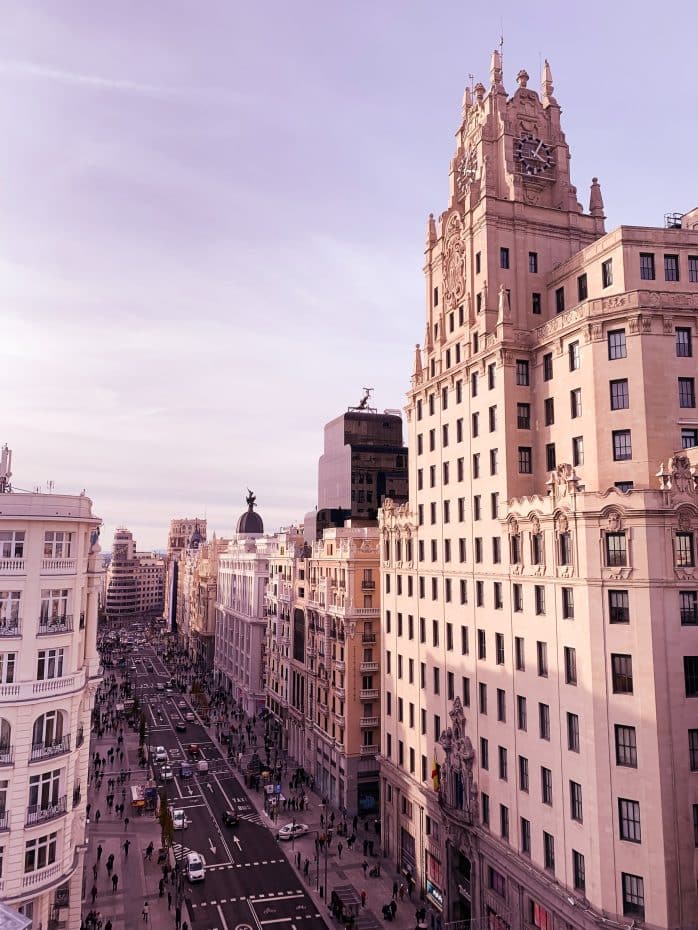 Follow Gran Vía to Plaza del Callao, a busy square in the middle of Gran Vía considered one of the busiest squares in Madrid. Calle Preciados is a popular pedestrian street connecting Plaza Callao to Puerta del Sol. It features numerous shops and boutiques.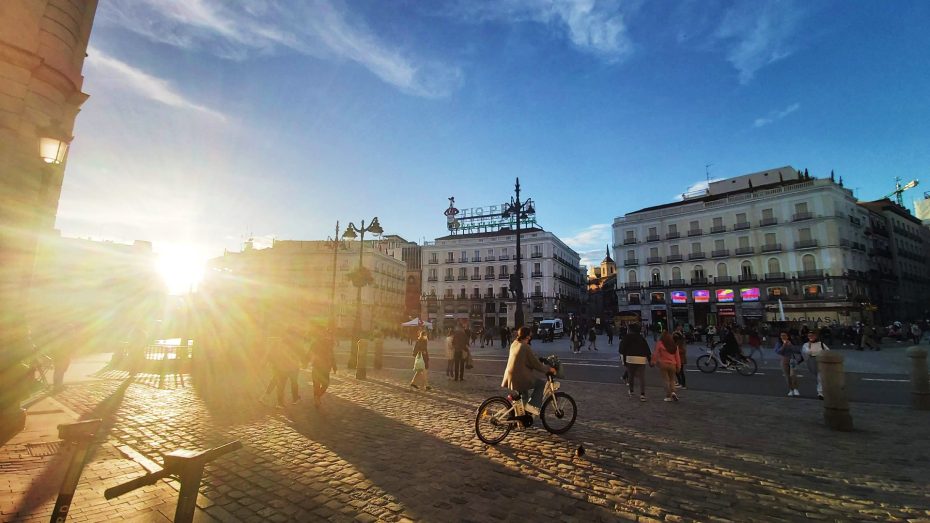 Make your way to Puerta del Sol, Madrid's central square. Originally a gate in the city's medieval walls during the 15th century, it transformed into a significant site when King Charles III commissioned architect Ventura Rodríguez to create the equestrian statue in 1768. The square gives direct access to many landmarks, including the Royal Post Office (Real Casa de Correos), which now serves as the headquarters for Madrid's regional government.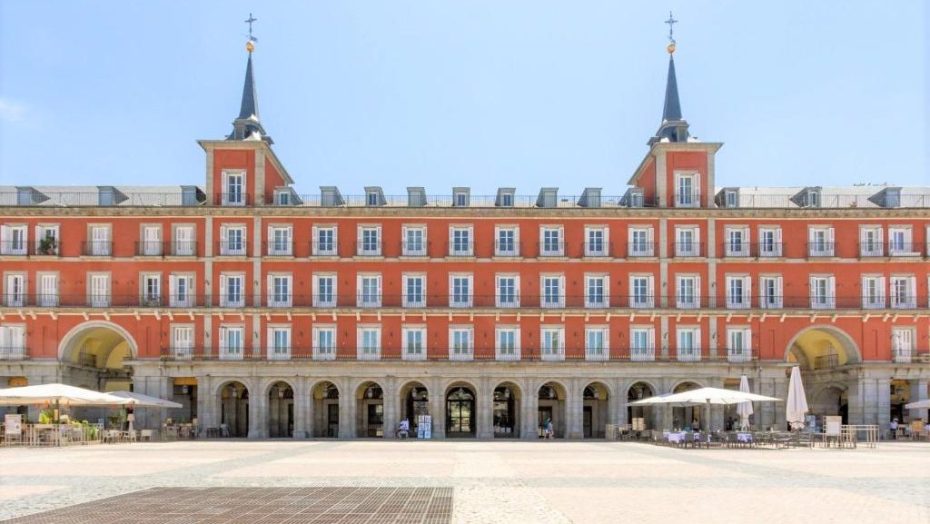 Proceed to Plaza Mayor, a 17th-century square built under King Philip III. Its construction started in 1617. The square measures about 129 meters (423 ft) long and 94 meters (308 ft) wide and is surrounded by three-story residential buildings, bars, restaurants and a luxury hotel. Points of interest within Plaza Mayor include Casa de la Panadería and its murals and the Felipe III Statue in the center—crafted by Juan de Bolonia and Pietro Tacca in 1616.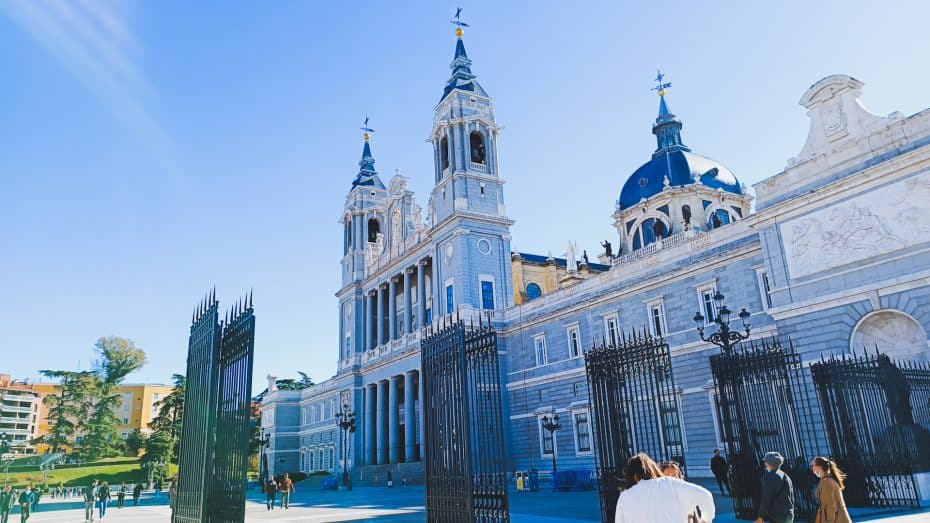 Continuing on Calle Mayor towards the Palacio Real, you can explore the Catedral de la Almudena, a Roman Catholic church adjacent to Palacio Real. Officially called Catedral de Santa María la Real de la Almudena, it took over 100 years to complete (1883–1993) and was later consecrated by Pope John Paul II. Architect Francisco de Cubas designed its neoclassical exterior and neo-gothic interior.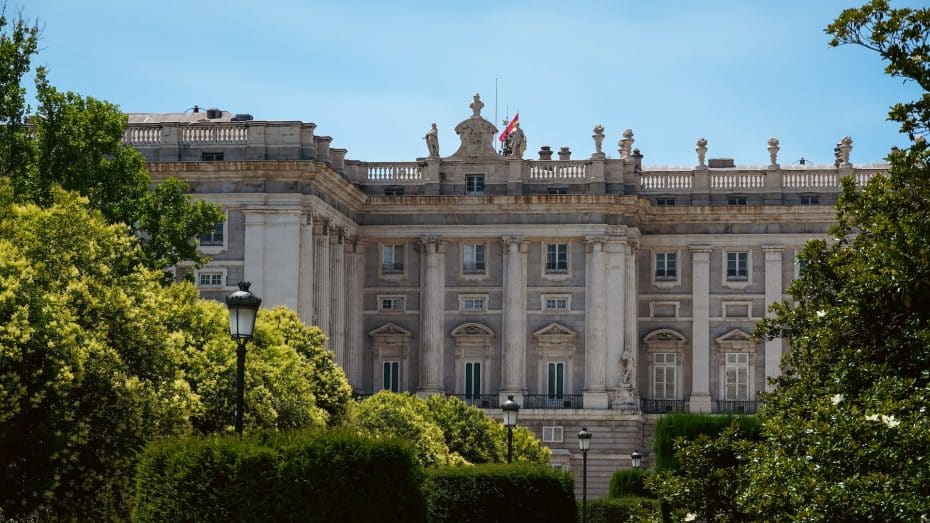 The Royal Palace, also known as Palacio Real, was built in the 18th century under King Felipe V's rule. It is located on Calle de Bailén. Many important historical events have occurred here, such as the signing of the Spanish Constitution in 1978. The palace offers guided tours where you can see its lavish rooms and learn about Spain's royal history. It is open daily from 10:00 AM to 6:00 PM (8:00 PM from April to September), except for special occasions.
The Galería de las Colecciones Reales is a recent addition to Madrid's cultural scene, opening in 2022. It is located near the Palacio Real and contains important art collections belonging to Spain's royal family. Notable works include pieces by Velázquez and Goya.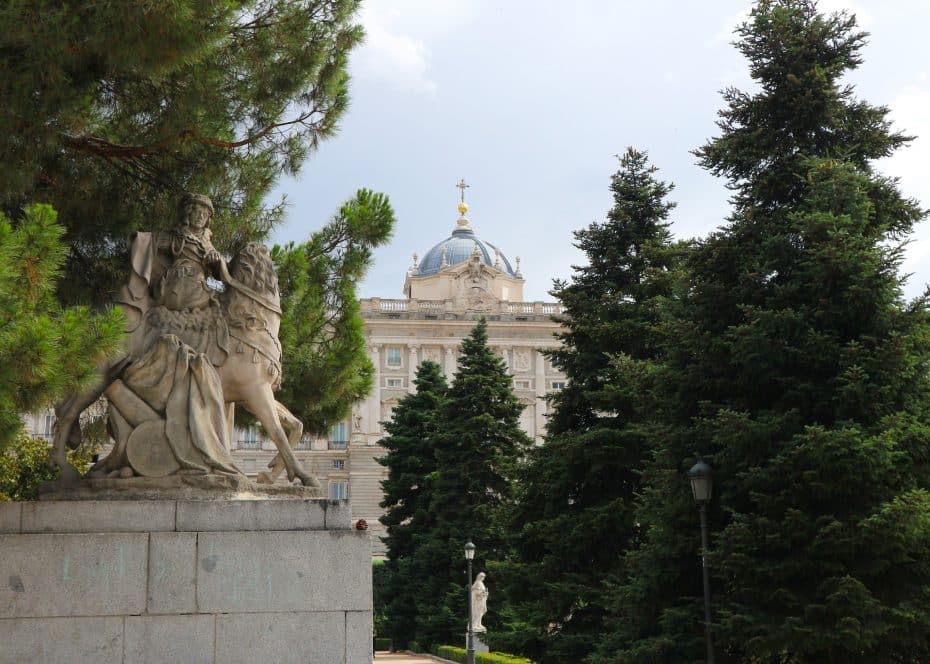 Later, relax at the Sabatini Gardens, a verdant space created by Italian architect Francesco Sabatini in the 18th century. These gardens are north of the Royal Palace and feature symmetrical landscaping with well-manicured hedges, fountains, and statues representing ancient mythology.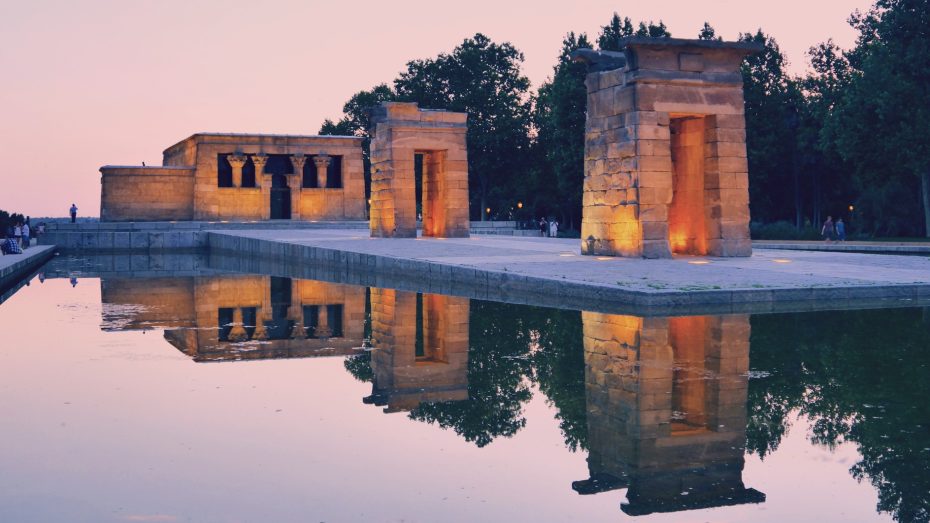 The next destination is Templo de Debod, an ancient Egyptian temple rebuilt within Madrid's Cuartel de la Montaña Park. While originally constructed in Aswan, Egypt, around 200 BCE, it was disassembled in the 1960s when Egypt was constructing the Aswan High Dam. Spain helped preserve Egyptian historical sites during this period; hence, Egypt gifted them with Templo de Debod. The temple has a magnificent view of the Royal Palace and Cathedral, making it a popular spot to catch the sunset.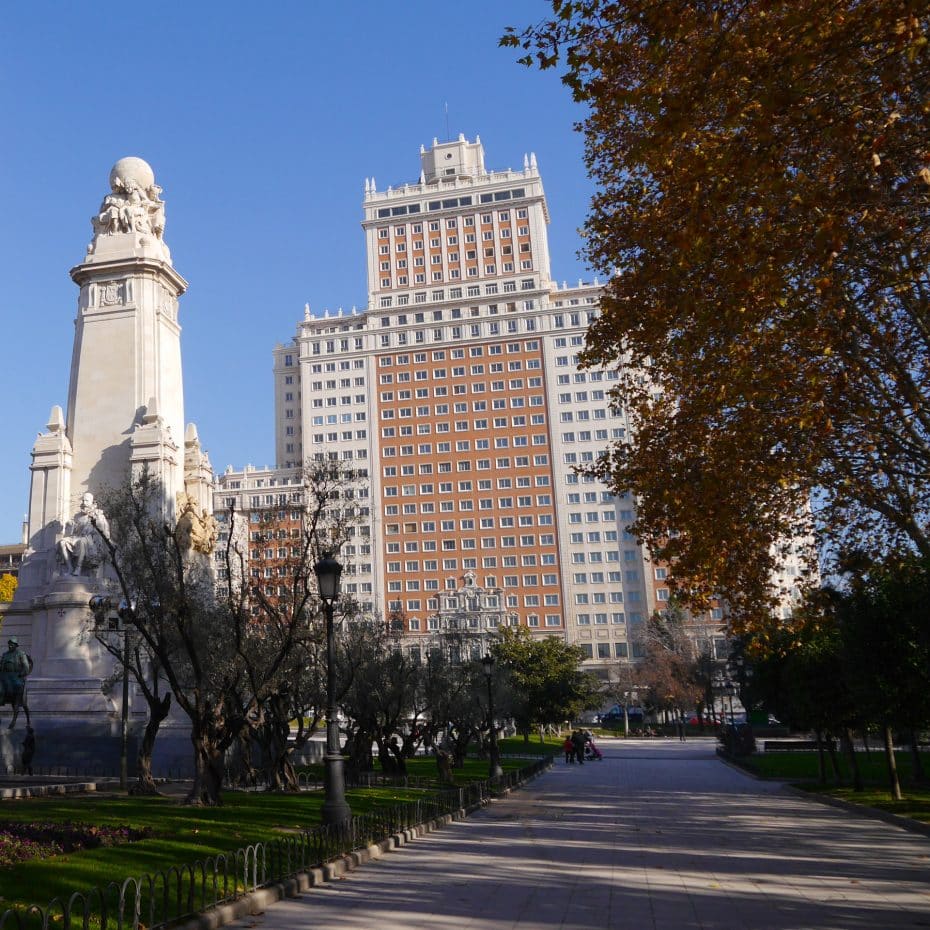 Lastly, Plaza de España, centrally positioned between Gran Vía and Calle Princesa, is one of Madrid's largest squares. It was designed by Spanish architect Aníbal González Álvarez-Ossorio and finished construction in 1928. Plaza de España is home to several gardens, fountains, and statues, such as Don Quixote and his loyal squire Sancho Panza from Miguel de Cervantes' novel Don Quixote.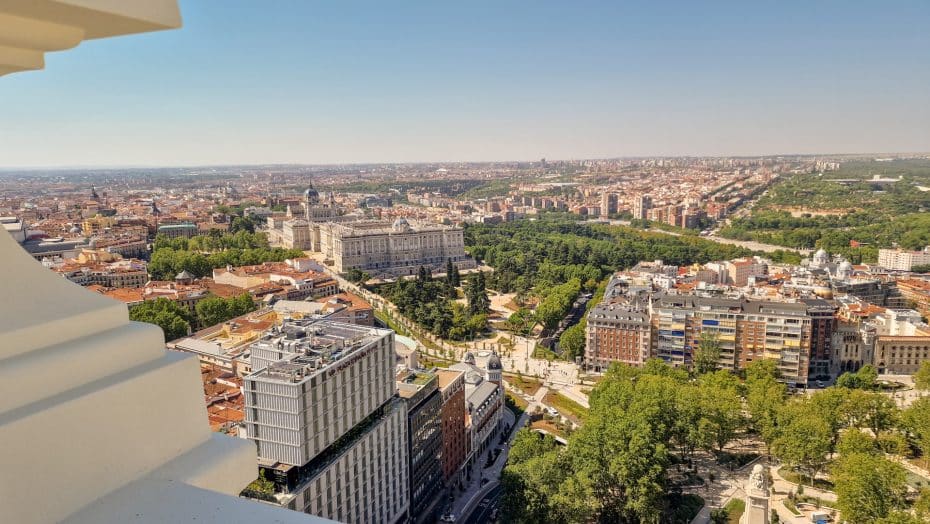 The RIU Hotel lookout can be found atop Hotel Riu Plaza España at Calle Gran Vía in Madrid. This popular observation deck offers a heightened perspective alongside a panoramic view of the city during sunsets. The hotel also features a rooftop lounge and restaurant where guests may enjoy the view with a meal or drink. The RIU Hotel lookout offers an alternative vantage point to Templo de Debod for those who appreciate a more elevated viewpoint of Madrid's skyline during sunset.
---
Day 2: Art and Greenery in Madrid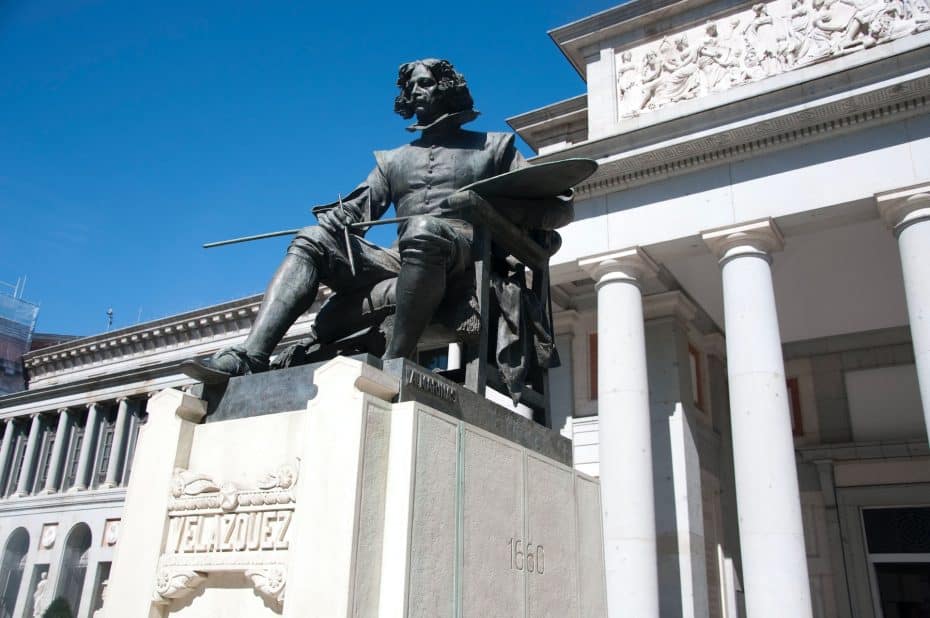 On the second day of the Madrid itinerary, visitors should begin their day at the Museo Nacional del Prado on Paseo del Prado. Inaugurated in 1819, this museum houses one of the world's finest art collections, comprising around 8,200 drawings, 7,600 paintings, 4,800 prints, and 1,000 sculptures. Notable artists represented include Francisco Goya (1746-1828), Diego Velázquez (1599-1660), and El Greco (1541-1614). The museum is open from Monday to Saturday between 10 AM and 8 PM and on Sundays and public holidays between 10 AM and 7 PM. Admission fees apply, but there are free entry days if planned ahead.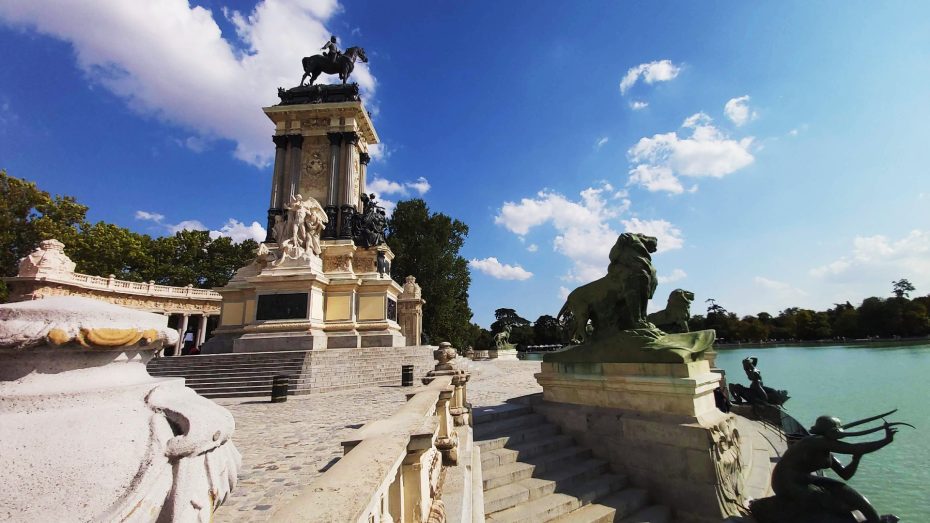 In the afternoon, explore Retiro Park (Parque del Buen Retiro). Covering 125 hectares and hosting over 15,000 trees, it was previously a royal property used by Spain's kings before it became a public park in the late 19th century. Highlights within Retiro Park include a large artificial lake called "Estanque Grande del Retiro," an impressive sculpture garden named "Statue Walk" (Paseo de las Estatuas), and numerous fountains such as "Fuente de la Alcachofa" and "Fuente del Ángel Caído. Access to Retiro Park is free.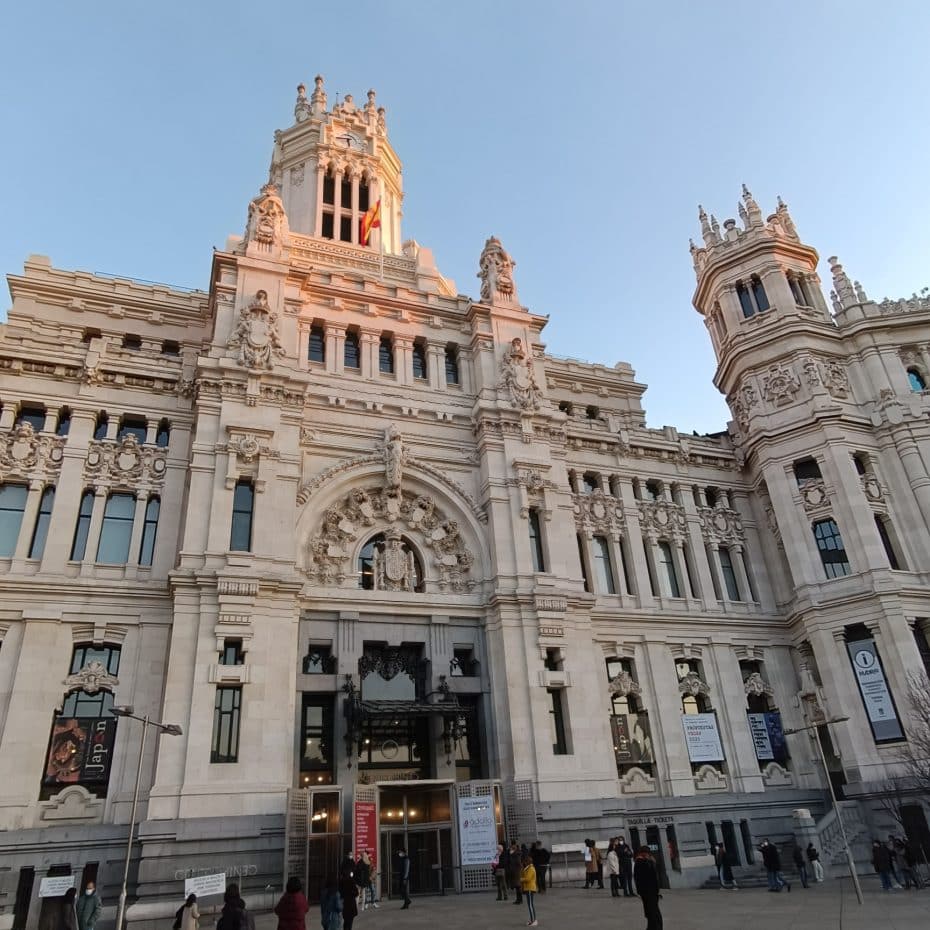 The Fuente de Cibeles is an iconic fountain completed in 1782 by Spanish sculptor Francisco Gutierrez. Commissioned as part of the urban plan proposed by King Charles III to enhance Madrid's architectural appeal, this fountain features a massive sculpture depicting Cybele, the Phrygian goddess of fertility. Sitting beside this landmark is Palacio de Cibeles, built between 1907 and 1919 by architects Antonio Palacios and Joaquín Otamendi to house the headquarters of Spain's postal service. Today, it serves as Madrid's City Hall and an event and exhibition center, CentroCentro. Its panoramic terrace offers spectacular views of Calle Alcalá and Gran Vía.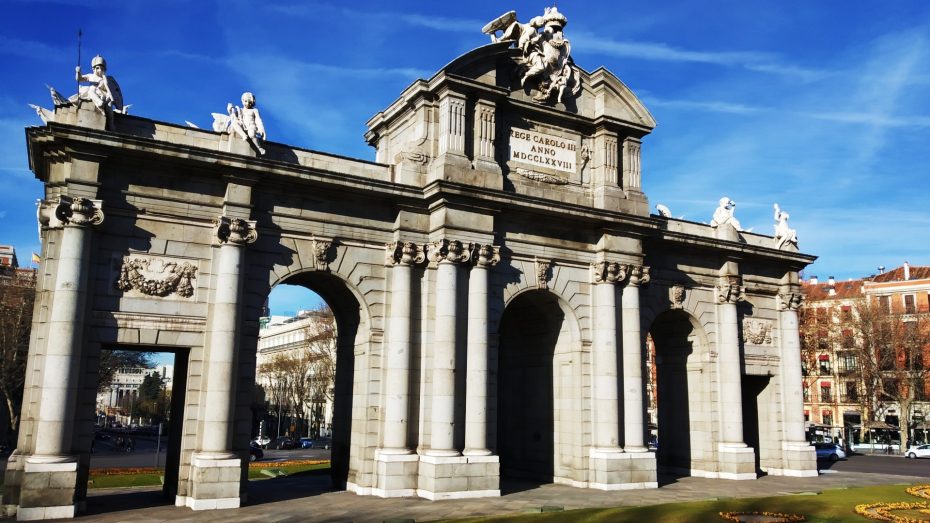 Puerta de Alcalá is an imposing neoclassical monument designed by Italian architect Francesco Sabatini under King Charles III's commission—it was inaugurated in 1778. Located at Plaza de la Independencia near Retiro Park, this monumental gateway measures 19.5 meters in height and 44 meters in width. Its exuberant design includes arches adorned with lavish sculptures created by Spanish artists Francisco Gutiérrez and Roberto Michel. Throughout history, Puerta de Alcalá has become a symbol of Madrid's identity due to its architectural splendor and historical relevance.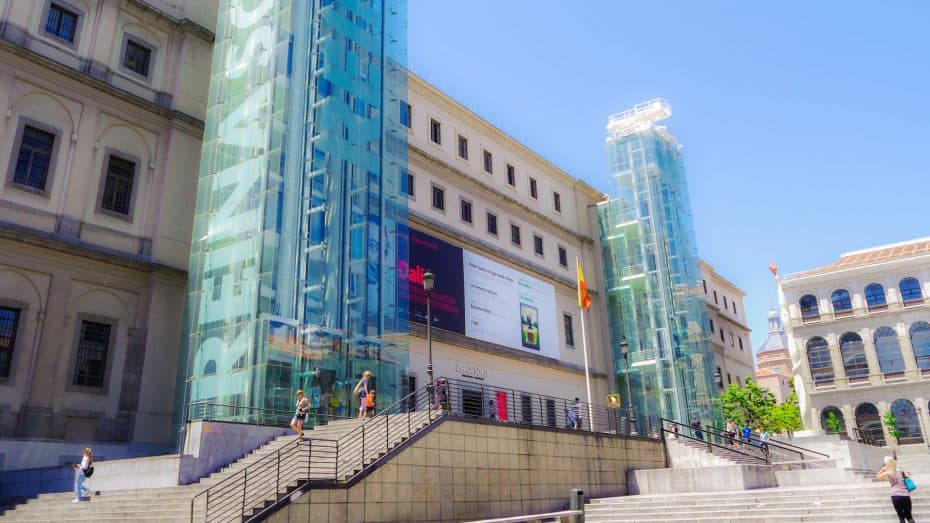 Notably, the Reina Sofia Museum holds many remarkable artworks by famous Spanish artists such as Pablo Picasso, Salvador Dalí, and Joan Miró. The museum's focus on modern art from the 20th century onwards makes it a significant destination for people interested in contemporary artwork. Among these masterpieces is "Guernica" by Pablo Picasso. Created in 1937 as a response to the bombing of Guernica during the Spanish Civil War, this powerful painting serves as an anti-war symbol and a representation of human suffering.
---
Two Nights in Madrid: After Sunset Travel Ideas
Flamenco Show:
Although flamenco dancing originally came from Andalusia, Madrid has a strong flamenco scene. There are several venues where visitors can watch authentic Flamenco performances, such as Casa Patas or Corral de la Morería. These shows usually consist of skilled artists dancing passionately to live music, creating an unforgettable experience for anyone who appreciates this Spanish art form. Find flamenco shows in Madrid.
Theater or Musical:
Madrid has a rich performing arts scene. Spanish speakers might consider attending a play or musical performance during their stay in Madrid. The Teatro Real and Teatro Español are two theaters hosting musicals and plays throughout the year. Moreover, Gran Vía, the city's theater epicenter, offers a selection of plays and musicals.
Tapas in La Latina:
La Latina is a famous neighborhood in Madrid known for its vibrant nightlife and delicious tapas bars. Enjoying tapas – small plates of various dishes – is a popular activity after sunset, offering a chance to socialize and taste diverse local food offerings. Popular places to visit include Juana La Loca, Taberna Los Huevos de Lucio, and El Tempranillo.
A Night Out in Malasaña or Chueca:
Malasaña and Chueca are two lively neighborhoods perfect for spending an evening out. Malasaña offers numerous bars catering to different music tastes, from indie to electronica; Tupperware Bar and Ochoymedio Club are excellent choices. Alternatively, Chueca is the LGBTQ+ hub of Madrid, with vibrant venues like Black & White Bar or LL Bar providing welcoming environments for socializing and entertainment.
---
Madrid's Culinary Scene: What and Where to Eat
Traditional Spanish tapas bars have long been a staple of Madrid's food culture. Tapas, or small plates of food, are thought to have originated in the late 1800s and early 1900s. Originally, dishes consisted of sliced meat, cheese, or olives to accompany drinks. Today, many tapas bars in Madrid offer a vast selection of tapas, including patatas bravas, croquetas de jamón, and tortilla española.
Bocata de calamares, or calamari sandwich, is another popular dish in Madrid. This dish consists of a fresh bread roll filled with fried squid rings and may also be served with sauce or lemon wedges. It is a simple yet delicious option that many visitors enjoy. To try an authentic bocata de calamares, head over to Plaza Mayor, where several bars and cafés are known for their excellent versions of this sandwich.
Lastly, churros con chocolate is a must-try treat while visiting Madrid. Churros are long doughnut-like pastries deep-fried until golden brown, often dusted with sugar. They are typically served with a cup of thick hot chocolate for dipping. A well-known place to try this sweet treat is Chocolatería San Ginés near Puerta del Sol. Established in 1894, the ambiance and outstanding churros make for an enjoyable experience.
One popular area in Madrid to enjoy tapas is the La Latina district. Many bars throughout the city also serve tapas. A great option is Mercado San Miguel, an iron-and-glass market built in 1916 and an essential destination for food lovers visiting Madrid. The market is close to the Plaza Mayor and houses over 30 vendors specializing in various types of local cuisine. Mercado San Miguel is open from Sunday to Thursday between 10:00 a.m. to midnight (12:00 a.m.) and Friday and Saturday from 10:00 a.m. to 1:00 a.m.
---
---
Tips for First-Time Visitors to Madrid
As with any large city, understanding public transportation is crucial for a pleasant visit. Madrid's Metro system is an efficient way to navigate the city. Travelers may benefit from purchasing a Tourist Travel Pass (Abono Turístico) at any Metro station as the pass grants unlimited travel on public transport networks within the chosen zones.
The Bus Turístico is an efficient means of transportation for those who want to explore Madrid's landmarks. These double-decker hop-on-hop-off buses have two main routes covering significant sites: the Royal Palace, Plaza Mayor, Puerta del Sol, and Prado Museum. With an informative audio guide in multiple languages and convenient boarding points around the city, visitors can tailor their itineraries based on personal interests.
Selecting the best area to stay in Madrid largely depends on your preferences and budget. Some popular neighborhoods include Sol/Gran Vía, for its central location and proximity to major attractions; Malasaña and Chueca, for their lively atmosphere and nightlife; and Salamanca, famous for its upscale shops and elegant architecture.
If you have time to explore areas around the city, some popular destinations for day trips from Madrid include Toledo—a UNESCO World Heritage Site renowned for its medieval architecture; Segovia—known for its stunning Roman aqueduct; and El Escorial—a historic residence containing a monastery, palace, and royal library.
Lunch and dinner times in Madrid follow a distinct schedule compared to other European destinations. Typically, lunchtime starts after 2 pm, lasting until around 4 pm. Dinner begins late in the evening, at approximately 9 p.m., and may continue until midnight or even later.
---
---
Two Days in Madrid: Frequently Asked Questions
Is 2 days enough for Madrid?
While it is possible to taste Madrid's culture, history, and gastronomy in just two days, there is much more to explore in the sprawling Spanish capital. Those with limited time can prioritize popular attractions like the Prado Museum, Retiro Park, and Gran Vía. However, many travelers feel more time is needed to truly experience the city's vibrant neighborhoods, thriving art scene, and incredible food.
What to do in Madrid for two nights?
Travelers visiting Madrid for two nights should prioritize visiting iconic landmarks such as The Royal Palace, Plaza Mayor, and The Prado Museum. Additionally, exploring vibrant neighborhoods like Malasaña or taking a tapas tour in La Latina are great ways to spend evenings. Top it off with an authentic flamenco performance for a memorable experience.
How many days do I need in Madrid?
While Madrid has enough attractions to keep visitors entertained for days on end, most travelers allocate around three to four days to explore the city. This allows time for sightseeing and immersing oneself in local customs, exploring quaint neighborhoods, and enjoying leisurely meals at local cafés.
Is it worth spending a day in Madrid?
Absolutely! A day trip to Madrid can offer a whirlwind snapshot of what makes this bustling metropolis so enchanting. Despite the limited time available during a day trip you may still manage to visit major attractions such as Retiro Park or Puerta del Sol. However, it is suggested that travelers devote at least two or three days to truly take advantage of this beautiful city.
Do you need more time in Madrid or Barcelona?
Both cities have unique charm and character, and deciding how much time to allocate to each destination ultimately depends on your interests. Art lovers may prefer spending more time in Madrid for its world-class museums. At the same time, those seeking a more relaxed experience may find Barcelona's beachside culture and unique architecture more appealing. Aim for a balance and plan to spend roughly equal time in each location to get the most out of both cities.