Spain is a European country known for its rich cultural heritage, diverse history, and many museums. The country has produced some of the most prominent artists in history, including painters such as Pablo Picasso, Salvador Dalí, Diego Velázquez, and Francisco Goya. As a result, it is no surprise that art enthusiasts from around the world flock to Spain to experience its unique art scene and world-famous museums.
---
The Spanish museums collectively encompass various artistic styles and historical periods. In these institutions, patrons have the opportunity to explore everything from ancient artifacts to contemporary artworks.
One pivotal aspect of Spanish museum development dates back to the 18th century when Charles III enacted widespread education reforms. This historical milestone also marked the inception of some of Spain's oldest museums, including the National Museum of Natural Sciences in 1776, Museo del Ejército in 1803, and the Prado Museum, in 1819.
Since then, the museum scene in the country has grown spectacularly, including over 1,500 museums around Spain. These museums not only showcase Spain's famed art but also tell timeless stories of notable events, personalities, and accomplishments throughout Spanish history.
While most of Spain's most influential and distinguished museums are located in Madrid, Spain's art scene is not limited to its capital city, as several other equally impressive museums can be found throughout the country, from Bilbao to Málaga to Catalonia.
Several factors were considered when crafting this list of Spain's top museums and art galleries. They were chosen based on their historical and artistic influence, importance to Spanish culture, striking architecture and facilities, and visitor numbers.
---
---
The Best Museums & Art Galleries in Spain
1. Prado Museum (Madrid)
Calle de Ruiz de Alarcón, 23, Paseo del Prado, 28014 Madrid
Located in the heart of Madrid, Spain, El Prado Museum proudly holds its position as one of the most prestigious museums in Europe and globally. Exploration of this iconic cultural institution reveals a wealth of historical insights, architectural beauty, and artistic splendor.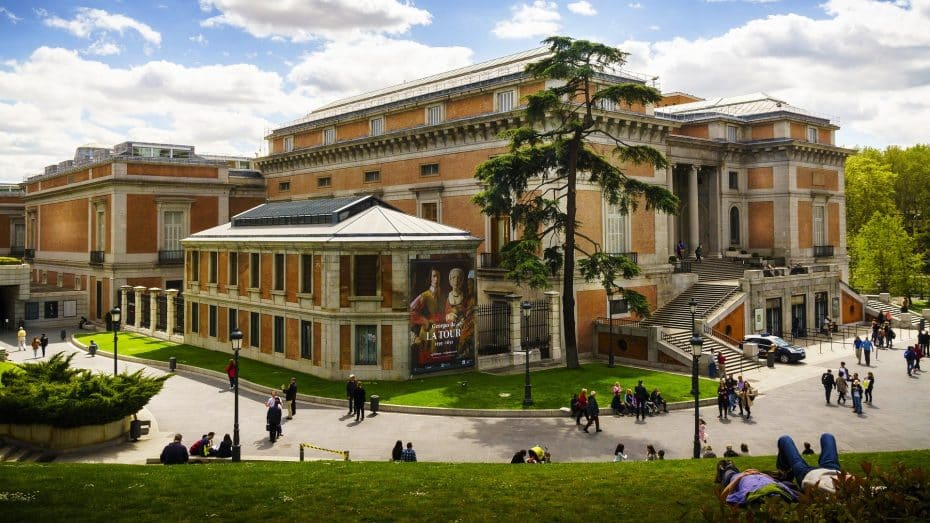 El Prado Museum can trace its roots back to the Spanish Royal Collection, which was first established in the 16th century. However, it wasn't until 1819 that the museum officially opened to the public with a modest collection of 311 art pieces.
In the late 18th century, King Charles III ordered the construction of a grand building to house treasured artworks. Architect Juan de Villanueva shaped the majestic neoclassical palace. Over time, El Prado has seen several extensions and renovations to accommodate its ever-growing collection.
Currently, El Prado hosts more than 15,000 paintings, 5,000 drawings, and 2,000 sculptures, a true chronicle of the development of European art from the 12th to early 20th centuries.
El Prado sets itself apart with an unrivaled collection focusing on Spanish masterpieces, proudly displaying the works of renowned artists such as Diego Velázquez, Francisco Goya, and El Greco. Iconic paintings like Velázquez's "Las Meninas" and Goya's "The Third of May 1808" are among the many reasons that make El Prado a must-visit destination.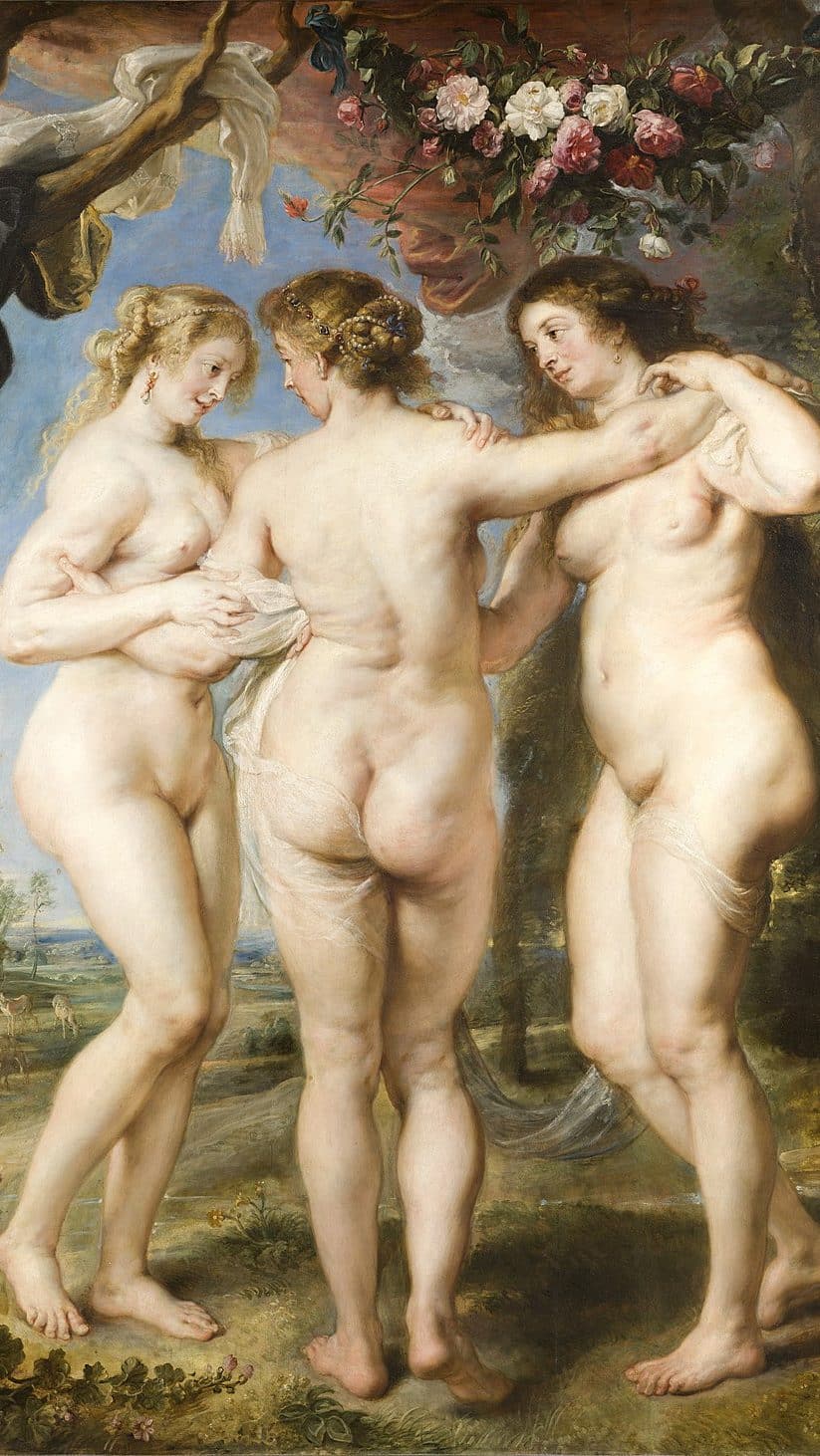 In addition to Spanish marvels, El Prado holds an impressive assemblage of Flemish, Italian, and French works. Key masterpieces include Hieronymus Bosch's "The Garden of Earthly Delights," Titian's "Charles V with a Dog," and Rubens' "The Three Graces."
Madrid's renowned El Prado Museum offers an unparalleled look into European art history within an exceptional architectural setting. No trip to Spain is complete without exploring this essential museum.
---
2. Guggenheim Museum (Bilbao)
Abandoibarra Etorbidea, 2, 48009 Bilbao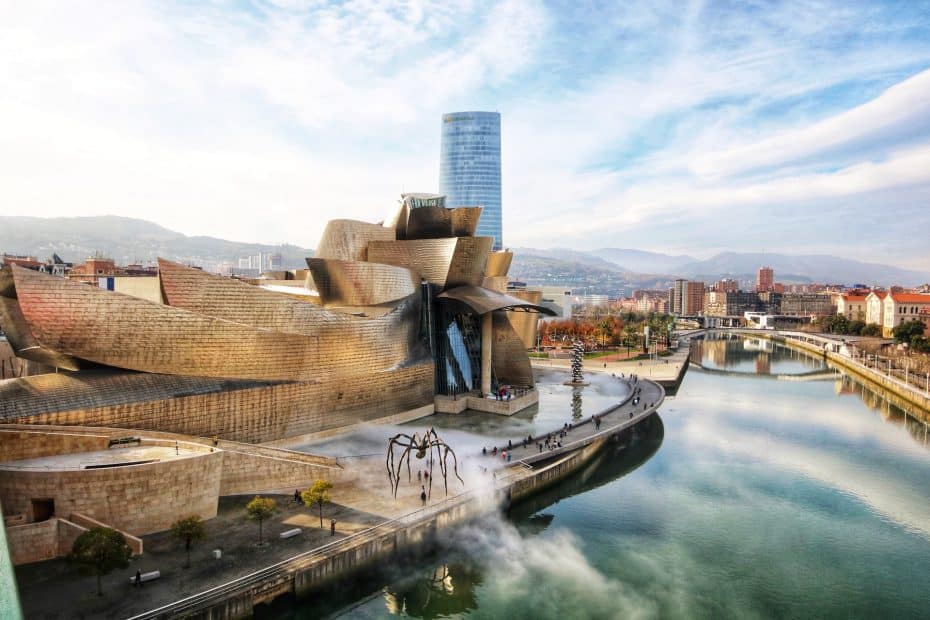 Guggenheim Museum Bilbao, situated in the heart of the city, stands as one of the premier museums in Spain. Opening its doors in 1997, the museum was designed by famous architect Frank Gehry. It showcases groundbreaking curvilinear titanium-clad forms that shimmer and reflect upon the Nervión River.
Dedicated to contemporary art, Guggenheim Bilbao explores themes such as abstract expressionism, minimalism, and pop art. A visit to this museum is an absolute must for those who appreciate innovative artistic endeavors. One aspect setting it apart is its collaborative approach to exhibitions, working with institutions worldwide to provide diverse and striking collections.
Among the most celebrated works here are Richard Serra's immense steel sculptures in "The Matter of Time" and Jeff Koons' vibrant "Puppy," a giant floral structure welcoming guests at the entrance. Guggenheim Bilbao consistently impresses by showcasing a thoughtfully curated selection of art from renowned artists such as Willem de Kooning, Mark Rothko, and Yoko Ono.
Guggenheim Museum Bilbao immerses travelers in a dynamic experience where cutting-edge architecture harmonizes with extraordinary art, making it an essential stop on any Spanish cultural exploration.
---
3. Picasso Museum (Barcelona)
Carrer de Montcada, 15-23, 08003 Barcelona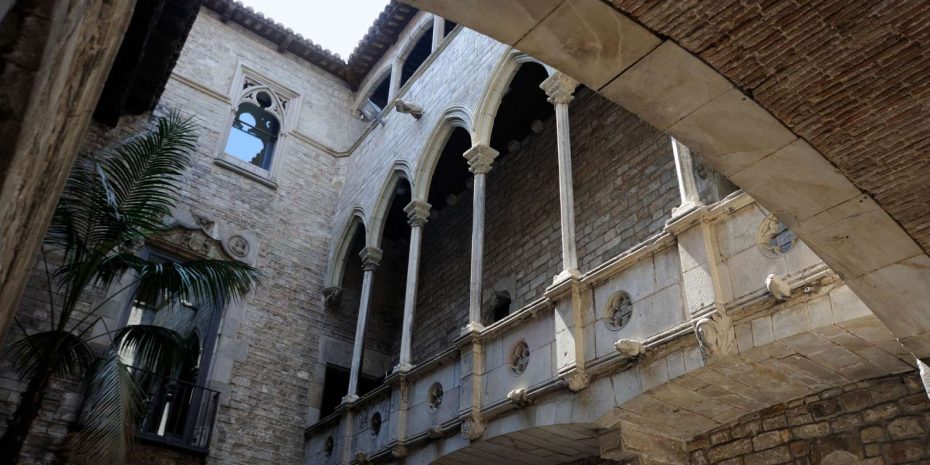 Museu Picasso, located in the heart of the Born Quarter, is a must-see museum in Barcelona. Established in 1963, this museum pays tribute to the artistic career of Pablo Picasso and is housed in five historic palaces from the 13th to the 15th centuries.
The architecture showcases a blend of medieval and modern elements, featuring courtyards, galleries, and exquisite craftsmanship. While walking through the corridors, one is bound to appreciate not only the artwork but also the architecture of the museum.
The museum's primary focus is to provide an extensive representation of Picasso's artistic journey, with a vast collection spanning over 4,000 pieces. Among these works are his formative years' creations and his renowned Blue Period masterpieces. Notable artwork displayed includes "Harpist," "The Blue Portrait," the "Las Meninas" series, and "Science and Charity."
Museu Picasso's uniqueness lies in capturing Picasso's relationship with Barcelona and offering insight into his development as an artist. Its status as one of Spain's best museums is firmly established by its comprehensive collection, the historical significance of its buildings, and its dedication to art education for all ages.
---
---
4. Reina Sofía Museum (Madrid)
C. de Sta. Isabel, 52, 28012 Madrid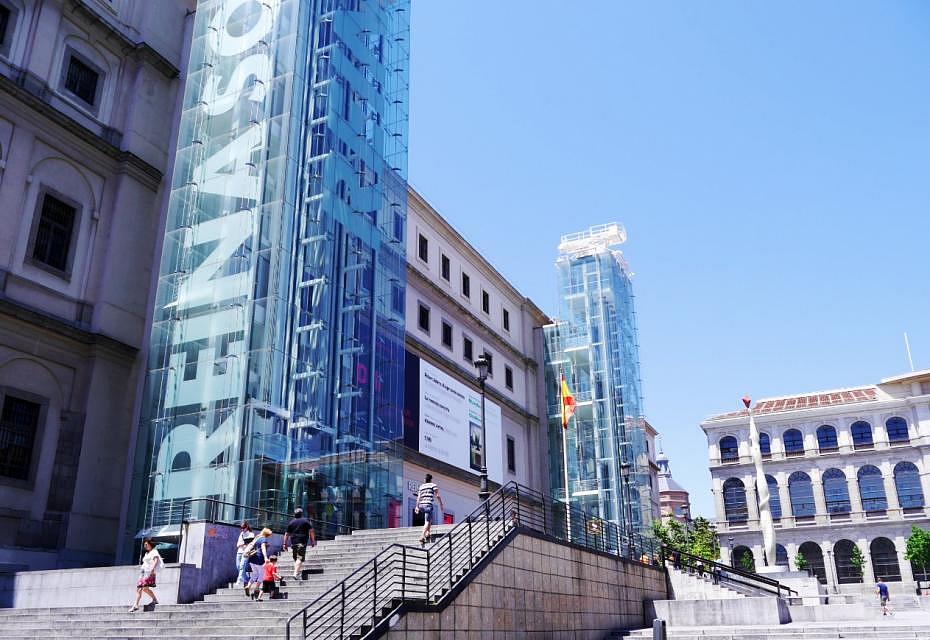 Museo Reina Sofía, located in Madrid, is a premier modern art museum attracting global art enthusiasts. Established in 1990, its rich collection mainly showcases 20th-century Spanish art, featuring the likes of Pablo Picasso and Salvador Dalí.
Housed in a former hospital building from the 18th century, the museum offers a striking mix of modern glass and steel extensions added by French architect Jean Nouvel alongside its classical architecture.
The main focus lies in modern Spanish art, notably highlighted by Picasso's masterpiece Guernica. This iconic work of art depicts the bombing of the Basque town of Guernica by the German Luftwaffe during the Spanish Civil War. In addition to Guernica, Museo Reina Sofía displays a vast collection of notable paintings and sculptures by other renowned artists such as Joan Miró and Juan Gris.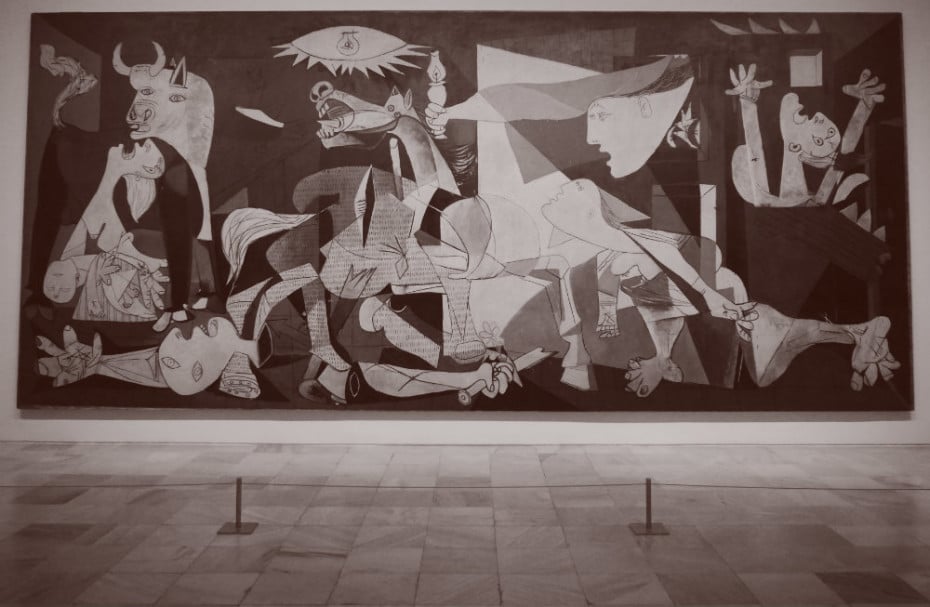 Other important masterpieces held in the museum include "Woman in Blue" by Picasso and "The Great Masturbator" by Salvador Dalí.
Museo Reina Sofía's dedication to modern Spanish masterpieces solidifies its position among Spain's top museums. The exceptional array of artwork, stunning architectural design, and prominent location contribute to its laudable status within Madrid's thriving cultural scene.
---
5. Museu Nacional d'Art de Catalunya – MNAC (Barcelona)
Palau Nacional, Parc de Montjuïc, s/n, 08038 Barcelona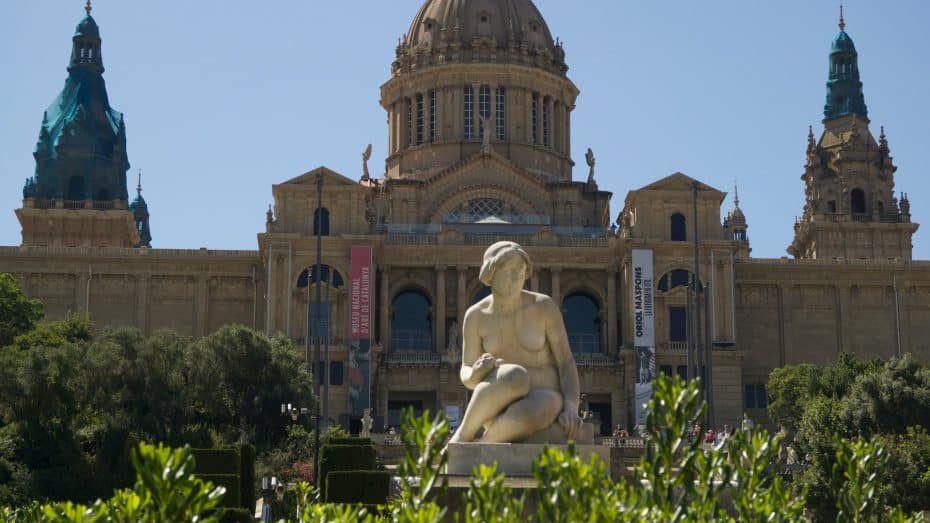 The National Art Museum of Catalonia, or MNAC, is located in Barcelona's Poble Sec neighborhood. Over half a million people visit the museum each year, making it one of Barcelona's most popular art museums.
Established in 1934, the museum is housed in the Palau Nacional, a notable building from the 1929 International Exhibition on Montjuïc Hill. The architecture of the Palau Nacional features a mix of styles, predominantly Spanish Renaissance and neoclassical.
MNAC primarily focuses on Catalan art from the Middle Ages to the mid-20th century. Its extensive collection includes important Romanesque, Gothic, Baroque, and Renaissance works. Some of the most prominent artists featured at the museum are Ramon Casas, Joaquim Mir, and Santiago Rusiñol.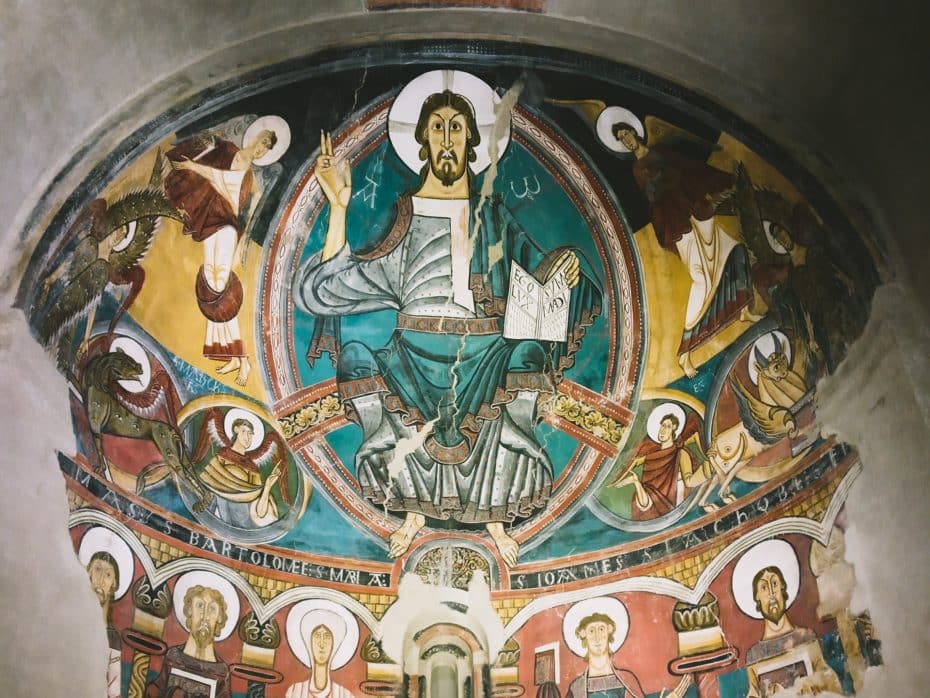 The museum is recognized as one of the best in Spain thanks to its broad chronological range and focus on Catalan art history. It boasts several renowned Romanesque mural paintings, including the iconic and impressive "Apse of the Sant Climent de Taüll" fresco and an impressive collection of works from leading modernist (Art Nouveau) artists.
Famous pieces in MNAC's collection include "The Baldungin," a sculptural altarpiece created by Pere Oller during the Gothic period, as well as the "Chalice of the Abbot Escalivà" from the 14th century.
---
6. Thyssen-Bornemisza Museum
P.º del Prado, 8, 28014 Madrid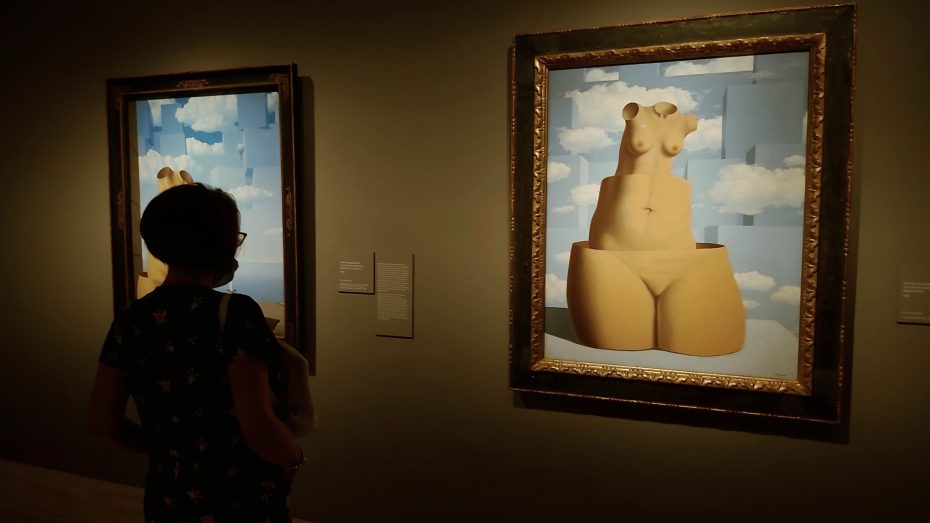 The Thyssen-Bornemisza Museum, frequently referred to simply as "El Thyssen," is located in Madrid's Barrio de Las Letras. It is one of the top museums in the country due to its impressive collection of art, its fascinating history, and beautiful architecture.
The museum was founded in 1992 when the Spanish government purchased the private art collection of Baron Hans Heinrich Thyssen-Bornemisza. The building itself is an important part of Madrid's history, as it was once the 18th-century Villahermosa Palace. Its architecture features Neoclassical and Baroque elements.
Its primary focus is European painting from the 13th to the 20th century, displaying various artistic styles such as Renaissance, Mannerism, Baroque, Rococo, Romanticism, and Modern Art. Notable artists whose works are on display include Titian, Rubens, Rembrandt, Caravaggio, Monet, Van Gogh, Gauguin, and Picasso. Beyond paintings, the museum exhibits sculptures and artifacts from various historical periods.
The museum is among Spain's most visited cultural institutions. In 2019 alone, it was visited by more than one million people.
---
7. Valencia Institute of Modern Art
C/ de Guillem de Castro, 118, 46003 Valencia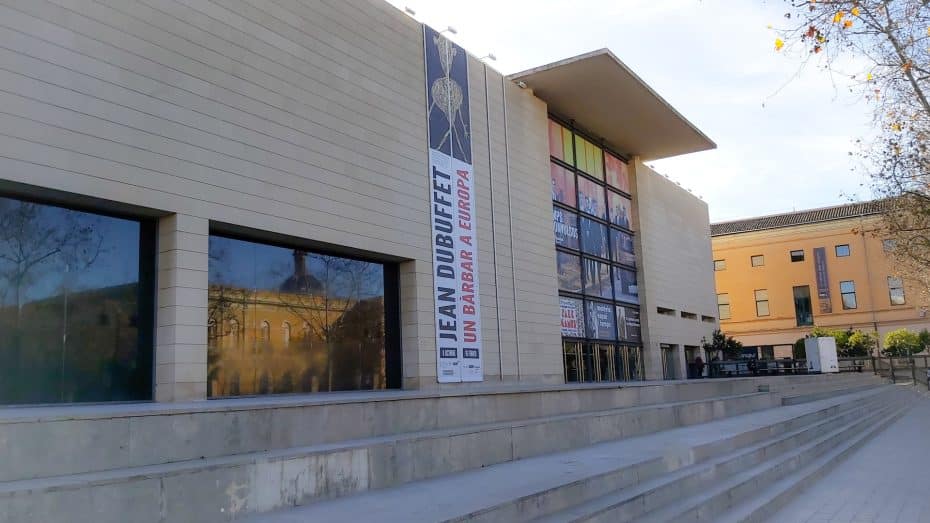 The Valencia Institute of Modern Art (IVAM) is an art museum located in Valencia, Spain. Established in 1989, it was the first museum in Spain dedicated exclusively to modern and contemporary art.
The museum building, designed by architect Emilio Giménez Juliá, combines geometric shapes featuring glass and metal materials that provide natural light to the exhibition spaces.
IVAM mainly focuses on Spanish and international modern art from the 20th and 21st centuries. It showcases works by renowned artists such as Julio González, Robert Rauschenberg, Roy Lichtenstein, and Andy Warhol. Important artworks held in the collection include González's welded iron sculptures and Rauschenberg's "Borealis Shares" series.
---
8. Carmen Thyssen Museum (Málaga)
Plaza Carmen Thyssen, Calle Compañía, 29008 Málaga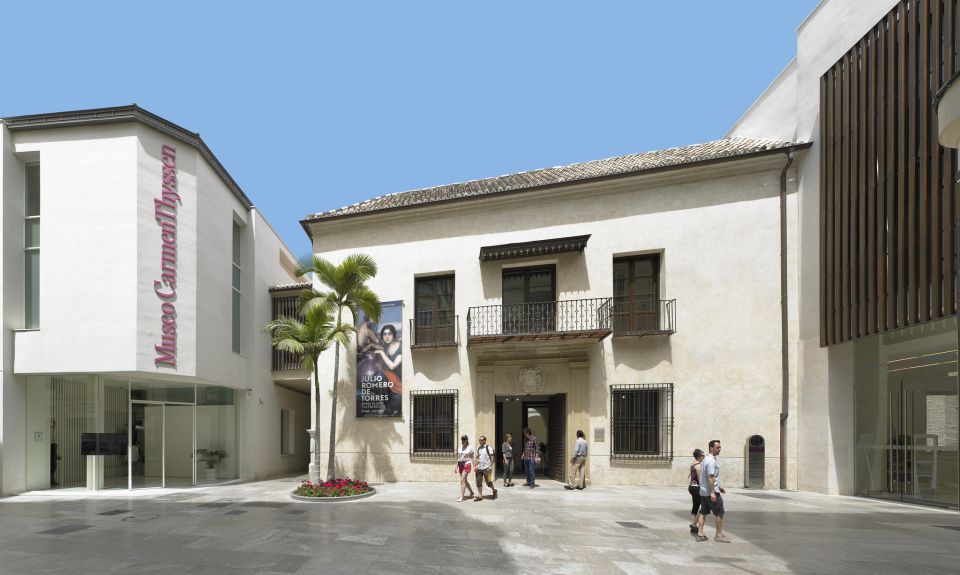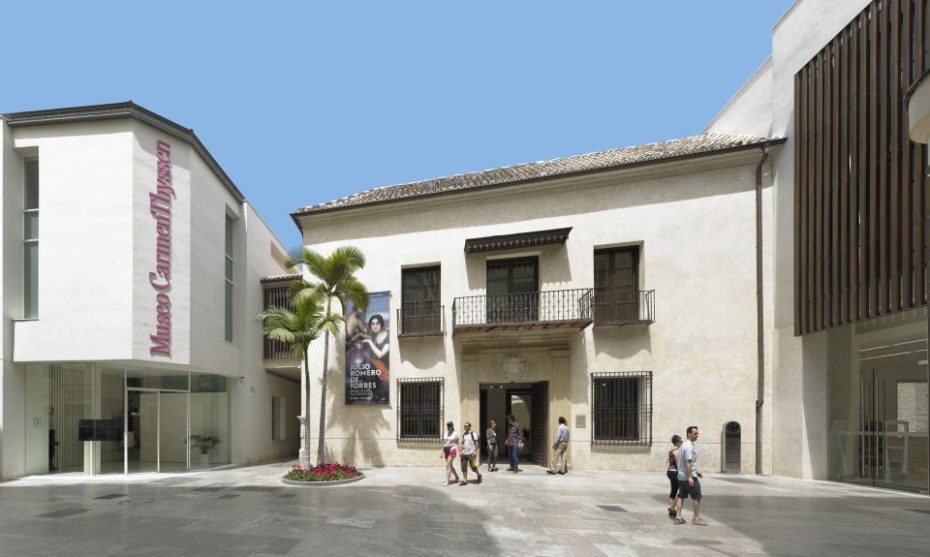 The Carmen Thyssen Museum is located in Málaga in the 16th-century Villalón Palace, a Renaissance-style building with a beautiful courtyard. The museum was founded in 2011 to showcase the private art collection of Baroness Carmen Thyssen-Bornemisza.
The museum primarily focuses on 19th-century Spanish painting, particularly from the Andalusian school. Among the most prominent artists featured in the museum are Joaquín Sorolla, Ignacio Zuloaga, and Julio Romero de Torres. Several masterpieces in the collection include "Santa Marina" by Zurbarán and "Tobacco Factory" by González Martínez.
The museum is known as one of the top museums in Spain due to its carefully curated collection, showcasing regional art and important pieces from European and American artists. The elegant architecture of the building adds to the overall charm and appeal of this cultural institution.
---
9. Dalí Theatre-Museum (Figueres)
Plaça Gala i Salvador Dalí, 5, 17600 Figueres, Girona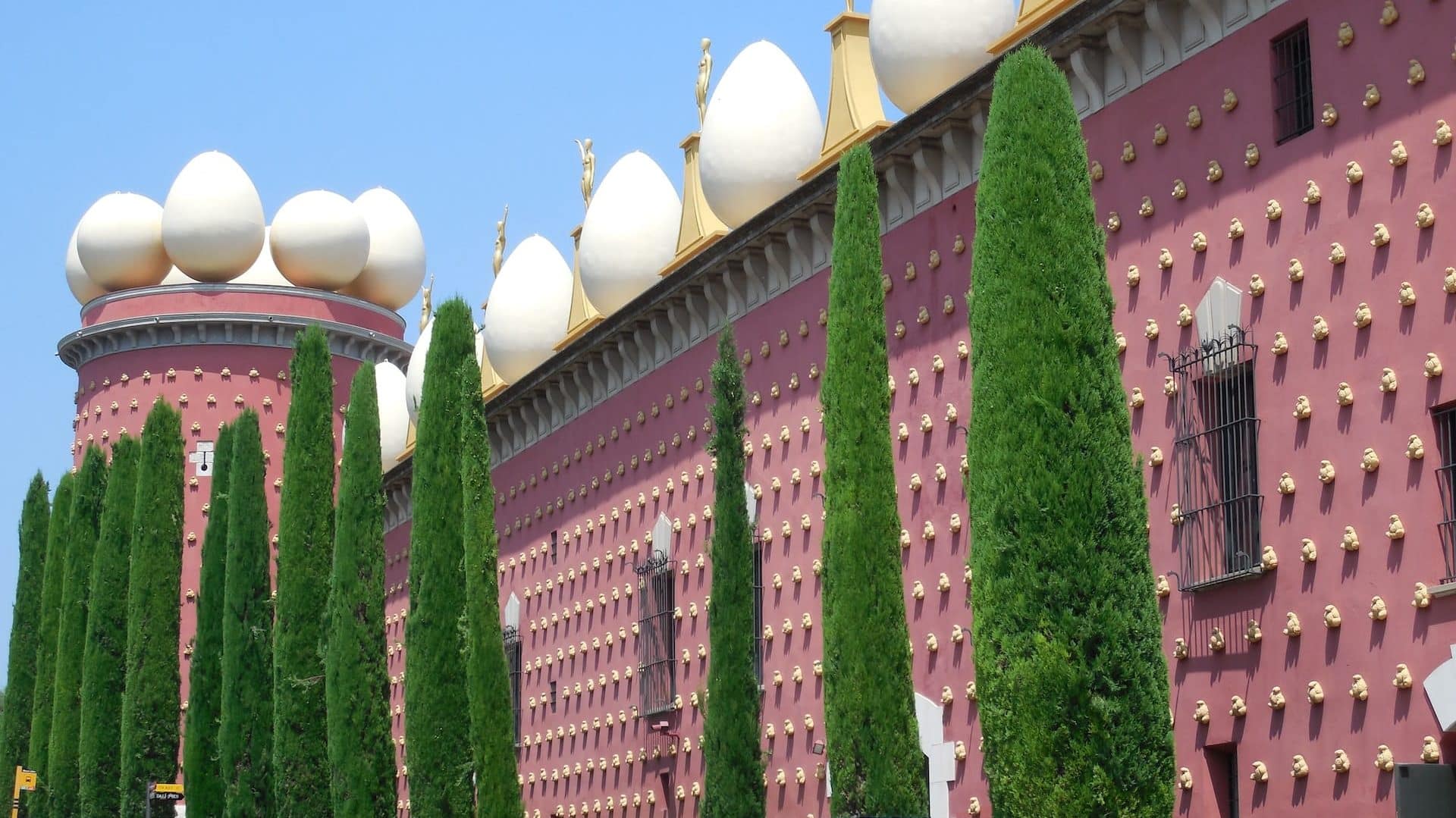 The Dalí Theatre-Museum, located in Figueres, Catalonia, is a museum dedicated to Salvador Dalí, a leading artist from the Surrealist movement. The building was originally a theatre but was converted into a museum with the help of Dalí himself. It opened to the public in 1974.
Featuring unique architectural elements, the museum is designed to mirror Dalí's bizarre and dreamlike artwork. The façade showcases round windows, red walls with gold decorations, and giant white eggs on the roof.
The museum's main focus is to display Dalí's extensive collection of art, consisting of paintings, sculptures, and installations. Highlights include well-known works such as "The Persistence of Memory," "Swans Reflecting Elephants," and "Soft Self-Portrait with Grilled Bacon."
Additionally, the museum houses works by other artists that Dalí admired or who were connected to him. These include El Greco, Marcel Duchamp, and John de Andrea. The museum also exhibits many of Dalí's drawings, photographs, and personal items.
Due to its vast collection of significant Surrealist art pieces and Dalí's influence on its design and contents, the Dalí Theatre-Museum is considered one of the best museums in Spain. It attracts approximately 1.3 million visitors annually, making it one of the most visited museums in Catalonia and Spain overall.
---
---
10. Museo del Greco (Toledo)
P.º del Tránsito, s/n, 45002 Toledo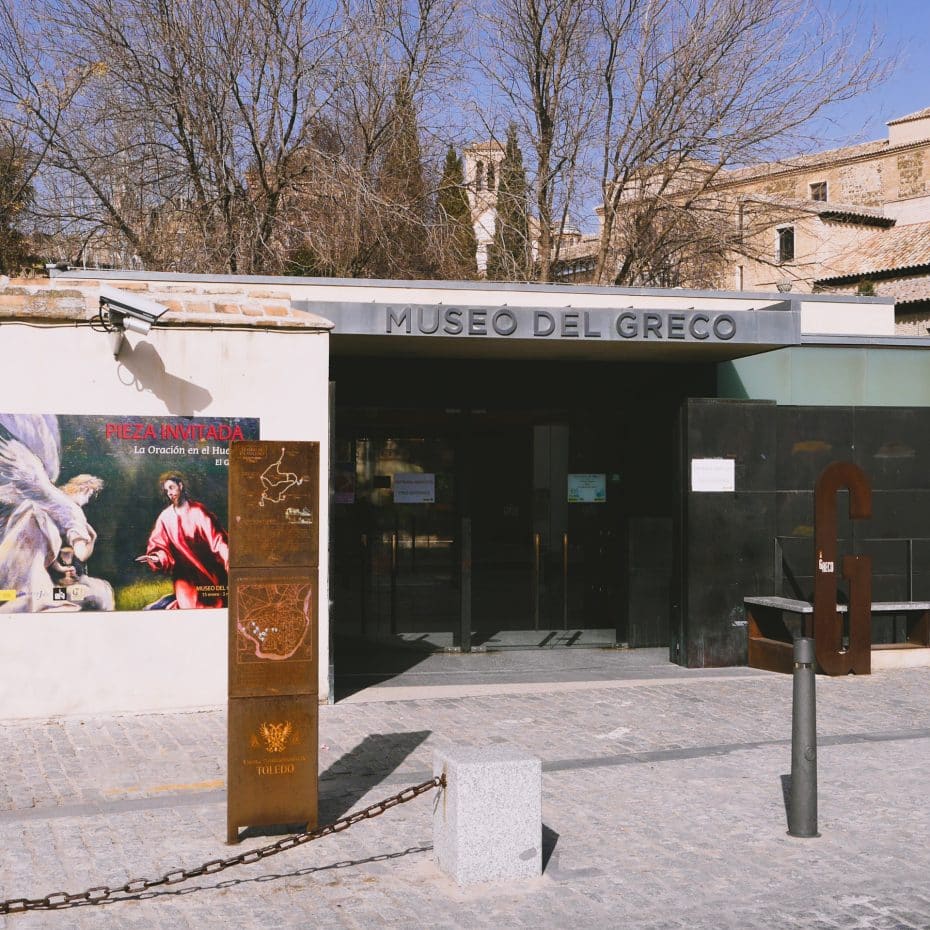 Museo del Greco is a popular museum in the city of Toledo. Established in 1911, the museum showcases the life and works of Doménikos Theotokópoulos "El Greco," a prominent painter from the Spanish Renaissance period. It is housed in a 16th-century building featuring Mudejar-style architecture.
The museum centers on El Greco's paintings and significant art pieces, highlighting his contributions to the world. Notable works on display include "The Tears of Saint Peter," "View of Toledo," and "El Expolio." Additionally, the museum exhibits works by important followers and contemporaries of El Greco, such as Luis Tristán and Vicente Carducho.
Museo del Greco is considered one of the best museums in Spain for its comprehensive collection of El Greco's masterpieces, which play a significant role in Spanish art history.
---
11. National Sculpture Museum
C. Cadenas de San Gregorio, 1, 47011 Valladolid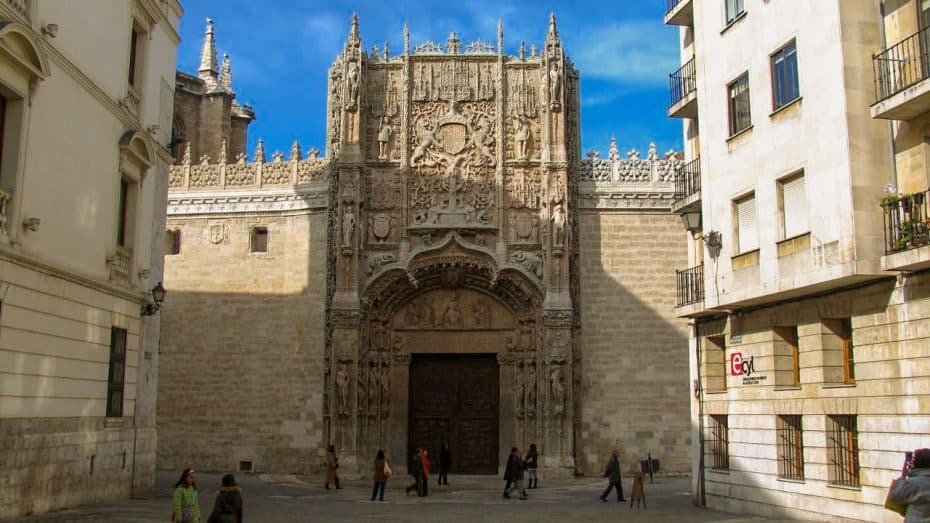 The Museo Nacional de Escultura, located in Valladolid, is a renowned museum focused on sculpture. Established in 1933, it is housed in what was once the College of San Gregorio, a building with a rich history dating back to the late 15th century. The museum's architectural design is an exemplary example of the Isabelline Gothic style.
The museum is dedicated to Spanish sculpture from the Middle Ages to the 19th century, featuring prominent artists such as Juan de Juni and Alonso Berruguete. Some well-known works of art at the Museo Nacional de Escultura include "The Lamentation over the Dead Christ" by Juan de Juni and "The Altarpiece of St. Anne" by Alonso Berruguete.
Museo Nacional de Escultura has gained a reputation as one of Spain's best museums due to its impressive collection and the integration of art within a historically significant building.
---
12. San Fernando Fine Art Royal Academy (Madrid)
C. de Alcalá, 13, 28014 Madrid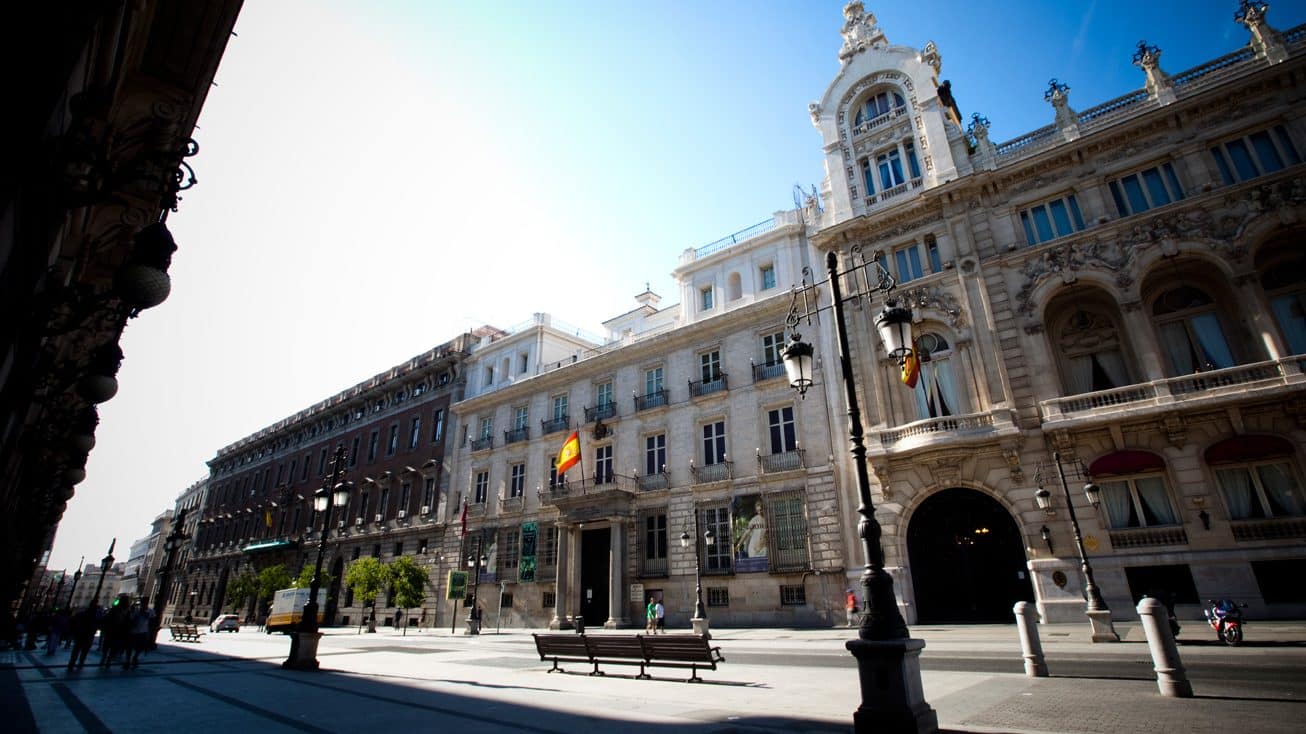 San Fernando Fine Art Royal Academy is a museum on Madrid's famous Calle Alcalá. It is one of Spain's oldest and most prestigious art institutions. It was founded in 1744 by King Philip V and is named after Saint Ferdinand III of Castile. The Academy played an important role in shaping Spanish art. Some of the most renowned Spanish artists, such as Francisco Goya, Joaquín Sorolla, and Pablo Picasso, studied or taught at the academy.
Today, the Academy is one of the premier museums in the Spanish capital. Some of the most well-known artists in the collection include Francisco Goya, El Greco, and Diego Velázquez.
The building itself is a beautiful example of neoclassical architecture. The entrance hall has a stunning marble stairway and frescoes on the ceiling.
---
13. Museo de Santa Cruz
C. Miguel de Cervantes, 3, 45001 Toledo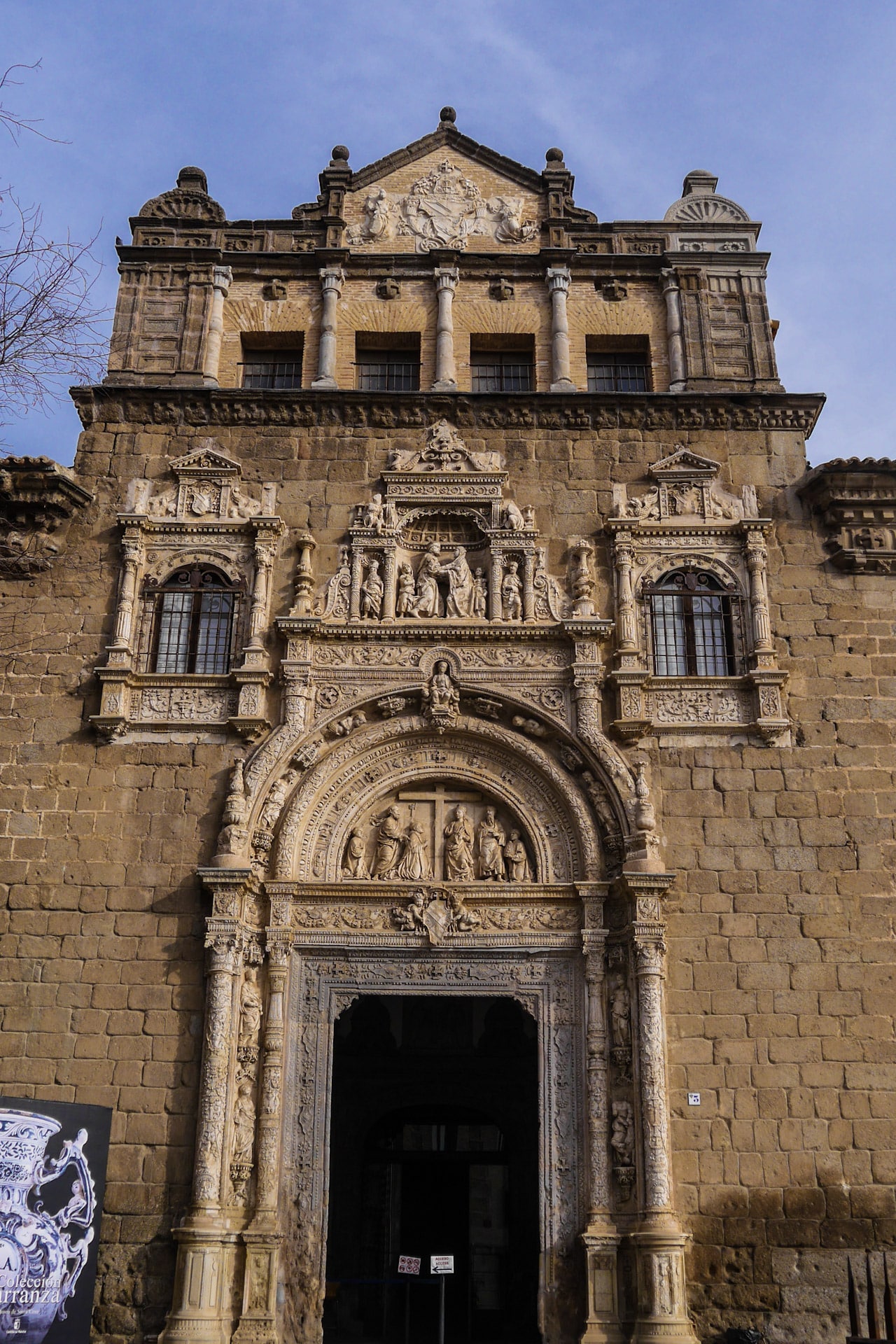 The Museo de Santa Cruz is a museum located in Toledo, Spain.
It was founded in 1961 and is housed in a Renaissance-style building, which was once a hospital.
The museum's primary focus is art and archaeology, particularly regarding the region's history.
Notable artists whose works are showcased include El Greco, Pablo Picasso, and Francisco de Zurbarán. Some of the museum's most famous works of art include El Greco's "The Disrobing of Christ" and Zurbarán's "Saint Hugo in the Refectory."
---
14. Museo de Bellas Artes de Sevilla
Pl. del Museo, 9, 41001 Sevilla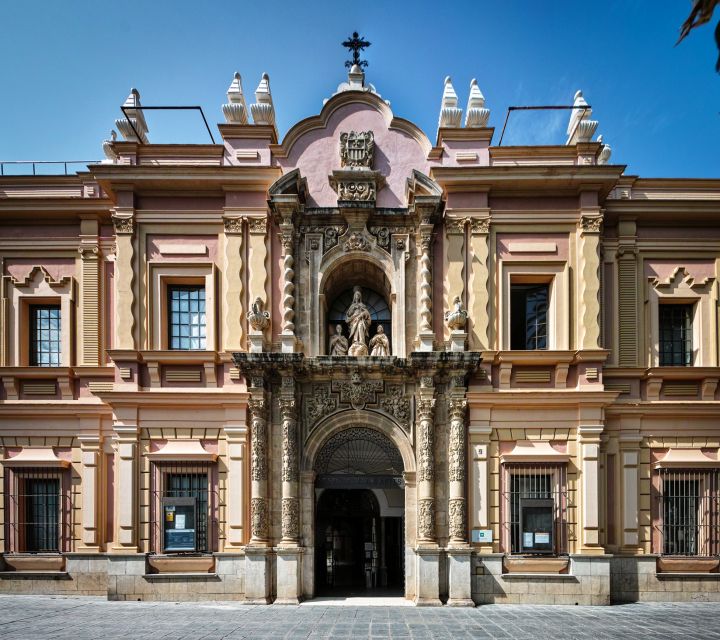 The Museo de Bellas Artes de Sevilla is a well-known art located in the city's historic center. The museum was created in 1835 and is housed in the former Convent of La Merced Calzada, an impressive Baroque building completed in the early 17th century. The structure features a striking central courtyard and a distinctive dome.
The museum primarily focuses on Spanish fine arts from the medieval period to the early 20th century. It boasts an extensive collection of works by renowned artists such as Bartolomé Esteban Murillo, Francisco de Zurbarán, and Diego Velázquez.
Some of the most famous artworks displayed at the Museo de Bellas Artes de Sevilla include Murillo's "Virgin of the Napkin," Zurbarán's "Santa Casilda," and Velázquez's "Portrait of Don Cristóbal Suárez de Ribera."
In addition to its collection of paintings, the Museo de Bellas Artes de Sevilla also features sculptures, ceramics, and other forms of decorative arts.
---
15. CAC Málaga
C. Alemania, S/N, 29001 Málaga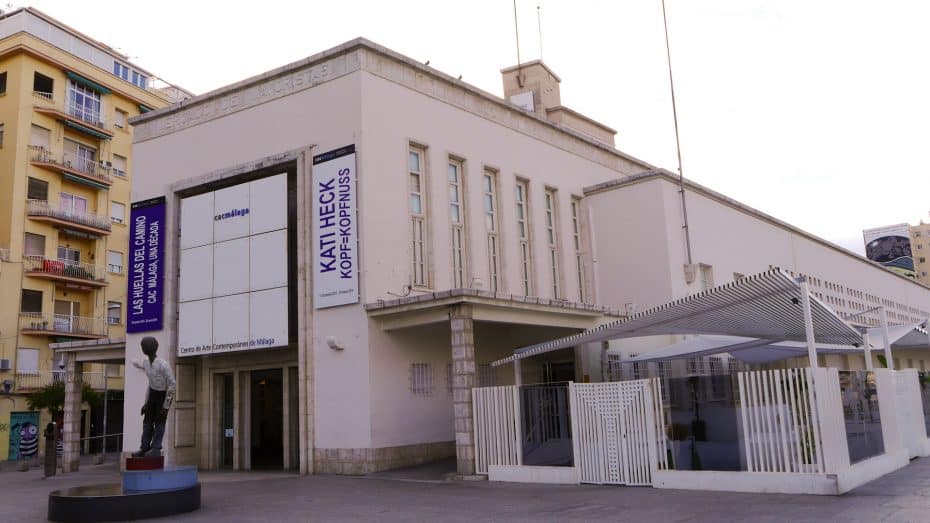 The Contemporary Art Centre of Málaga (CAC), is a museum in Málaga. Located in the up-and-coming Soho district, this museum attracts approximately 400,000 visitors per year.
The main focus of CAC Málaga is modern and contemporary art. Some key artists represented in the collection include Damien Hirst, Anish Kapoor, and Louise Bourgeois. Among the significant works of art displayed at the museum are "Love Lasts Forever" by Tracey Emin and "Large White Sphere" by Jorge Pardo.
The building architecture combines traditional Andalusian elements with modern design. The museum is housed in a renovated old wholesale market called Mercado de Mayoristas. The Art-Deco structure covers an area of approximately 6,000 square meters with large open spaces that facilitate the display of various art installations.
---
16. Museu de Belles Arts (Valencia)
C/ de Sant Pius V, 9, 46010 València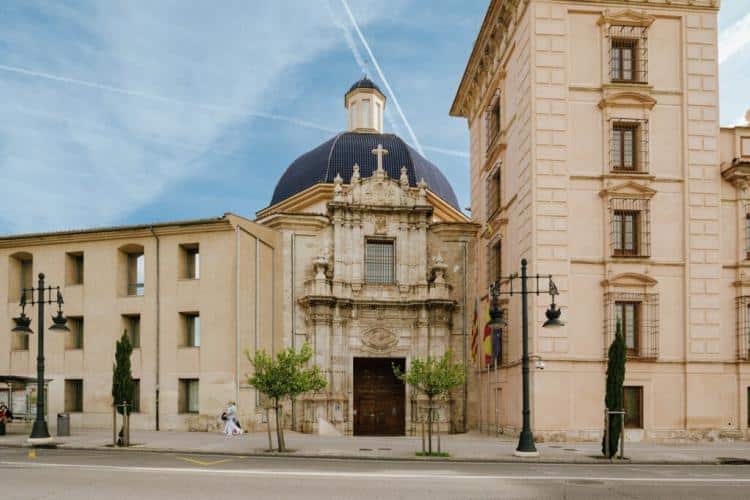 Located in the heart of València, Spain, the Museo de Bellas Artes offers an incredible fine art collection. The second largest art gallery in Spain, this museum has a rich history and showcases a vast range of Spanish artwork.
The building itself is a prime example of Baroque architecture. Its striking pale façade, replete with ornate detailing, was initially constructed in 1683 to house a seminary.
The museum focuses on Spanish and Valencian art from the 14th to the 20th century. Some of the most famous artists represented in its collection include Diego Velázquez, El Greco, Francisco Goya, and Joaquín Sorolla. Among the notable pieces showcased are "Self-Portrait" by Velázquez and multiple works by Sorolla depicting Valencian landscapes.
---
---
16. National Archaeological Museum (Madrid)
C. de Serrano, 13, 28001 Madrid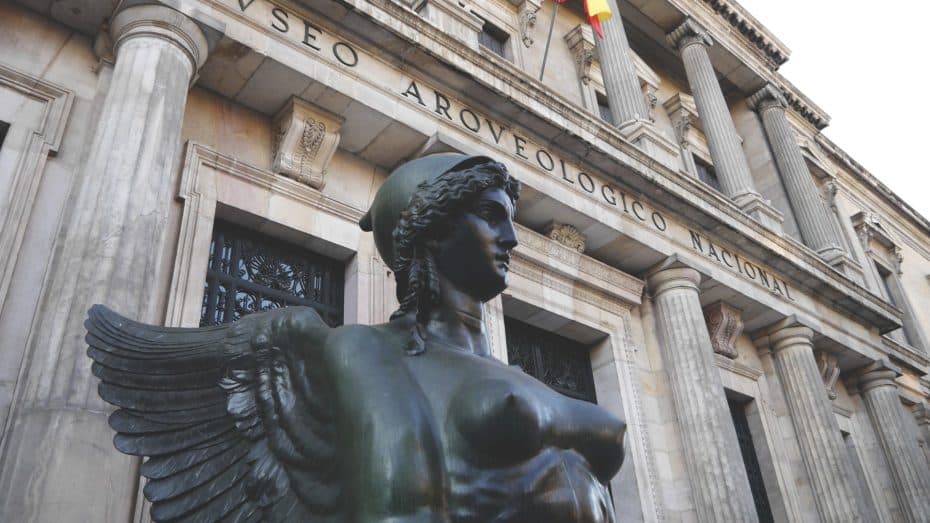 The National Archaeological Museum is known for its diverse collection of historical artifacts. It is situated on Serrano Street in close proximity to other well-known cultural institutions.
The museum's history dates back to 1867. It was founded by Queen Isabella II, and has since played a significant role in preserving and showcasing Spain's cultural heritage. The National Archaeological Museum's collections have grown through acquisitions, excavations, donations, and loans.
The building was designed by Spanish architect Francisco Jareño in a neoclassical style. A recent renovation added modern elements to the original structure while maintaining its historic character.
The museum focuses on archaeology and ethnography. Its vast collection includes artifacts from prehistoric times, ancient Egypt, old Iberian Peninsula civilizations, and Roman Hispania through Islamic Al-Andalus and medieval Christian kingdoms. Among the most famous works of art displayed at the National Archaeological Museum are the Lady of Elche, a Limestone bust from proto-Iberian culture; Treasure of Guarrazar, an important set of Visigothic votive crowns; and the Lady of Baza, another notable limestone sculpture from Iberian culture.
---
17. Goya Museum (Zaragoza)
C. de Espoz y Mina, 23, 50003 Zaragoza
Goya Museum, also known as the Museo Goya – Colección Ibercaja, is located in Zaragoza, Spain. The museum's primary focus is on the artwork and life of Francisco Goya, a famous Spanish painter, and printmaker. The museum hosts a vast collection of Goya's pieces, including famous works like "Los Caprichos," "Tauromaquia," and "The Disasters of War."
The museum is situated in an architectural gem, the Renaissance Palace of Los Pardo, also known as the Palacio de los Condes de Morata. This historic building dates back to 1595 and underwent extensive renovation to house Goya's artwork and other exhibits.
Besides Goya's masterpieces, the museum exhibits work from eminent Spanish artists such as Francisco Bayeu, Ramón Bayeu, Juan José Vera Jiménez, and more. One can also find pieces from medieval works to contemporary art collections.
---
18. Joan Miró Foundation (Barcelona)
Parc de Montjuïc, s/n, 08038 Barcelona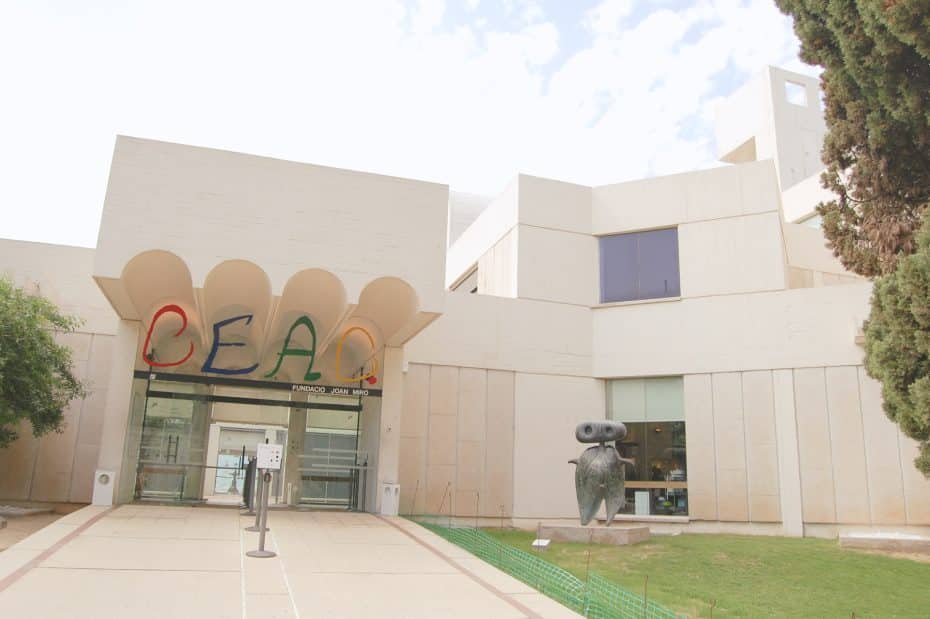 The Fundació Joan Miró is a museum located in Barcelona dedicated to the work of Catalan artist Joan Miró. Established in 1975, the museum is situated on Montjuïc Hill and was designed by architect Josep Lluís Sert.
The museum focuses on the art and life of Joan Miró, showcasing his paintings, sculptures, prints, and drawings from various periods throughout his career. Important artworks displayed at the museum include "The Farm," "Harlequin's Carnival," and "Woman, Bird, Star (Homage to Picasso)." Apart from Miró's works, the museum also features works from other contemporary artists, particularly those associated with Surrealism and Abstract Expressionism.
The building itself is an architectural landmark. It features open spaces, natural light, and terraces that offer panoramic views of Barcelona. The modernist architecture harmonizes with the surrounding Montjuïc parklands and incorporates elements from traditional Catalonian architecture. This combination reflects the spirit of Joan Miró's artwork, inspired by his connection to his homeland.
The Fundació Joan Miró is considered one of Spain's top museums due to its extensive collection of Miró's works and its dedication to promoting contemporary art.
---
19. Museo Canario (Las Palmas de Gran Canaria)
Calle del Dr. Verneau, 2, 35001 Las Palmas de Gran Canaria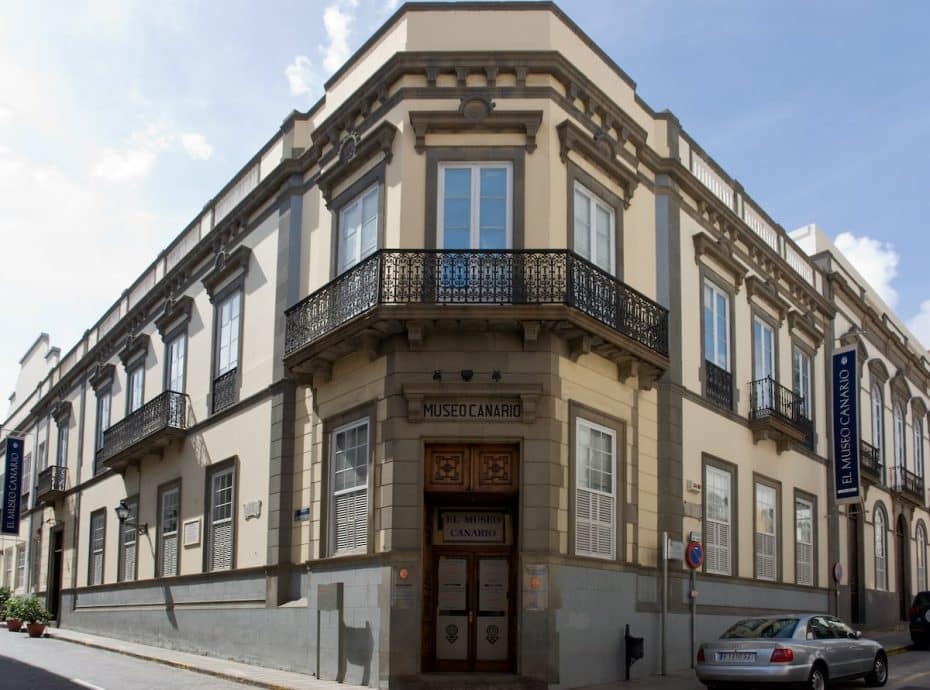 Museo Canario, located in Las Palmas de Gran Canaria, is dedicated to the Canary Islands' history and culture. Established in 1879, the museum is housed in a beautiful 18th-century building with stunning colonial architecture and intricate detailing.
The main focus of Museo Canario lies in prehistoric and ethnographic artifacts, with a particular emphasis on the Guanche civilization.
---
20. National Museum of Roman Art (Mérida)
C/ José Ramón Mélida, s/n, 06800 Mérida, Badajoz
The National Museum of Roman Art in Mérida is an important institution that showcases Roman art and history. It is located in the region of Extremadura and was established in 1986. Designed by architect Rafael Moneo, the museum features traditional Roman brick architecture with arches and high ceilings.
The museum's main focus is to exhibit the exceptional Roman heritage of Mérida. This city was once known as Emerita Augusta when it was the capital of the Roman province of Lusitania. The museum's collection includes sculptures, mosaics, pottery, jewelry, and coins from different periods of Roman rule.
Among the prominent works on display are the sculpture of Emperor Augustus and a large mosaic depicting an ocean scene with Neptune, sea creatures, and tritons.
The National Museum of Roman Art attracts some 200,000 visitors yearly thanks to its extensive collection and historical value. It allows visitors to gain insight into Roman life when Mérida was an important center of Roman civilization.
---
21. Museu de les Ciències Príncipe Felipe (Valencia)
Ciudad de las Artes y de las Ciencias, Av. del Professor López Piñero, 7, 46013 Valencia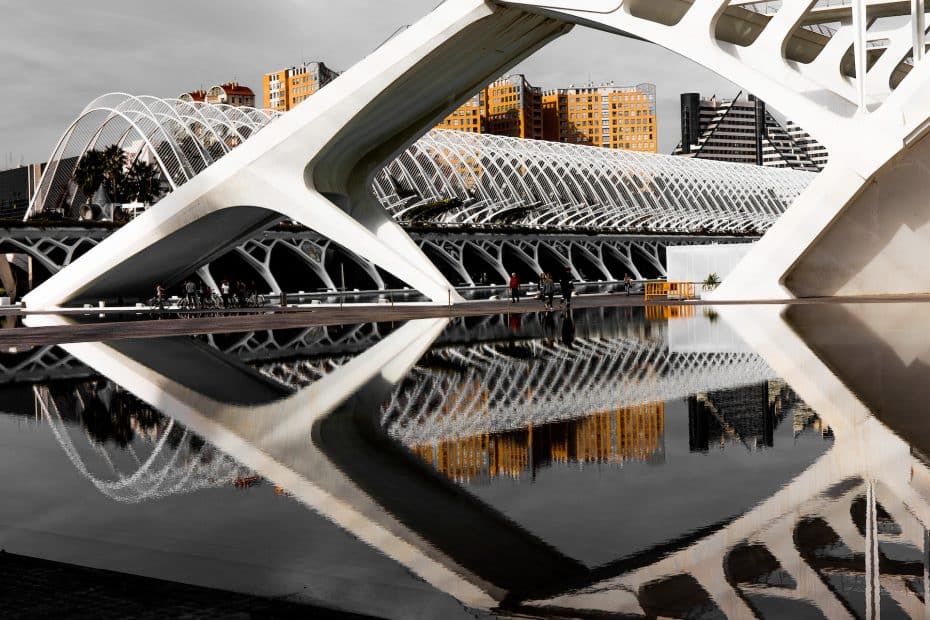 The Museu de les Ciències Príncipe Felipe is located within famous Valencia's City of Arts and Sciences complex. Spanish star architect Santiago Calatrava designed the building, which resembles a whale skeleton.
The main focus of this museum is on science and technology through interactive exhibits and displays. The museum has several sections, including areas focused on physics, chemistry, and biology. Despite not housing traditional art collections like other museums in Spain, it ranks among the best due to its dedication to science communication and its impressive architecture.
The Museu de les Ciències Príncipe Felipe attracts significant visitors each year, with over 25 million people reported since its opening. Its unique architecture, engaging exhibits, and educational focus make it one of the top museums in Spain to visit.
---