Athens is a mesmerizing and lively metropolis. The Greek capital is famous for its stunning ancient architecture, top-notch museums, dynamic cultural scene, and unforgettable nightlife. Its remarkable atmosphere is attributed to Athens' distinct neighborhoods, each with its own unique flair. Here is our guide to the coolest districts in Athens that you should explore during your visit to this amazing city.
If you are looking for the coolest areas in Athens to plan your visit to the Greek capital, or you are looking for the best areas to stay in, you have come to the right place.
---
---
The 5 Coolest Neighborhoods in Athens for an Unforgettable Visit
1. Plaka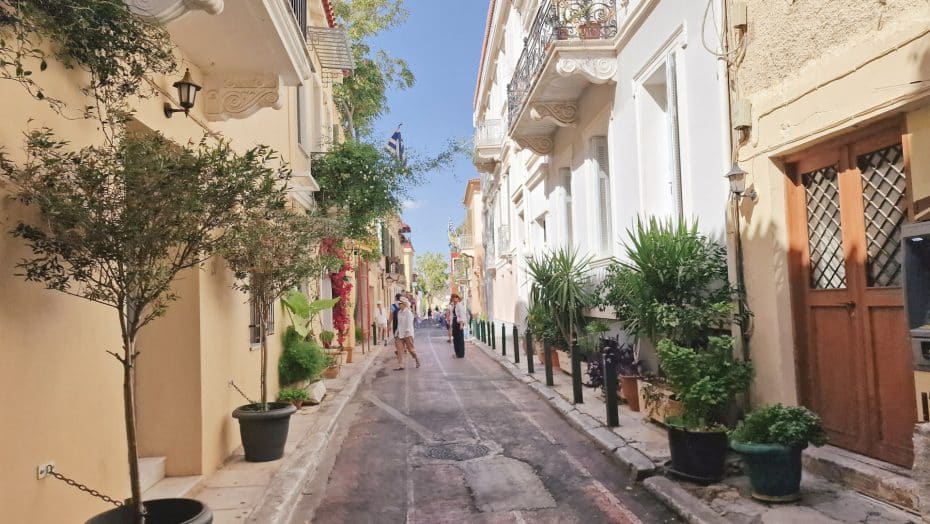 Plaka is an incredibly fun neighborhood in Athens known for its vibrant atmosphere and beautiful surroundings. Frequented by travelers and locals, it's an ideal place to experience the true Athenian spirit.
Located in the center of Athens, Plaka sits right below the northeast slope of the Acropolis. Its central position makes it just a short walk away from popular landmarks like Monastiraki Square and Syntagma Square.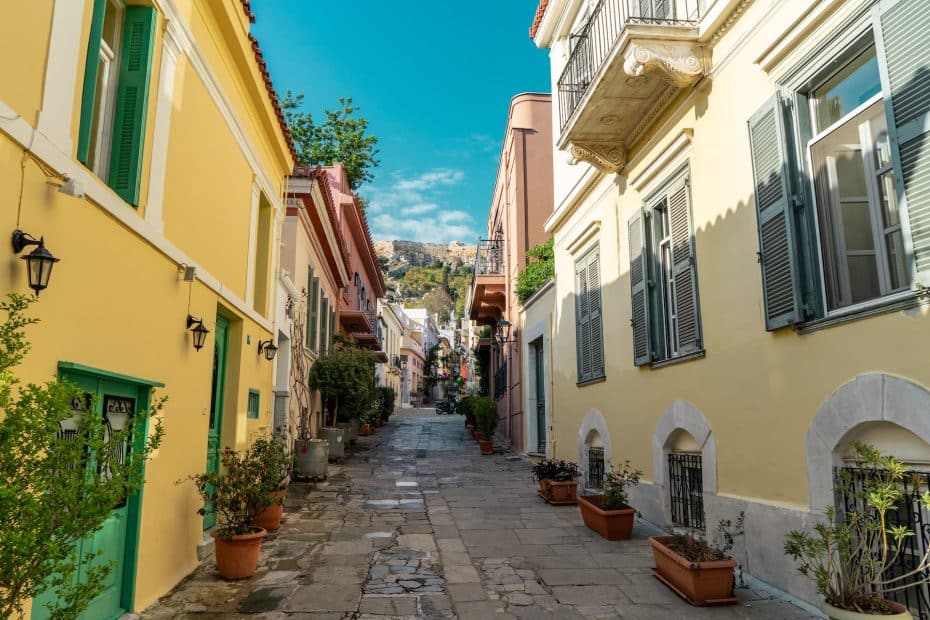 Plaka's rich history dates back to ancient times when it was thought to be the residential area of Athenian citizens. Established around 3000 B.C., this neighborhood has been continuously inhabited throughout its long history, adapting to the changes brought by different civilizations.
Among the many attractions in Plaka, you can explore fascinating sites like Anafiotika Street, a picturesque area with narrow streets and whitewashed houses reminiscent of Greek island architecture. The Roman Agora (Polignotou Street) is another must-see attraction, once serving as a marketplace during Roman times. The Tower of the Winds (Aeridon Street), an ancient weather station, is also impressive. Don't miss the opportunity to visit famous landmarks such as Hadrian's Library (Areos Street) and the Lysicrates Monument (Tripodon Square).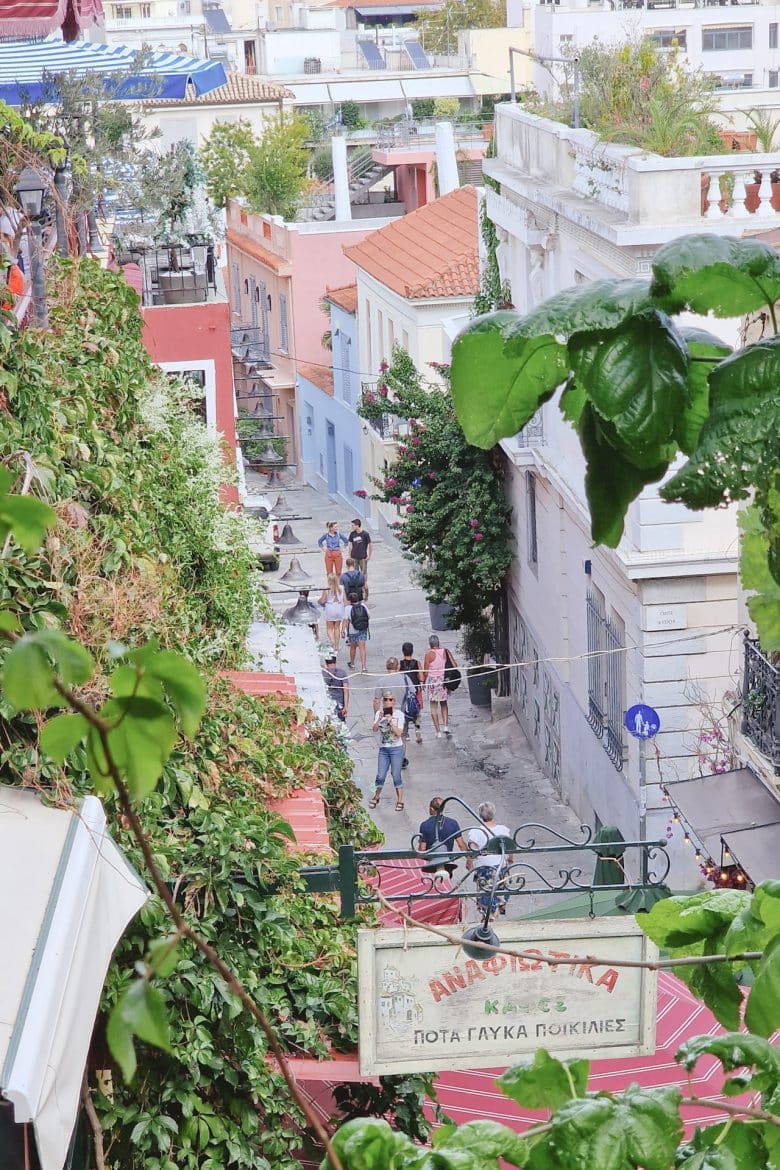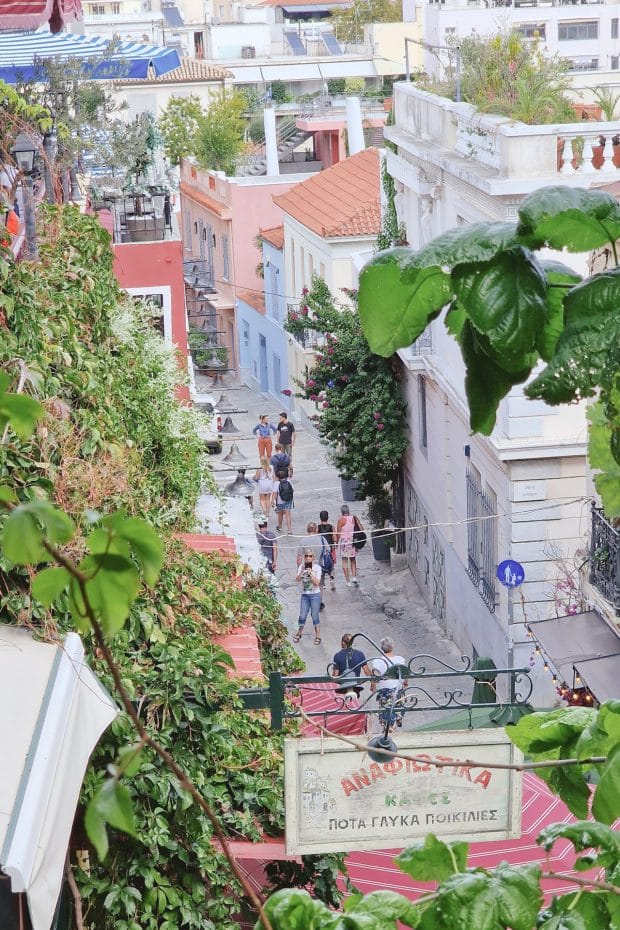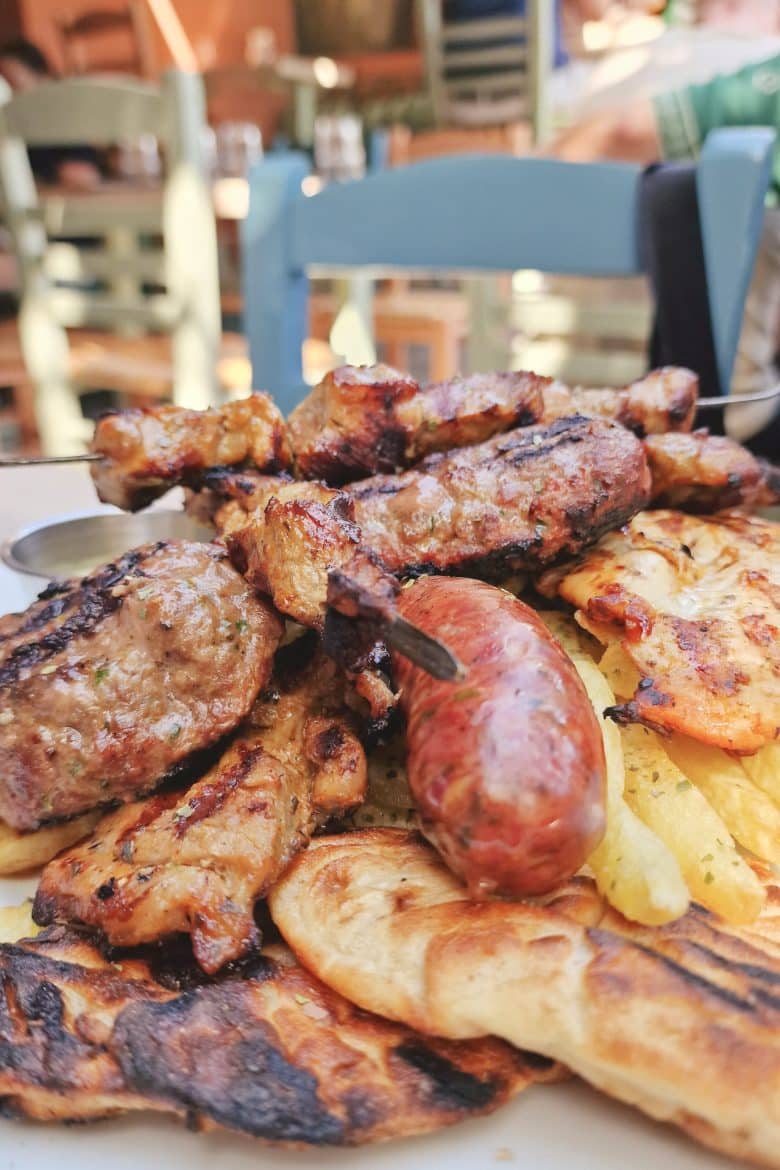 This lively neighborhood offers a perfect atmosphere to enjoy both day and night, as its streets are filled with live music, bustling shopping areas, and incredible restaurants. Plaka also showcases local craftsmanship with artisan shops selling handmade products.
Getting to Plaka is convenient by public transportation. Take Line 1(Green) or Line 3(Blue) metro trains and stop at Monastiraki station if coming from Syntagma Square or use Akropoli station or Syntagma station on Line 2(Red). Alternatively, you may opt for bus lines 040 or 230 to reach this lovely destination.
Plaka is a must-see during a first trip to Athens.
Visiting Plaka: Useful Information
Why visit Plaka?
Historical importance: Plaka is the oldest neighborhood in Athens, dating back to ancient times.
Beautiful architecture: Plaka's picturesque, neoclassical buildings give it a unique charm.
Rich cultural heritage: Plaka offers a fascinating mix of archeological sites, museums, and churches.
Vibrant atmosphere: The area has lively cafes, tavernas, and shops.
Scenic views: Plaka's location at the foot of the Acropolis offers stunning views of iconic landmarks.
Things to see in Plaka
Acropolis: Visit the iconic ancient citadel that houses the Parthenon and offers a unique exploration of ancient Greek history.
Anafiotika (Anafiotika Quarter): A picturesque part of Plaka featuring small, white-washed houses reminiscent of Greek islands.
Tower of the Winds (Aiolou 3): An ancient clocktower and weather station designed by the Greek astronomer Andronikos Kyrrhestes.
Museum of Greek Folk Art (17 Kydathineon St.): A museum that displays a rich collection of traditional Greek crafts and costumes.
Getting around Plaka
Walking: Plaka is a pedestrian-friendly area with numerous narrow streets to explore on foot.
Public Transportation: Options include Metro Line 1 (Monastiraki Station) and Line 3 (Acropoli Station). Buses run along Ermou Street with stops at Ermou-Syntagma Station. The funicular railway line provides access to Lycabettus Hill. Timetables can be found at www.oasa.gr.
Timing your visit
The best time to avoid crowds in Plaka is during the late mornings or early afternoons on weekdays when most tourists visit attractions like the Acropolis.
Tours, tickets & activities in Plaka
---
---
2. Monastiraki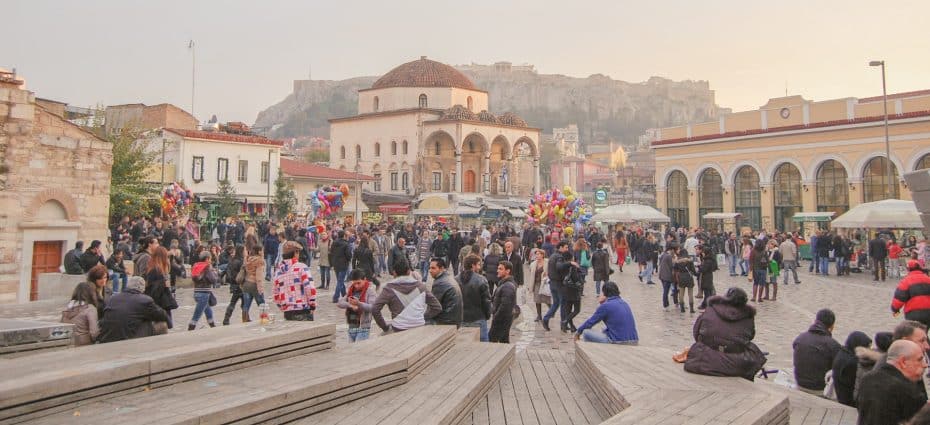 Monastiraki is a hip and bustling neighborhood in Athens known for its lively atmosphere. Famous for its flea market and vibrant street life, this area will leave you feeling the true vibe of Athens.
Situated in the center of Athens, Monastiraki is just a short walk from iconic landmarks like the Acropolis and Syntagma Square. It's an absolute must-visit destination for anyone exploring Greece's capital city.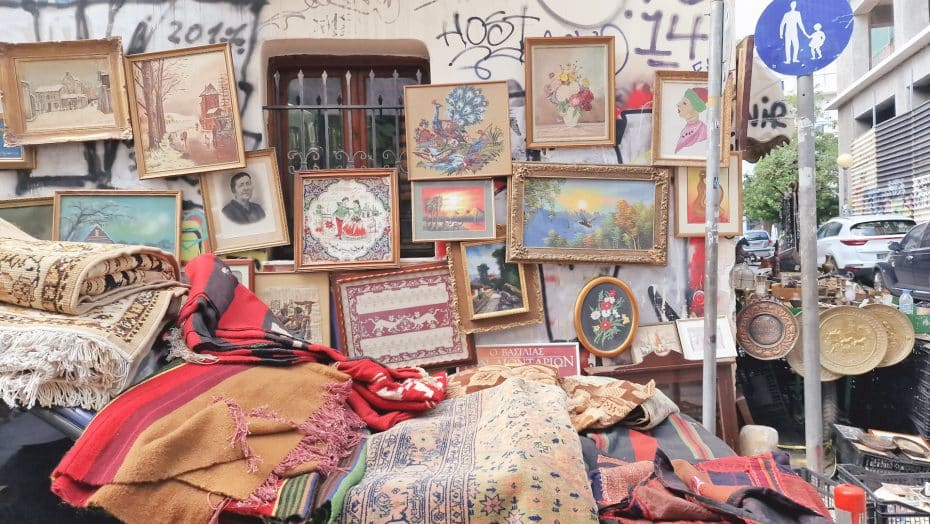 The history of Monastiraki dates back to ancient times. In 1204, during the Frankish occupation, the Church of Pantanassa was built. It later served as a mosque under Ottoman rule. The neighborhood name "Monastiraki" (meaning "little monastery") was derived from this church's history.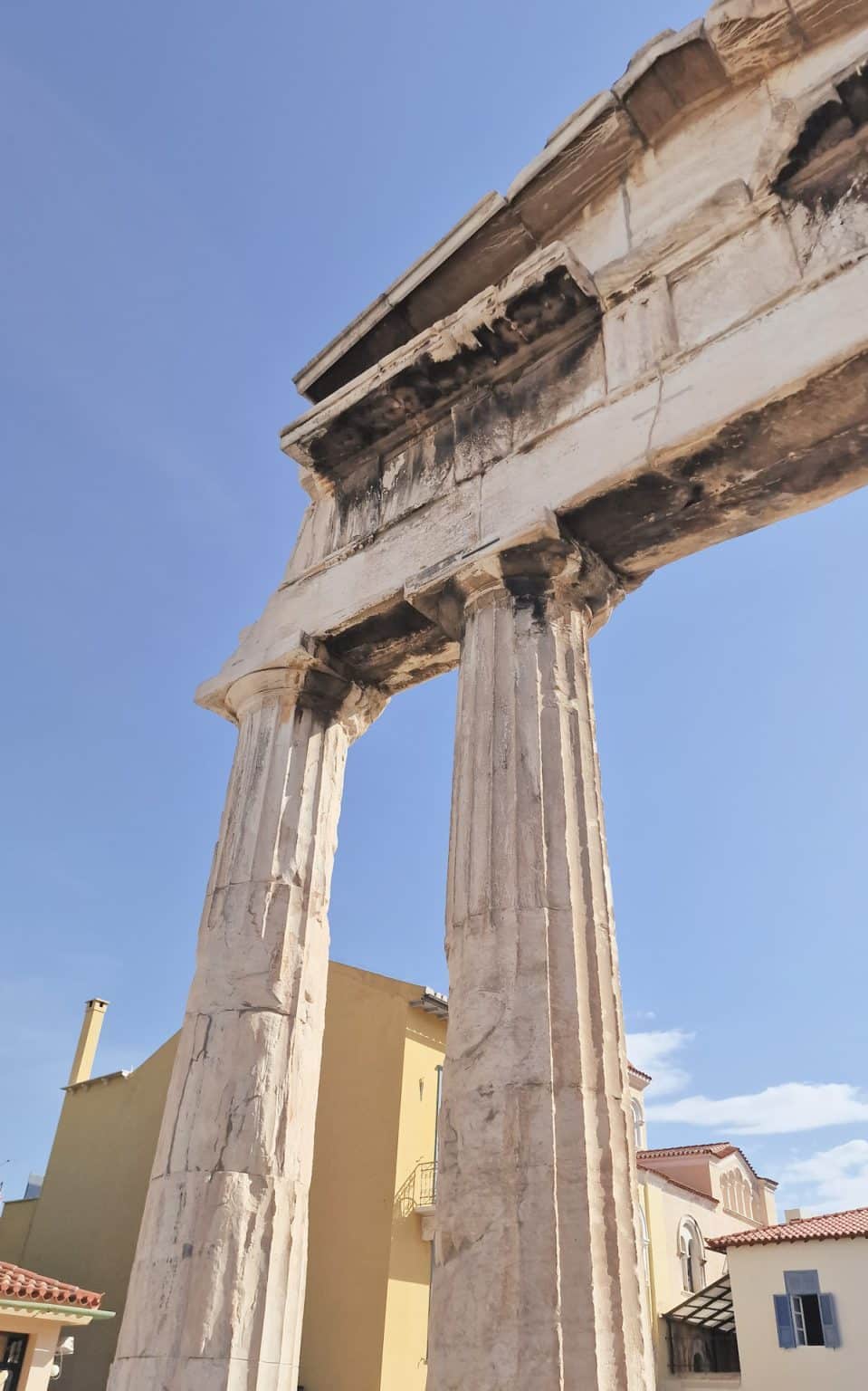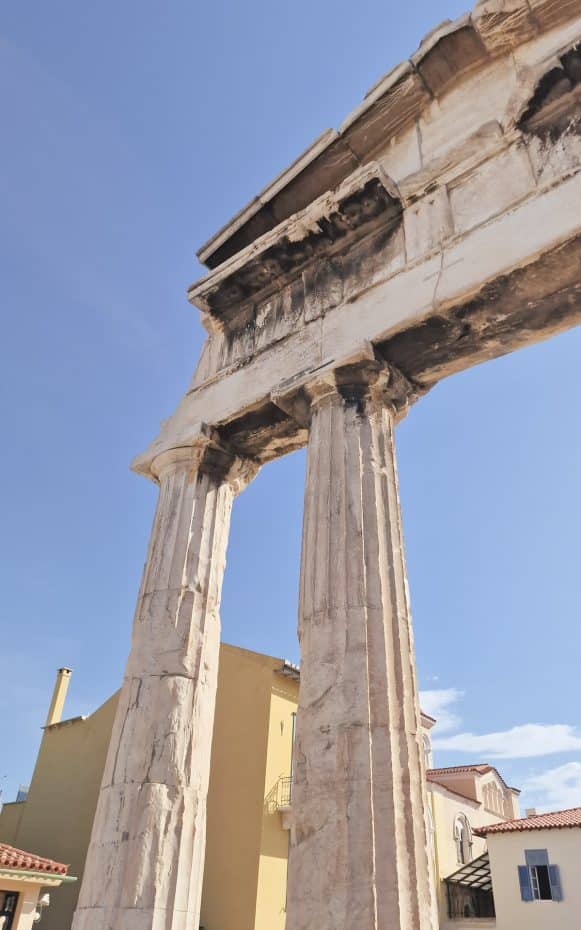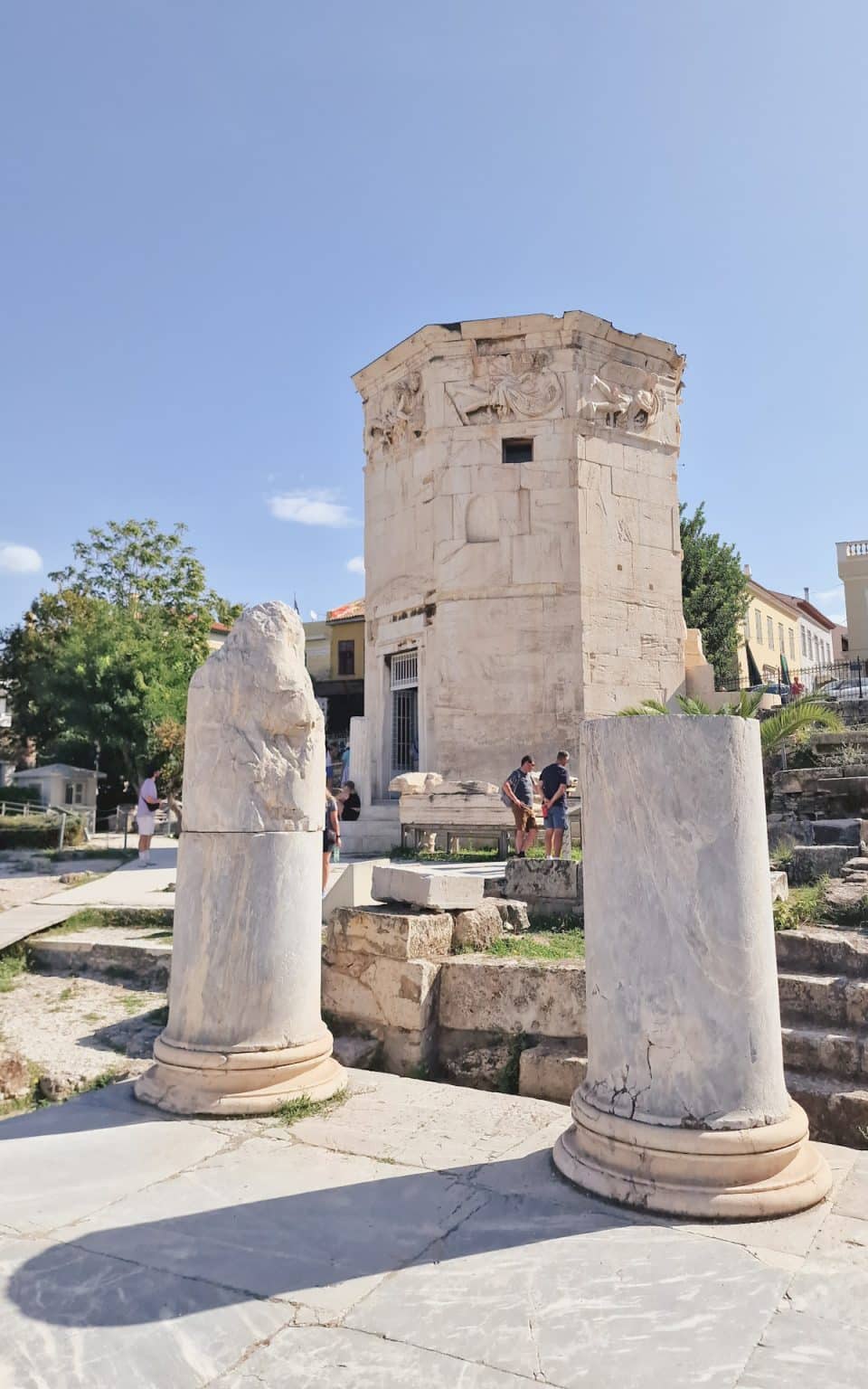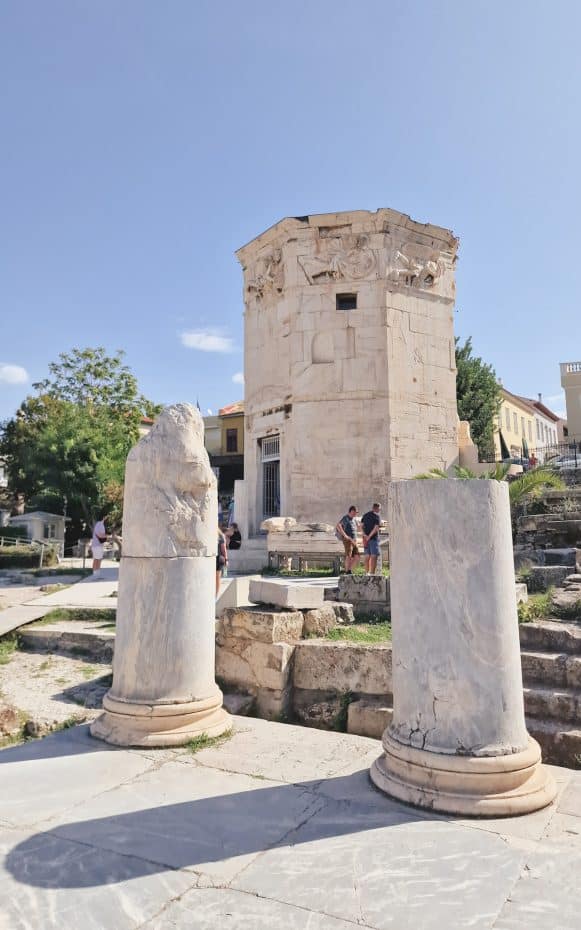 There are several main attractions to visit within Monastiraki. The Church of Pantanassa (2 Pandrosou Street) stands as a significant reminder of the area's past, showcasing architectural features from different historical periods. The Monastiraki Flea Market (Adrianou Street) is a treasure trove of antiques, vintage items, and souvenirs where you can find unique collectibles. Hadrian's Library (Dionysiou Areopagitou Street), constructed in 132 AD by Roman Emperor Hadrian, is an impressive ancient site worth exploring. The Roman Agora (Pelopida Street) is an essential archaeological site exhibiting well-preserved ruins of the ancient city.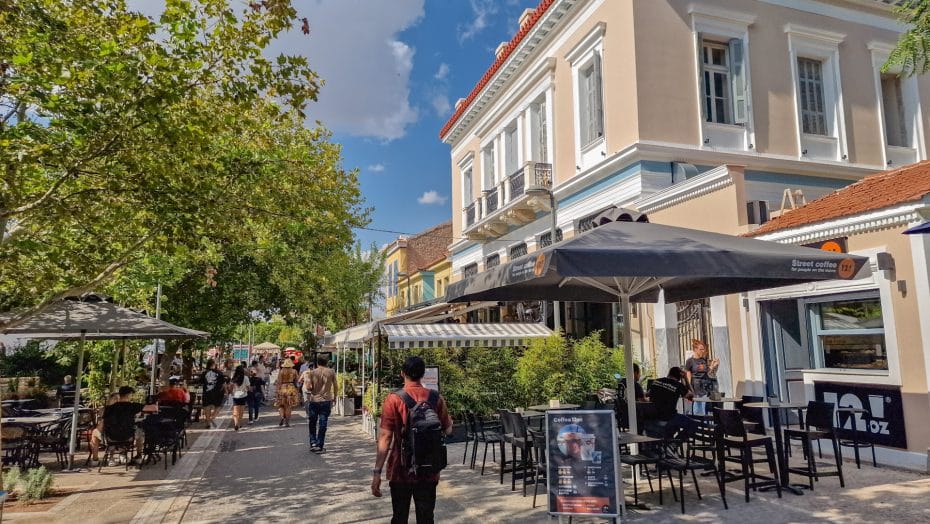 While in Monastiraki, experience its spirited atmosphere by wandering through its narrow streets with numerous shops, cafes, and bars. When night falls, this neighborhood transforms into a lively hub with a vibrant nightlife that offers a chance to mix with locals.
To reach Monastiraki using public transportation, you can use the Athens Metro system. Metro Line 1 (Green Line) and Line 3 (Blue Line) both have stops at Monastiraki Station. Additionally, several bus routes pass through the area.
Visiting Monastiraki: Useful Information
Why visit Monastiraki?
Historical sites: Monastiraki is home to various ancient ruins, including the Roman Agora and Hadrian's Library.
Vibrant flea market: The Monastiraki Flea Market is a popular attraction featuring antiques and handmade crafts.
Beautiful views: The nearby Areopagus Hill and Philopappou Hill provide stunning panoramic views of Athens and the Acropolis.
Multicultural background: Monastiraki is a melting pot of cultures, with Byzantine churches, ancient ruins, and Ottoman-era mosques.
Local gastronomy: The area boasts numerous traditional Greek tavernas and street food vendors offering delicious cuisine.
Things to see in Monastiraki
Panaghia Kapnikarea Church (Ermou St.): One of the oldest churches in Athens, featuring beautiful Byzantine frescoes.
Roman Agora (Pelinorou 3): This ancient marketplace was once the commercial hub of the Roman city, showcasing impressive columns and ruins.
Hadrian's Library (Areos Street 3): Explore these ancient remains of a grand library built by the Roman Emperor Hadrian in 132 AD.
Tzistarakis Mosque (Monastiraki Square): Check out this beautiful 18th-century Ottoman-era mosque.
Getting around Monastiraki
Walking: Most major attractions are within walking distance from each other in the historic center.
Metro: Line 1 (Green line) at Monastiraki Station connects to destinations such as Omonia Square and Piraeus Port. Line 3 (Blue line) also stops at Monastiraki Station and connects to Syntagma Square, Plaka, and the Athens International Airport.
Bus: Lines 040, 025, 026, 027 stop nearby.
Tours, tickets & activities in Monastiraki
Where to stay in Monastiraki
---
3. Psyri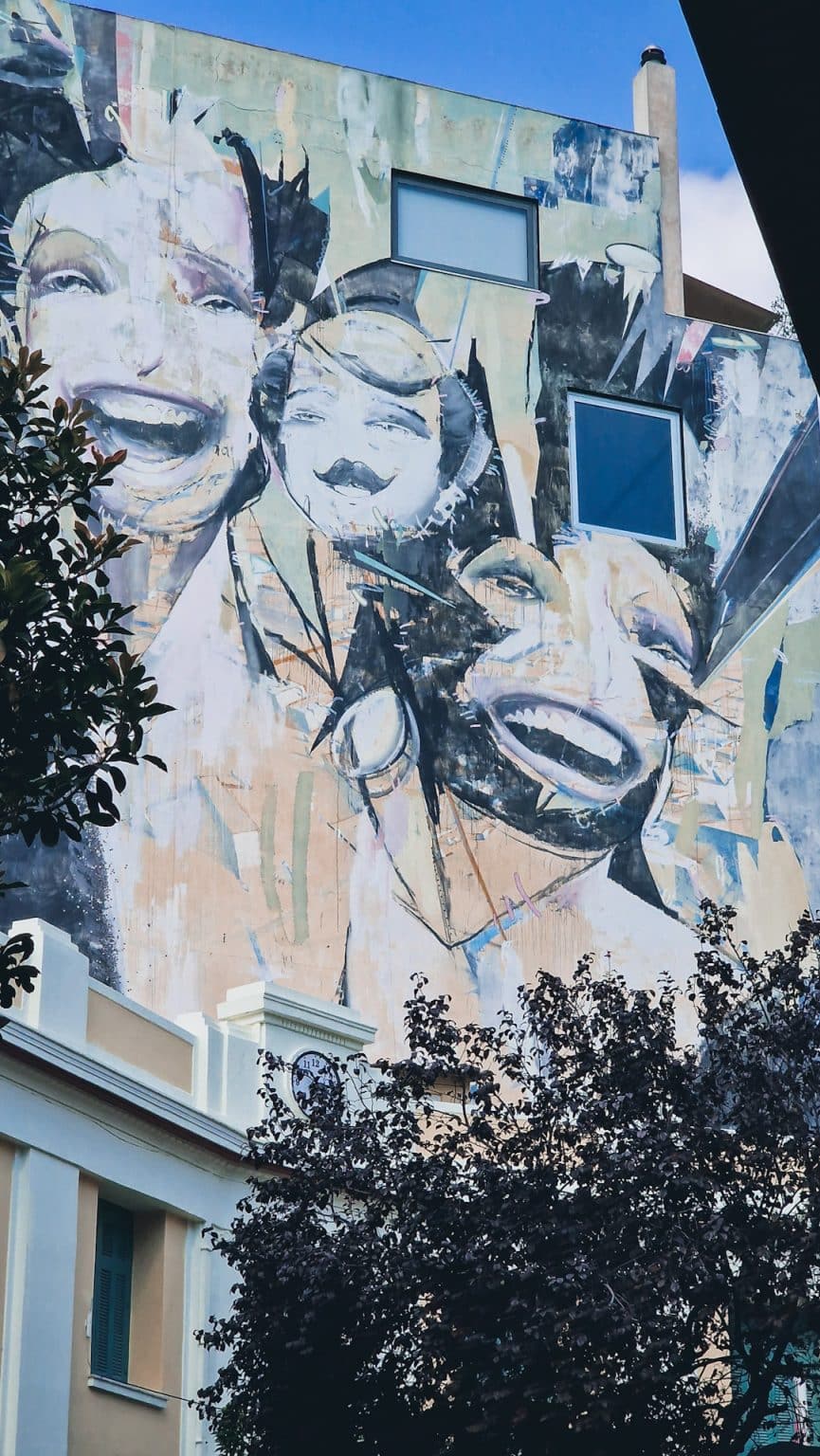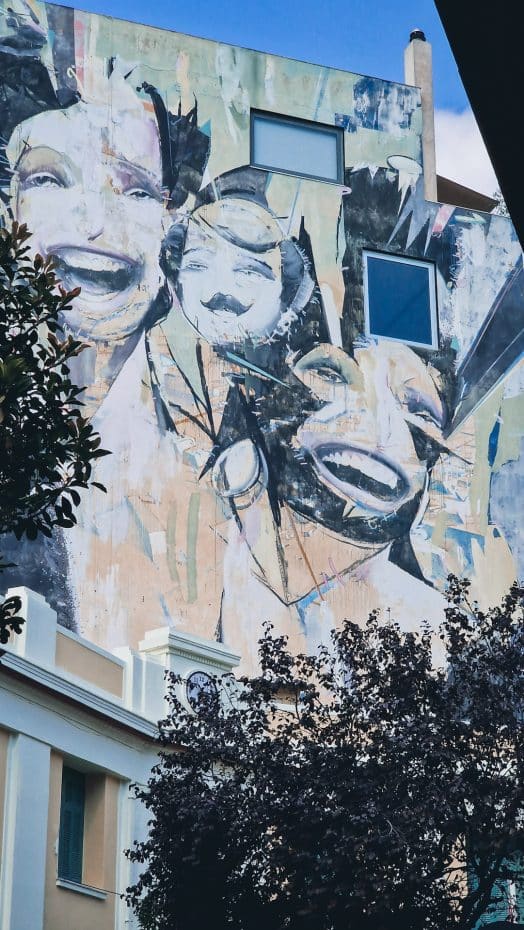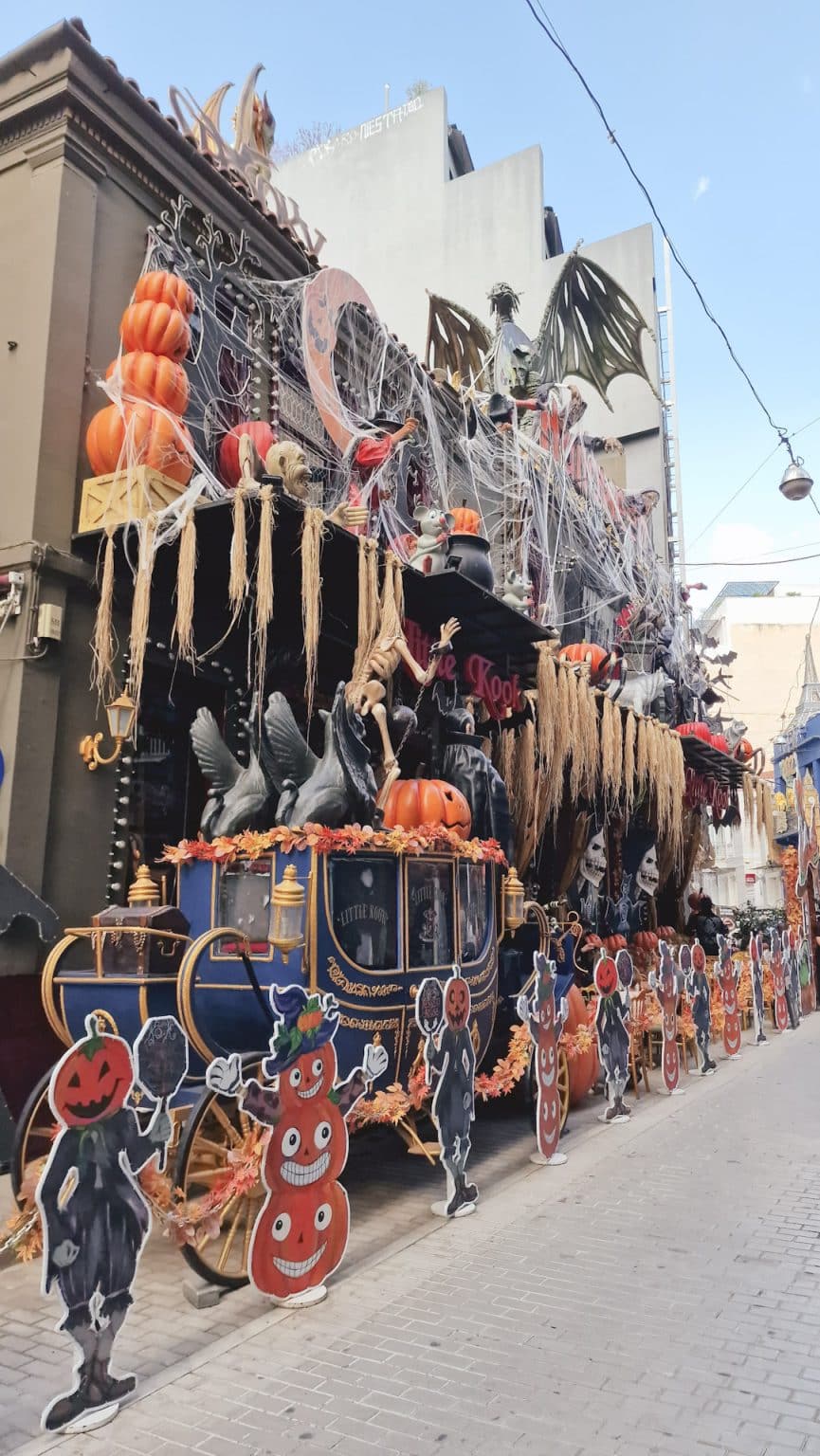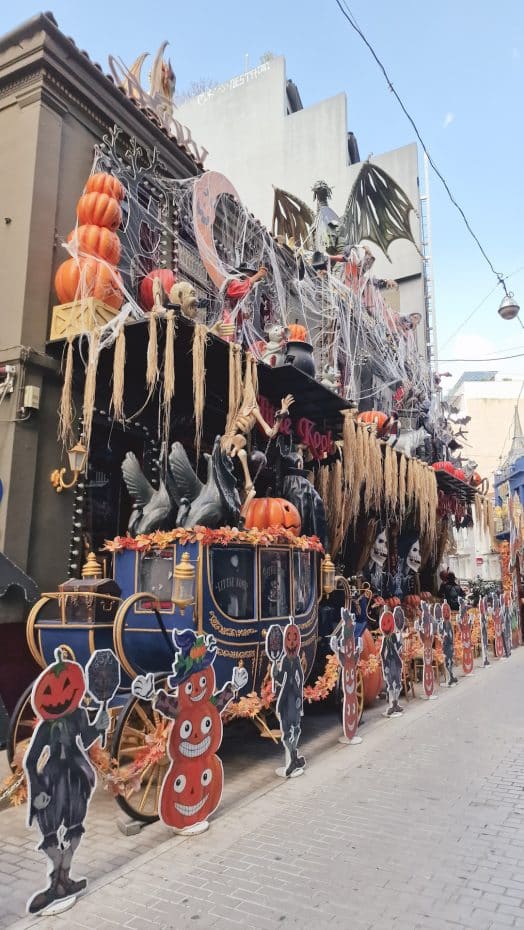 The Psyri neighborhood in Athens is a lively and colorful area famous for its energetic vibe and creative spirit. Considered Athens' hipster neighborhood, this district is a favorite hangout spot for artists, musicians, and performers and offers an eclectic mix of entertainment, culture, and history.
Located just north of Monastiraki Square, Psyri is easily accessible. It lies within walking distance of famous landmarks such as the Acropolis and the ancient Agora. Psyri's history dates back to the 17th century when it was a working-class quarter for people who provided services to the nearby commercial district. In the 1990s, the neighborhood transformed into a trendy hub for artists.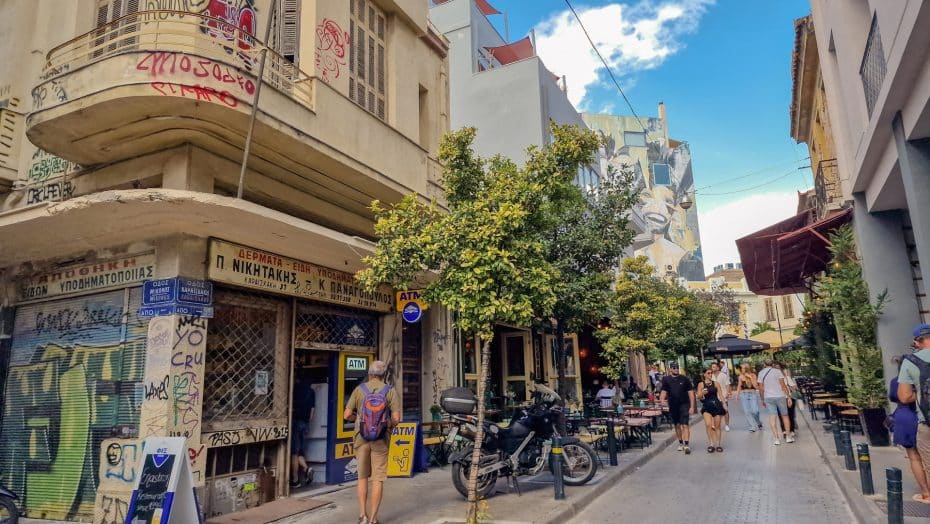 Main attractions in the neighborhood include Little Kook (Karaiskaki 17), a whimsical café with fairytale-inspired décor. The Ilias Lalaounis Jewelry Museum (Kallisperi 12) showcases exquisite jewelry designs based on ancient Greek culture. Art buffs should not miss Frissiras Museum (Monis Asteriou 3), which displays contemporary European figurative art. For street art lovers, Psyri's vibrant murals are worth exploring, like the impressive piece by Ino on Pittaki Street.
The atmosphere in Psyri is lively and exciting, featuring numerous bars, restaurants, and vibrant streets. Dance the night away at Six Dogs (Avramiotou 6-8), a popular club with a lush secret garden. Shoppers can delight in unique artisanal boutiques selling handmade crafts, clothing, accessories, and souvenirs.
To reach Psyri, take Metro Line 1 or 3 to Monastiraki station. From there, it's just a short walk to the neighborhood's heart. Alternatively, you can also access Psyri using buses and trolleys that service nearby Ermou Street.
Visiting Psyri: Useful Information
Why visit Psyri?
Vibrant atmosphere: Psyri is known for its lively atmosphere with a mix of traditional and modern Greek culture.
Street art: The district is a haven for street artists; you can find many murals and graffiti.
Thriving nightlife: Psyri is famous for its buzzing nightlife, with numerous bars, clubs, and live music venues.
History and culture: Nestled within Psyri's narrow streets are historical sites and museums to explore.
Unique shopping: The neighborhood offers a variety of unique shopping opportunities, from vintage clothing stores to artisanal food shops.
Things to see in Psyri
Little Kook (Karaiskaki 17): A fairytale-themed cafe with an enchanting atmosphere featuring whimsical decorations.
Church of Agios Dimitrios Loumbardiaris (Ermou Street, Parnitha Street, Filopappou Hill): A historic 12th-century church near Acropolis Hill offering picturesque views. No official URL.
The Benaki Museum of Islamic Art (22 Agion Asomaton): Showcases a rich collection of Islamic art from different eras and regions.
Psyri Square: A lively square with street artists, bars, and restaurants, perfect for experiencing local life and culture.
Street art (Various locations around Psyri): Explore the vibrant and diverse street art that adorns the walls of the neighborhood's buildings.
Eating in Psyri
Lithos (Aisopou 6): A traditional Greek restaurant offering delicious dishes.
Grill House Aischylou (Aischylou 32): A cozy grill house known for its juicy souvlakis and mouth-watering grilled options, served up in an authentic Greek setting.
Oraia Penteli (Taki 23): A charming local restaurant offering homemade Greek cuisine and a warm ambiance.
Getting around Psyri
Walking: Psyri is a pedestrian-friendly area where you can easily explore the neighborhood on foot. Strolling around the streets will let you discover many shops, cafes, and art galleries.
Metro: Monastiraki Station is the closest to Psyri (Lines M1 & M3). This station connects the area to various parts of Athens and is open from around 5:30 AM to midnight during weekdays and until around 2 AM on Fridays and Saturdays.
Bus: Bus lines that pass through Psyri include lines 040, 025, and others with stops along Ermou Street or at the Monastiraki bus terminal.
Trolley: Trolley line 15 serves Psyri with a stop near Thiseio station within walking distance to the heart of the neighborhood.
Tours, tickets & activities in Psyri
---
4. Syntagma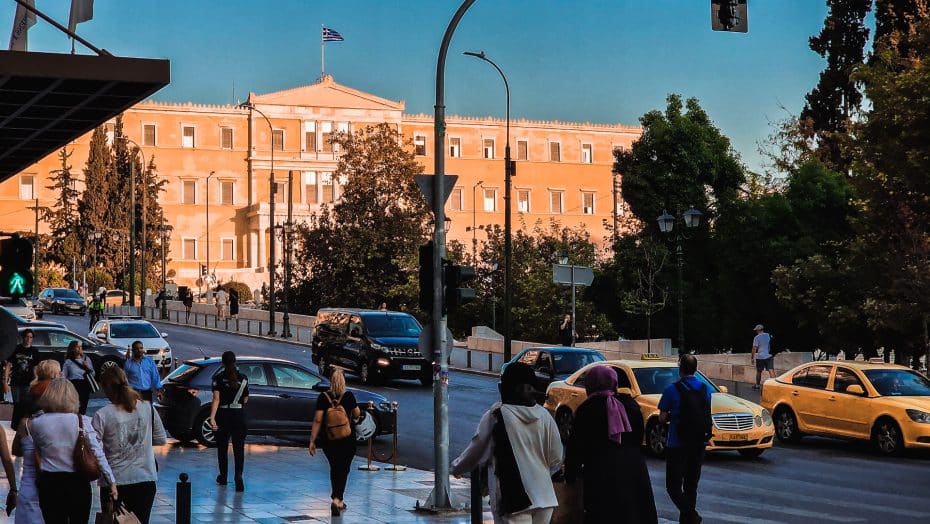 Syntagma neighborhood in Athens is not your average tourist destination. Known for being the heart of Greek politics and a hub of exciting activities, this area perfectly captures the city's contemporary vibe.
Located right in the city center, Syntagma is only a short walk away from major landmarks such as the famous Acropolis and the iconic Parthenon. This lively neighborhood can be easily explored on foot while taking in the energetic atmosphere.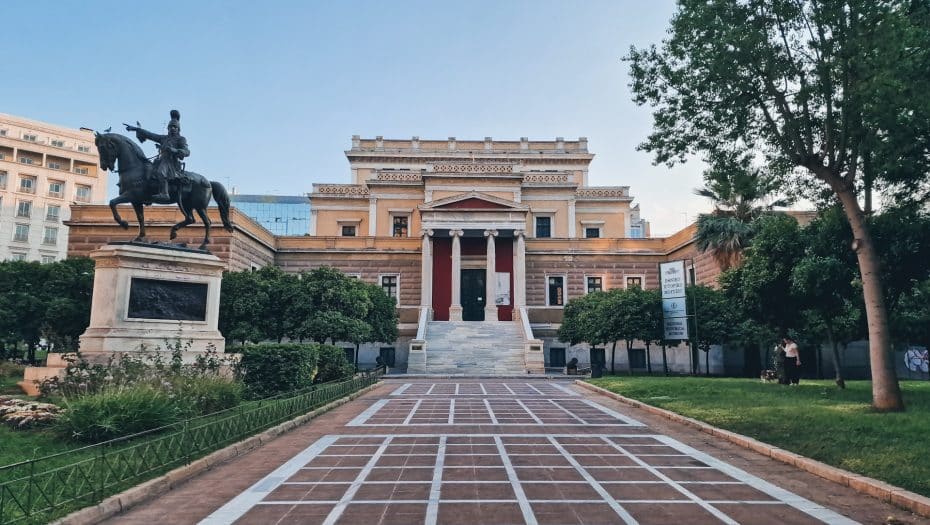 The historic Syntagma Square has witnessed numerous important events since its creation in 1843. The grand neoclassical building that dominates the square is the Hellenic Parliament, established after the Greek War of Independence against the Ottoman Empire.
When it comes to attractions, Syntagma has much to offer. Visit the National Library of Greece (32 Panepistimiou Street), which boasts an enormous collection of books and manuscripts. Ermou Street offers great shopping opportunities. Don't miss out on the daily Changing of the Guard ceremony performed by traditionally dressed Evzones in front of Greece's Tomb of the Unknown Soldier. Take a serene walk through the nearby National Gardens (Amalias Avenue), filled with lush greenery and tranquil ponds.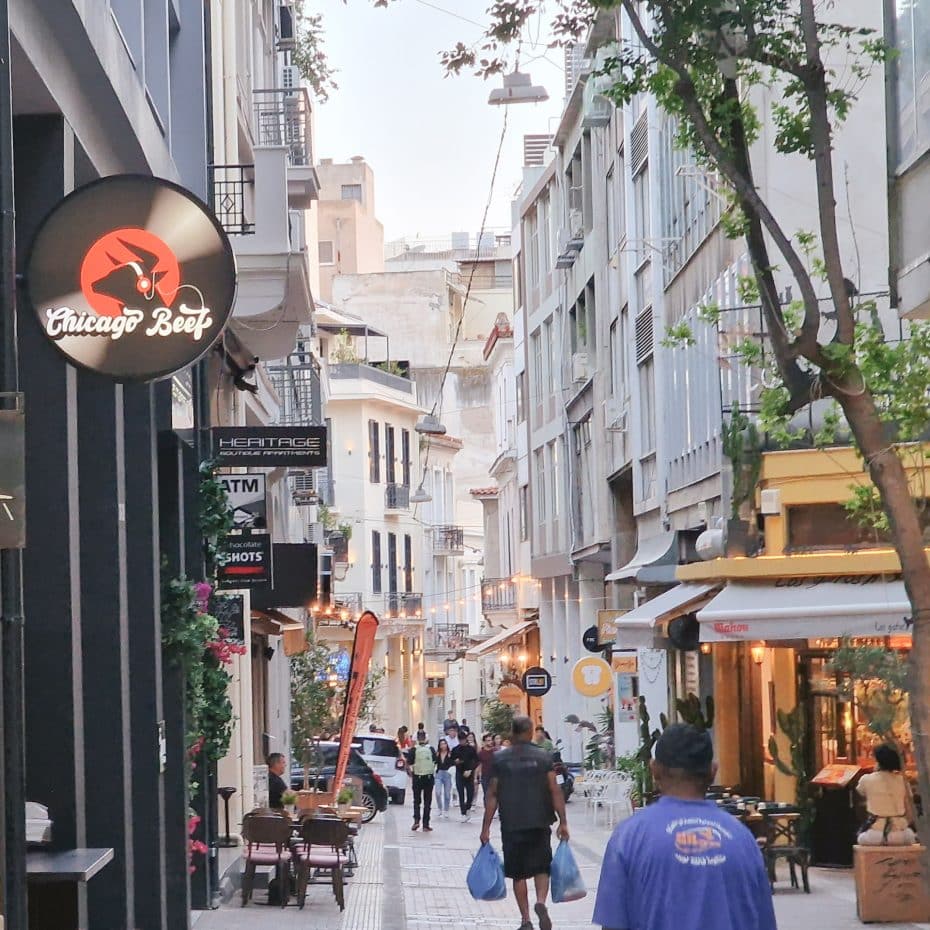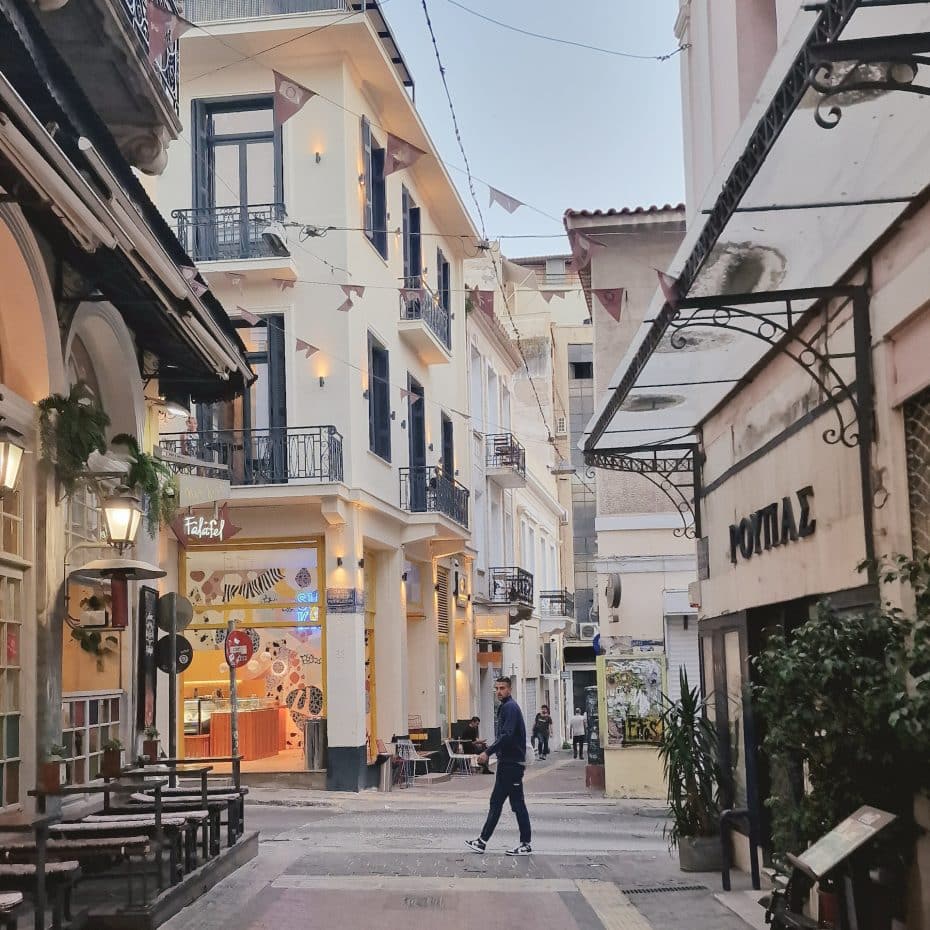 As day turns to night, Syntagma's vibrant nightlife comes alive, offering countless bars, restaurants, and lounges catering to every taste imaginable. In addition to its bustling nightlife scene, visitors can indulge in shopping at various stylish boutiques, artisanal shops, and local markets spread across the dynamic neighborhood.
In terms of transportation, getting to Syntagma is a breeze. Conveniently connected via metro stations Syntagma (line M2 and line M3) and Panepistimio (line M2), you can also access this area through several bus lines such as 024, 025, 026, 227, or E14. If you prefer trams, the nearby Zappeio tram station connects you to the coastal areas of Athens, providing easy access to various beaches.
Visiting Syntagma: Useful Information
Why visit Syntagma?
Historical significance: Syntagma Square is a central hub in Athens, rich in history and surrounded by iconic landmarks.
Central location: It is the heart of Athens and a convenient starting point for exploring its main attractions.
Vibrant atmosphere: The square is always bustling with activity, making it an exciting and lively place.
Proximity to shopping areas: It is close to popular shopping streets and malls.
Cultural events and gatherings: Syntagma often hosts important events and gatherings.
Things to see in Syntagma
Hellenic Parliament & Syntagma Square(Leof. Vasilisis Amalias 38): The historic building of Greece's parliament; observe the changing of the guard's ceremony at the Tomb of the Unknown Soldier.
National Garden (Amalias Avenue, Vasileos Georgiou St): A lush green oasis in central Athens that features shaded walking paths and various plant species worldwide.
Numismatic Museum (Eleftheriou Venizelou 11-13): An institution dedicated to showcasing a vast collection of coins and promoting the history of coinage in Greece through various exhibits.
Metropolitan Cathedral of Athens (Mitropoleos Square): Stunning example of Greek Orthodox architecture.
Getting around Syntagma
Walking: Many attractions are within walking distance due to Syntagma's central location.
Public transportation: Syntagma Metro Station (lines M1-Blue and M2-Red), bus lines stopping at Syntagma Square (several lines including 040 and X95), and nearby tram stations (Zappeio and Syntagma). Metro, buses, and trams operate from early morning (around 6:00 AM) until midnight. Night bus lines are available for late nights. Please refer to the official Athens Urban Transport Organization website for exact times and schedules.
Tours, tickets & activities in Syntagma
Where to stay in Syntagma
---
5. Kolonaki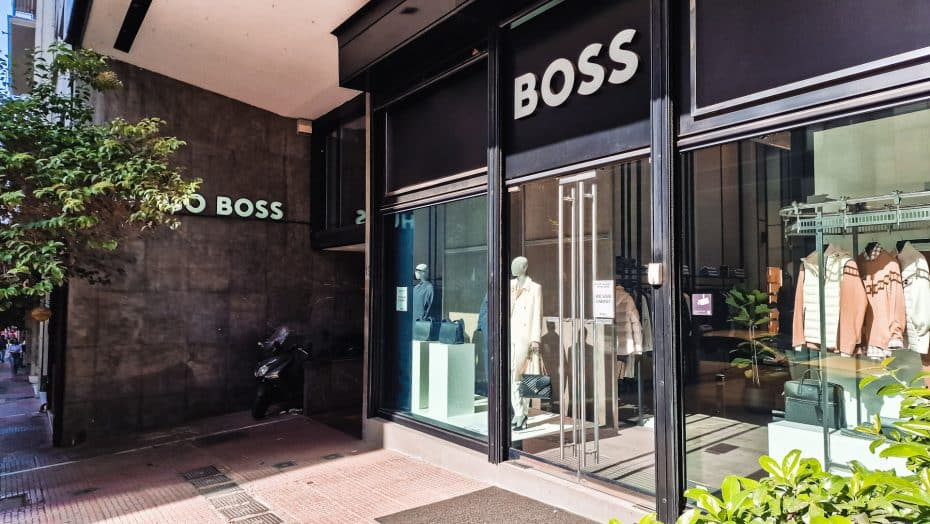 Kolonaki Quarter is famous for its luxurious lifestyle, vibrant atmosphere, upscale boutiques, art galleries, and gourmet cafes. Located at the foot of Lycabettus Hill, Kolonaki is not far from Syntagma Square and the historic center of Athens. The Panepistimio metro station is nearby, making it easily accessible from many other parts of the city.
Founded in the 19th century by wealthy Athenians who built neoclassical mansions near pine-covered Lycabettus Hill, Kolonaki has become the epicenter of elegance in the Greek capital. Key historical figures like prominent poet Kostis Palamas once resided here.
Kolonaki features several attractions. Visit the Benaki Museum (1 Koubari St), which houses a notable collection of Greek art spanning from ancient to modern times. The Museum of Cycladic Art (4 Neophytou Douka St) displays fascinating artifacts from the Cycladic Islands dating back to 3000-2000 BC. The Numismatic Museum (12 Panepistimiou St) showcases Greece's monetary history within a beautiful neoclassical building. Finally, trek up Lycabettus Hill—a natural wonder within the city—to enjoy breathtaking views of Athens.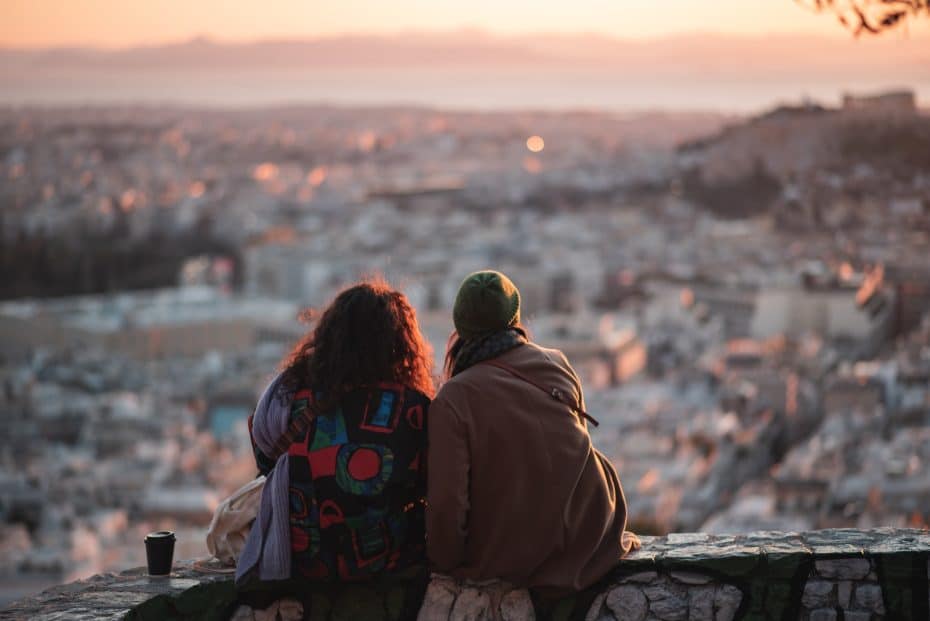 The atmosphere in Kolonaki is lively and chic, with stylish bars and clubs creating an exciting nightlife scene. During the day, visitors can enjoy shopping in high-end fashion boutiques or one of the many cozy cafes lining the streets.
To reach Kolonaki, use Line 2 of the Athens Metro system and get off at Panepistimio station. Alternatively, several buses connect other parts of Athens to this noteworthy neighborhood—bus lines 022, 060, and 224 stop near Kolonaki's main square.
---
Visiting Kolonaki: Useful Information
Why visit Kolonaki?
High-end shopping experience: Kolonaki has high-end brand stores, local boutiques, and unique designs.
Vibrant cafe culture: Experience the Greek love for coffee and authentic delicacies.
Art galleries and museums: Kolonaki is home to several cultural institutions.
Stunning views of Athens: Visit landmarks like Lycabettus Hill for breathtaking panoramic views of the city.
Things to see in Kolonaki
Byzantine Museum (Vas. Sofias Avenue 22): This museum showcases an extensive collection of Byzantine art and artifacts.
Benaki Museum (Koumbari St.): The diverse collections at this museum present a complete account of Greek culture from antiquity to modern times.
Lycabettus Hill: Stand atop this landmark and marvel at panoramic views of Athens below.
Getting around Kolonaki
Walking is one of the best ways to explore the picturesque area of Kolonaki. That said, this Athens neighborhood can be very hilly.
Metro: Line 3 (Blue Line) offers access to Kolonaki, with the nearest stations being Evangelismos or Megaro Moussikis.
Buses: There are various buses providing access to Kolonaki – Lines 022, 224, and E14 are popular options.
Trolleys: The trolley lines servicing the area are Line 3 and Line 10. The most convenient stops for Kolonaki are located along Rigillis Street and Vasileos Konstantinou Avenue.
Tours, tickets & activities in Kolonaki
Where to stay in Kolonaki
---
Read this post in other languages:
|ES| Los 5 mejores barrios de Atenas para una visita inolvidable.