Where to Stay in Leipzig: What You Need to Know
Leipzig is one of the most important cities in Germany, located in the northwest of the state of Saxony, in what once was East Germany.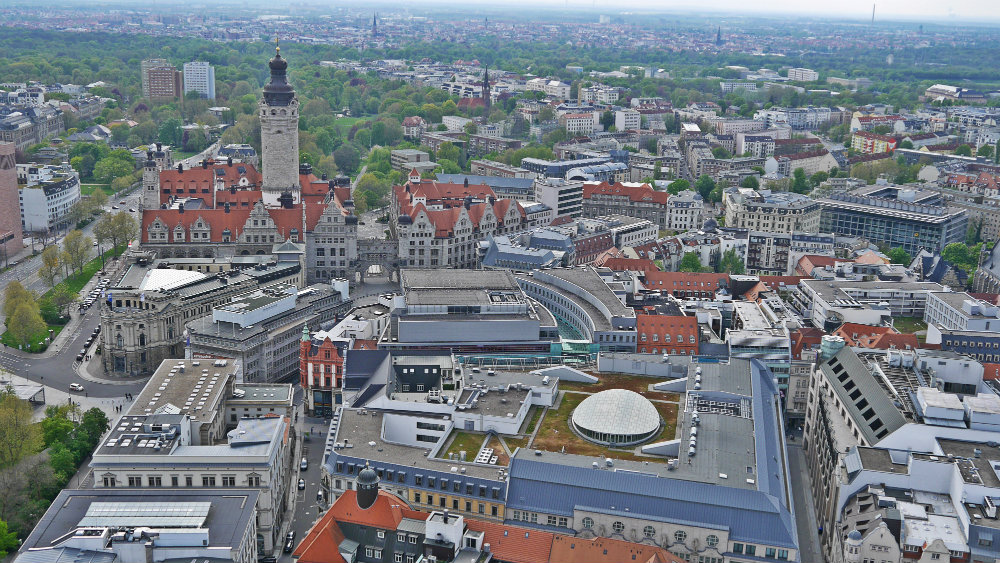 Since 1165, when it was declared a city, Leipzig has become one of the most important trade centers in central Europe.
This city not only stands out for its large markets and shops but also for having one of the oldest universities in Germany. For this reason, it is considered one of the university capitals at European level.
In Leipzig, you can find several tourist attractions, such as the Leipzig Zoo, different museums around the city, the Leipzig Panometer, the Old Stock Exchange and many more.
Leipzig is also known for its great music scene, music can be found on every corner, but especially around Austusplatz, which houses the Gewandhaus concert hall and the Opera House, the third oldest in Europe.
One of the best ways to get to Leipzig is by using the train, either from Berlin or from another city in Germany. Its Hauptbanhof is known as the largest railway station in the world in total area and has direct connections with practically all cities in Germany and some Eastern European destinations. To move from one place to another in the city there are several transportation systems, among them, the most popular and complete are the tram system and the bus system.
Having belonged to East Germany, hotel fares in Leipzig are usually low compared to those of other German cities. A night in a 3-star hotel can cost around €50. Luxury hotels also tend to have a very good quality/price ratio.
This is a list of the best districts to stay in Leipzig, Germany.
Best areas to stay in Leipzig
1. Best area: Zentrum
Without a doubt one of the best areas to stay in Leipzig, Germany.
Zentrum literally means "centre" and is the heart of the city of Leipzig, it is lively and a large part of it is pedestrianized.
In this neighbourhood, you can find a wide variety of shops, restaurants, commercial offices and hotels of all categories.
One of the main attractions of Zentrum is the Hauptbahnhof train station.
Other attractions include the Town Hall and Burgplatz, or the City-Hochhaus in Augustusplatz, or if you prefer an outdoor site you can go to Grimmaische Strabe.
An ideal place for young people is around the fountain on Augustusplatz, where, in summer, pedestrians can get barefoot and cool off.
Moving around Zentrum is very simple, you can walk around the whole neighbourhood, or you can ride a bicycle unless you have to travel long distances, then the bus, tram and train systems become quite handy.
Hand-picked hotels in this area
---
2. Süd-Ost (South-East Leipzig)
The Southeast Center of Leipzig is a characteristic area of this city and one of the best areas to stay in Leipzig.
It is in this area where the main campus of the University of Leipzig and the beautiful Botanical Gardens are located.
These two are a good option to start a tour around this part of the city.
The Deutsche National Bibliotek library is a great attraction to visit. Its modern corridors and facilities make it quite attractive for students and the general population.
The pretty historic district of Reudnitz also belongs to the Süd-Ost district. Here there are a variety of streets, bars and restaurants, including the famous Reudnitz brewery.
Süd-Ost is one of the most interesting areas in Leipzig and is an excellent place to stay.
Hand-picked hotels in this area
---
3. Zentrum – Süd (Leipzig Centre-South)
This part of Leipzig is quite charming and attractive. Located in the western part of the city, it is right next to Johanna and Clara Zetkin parks.
This area is also home to the "Music Quarter", or Musikviertel.
In Zentrum-Sud you can see large buildings such as the Grunderzeit, one of the most attractive in Leipzig, you can also find palaces such as Rossbachpalais on BeethovenstraBe.
Musikviertel also includes the music school and the theatre of the University of Leipzig.
The buildings of the university library also give a student character to this part of the city.
Zentrum-Sud also has several bars, cafes and restaurants located in the Karl-Liebknecht-StraBe part.
At the southern end of the city is the Munzgasse street, full of excellent restaurants with great gastronomic variety, in addition, there is Café Waldi, an excellent option to have a great breakfast.
This district is one of the most convenient places to stay in Leipzig. Everything is very close and there are a variety of attractions.
Hand-picked hotels in this area
---
4. Ost (East End of the city)
This part of Leipzig is also known as Zentrum-Ost.
As its name suggests, it is located in the centre-east part of the city and encompasses, among other things, the Hauptbahnhof.
In Ost, there is a great variety of office buildings and residential streets. In addition, there are various shops.
In Ost, there are several locally famous streets, for example, EisenbahnstraBe street, which is characterized by having many restaurants where you can taste the typical local food and ethnic cuisines.
The Ost area is one of the fastest-growing areas in Leipzig, it is a working-class zone with a high proportion of immigrants.
Ost is also the district that concentrates many of the cheap accommodation options in Leipzig.
Hand-picked hotels in this area
---
This post in other languages