Nicknamed "The Gateway to the World" thanks to its thriving port, Hamburg is Germany's second most populated city after Berlin and a major trade, industrial, cultural and transportation powerhouse. Located on the River Elbe, at its confluence with the Alster and Bille, Hamburg is known for its many bridges and canals, its famous —or infamous— Red Light District, and the legacy of its naval trade. The city is also renowned for its seafood markets, the local dialect, and incredible traditional and modern architecture. If you are looking for the best areas to stay in Hamburg, you have come to the right place.
Home to cultural icons such as the Elbphilharmonie and Laeiszhalle concert halls, Hamburg is also famous for its vibrant arts and music scene. Some of the most visited tourist sights in the city include the Rathaus (Town Hall), Speicherstadt (warehouse district), St. Nikolai Memorial Church and the Hamburger Kunsthalle art museum. Thanks to the city's importance as a tourist destination and a business hub, Hamburg is home to a wide variety of accommodation options. From upscale and boutique hotels to budget properties, this metropolis has it all.
Whether you're going to Hamburg for a sightseeing or cultural trip or as a business traveller, keep reading this article to learn more about the best areas to stay in Hamburg, Germany.
---
Accommodation Options in Hamburg
---
The Best Areas to Stay in Hamburg: A Summary
If you don't have time to read the full article, here's a quick summary of the best tourist areas in Hamburg. Keep reading to find out more information about each of these districts.
---
What's the Best Area to Stay in Hamburg, Germany?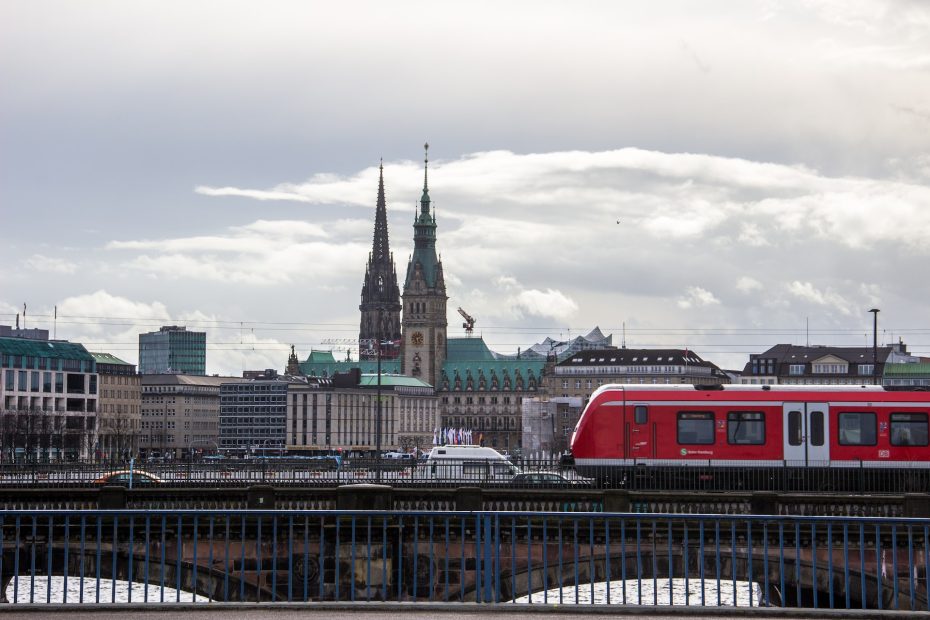 The best area to stay in Hamburg, especially if it's your first time visiting the city, is the City Centre. Spanning across the city's centremost quarters, including the Altstadt, Neustadt, St. Georg and HafenCity, Central Hamburg is the place to enjoy the city's main attractions, museums, parks and upscale shopping areas.
Find Available Accommodation in Hamburg City Centre.
Best Hotels in Hamburg City Centre
---
Where to Stay in Hamburg for Sightseeing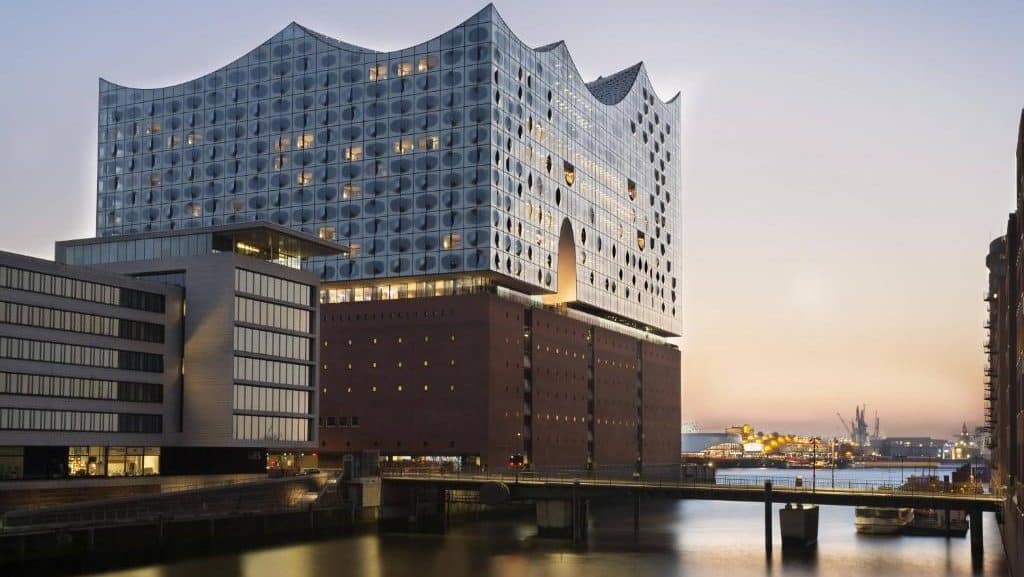 As mentioned above, the City Centre is Hamburg's best area for tourists. That said, the city is divided into many different neighbourhoods with distinct atmospheres and attractions. These are some of the most exciting areas:
---
The Best Areas for Tourists in Hamburg: District by District
---
1. Altstadt: Best Location for Sightseeing in Hamburg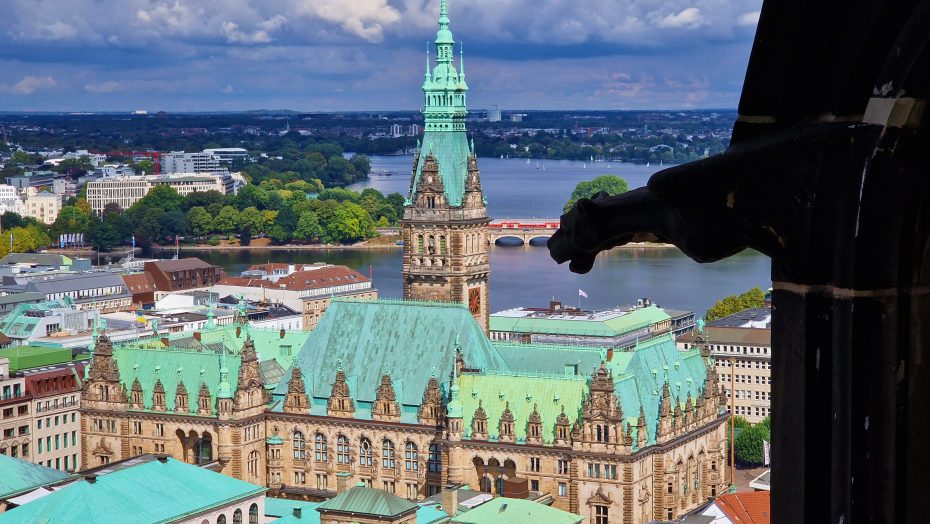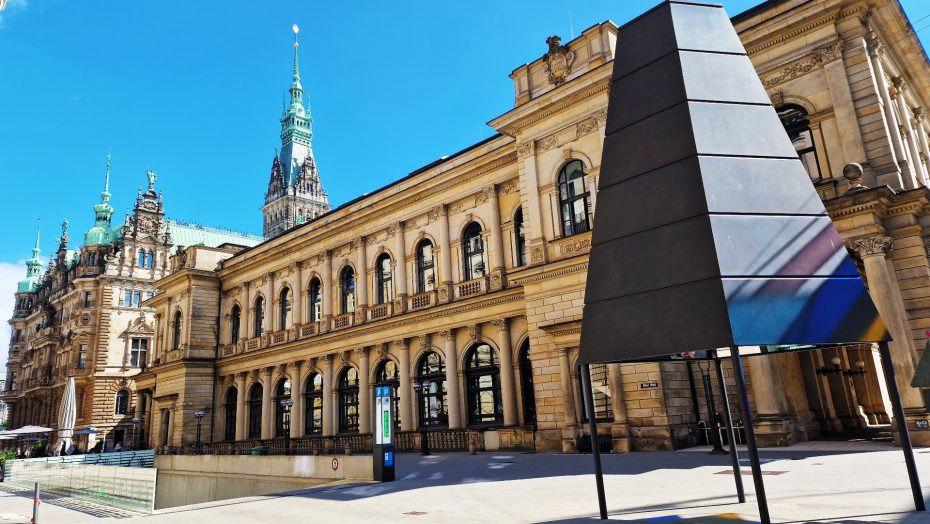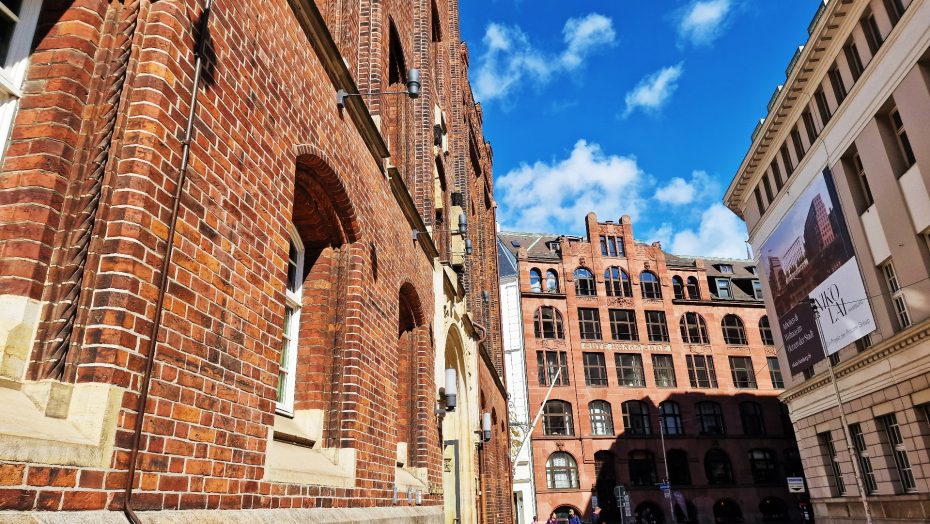 The site of the most important historic attractions, Hamburg's Altstadt is a charming central district with some of the best hotels in the city.
Why is this the best area to stay in Hamburg, Germany:

Heart of the city
Hamburger Rathaus
Great nightlife
St. Nikolai Memorial Church panoramic viewpoint
Upscale hotels
Close to Hauptbahnhof
Connected by S-Bahn & U-Bahn
Hamburger Kuntshalle
Altstadt is located in the heart of Hamburg and is renowned for its lovely atmosphere and historical attractions, such as the world-famous Town Hall and the iconic St. Nikolai Church. It is also home to various shops and restaurants, making it an excellent spot for visitors to explore.
Hamburg's most iconic building, the Rathaus (Town Hall), is the city's symbol. It stands in the heart of Altstadt, just a few minutes' walk away from the bustling harbour. The building is a stunning example of Renaissance Revival architecture, with its intricate carvings, prominent spire and green roof.
Just a few minutes away, the St. Nikolai Memorial Church is a grand neo-Gothic church dating from 1874. The tallest building in the world from 1874 to 1876, this monument is a reminder of the horror of war, as it was destroyed in the Allied bombing raids of 1943. Today, only parts of the structure remain. The landmark contains a museum and a 75-metre-high panoramic platform with views over Hamburg.
For art lovers, Altstadt is home to the Hamburger Kunsthalle. Founded in 1869, it is one of the oldest art galleries in Germany and is home to various works, from ancient sculptures to contemporary art.
Other important tourist attractions in Altstadt include the Markthalle Hamburg, Chocoversum Chocolate Museum and St. Peter's Church.
Altstadt is one of the best-connected areas in the city. Hamburg Hauptbahnhof, the main train station, is located within walking distance. Additionally, U-Bahn lines U1 and U3 run through the quarter, making it easy to get around.
Its central location and variety of tourist attractions make Altstadt an ideal place to stay in Hamburg. This vibrant area is also home to some of the city's best-rated hotels and serviced apartments.
Best Hotels in Altstadt, Hamburg
---
2. Neustadt: Best Location for Shopping & Luxury Hotels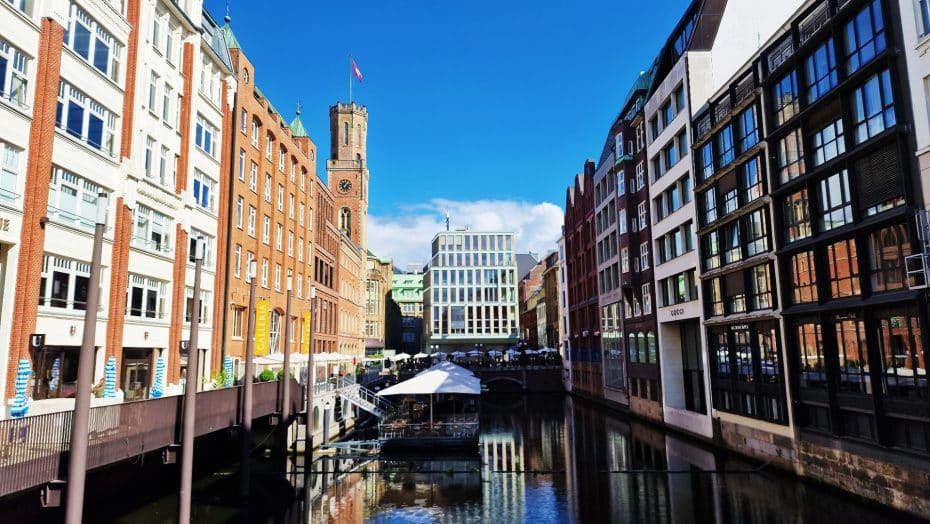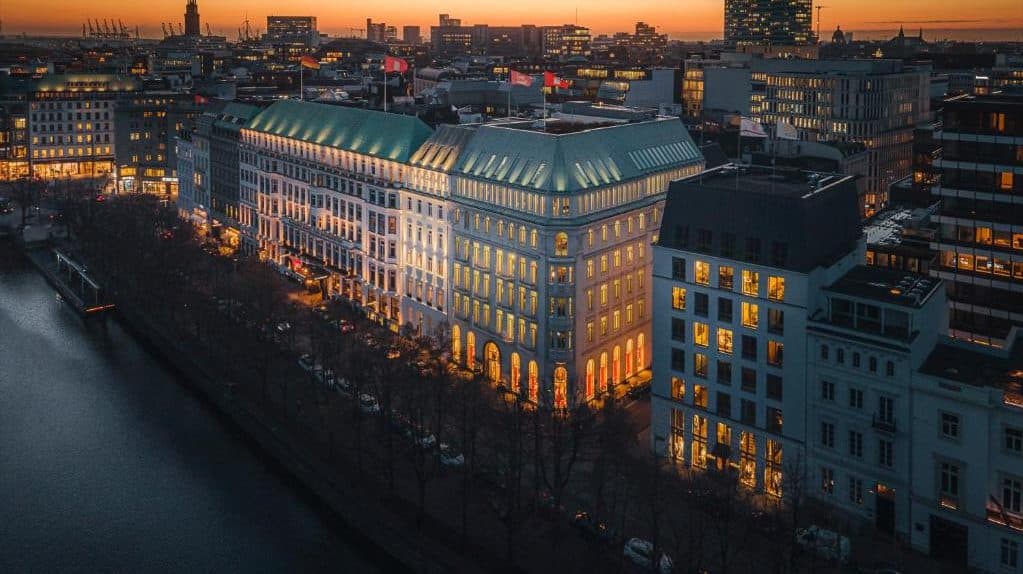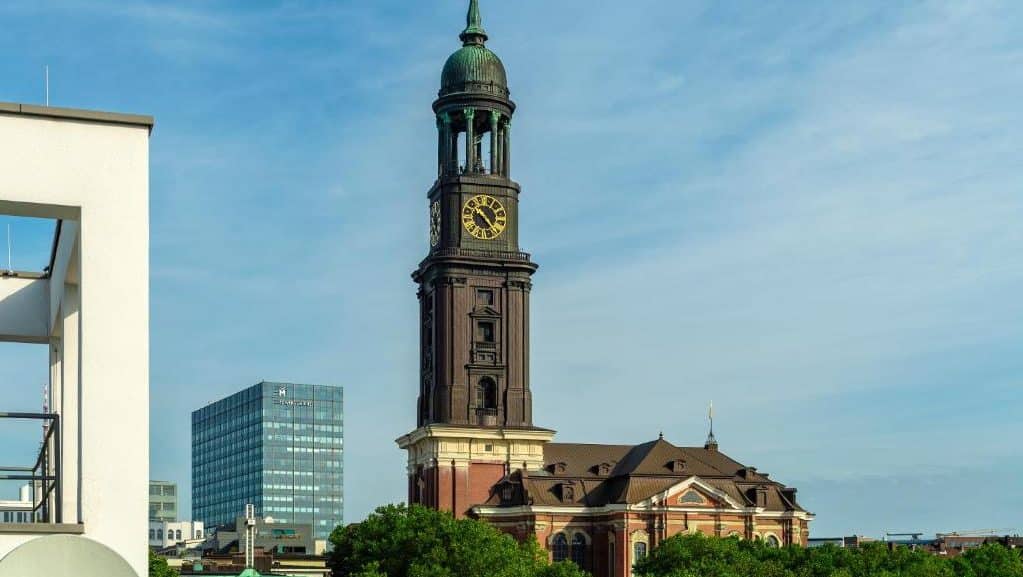 Packed with canals and upscale boutiques & restaurants, Neustadt is one of the best areas in Hamburg to go shopping and eating.
Why is this the best area to stay in Hamburg, Germany:

Heart of the city
Historic attractions
Right next to Altstadt
Neue Wall luxury shopping street
Canals, restaurants and cafés
Connected by U-Bahn
Upscale restaurants & bars
Best luxury & boutique hotels in Hamburg
Located right in the city centre, west of the Altstadt, Neustadt is known for its lively atmosphere, making it a great place to stay in Hamburg.
On the neighbourhood's northern end, the Binnenalster is one of the most popular attractions in Hamburg and a must-see when visiting the city. It is a large artificial lake surrounded by numerous parks, restaurants, and cafes.
Nearby, you can enjoy a stroll along the Jungfernstieg, a beautiful promenade along the Binnenalster with views of the lake and the lake's fountain.
Some of the best parks in Hamburg, including the Große Wallanlagen, Kleine Wallanlagen and Planten un Blomen, are also nearby. These parks are perfect for strolling, biking, and picnicking and offer stunning views of the city.
In addition to the parks and lake, Neustadt is also home to many great shopping places. This quarter is filled with independent boutiques, vintage stores, and charming cafes. Perhaps most notably, Neuer Wall shopping street is a great place to find designer labels and high-end fashion.
Further south lies St. Michael's Church. One of the best Hanseatic Protestant baroque churches, the structure is noted for its 132-metre-high steeple. Nearby, you can find the Portugiesenviertel, a charming quarter home to many great restaurants, cafes and bars with a unique Portuguese flair.
Neustadt is one of the best-connected areas in Hamburg. The neighbourhood's location ensures you'll always be within walking distance of a U-Bahn or S-Bahn station. The main hubs in the quarter are Jungfernstieg (U1, U4, S), Stadthausbrüke (S) and Landungsbrücken (U3, S); all with direct services to the Hauptbahnhof.
Thanks to its central location and upscale atmosphere, Neustadt is also where you'll find some of the best hotels in the city.
Best Hotels in Neustadt, Hamburg
---
3. St. Georg: Best-Connected Area in Hamburg & Best Location for LGBTQ+ Travellers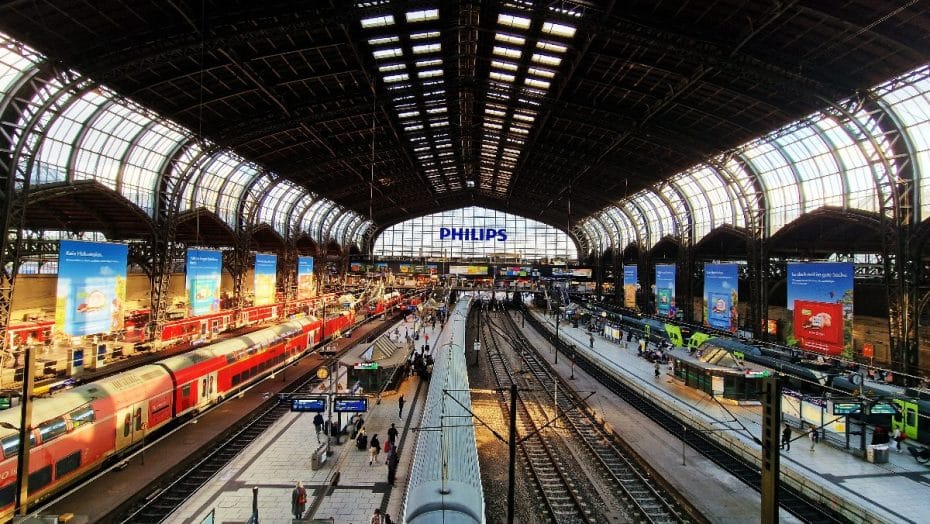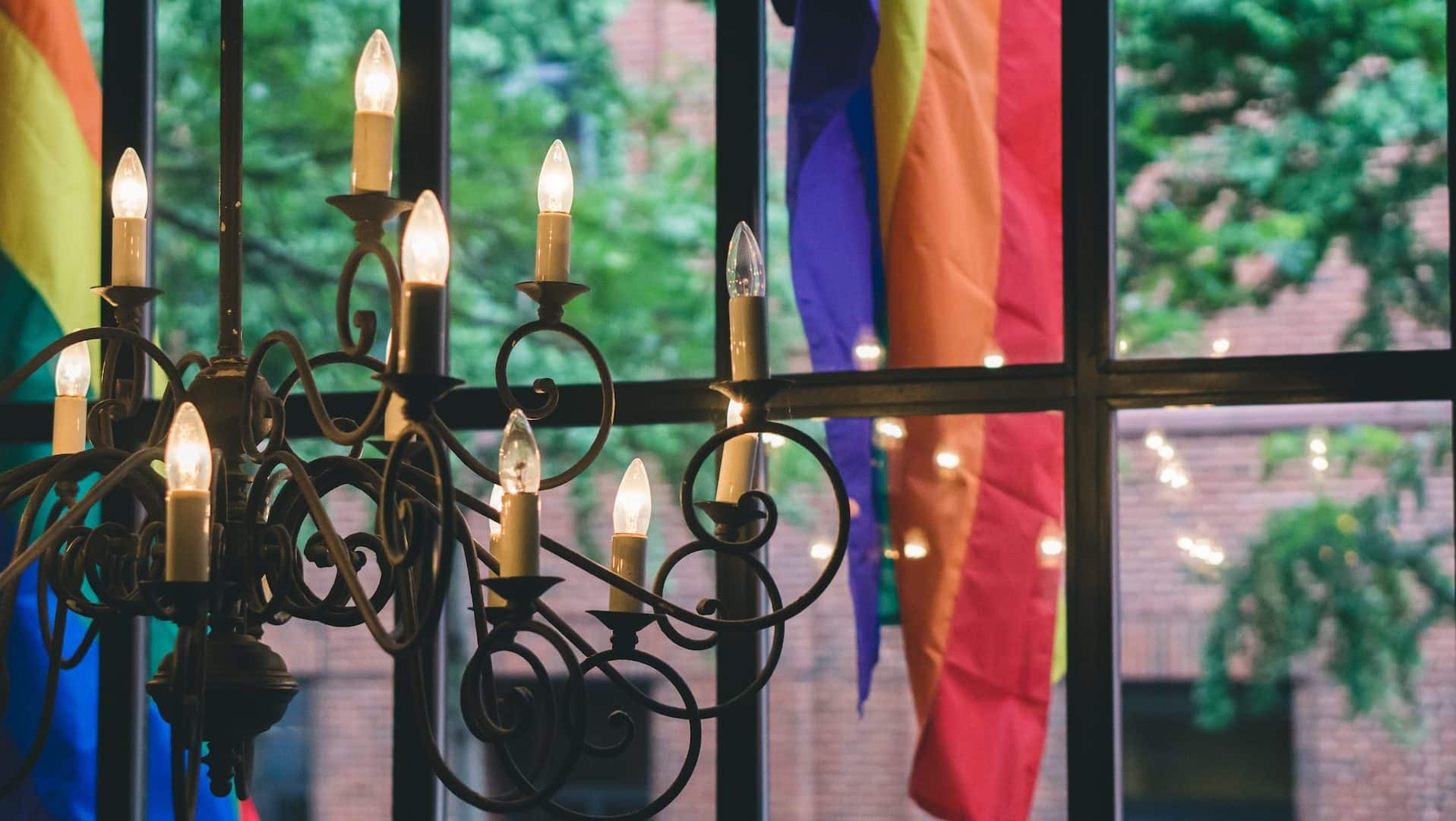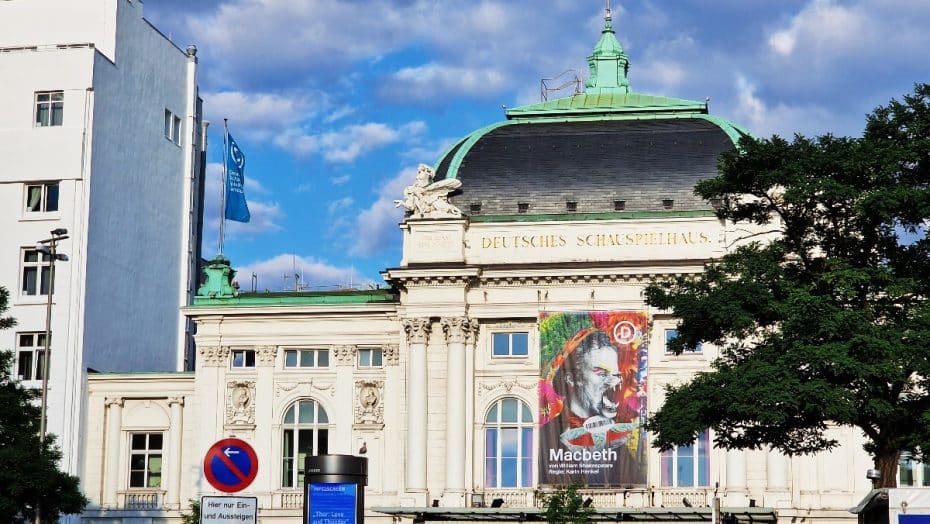 Home to the Hauptbahnhof, St Georg is a great Hamburg quarter packed with budget hotels.
Why is this the best area to stay in Hamburg, Germany:

Relatively central location
Hamburg Gay Quarter
Cultural attractions
Hauptbahnhof
Mid-range & budget hotels & hostels
Cheapest area to stay in central Hamburg
St. Georg is situated east of the Altstadt, some 20 minutes on foot from the Town Hall.
Noted as one of the two nightlife epicentres of the city, St. Georg is one of the most multicultural and vibrant places in Hamburg.
This area is home to the Hauptbahnhof, a transportation hub connecting the city to other parts of the country and Europe. It is noted as the busiest railway station in Germany. It offers S-Bahn, regional, long-distance and ICE connections to every place imaginable in Germany and international services to Denmark, the Netherlands, Austria, Switzerland and the Czech Republic.
Since the 1980s, St. Georg has been Hamburg's number-one gay area. It is considered one of the most welcoming quarters for the LGBTQ+ community in Germany, home to several bars and clubs. It is also the setting of several LGBT-friendly events, such as the annual Pride Parade.
The area is also home to some cultural attractions, such as the Deutsches Schauspielhaus, which hosts many shows throughout the year, and the Museum für Kunst und Gewerbe, which exhibits an extensive collection of fine, applied and decorative arts.
St. Georg is also one of the best areas to stay in Hamburg for budget travellers. The neighbourhood is home to several cheap and mid-range hotels and hostels, and its many international restaurants and kebab joints make it a favourite among young backpackers.
Best Hotels in St Georg, Hamburg
---
4. St. Pauli & Reeperbahn: Best Location for Nightlife in Hamburg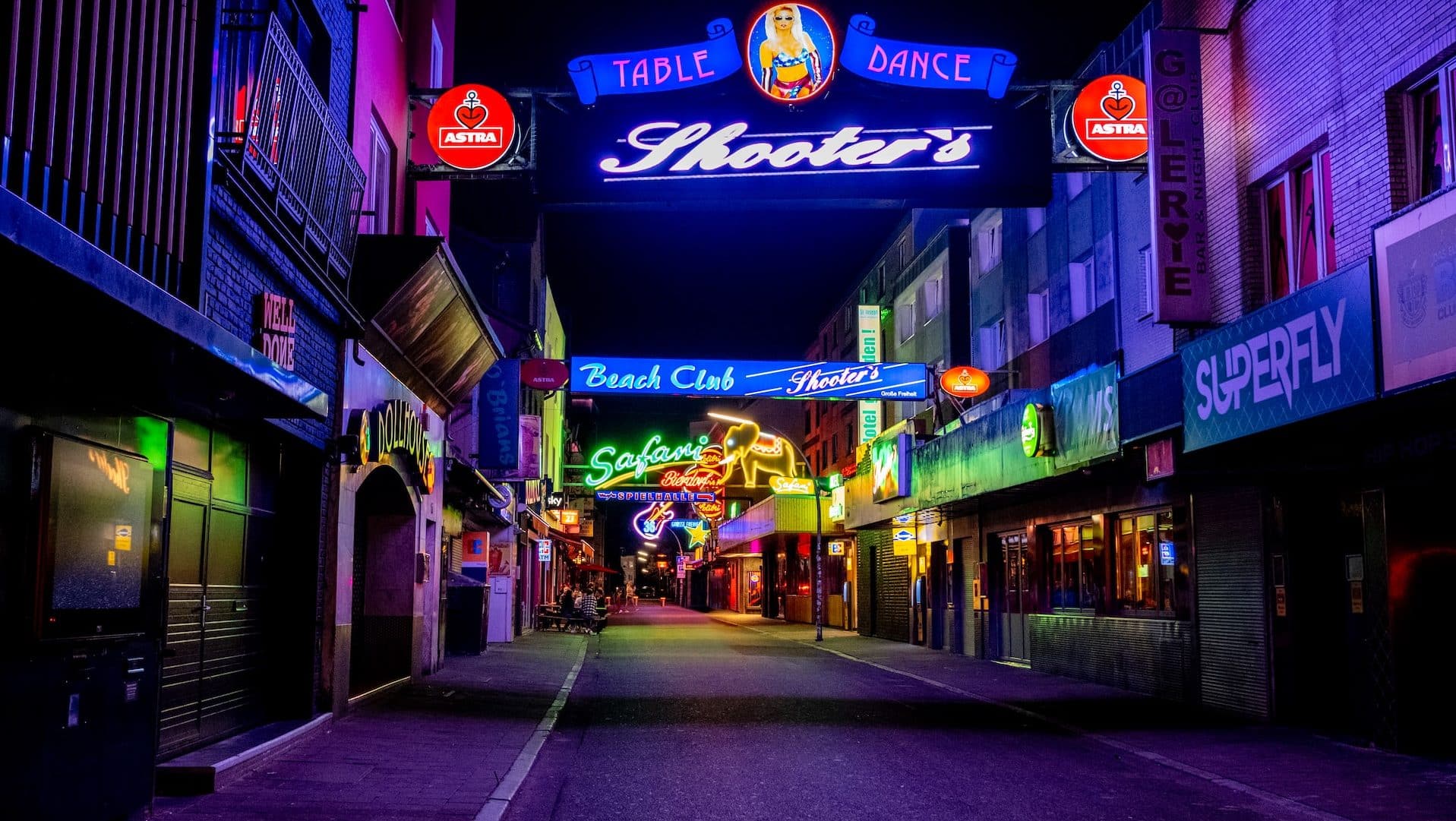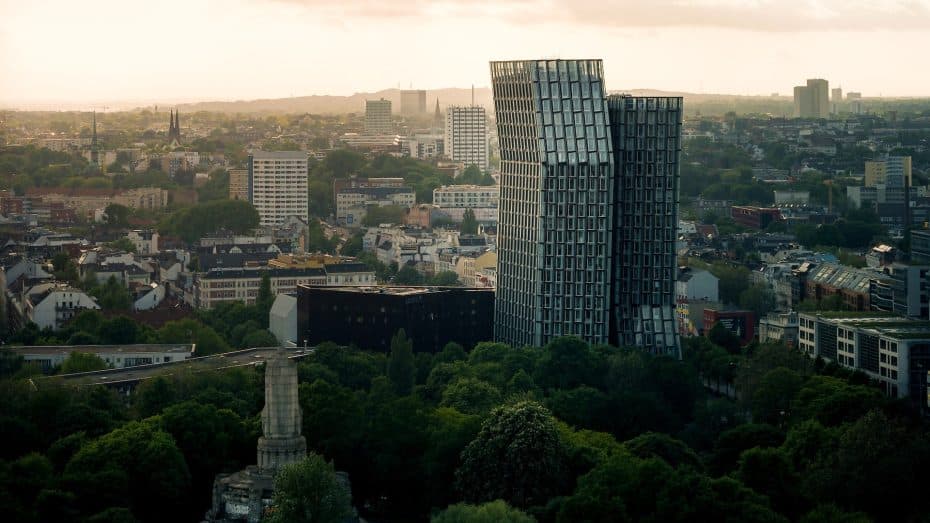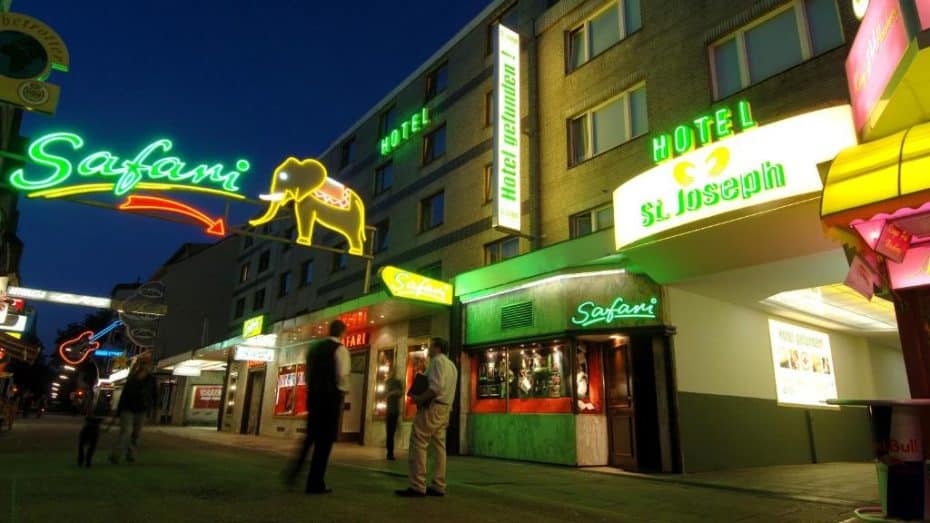 Known for being home to one of Europe's largest red light districts, St. Pauli offers some of the best nightlife in Hamburg.
Why is this the best area to stay in Hamburg, Germany:

Relatively central location
Hamburg's Red Light District
Best area to stay in Hamburg for nightlife
Reeperbahn
Mid-range & budget hotels & hostels
Connected by S-Bahn & U-Bahn
Located west of Neustadt, St. Pauli is home to one of Germany's most infamous attractions, the Reeperbahn.
Reeperbahn is a street known for its nightlife, red-light district and entertainment venues. It is the most famous street in the city and has been a major influence on the city's culture for decades. Its many clubs, bars and iconic neon signs have become a symbol of Hamburg. The street has been home to a number of influential musicians, including the Beatles, who famously played in the Kaiserkeller club in 1961.
If you are looking for something a little more low-key, theaters like Schmidts Tivoli and Operettenhaus offer musicals and cabaret shows (sometimes in English). Or, if you are looking for something a little more outdoorsy, there are plenty of parks and green spaces in the area, including the Alter Elbpark and the Grosse and Kleine Wallanlagen.
Other St. Pauli attractions include the St. Pauli Church, one of the oldest churches in Hamburg, and Millerntor-Stadion, home to the FC St. Pauli.
St. Pauli is connected by S-Bahn (Reeperbahn station) and U-Bahn (St. Pauli and Feldstrasse stations). The district is home to a healthy number of hotels ranging from boutique properties to budget options.
Best Hotels in St Pauli, Hamburg
---
5. HafenCity: A Renovated Harbour District with Great Places to Stay & Eat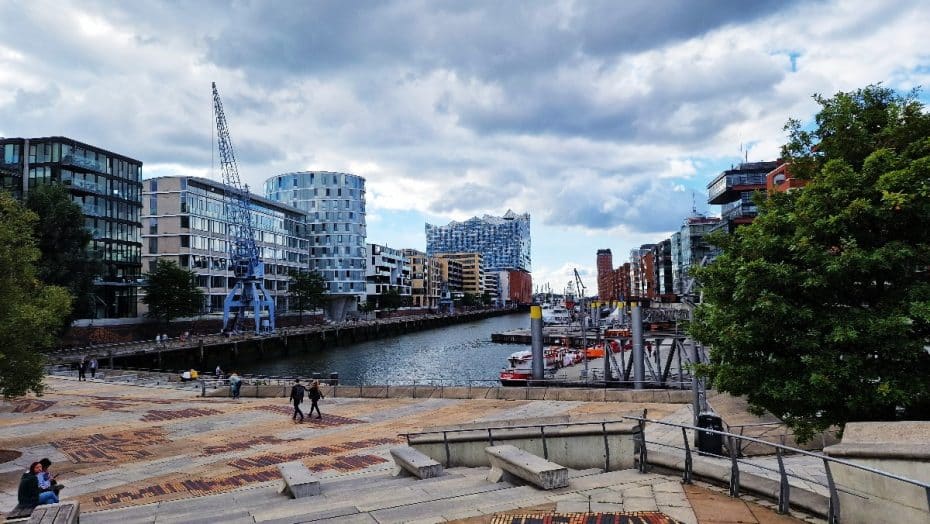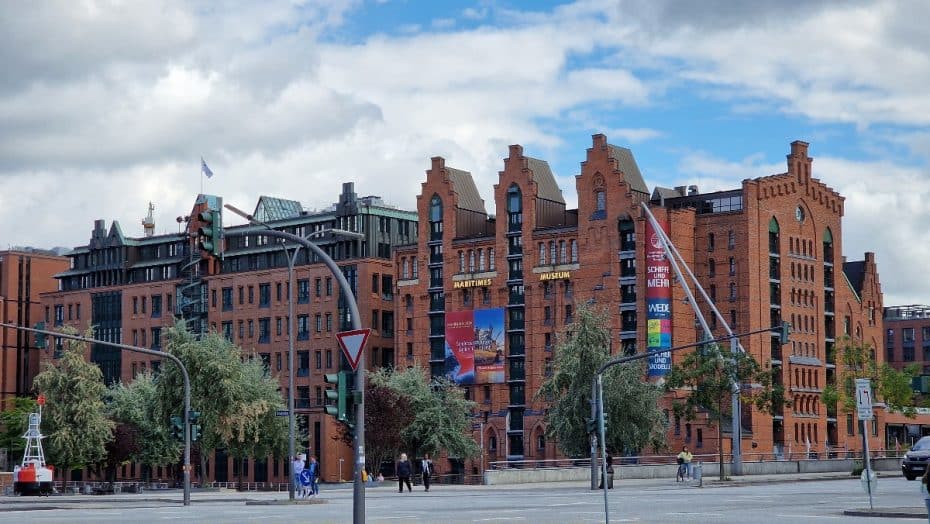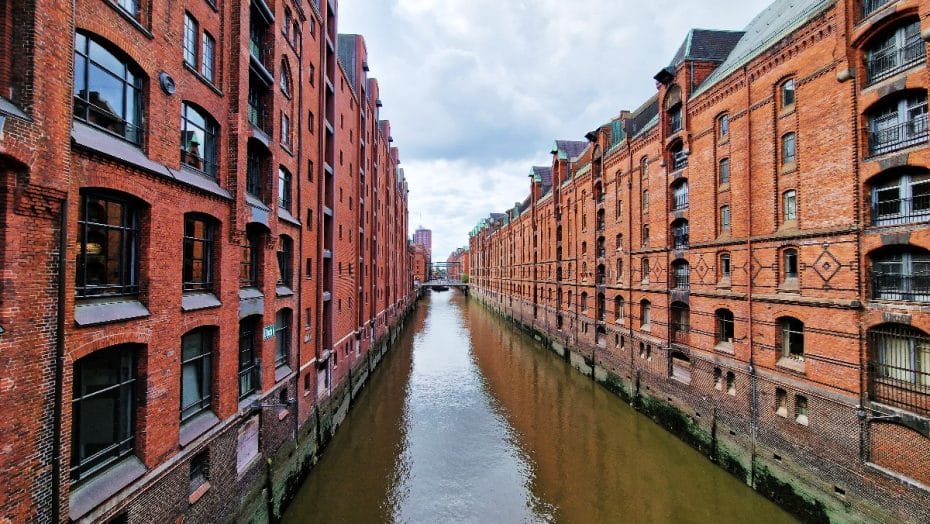 Home to the Elbphilharmonie Hamburg, HafenCity is a recently-revitalised neighbourhood filled with modern architecture.
Why is this the best area to stay in Hamburg, Germany:

Contemporary architecture
Old harbour area
Elbphilharmonie Hamburg
Modern hotels
Excellent views
Connected by public transport
HafenCity is a unique district of Hamburg. It is located on the Elbe River, just south of the city centre and is a relatively new development with many modern attractions.
The main tourist sights in HafenCity are the Elbphilharmonie concert hall, the International Maritime Museum, and the Miniatur Wunderland model railway. There are also several parks, including Lohsepark, Baakenpark, and Grasbrookpark.
The area's main landmark, Elbphilharmonie Hamburg, is a concert hall situated on the bank of the Elbe. It is considered a leading example of contemporary architecture and was designed by the renowned Swiss architecture firm Herzog & de Meuron and completed in 2017. It combines traditional brick masonry with modern glass and steel panels. It features a curved glass facade, a concert hall seating over 2000 people, and a plaza that offers breathtaking views of the city and the river.
HafenCity is also home to the International Maritime Museum Hamburg, which celebrates the city's maritime history. Founded in 2008, it is located in a former warehouse, and visitors can explore more than 4,000 square meters of interactive galleries and exhibitions.
For those looking for something a little more lively, the HafenCity district is home to many bars, restaurants, and clubs.
HafenCity is served by U-Bahn (HafenCity Universität and Überseequartier stations) and ferries and water taxis. Hotels in the area tend to be on the luxurious side.
Best Hotels in HafenCity
---
6. Altona: A Great Alternative Area to Stay in Hamburg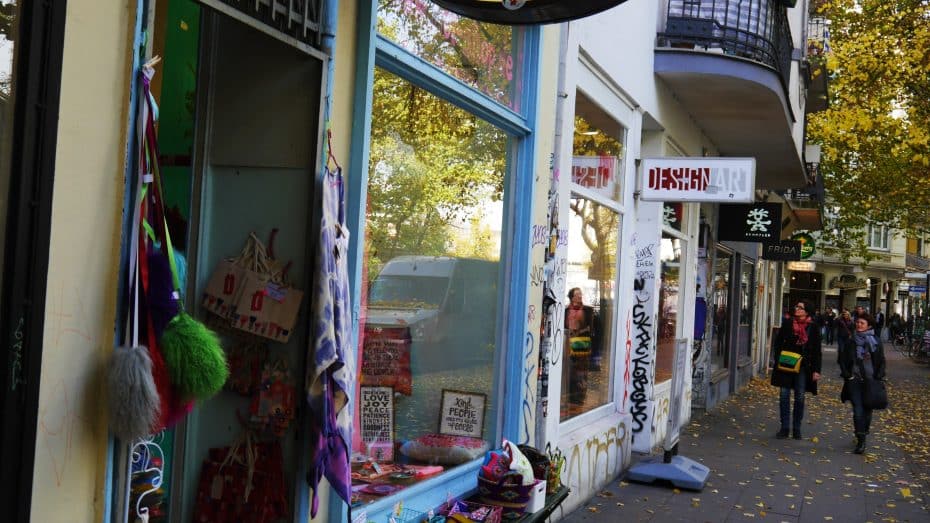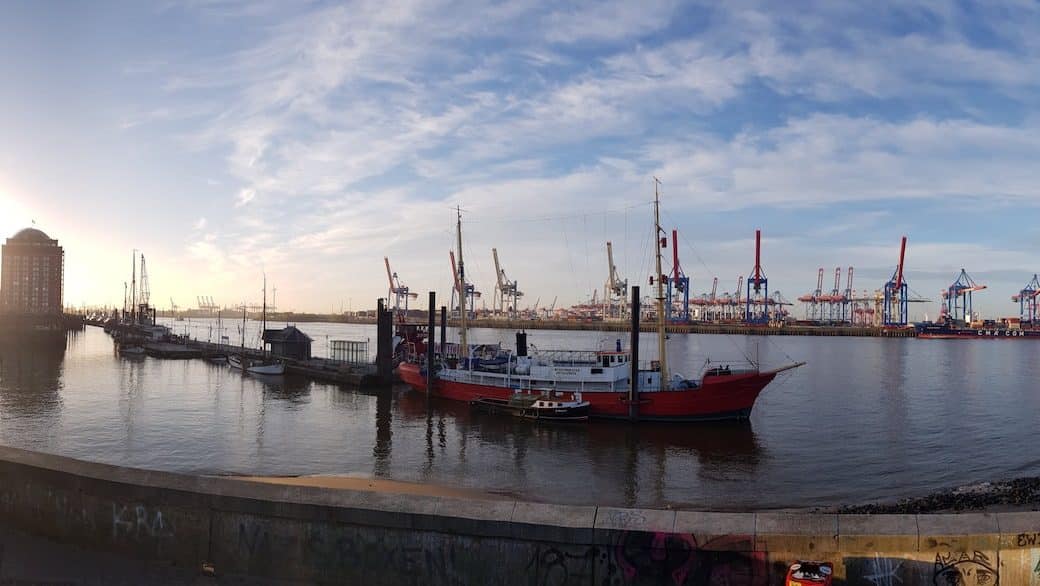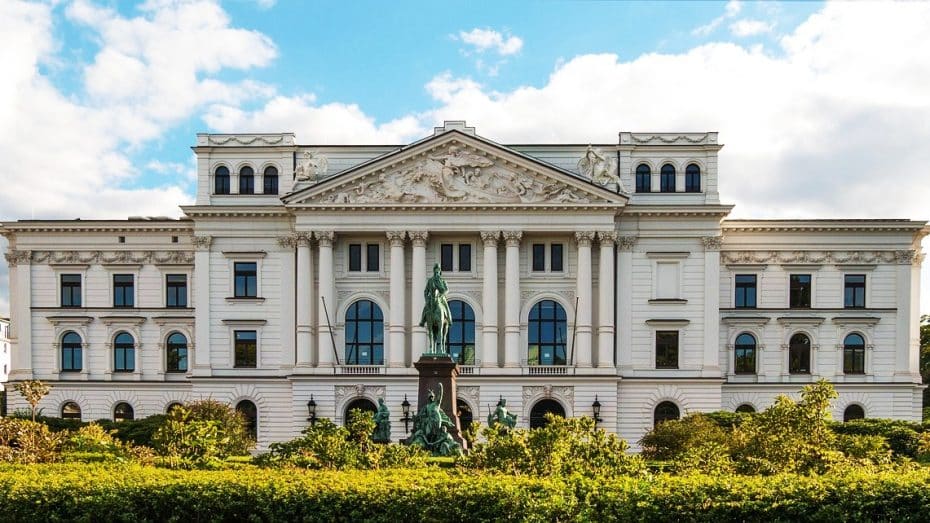 Packed with alternative nightlife & local attractions, Altona is a nice & well-connected area to stay in Hamburg, Germany.
Why is this the best area to stay in Hamburg:

Alternative area to stay
Hamburg hipster area
Altonaer Museum
Connected by S-Bahn
All kinds of accommodation
With its unique history, picturesque neighbourhoods and plenty of things to do, Altona is the perfect neighbourhood for your next trip to Hamburg.
Once an independent fishing village, Altona only became part of Hamburg in 1938. Today, it is Hamburg's westernmost and second-largest district, stretching from hip Sternschanze all the way to quaint Rissen.
There are plenty of museums and galleries for history and culture lovers to explore. The Altonaer Museum is home to a wide range of artworks and artefacts relating to the district's history, with exhibits about its past as a fishing village and its transformation into an industrial hub in the 19th century. Meanwhile, the U-Boot Museum Hamburg is a Soviet submarine turned into a museum.
Another important attraction in this area is the Hamburger Fischmarkt, a traditional fish market dating back to the 18th century.
Located on the northeastern edge of the district, the Sternschanze area is known for its vibrant nightlife, quirky cafés and thrift stores. In recent years, it has become the alternative neighbourhood and hipster hangout in the city.
Altona is well-connected by public transportation. The S-Bahn (rapid transit) has several stops throughout the district, including the Hamburg-Altona station and Königstrasse, both of which offer convenient access to other areas of Hamburg. There are also ferry lines that run along the Elbe River, providing scenic views of the city.
Best Hotels in Altona
---
7. Hamburg-Nord: An Upscale Area with Plenty of Hotels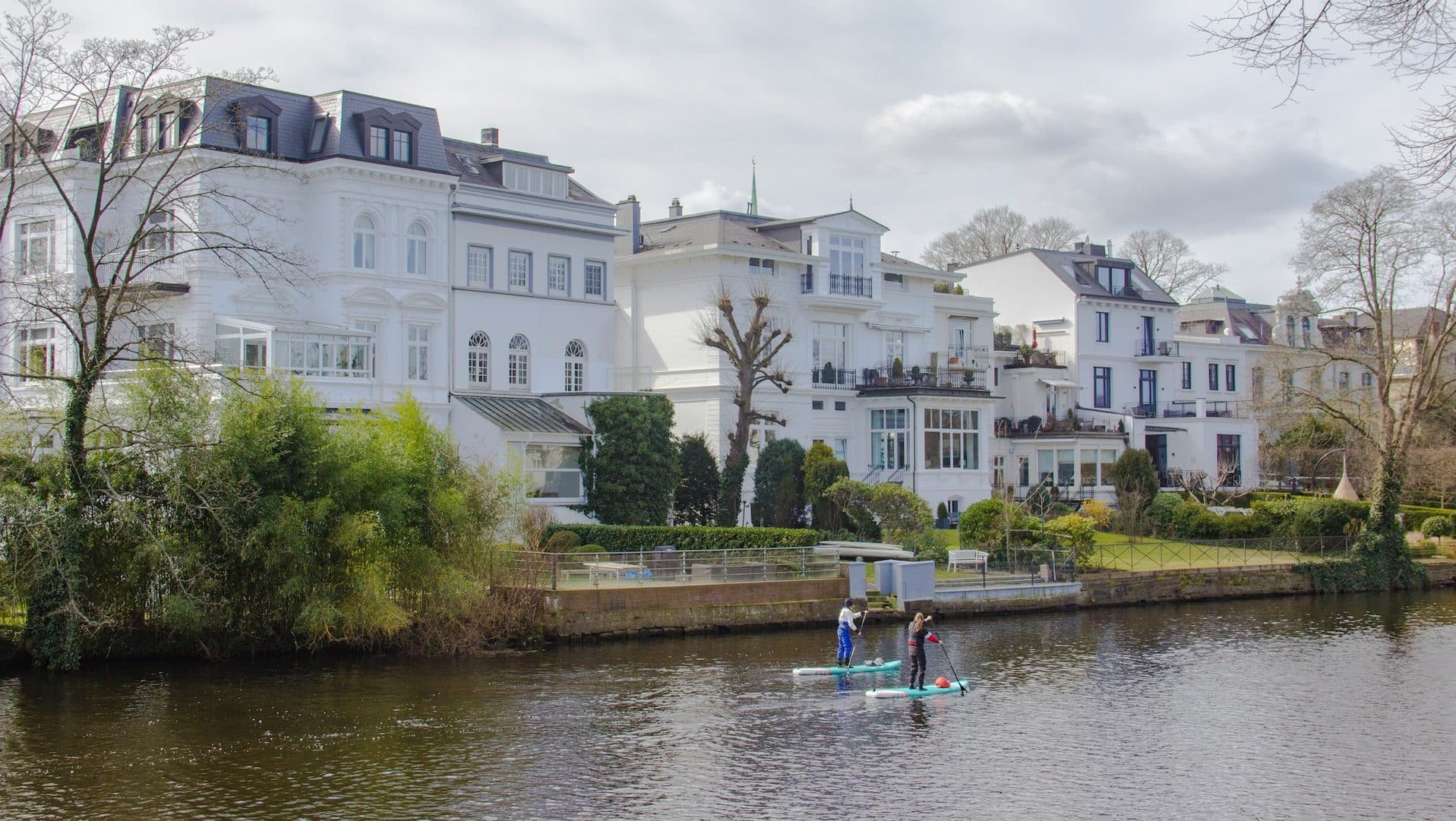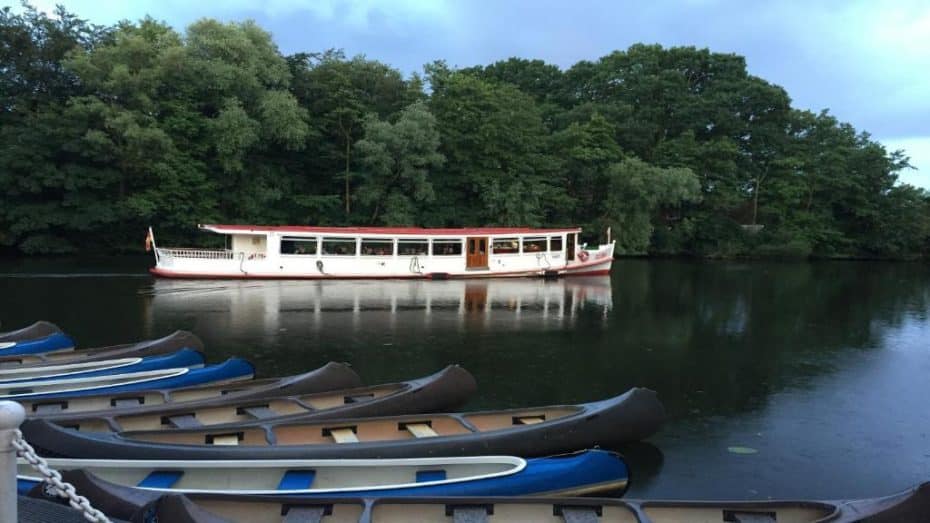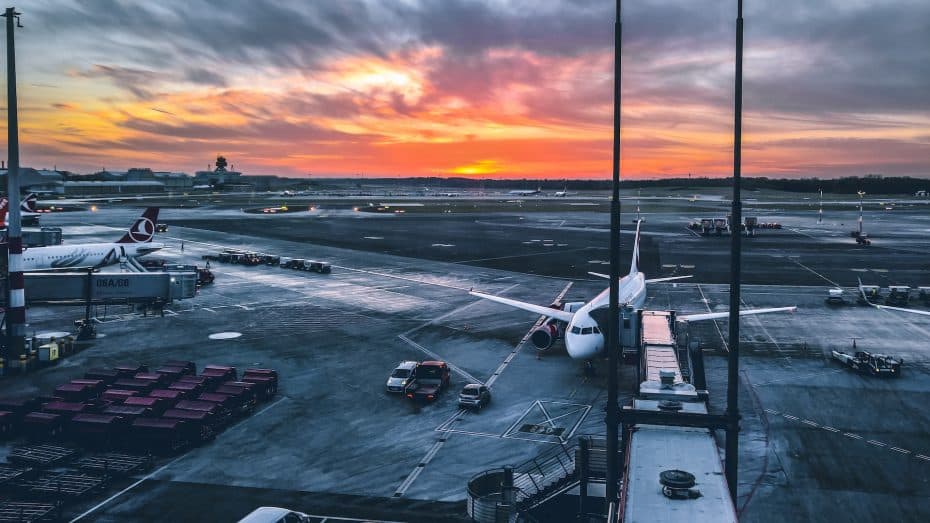 Home to the Stadtpark and many upscale residential neighbourhoods, Hamburg-Nord is a great area for travellers wanting to escape the fast-paced city centre.
Why is this the best area to stay in Hamburg:

Quiet location
Stadtpark
Winterhude
Connected by public transport
Hamburg Airport
Hamburg-Nord is one of the largest boroughs in the city. As its name suggests, it is located in the northern part of Hamburg.
This sprawling area is perhaps best known for the vast Stadtpark, a great place to explore if you're looking to get away from the hustle and bustle of the city. The park is home to several attractions, including the Planetarium, a 1917 water tower offering astronomy shows screened on its dome. It also features several ponds, walking and biking trails and a beer garden.
The nearby Winterhude neighbourhood is known for its many canals and luxurious villas. Its southern end is packed with cafés, bakeries, bistros, and wine and cocktail bars.
Located some 4 kilometres north but still within the Hamburg-Nord borough, Flughafen Hamburg is the fifth-busiest airport in Germany and an important hub for airlines such as Eurowings, Condor and Wizz Air. It is the main gate to the city and is served by rail and bus services.
Best Hotels in Hamburg-Nord
---
8. Wandsbek: A Nice Residential District in Hamburg
Wandsbek is a massive borough home to several parks and nature reserves.
Why is this the best area to stay in Hamburg:

Quiet location
All kinds of hotels
Parks & green areas
Connected by S-Bahn
Wandsbek is a borough northeast of Hamburg city centre. It is home to several neighbourhoods, including Marienthal, Jenfeld and Bramfeld.
It can be easily accessed by public transport, with several bus and train routes running through the district.
The area is mainly residential and features several parks, including the Botanischer Sondergarten Wandsbek, a botanical garden on the Wandse river, and Henneberg Park, which features Hamburg's only castle. Other attractions in the area include the Museumsdorf Volksdorf and the Wohldorfer Wald Nature Reserve.
Best Hotels in Wandsbek
---
9. Harburg: A Quiet Area South of Hamburg
Located south of Hamburg, Harburg is a quiet and suburban area with a good selection of mid-range hotels and serviced apartments.
Why is this the best area to stay in Hamburg:

Quiet location
Suburban feel
Archeology Museum
Connected by S-Bahn
Excellent value for money
Harburg is located some 13 kilometres south of Hamburg's city centre.
This former independent city is known for its inner harbour and being home to the Archaeological Museum, which focuses on northern German prehistory and early history.
Located in the district's centre, Hamburg-Harburg station offers S-Bahn, regional, long-distance and ICE services. Across the road from the station, you'll find Phoenix Center, the largest shopping centre in the area; it features high-street retailers, tech shops and a popular cinema, as well as many restaurants.
Harburg is also home to Bäderland MidSommerland, a water park next to a lake. It offers swimming pools, a water slide, a Swedish-style sauna, a relaxation pool and massage services.
All and all, Harburg is an excellent option to consider if you are looking for affordable accommodation and is especially suitable for those travelling by car.
Best Hotels in Harburg
---
Share on Pinterest
---
Read this post in other languages:
---