Where to stay in Paris: What You Need to Know
Paris is a huge metropolis formed by a series of neighbourhoods, each different from the next in style and rhythm of life. Each of the areas of Paris has its own essence. You can find bohemian neighbourhoods and modern areas, luxurious quarters, commercial districts and even some cheap, no-frills areas.

Choosing the best area to stay in Paris will depend a lot on your personal tastes, where you feel most comfortable and of course, your budget.

One of the best things about Paris as a tourist destination is that its metro system is extremely efficient and reaches almost every corner of the city, so you don't need to stay in the centre of the city to have a great holiday.
That said, Paris is not a cheap city, in fact, it is one of the most expensive cities in terms of accommodation. However, with an incredible variety of accommodation options, it will not hard to find budget-friendly alternatives.
This is a list of the best areas to stay in Paris, with selected hotels in each quarter for a perfect visit to the City of Light.
The best areas to stay in Paris
Paris has 20 districts, where different neighbourhoods are located. In this post, we offer you an overview of the best quarters to stay in Paris together with maps and a hand-picked selection of some of the best accommodation options in each area.
1. Best area: Châtelet – Les Marais
This neighbourhood is distributed among the first four districts of Paris, and it roughly covers what we could call "downtown Paris". It is one of the safest due to its proximity to tourist areas. It contains some of the most famous monuments and buildings in the city, such as the Notre Dame Cathedral, the Louvre Museum or the Tuileries Gardens, on the banks of the Seine River. It is one of the best places to stay in Paris, however, it can turn out to be somewhat expensive, due to its privileged location.
The hotels located in this district have easy access to public transport services and tourist attractions, as well as places like Parisian cafes and restaurants, which are distributed in the surrounding area. There are also plenty of fashion clothing stores and art galleries.
The entire central area that encompasses the Les Marais neighbourhood and its surroundings is ideal for those wishing to visit the most interesting places in Paris, with little to no effort in terms of transport, and also for those who want to enjoy lively commercial areas. Les Marais is also the gay neighbourhood par excellence in Paris.
Hand-picked accommodation in this area
---
2. Latin Quarter & Saint-Germain-des-Prés
The famous Latin Quarter is located in the fifth district, south of the Seine River.
It is characterized for being a bohemian and university place, where the Museum of Natural History and the University of Paris are located. Room prices here are much cheaper compared to the previous area, despite being a very central location, with several transport options.
Close to the Latin Quarter, lie Saint-Germain-des-Prés and Notre-Dame-des-Champs.
This is one of the most beautiful areas of Paris, architecturally speaking, having the Luxembourg Gardens and The Palace as part of it. Hotel prices are affordable and modest prices can be found.
Both neighborhoods have access to public transport facilities such as metro and urban buses, as well as attractions, museums and places of tourist interest.
Hand-picked accommodation in this area
---
3. Around the Eiffel Tower
Although it is not located in what we can consider the central area of Paris, there is no more famous area to stay in the City Light than in the surroundings of its most representative monument.
The area of the Eiffel Tower is very popular with tourists.
You can find accommodations with excellent views (including rooms with views of the Tower itself) and prices for all budgets.
The area is distributed between districts seven and sixteen.
This is one of the best areas to stay in Paris for those people looking for a quiet but central area and a romantic getaway with views.
Being one of the most touristic districts of Paris, public transport is excellent, with several metro and train lines.
Hand-picked accommodation in this area
---
4. Champs-Elysées
The famous Avenue de Champs-Elysées, is located in what is the eighth district.
It is an exclusive area, full of designer shops, restaurants and night spots.
Accommodation here can be expensive, and there are hotels designed to cover any requirement as far as luxuries are concerned. However, it is a good option for those who plan to go shopping and enjoy a luxurious getaway in the capital of refinement.
This district is home to the famous department store Galeries Lafayette and the Garnier Opera.
The surrounding neighbourhoods are highly commercial, hectic and very lively areas.
There is excellent access to public transport.
Hand-picked accommodation in this area
---
5. Montparnasse
The Montparnasse area is not one of the most central areas of the city.
However, it has excellent communication with the centre of Paris and all its monuments and places of interest through the public transport system.
This neighbourhood is a place where you can find reasonable room rates.
In Montparnasse, it is possible to enjoy various restaurants, creperies, bars and shops.
It is an ideal alternative for those who want to stay in a place near the center of Paris for an affordable price, also having a wide variety of options in terms of restaurants, bars, cafes and shops.
Hand-picked accommodation in this area
---
6. Montmartre
Montmartre is one of the most popular in Paris, mainly because of its famous red light district.
Montmartre is located on a hill, on top of which stands the beautiful Basilica of the Sacré Coeur.
This neighbourhood is also known for its famous cabarets such as Mouline Rouge and its picturesque streets, full of small shops, small food places and bohemian atmosphere.
Montmartre is a bit far from the centre. You can, however, have easy access to transportation services, and it has the advantage that in this area you will find the cheapest accommodation in the city.
The disadvantage is that it can not be considered as one of the safest places in Paris. Beware of pickpockets.
Hand-picked accommodation in this area
---
7. Canal Saint-Martin
The popular Canal Saint-Martin and surroundings are located in the tenth district of the city.
It is a typical alternative area and there are a lot of Bohemian and hipster places.
The area has two main railway stations; Gare de Nord station and the Gare de l'Est stations.
This area enjoys good communication with the centre of Paris and there are many accommodation options, many at budget prices.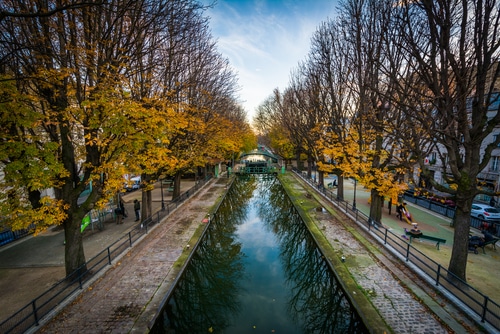 What makes this the best area to stay in Paris
Hipster area
Ethnic food
Great transport connections
Hand-picked accommodation in this area
---
8. Bercy
The area of Bercy is located southeast of Paris. It is a neighbourhood somewhat removed from the centre, which houses small sites of interest such as the Opera Bastille and the Bois de Vincennes park. Access to public transport, depending on the location, can be something difficult, nevertheless, hotel prices are affordable and very cheap rooms can be found here.
---
9. Trocadero
The Trocadero district is located in the sixteenth district of Paris. It is an elegant and quiet residential area, which houses various boulevards and interesting places such as the Balzac Museum. The neighbourhood is within walking distance of the Eiffel Tower and offers spectacular views of it. It also has a park, the Bois de Boulogne Park.
In Trocadero, you can find many plush hotels, although depending on the season you can get reasonable fares.
This quarter is ideal for those who wish to enjoy a quiet neighbourhood during the evenings without losing access to the best areas of Paris during the day.
---
10. La Villette
The neighbourhood of La Villette is located in the nineteenth district of the city. It is famous for being a modern area that houses beautiful natural parks, such as the Parc des Buttes-Chaumont and the Parc de la Villette. The area has good access to the centre of Paris and is ideal for those who wish to stay in places near natural sites for affordable prices.
The accommodation offer here is very good, and there are many options in terms of tastes and prices.
---
11. Belleville
Belleville is situated on the right side of the Seine River. It is an area that is located far from the centre of Paris. Those who choose to stay in Belleville must travel a great distance to reach the city centre and places of tourist interest, although there is good access to public transport services, including the subway.
The neighbourhood is famous for its cemetery, the Père Lachaise, which houses the tombs of artists and world-renowned figures such as Jim Morrison, Chopin, Oscar Wilde and Edith Piaf.
---
Read this post in other languages