Düsseldorf, sometimes "Duesseldorf," is the capital city of North Rhine-Westphalia. This bustling metropolis is the seventh-largest city in Germany. It sits in the centre of the Rhine-Ruhr Metropolitan Region, the largest metropolitan region in the country, with over ten million inhabitants. Known as Germany's fashion capital, the city is also an industrial, media, and financial powerhouse. Like other German places, Düsseldorf was practically reduced to rubble during WW2. It was later reconstructed to become one of the most modern cities in Europe. If you are looking for the best areas to stay in Düsseldorf, you have come to the right place.
Besides its economic might, Düsseldorf is famous for its vibrant arts and music scene. Its city centre offers a fascinating mix of restored medieval buildings and avant-garde masterpieces. Some of its most important attractions include the Rhine Tower, Hofgarten, Museum Kunstpalast and the Rheinuferpromenade. Thanks to its many sights, busy international airport and economic importance, Düsseldorf has become one of the most visited destinations in Germany and offers a wide selection of upscale business hotels and as many budget options, particularly in and around its city centre.
Whether you're going to Düsseldorf for a European weekend getaway or as a business traveller, keep reading this article to learn more about the best areas to stay in Düsseldorf, Germany.
---
Accommodation Options in Düsseldorf
---
The Best Areas to Stay in Düsseldorf: A Summary
If you don't have time to read the full article, here's a quick summary of the best tourist areas in Düsseldorf. Keep reading to find out more information about each of these districts.
---
What's the Best Area to Stay in Düsseldorf, NRW?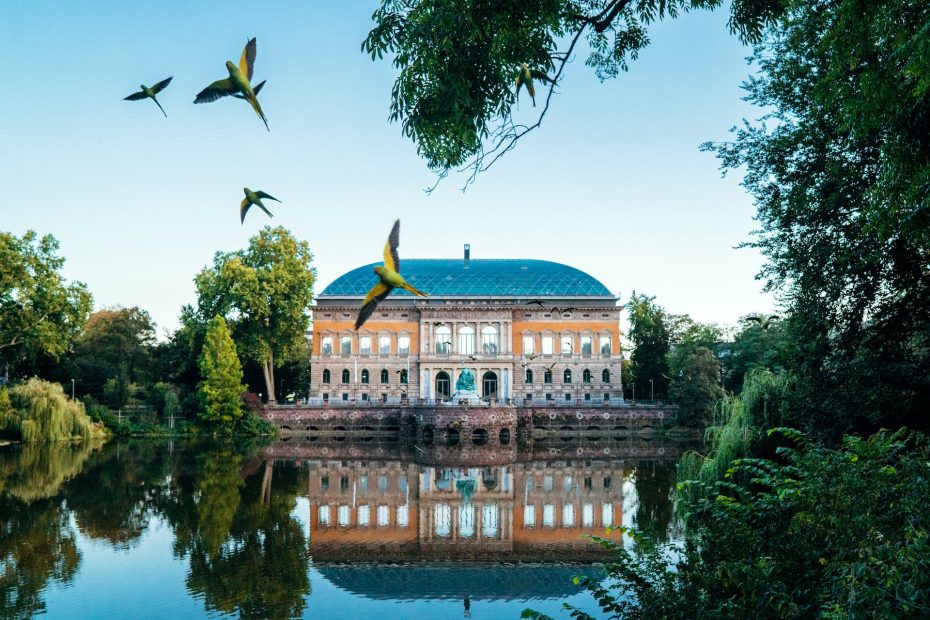 The best area to stay in Düsseldorf for leisure or business is the Stadtmitte. Literally meaning "City Centre," Stadtmitte is the best place for tourists to enjoy the city's main attractions, museums, parks and shopping areas. It is also the best-connected district and where most of the best-rated hotels in Düsseldorf are situated.
Find Available Accommodation in Stadtmitte.
Best Hotels in Stadtmitte Düsseldorf
---
Where to Stay in Düsseldorf for Sightseeing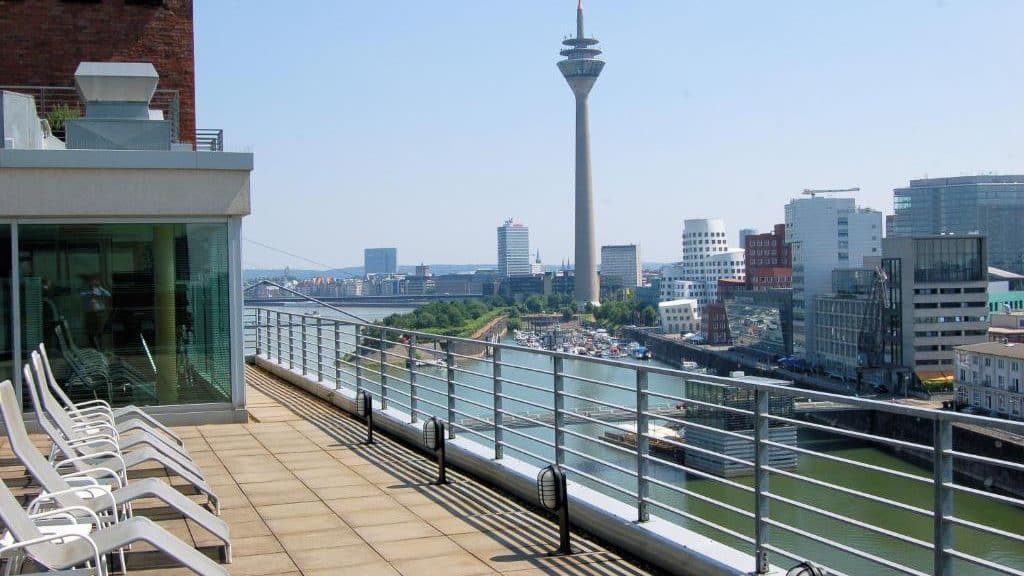 As mentioned above, Stadtmitte is the best location for tourists in Düsseldorf. However, the city is divided into many different districts, each offering a distinct experience and attractions. These are some of the most exciting areas:
Set west of Mitte, Altstadt is Düsseldorf's Old Town. Heavily damaged during WWII, many of its historic buildings were rebuilt in the 1950s and 60s. This area is home to attractions, including Marktplatz, the Old Town Hall, Pegeluhr Clocktower and part of the Rheinpromenade. The Wellem, in The Unbound Collection by Hyatt and Victoria Altstadt Suites are some of the best hotels in this area.
Home to several sights like the Hofgarten, Schauspielhaus and Little Tokyo, Stadtmitte is perhaps the most convenient district for visitors to Düsseldorf, not least because it also hosts the city's Central Train Station. Some of the great options in this central neighbourhood include the Hampton by Hilton Düsseldorf City Centre and the Adina Apartment Hotel Dusseldorf.
Located south of the Old Town, Unterbilk is a riverside district and refurbished port area home to Media Harbour, the Rheinturm and Frank Gehry's Neuer Zollhof. The Red Apartments and Radisson Blu Media Harbour Hotel are two of the best-rated properties here.
---
The Best Areas for Tourists in Düsseldorf: District by District
---
1. Stadtmitte: Best Location for Shopping & Best-Connected Area in Düsseldorf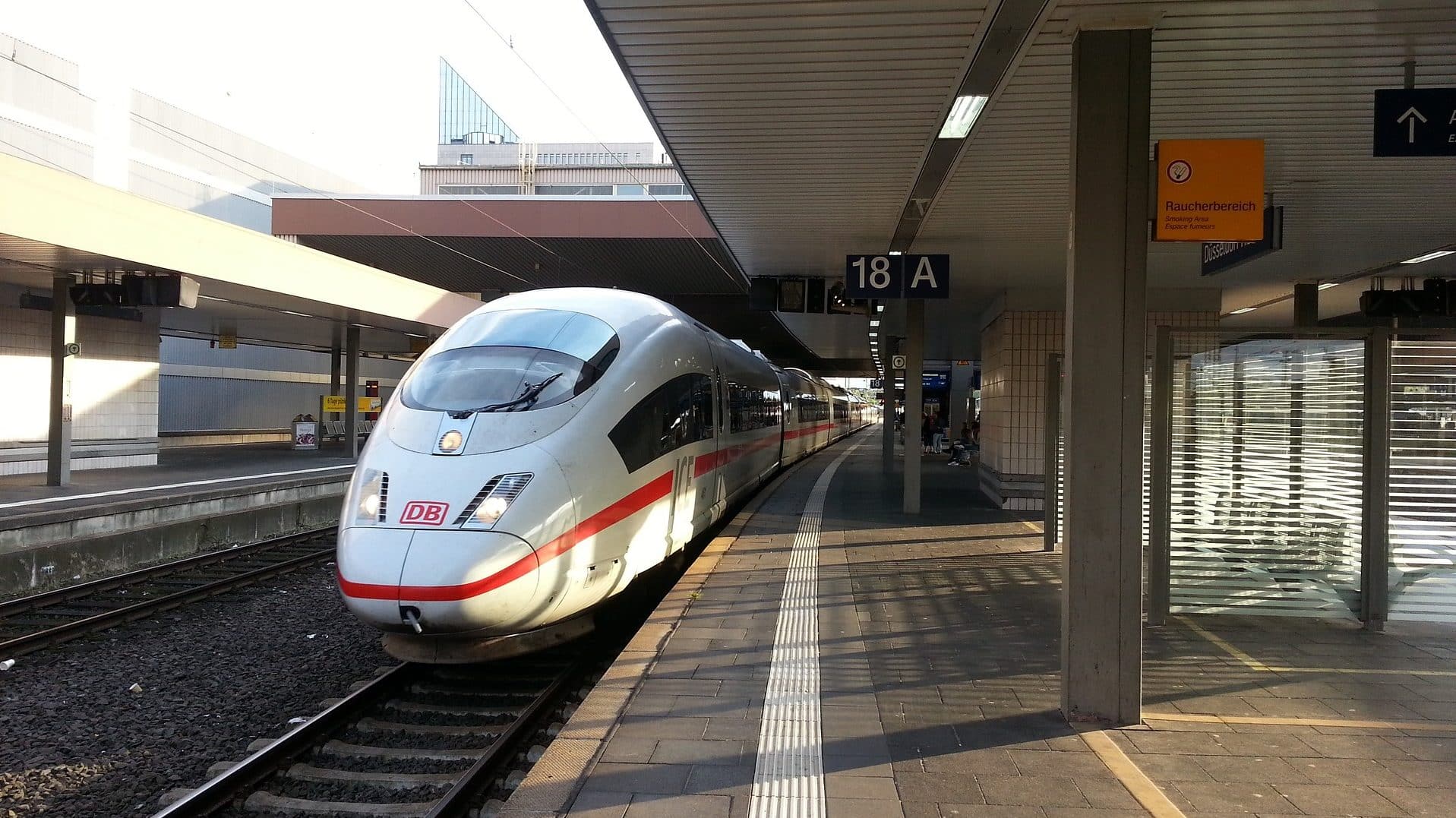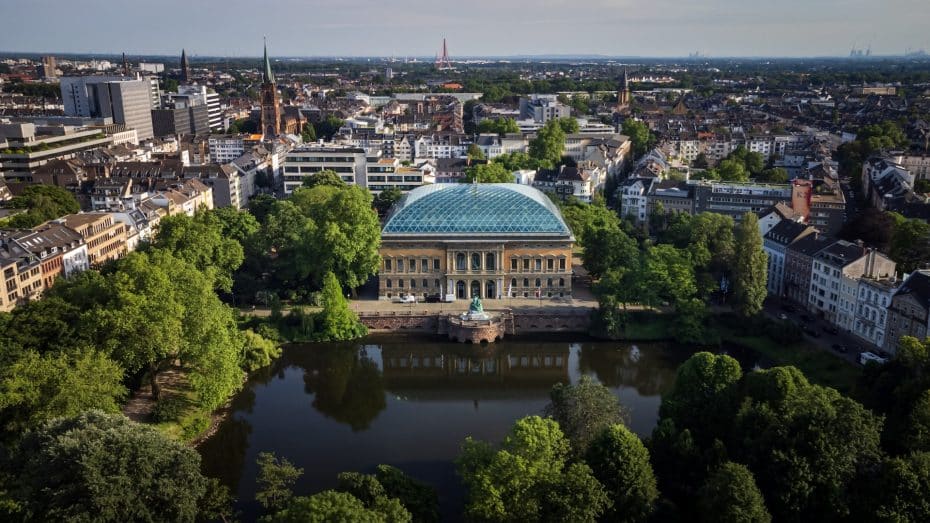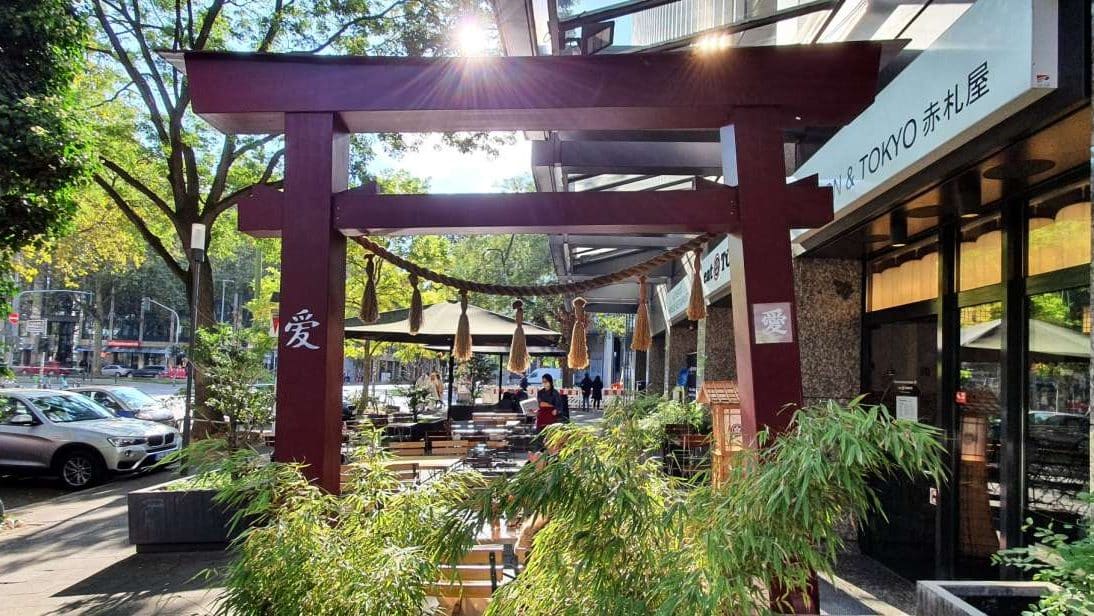 Considered the city's shopping epicentre, Stadtmitte is an upscale commercial district and transit hub.
Why is this the best area to stay in Düsseldorf, Germany:

Heart of the city
Shopping streets & malls
Great nightlife
Hofgarten
Upscale and business hotels
Hauptbahnhof
Connected by S-Bahn & U-Bahn
Little Tokyo
Düsseldorf Stadtmitte is a vibrant neighbourhood in the heart of the city. Its culture, history, and modern attractions make it a must-visit for anyone exploring Düsseldorf.
This area, located east of the Düssel and the Old Town, is particularly priced for its shopping. Considered Düsseldorf's shopping mecca, the neighbourhood, particularly Königsallee, offers everything from local boutiques to big-name fashion brands and high-street retailers.
A few hundred metres north, Hofgarten is the ideal place to take a stroll. One of the oldest public gardens in Germany, this massive park is home to several ponds, walking and biking paths, fountains, public art installations, and playgrounds.
Stadtmitte is also the main entertainment district in Düsseldorf, with dozens of theatres and performing arts venues, including the prestigious German Oper am Rhein, Orpheus Theater, Savoy Theater and FFT Dusseldorf Juta.
Located on the district's eastern edge, Düsseldorf Hauptbahnhof is the city's central station. This large station, one of the busiest in Germany, offers S-Bahn, Regional, Intercity and ICE high-speed train services. It is also a stop for the city's U-Bahn (underground railway) and tram system.
Not far from the station, you'll find Little Tokyo. A popular tourist destination and home to one of the largest Japanese communities in Europe, it is the perfect place to go for a taste of authentic Japanese cuisine and culture.
Stadmitte is also home to the widest variety of hotels in the city. Here, you will find primarily mid-range and upscale accommodations offering world-class amenities and service.
Best Hotels in Stadtmitte, Düsseldorf
---
2. Altstadt: Best Location in Düsseldorf to Discover its History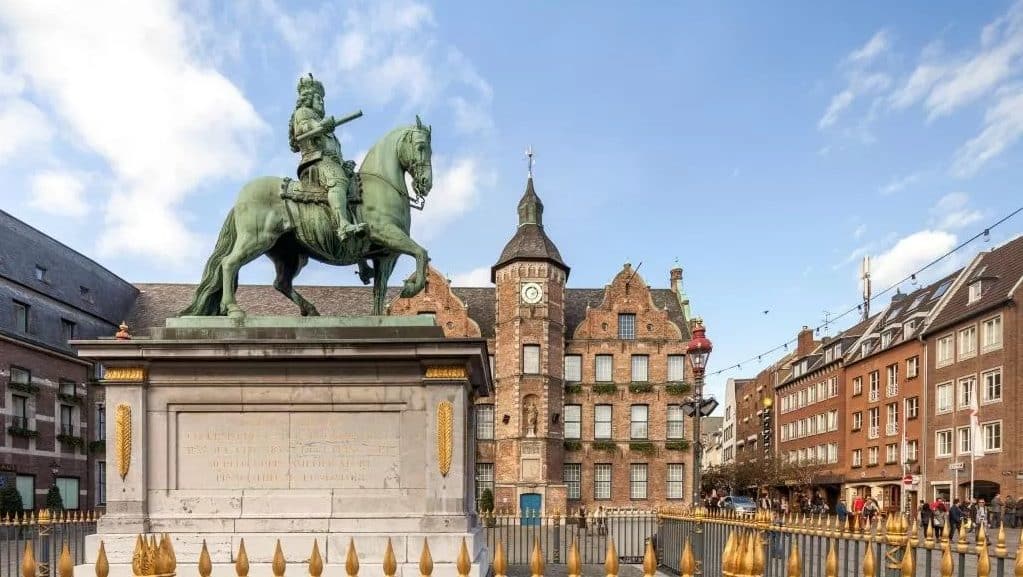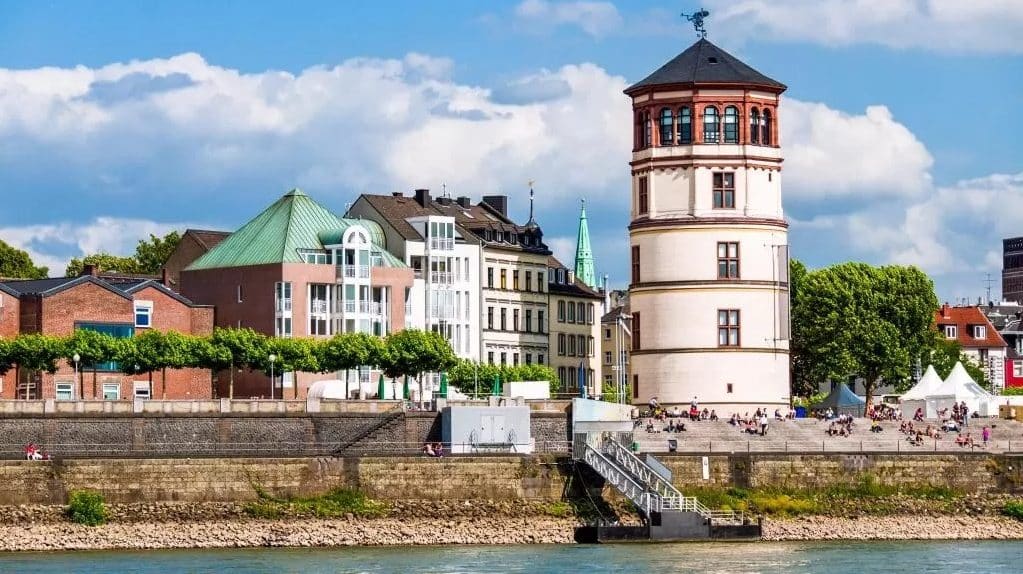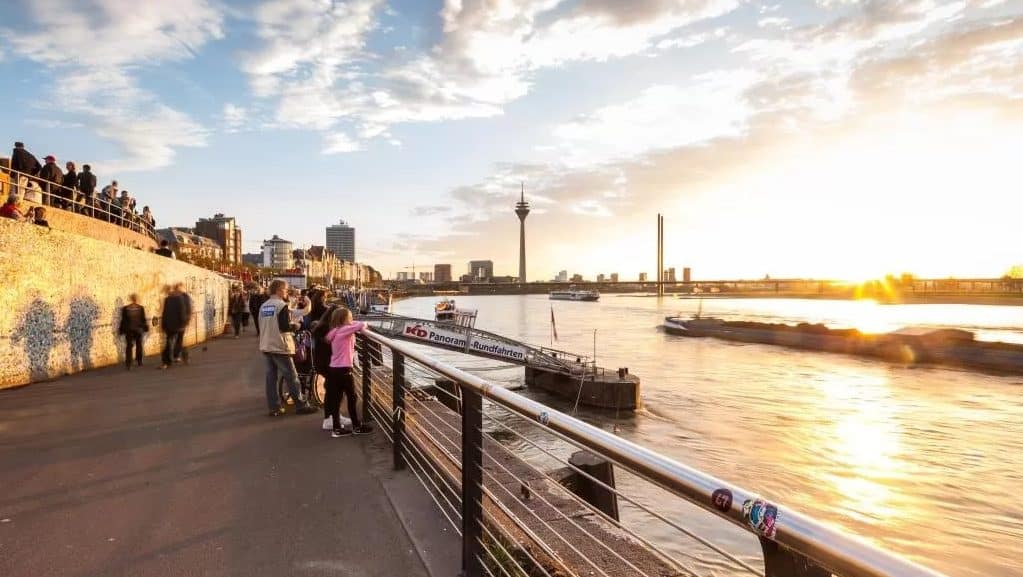 Sandwiched between the Düssel and the Rhine, Altstadt is a lovely area packed with cafés, small boutiques & traditional restaurants.
Why is this the best area to stay in Düsseldorf, Germany:

Historic heart of the city
Historic attractions
Best area for nightlife
Rheinuferpromenade
Boutique hotels
Connected by U-Bahn
Marktplatz
The Altstadt neighbourhood, also known as the Old Town, is a great place to explore on a visit to the city and one of the best areas to stay in Düsseldorf. It boasts a mix of traditional and modern architecture. It was rebuilt after being heavily bombed in the Second World War.
This historic district is centred around Marktplatz, a large market square surrounded by cafes home to the Rathaus (Old Town Hall). Nearby, Burgplatz is another city landmark home to the Schifffahrtsmuseum, a local museum dedicated to shipping and technology set in a medieval tower, and the "Wheel of Vision" Ferris Wheel.
Originally built around the 13th century, St. Lambertus Basilica is the oldest building in Düsseldorf and one of the most recognisable landmarks in the city.
Not far, Bolkerstrasse is a popular restaurant and nightlife area. The street comes alive after sunset when its many bars and nightclubs fill up with locals and visitors.
Further west, toward the Rhine River, you'll find the Rheinuferpromenade, a riverfront promenade also lined with cafés and restaurants offering some of the most striking views of the city.
Düsseldorf Old Town is well-connected to the rest of the city thanks to its numerous U-Bahn stations. It is also very easy to get to other central districts on foot or using the tram and bus systems.
Best Hotels in Düsseldorf Old Town
---
3. Unterbilk & Media Harbour: Best Location for Business Travellers & River Views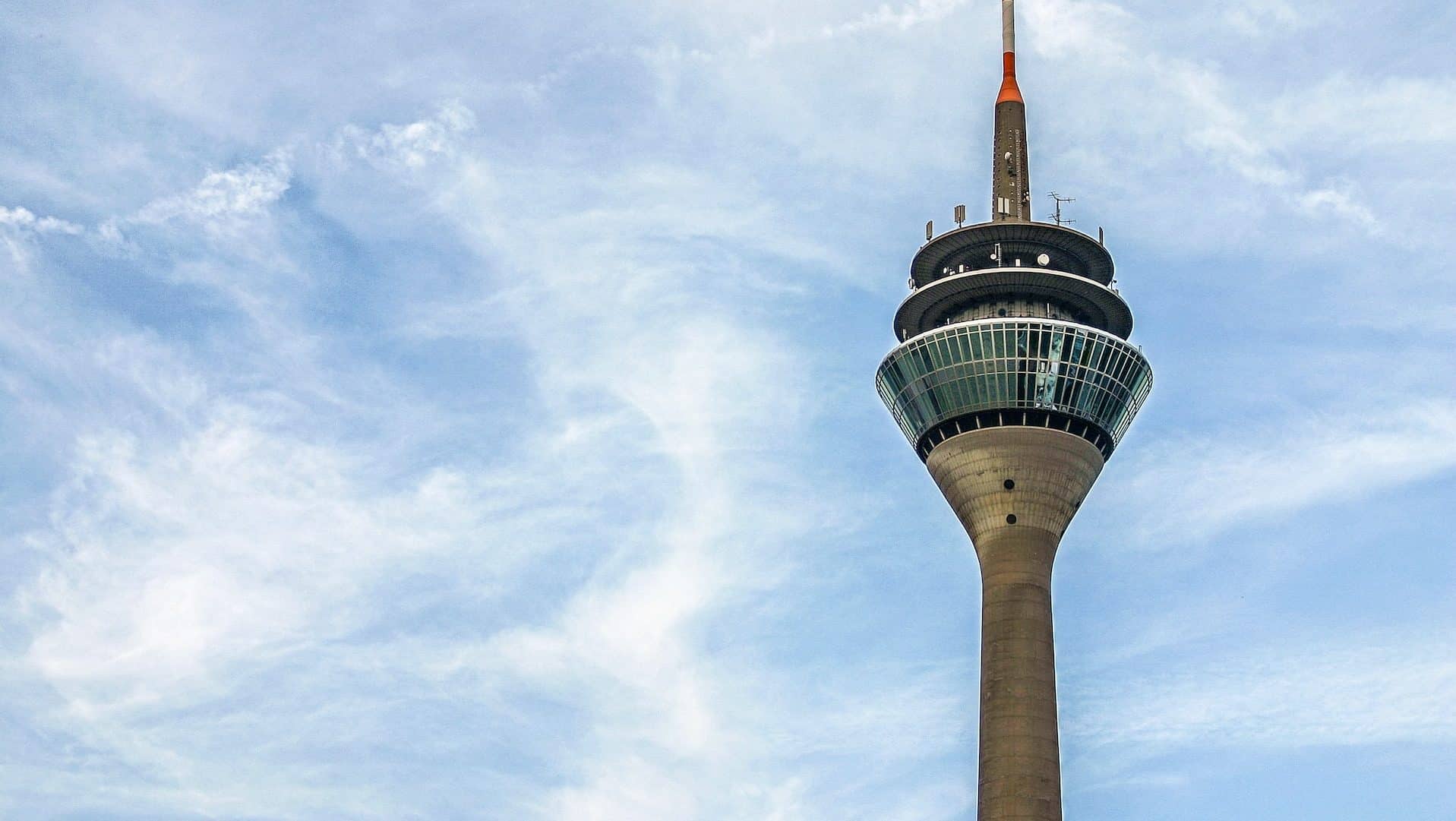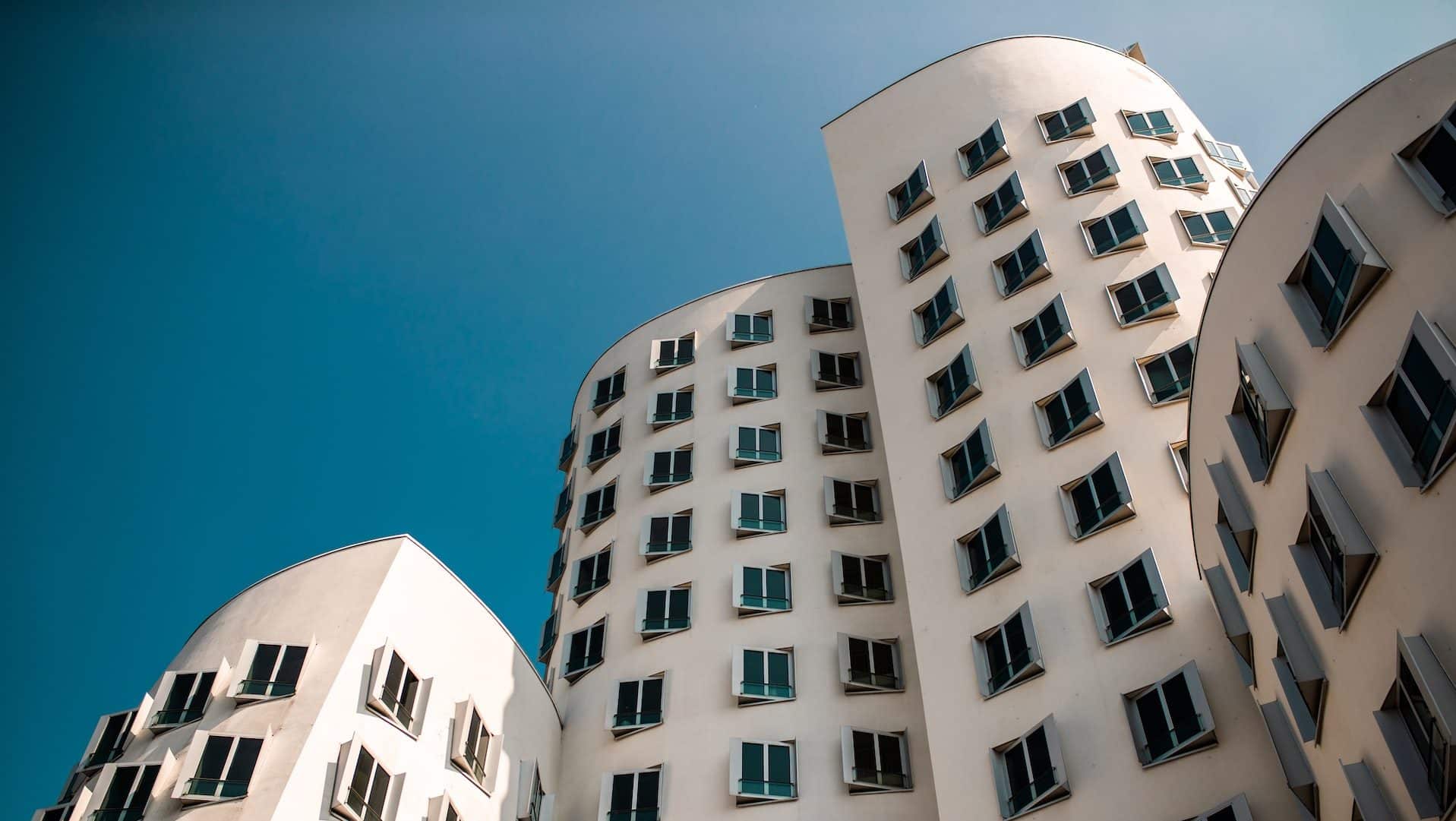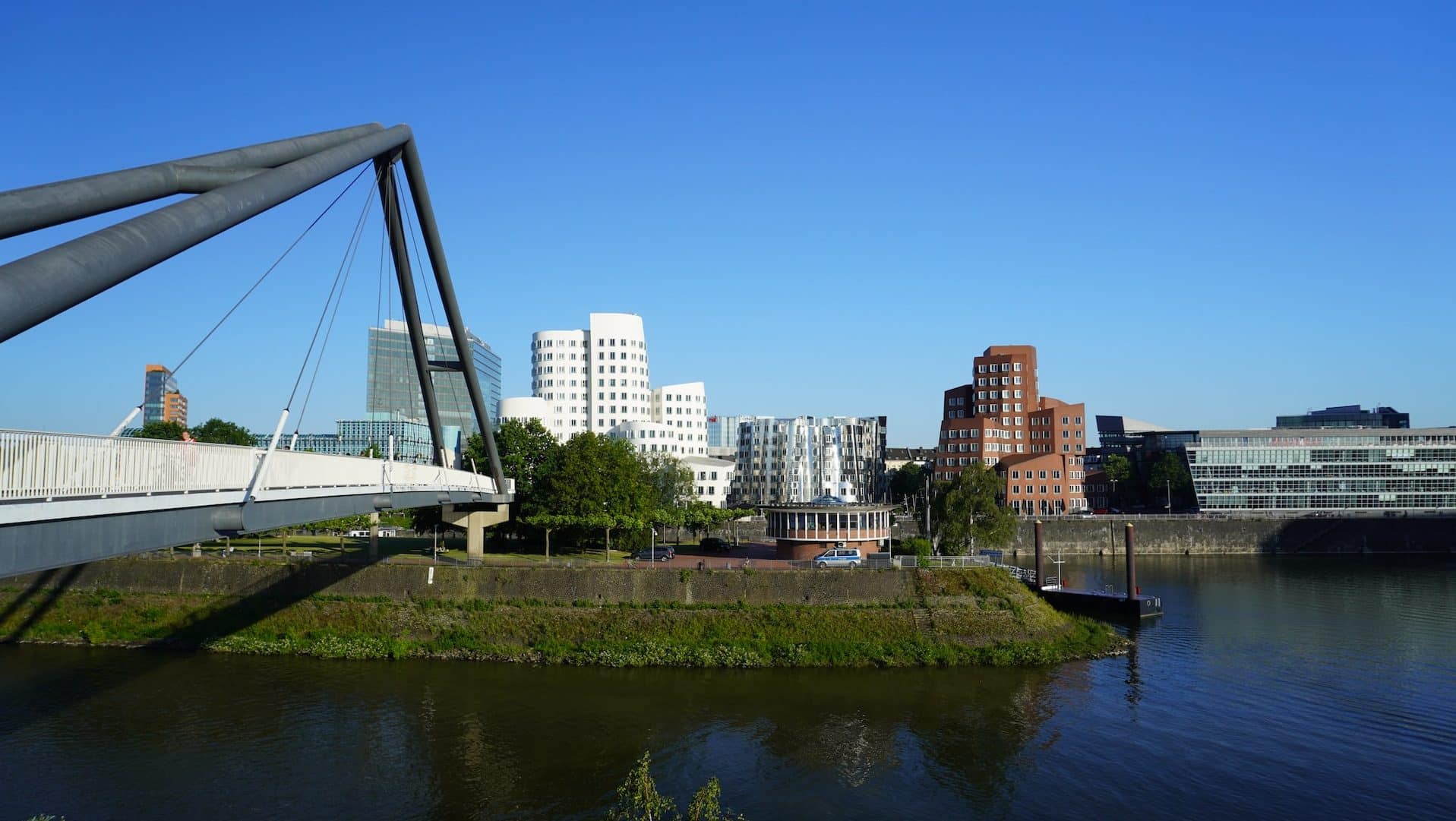 Home to some of the most striking contemporary buildings in the city, Unterbilk is a great area to get a taste of modern Düsseldorf.
Why is this the best area to stay in Düsseldorf, Germany:

Contemporary architecture
Media Harbour
Rhein Tower
Rheinuferpromenade
Modern hotels
Excellent views of the river
Connected by public transport
Düsseldorf's Unterbilk district is located south of the Old Town, on the River Rhine's east bank.
Originally a harbour and working-class neighbourhood, the area went through a massive transformation in the late 1990s and early 2000s to see it become one of the most attractive districts in the city.
The epitome of this transformation is the Medienhafen. Düsseldorf's "Media Harbour" is home to numerous companies, primarily from the fields of media and communication, fashion and architecture, as well as art and culture.
The Media Harbour's centrepiece is Neuer Zollhof. Completed in 1998, this complex of buildings designed by Frank Gehry is one of the most striking architectural works in Düsseldorf. Its curvy design and metallic colour give the building a unique character.
Nearby is the Rheinturm. Standing at 240 metres, this impressive communications tower provides stunning views of the city and the Rhine River. The tower is also home to a restaurant and an observation deck where visitors can take in panoramic views of the city.
Thanks to its importance as a business hub, Media Harbour Düsseldorf has some of the best modern hotels in the city. The area also offers a number of excellent luxury serviced apartments, as well as a wide selection of restaurants and bars.
Unterbilk is linked to the city centre and Central Train Station by S-Bahn, U-Bahn and tram services.
Best Hotels in Unterbilk & Media Harbour
---
4. Pempelfort: Best Location for Art Lovers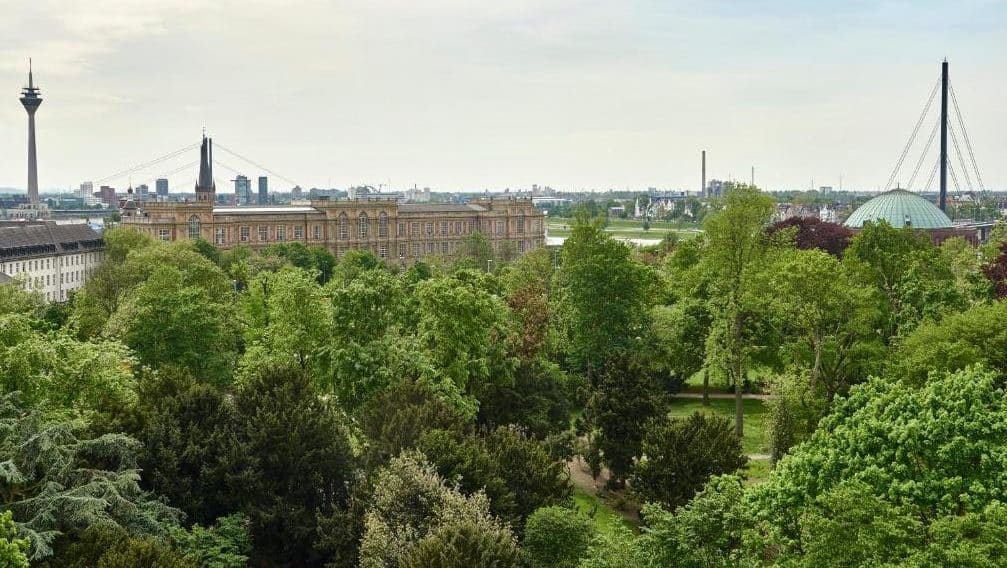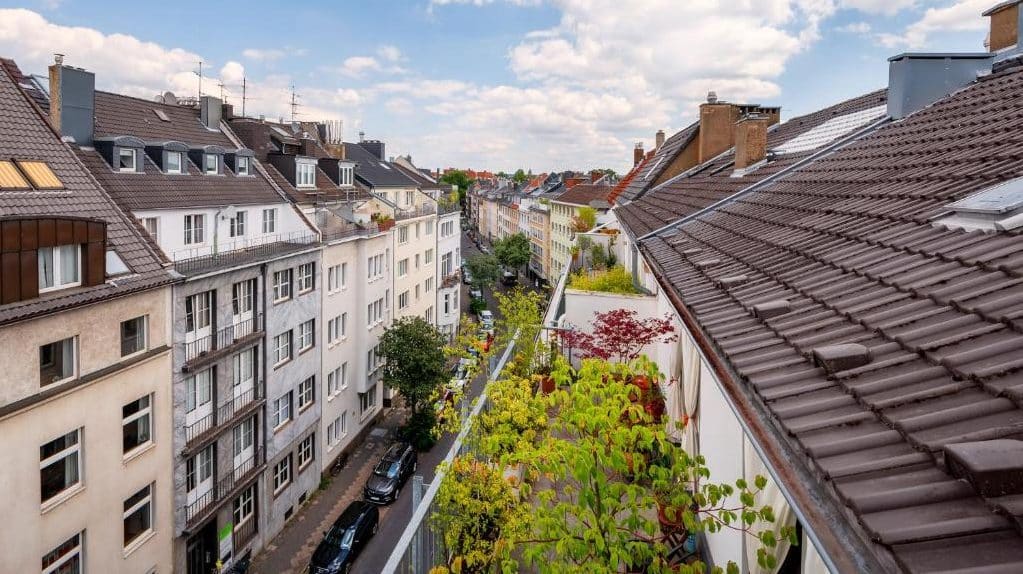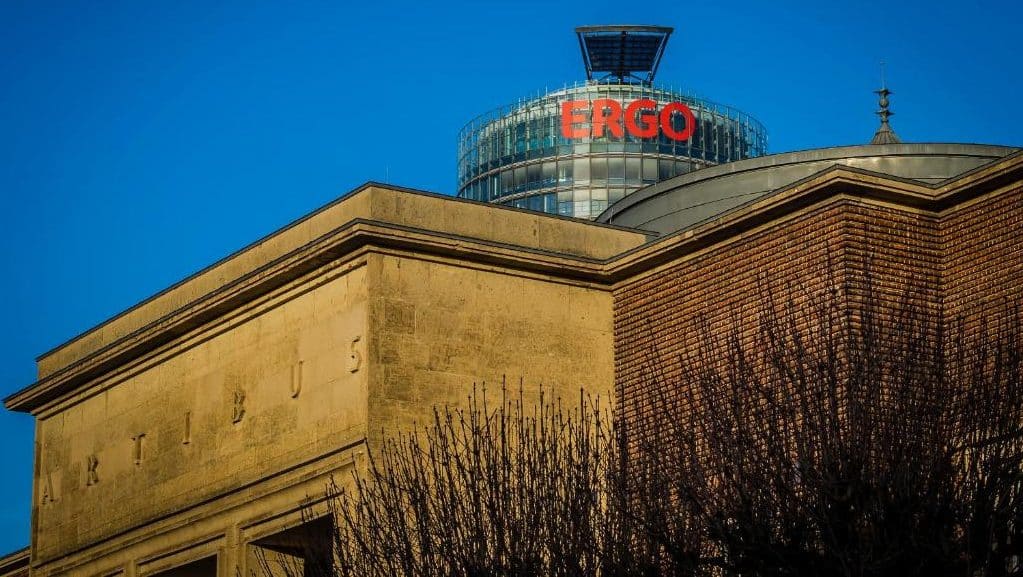 Home to some of Düsseldorfs main museums, Pempelfort is the best location in Düsseldorf for travellers interested in art & culture.
Why is this the best area to stay in Düsseldorf, Germany:

Relatively central location
Museum Kunstpalast Düsseldorf
Lots of cultural attractions
Connected by public transport
Mid-range & boutique hotels
Düsseldorf-Pempelfort is a charming neighbourhood situated north of Düsseldorf's Old Town and Stadtmitte.
It's known for its vibrant atmosphere, quaint cobblestone streets, and eclectic mix of shops, cafes and bars. The area is also home to many museums and historical attractions, such as the Goethe Museum, the Theatermuseum and the NRW Forum.
But perhaps most importantly, Pempelfort is also the site of Museum Kunstpalast. Düsseldorf's most important art institution, the Kunstpalast, is a great place to start a cultural exploration of the city. It displays art from the 14th century to the present day, ranging from European masters to modern contemporary works, including the likes of Andy Warhol, Jackson Pollock, and Cy Twombly.
Nordstrasse is the beating heart of the quarter. This central street boasts a wide range of organic shops, bookshops, antique stores, international eateries, pubs, and cafes.
When it comes to transportation, the neighbourhood is served by several bus lines and trams, as well as two underground train stations, Nordstrasse and Victoriaplatz. Additionally, S-Bahn station Düsseldorf Zoo is within walking distance.
Best Hotels in Pempelfort
---
5. Oberbilk: Cheap Area to Stay in Düsseldorf
Located on the other side of the Main Train Station and home to the Volksgarten, Oberbilk is a quiet area packed with budget accommodation.
Why is this the best area to stay in Düsseldorf, Germany:

Quiet location
Volkspark
Hauptbahnhof
Connected by public transport
Cheapest area to stay in Düsseldorf city centre
The Oberbilk district of Düsseldorf is located in the southeast of the city, on the east side of the Hauptbahnhof and is easily accessible by public transportation.
The area's main attraction is Volkspark, a large public park and a popular destination for locals and tourists alike. It features a variety of attractions and activities, such as a lake, a playground, a mini-golf course, and a petting zoo. Volkspark Düsseldorf also hosts various events throughout the year, such as music festivals, sporting events, and cultural activities.
The S-Bahn and U-Bahn systems connect this district to the rest of the city.
Best Hotels in Oberbilk
---
6. Düsseldorf International Airport: Best Location for a Stopover in Düsseldorf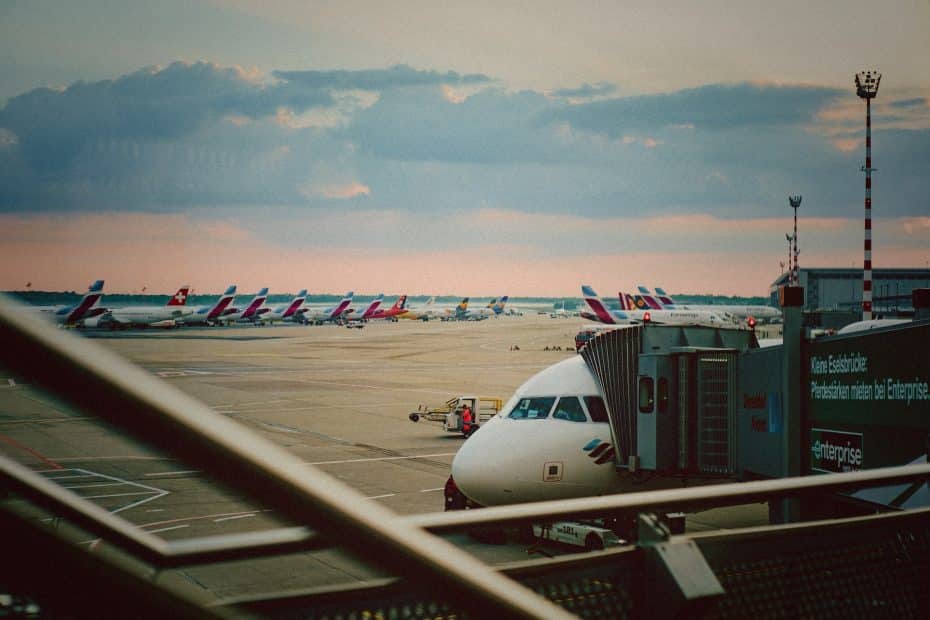 Düsseldorf International Airport (DUS) is located north of the city centre. It is the third busiest airport in Germany. The primary airlines that operate out of Düsseldorf Airport include Lufthansa, Easyjet and Eurowings.
Flughafen Düsseldorf has 186 direct destinations to five continents and operates more than 700 daily takeoffs and landings.
Getting to the airport is easy. There are several public transport options, including S-Bahn trains, buses, and taxis. The airport is well connected to the city, making it easy to get to the airport from the city centre.
Staying near Düsseldorf Airport can be convenient when travelling on business or during a stopover in the German city. Several hotel chains have properties in and around the airport.
Best Hotels near Düsseldorf Airport
---
Share on Pinterest
---
Read this post in other languages:
|ES| Dónde dormir en Düsseldorf: Mejores zonas y hotels.
---