Whether you're visiting Madrid for a weekend or on vacation, Spain's capital will surely captivate you with its renowned museums, food, and nightlife. But there are things you should know to embrace the Madrileño way of life that makes the city so unique. In this post, we'll provide 10 essential tips to prepare you for an unforgettable first trip to Madrid.
What You Need to Know Before Your First Trip to Madrid
1. When to Visit Madrid
The best seasons for a first trip to Madrid are spring and autumn (fall). In particular, May and October are ideal, with mild temperatures and fewer tourists than peak seasons. During these months, the average temperatures are between 16°C to 22°C (60°F to 72°F). Hence, you'll be able to explore the city's attractions comfortably.
Meanwhile, you may want to avoid July and August due to scorching temperatures, which often exceed 30°C (86°F). Furthermore, many residents leave the city during these months, reducing opportunities for genuine local interactions. People living in Madre tend to go to any place with a beach during the summer. On the other hand, there'll be fewer queues and crowds in places like the Prado Museum and less crowds. So, these months do have a good side.
---
---
2. General budget for a First Trip to Madrid, Spain
Making a budget for a first trip to Madrid involves looking at the average costs of accommodations, dining, and transportation. In Madrid, hotel prices change drastically depending on the location and quality. The average price for a three-star hotel in the central neighborhoods is between €60-€100 per night. Meanwhile, a higher-end four or five-star hotel may cost between €100-€300 per night.
Now, let's talk transportation. A single metro ticket starts at €1.50, while a ten-trip pass costs about €12.20. Taxis have an initial meter charge of €2.40 and price increase based on distance. You can get a one-day unlimited metro card for €8.40 to visit multiple locations throughout the day. This type of card will save you some money in the long run.
In terms of food, Madrid offers a wide selection of Spanish cuisine at different prices. A typical breakfast might consist of coffee and a pastry, costing around €3-€5 per person. Lunch can range from Spanish sandwiches (bocadillos) at €2-4 or traditional tapas at €1-€6 per item on average. A more elaborate evening meal can cost between €15-€35 per person, depending on the restaurant's rank.
---
---
3. How to Get to the Center of Madrid From the Adolfo Suarez Madrid-Barajas Airport
The Adolfo Suarez Madrid-Barajas Airport is approximately 13 kilometers (8 miles) from Madrid's city center. You can reach the central districts by metro, taxi, or bus from the airport.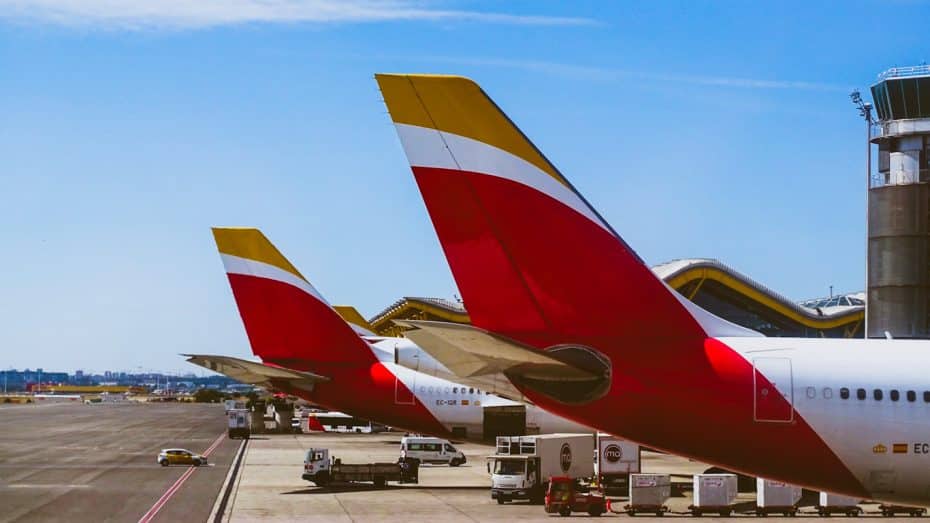 The Madrid Metro Line 8 connects the airport to Nuevos Ministerios station in the centro. A one-way trip takes about 20 minutes and costs €4.5-5, which includes a €3 airport supplement fee. You can get the tickets at machines located in the metro station.
There are designated taxi stands with queues outside the airport's terminals. Official Madrid taxis are white with a red stripe and have meters inside to charge passengers based on distance traveled. According to Madrid city regulations, a flat fare of €30 applies for trips between the airport and the city center. No additional supplements or charges are required for luggage or other passengers.
Uber and other ride-hailing services operate at the airport as well. Prices may vary depending on demand but are usually similar to taxi fares.
You could also book a transfer from Madrid airport to your hotel to avoid waiting or queues.
The Express Bus Service line 203 is another way to travel from the airport to Madrid's center. This bus runs 24 hours a day and stops at all terminals before reaching its destination at Atocha train station. The fare is €5 per passenger, and tickets can be bought from the bus driver upon boarding. The bus makes it to Atocha in approximately 40 minutes.
---
4. Public Transportation System in Madrid
The public transportation system in Madrid is comprehensive and efficient. This system includes the metro, trains connecting to neighboring cities, buses, taxis, and Uber services.
The Madrid Metro was opened on October 17, 1919, and inaugurated by King Alfonso XIII. It has since evolved into one of the world's most extensive metro systems. The metro has 12 lines covering 293 kilometers and getting to the city's main attractions.
Meanwhile, the Cercanías trains are operated by Renfe and form a crucial part of Madrid's public transportation network. Ten lines (C-1 to C-10) connect the city to adjacent municipalities and suburban areas.
On the other hand, the bus network has around 200 routes within the city limits. These buses frequently connect areas underserved by rail-based transportation systems. In addition to standard bus services, EMT, the bus company, has nocturnal bus routes called 'Búhos' (owls).
You can also count on taxis and Uber or other apps to get around in Madrid like any major city.
Likewise, Madrid is a very pedestrian-friendly city. And, with most attractions in the central area, you may walk a lot during your stay.
---
5. Things to Visit On a First Trip to Madrid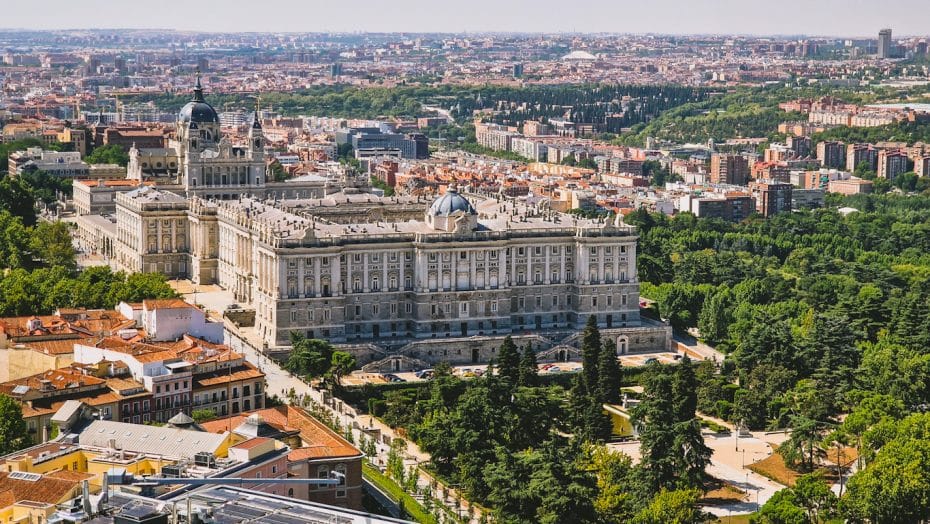 The Palacio Real de Madrid (Royal Palace of Madrid) is an important historical site and popular attraction. It is located in the western part of the city center, near the Manzanares River and the Almudena Cathedral. The palace is easily accessible via public transportation, specifically through the Ópera metro station, served by lines 2 and 5.
The palace was built between 1738 and 1755. This building has a Baroque style and is on the site of a former Moorish fortress. Over time, it has been used for various purposes, including hosting royal events, coronations, weddings, court meetings, and concerts.
The Royal Palace spans an area of 135,000 square meters with more than 3,000 rooms inside. It is currently open to the public for guided tours during specific hours. The general admission fee for the palace is €13 per adult (including a self-guided tour with audio).
This palace became an official residence in 1766 and continues to serve for ceremonial purposes. Nowadays, King Felipe VI resides in the Zarzuela Palace on the outskirts of Madrid.
El Retiro Park, officially named Parque del Buen Retiro, is a large public park in Madrid's center. This beautiful park covers an area of 125 hectares and is to the east of the central district. El Retiro is near Atocha Railway Station. The park can be easily reached using public transportation, like line 2 of the metro.
El Retiro Park is home to several landmarks. One is the Estanque Grande del Retiro, a large artificial pond at the park's center. This pond is one of Madrid's more recognizable places.
The Crystal Palace (Palacio de Cristal) is an impressive glass and iron structure built in 1887. This greenhouse, built by architect Ricardo Velázquez Bosco, initially housed exotic plants from the Philippines. It now hosts contemporary art exhibitions under the auspices of the Reina Sofia Museum.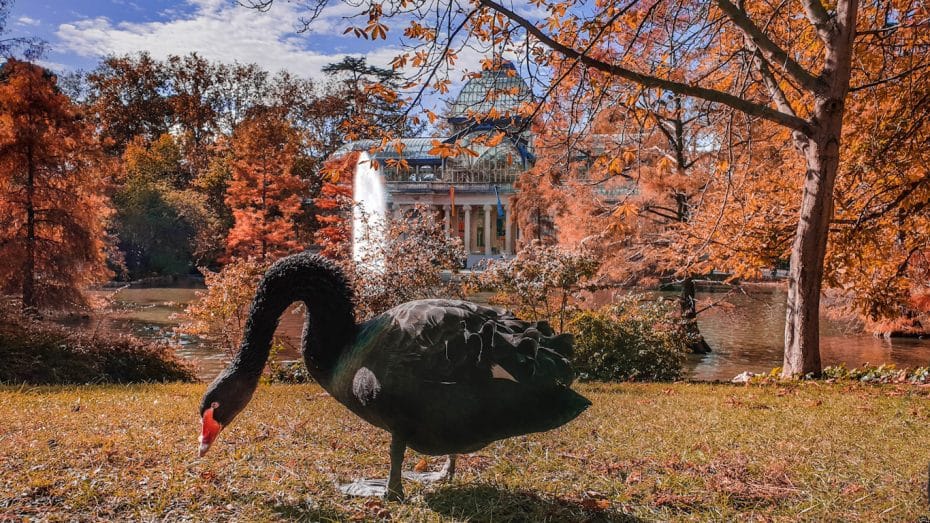 El Retiro is a must-see for a first trip to Madrid. But you may find yourself revisiting this stunning park whenever you return to the city. There are also terraces where you can have a beer under the sun or a coffee under the shade.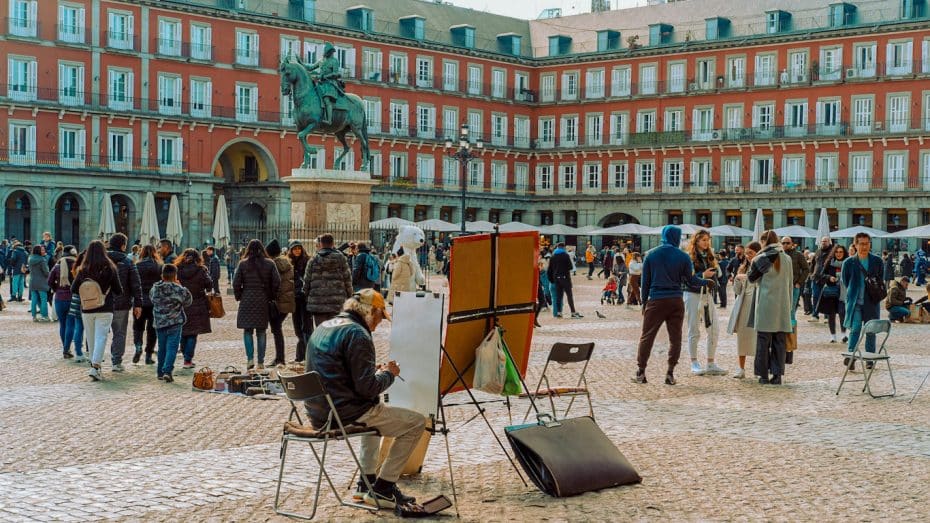 Madrid's Plaza Mayor is an impressive square in the heart of Madrid. This plaza is from the 17th century and has undergone several reconstructions because of fires.
Since its inception, Plaza Mayor has had different uses. The square hosted markets, bullfights, and public executions during the Spanish Inquisition. But, over time, the plaza became a social hub. It features nine arched entrances and is surrounded by notable buildings.
Plaza Mayor is located in Madrid's city center, southwest of Puerta del Sol, which is the geographical center of Madrid. To reach Plaza Mayor using public transportation, you can take lines 1 or 2 of the metro until Sol station. Alternatively, it is possible to access the square via Line 5, exiting at Opera Metro Station.
Gran Vía is an important street dating back to the early 20th century. This street's construction began in 1910, but it took a few phases until its completion in 1931. The original purpose of Gran Vía was to connect Calle de Alcalá with Plaza de España. This plan would establish a significant east-west thoroughfare within Madrid.
This street stands out for the remarkable architectural styles of its buildings, including Beaux-Arts and Art Deco. The street, which translates to Broad Way, hosts prominent theatres, including Teatro Lope de Vega, Teatro Rialto, and Teatro Calderón. These famous venues present theatrical productions and musical events throughout the entire year. So, in this sense, it is very similar to THE Broadway in New York City.
Additionally, several rooftops in Gran Via provide exceptional views of Madrid. Hence, this is an area you will see in your first trip to Madrid. Also, all roads seem to lead to Gran Via, so you may end up on this street more than once.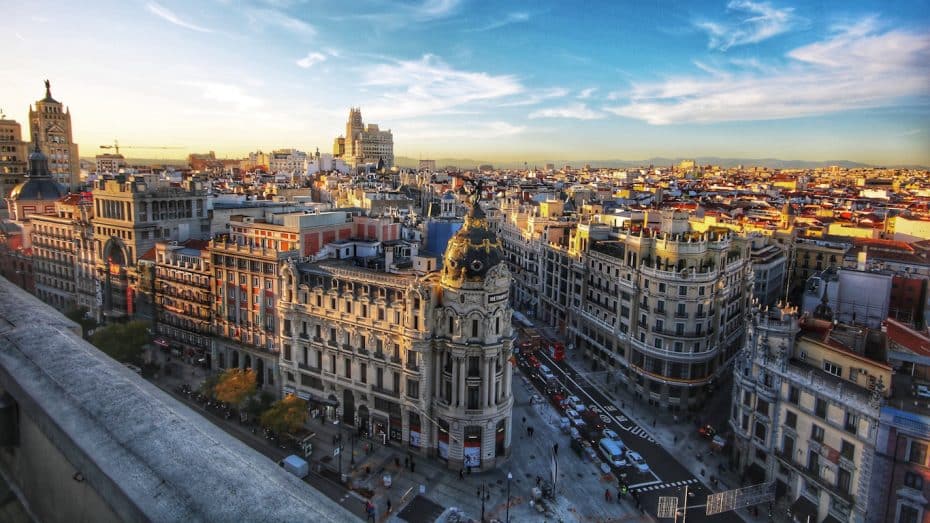 ---
6. Madrid's Art Scene
Madrid's Art Scene revolves around three significant museums, together known as the Triangle of Art. These are the Prado Museum, Reina Sofia Museum, and Thyssen-Bornemisza Museum. They are close to one another in the city center, forming a triangular shape on the map.
The Prado Museum, officially established in 1819, is in the eastern part of central Madrid. It hosts a vast collection of European art from the 12th to the early 20th centuries. Some artists featured include Francisco Goya, Diego Velázquez, and Hieronymus Bosch. This museum is among the most important worldwide.
Reina Sofia Museum opened in 1992. The museum's collection primarily focuses on Spanish art from the late 19th to mid-20th centuries. It houses works by renowned artists such as Pablo Picasso and Salvador Dalí. The museum's most famous artwork is Picasso's "Guernica."
Finally, the Thyssen-Bornemisza features a collection of art spanning eight centuries. This museum showcases art from the late Middle Ages to modern-day works from Roy Lichtenstein and David Hockney. The museum owes its establishment to Baron Hans Heinrich Thyssen-Bornemisza, who donated his private collection for public display.
---
---
6. What to Eat on a First Trip to Madrid
Madrid is home to some must-try local dishes rooted in the region's history and traditions.
One notable dish is Cocido Madrileño, a hearty stew consisting primarily of chickpeas, meat, and vegetables. Originating in the Middle Ages, Cocido Madrileño was born from the necessity of using leftover ingredients from previous meals.
Another typical Madrid dish is Bocadillo (or bocata) de Calamares, a squid sandwich considered an emblematic fast food meal in the city. This recipe includes lightly battered calamari rings, fried until crispy and served in a thick baguette slice. And how does a calamari sandwich become a signature dish in a city with no nearby sea? Most of the freshest seafood from other Spanish regions travels to the capital immediately. Add the need for an affordable, fast-food meal and voilá! You got yourself an unexpected culinary representation.
Churros con Chocolate is an iconic Spanish snack you must try on your first time in Madrid. Churros are typical at breakfast tables or as a mid-morning treat during winter months. These elongated fried dough pastries are often accompanied by a mug of thick hot chocolate for dipping. San Ginés Chocolatería, in the city center, near Ópera metro station, has perfected the art of homemade churros since 1894. Hence, this shop is the place to go for a traditional Churros con Chocolate experience.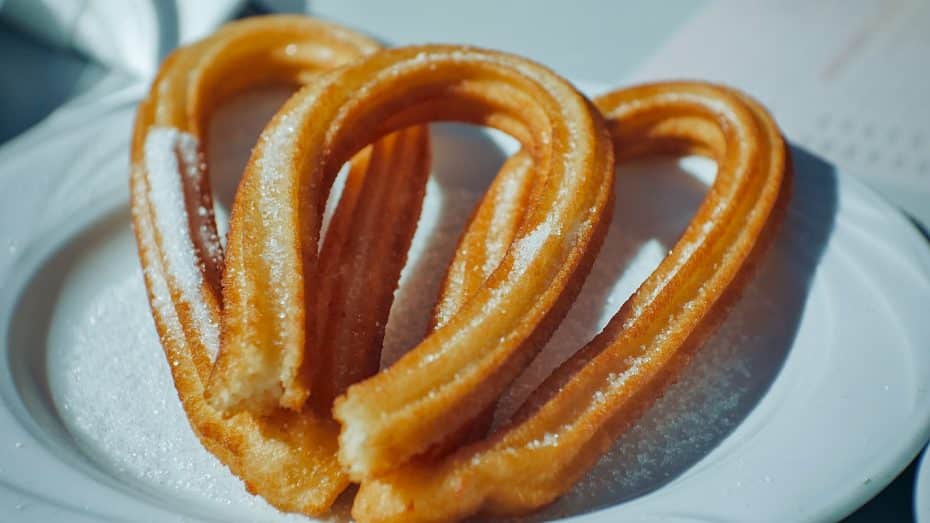 ---
7. Where to Stay During a First Visit to Madrid
Central Madrid, specifically the area around Gran Vía and Puerta del Sol, is the best location in Madrid for tourists. This area is close to key attractions, well-connected metro stations, and luxury hotels.
Some of our favorite accommodations in Madrid Centro are the Four Seasons Hotel Madrid, Palacio de los Duques Gran Meliá, and VP Plaza España Design. There are many hotels with views in Madrid too.
For more information on this topic, visit our guide with the best areas to stay in Madrid.
---
8. Where to Party in Madrid
One of the many reasons people should visit Madrid is its vibrant atmosphere and late-night schedule. The city has several areas with excellent nightlife, including Chueca, Malasaña, and La Latina.
Chueca is particularly famous for being the center of gay nightlife in Madrid. It hosts bars, clubs, and events dedicated to the LGBTQIA+ community. And, even though the parade is not in Chueca, many Pride events take place over several days in this neighborhood. There are also gay hotels in Chueca, like Room Mate Óscar Hotel.
Another great area for nightlife in Madrid is Malasaña, with bars, clubs, and small live music venues. This area has a more alternative vibe that attracts hipsters, bohemians, and rockers. As such, Malasaña is one of the coolest neighborhoods in Madrid.
Meanwhile, La Latina stands out for its tapas, bars, restaurants, and traditional Spanish establishments.
You can read more about the city party areas in our guide with the best locations in Madrid for nightlife.
---
9. Alternative Attractions in Madrid
There are lesser-known Madrid attractions that offer a different perspective on the city. These alternative options allow first-time visitors to delve into other aspects of the city while avoiding busy sites.
Matadero Madrid is one such attraction in the southern part of Madrid. This former slaughterhouse is now a cultural center that hosts art, theater, and film events.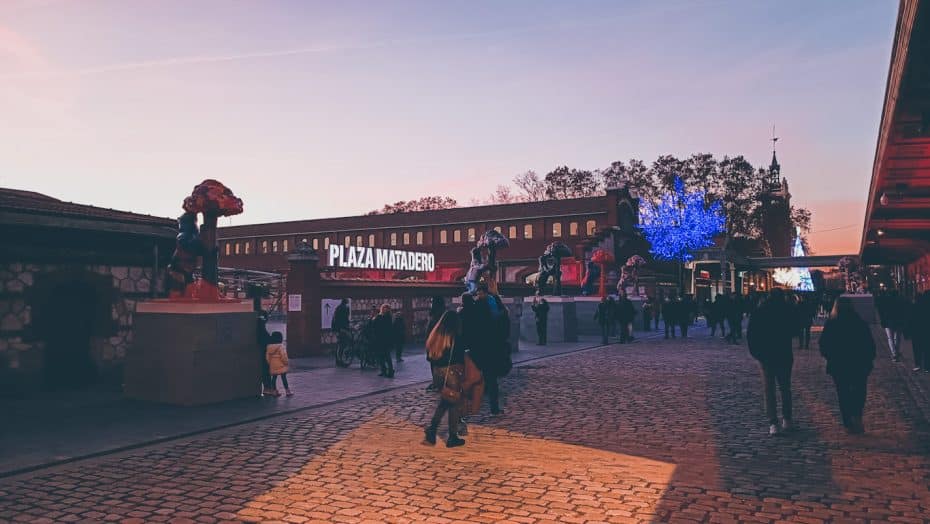 Another option is exploring the Madrid Río area, which occupies 10 kilometers along the Manzanares River. This urban park was developed as a recreational space for residents when the M-30 highway was rerouted underground. Madrid Río features an array of pedestrian and bicycle paths, playgrounds, theaters, and cafés.
Further away from the city center, El Capricho Park is a third alternative. This park is in the Alameda de Osuna neighborhood of northeastern Madrid. Established in 1787 by the Duchess of Osuna, this 14-hectare park showcases beautiful English, French, and Italian gardens.
Other attractions in Madrid are the Casa de Campo park and Templo de Debod. The latter is the best free viewpoint in the center of Madrid. Likewise, there's also an abandoned metro station turned into a museum.
---
10. Day Trips from Madrid
Madrid is an excellent starting point to explore nearby cities. The best day trips from Madrid include visits to Segovia and Toledo.
Segovia, about 91 kilometers (56 miles) north of Madrid, has some incredible landmarks. In this city, you can visit a Roman aqueduct, the Alcázar of Segovia, and the Cathedral of Segovia. The Roman aqueduct, dating back to the 1st century AD, exemplifies ancient Roman engineering prowess. This huge construction will likely leave you in awe.
Public transportation options to reach Segovia consist of bus or train services. The high-speed train allows travelers to reach their destination within 30 minutes from Madrid's Chamartín station.
Toledo, approximately 72 kilometers (45 miles) south of Madrid, represents another culturally significant city in Spain's history. Toledo was the country's capital until 1561 under various ruling powers, including Visigoths and Moors. It retains a noteworthy collection of historic buildings, such as the Alcázar of Toledo and a synagogue. These structures have different architectural styles ranging from Gothic to Mudéjar.
Public transportation options to reach Toledo include both bus and train services. Train travel from Madrid's Atocha railway station usually takes 30 minutes with high-speed train services (AVE). Meanwhile, buses may take one hour to complete their journey, with departures available from Madrid's Plaza Elíptica bus station.