Tokyo, the bustling capital of Japan, is a dazzling metropolis that seamlessly blends ancient history with cutting-edge modernity. Known for its vibrant culture, world-class dining, and awe-inspiring skyline, this dynamic city delights visitors with its colorful neighborhoods, unique shopping experiences, and stunning architecture. With endless attractions and experiences to offer, it's no wonder Tokyo is consistently ranked among the top must-visit destinations in the world. If you're looking for the best areas to stay in Tokyo, you have come to the right place!
---
As a thriving global hub for commerce and tourism, Tokyo boasts an impressive variety of attractions catering to leisure and business travelers. Attractions range from historical landmarks such as the Imperial Palace and Asakusa's Sensoji Temple to contemporary marvels like the Skytree Tower, Shibuya Crossing, and countless sights and activities. And with a diverse hotel industry ranging from the most luxurious properties to budget-friendly capsule hotels, finding the perfect accommodation to suit your needs and preferences is a breeze.
Tokyo's dynamic atmosphere sets itself apart with elements like Harajuku's edgy street fashion scene and Shinjuku's vibrant nightlife. With each district offering its own unique charm and ambiance, there's always something new to discover around every corner.
So if you're planning a trip to this incredible city and want to know where to stay, keep reading as we lay out the best areas to stay in Tokyo.
Accommodation Options in Tokyo
---
The Best Areas to Stay in Kuala Lumpur: A Summary
If you're in a hurry, here's a summary of our recommended areas to stay in Tokyo. Keep reading to find out more about each district.
---
What's the Best Area to Stay in Tokyo?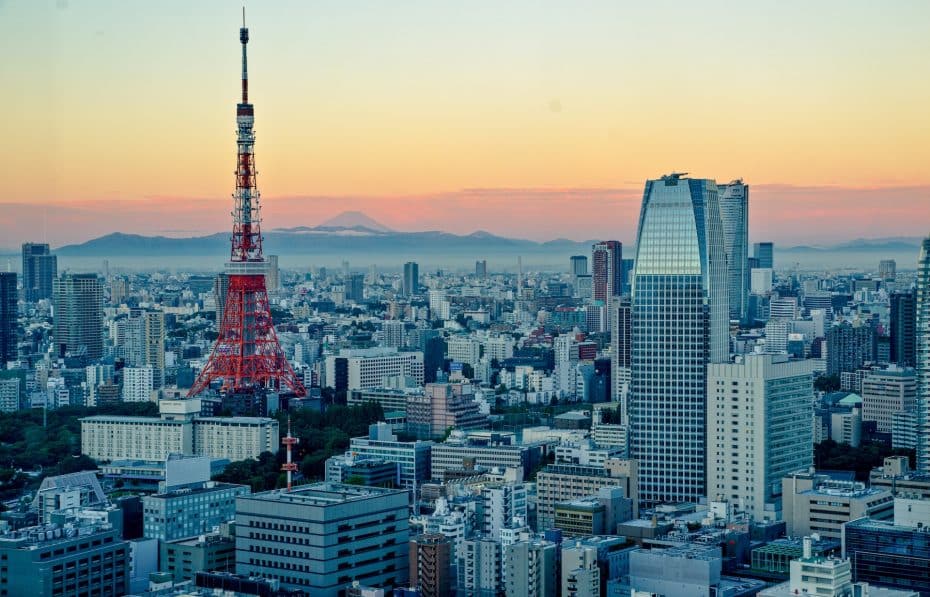 The best area to stay in Tokyo is its City Center, especially if you're a first-time traveler to the massive metropolis. This lively skyscraper-packed area includes several of the city's top tourist attractions, like the Shibuya Crossing, the Imperial Palace, and the Tokyo Tower. Central Tokyo is also exceptionally well-connected by public transport and is home to the best-rated hotels.
Find Available Accommodation in Central Tokyo.
Best Hotels in Central Tokyo
---
Where to Stay in Tokyo for Sightseeing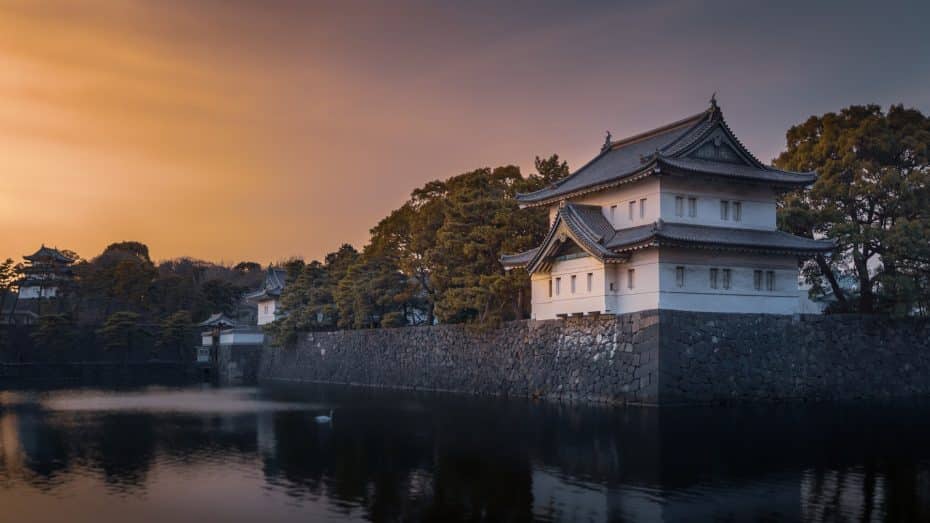 Tokyo is famously a massive, bustling metropolis with dozens of districts offering different experiences and attractions, as well as accommodations for different budgets. These are some of the most interesting areas for tourists in Tokyo:
---
The Best Areas for Tourists in Tokyo, Japan: Ward by Ward
---
1. Shinjuku: Best Location in Tokyo for Tourists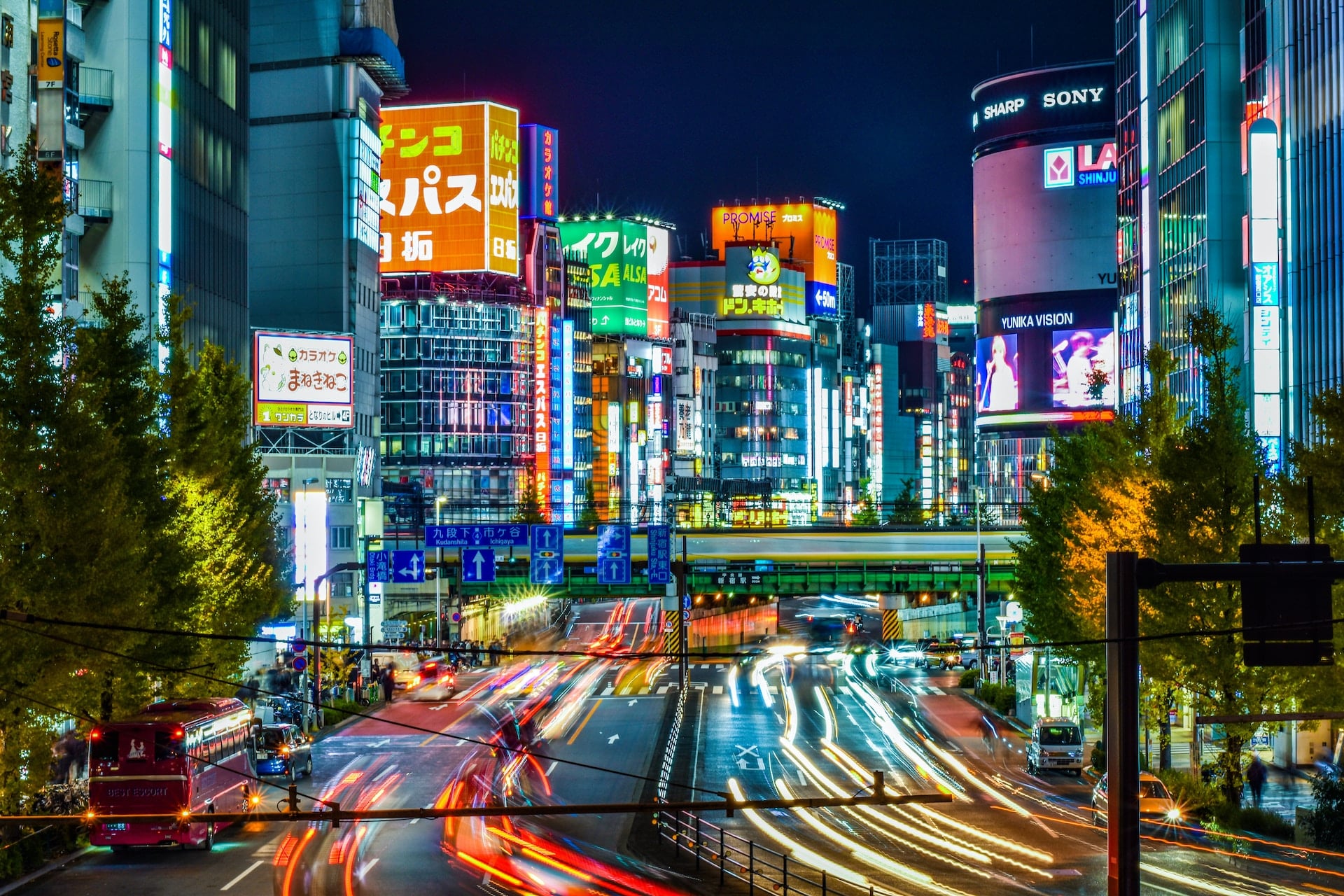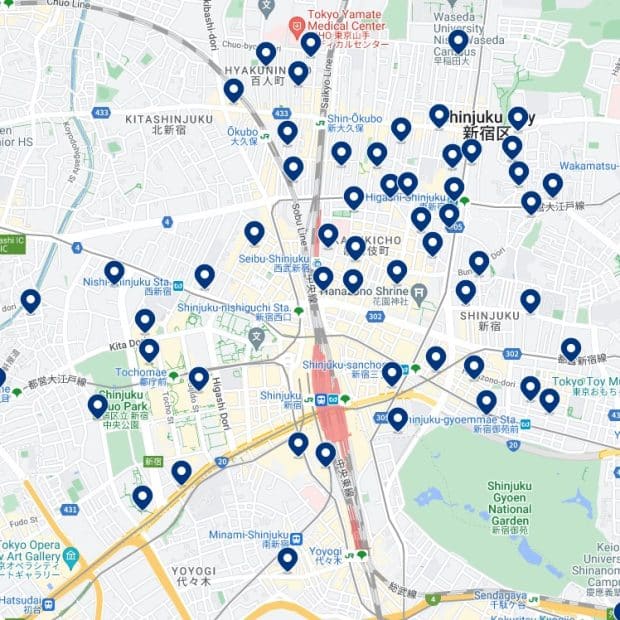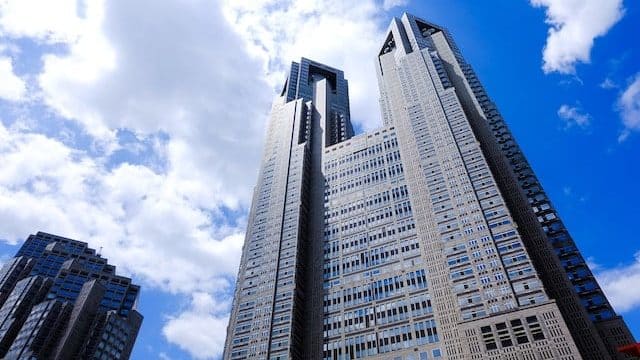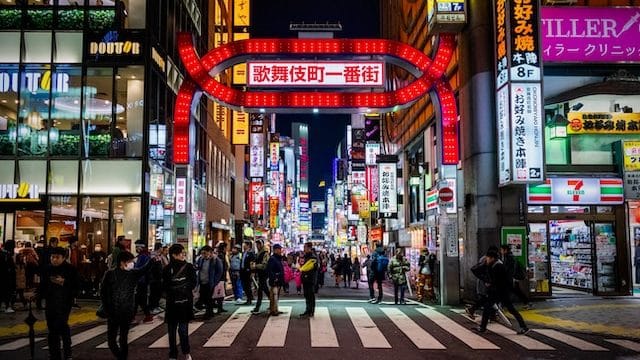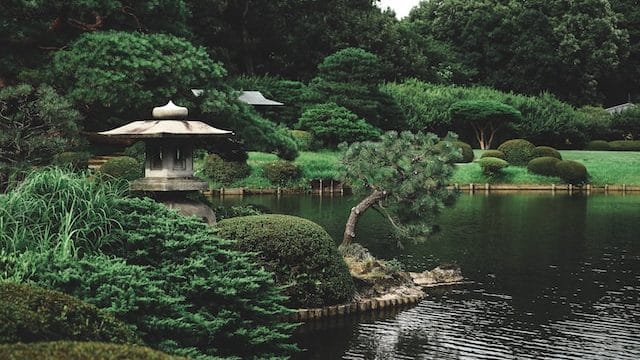 Shinjuku is located in the western part of central Tokyo and is known for its vibrant nightlife and shopping areas.
Why is this the best area to stay in Tokyo:

Convenience to move around
Shopping options
Excellent nightlife
Shinjuku Gyoen National Garden
Widest range of accommodation
Great restaurants
Proximity to other popular Tokyo neighborhoods
Excellent views
All kinds of accommodations
Well-connected by public transportation
Shinjuku Ward is one of the most popular and vibrant areas to stay in Tokyo.
This lively and fast-paced neighborhood is located in the heart of Tokyo. As one of the busiest railway stations in the world, Shinjuku offers convenient transportation connections to other parts of the city.
Some of the main attractions in Shinjuku include the Shinjuku Gyoen National Garden and the Tokyo Metropolitan Government Building, which has observation decks with panoramic city views.
Shinjuku is also known for its bustling nightlife, with numerous bars, clubs, and restaurants. The Kabukicho area is one of Japan's most popular entertainment districts and a must-visit spot for nightlife enthusiasts. Located in the eastern part of Shinjuku, Kabukicho is known for its bright neon lights, packed streets, and attractions such as the Robot Restaurant. Despite its reputation for being a bit seedy, Kabukicho is a safe area to stay, making it a fun and exciting destination to explore at night.
Tucked away in a narrow alleyway, the Golden Gai district has managed to hold onto its charm and is known for its small, intimate bars with dimly lit lanterns and quirky decor.
When it comes to getting around Shinjuku, the train station is the primary transportation hub in the area. Many lines converge upon Shinjuku, including the JR Yamanote Line and the Tokyo Metro Marunouchi Line.
If you're looking for a place to stay in Shinjuku, you'll have many options. There is something for everyone, from luxurious high-rise luxury properties to budget-friendly hostels and capsule hotels.
Best Hotels in Shinjuku, Tokyo
---
2. Shibuya: Best Location in Tokyo for Sightseeing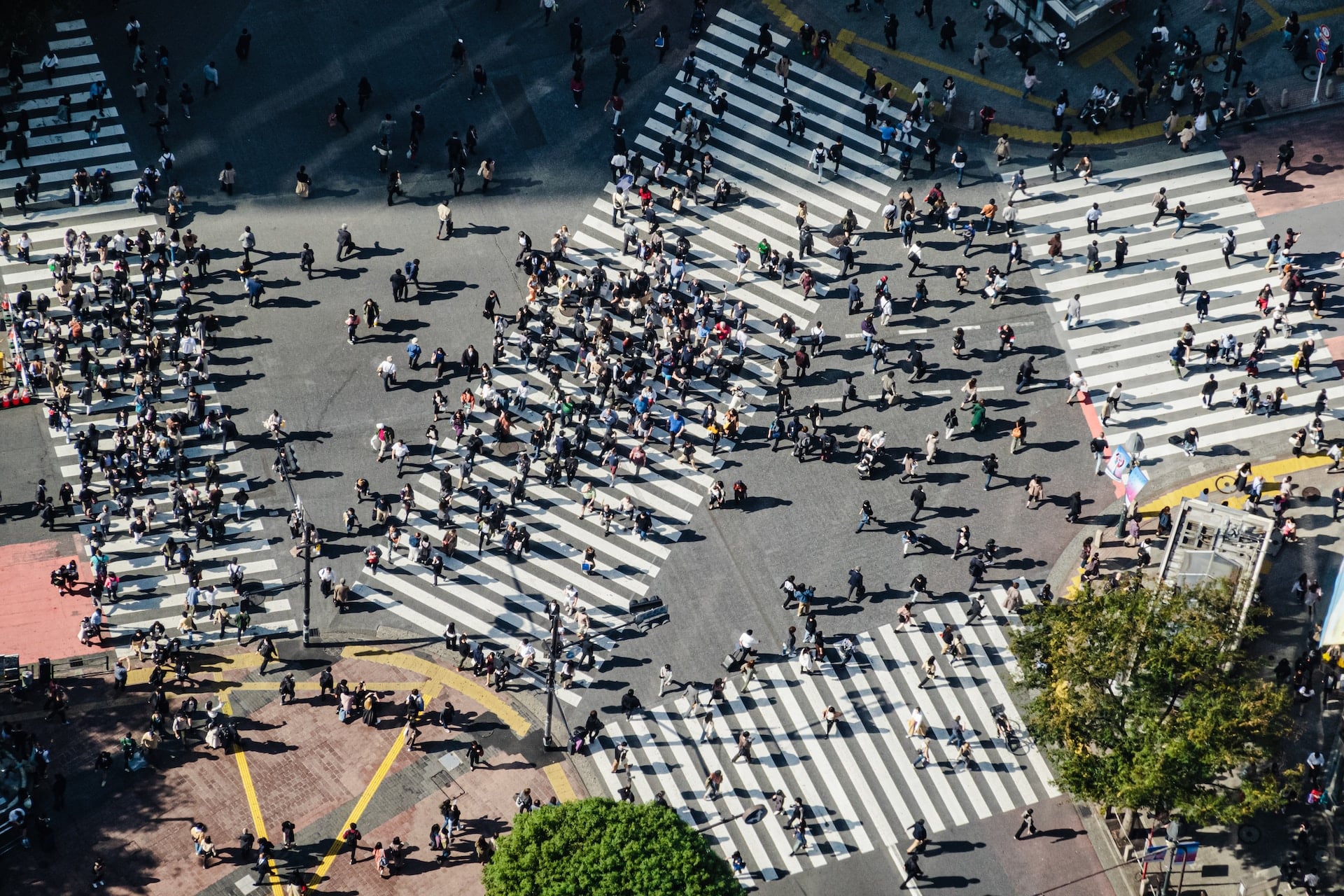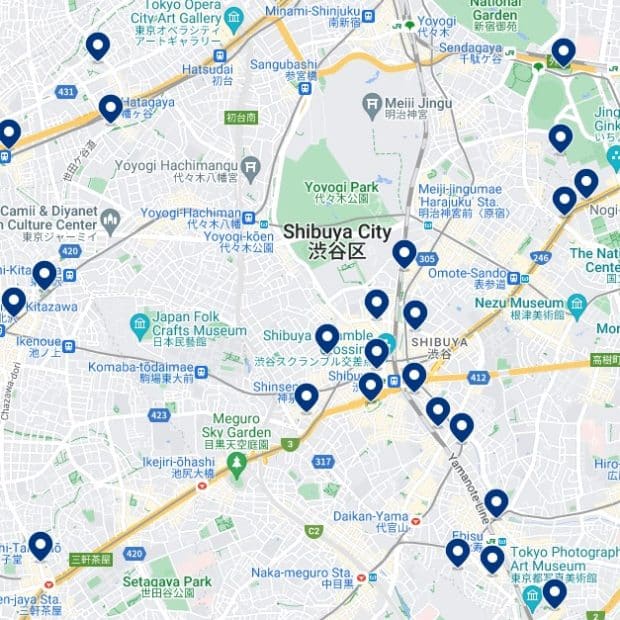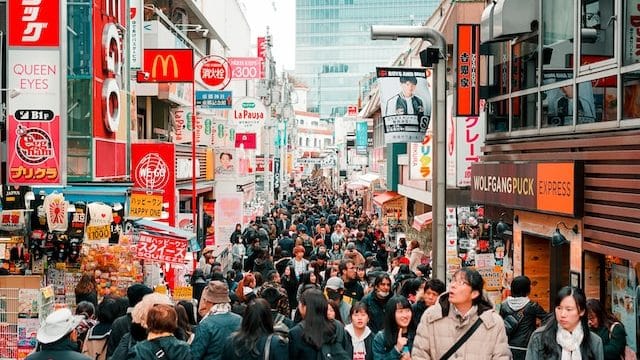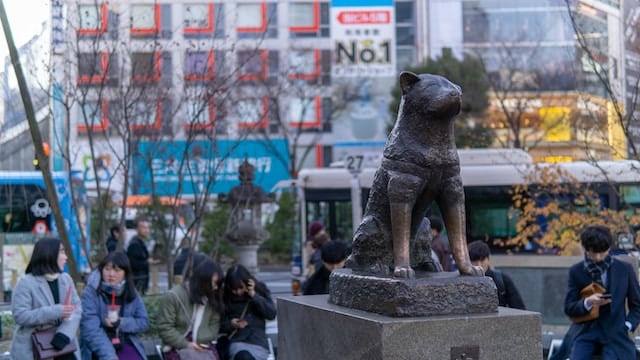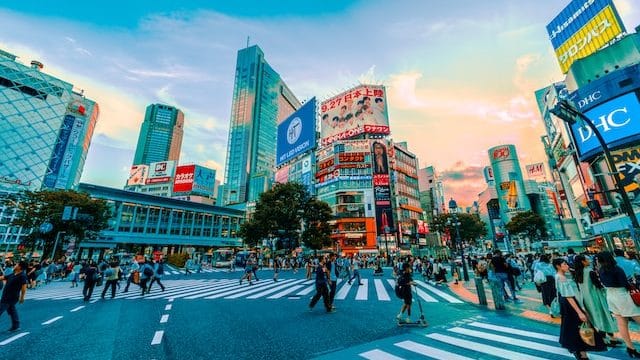 Famous for its iconic pedestrian crossing, Shibuya is one of Tokyo's most exciting areas.
Why is this the best area to stay in Tokyo:

Shibuya Crossing
Hachiko Statue
Excellent nightlife
Lots of restaurants
Variety of accommodation
Great local transport conections
Harajuku area
Fast-paced environment
Shopping areas
Shibuya Ward, located west of Tokyo's historic heart, is often regarded as one of the city's best areas to stay in. This area is centrally located and accessible by public transportation.
The most famous attraction in the district is Shibuya Crossing, a bustling pedestrian intersection regarded as a symbol of Tokyo's energy and dynamism. Nearby, Hachiko Statue pays homage to the loyal Akita dog that faithfully waited at Shibuya Station for his late master every day for nine years.
Shibuya's shopping opportunities are abundant, ranging from high-rise department stores such as Shibuya 109 and Tokyu Hands to indie boutiques in the trendy streets of Jingumae and Harajuku.
Takeshita Street in Harajuku is a must-visit area in Shibuya. It's a hub for Japanese youth culture that spawned globally recognized fashion trends such as kawaii style and lolita fashion.
For nature lovers, Yoyogi Park offers a serene place to relax while walking through beautiful gardens and visiting the idyllic Meiji Shrine nestled inside its vast grounds.
No journey to Shibuya would be complete without mentioning the dynamic nightlife scene it offers. The district comes alive at night with numerous izakayas (Japanese gastropubs), bars, and clubs.
Staying in Shibuya is convenient, thanks to Tokyo's extensive public transportation network. Several train lines, including JR's Yamanote Line and subway lines Hanzomon and Fukutoshin, pass through Shibuya Station.
Best Hotels in Shibuya, Tokyo
---
3. Chuo: Best Location in Tokyo for Upscale Shopping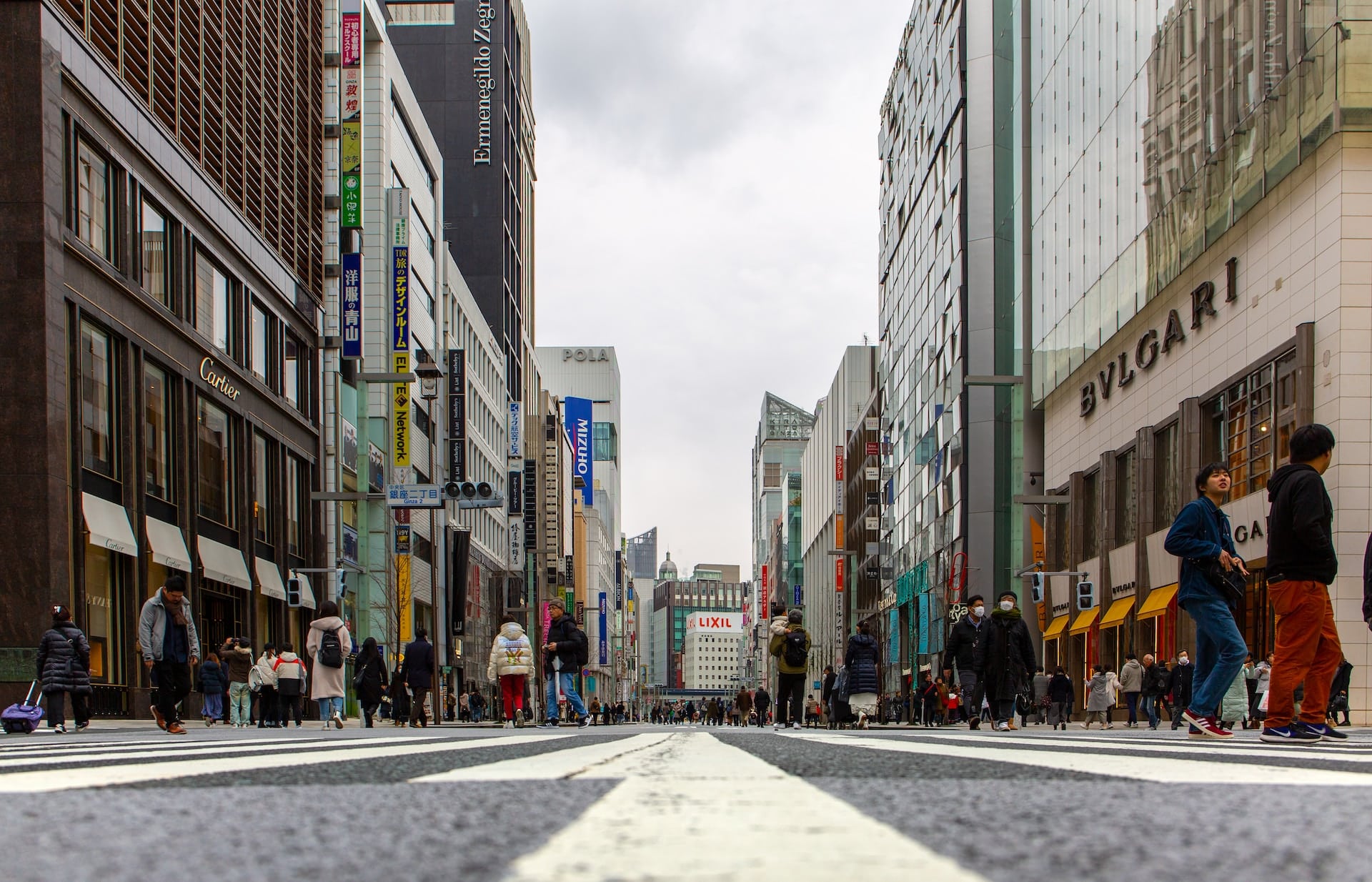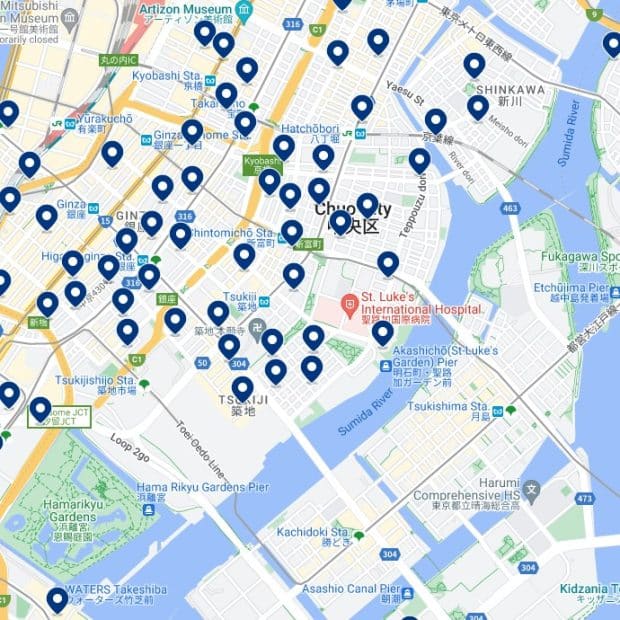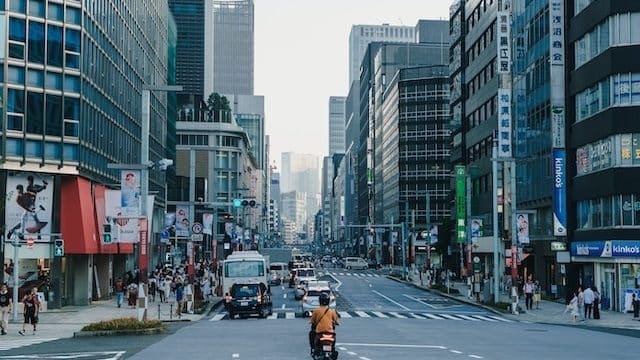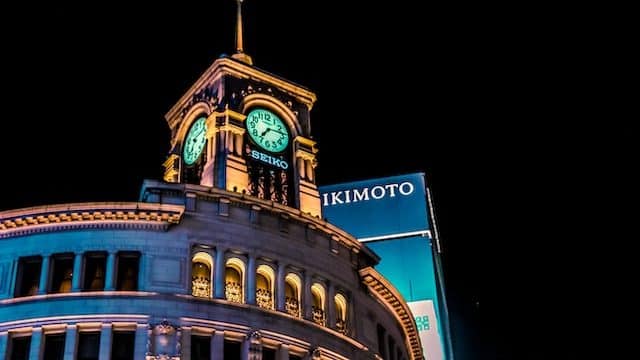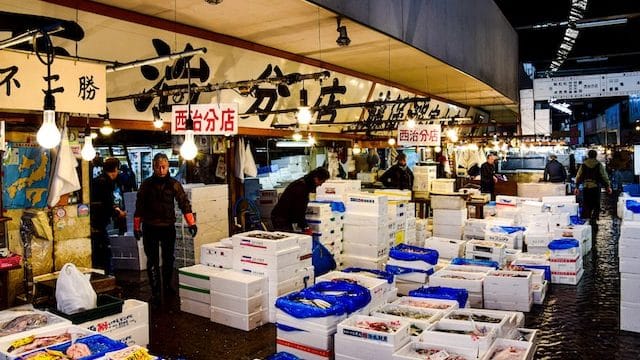 Known for its upscale luxury shops, Chuo City is one of the best areas to stay in Tokyo, Japan.
Why is this the best area to stay in Tokyo:

Best area for shopping
Ginza district
Luxury boutiques & designer stores
Upscale restaurants
Nihonbashi area
Good local transport conections
Tsukiji Fish Market
Luxury hotels
Very central location
Chuo Ward is undoubtedly one of the best places to stay in Tokyo. Nestled in the city's heart, it offers a perfect blend of history, modernity, bustling energy, and serenity.
Perhaps the most famous location in Chuo Ward is Ginza. Known as Tokyo's premier shopping district, Ginza is a must-see destination for many travelers because of its upscale fashion retailers, international boutiques, exclusive department stores, and vibrant atmosphere. Another notable neighborhood within Chuo Ward is Nihonbashi, where you can witness the origins of Japan's rich trading heritage and marvel at the historic bridges along the Sumida River.
Regarding main attractions, Chuo offers a collection of awe-inspiring places like the Tsukiji Fish Market. This popular attraction allows you to experience the local tuna auctions and trade and feast on fresh sushi from local vendors.
For history enthusiasts, Chuo Ward's uniqueness lies in its ability to encapsulate old-world charm and futuristic innovation seamlessly. You can wander through winding alleys with centuries-old shops showcasing traditional crafts in Ningyocho or marvel at modern architectural wonders around Ginza's high-rise buildings.
Getting around Chuo Ward and its surroundings is easy. With numerous train lines (such as JR East and Tokyo Metro), buses, and taxis at hand, you'll never find it challenging to navigate your way through the area. The most convenient subway stations in the area are Ginza Station and Nihombashi Station.
Accommodation options in Chuo City are as diverse as its attractions. Visitors can choose from various accommodations that suit their preferences and budgets.
Best Hotels in Chuo & Ginza, Tokyo
---
4. Taito: Best Location in Tokyo for Backpackers & Budget Travelers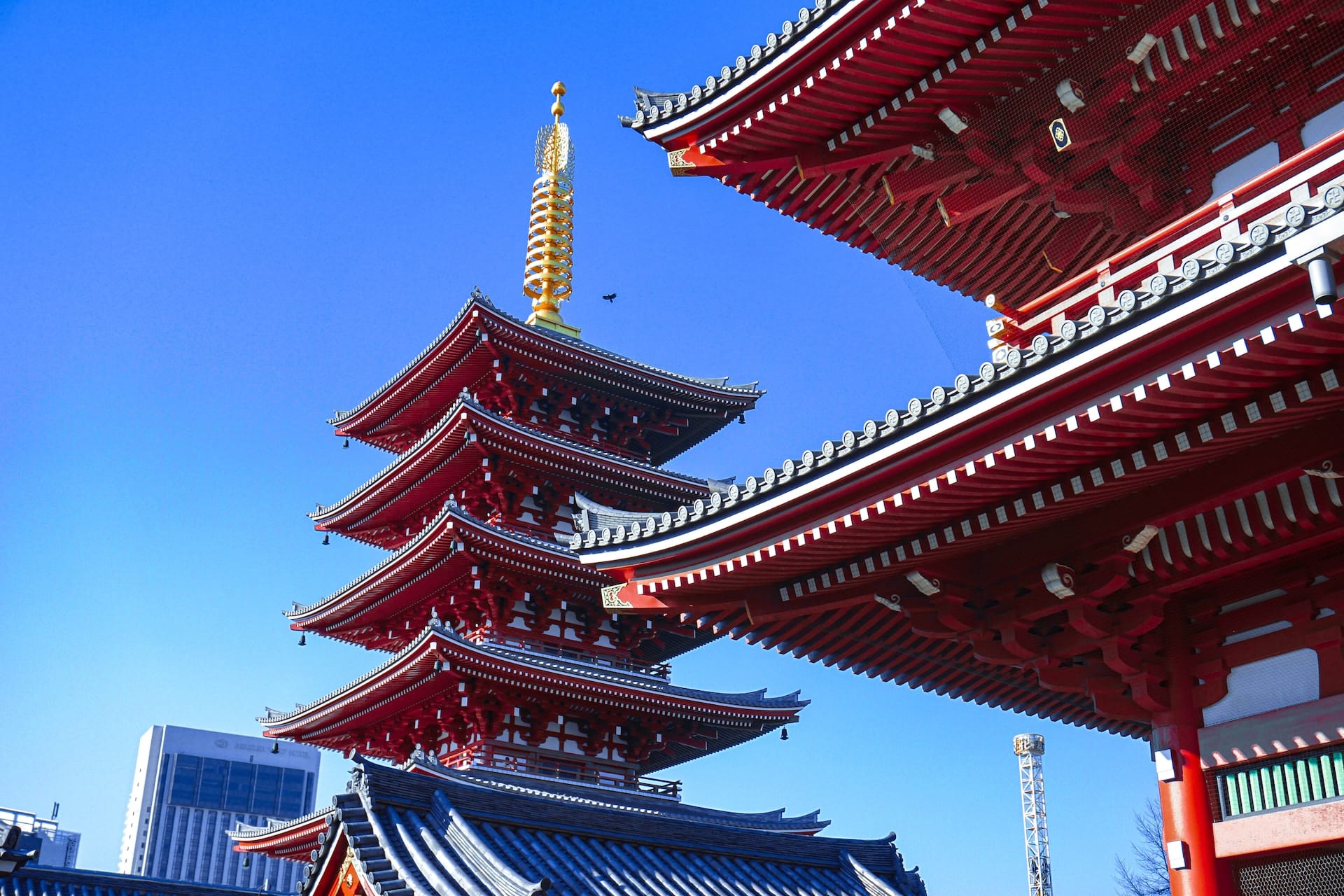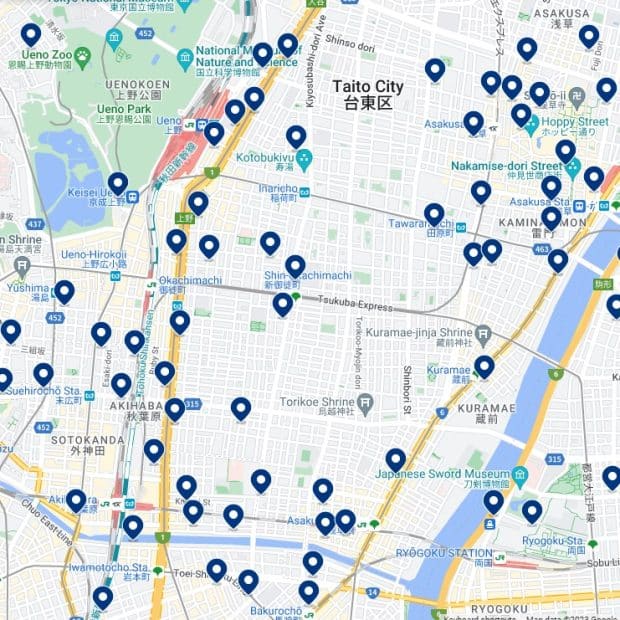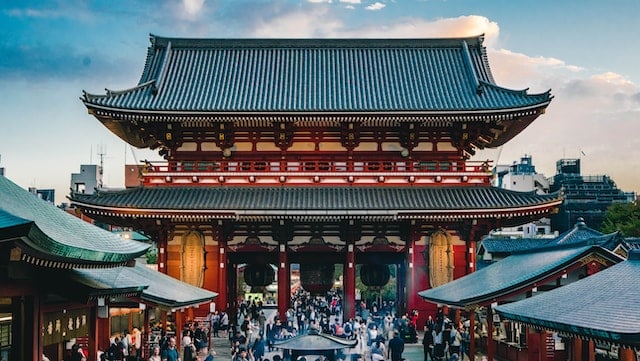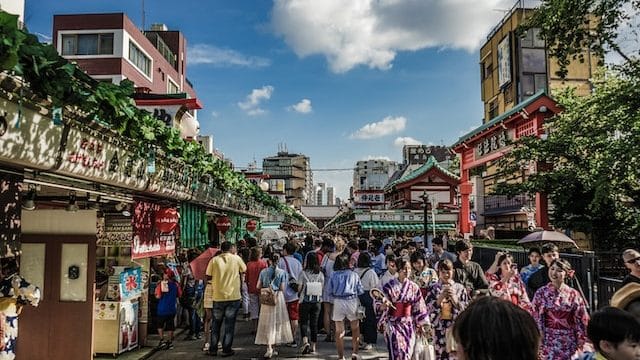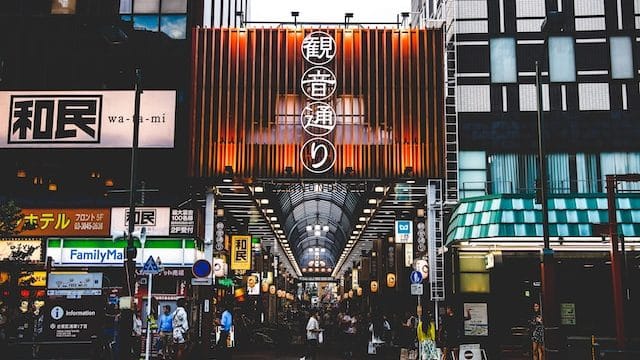 Taito Ward is home to some of Tokyo's most historic neighborhoods and attractions and a great area for first-time visitors to the metropolis.
Why is this the best area to stay in Tokyo:

Best area for backpackers
Central location
Asakusa Temple
Upscale restaurants
Nihonbashi area
Good local transport conections
Tsukiji Fish Market
Luxury hotels
Very central location
Taito City is regarded as one of the best areas to stay in Tokyo due to its central location, eclectic blend of modern and traditional attractions, and excellent transport connections.
Located east of the Sumida River and north of the Imperial Palace, Taito Ward is at the heart of Tokyo. This central district is divided into well-known neighborhoods, including Asakusa, Ueno, and Yanaka.
The main attraction in the area is Asakusa's Senso-ji Temple. This ancient Buddhist temple, built in the 7th century, is the oldest in the city and draws millions of visitors every year. Nearby is Nakamise Street, where tourists can shop for traditional Japanese souvenirs and enjoy local street foods.
Ueno Park is another must-visit area within Taito Ward. This large public park encompasses attractions such as serene ponds, beautiful cherry blossom trees, several museums—including the Tokyo National Museum—and Ueno Zoo.
Yanaka Ginza shopping street in the Yanaka district is a brilliant example of the distinctive character of Taito. Here, traditional wooden buildings housing artisan shops and local eateries serving authentic Japanese cuisine can be found.
Transportation in Taito Ward is convenient and easy, with several train lines connecting the area to the rest of Tokyo. The most commonly used lines are the JR Yamanote Line, which stops at Ueno and Okachimachi stations, and the Tokyo Metro Ginza Line, which stops at Asakusa and Ueno stations.
Staying in Taito offers first-time visitors a unique experience filled with iconic sights, vibrant local culture, and many suitable accommodation options for various budgets.
Best Hotels in Taito & Asakusa, Tokyo
---
5. Chiyoda: Best Location in Tokyo for Culture & History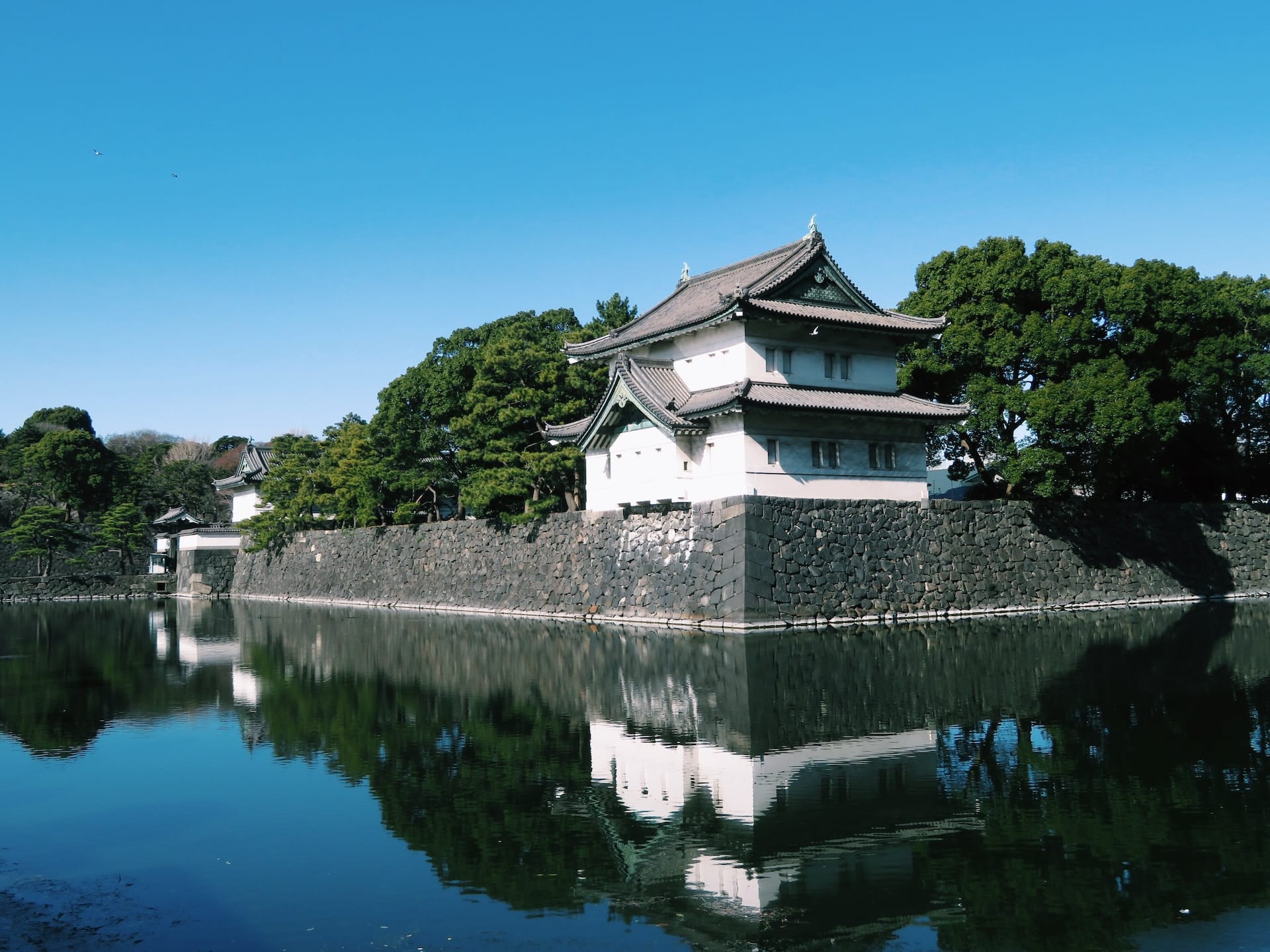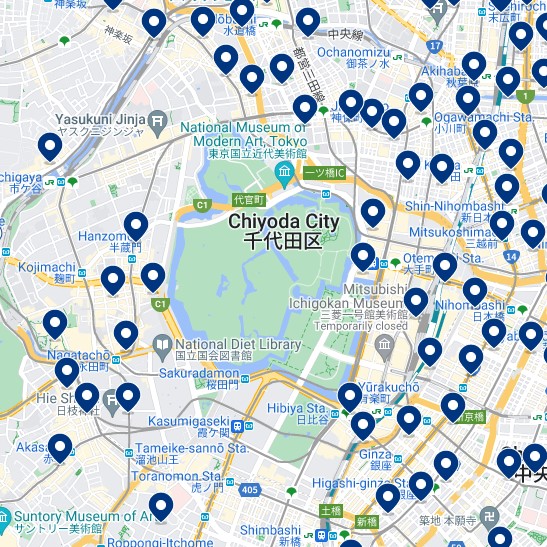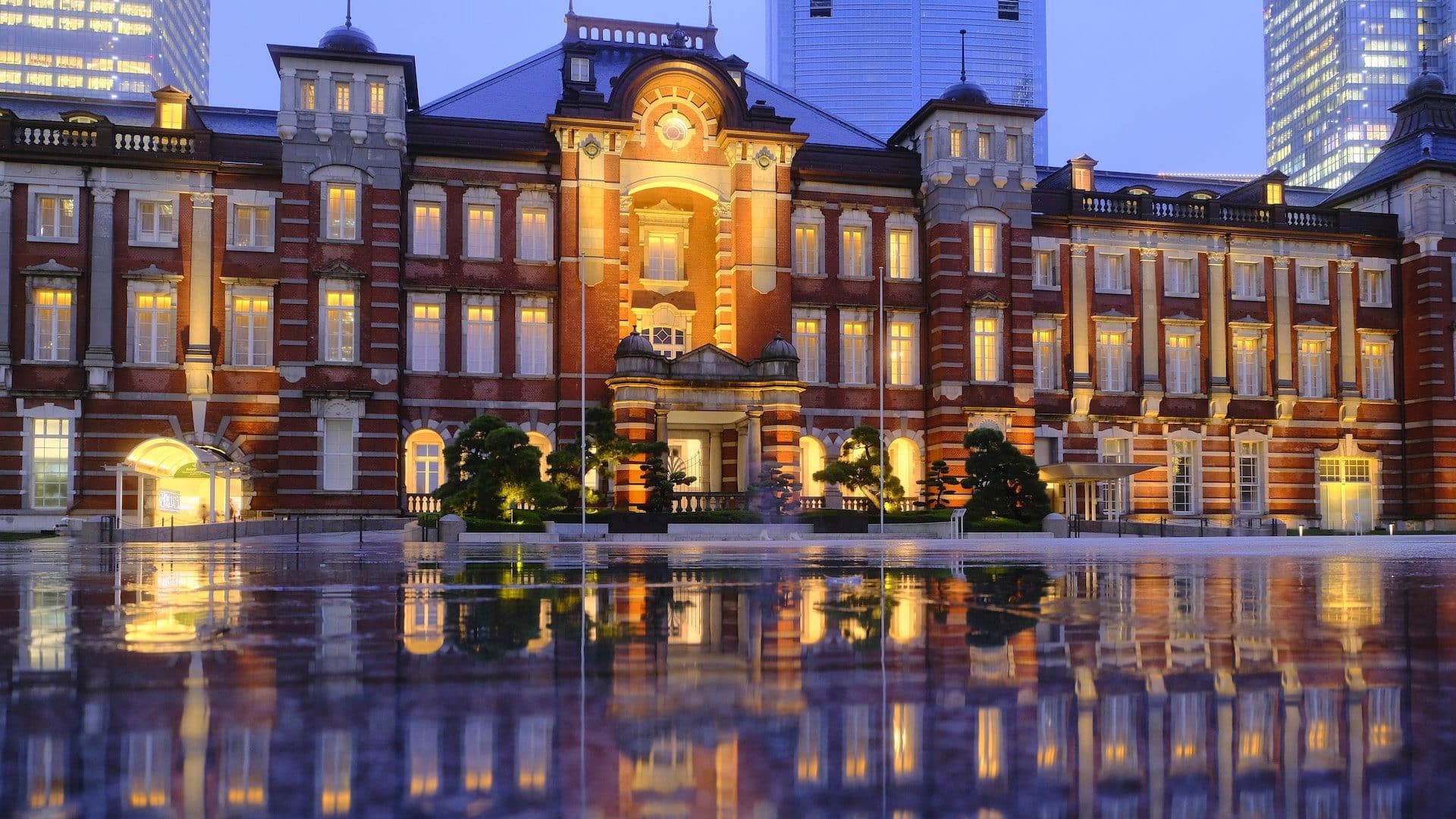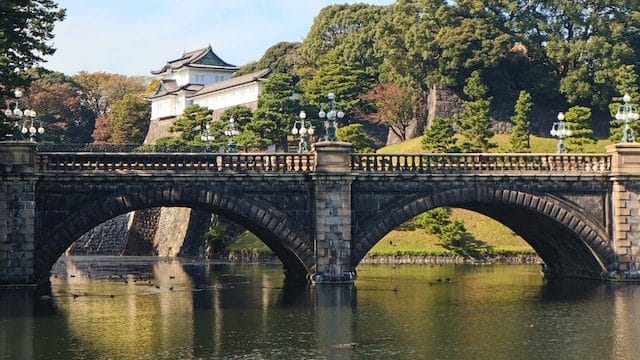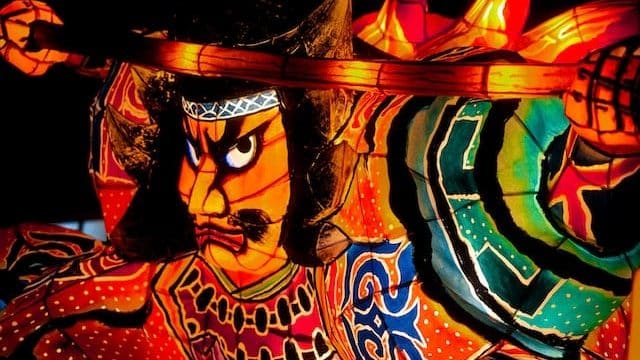 Located in central Tokyo, Chiyoda City is an essential destination for visitors interested in Japanese history, culture, and politics.
Why is this the best area to stay in Tokyo:

Best area for business travellers
Most central location in Tokyo
Imperial Palace
Upscale restaurants
Akihabara Electric Town
Best area for anime and manga fans
Luxury business hotels
Tokyo Station
Chiyoda Ward is perhaps the best area to stay in Tokyo for a first-time visit. It boasts a perfect combination of historical landmarks, modern marvels, and cultural experiences and is strategically located in the heart of Tokyo.
The area is surrounded by some of the city's premier business districts, including Shinbashi, Nihonbashi, and Marunouchi. This prime location makes it an ideal base for business travelers who also want to explore nearby attractions.
One of the main attractions in Chiyoda is the Imperial Palace, a large park-like area that includes the primary residence of Japan's Imperial Family. Surrounded by ancient moats and massive stone walls, this historic site offers a serene atmosphere amidst bustling city life. Here, you can walk along the palace's East Gardens or visit Kitanomaru Park, which houses the Nippon Budokan – a popular venue for sporting events and concerts.
Tokyo Station is a hub for transport in Tokyo and offers access to various train lines, including the bullet train. It is also a historic landmark, with the original building dating back to 1914. Recently renovated, Tokyo Station also offers excellent shopping and dining options, making it a worthy destination in its own right.
Another notable attraction in the ward is Akihabara Electric Town, famous for its vibrant streets filled with electronics retail stores, game centers, cafes, and hobby shops. As a mecca for fans of Japanese pop culture, Akihabara is most famous for selling anime merchandise and hosting countless cosplay events throughout the year.
The comprehensive public transport system in Chiyoda allows visitors to navigate throughout the rest of Tokyo easily. This central ward has direct access to major train routes.
Best Hotels in Chiyoda, Tokyo
---
6. Sumida: A Great Location with Breathtaking Views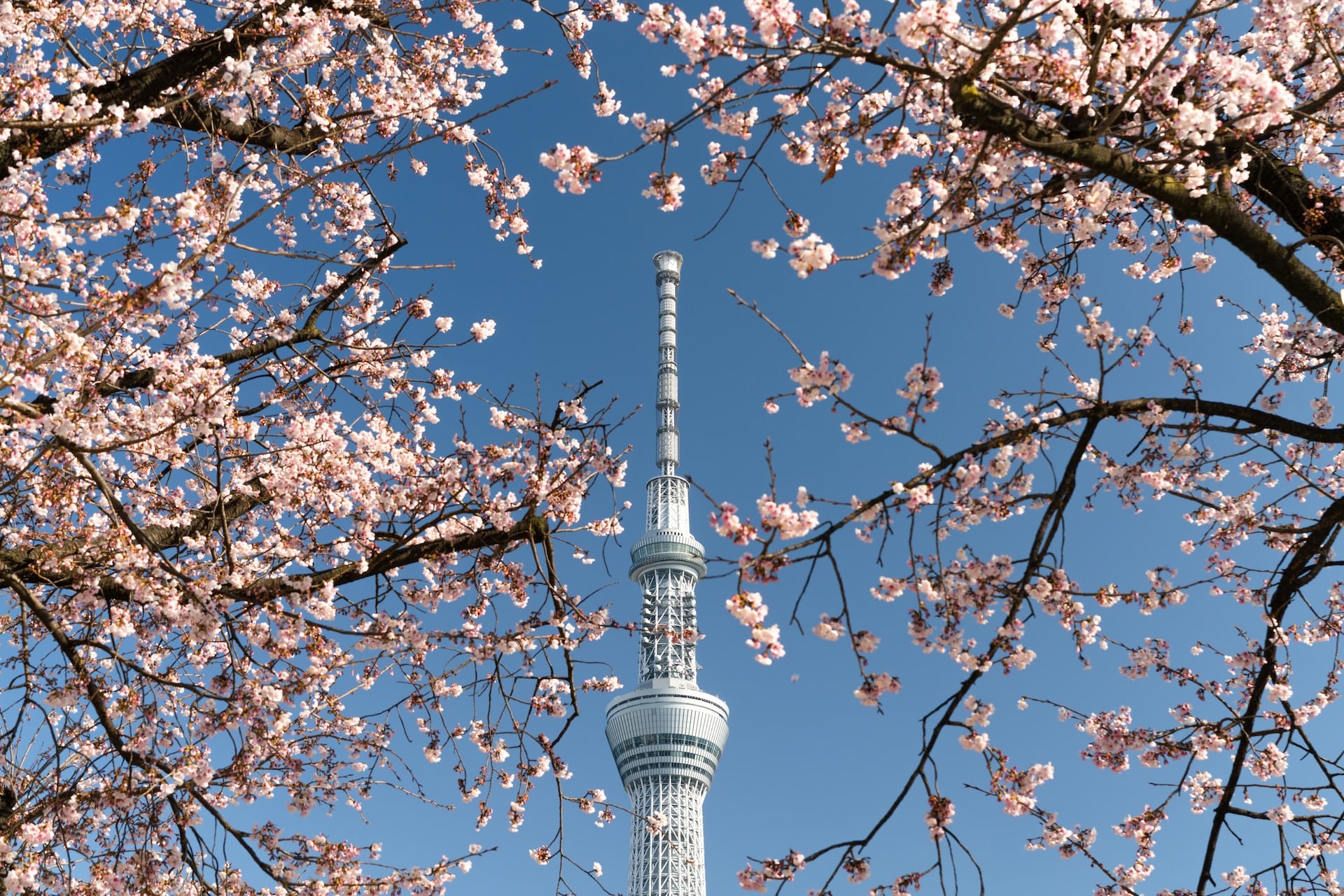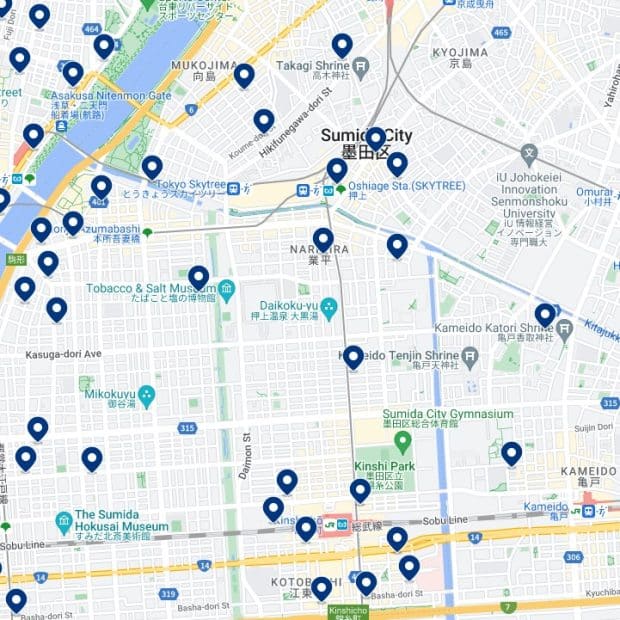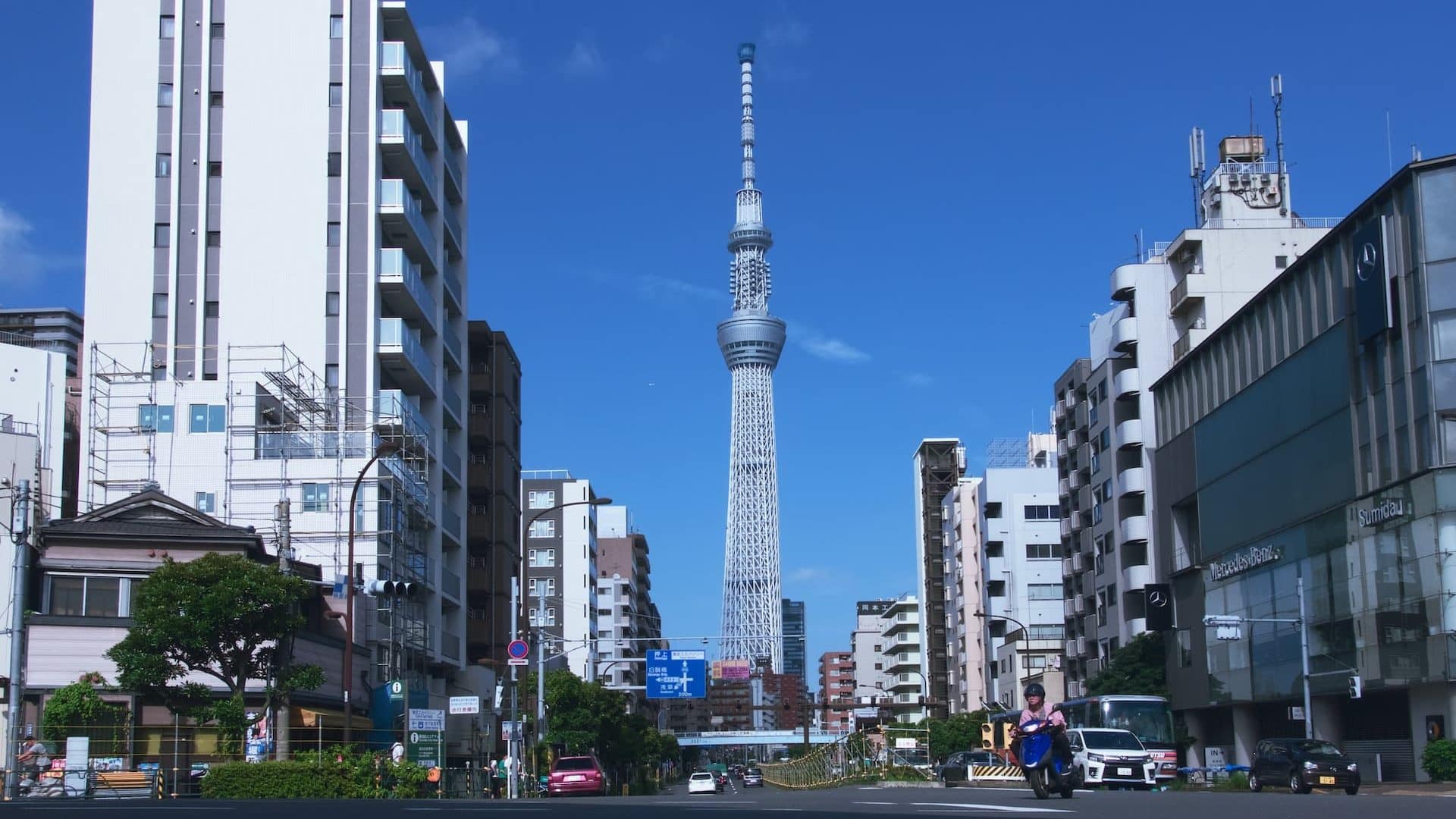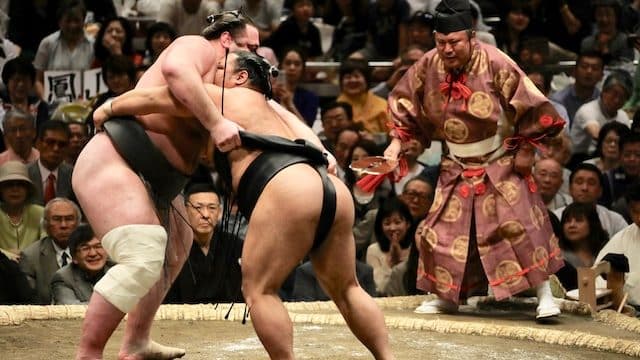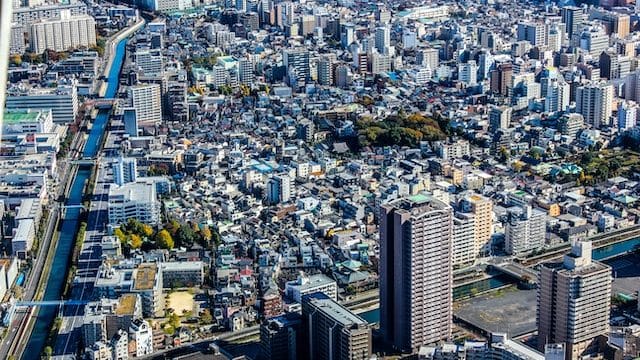 Known for the Tokyo Skytree, Sumida City offers a great blend of modern architecture and peaceful parks.
Why is this the best area to stay in Tokyo:

Tokyo Skytree
Relatively central location
Best area for sumo fans
Close to Asakusa
Good public transportation connections
In eastern Tokyo, Sumida Ward offers a perfect blend of tradition and modernity, world-class attractions, excellent transportation options, and various accommodations.
One of the main reasons Sumida Ward stands out is its unique location with convenient access to both the iconic Tokyo Skytree and the historical Asakusa district. Visitors can enjoy breathtaking views of Tokyo from the 634-meter-tall Skytree observation deck. Adjacent to the Skytree is Tokyo Solamachi, a shopping and dining complex that offers various Japanese specialty stores and international brands.
Another attraction in Sumida Ward is the Edo-Tokyo Museum, which showcases Japanese history through interactive exhibits focusing on life during Edo-era Japan.
The Ryogoku area breathes life into sumo wrestling culture with sumo-based attractions like the Ryogoku Kokugikan stadium, which holds tournaments thrice yearly. There are also sumo-themed museums, training quarters (offering visitors a glimpse into sumo wrestlers' daily lives), and specialized restaurants in the vicinity serving chankonabe – a delicious stew eaten by sumo wrestlers.
Various railway lines in and around Sumida Ward ensure convenient transport options, such as Ginza Subway Line (for Asakusa) and Tobu Skytree Line (for the Tokyo Skytree). Travelers can reach other famous Tokyo areas, including Shinjuku and Shibuya, within 30 minutes using these lines.
Accommodations in Sumida Ward cater to a wide range of preferences, from budget-friendly guesthouses and capsule hotels to luxury hotels and serviced apartments.
Best Hotels in Sumida, Tokyo
---
7. Minato: An Upscale Ward to Stay in Tokyo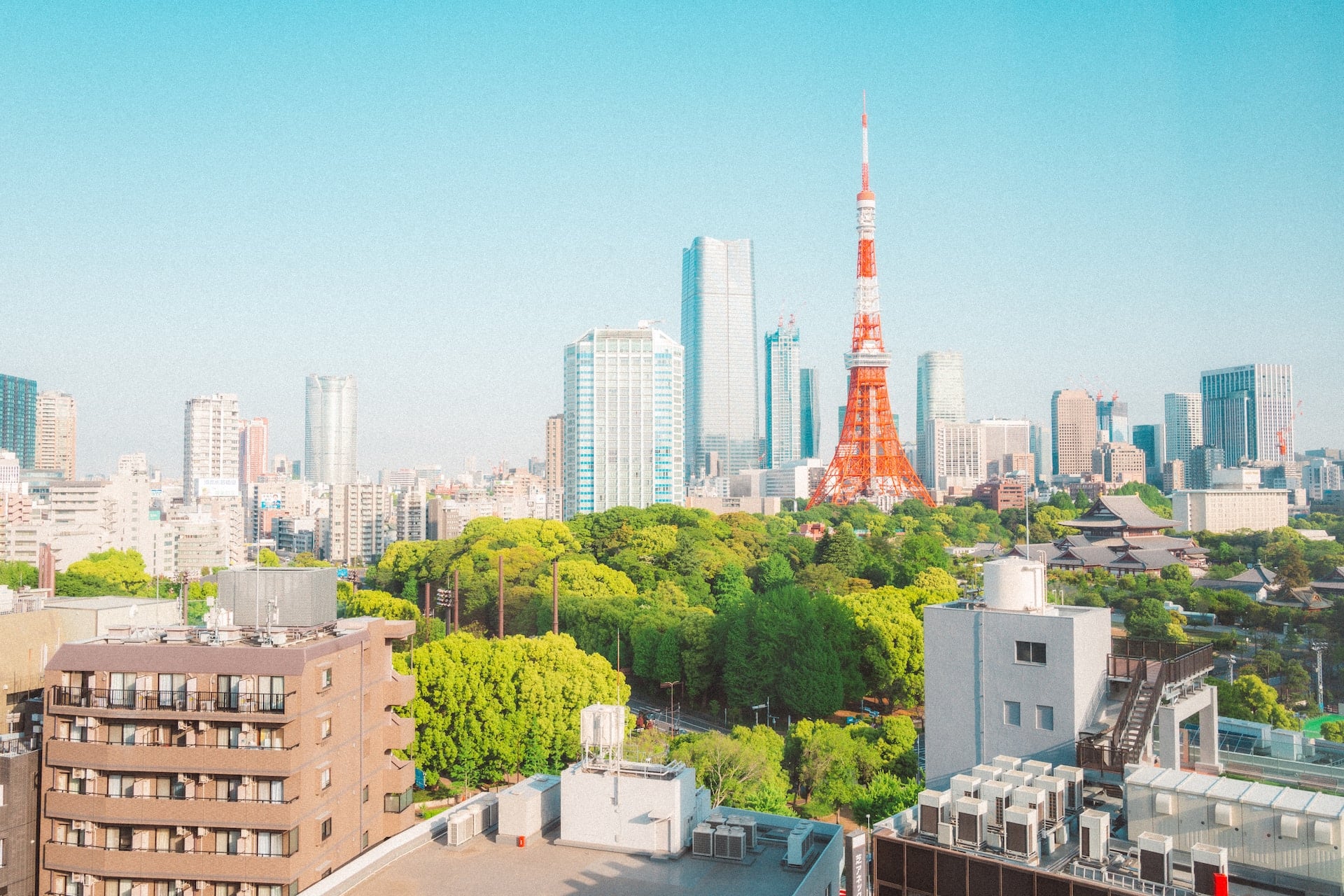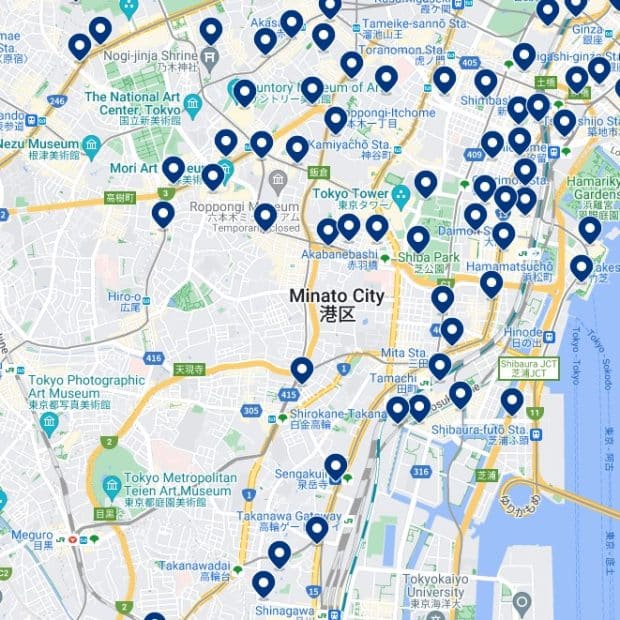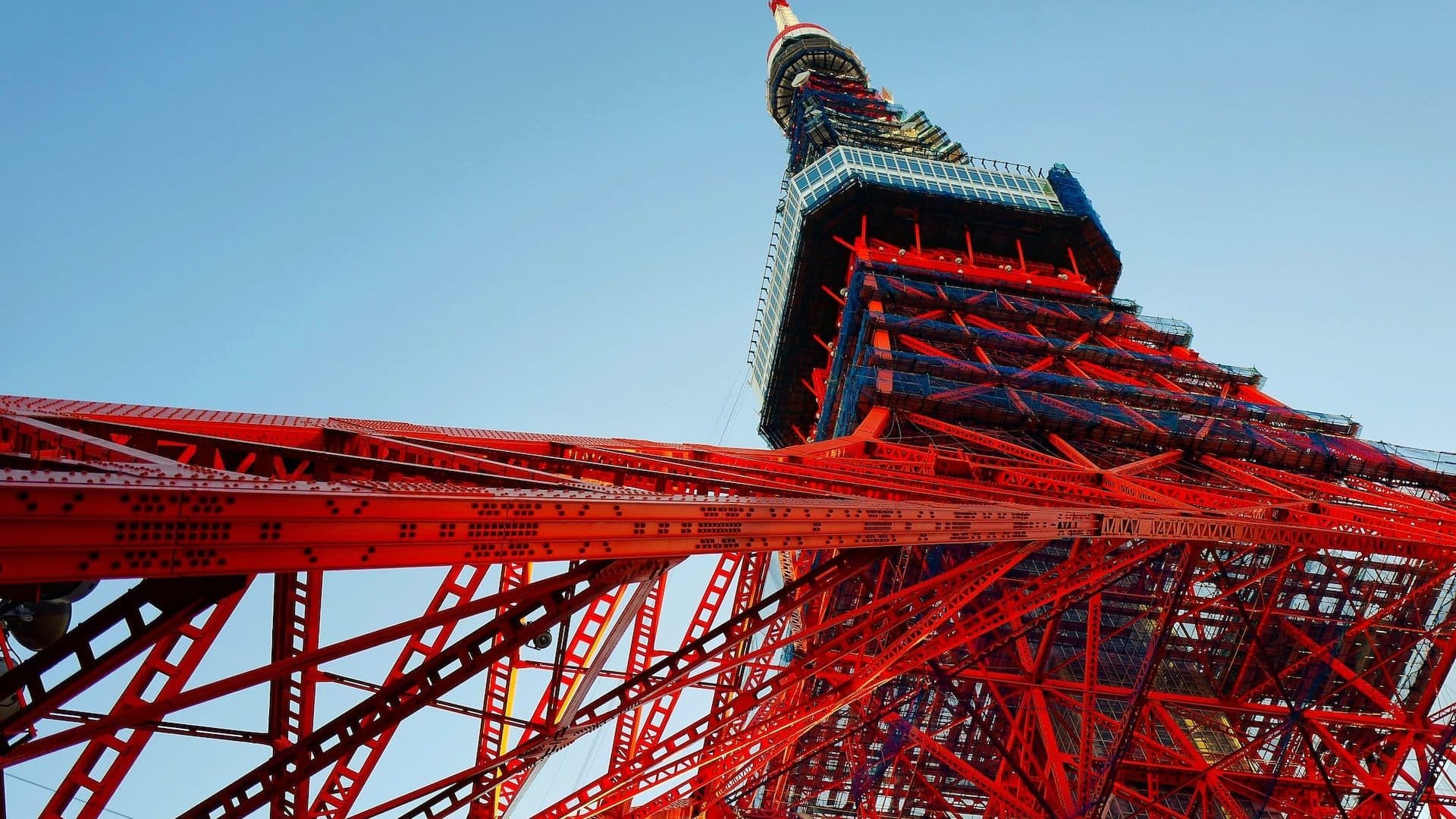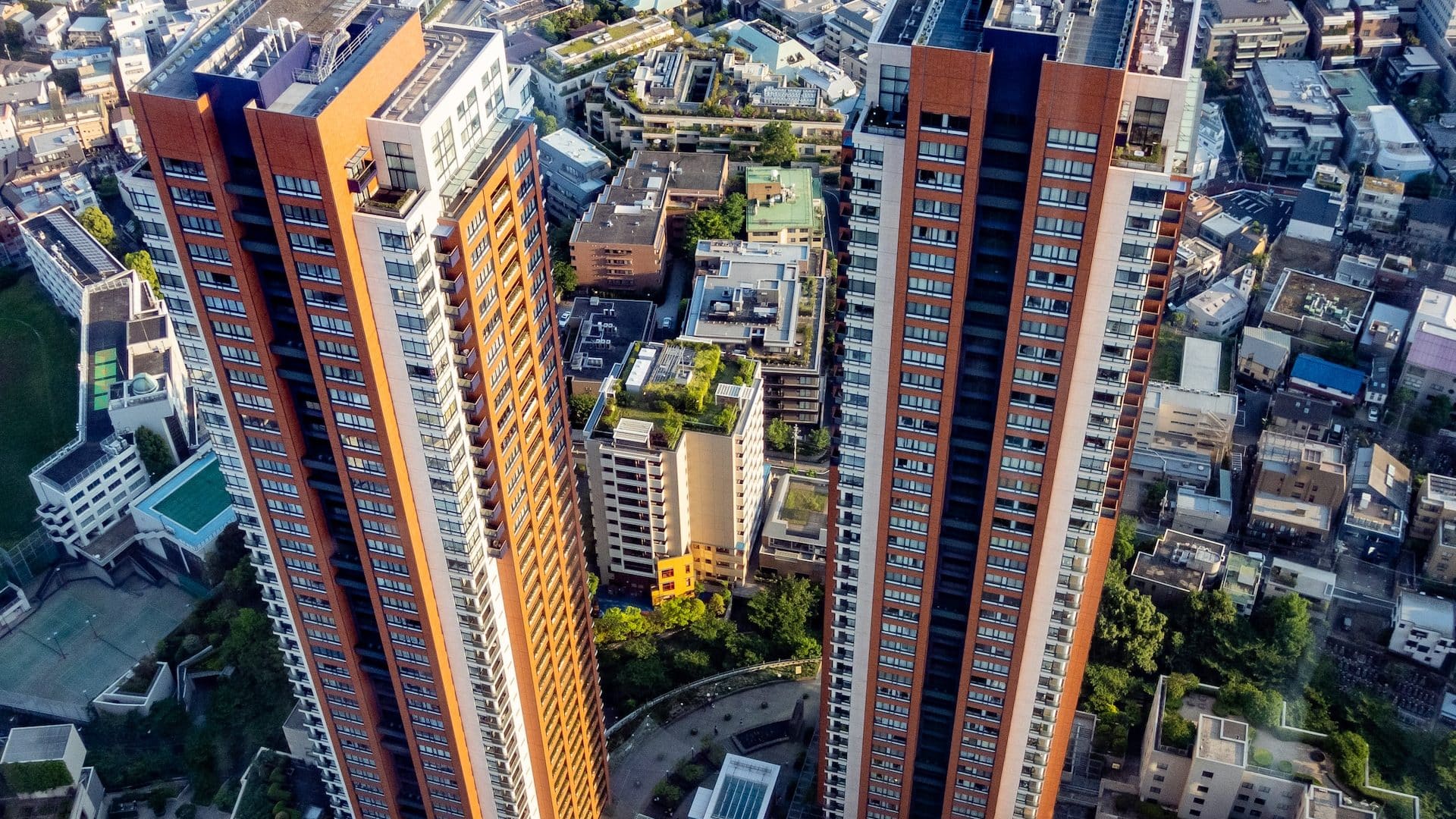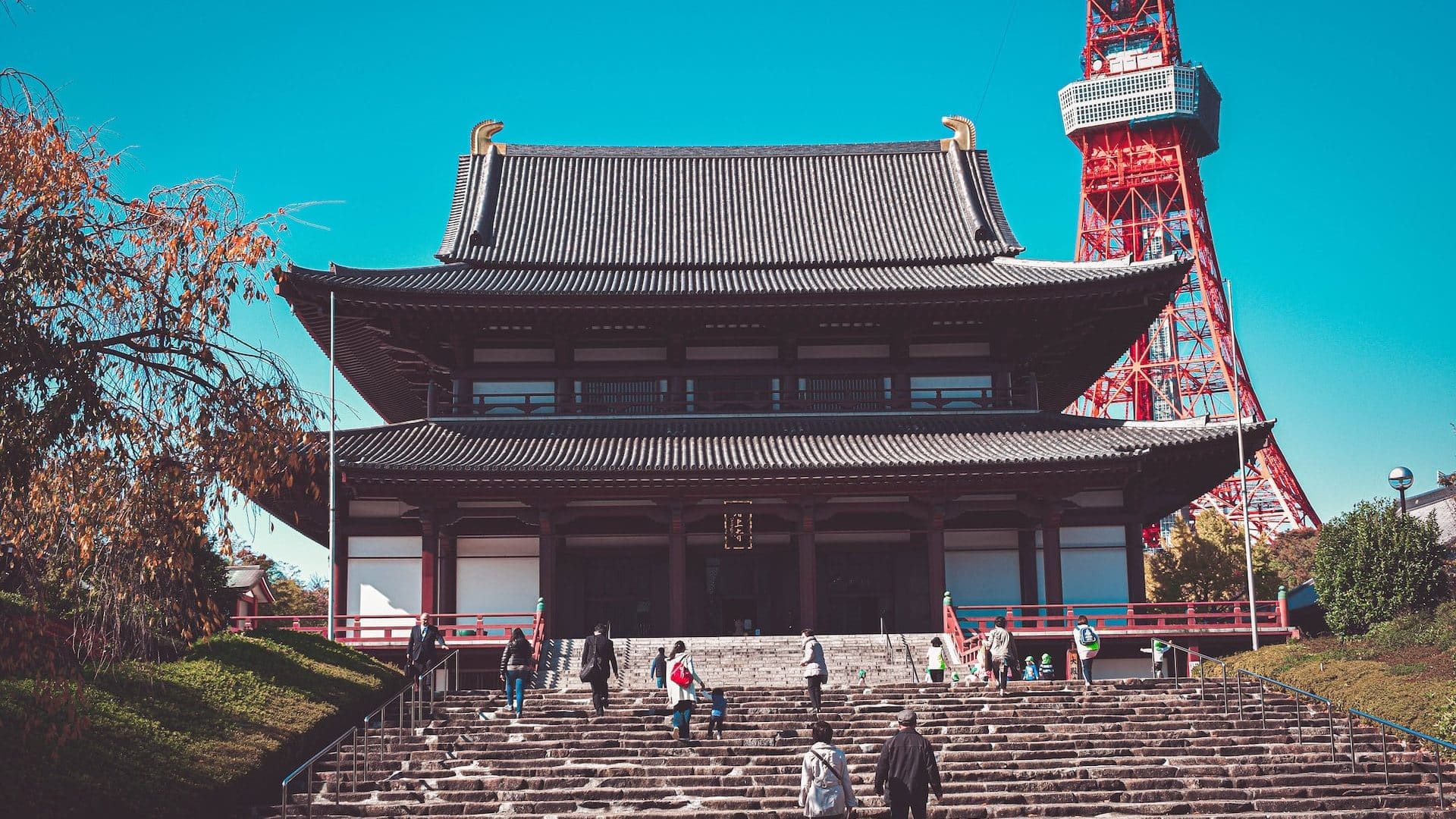 Minato is one of Tokyo's most cosmopolitan areas, boasting luxury shopping destinations and upscale dining establishments.
Why is this the best area to stay in Tokyo:

Tokyo Tower
Relatively central location
High-end shopping and residential areas
Sengakuji Temple and Zojoji Temple
Great public transportation connections
Minato Ward is one of the best areas to stay in Tokyo due to its strategic location, diverse attractions, unique atmosphere, convenient transportation, and abundant accommodation options.
Situated in the heart of Tokyo, south of Chiyoda, Minato boasts several popular neighborhoods, including Roppongi, Akasaka, Azabu, Shiodome, Shimbashi, and Odaiba. These areas feature a mix of bustling business centers and high-end residential zones.
Roppongi is particularly renowned for its energetic nightlife and striking modern architecture. Meanwhile, Odaiba offers visitors a piece of the future with its innovative technology hubs and serene waterfront views.
Minato is home to some of Tokyo's most iconic attractions. The Tokyo Tower provides stunning panoramic city views and is an unmistakable symbol of Japan's capital. Travelers interested in Japanese culture and history can visit the Meiji Shrine or explore historical sites like Sengakuji Temple and Zojoji Temple. Art enthusiasts will appreciate the Mori Arts Center or the National Art Center in Roppongi.
Transportation within Minato Ward is both efficient and reliable. There are several train lines crossing the area, such as the JR East Yamanote Line, Toei Oedo Line, Tokyo Metro Ginza Line, and Toei Mita Line. The well-connected public transport system makes it easy to navigate through the district and reach other destinations in the city.
Best Hotels in Minato, Tokyo
---
8. Toshima: A Great District to Stay in the Japanese Capital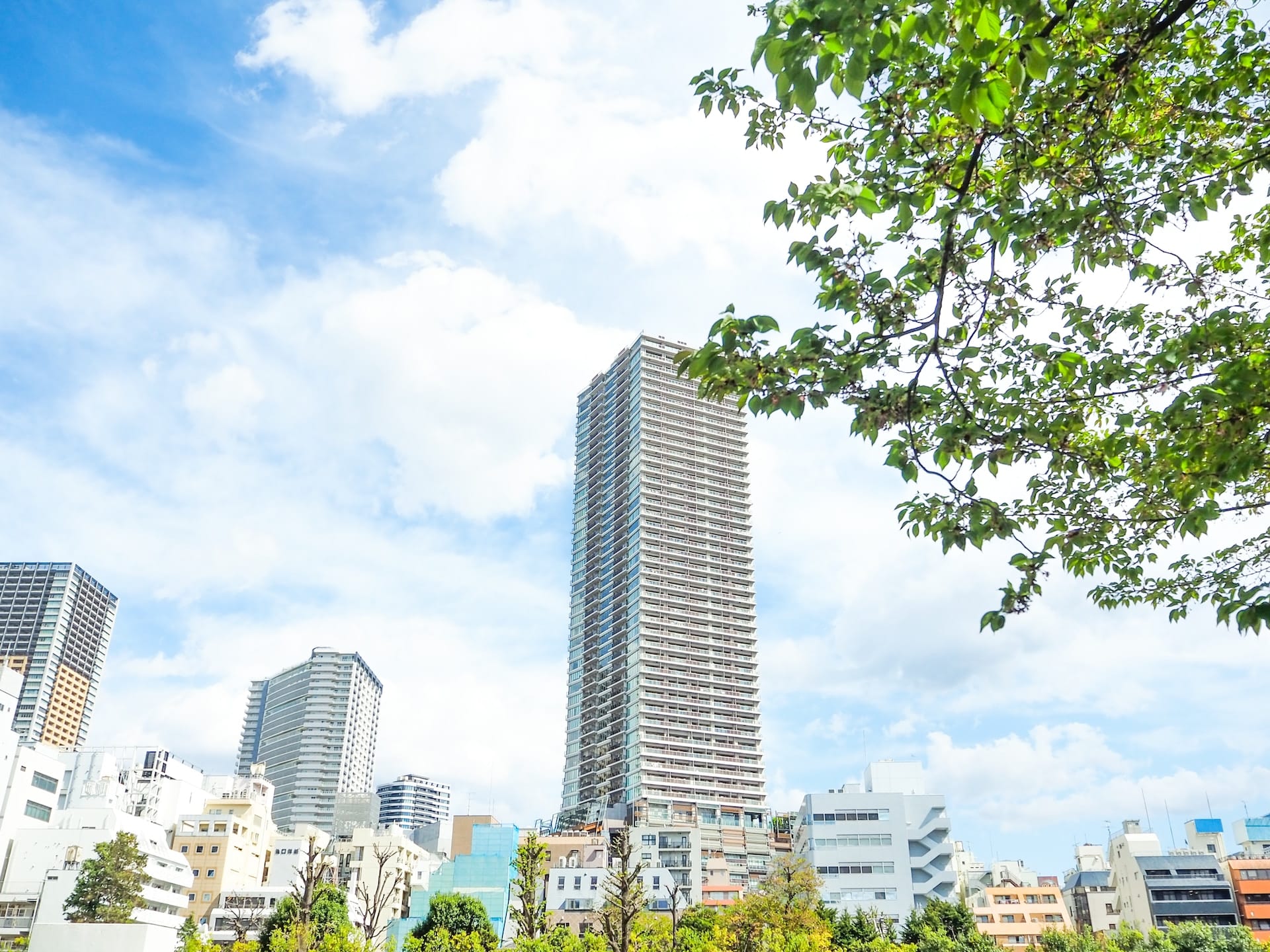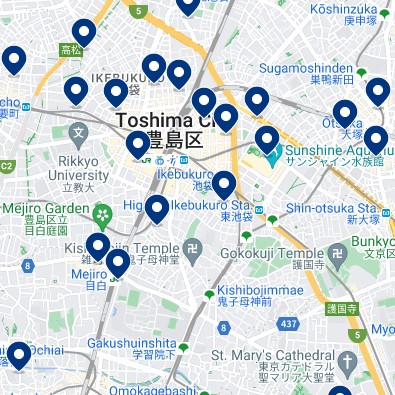 Toshima Ward is a lively residential and commercial area in North-Western Tokyo.
Why is this the best area to stay in Tokyo:

Budget accommodations
Ikebukuro area
Good public transportation connections
Located in the northern part of central Tokyo, Toshima City is an excellent place to stay in Tokyo. Its relatively central location provides easy access to various districts throughout the city.
Within Toshima Ward lies Ikebukuro, a major commercial and entertainment district that boasts numerous shopping centers, restaurants, and cultural hubs for visitors to explore.
Toshima is also home to several noteworthy attractions like the Rikugi-en Garden, a beautifully landscaped park showcasing traditional Japanese garden design. Meanwhile, Sugamo Jizo Street will give you insights into Tokyo's "Old Town," providing a taste of the city's history and a more authentic local experience.
The Ancient Orient Museum and Tokyo Metropolitan Theatre are cultural landmarks within the ward.
The Ikebukuro Station serves as a central transportation hub connecting multiple train lines such as JR Yamanote Line, Tobu Tojo Line, and Seibu Ikebukuro Line, providing easy access to popular Tokyo neighborhoods such as Shinjuku, Shibuya, and Ueno.
Best Hotels in Toshima, Tokyo
---
---
9. Shinagawa: A Cheap Area to Stay in South Tokyo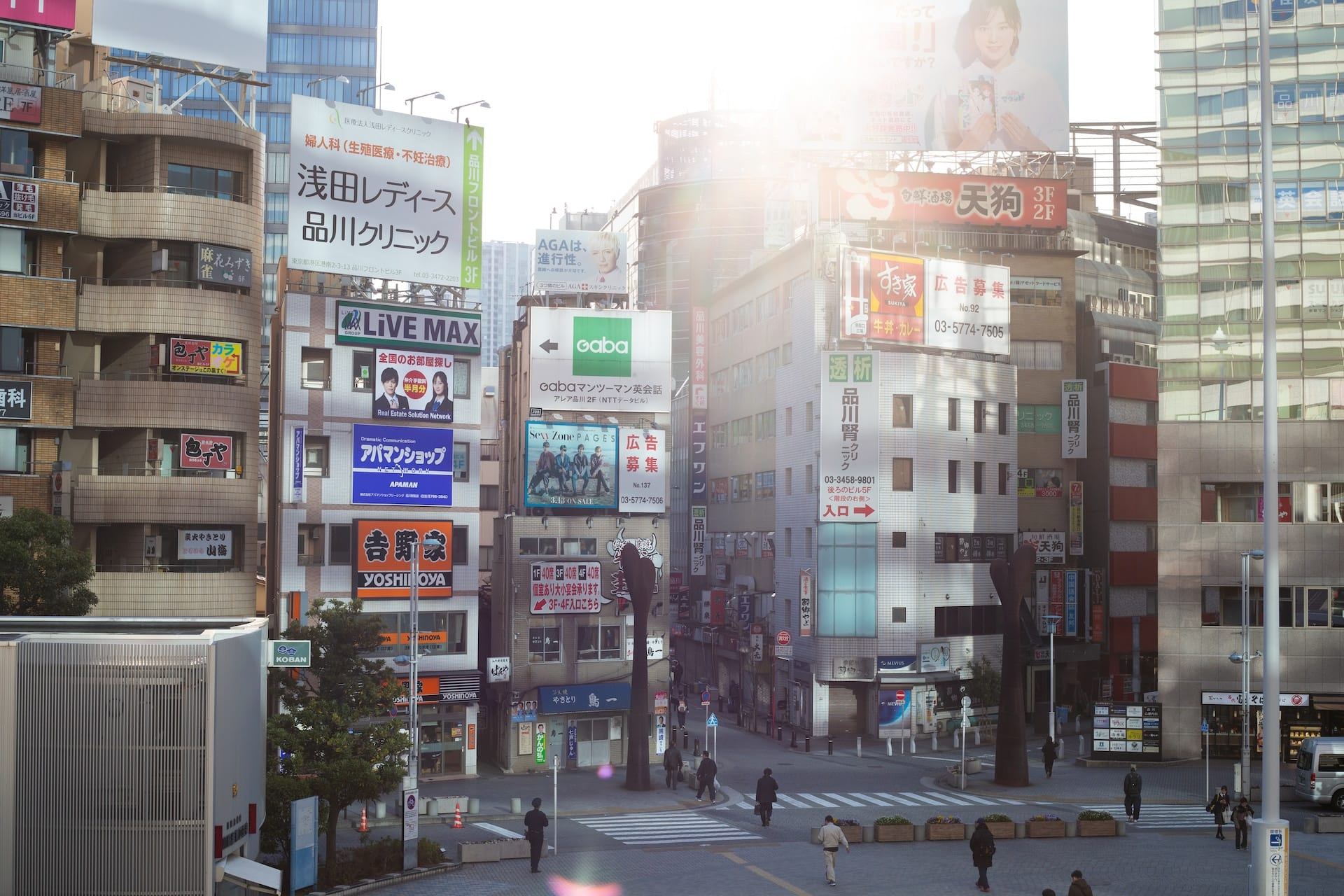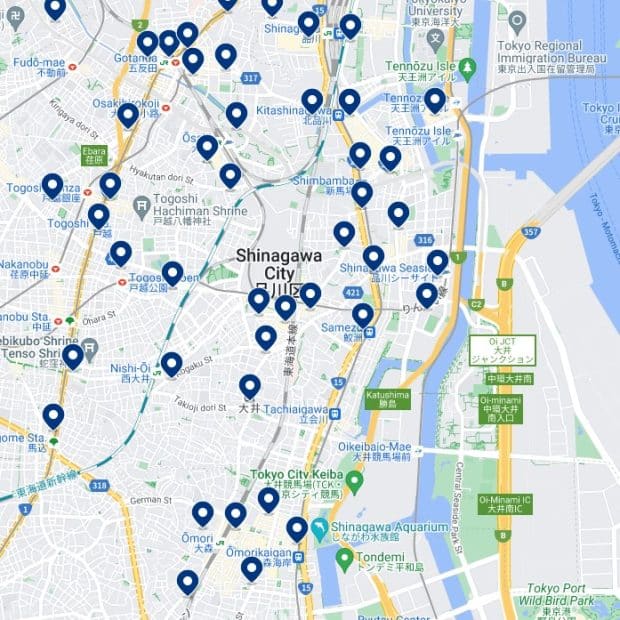 Located in the southeast part of the city, Shinagawa is conveniently situated near popular areas such as Minato, Meguro, and Ota.
Shinagawa Station acts as a major transportation hub on the JR Yamanote Line.
One of the area's main attractions is the Shinagawa Aquarium. Home to over 400 species of marine life, this facility offers an immersive experience through its underwater tunnel and dolphin shows. Other local attractions include the Hara Museum of Contemporary Art and Togoshi Ginza Shopping Street.
For nature enthusiasts, visiting Shinagawa Central Park or wandering along the Meguro River during cherry blossom season is an experience not to be missed.
Best Hotels in Shinagawa, Tokyo
---
10. Ota: Best Area for Haneda Airport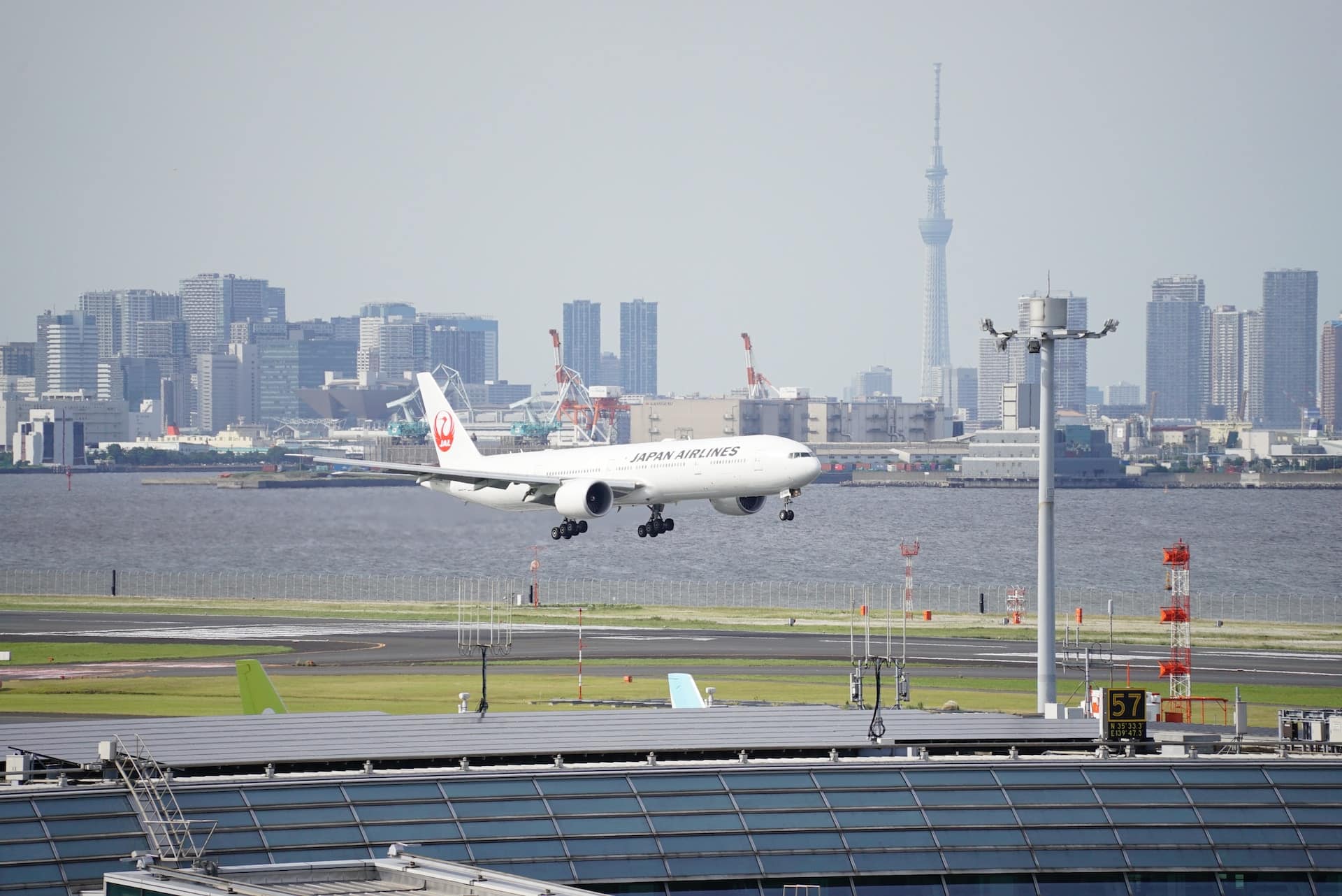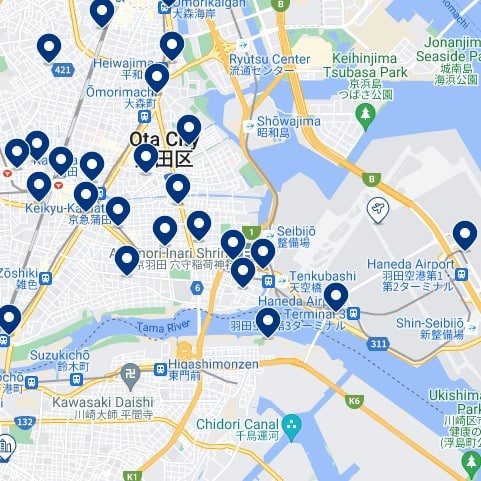 Home to Haneda Airport, Ota Ward serves as the gateway to Tokyo for many international visitors.
Ota is the largest of the 23 special wards in Tokyo, covering a vast area that includes both bustling urban centers and peaceful residential neighborhoods.
One of the main attractions in Ota Ward is Kamata, a thriving shopping and entertainment district that draws crowds with its numerous stores, restaurants, and bars. The area is also home to Kamata Hachiman Shrine and Nishi-Rokugo Park.
Just south of Kamata lies Omori, notable for its coastal location along Tokyo Bay and Oi Racecourse.
Another must-see attraction is Ikegami Honmonji Temple, a historically significant site dating back to 1282.
Best Hotels in Ota & Haneda Airport, Tokyo
---
Read this post in other languages: