Where to Stay in Auckland: What You Need to Know
The largest city in New Zealand is a vibrant and thriving metropolis. Sprawling and diverse, Auckland is a city to experience, restaurants to sample, boutiques to shop and places to stay.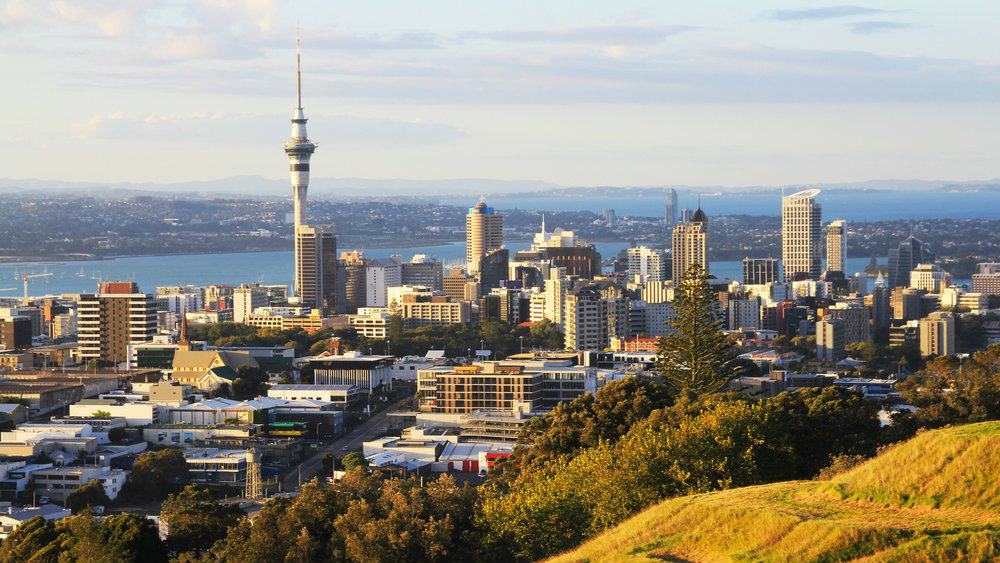 In addition to being a tourist destination in itself, Auckland is the gateway to New Zealand, with the country's most important international airport and air connections to practically all Kiwi cities.

And that's because Auckland is a city with a very low urban profile. With the exception of the Central Business District (CBD), it is difficult to see buildings of more than a couple of storeys in town. Apart from it being a sprawling development of neverending suburbs, public transport options in Auckland are very limited; there is an urban train system in the city, but it is not at all comprehensive and only reaches a few of the districts. Most of the public transport is then reduced to buses.
Auckland is a huge city. To give you an idea, Auckland, with a population of about 1.6 million, is larger in area than the city of Madrid or the State of Berlin, both places with more than double the population.
For these two reasons, it is of vital importance to choose the best area to stay in Auckland.
To help you decide the best Auckland district to stay, we have created this list with the best areas and suburbs in the city.
The best areas to stay in Auckland, New Zealand
1. Best Area: Britomart
Located between Waitemata Harbour and Auckland CBD, Britomart is a seaside neighbourhood that concentrates a lot of the city's heritage buildings, converted areas and open public spaces.
It is right next to Auckland's main transportation hub, Britomart Transport Center and the ferry and cruise port.
It is also the termini for the Skybus service from the airport.
This area is considered the first commercial centre of Auckland and concentrates the majority of old buildings of the city.
After a long period of neglect in the '80s and '90s, Britomart has been reborn to become a very fashionable district.
Today Britomart is a busy and diverse mix of restaurants, bars, boutiques, offices and shops.
Although there are some budget options and hostels, hotels in the Britomart area are usually quite expensive; however, this certainly the best area to stay in Auckland because of its public transport and ferry connections.
Hand-picked hotels in this area
---
2. Auckland Central Business District (CBD)
The real heart of Auckland is the CBD or Central Business District.
With Queen Street as its main thoroughfare. The CBD enjoys a prime location with a wealth of shops, restaurants, pubs and cafés for every taste and budget.
It is an area of lively nightlife and entertainment, with some of the best theatres in the city hosting major international shows and local plays, as well as a myriad of live music venues, particularly around Karangahape Road (known by locals simply as K'Road).
This central district also boasts the Sky City complex and the iconic Sky Tower of Auckland, a true symbol of the city.
It is a somewhat aseptic area with lots of tall office towers, but it has some charming corners and it is very well connected by public transport.
It is also the area with more accommodation options of in Auckland, with properties to suit every budget, from backpacker hostels to super luxury hotels.
Needless to say, the CBD is a great area to stay in Auckland for business travellers and visitors alike.
Hand-picked hotels in this area
---
3. Viaduct Harbour
Viaduct Harbour is one of the most happening areas in all of Auckland.
Located in the heart of Auckland City, next to CBD and Britomart, Viaduct Harbor is a renovated area of the old port of Auckland.
Full of life during the day and night, Viaduct Harbour is Auckland's connection with the ocean.
The nearby Viaduct Harbour Marina caters for leisure boats, superyachts and commercial ships, so it is not exactly the cheapest area to stay in Auckland.
In this coastal district, you can find some attractions such as the Voyager Maritime Museum. The promenade boasts a wealth of trendy pubs and restaurants.
Hotels in Viaduct Harbour normally belong to luxury chains with some boutique-style options and lots of apartments and holiday rentals.
Its closeness to the ferry terminal and Britomart metro station make Viaduct Harbour a great choice to stay in Auckland.
Hand-picked hotels in this area
---
4. Newmarket
Located just south of the CBD and the wealthy Parnell district, Newmarket is one of the top districts to find accommodation in Auckland.
Certainly, one of the best areas to stay in the City of Sails, Newmarket is the commercial and shopping heart of the city.
With some of Auckland's most important shopping streets and a variety of shopping centres, restaurants, shops and cinemas, Newmarket is a place where you won't be bored.
The area is also very well connected with the rest of the city through its new urban train station and bus.
It is a great choice for business travellers and tourists alike.
Room prices in this area are often above the Auckland average and hotels tend to be modern and business-style, but some motels and budget options are available as well.
Hand-picked hotels in this area
---
5. North Shore
Auckland North Shore was considered, until recently, a separate city of Auckland.
This large district is located north of the city, across the Harbor Bridge and has a more suburban and laid back character, with spacious gardened houses and not many tall buildings.
It is one of the best areas to stay in Auckland if you are after sun and relaxation, as there are many beaches here. The most recommended areas within North Shore are Devonport and Takapuna since they boast the majority of options leisure, nightlife and shopping options.
The area is connected by an express bus system and from Devonport, it is possible to travel to Britomart by ferry. There is no rail connection to North Shore, so the area is more advisable for those who have their own transportation.
There are a lot of hotels in this area and their profile varies in quality and price, but the accommodation here is usually cheaper than in downtown Auckland.
Hand-picked hotels in this area
---
6. Parnell
Parnell is probably Auckland's most exclusive district.
It is considered the oldest suburb of Auckland, dating from the early days of the European settlement of Auckland in 1841.
It is characterized by its blend of tree-lined streets with large stately homes, Edwardian-style townhouses and art-deco villas dating back to the 1920s.
Its hilly topography allows great views over the Waitemata Port.
Parnell Rise and Parnell Road make up the main arteries of this affluent district.
This area is home to upmarket shops, art galleries and some of Auckland's most luxurious restaurants.
Even though most of Parnell is made up of exclusive residential and retail developments, some budget hotels are to be found in this area.
Hand-picked hotels in this area
---
7. Ponsonby
The best neighbourhood to enjoy Auckland if you are young is definitely Ponsonby.
Located in an upscale area west of the CBD, Ponsonby is Auckland's liveliest and most vibrant neighbourhood.
With a hipster, bohemian and relaxed atmosphere, Ponsonby is full of charming boutiques, trendy cafes, bars and restaurants, all just 10 minutes from the city centre.
This area is famous for its sophisticated shops and restaurants and for having the best nightlife in the city. Bars, nightclubs and concert halls in a youthful and vibrant atmosphere.
The area is connected to the city centre by bus. The CBD is a 20-minute walk away.
There are only a few hotels in Ponsonby, but it is well worth staying here.
Hand-picked hotels in this area
---
8. Mangere & around the Airport
Auckland International Airport (abbreviated AKL) is the largest and busiest airport in New Zealand. It is located near Mangere, a residential suburb, and Airport Oaks, a service area 21 kilometres south of the city centre. It is the domestic and international hub of Air New Zealand, Virgin Australia and Jetstar Airways.
If you are in Auckland for a mere stopover or if you want to stay near the airport during your last night, the best thing to do is spend the night at an airport hotel.
If you do not need to be near the airport and want to visit the city, it is best to look for accommodation in a more central district.
Hand-picked hotels in this area
---
Read this post in other languages
|ES|Dónde dormir en Auckland – Mejores zonas y hoteles.