Where to Stay in Bangkok: What You Need to Know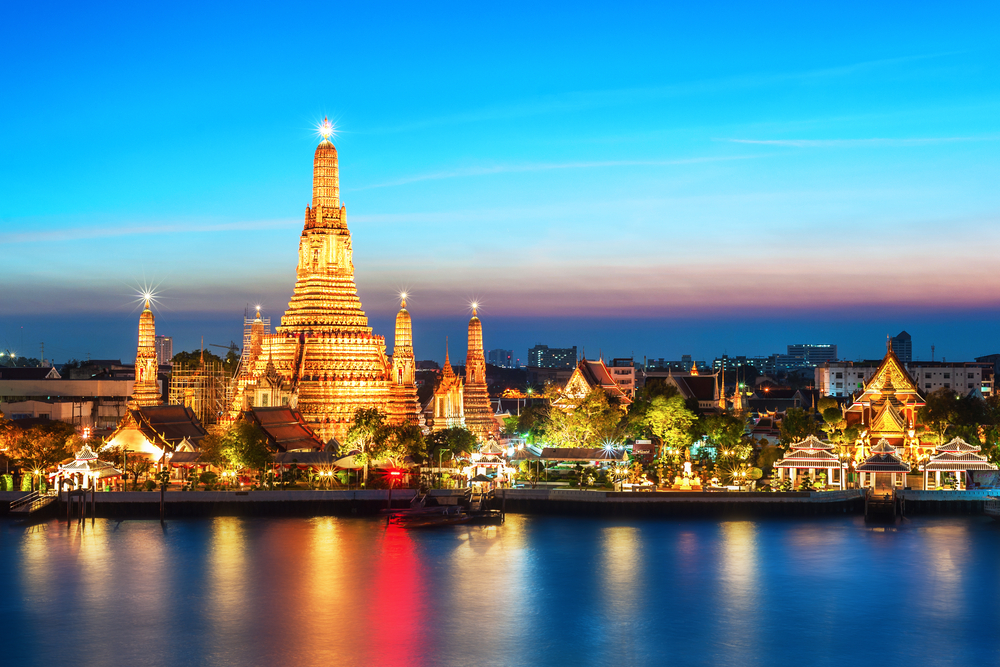 One of the best things about Bangkok, as far as accommodation is concerned, is that many of the mid-range and high-end options have a swimming pool, which is very much appreciated in such a humid and hot city. Accommodation options in Bangkok are abundant and often variable in quality and price. However, the Thai capital can still be considered one of the cheapest destinations to stay in South East Asia. Rates for higher-end hotels are usually around USD 60, but there are some upmarket options from USD 40 a night. Mid-range hotels can cost around USD 25-30 per night and budget options can be booked from around USD 10.
Bangkok has innumerable luxury hotel options. But hostels, inns, and budget hotels are even more ubiquitous in a city traditionally focused on young, budget-minded tourism.
You will find cheaper rates during the months of August to November, however, these months are not the most advisable for a visit to Bangkok due to the presence of the monsoon, which brings torrential rains and humid heat.
The cheapest hotels tend to be around the backpacker areas of Khaosan and Chinatown and the most exclusive top-notch options are usually found around Sukhumvit and Pathumwan.
The Best Areas to Stay in Bangkok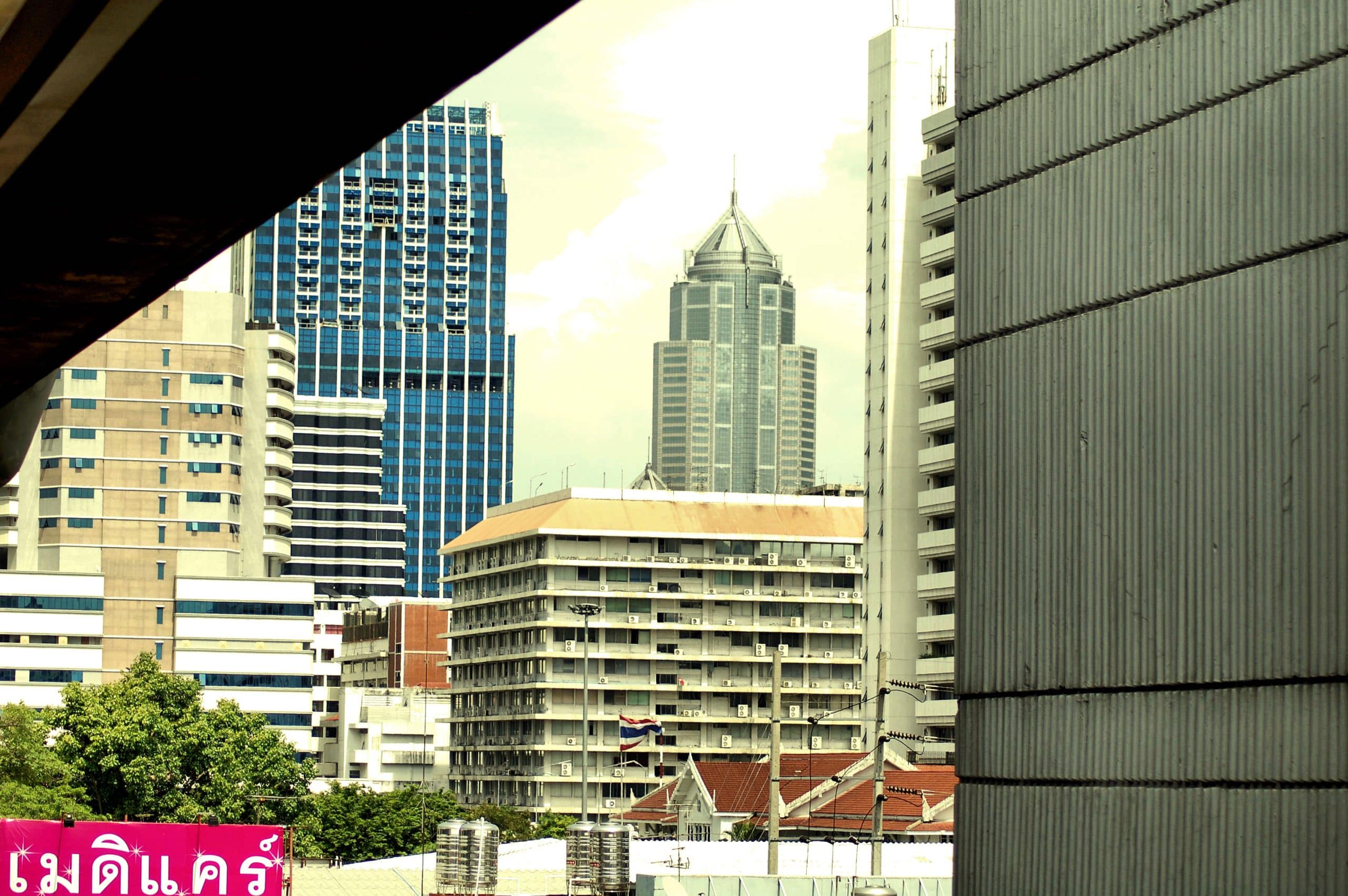 If you're wondering what the best areas to stay in Bangkok are, do not worry; here you'll find a breakdown of the main districts of the city and a hand-picked selection of the best properties divided into three categories: Budget, mid-range, and luxury.
1. Best Area: Central Bangkok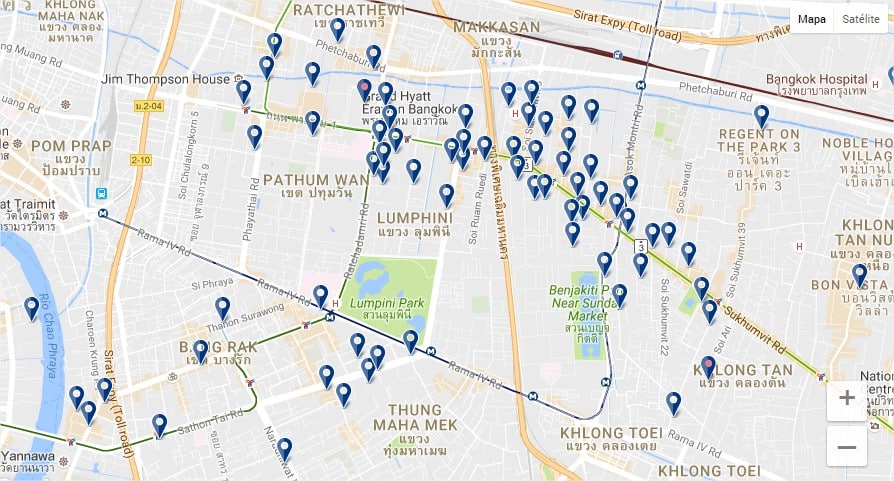 It comprises a large number of neighborhoods in central Bangkok. It is an immense area, connected by all the metro and suburban systems of Bangkok (MRT, SRT, and BTS). Being the best-connected area of the city, this is normally the most recommended area to stay in Bangkok.
Below you will find the breakdown of several of the areas included in the center of Bangkok.
Best central hotels in Bangkok
2. Staying in Bangkok Old Town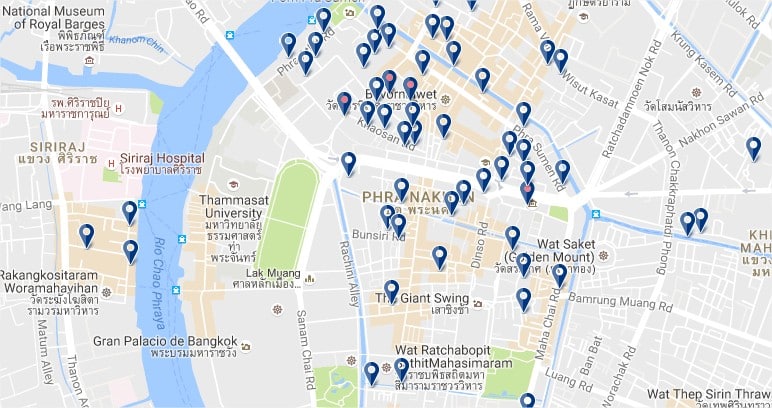 Next to the Chao Phraya River and located just north of Chinatown, the Old Town (Rattanakosin) is home to many of the top tourist attractions of the city. Including the most famous and revered temples and palaces.
Places of interest include the majestic Grand Palace, the stunning beauty of the Temple of the Reclining Buddha, and the traditional monasteries Wat Pho and Wat Mahathat, the latter widely regarded as one of Thailand's first universities.
The historical park Sanam Luang which traditionally hosts important royal and Buddhist ceremonies, and the National Gallery can also be found in this area.
Hand-picked hotels in Bangkok Old Town
3. Staying in Banglamphu / Khaosan – Backpacker Central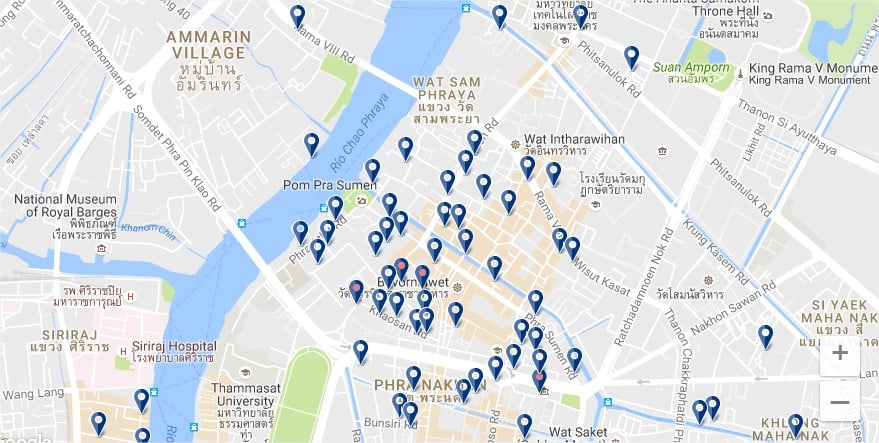 Banglamphu is a neighborhood that is well worth a visit on any trip to Bangkok.
Although Backpacker Mecca Khao San Road is the most famous landmark here, the area near Phra Athit Road is much more eclectic with lots of bohemian bars and nice restaurants and a mix of young Thais and foreigners. It is located right next to the Chao Phraya River and has a small park and some restaurants and cafés to relax.
Hand-picked hotels around Khao San Road / Banglamphu
4. Staying in the Sukhumvit District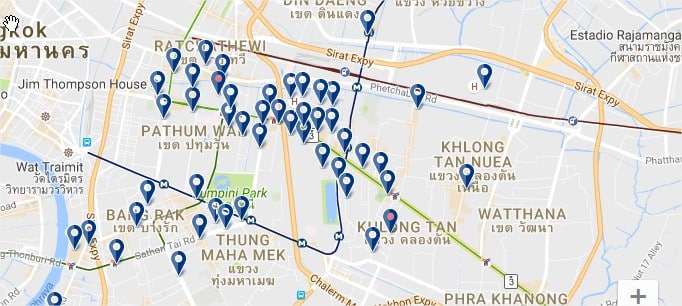 Sukhumvit Road Bangkok's main artery. This long avenue, which actually extends from here all the way to Cambodia, is the central street and one of the top tourist area of the city. It is home to excellent hotels, the best restaurants, bars and plenty of nightlife, as well as shops, cinemas, public transport, and everything that any visitor may need.
Hand-picked hotels in Sukhumvit
5. Staying in Pathumwan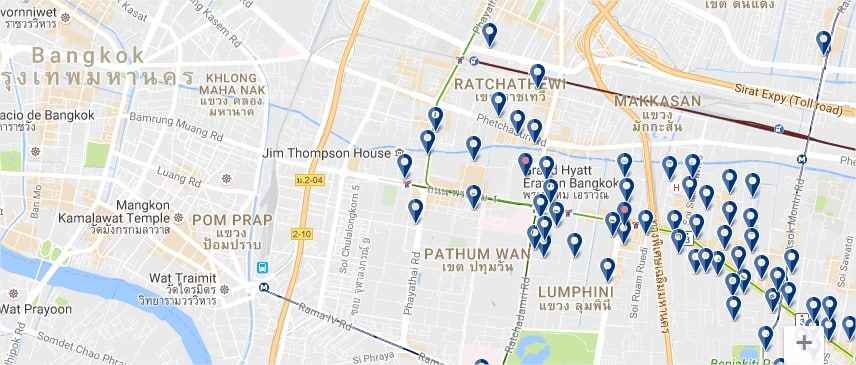 Pathumwan has it all and it's in the middle of the city. Some of Bangkok's most exclusive hotels are located here, such as the Muse Hotel. Local and international food options are infinite and you can spend the whole day shopping at its many malls.
Hand-picked hotels in Pathumwan
6. Stay in Bang Rak – Luxury by the river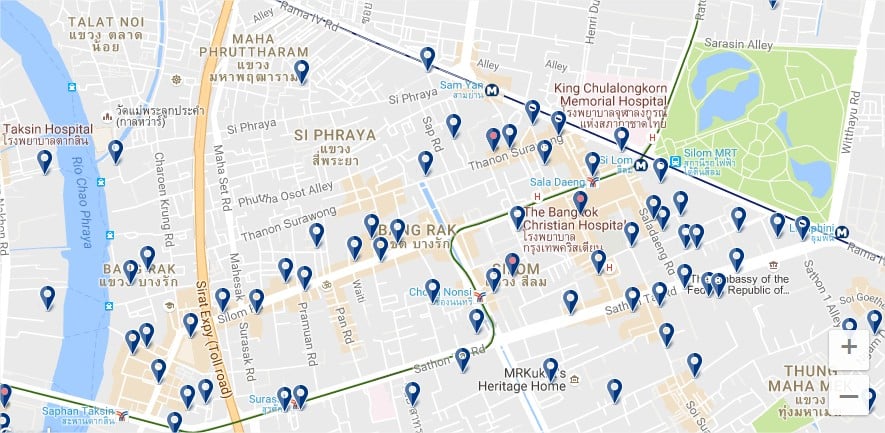 Much of Bangrak is on the Chao Phraya River, where you can find some vestiges of why Bangkok was known as the "Venice of the East". Bangrak also has plenty of restaurants and romantic places to watch the sunset and the river go by.
This area is halfway between the central business district and Lumphini Park, Bangkok's largest urban green oasis and a wonderful place to escape the hustle and bustle of the city.
Hand-picked hotels in Bang Rak
7. Staying in Sathorn – Quiet, central and well-connected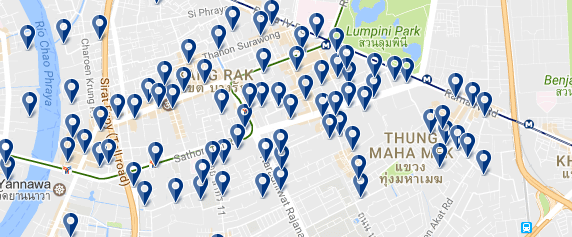 Sathorn is an elegant district located in between the area southwest of Lumphini Park and the river. It is a pleasant upscale neighborhood that concentrates a good amount of embassies, private housing estates and luxury condominiums. It is well connected by MRT and BTS and, despite being next to the lively Silom district, it is a quiet and residential area. The nearby Lumphini Park offers an oasis of tranquility amid the asphalt jungle that is Bangkok. The shopping areas of Siam are located just two or three stations away.
Hand-picked hotels in Sathorn
8. Staying in Bangkok's Chinatown – Central, lively and eclectic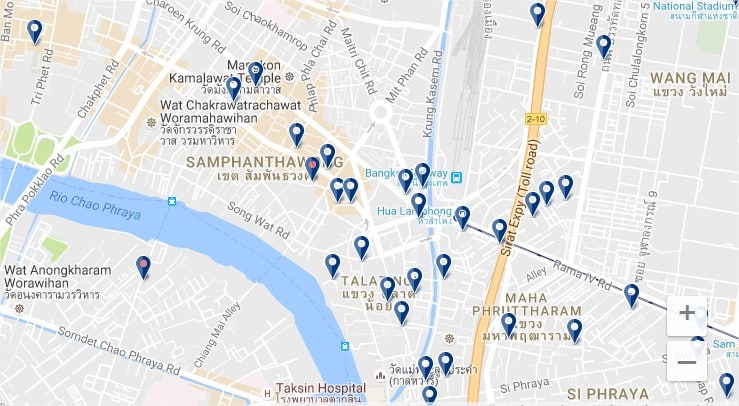 Undoubtedly, one of the most vibrant districts of Bangkok, Chinatown has it all. It is one of the best places in town to get lost in its narrow, pedestrianised streets lined with charming shop-houses.
From temples to commercial galleries to spectacular gastronomy, Chinatown should be a must-see on any Bangkok itinerary.
Hand-picked hotels in Chinatown
---