As the largest city in China and a global financial hub, Shanghai exudes an energetic appeal with its striking skyline, historic landmarks, and modern attractions. Affectionately known as the "Pearl of the Orient," this city captivates travelers with its compelling mix of traditional and contemporary culture. Are you considering a stay in this vibrant metropolis? Discover the best areas to stay in Shanghai here.
---
Shanghai boasts numerous attractions that draw millions of tourists annually. From iconic sites such as The Bund and Oriental Pearl Tower to fascinating museums like the Shanghai Museum and urban green spaces like Yuyuan Garden, there is no shortage of activities. The city's thriving tourism industry offers a wide selection of hotels catering to various budgets, from world-class luxury accommodations to more affordable options suitable for budget-conscious travelers.
Founded as a small fishing village, Shanghai has evolved into a bustling international city with deep cultural roots. Its eclectic architecture ranges from ancient temples and traditional shikumen houses to modern skyscrapers like Jin Mao Tower and Shanghai World Financial Center.
Don't miss out on all that this captivating city has to offer! Keep reading our guide to learn more about the best areas to stay in Shanghai and find the perfect accommodation for your trip to this Chinese metropolis.
---
Accommodation Options in Shanghai, China
---
The Best Areas to Stay in Shanghai: A Summary
If you don't have time to read the full article, this is a summary of our recommended districts for tourists in Shanghai, China. Keep reading to learn more about each of these districts.
---
What's the Best Area to Stay in Shanghai, China?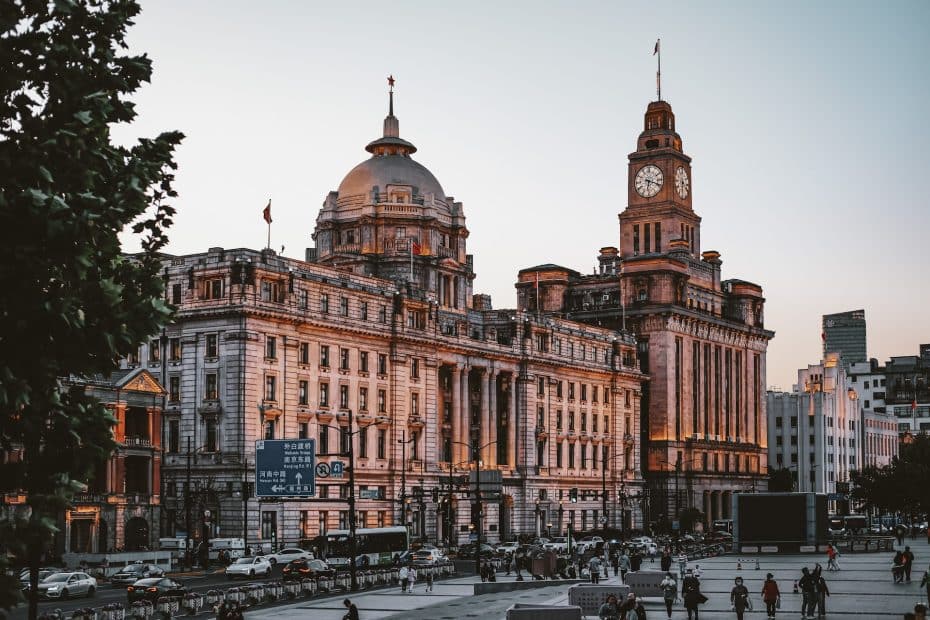 The best area to stay in Shanghai is The Bund. Huangpu District and The Bund boast a stunning view of the iconic Shanghai skyline. Visitors can stroll along the picturesque waterfront promenade, visit museums, and enjoy a variety of dining and shopping options in this bustling, cosmopolitan district. Staying in this area provides easy access to many of the city's top attractions, including the Oriental Pearl Tower and Yu Garden. Huangpu is also where some of the best-rated hotels in Shanghai can be found.
Find available accommodation in Huangpu & The Bund.
Best Hotels in Huangpu & The Bund
---
Where to Stay in Shanghai for Sightseeing, Business, or Nightlife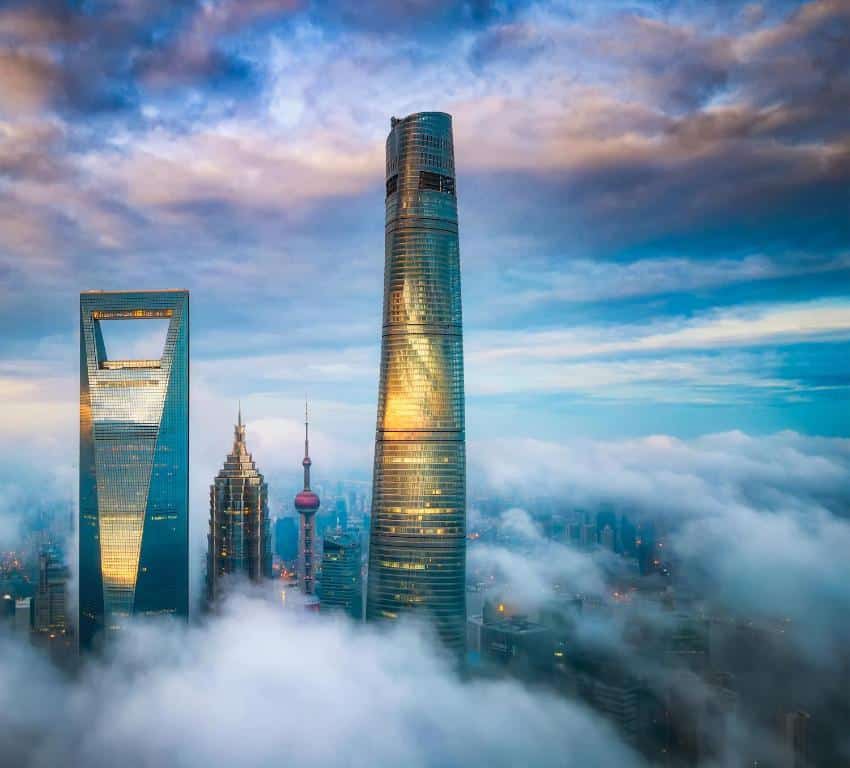 As mentioned above, the district of Huangpu (The Bund) is the best location to stay in Shanghai. That said, there are many more areas offering different vibes and sights. These are some of the best districts to stay in Shanghai:
---
Where to Stay in Shanghai: District by District
1. Huangpu & The Bund
The best area to stay in Shanghai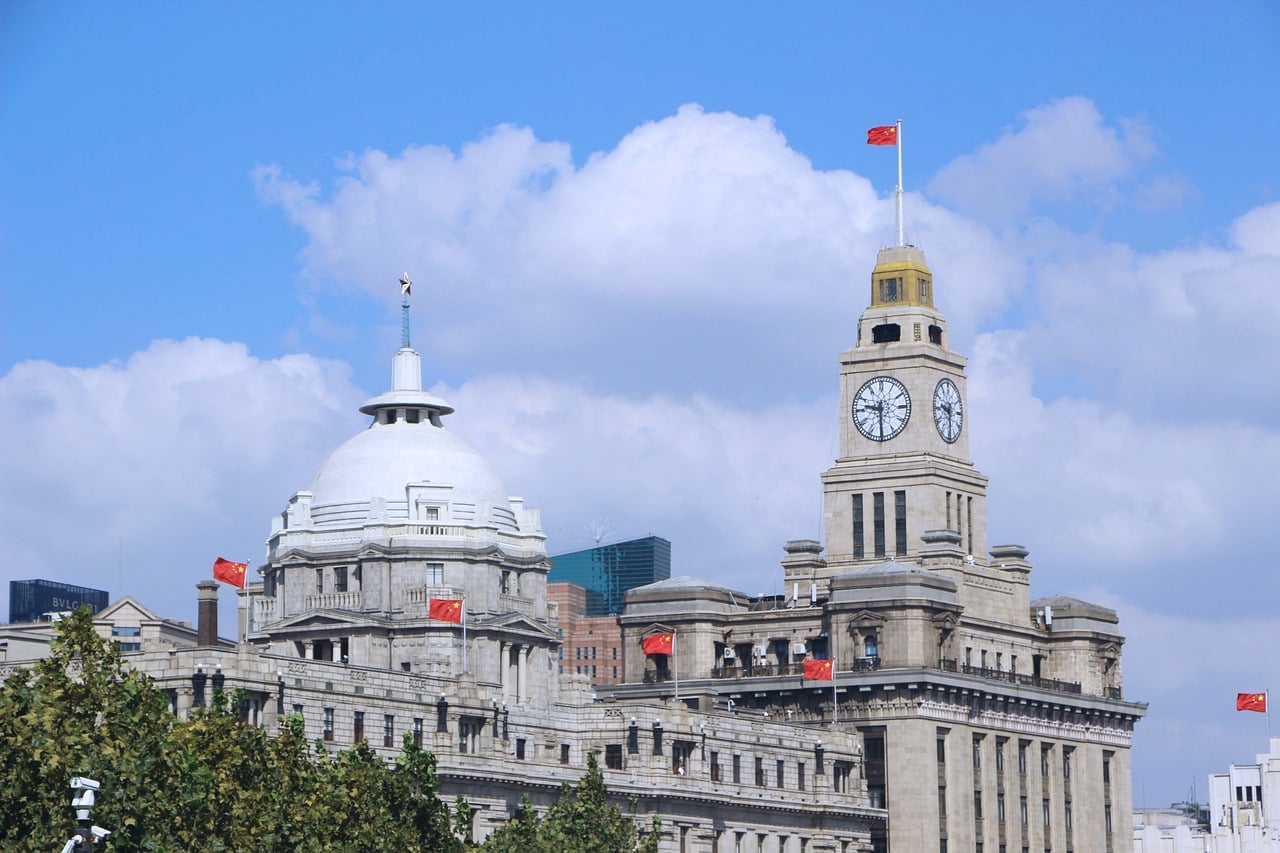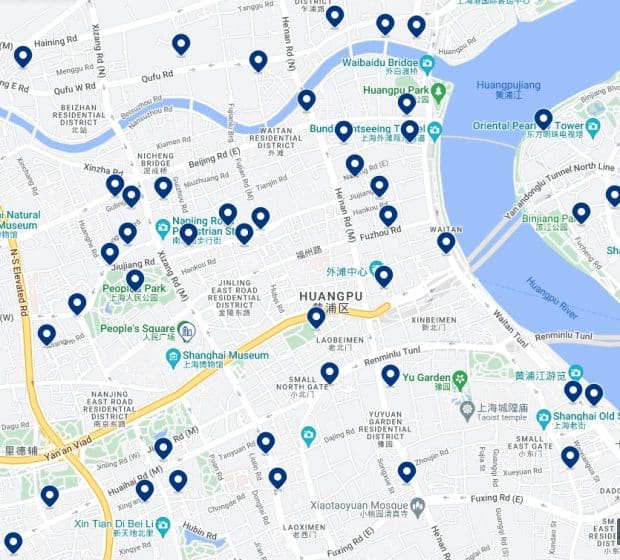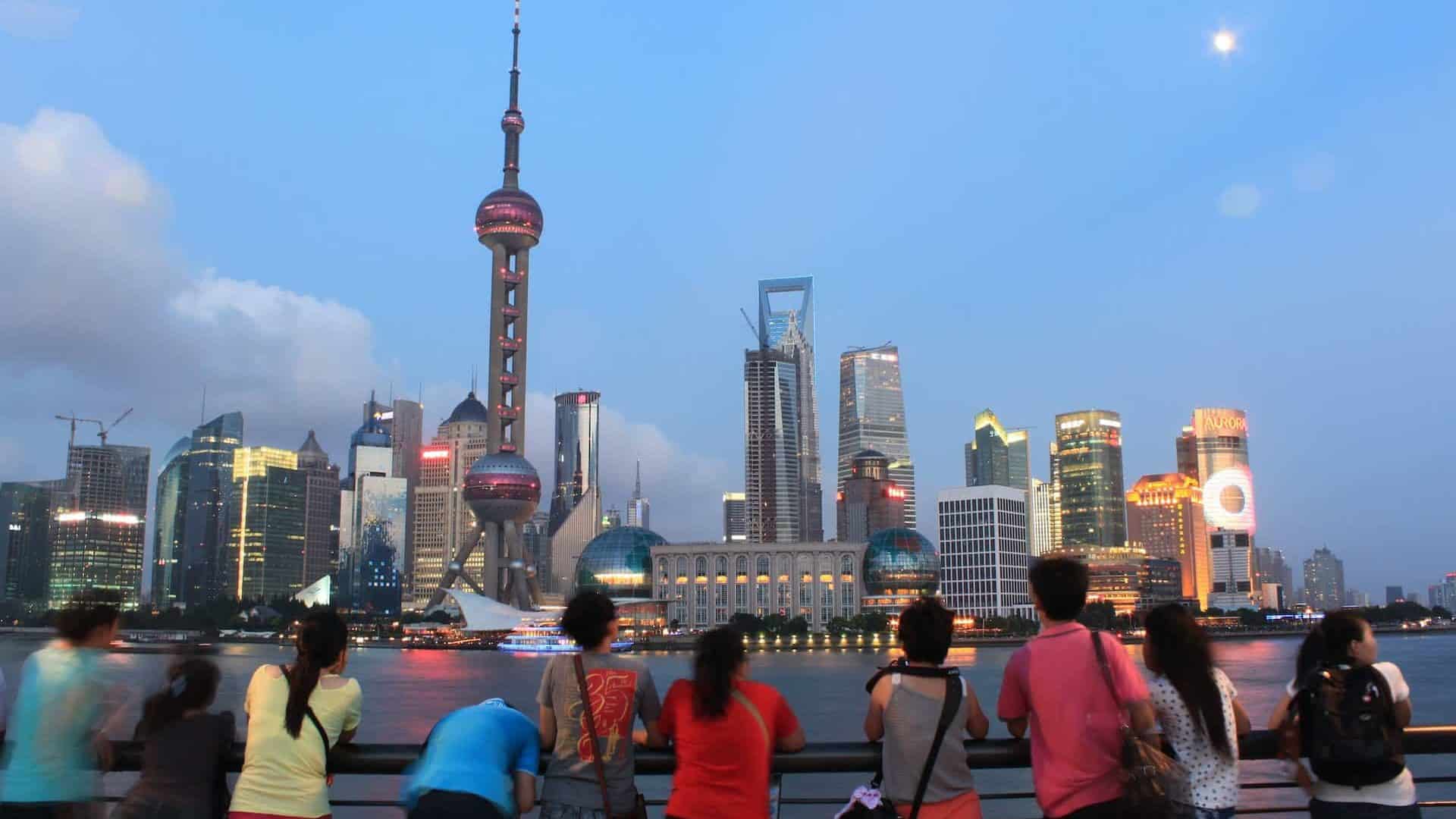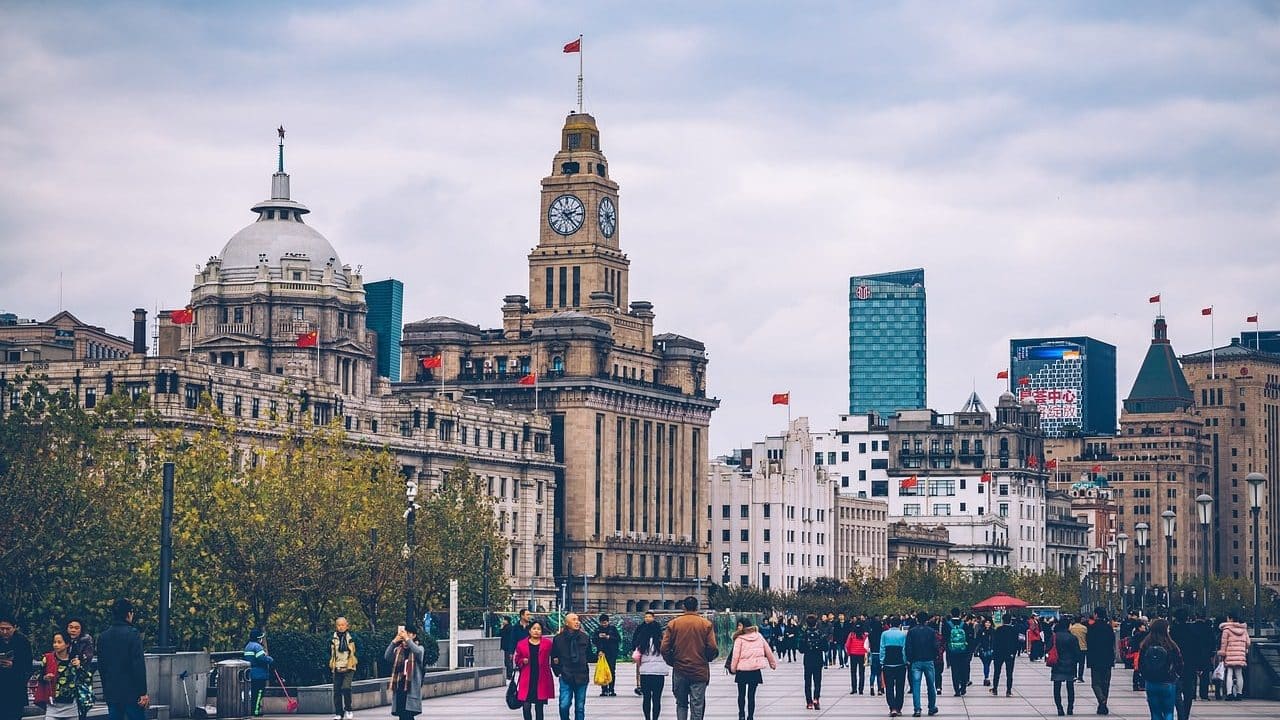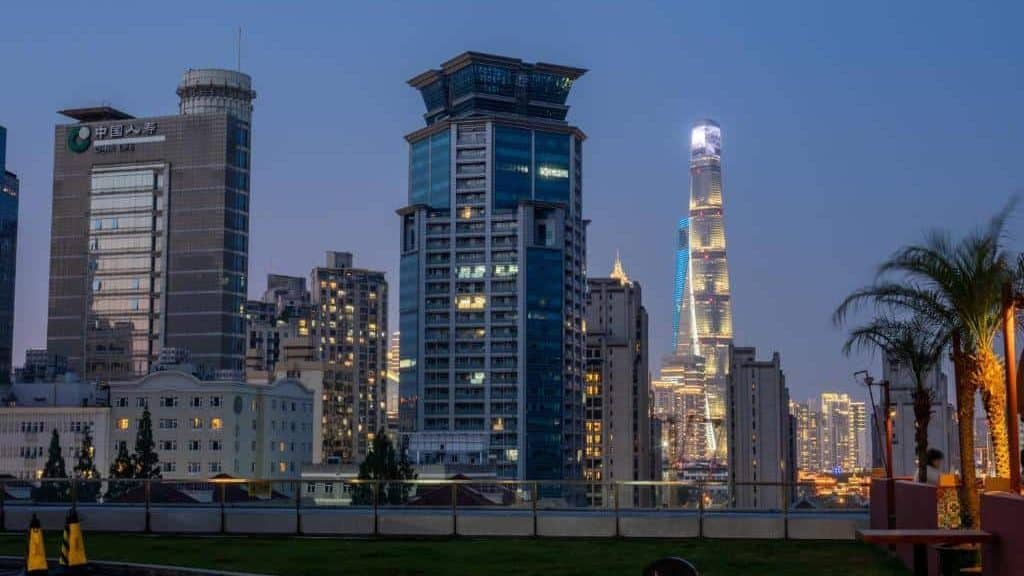 Why is this the best area to stay in Shanghai, China:

Vibrant night scene
Wide range of local cuisine
Cultural experience at Tianzifang
Proximity to shopping centers
Variety of accommodations
Huangpu River promenade
Historical attractions nearby
Luxurious lifestyle in Xintiandi
Easy access to public transportation
Great cultural and artistic venues
Beautiful parks and green spaces
Safe and clean environment
Huangpu and the Bund are known for their historical importance and spectacular riverside views.
Located on the eastern bank of the Huangpu River, The Bund was initially a British Settlement during the 19th century, contributing to the city's legacy as an international trading hub.
Today, visitors can find many well-preserved colonial buildings along Zhongshan Road. These historic edifices now house high-end restaurants, luxury boutiques, and financial institutions. Among the prominent monuments is the Custom House, built in 1927, which features a bell tower modeled after London's Big Ben.
Just south of The Bund lies the busy shopping district of Nanjing Road. This pedestrian street offers international and local brands, making it a popular destination for shopping enthusiasts. Nearby landmarks include People's Square and the Shanghai Museum – an essential destination for those interested in Chinese art and culture.
In contrast to The Bund's architectural grandeur stands Huangpu District's Xintiandi area. Xintiandi is a fashionable pedestrian street lined with beautifully restored Shikumen-style buildings. These traditional stone gate houses have been transformed into upscale shops, restaurants, and galleries. Xintiandi has a lively nightlife scene with many bars and clubs for night owls to explore.
The nighttime at The Bund offers an astonishing skyline view where modern skyscrapers on the Pudong side contrast with historical buildings on the Puxi side. Notable sights include the Oriental Pearl Tower, the Shanghai World Financial Center, and the Shanghai Tower – China's tallest building.
Transportation within Huangpu & The Bund is seamless with nearby metro lines such as Line 1 (People's Square Station), Line 2 (East Nanjing Road Station), and Line 10 (Yuyuan Garden Station). Taxis and public buses are also abundant within the area.
Huangpu and The Bund offer a mix of luxury hotels and modest lodgings. While many upscale hotels reflect the area's history with colonial architecture, cheaper options provide simpler facilities. All in all, choosing to stay in Huangpu and The Bund ensures easy access to Shanghai's most famous landmarks and an unforgettable experience in one of China's most fascinating cities.
Best Hotels in Huangpu & The Bund
---
2. Pudong (Shanghai's Financial District)
Best area to stay in Shanghai for business travelers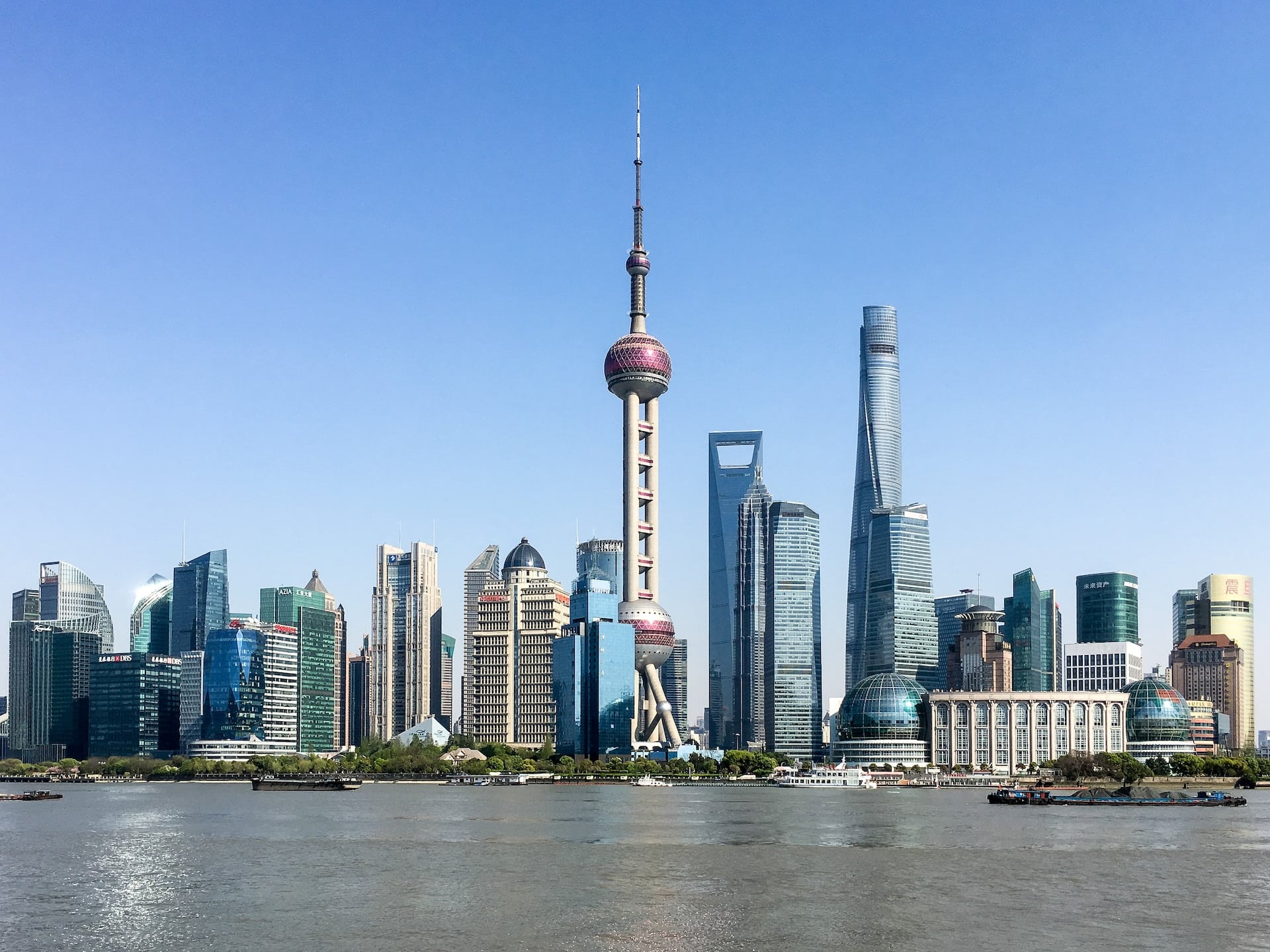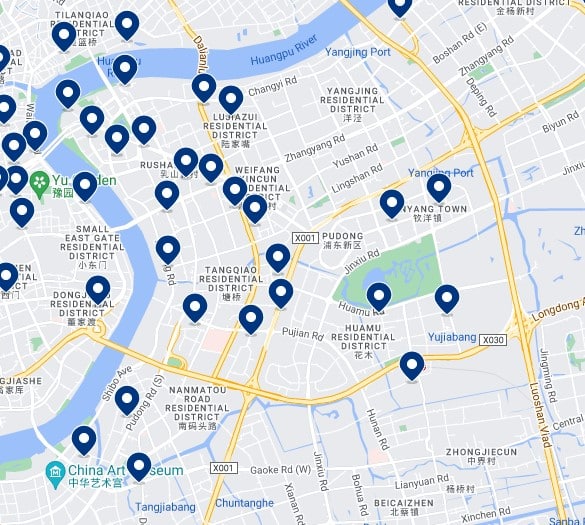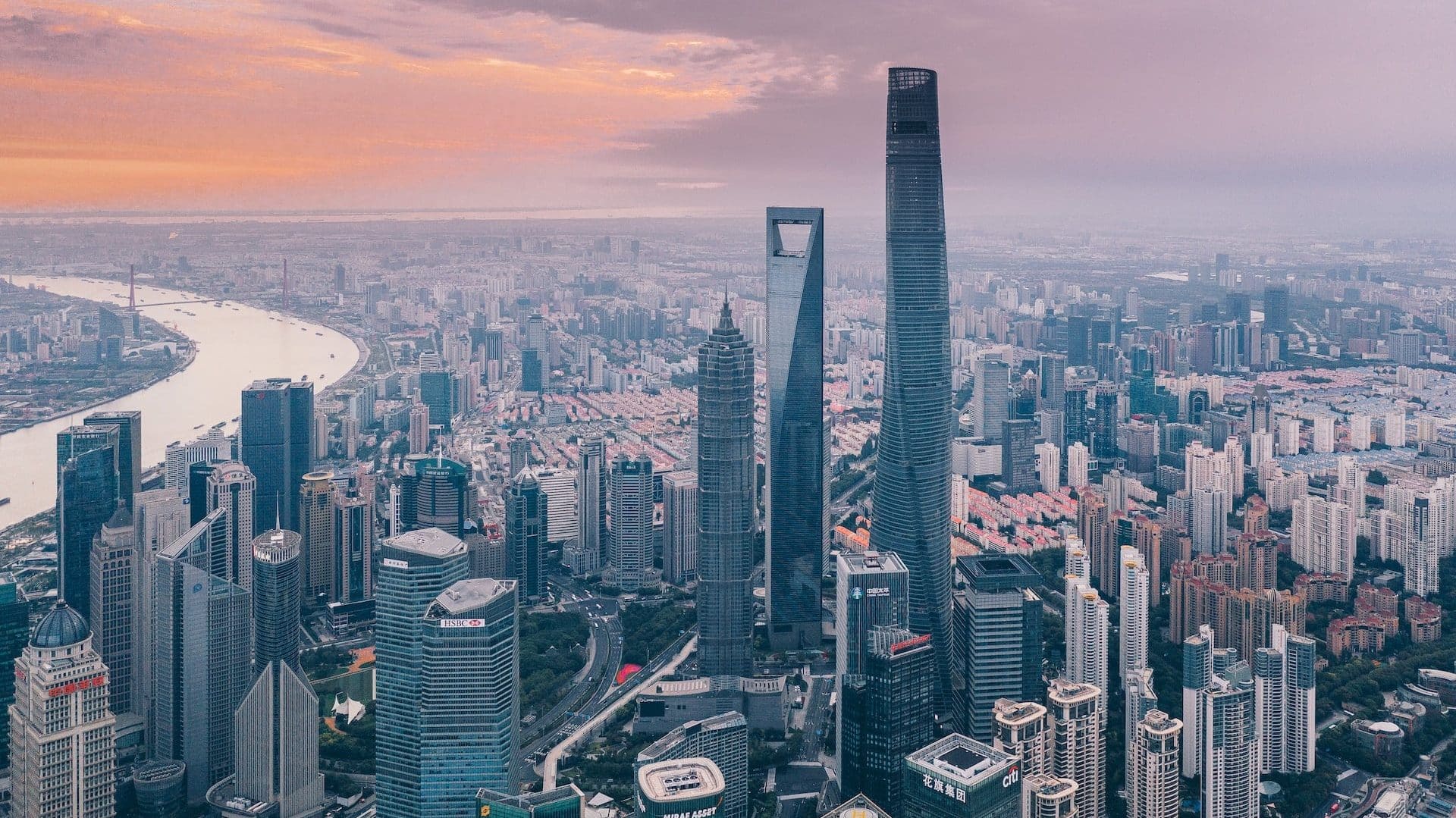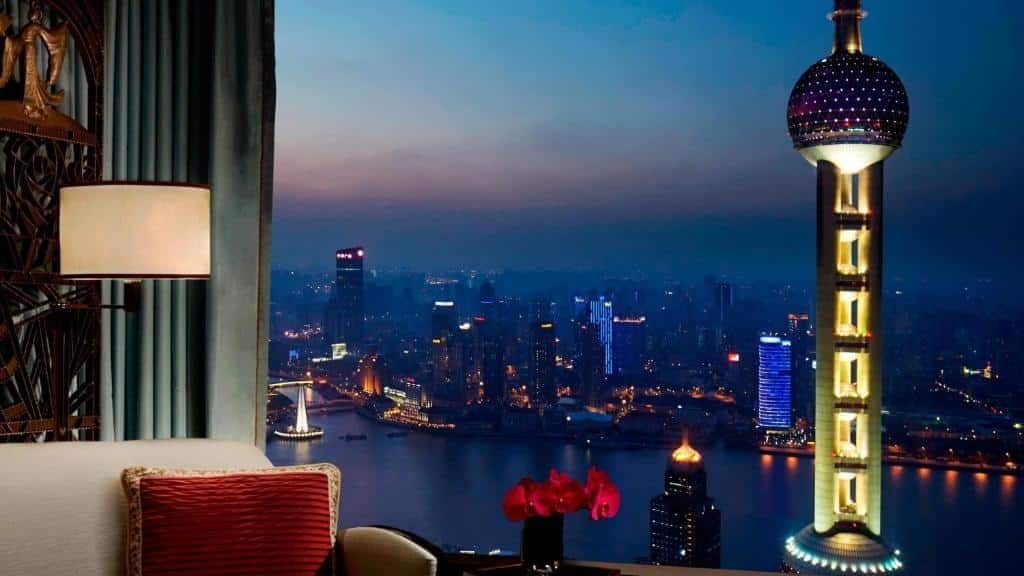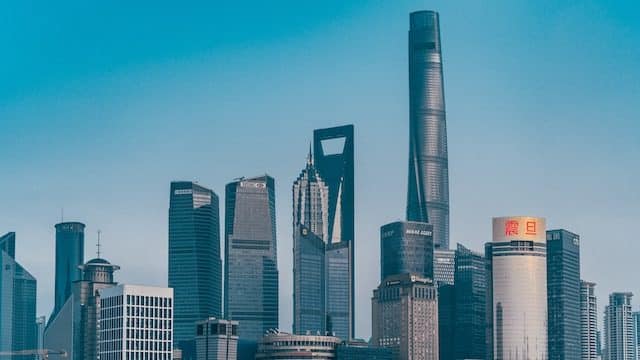 Why is this the best area to stay in Shanghai, China:

Luxurious hotels
Iconic attractions nearby
Shopping destinations
Shanghai's financial hub
Green spaces for relaxation
Family-friendly activities
Easy transportation access
Unique dining experiences
Bustling nightlife scene
Pudong district is known for its modern architecture and bustling business environment. Located on the eastern side of the Huangpu River, Pudong has grown tremendously since its development began in the early 1990s. It was initially designated as a Special Economic Zone by the Chinese government, which spurred its growth to become a thriving financial district.
One of Pudong's most recognizable landmarks is the iconic Oriental Pearl Tower. Standing tall at 468 meters (1535 ft), this futuristic tower is a must-see attraction offering panoramic views of Shanghai city. Other notable structures in the area include the towering Shanghai Tower (632 m/2,073 ft) and the Jin Mao Tower, which showcase stunning examples of contemporary architectural design.
In addition to impressive skyscrapers, Pudong boasts several cultural attractions such as the Century Park and Shanghai Science and Technology Museum. The vast Century Park offers peaceful greenery amidst the city's concrete jungle, while the museum fosters an interactive learning experience about advancements in science and technology. Furthermore, families will enjoy visiting the Shanghai Ocean Aquarium, which showcases marine species from around the world, the China Art Palace and the Shanghai Disney Resort.
Nightlife in Pudong includes bars, clubs, and restaurants situated within luxurious hotels or upmarket malls. The shopping scene includes high-end international brands as well as local stores offering unique clothing and accessories.
The district is well-served by public transportation options. Major metro lines such as Line 2, Line 4, Line 6, Line 7, Line 9 and Line 14 provide easy access within Pudong and towards other parts of Shanghai.
Pudong International Airport – one of Asia's busiest airports – is about 40 kilometers (25 mi) from Lujiazui Finance and Trade Zone. The airport serves many international flights and offers additional domestic connections within China. To reach Pudong, travelers can hop on the Maglev train that connects it with Longyang Road Metro Station in about 8 minutes.
When it comes to accommodations, Pudong hotels range from affordable options to sophisticated luxury properties. With its strategic location and various attractions and amenities, Pudong is ideal for business and leisure travelers seeking an immersive experience of modern Shanghai.
Best Hotels in Pudong, Shanghai
---
3. Xuhui & French Concession
A centrally-located and lovely district to stay in Shanghai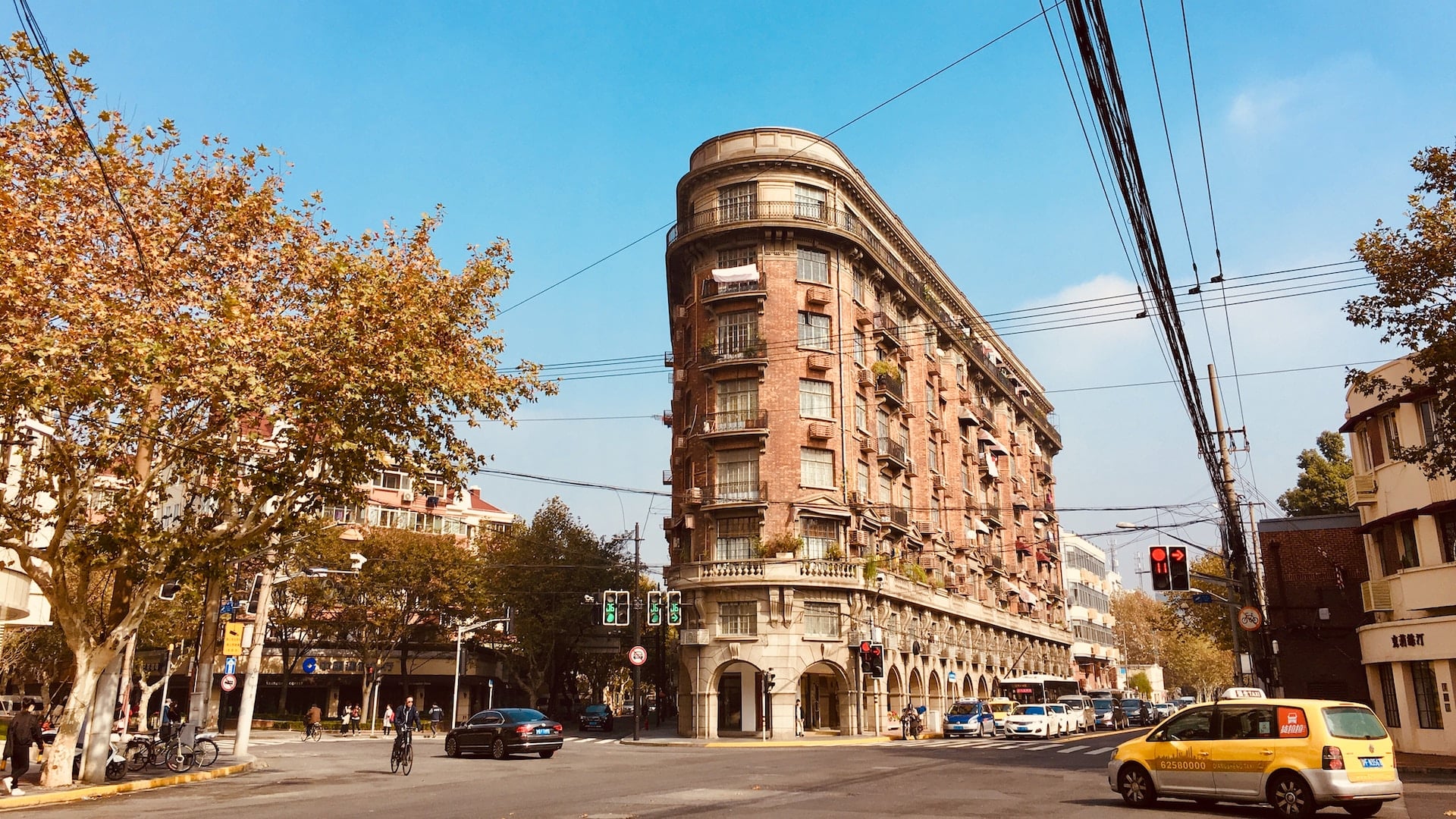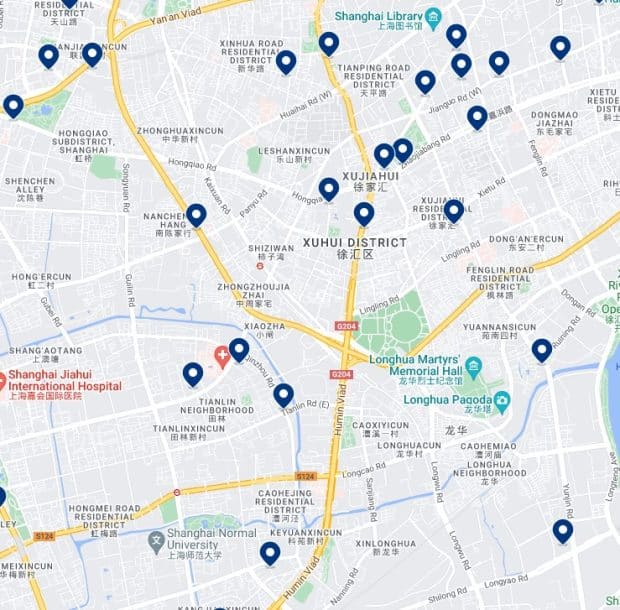 Why is this the best area to stay in Shanghai, China:

Charming tree-lined streets
Unique shikumen architecture
Tianzifang's hidden alleys and boutiques
Fuxing Park's peaceful atmosphere
Excellent food scene at Yongkang Road
Vibrant nightlife at Hengshan Road
Rich history
Popular shopping areas
Easy access to public transportation
Blend of cultures
Xuhui and the French Concession in Shanghai provide a memorable experience for any traveler who chooses to stay in this area. Located southwest of the city center, Xuhui District includes the main part of the former French Concession, characterized by its European-style architecture and tree-lined streets. This historically significant part of Shanghai is now a vibrant, fashionable district that has successfully preserved much of its rich past.
The French Concession first came into existence in 1849 when the French signed a treaty with China. European powers exerted influence over the region until 1946, when French authorities handed control back to the Chinese government. Evidently, this lively district is steeped in colonial history; from colonial-style villas to historic buildings, such as the residence of Sun Yat-sen, it offers glimpses into another era.
Some noteworthy attractions to explore include Fuxing Park, which boasts a mix of Chinese and European garden styles. The park often hosts outdoor exercise classes and cultural events. The Xintiandi area is another popular destination, featuring pedestrian-friendly streets lined with boutiques, cafes, and modern restaurants serving international cuisine.
Jiashan Road Market offers an authentic local experience. Held every Saturday, it is a great place to sample local delicacies, buy artisanal products, and even find organic produce from nearby farms.
The vibrant nightlife scene in both Xuhui and the French Concession draws a mix of locals and expats due to its numerous bars, clubs, and lounges. Tianzifang is known for its art studios, small boutiques, and maze-like alleys filled with cafes and bars where you can experience traditional Shikumen (a traditional Shanghainese style combining Western and Chinese elements) architecture.
Transportation in these districts is incredibly convenient as multiple metro stations run through the area on various lines, including 1, 7, 9, and 10. From Jiaotong University Station (Line 10), you can quickly connect to popular tourist spots like Nanjing Road and the Bund.
Accommodation options in Xuhui & the French Concession are diverse – from luxury hotels to boutique guesthouses.
Best Hotels in Xuhui & the French Concession, Shanghai
---
4. Huaihai Road
Best area for upscale shopping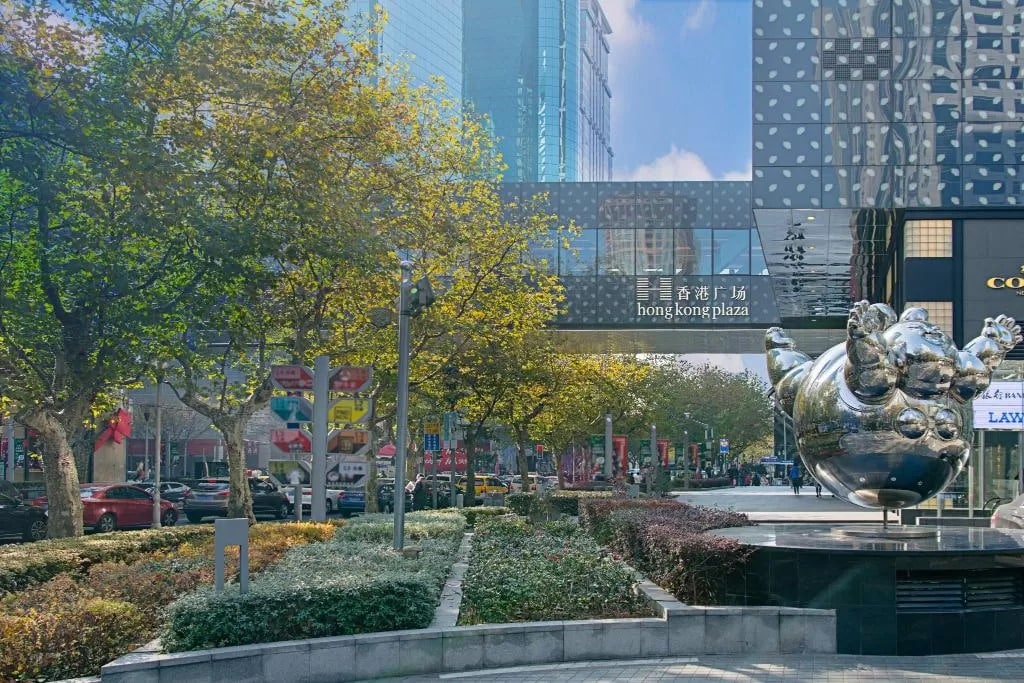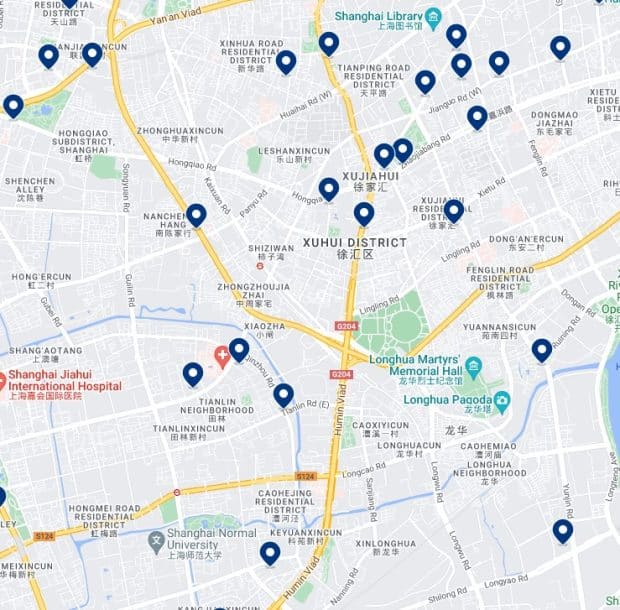 Why is this the best area to stay in Shanghai, China:

Proximity to major attractions
Easy access to public transportation
Shopping paradise
Blend of traditional and modern architecture
Wide range of accommodation options
Diverse dining experiences nearby
Vibrant nightlife scene
Walking distance to historical sites
Art galleries and cultural attractions
Safe and pleasant neighborhood atmosphere
Huaihai Road Commercial Area is a prominent district located in the heart of Shanghai. It is renowned for its luxurious shopping centers. Stretching over 5.5 kilometers (3.5 mi), the road showcases the city's cosmopolitan spirit.
The history of Huaihai Road dates back to the 19th century when it was known as Avenue Joffre, named in honor of Marshal Joseph Joffre, a French World War I hero. This charming boulevard, once a part of the French Concession, now boasts a mix of historic buildings and modern skyscrapers.
One of the main attractions in this area includes Xintiandi, an upscale pedestrian area featuring restored shikumen houses turned into fashionable boutiques, bars, and restaurants. Staying around Huaihai Road also ensures that visitors are within walking distance of notable landmarks like People's Square, the Shanghai Museum, and the bustling commercial zone of Nanjing Road.
In terms of nightlife, Huaihai Road and its surroundings offer numerous upscale bars and clubs. The area also hosts many international film festivals and fashion events throughout the year.
As for transportation options, several metro lines are accessible on Huaihai Road, including Metro Lines 1, 10, and 13, which intersect at South Shaanxi Road Station. These lines provide direct access to various parts of Shanghai, from commercial areas like Lujiazui to historical spots such as Yuyuan Garden and Jing'an Temple.
Choosing Huaihai Road as the best area to stay in Shanghai provides visitors with a perfect blend of modern opulence and historical charm in the heart of the city. Its strategic location, diverse attractions, and convenient transportation options make it ideal for travelers wondering where to stay in Shanghai.
Best Hotels in the Huaihai Road Commercial Area
---
5. Jing'an & Zhabei
One of the best areas to stay in Shanghai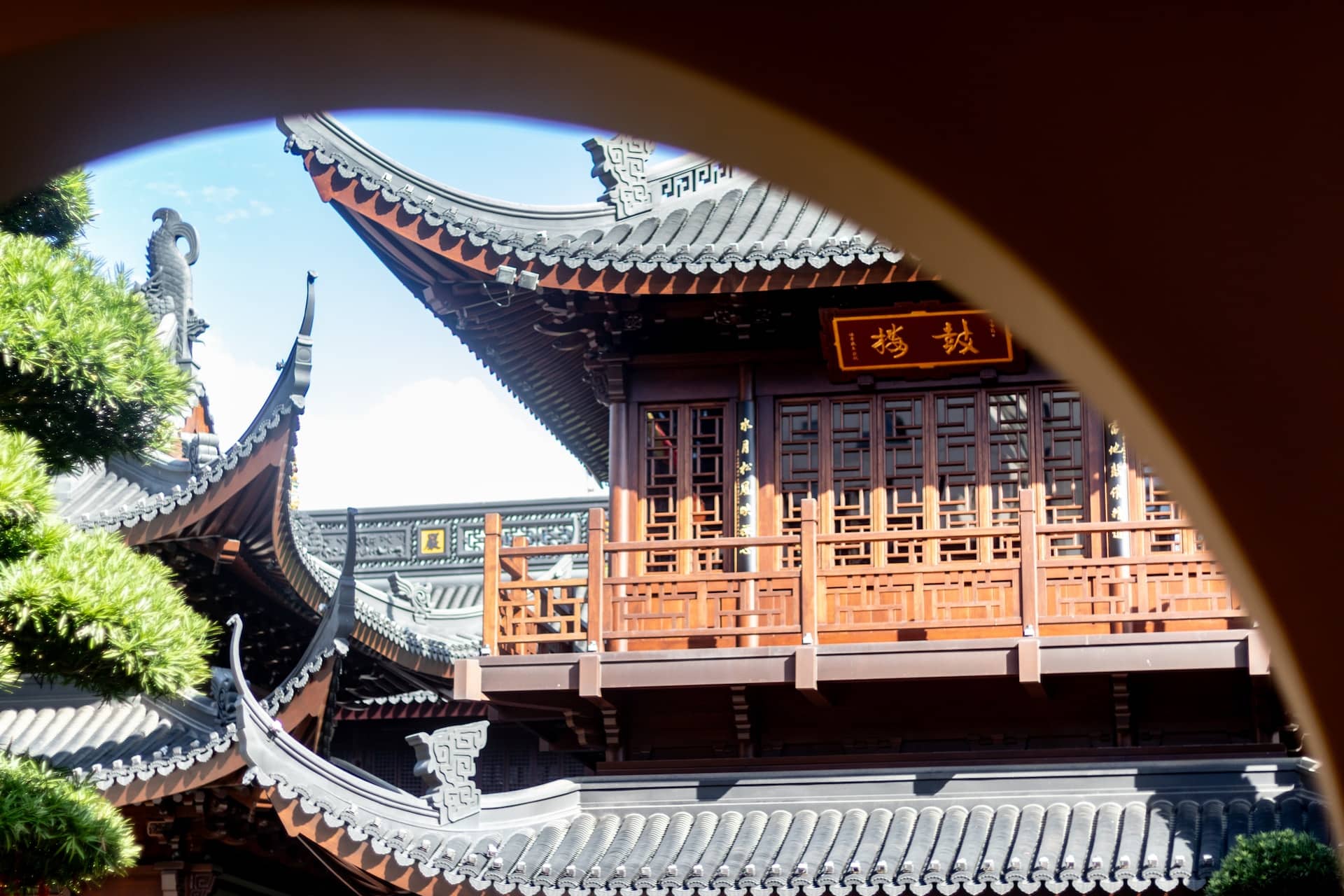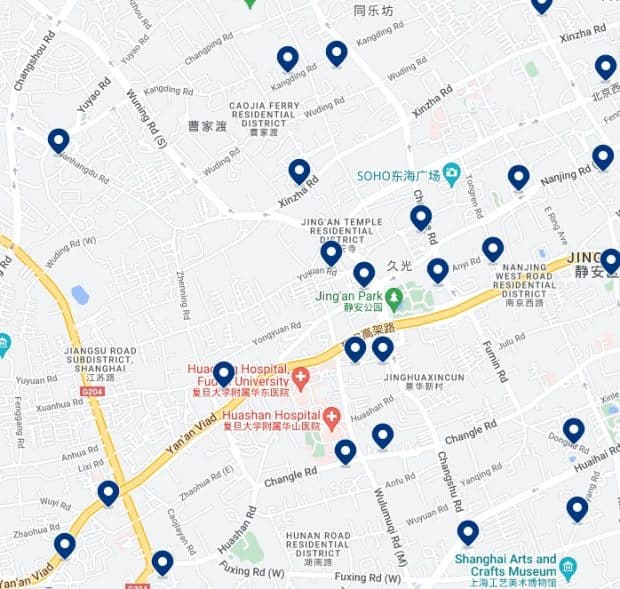 Why is this the best area to stay in Shanghai, China:

Proximity to key attractions
Jing'an Temple's historic beauty
International cuisine in Shanghai Centre
Daning Lingshi Park
Vibrant nightlife on West Nanjing Road
Ease of transportation with metro stations
Zhabei Park
Jing'an and Zhabei have undergone significant transformations over the years. Located north of the famous Bund and east of the French Concession, these districts are some of the best areas to stay in Shanghai.
Jing'an derives its name from the prominent Jing'an Temple, which dates back to the Song Dynasty in the 13th century. Though it has been relocated and rebuilt throughout the centuries, it remains an iconic sight and a symbol of peace amidst the bustling city.
On the other hand, Zhabei played a crucial role during industrialization in early 20th-century Shanghai. Today, it merges historical elements with modern urban life with new skyscrapers and shopping malls.
Besides the Jing'an Temple, other noteworthy attractions include the Jade Buddha Temple, built in 1882 to house two exquisite jade Buddha statues from Burma; Wujiang Road, known for its pedestrian-friendly layout and wealth of food options; and Daning Lingshi Park.
In recent years, a vibrant nightlife scene has developed in Jing'an. Nanjing Road West offers numerous bars and clubs. Throughout both districts, you'll find a wide range of restaurants offering international cuisine and local favorites, such as xiaolongbao (soup dumplings) and shengjianbao (pan-fried pork buns).
Transportation is convenient throughout Jing'an and Zhabei. Major metro lines serving this area include Line 1, Line 8, Line 12, and Line 13. You can also reach nearby districts such as Xuhui or Hongkou by bus or taxi.
Best Hotels in Jing'an & Zhabei, Shanghai
---
6. Shanghai Disneyland
Best area for families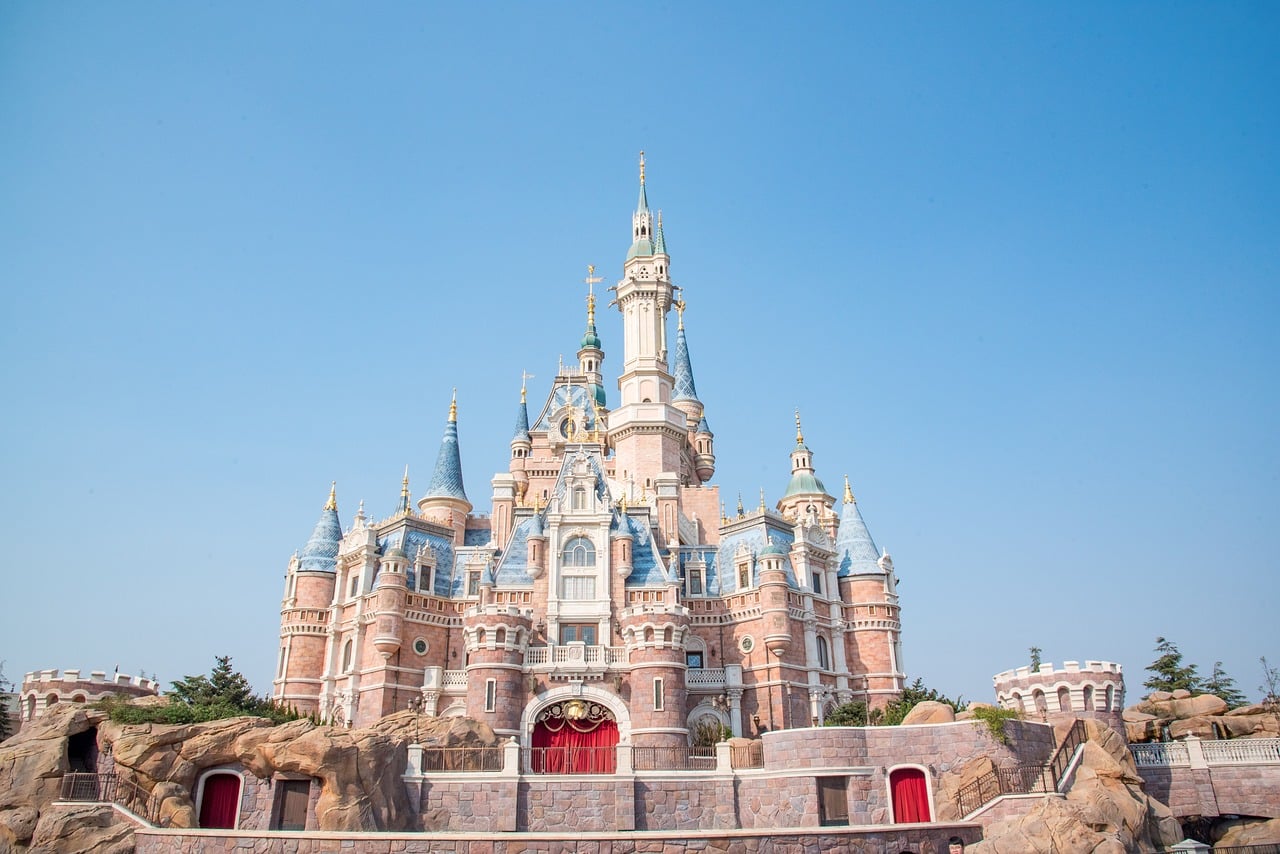 Shanghai Disneyland, located in Pudong, is a popular destination for tourists and families. Opened in June 2016, the resort covers an area of 963 acres and is the first Disney park in Mainland China. Due to its internationally known brand and entertainment offerings, Disneyland Shanghai has become a key area to stay during a visit to the bustling Chinese city.
The park comprises six themed lands: Mickey Avenue, Gardens of Imagination, Fantasyland, Adventure Isle, Treasure Cove, and Tomorrowland. Among the notable attractions are Enchanted Storybook Castle – the largest Disney castle in the world – Pirates of the Caribbean: Battle for Sunken Treasure, and the TRON Lightcycle Power Run roller coaster.
This area is family-friendly. While nightlife options within Disneyland Shanghai are limited, families can enjoy several evening events such as light shows and fireworks performances.
The resort is connected to the rest of the city via Line 11 on the Shanghai Metro network; Disneyland Resort station serves as the main entry point to the park.
Best Hotels near Shanghai Disneyland
---
7. Changning & Hongqiao Airport
A convenient district to stay in Shanghai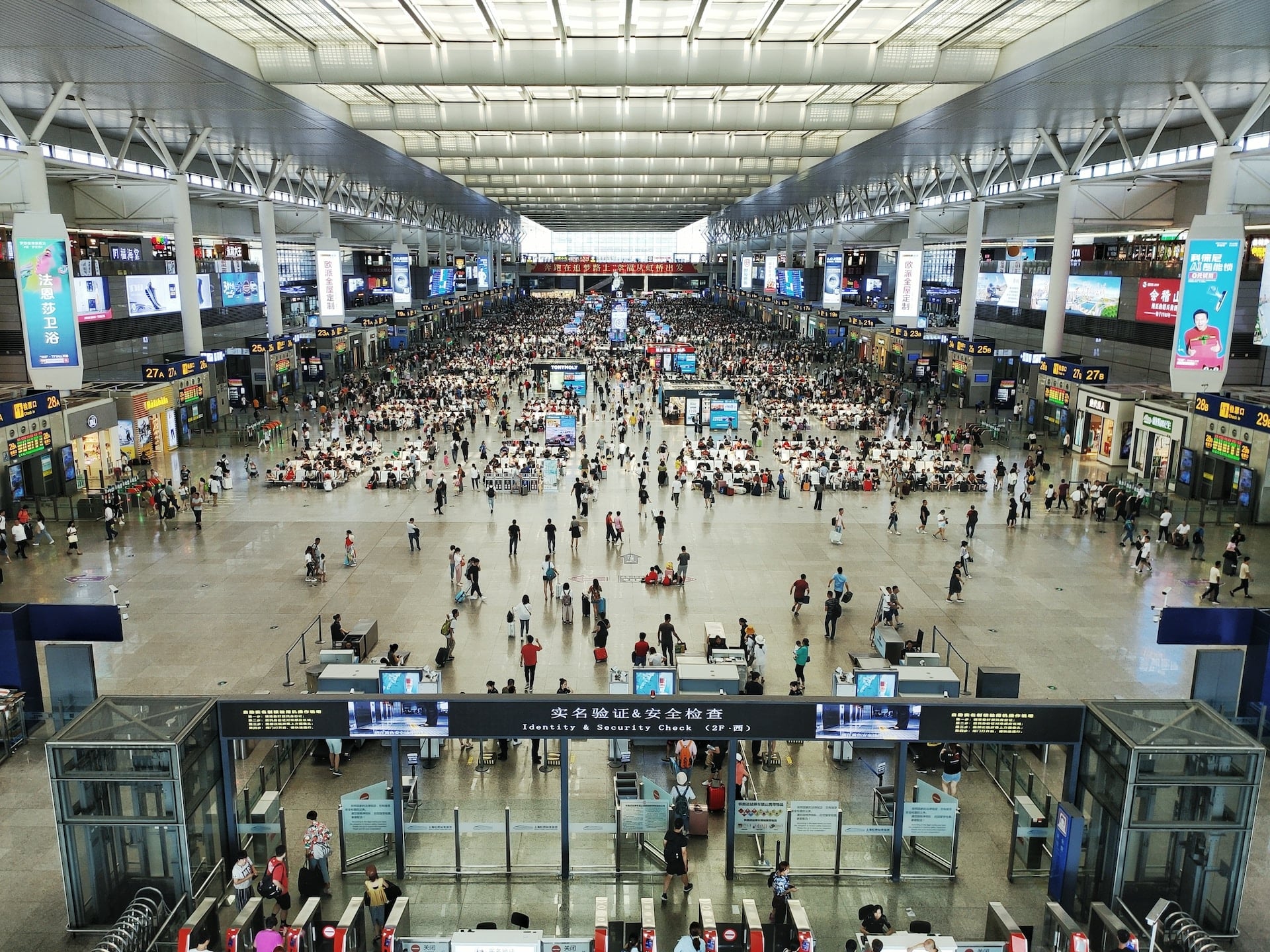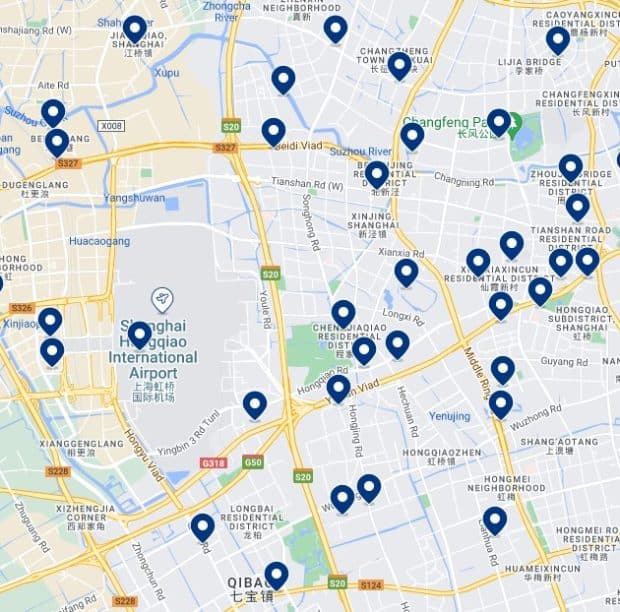 Changning District, situated in the western part of Shanghai, provides an excellent mix of residential, commercial, and recreational spaces. As one of the city's larger districts, Changning can be divided into three prominent neighborhoods: Zhongshan Park, Hongqiao, and Xujiahui.
Zhongshan Park is a primary commercial area showcasing modern shopping malls, office buildings, and bustling streets. The namesake park serves as a refreshing green oasis amidst the urban landscape, providing a serene spot for relaxing or enjoying outdoor activities. Nearby attractions include the Cloud Nine Shopping Mall and the well-preserved Jing'an Temple.
Hongqiao International Airport is one of the two main airports in Shanghai, primarily catering to domestic flights and a limited number of international routes. It is well connected to the rest of the city by various means of transportation, including metro lines 2 and 10 and bus services. The airport offers numerous amenities such as shops, restaurants, and lounges, making it a well-rounded choice for those arriving or departing from Shanghai.
Best Hotels in Changning & Hongqiao Airport
---
Where to Look for Accommodation in Shanghai: Useful Info
Location: Shanghai is a large city in China with various districts, each offering different attractions for tourists. The Bund, People's Square, and Yuyuan Garden are some of the main places of interest. Selecting a hotel close to these sites or in areas like Pudong, Jing'an, or Xuhui can make traveling around the city more convenient.
Transportation: In Shanghai, public transport options include buses, taxis, and the metro system. Visitors should check if their chosen hotel is near a metro station for easy access to different parts of the city.
Accessibility: Shanghai has modern infrastructure that generally caters to people with mobility challenges. Most hotels offer accessible rooms and facilities such as ramps or elevators. It is advisable to book a hotel that provides suitable accommodations for individuals with disabilities.
Costs: Prices for accommodation, food, and transportation in Shanghai may be higher than other Chinese cities but still reasonable compared to international standards. Peak tourist season (April to October) usually results in increased costs.
Budget: Hotel prices in Shanghai can vary based on location, amenities, and time of year. Research and comparison shopping before making a reservation is recommended.
Time of year: Popular tourist seasons include spring and autumn when temperatures are moderate. Festivals like Chinese New Year also see an increase in visitors. Advance hotel booking during these times is highly recommended.
Cheapest areas to stay: To find more economical accommodation options in Shanghai, consider staying in less touristy districts or areas further from the city center. Access to public transportation should be considered when choosing these locations.
Reviews: Checking reviews from previous guests can provide useful information about a hotel's quality and reliability before booking.
Transportation from the airport: Travelers arriving at Shanghai Pudong International Airport (PVG), can use the Maglev train or line 2 of the metro system to reach the city center conveniently. Buses and taxis are also available.
Dining out: Eating in popular tourist areas can be expensive. For more affordable meal options, consider local restaurants or street food vendors in residential neighborhoods.
---
Where to Stay in Shanghai: Frequently Asked Questions
Which district is best to stay in Shanghai?
The best district to stay in Shanghai is the Huangpu District. This central area offers a mix of modern attractions and traditional charm, with easy access to popular spots like The Bund, People's Square, and Nanjing Road. In this district, you can find a wide range of accommodations, from luxury hotels to affordable options for budget travelers.
Where do foreigners live in Shanghai?
Many foreigners live in expat-friendly areas such as Pudong, Jing'an, and the Former French Concession. These districts offer a variety of international amenities, Western restaurants, and easily accessible public transportation. Additionally, these neighborhoods have an abundance of international schools and high-quality healthcare facilities that cater to expatriates.
What is the tourist district of Shanghai?
The tourist district of Shanghai is encompassed by the Huangpu District and stretches into parts of Pudong. These areas are home to popular attractions such as The Bund, Oriental Pearl Tower, Yu Garden, and Xintiandi. This district bustles with activity day and night and offers numerous shopping centers, cultural institutions, and dining options.
How many days do you need in Shanghai?
Ideally, allocating four to five days for exploring Shanghai would allow you to see its major attractions at a comfortable pace. This time frame enables visitors to enjoy a blend of historical sites like Yu Garden and modern landmarks, including the Oriental Pearl Tower, while also experiencing local culture at places like Tianzifang or M50 Art District.
Is Shanghai foreigner friendly?
Yes, Shanghai is foreigner-friendly. The city has a diverse population, which includes an extensive expatriate community. As a global financial center, many residents can speak English or other languages, and signs are often bilingual. Public transportation supports English instructions, and Western-style accommodations are readily available throughout the city.
Which month is best for Shanghai?
The best months to visit Shanghai are generally April to May or October to November, during the city's spring and autumn seasons. The weather is more comfortable and mild during these times, allowing for pleasant sightseeing experiences. Additionally, it avoids the crowded tourist seasons of summer and the colder months of winter, making it a great time to explore the city.
---
Read this post in other languages:
|ES| Mejores zonas donde alojarse en Shanghái.