Boston is the capital and largest city of Massachusetts and one of the oldest cities in the United States. It is is a relatively compact city located in the northeast of the country, on the Atlantic Coast.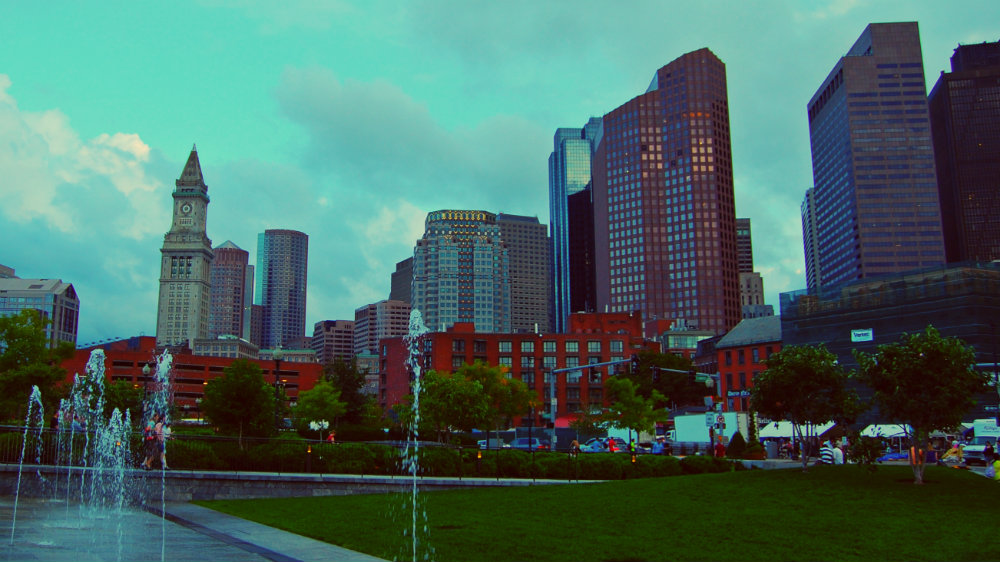 Boston is famous for its old buildings and American Independence monuments. Boston's Freedom Trail is one of the most famous historical routes in America. It includes most of the best attractions in Boston, such as the Boston Common, the statue of Benjamin Franklin, the Government House, and the State House.
The city's climate is typical for the American Northeast, with long winters, a warm spring in starting in March, and suffocating waves of heat in months like July and August.
Most Bostonians use the metro system (MBTA Subway) to get around since it has stations all around the city center. The subway lines run through (or bordering) almost every district in town and there are information centers throughout the city.
The capital of Massachusetts is famous for its old historical neighborhoods and the Downtown area offers a mix of the old and the new.
Other neighborhoods such as the South End are multicultural, while Fenway is famous for its bars, nightclubs, restaurants and its baseball stadium.
Hotel rates in Boston tend to be on the high side. This town offers good quality accommodation, but it is not the cheapest in the country, so staying a bit further from the Downtown area can save you some money.
This is a guide with the best district to stay in Boston.
Accommodation Options in Boston
Hotels in Boston
The best hotels to stay in Boston
Hostels in Boston
Hostels and cheap stays in Boston
Apartments in Boston
Would you like independence? Book an apartment in Boston
Bed & Breakfast in Boston
Inns, B&Bs and guest houses in several areas around Boston
The Best Areas to Atay in Boston, MA
1. Recommended Area: Downtown Boston
Downtown Boston is the financial area of the city, home to its commercial core.
Downtown hosts most of the Freedom Trail, borders Back Bay, North End, Beacon Hill and South End.
It is a neighborhood of contrasts, with National Monuments such as the Old South Meeting House and the Old State House surrounded by tall office buildings.
Located on a corner of the district, lies the most famous place to eat and shop in Boston, Quincy Market.
The area is usually busy and traffic is intense. The streets are crowded with locals and visitors alike.
Most subway lines (blue, green, red and orange) connect at Downtown Crossing, Park Street, Government Center and State stations.
Downtown is the best area to stay in Boston, but also the most expensive, here you can find the best and most luxurious hotels in Boston.
That said, in an area teeming with accommodation options, it's not hard to find he occasional deal.
Hand-picked hotels in this area
---
2. Theater District & Chinatown
Boston's Theater District displays the city's collection of theaters, live shows, and concerts.
It is located on the eastern part of the City Center. It starts on Washington Street and covers part of Tremont Street and West Street, where Boston's Chinatown is located.
The area is ideal for entertainment and theater fans.
Culture houses such as the Boston Opera House, the Paramount Theater and the Modern Theater are the hubs of this district.
Each avenue and key point of the Theater District has several bus stops, the nearest metro station is Chinatown, located on Washington and Boylston streets.
The Theater District is a good option to stay in Boston. Together with Chinatown, they have a good number of accommodations, are close to most attractions and boast more entertainment options than the Downtown district.
Hand-picked hotels in this area
---
3. Financial District
Boston's Financial District is located in the center of the city, bordered by Atlantic Avenue, State Street, and Devonshire Street, on the border with Chinatown.
This area of Boston is know for its office towers and skyscrapers.
The Financial District is a well-connected downtown district, bus stops can be found on Atlantic Avenue and Summer Street, where you can also find South Station.
Luxury and business hotels dominate the Boston Financial District.
It is advisable to compare prices when staying in this area.
We can say that the Financial District of Boston is the most recommended area to stay in Boston for business travelers.
Hand-picked hotels in this area
---
4. Back Bay
Back Bay is one of the best options to stay in Boston, given its proximity to most downtown attractions and architectural appeal.
It is one of the most expensive colonial residential neighborhoods in the city.
Newbury Street is known as the high-end shopping street in Boston and the most active area of the district.
Back Bay Station is a subway station on the orange line, it is located on Dartmouth St. The green line has Arlington, Copley, Hynes Convention Center and Prudential stations, distributed in key points of the district.
Accommodation in Back Bay is varied and tends to be on the expensive side.
Back Bay is a good area to stay in Boston thanks to its location and its variety of things to see and do.
Hand-picked hotels in this area
---
5. Fenway- Kenmore
Fenway- Kenmore is a rather large district, popularly called just Fenway.
This neighborhood is located to the southwest of Boston's city center, confined by Kenmore Square, Brookline Avenue, Beacon Street, Boylston Street.
It houses Fenway Park baseball stadium, home of the Boston Red Sox.
Fenway is connected by the Orange Line; Ruggles and Yawkey stations are located nearby.
Fenway is one of the cheapest areas to stay in central Boston. Three and four-star hotels are more affordable here, which makes it a good area to stay.
Hand-picked hotels in this area
---
6. South End
The South End is located near the Roxbury and Chinatown neighborhoods, just south of downtown.
It boasts Victorian houses, residential parks, cocktail bars and haute cuisine restaurants.
Boston's South End offers a quiet, familiar and refined atmosphere.
It is one of the few areas in Boston not connected by the subway system. In order to move around South End, it is advisable to take the bus on Tremont Street.
Being a high-end residential area, accommodation here tends to be quite expensive. However, there are more cheap accommodation options here than in the Downtown area.
Hand-picked hotels in this area
---
7. South Boston
South Boston, in contrast to what its name might suggest, is located at the east end of Boston.
South Boston is one of the cheapest places to stay in Boston.
This area is not far from Downtown. It's considered one of the most lively places in Boston.
The city's metro red line has two stations at each end of the area, Broadway to the north and Andrew to the south, although the nearest subway station to the central area is South.
In comparison with other areas in the city center, accommodation in South Boston is more budget-friendly.
Hand-picked hotels in this area
---
Cheap Hotels in Boston (and Around)
Since Boston is a city with such high accommodation costs, we have included a selection of the best cheap hotels in Boston and around.
These selected accommodations are located in less central areas than those described above and, in many cases, it is necessary to have a vehicle to be able to move between the accommodation and the city.
If you have a car or are on a road trip, then take a look at our selection of budget accommodation around Boston.
Cheap hotels in Boston (and Masachusetts)
---
Read this post in other languages
|ES| Dónde alojarse en Boston
|IT| Dove allogiare a Boston – Le migliori zone e hotel