Thailand is a predominantly Buddhist country. The majority of its citizens practice Buddhism, which has deeply infiltrated the everyday lives of Thai people and influenced their worldview. There are tens of thousands of Buddhist temples in Thailand, most of which are active; they are one of Thailand's main attractions. This post will unveil the 21 most beautiful Thai temples for you to discover on your next Southeast Asia adventure.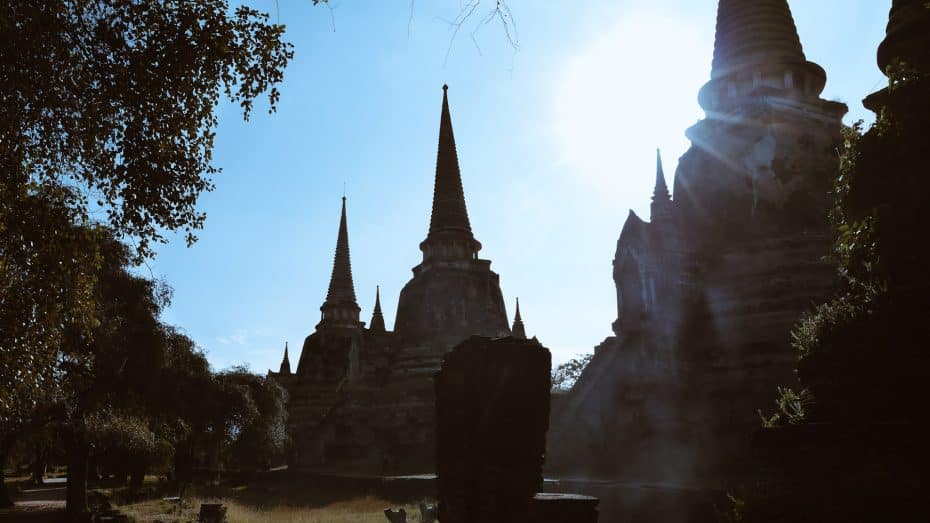 The history of Buddhism in Thailand can be traced back to the third century BCE when Indian Emperor Ashoka the Great sent Buddhist missionaries to the region. During this early period, Buddhism coexisted with other religious practices and beliefs, such as Brahmanism and indigenous animistic cults. Notably, the Dvaravati culture that emerged in present-day central and northeastern Thailand between the 6th and 11th centuries centered around Theravada Buddhism, which has since dominated Thai religious practices.
Theravada Buddhism is the dominant form practiced in Thailand, setting it apart from countries where Mahayana or Vajrayana Buddhism prevails. This form of Buddhism emphasizes individual enlightenment through personal effort. Theravada tradition, as practiced in Thailand, seeks to maintain purity of doctrine and strict adherence to monastic discipline.
Today, Buddhism continues to play a pivotal role in Thai society, with over 90% of Thais identifying as Buddhists.
---
The Buddhist Thai Temple
Temples play an essential role in Buddhist practice and Thai culture and are a crucial part of the nation's heritage and identity.
Most traditional Thai temples, known as wats, consist of a central ubosot (ordination hall), a viharn (assembly hall), a chedi (relic holder), and a mondop (square building enshrining a relic or sacred text). Many old temples feature prangs, Khmer-style towers, usually found in temples from past ruling empires.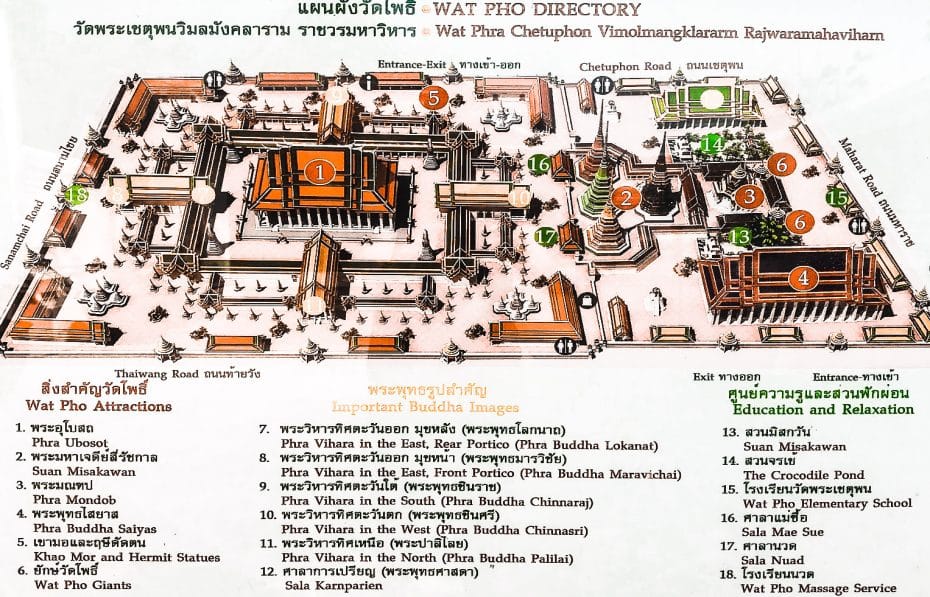 Thai temples are categorized based on their function and ecclesiastical status. The two primary types are Royal Temples and Common Temples. Royal Temples, established by royal command, hold a higher status than Common Temples, which are usually built by laypeople to serve local communities. Significant temples in Thailand include the Grand Palace's Wat Phra Kaew, Wat Pho, Wat Arun, Wat Saket and the Golden Mount, and Wat Rong Khun.
---
The Most Beautiful Buddhist Thai Temples
The stunning architecture and significance of Thai temples have made them attractive to visitors from the West interested in their aesthetics, as well as their meaning. Temples offer a wonderful chance to engage with the teachings of Buddhism. These are some of the most stunning:
1. Wat Phra Kaew (Temple of the Emerald Buddha)
Bangkok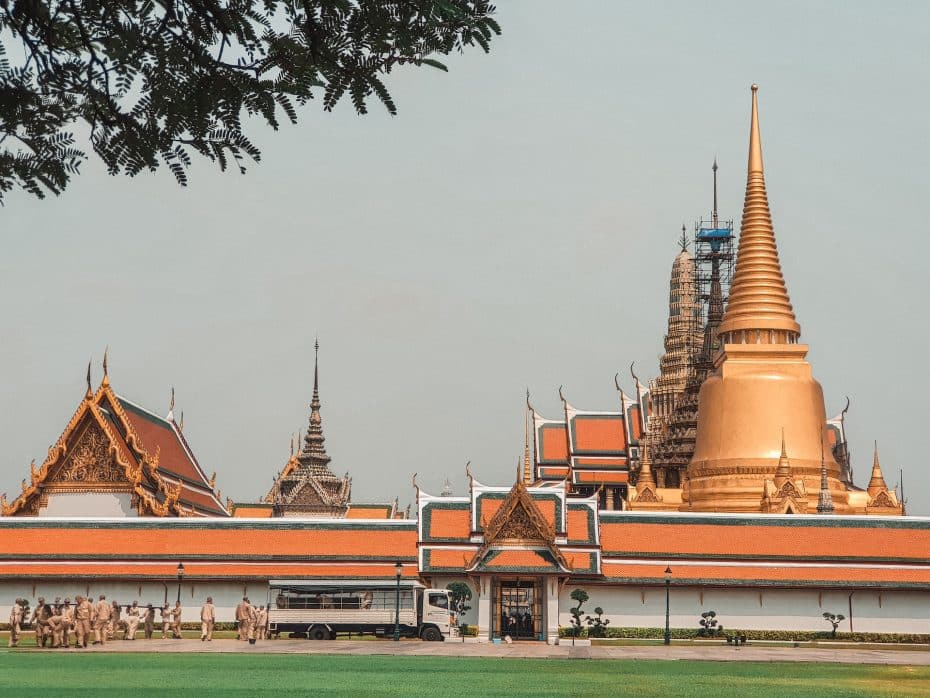 Wat Phra Kaew, situated within the Grand Palace complex, is one of the most important and beautiful temples in Thailand. It is famous for housing the Emerald Buddha, a highly revered statue made from a single block of jade. The temple's intricate architecture, stunning murals, and gold-encrusted buildings reflect the artistic skills and impressive dedication of Thai artisans.
---
2. Wat Arun (Temple of Dawn)
Bangkok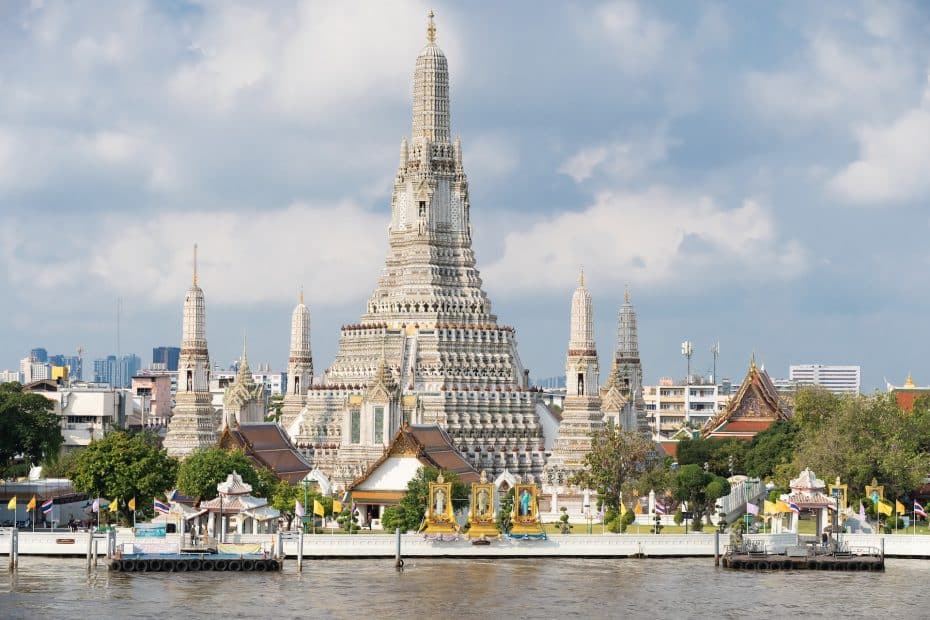 Wat Arun, located on the banks of the Chao Phraya River in Bangkok, is an iconic Thai temple with its distinct prang (stepped pyramidal tower) reaching skyward. Known as the Temple of Dawn, it is best admired during sunrise or sunset when its porcelain facade shimmers in golden hues. Wat Arun is a symbol of the Rattanakosin period. It is a must-see attraction with fantastic views of Bangkok from atop its steep steps.
---
3. Wat Pho (Temple of the Reclining Buddha)
Bangkok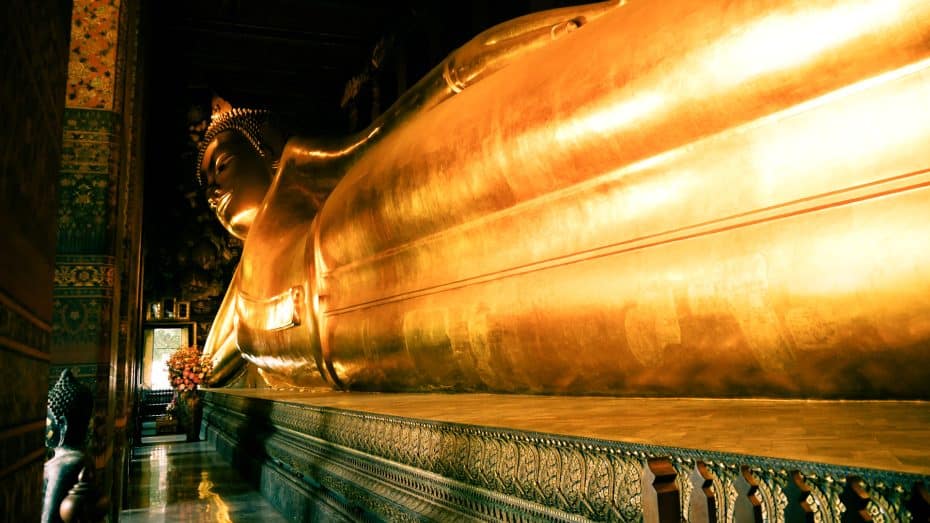 Wat Pho, also known as the Temple of the Reclining Buddha, is home to one of Thailand's largest and most impressive reclining Buddha statues. This 46-meter-long and 15-meter-high golden figure showcases beautiful pearl-inlaid soles depicting scenes from Buddhist scriptures. The temple compound also houses a renowned traditional Thai massage school where visitors can receive treatments or take courses.
---
4. Ayutthaya Historical Park Temples
Ayutthaya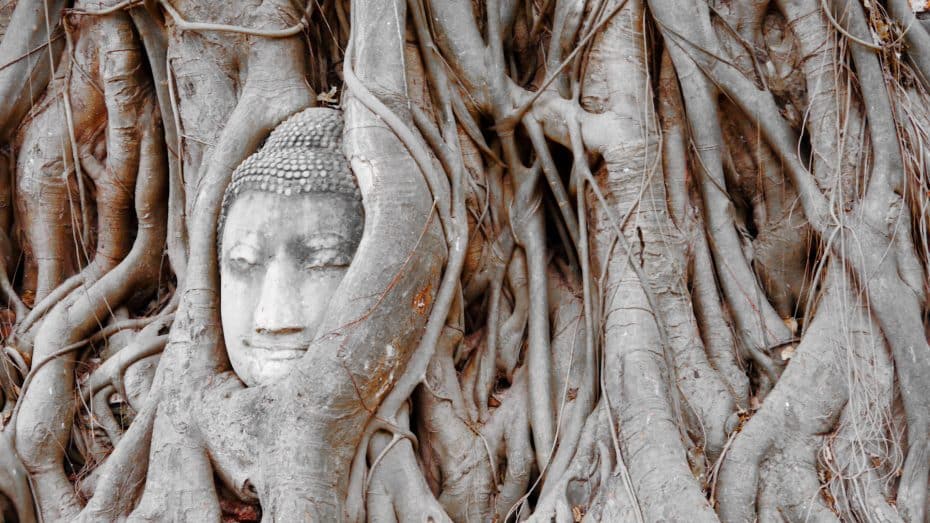 Located in the ancient city of Ayutthaya, the Ayutthaya Historical Park is an incredible collection of temples that showcase Thailand's architectural history. The ruins of these magnificent temples give visitors a glimpse into the city's past and the beginnings of Buddhism in Thailand. Each temple features different architectural styles and influences from several periods.
---
5. Wat Rong Khun (White Temple)
Chiang Rai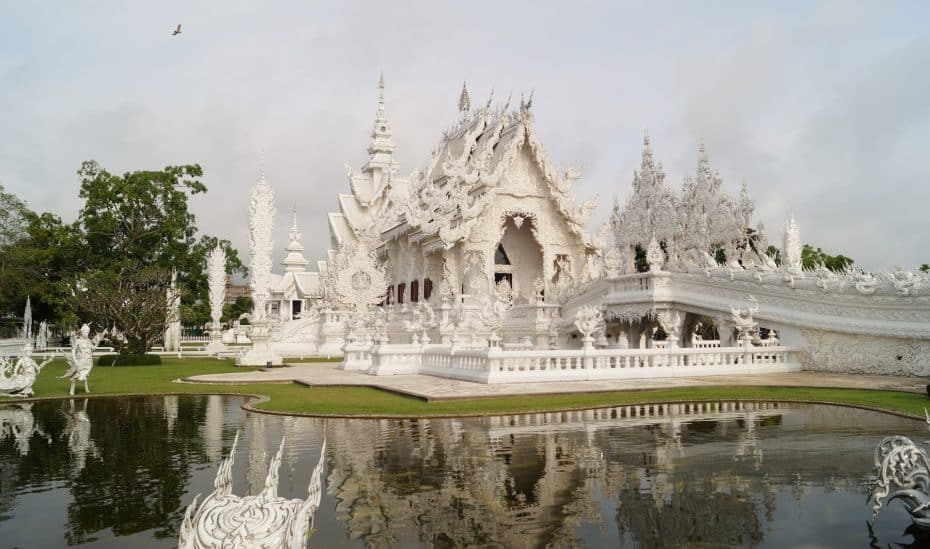 Wat Rong Khun, also known as the White Temple, is a striking and unique temple located in Chiang Rai. The temple's distinctive white color and intricate design make it stand out from other Thai temples. Designed by Chalermchai Kositpipat, a famous Thai visual artist, Wat Rong Khun showcases intricate decor and symbolic elements reflecting Buddhist teachings and modern art.
---
6. Wat Chedi Luang (Temple of the Big Stupa)
Chiang Mai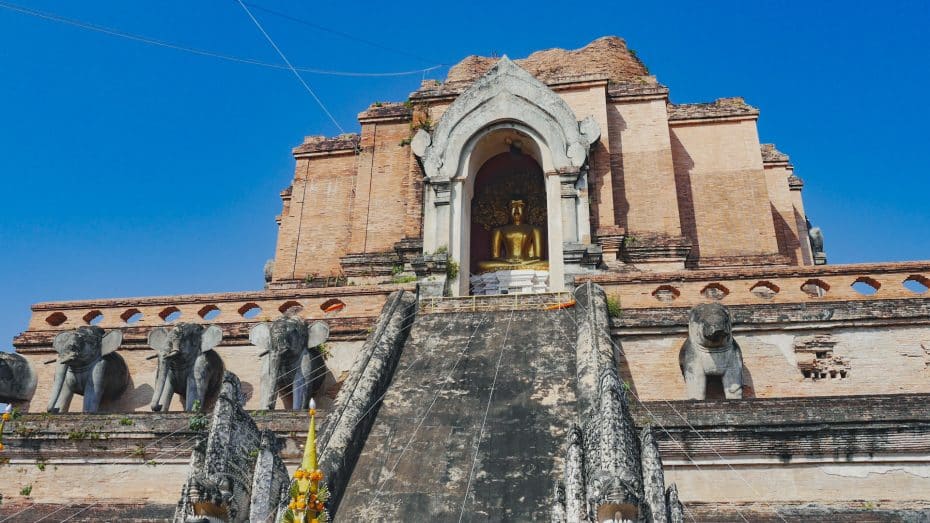 Wat Chedi Luang, located in the ancient city of Chiang Mai, is known for its iconic massive stupa (chedi) that dominates the landscape. Constructed in the 14th century, this temple has seen many changes over time, with continuous restorations after an earthquake damaged its structure.
---
6. Wat Mahathat
Sukhothai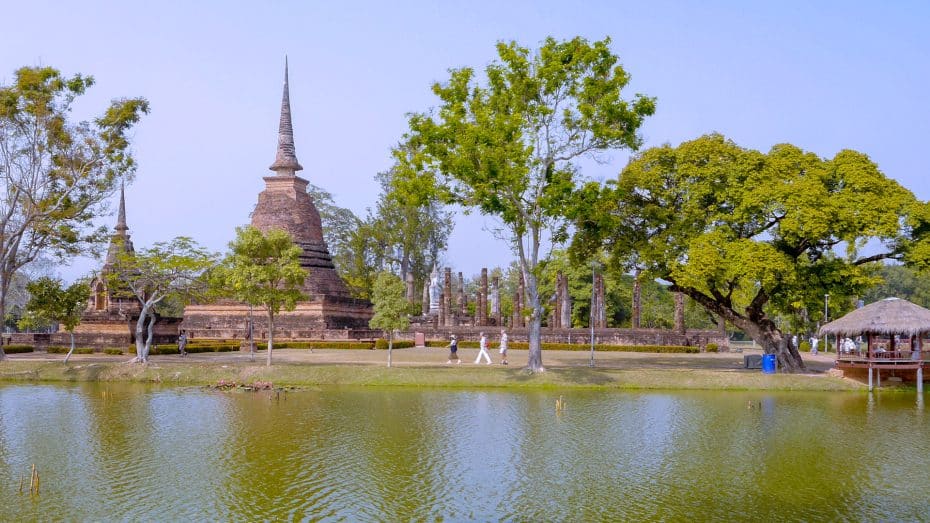 Situated in the Sukhothai Historical Park, Wat Mahathat is one of Thailand's most important ancient temples. The site dates back to the 13th century and features a large central stupa surrounded by smaller ones, Buddha statues, and columns. The architectural style blends elements from the Sukhothai and Sri Lankan traditions, creating a unique aesthetic.
---
7. Wat Prathat Doi Suthep (Temple of the Golden Mount)
Chiang Mai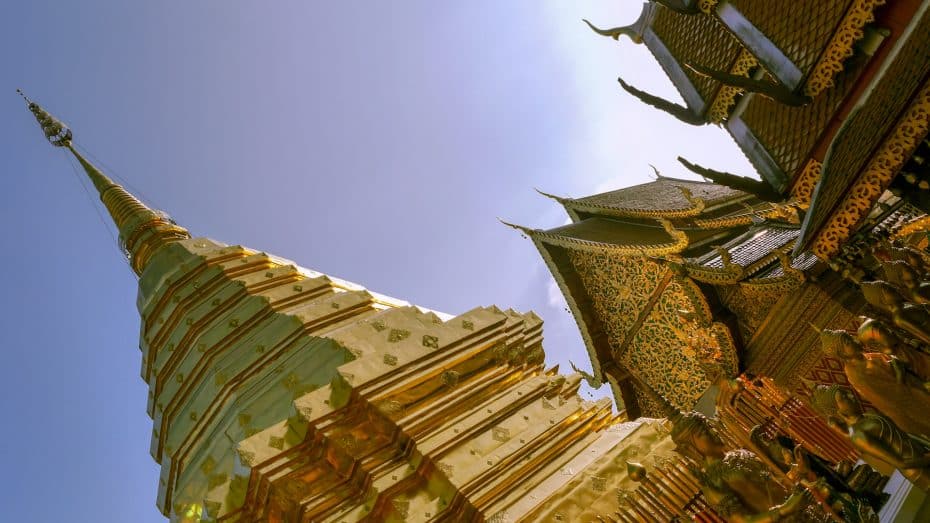 Situated high atop Doi Suthep Hill in Chiang Mai, Wat Prathat Doi Suthep is one of Thailand's most significant temples. The journey to reach the temple involves climbing 306 steps, each adorned with intricate naga (serpent) sculptures on either side. Once you arrive at its summit, you'll reach the glistening golden chedi that holds a relic of the Buddha and breathtaking views of the city below.
---
8. Wat Phra That Lampang Luang
Lampang Luang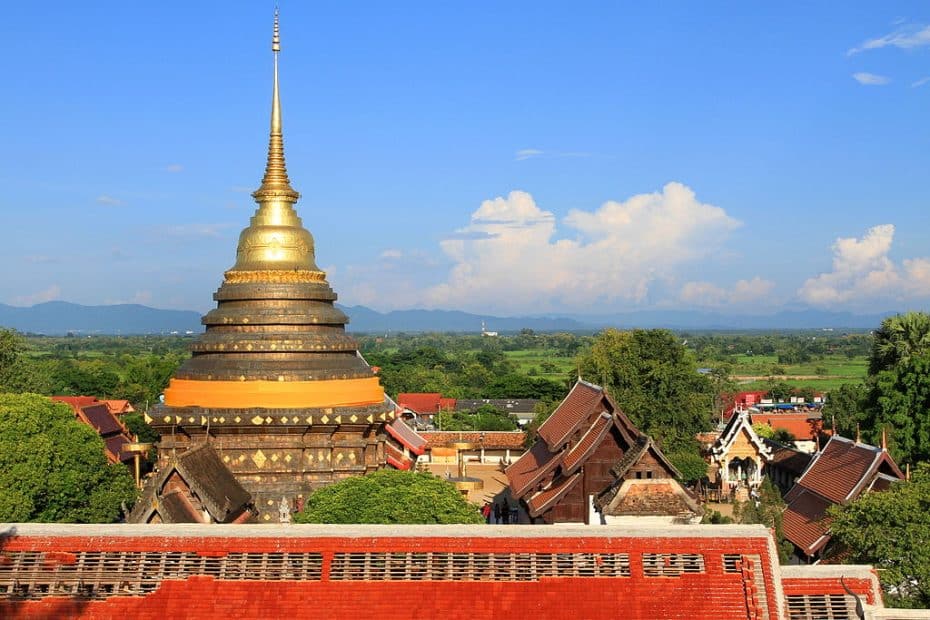 Located in Lampang, Wat Phra That Lampang Luang is a stunning example of Lanna architecture. This ancient temple features a beautiful chedi (stupa) that is believed to contain a strand of Buddha's hair. Visitors can marvel at the intricate wood carvings, colorful murals, and gilded elements decorating this sacred space. With its rich history and peaceful atmosphere, Wat Phra That Lampang Luang should not be missed when exploring Thailand's temples.
---
9. Wat Si Sanphet
Ayutthaya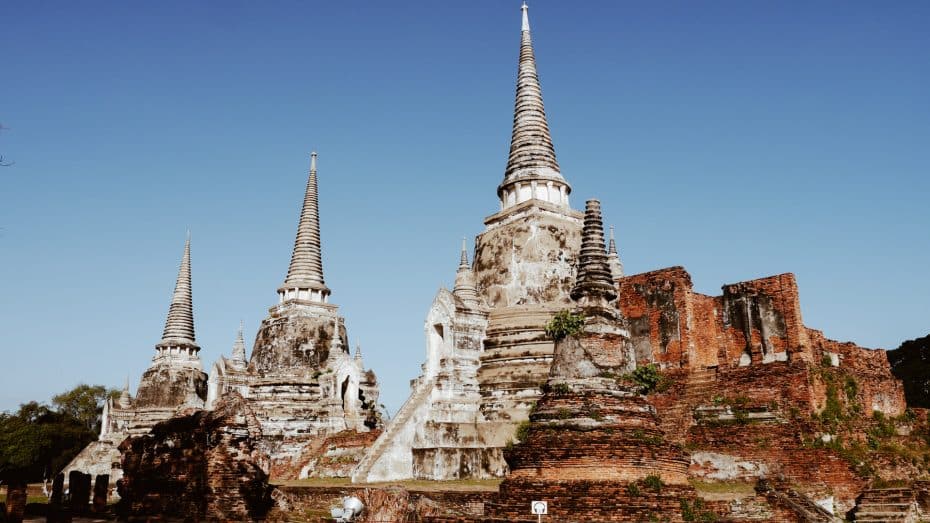 Known as the Grand Palace Temple in Ayutthaya, Wat Si Sanphet was once the most significant temple in the ancient capital city. Though now in ruins, visitors can still appreciate its grandeur through the three large bell-shaped stupas that have stood the test of time. This historic site provides an interesting glimpse into Thailand's past as well as a tranquil setting for contemplation and reflection.
---
10. Sanctuary of Truth (All-Wood Temple)
Pattaya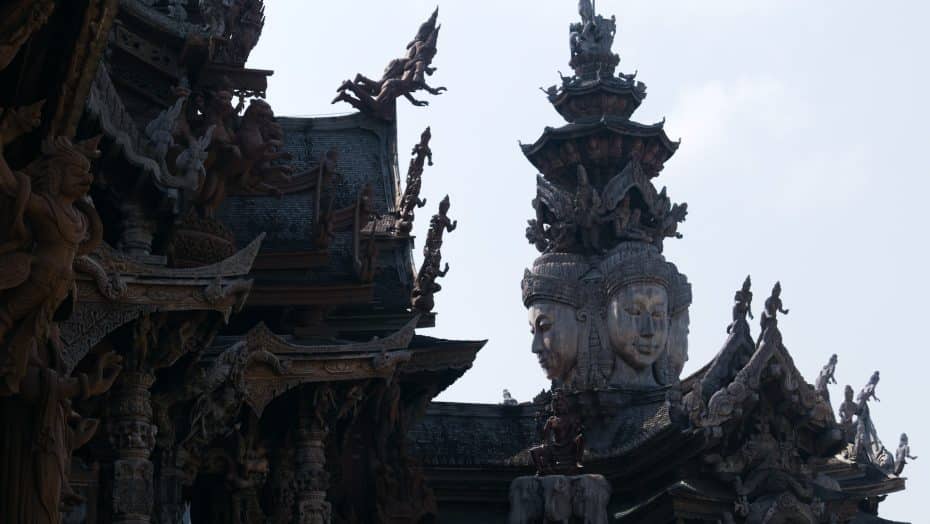 The Sanctuary of Truth is a one-of-a-kind wooden temple situated in Pattaya, known for its breathtaking all-wooden construction without any nails. Symbolizing the relationship between humans and the universe, this remarkable temple showcases extraordinary carvings and sculptures representing Thai, Khmer, Chinese, and Indian styles. Visiting this awe-inspiring site allows you to appreciate the masterful craftsmanship that went into creating this magnificent structure.
---
11. Wat Ratchaburana
Ayutthaya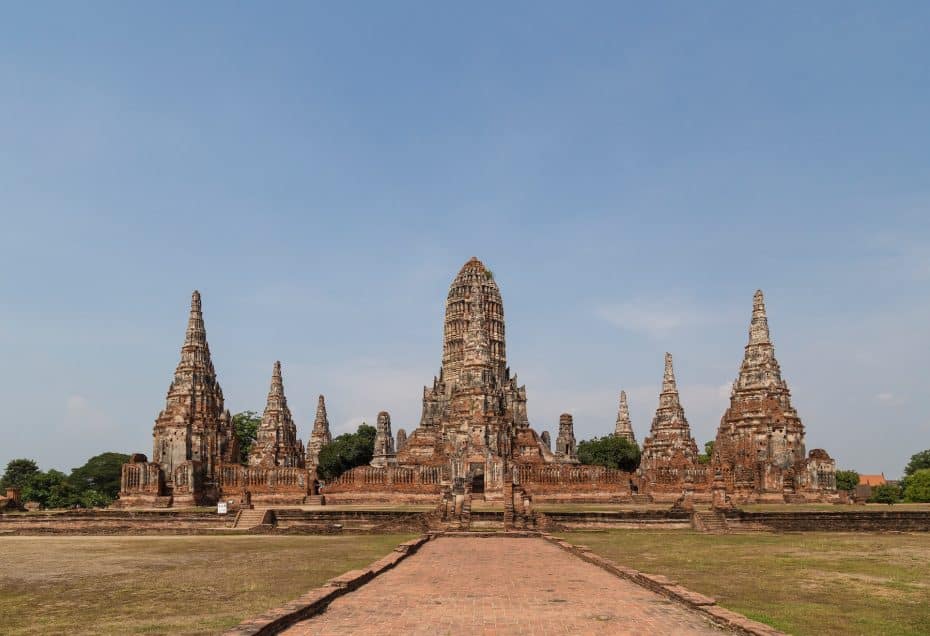 Wat Ratchaburana is an important historical temple in the ancient city of Ayutthaya. Built during the 15th century, the temple is famous for its distinctive central prang (a Khmer-style tower) and intricate bas-reliefs depicting scenes from the Ramayana epic. Wat Ratchaburana is an excellent destination for history lovers and those interested in getting a glimpse of Thailand's rich cultural heritage.
---
12. Wat Phra Pathom Chedi
Nakhon Pathom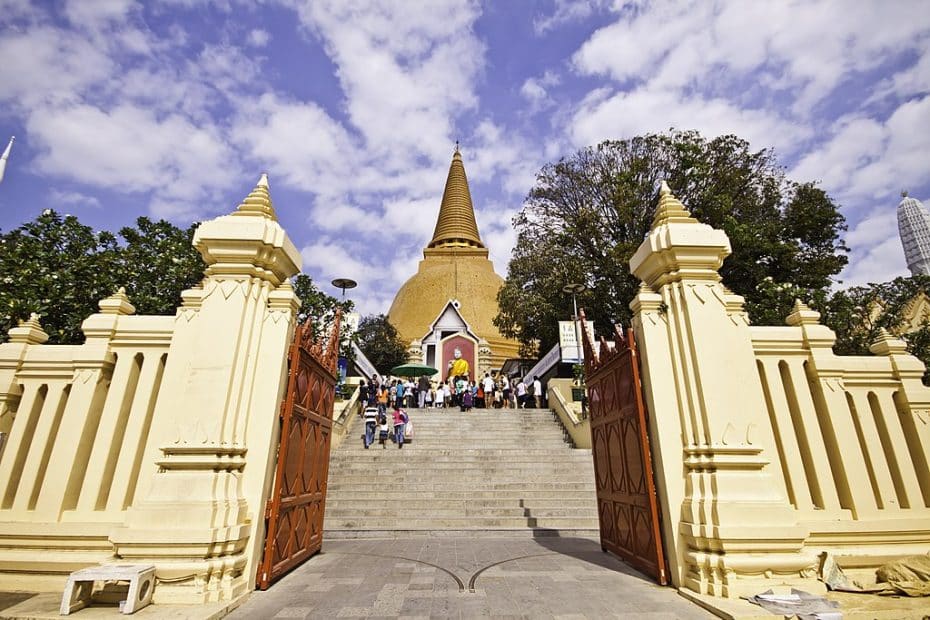 Located in Nakhon Pathom province, Wat Phra Pathom Chedi holds the title of being the oldest stupa in Thailand. This awe-inspiring monument stands over 120 meters tall and serves as a symbol of Buddhism's introduction to Thailand. The elegant design showcases both Indian and Sri Lankan influences, and visitors can find beautiful statues and relics housed within its chambers. The site is a place of pilgrimage for Thai Buddhists.
---
13. Tiger Cave Temple
Krabi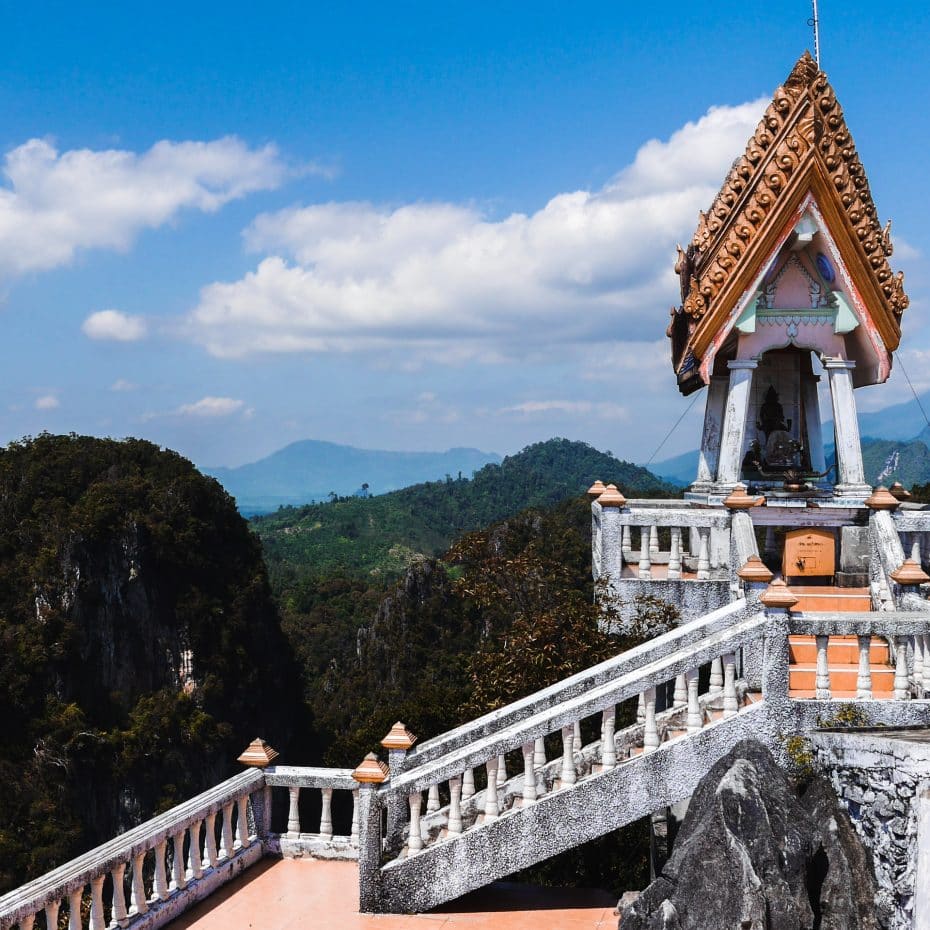 Nestled amidst limestone cliffs and lush green forests in Krabi province, Tiger Cave Temple is an extraordinary spiritual sanctuary that offers natural beauty and historical interest. As a sacred Buddhist site, the temple features numerous statues and relics, including an iconic Buddha statue atop a mountain, reached after climbing 1,237 steps. After climbing these steep stairs, you'll be rewarded with spectacular panoramic views of the surrounding landscapes.
---
14. Wat Yai Chai Mongkhon (Great Victory Temple)
Ayutthaya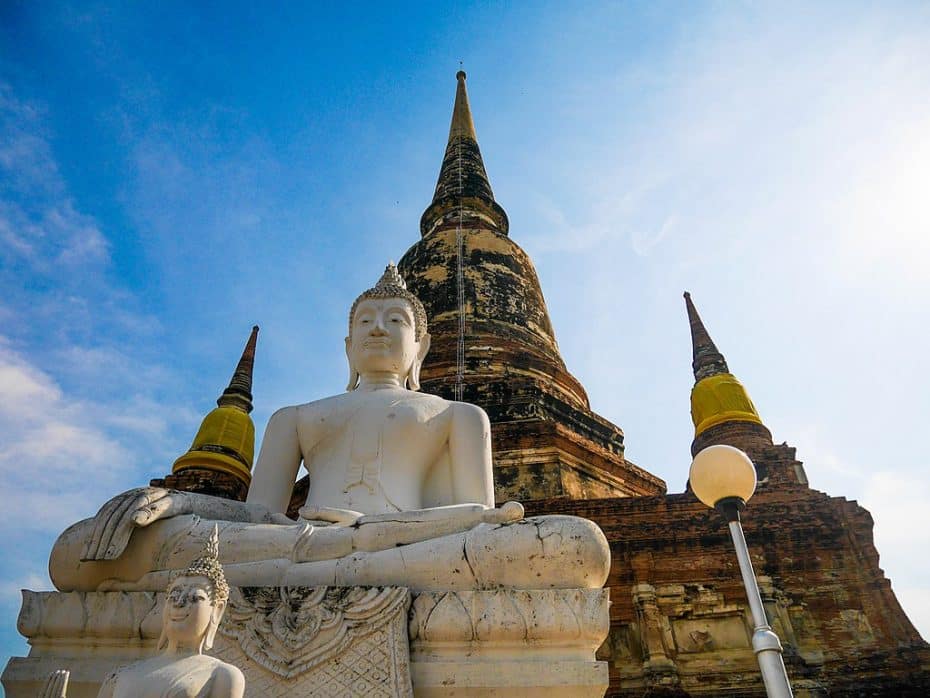 Wat Yai Chai Mongkhon, also known as Great Victory Temple due to its association with victories over foreign invaders, is yet another must-visit historical site in Ayutthaya. The temple houses a massive, iconic chedi (stupa) adorned with golden Buddhas.
---
15. Wat Sri Suphan (Silver Temple)
Chiang Mai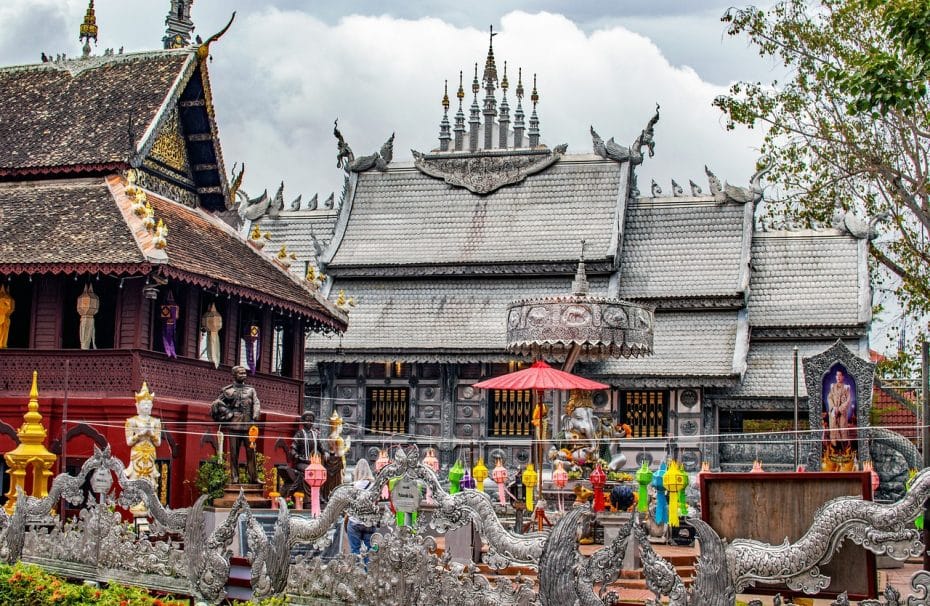 The Silver Temple, also known as Wat Sri Suphan, is a stunning temple located in Chiang Mai, Thailand. The temple is unique due to its beautiful silver decorations adorning the entire main hall. As a result of the skilled craftsmanship and intricate designs, this temple is an absolute must-see for anyone visiting Chiang Mai.
---
16. Wat Phra Yai (Big Buddha Temple)
Koh Samui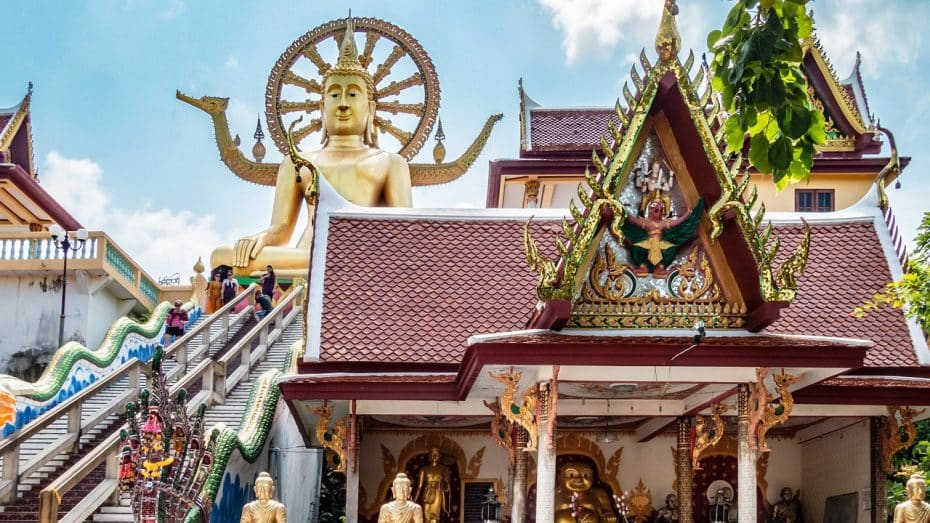 The Big Buddha Temple, also known as Wat Phra Yai, is located on the island of Koh Samui. This stunning temple features a massive 12-meter-tall golden Buddha statue that can be seen from miles away. Beautiful gardens surround the temple and offer breathtaking views of the landscape.
---
17. Black House Temple and Museum
Chiang Rai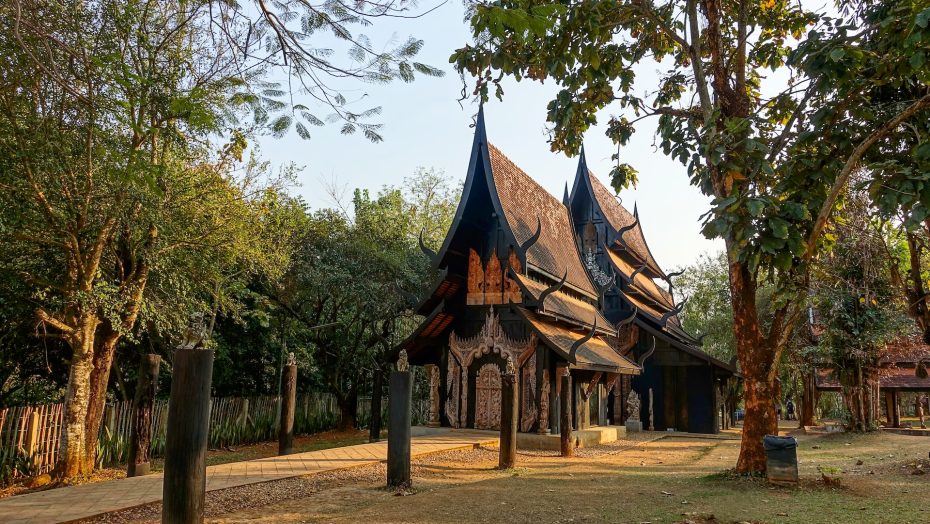 The Black House Temple and Museum is a must-visit destination in Thailand. Located in Chiang Rai, it was designed by renowned Thai artist Thawan Duchanee. This complex combines elements of traditional Thai architecture with contemporary artistry to create a truly otherworldly experience. The grounds feature dozens of structures made from wood, glass, concrete, and metal, all painted black.
---
18. Wat Phra Singh (Temple of the Lion Buddha)
Chiang Mai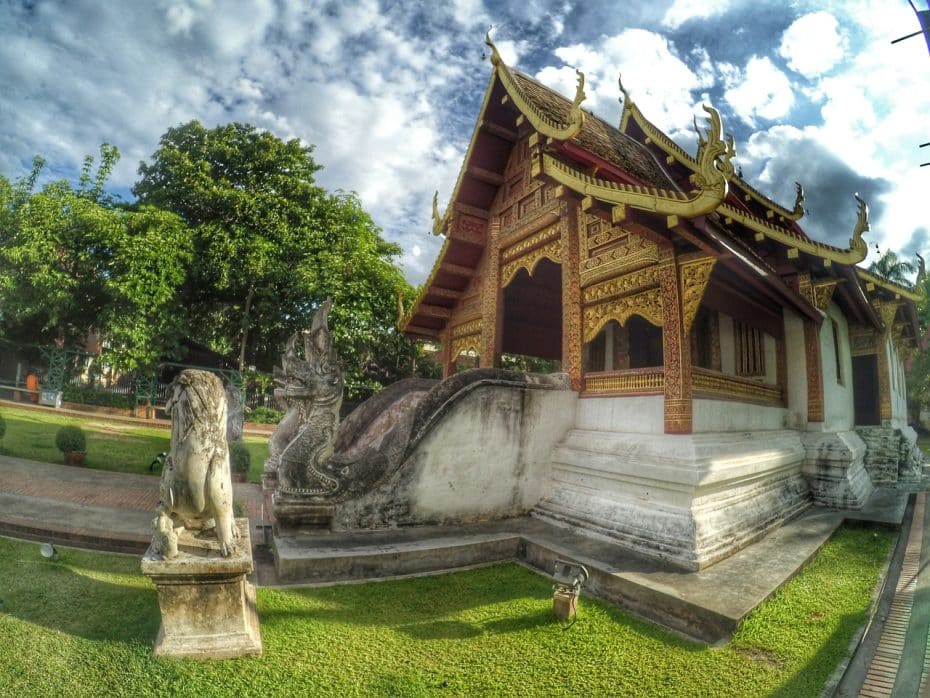 Wat Phra Singh, located in Chiang Mai, is one of the most revered Thai temples in the country. It is home to the Lion Buddha, a centuries-old golden statue. Additionally, the peaceful grounds and beautiful gardens create a serene and spiritual atmosphere perfect for meditation and reflection.
---
19. Wat Indharaviharn (Standing Buddha Temple)
Bangkok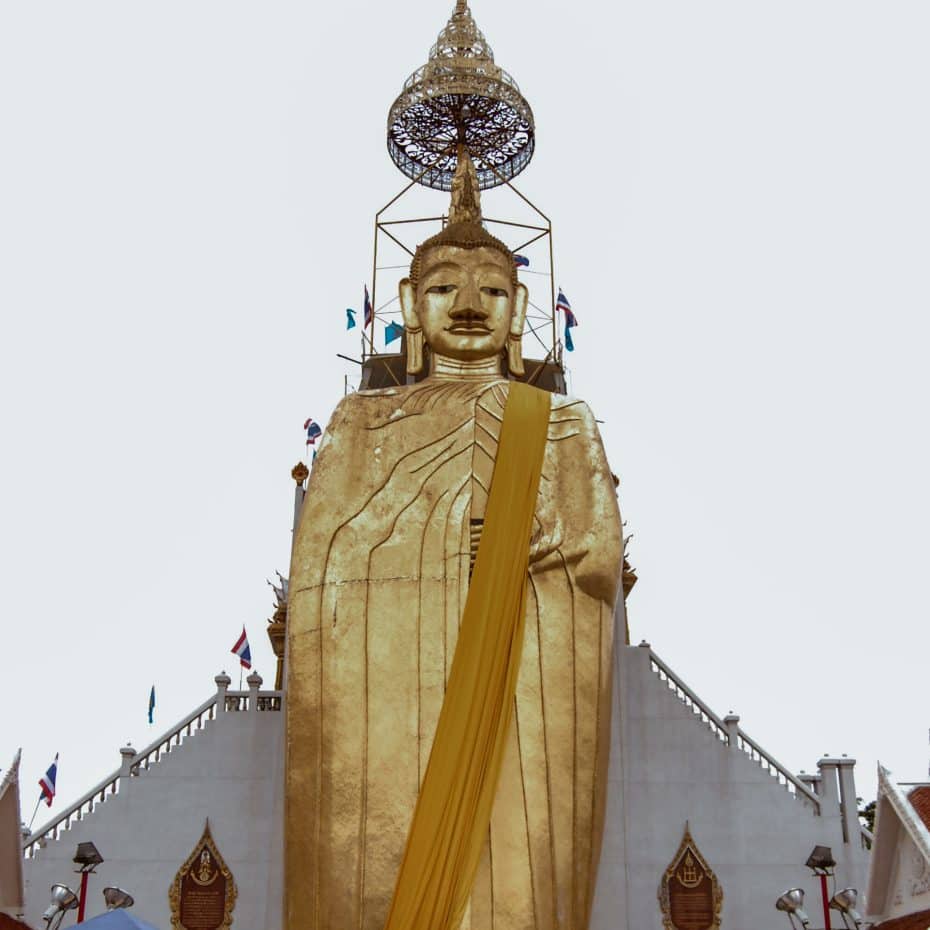 In the bustling city of Bangkok lies Wat Indharaviharn, also known as the Standing Buddha Temple. It houses a giant 32-meter-tall standing Buddha, which is covered in gold mosaics. The temple complex also features beautifully manicured grounds with ponds and lush greenery. Wat Indharaviharn is an important place of worship among locals and an impressive sight to behold for tourists exploring Thailand's capital city.
---
20. Si Satchanalai Historical Park
Sukhothai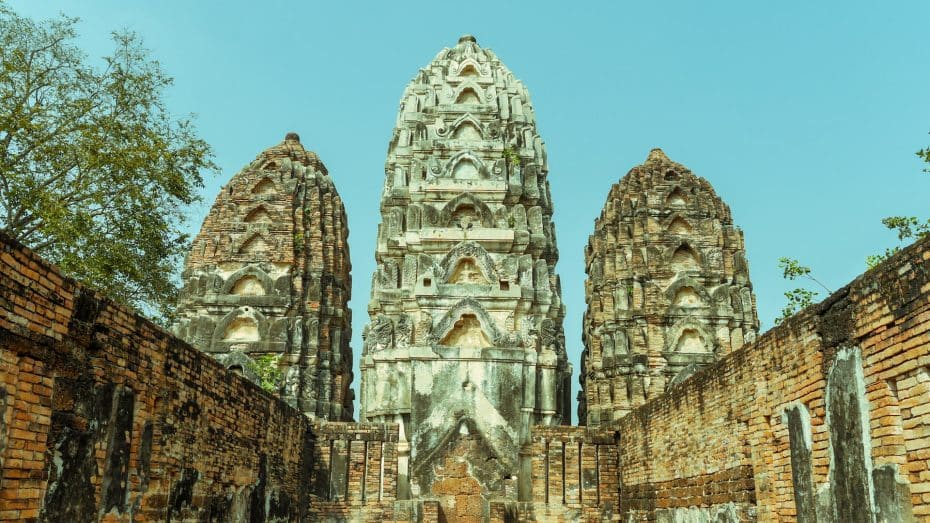 Located in Northern Thailand, Si Satchanalai is an ancient historical site that was once a bustling city during the Sukhothai period. Today, it is a serene spot where visitors can explore well-preserved historical ruins of temples and other structures. The area contains several impressive sites, including the Wat Chang Lom Temple, which features massive elephant sculptures as well as other significant ancient constructions.
---
21. Wat Saket (Golden Mount Temple)
Bangkok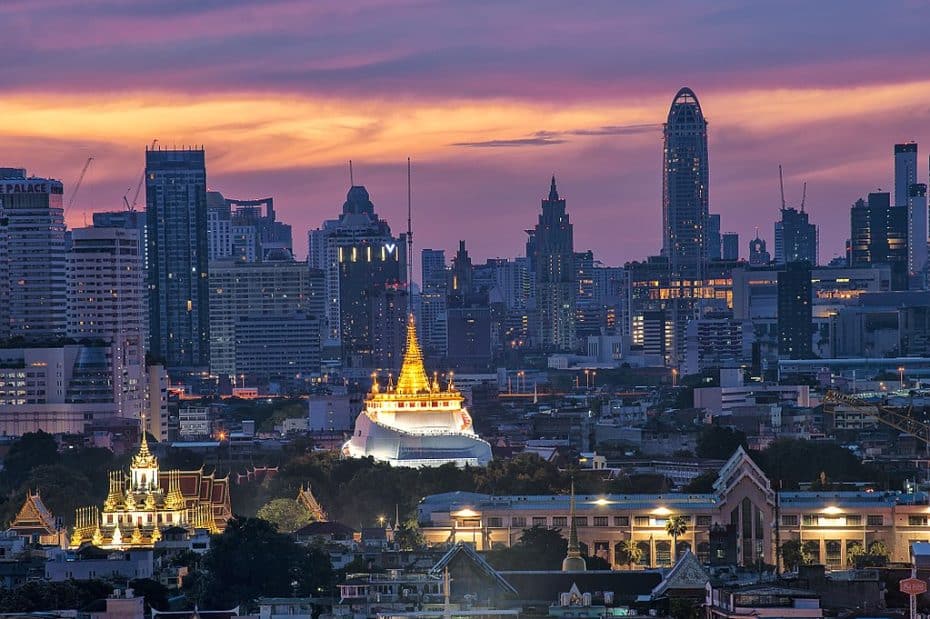 The Golden Mount Temple, also known as Wat Saket, is a must-visit sight in Bangkok. This stunning temple sits atop an artificial hill, offering breathtaking views of the cityscape below. Visitors can climb up the 300 steps to reach the temple, and along the way, they will be surrounded by lush greenery and beautiful statues.
---
Tips for Visiting Thai Temples for Non-Buddhists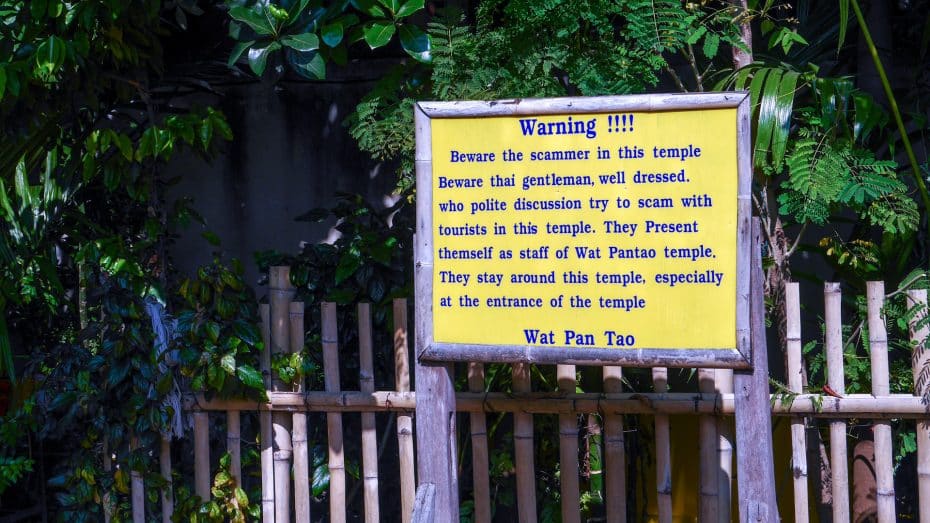 Dress modestly while visiting Thai temples. Wear clothing that covers your shoulders and goes below your knees.
Show reverence and respect when approaching Buddha statues by bowing slightly and never turning your back to the image.
Take off your shoes before entering any sacred areas or temple buildings as a sign of respect.
You can contribute to temple donation boxes as a sign of support, but avoid handing money directly to monks.
Learn the traditional Thai greeting called "Wai" by placing your palms together at chest level and bowing slightly when encountering monks or locals.
Always approach monks with humility and respect, being careful not to make physical contact if you're a woman.
Participate in rituals such as offering flowers, food, or candles at altars as a gesture of respect and devotion.
Photos are allowed in temples. Take pictures discreetly and avoid using flash near sacred objects; moreover, don't pose in front of Buddha images in an irreverent or disrespectful manner.
Circumambulate Buddha statues in a clockwise direction as an act of veneration.
You can attend Buddhist ceremonies or meditation sessions as a non-Buddhist but always ask permission first.
Avoid visiting temples during peak religious events or ceremonies, such as Uposatha or important Buddhist holidays.
Incense and candles play a vital role in Buddhist practices. Devotees often light them as an act of worship and to make merit. Incense symbolizes the purification of space, while candles represent enlightenment.
During meditation sessions, maintain silence and respect the space around you. Remove your shoes before entering sacred areas, sit comfortably without pointing your feet toward Buddha statues, and avoid interrupting others' meditation.
---