How many times have you heard a city call itself the "Venice of the (geographical region)"? Imitation may be the sincerest form of flattery, but we can positively tell you there's nothing like the original. Famous for being one of the most beautiful cities in the world, Venice is known for its winding canals sprinkled with gondolas, gorgeous squares, palaces, churches, and bridges. A major cultural center in Italy, the "Floating City" is also home to important museums, art galleries, theatres, and, of course, world-renowned festivals like Carnevale di Venezia, the Venice Art Biennale, and the Venice Film Festival.
Located in northeastern Italy, on a group of 118 small islands separated by canals in the Venetian Lagoon, Venice is the capital of the Veneto region. A UNESCO World Heritage Site since 1987, it is one of the most visited tourist destinations in Europe. Some of its most popular attractions include Piazza San Marco, the Doge's Palace, Rialto Bridge, and Saint Mark's Basilica. Considered one of the most romantic cities in the world, Venice is home to a broad offer of small luxury hotels. That said, this Italian city also features some budget accommodation options.
It doesn't matter if it's your first time visiting Venice or if you're looking for that one special romantic area, keep reading this article to find out more about our top picks of the best areas to stay in Venice for tourists.
---
Accommodation Options in Venice
---
The Best Areas to Stay in Venice: A Summary
If you don't have the time or the patience to read the full post, here is a quick summary of our recommended quarters to stay in Venice. Keep reading to find out more information about each of these areas.
---
Hotel Moresco

Hotel Moresco offers 19th-century Venetian styling, just a 5-minute walk from Piazzale Roma. With free Wi-Fi, its elegant rooms are a luxurious mix of old and new.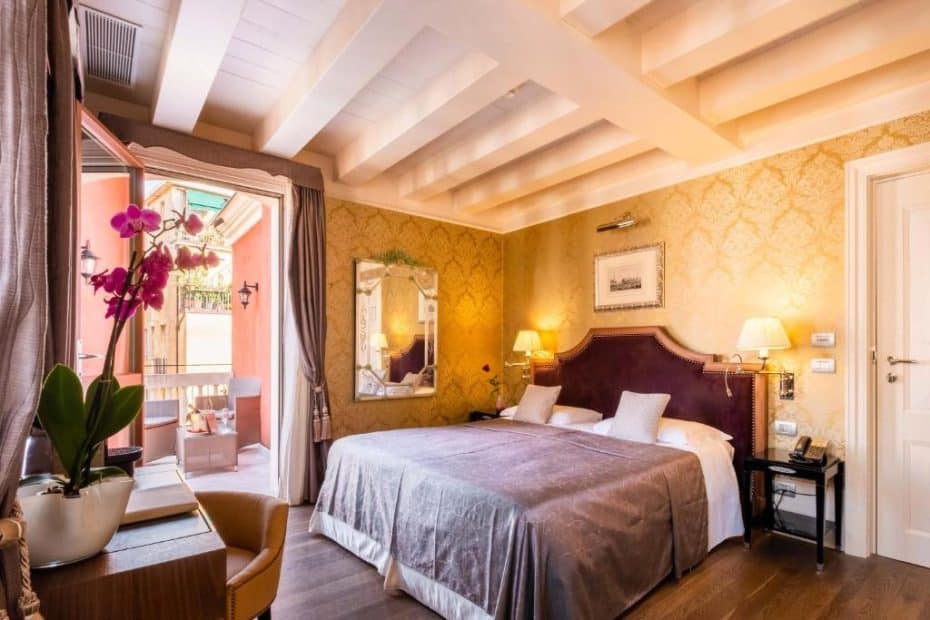 ---
What's the Best Area to Stay in Venice?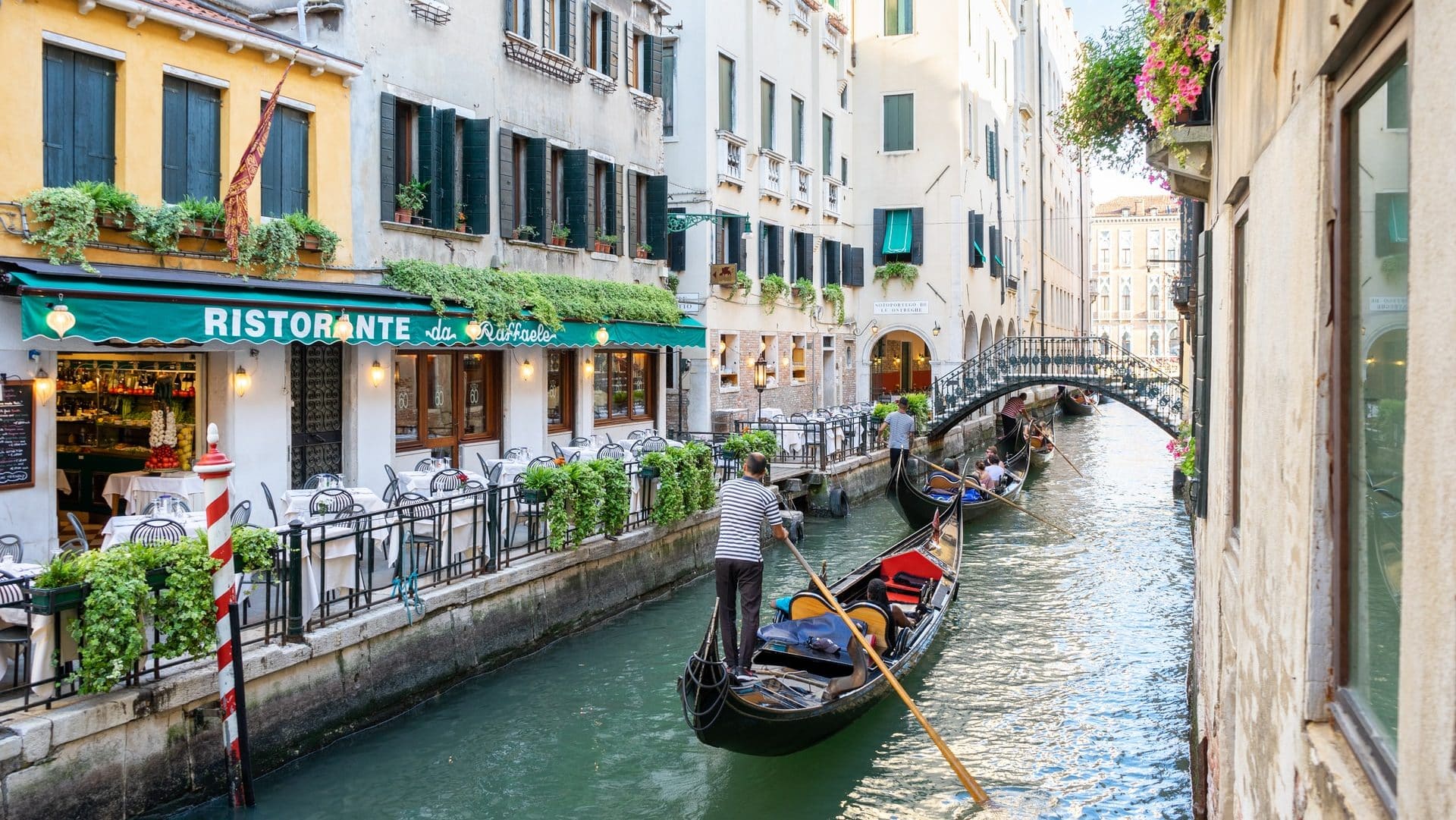 The best area to stay in Venice is Centro Storico, particularly if it's your first time visiting the city. This area, located on both sides of the Canal Grande, is made up of dozens of islets and canals connected by bridges. Most of Venice's tourist attractions, Rialto Bridge and Saint Mark's Basilica and Square, and Teatro La Fenice are located in this district, which is also home to the best-rated hotels in Venice.
Find Available Accommodation in Centro Storico.
Best Hotels in Venice City Center
---
Where to Stay in Venice for Sightseeing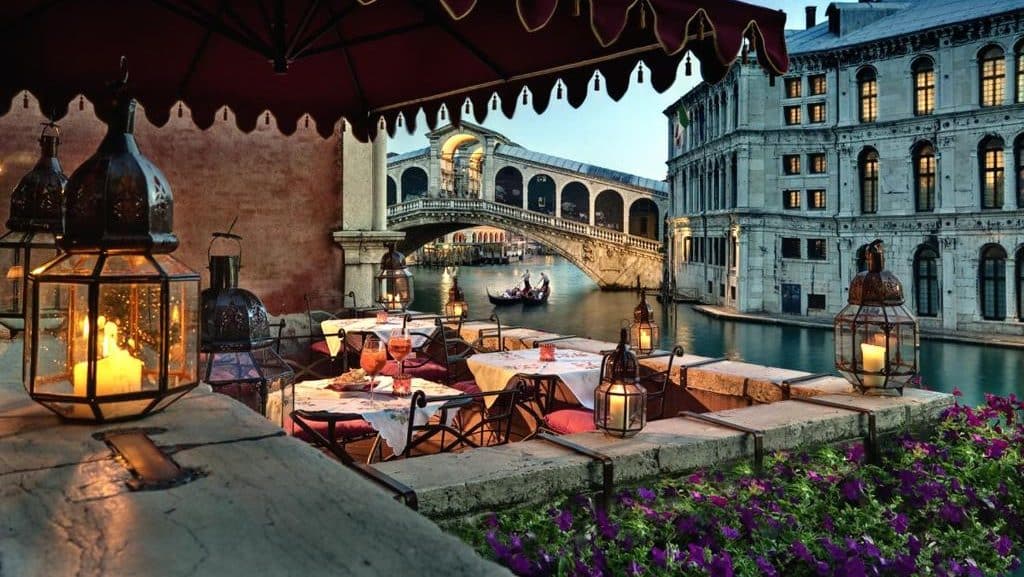 As we've mentioned above, Centro Storico is the best location for tourists in Venice. Venice's Historic City Centre is divided into six sestieri (literally 'sixths'), each one with a different flavor and attractions. These are some of the most interesting:
---
The Best Areas for Tourists in Venice: District by District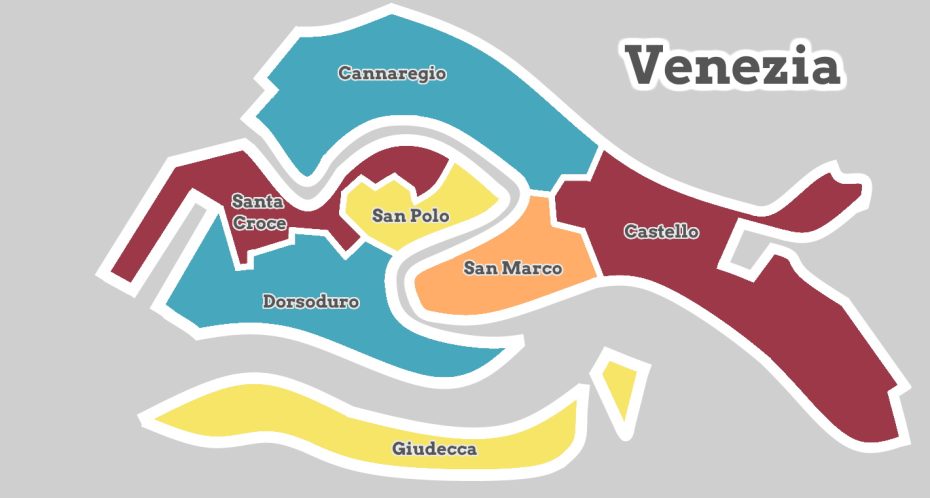 1. San Marco: Best Location for a Luxury Trip to Venice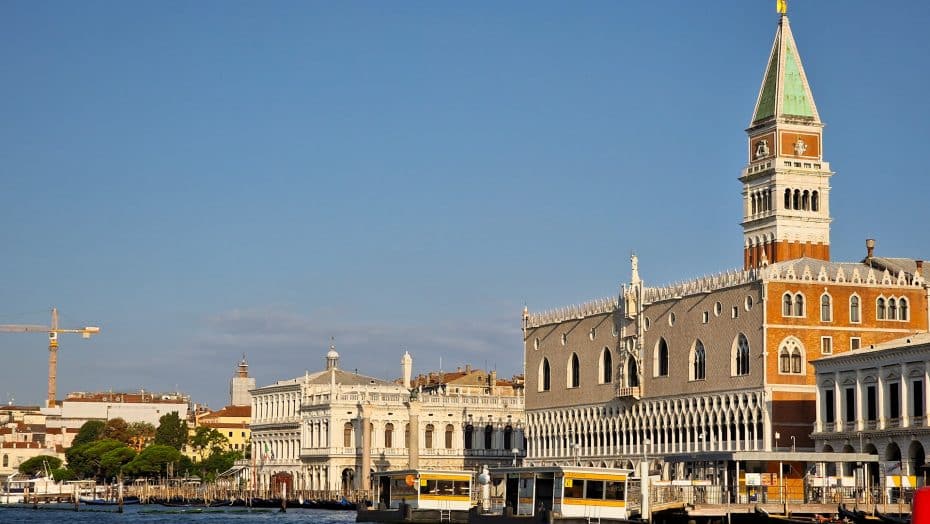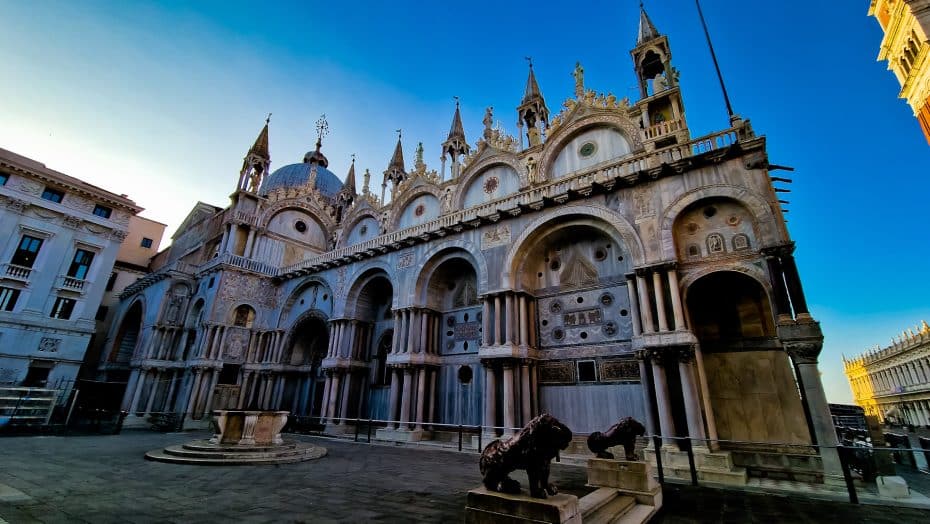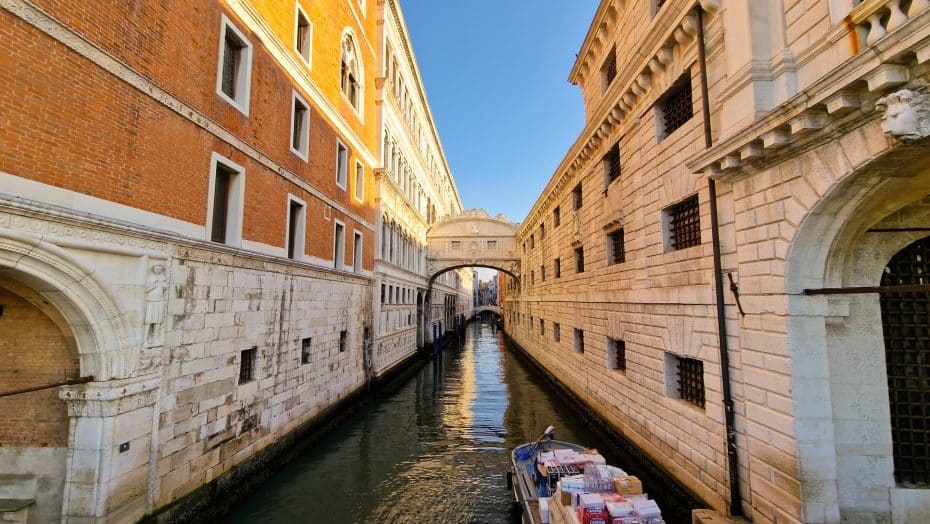 Home to some of Venice's most visited tourist attractions, San Marco is the quintessential Venetian sestiere and the best area to stay in Venice to be near the action.
Why is this the best area to stay in Venice:

Heart of the city
Great area for sightseeing
Piazza and Basilica San Marco
Doge's Palace
Luxury hotels, restaurants and shopping
Calle Larga XXII Marzo
Teatro La Fenice
Centered around the namesake piazza and located on the Grand Canal's east side, Sestiere San Marco is considered Venice's heart.
The name San Marco originates from the emblematic Basilica di San Marco, which was consecrated in 832 CE. The district has played a significant role throughout Venetian history. For centuries, it served as a hub for political, religious, and economic activities. Today, San Marco is Venice's most famous district, partly due to its strategic location and wealth of historical attractions.
San Marco houses numerous architectural gems and historically significant sites. St. Mark's Square (Piazza San Marco), constructed in the 9th century, remains at the heart of this neighborhood and has been an important gathering place.
Other major attractions in the area include the Doge's Palace (Palazzo Ducale), a masterpiece of Gothic architecture that served as the residence for Venetian rulers; St. Mark's Basilica (Basilica di San Marco), an exclusive church known for its stunning gold mosaics; Campanile di San Marco, a towering bell tower offering breathtaking views of Venice; and Teatro La Fenice, one of the most important opera houses in the country.
In addition to its famous landmarks, San Marco boasts a vibrant atmosphere with elegant cafes, boutiques, and restaurants that come alive during evenings as people gather to enjoy local cuisine and entertainment. The district offers a mix of high-end shopping experiences, local artisanal crafts, and traditional goods.
As for transportation options within San Marco, walkways and water-based routes (canals) are the primary means of navigation. Vaporettos (public water buses) serve as a primary mode of transportation, making stops at various locations within the district and connecting it to other parts of Venice.
Regarding accommodation, San Marco is, understandably, one of the most elegant and upscale areas to stay in Venice. While a few budget properties are in the area, this quarter is famous for its luxury hotels.
Best Hotels in San Marco, Venice
---
2. San Polo: Best Location for First-Time Visitors to Venice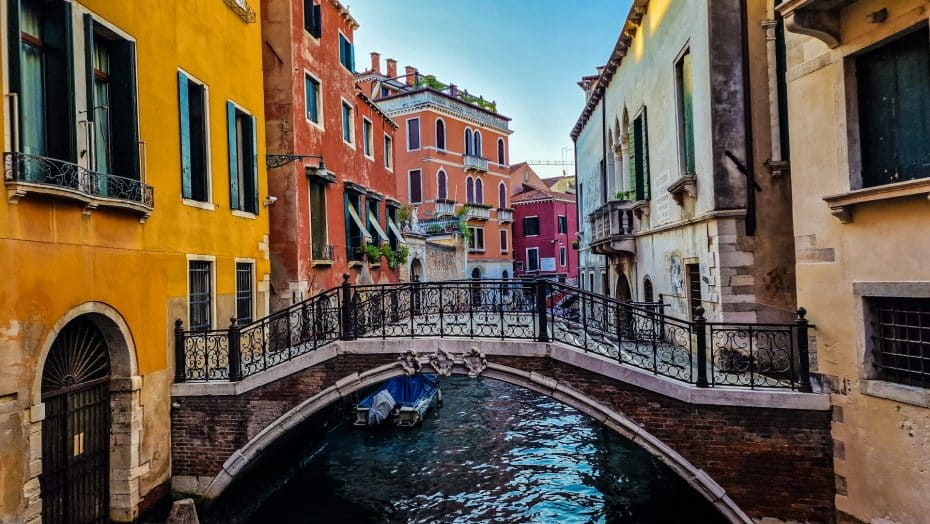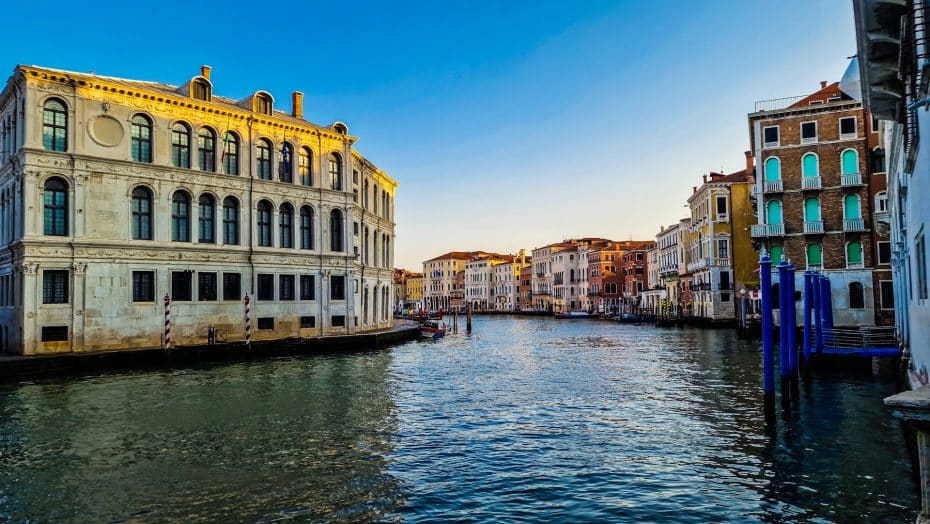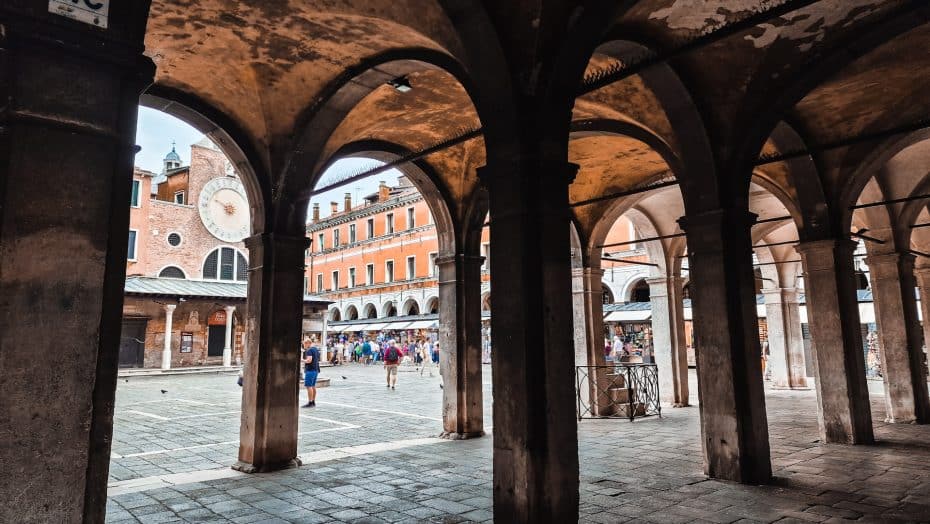 Across the Grand Canal from San Marco, sestiere San Polo is a very central district in Venice and the best area for first-time visitors to the city.
Why is this the best area to stay in Venice:

Rialto Bridge
Super central location
Near San Marco and Santa Croce
Basilica Santa Maria Gloriosa dei Frari
Variety of accommodation
Rialto Market
Home to the world-famous Rialto Bridge, San Polo is arguably the best-located quarter in Venice. This lively Venetian district, the smallest in the city center, is located between the San Marco, Cannaregio, Santa Croce, and Dorsoduro Sestieri and, as such, is the best quarter to stay close to everything. It is a particularly convenient area to base yourself on when visiting Venice for the first time or if you only have one or two days to discover the city.
San Polo traces its history back to the early days of Venice, dating to the 9th century when the oldest church in the area, San Giacomo di Rialto, was built. The district played a central role in Venice's development and prosperity as a maritime power. Between the 13th and 17th centuries, San Polo became a commercial hub and primary financial center, establishing itself with numerous banks. Over time, wealthy merchants invested in richly decorated palaces and churches that eventually defined the area's impressive architectural footprint.
The district features many significant attractions, such as the Rialto Bridge, once a wooden structure, which was eventually replaced by a stone bridge designed by Antonio da Ponte in 1591. Other important landmarks include the Frari Church (Basilica dei Frari), home to several masterpieces of Venetian Renaissance art like Titian's "Assumption of the Virgin," and Scuola Grande di San Rocco, displaying Tintoretto's finest works covering its walls and ceilings.
San Polo is not only about history and art; it showcases a lively atmosphere offering various options for shopping and dining. The Rialto Market remains an essential public market serving locals and tourists fresh produce and seafood. Restaurants and osterias in San Polo provide Venetian dining experiences, while bars cater to travelers seeking a vibrant nightlife.
Regarding transportation, San Polo benefits from its central location within Venice and easy access to waterborne options for travel. It connects through several vaporetto lines that navigate the Grand Canal. Additionally, gondolas and water taxis offer more personalized services.
San Polo has a broad offer of accommodation properties ranging from luxury canalside palaces on its eastern end to small B&B and mid-range hotels as you move west away from Rialto.
Best Hotels in San Polo, Venice
---
3. Castello: Best Location for Biennale di Venezia & Venice Film Festival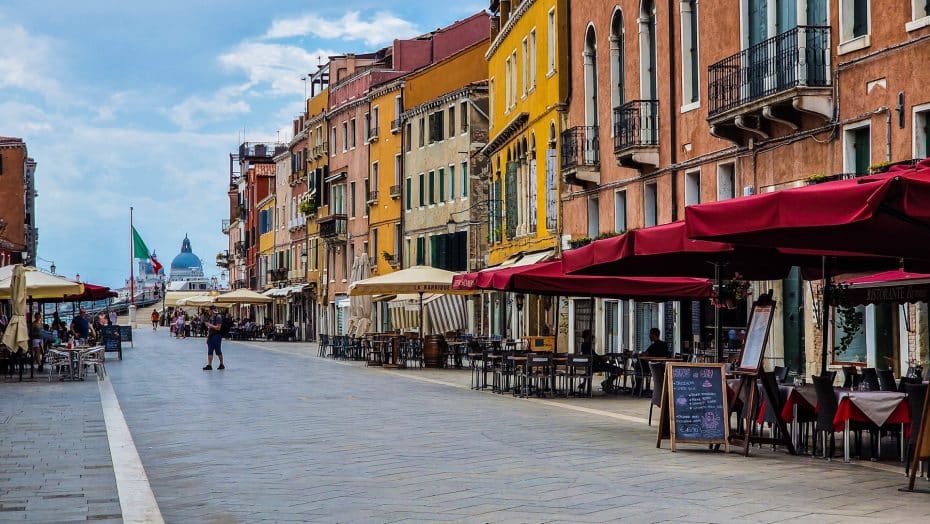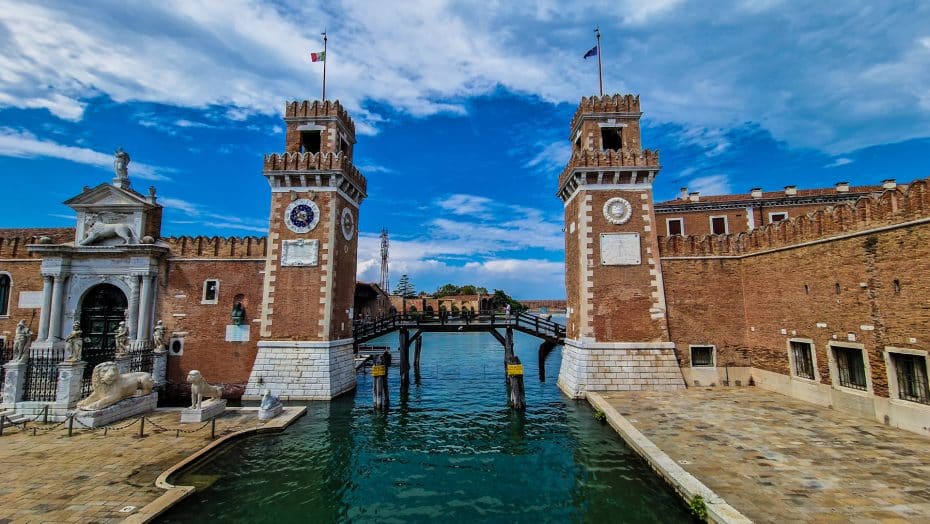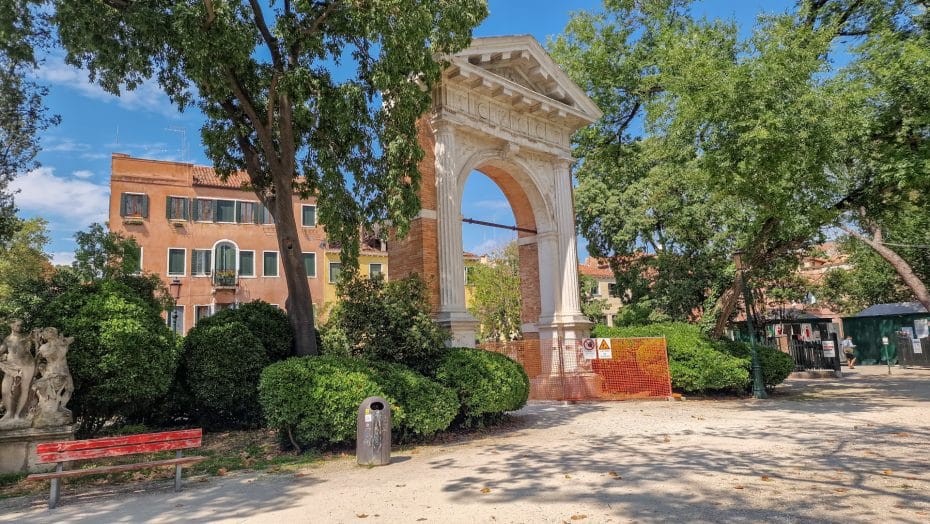 Sestiere Castello is a quiet, upscale area on Venice's east end.
Why is this the best area to stay in Venice:

Venetian Arsenal
Public gardens & parks
Luxury hotels
Riva degli Schiavoni
Best area for the main cultural events in Venice
Museo Storico Navale di Venezia
Castello is the largest sestiere in Venice. Located north of the Grand Canal and east of San Marco, this expansive district is home to the Venetian Arsenal, a former complex of shipyards founded in the 12th century used for exhibitions, trade fairs, and cultural events, including the Venice Film Festival and the Biennale di Venezia.
Although Castello is
not the most central neighborhood, but it offers a unique and relatively tranquil atmosphere compared to other parts of the city. The area is known for its rich history and diverse attractions.
Castello's history began in the 13th century when it was constructed as a fortified area to defend against potential invasions. Over time, it has transformed into a bustling district that showcases Venetian life beyond the crowded tourist spots. Historical sites within Castello include the Arsenale, which played a significant role in Venice's maritime power during the 14th and 15th centuries, and the Scuola di San Marco, a former confraternity building now housing a civic museum.
Castello is also home to various attractions, such as the Giardini della Biennale, an expansive green space that hosts international art exhibitions. Art enthusiasts can also visit galleries like the Querini Stampalia Foundation or admire local craftsmanship at glassblowing studios dotting the area. For those interested in religious architecture, numerous churches like the Basilica di San Pietro di Castello and Santa Maria Formosa feature impressive artworks and architectural elements.
While the area is not particularly known for its bustling nightlife, there are plenty of cafes, wine bars, and osterias where locals gather in the evening, particularly around Via Garibaldi.
Transportation options within Castello include vaporetto lines along its main water routes and several bridges connecting it to neighboring districts. The area's accessibility makes it easy to explore other parts of Venice.
Best Hotels in Castello, Venice
---
4. Dorsoduro: Quiet & Romantic Location in Venice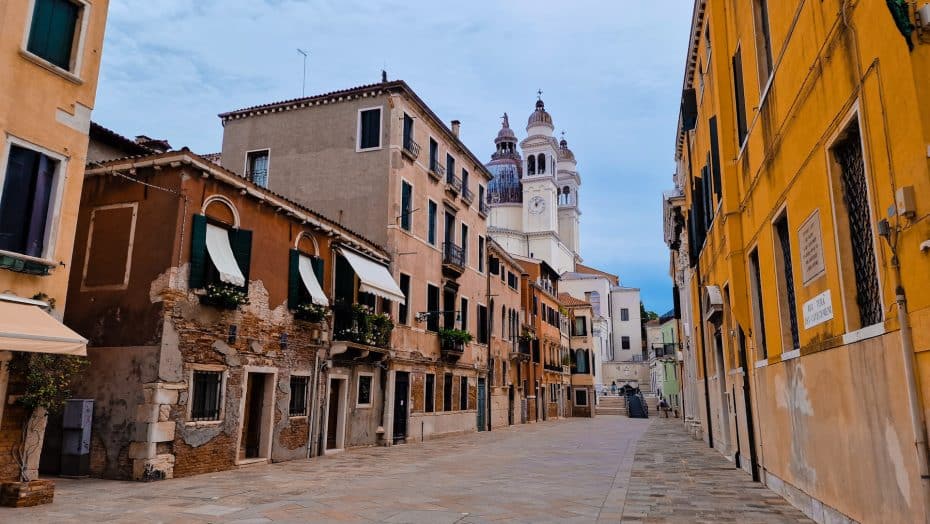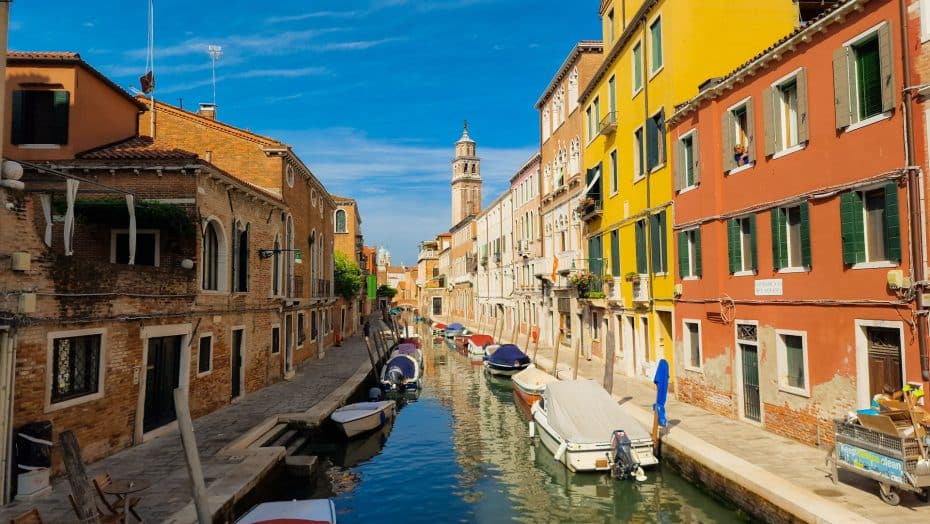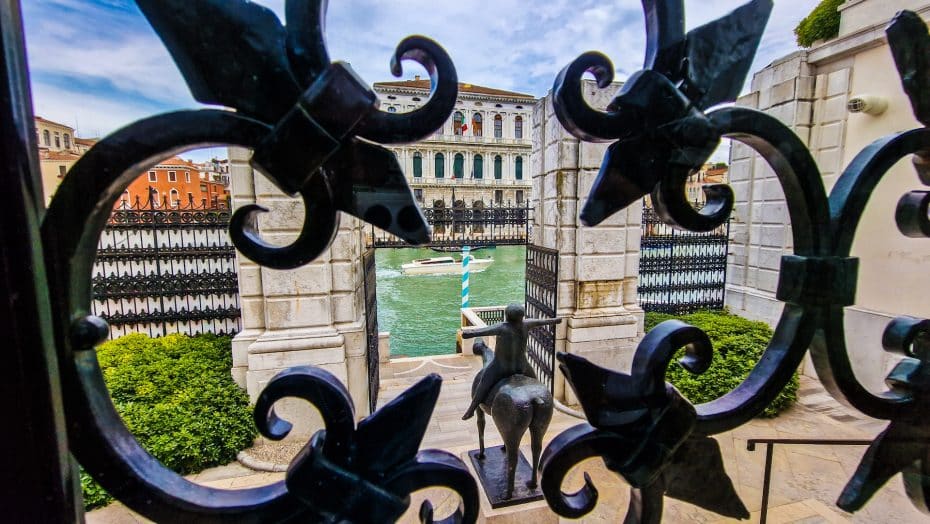 Located in Venice's southern end, Dorsoduro is a quiet area to enjoy the esence of Venice away from the masses.
Why is this the best area to stay in Venice:

Most charming quarter in Venice
Alternative area
Great nightlife and restaurants
Basilica di Santa Maria della Salute
Inexpensive accommodation
Gallerie dell'Accademia
Peggy Guggenheim Collection
Sestiere Dorsoduro (literally "hard ridge") is situated at the south end of Venice's Centro Storico and west of the Grand Canal. Traditionally the city's university district, this area is known for its lively food scene and nightlife, particularly around Campo Santa Margherita, and for being home to important museums.
Dorsoduro is known for its diverse architectural styles and cultural heritage. The area's development began in the 9th century when it was primarily used for agriculture. During the 13th century, several religious institutions were established in Dorsoduro, which led to increased urbanization and development. These historical events have shaped the unique character of Dorsoduro that visitors can experience today.
Perhaps the most visited attraction in Dorsoduro, the Gallerie dell'Accademia hosts an extensive collection of pre-19th-century Venetian and European masterpieces, including works by the likes of Canaletto, Leonardo da Vinci, Tintoretto, and Titian.
Some other notable attractions in Dorsoduro include the Church of San Sebastiano, completed in 1548 and home to various artworks by Paolo Veronese; the Church of Santa Maria della Salute, built in 1681 as a votive offering for the survivors of a plague outbreak; and Ca' Rezzonico, a museum dedicated to 18th-century Venetian life housed in a palazzo dating back to 1758.
The Peggy Guggenheim Collection, located inside Palazzo Venier dei Leoni on the Grand Canal, showcases modern art pieces amassed by American heiress Peggy Guggenheim during her lifetime.
The general ambiance of Dorsoduro is more relaxed and less congested than in other parts of Venice. The area offers bars and restaurants frequented by locals and students from nearby Ca' Foscari University.
Although Dorsoduro indeed hosts many important attractions, most of its tourist activity is focused on its eastern side. As you move west, away from the Grand Canal, you'll discover this sestiere is a lovely and quiet district full of charming little canals, off-the-beaten-path squares and churches, and some of the most authentic restaurants in town.
Transportation options within Dorsoduro include vaporetto (water bus) lines 1, 2, and 5.1, which connect the area to several other parts of Venice and nearby islands. The Accademia Bridge, a prominent wooden bridge spanning the Grand Canal, also provides pedestrian access to the San Marco district.
Best Hotels in Dorsoduro, Venice
---
5. Santa Croce: A Very Convenient Location in Venice
Santa Croce is a great location in Venice for all types of travelers and budgets.
Why is this the best area to stay in Venice:

Near Santa Lucia railway station
Piazzale Roma Bus Terminal
Most convenient area if you travel by car
Closest area to the cruise and ferry port
Varied accommodation
Giardini Papadopoli
Chiesa di San Simeon Piccolo
Santa Croce is bounded by the Grand Canal to the east, the central railway station Venezia Santa Lucia to the north, and the Giudecca Canal to the south.
Santa Croce offers charm and attractions that are worth exploring. The sestiere has experienced significant changes throughout history, with various occupations and urban planning projects shaping its current appearance.
In the Middle Ages, Santa Croce was a relatively undeveloped area with sparse settlements. Hence, it served as an important point for crossing the Grand Canal. In the Renaissance period, between the 14th and 17th centuries, it experienced notable growth in both artistic and architectural developments.
Some of the main attractions in Santa Croce include historical churches such as San Nicola da Tolentino, which was built in 1632 by architect Vincenzo Scamozzi. Another notable site is Ponte degli Scalzi – an elegant stone bridge that spans across the Grand Canal – designed by Eugenio Miozzi in 1934.
The overall ambiance of Santa Croce can be categorized as a quiet but lively neighborhood. The nightlife consists mainly of cozy bars and small restaurants. Additionally, Santa Croce has several venues showcasing local arts and crafts.
Regarding transportation options, Santa Croce is well-connected to various parts of Venice through waterborne routes like vaporetti (public water buses) and traghetti (gondola ferries). The Piazzale Roma, a central transportation hub, offers connections to buses and trains, making it convenient for visitors to explore other Italian cities.
As for accommodation options, Santa Croce offers various types of hotels. From budget-friendly lodgings and family-operated guesthouses to elegant boutique hotels.
Best Hotels in Santa Croce, Venice
---
6. Cannaregio: Best Location for a Cheap Holiday in Venice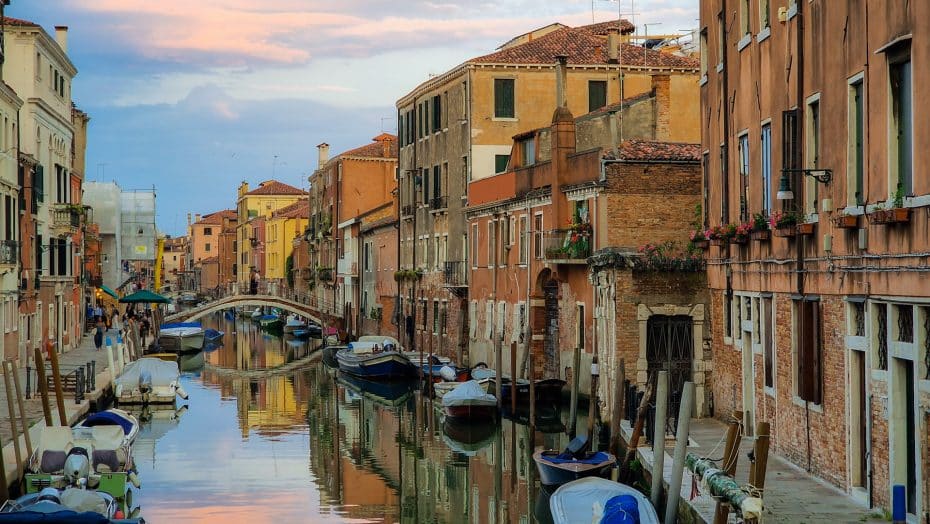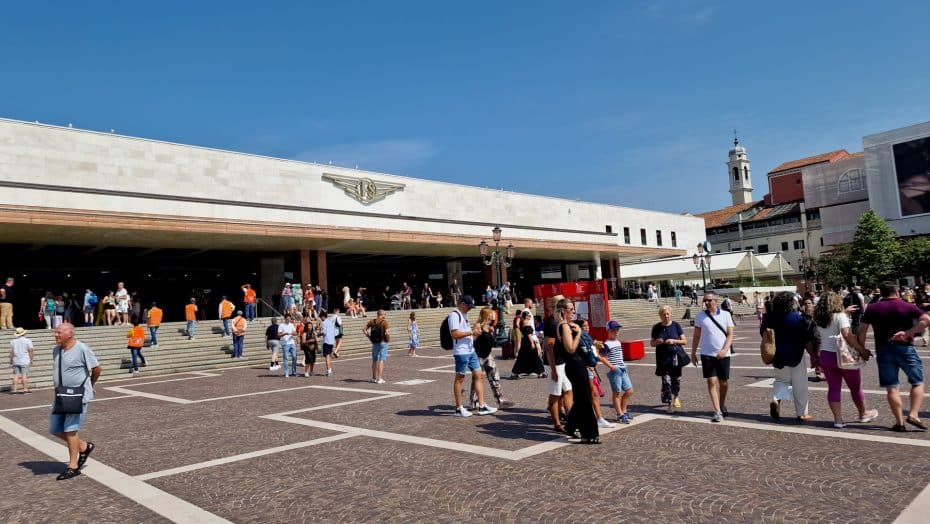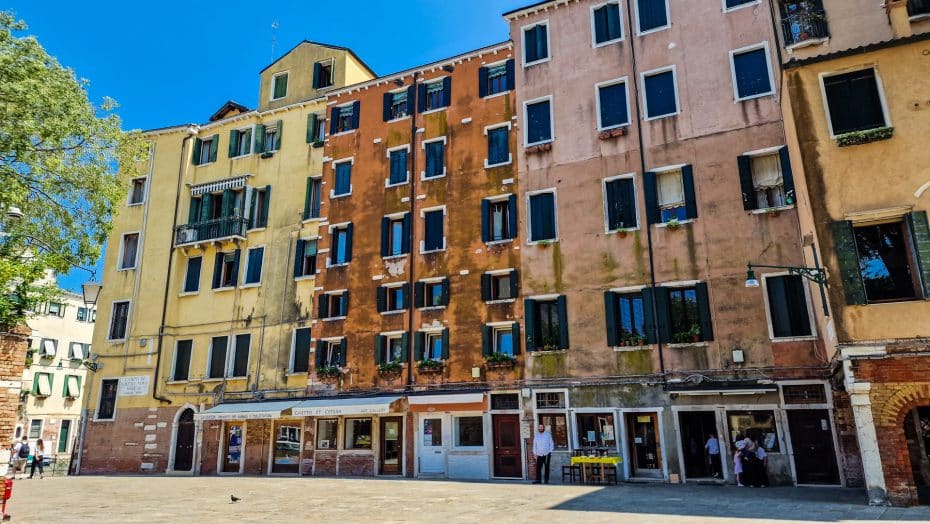 Cannaregio is a well-connected, centrally-located and budget-friendly quarter to stay in Venice.
Why is this the best area to stay in Venice:

Santa Lucia Station
Well-connected by vaporetto
Old Jewish Ghetto
Cheapest area to stay in Venice
Budget restaurants and bars
Casa del Tintoretto
Cannaregio is the northernmost of the six central sestieri of Venice. The most populous area in the historic center, this large district is home to Stazione di Santa Lucia, the city's main railway station and transport link between Venice and the mainland. Other than the Grand Canal, which borders it to the south, the main waterway in the district is Canal de Cannaregio, the only other canal crossed by vaporetti (steamboats).
The history of Cannaregio dates back to the early Middle Ages. The name derives from "Canal Regio," an important channel in this area. The Jewish Ghetto, established in 1516, was located in Cannaregio. Here, Jews were forced into a confined area with significant restrictions on their activities and movements. Today, this historical neighborhood occupies a central part of Venice's history and culture as it bears witness to centuries-long religious and social interactions between different communities.
Traditionally one of the poorest areas in Venice and somewhat out of the typical tourist trail, Cannaregio today is a fascinating area with many untouched canals, narrow streets, small bars and restaurants, and artisan workshops. Perhaps more importantly, this sestiere is the cheapest area to stay in central Venice, with dozens of small locande and budget hotels.
The area has several noteworthy attractions, such as the Church of Madonna dell'Orto, boasting Tintoretto's artwork; it was completed in 1480 and refurbished around 1570. The Palace of Ca' d'Oro, a fine example of Venetian Gothic architecture, was built between 1421-1434 by Giovanni Bon and his son Bartolomeo Bon. This palace now houses the Galleria Giorgio Franchetti art collection.
Cannaregio also offers a quaint and tranquil atmosphere compared to other parts of Venice, making it an attractive place for visitors who prefer a more laid-back environment. Nevertheless, there is no shortage of entertainment options in this district. Local trattorias, bars, and osterias cater to diverse tastes while providing quality food along with cozy ambiance.
Cannaregio is reachable via several vaporetto lines from Venice's train station, Piazzale Roma, and Marco Polo Airport. The area has numerous vaporetto stops, facilitating easy access to other parts of the city and allowing visitors to explore the beauty of Venice at their leisure.
Best Hotels in Cannaregio, Venice
---
7. Murano: Best Location for Souvenir Shopping in Venice
Murano Island offers a quiet, romantic alternative to the central Venetian districts.
Why is this the best area to stay in Venice:

Quaint, romantic area
Connected by vaporetto
Glass workshops
Lovely boutique hotels
Restaurants and bars
Murano is an island located in the Venetian Lagoon. It lies about 1.5 kilometers north of Venice and has a population of over 5,000 inhabitants. The island is most well-known for its long history of glassmaking, dating back to the 10th century. This artistic tradition has played a significant role in establishing Murano as a unique and culturally-rich destination.
The origins of Murano can be traced back to the Roman period when it was primarily used for agriculture and fishing. However, it was not until the 9th century that the construction of furnaces for glass production began to shape its identity. The development of these furnaces led to an influx of glassmakers on the island, drawn by its abundant resources and proximity to Venice.
There are several attractions on the island of Murano. The Museo del Vetro (Glass Museum) houses a vast collection of historical glass pieces from various periods including Roman artifacts up to contemporary art installations, displaying the evolution of this craft. Moreover, numerous workshops and galleries throughout the island allow visitors to observe traditional artisans at work and even try their hand at creating their own glass objects.
The atmosphere on Murano Island is characterized by a fusion of tradition and modernity. As a result, the island maintains a lively ambiance while preserving elements of its cultural heritage. Nightlife options range from quaint trattorias featuring authentic Italian cuisine to more contemporary bars and cafes.
Keep in mind that Murano is not connected by land to Venice and, in order to reach it, you'll have to use water taxis, or vaporettos.
The island's hotel offer caters to a variety of tastes and budgets. Accommodation options encompass mid-range hotels, boutique hotels, and converted historic buildings. Travelers can expect distinctive architecture and tranquil surroundings in these establishments.
Best Hotels in Murano
---
8. Giudecca: Most Peaceful Area to Stay in Venice
Separated from the main island by the namesake canal, Giudecca seems a world away from Venice's overcrowded central quarters.
The island of Giudecca is located on the far south edge of Venice, from which it's separated by the Giudecca Canal.
This quiet island used to be one of the main industrial districts in the city before WWII. Today, Giudecca is largely residential and a resort town known for its long dock and its churches, including Chiesa del Santissimo Redentore.
There are no bridges between Giudecca and the rest of the city, so the main mean of transportation to get around is the vaporetto. While this can be a huge inconvenience for some visitors, its relative isolation makes it the best area to stay in Venice for those looking for peace and quiet away from the thousands of tourists swarming the centremost districts of the city.
Best Hotels in Giudecca
---
9. Mestre: Cheapest Area to Stay near Venice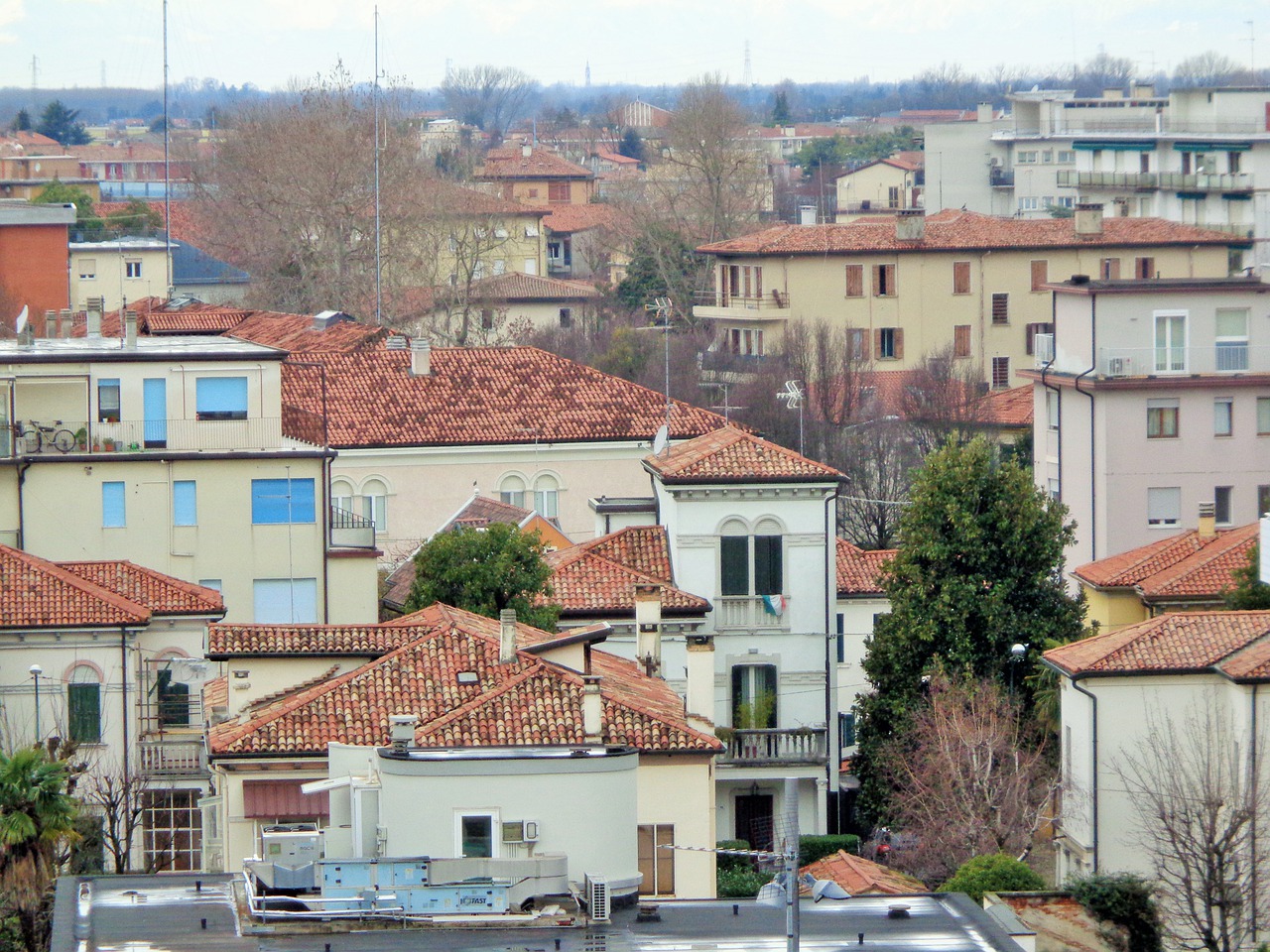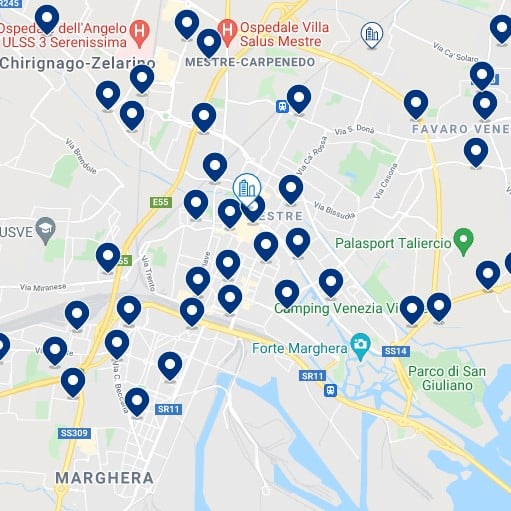 While not nearly as interesting or beautiful as Venice, Mestre offers budget accommodation and convenient train connections to Santa Lucia railway Station.
Mestre is the most populated town of the comune of Venice. It is located on the mainland, some 10 kilometres away from Centro Storico, to which it is connected by buses and trains.
Frequent Trenitalia regional trains connect both cities. The journey from Venezia-Mestre to Venezia-Santa Lucia stations takes approximately 9 minutes. Alternatively, bus line B1 and tram line T1 also travel between Mestre and Venice.
The main reason to choose Mestre when deciding where to stay in Venice is the fact that Mestre is much more affordable than Central Venice.
An upscale hotel in Mestre can have the same price (or even be cheaper) as a 1-star in Venice!
Best Hotels in Mestre
---
Where to Look for Accommodation in Venice: Useful Info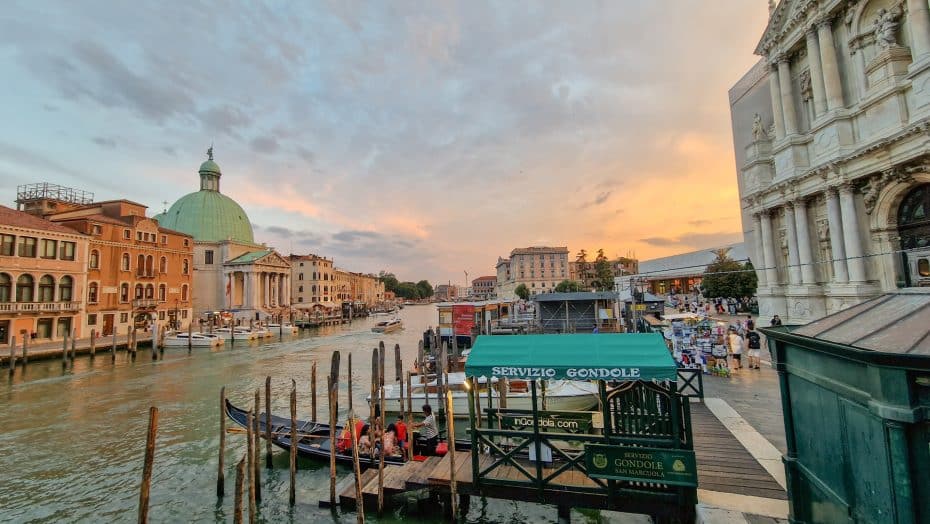 Venice is known for its unique waterways, historic architecture, and art. Before booking a hotel in Venice, there are several important factors to consider.
Location: Venice comprises several smaller islands, with the main island offering the most tourist attractions. It is vital to choose a hotel close to the places you want to visit, such as St. Mark's Square, the Doge's Palace, or the Rialto Bridge.
Transportation: Since Venice does not have cars or buses, most transportation is done by boats called vaporettos or water taxis. Check if your hotel is close to a vaporetto stop for easy travel around the city.
Accessibility: Venice has many bridges with steps that may be difficult for people with mobility challenges. Consider booking a hotel that offers accessible rooms and facilities such as ramps or elevators.
Costs: Venice can be an expensive destination, particularly during the peak tourist season (April to October). Accommodation, food, and transportation prices are typically higher in this period. To save on costs, consider visiting Venice during the off-peak months.
Budget: The cost of hotels in Venice can vary greatly depending on location, amenities, and time of year. Be sure to research and compare prices before making a reservation.
Time of year: Venice can become very crowded during peak tourist seasons such as summer and during festivals like Carnival. Booking a hotel in advance during these times is highly recommended.
Cheapest areas to stay: The main island of Venice can be pricey for accommodation. To find more economical options, consider staying in the surrounding districts or nearby islands like Mestre, Lido, or Giudecca. These locations have convenient access to public transportation that connects them to the main Venice attractions.
Reviews: Before booking a hotel in Venice, it is important to read reviews from previous guests to ensure quality and reliability.
Transportation from the airport: If arriving at Venice Marco Polo Airport (VCE), consider using the ATVO bus or ACTV bus line 5 from the airport to Piazzale Roma in Venice's city center. Another option is Alilaguna water shuttle that goes directly from the airport to various locations in Venice; however, this service may be more expensive.
Walking: One of the cheapest ways to explore Venice is simply walking. The city's compact size makes it possible to visit many tourist attractions on foot without spending money on transportation.
Dining out: Eating out in popular tourist areas can be expensive; opt for local bars and cafés in less busy neighborhoods like Cannaregio or Dorsoduro to find more affordable meal options.
By keeping these factors in mind when selecting a hotel in Venice, travelers can make informed decisions about their accommodations and make the most of their visit to this beautiful and historic city.
---
Where to Stay in Venice: Frequently Asked Questions
What's the best area to stay in Venice for first-time visitors?
San Marco is the ideal area for first-time visitors, as it's located in the heart of Venice and hosts many of the city's most iconic attractions. Staying in San Marco guarantees easy access to sites like St. Mark's Square, Doge's Palace, and the Rialto Bridge. The area is rich in history and architectural beauty, making it an ideal base for exploring all that Venice has to offer.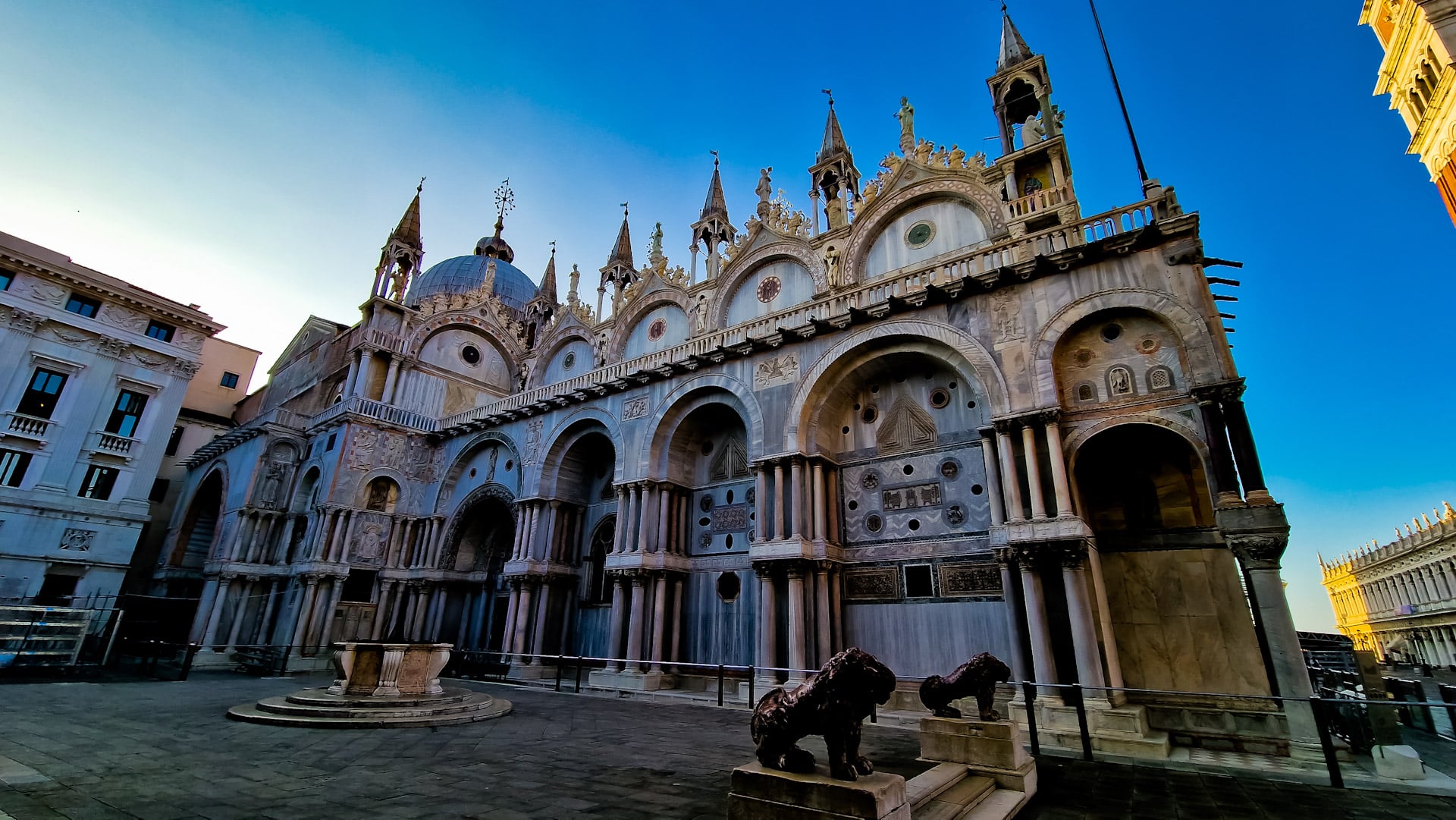 What's the best area to stay in Venice for sightseeing?
For those focused on sightseeing, Dorsoduro is an excellent choice. This picturesque neighborhood boasts a number of museums and art galleries, including the renowned Peggy Guggenheim Collection and Ca' Rezzonico. It's also home to beautiful churches, historic buildings, and lovely canals lined with cafes and shops. Dorsoduro offers stunning views across the Grand Canal towards San Marco and is well-connected by water buses.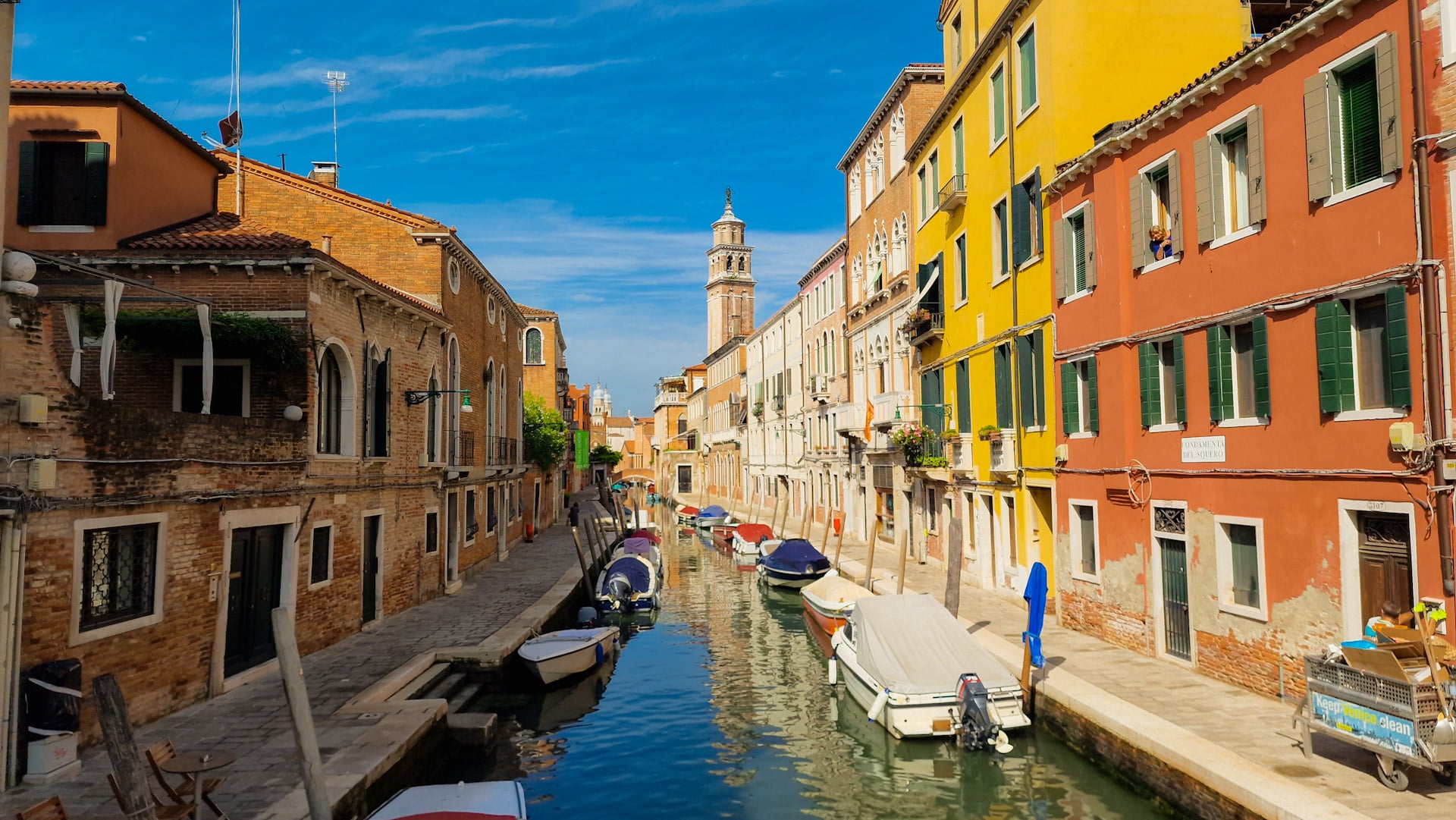 What are some cheap areas to stay in Venice?
For budget-conscious travelers, staying in either Mestre or Lido can be a more affordable option than staying in central Venice. Both locations provide easy accessibility to Venice Island via public transportation, such as trains or water buses. With lower-priced accommodations and more relaxed atmospheres, these areas offer a great alternative without sacrificing too much of the Venetian experience.
Is it better to stay on Venice Island or mainland?
Staying on Venice Island provides a more authentic experience, as you'll be able to enjoy the historic sites, winding streets, and canals that make the city unique. Although accommodation options could be more expensive on the island, you'll be close to popular attractions and won't have to worry about transportation between the mainland and island. On the other hand, staying on the mainland can offer more budget-friendly accommodations and a quieter environment but requires additional travel time to reach Venice's main attractions.
How many days in Venice is enough?
Generally, 2-3 days in Venice should be enough time to experience the city's highlights and soak up its charm. This timeframe allows you to explore iconic locations such as St. Mark's Square, Doge's Palace, and Rialto Bridge without feeling rushed. Additionally, with three days, you can even set aside time for a leisurely gondola ride or visit nearby islands such as Murano and Burano.
Is Venice a walkable city?
Yes, Venice is a highly walkable city with many pedestrian-only streets and bridges connecting its various districts called sestieri. As there are no cars in the city center, walking is not only an enjoyable way to explore Venice but also the most practical means of transportation. Keep in mind that some areas have narrow streets or can become crowded during peak tourist season; however, getting lost in the maze of alleyways is part of the Venetian experience.
Are there any areas of Venice to avoid?
While Venice is generally safe for tourists, it's wise to be cautious around certain areas where pickpocketing and other petty crimes may occur. Avoid walking alone late at night through more deserted parts of the city or secluded alleys. Although not inherently dangerous, tourist-heavy spots like Santa Lucia Station, Rialto Bridge and St. Mark's Square could attract pickpockets; stay vigilant and guard your belongings in these areas.
Is it safe to walk around Venice at night?
Venice is generally considered a safe city, even at night. The narrow streets and alleys are well-lit, and both locals and tourists can be seen walking around during the evening hours. Petty crimes such as pickpocketing can occur, so it's always best to stay alert and keep your belongings secure. However, serious crimes are rare, and most visitors to Venice have a safe and enjoyable experience exploring the city after dark.
Is it safe to stay in Cannaregio Venice?
Cannaregio is one of the six historic districts of Venice and is known for its picturesque canals and vibrant atmosphere. It is generally considered a safe area to stay, with low crime rates and a welcoming atmosphere for tourists. Like any other urban area, it's important to take basic safety precautions while staying in Cannaregio — keep your valuables secure and be mindful of your surroundings. Overall, Cannaregio offers a unique and safe experience for visitors looking to immerse themselves in the local culture.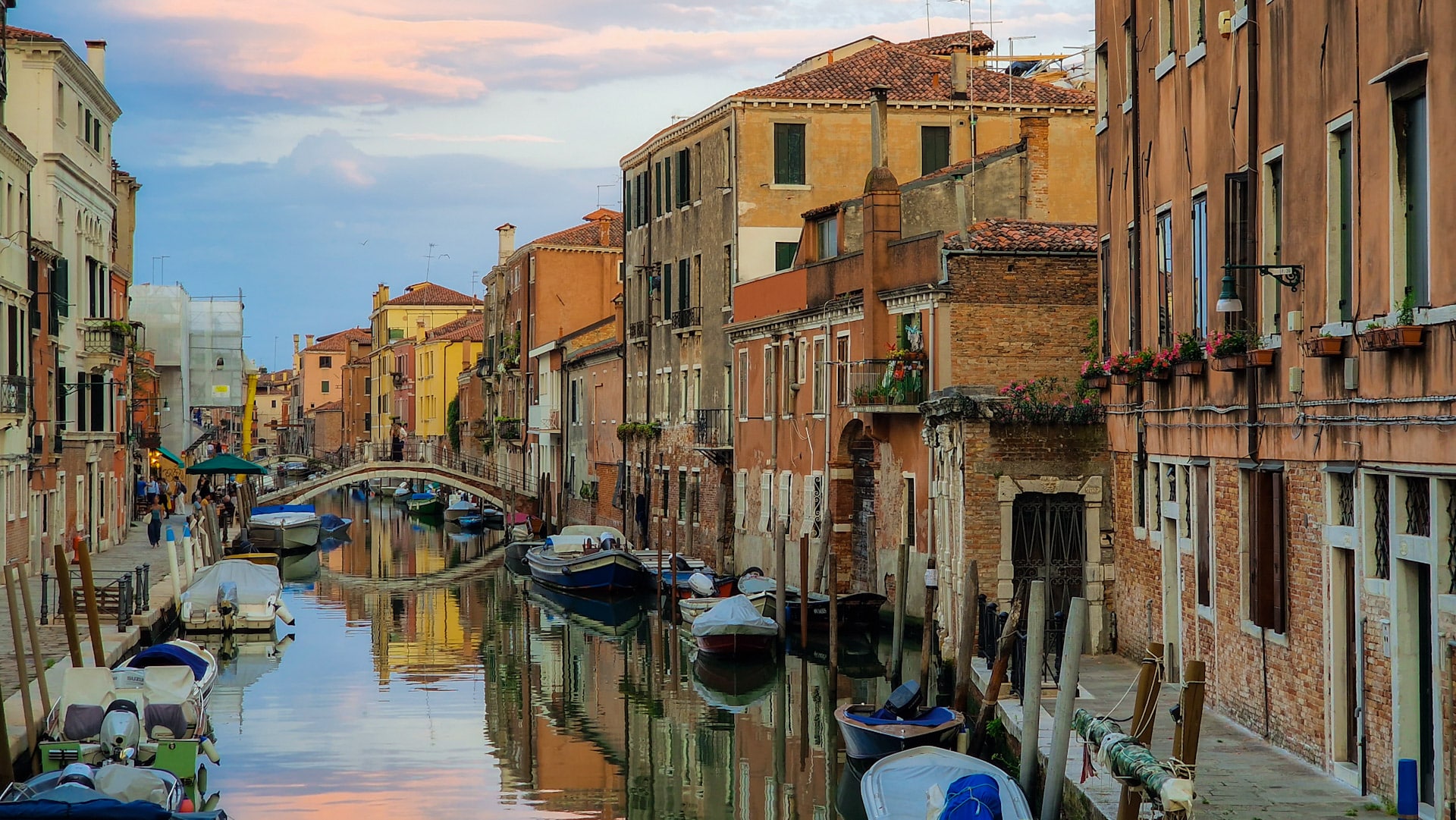 What month does Venice usually flood?
Venice is known for its periodic flooding, called "acqua alta," which typically occurs during the cooler months between October and January. The most significant floods tend to happen in November as a result of seasonal high tides, heavy rains, and strong winds from the Adriatic Sea. Flooding can cause temporary disruptions in transportation and daily life but is usually manageable with raised walkways placed throughout the city.