How many times have you heard a city call itself the "Venice of the (geographical region)"? Imitation may be the sincerest form of flattery, but we can positively tell you there's nothing like the original. Famous for being one of the most beautiful cities in the world, Venice is known for its winding canals sprinkled with gondolas, gorgeous squares, palaces, churches and bridges. A major cultural centre in Italy, the "Floating City" is also home to important museums, art galleries, theatres and, of course, world-renowned festivals like Carnevale di Venezia, the Venice Art Biennale and the Venice Film Festival.
Located in northeastern Italy, on a group of 118 small islands separated by canals in the Venetian Lagoon, Venice is the capital of the Veneto region. A UNESCO World Heritage Site since 1987, it is one of the most visited tourist destinations in Europe. Some of its most popular attractions include Piazza San Marco, the Doge's Palace, Rialto Bridge and Saint Mark's Basilica. Considered one of the most romantic cities in the world, Venice is home to a broad offer of small luxury hotels. That said, this Italian city also features some budget accommodation options.
It doesn't matter if it's your first time visiting Venice or if you're looking for that one special romantic area, keep reading this article to find out more about our top picks of the best areas to stay in Venice for tourists.
Accommodation Options in Venice
---
The Best Areas to Stay in Venice: A Summary
If you don't have the time or the patience to read the full post, here is a quick summary of our recommended quarters to stay in Venice. Keep reading to find out more information about each of these areas.
---
What's the Best Area to Stay in Venice?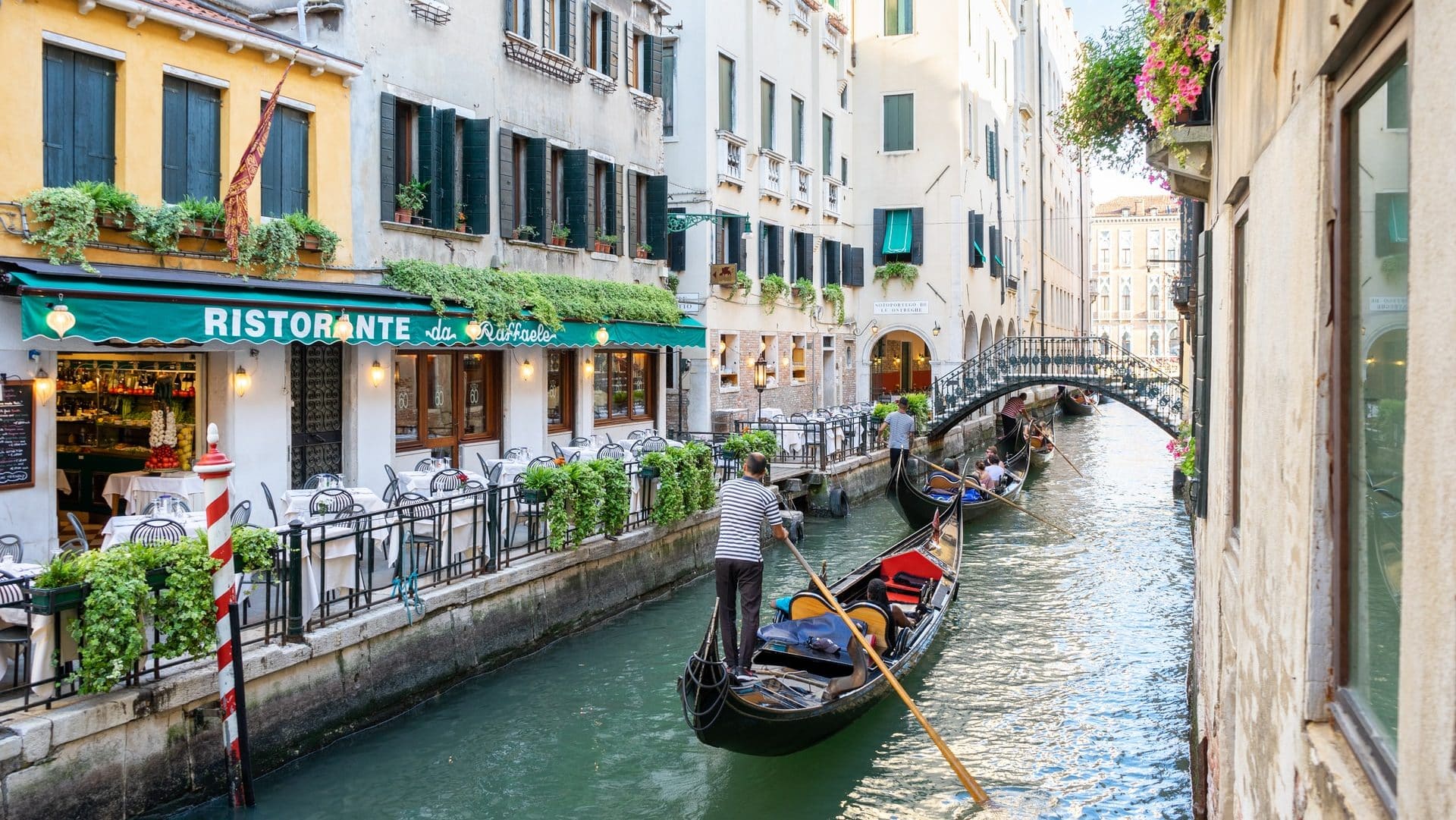 The best area to stay in Venice is Centro Storico, particularly if it's your first time visiting the city. This area, located on both sides of the Canal Grande, is made up of dozens of islets and canals connected by bridges. Most of Venice tourist attractions, Rialto Bridge and Saint Mark's Basilica and Square, and Teatro La Fenice are located in this district, which is also home to the best-rated hotels in Venice.
Find Available Accommodation in Centro Storico.
Best Hotels in Venice City Centre
---
Where to Stay in Venice for Sightseeing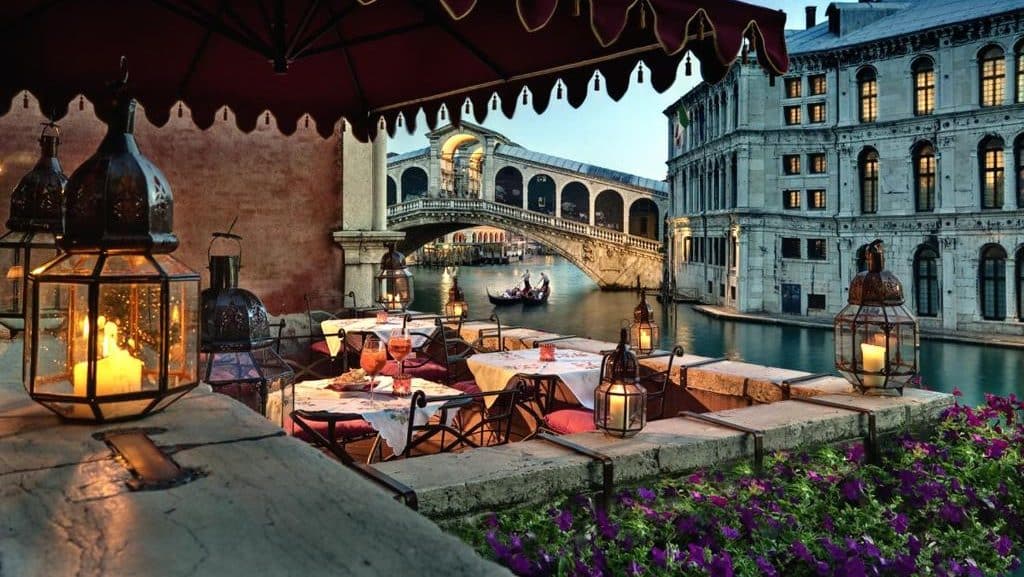 As we've mentioned above, Centro Storico is the best location for tourists in Venice. Venice's Historic City Centre is divided into six sestieri (literally 'sixths'), each one with a different flavour and attractions. These are some of the most interesting:
---
The Best Areas for Tourists in Venice: District by District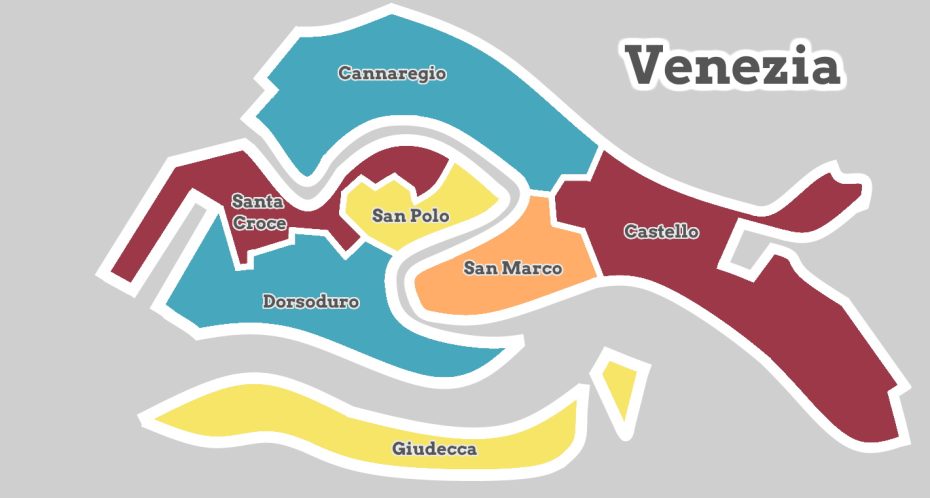 1. San Marco: Best Location for a Luxury Trip to Venice
Home to some of Venice's most visited tourist attractions, San Marco is the quintessential Venetian sestiere and the best area to stay in Venice to be near the action.
Why is this the best area to stay in Venice:

Heart of the city
Great area for sightseeing
Piazza and Basilica San Marco
Doge's Palace
Luxury hotels, restaurants and shopping
Calle Larga XXII Marzo
Teatro La Fenice
Centred around the namesake piazza and located on the Grand Canal's east side, sestiere San Marco is considered Venice's heart.
Piazza San Marco, often referred to as St. Mark's Square in English, dates back to the 12th century and is home to iconic Venetian sights including St. Mark's Basilica and its Campanile, the Doge's Palace, Torre dell'Orologio, the Museo Archeologico Nazionale di Venezia
and the Bridge of Sighs.
Being the epicentre of tourist activity in the city, the streets around the square are packed with snack bars and souvenir shops. Not far, Salizada S. Moise and Larga XXII Marzo streets are lined with upscale fashion boutiques. Situated right at the district's geographical centre, Teatro La Fenice is an 1800s-style grand opera house where many famous premieres were performed.
When it comes to accommodation, San Marco is, understandably, one of the most elegant and upscale areas to stay in Venice. While there are a few budget properties in the area, this quarter is famous for its luxury hotels.
Best Hotels in Sestiere San Marco
---
2. San Polo: Best Location for a First-Time Visitor to Venice
Across the Grand Canal from San Marco, sestiere San Polo is a very central district in Venice and the best area for first-time visitors to the city.
Why is this the best area to stay in Venice:

Rialto Bridge
Super central location
Near San Marco and Santa Croce
Basilica Santa Maria Gloriosa dei Frari
Variety of accommodation
Rialto Market
Home to the world-famous Rialto Bridge, San Polo is arguably the best-located quarter in Venice. This lively Venetian district, the smallest in the city centre, is located between the San Marco, Cannaregio, Santa Croce and Dorsoduro sestieri and, as such, is the best quarter to stay close to everything. It is a particularly convenient area to base yourself when visiting Venice for the first time or if you only have one or two days to discover the city.
The western part of sestiere San Polo is known for its many squares and churches, while the eastern part, sometimes referred to as the Rialto, is known for its lavish palaces.
Other than Rialto Bridge, San Polo hosts several popular Venetian attractions like the Rialto Market, as well as beautiful squares like Campo San Polo, Campo San Silvestro and the romantic Campo San Tomà. The Church of San Giacomo di Rialto is said to be the oldest in the city and the 14th-century Gothic-style Basilica Santa Maria Gloriosa dei Frari hosts Titian's tomb and a couple of his paintings. Meanwhile, the Ponte delle Tette (Bridge of the Breasts) is famous for being the heart (and boobs) of the city's former red-light district.
San Polo is home to a broad offer of accommodation properties ranging from luxury canalside palaces on its eastern end to small B&B and mid-range hotels as you move west away from Rialto.
Best Hotels in Sestiere San Polo
---
3. Castello: Best Location for Biennale di Venezia & Venice Film Festival
Sestiere Castello is a quiet, upscale area on Venice's east end.
Why is this the best area to stay in Venice:

Venetian Arsenal
Public gardens & parks
Luxury hotels
Riva degli Schiavoni
Best area for the main cultural events in Venice
Museo Storico Navale di Venezia
Castello is the largest sestiere in Venice. Located north of the Grand Canal and east of San Marco, this expansive district is home to the Venetian Arsenal, a former complex of shipyards founded in the 12th century used for exhibitions, trade fairs and cultural events including the Venice Film Festival and the Biennale.
Although Castello is not the most central district in Venice, its western portion, bordering St. Mark's Square, is very lively (albeit touristy) and home to a large number of upscale shops, eateries and accommodations. However, as you move east, away from San Marco, the vibe gets more and more laid back. The area around Via Garibaldi offers cool nightlife venues and restaurants, while Giardini della Biennale park, surrounded by charming canals and low rise buildings, has an almost suburban feel to it.
In line with its position as Venice's major event district, hotels here are for the most part luxurious. The area bordering Piazza San Marco hosts many 4 and 5-star palazzo-style properties, while the district's outer sections are home to a few budget hotels, B&Bs and tourist apartments.
Best Hotels in Sestiere Castello
---
4. Dorsoduro: Quiet & Romantic Location in Venice
Located in Venice's southern end, Dorsoduro is a quiet area to enjoy the esence of Venice away from the masses.
Why is this the best area to stay in Venice:

Most charming quarter in Venice
Alternative area
Great nightlife and restaurants
Basilica di Santa Maria della Salute
Inexpensive accommodation
Gallerie dell'Accademia
Peggy Guggenheim Collection
Sestiere Dorsoduro, (literally "hard ridge") is situated in the south end of Venice's Centro Storico and west of the Grand Canal. Traditionally the city's university district, this area is known for its lively food scene and nightlife, particularly around Campo Santa Margherita, as well as for being home to important museums.
Perhaps the most visited attraction in Dorsoduro, the Gallerie dell'Accademia hosts an extensive collection of pre-19th-century Venetian and European masterpieces including works by the likes of Canaletto, Leonardo da Vinci, Tintoretto and Titian. Meanwhile, the waterside Peggy Guggenheim Collection houses contemporary works by artists such as Duchamp, Dalí, Miró, Picasso, Kandinsky and Magritte.
Situated in Punta della Dogana and completed in 1681, the Basilica di Santa Maria della Salute was built as a votive offering for the city's deliverance from a bubonic plague outbreak. This Baroque-style church, highly visible from the Grand Canal, inspired artists like Canaletto and Francesco Guardi, who portrayed it on many of their cityscapes.
Although it is true that Dorsoduro hosts many important attractions, most of its tourist activity is focused on its eastern side. As you move west, away from the Grand Canal, you'll discover this sestiere is indeed a lovely and quiet district full of charming little canals, off-the-beaten-path squares and churches, and some of the most authentic restaurants in town.
Best Hotels in Sestiere Dorsoduro
---
5. Santa Croce: A Very Convenient Location in Venice
Santa Croce is a great location in Venice for all types of travellers and budgets.
Why is this the best area to stay in Venice:

Near Santa Lucia railway station
Piazzale Roma Bus Terminal
Most convenient area if you travel by car
Closest area to the cruise and ferry port
Varied accommodation
Giardini Papadopoli
Chiesa di San Simeon Piccolo
Santa Croce is located south of the Grand Canal, across from Cannaregio and Santa Lucia railway station.
One of the oldest districts in Venice, Santa Croce's eastern portion is mostly medieval in origin, while its easternmost area (which includes the cruise and ferry port and the Tronchetto island) is mostly made up of reclaimed land.
Piazzale Roma, located near the railway and bus terminals, is home to the city's car parks. Cars are strictly banned in Venice; there are no roads, just footpaths and canals, and tourists arriving by car via Ponte della Libertà must park in one of the authorised facilities for the duration of their stay.
Tourist attractions in this area can be found mostly in the quarter's eastern part. These include the Fondaco dei Turchi, home to the Natural History Museum of Venice, Palazzo Ca' Pesaro and the Museum of the History of Fabric and Costume at Palazzo Mocenigo.
The accommodation found in Santa Croce is very varied; while the area around the bus station is home to a wealth of budget properties, the canalside eastern portion houses impressive 4 and 5-star hotels.
Best Hotels in Sestiere Santa Croce
---
6. Cannaregio: Best Location for a Cheap Holiday in Venice
Cannaregio is a well-connected, centrally-located and budget-friendly quarter to stay in Venice.
Why is this the best area to stay in Venice:

Santa Lucia Station
Well-connected by vaporetto
Old Jewish Ghetto
Cheapest area to stay in Venice
Budget restaurants and bars
Casa del Tintoretto
Cannaregio is the northernmost of the six central sestieri of Venice. The most populous area in the historic centre, this large district is home to Stazione di Santa Lucia, the city's main railway station and transport link between Venice and the mainland. Other than the Grand Canal, which borders it to the south, the main waterway in the district is Canal de Cannaregio, the only other canal crossed by vaporetti (steamboats).
Traditionally one of the poorest areas in Venice and somewhat out of the typical tourist trail, Cannaregio today is a very interesting area with many untouched canals, narrow streets, small bars and restaurants, and artisan workshops. Perhaps more importantly, this sestiere is the cheapest area to stay in central Venice, with dozens of small locande and budget hotels.
While not as visited as San Marco and San Polo, sestiere Cannaregio has a lot to offer. At its heart lies the Old Ghetto of Venice, the city's historic Jewish quarter is home to two synagogues, kosher shops and the Jewish Museum of Venice. Another attraction in this lovely Venetian district is the 16th-century former townhouse of Tintoretto.
Best Hotels in Sestiere Cannaregio
---
7. Giudecca: Most Peaceful Area to Stay in Venice
Separated from the main island by the namesake canal, Giudecca seems a world away from Venice's overcrowded central quarters.
The island of Giudecca is located on the far south edge of Venice, from which it's separated by the Giudecca Canal.
This quiet island used to be one of the main industrial districts in the city before WWII. Today, Giudecca is largely residential and a resort town known for its long dock and its churches, including Chiesa del Santissimo Redentore.
There are no bridges between Giudecca and the rest of the city, so the main mean of transportation to get around is the vaporetto. While this can be a huge inconvenience for some visitors, its relative isolation makes it the best area to stay in Venice for those looking for peace and quiet away from the thousands of tourists swarming the centremost districts of the city.
Best Hotels in Giudecca
---
8. Mestre: Cheapest Area to Stay near Venice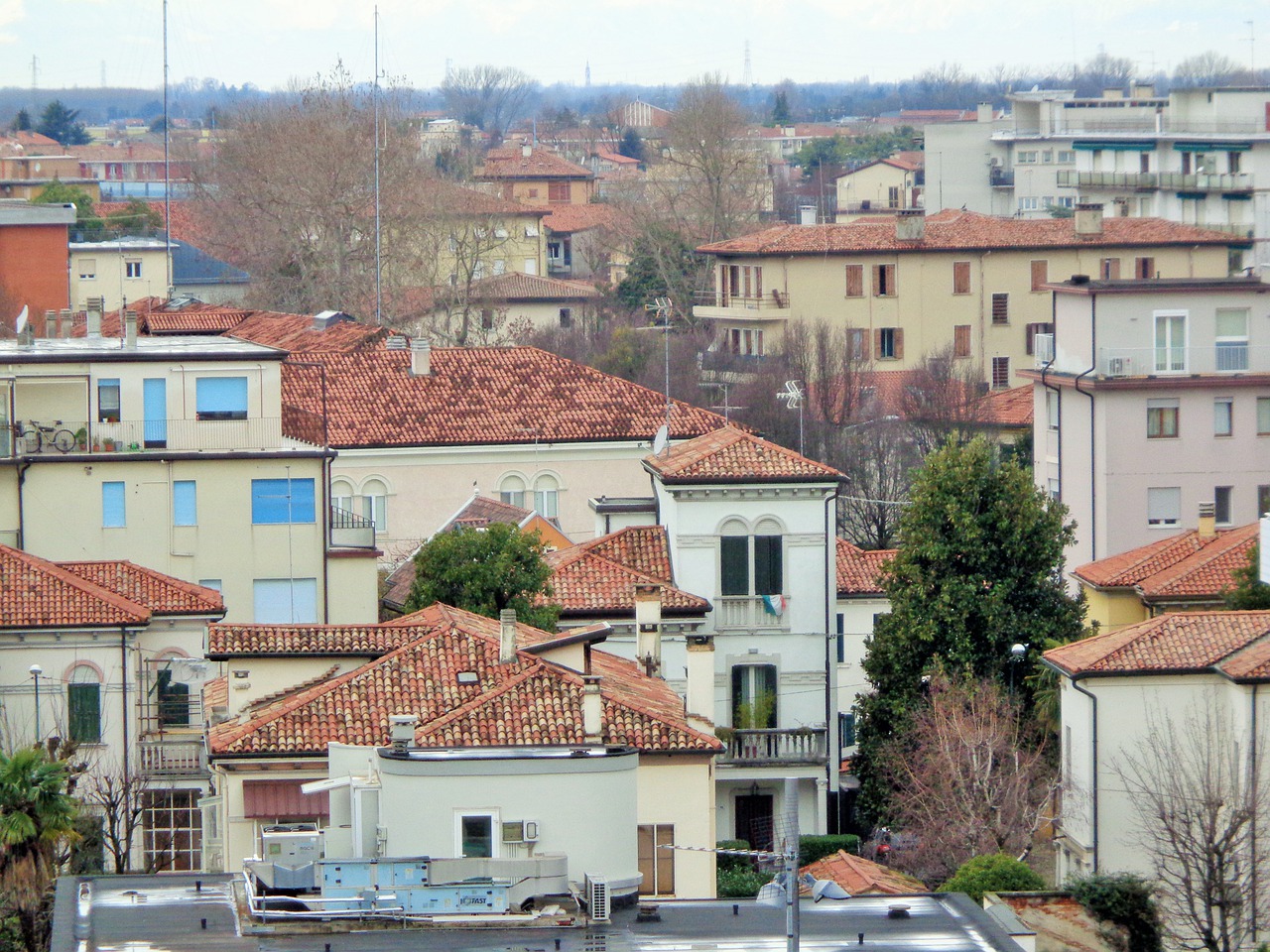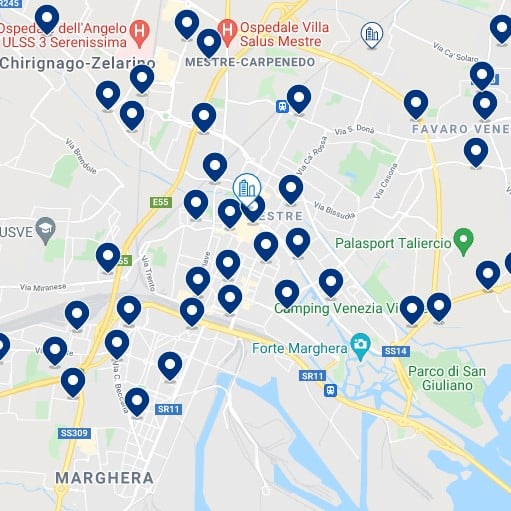 While not nearly as interesting or beautiful as Venice, Mestre offers budget accommodation and convenient train connections to Santa Lucia railway Station.
Mestre is the most populated town of the comune of Venice. It is located on the mainland, some 10 kilometres away from Centro Storico, to which it is connected by buses and trains.
Frequent Trenitalia regional trains connect both cities. The journey from Venezia-Mestre to Venezia-Santa Lucia stations takes approximately 9 minutes. Alternatively, bus line B1 and tram line T1 also travel between Mestre and Venice.
The main reason to choose Mestre when deciding where to stay in Venice is the fact that Mestre is much more affordable than Central Venice.
An upscale hotel in Mestre can have the same price (or even be cheaper) as a 1-star in Venice!
Best Hotels in Giudecca
---
Where to Look for Accommodation in Venice: Useful Info
Because of its popularity among travellers from all around the world and the fact that the Venetian accommodation is not exactly cheap, it is very convenient to start thinking about where to stay in Venice as soon as you make the decision of visiting the city. Here you will find a small guide with the best areas to stay in the city, as well as the top neighbourhoods for a great holiday.
As is the case in most must-see cities around the world, Venice has a wide range of places to stay for every type of traveller. From small, family-owned pensions to the swankiest of luxury hotels by the Canal. As mentioned above, it is good noticing that Venice is by no means cheap, so it is better to start planning ahead and try to book your accommodation well in advance.
So, in order for you to get a clearer idea about where to book your accommodation in Venice, we will show you here some of the best areas to stay in Venice and around with a hand-picked selection of our favourite budget, mid-range and luxury hotels in each area.
Generally speaking, rates at Venice hotels are quite expensive and the quality of the accommodation here is usually not the best. Before you get to your hotel to find that you have paid a small fortune for a hole in the ground, it is best to take a look at the comments of other customers who have stayed there.
Obviously, the best area to stay in this city is the city itself and the closer to the centre, the better.
However, for reasons of hotel availability, as well as for economic reasons, you may want to rethink where to stay during your trip. As you will discover as you read further, you also have the possibility to stay in other places near the island, such as Mestre and Lido.
---
Read this article in other languages: