Niagara Falls is a must-see destination for many travellers. Known for offering the bests view of one of the most striking natural marvels in North America, the city is located right on the border between Canada and the United States and gets its name from the famous group of three waterfalls at the southern end of Niagara Gorge. The mightiest of the three is Horseshoe, or Canadian Falls, which runs parallel to the border, while the smaller American and Bridal Veil Falls are both within the United States. Niagara Falls is one of the most visited tourist destinations in Canada. This article will explore the best areas to stay in Niagara Falls, Ontario.
The city of Niagara Falls is full of tourist attractions. Other than seeing the falls from its many panoramic viewpoints, such as Journey Behind the Falls, Skylon Tower or the Niagara Skywheel, visitors can enjoy Clifton Hill's family-friendly activities, gamble at its many casinos or go on a wine-tasting tour in one of its nearby vineyards and wineries. As Canada's favourite and most accessible natural sight, the area has a fair share of hotels for all tastes and budgets, some of which offer breathtaking views of the falls. But if the city is a little too touristy for you, you can also choose to stay in the nearby towns of Niagara on the Lake or St Catharine.
Whether you're visiting Niagara Falls for a short trip to the falls or planning to explore this lovely natural and wine-growing region, keep reading this article to learn more about the best places to stay in Niagara Falls, Canada.
---
Accommodation Options in Niagara Falls
---
The Best Areas to Stay in Niagara Falls: A Summary
If you don't have the time or patience to read the full article, here's a summary of our best places for tourists in Niagara Falls. Keep on reading to find out more information about each of these areas.
---
What's the Best Area to Stay in Niagara Falls, Canada?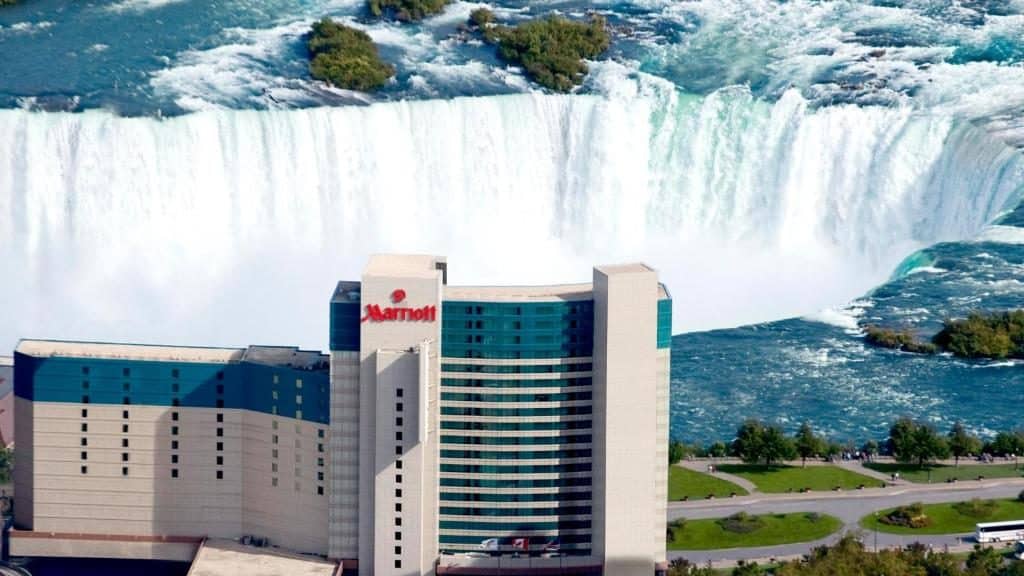 The best area to stay in Niagara Falls is Fallsview, especially if you're looking for postcard-perfect panoramics of the falls and easy access to the city's attractions and casinos. The aptly named district of Fallsview is home to some of the best-rated hotels in Niagara Falls, Canada.
Find available accommodation in Fallsview.
Best Hotels in Fallsview, Niagara Falls
---
Where to Stay in Niagara Falls for Sightseeing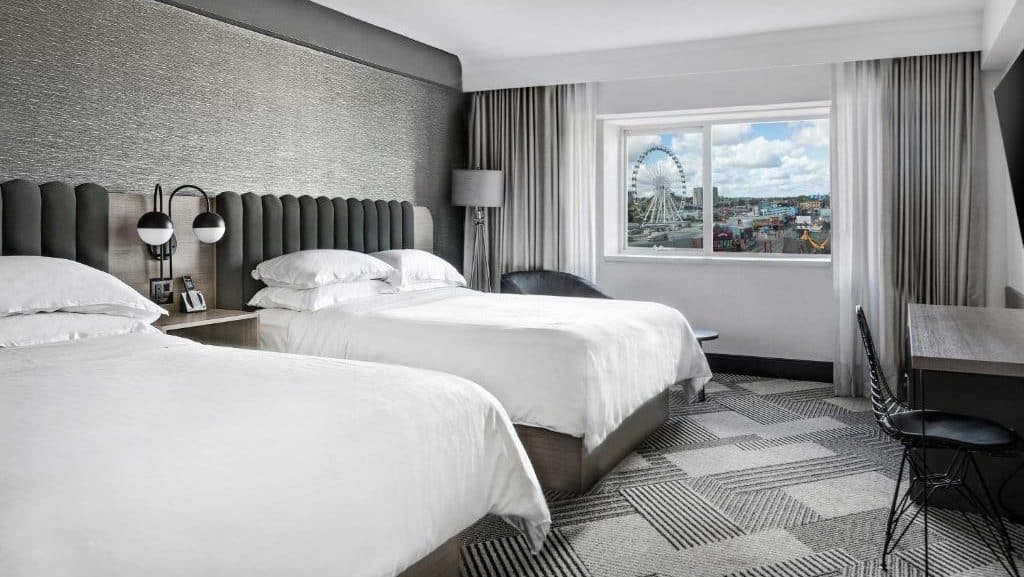 Fallsview is the best location for tourists in Niagara Falls. That said, this relatively upscale district is not the only option in town, and other areas can be just as -if not more- convenient depending on your interests. These are some recommended districts in Niagara Falls for visitors:
---
The Best Areas for Tourists in Niagara Falls: District by District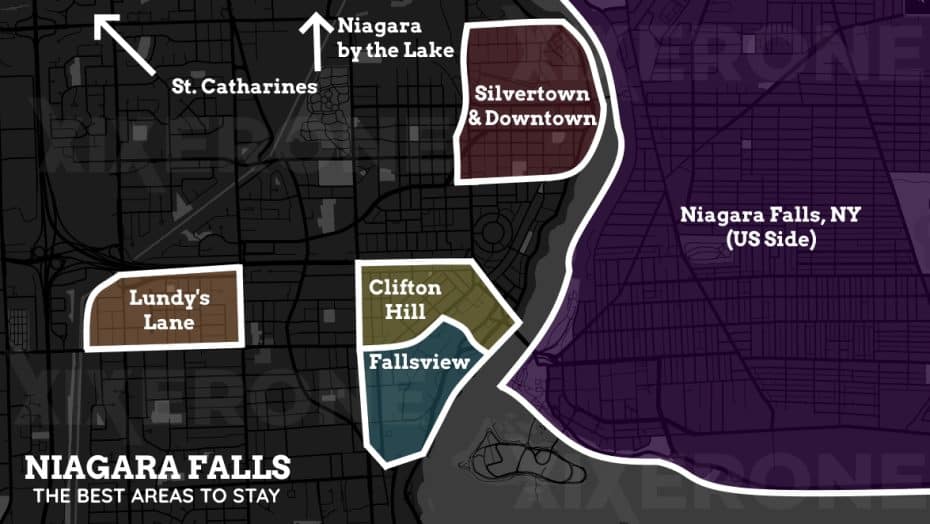 1. Fallsview: Best Location in Niagara Falls for Sightseeing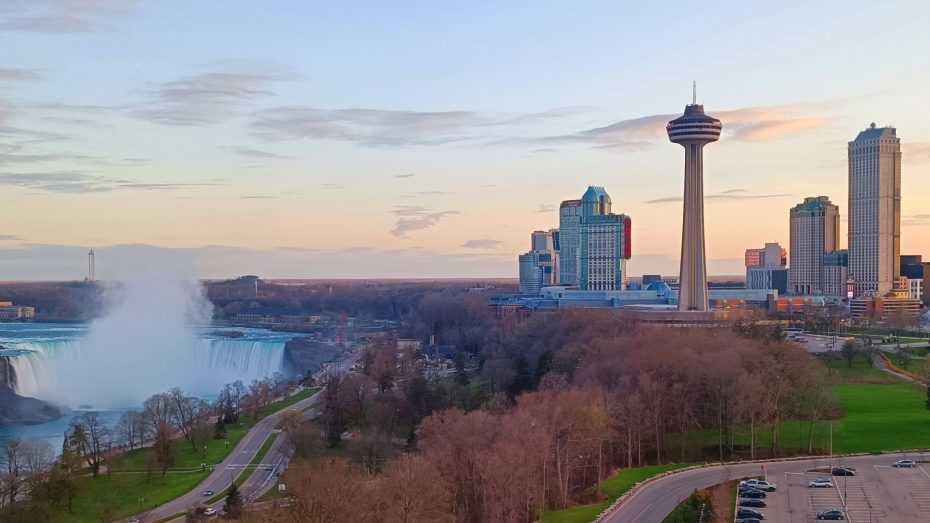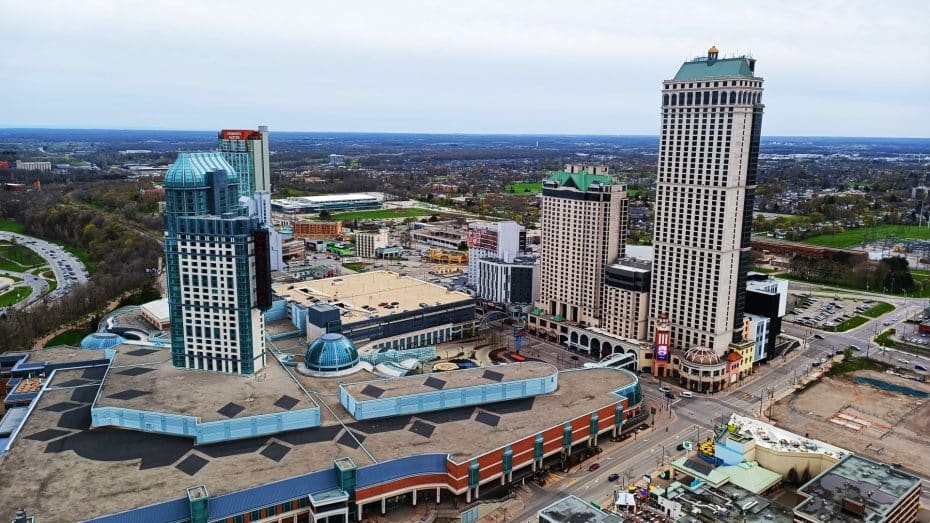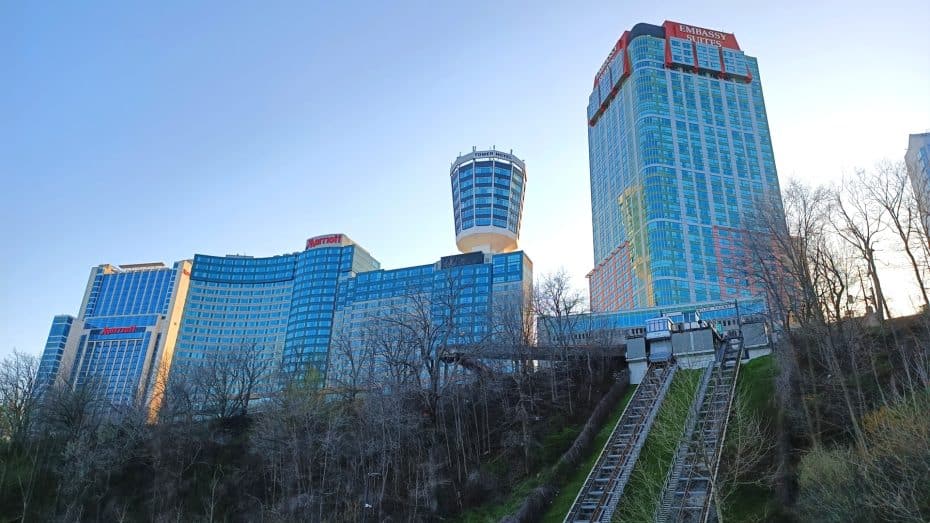 Located on a cliff overlooking Horseshoe —or Canadian— Falls, the aptly titled district of Fallsview is the number one best area to stay in Niagara Falls.
Why is this the best area to stay in Niagara Falls, Canada:

Closest area to the Canadian Falls
Best area for sightseeing
Upscale district
Luxury accommodation
Hotels with views of the falls
Skylon Tower
Incline railwy to the falls
Fallsview is the most convenient district to stay in on the Canadian side of Niagara Falls.
Within proximity to Niagara Falls, the area has become the number one choice for tourists and business travellers looking for luxury accommodations and excellent shopping opportunities.
True to its name, Fallsview sits atop a hill overlooking Horseshoe Falls and offers stunning views of the Niagara river.
The Fallsview Tourist Area is connected to the Table Rock Welcome Centre via the Falls Incline Railway. From here, you can easily access some of the Niagara Parks attractions, including Journey Behind the Falls and Niagara Power Station.
Other than the falls, perhaps the best-known tourist attraction in Fallsview is Skylon Tower, a 233-metres tall observation tower.
The area is centred around Fallsview Boulevard, a north-south roadway that connects the district to Clifton Hill, and it's packed with hotels, restaurants and other city attractions, including the Fallsview Casino, Fun Zone and the Fallsview Mall.
Nearby Stanley Avenue is home to the Niagara Falls Convention Centre, making it a great location for business travellers.
While it is true that Fallsview is mostly known for its luxury hotels with sweeping views of the falls, it's also worth noting that it also has a decent amount of affordable accommodations.
Best Hotels in Fallsview, Niagara Falls, Ontario
---
2. Clifton Hill: Best Location in Niagara Falls for Families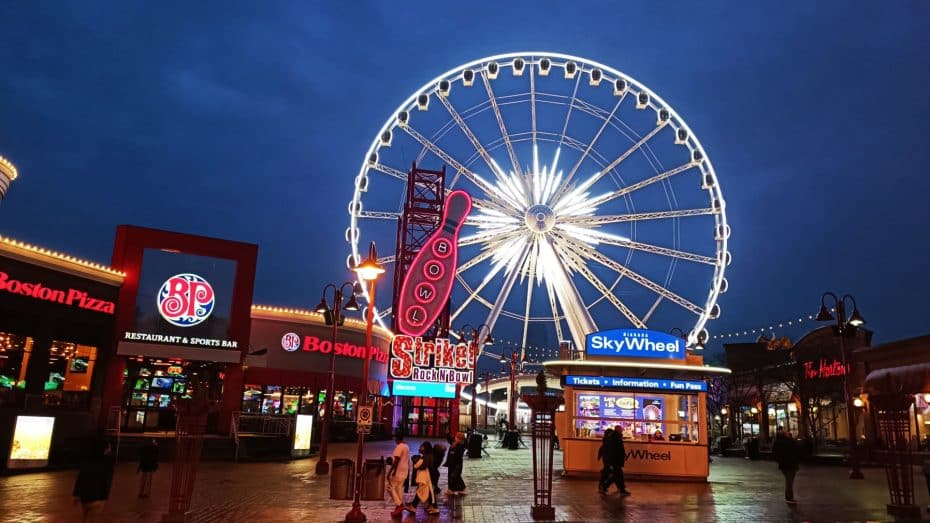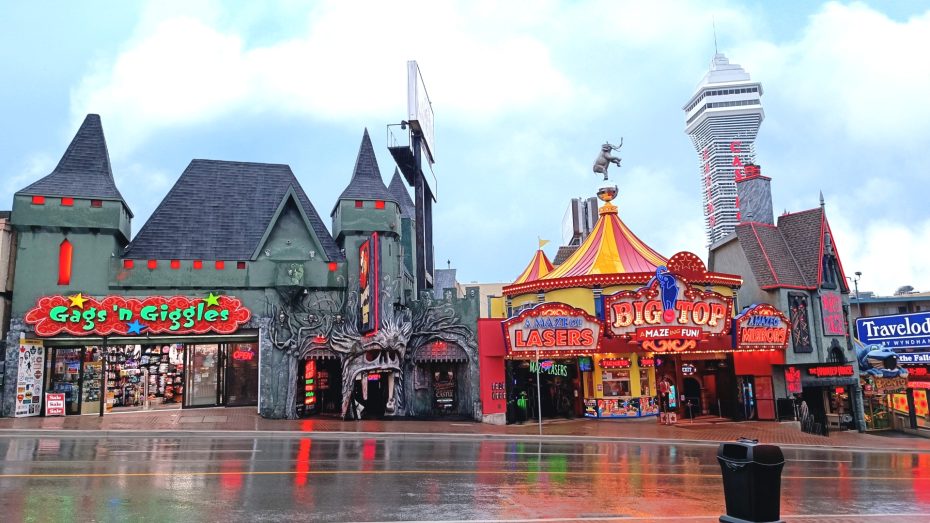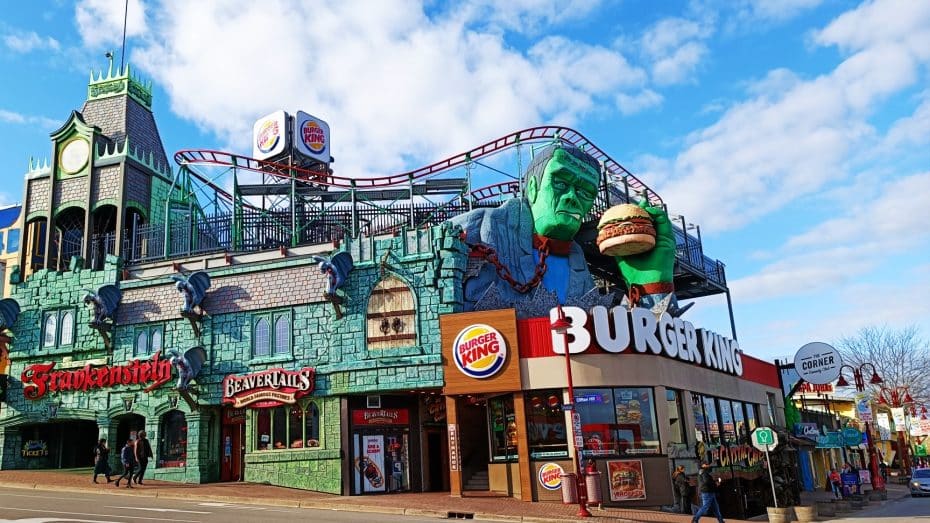 Packed with family-friendly attractions, Clifton Hill is the main entertainment district in Niagara Falls.
Why is this the best area to stay in Niagara Falls, Canada:

Very central location
Family-friendly attractions
Niagara Skywheel
Close to the American and Bridal Veil Falls
Best area for families
Walking distance to most attractions
Wide range of accommodations for all budgets
North of Fallsview, Clifton Hill is considered the main entertainment, nightlife and tourist district in Niagara Falls, Ontario.
Clifton Hill is located on the east bank of the Niagara river, across from the American and Bridal Veil Falls and very close to the Niagara City Cruises (formerly Hornblower Niagara Cruises) departure point.
The area is centred around the namesake street, which runs from River Road on the Niagara Parkway to Victoria Avenue. Clifton Hill is lined with gift stores, wax museums, haunted houses, video arcades, restaurants, hotels, and theme parks, making it an excellent area to stay in Niagara Falls for families travelling with children and teens.
Some of the best-known attractions on the street include the Niagara SkyWheel, and Ripley's Believe It or Not! Museum, as well as Ripley's Selfie Studios, SpongeBob SquarePants 4D: The Great Jelly Rescue, and the Great Canadian Midway arcade.
But Clifton Hill isn't just for kids; this area is also known for its live music scene, busy bars and nightclubs and many restaurants. Another adult-only attraction is Casino Niagara, which features over 1,000 slot machines, four restaurants and a bar.
Other attractions nearby include the Bird Kingdom, Fallsview Indoor Waterpark, and Niagara Falls's War Memorial.
The accommodation offered in Clifton Hill is perhaps the most varied in the city; here, you can find everything from luxurious riverside hotels with stunning views to affordable motel-like properties. Clifton Hill is also right next to the International Rainbow Bridge, so it's a great place to stay if you get to Niagara Falls from the United States.
Best Hotels in Clifton Hill
---
3. Niagara On The Lake: Best Location for Wine Lovers or a Romantic Getaway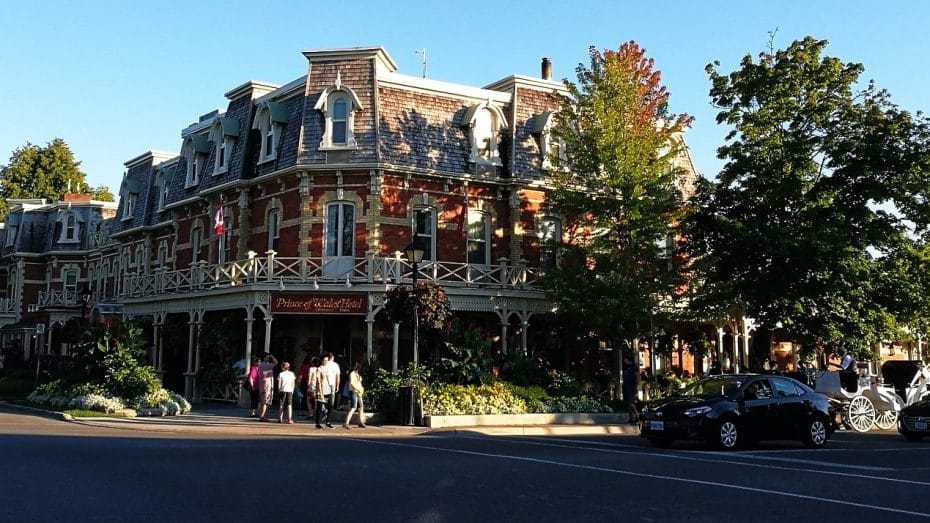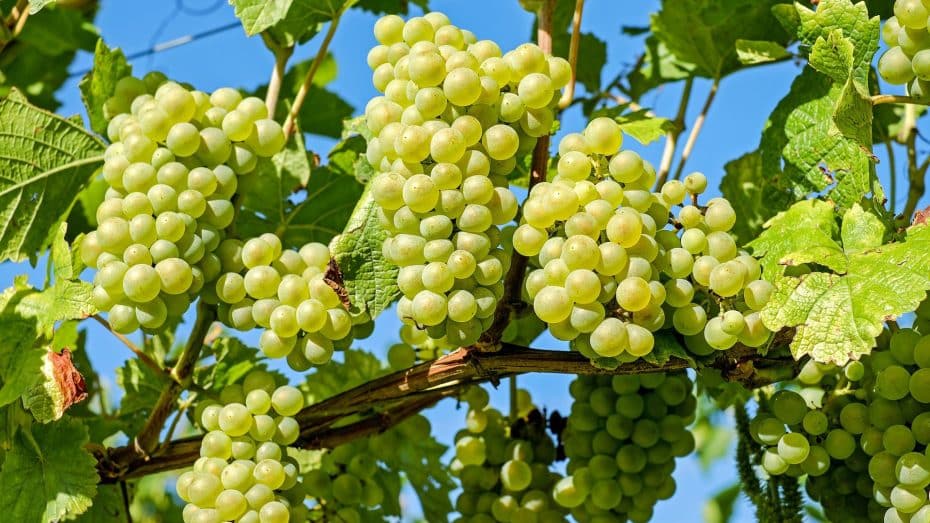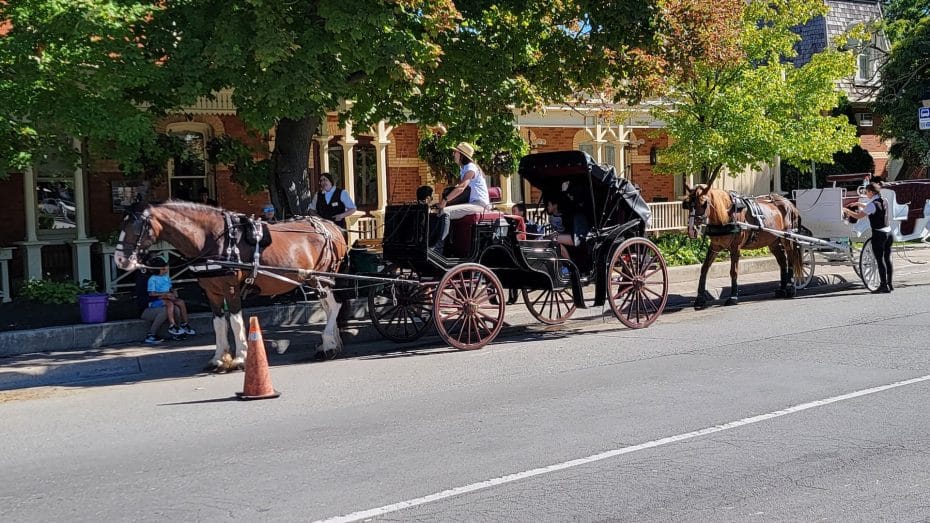 Niagara-on-the-Lake is considered one of the most beautiful towns in Ontario.
Why is this the best area to stay in Niagara Falls, Canada:

Quiet atmosphere
Historical buildings & attractions
Luxury restaurants and boutiques
Wine tours & cellar visits
Boutique hotels & quaint B&Bs
Well-connected to Niagara Falls
Close to natural attractions
The delightful town of Niagara-on-the-Lake is a pleasant and much quieter alternative to the overhyped excesses of Niagara Falls.
Often described as one of the most beautiful towns in Canada, Niagara-on-the-Lake is famous for its wine, theatre, and being next to the famous Niagara Falls. However, there is more to this small town of 18,000 people than meets the eye.
Niagara-on-the-Lake is a National Historic Site in Canada, known for its extensive collection of buildings dating back to the 19th century. Most of its heritage buildings are located in the downtown core and were built between 1815 and 1860, after the War of 1812.
While the city is definitely a tourist hotspot, it has managed to maintain its small-town and historic vibe, unlike its more flamboyant cousin 25 kilometres south.
Niagara-on-the-Lake is also famous for being the home of the Shaw Festival.
The town is small, easily explored on foot, and well-connected to central Niagara Falls by public transport. If you are driving, there are many paid parking lots along the main road and side streets, and most hotels and B&B offer free parking.
Best Hotels in Niagara-on-the-Lake
---
4. Lundy's Lane: Cheapest Location to Stay in Central Niagara Falls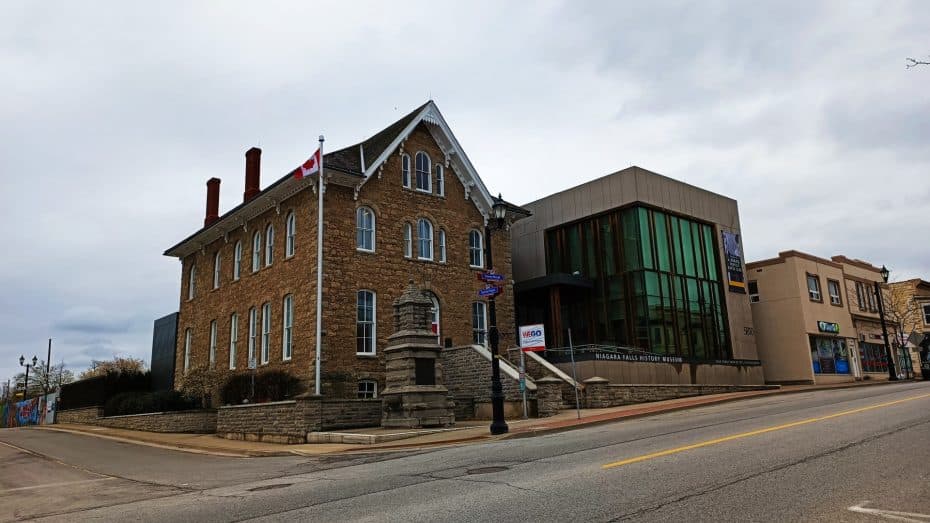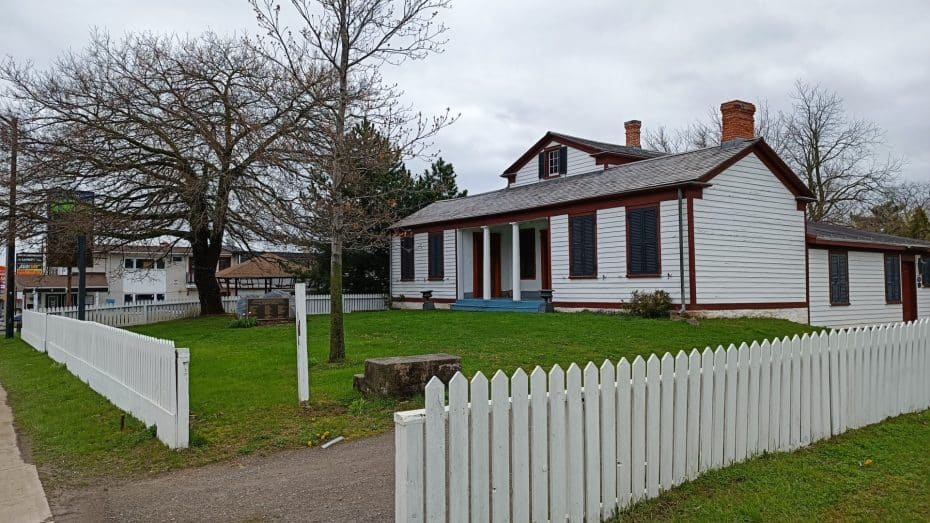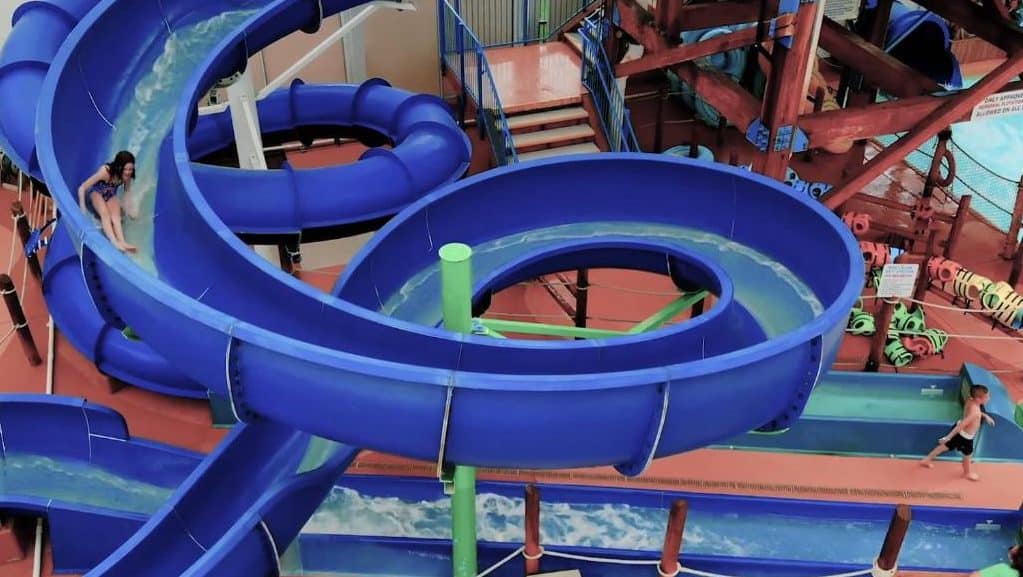 Famous for its historic battlefield, Lundy's Lane is also home to a wide selection of restaurants and budget hotels.
Why is this the best area to stay in Niagara Falls, Canada:

Lundy's Lane Battlefield
Historical attractions
Budget restaurants
Especially recommended for visitors with a car
Niagara Falls Museum
Outlets & budget shopping
Packed with motels and cheap accommodation
The Lundy's Lane Historic Site is one of Niagara Falls's few true historical attractions. It is located some 4 km (2.5 miles ) west of the famous Niagara Falls and commemorates one of the bloodiest battles of the War of 1812 between the United States and Great Britain.
In the summer of 1814, American forces crossed the Niagara River at Fort Erie to invade Upper Canada (present-day Ontario). Under the command of Sir Gordon Drummond, the British forces regrouped at Lundy's Lane, almost within sight of Niagara Falls. The conflict was centred on Drummond Hill Cemetery.
Both sides suffered significant fatalities during the American onslaught on the British and Canadian militia, but by midnight, the Americans had withdrawn. The Battle of Lundy's Lane ended American plans to invade Ontario.
Today, Lundy's Lane is the site of many monuments and historical attractions commemorating this bloody event. These include Drummond Hill Cemetery and Battlefield, the Battle Ground Hotel Museum and a War Memorial.
This area is also home to other tourist sights, including the Niagara Falls History Museum and several malls and shopping centres with stores focusing on everything from fashion outlets to First Nations art.
The Lane and surrounding streets are also packed with restaurants, bars and nightclubs.
Best Hotels in Lundy's Lane
---
5. Silvertown & Downtown Niagara Falls: Best Location for Hiking & Nature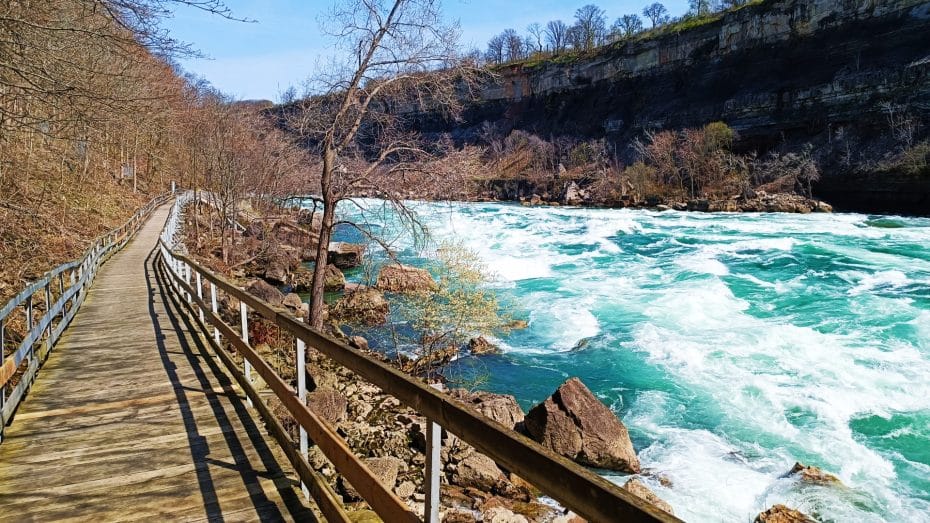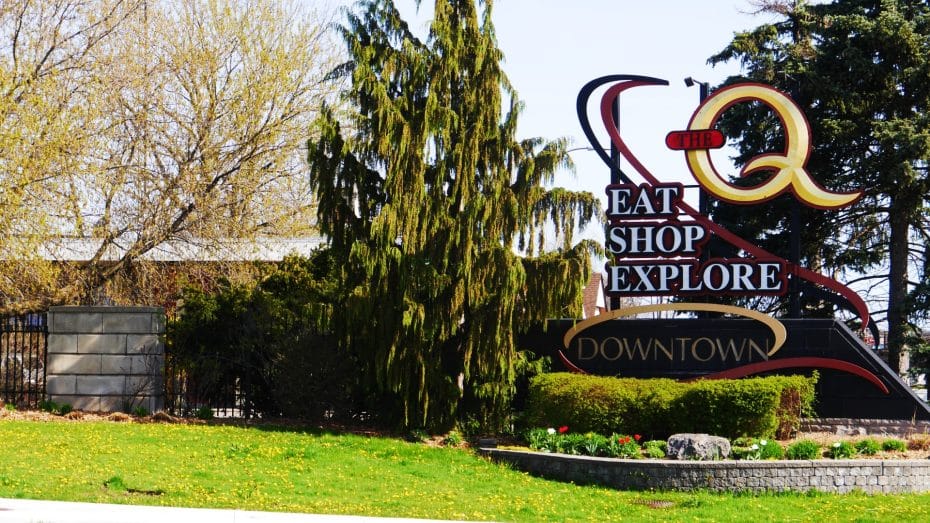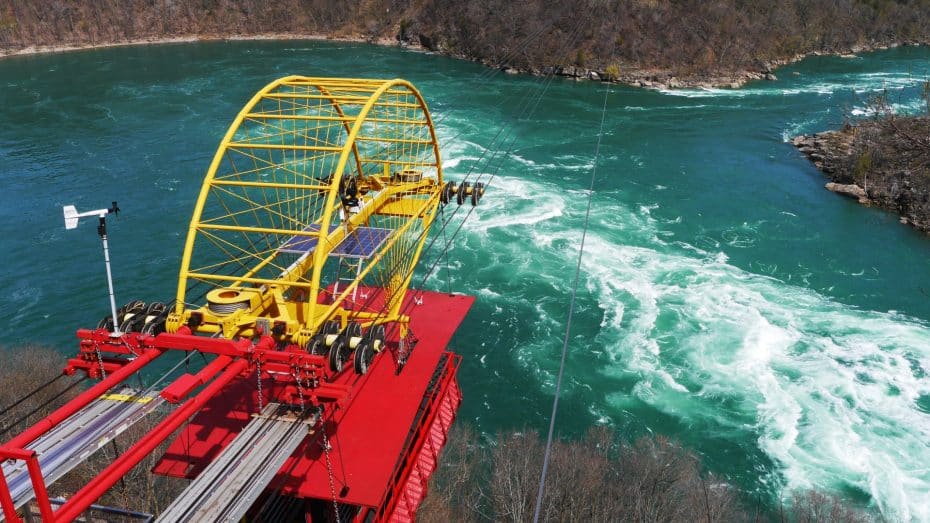 If you want to avoid the tourist traps, Downtown & neighbouring Silvertown are great alternatives when it comes to finding accommodation in Niagara Falls.
Why is this the best area to stay in Niagara Falls, Canada:

City centre
Far less touristy than Clifton Hill & Fallsview
Natural attractions & hiking trails
Close to Niagara Falls train & bus stations
White Water Walk
Whirlpool Aero Car
Cheap accommodation
When visiting a tourist mecca such as Niagara Falls, it is easy to forget that behind all the shiny -and, let's face it, sometimes extremely tacky- tourist attractions, there's a live town, a real place with real people.
This all becomes apparent once you stray away from the main tourist areas around the falls and venture into the real Niagara Falls.
Located a couple of miles north of Horseshoe Falls, Downtown Niagara Falls is the commercial and administrative heart of the city. The area is centred around Queen Street and is home to many small restaurants, cafés, boutiques and everyday shops.
While the district is not as lively as, say, Clifton Hill, it shouldn't be overlooked as a great alternative to the usual tourist hotspots and a good base for exploring Niagara Falls. This is especially true if you're reaching the city via public transport, as Downtown Niagara Falls is home to the main bus terminal and the city's rail station, which offers GoTransit, Via Rail and Amtrak services across Ontario and neighbouring New York.
Stretching north of Downtown Niagara Falls is Silvertown, a quiet residential area home to some excellent Niagara Parks attractions, including the White River Walk and the Whirlpool Aero Car. The Niagara Glen Nature Centre is a few minutes away.
While Downtown and Silvertown do not have the same range of hotels offered in other Niagara Falls areas, there are still plenty of affordable options -mostly small B&Bs and guest houses– that offer a more authentic experience.
Best Hotels in Downtown Niagara Falls & Silvertown
---
6. Niagara Falls, New York: Best Location on the American Side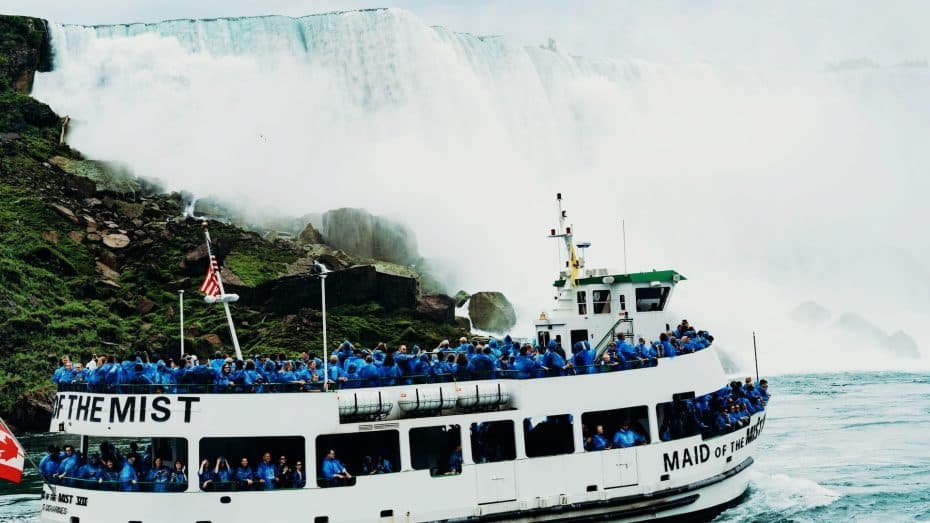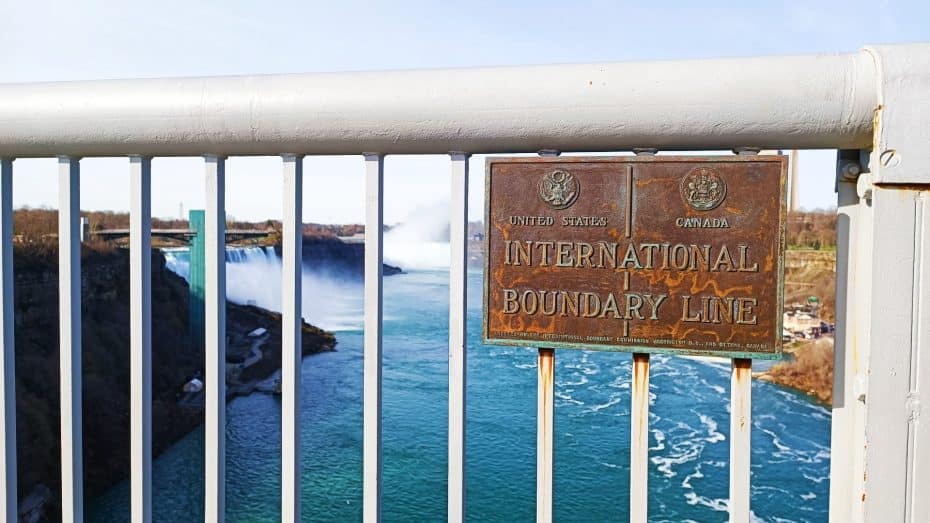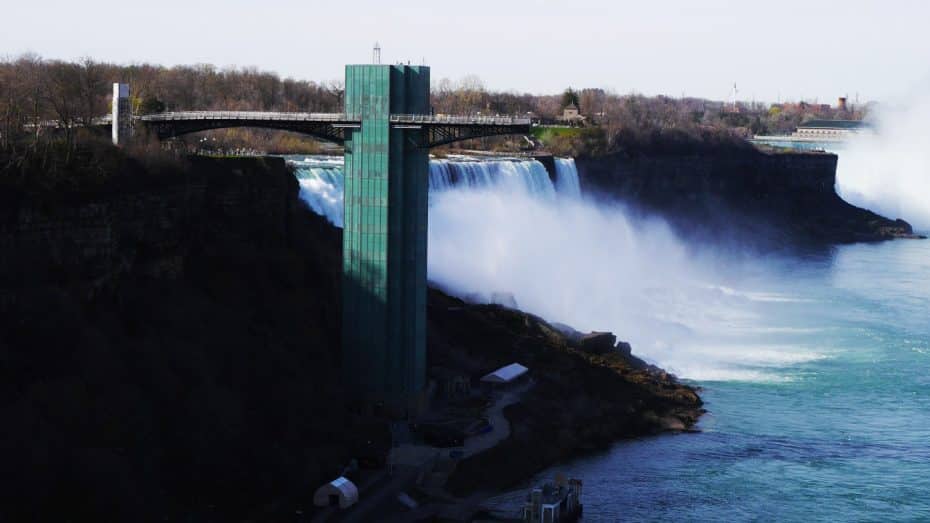 While the Canadian side offers the best views of the falls, Niagara Falls, NY is also a great place to stay in the area.
Why is this the best area to stay in Niagara Falls, Canada:

Great option if coming from the United States
Packed with attractions
Maid of the Mist cruise tours
Niagara Falls Observation Tower
All kinds of accommodation
The Niagara River not only forms a natural boundary between the United States and Canada but also separates the twin cities of Niagara Falls in Ontario and Niagara Falls in New York State.
While the Canadian side is arguably better for a full view of the falls, the American side also has many advantages. For one thing, it has large parking areas at cheaper rates than the Canadian side. Also, the visit and the experience are much more peaceful and natural than on the Canadian side. Many parks, rest areas and paths offer a closer view of Niagara Falls. And perhaps more importantly, it is cheaper overall.
The Maid of the Mist is Niagara Falls's main attraction. This boat ride starts on the American side, continues on the Canadian side toward Horseshoe Falls and then concludes its tour under the American and Bridal Veil Falls, where you can feel the water rushing and rumbling.
Other popular tourist attractions in Niagara Falls, USA, include the Niagara Falls State Park, Niagara Falls Observation Tower, the Aquarium of Niagara, Goat Island and the area's many hiking trails such as Trailhead Niagara Gorge, the Great Gorge Railway Trail and the trail to the Whirlpool Rapids.
The American Niagara Falls also offers a wide range of accommodations ranging from budget motels to luxurious 4-star properties by well-established brands.
Best Hotels on the American Side of Niagara Falls
---
7. St. Catharines: A Good Location to Stay near Niagara Falls
St. Catharines is a quiet city and a great area to stay near Niagara Falls.
The largest city in Ontario's Niagara region, St. Catharines is nicknamed "The Garden City" for its many gardens, trails and parks. In fact, it houses about four square kilometres of green space.
Unfortunately, tourists who pass through it often overlook St. Catharines on the way to Niagara Falls.
This, however, is good news for those who choose to stay in this city, as it means better value for them.
Best Hotels in St. Catharines
---
Read this post in other languages
---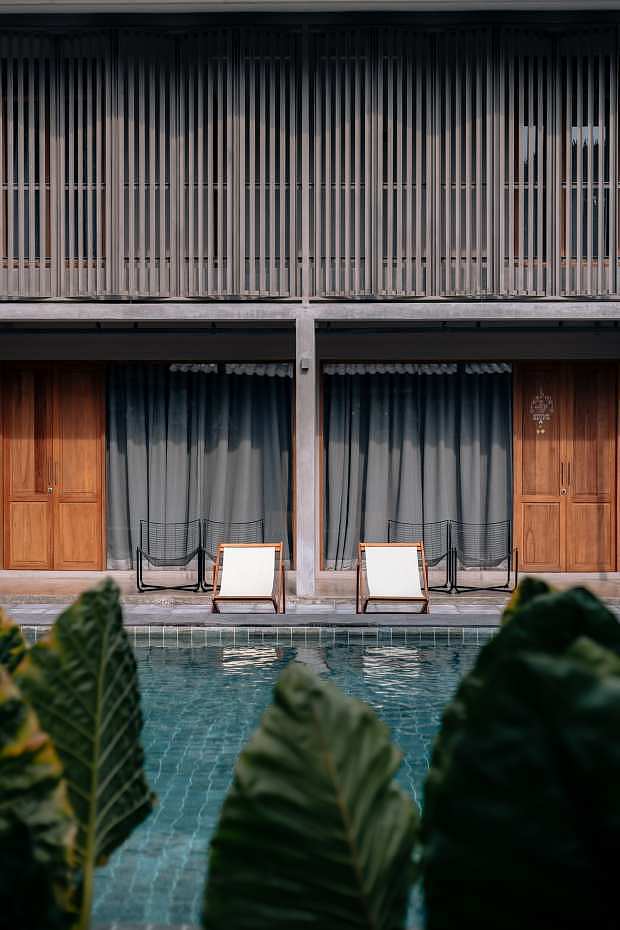 Other Accommodation Guides