Ottawa is Canada's capital and sixth-largest city. Known for its striking neo-gothic and neo-château architecture, this city is located in the east of southern Ontario, near Montreal and the Upstate New York American border. Thanks to its defensible location at the confluence of the Ottawa River and the Rideau River, on the border between Ontario and Quebec, Queen Victoria chose it as Canada's capital in 1857. This article will explore the best areas to stay in Ottawa, Ontario and Gatineau, Québec.
As the country's capital, Ottawa serves as Canada's political centre and the federal government's headquarters. It houses numerous key buildings, foreign embassies and government institutions, including the Parliament of Canada, the Supreme Court and the Office of the Prime Minister. Many of these architecturally and symbolically important buildings can be found on and around Parliament Hill. Other important tourist attractions in Ottawa include the National Gallery of Canada, the Canadian Museum of Nature, the Canadian War Museum, the Byward Market and the Rideau Canal. Across the Ottawa River, on the Québec side, you'll find sights such as the massive Canadian Museum of History and Jacques-Cartier Park. Thanks to its status as one of Canada's most visited travel destinations, Ottawa is home to a wide selection of places to stay; from luxurious hotels in its centremost quarters to unassuming motels and budget properties, you'll find accommodation to suit your needs.
Whether you're visiting Ottawa for a cultural trip or business, keep reading this article to learn more about the best places to stay in Ottawa, Canada.
---
Accommodation Options in Ottawa
---
The Best Areas to Stay in Ottawa: A Summary
If you don't have the time or patience to read the full article, here's a summary of our best places for visitors to Ottawa & Gatineau. Keep on reading to find out more information about each of these areas.
---
What's the Best Area to Stay in Ottawa, Canada?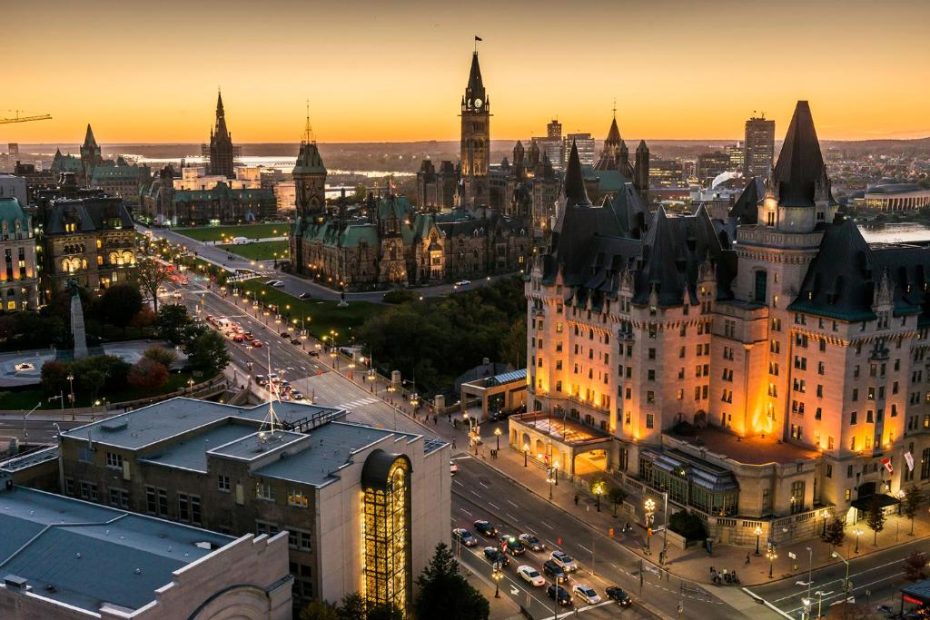 The best area to stay in Ottawa is Parliament Hill, especially if you're looking for a postcard-perfect view of the capital and easy access to the city's main attractions and museums. This section of Downtown Ottawa is home to some of the best-rated hotels in town.
Find available accommodation on Parliament Hill.
Best Hotels around Parliament Hill, Ottawa
---
Where to Stay in Ottawa for Sightseeing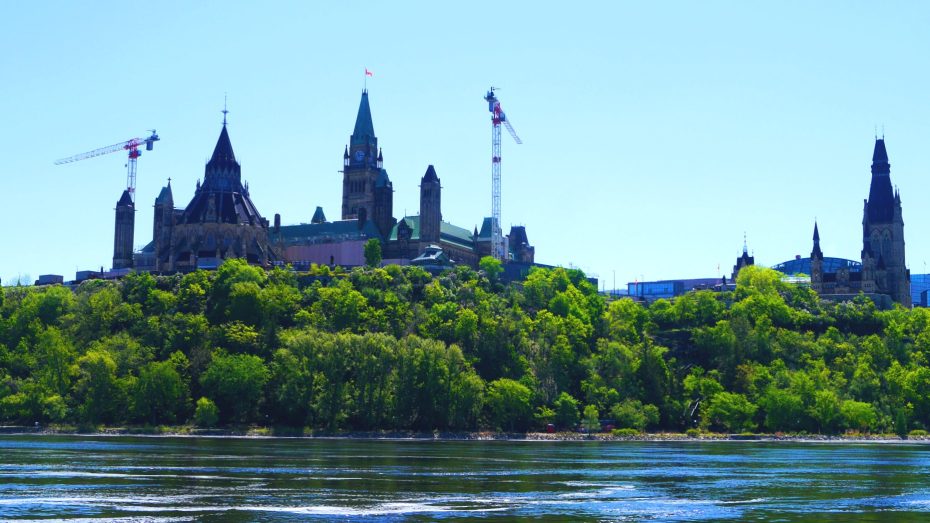 While Downtown is the best location for tourists in Ottawa, this upscale and attraction-packed area is not the only option in town. Other areas can be just as —if not more—convenient, depending on your interests. These are some recommended districts in Ottawa for tourists:
---
Ottawa Accommodation Map
---
The Best Areas for Tourists in Ottawa, Canada: District by District
1. Downtown & Parliament Hill: Best Location for Sightseeing in Ottawa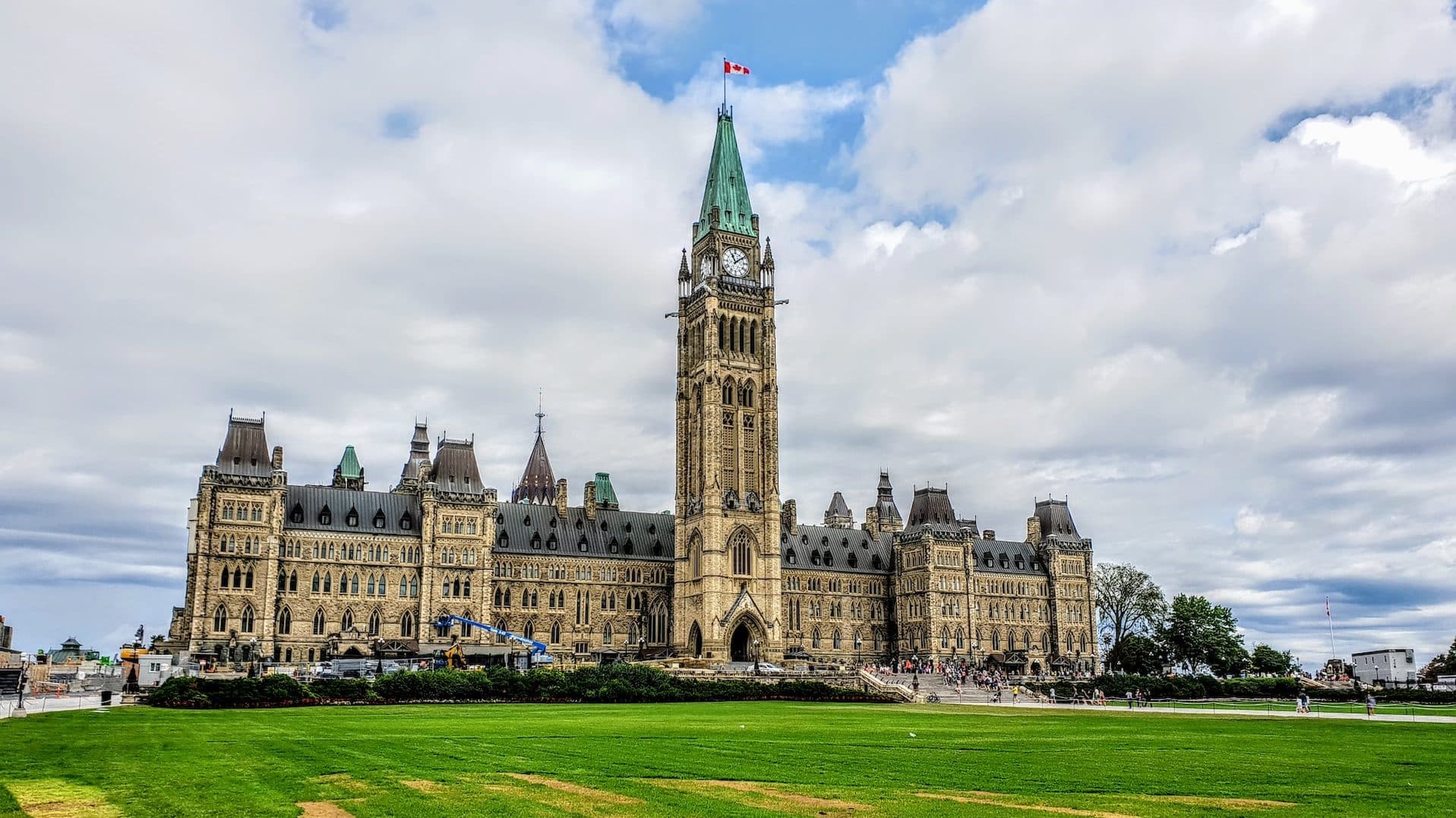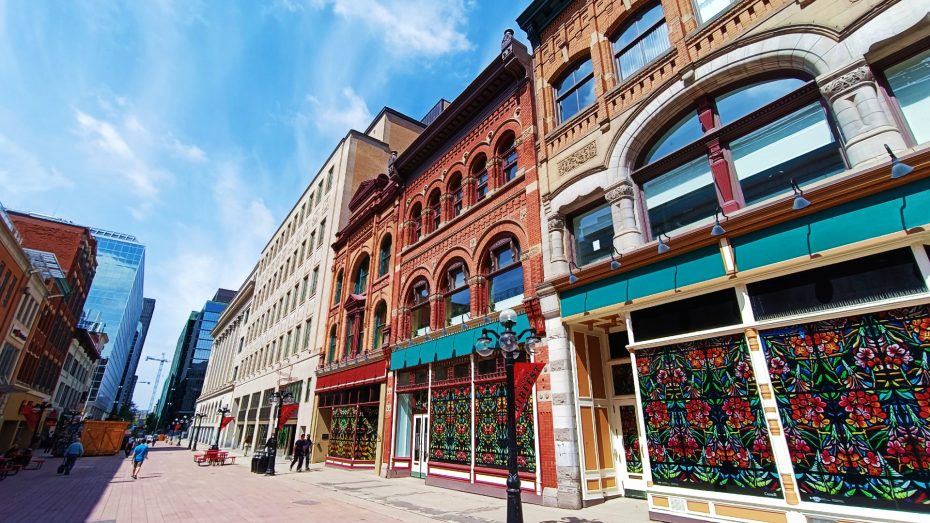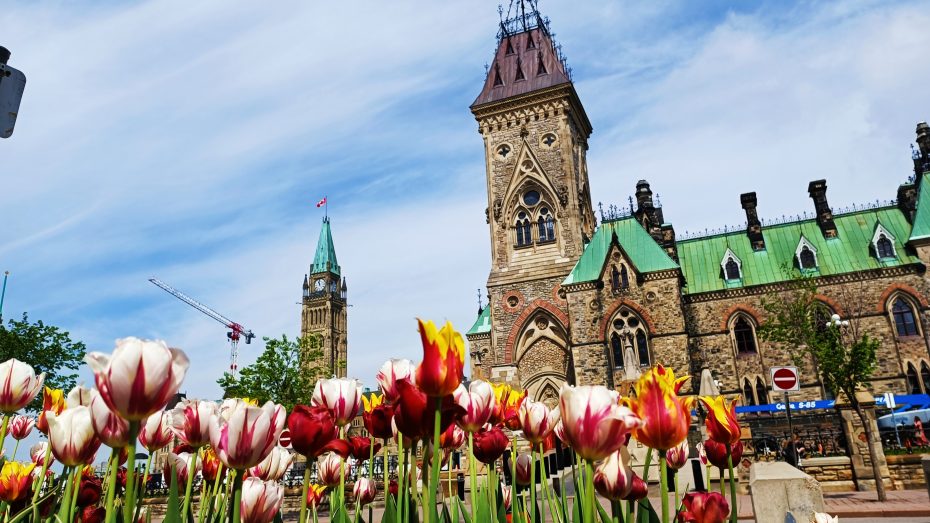 Home to Parliament Hill and the main institutions of Canada's government, Downtown Ottawa is the best location for tourists in the Canadian Capital.
Why is this the best area to stay in Ottawa, Canada:

Heart of the city
Best area for sightseeing
Parliament Hill
Luxury accommodation
Best area for business travellers
Close to most attractions
Connected by metro & buses
Downtown Ottawa is the heart of the city, where you'll find the Parliament Buildings, the National Arts Centre, and many other popular attractions. Whether you're looking for culture, entertainment, or outdoor adventure, there's something for everyone in downtown Ottawa.
Ottawa's centremost district is situated on the south shore of the Ottawa River and west of the Rideau Canal. It is home to Parliament Hill, the city's number one tourist attraction. Built between 1859 and 1867, The Hill hosts Canada's House of Commons and the Senate of Canada. It is known for its grand Gothic-revivalist architecture and attracts around three million visitors annually.
Parliament Hill is bordered to the south by Wellington Street. This major thoroughfare is home to many of the city's most important sights, including the Bank of Canada Museum, the Supreme Court of Canada and the National War Memorial.
One block south is Sparks Street. Pedestrianized in the 1960s, it is considered the country's first fully pedestrianized shopping boulevard. It is known for its Victorian-era architecture and is a popular meeting place for locals and tourists alike.
Downtown Ottawa is also home to Confederation Park, a public park and National Historic Site of Canada. The park hosts yearly celebrations and festivals, including Canada Day, Winterlude and the Ottawa International Jazz Festival. The nearby National Arts Centre hosts the NAC Orchestra and the Indigenous Theatre, as well as ballets, concerts, plays and musical performances.
The area is connected by Ottawa's O-Train (Confederation Line) via Lyon and Parliament stations. Additionally, several bus routes serve the area, and you can even catch a water taxi to Gatineau from the Rideau Canal locks.
Best Hotels in Downtown Ottawa
---
2. ByWard Market & Lower Town: Best Location for Nightlife & Food in Ottawa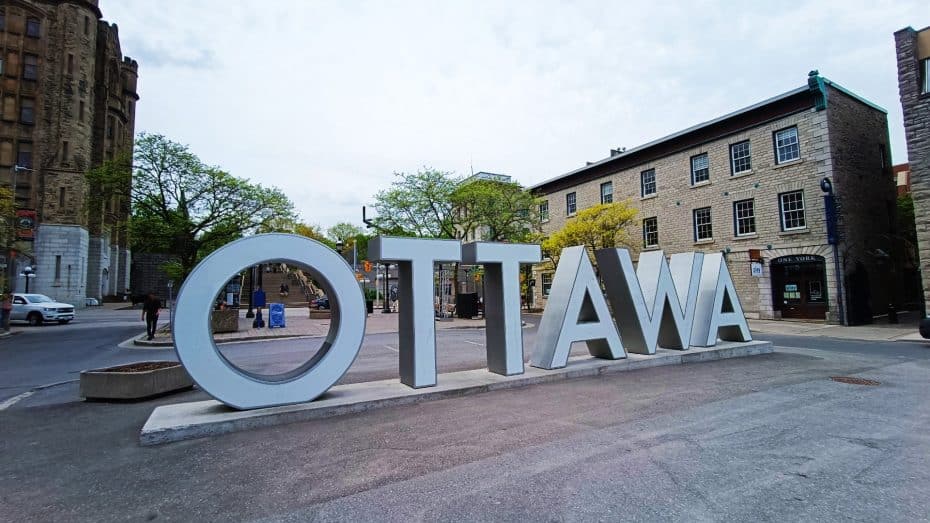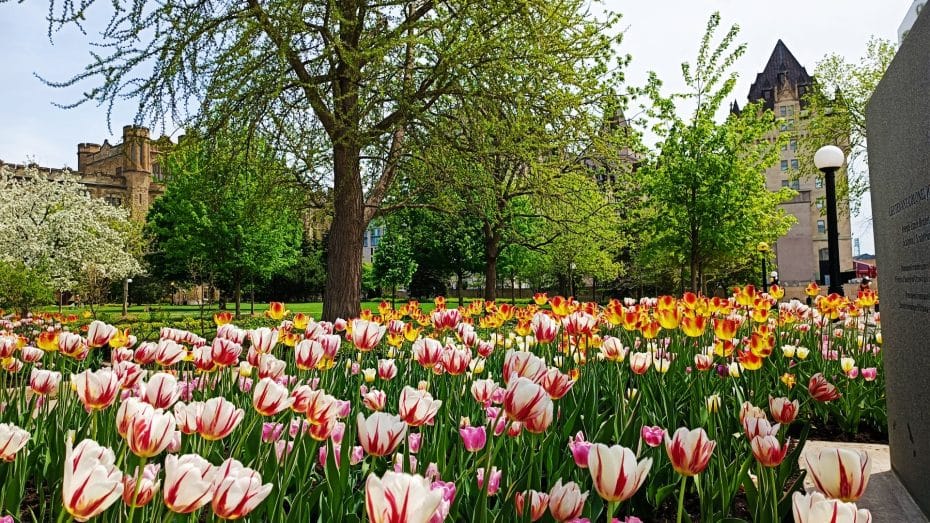 Centred around ByWard Market, Ottawa's Lower Town is a youthful and lively district packed with bars, restaurants and nightclubs.
Why is this the best area to stay in Ottawa, Canada:

Very central location
Best area for nightlife
Local & international restaurants
ByWard Market
National Gallery of Canada
Rideau Mall
Walking Distance to most attractions
Connected by metro & buses
Situated next to the Downtown district, on the east side of the Rideau Canal, Ottawa's Lower Town is perhaps the most upbeat and friendly part of Canada's otherwise quiet and businessy capital city.
The area boasts a lively nightlife scene, particularly around ByWard Market. One of Canada's oldest farmers' markets, ByWard, was established in 1826. Today, it is the city's liveliest spot, home to clothing boutiques, several bars, nightclubs, live-music venues, and dozens of restaurants specializing in everything from burgers to seafood.
If it's Ottawa's culture you're after, the Lower Town hosts the National Gallery of Canada. Canada's leading art museum is situated in a striking glass and granite building designed by Moshe Safdie. It hosts a permanent collection of over 90,000 works from Canadian, European, American, Asian and Indigenous artists.
Major's Hill Park is a lovely park with breathtaking views next to where the Rideau joins the Ottawa River. Not far, Notre Dame Basilica is one of the oldest Catholic cathedrals in Canada.
Located on Rideau Street, Rideau Centre is a three-level shopping mall visited by more than 20 million people annually. It is considered the largest shopping centre in the Capital Region and the sixth largest in Canada.
The Lower Town is well-connected to the rest of Ottawa thanks to the O-Train (Confederation Line) station Rideau. Several bus lines also have stops in the neighbourhood.
Best Hotels in the Lower Town, Ottawa
---
3. Île de Hull (Gatineau): A Great Location for Families, Nature & Culture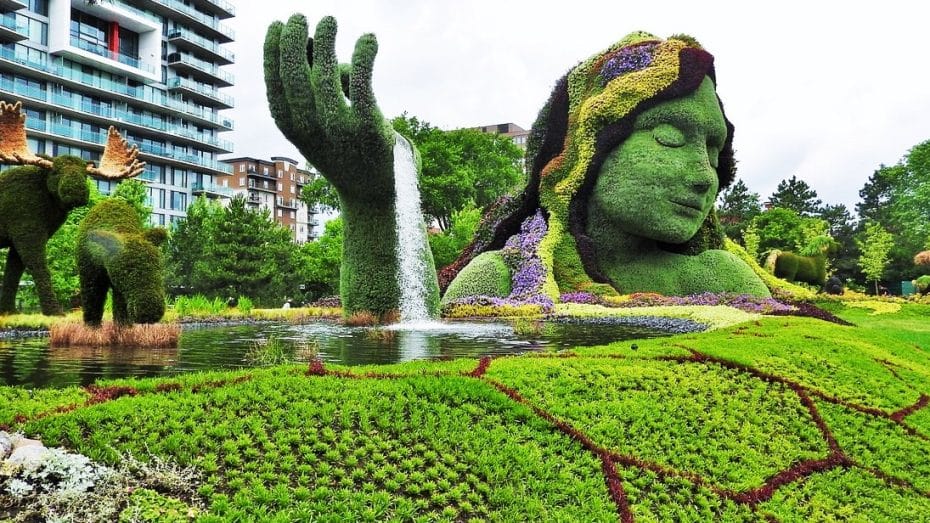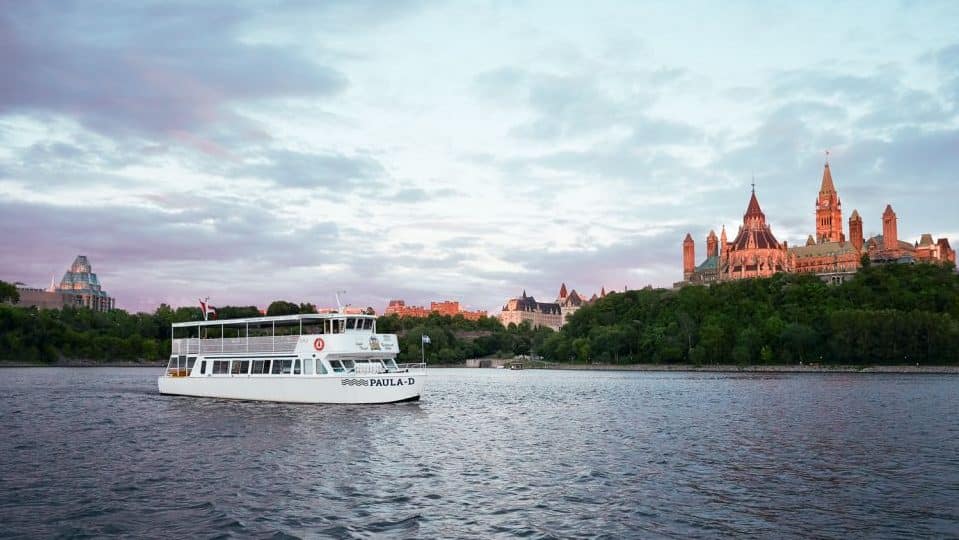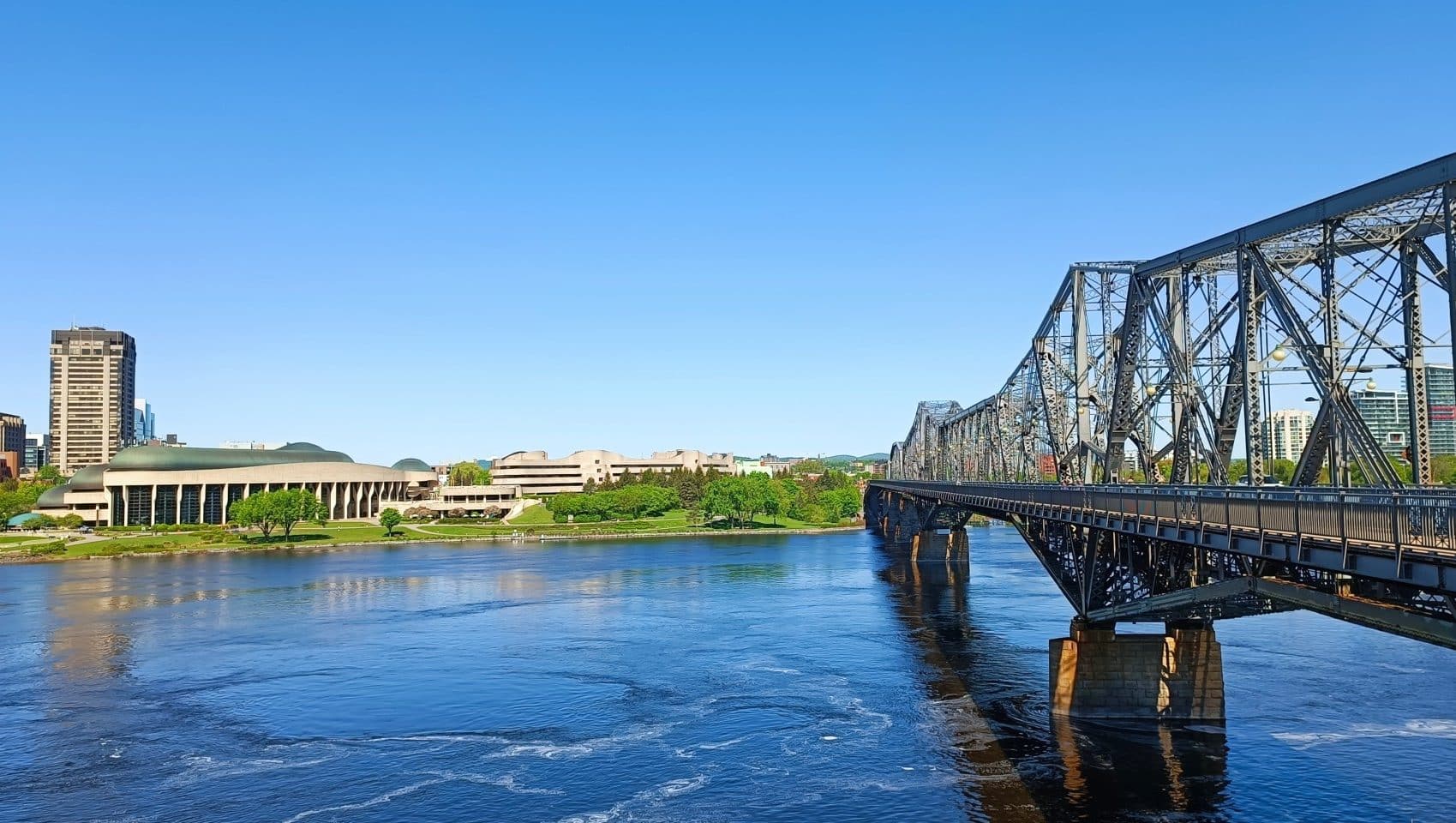 Home to the Canadian Museum of History, Île de Hull is one of the best districts to stay in the Ottawa-Gatineau area.
Why is this the best area to stay in Canada's National Capital Region:

Quiet alternative to central Ottawa
Excellent views of the river & Parliament Hill
Canadian Museum of History
Walking distance to ByWard Market
Jacques-Cartier Park
Alexandra Bridge
All kinds of hotels
Connected by buses and water taxis
While, technically, Île de Hull is a district of Gatineau and, therefore, a part of Québec, it is located a short distance from Parliament Hill and other Ottawa attractions.
This district, located along the Ottawa River and southwest of Downtown Gatineau, is mainly known for hosting the Canadian Museum of History. Opened in the 19th century and relocated to its present headquarters in 1989, this national museum is centred on anthropology, Canadian history, cultural studies, and ethnology. It hosts the most important and comprehensive collections of First Nations art in North America and several other historical and cultural exhibits.
Laval Street is closed to cars from May to November, giving pedestrians and cyclists a safe and fun route. Meanwhile, Jacques-Cartier Park is a lovely 23-hectare park with gardens and river views which also hosts yearly events such as the Canada Day celebrations and Winterlude festival.
Hull is connected to the attractions in Downtown Ottawa via the Alexandra Bridge. This 172-metre vehicular and pedestrian bridge opened in 1901 and connects Boulevard des Allumettières in Gatineau and St. Patrick Street in the Lower Town. The bridge is a major part of the city's skyline and offers incredible views of the Ottawa River and Parliament Hill.
Walking across the bridge and into the ByWard Market area should take only 20 minutes, but buses and water taxis also connect both cities.
Best Hotels in Hull, Gatineau
---
4. Centretown: Best Location for LGBTQ+ Travellers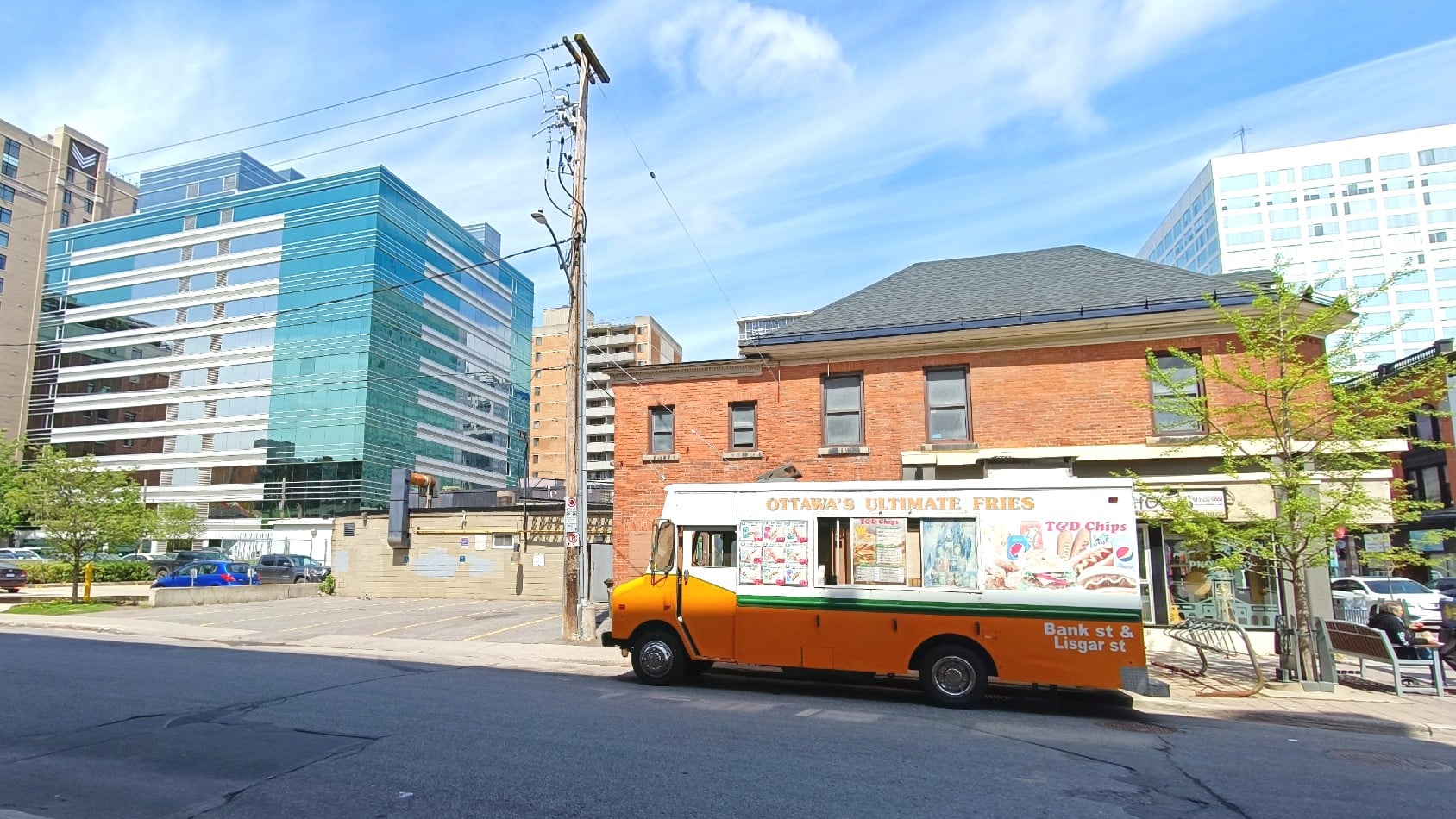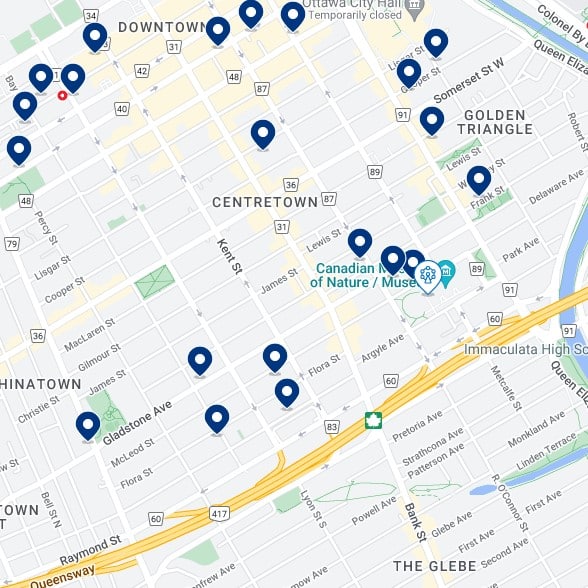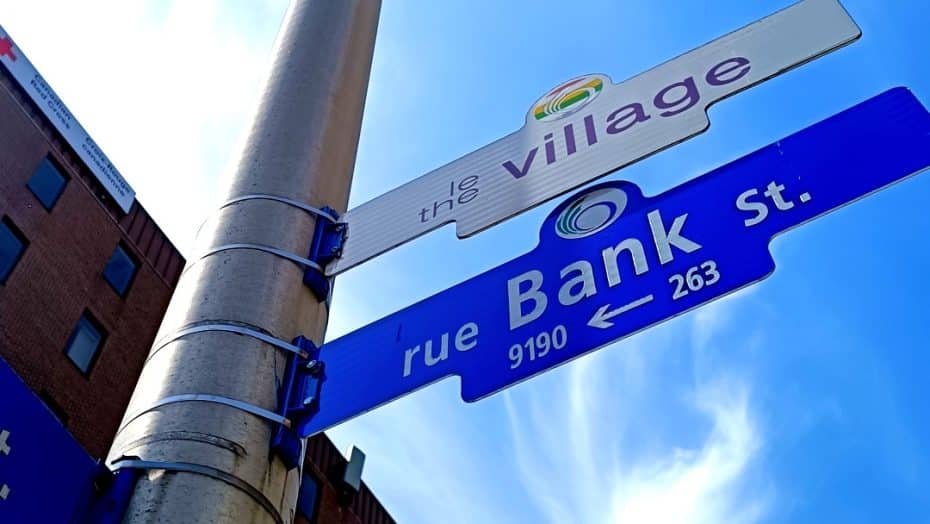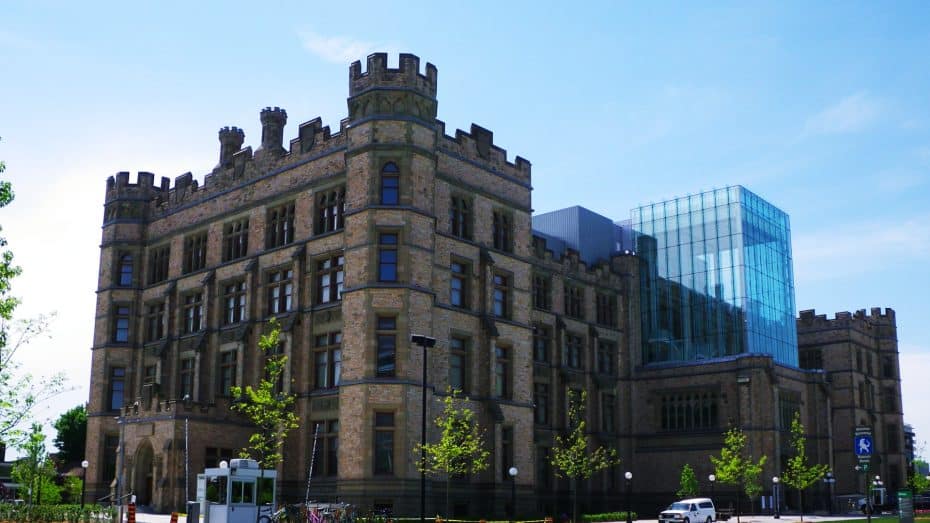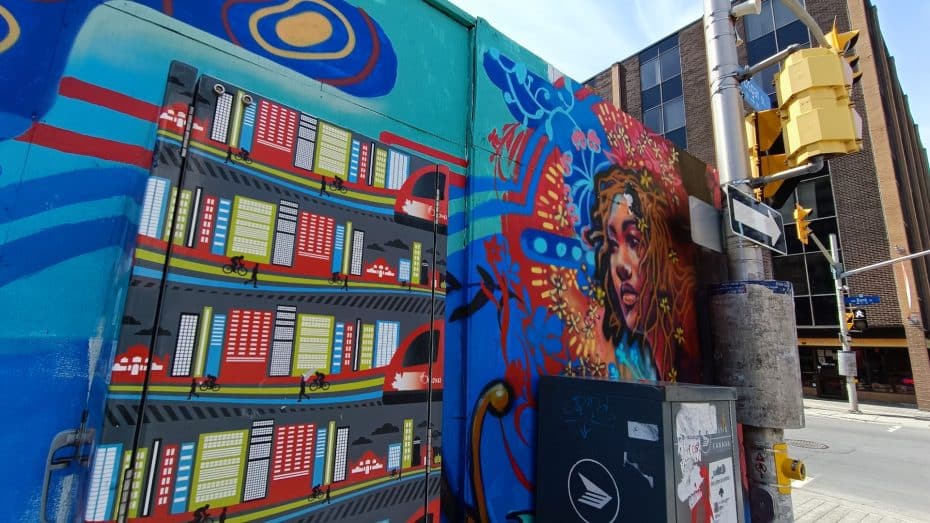 Centretown is a mainly residential district located south of Downtown Ottawa.
Why is this the best area to stay in Ottawa, Canada:

Quiet alternative to Downtown Ottawa
Very central location
Canadian Museum of Nature
Lots of tourist apartments and B&Bs
Ottawa's Gay Quarter
Ottawa Central Bus Station
Located directly south of downtown Ottawa and bound by the Rideau Canal to the east, Centretown is a predominantly residential neighbourhood with many parks and commercial areas, particularly around Bank and Elgin streets.
From a tourist's perspective, this grid plan district is mainly known for its numerous 19th-century homes, many of which host foreign embassies, and being home to the Canadian Museum of Nature, which contains over 14.6 million specimens relating to the natural world, many of which are displayed in the museum's permanent exhibitions.
The area's easternmost section, known as the Golden Triangle, is home to the Ottawa City Hall and many lively pubs, high-end restaurants and cafes, especially around Elgin Street.
Centretown is also where Ottawa's Gay Village is located. This six-block section of Bank Street is home to LGBT-friendly cafés, bars and other establishments.
Ottawa Central Bus Station is located on Catherine Street, between Lyon and Kent. This major transit hub offers Greyhound, Ontario Northland and Autobus Gatineau intercity and long-distance bus connections, making Centretown a very convenient area in Ottawa for those travelling by bus.
Best Hotels in Centretown, Ottawa
---
5. Central Gatineau: Best Location for Nature Lovers
Home to the La Baie Park and other nature reserves and parks, Gatineau is a very green suburban area in the National Capital Region.
Why is this the best area to stay in Canada's National Capital Region:

Quiet & suburban atmosphere
La Baie Park
Motels, B&Bs & budget hotels
Connected by bus to Hull & Ottawa
Central Gatineau is located across the river from downtown Ottawa, some 8 kilometres northeast of Parliament Hill.
This suburban area is centred around Boulevard Gréber, a broad avenue lined with shops and restaurants.
Contrary to the bustle of downtown Ottawa, downtown Gatineau is a relatively quiet district with several parks and walking paths. The most notable is La Baie, a big park with walking and cycling tracks along a river bank boardwalk, plus some restaurants and terrace cafes.
Central Gatineau is also home to Les Promenades Gatineau, a large shopping mall with several well-known fashion brands and restaurants.
Best Hotels in Central Gatineau
---
Read this post in other languages
---