Brimming with history and charm, Cagliari is the vibrant capital of Sardinia and one of Italy's best-kept secrets. This coastal city boasts a rich maritime history and a stunning medieval old town perched atop a hill, affording unforgettable views over the Mediterranean Sea. Cagliari is known for its ancient fortifications and beautiful beaches, providing the perfect blend of city exploration and seaside relaxation. This post will uncover the best areas to stay in Cagliari.
---
As the largest city on the island, Cagliari boasts numerous attractions catering to various tastes. History buffs will enjoy exploring ancient sites such as the Roman Amphitheatre, Bastion of Saint Remy, and the historic Castello district. Beach lovers can bask in the golden sands at Poetto Beach and visit captivating wetlands at Parco Naturale Regionale Molentargius-Saline. A thriving tourist industry ensures that Cagliari offers various accommodation options, from luxurious hotels to cozy B&Bs.
Cagliari strikes a beautiful balance between laid-back island vibes and an energetic urban atmosphere. From authentic Sardinian cuisine to pulsating nightlife, this seaside gem captivates travelers seeking adventure and relaxation.
If you're eager to discover the best areas to stay in Cagliari, keep reading this guide to discover all this Mediterranean paradise offers!
---
Accommodation Options in Cagliari, Sardinia
---
The Best Areas to Stay in Cagliari: A Summary
If you don't have time to read the full article, this summarizes our recommended districts in Cagliari. Keep on reading to find out more information about each of these quarters.
---
What's the Best Area to Stay in Cagliari, Sardinia?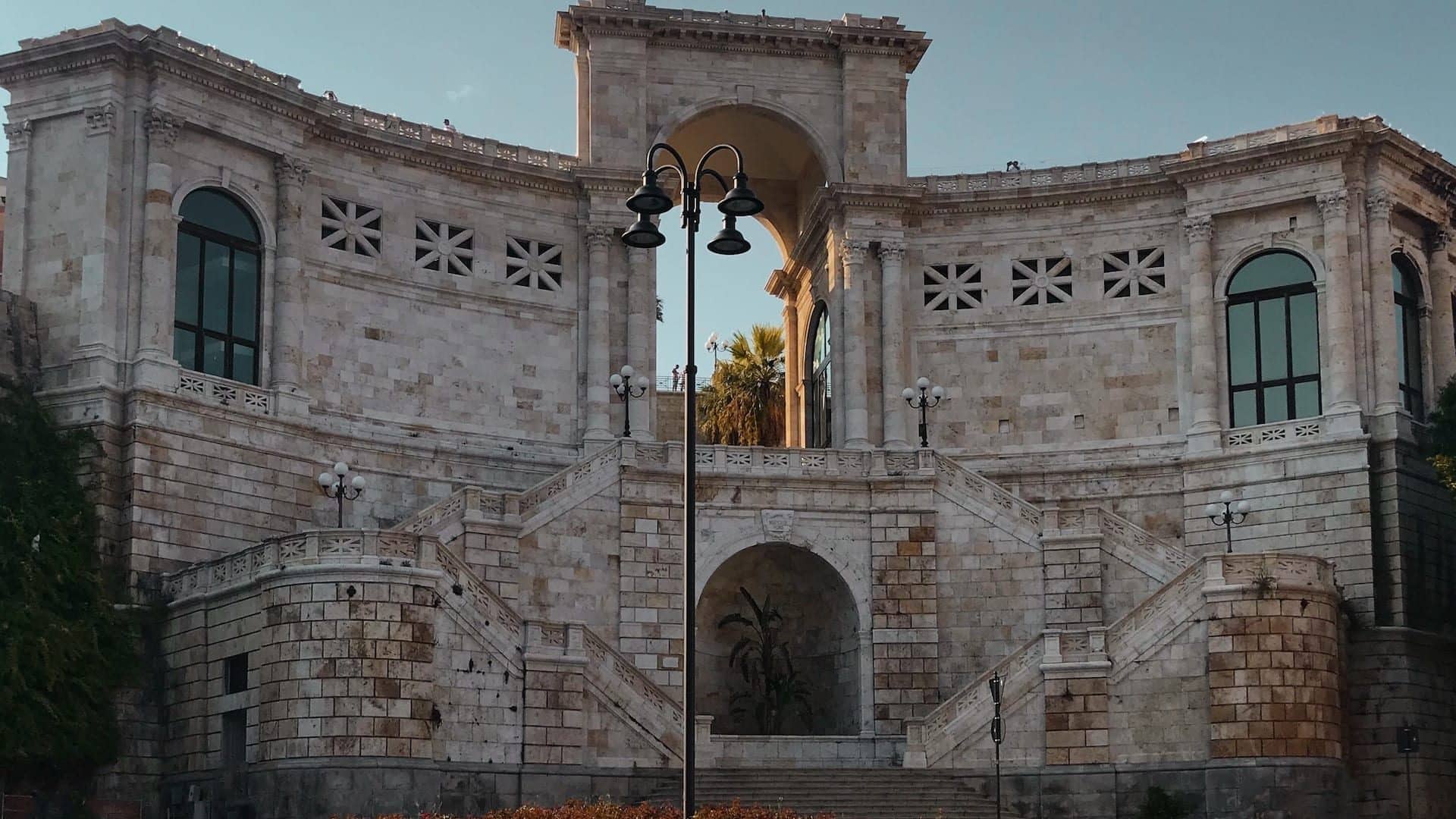 The best area to stay in Cagliari is Centro Storico, especially if it's your first time visiting the Sardinian city. Comprising some of Cagliari's oldest and centermost areas, the Old Town has many attractions, including the Bastion Saint Remy, the Cathedral of Cagliari, and Museo Archeologico Nazionale.
Find available accommodation in Cagliari's Old Town.
Best Hotels in Cagliari Old Town
---
Where to Stay in Cagliari for Sightseeing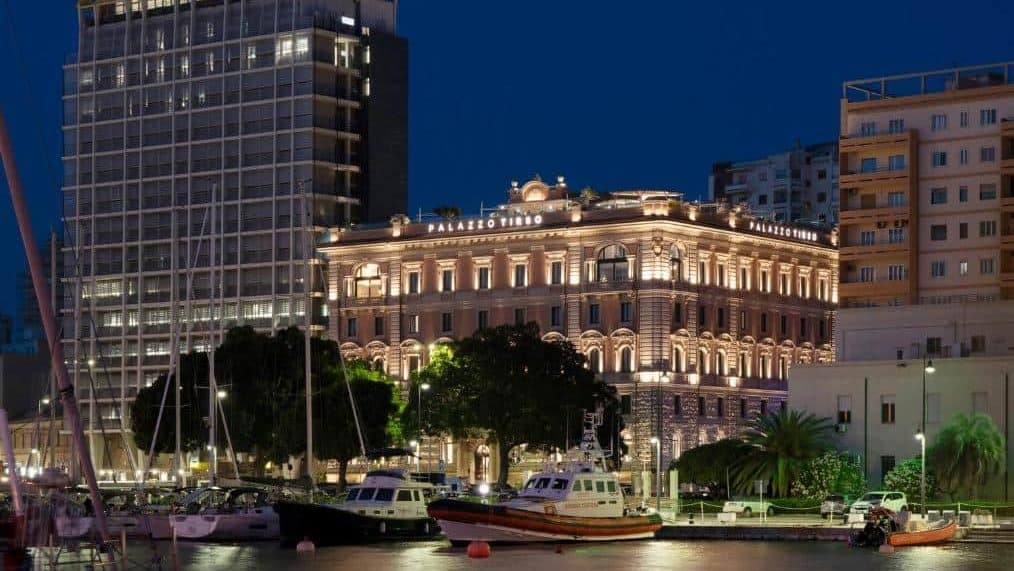 As mentioned above, the City Center is the best location for tourists in Cagliari. That said, the Sardinian city's centermost neighborhoods have distinct vibes and sights. Plus, some attractions, as well as the beaches, are located outside of the old town. These are some of the best districts to stay in Cagliari:
---
The Best Areas for Tourists in Cagliari: District by District
1. Castello
Best Location in Cagliari for Sightseeing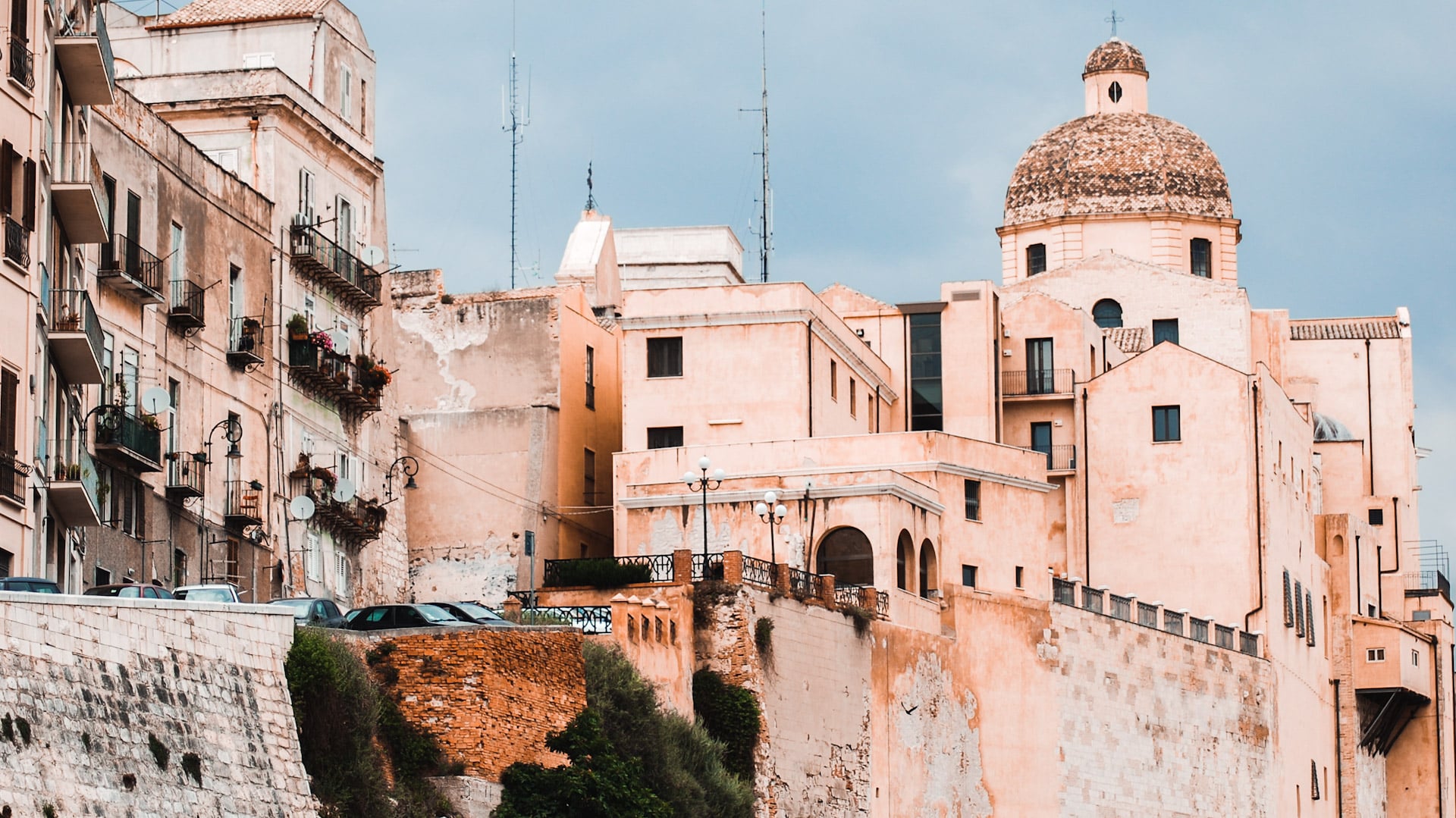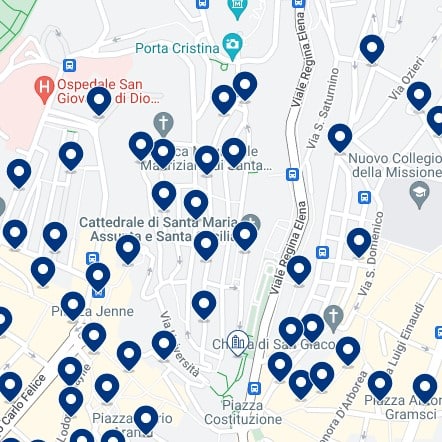 Why is this the best area to stay in Cagliari:

Heart of the city
Beautiful historic architecture
Bastion Saint Remy
Cagliari Cathedral
Convenient location near major attractions
Stunning views of the city and port
Quaint streets and charming alleys
National Archeology Museum
Accessible public transportation options
Boutique accommodation
The Castello Quarter is a historic neighborhood located in the heart of Cagliari. It is approximately 1.5 kilometers away from the coastline of the Mediterranean Sea. The unique charm and cultural significance of the Castello Quarter make it a notable destination and the best area to stay in Cagliari for sightseeing.
The neighborhood is home to various historical landmarks. One of the notable attractions is the Cagliari Cathedral, also known as the Cathedral of Santa Maria. Constructed in the 13th century, it boasts impressive architecture and religious importance. The Bastion of Saint Remy, a fortification dating back to the 19th century, offers panoramic views of the city and is a popular spot at sunset.
The Castello Quarter also offers a glimpse into the city's ancient history through sites like the Roman Amphitheater. Built in the 2nd century AD, it once hosted gladiatorial contests and now serves as a fascinating archaeological site. The Citadel of Museums, located within the neighborhood, houses various historical artifacts and artworks.
Aside from its historical attractions, the Castello Quarter exudes a captivating vibe. With its narrow, winding streets and charming architecture, it evokes a sense of stepping back in time. The neighborhood comes alive at night with vibrant bars and restaurants.
In terms of transportation, the Castello Quarter is easily accessible by public buses and taxis. Additionally, it is conveniently located near the Cagliari train station.
Best Hotels in Castello
---
2. Marina (Lapola)
Cagliari's Centermost Quarter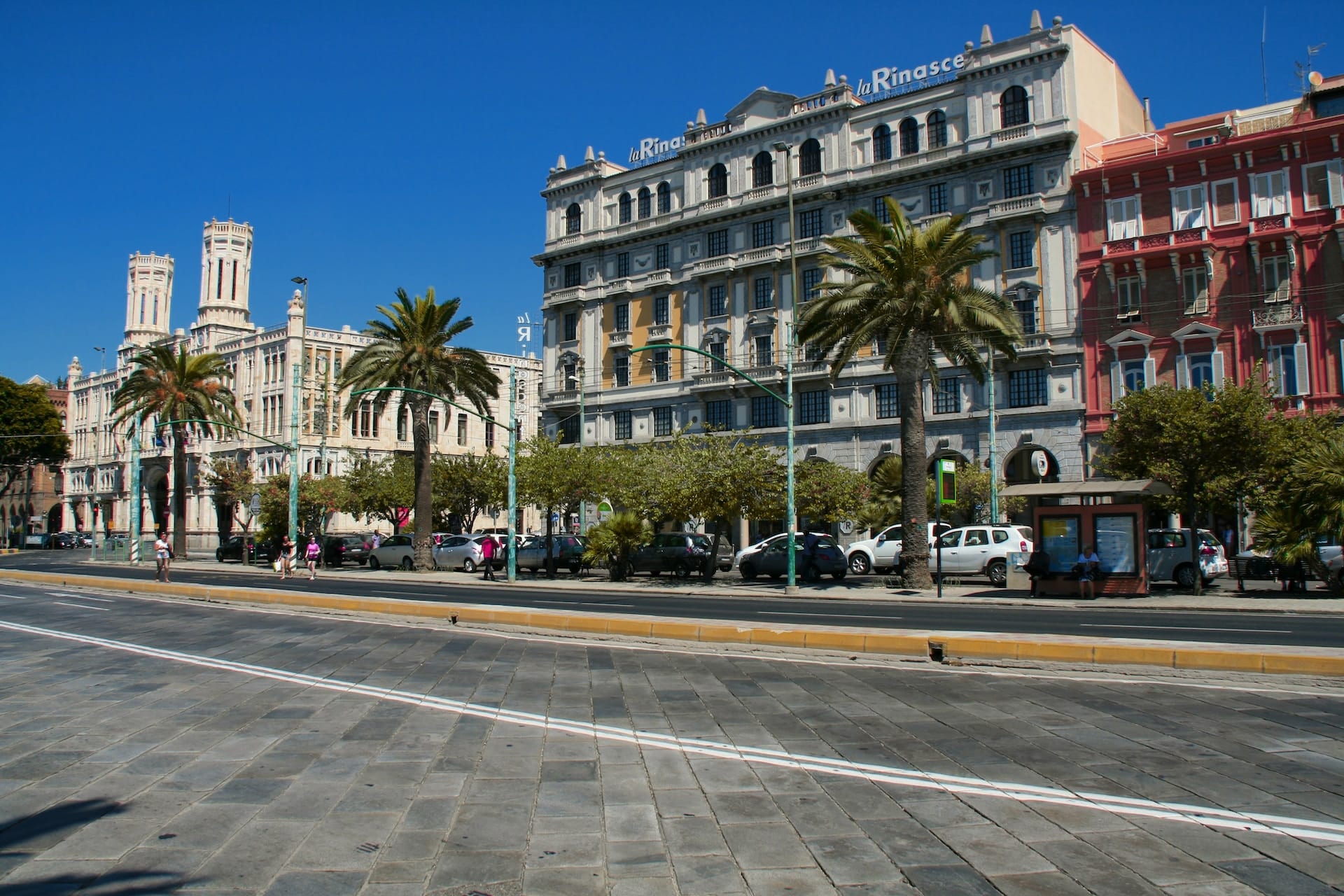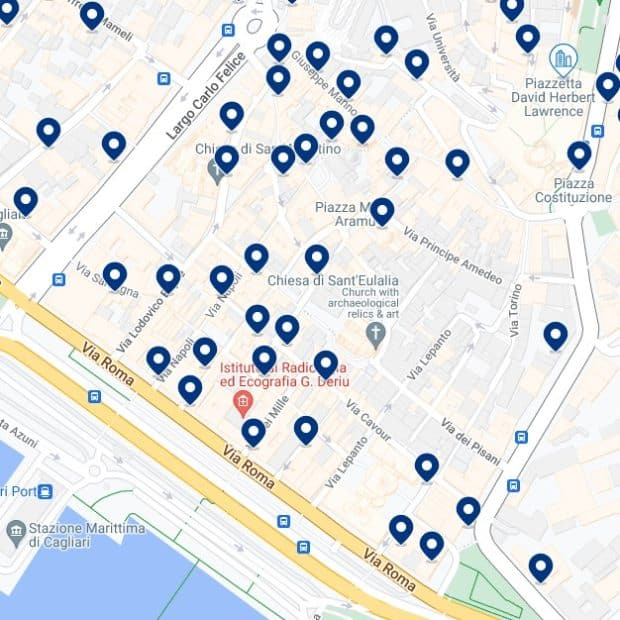 Why is this the best area to stay in Cagliari:

Heart of the city
Elegant palaces
Church of Santa Eulalia
Convenient location near train station
Accessible public transportation options
All kinds of accommodation
The Marina Quarter, located in the center of Cagliari, is a vibrant neighborhood with a rich historical background.
Also known as Lapola, the district functioned as the city's primary harbor and trade center due to its proximity to the sea. The Marina Quarter boasts a rich history, with origins dating back to the 13th century when it was first developed under the Pisan rule.
Over time, architectural elements from different eras contributed to the distinctive character of the Marina Quarter. Many impressive government and residential buildings, some dating to the 17th–18th centuries, exhibit influences of Pisan, Aragonese, and Spanish designs. A prime example is Saint Eulalia Church, built during the medieval period as a tribute to Saint Eulalia.
Another striking landmark within the district is Piazza del Carmine, an open space featuring an elegant church with Baroque-style ornaments. Furthermore, several bastions and towers embellish this area's skyline.
Small bars, cafes, and restaurants offer traditional Sardinian cuisine and its characteristic hospitality.
Regarding transportation in the area, major roads such as Viale Roma run parallel with the coastline facilitating access to different parts of Cagliari. Local buses and trains service nearby stations such as CTM for efficient travel options.
Best Hotels in Marina, Cagliari
---
3. Stampace & Cagliari Train Station
Best-Connected Area to Stay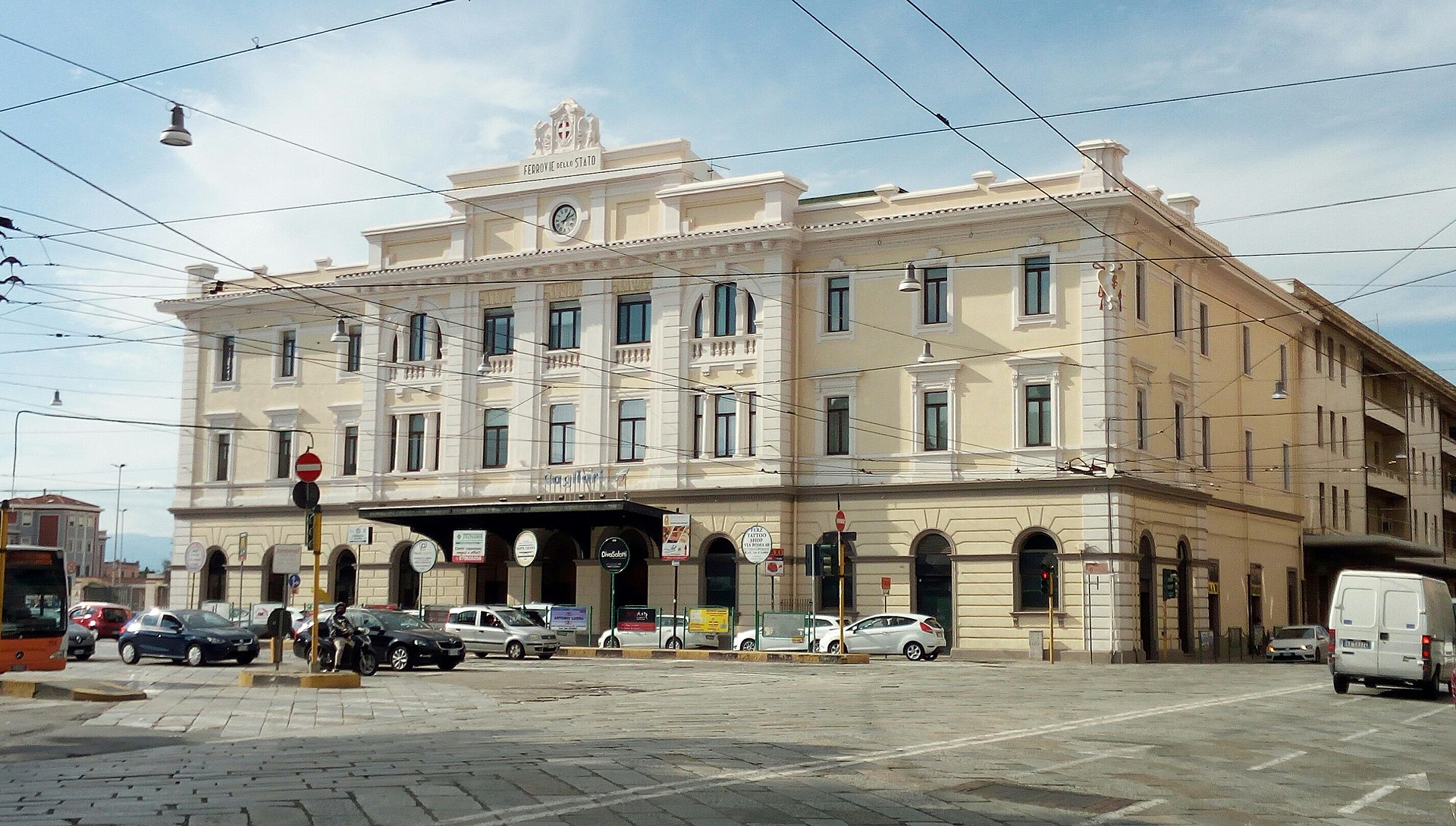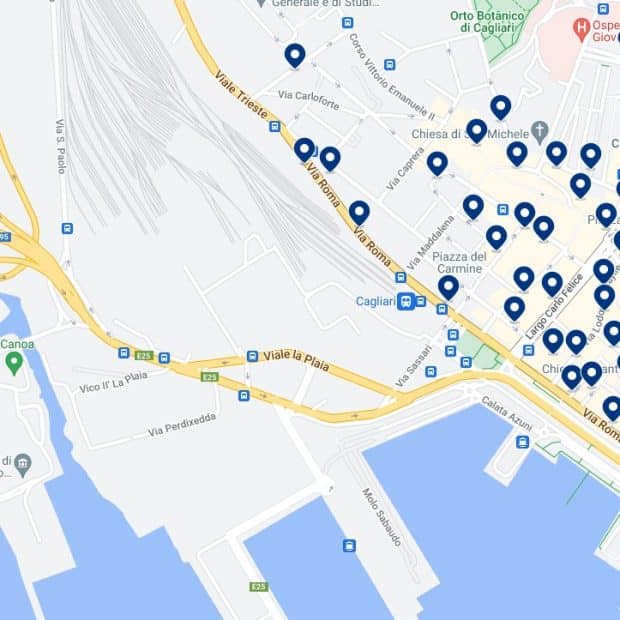 Nicola Secci, CC BY-SA 4.0, via Wikimedia Commons
Why is this the best area to stay in Cagliari:

Very central location
Great transit connections
Budget accommodation
Near all major attractions
Cagliari Train Station
Cagliari Ferry Terminal
The Stampace Quarter, located west of Cagliari's city center, holds historical and practical importance. As one of the four historic districts, it is situated southwest of Castello and east of Marina.
Cagliari's main train station is located within Stampace, providing a vital transportation hub. The nearby ferry and cruise ports also offer easy access to maritime travel options. Both contribute to making Stampace one of the best areas for tourists in Cagliari, especially if you plan to visit other places on the island or mainland.
Significant attractions in the area include the Church of Sant'Anna, an architectural marvel built during the 18th century, and Cagliari's Roman amphitheater. Another notable site is Villa di Tigellio, a sprawling ancient Roman residence showcasing beautiful mosaics and frescoes.
Stampace has a relatively quiet ambiance compared to other areas of Cagliari; its narrow streets are lined with traditional houses and tranquil corners. However, nighttime activity comes alive with local bars and venues offering live music and entertainment.
Public transportation throughout Stampace includes buses connecting to other key areas within Cagliari and regional trains.
Best Hotels in Stampace & near Cagliari Train Station
---
4. Bonaria
Best Location in Cagliari for Business Travelers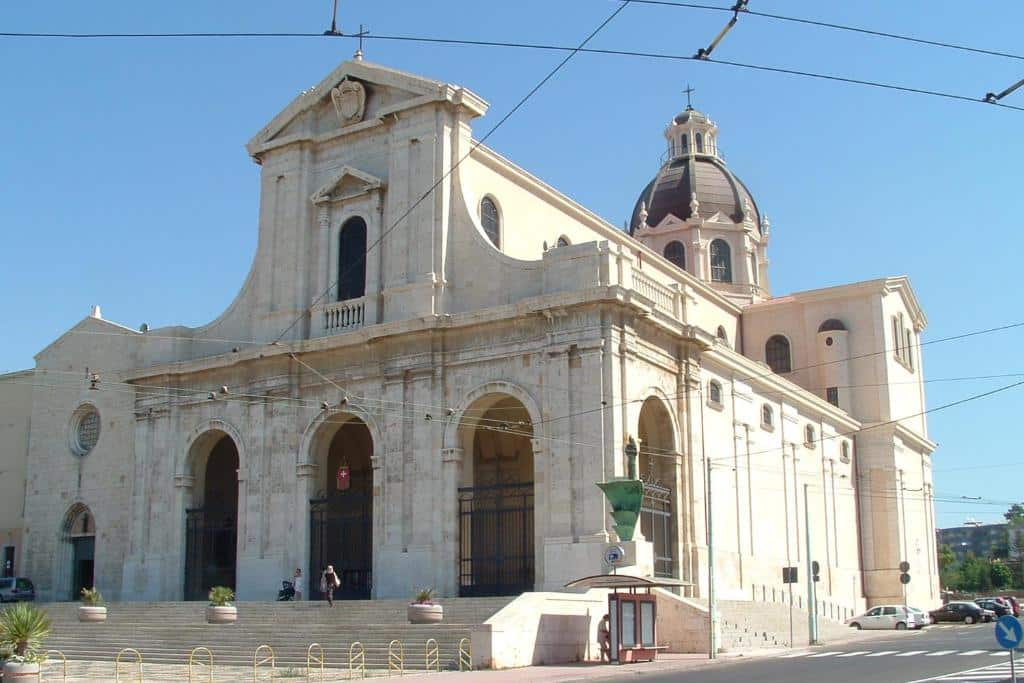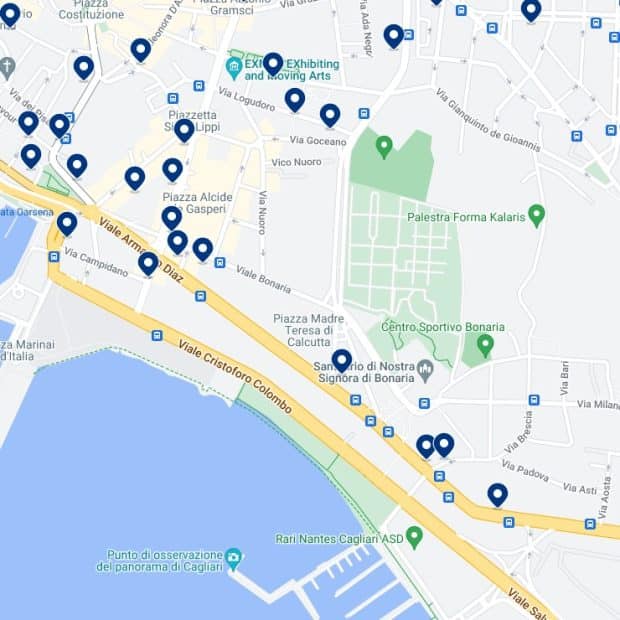 Why is this the best area to stay in Cagliari:

Fairly central location
Best area for business travelers
Upscale hotels and B&Bs
Shrine of Our Lady of Bonaria
Connected by buses
Parco di Monte Urpinu
The Bonaria Quarter is located southeast of the city center and roughly 2 kilometers from Cagliari's central area. The quarter is distinguished by its rich history and notable attractions.
One of its key landmarks, the Basilica of Our Lady of Bonaria, dates back to 1324 and was constructed by the Aragonese. This church houses a statue of the Virgin Mary and is an important pilgrimage site for Catholics.
Among other attractions in this quarter, there is also the Monumental Cemetery of Bonaria, which has been in existence since 1829. Besides being a final resting place for numerous notable people from Cagliari, it features remarkable sculptures and architectural elements. Additionally, the Parco di Monte Urpinu, a large park area with panoramic views of Cagliari and its surroundings, can be found near the Bonaria Quarter.
Bonaria is also an ideal location for business travelers, primarily due to the presence of Quartiere Fieristico della Fiera di Cagliari, a prominent exhibition center. This area also features the prestigious Marina di Bonaria – Su Siccu, a popular marina along the coast.
Concerning nightlife, Bonaria offers options like local bars and restaurants, where visitors can socialize and sample regional cuisine. Due to the neighborhood's mainly residential nature, the nightlife scene has an intimate and relaxed atmosphere.
Several bus lines pass through the Bonaria Quarter and provide services to various parts of Cagliari. The city center can be easily accessed through these lines, presenting convenient public transportation options for residents and visitors.
Best Hotels in Bonaria
---
5. Poetto Beach
Best Location to Go to the Beach in Cagliari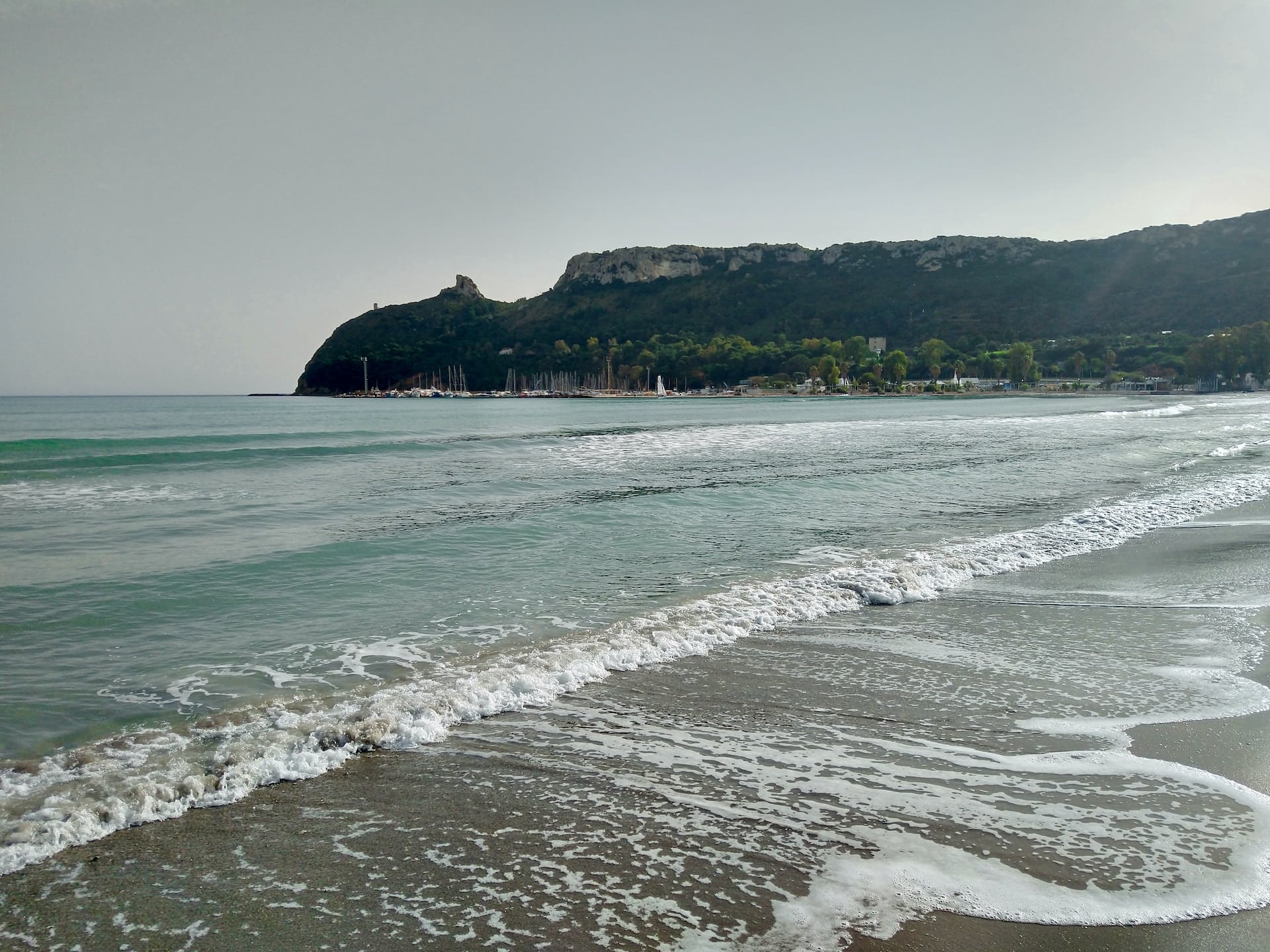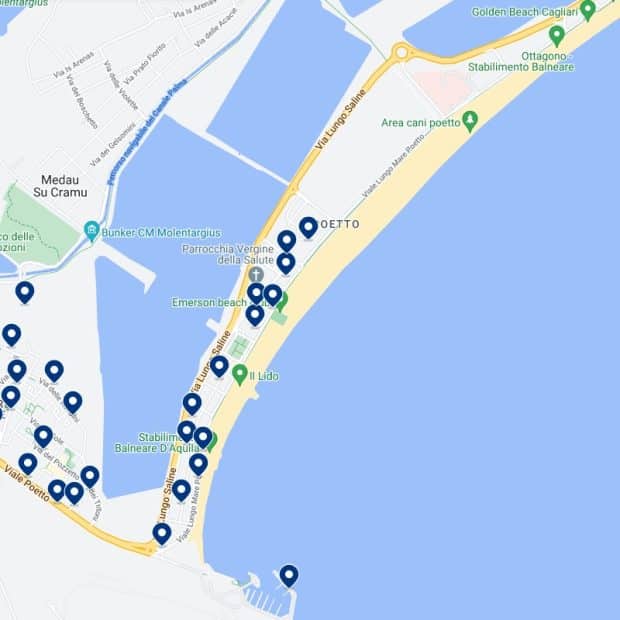 Why is this the best area to stay in Cagliari:

Beach area
Great restaurants
Budget hotels and B&Bs
Molentargius-Saline Regional Park
Connected by buses
Poetto Beach is a well-known coastal destination in the region. The name "Poetto" is believed to have originated from the Catalan word "pouet," meaning little well, or the Spanish word "puerto," meaning harbor. As the most popular beach in Cagliari, it attracts numerous people to its picturesque shoreline.
The beach is situated in the southeastern part of Cagliari and stretches for approximately 8 kilometers (5 miles), between the Sella del Diavolo promontory and Quartu Sant'Elena, making it one of the longest city beaches in Italy. Its location offers easy access from various points within the city through public transportation, such as buses and trams. Additionally, there are dedicated cycling paths and pedestrian walkways leading to the beach area.
One notable characteristic of Poetto Beach is its proximity to the Molentargius-Saline Regional Park, a protected site that hosts diverse ecosystems and wildlife, including several species of birds like flamingos.
Best Hotels in Poetto
---
6. Quartu Sant'Elena
Best Location in Cagliari for Budget Travelers & Backpackers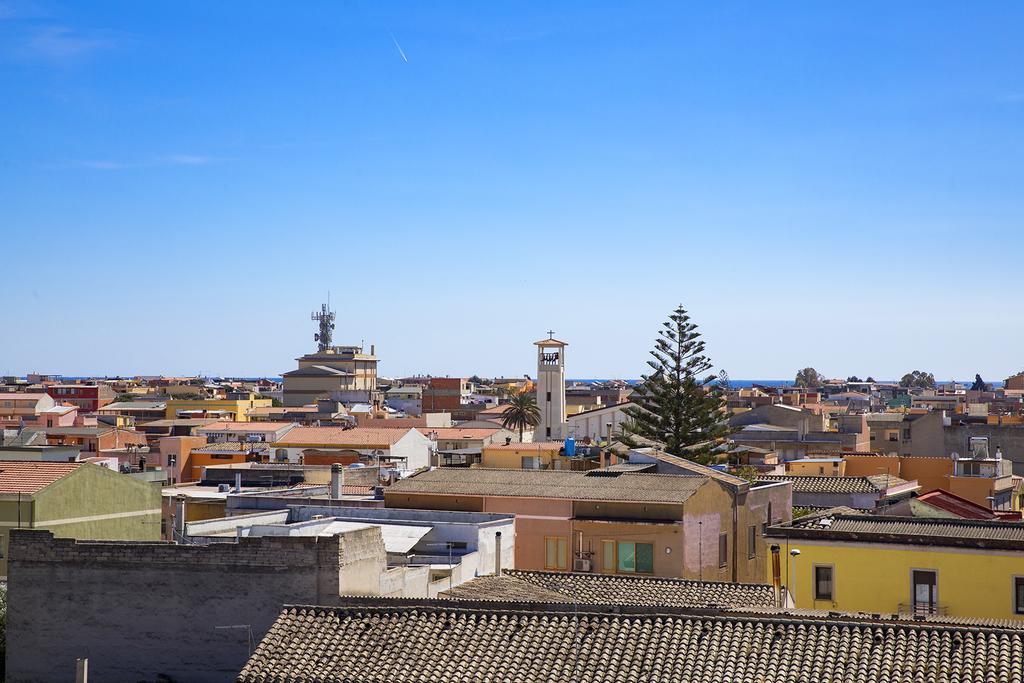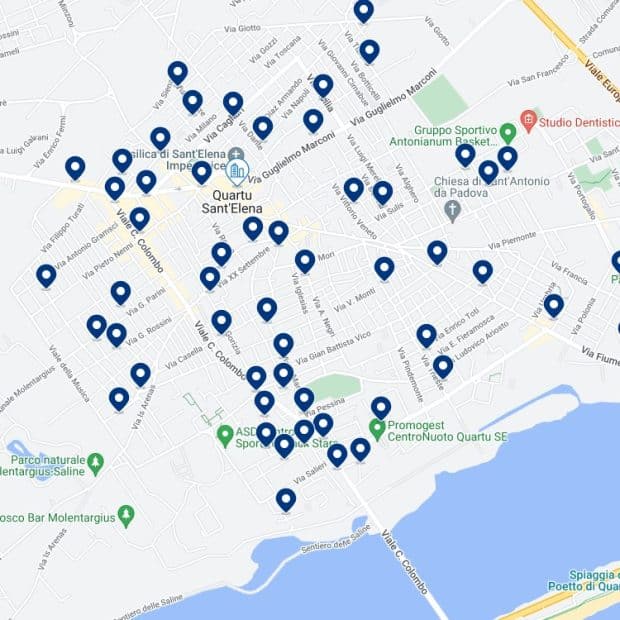 Quartu Sant'Elena is a municipality in the Metropolitan City of Cagliari. It is located approximately 6 kilometers (3.7 miles) east of the city center, along the coastline.
Quartu Sant'Elena boasts a rich history, with origins dating back to prehistoric times. Visitors can explore historical landmarks, such as the Basilica of Sant'Elena Imperatrice and the Church of Santa Maria di Cepola. The Molentargius-Saline Regional Park, located within the boundaries of Quartu Sant'Elena, is a protected natural area ideal for birdwatching.
The coastal area of Quartu Sant'Elena offers scenic views and opportunities for water-based activities like sailing and swimming. Beaches such as Poetto and Marina di Capitana are accessible by car and public transportation from central Quartu Sant'Elena.
Transportation options within Quartu Sant'Elena include buses operated by the regional transport company ARST that connect the municipality with neighboring areas.
Best Hotels in Sant'Elena
---
Where to Look for Accommodation in Cagliari: Useful Info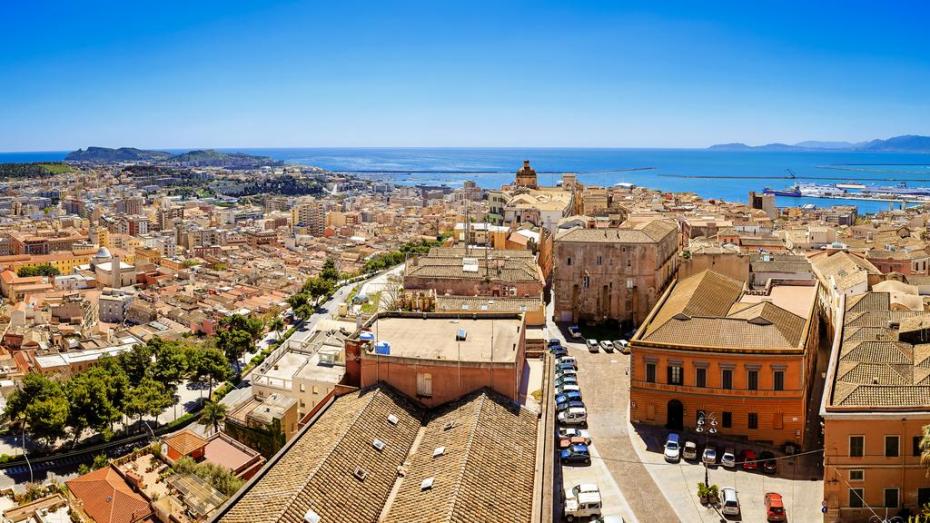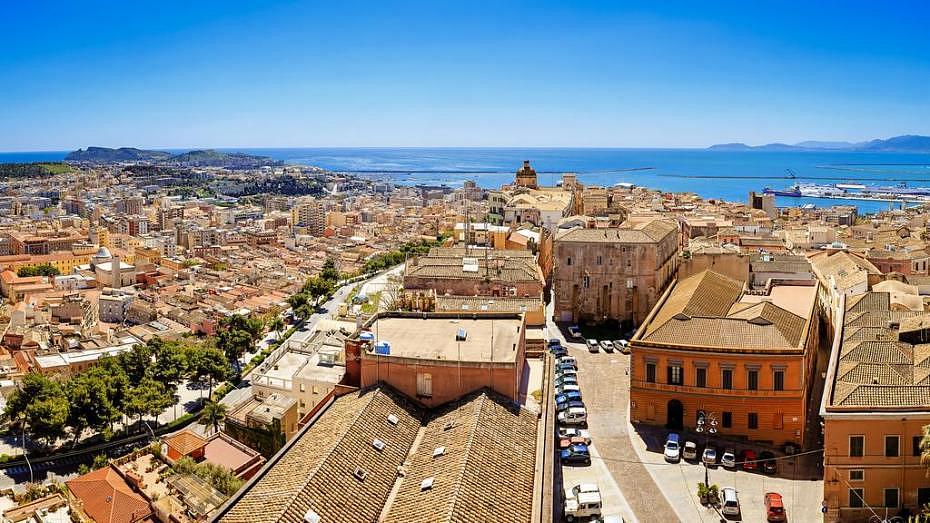 Cagliari is the capital of the autonomous region of Sardinia. It is an important university, administrative city, and port center in Italy. Cagliari is located in the Gulf of Angels on the southern coast of Sardinia. Similarly to Rome, Lisbon, Prague, and Istanbul, it was built on seven limestone hills.
When we talk about the best areas to stay in Cagliari, the medieval heart of the city, Castello, offers the widest variety of accommodation and its main attractions. See accommodation in Castello.
The city developed in different periods: It is clearly possible to distinguish the historical center of medieval origin and the new neighborhoods that emerged between the 19th and 20th centuries. The long history and the diverse towns inhabited by the island have contributed to providing Cagliari with an important cultural and architectural heritage. Among its attractions are the Tuvixeddu necropolis of the Punic age and the Roman amphitheater of the second century. The medieval heart of the city is the fortified district of Castello, which, until the Second World War, was the residence of the nobles.
Also noteworthy are the historic districts of Stampace, Marina, and Villanova.
The city's climate is typically Mediterranean, with mild winters and hot and dry summers.
As for transport, Cagliari hosts the Mario Mameli International Airport, located a few kilometers from the City Centre. This important air terminal has connections with the main cities of Italy and Europe. See accommodation near Cagliari Airport. Cagliari has an important passenger and cruise port with services to Civitavecchia, Naples and Palermo, Genoa, and Livorno. See hotels near Cagliari's Port. The main railway station of Cagliari has trains connecting Cagliari with other points on the island of Sardinia, such as Iglesias, Carbonia, Olbia, Golfo Aranci, Sassari, or Porto Torres. See accommodation near Cagliari's Train Station.
As for transport within the city, the tram network connects the old train station of Piazza Repubblica with the Citadel of the University and the Polyclinic. Cagliari also has urban buses and taxi services.
---
Where to Stay in Cagliari: Frequently Asked Questions
Which part of Cagliari is best?
The best part of Cagliari to stay in depends on what you're looking for. If you want to be close to the beach and enjoy stunning views, the Poetto Beach area is an ideal choice. For those interested in history and architecture, the historic Castello district offers a range of accommodation options amidst the city's ancient walls. The Marina district is perfect for those who enjoy lively nightlife and bustling restaurants, while the Villanova district provides a quieter residential atmosphere.
How many days should I spend in Cagliari?
To fully appreciate Cagliari and its surroundings, it's recommended that you spend at least three days in the city. This will allow you ample time to explore the rich history, beautiful beaches, and vibrant neighborhoods that make up this unique destination. Extending your stay to five or six days would be ideal if you want to explore more of Sardinia or take day trips to nearby historical sites or natural parks.
Is Cagliari a walkable city?
Yes, Cagliari is a highly walkable city with many attractions accessible on foot. The historic Castello district features narrow winding streets best explored on foot, while the modern shopping streets in Via Roma and Largo Carlo Felice also provide pleasant pedestrian experiences. Although some parts of the city may require navigating steep hills or steps, walking remains one of the best ways to explore Cagliari and fully immerse yourself in its culture and history. Nonetheless, public transportation or taxis may be more convenient options for longer distances or to reach areas such as Poetto Beach.
---