Mykonos is an enchanting Greek island located in the Aegean Sea. This beautifully picturesque island is known worldwide for its captivating allure and is recognized as a premier LGBT-friendly destination. Vibrant azure waters, stunning beaches, and a rich historical heritage make this Cycladic gem the perfect place to unwind and indulge in all its unique charms. If you're looking for the best towns to stay in Mykonos, you have stumbled upon the right article!
---
Mykonos boasts many attractions, including gorgeous beaches such as Paradise Beach and Super Paradise Beach, iconic windmills, traditional architecture at Little Venice, and the magnificent archaeological site of Delos. Additionally, the island offers an incredible nightlife scene fueled by world-class parties with international DJs and trendy beach clubs.
Thanks to its status as one of the most visited destinations in Greece, Mykonos offers a wide range of accommodations to suit varying needs and budgets – from luxurious beach resorts to cozy bed and breakfasts.
So if you're looking for the excitement and gorgeous landscapes Mykonos has to offer, keep reading this guide to discover more about this fantastic Greek paradise and find out where best to stay while exploring its breathtaking wonders.
---
Accommodation Options in Mykonos
---
The Best Areas to Stay in Mykonos: A Summary
If you don't have time to read the full article, this summarizes our recommended areas on the island of Mykonos. Keep on reading to find out more information about each of these districts.
---
What's the Best Area to Stay in Mykonos, Greece?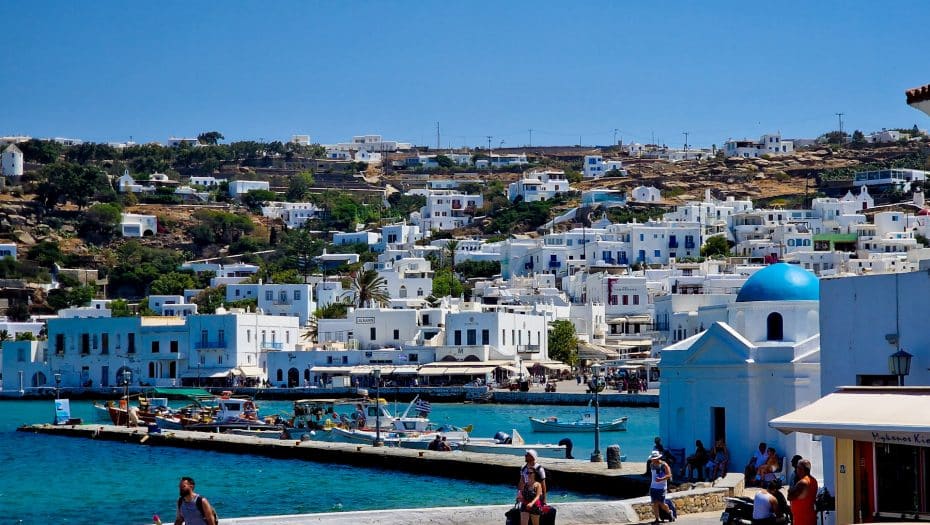 The best area to stay in Mykonos is the Kora. Also called Mykonos Town or Mykonos City, the island's capital is especially recommended if you're a first-time visitor. The town boasts a lively nightlife scene with trendy bars and clubs that cater to all tastes. Moreover, its central location makes it an ideal base to explore the island's pristine beaches, historical sites, and picturesque villages. Kora is also where some of the best-rated hotels in Mykonos are located.
Find available accommodation in Mykonos's Old Town.
Best Hotels in Mykonos's Town (Kora)
---
Where to Stay in Mykonos for Sightseeing, Nightlife & Luxury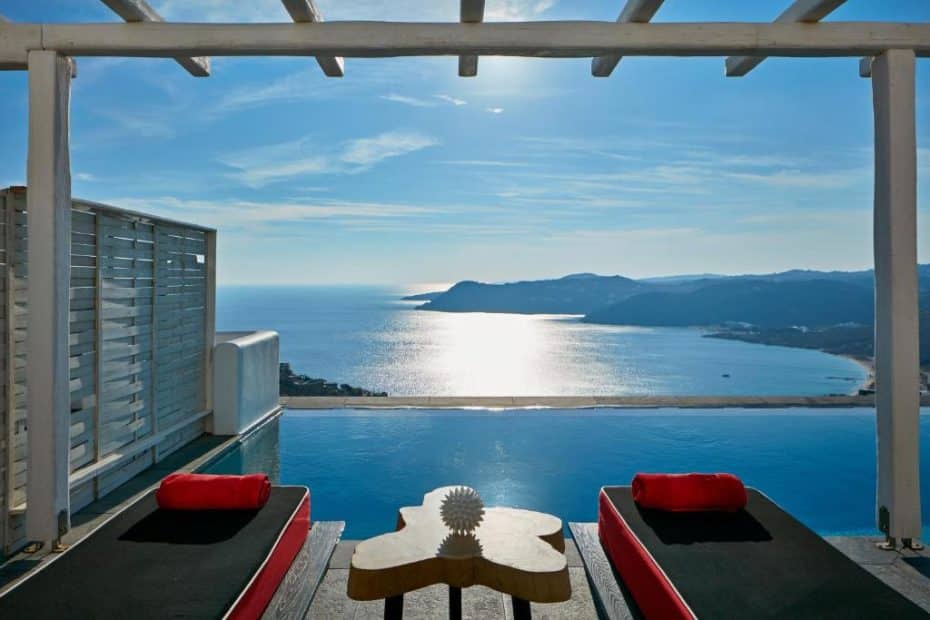 As mentioned above, Kora is the best location for tourists in Mykonos. That said, this Greek island is home to several towns and resorts with a distinct atmosphere and different attractions. These are some of the nicest areas to stay in Mykonos:
---
The Best Areas for Tourists in Mykonos: District by District
1. Mykonos Town (Kora): Best Location in Mykonos for First-Time Travelers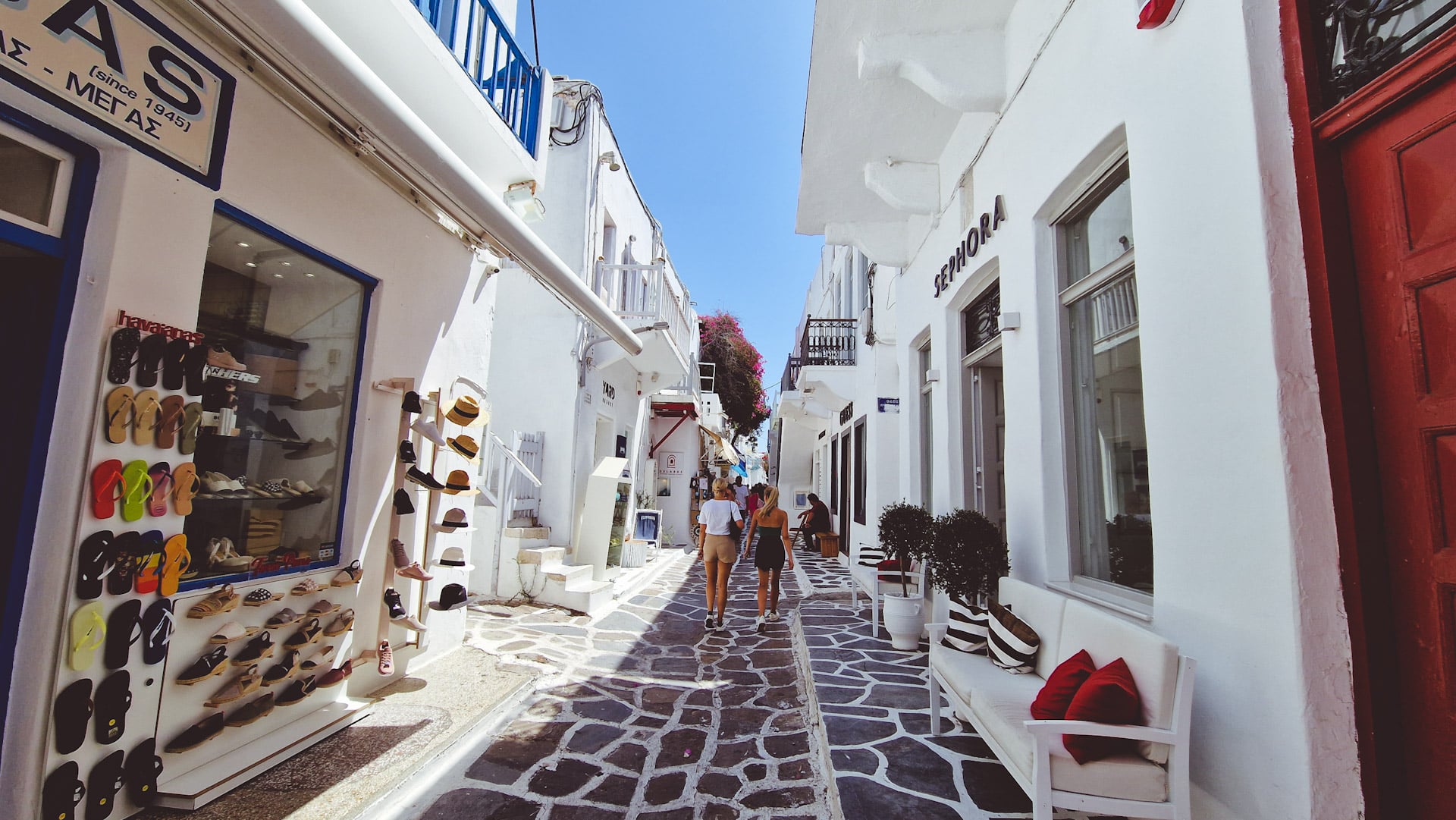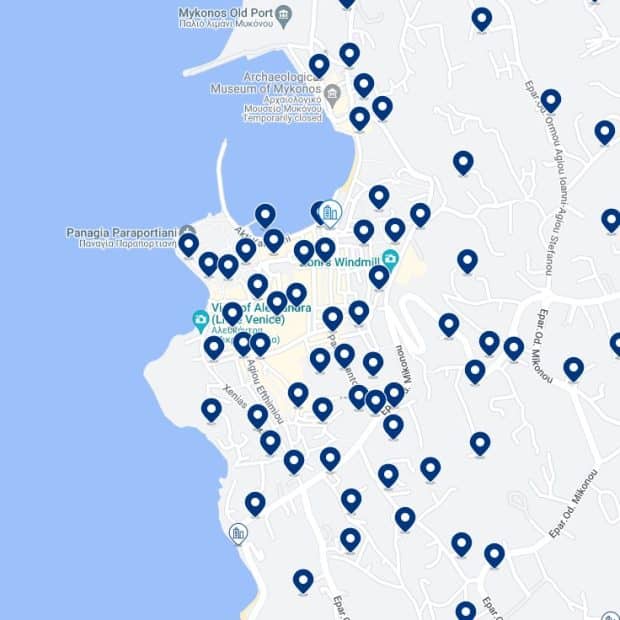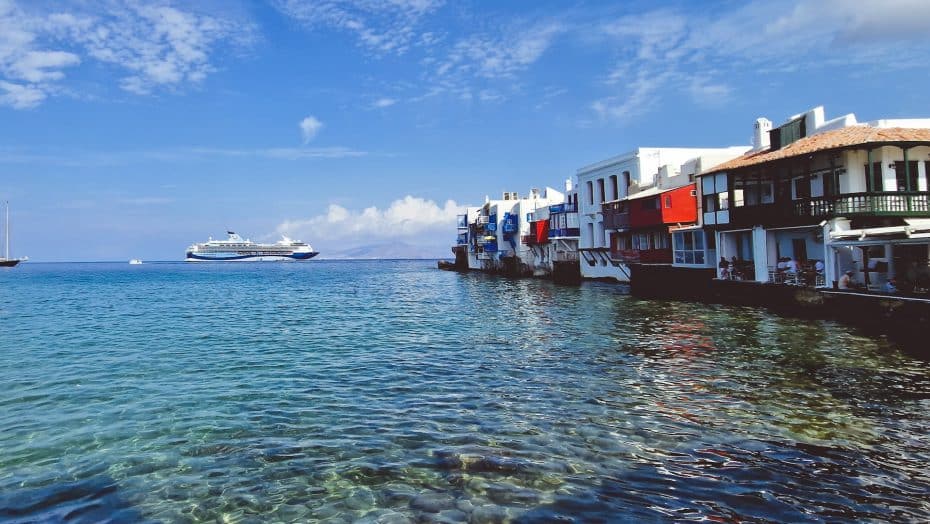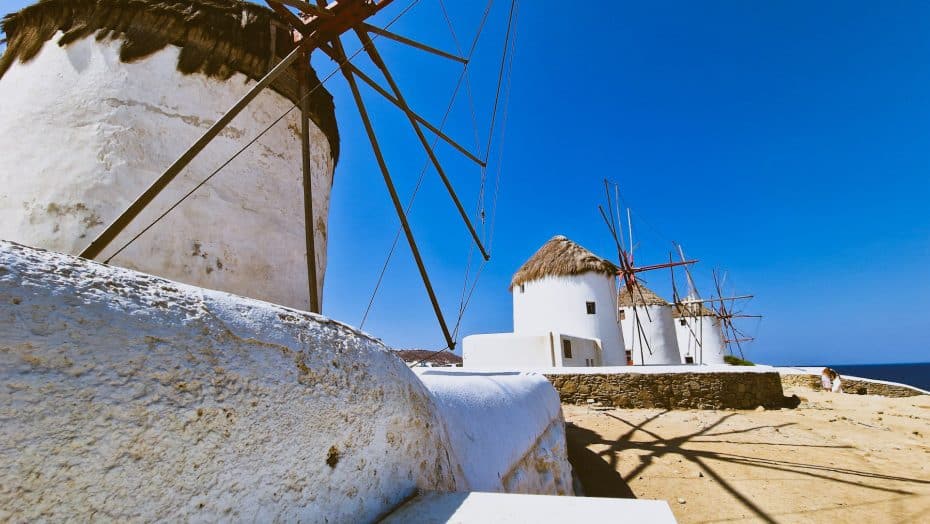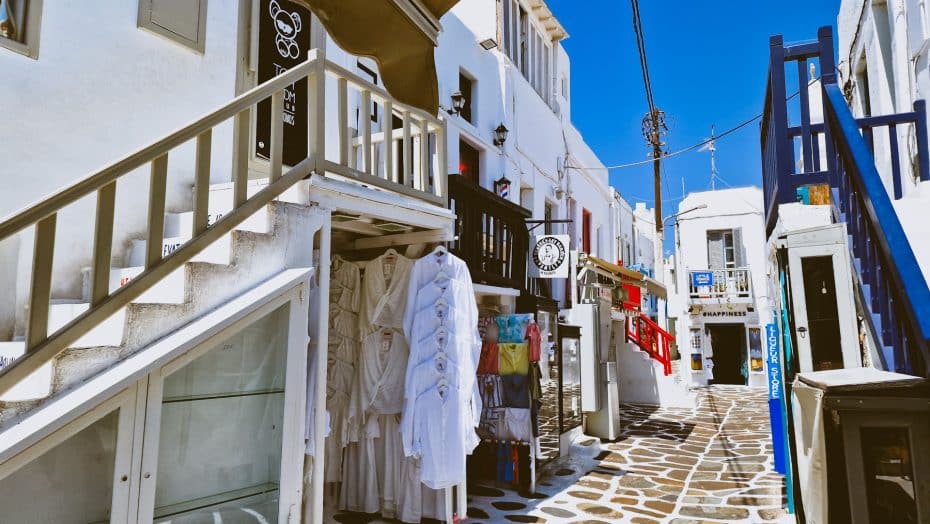 Known for its charming cobblestone streets, Mykonos Town is the ideal destination for shopping, dining, and vibrant nightlife.
Why is this the best area to stay in Mykonos:

Largest city on the island
Best area for sightseeing
Main attractions of the island
Very pedestrian-friendly
Great nightlife
Mykonos windmills
Museums and art centers
Little Venice
Great dining options
Cruise & ferry terminal
Luxury and boutique hotels
Kora, also known as Mykonos Town, is the main urban settlement on the island. The town has a rich history dating back to ancient times and offers a unique blend of traditional Cycladic architecture, modern amenities, and a lively atmosphere.
The history of Kora in Mykonos dates back to the 11th century. The town was an important trade center throughout the centuries due to its strategic location in the Aegean Sea. As a result, various cultures have influenced its development over time.
One of the unique features of Kora is its distinctive architecture. The town's narrow streets are lined with charming whitewashed homes adorned with colorful doors and balconies that illustrate the island's traditional character. Among these picturesque buildings stand several impressive religious structures, such as Panagia Paraportiani, a 15th-century church complex recognized for its distinct architectural style.
Other famous tourist attractions in Mykonos City include the imposing windmills that stand proud as a symbol of the island, the charming neighborhood of Little Venice that hugs the coastline, and the Archaeological Museum. The narrow streets and lovely squares of Mykonos Town are also a delight, with their white-washed buildings adorned with colorful shutters and blooming flowers.
The vibrant atmosphere of Kora is further highlighted by its array of shops, cafés, and art galleries. Browsing through stores filled with local artisan crafts or enjoying a refreshing drink at one of the seaside bars reveals the warmth and hospitality for which Mykonos is known.
Kora is also reputed for its thriving nightlife scene, attracting international partygoers during the summer months with its famous clubs and beach bars. However, visitors seeking a more subdued dining experience can find numerous restaurants serving authentic Greek cuisine intermingled within the town's lively alleys.
Various transportation options are available for tourists to explore Mykonos Town more conveniently. The local bus service connects Kora to other parts of the island, while bicycle rentals offer a more environmentally friendly means of getting around. For those inclined to explore further, car rental services are also accessible on Mykonos.
Though primarily recognized as a glamorous party destination today, Kora has several noteworthy accommodations ranging from budget-friendly guesthouses to luxurious boutique hotels. With many options available to cater to the needs of different travelers, Kora ensures that visitors experience a comfortable and memorable stay on the enchanting island of Mykonos.
Best Hotels in Mykonos Town
---
2. Elia Beach: Best Location for a Quiet & Luxurious Holiday in Mykonos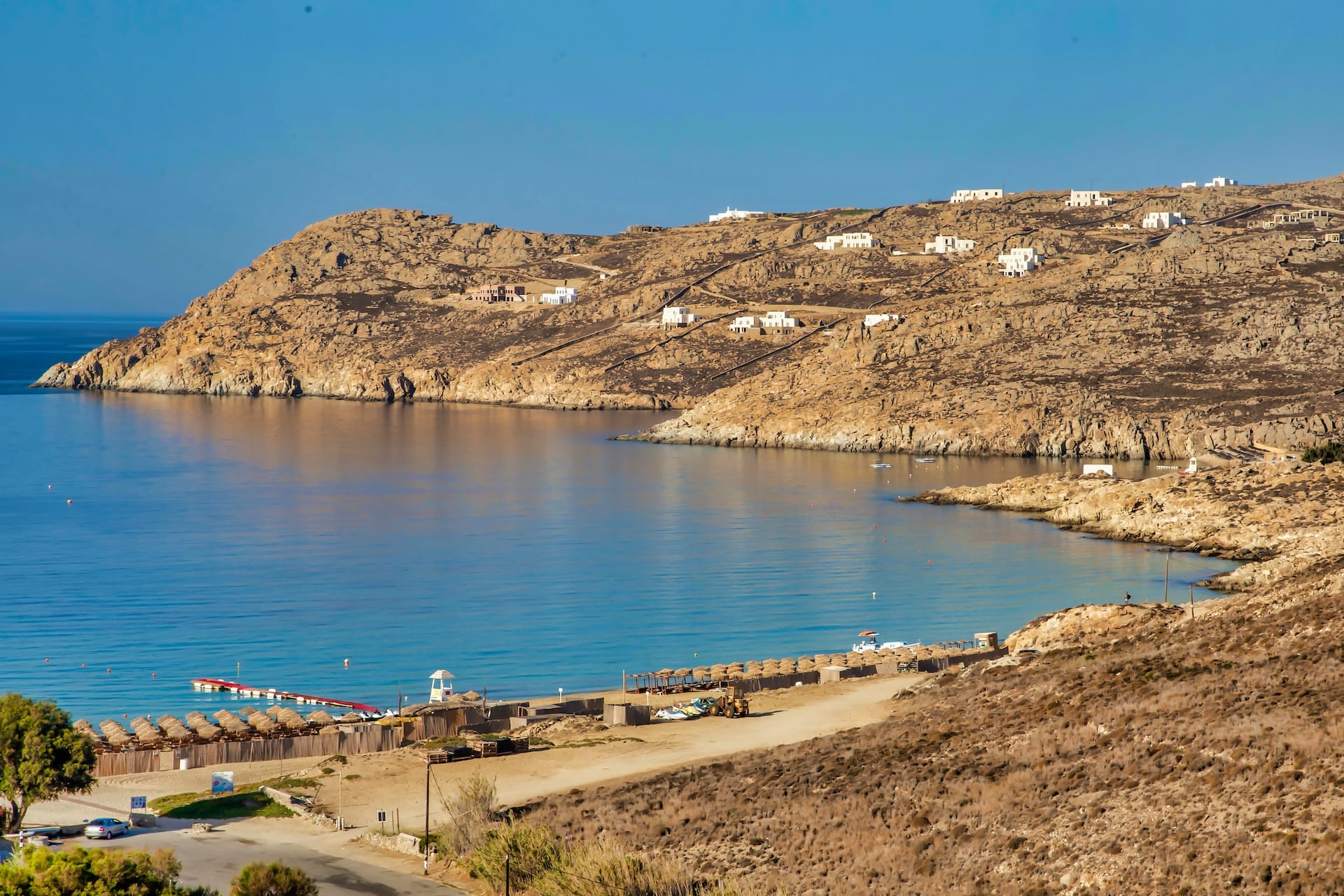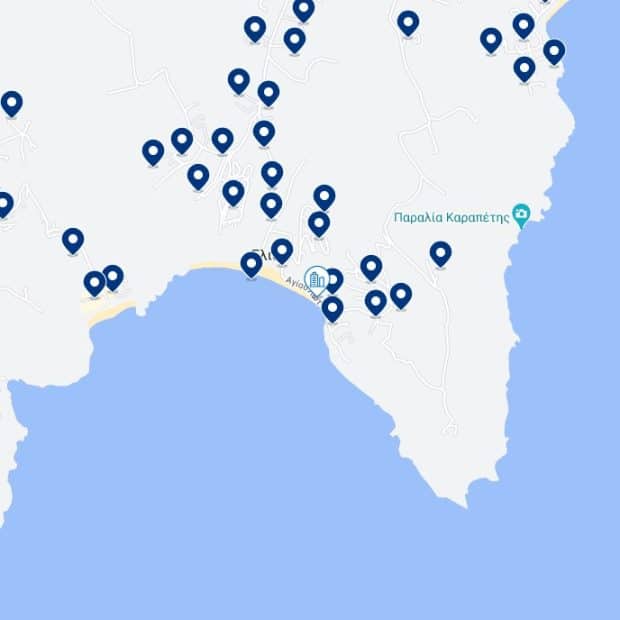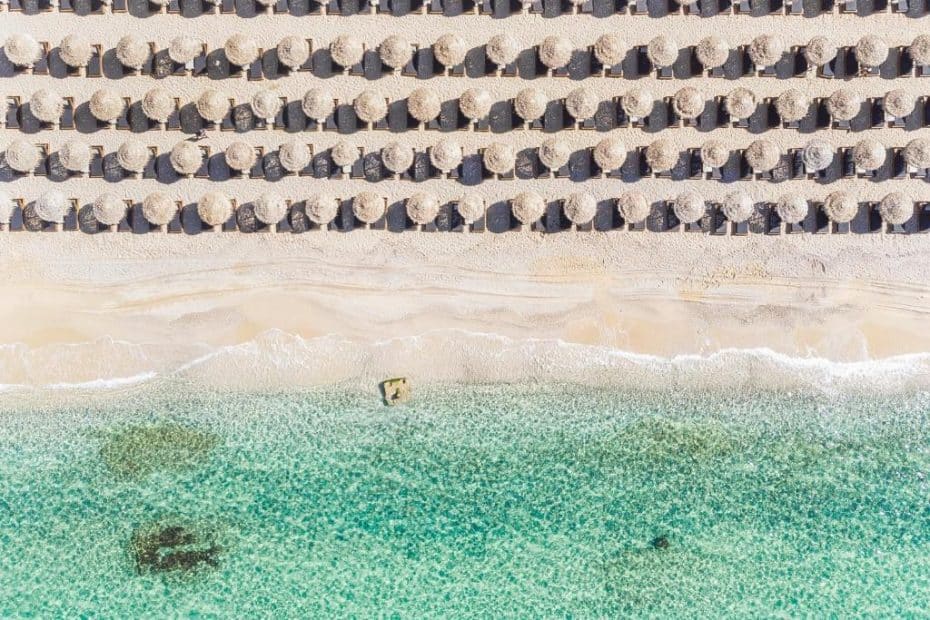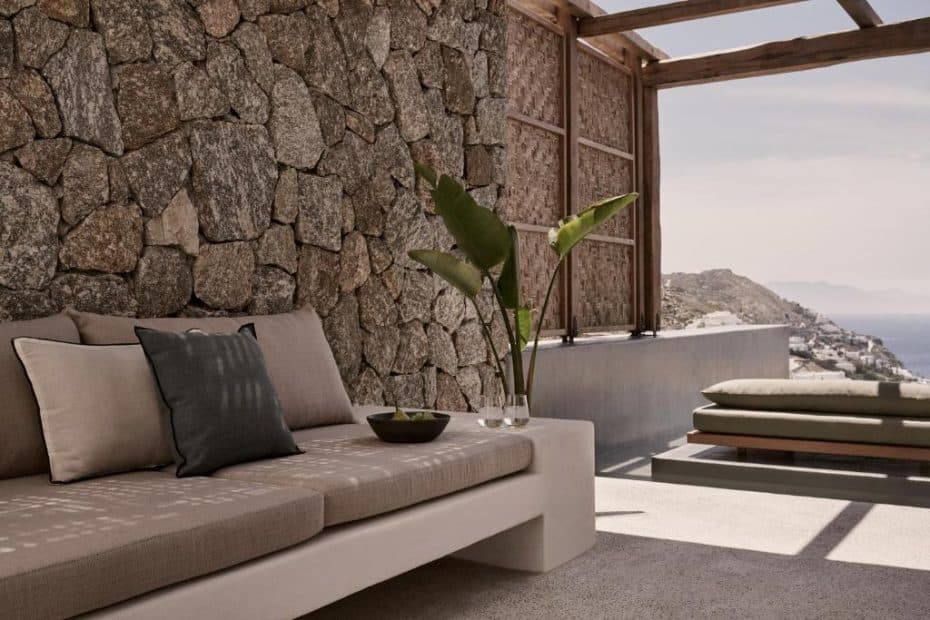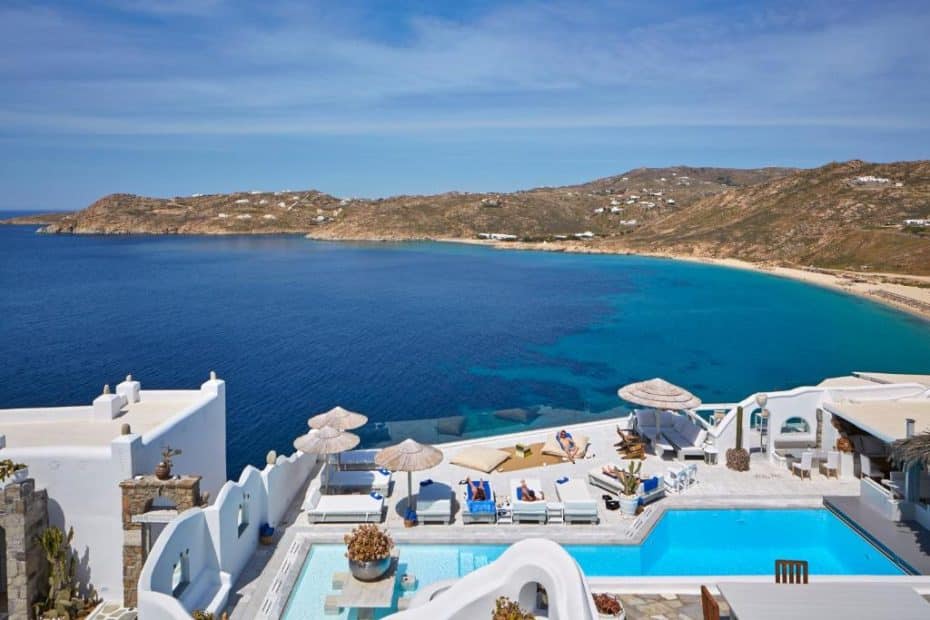 High-end hotels, elegant restaurants, and a peaceful atmosphere make Elia Beach perfect for luxury vacations.
Why is this the best area to stay in Mykonos:

Luxury hotels & resorts
Upscale beach clubs
Great beach scene
Water sports and activities
Great nightlife and restaurants
Nude beaches
Connected by buses
Elia Beach is located on the southern coast of Mykonos, approximately 7 miles (11 km) southeast of Mykonos Town. This stunning location is easily accessible by car or public transport from the airport and the island's capital.
Elia Beach is famous for its long stretch of golden sand and crystal-clear waters, ideal for swimming and sunbathing. The beach also offers various activities, including beach volleyball, windsurfing, jet skiing, and parasailing.
Once known for its reputation as a nudist hotspot, Elia Beach has recently transformed to attract a wider audience. Visitors can now enjoy a range of water sports, lounge chairs and umbrellas for rent, and several beach bars and restaurants.
This corner of Mykonos offers a variety of beach bars and restaurants serving fresh seafood. The general ambiance is sophisticated and luxurious, with exclusive beach clubs such as Nammos and Scorpios offering a unique and electrifying nightlife experience.
Transportation to and from Elia Beach is covered by buses running regularly from Kora. Many hotels in the area offer shuttle services. A number of hotels can be found within walking distance of the beach.
A visit to Elia Beach is a must for anyone looking to experience the best of Mykonos' beaches and nightlife, and with so much to see and do, it's no wonder why it's one of the best areas to stay on the island of Mykonos.
Best Hotels in Elia
---
3. Ornos: Best Location in Mykonos for Travelers on a Budget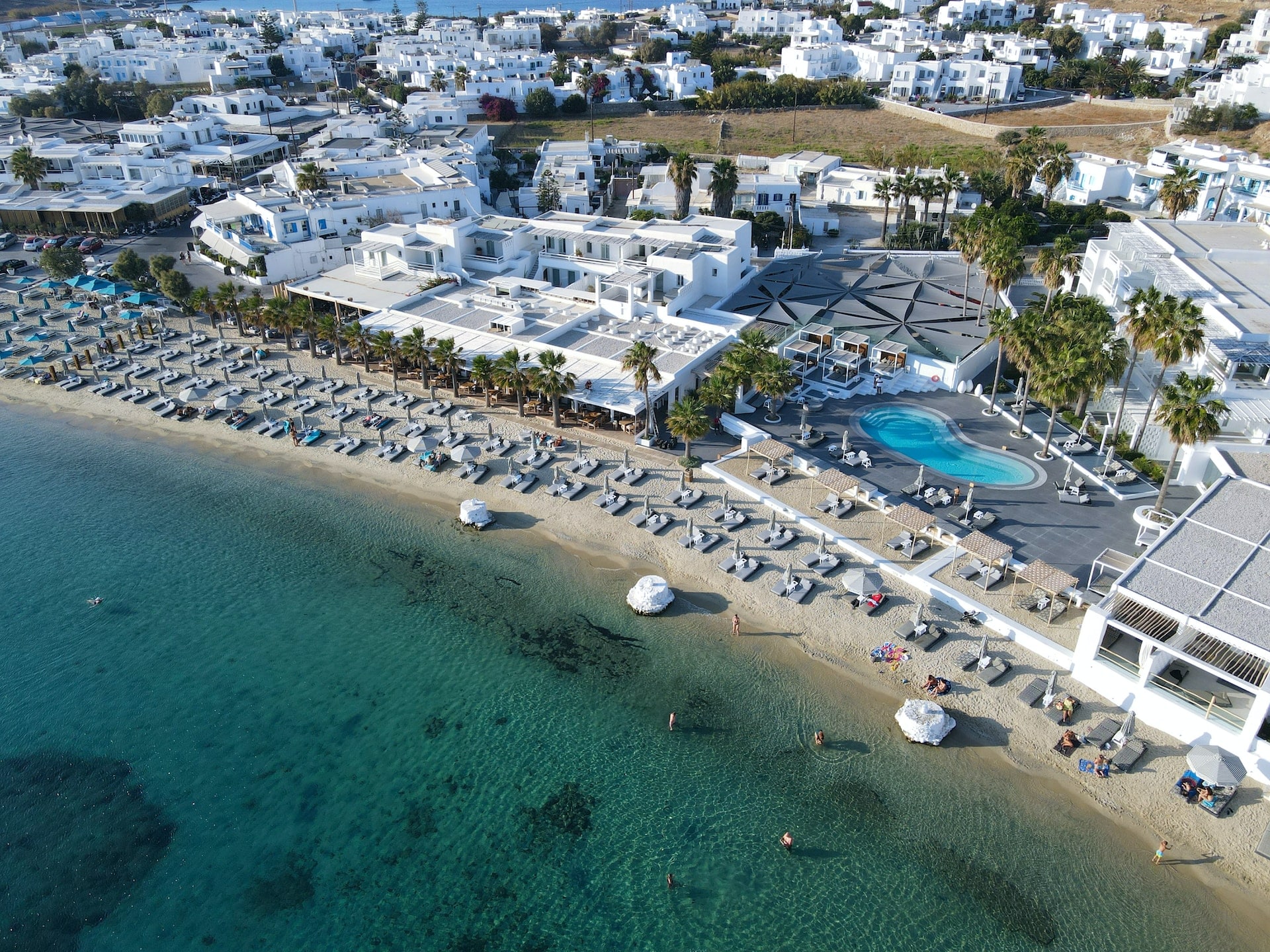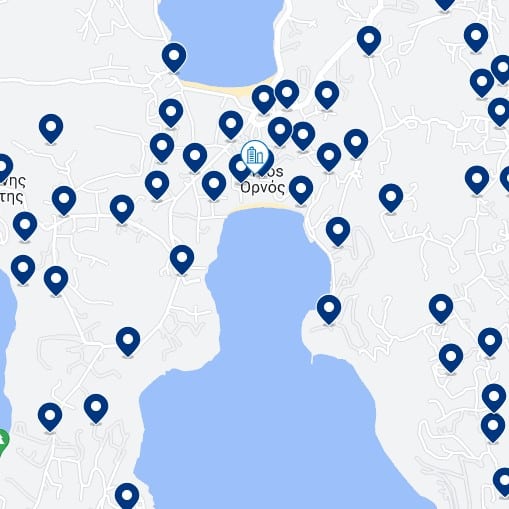 With its picturesque bay and beautiful sandy beach, Ornos is the perfect place to relax and unwind.
Why is this the best area to stay in Mykonos:

Convenient location near Mykonos Town and airport
Great area for sightseeing
All kinds of accommodation
Family-friendly
Budget & mid-range hotels
Two beach areas
Ornos Bay is located just 2 miles (3.2 km) south of vibrant Mykonos Town and 1.8 miles (3 km) southwest of Mykonos International Airport. This beautiful slice of paradise on the idyllic island of Mykonos stands out for its natural beauty and splendid beaches.
Touched by the golden sands and azure waters of the Aegean, Ornos is steeped in history dating back to ancient times. Once a thriving fishing village, the area offers a captivating blend of tradition and sophistication.
Ornos captures the hearts of visitors with its stunningly pristine beaches, offering both seclusion and excitement. Bask under the Mediterranean sun in one of its sunbeds or indulge in exhilarating water sports like windsurfing or snorkeling to explore aquatic marvels beneath turquoise waves.
As night falls, the magnetic pulse of Ornos shimmers to life. Luxurious beach clubs like Kuzina and Pasaji lead this vibrant scene – places where the sun-kissed mingle with elegance and enthusiasm. For those seeking more thrills, hop on a quick bus ride to Mykonos Town.
Meandering around Ornos is a breeze thanks to its well-connected road network. Public buses connect Ornos Beach and Mykonos Town regularly throughout the high season. Rental options like mopeds or cars offer opportunities for spontaneous adventures.
Contrary to most other beach destinations on the island, Ornos offers a diverse hotel range, from luxury resorts to more intimate, boutique experiences and cheaper options fit for budget-conscious travelers.
Best Hotels in Ornos, Mykonos
---
4. Super Paradise: Best Location for LGBTQ+ Travelers to Mykonos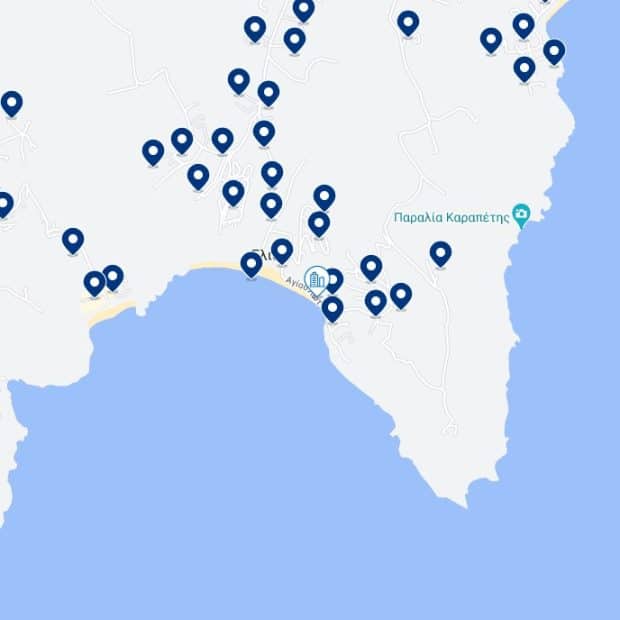 Super Paradise Beach combines an energetic party scene with stunning natural beauty.
Why is this the best area to stay in Mykonos:

Luxury hotels & resorts
Upscale beach clubs
Great beach scene
Water sports and activities
Great nightlife and restaurants
Jackie O Beach Bar
Connected by buses
Super Paradise Beach is a popular beach destination on the island of Mykonos. It is approximately 4 miles (6.4 km) southeast of Mykonos Town and 2.5 miles (4 km) south of the airport. This beach is well-known for its lively atmosphere.
Historically, Super Paradise Beach gained its prominence in the late 20th century as a hotspot for those seeking a carefree and inclusive environment. Over time, it has evolved into one of the most iconic spots on the island. It continues to maintain its reputation as a go-to destination for like-minded individuals from around the globe.
One key factor that sets Super Paradise apart from other beaches in Mykonos is its vibrant LGBTQ-friendly atmosphere. It hosts various clubs and bars that cater to diverse communities, offering a welcoming space for all to enjoy. The most popular clubs in the area include Super Paradise Club and Jackie O' Beach Club, where guests can expect live music, impressive entertainment, and signature cocktails.
The general ambiance at Super Paradise Beach tends to be energetic and lively during both day and night as party-goers congregate to celebrate life under the Mediterranean sun. Although primarily known for its nightlife, this beach is also an excellent spot for sunbathing and swimming, offering visitors ample opportunities to unwind and experience Mykonian summer at its finest.
Transportation options to reach Super Paradise Beach include local buses that frequently operate between Mykonos Town and the beach, taxis for a quicker travel time, or private vehicles and scooters rented by visitors looking for more independence during their stay.
Various accommodations are available near Super Paradise Beach to cater to different preferences and budgets.
Best Hotels in Super Paradise Beach, Mykonos
---
5. Agios Ioannis: Great Location for Tourists in Mykonos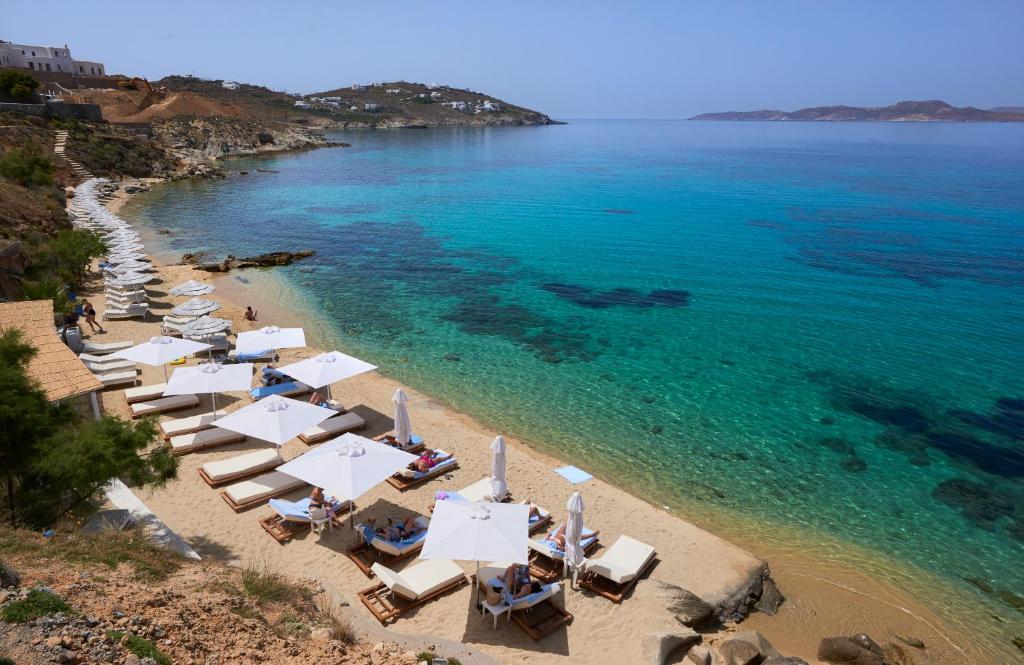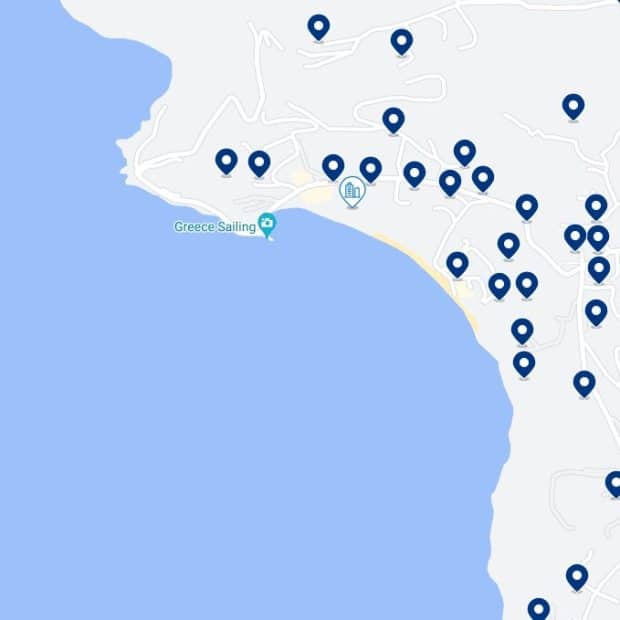 Offering a laidback atmosphere, Agios Ioannis provides spectacular views of Delos Island.
Why is this the best area to stay in Mykonos:

Great location
Reachable from airport and Mykonos Town
Views of Delos
Wide selection of accommodation
Good beaches
Agios Ioannis is a small coastal area on the island of Mykonos, Greece. It is located in the southwestern part of the island, approximately 2.5 miles (4 kilometers) from Mykonos Town and 3.1 miles (5 kilometers) from Mykonos International Airport.
Agios Ioannis is unique due to its picturesque setting and beautiful beaches, which differ from the bustling atmosphere of Mykonos Town. The area has a rich history, as it is named after the small church of Agios Ioannis Diakoftis that can be found there. Agios Ioannis has also gained fame for being the location where scenes from the famous 1989 movie "Shirley Valentine" were filmed.
Visitors to Agios Ioannis can enjoy various attractions, such as the beaches of Agios Ioannis and Kapari, where they can relax under the sun or engage in water sports and activities. The historic church of Agios Ioannis Diakoftis provides a glimpse into local religious traditions and architecture.
While known for its tranquility during the daytime, Agios Ioannis also offers a vibrant nightlife scene. Trendy bars and clubs like Hippie Fish Beach Bar & Restaurant are frequented by visitors looking for an exciting night out in a more laid-back environment than Mykonos Town.
To reach Agios Ioannis, tourists can take local buses or taxis from Mykonos Town or the airport. Renting cars, scooters, or bicycles are also popular options for exploring the island at a leisurely pace.
Best Hotels in Agios Ioannis, Mykonos
---
6. Ano Mera: Best Location to Experience the Real Mykonos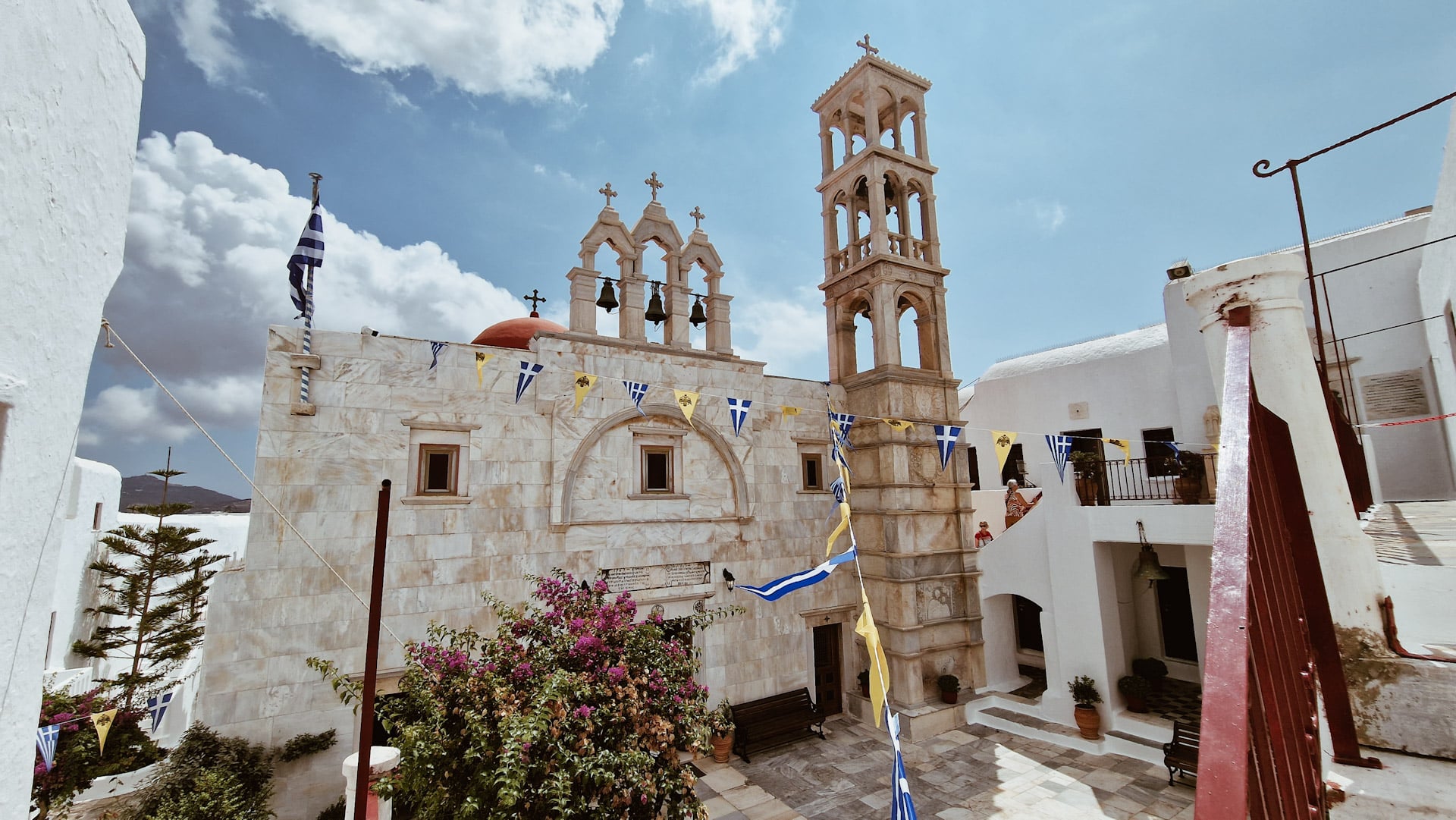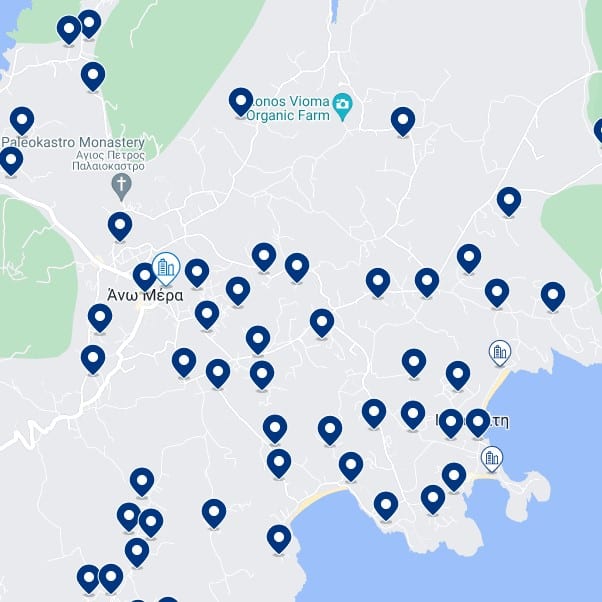 A picturesque village with traditional charm, Ano Mera offers a quieter and more authentic side of Mykonos.
Why is this the best area to stay in Mykonos:

Central location
Less touristy than the coastal towns
Panagia Tourliani Monastery
Wide selection of budget & midrange accommodation
Connected by buses
Ano Mera is a small village found on the island of Mykonos, Greece. It lies about 5 miles (8 kilometers) east of Mykonos Town and 4.3 miles (7 kilometers) northeast of the island's airport. Ano Mera stands out from other parts of Mykonos through its peaceful atmosphere, historical significance, and unique attractions.
The village has a rich history that goes back centuries. It was established around the Monastery of Panagia Tourliani, which dates back to the 16th century. The monastery still stands today and is an important attraction for tourists visiting Ano Mera.
The general ambiance of Ano Mera is quite different from Mykonos Town, known for its lively nightlife and bustling streets. This village offers visitors a more relaxed experience with its laid-back atmosphere and fewer crowds.
Ano Mera has several attractions, such as the previously mentioned Monastery of Panagia Tourliani and the Monastery of Paleokastro, which dates back to the 12th century. These structures offer visitors a glimpse into the island's history while also providing picturesque photo opportunities.
Guests can easily navigate Ano Mera with various transportation options, including buses connecting it with Mykonos Town and the rest of the island. Renting a car or scooter is also a popular option for those who wish to explore more of the area independently.
Lastly, hotel offerings in Ano Mera cater to a range of travelers' needs and budgets, from quaint bed and breakfasts to luxurious hotels, Ano Mera provides visitors with a different perspective on the island of Mykonos.
Best Hotels in Ano Mera, Mykonos
---
7. Paradise Beach: Great Location for Partying in Mykonos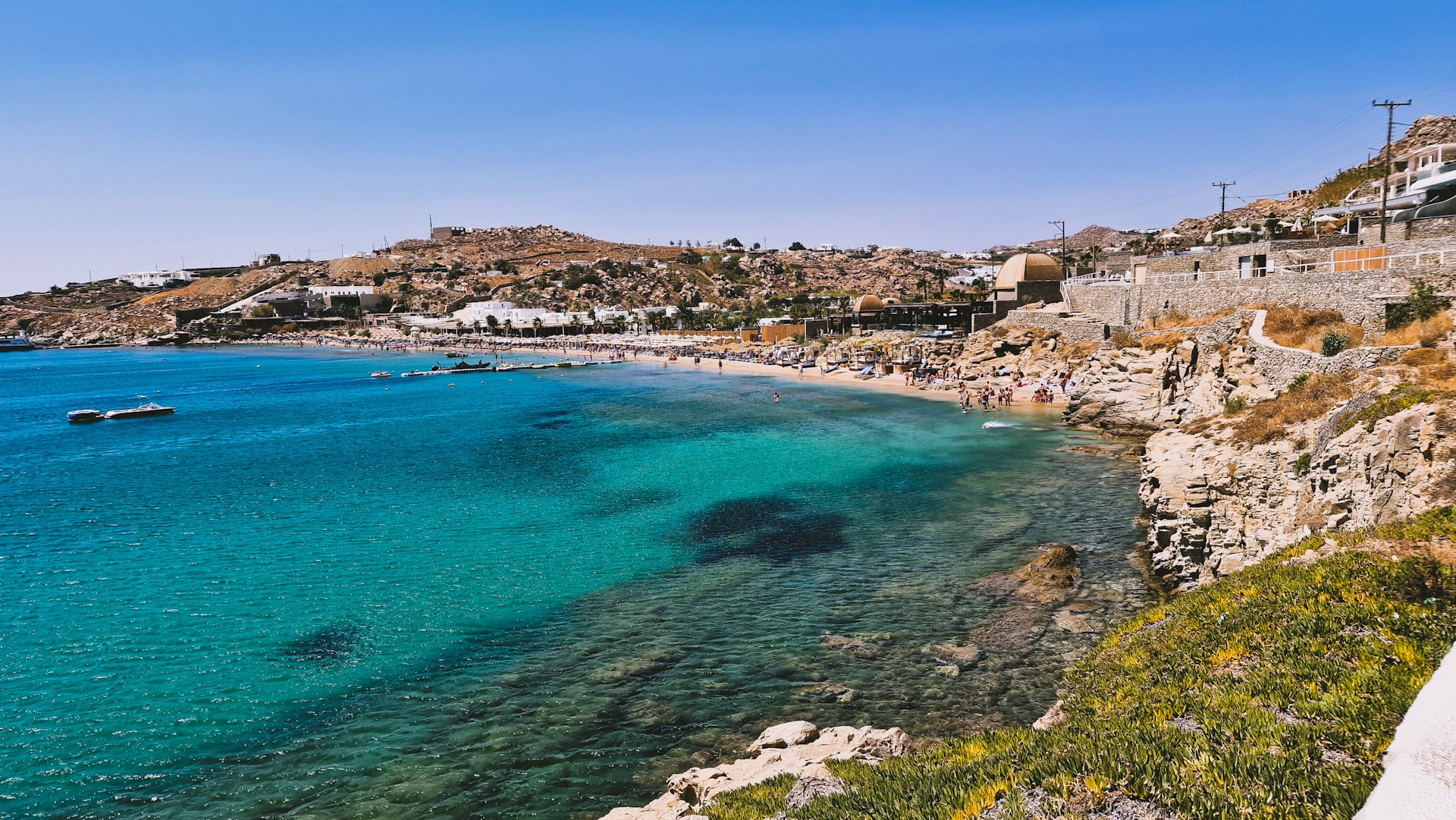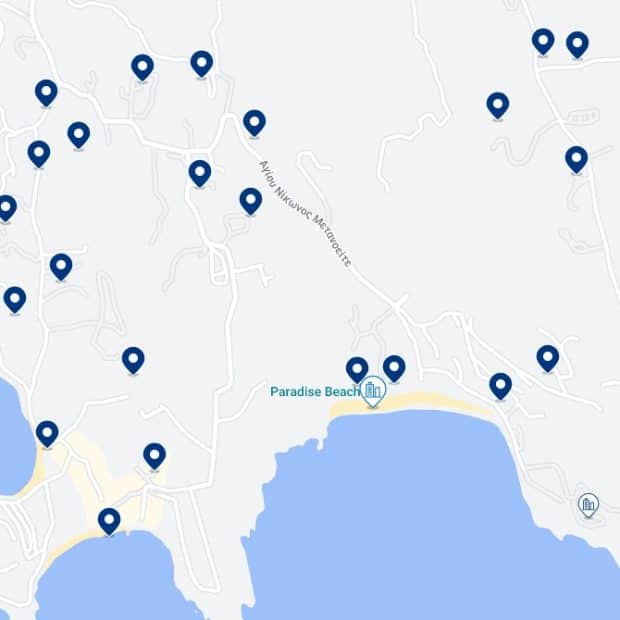 As its name suggests, Paradise Beach is home to one of the most iconic party beaches on the island. Perfect for those looking for non-stop entertainment and energy during their stay.
Why is this the best area to stay in Mykonos:

Best location for partying
Great selection of hotels and resorts
Beach clubs & restaurants
LGBTQ+ nightlife
Connected by buses
Paradise Beach, a popular destination in Mykonos, Greece, is located approximately 4 miles (6.4 km) southeast of Mykonos Town and 3 miles (4.8 km) from the airport. Known for its unique blend of natural beauty and vibrant nightlife, it has become a hub for tourists seeking both relaxation and entertainment.
Historically, Paradise Beach was a quiet haven only a select few visited. However, over the years, it has transformed into a renowned party destination that attracts people worldwide for its crystal-clear waters and golden sands. As times have changed, so too has the beach's atmosphere and demeanor.
One of the key attractions at Paradise Beach is its scenic landscape and coastal cliffs that offer spectacular views of the surrounding area. In addition to this natural beauty, many activities are available for visitors to enjoy during their stay – from water sports like jet skiing to lounging on sunbeds while soaking up the Greek sun.
Nightlife at Paradise Beach is infamous for its wild party scene; clubs such as Cavo Paradiso and Tropicana Club draw international DJs and partygoers alike. The energetic nightlife provides an upbeat atmosphere perfect for memorable nights with friends or other travelers.
Travelers can reach Paradise Beach by using one of several transportation options. Public buses are available for those who prefer to travel within a budget; however, taxis and private transfers offer a more convenient mode of transport. For those seeking an adventurous way to commute, rental scooters are also quite popular amongst visitors.
The surrounding area boasts numerous accommodation options, from luxurious hotels to budget-friendly resorts.
Best Hotels on Paradise Beach, Mykonos
---
8. Psarou: Most Exclusive Area to Stay in Mykonos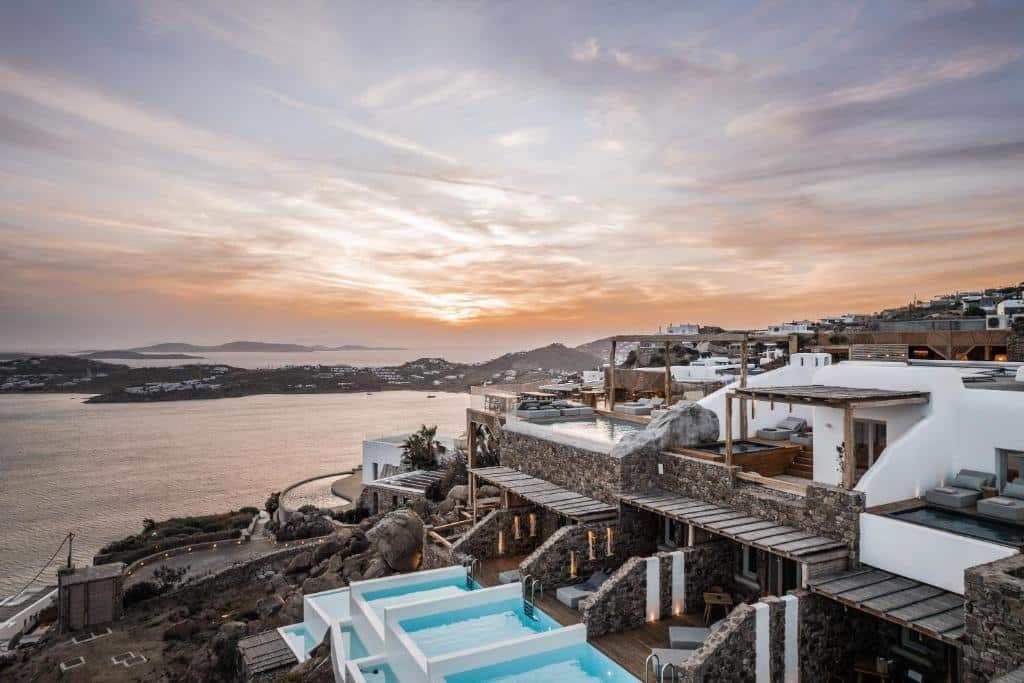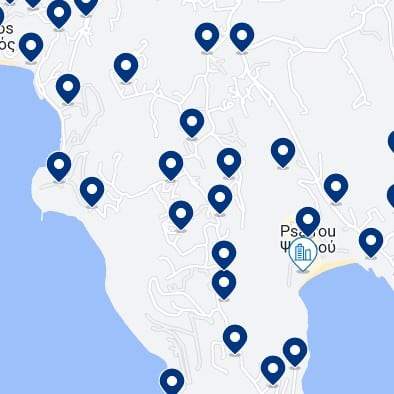 Frequented by celebrities, Psarrou offers exclusivity. Its world-renowned Nammos Beach Club guarantees fun-filled entertainment.
Psarou, sometimes transcripted as "Psarrou," is a small beach town situated 2.5 miles (4 kilometers) southeast of Mykonos Town and about 1.86 miles (3 kilometers) northeast of the Mykonos Island National Airport. It is well-known for its beautiful sandy beaches and crystal clear waters. The town has a lovely view and uber-exclusive atmosphere, making it unique among the many other towns on the island of Mykonos.
The main attraction in Psarou is Psarou Beach, which is popular among families, celebrities, and tourists alike. The beach offers many water sports and activities, such as windsurfing, snorkeling, and scuba diving, to enjoy during the day.
Psarou boasts a luxurious ambiance with high-end hotels, villas, and restaurants catering to an upscale clientele.
The general atmosphere of Psarou leans towards exclusivity with a touch of LGBTQ culture. It is not known for budget accommodations or family-friendly activities but instead draws those looking for indulgence in lavish surroundings.
When it comes to nightlife, Psarou doesn't disappoint either. The famous Nammos Beach Club located on Psarou Beach offers an exciting nightlife experience with lively music, delicious food, and a great party atmosphere that attracts fun-seekers from around the world.
While public buses connect Psarou to Mykonos Town, the most convenient way to explore the area is to rent private cars or scooters from rental agencies throughout the island.
Overall, Psarou charms visitors with its unique combination of scenic beauty, luxury accommodations, water sport activities, and vibrant nightlife, making it a sought-after area to stay in Mykonos.
Best Hotels in Psarrou, Mykonos
---
9. Platis Yialos: Great Area to Stay in Mykonos for Foodies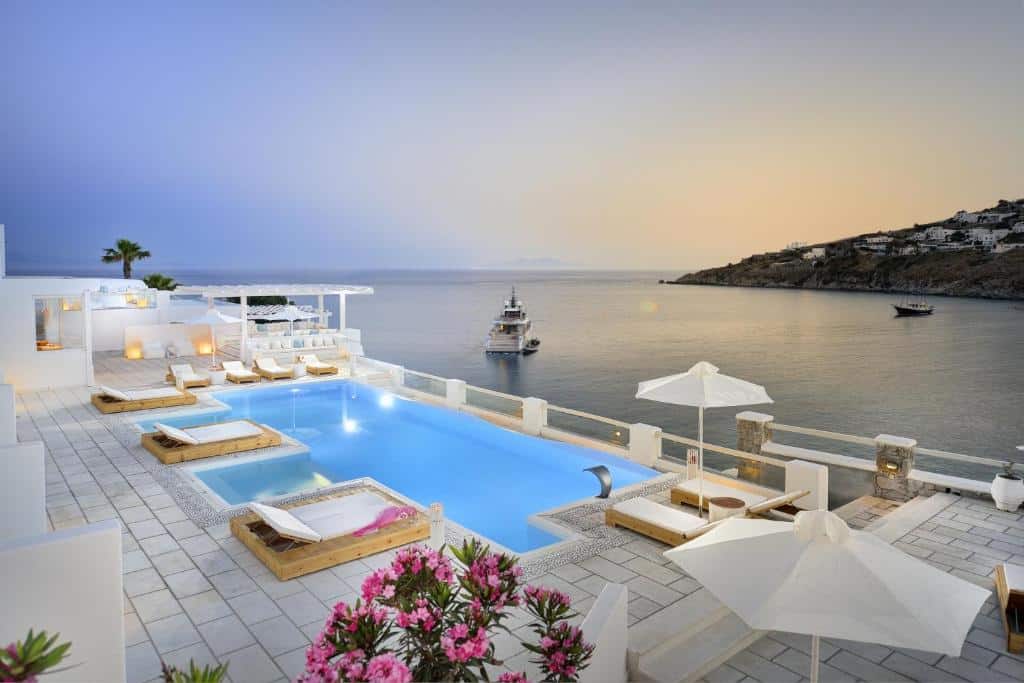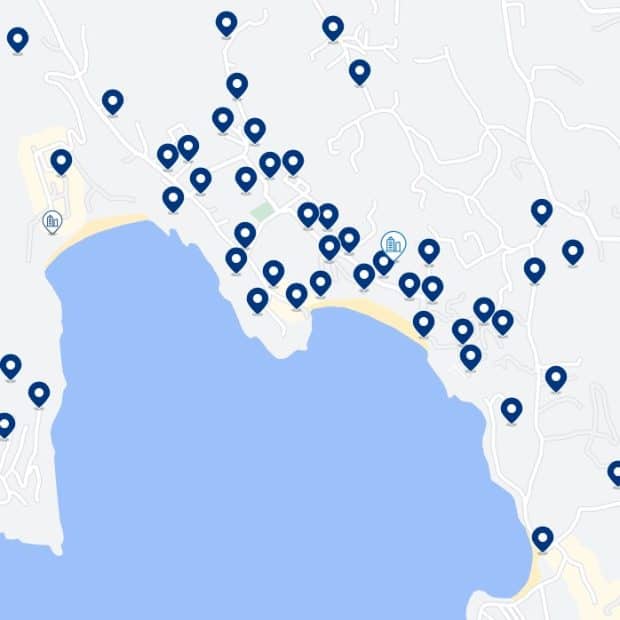 With easy access to other southern beaches, Platis Yialos offers an upbeat atmosphere filled with beach bars, lively nightclubs, and popular restaurants showcasing Greek cuisine.
Platis Yialos is a popular resort destination on the island of Mykonos. It is situated about 2.5 miles (4 km) south of Mykonos Town and approximately 1.9 miles (3 km) southeast of the airport.
The general atmosphere of Platis Yialos is both luxurious and family-friendly. Visitors can enjoy a variety of activities, such as water sports, sunbathing, or exploring the nearby hills and cliffs. The town offers a range of attractions, including its stunning sandy beaches, charming whitewashed buildings, and local tavernas serving traditional Greek cuisine.
Nightlife is an essential part of Platis Yialos' appeal. Several clubs in the area cater to different tastes.
Transportation options in Platis Yialos are varied and convenient for tourists. Some buses connect the area with Mykonos Town, and taxi services are available for those who prefer a more private mode of transportation. Additionally, those exploring other parts of Mykonos can rent cars or mopeds from local rental agencies.
In terms of accommodations, Platis Yialos boasts a wide array of hotels catering to different budgets and preferences. Visitors can choose from luxury resorts with top-notch amenities to more affordable hotels that still offer comfortable lodgings and services.
Overall, Platis Yialos provides a unique blend of luxury, family-friendly attractions, and vibrant nightlife, all within a short distance from Mykonos Town and the airport. Its stunning natural beauty, convenient transportation options, and varied hotel offerings make it a prime location to stay on the island of Mykonos.
Best Hotels in Platis Yialos, Mykonos
---
10. Kalafatis: Great Area to Stay for Families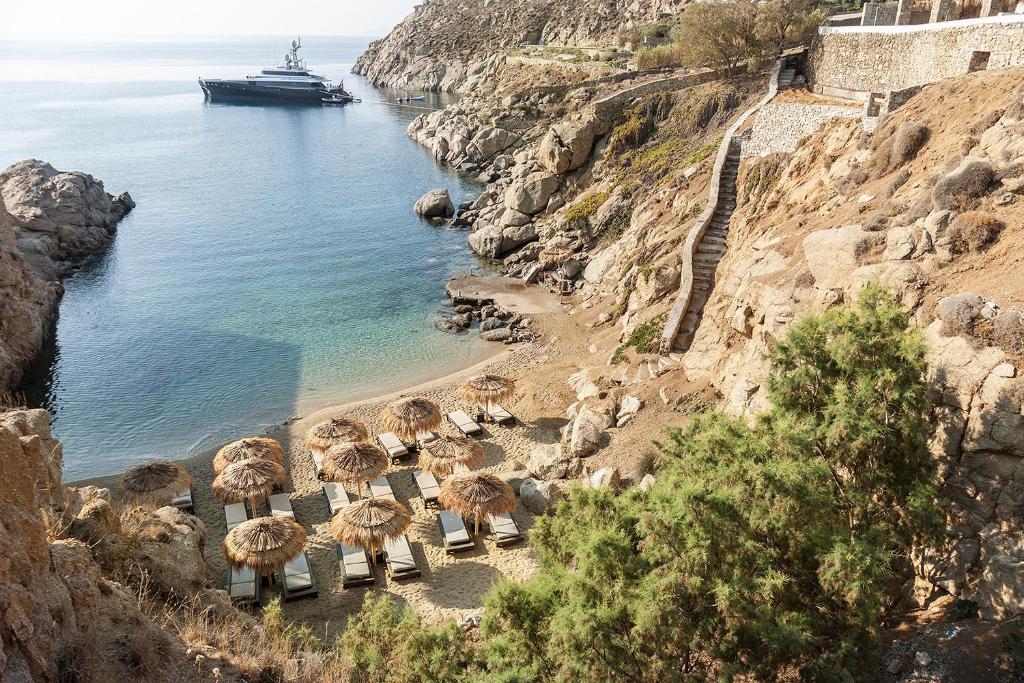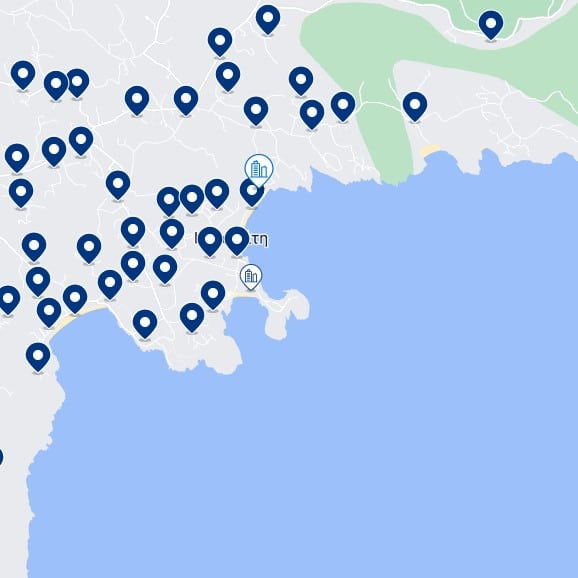 Ideal for outdoor enthusiasts, Kalafatis boasts two stunning beaches with a wide range of water sports activities. Enjoy windsurfing, kitesurfing, or simply relax in its laid-back atmosphere.
Kalafatis is a village on the southeastern coast of the Greek island of Mykonos. It is 8 miles (13 kilometers) from Mykonos Town and approximately 6.8 miles (11 kilometers) from the island's airport. The location offers a unique mix of natural beauty and activities to suit all visitors.
The main attraction of Kalafatis is its beautiful sandy beach, loved by families and water sports enthusiasts alike. Windsurfing, scuba diving, and other water-based activities are abundant. Additionally, the area is surrounded by walking trails and picturesque landscapes.
Kalafatis exudes a more laid-back vibe compared to the bustling atmosphere of Mykonos Town. Although not as luxurious as some other locations on the island, it caters to travelers seeking a peaceful and family-friendly environment.
Nightlife in Kalafatis consists of smaller bars and restaurants rather than large clubs or party venues. Bandanna Mykonos Bar is a popular spot for cocktails and live music.
Transportation options around Kalafatis are varied, with regular bus service connecting the village to Mykonos Town, for those who prefer more independence or exploring off-the-beaten-path destinations, renting a car or scooter might be more suitable.
The accommodation options in Kalafatis include hotels, guesthouses, and rental properties. While no major luxury hotels are in the immediate area, visitors can find comfortable lodgings catering to various budgets and tastes.
Best Hotels in Kalafatis
---
11. Tourlos: Best Area for Cruise Travelers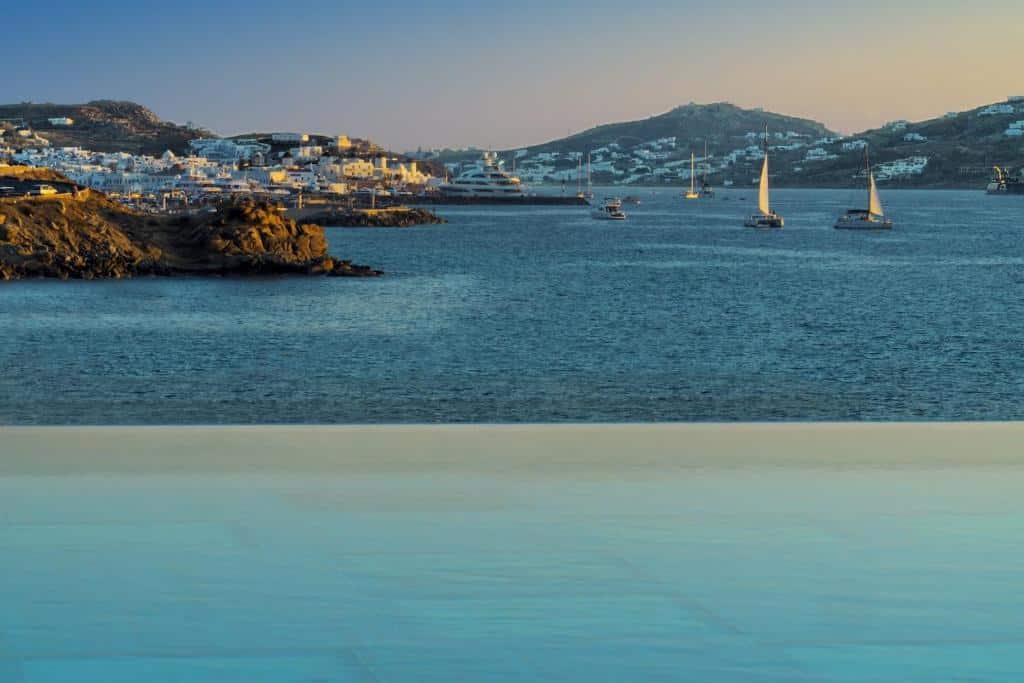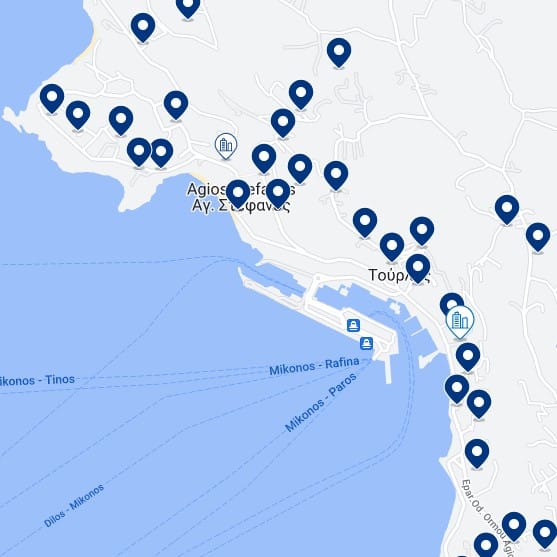 Located near Mykonos Town, upscale Tourlos attracts luxury-loving visitors. It showcases high-end accommodation options, panoramic views, and easy access to the town's famous attractions.
Tourlos is a small settlement located approximately 1.2 miles (2 kilometers) north of Mykonos Town and 2.5 miles (4 kilometers) southwest of Mykonos Island National Airport. Tourlos is easily accessible and has much to offer visitors.
One of the major features that set Tourlos apart from other locations on the island is its new and well-equipped marina, which hosts various yachts and boats. The marina's modern facilities and services make it a popular choice among seafaring visitors. Tourlos also boasts captivating sunset views that travelers along its shoreline can enjoy.
The general ambiance of Tourlos leans towards the luxury side, but it also offers facilities catering to budget-conscious travelers. This makes it an attractive destination for many visitors, including families.
Regarding attractions, travelers can explore the nearby area of Agios Stefanos. With its sandy beach and crystal-clear waters, this location makes for an enjoyable retreat from busier areas such as Mykonos Town. In addition, Tourlos is close to several archaeological sites, like the lighthouse Armenistis, located less than 3 miles away.
Nightlife in Tourlos has a more relaxed atmosphere compared to that of Mykonos Town but still caters to visitors with famous clubs such as the Ministry of Sound Cruise Club.
Transportation options are quite flexible in Tourlos, with car rental services available to easily explore surrounding areas like Ornos or Paradise Beach – or you can opt for utilizing local buses or taxis within the island network.
Regarding hotel offerings, Tourlos presents an array of accommodations to suit different preferences and budgets: everything from low-cost guest houses to luxurious hotels like Rhenia Hotel & Bungalows and Mykonos Palace. Visitors can choose what best suits their needs, ensuring a memorable stay.
Best Hotels in Tourlos
---
---