Nicknamed the "Live Music Capital of the World" and with an unofficial motto urging us to "keep it weird," Austin is the most exciting place in the Lone Star State and one of the most interesting cities in America. Located in central-east Texas, Austin is famous for its nightlife, food, and music scene, its many museums and attractions, its high-tech industry, and as a haven for liberal politics and progressive views in an otherwise conservative state. If you're traveling to the Texan capital and are in search of the best areas to stay in Austin, you have come to the right place!
Other than its status as a political and economic powerhouse, Austin has a broad range of tourist attractions and places of interest. From the imposing Texas Capitol to museums including the Blanton Museum of Art, The Contemporary Austin, and the Bullock Texas State History Museum, and hipster havens like East Austin and SoCo, Austin is one of the most visited tourist destinations in the southern United States. Despite being one of the fastest-growing cities in the country, it is very green too! Austinites are known for their love of the outdoors and the city offers many natural attractions like Zilker Park, McKinney Falls State Park, Lake Austin, and Lake Travis. When it comes to places to stay, Austin offers both a large selection of luxury and boutique hotels, as well as accommodation for all tastes and budgets.
It doesn't matter if it's your first time visiting Austin or if you just can't get enough of the weirdness, keep reading this article for more information about the best areas to stay in Austin, TX.
Accommodation Options in Austin
---
The Best Areas to Stay in Austin, TX: A Summary
If you're in a hurry, here is a very quick summary of our recommended areas to stay in Austin. Keep reading the article below to find out more info about each individual district.
---
What's the Best Area to Stay in Austin, TX?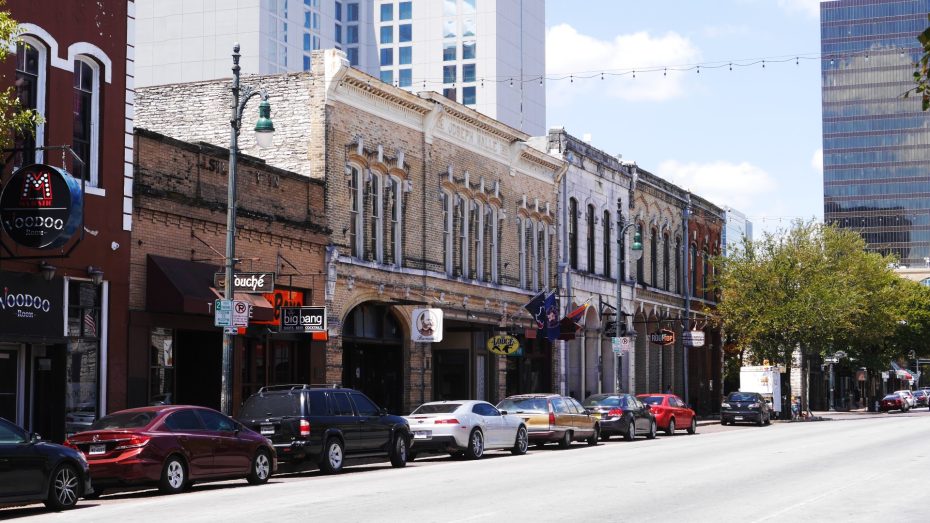 The best area to stay in Austin is the 6th Street District, especially if you're looking for live music, nightlife, and a cool bohemian vibe. This historic section of Downtown Austin is centrally-located, packed with attractions, and home to some of the best-rated hotels in the city.
Find Available Accommodation in the Sixth Street District.
Best Hotels in Austin's 6th Street Entertainment District
---
Where to Stay in Austin for Sightseeing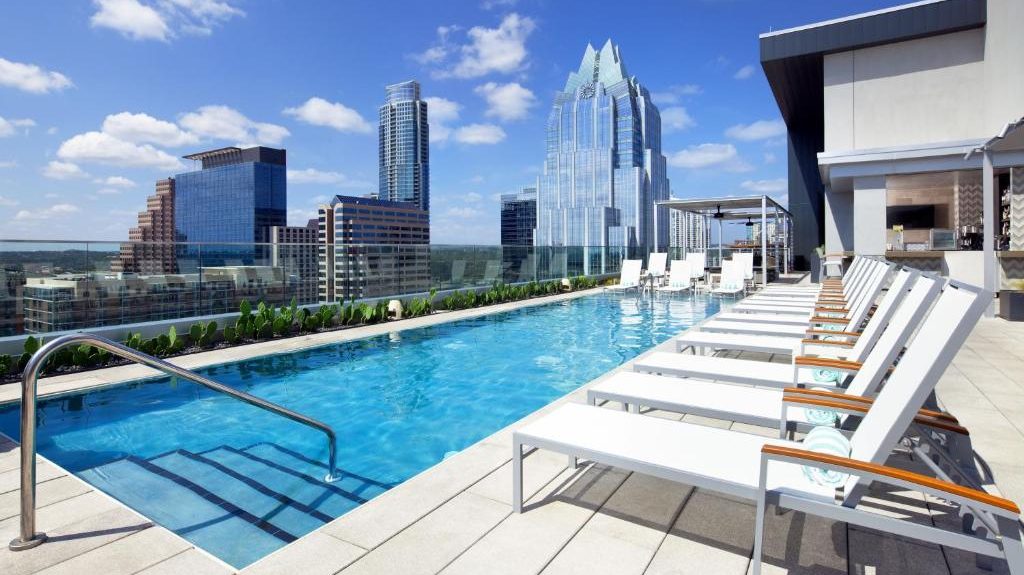 Most of Austin's tourist attractions are found in its centermost neighborhoods like Downtown, Central, South Central, and East Austin. That said, some attractions and most of the city's natural sights are actually around Austin. With that in mind, these are some of the most interesting districts for visitors:
---
The Best Areas for Tourists in Austin, Texas: District by District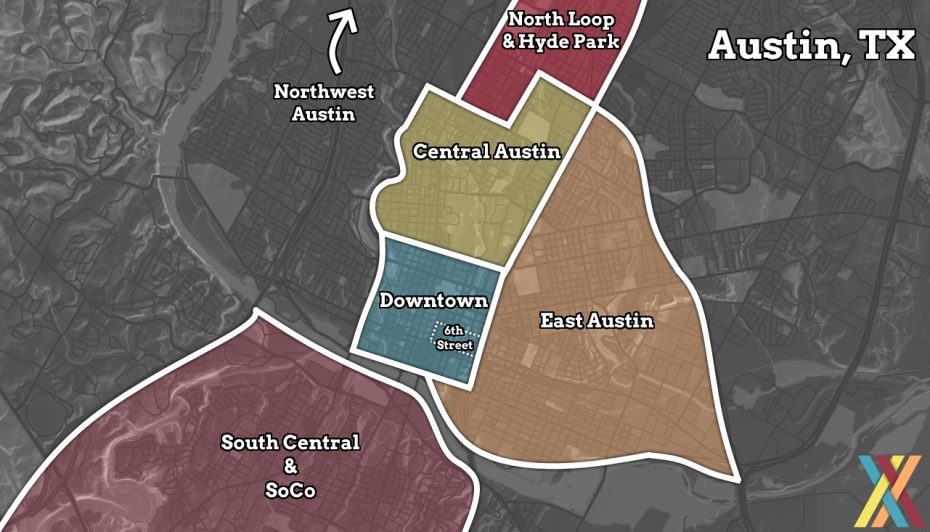 1. Sixth Street District: Best Location in Austin for Live Music & Nightlife
Located in Downtown Austin, the legendary 6th Street District is one of Austin's premier entertainment, nightlife & shopping destinations.
Why is this the best area to stay in Austin, TX:

Right downtown
Best area for nightlife and live music
Historic buildings
Best hotels in Austin
Pedestrian-friendly
While technically a part of Downtown Austin, the 6th Street District has a very unique character that makes it have its own entry on this list of the best neighborhoods to stay in Austin, Texas.
Occupying a 9 block section between Lavaca Street and Interstate 35, the Sixth District was first developed as a commercial district in the late 19th century and is home to an important collection of Victorian-era structures. By the 1970s, the area had become Austin's most important entertainment and nightlife district.
Today, the Sixth Street District is still a Mecca for live music, as such, is one of the most visited neighborhoods in the city of Austin. Most bars, nightclubs, theaters, and music venues on East 6th Street offer gigs on the weekends and at one time or another during the week.
Traffic is restricted on East 6th Street and most crossroads from Brazos Street to I-35 on weekend evenings or whenever there's a large event taking place, turning the district into a lively pedestrian area.
The 6th Street District is the best area to stay in Austin for those who visit the city for its impressive nightlife or for travelers who want to be right in the center of the action.
Best Hotels in Austin's 6th Street District
---
2. Downtown Austin: Best Location for Sightseeing & Business Travelers
Home to the Texas State Capitol, the Museum District and lively Congress Avenue, Downtown Austin is the place to be to be near everything.
Why is this the best area to stay in Austin, TX:

Central location
Best area for sightseeing
Best area for business travelers
Texas State Capitol
Museum District
Wide selection of hotels
Upscale restaurants and shopping options
Congress Avenue
Located on the north bank of the Colorado River, Downtown Austin's history is the history of the city itself. Acquired and settled in the 1830s as Waterloo, the town was renamed Austin and became the capital of the Republic of Texas in 1839. Austin's first city plan proposed a 14-block grid crossed by a grand avenue. Much of this original layout, called the "Waller Plan," is still intact today.
Downtown Austin is centered around Congress Avenue. The grand boulevard from the Waller Plan connects the Texas State Capitol Building in the north to South Austin through the Congress Avenue Bridge. Designed in the late 1800s in an Italian Renaissance revival style, the Capitol Building is the seat of the Texas Legislature and the Governor of Texas. The building was added to the National Register of Historic Places and has been declared a National Historic Landmark. Guided and self-guided tours of the grounds and building are allowed on a limited basis every day. North of the Capitol lies Austin's Museum District, home to the Bullock Texas State History Museum and the Blanton Museum of Art.
As we mentioned above, Congress Avenue splits downtown into two similar-sized areas; the eastern section hosts the Medical District, the aforementioned Sixth Street Entertainment District, and Waller Creek District, home to the Austin Convention Center. Meanwhile, the area east of Congress stands out for its shiny skyscrapers and high-rises, lovely squares, and shopping streets. Austin's main LGBTQ+ nightlife area can be found in the Warehouse District, mainly on W 4th Street between Republic Square and Congress Avenue.
Lady Bird Lake – Shoal Beach Metro Park, located where Shoal Creek meets the Colorado River, is a lovely city park with incredible skyline views.
As it couldn't be otherwise, Downtown Austin is the best-connected area in the city. Capital MetroRail's red line connects Downtown Austin with East Austin and the city's northern suburbs and most urban bus lines connect the city center with the outlying suburbs. Austin Amtrak station, located on W 3rd Street, is served twice daily by the Texas Eagle route between Los Angeles and Chicago. All and all, Downtown Austin is the best district for tourists traveling without a car. If you do have a car, most of the city's downtown hotels offer parking spaces.
Because Downtown Austin is the city's administrative, business, and tourist hub, the area is home to a wide selection of hotels and tourist apartments. While most accommodations are geared toward an upscale clientele, there are a few budget options available.
Best Hotels in Downtown Austin
---
3. East Austin: Coolest Area to Stay in Austin, TX
Located across Interstate 35 from Downtown, East Austin is the new creative and food hub of the Texan capital.
Why is this the best area to stay in Austin, TX:

Central location
Connected by public transportation
Hipster area
Great food trucks, restaurants and cafés
Art galleries and music venues
Cheaper than downtown
The area that we know as East Austin is made up of a collection of neighborhoods located east of Interstate 35.
Central East Austin, located northeast of Downtown has some local attractions including the Swedish Hill Historic District, the Victory Grill music venue, and the Southgate-Lewis House. To the south lies East Cesar Chavez, home to the eastward continuation of the 6th Street Entertainment District and, as such, one of the best areas in Austin for food, nightlife, and music. Other tourist attractions in this section of East Austin include the Willow–Spence Streets Historic District, Lady Bird Lake, and the Cristo Rey Catholic Church.
A few East Austin neighborhoods are among the oldest in the city. Mostly laid out in the late 1800s and early 1900s as working-class residential developments, East Austin used to be home to the city's European immigrant population, and, more importantly, to the Black American and Mexican minorities. The 1990s and early 2000s saw a big transformation in the district; new mixed-used development took place and entire blocks of vernacular Victorian homes gave way to modern condos and shopping malls. As a result, property prices went up, and large portions of the district were gentrified.
As a result, East Austin today displays a mix of new and old. Thrift stores, vintage shops, and new designer boutiques line its main streets, while funky bars, nightclubs, and cafés are constantly being opened everywhere. But the area's newly found hipster vocation is probably more obvious in its incredibly diverse food scene, where Tex-Mex food trucks, Cajun and BBQ places, French crêperies, Neapolitan-style pizzerias, and Southern restaurants come together to form an exciting flavor mosaic and foodie paradise.
East Austin's great location and the fact that it's connected to the city center via Capital MetroRail's Plaza Saltillo Station make it a great location for tourists in Austin. The district may not have the same amount of accommodations as downtown, but it does offer some superb boutique-style hotels and tourist apartments.
Best Hotels in East Austin
---
4. South Central Austin & SoCo: Best Location for Shopping
Austin's South Congress Shopping District has long being the place to go for vintage clothing. Today, SoCo is one of the city's most exciting commercial areas.
Why is this the best area to stay in Austin, TX:

Central location
Vintage and thrift stores
Hipster area
Cafés & Bakeries
Art galleries & nightlife
All kinds of hotels
As you have probably guessed, SoCo is an acronym for South Congress (Avenue).
This lively shopping district is located along the aforementioned thoroughfare, south of the Colorado River. While the name mainly applies to the section of South Congress Avenue in the Zilker and Travis Heights areas, this commercial avenue stretches for miles all the way to Southpark Meadows shopping center.
Decades before being designated as a shopping district or getting its cool acronym, South Congress had long been Austin's Mecca for retro clothing. Here, celebrities the likes of Bob Dylan have been rumored to shop for vintage outfits. Today, SoCo is one of the most famous hipster areas in the Texan Capital and is currently home to dozens of thrift stores, fashion boutiques, and second-hand clothing and furniture shops and markets. Its immense popularity has also fueled a small but mighty food and nightlife scene, with new restaurants, cafés, food trucks, and bars sprouting all over the area.
In addition to its commercial pull, South Austin is one of the greenest central districts in the city. It is home to beloved parks and gardens including Butler Metro Park, Zilker Park and Botanical Garden, the Umlauf Sculpture Garden & Museum, and the Barton Creek Greenbelt Trail. Congress Avenue Bridge and the Pfluger Pedestrian Bridge offer excellent views of the Colorado River and downtown Austin's skyline.
As is to be expected, South Austin is a haven for street art and alternative culture, home to famous graffiti pieces like the Greetings From Austin and Love from Austin murals and the Cathedral of Junk, a carefully-curated junk installation in the backyard of a small suburban house.
While South Austin is not connected by the city's light-rail system, several bus lines connect its main thoroughfares, including South Congress, South Lamar, and South 1st Street to the city center. Alternatively, the northernmost portion of SoCo is within walking distance of the many bridges over the Colorado River and parking is not a problem in most of the neighborhood.
When it comes to accommodation in South Austin, this area offers all kinds of hotels, as well as a few budget and luxury motels and an astonishing selection of tourist apartments and vacation homes to choose from.
Best Hotels in South Central Austin & SoCo
---
5. North Central Austin: Best Location for Families
Located north of Downtown Austin and home to the University of Texas, Central North Austin is a great area to stay for those looking for a relatively quiet area close to everything.
Why is this the best area to stay in Austin, TX:

Close to Downtown
University area
Budget restaurants and bars
Uiniversity of Texas & Museums
All kinds of hotels
Central Austin, also referred to as North Central Austin is the area located north of Martin Luther King Jr Boulevard, around the University of Texas campus.
This northward extension of downtown Austin includes several smaller neighborhoods like West Campus, Hancock, North University, and Heritage.
For obvious reasons, this Austin district is popular among university students and boasts student residences, cheap restaurants, live music venues, and thrift stores. Perhaps the liveliest portion of North Central Austin is around Guadalupe Street. Colloquially known as "The Drag," this student-oriented shopping and entertainment district is at the core of Austin's university experience, especially among UT students.
The University campus itself is home to quite a few attractions including the Blanton Museum of Art, the UT Tower, the Harry Ransom Center, and the nearby Bullock Texas State History Museum. Meanwhile, the Neill-Cochran House Museum offers a view into a mid-1800s historic home.
On its western edge, North Central Austin is bordered by the Shoal Creek Greenbelt, a multi-use 81-acre park with shady trails.
Central Austin is, as its name suggests, a very centrally-located and well-connected area to stay in Austin. This district is also home to a wide variety of hotels that tend to be cheaper than those in Downtown Austin.
Best Hotels in North Central Austin
---
6. North Loop: Cheapest Area to Stay in Austin
Another contender in the race for the most hipster neighborhood in Austin, North Loop is bustling, central and not as gentrified as SoCo or East Austin.
Why is this the best area to stay in Austin, TX:

Budget hotels and motels
Hipster area
Budget restaurants and bars
All kinds of hotels
One of the great things about Austin is its seemingly neverending amount of alternative neighborhoods. In fact, you may have noticed that most, if not all, of the other districts mentioned of this list of the best areas to stay in Austin qualify as what we consider a "hipster district" and, in true Austinite fashion, that is the case with North Loop.
Located some 5 miles north of Downtown Austin, the North Loop district, especially the area around N Loop Boulevard, is packed with second-hand shops, quirky cafés, record stores, and fashion boutiques. While that description sounds pretty similar to the things we have already said about East Austin and SoCo, North Loop is edgier and less gentrified than most of the other trendy hangouts in Austin.
Because it sits near the confluence of Interstate 35 and Highway 290, the North Loop is also home to a wide selection of 2 and 3-star chain hotels and a few motels, especially around Capital Plaza shopping center.
Best Hotels in North Loop
---
7. Northwest Austin: Best Location for Nature Lovers
One of the greenest districts in the Texan capital, Northwest Austin is famous for its parks, natural spaces, and shopping centers.
Why is this the best area to stay in Austin, TX:

Wide selection of hotels
The Arboretum and The Domain shopping centers
Natural areas and parks
Great area to stay if you have a car
Northwest Austin is especially known for being home to some of the main shopping centers in Texas including Domain Northside, an outdoor shopping plaza with a wide selection of fashion brands and dining options, and The Arboretum, a park-like outdoor mall.
Other than shopping, Northwest Austin is also one of the greenest neighborhoods in the city. Here you can find impressive natural spaces and parks including Walnut Creek Metropolitan Park, the Lower Bull Creek Greenbelt and Great Hills Neighborhood Park.
This quiet area of Austin is a great place to stay for a peaceful holiday and it's especially recommended if you have a car. Most hotels in this area are located around The Arboretum and along the main highways like the Mopac Expressway and the U.S. Route 183.
Best Hotels in Northwest Austin
---
Where to Stay in Austin: Useful Information
Austin is the capital of the state of Texas, one of the largest states in the United States, located in the south of the country, close to the border with Mexico.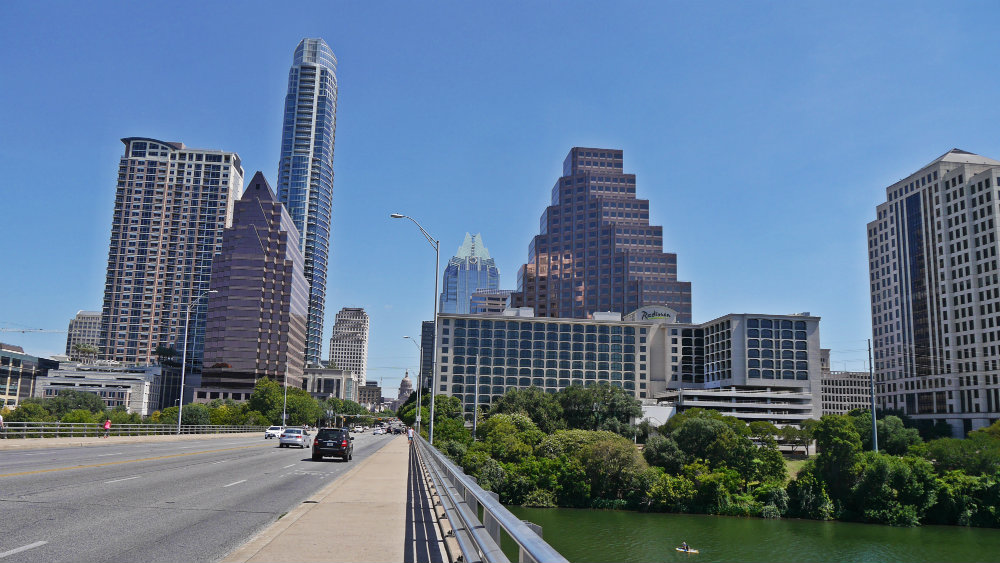 As for the best neighborhoods to stay in Austin, Downtown is probably the best area to stay in Austin, both for the proximity to the places of interest and for being the most convenient district for those traveling without a car. (See accommodation in Downtown Austin).
If you're looking for a more alternative scene, then the areas of South Congress or East Austin are the place to go (See accommodation near South Congress or in East Austin).
This is a list of the best areas to stay in Austin, Texas.
This Texan city is famous throughout the States for its legendary music scene, its thriving high-tech industry and, especially, for being one of the country's hipster hubs. Here, here, the alternative becomes mainstream and the unofficial slogan of the city reads "Keep Austin Weird".
Unlike other large American cities, Austin is a city of human dimensions, very walkable and friendly pedestrian-friendly.
The climate of Austin is hot and dry, with mild winters and extremely hot summers. The best time to visit the city is at the end of autumn or early spring when the temperatures still do not reach their high points.
Austin has an urban train that connects the city to the north and the northeast, but this metro system only has a couple of lines. This is one of the reasons why finding the best area to stay in Austin is so important.
---
Read this post in other languages