Attracting city breakers, sun-seekers, and party-goers alike, Miami is one of the most visited tourist destinations in America thanks to its subtropical climate, white sand beaches, and legendary nightlife. Fittingly described by Will Smith as a "salsa-merengue melting pot" in his 1998 hit track "Miami," this South Florida metropolis is soaked in Latin American flavor. Basking in the subtropical rays, enjoying the art deco buildings along Ocean Drive, and dancing the night away are just some of the activities this cosmopolitan city has in store for you. Welcome to Miami, Bienvenidos a Miami.
Miami is the largest and most populous city in Florida, as well as an important financial, transportation, and cultural center. Most of the city is built on the shores of Biscayne Bay and its barrier islands, the largest of which contains Miami Beach. The main tourist attractions in Miami include the Miami Art Deco District, the Vizcaya Museum & Gardens, the Pérez Art Museum, Wynwood Walls, and the Fairchild Tropical Botanic Garden. Nicknamed the "Cruise Capital of the World" and the "Gateway to Latin America," Miami receives millions of leisure and business travelers every year and is home to a large number of accommodations.
It doesn't matter if it's your first time visiting Miami or if you're a business traveler, keep reading this article to find out more about our top picks of the best areas to stay in Miami.
Something to keep in mind when deciding where to stay in Miami is that this city is actually a large metropolitan region; if you want to stay in the city center, you should look for hotels in Miami, but if you want to stay near the beach, then you need to search for hotels in Miami Beach. Confusing? Don't worry! In the following list of the top districts to stay in Miami, we will explain it to you in full detail.
Accommodation Options in Miami
---
---
What's the Best Area to Stay in Miami, FL?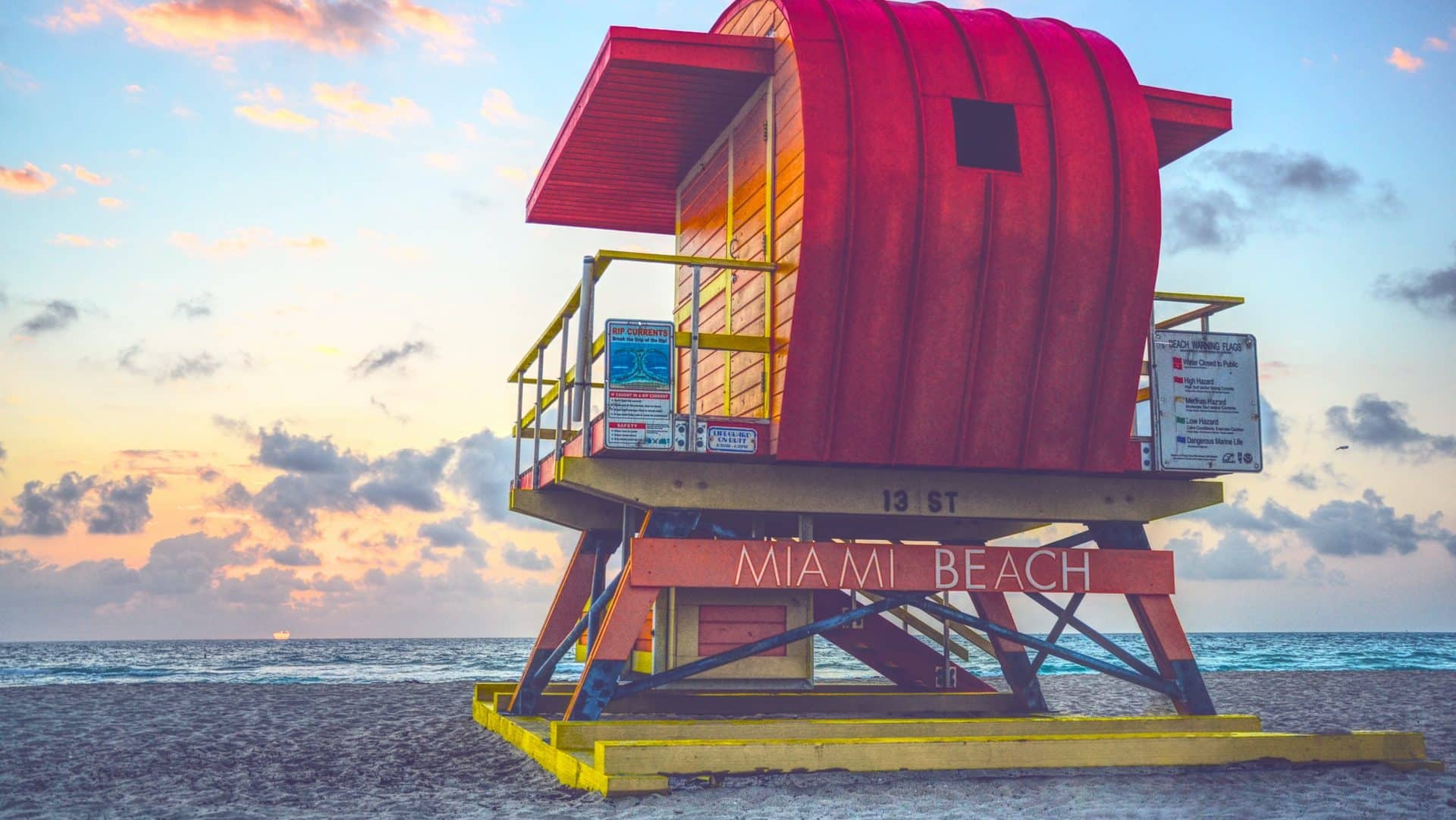 The best area to stay in Miami is Miami Beach, especially if you're looking for great nightlife, delicious food, and relaxing by the beach. This independent city, part of the Miami metropolitan area, is located on a long island across from downtown Miami and made up of different districts, each with its own flavor including lively South Beach, high-end Mid-Beach & laid-back North Beach.
Find Available Accommodation in Miami Beach.
Best Hotels in Miami Beach, FL
---
Where to Stay in Miami for Sightseeing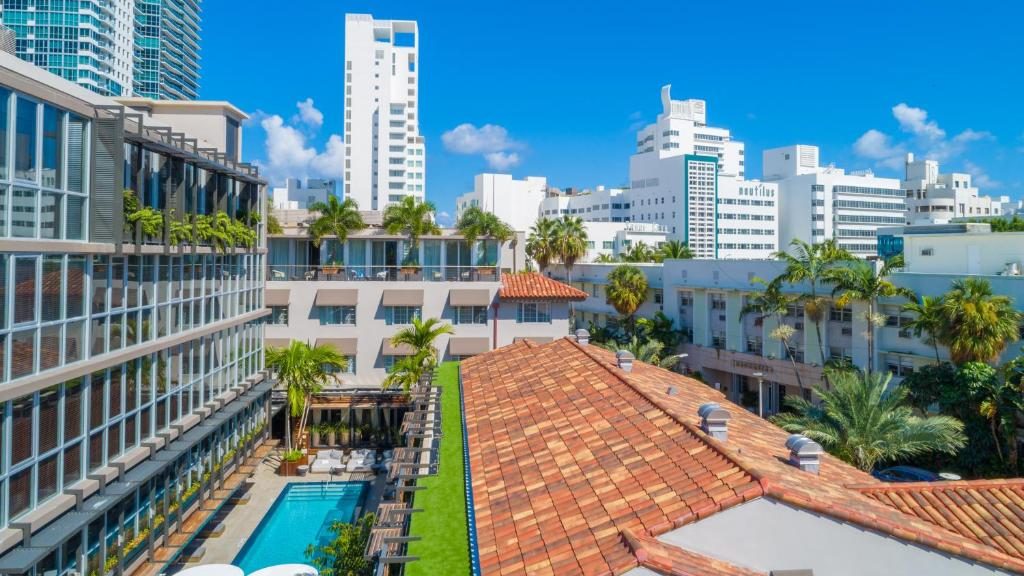 Miami's tourist attractions are spread out all over the city, so there's not a single district that we could classify as the definite area for sightseeing. In the end, the perfect location will depend on your tastes (and your budget). That said, these are some of the most interesting districts:
---
The Best Areas for Tourists in Miami: District by District
1. South Beach: Best Location for Sightseeing & Nightlife
South Beach is a lovely district full of Art Deco architecture, nightlife, restaurants and some of the best hotels in Southern Florida.
Why is this the best area to stay in Miami:

Miami Art Deco District
Nightlife district
Best area for LGBTQ+ travelers
Historic hotels
Upscale restaurants and shopping
Ocean Drive
Great beaches
Occupying the southern end of the city of Miami Beach, South Beach is one of Florida's top-rated entertainment and cultural districts.
South Beach is arguably the most historically interesting area in Miami. First developed as a resort town in the early 20th century, the area quickly became a popular spot among the rich and famous. Lavish houses, apartment buildings, hotels, casinos, and nightclubs sprouted along its main roads, shaping the area that we know nowadays as the Miami Beach Architectural District.
This section of South Beach, also known as the Miami Art Deco District, contains one of the largest concentrations of Art Nouveau, Art Deco, Streamline Moderne, and early avant-garde architecture in the world.
Today, this area is a major dining and entertainment destination, with hundreds of nightclubs, restaurants, boutiques, and hotels. Since the 1980s, South Beach has been Miami's gay village, with many nightlife venues and accommodations catering to the LGBTQ+ community.
South Beach is also home to (and named after) the most popular beach in Miami. Famous for its colorful and unique lifeguard stands, the beachfront area runs from 26th street south to the tip of the island.
South Beach is one of the few areas in Miami where you can get around without a car, especially if you don't plan to move around the city. This neighborhood is very pedestrian-friendly and many residents lead a car-free lifestyle. Public transportation, consisting mainly of bus and trolley routes, is the main means of transportation and Miami International Airport can be reached from several bus stops via the Airport-Beach Express (Metrobus line 150).
Most South Beach hotels are located in or near the entertainment district, between Ocean Drive and Washinton Avenue. This section of South Beach, where you'll find several historic Art Deco properties, is the liveliest and most convenient area to stay.
Best Hotels in South Beach
---
2. Downtown & Brickell: Best Location for Business Travelers & Visitors Without a Car
Towering over Biscayne Bay, Downtown Miami is an upbeat, attraction-packed district with glitzy hotels and skyscrapers.
Why is this the best area to stay in Miami:

Central Business District
Historical attractions
Very well-connected by public transportation
Upscale hotels
Luxury restaurants and shopping
Museums and cultural attractions
Near the cruise port
Greater Downtown Miami includes the Central Business and Historic, Brickell, Arts & Entertainment, and Park West districts, and is located on Biscayne Bay, across from the city of Miami Beach.
This historic, commercial, and financial area is crossed east to west by Flagler Street and north to south by Brickell Avenue and Biscayne Boulevard.
At its core, the Central Business District is a retail and office area home to the city's earliest commercial developments, as well as the primary campus of Miami-Dade College, and a few historical landmarks, mainly dating from the 1920s Florida land boom. Not far south, across the Miami River, lies the upscale Brickell district. Miami's "Millionaire's Row" since the early 20th century, Brickell is now a densely developed residential, commercial, and tourist area home to Florida's most prominent financial district and many luxury condominiums and apartment towers.
From a tourist's point of view, Downtown Miami is packed with attractions and things to see and do. Other than the Miami Historic District and its pioneer-era and Art Deco buildings, this area is home to landmarks such as the Liberty Tower, the Pérez Art Museum Miami, the Adrienne Arsht Center for the Performing Arts, the American Airlines Arena, and the Skyviews Miami Observation Wheel.
Greater Downtown Miami is also very close to PortMiami. Nicknamed the "cruise capital of the world", it is the busiest passenger port in the world. It handles all major cruise lines operating from the city, making this district the best area to stay in Miami if you're in the city for a cruise on the Caribbean. Downtown is easily accessible from the Port of Miami by car, bus, taxi, and shuttle services.
Contrary to most other Miami neighborhoods, public transportation in the Downtown/Brickell area is well-developed and consists of the Metromover (a light-rail system with 3 lines and 22 stations throughout Downtown), a Metrorail station at Brickell, and dozens of bus stops scattered throughout the area. The Metromover is free and stations can be found every two blocks.
When it comes to accommodation, Greater Downtown Miami is in no shortage of luxury hotels. This central district offers a broad selection of business-oriented properties from renowned American and international chains, as well as a healthy amount of upscale apartments.
Best Hotels in Downtown Miami
---
3. Coconut Grove: Upmarket & Vibrant Area to Stay in Miami
Home to Vizcaya Museum & Gardens and CocoWalk, Coconut Grove is one of the best areas to stay in Miami.
Why is this the best area to stay in Miami:

Vizcaya Museum & Gardens
CocoWalk Shopping Center
Upscale accommodation
Great nightlife and food scene
Directly south of downtown Miami lies Coconut Grove, an upscale residential and commercial area filled with boutique shops, eclectic restaurants, and art galleries.
Known locally as "The Grove," Coconut Grove was one of the first places of European establishment in the region and remained an independent city until 1925.
Coconut Grove's main tourist attraction, the Vizcaya Museum & Gardens, is the former villa and estate of businessman James Deering. Built in a Mediterranean Revival style, this grand mansion and its Italian Reinassance gardens, are open to the public. Another important sight in Coconut Grove is CocoWalk, a multi-level shopping and entertainment complex with boutiques, restaurants, and nightlife venues popular among locals and tourists alike.
This lively Miami district is well-connected by the city's public transportation network thanks to the Vizcaya Metrorail station and many Metrobus stops.
Together with the nearby Coral Gables district, the Grove is one of the most exclusive neighborhoods in Miami. Accordingly, the area is known for its upscale hotels, many of which feature lavish spas and pool areas.
Best Hotels in Coconut Grove
---
4. Coral Gables: Most Exclusive Location in Miami
One of the most exclusive neighborhoods in Miami, Coral Gables is perfect for those looking for a peaceful holiday.
Why is this the best area to stay in Miami:

Exclusive hotels
Impressive architecture & historical landmarks
Upscale shopping centers and nightlife
Realitvely central location
Officially an independent city in the Miami metropolitan area, Coral Gables was one of the first planned communities in Florida.
Designed following a Mediterranean (predominantly Spanish) theme, Coral Gables is regarded as an exclusive district and many of its founding structures from the 1920s have been preserved thanks to its strict historic conservation rules.
Located only four miles from Miami International Airport, Coral Gables is home to important local attractions including the Venetian Pools, The Puerta del Sol Entrance, and The Biltmore Hotel.
As is to be expected, the accommodation offered in this upscale residential area is mostly made up of luxury properties, five-star hotels, and high-end resorts. That said, there are a handful of modest options.
Best Hotels in Coral Gables
---
5. Design District: Best Location for Shopping in Miami
The Design District is a shopping, dining and cultural destination north of downtown Miami.
Why is this the best area to stay in Miami:

Very central location
Best area for shopping
Connected by public transportation
Upscale hotels
Luxury restaurants
Museums and galleries
The Miami Design District is a relatively recently created neighborhood dedicated to innovative fashion, design, architecture, and food.
This area, historically a part of Buena Vista, is located north of downtown, in Midtown Miami, and has become a vibrant destination for residents and visitors, offering some of the best shopping and culinary experiences in Miami within an architecturally stunning setting. The Miami Design District embodies a unique dedication to design, fashion, art and architecture, and a commitment to foster a creative hub in the heart of the city.
High-end fashion brands, including Dior, Balenciaga, Celine, Christian Louboutin, Prada, Hermes, and Louis Vuitton, as well as restaurants from award-winning chefs are located in the Design District. From a cultural perspective, the area is also home to museums and galleries like the Institute for Contemporary Art and the De la Cruz Collection of Contemporary Art.
Public transportation in the Miami Design District includes Metrobus stops throughout the area, as well as trolley and Metrorail stations in the adjoining Allapattah district, less than a mile away.
Best Hotels in the Design District
---
6. Little Havana: Miami's Cuban District
Famous for its Latin American flavor, Little Havana is a great location for tourists in Miami.
The Latin heart of Miami beats in this corner near the city center. Spanish is the most spoken language in this lively area.
Little Havana, also known as Pequeña Habana is home to thousands of Cuban immigrants, mostly exiled from the Castro regime, who have settled in Miami since the late 1950s to our days. With a distinctively Cuban character, the famous Calle Ocho offers excellent Latin American food, music, salsa bars, and an atmosphere more typical of a city on a Caribbean island than an American city. Little Havana is the best place to eat "ropa vieja" or drink sugarcane guarapo.
Best Hotels in Little Havana
---
7. Mid-Beach: Great Location for the Beach & Senior Tourists
Located north of South Beach, Mid-Beach is a laid-back area packed with resorts and beachside hotels.
Mid-Beach is a district in Miami Beach. It occupies the central portion of the island north of South Beach and encompasses the Oceanfront, Bayshore, and Nautilus neighborhoods.
The main street of Mid-Beach is 41st Street, also known for being the epicenter of the Jewish community in Miami.
Mid-Beach is also home to the historic Collins Waterfront Architectural District, which includes many structures built in from the late 1940s to the 1960s in a variety of styles including Streamline Moderne, Art Deco, Mediterranean Revival, and the local Miami Modern.
While not as vibrant as South Beach, this portion of Miami Beach is home to a wide range of hotels and resorts.
Best Hotels in Mid-Beach
---
8. Around Miami International Airport (MIA)
Miami International Airport (MIA), with over 1,000 daily flights to 167 domestic and international destinations, including every country in Latin America, is one of the busiest airports in the United States.
While not as exciting as the central districts listed above, staying near the airport is especially convenient for passengers on a layover and those visiting the city to hop take a cruise.
Hotels in the airport area usually offer shuttle services and tend to have cheaper rates than those in the city center.
Best Airport Hotels in Miami
---
How to Find Cheap Accommodation in Miami
With regards to accommodation, the Miami area has it all. From super-luxury hotels where you could well be sharing a floor with J Lo to small budget motels and boutique-style establishments in Art Deco buildings.
The cost of accommodation in Miami is quite high, quite comparable to those of New York or San Francisco. That said, Miami's hotels tend to have a higher standard than that of its cousins to the north.
If you want to find cheap accommodation in Miami, the cheapest area to stay is on the outskirts of the city. Places like Hialeah or Doral; which are, in fact, independent cities in the Miami Metro Area, offer cheap hotels as well as the usual American motel chains.
Here you will find a full list of all accommodation in the Miami Metro Area ordered by price.
If you decide to stay in some of the cheap areas to stay in Miami, you will most likely need to rent a vehicle, as public transportation is not this city's forte. You can rent a cheap car here.
Where to Stay in Miami: Useful Information
Miami is unofficially considered the "capital of Latin America", with an important Spanish-speaking community, especially of Cuban and Caribbean descent.
Miami has a ton of things to see and do. The climate is hot and humid, the night scene is unrivaled, the Latin flavor is everywhere, and the city is surrounded by spectacular beaches and the Everglades National Park a stone's throw away, so it's no wonder that Miami is one of the favorite tourist destinations in the United States.
Keep in mind that Miami is a tourist destination all year round, so rates remain relatively stable. If you can, avoid dates close to Christmas, Spring Break, or any major sporting events or concerts in the city.
---
Read this post in other languages: