Where to Stay in Miami: What You Need to Know
Miami, the largest city in Florida is one of the most vibrant and multicultural cities in the United States.

Located in the southeast corner of the country and bathed by the Caribbean Sea, Miami originated as a citrus plantation to become a true Pan-American mosaic.
Something to keep in mind when deciding the best area to stay in Miami, is that this city is actually a conurbation of cities.
So if you want to stay in the city center, you should look for hotels in Miami, but if you wish to stay near the beach, then you need to search for hotels in Miami Beach.
Confusing? Don't worry! In the following list with the best areas to stay in Miami we will explain it to you in full detail.
Best Areas to Stay in Miami: A Summary
If you don't have the time or the patience to read the full article, here you have a summary of our recommended areas to stay in Miami.
Read on to discover more information about each of the neighborhoods.
Experiences in Miami
Best areas to stay in Miami
1. South Beach
Officially, the South Beach area is not a part of Miami, but of the (independent) city of Miami Beach.
However, this is definitely the best area to stay in Miami because of its architectural attractions, beaches and nightlife.
South Beach is probably the most interesting area from a historical point of view; here you can find the Miami Beach Architectural District, also known as the Art Deco District, an architectural area included in the US National Register of Historic Places containing one of the largest concentrations of art nouveau, art deco and early avant-garde architecture in the world.
With Ocean Drive as its main thoroughfare, this colorful district houses hotels, bars, restaurants and attractions such as the home of the late Italian designer Gianni Versace.
South Beach is also the area where you can find some of the most famous beaches in town.
Hand-picked hotels in South Beach
---
2. Downtown Miami
Downtown Miami is the true heart of the city.
It is a bustling and vibrant area, with a serious business district feel to it. This is where the glitzy skyscrapers, international chain hotels and luxury restaurants are located.
It is the best area to stay in Miami if you're in the city for a cruise on the Caribbean, as the Miami Cruise Port is very close to this area.
Other attractions in Downtown Miami include the Freedom Tower and American Airlines Arena, the city's premier concert and entertainment venue.
Downtown Miami is connected by the Metromover, a system of automatic elevated trains that run around the financial district and connects with the city's MetroRail system.
Hand-picked hotels in Downtown Miami
---
3. Coconut Grove
Just south of Downtown Miami and the beaches we find Coconut Grove, with its boutique shops, eclectic restaurants and art galleries.
Coconut Grove is one of the first places of European establishment in the Miami region.
This lively area features "CocoWalk", a huge multi-level shopping and entertainment complex with shops, restaurants and plenty of nightlife. It is a popular area for locals and tourists alike.
Here you will also find the Vizcaya Museum and Gardens; a house-museum dating back to the early twentieth century, originally built as a winter residence for James Deering, it features a typically Mediterranean style.
It is one of the most luxurious and sought-after areas of the city; there is no space for cheap accommodation here. Most hotels in the area have a pool and a spa.
Hand-picked hotels in Coconut Grove
---
4. Design District
The Miami Design District is a neighborhood dedicated to innovative fashion, design, architecture and gastronomic experiences.
This area, located in the northeastern part of downtown Miami (Miami Midtown), has become a vibrant destination for residents and visitors, encompassing the best shopping, culinary and culinary experiences within an architecturally significant context.
The Miami Design District embodies a unique dedication to the unity of design, fashion, art and architecture, and a commitment to foster a neighborhood of creative experiences.
It is, therefore, a luxury area in which some of the most important brands in the world meet and where high-end shopping is a lifestyle.
The Design District is a must for visitors interested in the world of fashion.
Hand-picked hotels in Design District Miami
---
5. Little Havana (Pequeña Habana)
The Latin heart of Miami beats in this corner near the city center. Spanish is the most spoken language in this area.
Little Havana or Pequeña Habana is home to thousands of Cuban immigrants, mostly exiled from the Castro regime, who settled in Miami from the late 1950s to the present day.
With a distinctively Cuban character, the famous Calle Ocho offers excellent Latin food, music, salsa bars and an atmosphere more typical of a city on a Caribbean island than an American city.
Little Havana is the best place to eat "ropa vieja" or drink sugarcane guarapo.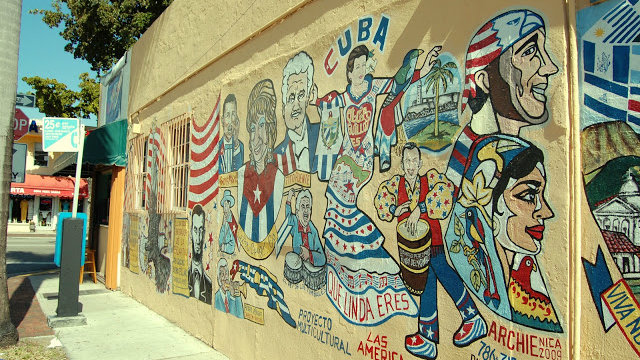 What makes this a great area to stay in Miami, Florida
Latin atmosphere
Cuban and Central American food
Salsa bars
Latin clubs
Relatively central
Hand-picked hotels in Little Havana
---
6. Around Miami International Airport (MIA)
Miami International Airport (MIA) now offers more flights to Latin America and the Caribbean than any other airport in the United States, it is the second most active international airport in the country, has more than 100 airlines and is the main airport in America for international transport.
With these superlative feats, it is expected that many travelers will find the best area to stay in Miami is around Miami International Airport, especially during a stopover or for passengers connecting their flight with a cruise or vice versa.
Hotels in the airport area usually have a shuttle service and tend to have cheaper rates than those in the city center.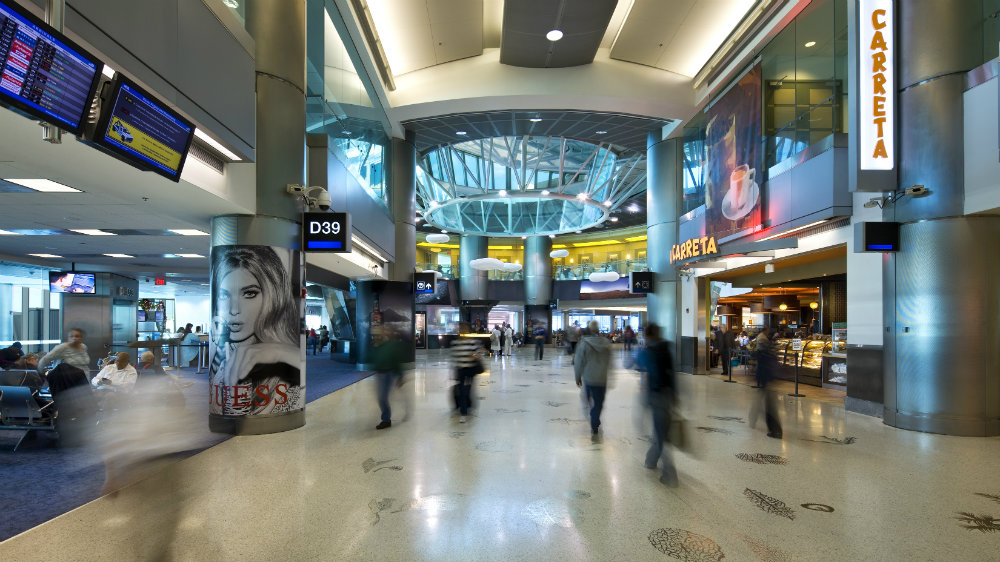 What makes this a great area to stay in Miami, FL
Near the airport
Best area for passengers in transit
Cheap hotels
Hand-picked hotels around Miami International Airport
---
Cheap accommodation in Miami
With regards to accommodation, the Miami area has it all. From super-luxury hotels where you could well be sharing a floor with J Lo to small budget motels and boutique-style establishments in Art Deco buildings.
The cost of accommodation in Miami is quite high, quite comparable to those of New York or San Francisco. That said, Miami's hotels tend to have a higher standard than that of its cousins to the north.
If you want to find cheap accommodation in Miami, the cheapest area to stay is on the outskirts of the city. Places like Hialeah or Doral; which are, in fact, independent cities in the Miami Metro Area, offer cheap hotels as well as the usual American motel chains.
Here you will find a full list of all accommodation in the Miami Metro Area ordered by price.
If you decide to stay in some of the cheap areas to stay in Miami, you will most likely need to rent a vehicle, as public transportation is not this city's forte. You can rent a cheap car here.
Where to Stay in Miami: Useful Information
Miami is unofficially considered the "capital of Latin America", with an important Spanish-speaking community, especially of Cuban and Caribbean descent.
Miami has a ton of things to see and do. The climate is hot and humid, the night scene is unrivaled, the Latin flavor is everywhere, and the city is surrounded by spectacular beaches and the Everglades National Park a stone's throw away, so it's no wonder that Miami is one of the favorite tourist destinations in the United States.
Keep in mind that Miami is a tourist destination all year round, so rates remain relatively stable. If you can, avoid dates close to Christmas, Spring Break or any major sporting events or concerts in the city.
---
Read this post in other languages
|ES|Dónde dormir en Miami – Mejores zonas y hoteles.
|IT|Dove alloggiare a Miami – Le migliori zone e hotel.