Known as the "City of Roses" due to its abundance of rose gardens, Portland is one of the hidden gems in the Pacific Northwest region. Packing the punch of a city many times larger, Portland offers everything from a thriving food and drink scene to diverse outdoor recreation opportunities and rich history. If you're looking for the best areas to stay in Portland, Oregon, you've come to the right place!
The Oregonian metropolis is a truly unique and fascinating destination. Known for its hipster culture and open-minded attitude, Portland is the place to go for locally brewed craft beer, artisanal coffee, or farm-to-table cuisine. Portland also boasts a thriving arts and music scene, with many galleries, live music venues, and independent theaters. Some of its main tourist attractions include Powell's City of Books, the Lan Su Chinese Garden, Pittock Mansion, and the Rose and Japanese Gardens in Washington Park. Thanks to its status as Oregon's most visited travel destination, Portland is home to a wide selection of places to stay; from luxurious hotels in its central area to unassuming motels and budget properties, you'll find accommodation to suit your needs.
Whether you're visiting Portland for a cultural trip or business, keep reading this article to learn more about the best places to stay in Portland, Oregon.
---
Accommodation Options in Portland
---
The Best Areas to Stay in Portland : A Summary
If you don't have the time to read the full article, here's a summary of our best areas to stay in Portland. Keep on reading to find out more information about each of these areas.
---
What's the Best Area to Stay in Portland, Oregon?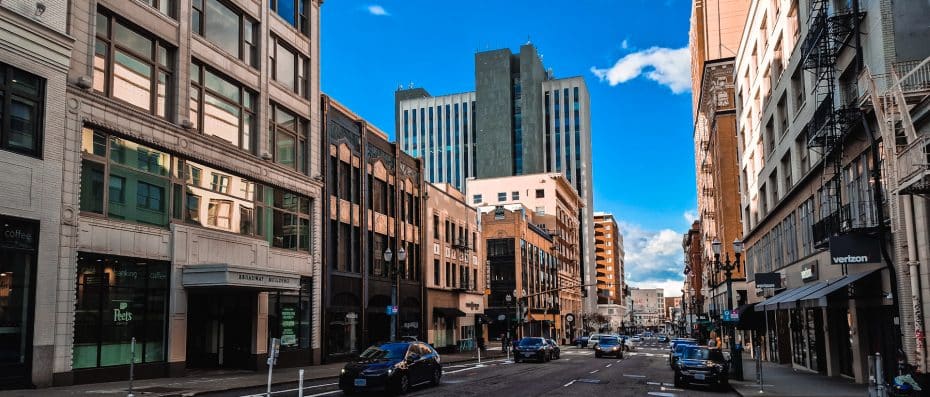 The best area to stay in Portland is Downtown Portland, especially if it's your first time visiting the city. This historic district offers easy access to the city's main attractions and museums, including Pioneer Square, the Portland Art Museum, and the Arlene Schnitzer Concert Hall. This Portland area is also home to some of the best-rated hotels in town.
Find available accommodation in Downtown Portland.
Best Hotels in Downtown Portland, Oregon
---
Where to Stay in Portland for Sightseeing, Nightlife & Business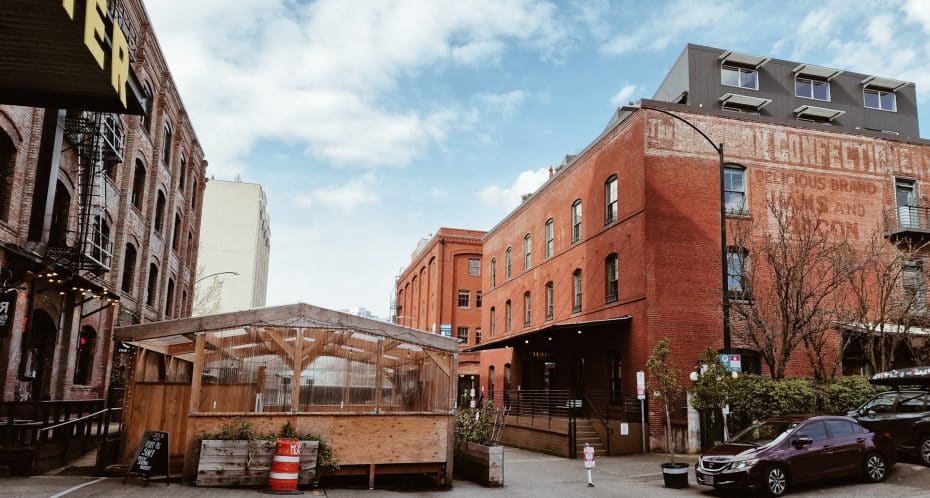 While Downtown is the best location for tourists in Portland, this upscale and attraction-packed area is not the only option around. Other areas can be just as fun and convenient depending on your interests. These are some recommended areas in Portland for tourists:
---
Portland Accommodation Map
---
The Best Areas for Tourists in Portland, OR: District by District
1. Downtown Portland: Best Location for First-Time Travelers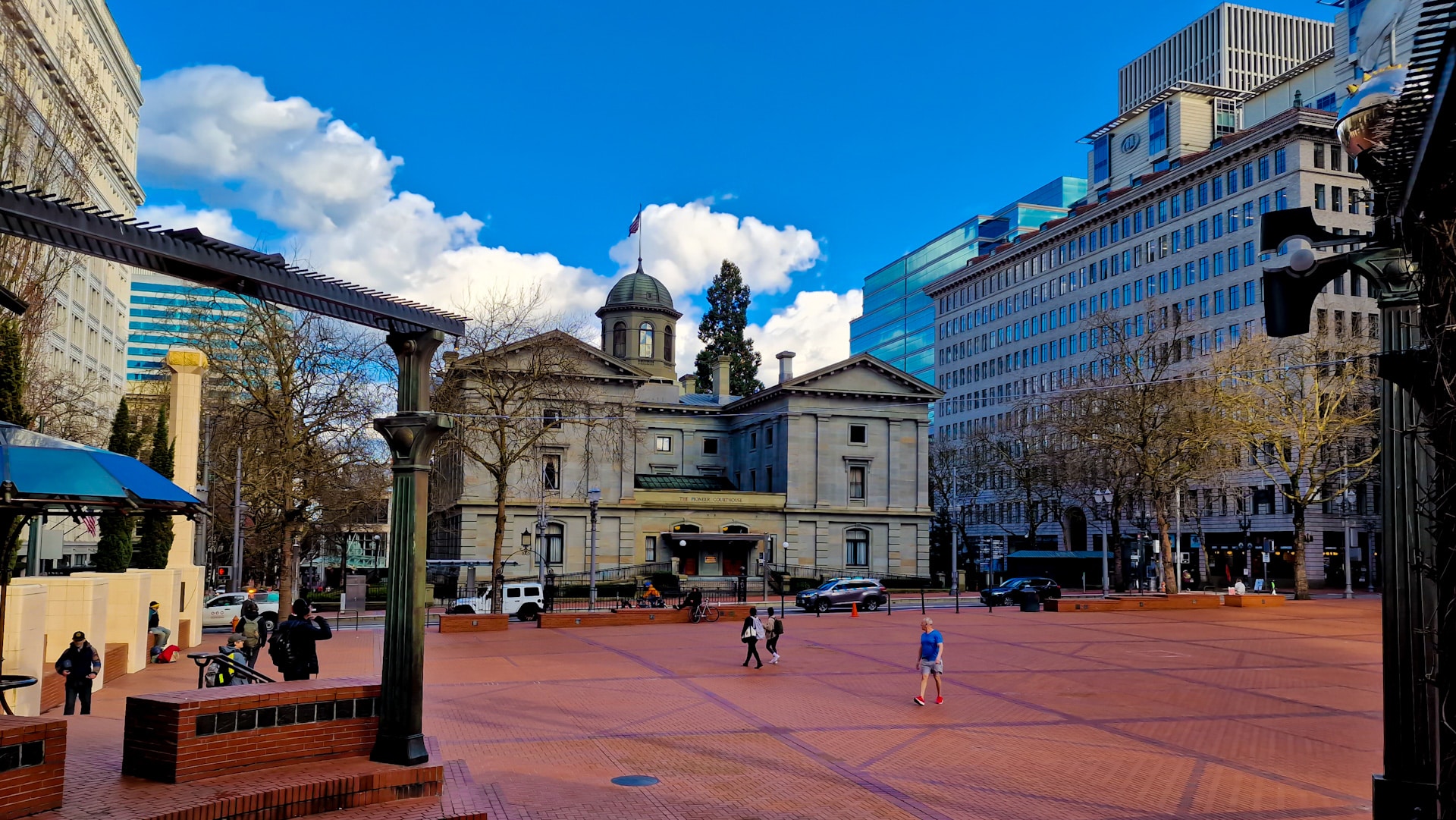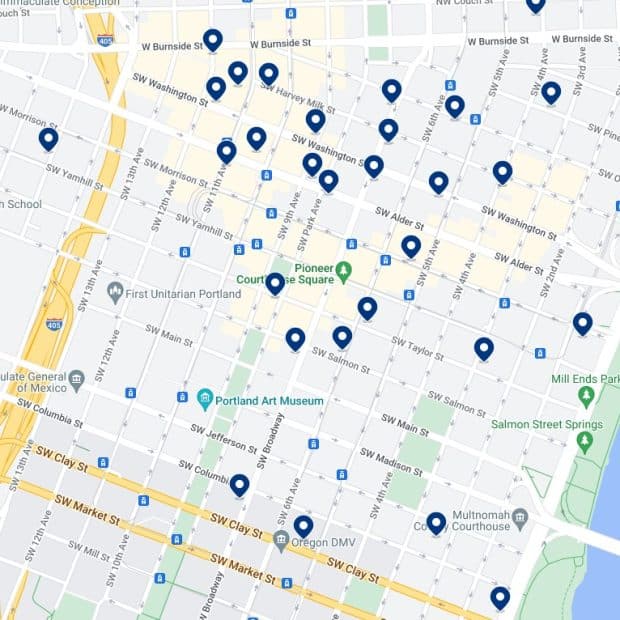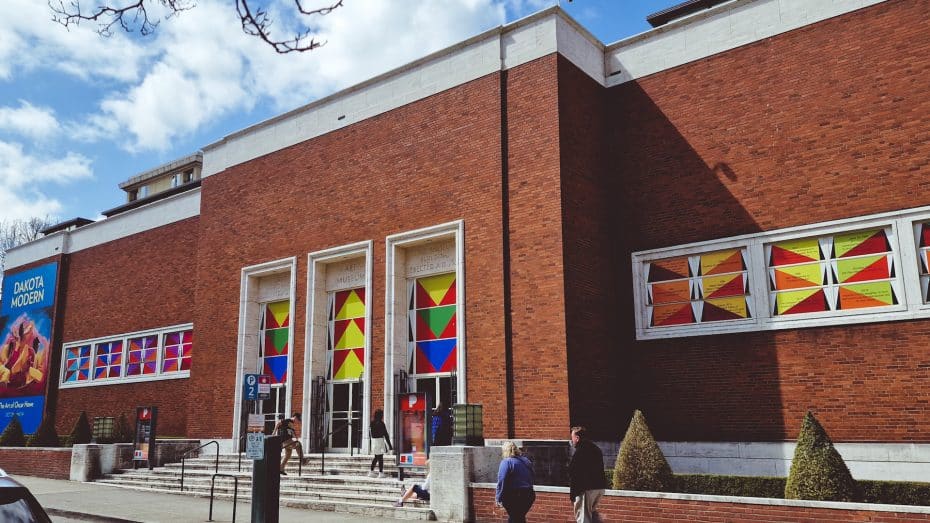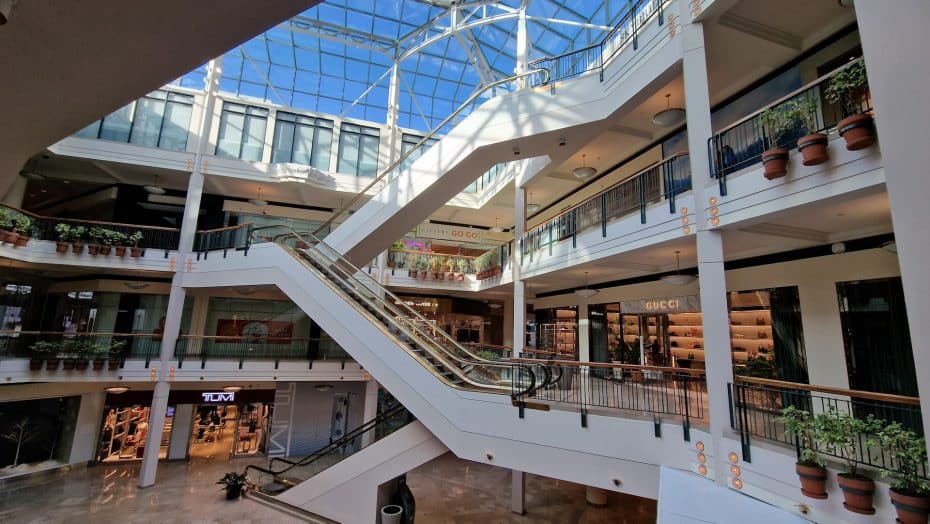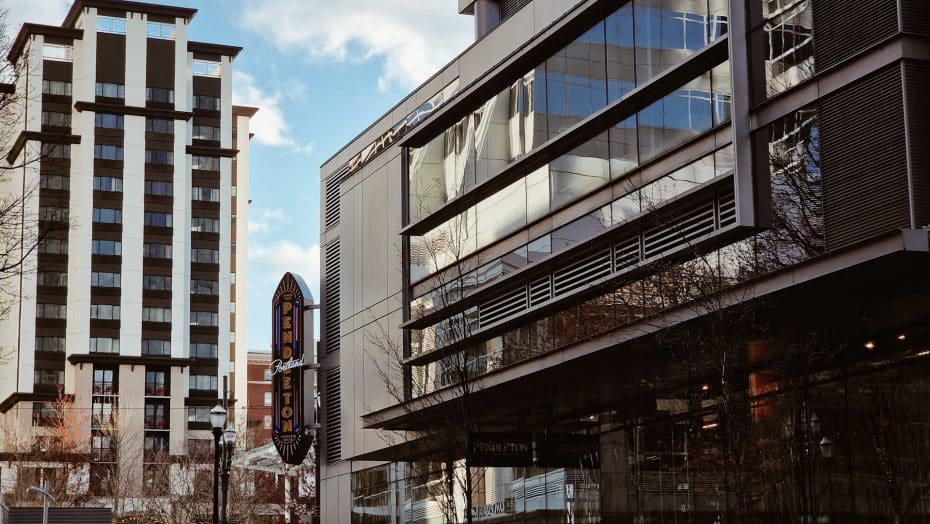 Home to Pioneer Square, the Downtown district is the best area to stay in Portland for culture & history.
Why is this the best area to stay in Portland, Oregon:

Heart of the city
Best area for culture
Great shopping options
Pioneer Square
Wide accommodation offer
Great area for business travelers
Close to most attractions
Connected by MAX light rail, streetcar and buses
Downtown Portland is considered the beating heart of the city. A hub for business, shopping, and entertainment, the area is home to some of the region's best restaurants, bars, and boutiques.
With a lively atmosphere all day long, visitors can enjoy a variety of activities, from exploring the bustling Pioneer Courthouse Square, affectionately known as Portland's "Living Room," to catching a show at one of the city's historic theaters.
If shopping is your thing, Downtown Portland is the perfect area. Downtown Portland has something for every shopper's taste and budget, from high-end boutiques to local artisan shops. The Pioneer Place Mall is a must-visit spot for anyone looking for a high-end shopping experience. Meanwhile, the open-air Portland Saturday Market is the country's largest continuously operating outdoor arts and crafts market. The city center is also home to many sportswear brands' flagship stores, including household names like Nike and Columbia.
Furthermore, this area is home to several museums, including the Portland Art Museum and the Oregon Historical Society.
One of the most significant advantages of staying in downtown Portland is its accessibility. The MAX light rail system is a convenient way to get around the city center, with several stops along the First, Second, and Third Avenues. Visitors can also take advantage of the city's streetcar, which runs from the South Waterfront to the Northwest District.
When it comes to finding a place to stay in Downtown Portland, visitors have plenty of options, from luxury accommodations to boutique properties.
Best Hotels in Downtown Portland
---
2. East Portland: Best Location for Foodies & Hipsters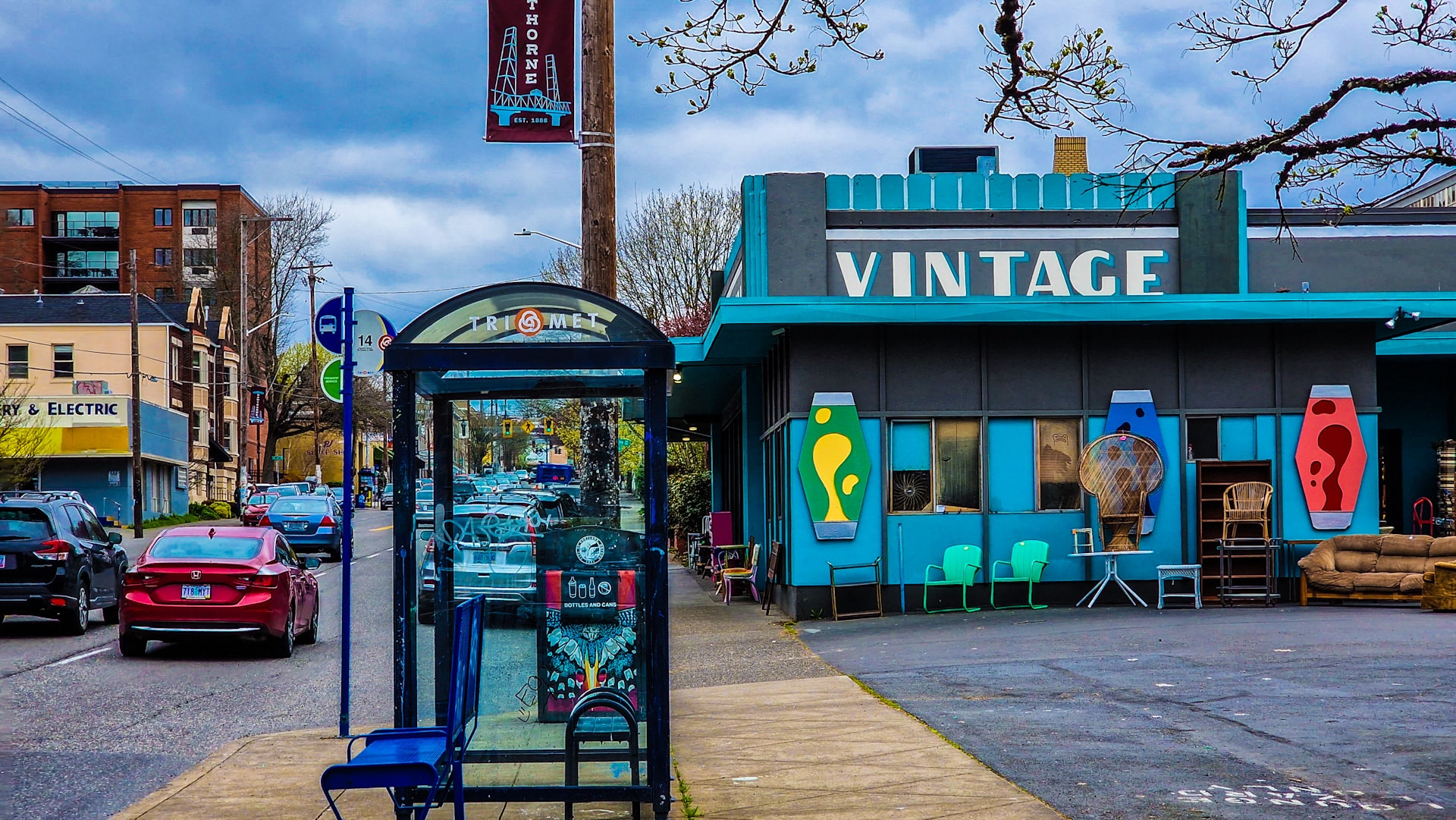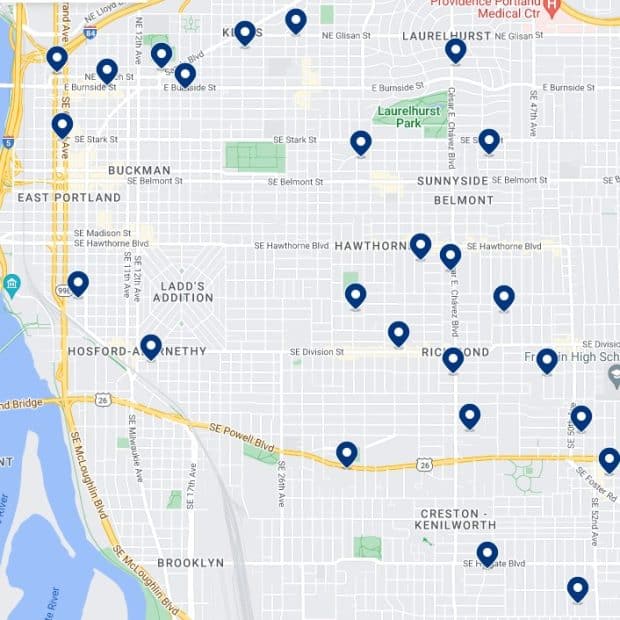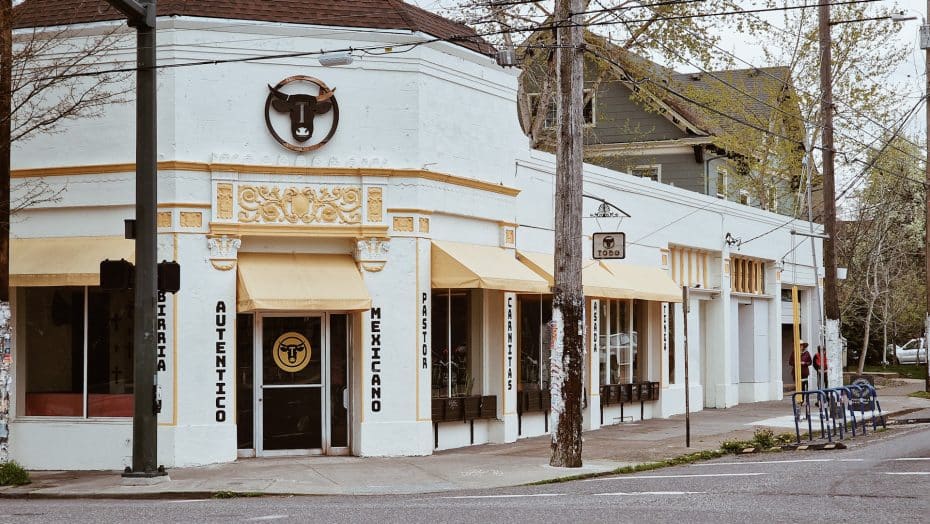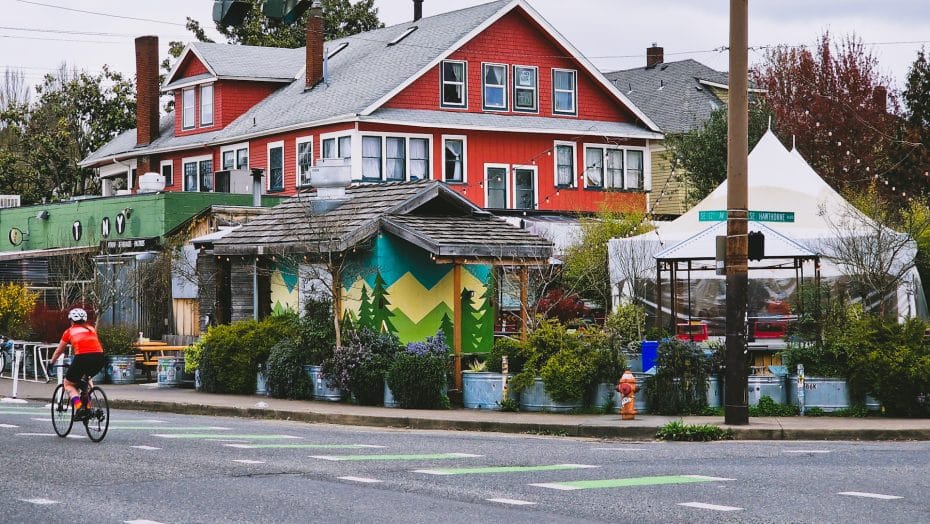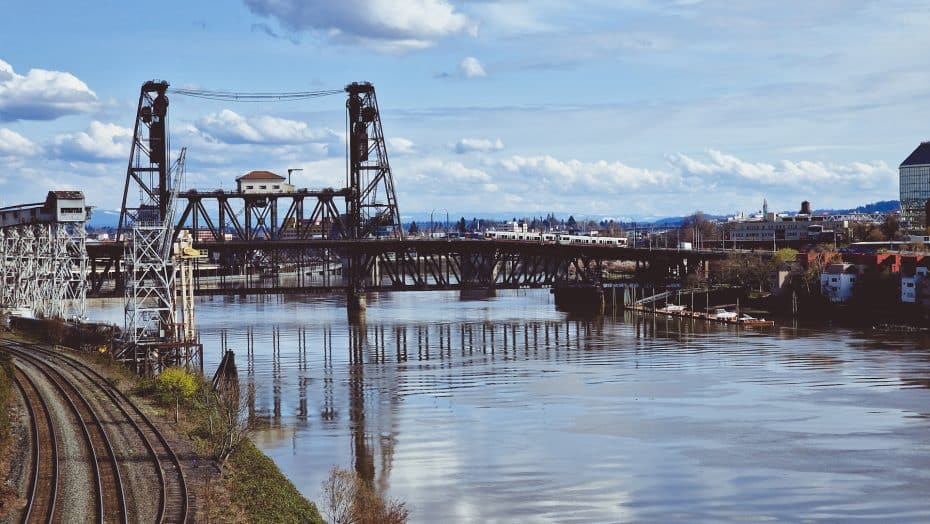 East Portland is the city's number one destination for thrift shopping, ethnic food and alternative nightlife.
Why is this the best area to stay in Portland, Oregon:

Portland's hipster area
Mount Tabor Park
Oregon Museum of Science and Industry
Up-and-coming gastronomic scene
Quirky cafés & shops
Connected by public transport
Great nightlife
East Portland may not be as central as other areas in the city, but it has its own unique charm.
The neighborhood is a melting pot of cultures and ethnicities, resulting in an eclectic mix of restaurants, cafes, and shops. Here, you can enjoy a wide range of activities, from hiking in the beautiful Mount Tabor Park to exploring the fascinating exhibits at the Oregon Museum of Science and Industry.
East Portland's Hawthorne district is a fantastic area for visitors looking to experience Portland's hipster culture. The neighborhood is a favorite among locals with its selection of vintage shops, dive bars, and specialty boutiques. Visitors can stroll down the district's main drag, the eponymous Hawthorne Boulevard, where they can find second-hand boutiques, independent bookstores, and record shops. Hawthorne is also a foodie's paradise, with plenty of cafes and restaurants serving innovative cuisine inspired by the diverse community.
East Portland is also well-connected to the rest of the city, with the MAX light rail and several bus lines running through the area.
Best Hotels in East Portland
---
3. Pearl District: Best Location for Nightlife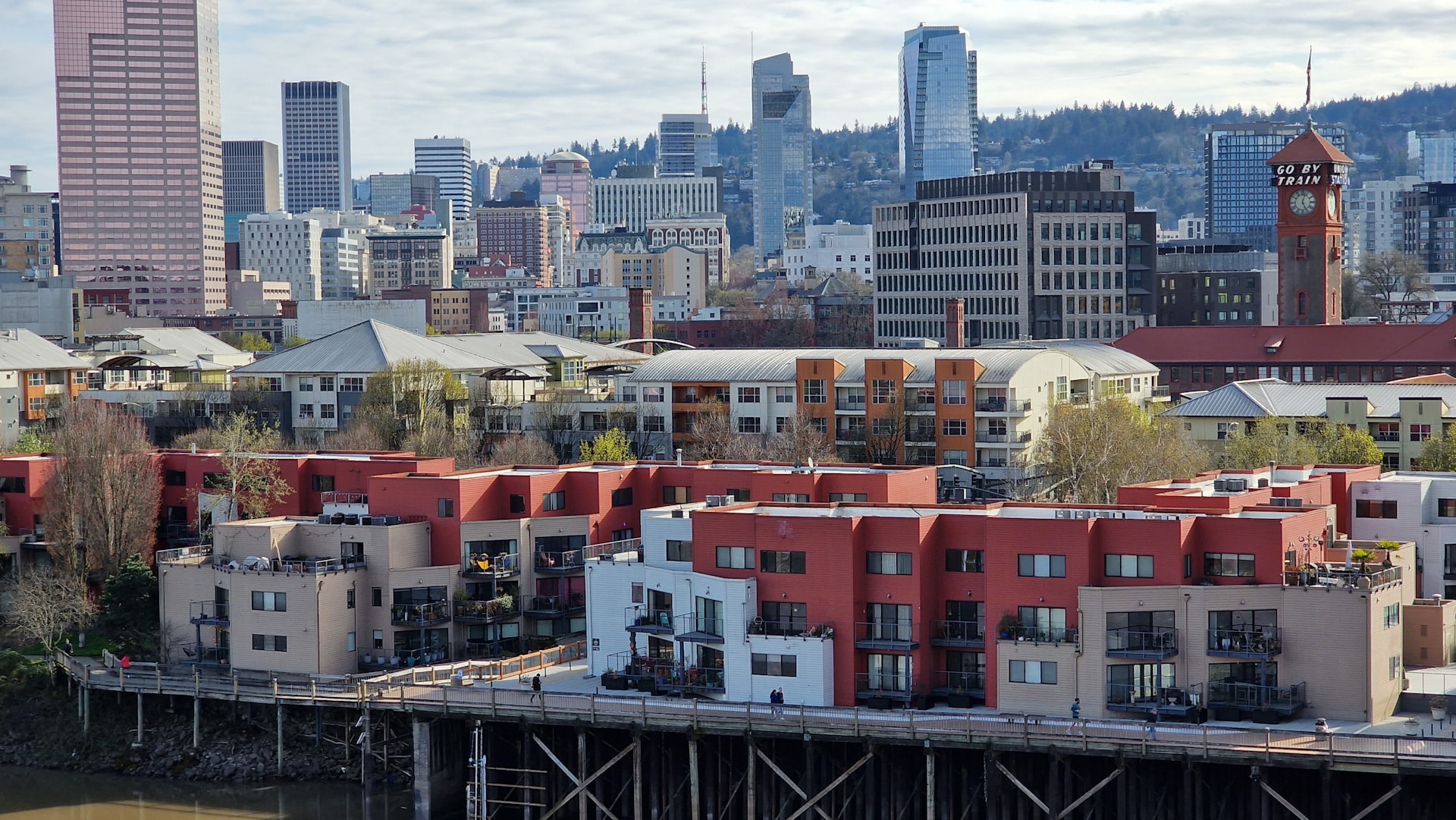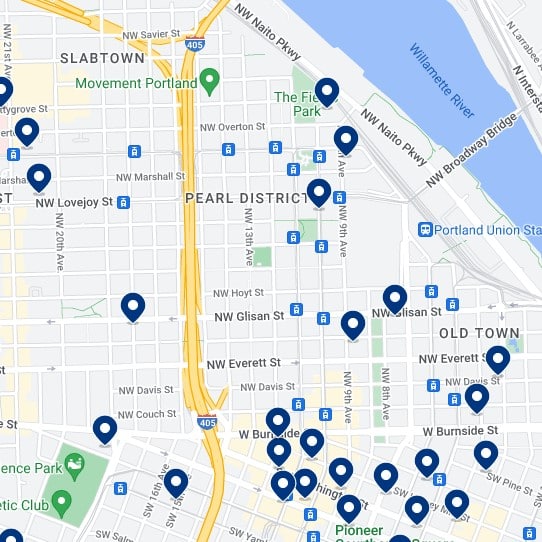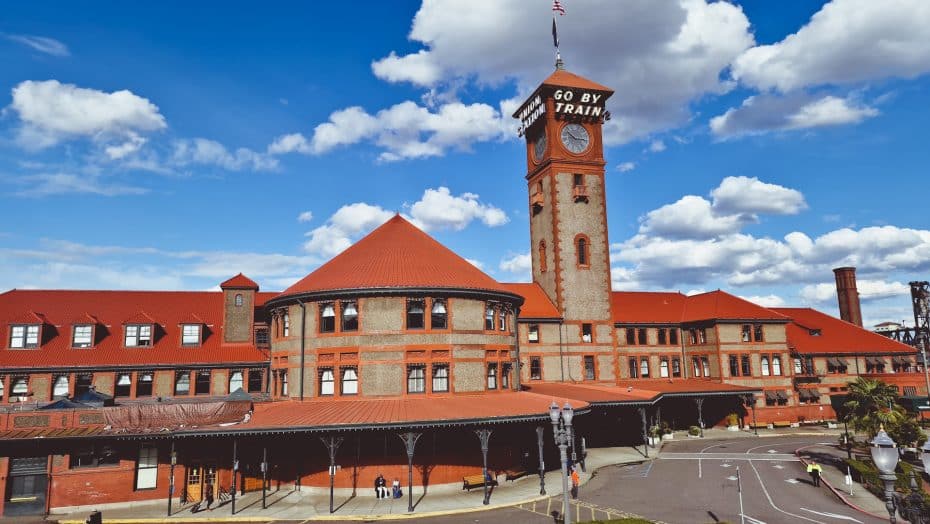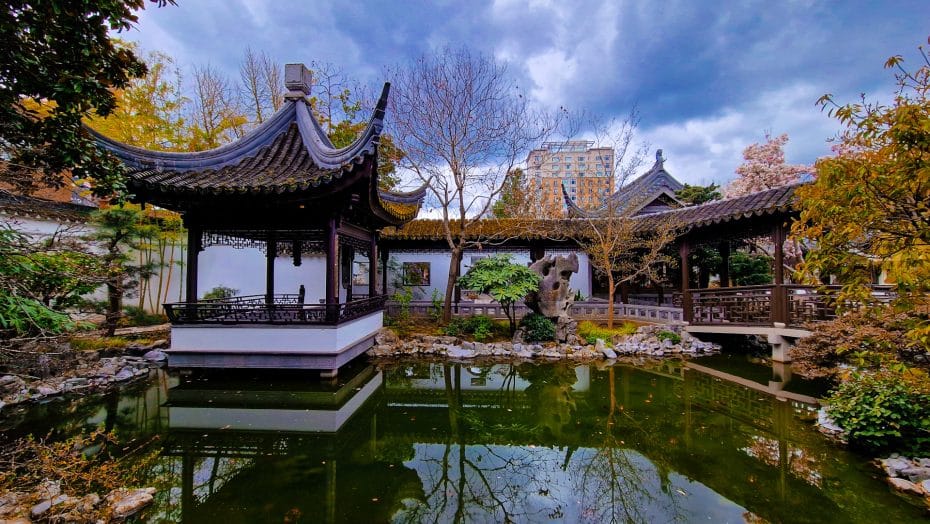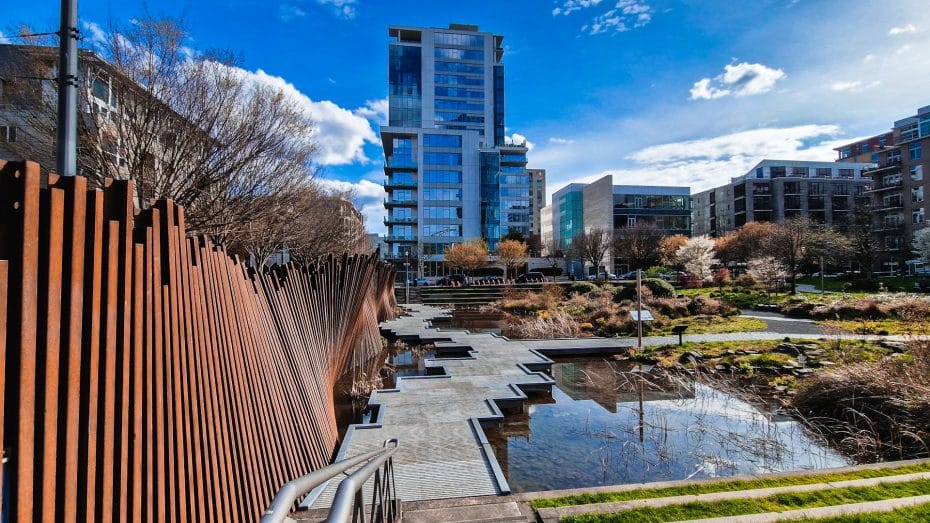 Located north of Downtown Portland, the Pearl District is a hip and vibrant place home to many attractions, bars & restaurants.
Why is this the best area to stay in Portland, Oregon:

Very central location
Old Town Chinatown and Lan Su Chinese Gardens
Union Station
Best area for nightlife
Refurbished industrial area
Very well-connected by public transport
Powell's City of Books
The Pearl District is one of the trendiest neighborhoods in Portland, located just north of downtown and known for its upscale feel and renovated industrial buildings.
The area is home to some of the city's best-known art galleries, like Pearl Galleries, and independent restaurants, making it a great place to explore for foodies and art lovers alike.
Besides restaurants and galleries, residents and visitors enjoy shopping at the renowned Powell's Bookstore and visiting attractions such as the Lan Su Chinese Garden. This must-see landmark is located in the Old Town Chinatown neighborhood, near Downtown Portland and the Pearl District. Featuring traditional Chinese architecture, a pond, and manicured plants, the garden offers an immersive cultural experience for visitors.
Thanks to its proximity to downtown, the Pearl District is quickly becoming one of the city's most vibrant nightlife destinations, with plenty of bars and clubs for those looking to dance the night away.
Pearl is well-connected by several Max light rail lines, including the Red and Blue lines, providing direct access to the airport and downtown Portland. Additionally, several bus lines run through the neighborhood, making exploring the area without a car simple.
Portland's Pearl District is also home to the city's Union Station, a historic transportation hub built in 1896. It serves as the central train station for the city. It offers rail connections on Amtrak's Empire Builder, Coast Starlight, and Cascades lines, providing convenient access to cities like Seattle, San Francisco, and Chicago.
Best Hotels in the Pearl District
---
4. Lloyd District: Best Location for Business Travelers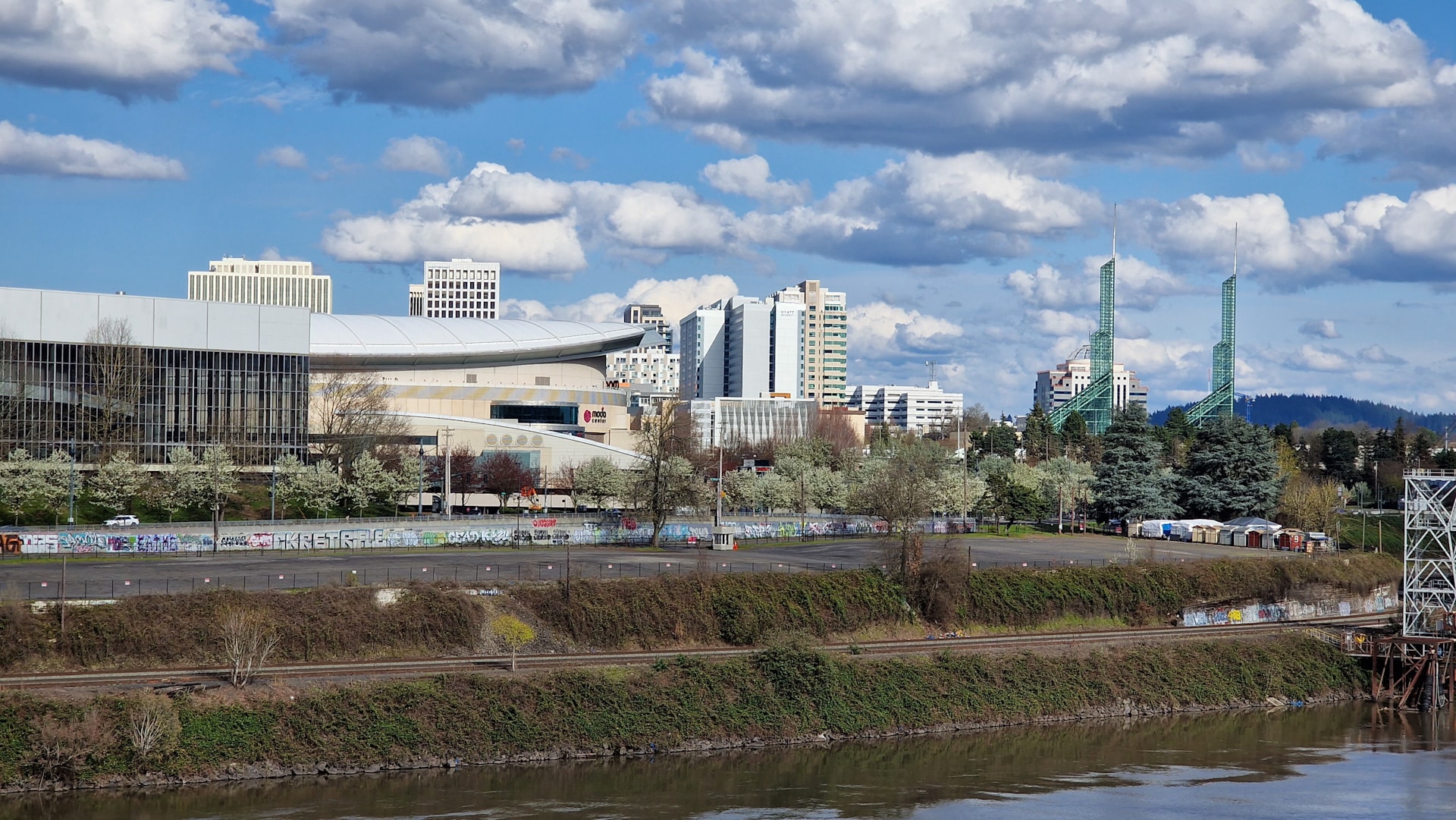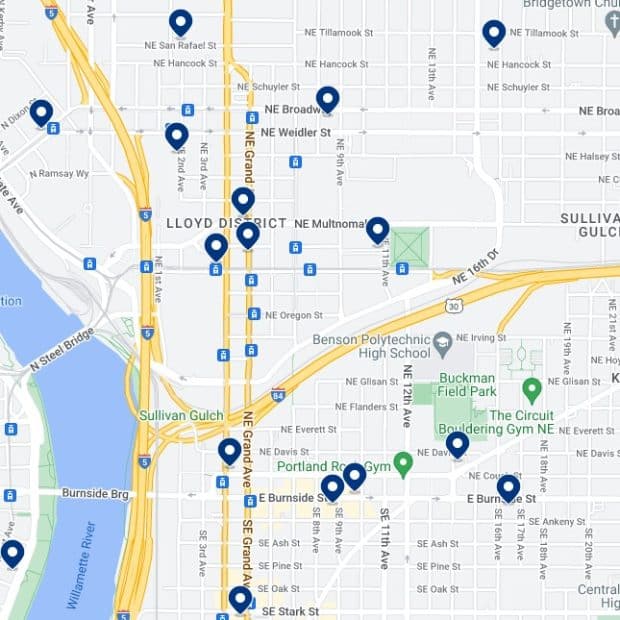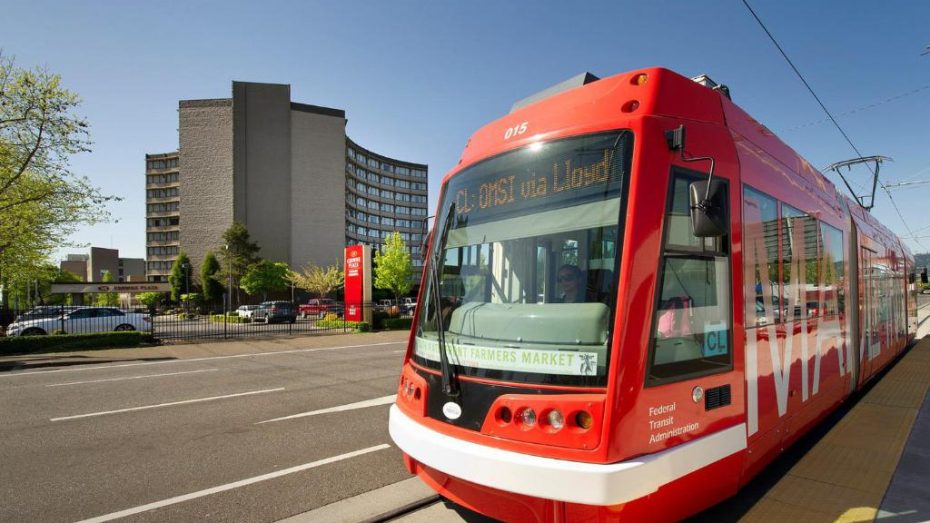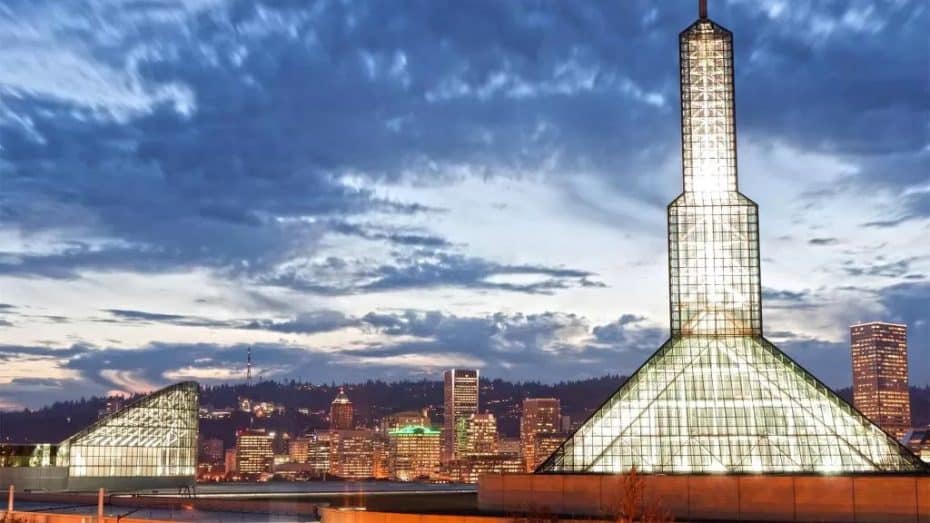 Home to Moda Center and the Oregon Convention Center, Lloyd District is a great option for business travelers to the city.
Why is this the best area to stay in Portland, Oregon:

Central location
Best area for business and events travelers
Oregon Convention Center
Lloyds Center Mall
Very well-connected by public transport
Business hotels
The Lloyd District may suit your needs if you're looking for a centrally located area with a business-oriented feel.
Situated just across the Willamette River from downtown Portland, Lloyd District is home to a variety of office towers, hotels, and business centers while still boasting a number of entertainment options.
Some notable landmarks include the Oregon Convention Center and the Rose Quarter, which houses the Moda Center (home to the Portland Trail Blazers) and the Veterans Memorial Coliseum. Additionally, Lloyd Center Mall provides some shopping opportunities for visitors.
Visitors have plenty of options when it comes to getting around Portland from the Lloyd District area. The city's MAX light rail system has several stops in the neighborhood, including at the Oregon Convention Center and the Rose Quarter, making it easy to access other parts of the city. Additionally, the area is served by several bus lines operated by TriMet, Portland's public transportation agency.
As expected, the Lloyd District is home to a wide variety of business-oriented accommodations, including household brands like Hyatt and Hilton and several locally owned and operated hotels.
Best Hotels in Lloyd District
---
5. West Portland: Upscale & Quiet Area to Stay in Portland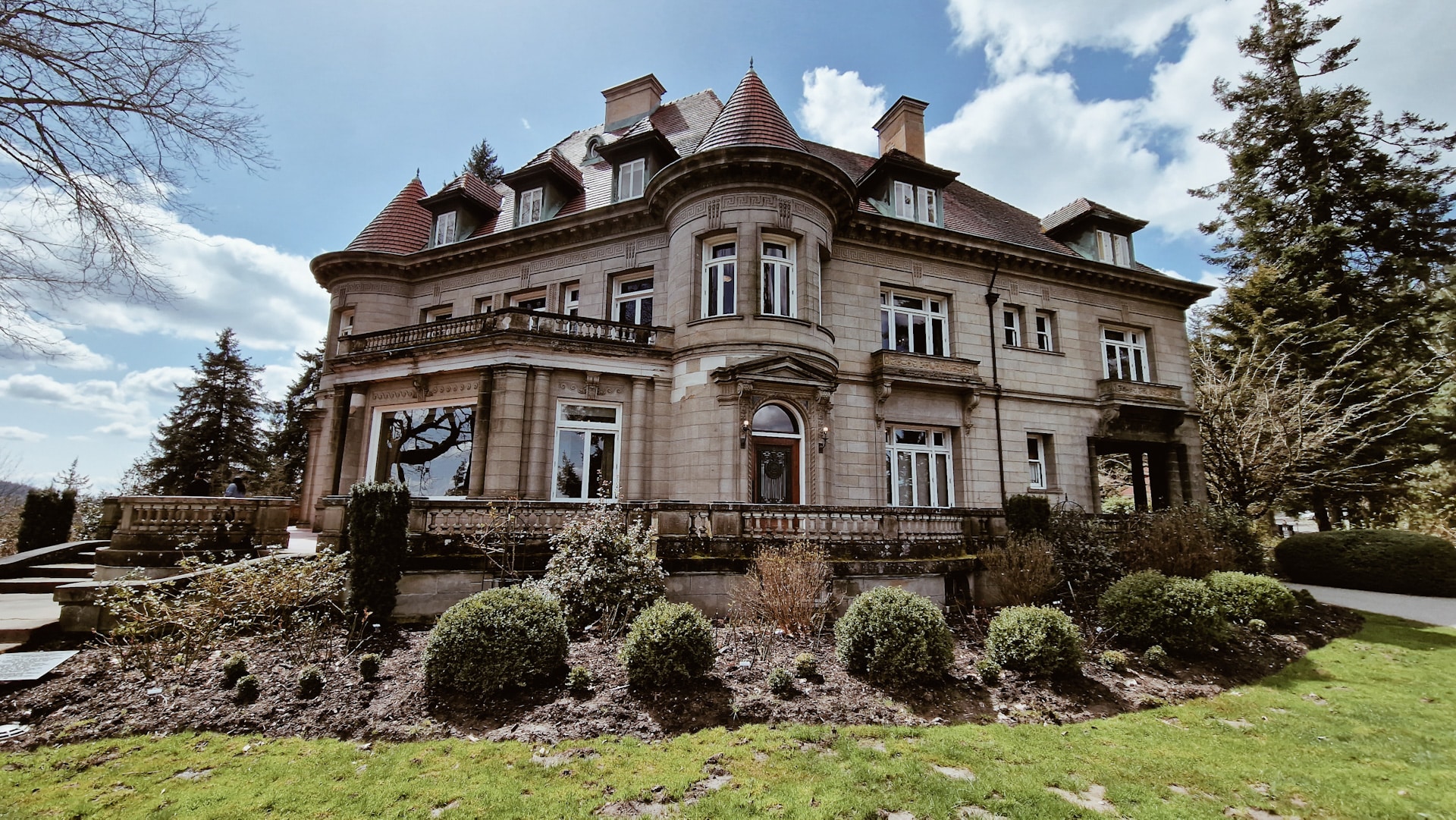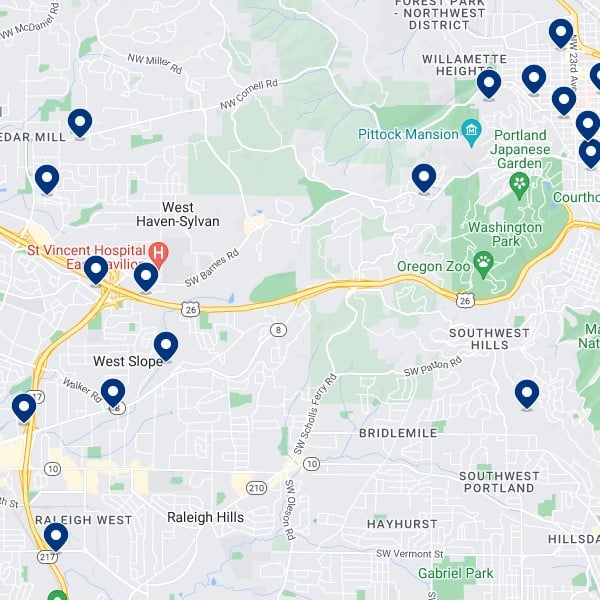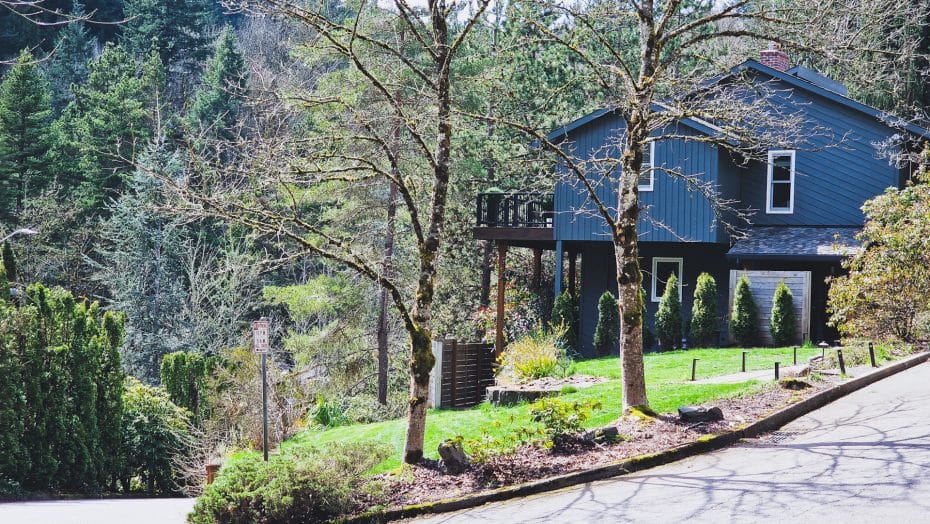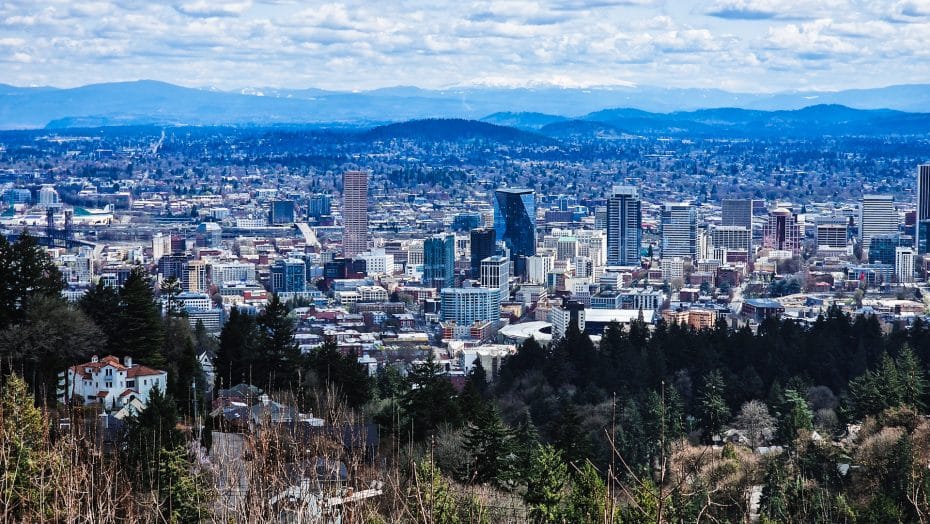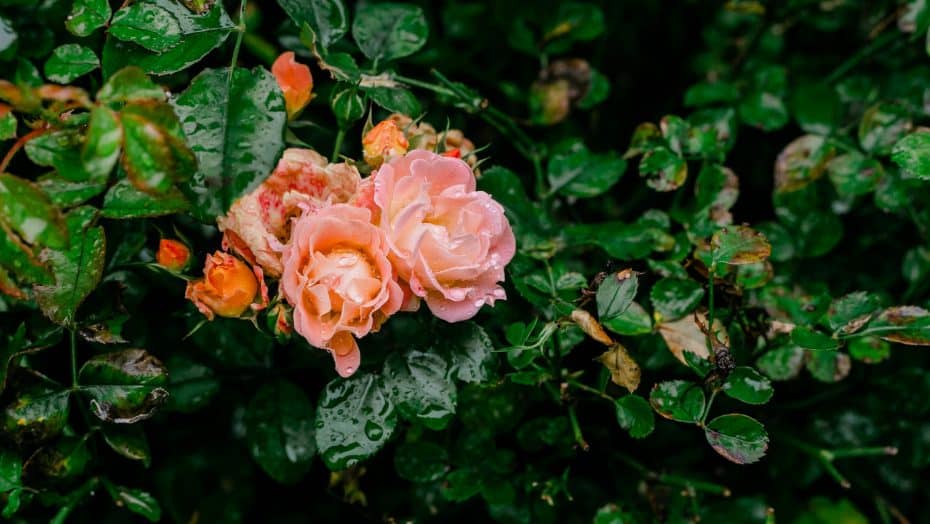 Home to Pittock Mansion & Washington Park, West Portland is one of the greenest districts in the city.
Why is this the best area to stay in Portland, Oregon:

Relatively central location
Washington Park
Japanese Garden
Pittock Mansion and Gardens
Quiet, upscale area
West Portland might be the perfect area if you're looking for a more laid-back atmosphere without sacrificing proximity to downtown.
The neighborhoods in West Portland are known for their relaxed vibe, tree-lined streets, and charming homes. One popular area is the Northwest district, which offers a mix of boutiques, galleries, restaurants, and several parks for enjoying the great outdoors.
Meanwhile, the West Hills neighborhood is a picturesque and peaceful area characterized by its lush gardens and beautiful homes. Visitors can soak up the tranquility of the neighborhood while walking or hiking in one of the local parks. Take a trip to the world-renowned International Rose Test Garden or visit the Portland Japanese Garden for a serene experience.
But perhaps the most popular tourist attraction in West Portland is Pittock Mansion. Built in the early 20th century, this house is considered one of the most beautiful examples of French-inspired architecture in the Pacific Northwest and signaled Portland's transition from a small lumber and mining town to an international city. The estate covers over 46 acres and features a stunning view of the Portland skyline.
Best Hotels in West Portland
---
6. North Portland: An Up-and-Coming Area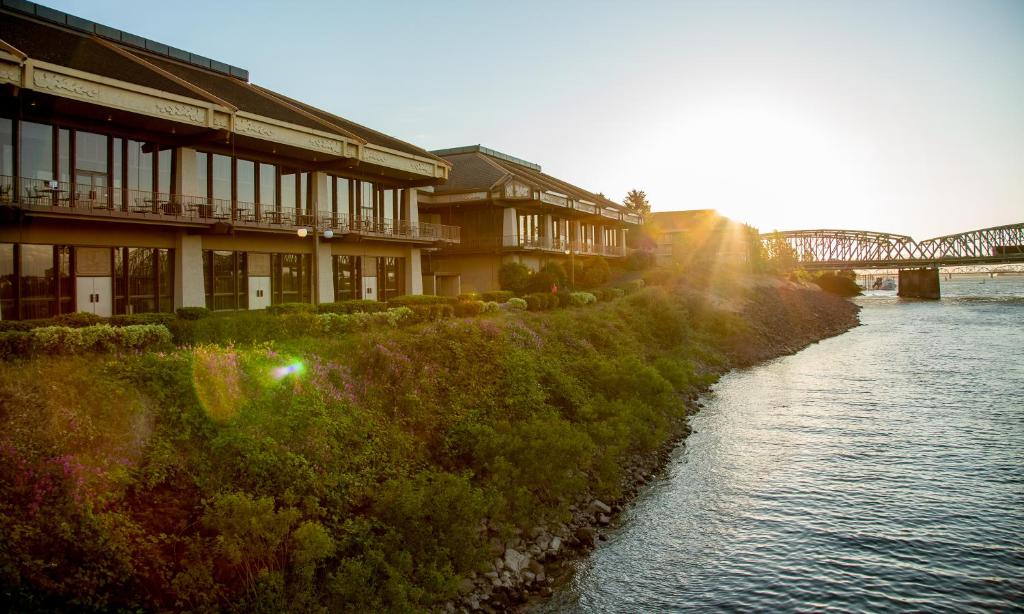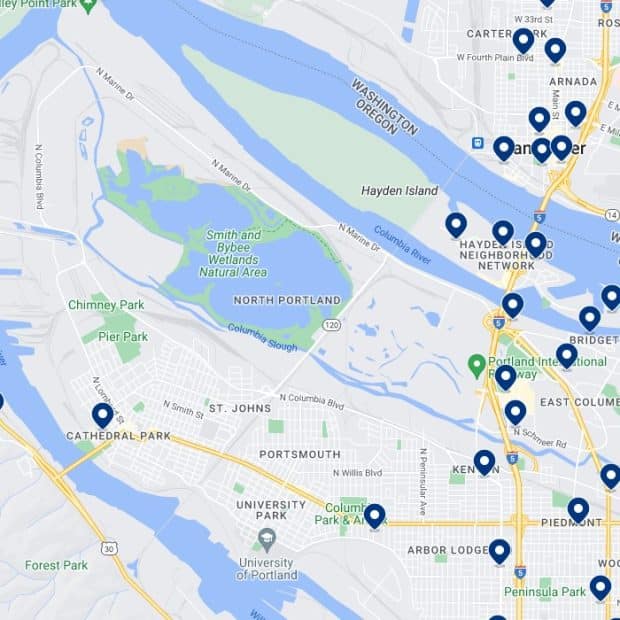 North Portland is a great district full of nature and charm.
Why is this the best area to stay in Portland, Oregon:

Close to nature
Jantzen Beach
Budget accommodation
Alberta Arts District
North Portland is known for its diverse community and artistic culture, making it a unique area to explore. The Mississippi and Alberta Arts districts are trendy spots featuring a variety of galleries, boutiques, and restaurants.
Visitors can also check out the St. Johns neighborhood, which offers a small-town feel with access to amenities like the St. Johns Bridge and Cathedral Park.
Jantzen Beach is an area in North Portland that offers visitors a unique experience. Known for its outdoor activities, it sits along the Columbia River and is a popular spot for boating and fishing enthusiasts. The beach offers several amenities, including camping facilities, picnic areas, and playgrounds for children.
Public transportation options in North Portland include several bus lines and the MAX Yellow line, which runs through the area and offers easy access to downtown Portland.
Best Hotels in North Portland
---
Read this post in other languages
---