Treviso, a city in northeastern Italy, is celebrated for its pristine waterways, elegant palaces, and well-preserved medieval walls. Often overshadowed by its nearby neighbor, Venice, Treviso offers a quieter and more intimate setting. Discover the best areas to stay in Treviso as you explore this charming city.
---
Treviso's main attractions include the 13th-century Palazzo dei Trecento, the striking cathedral of Cattedrale di San Pietro Apostolo, and the beautiful Piazza dei Signori. The city's tourism industry is relatively small compared to nearby Venice but has grown over recent years. As a result, you can find a healthy selection of accommodations spanning from luxury hotels to cozy guesthouses.
Treviso is relaxed and sophisticated, with its cobbled streets lined with medieval buildings and picturesque canals. Its history dates back to pre-Roman times, and the city is home to numerous medieval churches adorned with impressive frescoes. As a hub for Prosecco wine production and the birthplace of Tiramisù, this Venetian town should be at the top of any foodie's Italian bucket list.
Delve deeper into this Italian city by reading this guide, offering valuable insights into where to stay in Treviso and discover the delights this captivating city has in store for you.
---
Accommodation Options in Treviso, Italy
---
What's the Best Area to Stay in Treviso, Italy?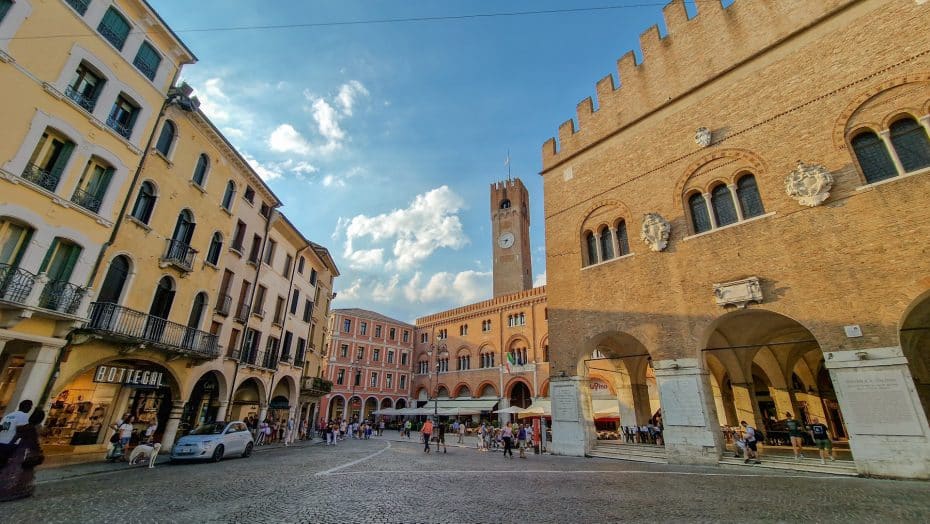 The best area to stay in Treviso is the Old Town. Staying in the Old Town offers easy access to the city's most popular attractions, including the stunning Loggia dei Cavalieri, Palazzo dei Trecento, and Santa Caterina Museum Complex. The area is brimming with authentic Italian restaurants, cozy cafes, and fashionable boutiques.
Find available accommodation in Treviso Old Town.
Best Hotels in Centro Storico di Treviso
---
---
Where to Stay in Treviso: District by District
1. Centro Storico (Historic City Center)
Best area to stay in Treviso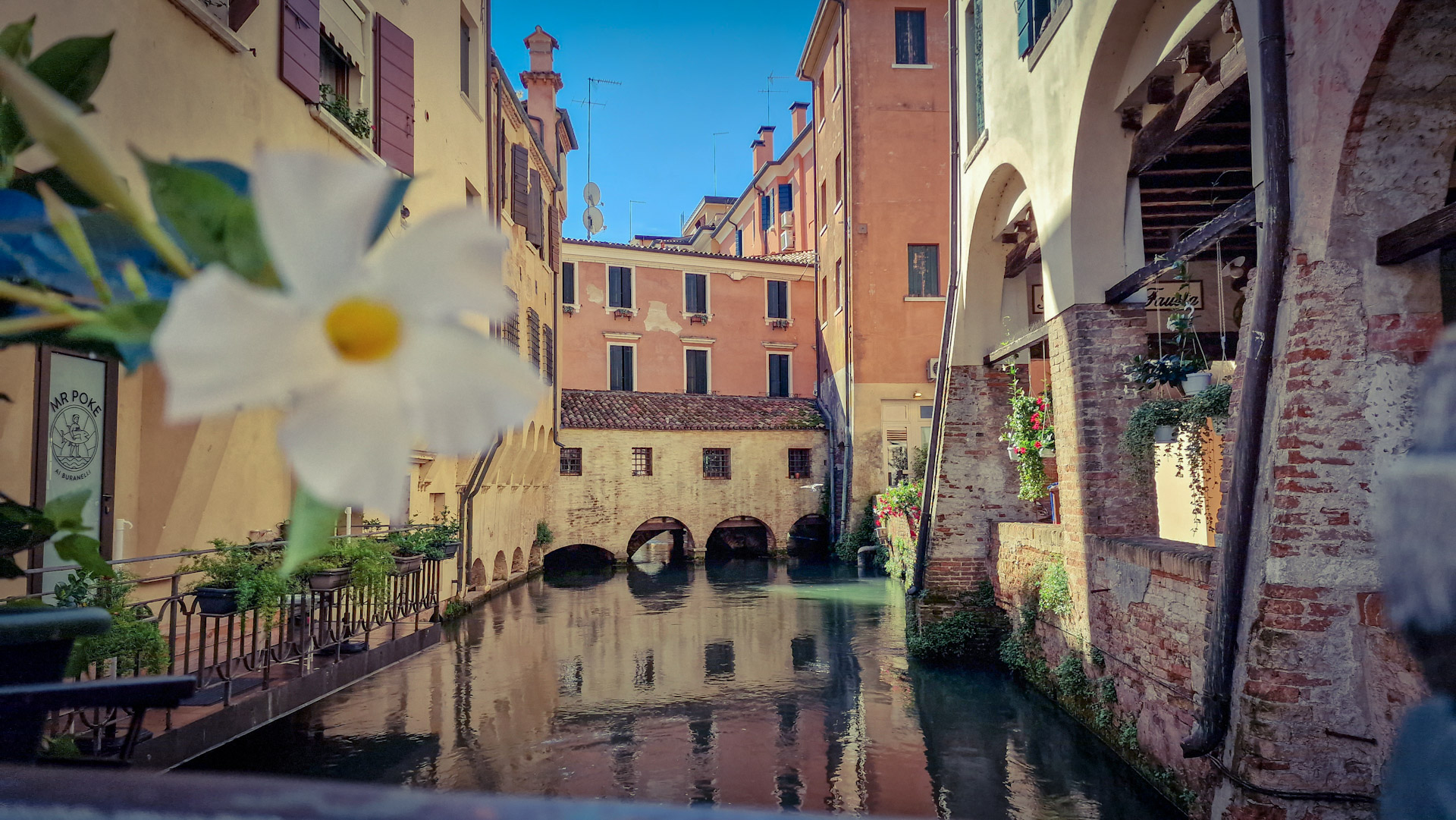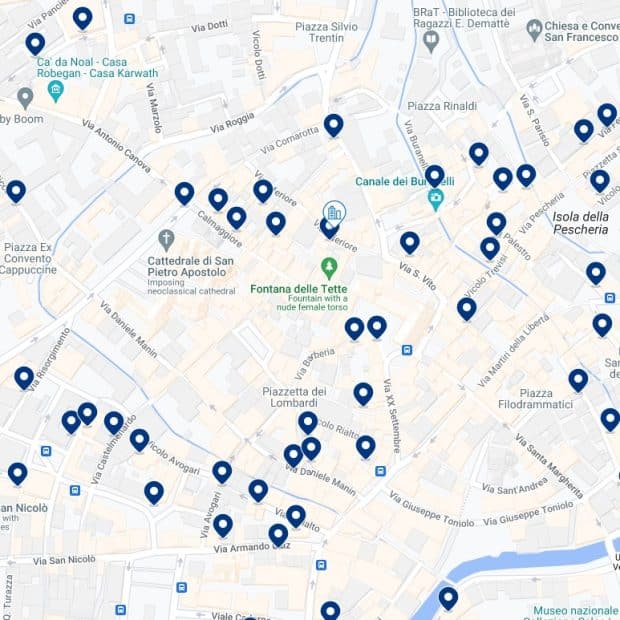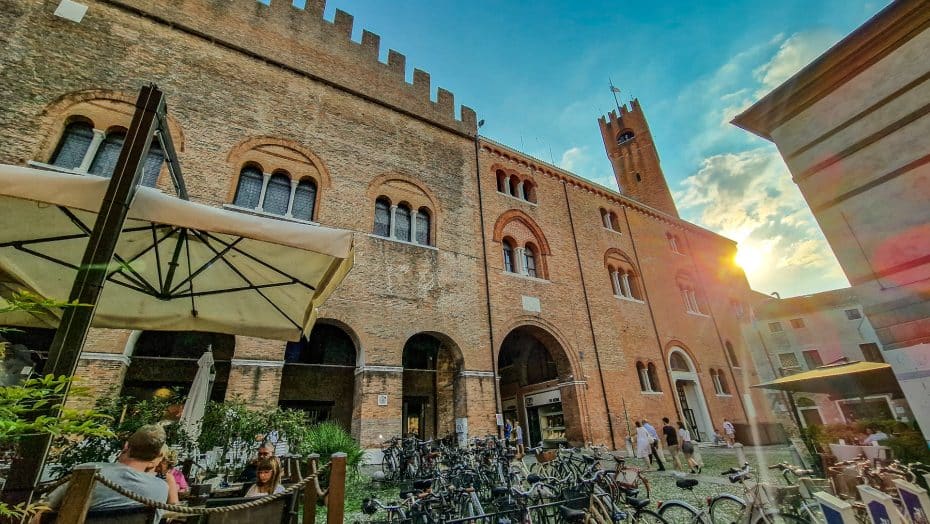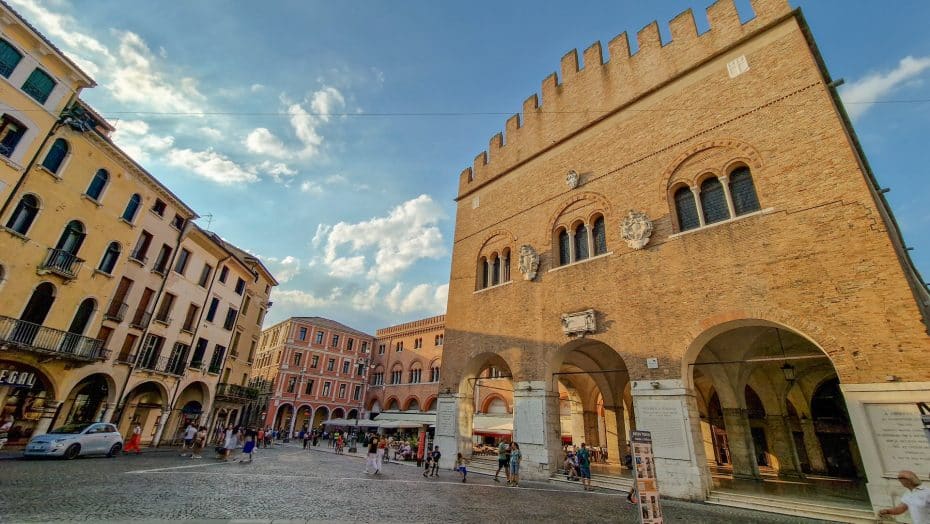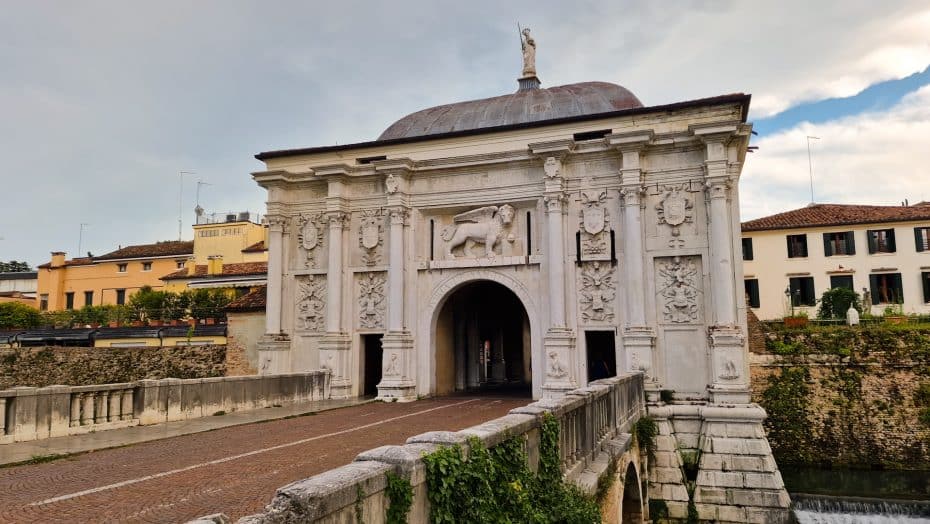 Why is this the best area to stay in Treviso, Italy:

Rich historical heritage
Charming cobblestone streets
Architectural gems
Proximity to top attractions
Vibrant local atmosphere
Scenic canal views
Authentic trattorias and wine bars
Boutique shops and artisanal crafts
Cultural events and festivals
Treviso Centro Storico, also known as the Old Town, is a central area within the city. Its rich history and architectural beauty make it an ideal location for travelers seeking a taste of Italian culture and charm. Surrounded by ancient walls, the Old Town is a showcase of well-preserved medieval and Renaissance buildings that reflect Treviso's historical past.
The Old Town boasts several noteworthy attractions, such as the Piazza dei Signori, which has long been Treviso's political and cultural heart. The Palazzo dei Trecento, dating back to the 13th century, is an impressive example of Gothic architecture and serves as a testament to Treviso's enduring history. Other significant historical sites include the Chiesa di San Nicolo, a stunning 14th-century church housing elegant frescoes by Tommaso da Modena, and the Loggia dei Cavalieri, an intriguing example of Treviso's unique architecture.
Treviso Centro Storico comes alive in the evening with local bars, restaurants, and traditional osterias lining its picturesque cobblestone streets. The area offers an authentic Italian dining experience, including gourmet cuisine and local delights, lovely prosecco, and authentic tiramisù.
The Old Town has excellent public transportation connections to other parts of the city, with several bus lines servicing the area. Additionally, Treviso Centrale railway station is within walking distance of Centro Storico, providing easy access to regional destinations.
Overall, Treviso Centro Storico is a fascinating area to stay in, with its rich history, architectural beauty, and vibrant atmosphere. Whether exploring the narrow streets, visiting historical landmarks, or enjoying the local cuisine, visitors are sure to have an unforgettable experience in this enchanting Italian town.
Best Hotels in Centro Storico (Treviso)
---
2. Treviso Centrale Railway Station
Great area for city hopping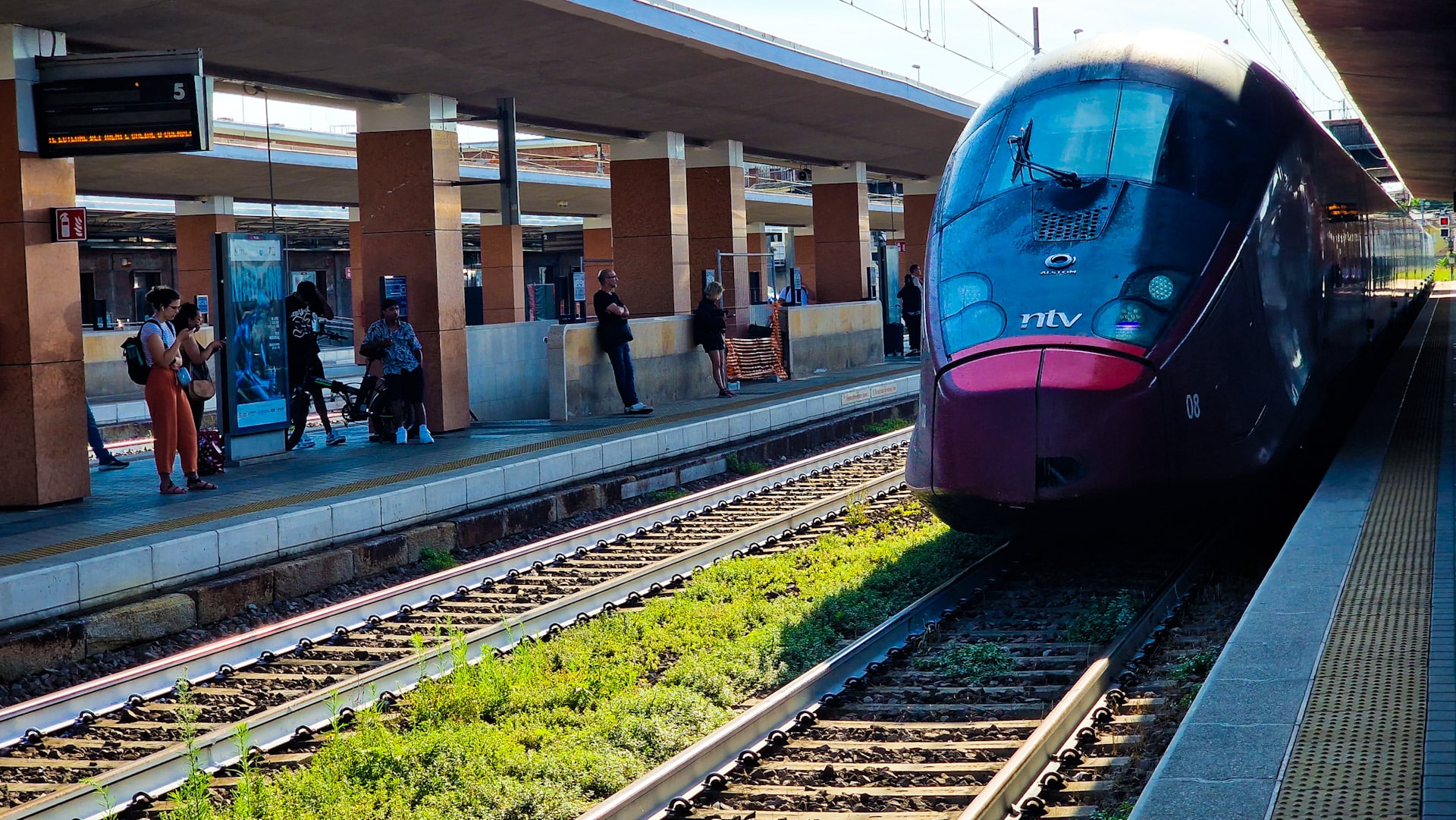 Why is this the best area to stay in Treviso, Italy:

Great alternative to staying in Venice
Excellent connections
Close to the city center
Bus station
Restaurants & bars
Treviso Centrale Railway Station is a significant transport hub that offers an exceptional alternative to staying in the more expensive neighboring city of Venice while still being connected to the city on the lagoon.
The station is conveniently located south of Treviso's historical city center, ensuring smooth access to its picturesque streets, stunning architecture, and vibrant cultural scene.
Established in 1851, the train station plays a crucial role in connecting Treviso to numerous cities and towns within Italy and beyond. The station operates several primary lines and services, such as the Venezia-Udine and Treviso-Vicenza lines. These lines offer easy travel possibilities to destinations like Venice, Padua, Trieste, and Verona.
The area surrounding the railway station offers bars, cafes, and restaurants.
When it comes to accommodation around Treviso Centrale Railway Station, the area has both budget-friendly hotels and more upscale options.
Best Hotels near Treviso Centrale
---
3. Aeroporto di Treviso A. Canova
Best area for a layover or early flight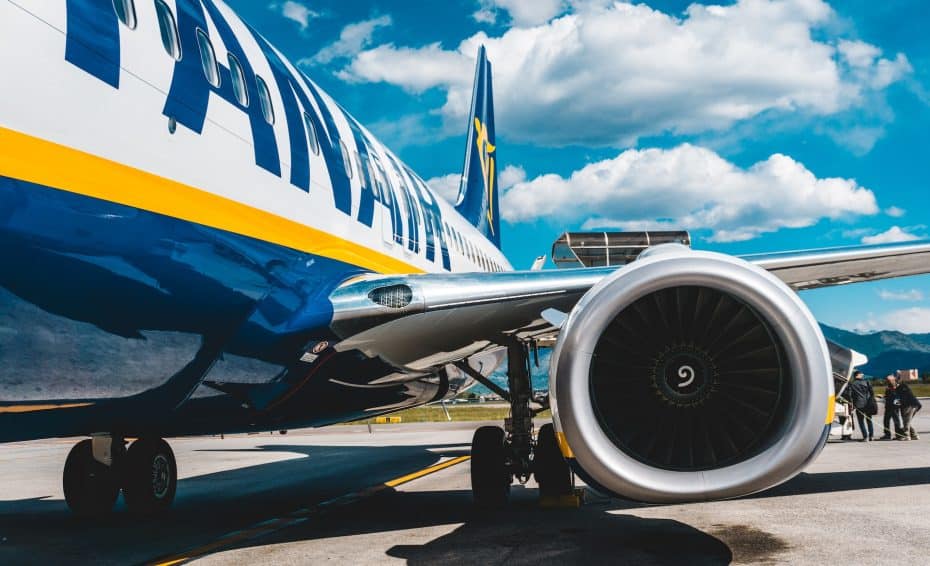 Aeroporto di Treviso A. Canova, also known as Treviso Airport, is a strategically located airport in Italy that serves the Veneto region. Positioned 3 kilometers southwest of Treviso and approximately 31 kilometers from Venice, the airport offers an excellent gateway for travelers visiting either city.
Designated as the second international airport of Venice, the aviation facility specializes in low-cost airlines. As a result, it has become a hub for budget carriers such as Ryanair, Wizz Air, and Lauda, providing convenient routes to various European cities like Barcelona, Dublin, London, and Krakow.
A shuttle bus service operated by Barzi Bus Service connects the airport with Mestre Train Station and Venice's Piazzale Roma in around 50 minutes. Additionally, the bus company MOM (Mobilità di Marca) operates regular services between the airport and Treviso's central train station.
Best Hotels near Treviso Airport
---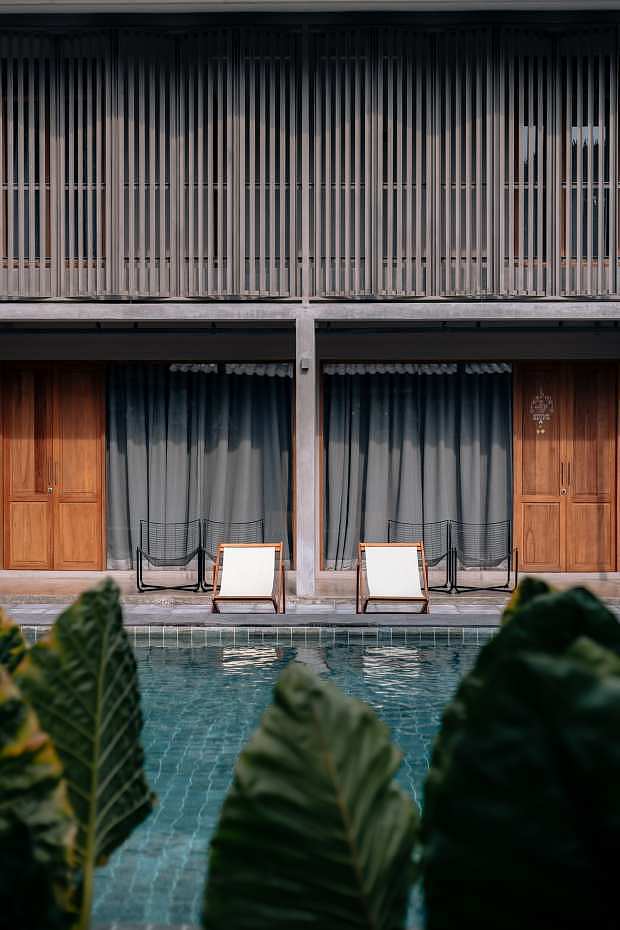 Other Accommodation Guides