Often referred to as the "Venice of the North," Bruges is a picturesque medieval city in Belgium known for its romantic canals, historic architecture, and cobblestone streets. This well-preserved city is a UNESCO World Heritage Site famous for its chocolate shops, lace boutiques, and delicious local cuisine. Its charming atmosphere and rich cultural heritage make it a must-visit European destination. If you're looking for the best areas to stay in Bruges, you've come to the right place.
---
Bruges is home to many attractions that cater to all kinds of travelers. Some must-see sights include the Belfry of Bruges, the Basilica of the Holy Blood, and the Groeningemuseum – an art museum with an impressive collection of Flemish and Belgian paintings. The city's thriving tourism industry ensures no shortage of accommodation options, from luxury hotels and charming bed & breakfasts to budget-friendly properties.
This enchanting city offers a unique atmosphere where history is present everywhere. Wander through the narrow streets to explore its various architectural wonders, such as Markt Square, or step back at The Beguinage – a serene enclave once home to a religious community of women. If you're searching for great food, you will not be disappointed by the diverse culinary scene bursting with traditional Belgian dishes and international fare.
To make the most of your Bruges adventure and find your perfect accommodation, keep reading this article to discover more about the best areas to stay in Bruges, Belgium.
---
Accommodation Options in Bruges
---
The Best Areas to Stay in Bruges: A Summary
If you don't have time to read the article in full, this is a quick summary of our top-rated areas for tourists in Bruges. Keep reading to find out more about each quarter.
---
What's the Best Area to Stay in Bruges?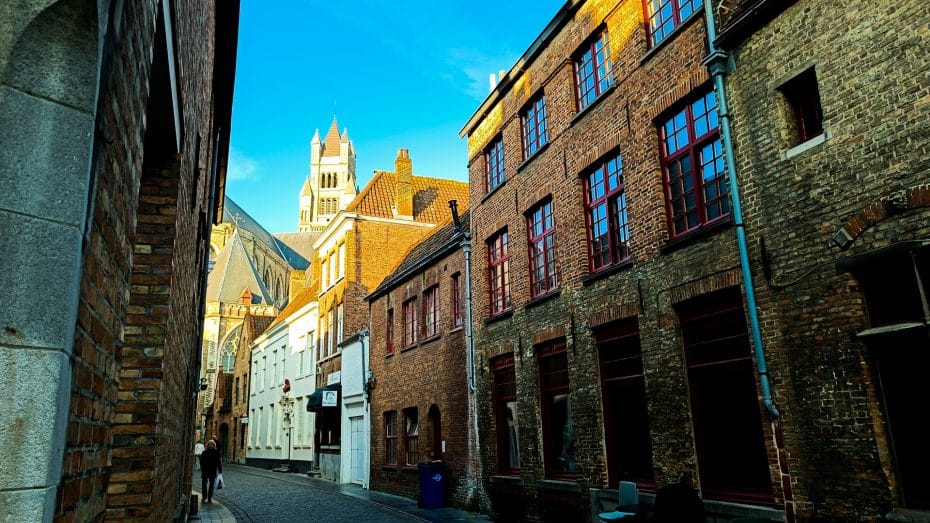 The best area to stay in Bruges is the Old Town or Historic Center. As its name implies, this area is located in the heart of Brugge and is home to many attractions, including The Markt, Basilica of the Holy Blood, and Groeninge Museum. This historically influential area is also where most of the best-rated hotels can be found.
Find available accommodation in the Historic City Centre of Brugge.
Best Hotels in Bruges Historic District (Old Town Brugge)
---
Where to Stay in Bruges for Sightseeing & History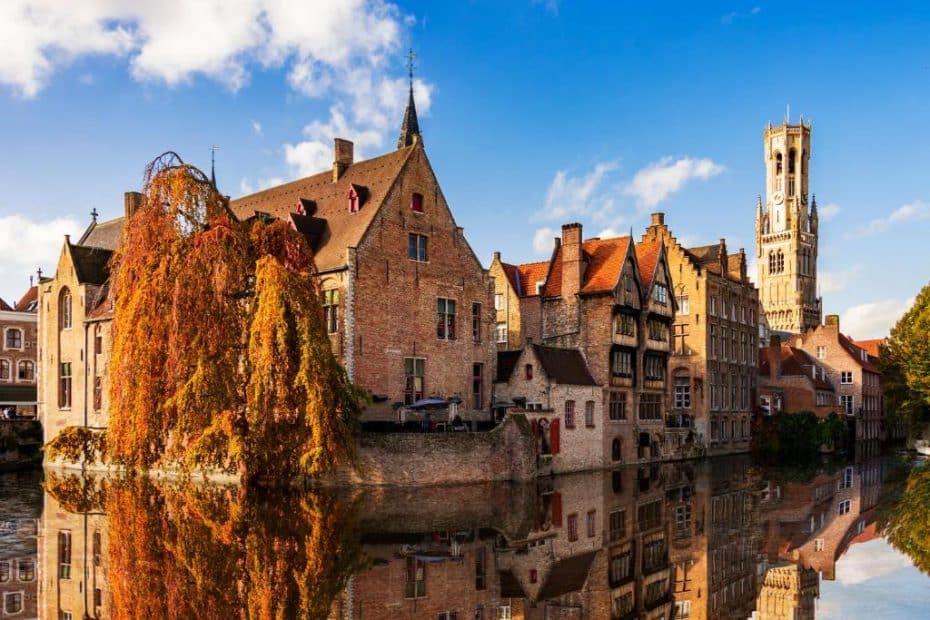 As mentioned above, the Old Town is the best location for visitors to Bruges. That said, This is a large area filled with quarters with different atmospheres and attractions. These are some of the most exciting areas to stay in Brugge:
---
The Best Areas for Tourists in Bruges: District by District
These are some of the best areas to stay in Bruges:
---
1. Bruges Old Town (Historic City Center): Best Location for Sightseeing & History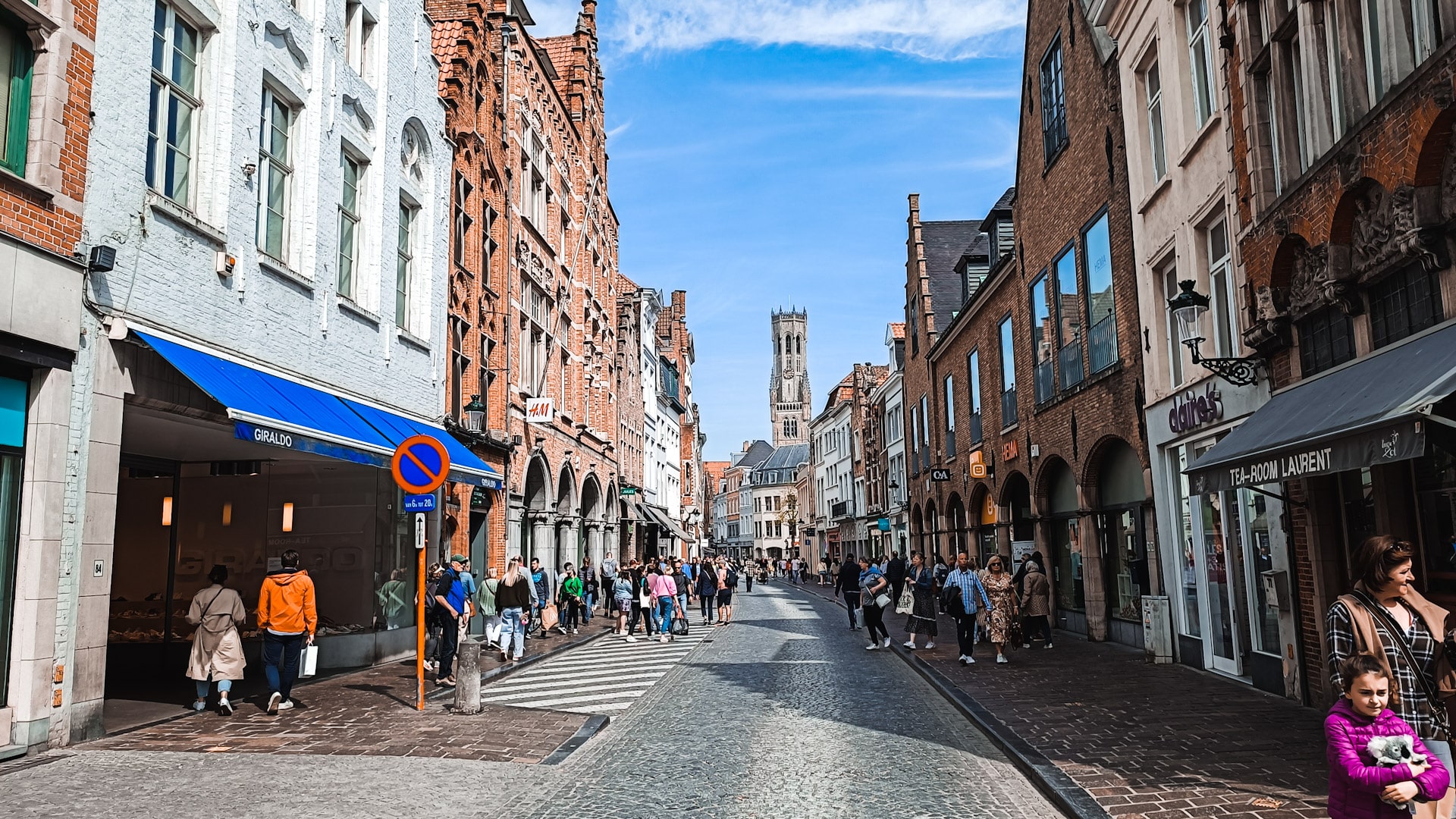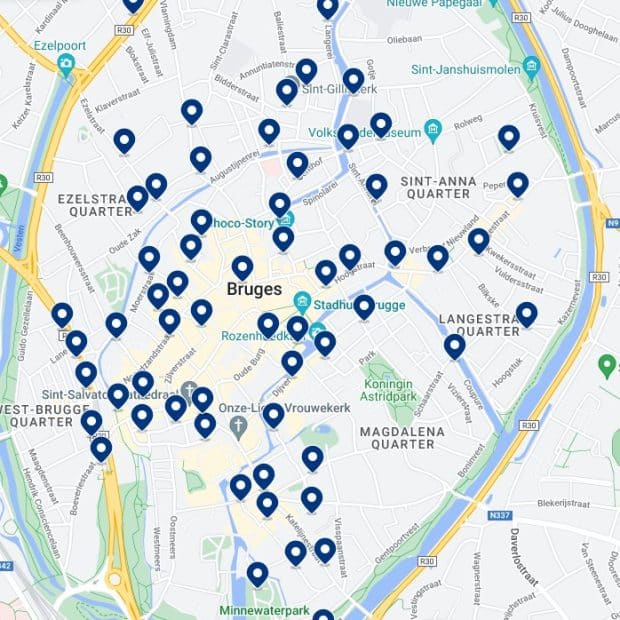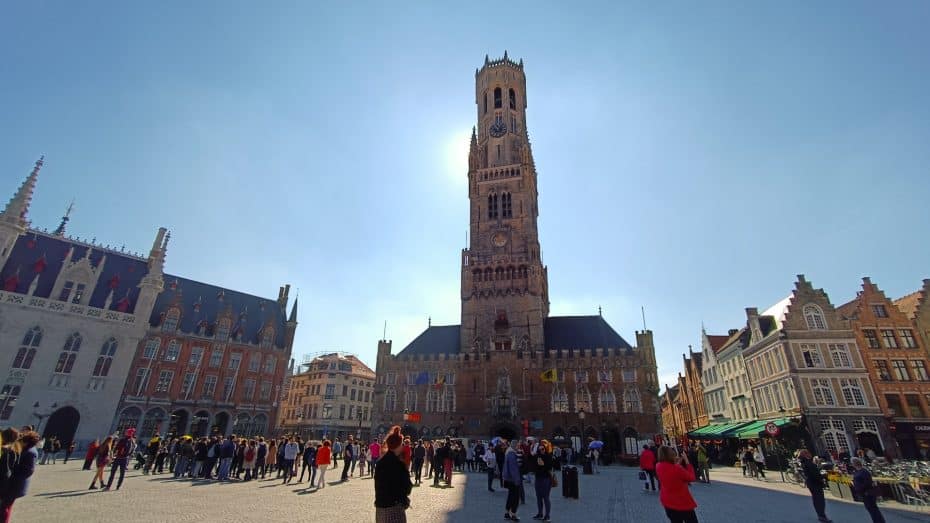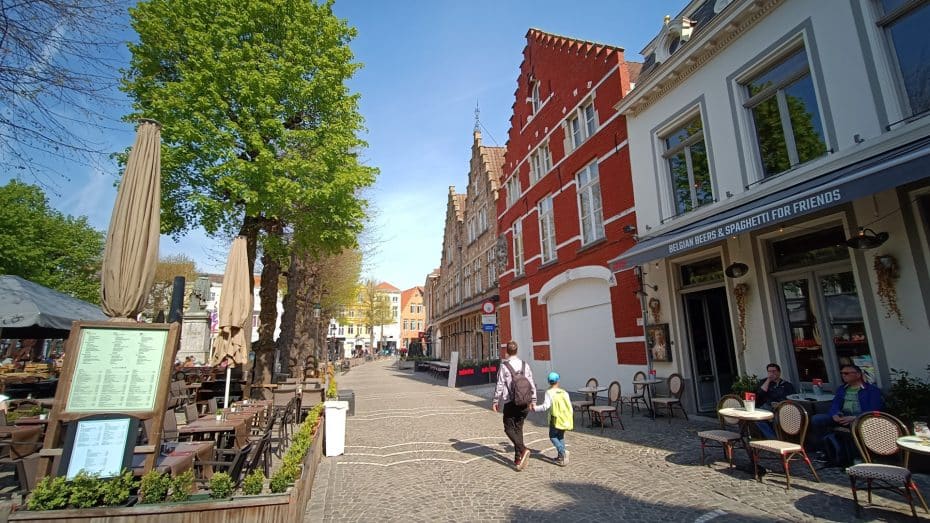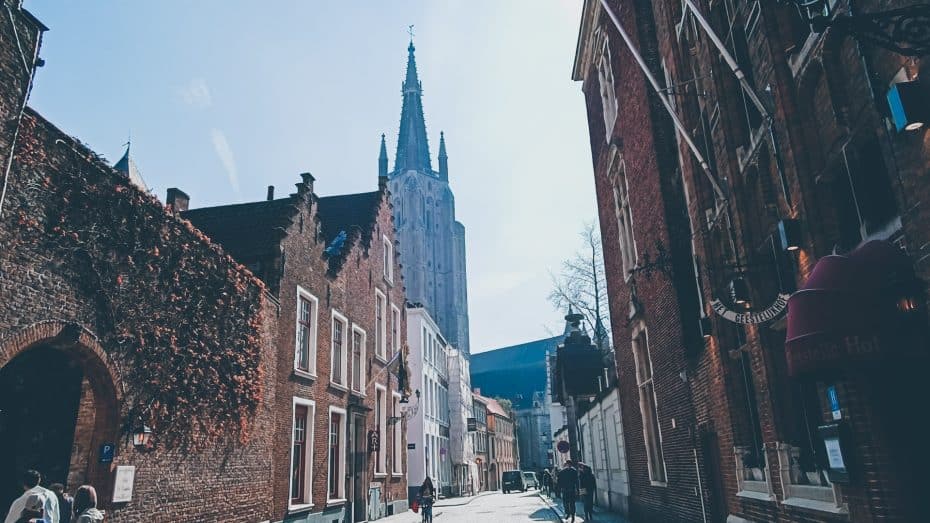 Bruges Old Town is known for its attractions, quaint shops, cozy cafes, and delicious chocolate boutiques, making it the perfect place to immerse yourself in the rich history and culture of Bruges.
Why is this the best area to stay in Brugge:

Heart of the city
Markt Square
Medieval architecture
Canals and waterways
Museums & galleries
Shopping and nightlife streets
Pedestrianised streets
Best area for sightseeing
Best-rated hotels in the city
Bruges Old Town, also known as the Historic City Center, is a charming and picturesque area in Bruges's heart. This area is a UNESCO World Heritage site renowned for its well-preserved medieval architecture and cobblestone streets.
Bruges Old Town is a treasure trove of historical and cultural attractions. Visitors can marvel at the stunning medieval buildings, such as the famous Belfry of Bruges and the Basilica of the Holy Blood. Art enthusiasts will appreciate the renowned Groeningemuseum, which houses a remarkable Flemish and Belgian artwork collection.
Besides its historical significance, Bruges Old Town offers a unique and romantic ambiance. The canals that crisscross the area add to its charm, making it often referred to as the "Venice of the North." Taking a leisurely boat ride along the canals is a popular activity for tourists.
The area also offers a vibrant nightlife scene. Numerous bars, cafes, and restaurants line the streets, offering a wide range of culinary delights, including local Belgian specialties and international cuisine.
Transportation in Bruges Old Town is convenient and easily accessible. The pedestrian-friendly area allows visitors to explore on foot and fully immerse themselves in its beauty. There are also ample opportunities for cycling, as Bruges is a bike-friendly city.
As for accommodation, Bruges Old Town offers a variety of options. Visitors can find everything from boutique hotels housed in historic buildings to modern accommodations. The area caters to different budgets and preferences. Keep in mind that as the best area to stay in Bruges, the Old Town can be quite crowded during peak season. We recommend booking well in advance.
Best Hotels in Bruges Old Town
---
2. Brugge Railway Station Area: Best-Connected Location in Bruges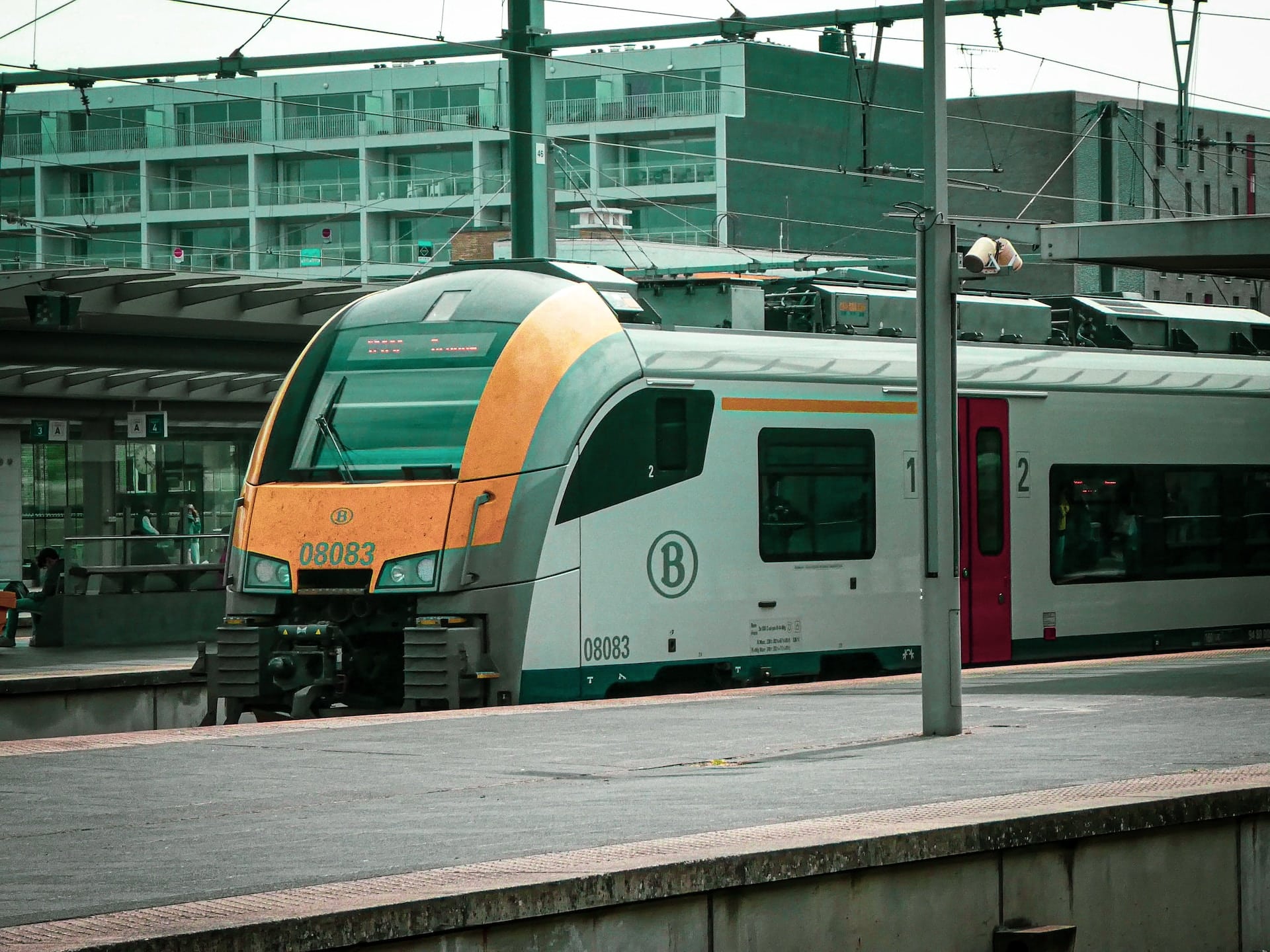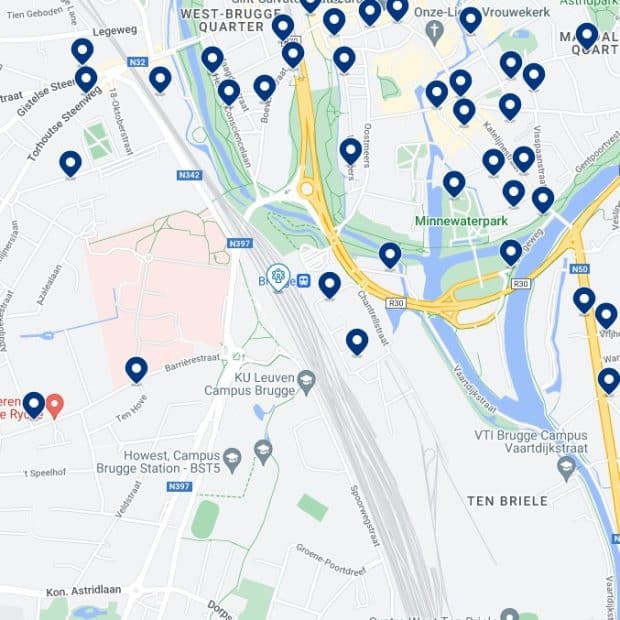 Offering an easy way of exploring Flanders, the Brugge Railway Station area is one of the best locations for tourists in Bruges.
Why is this the best area to stay in Brugge:

Near the city center
Best-connected area in Bruges
Access to other cities in Belgium and the Netherlands
Canals and waterways
Nightlife and restaurants
The Brugge railway station area is a convenient and bustling location for travelers visiting the beautiful city of Bruges. Situated in the southern part of the city, this area provides easy access to the historic center, which is just a 20-minute walk or a quick bus ride away. The district is characterized by its ancient architecture, making it an ideal spot for visitors looking for both convenience and charm.
With various shops, cafés, and restaurants nearby, visitors can enjoy local flavors while still being close to their accommodations.
At night, the Brugge railway station area offers a more laid-back atmosphere, with cozy bars and pubs inviting guests to unwind after exploring the medieval city. However, for those seeking a more vibrant nightlife scene, the city center is easily accessible.
The hotel offerings in this area cater to different budgets and preferences, ranging from budget-friendly properties to upscale boutique hotels. Due to its convenient location near public transportation, staying in this part of town ensures an easy and enjoyable exploration of all that Bruges offers.
For those looking to venture further afield, the train station provides excellent connections to other cities in Belgium, including Antwerp, Ghent, and Brussels, and neighboring countries such as the Netherlands and France. This makes it a convenient base for day trips to other nearby places. Buses, taxis, and rental bikes are readily available for getting around town.
Best Hotels near Brugge Train Station
---
3. Sint-Anna Quarter: A Great Area to Stay in Bruges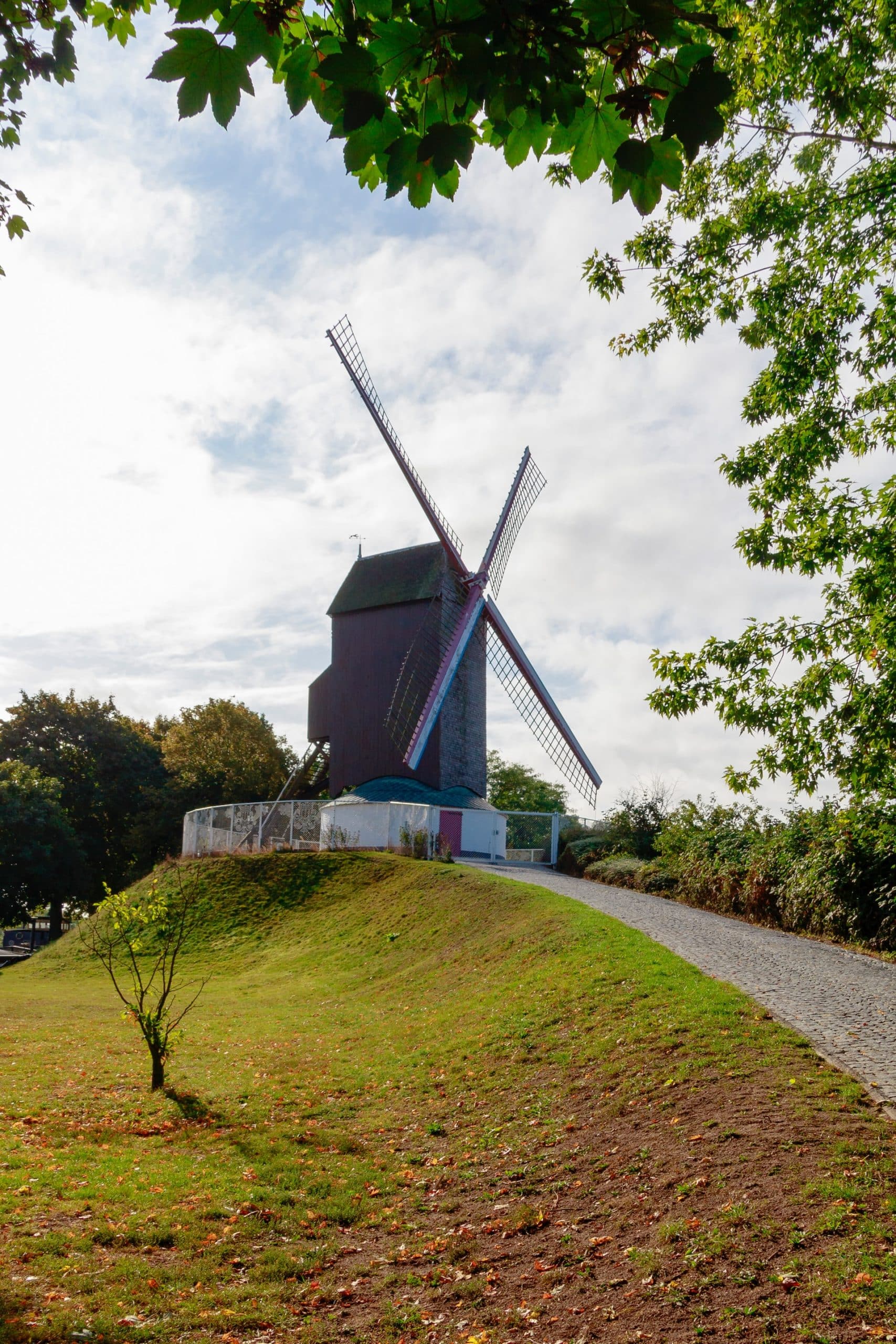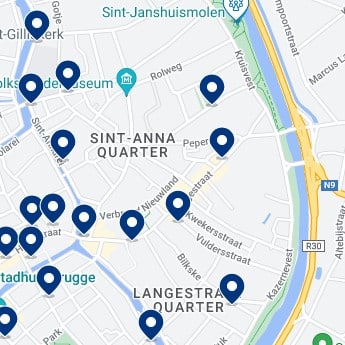 Sint-Anna is one of the best areas for tourists in Bruges.
Sint-Anna Quarter is a charming and historic area within the Old Town of Bruges. Located in the district's eastern part, it is a peaceful retreat from the bustling tourist hubs. The quarter is known for its well-preserved medieval architecture, cobbled streets, and picturesque canals that provide an authentic Bruges experience.
Visitors to Sint-Anna Quarter can enjoy exploring the Church of Saint Anne, an architectural masterpiece from the 17th century. Other noteworthy attractions include the English Convent's beautiful gardens, the Folklore Museum showcasing traditional Flemish life, and many local artisan shops.
Also in Sint-Anne is the Sint-Janshuismolen, a historic windmill located in the city. This iconic landmark dates back to the 18th century and is one of the few remaining windmills in Bruges. Its striking appearance and picturesque location make it a popular spot. Situated on the city's eastern edge, near the old city walls, the Sint-Janshuismolen offers stunning views of the surrounding countryside.
The general ambiance of Sint-Anna is relaxed, allowing travelers to unwind and experience the Bruges lifestyle at a leisurely pace. The area has several cozy pubs and cafes for those interested in nightlife.
In terms of transportation options, Sint-Anna is well-connected with the rest of Bruges through public transportation, including buses and cycling pathways. The main city center can also be reached by foot within 15 to 20 minutes.
Accommodation in Sint-Anna Quarter varies from quaint bed-and-breakfasts to boutique hotels that cater to different budgets and preferences. Guests can choose from various options that suit their specific needs while enjoying an authentic stay in this beautiful part of Bruges.
Best Hotels in Sint-Anna Quarter
---
4. Zeebrugge: Best Location by the Sea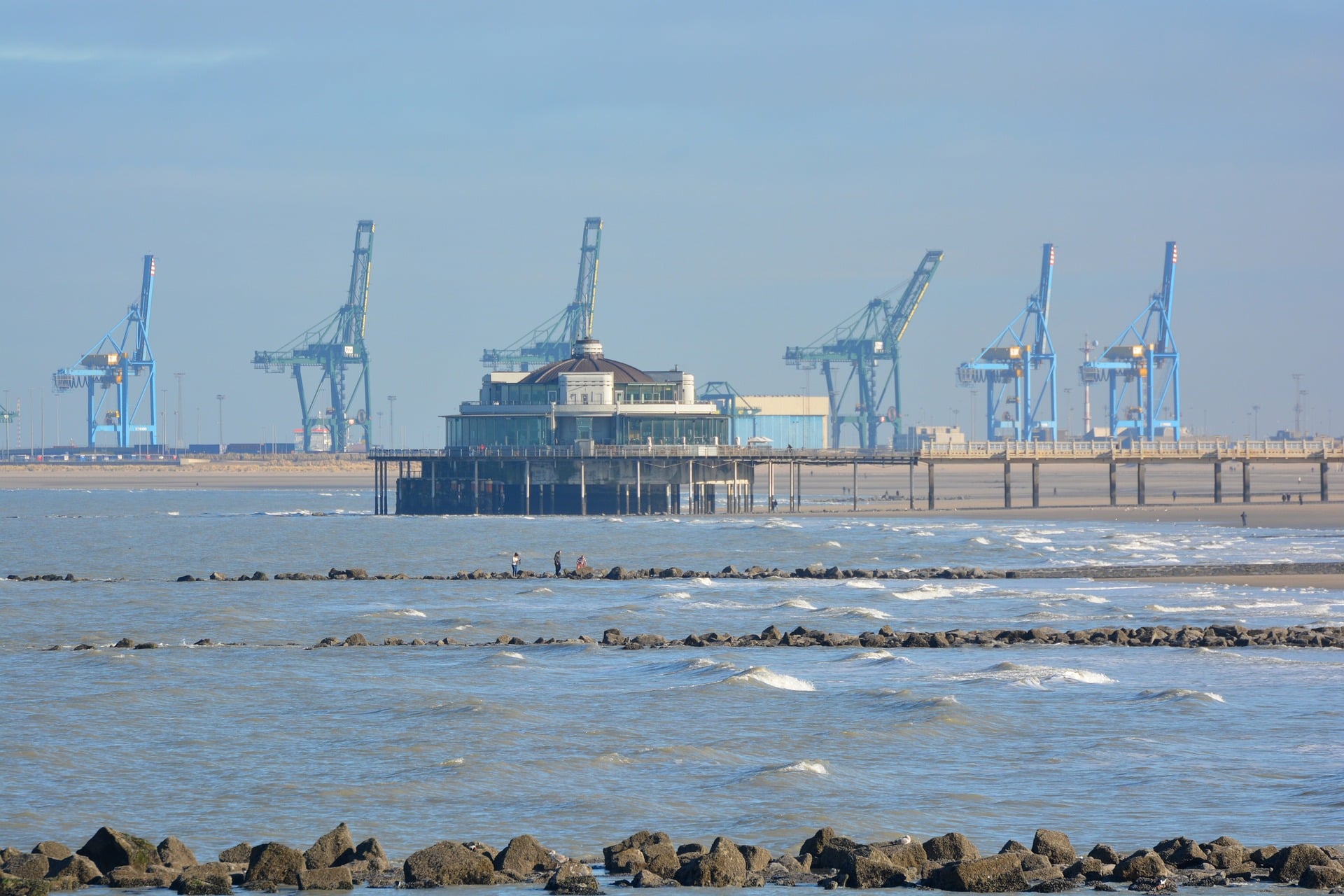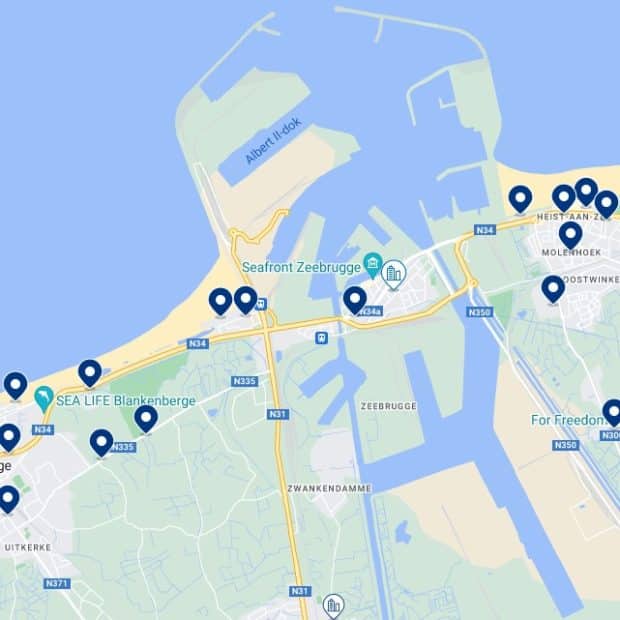 Zeebrugge offers stunning sea views and easy access to the beach.
Why is this the best area to stay in Brugge:

Small coastal town
Access to the beach
Connected by train to Bruges
Zeebrugge, a charming coastal village, is an ideal destination for travelers seeking a serene atmosphere and natural beauty. Situated on the northern coast of Belgium, this quaint location has a rich history and many activities. With its beginnings as a small fishing village, Zeebrugge has grown over the years.
What sets Zeebrugge apart is its massive sandy beaches and stunning sea views. Here, visitors can bask in the sunlight and take refreshing dips in the sea or engage in water sports such as kitesurfing and sailing. There's the Seafront Zeebrugge Museum for history buffs, which showcases the port's development and maritime heritage; if you're looking to appreciate nature up close and personal, head to the Zwin Nature Park, home to diverse flora and fauna.
The area exudes a peaceful ambiance. Just a short drive away from bustling cities like Bruges and Ostend, travelers can taste city life whilst retreating to their calm oasis in Zeebrugge. With various dining options along the seafront.
Transportation options are convenient in Zeebrugge, as it features well-connected train routes linking to other Belgian cities. In addition, there's a ferry service connecting Zeebrugge to Hull in England—making international travel highly accessible. As for accommodation choices, you can find everything from cozy bed & breakfast establishments to luxurious hotels providing an array of amenities. This makes Zeebrugge suitable for any traveler's needs or budget.
Best Hotels in Zeebrugge
---
5. Assebroek: Quiet Location Outside the City Center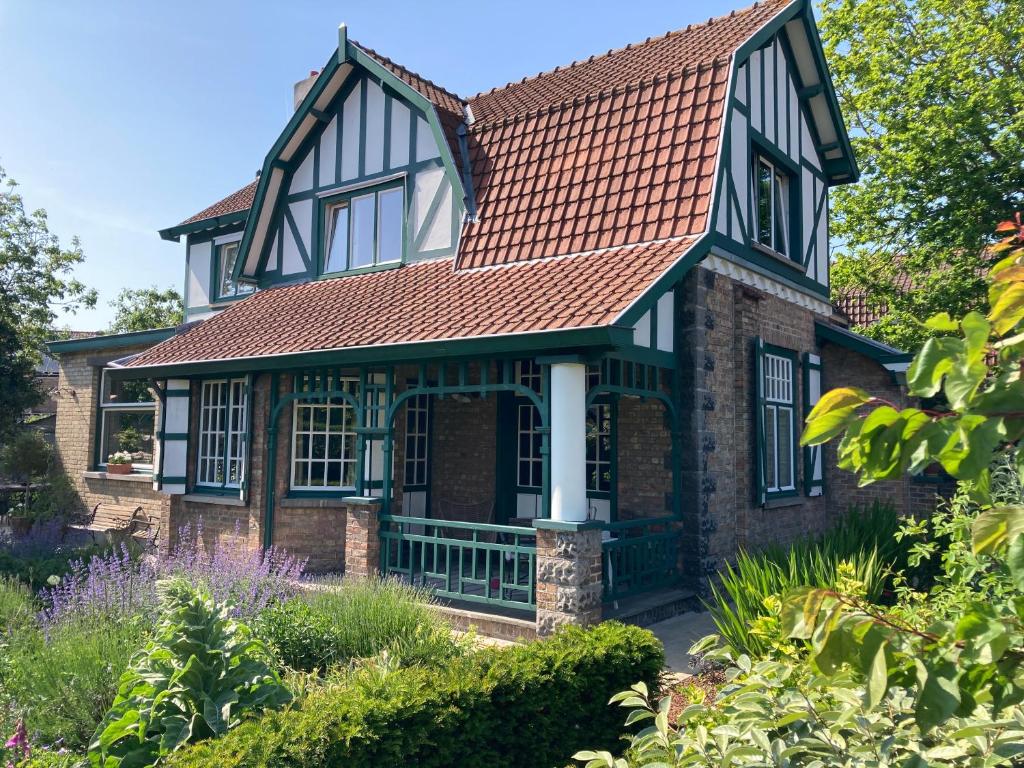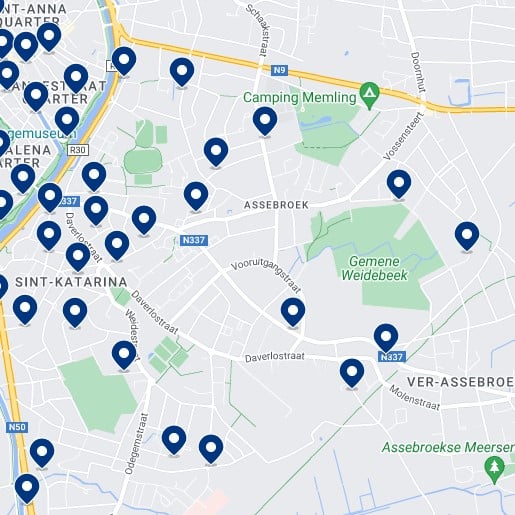 Known for its picturesque scenery and tranquil atmosphere, Assebroek provides visitors with a serene escape from the hustle and bustle of city life.
Why is this the best area to stay in Brugge:

Quiet area
Connected by public transport to the Old Town
Lovely parks & green spaces
Assebroek is a charming area located southeast of the historic city center of Bruges, Belgium.
The area boasts beautiful parks and green spaces, such as the Assebroekse Meersen nature reserve, perfect for strolls and picnics. For those interested in history, the Saint Lucia Church, with its unique architecture and centuries-old cemetery nearby, is worth a visit.
Assebroek offers a mix of local shops and eateries with authentic Belgian cuisine. The general ambiance of the area is cozy and inviting, making it an ideal destination for families, couples, and solo travelers seeking a quiet retreat. Nightlife in Assebroek is relatively low-key, with a few pubs and bars scattered throughout the neighborhood.
As for transportation options, getting to and from the city center is convenient via bus or bicycle, taking roughly 10 to 15 minutes. Additionally, Assebroek's location provides easy access to major highways for those exploring other parts of Belgium.
The accommodation options in Assebroek range from quaint bed and breakfasts to mid-range hotels that offer guests a comfortable stay without breaking the bank.
Best Hotels in Assebroek, Bruges
---
6. Sint-Kruis: A Great Option Not Far from the Old Town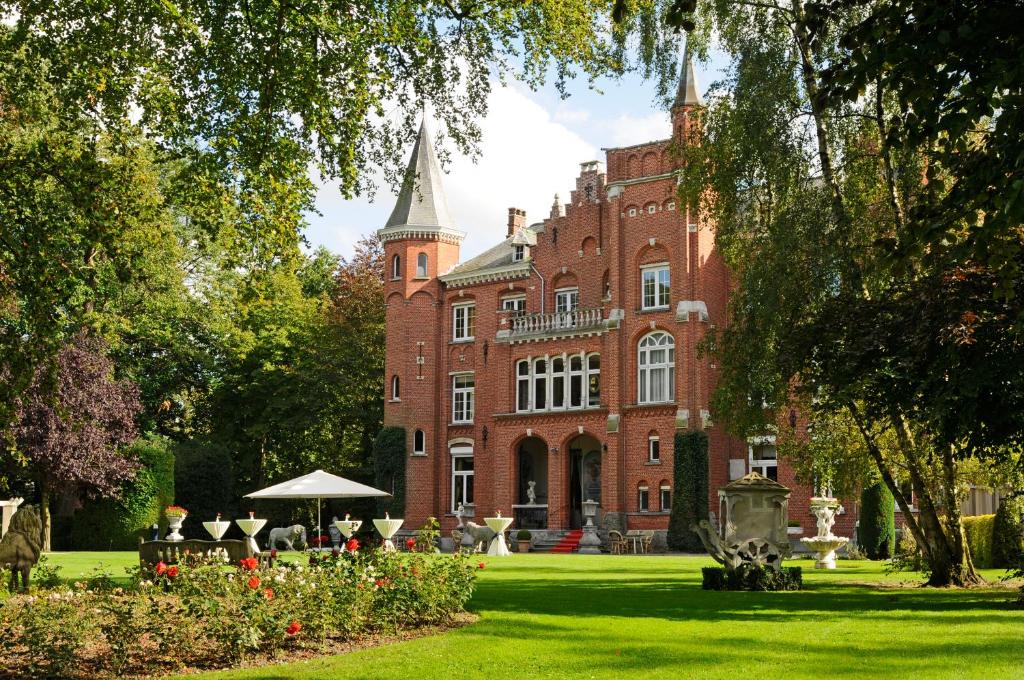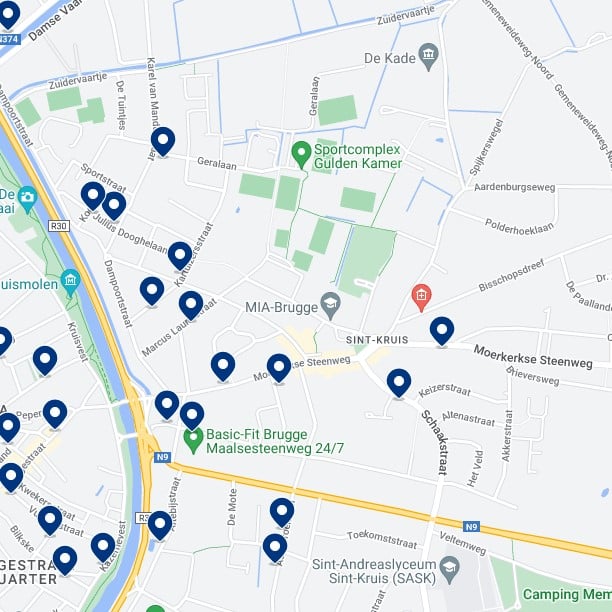 With its tree-lined streets, charming architecture, and cozy atmosphere, Sint-Kruis makes for a tranquil escape from the bustling tourist areas.
Sint-Kruis, a charming residential area in Bruges, Belgium, is known for its peaceful atmosphere and picturesque surroundings. Located in the city's eastern part, this quaint suburb offers a unique opportunity for visitors seeking a more relaxed stay while still within easy reach of Bruges' historic center. Sint-Kruis is rich in local history and notable landmarks, with attractions such as the 12th-century St. Elizabeth Church and scenic parks like Male Castle Park offering a taste of the past.
The area's ambiance is characterized by charming streets lined with historic and modern architecture. Sint-Kruis thrives in dining options, offering local Flemish cuisine alongside international delights. While not as bustling as the central Bruges nightlife scene, Sint-Kruis has several bars and cafés where visitors can enjoy a quiet drink in an authentic atmosphere.
Efficient transportation options simplify exploring the city, with bus routes providing direct access to Bruges' popular attractions and surrounding countryside. Additionally, cycling is prevalent in the region, allowing visitors to take advantage of dedicated bike paths.
When it comes to accommodations, Sint-Kruis offers a selection of boutique hotels, charming bed and breakfasts, and holiday apartments suited for all budgets.
Best Hotels in Sint-Kruis, Bruges
---