Bogotá, the capital of Colombia, is a vibrant city, with a great nightlife, delicious food, and a rich history. If you're planning your first trip to Bogotá, you may wonder where to go, what to do, and what to eat in the city. That's why I have put together this guide, covering 11 things you need to know before traveling to the Colombian capital. From practical pre-flight knowledge to cultural insights, this post will prepare you for your first visit to Bogotá.
The 11 Things You Need to Know Before Your First Trip to Bogotá, Colombia
---
---
1. Brief History and Location of Bogotá
Bogotá, officially known as Bogotá, Distrito Capital, is the capital city of Colombia. It spans an area of 1,587 square kilometers and is at an altitude of 2,640 meters above sea level in the Andean region of South America.
Established on August 6, 1538, by Spanish conqueror Gonzalo Jiménez de Quesada, the city was initially named Santa Fe de Bogotá. The origins of Bogotá trace back to the Muisca people who lived in the region before the Spanish conquest.
Bogotá has played a significant role in Colombian politics, economy, and culture throughout its history. The city multiplied in size and importance thanks to trade and commerce during the colonial period. Notably, it was a key hub for political conspiracies against Spanish rule leading up to Colombia's independence from Spain in 1819. The city then became the capital of Gran Colombia before eventually emerging as the capital of modern-day Colombia.
---
---
2. How to Get to Bogotá
El Dorado International Airport (BOG) is the main entry point for international and domestic passengers. Ranked as the busiest airport in Colombia, it serves around 35 million passengers annually. The airport has global connections to countries like Spain, France, the United States, Germany, and Canada, to name a few. El Dorado also connects Colombian cities like Medellín, Cartagena, and Cali.
The airport is a central hub for Avianca, Colombia's national flag carrier airline. Other significant carriers serving Bogotá's airport include LATAM Colombia.
Besides flying, you could also get to Bogotá from other cities by bus or car.
But, considering how long road trips in Colombia tend to be and the nausea-inducing curves on the way, you may want to stick to flying.
---
3. When to Travel to Bogotá
To choose the best time for your first trip to Bogotá, you need to consider the city's climate, tourist seasons, and costs for flights and accommodations.
Bogotá has a subtropical highland climate. The average temperature ranges from 12 to 17ºC (54 to 63ºF). The best weather conditions are between December and March and between June and August. These periods have less rainfall than the rest of the year, making them suitable for outdoor activities and sightseeing. Yet, you can almost always count on grey skies and rain in Bogotá.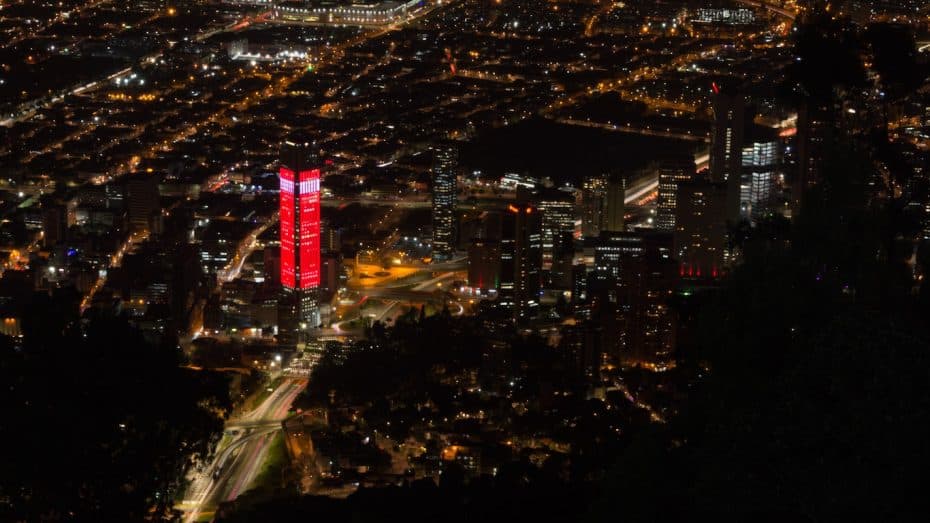 Regarding the seasons, peaks in international tourism occur during January, February, July, and December. As a result, prices for flights and accommodations tend to be higher during these months. So, it would be best to travel between March and May or September to November for more budget-friendly options.
---
4. How to Move Around Bogotá
TransMilenio, launched in 2000, is the city's Bus Rapid Transit (BRT) system. With over 12 lines covering approximately 114 kilometers across Bogotá, it strives to provide an efficient means of traversing the city. But TransMilenio faces challenges during peak hours since it carries about 2.4 million passengers daily. Due to the overcrowding, pickpocketing is not uncommon in TransMilenio, so be careful when using this system during your first trip to Bogotá.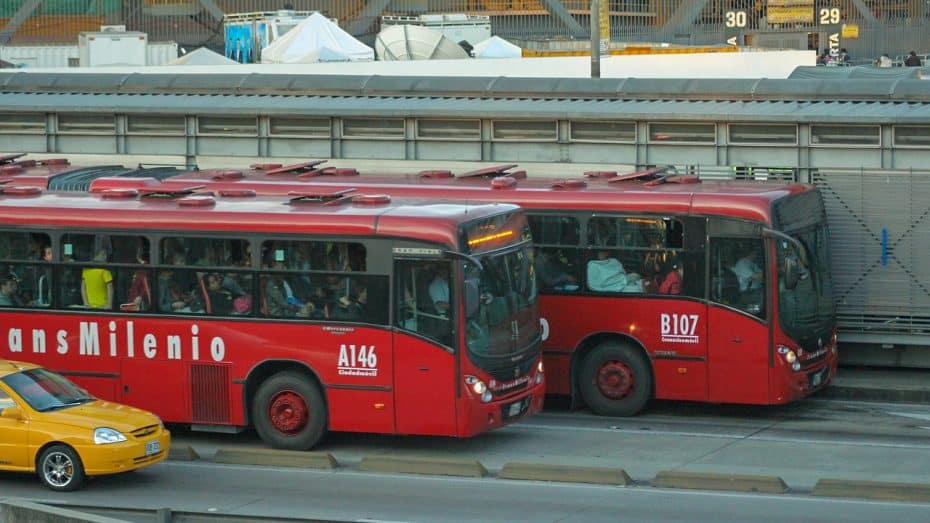 Cycling is a popular and eco-friendly option that Bogotá strongly encourages through its Ciclovía program. This initiative temporarily closes major roads on Sundays and holidays from 7:00 AM to 2:00 PM. Additionally, Bogotá has over 375 kilometers of dedicated bike lanes for daily use.
Furthermore, taxis are abundant throughout the city, along with Uber and other apps such as Tappsi and Cabify for those who prefer private transportation services.
I do have to warn you: Traffic in Bogotá can be a nightmare. During rush hours, you could spend a lot of time sitting in the back of a car trying to get to your hotel.
---
5. Where to Stay in Bogotá
There are several factors to consider when choosing where to stay in Bogota. These factors include safety, budget, nearby attractions, and public transport connections. Some of the best areas to stay on a first trip to Bogotá include:
Chapinero. This northeastern district is a notable financial and commercial hub with a mix of residential areas, modern high-rise buildings, and shopping centers. In Chapinero, you can find multiple accommodation options, like budget hotels, mid-range options, and high-end hotels. Chapinero Alto is particularly popular among tourists due to its cultural scene and an abundant selection of bars, cafes, and restaurants. Chapinero also houses Bogotá's gay area.
Zona T. Also called Zona Rosa, this area is an upscale shopping and entertainment district within Chapinero. With its sophisticated atmosphere houses luxury hotels, high-end shops, and a large selection of gourmet restaurants and nightlife options.
La Candelaria. This area is in the heart of Bogotá, the city's historic center. It is home to important buildings, such as the Plaza de Bolívar, and many museums, including the Gold and Botero museums. The area is known for its well-preserved colonial architecture and narrow cobblestone streets. Accommodation in the area includes backpacker hostels and boutique hotels, often housed in refurbished historical buildings. That said, it is not the safest area to stay during a first trip to Bogotá.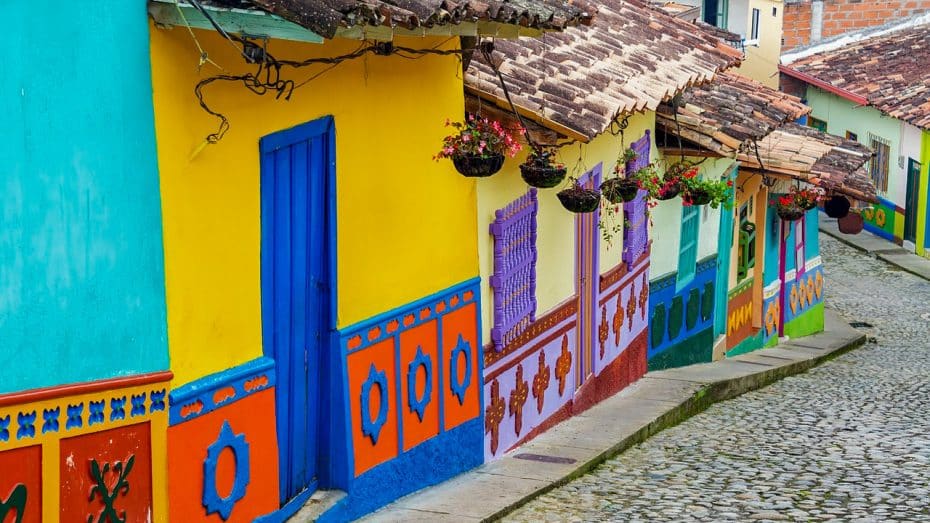 ---
6. Must-See Places in Bogotá
Whether you're staying in the Colombian capital for a few days or weeks, here are the must-see attractions in Bogotá:
Gold Museum (Museo del Oro): The Gold Museum is in Bogotá's historic center, La Candelaria. It holds an extensive collection of pre-Columbian gold artifacts created by indigenous people from different regions of Colombia. Established in 1939, the museum contains over 34 thousand pieces of gold and other materials that showcase the intricate craftsmanship of these ancient cultures.
Monserrate Sanctuary: Northeast of La Candelaria, on top of a mountain, 3.152 meters above sea level, stands the Monserrate Sanctuary. Built between 1650 and 1657, this Catholic church dedicated to the Fallen Christ offers stunning panoramic views of the urban landscape below.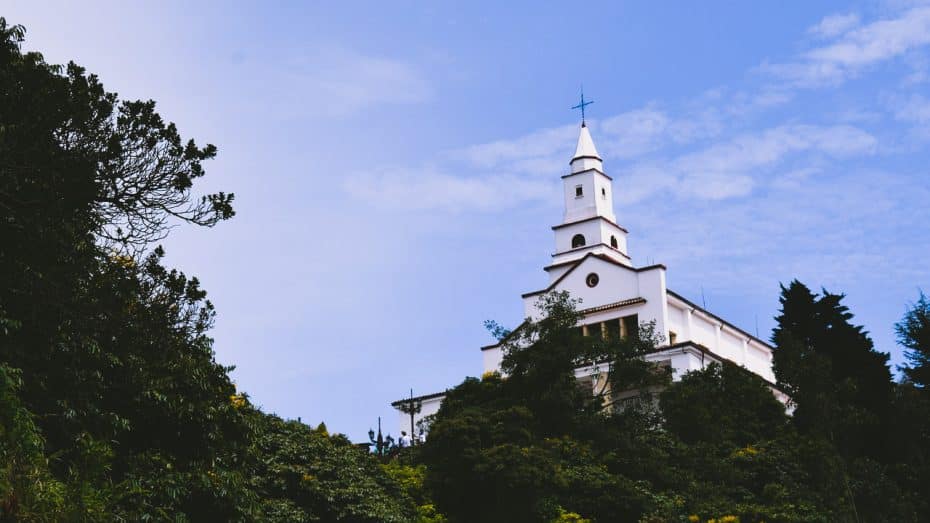 Botero Museum: This museum showcases many sculptures and paintings by Colombian artist Fernando Botero. The museum has been housed within Casa de la Moneda since 2000, a historically significant building where coins were produced.
Plaza Bolívar: This is Bogotá's most important square and is in the historic center of the city surrounded by key administrative buildings such as Palacio de Justicia (Supreme Court), the cathedral, and Capitolio Nacional (Congress). The square features a bronze statue of Simón Bolívar sculpted by Italian artist Pietro Tenerani in 1846.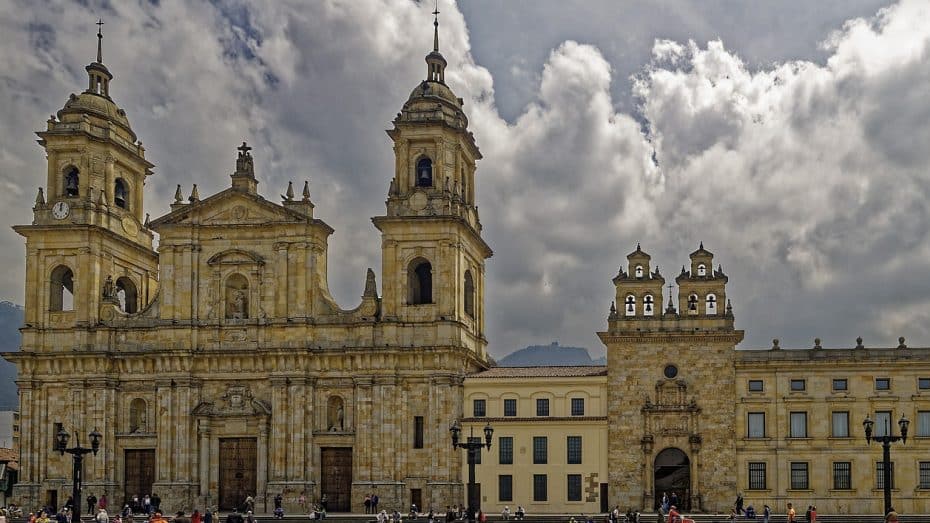 ---
7. What to Eat in Bogotá: Best Areas for Foodies, top Restaurants and Dishes
One of the best parts of traveling is discovering new flavors and foods. So, to get to know Bogotá through its cuisine, there are traditional dishes you should try. For example, Ajiaco, a hearty Colombian soup made from chicken, corn, and potatoes, is a must-try.
As for where to eat, in the area known as Zona G, which stands for Zona Gastronomica, you can find top-notch restaurants. Located in Chapinero, this area offers various local and international cuisines.
Some of the best restaurants in the city include Andrés D.C. or Andrés Carne de Res (Carrera 12 #93-00). This popular restaurant showcases traditional Colombian fare in a festive environment. Highlight dishes among the typical cuisine served in Andrés D.C. include Sobrebarriga al Horno (oven-baked flank steak) and Arepa de Choclo (a sweet corn cake).
---
8. Where to Shop in Bogotá: Clothing and Souvenirs
If you love to shop, there are several places to visit during your first trip to Bogotá, according to preferences and budget.
In terms of luxury shopping, the Andino Shopping Center and El Retiro Shopping Center are clear standouts. The Andino Shopping Center is in Zona T and houses designer brands such as Louis Vuitton, Dolce & Gabbana, and Salvatore Ferragamo. Meanwhile, El Retiro Shopping Center showcases luxury brands like Chanel and Bvlgari.
For original souvenirs and crafts, the Usaquén Flea Market opens every Sunday and is a public holiday. In the market, you can get traditional Colombian pottery and handmade jewelry created by local artisans. Another location worth exploring is Pasaje Rivas, in the historical neighborhood of La Candelaria. This market offers handcrafted products, such as traditional woven bags created by the Wayuu people of Colombia's Caribbean region.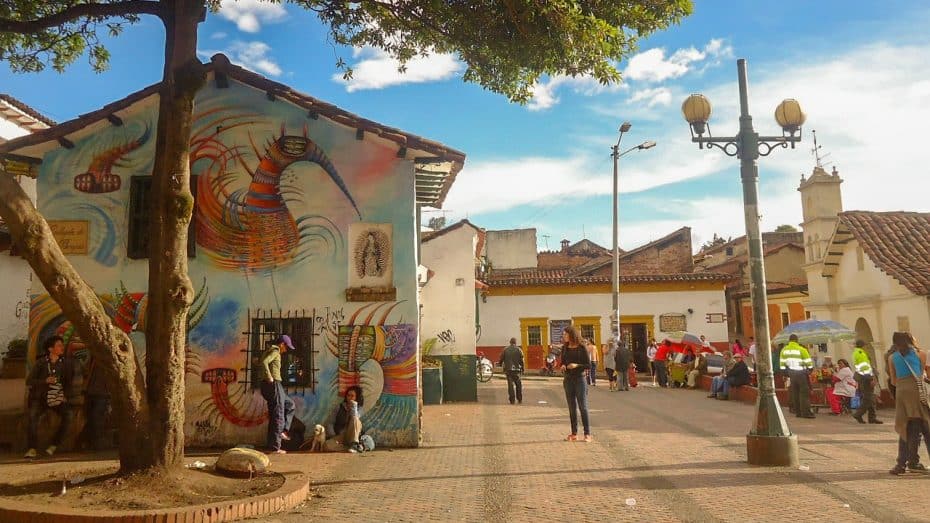 ---
9. Best Festivals and Events in Bogotá
Bogotá hosts several noteworthy festivals and events throughout the year.
One such event is the Feria Internacional del Libro de Bogotá (FILBo), an international book fair organized annually in April. It is held at Corferias, a large convention center located near Downtown Bogotá. This literary event attracts authors, publishers, and book enthusiasts from around the globe. The fair hosts discussions, book signings, and presentations on several literature-related topics.
Another prominent event is Festival Estéreo Picnic, a three-day music festival celebrated every March. The festival occurs in Briceño, a rural area on the outskirts of Bogotá. Festival Estéreo Picnic features a line-up of both national and international artists. Musicians that performed in Estéreo Picnic include The Weeknd, the Red Hot Chilli Peppers, Lana Del Rey, Arctic Monkeys and The Killers.
Additionally, the city holds the Bogotá International Film Festival (BIFF) each October. This film festival takes place in multiple screening venues across the city, showcasing a curated selection of films from Colombia and other countries. BIFF focuses on developing cultural exchanges between Colombian filmmakers and their international counterparts while promoting independent filmmaking.
The Ibero-American Theater Festival occurs every two years in March. This performing arts event is one of the largest theater festivals worldwide and spans over 17 days at venues throughout Bogotá. It brings together performers and theater groups from Ibero-American countries to present plays that support intercultural dialogue and artistic expression.
---
10. Is Bogotá Safe?
Safety in Bogotá is a complex topic, with significant differences between districts. Some areas are considered safer than others, while specific neighborhoods require extra caution.
Chapinero, Usaquén, and Zona Rosa (Zona T) are among the safest areas for tourists in Bogotá. Meanwhile, La Candelaria is not the safest area, especially at night. Here are some recommendations to stay safe during a first visit to Bogotá: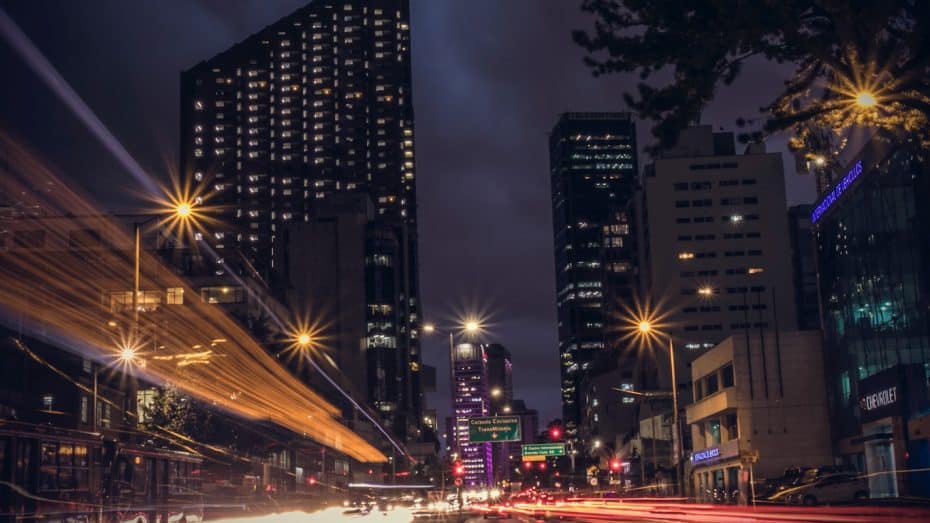 Stay vigilant in public spaces, especially when taking pictures or making videos. Thieves tend to target smartphones, cameras and high-end electronic devices.
Avoid displaying expensive items such as jewelry.
Use registered taxis or ride-sharing applications instead of hailing unregistered taxis from the streets.
Avoid walking alone during nighttime and poorly lit or deserted areas.
---
11. Best Day Trips from Bogotá
If you have some days to spare during your first time in, here are some neighbour towns worth checking out;
Zipaquirá
Zipaquirá is approximately 49 kilometers (30 miles) north of Bogotá. The town is known for its Salt Cathedral, an underground Roman Catholic church built within the tunnels of a salt mine. You can travel from Bogotá to Zipaquirá via bus. To do so, head to Portal del Norte station in Bogotá. You'll arrive at Zipaquirá's central bus terminal in a little over an hour.
Villa de Leyva
Villa de Leyva is about 159 kilometers (99 miles) north of Bogotá and stands out for its well-preserved colonial architecture. Points of interest include the Plaza Mayor, the largest cobblestone square in Colombia, and the Iglesia Parroquial. Buses bound for Villa de Leyva leave the Terminal Salitre station in Bogotá and arrive at the town's bus station. Travel time ranges between 3 to 4 hours.
---
Other Frequently Asked Questions About Bogotá
What language do people in Bogotá speak?
Like the big majority of South American countries, people in Colombia speak Spanish. Thus, Spanish is also the official language in Bogotá.
What's Bogotá's currency?
The Colombian Peso (Symbol: $; Code: COP) is the currency of Colombia. That said, there are many money exchange offices around Bogotá, including at the airport.