Where to Stay in Caracas, Venezuela: What You Need to Know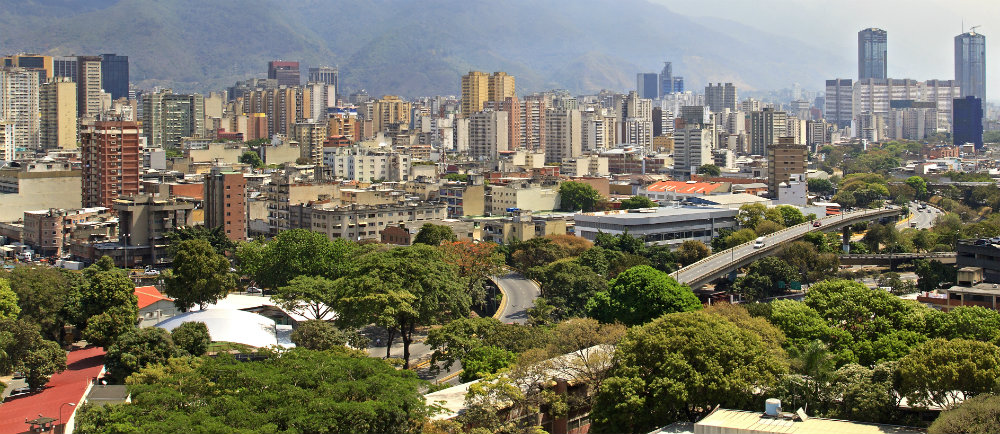 Caracas, the capital city of Venezuela is a place with a well-earned reputation as one of the most dangerous cities in Latin America.
But under this violent, chaotic layer there is a very interesting place, a big city which boasts some of the greatest museums in the region, along with a vibrant restaurant scene and legendary nightlife.
Caracas is also a major transportation hub to explore the rest of the country, the Caribbean and South America as a whole.

Being one of the least safe cities in the region, choosing the best area to stay in Caracas is of vital importance to anyone who visits the Venezuelan capital.
As opposed to other South American capitals, like Bogotá, Caracas has a fairly well-developed metro system that connects the main areas of the city.
Be it a family visit, a short stopover en-route to somewhere else, a business trip or a quest to see the life beat of a city traditional media does not always portrait, we bring you the best areas to stay in Caracas, along with safety information on each district and other useful information to find the perfect accommodation in the Venezuelan capital.
As a rule of thumb, neighbourhoods to the east of the city tend to be the nicest and safest, while anywhere west from Chacaito should be a no-go zone for any non-experienced traveler.
Best areas to stay in Caracas: Map
The Best areas to stay in Caracas
1. Best area: Chacao, Chacaíto & El Rosal
Chacao and El Rosal are some of the most upmarket areas of the Venezuelan capital.
These districts are all well-connected by metro line 1 (Chacao and Chacaito stations).
This area is considered the financial district of the city, filled with highrises and residential condos. It is also full of shopping options, with huge malls such as Sambil or San Ignacio.
El Rosal is also close to Las Mercedes, the best dining and entertainment area in Caracas.
Hotels here tend to have high rates but the area is one of the nicest to stay in Caracas.
Chacaito is between the fancy Altamira neighborhood and the central Sabana Grande area.
Chacaito is somewhat more down-to-earth and middle-class than Altamira but is also has an upbeat and commercial vibe.
Is it safe? Chacao and El Rosal are safe for Caracas standards. As always, common sense is advised.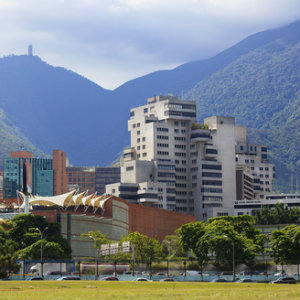 Hand-picked hotels in this area
---
2. Altamira & La Castellana
Altamira is the central point of the affluent Chacao Municipality.
The leafy main square, Plaza de Francia (or Plaza de Altamira) is one of the nicest squares in the capital.
This area is well-connected to the rest of the city via metro station Altamira (line 1).
You can find several international chain hotels here. Hotels in this area tend to be on the expensive side and most have private security.
Is it safe? While no district in Caracas is completely safe of crime, Altamira is one of the wealthiest and safest areas in Caracas.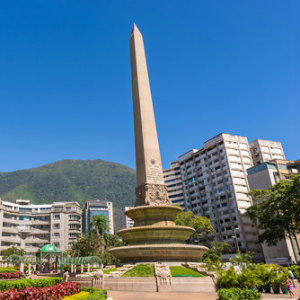 Hand-picked hotels in this area
---
3. Las Mercedes – Chuao
Las Mercedes and Chuao are located south of Chacao, next to La Carlota air base.
It can be considered the best area to stay in Caracas and some of the best hotels in town are located here.
It is a fancy neighbourhood known as "the Soho of Caracas" thanks to its great gourmet scene and nightlife.
Is it safe? Las Mercedes and Chuao are two of the wealthiest districts in Caracas and can be considered safe during the day. Las Mercedes, being an entertainment and nightlife area can be unsafe at night.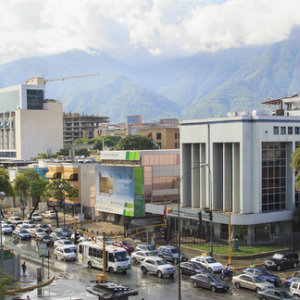 Hand-picked hotels in this area
---
4. Sabana Grande – Plaza Venezuela
Plaza Venezuela is the geographic center of the city.
It's the place to go if you're looking for cheap hotels in Caracas. There are many accommodation options that range from love-hotels to some of the fancy places.
Sabana Grande is also the main pedestrian promenade in the city.
Is it safe? Not really. Although during the day there should be no problem, the area around Sabana Grande can be quite dangerous at night. Plaza Venezuela is a no-go area after sunset.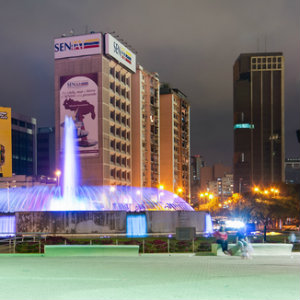 Hand-picked hotels in this area
---
5. Near Caracas Airport (Simón Bolívar International)
Simón Bolívar International Airport, also known as Maiquetía Airport, is Venezuela's main gateway and air hub.
This airport is located aprox. 10 miles north of Caracas, next to the Caribbean Sea, in the coastal state of Vargas. Maiquetía consists of two terminals and is the main hub of local airlines such as Conviasa or Avior, with connections to all corners of the country.
Staying near Caracas Airport is highly recommended for travelers visiting the Venezuelan capital during a layover or those who do not wish to venture into the city.
Is it safe?: The immediate surroundings of the airport can be unsafe for international travelers. It is recommended to always choose an official taxi (there are ticket counters in both terminals) or hotels with transfers included. Avoid people offering their services in the arrivals hall.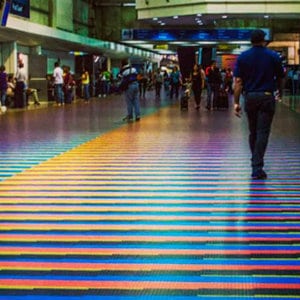 Hand-picked hotels in this area
---
Read this post in other languages
|ES| Zonas más seguras donde dormir en Caracas.