Venice is a city with a rich history and unique architecture. In fact, the winding canals of Venice make it one of the most iconic destinations in the world.
For first-time visitors, navigating the labyrinth alleys of this enchanting Italian city can be both thrilling and overwhelming.
So, in this guide, we'll provide essential tips and tricks on everything from transportation options to must-see attractions in Venice.
What You Need to Know Befor Your First Trip to Venice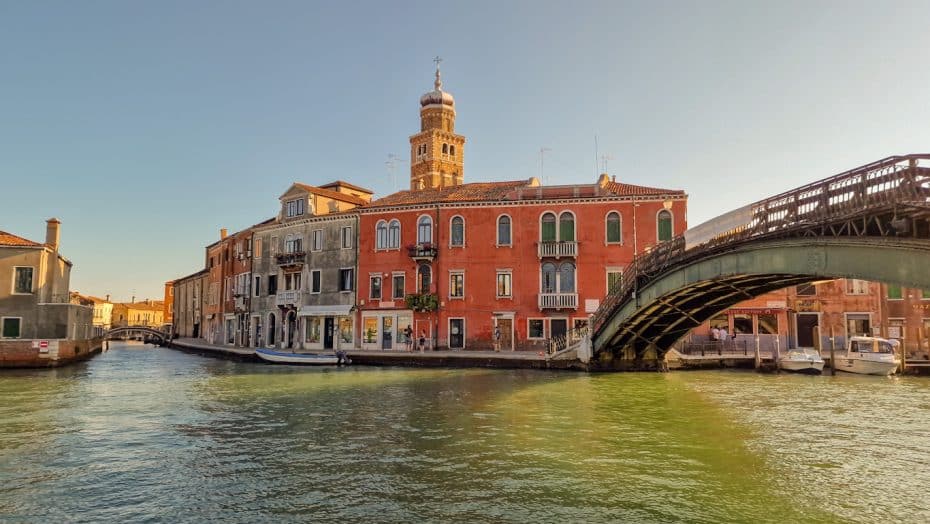 ---
---
The History of Venice
Venice's history dates back to 421 AD when it was found by refugees who fled from Barbarian invasions. These refugees found a haven on the islands of the Venetian Lagoon. And, over time, Venice developed into a powerful maritime republic, known as the Republic of Venice.
The republic's peak was during the 13th to 15th centuries. During this period, Venice controlled vast territories and had significant influence over trade routes.
Major historical events in Venice include its involvement in the Crusades, a series of religious wars during the Middle Ages. In 1204, during the Fourth Crusade, Venice played a pivotal role in capturing the Eastern Orthodox city of Constantinople (now Istanbul). This act weakened Byzantine Empire's power significantly but strengthened Venice's position as a dominant trade power.
A figure of particular interest in history is the Doge of Venice, an elected leader who governed the city. One of the most famous doges was Enrico Dandolo. Serving from 1192 to 1205, people remember Dandolo for his central role in expanding Venetian territory.
Art and architecture also thrived during the Republic of Venice's rule. In this period, several monumental buildings emerged on the city landscape, including Basilica di San Marco (St Mark's Basilica) and Rialto Bridge.
The fall of the Republic of Venice occurred in 1797 when Napoleon Bonaparte conquered and dissolved it. Afterward, the region frequently changed hands between France and Austria until it finally became part of unified Italy in 1866.
Today, Venice remains an emblematic historical landmark. The city showcases reminders of its strong maritime past mixed with cultural charm and magnificent architecture.
---
---
Essential tips for a first time visit to Venice
1. How to Get to Venice from the Airport
The primary airport serving Venice is Marco Polo Airport (VCE) is about 13 kilometers from the city center. The airport's opened in 1960 and its name comes after the famous Venetian traveler Marco Polo.
To reach Venice from the airport, you can take the water bus service called Alilaguna. The company offers different routes connecting Marco Polo Airport to different points in Venice.
Another alternative is ATVO Air Terminal's express bus service, which connects Marco Polo Airport with Piazzale Roma in Venice. This bus service takes about 20 minutes to reach its destination.
Both water taxis and land-based taxi services are accessible at designated areas in the airport. That said, land-based taxis can only get you to a small part of Venice. Meanwhile, although they can be expensive, water taxis offer a more direct connection to certain hotels located along Venetian canals. Taking a water taxi can also be a beautiful experience, which is why some refer to them as Venetian limousines.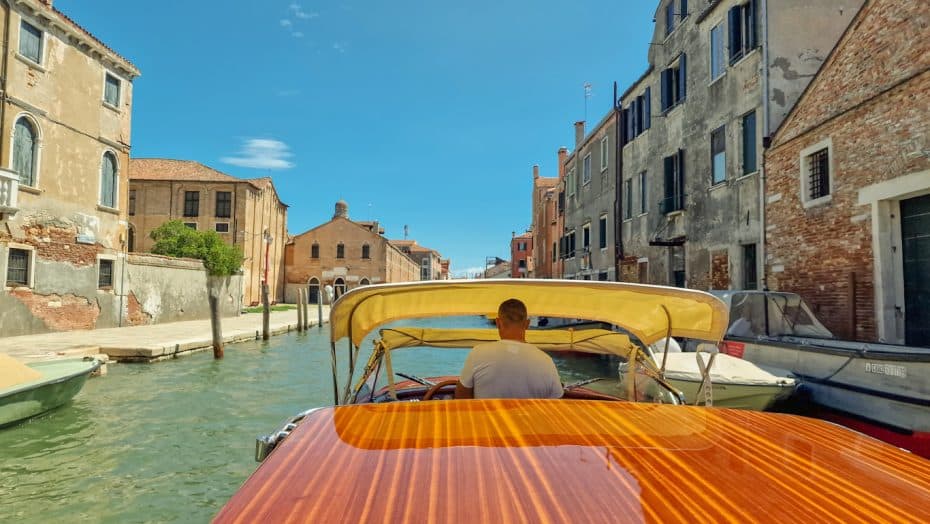 ---
2. How to Get Around in Venice
Getting around Venice requires an understanding of its unique transport system. Venice is on a group of 118 small islands, separated by canals and connected by more than 400 bridges. Due to the absence of cars, other types of transport have developed throughout the city's history.
The primary mode of transportation in Venice is the Vaporetto, a public waterbus system. Vaporettos began service in 1881, navigating through the city's major and minor waterways. These waterbuses serve multiple routes with designated stops, similar to traditional land-based buses. Tickets for vaporettos can be purchased at booths near ferry stops. You can also get tickets through ACTV, the public transport company in Venice, mobile app.
Gondolas are a symbol of Venice since the 11th century when they were the primary mode of transportation for Venetians. Nowadays, gondolas cater primarily to tourists for scenic trips along the city's canals. However, there are still a handful of "traghetti" gondola services that function as ferries. These gondolas take locals and visitors across the Grand Canal at designated points without bridges. That said, a (sometimes very) short ride on gondola costs 80 euros.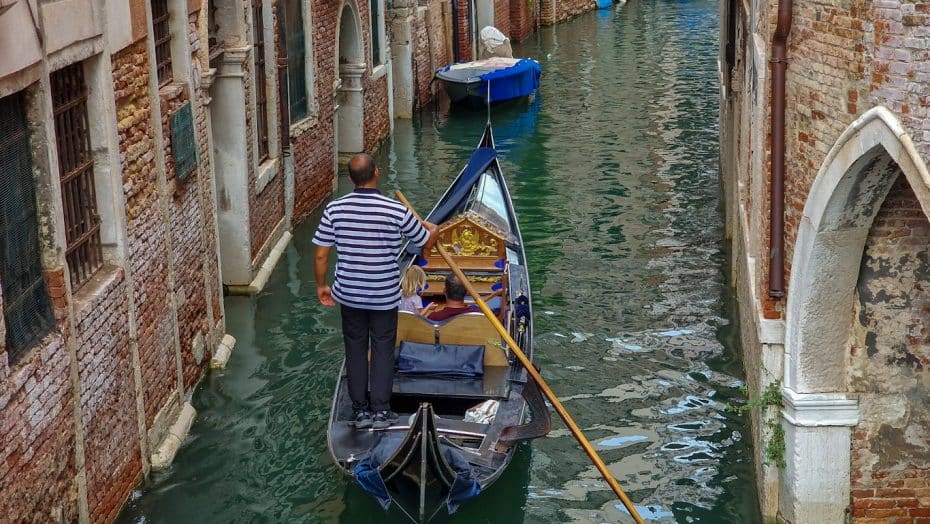 Walking is also a common way to move around Venice's maze-like structure. Many alleys and narrow streets connect neighborhoods, allowing pedestrians to move between different islands easily.
Finally, to visit other islands in the Venetian Lagoon like Murano or Burano, boats called "motoscafi" or "motobarca" are available. These boats often operate as water taxis for tourists looking to explore beyond the central city area.
To sum it all up, moving around Venice involves a combination of vaporettos, gondolas, walking, and specialized boats. So, getting familiar with each distinct transportation option and their routes, makes it easier to navigate the city. During a first trip to Venice, this knowledge will come in handy.
Moreover, considering the peculiarities of the transportation system, the best areas to stay in Venice are the most central ones.
---
3. Choosing the Best Time to Visit Venice
To choose the best time to travel to Venice, you must consider factors like weather, crowds, and cultural events.
In general, the months of April, May, September, and October offer pleasant temperatures and manageable tourist numbers. In contrast, the summer months welcome many, many tourists. Hence, you'll witness an overcrowding of public spaces and iconic tourist spots like Piazza San Marco. The summer months are often marked by excessive heat and humidity as well.
The city celebrates several events such as the Venice Biennale (art exhibition) from May to November in odd-numbered years. Meanwhile, the Venice Film Festival is in August/September each year, and the Carnival of Venice in February or March, depending on the alignment with Lent. Although these events attract large crowds, they present unique opportunities to experience Venetian culturem firsthand. But, be aware of plane tickets and hotel rates rising during these dates.
---
4. Staying safe in Venice
The risk of pickpocketing is present across many busy locations in Venice. Popular spots like Piazza San Marco (St. Mark's Square) and Rialto Bridge are prime targets due to their large crowds of tourists. So, as in any major city, please stay alert, avoid crowded areas, and secure your belongings whenever possible.
There are also scams in Venice. One scam involves unofficial tour guides who take advantage of tourists by providing charging exorbitant fees. To counter this, you could book a tour of Venice online. These "guides" seem to have a radar to detect those who are on their first trip to Venice, so beware.
Another scam involves counterfeit products being advertised as authentic souvenirs. For example, handicrafts from Murano Island exhibit unmatched quality and craftsmanship. But there are many imitation items at elevated prices for sale in the streets of Venice. Thus, if possible, try to only buy products from recognized shops.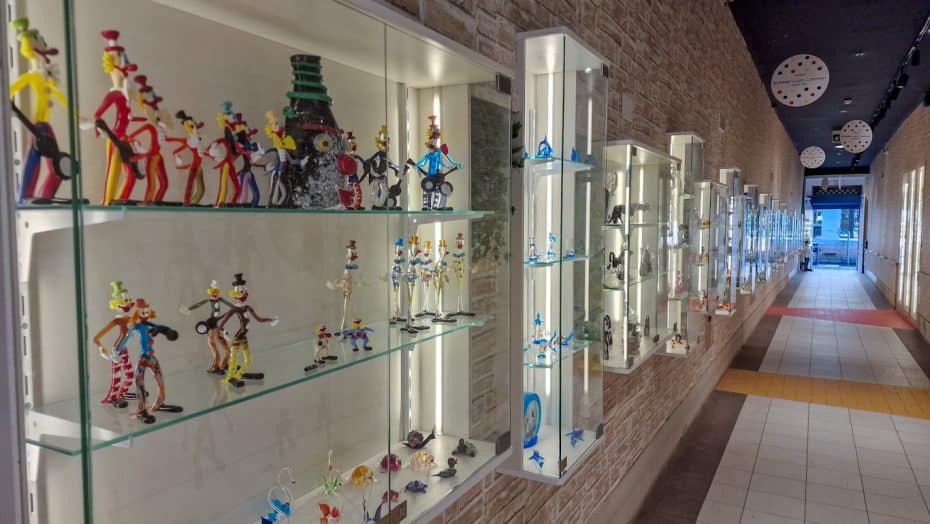 Although this is not a scam, the "cover charge" is a common practice in Venetian restaurants. These charges are fees imposed on customers for sitting at a table or for the cutlery. In some cases, these fees can amount to a significant percentage of the bill. So, you should always check if the cover charges apply at any restaurant before you order.
---
5. Must-see attractions in Venice for first-time visitors
Must-see attractions during your first trip to Venice include several historic and culturally significant sites. The following locations are unique, and educational, and offer insight into Venetian history, architecture, and art.
Piazza San Marco (St. Mark's Square). This famous square is considered one of the city's most important landmarks. The square is in the heart of Venice, surrounded by remarkable buildings like the basilica and the Doge's Palace.
Basilica di San Marco (St. Mark's Basilica). This cathedral from the 9th century displays a mix of Byzantine and Gothic architectural styles. The basilica holds notable artifacts such as the Pala d'Oro altar screen, adorned with precious gems. The Horses of Saint Mark, ancient bronze statues brought from Constantinople in 1204, are also in this church.
Palazzo Ducale (Doge's Palace). This palace is from the 14th century. The building served as the residence of the Doge of Venice, the chief authority in the Venetian Republic. Many renowned artists such as Tintoretto and Veronese contributed to the palace's interior decoration.
Grand Canal. This waterway stretches approximately 3.8 kilometers in length and is one of the city's main water transportation routes. But, besides its historical and cultural importance, the Grand Canal is simply stunning. I dare you not to take a lot of photos of this landmark!
Rialto Bridge. This iconic structure spans the Grand Canal and was originally a wooden bridge, built in 1181 by Nicolo Barattieri. But, after multiple collapses, it was finally replaced with a stone bridge, designed by architect Antonio da Ponte, in 1591. This architectural marvel remains standing today and serves as both a pedestrian walkway and an essential attraction.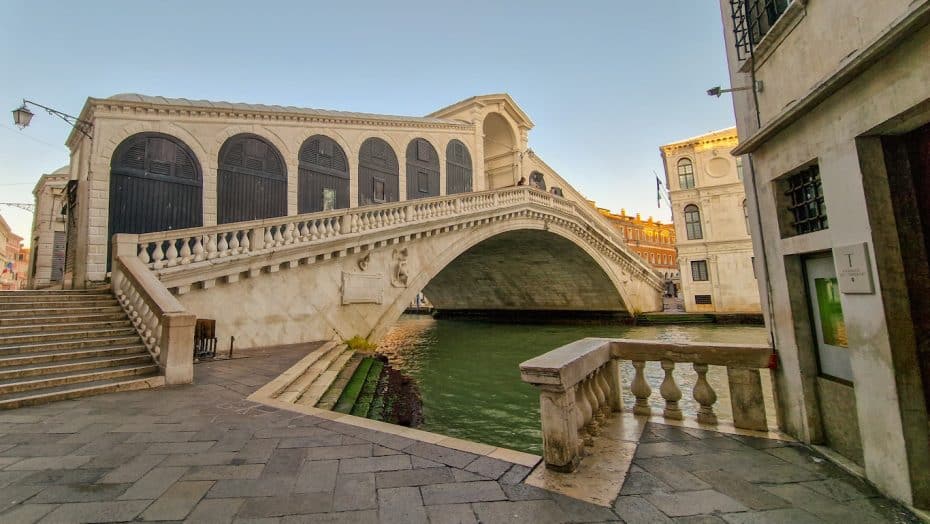 ---
If you want to discover a lesser-known side of the city during your first trip to Venice, there are several places to visit. These attractions, which boast remarkable history, unique features, and captivating stories, include:
Peggy Guggenheim Collection. This museum presents a diverse collection of modern European and American art. The Peggy Guggenheim Collection, founded in 1750, has a beautiful garden and famous paintings by Jackson Pollock and Salvador Dalí. The museum is near Accademia Bridge in the Dorsoduro district. This museum is also a good place to take a break from the tourist crowds during your first trip to Venice.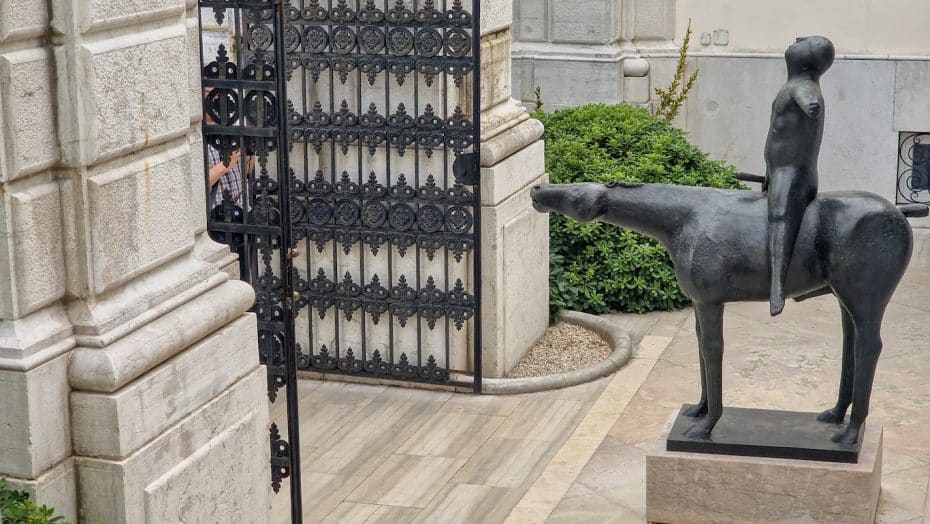 San Pietro di Castello church. Established in the 7th century, this church once held the title of Venice's cathedral until 1807. If you're an art enthusiast, you'll appreciate the works of the painter Francesco Lazzaro Guardi, displayed within this prominent structure. The church is in the eastern part of Venice.
Jewish Ghetto. Located in the Cannaregio district, this area was established in 1516 as a confined neighborhood for Venice's Jewish population. In this area, you can visit the Jewish Museum, or Museo Ebraico in Italian. The museum offers guided tours to explore the synagogues and delve into the history and culture of the Jewish community.
Palazzo Fortuny museum. This museum is in a Gothic palazzo that belonged to famours artist Mariano Fortuny y Madrazo. The artist and textile designer, who was from Grandad, showcased his work in the building before he died in 1949. Located in the San Marco district, the museum often has temporary exhibitions showcasing contemporary artists. Meanwhile, the permanent collection exhibits impressive photographs, paintings, lighting, and stage designs.
---
7. Tips for experiencing authentic Venetian cuisine
The Best Food in Venice and Where to Find It
Renowned for its seafood and risotto dishes, authentic Venetian culinary experiences requires an understanding of historical areas within the city.
For instance, Rialto Market, located adjacent to the Rialto Bridge in the San Polo district, dates back to 1097. This open-air market continues to function as a hub for local produce, fish, and other seafood. Visiting the market guarantees access to fresh ingredients used in traditional recipes.
Another notable location is Osteria Antica Adelaide, a historic tavern situated in the Cannaregio district. This establishment has been serving traditional Venetian dishes since the 1800s and features a unique range of local wines.
Having authentic experiences in Venice demands an appreciation for historical establishments that remain integral to the city's cultural fabric. These specific locations featuring time-tested practices and ingredients will allow you to indulge in the culinary traditions of Venetian cuisine.
That said, as with any destination, you should try to avoid restaurants in the more "touristy" streets. Not only are these establishments less likely to serve authentic Venetian cuisine, but they'll also be crowded and more expensive. Please, try not to fall into the "tourist traps" on your first trip to Venice.
How Many Things to Order at a Restaurant
Don't get me wrong, I'm not here to tell you how much to eat/order. But, if you've never been to Venice or Italy before, you'll notice the menus can be confusing. Why? Because you can order an appetizer, a first and second course, side dishes, coffee, and dessert!
That said, you don't have to order all these things every time you sit at a restaurant, although you could.
For dinner, you could get an appetizer (antipasti). Then, you can get a main course either from the first dishes list (primi) or the second (secondi). Typically, you'll find pasta in the first dishes list and meat or fish in the second. So, ordering an appetizer, then pasta and then meat may be A LOT.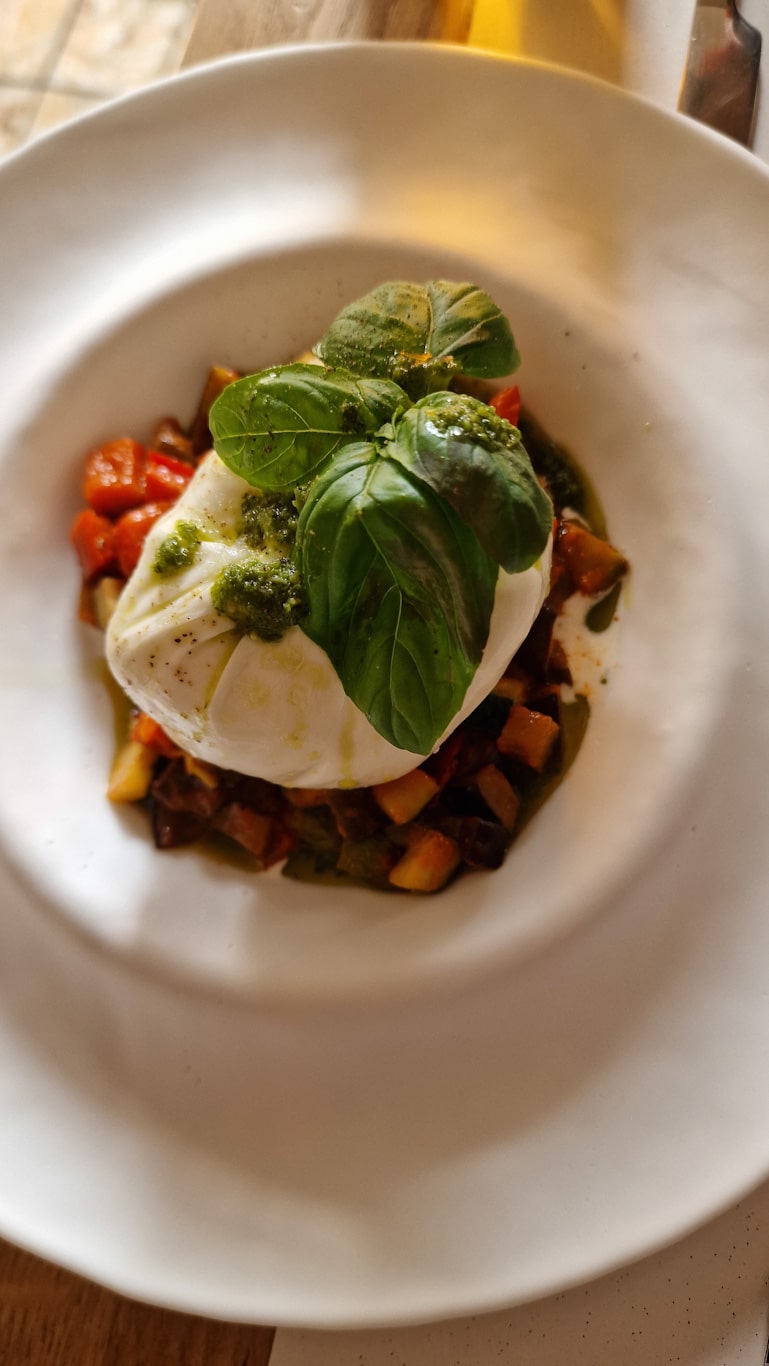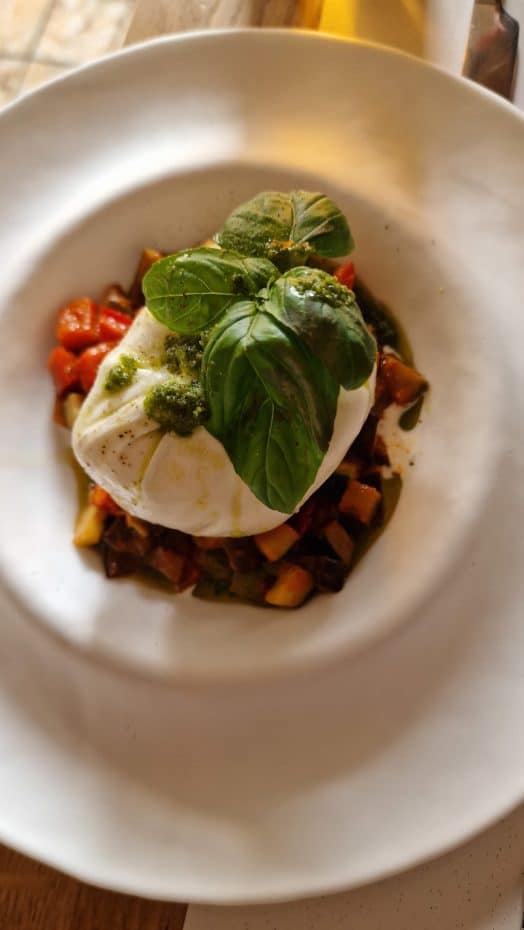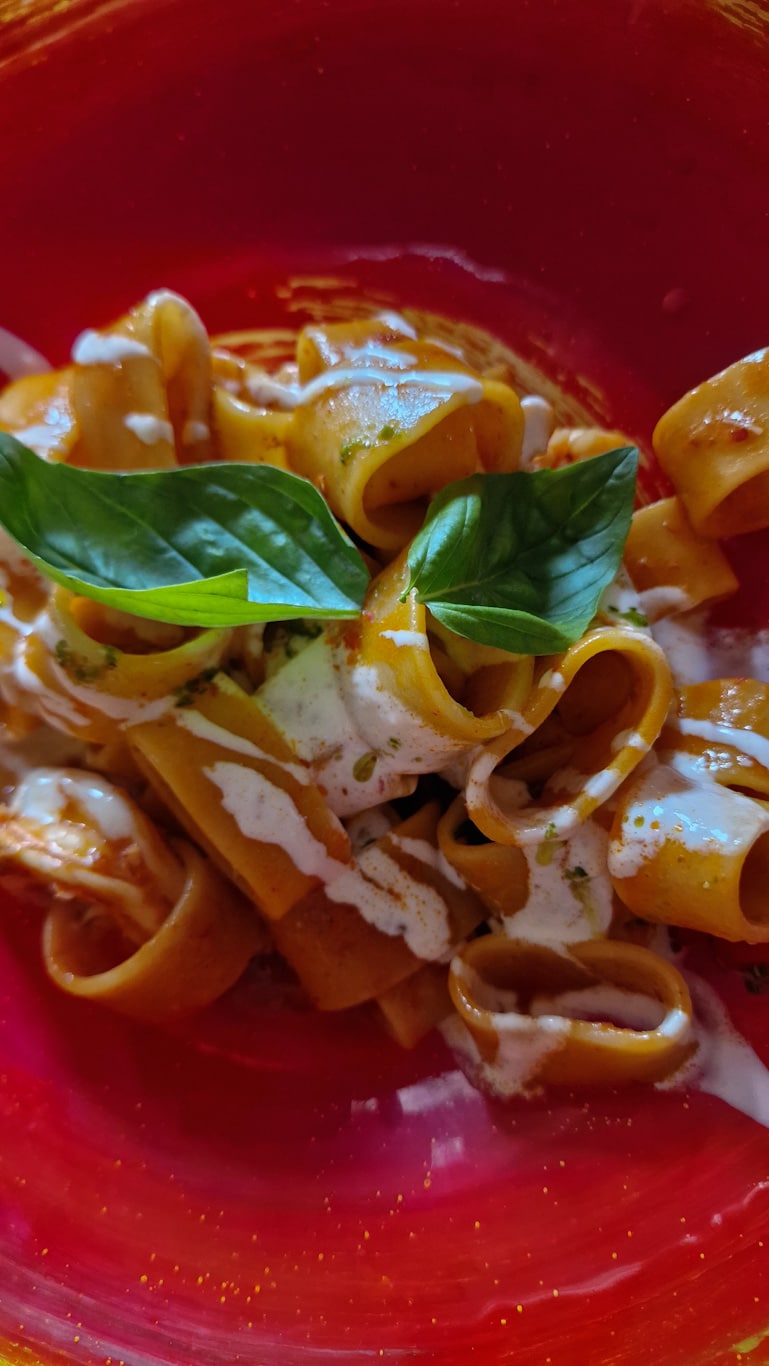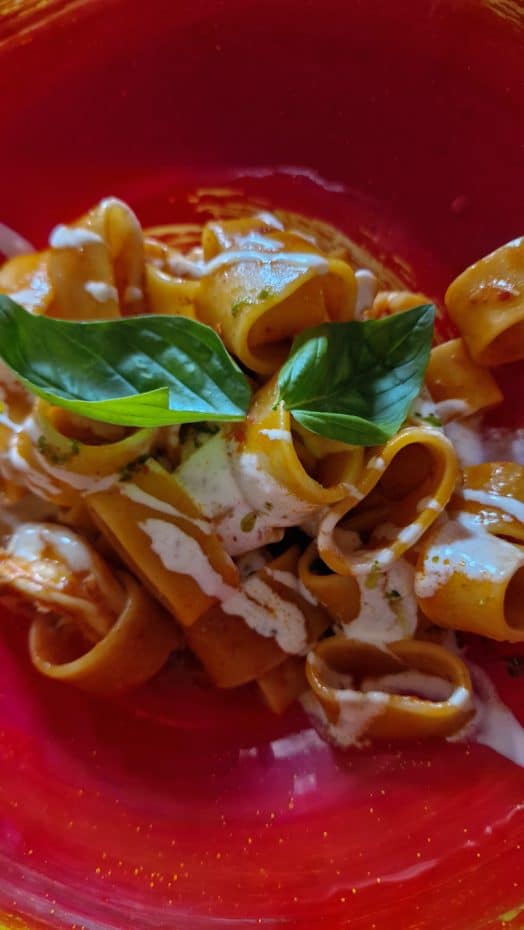 To end up on the best not possible, you could order Tiramisú, a traditional dessert from the Veneto region. Most restaurants will offer you a digestive shot of liquor of your choice before you leave, as well.
---
---
How Much to Tip in Venice
As a rule of thumb, in Venice and all of Europe, you should tip, at least, 5% of the total bill. But, if the service at the restaurant was excellent, make it 10 to 15% of the bill. A larger amount may seem like too much in Italy.
If you're from the States, this may seem weird, but tipping in Europe is not required as in America. That said, if you think the service was great, you should still tip.
When to Eat in Venice
Italians are very specific about their eating schedule. As a result, make sure you don't try to have lunch before 12:30 pm or after 2 pm. Otherwise, you may not find a restaurant serving lunch yet.
As for dinner, or cena, the optimal time is somewhere between 7 and 9pm. If you visit a restaurant between 6 and 8pm, you could get an aperitivo, which consists of drink and a snack, instead.
---