Nestled in the alluring waters of the Tyrrhenian Sea, the enchanting island of Capri has been mesmerizing visitors with its breathtaking beauty for centuries. The island's unique charm and captivating landscapes make it a must-see destination for a fun day trip from Naples.
---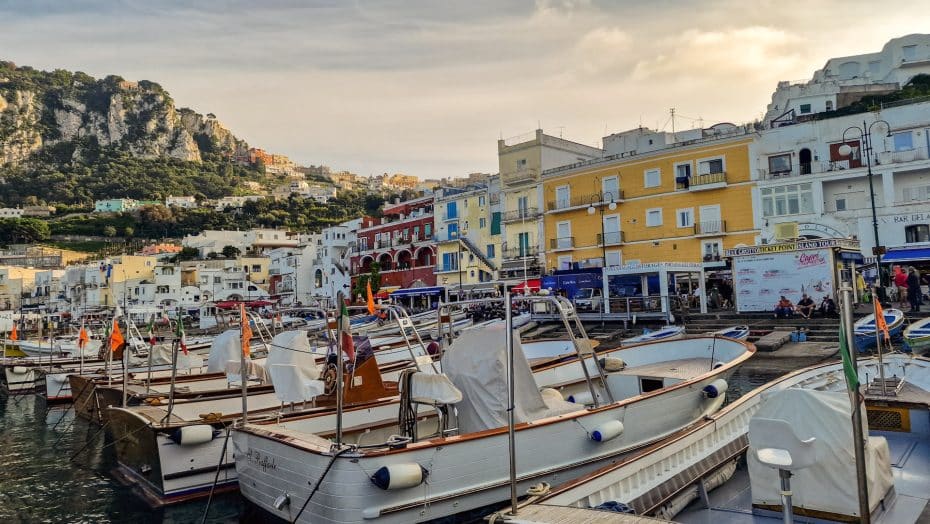 Capri is best enjoyed with a longer stay, preferably 2 or 3 days. However, a day trip to Capri can still provide a great opportunity to experience the island and all it has to offer.
Capri has something for everyone, from ancient ruins to crystal-clear waters and picturesque villages. Follow this one-day itinerary to make the most of your visit to this dazzling haven.
---
Things to Do in Capri, Italy During a Day Trip
Morning: Arriving in Capri
Your journey to Capri begins with a scenic ferry or hydrofoil ride from Naples. The journey takes around 45 minutes and offers spectacular views of the coastline.
Upon arriving at Marina Grande, Capri's main harbor, you may want to consider joining a guided tour, as they offer a fantastic opportunity to see sights, such as the iconic Faraglioni and the Blue Grotto, in a short time (this is especially important if you're on a day-trip from Naples).
You can also grab a coffee at one of the bayfront cafés before venturing into the island.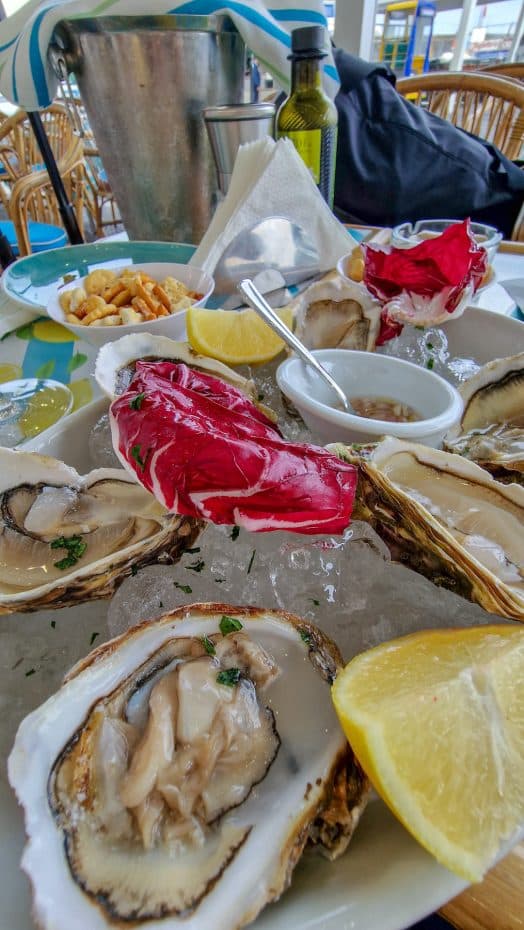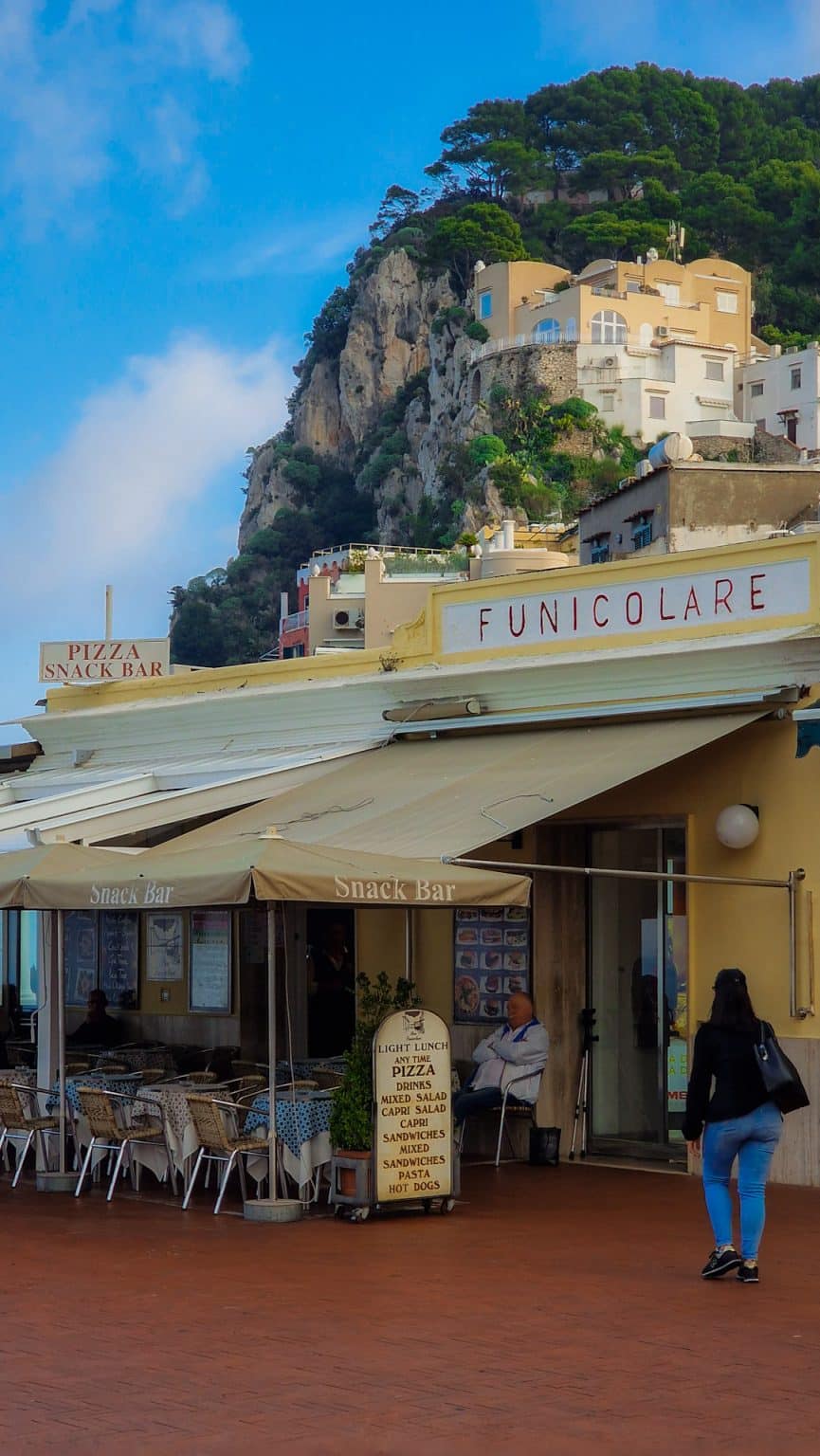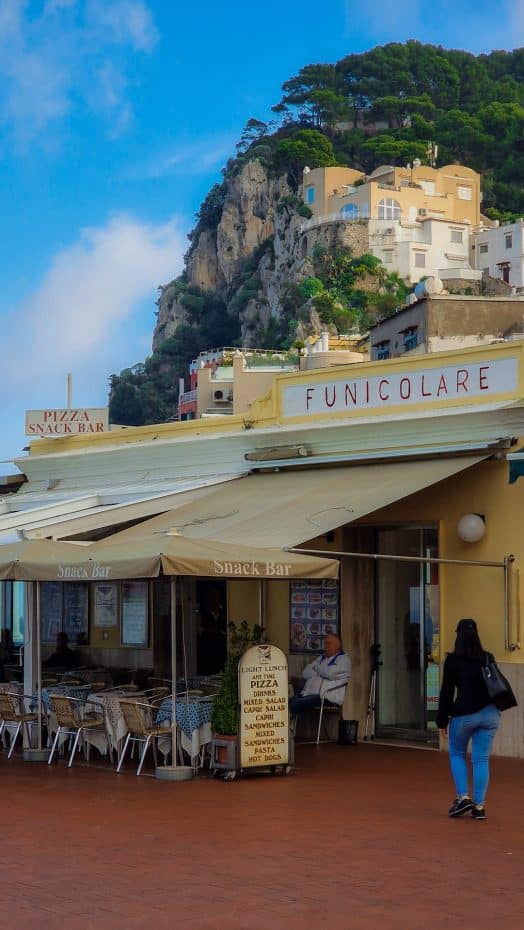 If you want to explore the island on your own, start by taking the famous Funicular Railway up to Capri Town, where you can wander along its winding streets and marvel at the elegant shopping streets, villas, and lush gardens that dot the landscape.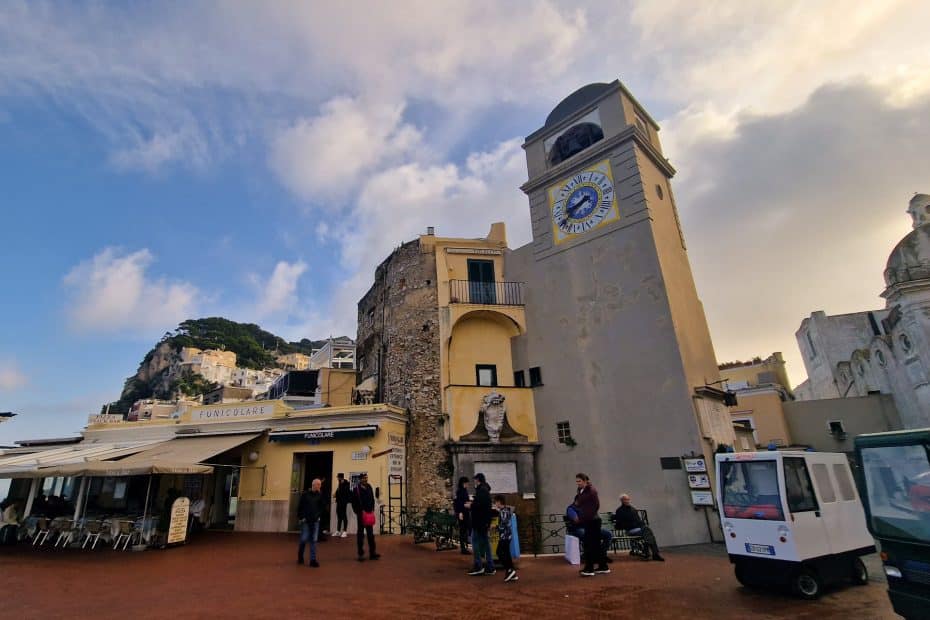 Visit La Piazzetta, the island's bustling central square lined with quaint shops and charming outdoor cafés – perfect for people-watching and soaking in the local atmosphere.
Next up is a visit to the Gardens of Augustus. Built on a series of terraces and located some 7 minutes from Piazzetta di Capri, the gardens offer stunning views of the famous Faraglioni rocks and the Bay of Marina Piccola. In the summer, the gardens are also filled with various blooming flowers, including geraniums and dahlias.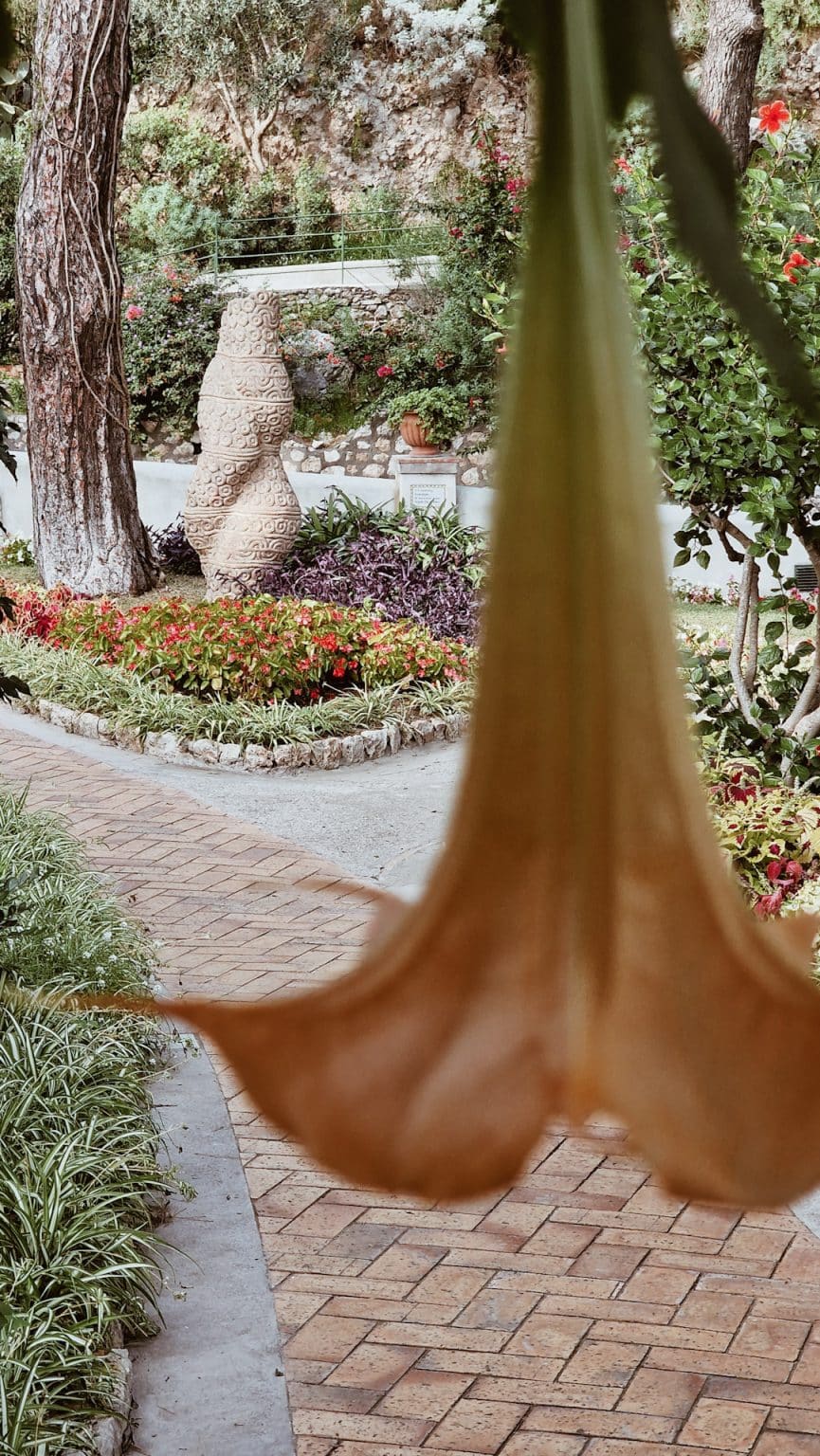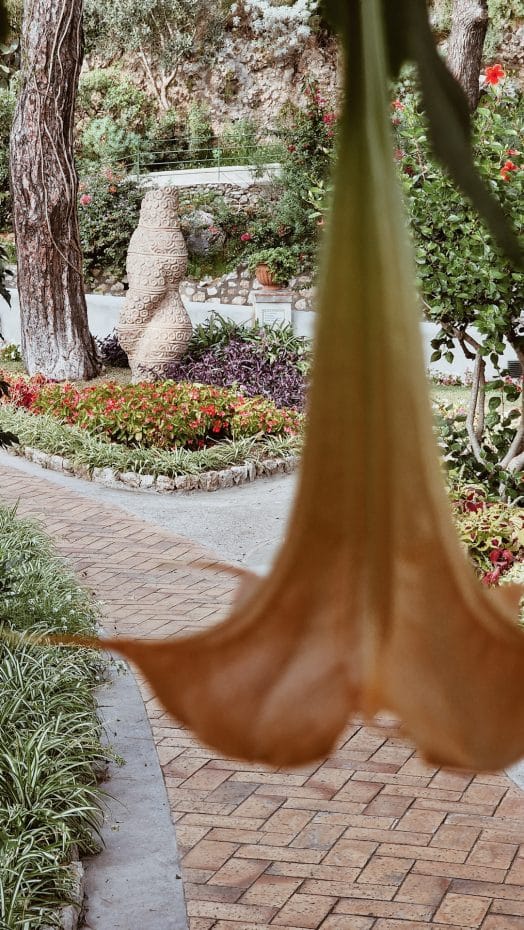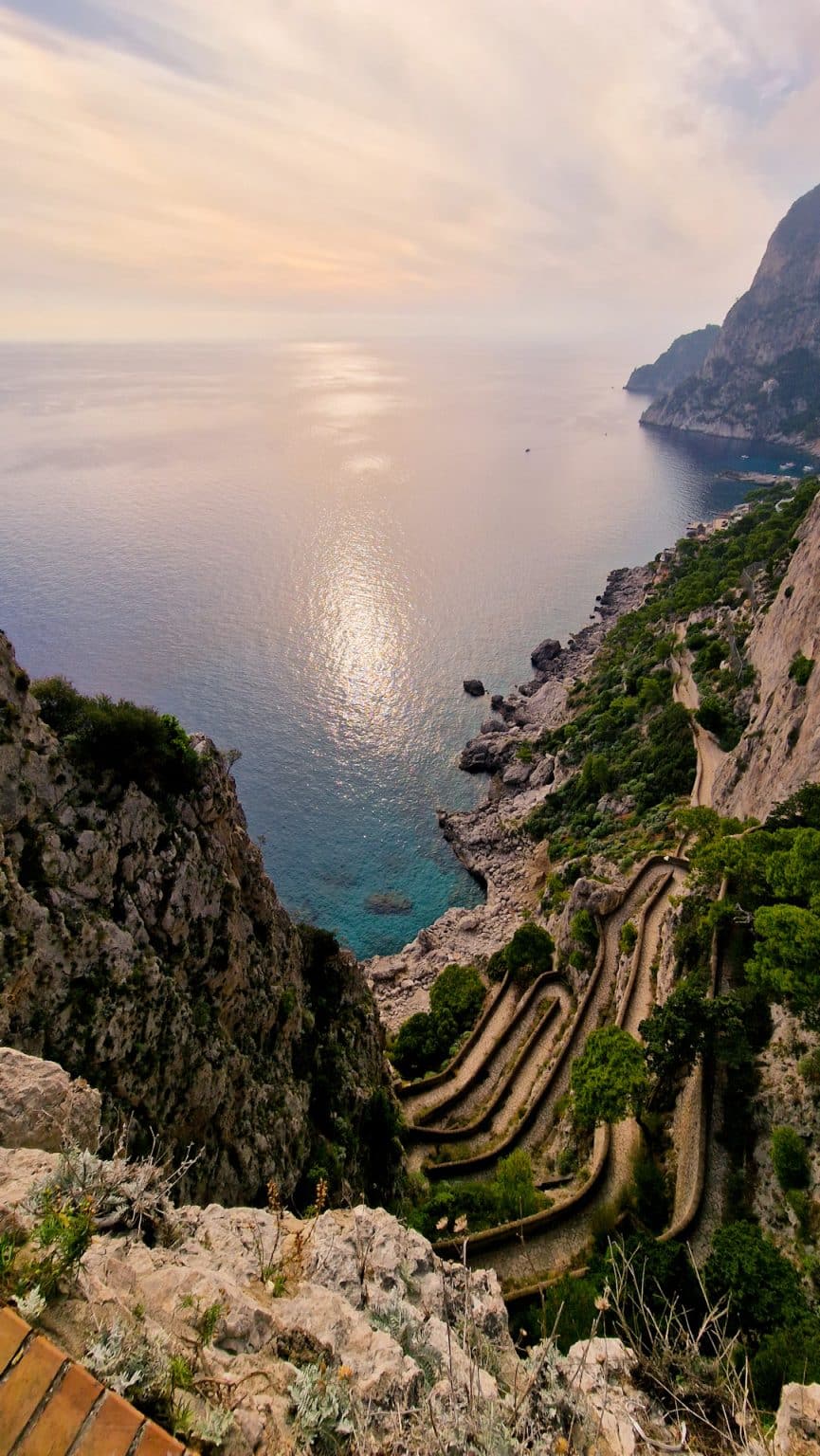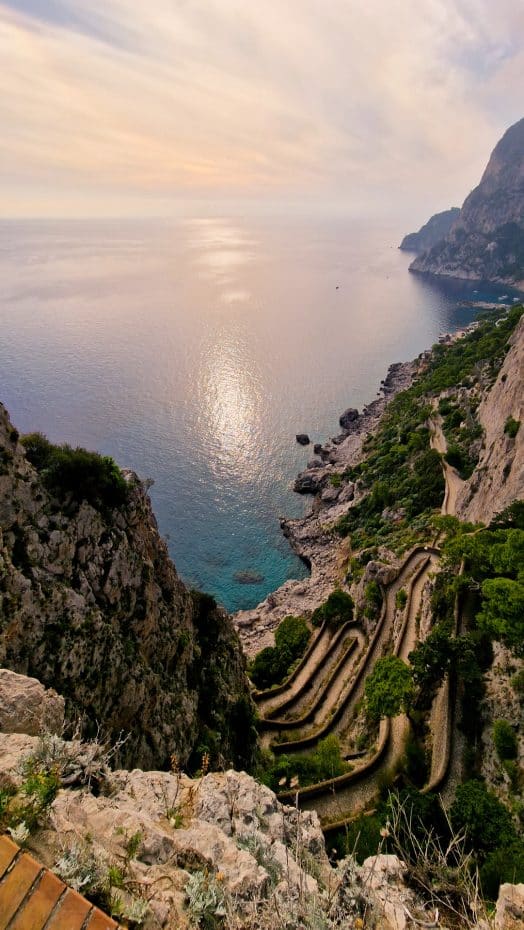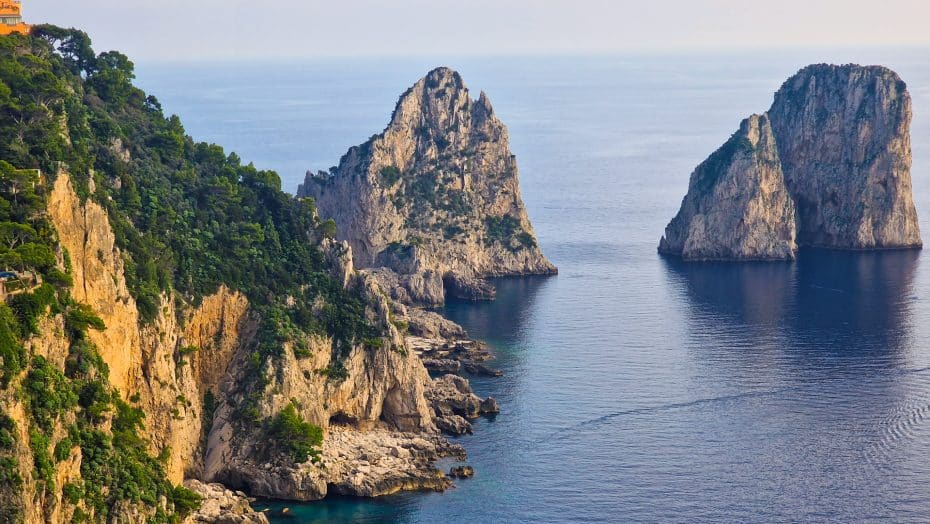 ---
Mid-Morning: Anacapri and Monte Solaro
Next, hop on a bus to Anacapri – a less crowded yet equally enchanting village nestled atop the hills.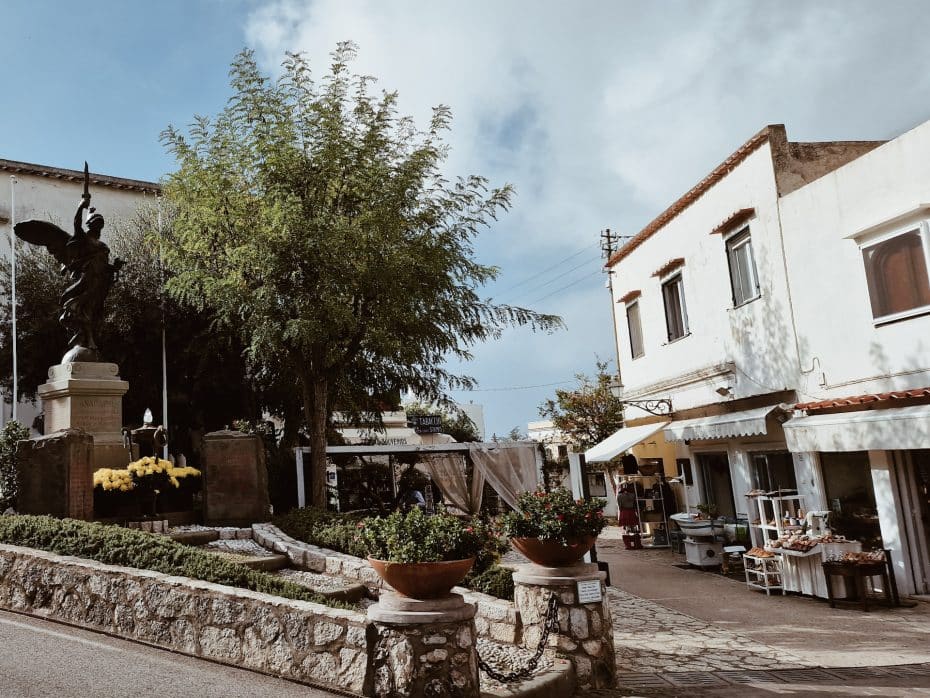 Once here, you can hop on a gondola and visit Monte Solaro, the highest peak on the island.
The gondola ride to the top of the mountain, an attraction all in itself, is worth it for the fantastic views of the island below. There are a few lookouts and even a restaurant on top, so you can enjoy the scenery and have lunch or grab a bite in one of the many restaurants around the island.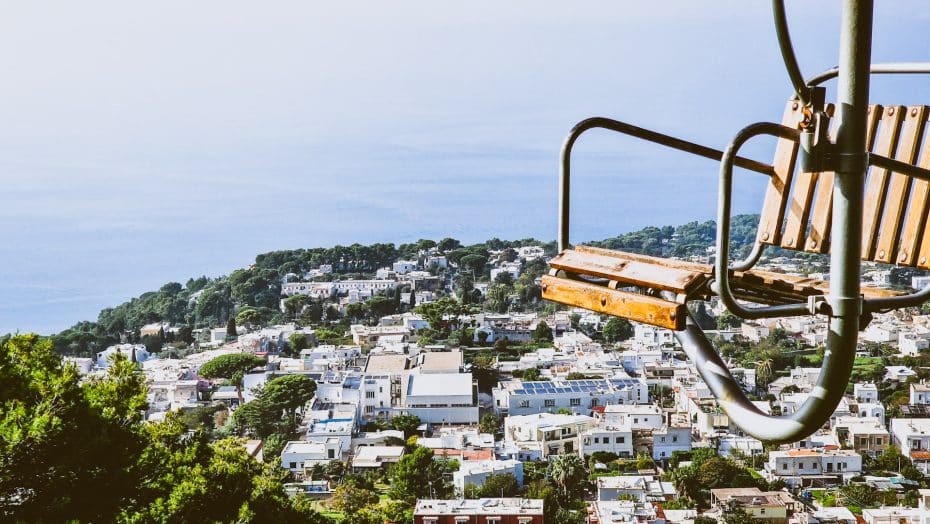 ---
Lunchtime: A Few Restaurant Options for Your Capri Day Trip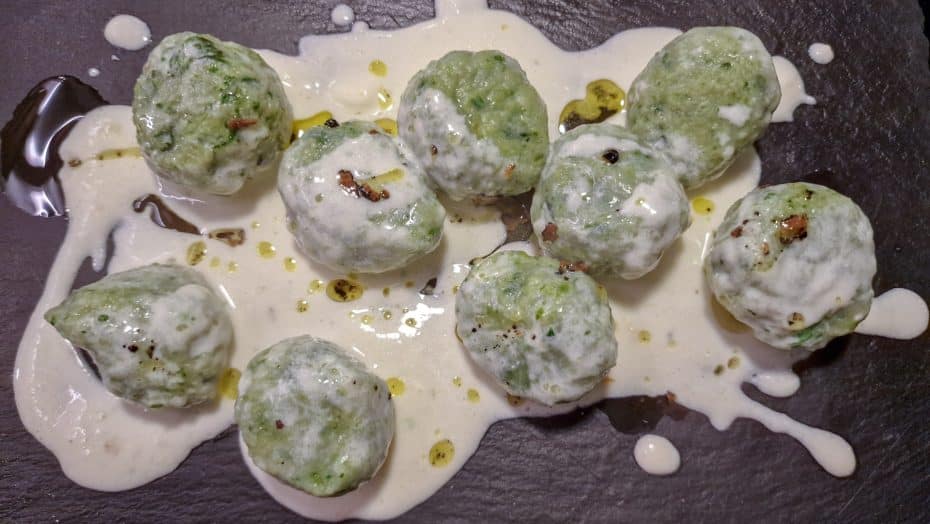 One of the best ways to enjoy your day trip to Capri is by indulging in the island's delicious culinary offerings. Here are some restaurants for your one-day itinerary to the island.
La Capannina – Capri
Located just a few steps from the famous Piazzetta, La Capannina has served delectable Italian dishes since 1931. Known for its fantastic wine cellar and cozy atmosphere, this family-run restaurant offers a variety of traditional dishes made with fresh local ingredients. Be sure to try their signature dishes like the sea bass ravioli and lemon profiteroles for dessert.
Via le Botteghe, 14, 80073 Capri NA.
Da Gelsomina – Anacapri
Nestled among the lush hills of Anacapri, Da Gelsomina offers visitors a tranquil escape from the more touristy areas of the island. This picturesque restaurant serves delicious homemade dishes and boasts panoramic views over the Mediterranean and Naples in the distance. Try their mouthwatering rabbit cacciatore or penne alla Gelsomina, paired with a glass of their in-house produced wine.
Via Migliara, 72, 80071 Anacapri NA.
Ristorante Mammà – Capri
Overlooking the bustling port of Marina Grande, Ristorante Mamma specializes in seafood dishes that celebrate Capri's vibrant fishing heritage. With its laidback ambiance and friendly service, this is the perfect spot to enjoy a leisurely lunch or dinner while watching the boats come and go. Their must-try dishes include grilled octopus and linguine with clams and cherry tomatoes.
Via Madre Serafina Cimmino, 6, 80073 Capri NA.
Il Riccio – Anacapri
For a more upscale dining experience, head to Il Riccio, a Michelin-starred restaurant perched above the Blue Grotto in Anacapri. With its sleek decor and breathtaking sea views, this place is a top choice among luxury travelers.
Via Gradola, 4, 80071 Anacapri NA.
Ristorante Materita – Anacapri
Ristorante Materita boasts a warm and welcoming ambiance in the heart of Anacapri. This family-owned restaurant offers traditional Italian dishes made with fresh, locally-sourced ingredients. Do not miss their delectable seafood pizza, homemade pasta, and mouth-watering tiramisu.
Via Giuseppe Orlandi, 140, 80071 Anacapri NA.
---
Afternoon: Natural Wonders and The Blue Grotto
No trip to Capri would be complete without witnessing the magical Blue Grotto or Grotta Azzurra.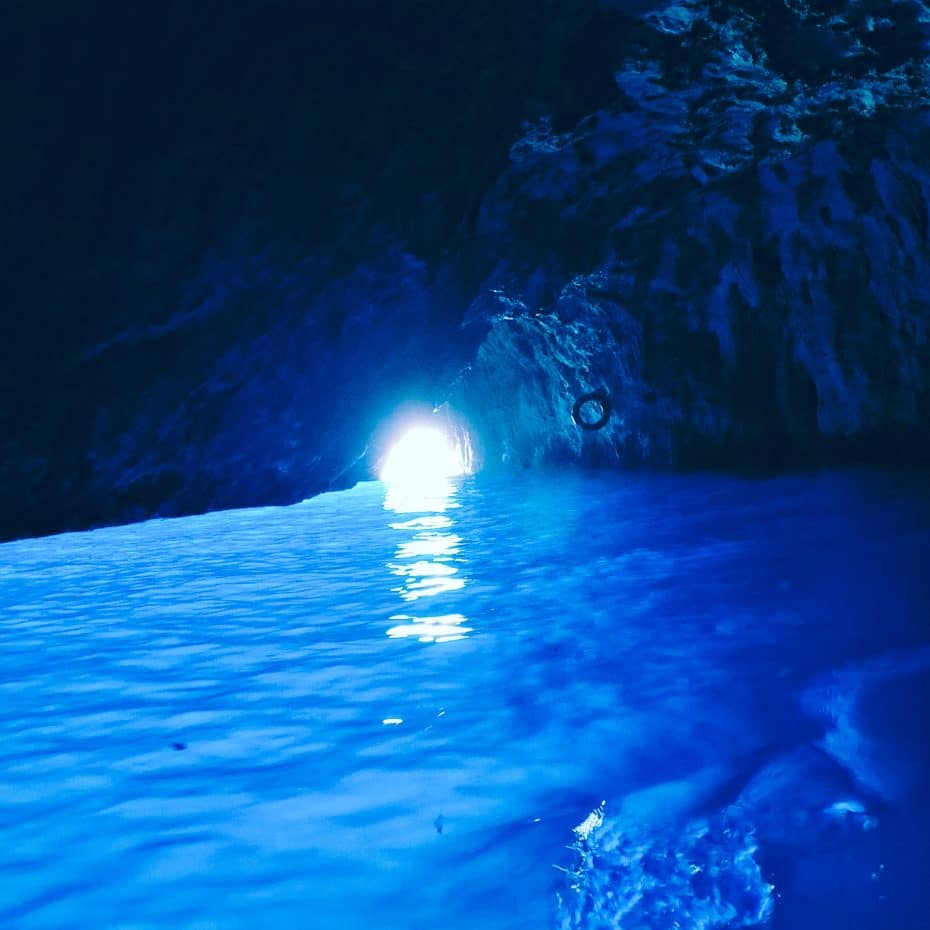 This enchanting sea cave is famous for its electrifying blue hues created by sunlight filtering through an underwater cavity.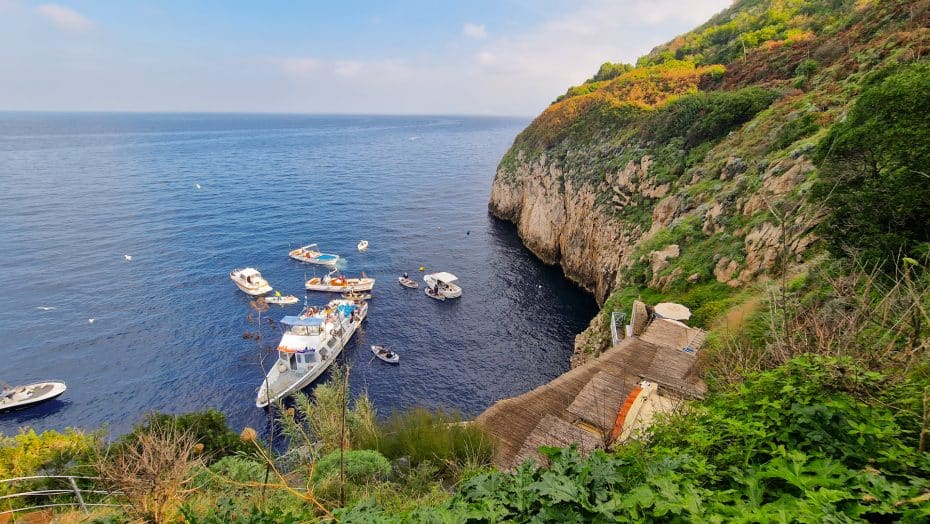 Take a guided boat tour to experience this natural wonder, but be prepared to wait in line as it's a popular attraction. Check the weather conditions before you go, as a rough sea can make it impossible to access.
Keep in mind that, depending on how crowded the Blue Grotto is, you may have to return to Marina Grande straight after visiting it.
That said, if you still have time to spare afterward, the grotto is closed, or you decide to skip it altogether, these are some other things to do in a one-day visit to Capri before your ferry leaves:
Take a boat tour of the island:
Capri's crystal-clear waters are not to be missed. A boat tour is one of the best ways to enjoy the island's beauty.
Visitors can view the Faraglioni, a trio of massive, uniquely-shaped rock formations that rise from the sea.
Retail therapy in Capri's many luxury boutiques:
Capri is a shopper's paradise for fashionistas or those who love retail therapy.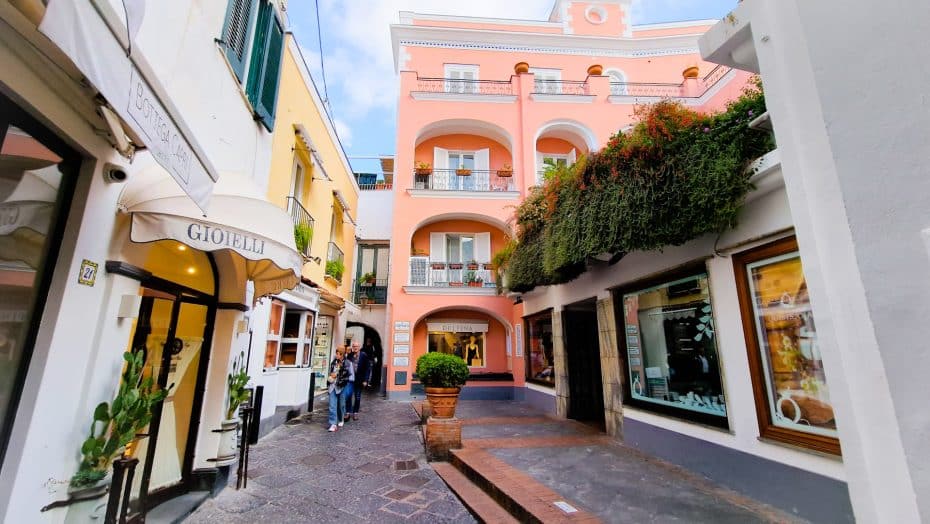 With the many exclusive boutiques available, visitors can find some of the world's most luxurious and iconic fashion brands. Capri's high-end designer stores are concentrated in the town center, especially around Via Camerelle and Via delle Botteghe.
Visit Villa Jovis:
Villa Jovis stands atop a mountain and was built by Emperor Tiberius around 27 AD.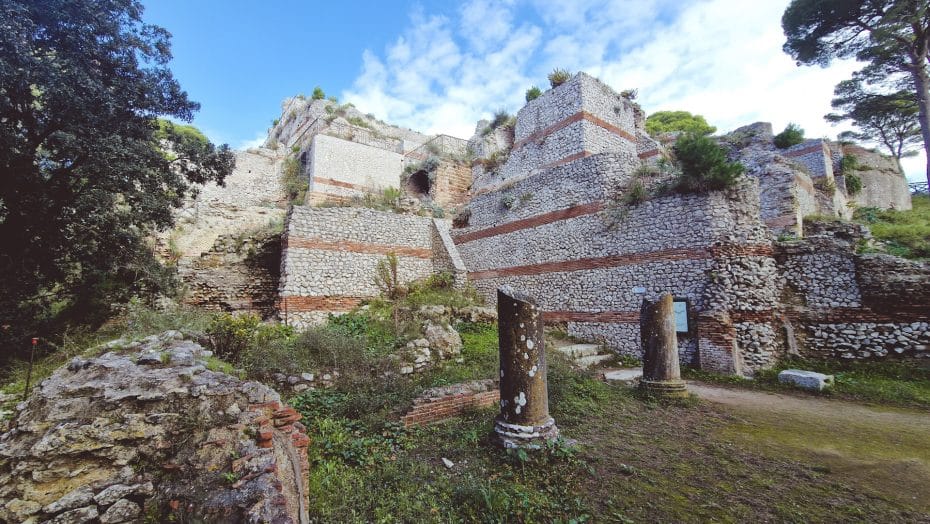 The villa was created as a secluded getaway from Rome to rule the empire from afar. The villa's breathtaking views, such as facing Mount Vesuvius over the Bay of Naples, make it worth a visit.
---
Planning a Day Trip to Capri: Frequently Asked Questions
What are the best months to plan a day trip to Capri?
The best months to plan a day trip to Capri are April to October, when the weather is mild and sunny. The peak tourist season is from June to August, so expect crowds and higher prices. If you want to avoid the crowds, visiting Capri in the shoulder seasons of April to May or September to October is best.
How long does it take to reach Capri from Naples or Sorrento?
Travel time to reach Capri from Naples or Sorrento depends on the mode of transportation. The fastest way to reach Capri is by hydrofoil, which takes around 20-30 minutes from Naples and 20 minutes from Sorrento. If you choose a ferry, the travel time increases to about 1 hour from Naples and 40 minutes from Sorrento.
What are some recommended activities to do on a day trip to Capri?
There are plenty of activities to do on a day trip to Capri, such as taking a boat tour around the island, visiting the Gardens of Augustus, exploring the town of Anacapri, enjoying the views from the Monte Solaro chairlift, and seeing the crystal clear waters of the Blue Grotto. You can also stroll through the picturesque lanes of the island and enjoy some delicious Italian cuisine.
Is it better to join a guided tour or plan the day trip on my own?
Whether to join a guided tour or plan the day trip independently depends on individual preferences. A guided tour provides convenience and can cover more sights in less time. But planning the day trip on your own gives you more flexibility and freedom to explore at your own pace.
Can I visit the Blue Grotto during a day trip to Capri?
Yes, you can visit the Blue Grotto during a day trip to Capri. However, the Blue Grotto timings depend on the sea and weather conditions, so it's best to check beforehand. The entry fee and waiting time can also vary based on the season and the number of visitors.
Is Capri an expensive destination?
Capri is known as a luxurious and high-end destination, so it can be expensive. However, there are ways to control costs by opting for affordable accommodations, dining at local eateries, and using public transportation. If you plan accordingly, it's possible to enjoy a memorable day trip to Capri without breaking the bank.
What should I wear and bring for a day trip to Capri?
For a day trip to Capri, wearing comfortable clothes and shoes suitable for walking on uneven terrain is advisable. A hat, sunglasses, and sunscreen are essential to protect yourself from the sun. Bringing a swimsuit and a towel is also a good idea if you plan to take a dip in the sea.
Are there any restrictions or dress codes when visiting Capri?
There are no specific dress codes or restrictions for day-trippers visiting Capri. However, it's recommended to dress comfortably as the island involves a lot of walking and stairs. Covering your shoulders and knees while visiting churches is appreciated. Also, be aware that some restaurants and bars have dress codes, especially for dinner service.