Tucked away in the heart of Madrid, the vibrant neighborhood of Malasaña has long captivated locals and visitors alike with its distinctive charm, creative spirit, and eclectic appeal. Often compared to New York City's East Village or London's Shoreditch, this trendy enclave is home to a rich history marked by the Movida Madrileña movement, an array of colorful street art, an intriguing collection of cafes and shops, and a pulsating live music scene. In this post, we'll explore what makes Malasaña unique and how it has become one of the most sought-after destinations for those looking to experience the essence of Madrid's cultural vibe and legendary nightlife.
---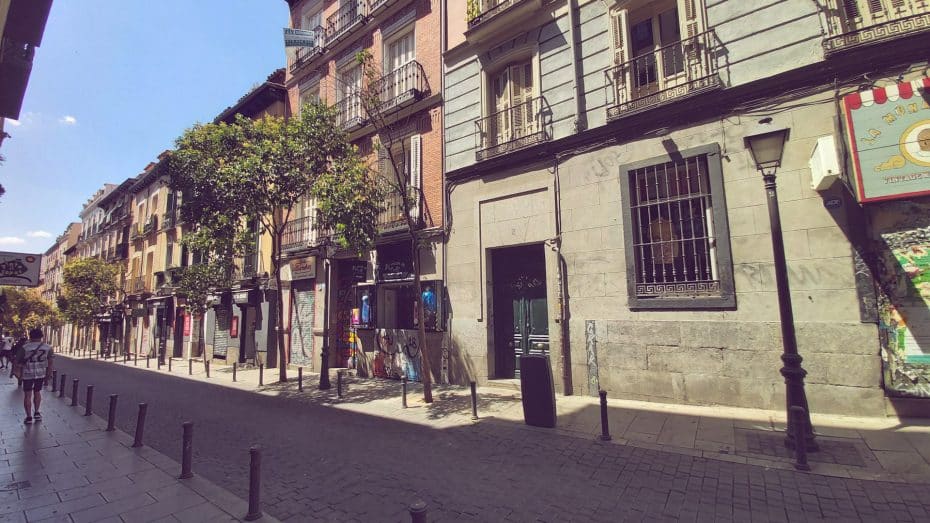 As you walk down the narrow streets of Malasaña, you are instantly greeted by a lively atmosphere filled with an eclectic mix of people, record stores, thrift shops, bohemian art galleries, and international cuisine. The winding streets meander through the neighborhood, opening to picturesque plazas adorned with tan, red, and orange buildings boasting flowery balconies. Malasaña's artistic flair and hipster vibe set it apart as a truly one-of-a-kind neighborhood within Madrid.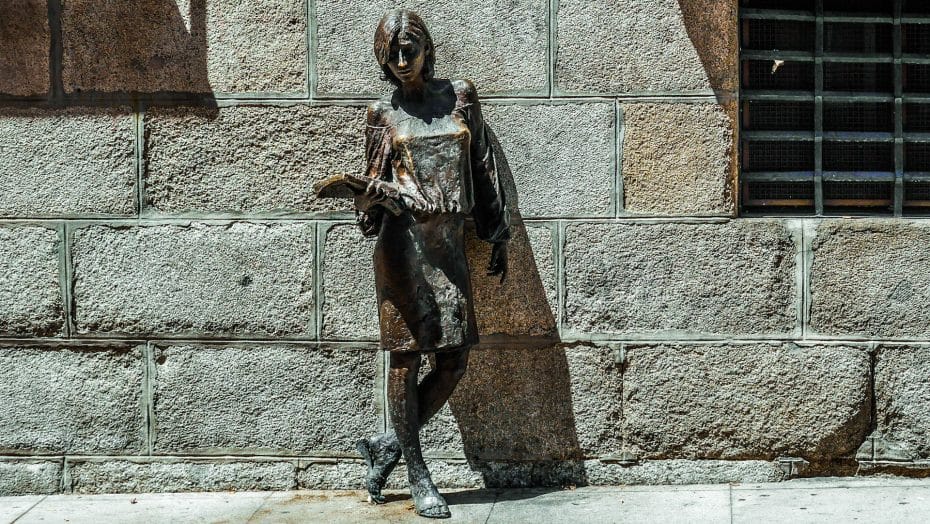 With so much to explore in Malasaña's dynamic streets and squares, we invite you to continue reading as we delve deeper into what makes this neighborhood stand out in a city full of color and culture. Discover its hidden treasures and history-soaked alleys and immerse yourself in this iconic Madrid barrio that has left an indelible mark on Spanish society throughout the ages.
---
What and Where is Malasaña?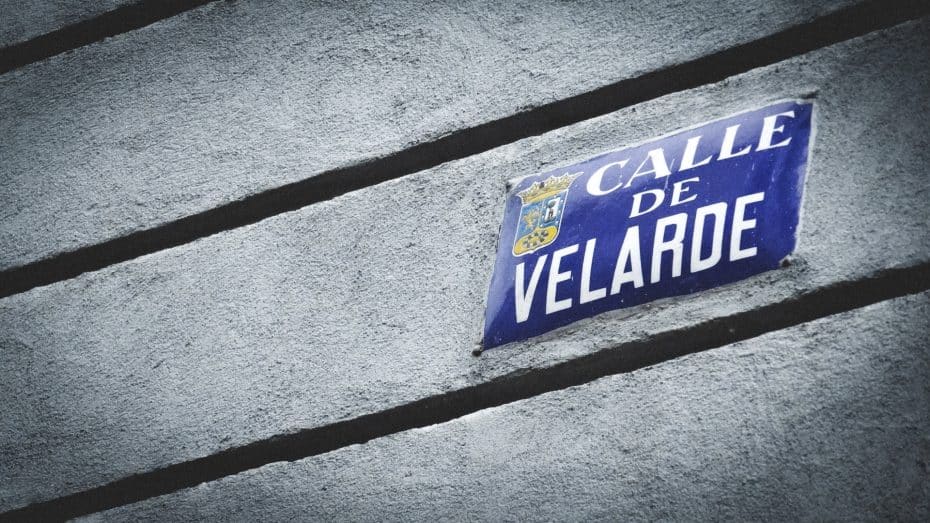 Nestled in the heart of Madrid, Malasaña is a historic Madrid barrio and is officially referred to as Barrio de la Universidad. Although the name "Malasaña" is not an official designation, it is recognized by locals as a distinct area with unique characteristics that differentiate it from its surrounding areas. In this sense, when talking about Malasaña, locals usually mean the area north of Gran Vía between Fuencarral and San Bernardo streets, plus the wider Universidad barrio, which also includes the historical Conde Duque all the way to Calle Princesa.
---
Brief History of Malasaña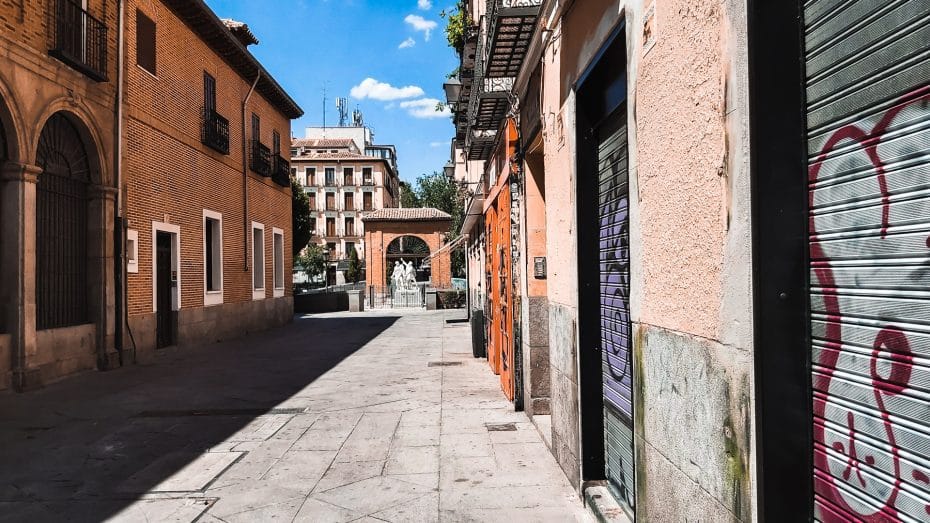 Madrid's humble beginnings trace back to the 9th century when the Moors built a fortress along the Manzanares River, subsequently leading to the construction of the small village called Mayrit. As the settlement expanded, it ultimately laid the groundwork for the bustling neighborhoods that characterize Madrid today.
Malasaña is one such neighborhood. Located in the heart of Madrid, Malasaña originated in the 17th century. The neighborhood grew with the addition of religious buildings, most famously Iglesia de San Antonio de los Alemanes and Convento de las Comendadoras de Santiago. By the 19th century, Malasaña played a critical role in Spanish history, particularly leading up to the War of Independence.
It was during this turbulent time that a young seamstress named Manuela Malasaña gained prominence after resisting French occupation forces. Tragically killed during an event known as "El Levantamiento del Dos de Mayo," she became a symbol of national identity and resistance. Consequently, her name and legacy became associated with this historically significant neighborhood.
Following the War of Independence came a period of growth and transformation for Malasaña. In particular, Gran Vía's inception in 1910 had far-reaching implications for its surrounding areas. Gran Vía quickly became Madrid's theater hub, attracting artists, performers, and intellectuals throughout the early 20th century. As theaters started popping up around Plaza del Callao and Santo Domingo, this creative spine evolved into a bustling district teeming with life. However, it wasn't without adversity – Malasaña would soon develop a darker side characterized by crime, prostitution, and drug trafficking.
It wasn't until the late 20th century that Malasaña's cultural resurgence began. Following Francisco Franco's death, Spain transitioned toward a more progressive future, setting the stage for La Movida Madrileña.
La Movida, a countercultural movement that emerged in Madrid during the late 1970s and early 1980s, was a period of artistic and social freedom that followed the strict Franco era. Heavily influenced by Western pop culture, this new creative wave brought a breath of fresh air to Spanish society. Malasaña played an essential role in shaping this movement that bloomed from the underground scene.
The district is often considered the birthplace of La Movida due to its integral role as the home for many young artists, filmmakers, musicians, and designers. Its narrow streets were lined with repurposed buildings functioning as art studios, galleries, bars, clubs, and concert halls.
Prominent names from La Movida associated with Malasaña include Pedro Almodóvar, the acclaimed director known for his daring work; Alaska y Los Pegamoides frontwoman Alaska; Los Secretos vocalist Enrique Urquijo; activist Francisco Villaespesa; artists Juan Peinado Rodero and Fabio McNamara; and photographer Ouka Leele.
Post-1990, the area experienced rapid gentrification as it became popular among artists and young professionals. Street art and independent galleries flourished, adding a creative and contemporary vibe to the district. During this time, Malasaña continued to maintain its bohemian atmosphere and was home to numerous vintage shops, independent stores, and unique bars. Notable venues like Bar Penta, which played a major role during the La Movida era, continued to be popular.
In recent years, Malasaña has further developed its reputation as a destination for artistic expression and experimentation. Street art has become a prominent feature of the neighborhood's identity. Cultural events like Malasaña Market and Fiestas de Malasaña highlight the area's creative spirit.
---
Malasaña Highlights: The Ultimate Self-Guided Walking Tour
This self-guided walking tour is the perfect way to discover the highlights of Malasaña and how the area is constantly reinventing itself.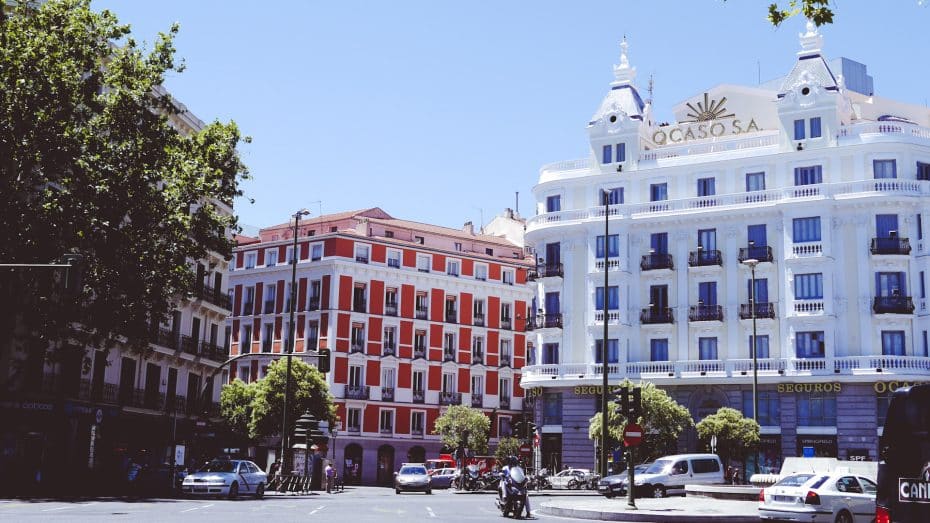 Begin your walking tour of Barrio de la Universidad (Malasaña), Madrid, at Glorieta de Bilbao, a bustling roundabout connected with several major streets in the city. As you walk south along Calle Fuencarral, observe the trendy shops and cafes lining the street, creating a lively and vibrant atmosphere.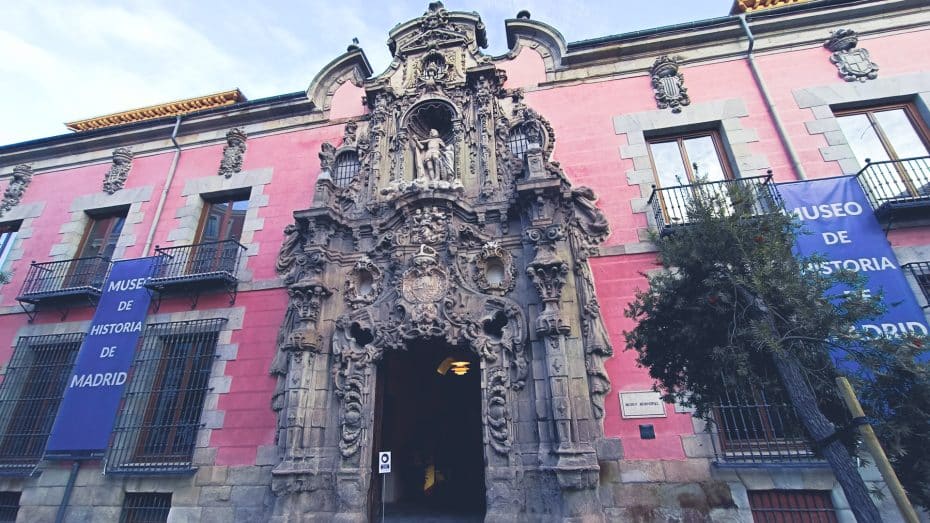 Arrive at the Museo de Historia de Madrid (Fuencarral, 78), which houses fascinating collections and exhibits detailing historical events, famous Madrileños, and ancient artifacts that shaped Madrid into what it is today.
Continue on to Plaza del Dos de Mayo, a popular square commemorating the uprising against Napoleon's invasion on May 2, 1808. Surrounding this historic square, you'll find vintage shops along streets such as Calle Velarde and Espíritu Santo, perfect for fashion-savvy travelers seeking rare finds.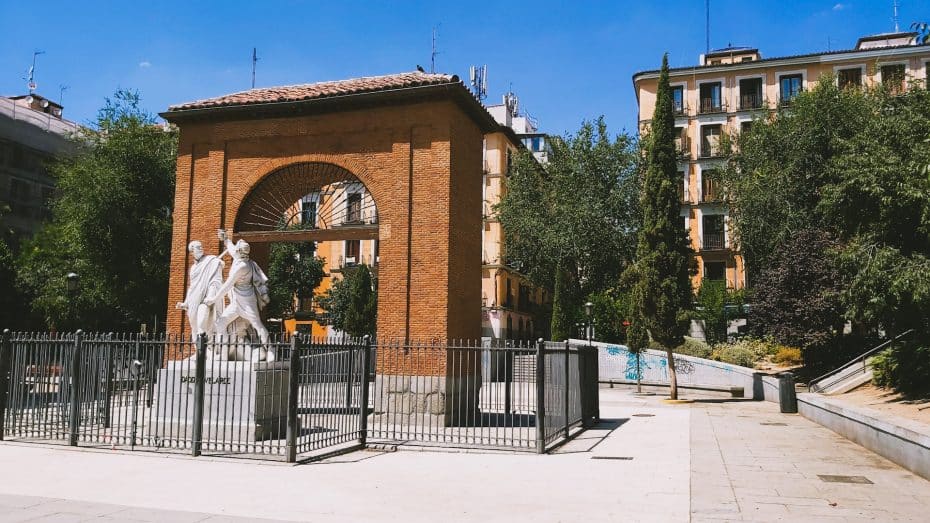 As you make your way to Mercado de San Ildefonso (Fuencarral, 57) for food, expect to savor the delicious Spanish dishes offered by various stalls. This trendy food market has gained popularity among food enthusiasts over recent years. After satisfying your taste buds, relax and enjoy a beer at Plaza de San Ildefonso nearby.
Pass by Corredera de San Pablo next to discover its art galleries showcasing talented local artists. This street is known for fostering a creative and artistic community within Malasaña.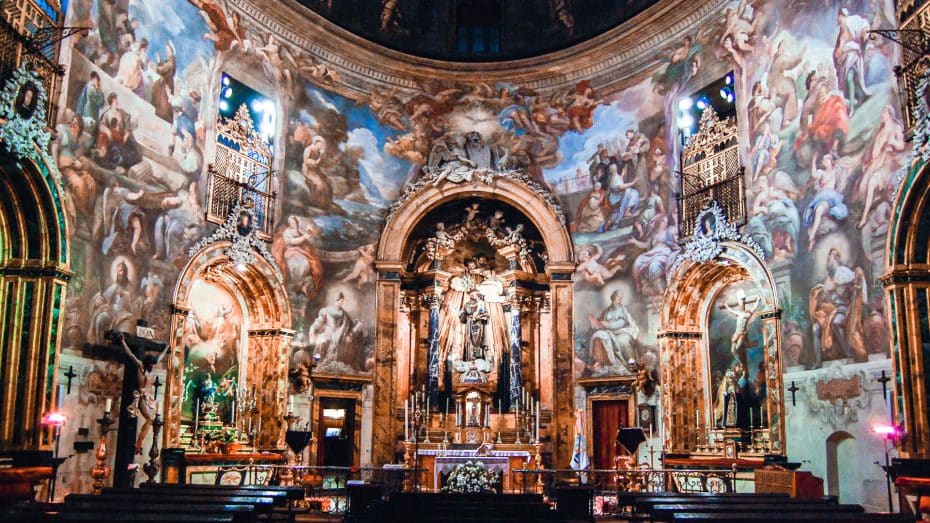 Head towards Iglesia de San Antonio de los Alemanes (Puebla, 22) for beautiful baroque architecture and impressive frescoes adorned inside the church. Built in the 17th century, it was dedicated to Saint Anthony of Padua.
For theater lovers, make sure to check out the theaters situated on Calle del Pez. These spaces host an array of productions ranging from dramas to comedies throughout the year.
Veering southwest towards Mercado de Los Mostenses (Plaza de los Mostenses 1) invites you into another great marketplace offering fresh produce, meats, and other specialized items. Nearby, you'll find Nomad Museo Inmersivo (Gran Vía, 78). This innovative museum uses virtual reality and interactive exhibits to engage visitors in immersive experiences.
Take a stroll west to Plaza de España. The stunning square, inaugurated in 1916, features a monument dedicated to Spanish writer Miguel de Cervantes and his legendary characters, Don Quijote and Sancho Panza. The square also offers a view of two emblematic skyscrapers: Torre de Madrid and Edificio España.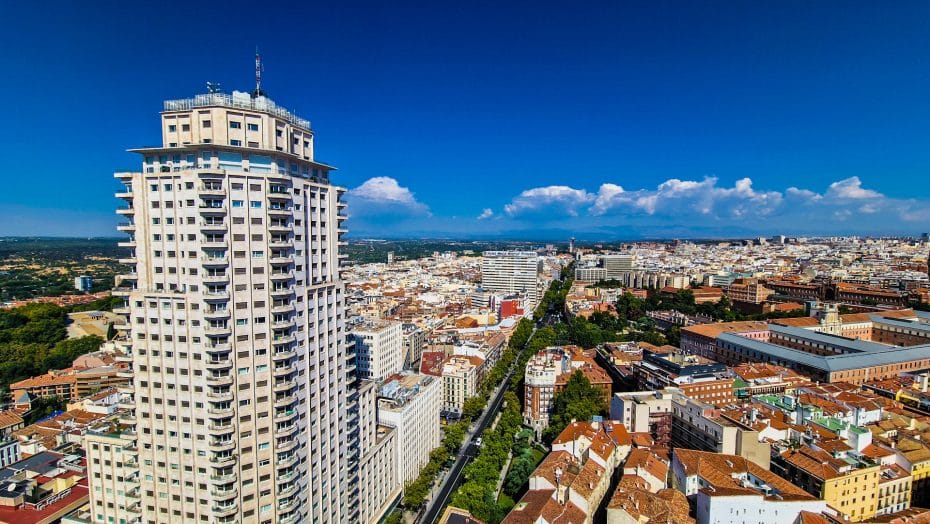 Next, head to Hotel Riu (Plaza de España, 22). Once known as Edificio España, the hotel reopened in September 2019 after an extensive refurbishment. Its 27th-floor viewing deck provides a breathtaking panorama of Madrid's cityscape.
Continue along Calle Conde Duque until you reach Conde Duque Cultural Center (Conde Duque, 11). Originally built between 1717 and 1730 as military barracks by architect Pedro de Ribera, this Baroque-style building now houses a modern cultural center that regularly hosts art exhibitions, concerts, workshops, and other events.
Just a short walk away is the Museo ABC (Calle Amaniel 29-31), an illustration and design museum situated in a former beer factory. This delicately renovated space showcases over 3,000 works, including drawings, illustrations, and comics.
After exploring the creative side of Malasaña at the Museo ABC, it's time for a coffee break at Plaza de las Comendadoras. Here, you'll find several cafes where you can relax and take in the sights. The square is named after the adjacent convent: Convento de las Comendadoras de Santiago (Pl. de las Comendadoras, 10). This silent-order Roman Catholic convent dates back to the early 17th century and is dedicated to Santiago el Mayor. While much of the convent is closed to the public, you can attend mass in its small chapel, adorned with frescoes and paintings.
Further north, you'll find the 1970s rationalist building known as Edificio Princesa (Calle del Acuerdo, 34). It is notable for its structure, enormous terraces, and decorations featuring exotic plants draped elegantly over the facade. Located next to the San Bernardo roundabout, this building was once occupied by high-ranking military officials.
From here, you can easily make your way back to Plaza del Dos de Mayo or Glorieta de Bilbao, where you can enjoy a coffee at the famous Café Comercial (Gta. de Bilbao, 7).
---
Top Malasaña Guided Tours & Activities
If you're interested in exploring Malasaña and the Universidad neighborhood through guided tours, here are the top five recommendations:
---
Where to Eat & Drink in Malasaña
Best breakfast and brunch places:
---
Best places for lunch or a quick bite in Malasaña:
---
Best places for dining in Malasaña
---
Shopping in Malasaña: Best Shops, Thrift Stores, and Art Galleries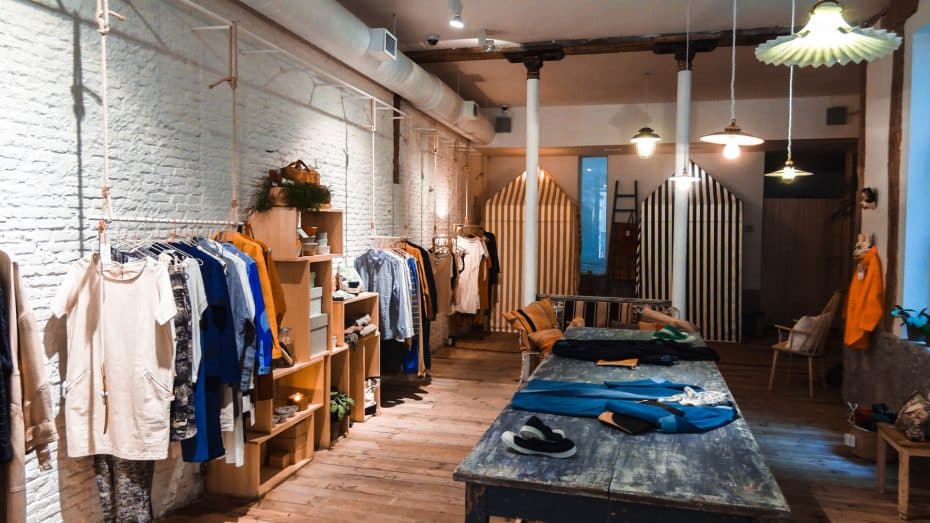 Malasaña, a vibrant neighborhood in Madrid, is a popular destination known for its edgy shopping, thrift stores, and dynamic art scene. This district offers many enticing spots for discovering unique items and admiring creative expressions.
---
Where to stay in Malasaña, Madrid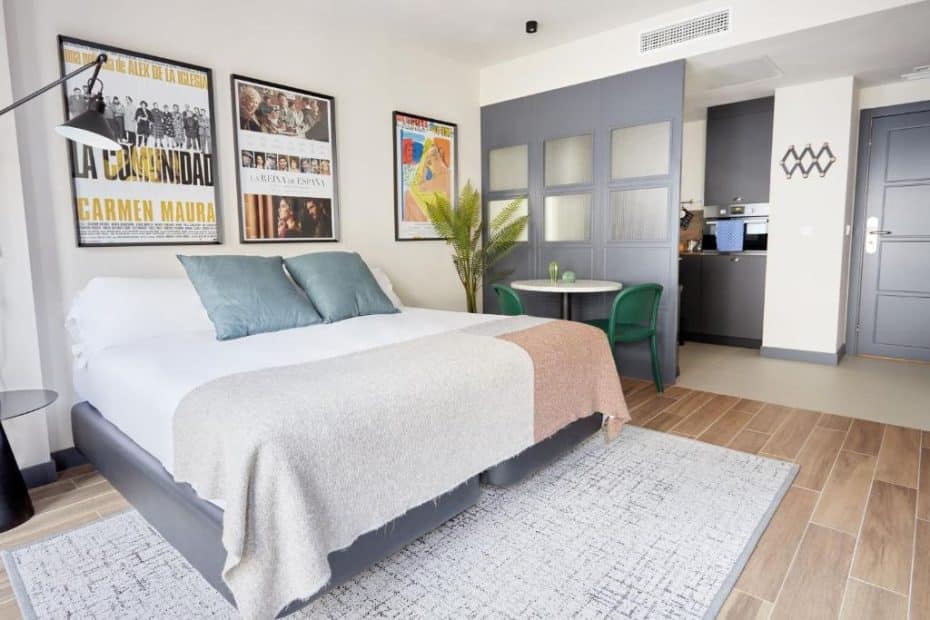 Staying in Malasaña offers a remarkable opportunity to experience the vibrant atmosphere of Madrid in one of the city's most appealing neighborhoods. This area is home to lively street life, enticing cafes, fashionable boutiques, and impressive street art.
Best Hotels in Malasaña, Madrid
---