Barcelona is famous for its lively ambiance, abundant cultural heritage, and dynamic nightlife that draws people from across the globe. This cosmopolitan metropolis serves as an excellent destination for those desiring an exhilarating European escapade filled with adventure.
---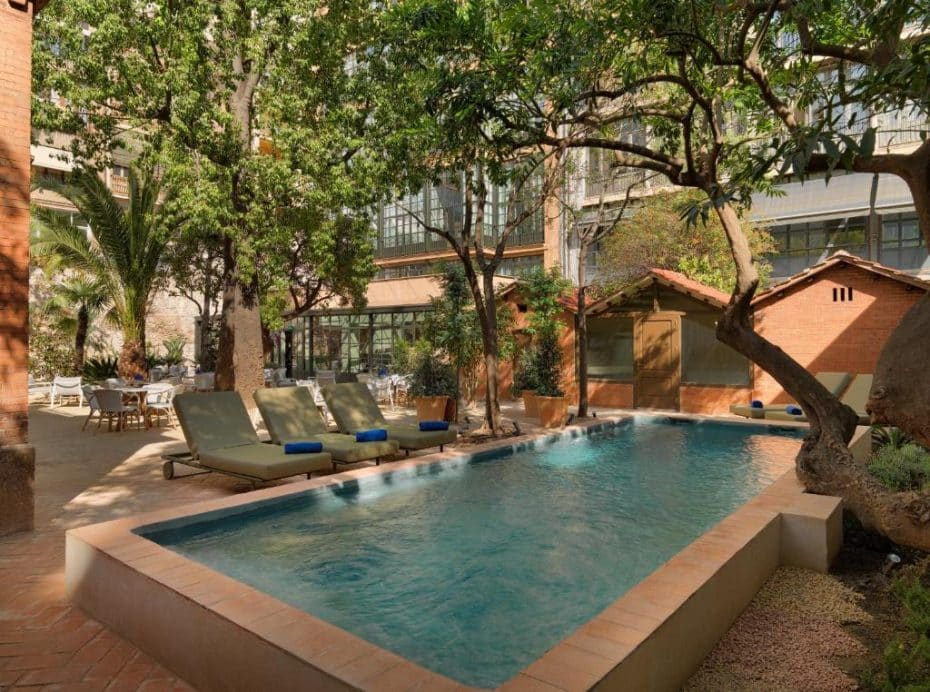 A weekend in Barcelona could involve exploring the numerous museums, galleries, and historic sites, visiting the famous Sagrada Familia, or admiring Park Guell's stunning design. Barcelona also provides beautiful settings and a refined atmosphere for a romantic weekend for couples.
Regardless of your reason for planning a weekend getaway to Barcelona, a perfect hotel will always be waiting for you!
---
Accommodation Options in Barcelona
---
The Top 10 Hotels in Barcelona for a Weekend Getaway
1. The Corner Hotel
C/ de Mallorca, 178, 08036 Barcelona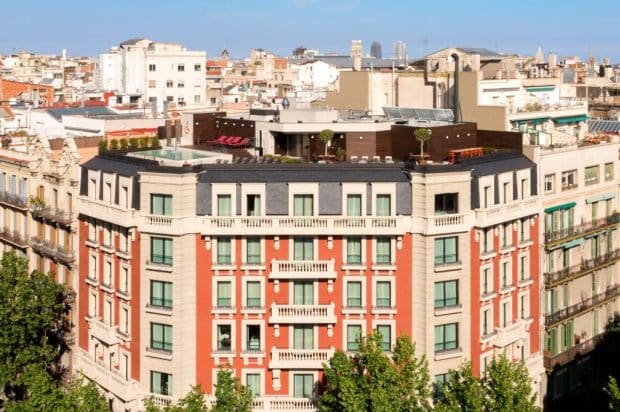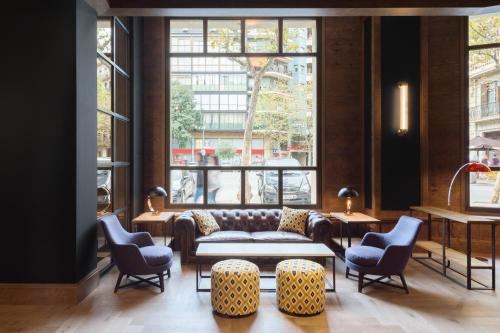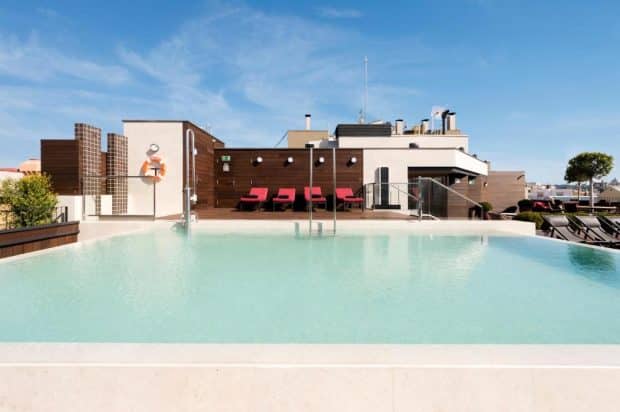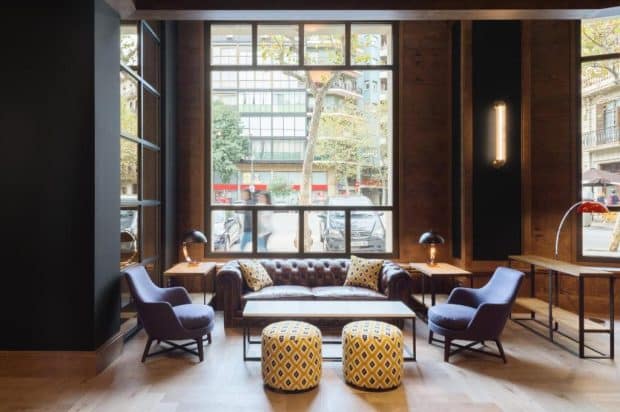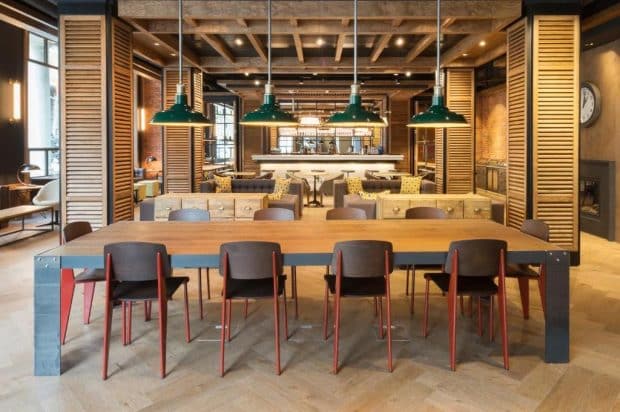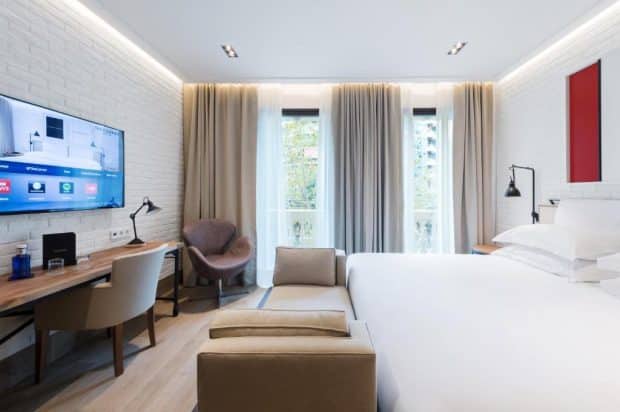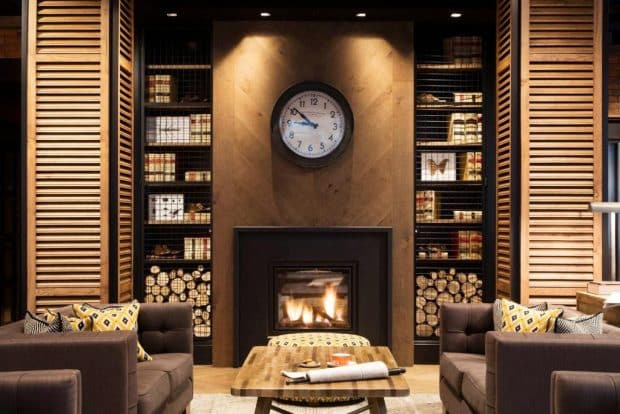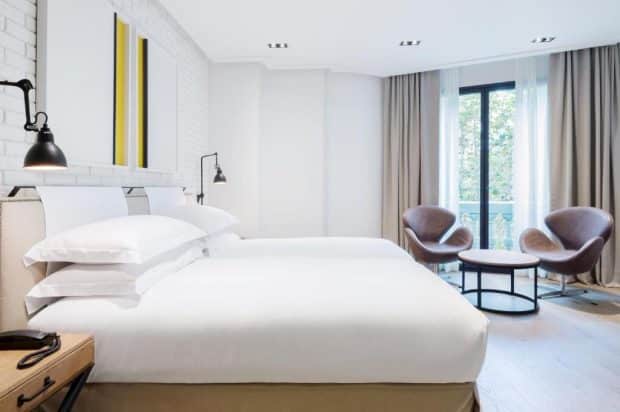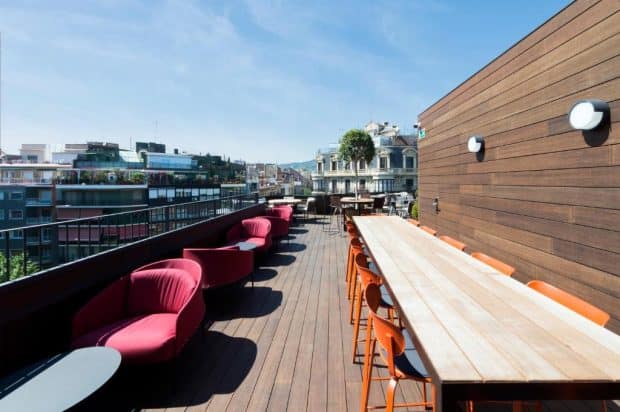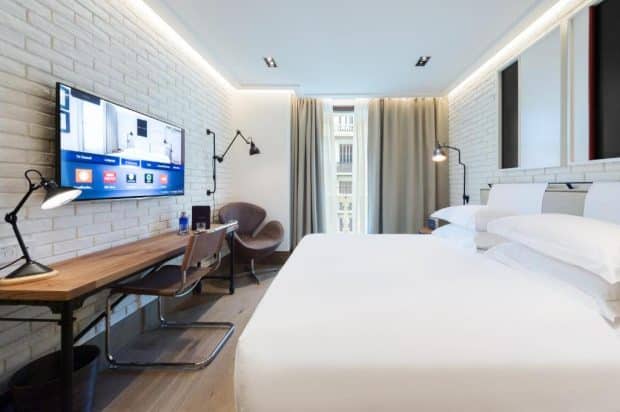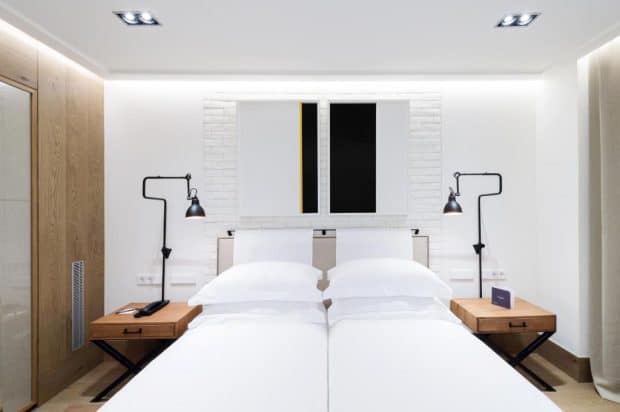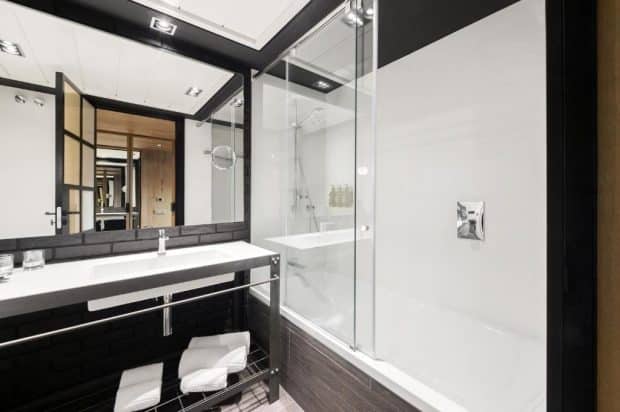 The Corner Hotel is a chic 4-star property located near the Diagonal metro station in the bustling Eixample neighborhood of Barcelona. Renowned for its exceptional services and tastefully designed interiors, this hotel features an inviting rooftop terrace, a well-equipped gym, and free Wi-Fi throughout the premises. The perfect spot for a weekend escape in the Catalan capital, The Corner Hotel's guests can benefit from proximity to notable landmarks and easily relax in their comfortable rooms after exploring what Barcelona has to offer.
---
2. Olivia Balmes Hotel
C/ de Balmes, 117, 99, 08008 Barcelona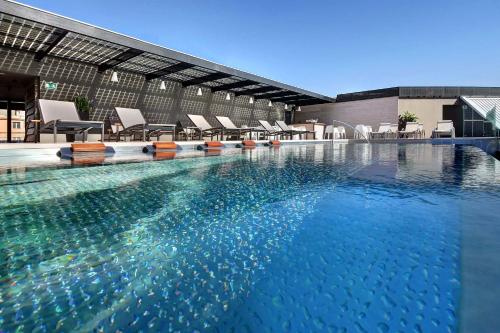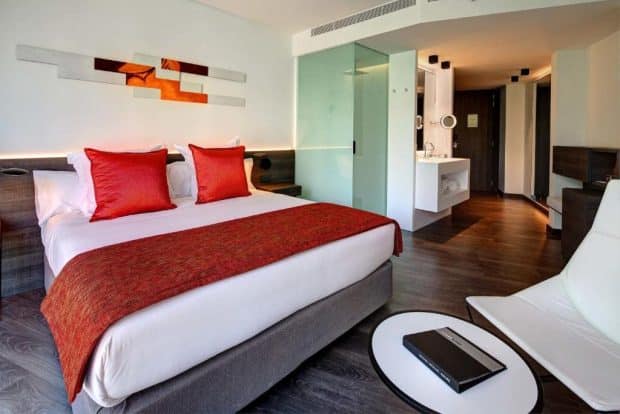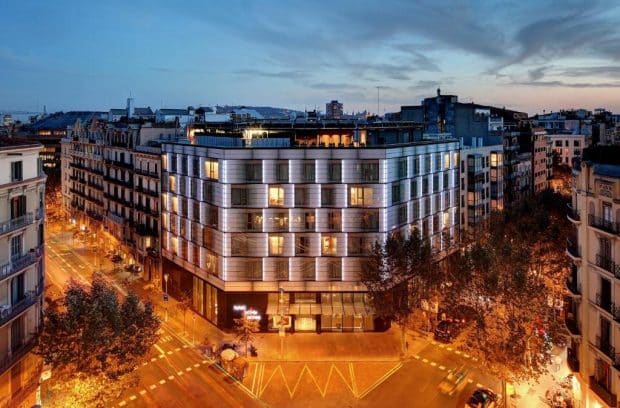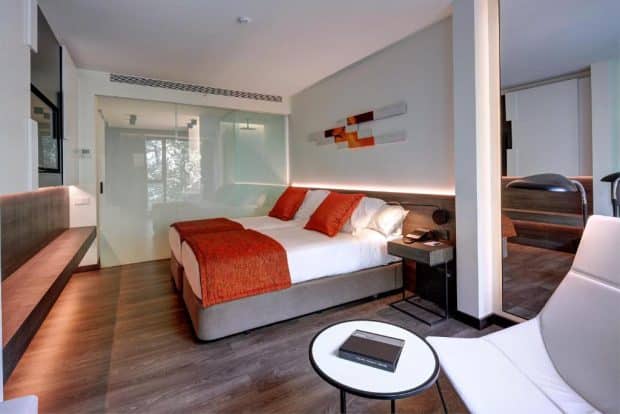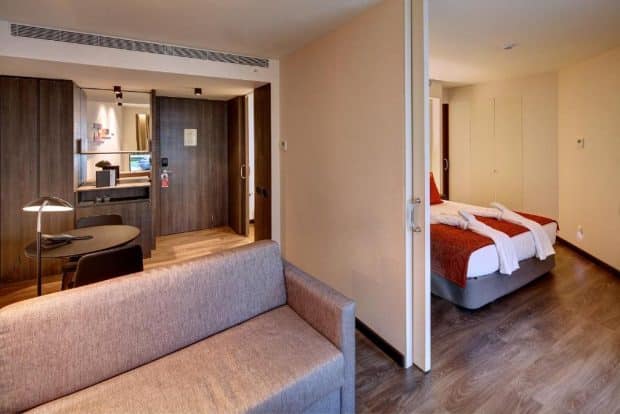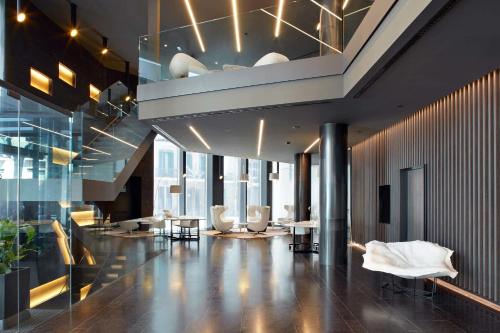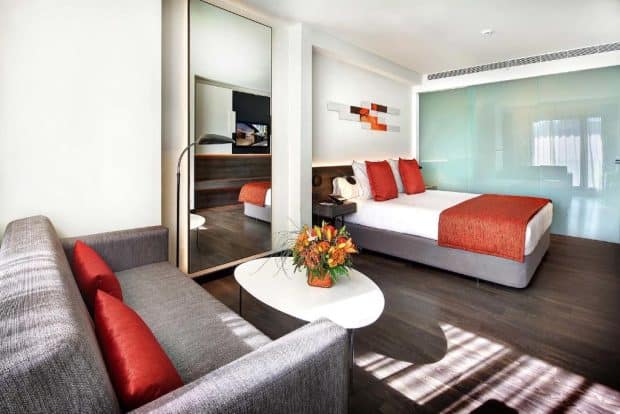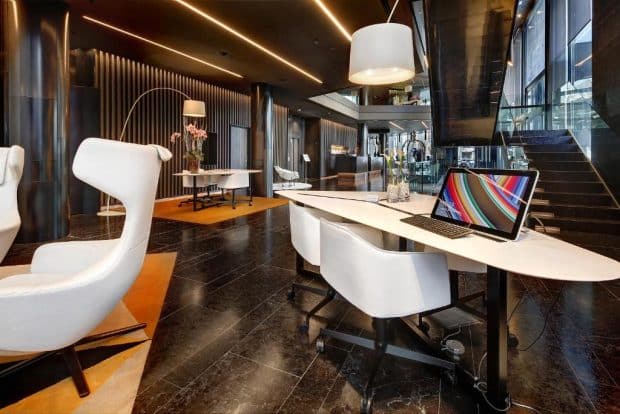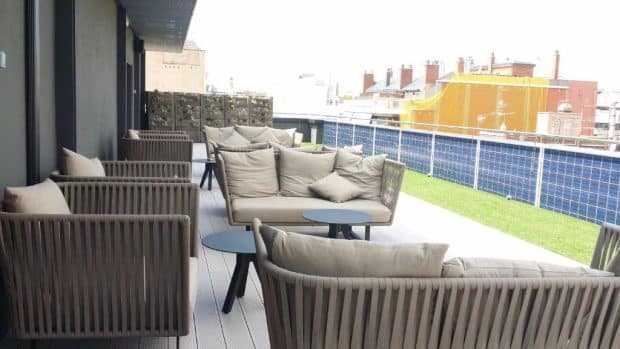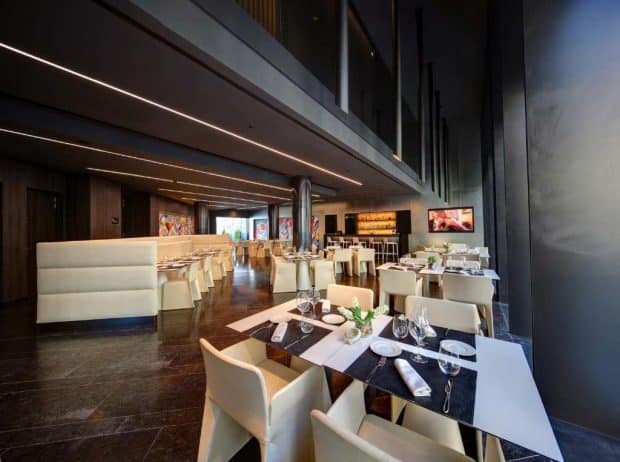 Situated in the heart of Eixample, the Olivia Balmes Hotel is a luxurious 4-star accommodation with easy access to the Provença metro station. Known for its environmentally friendly practices, this modern hotel offers top-notch amenities such as an outdoor pool, solarium, a stylish bar, and on-site fine dining at Seventeen Restaurant. Olivia Balmes Hotel provides an ideal base to explore Barcelona's renowned architecture and vibrant culture while offering comfort and relaxation during your weekend getaway.
---
3. Room Mate Pau
C/ de Fontanella, 7, 08010 Barcelona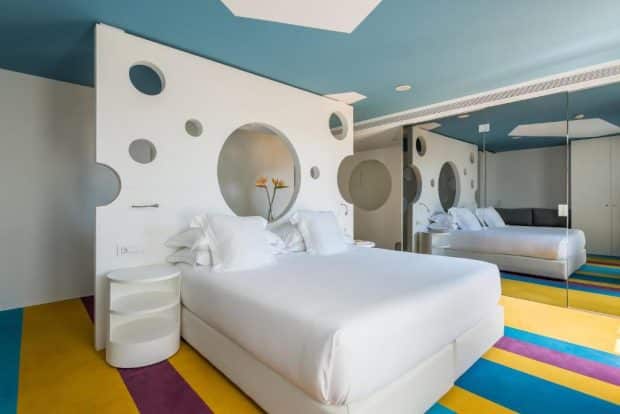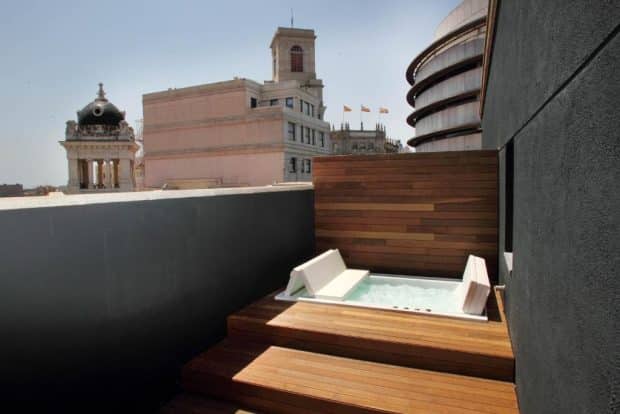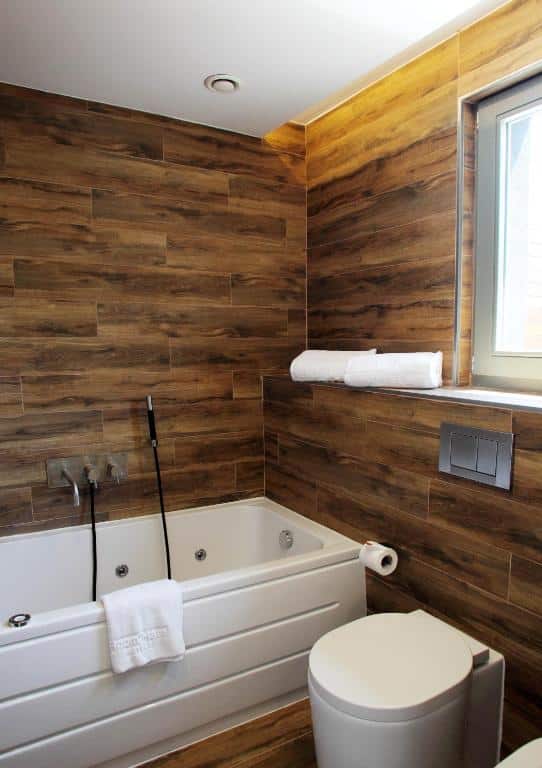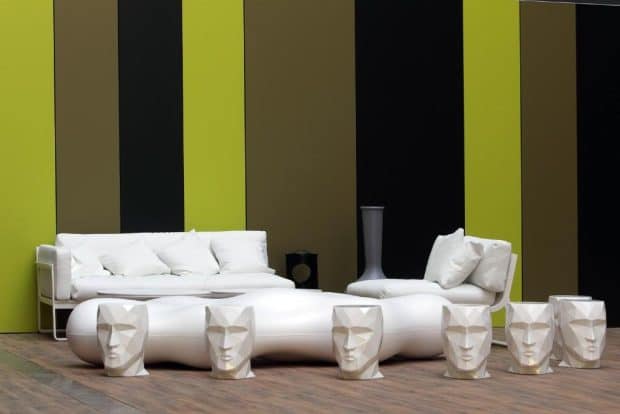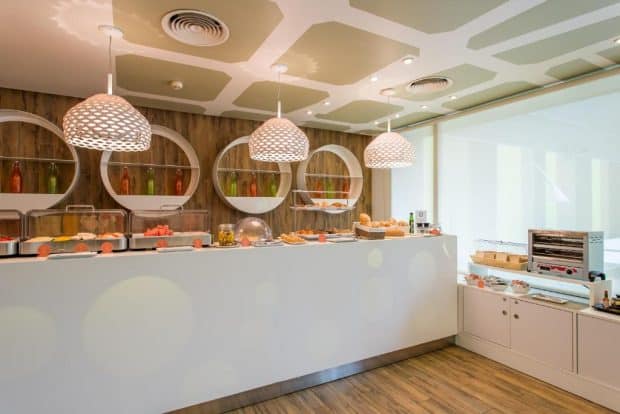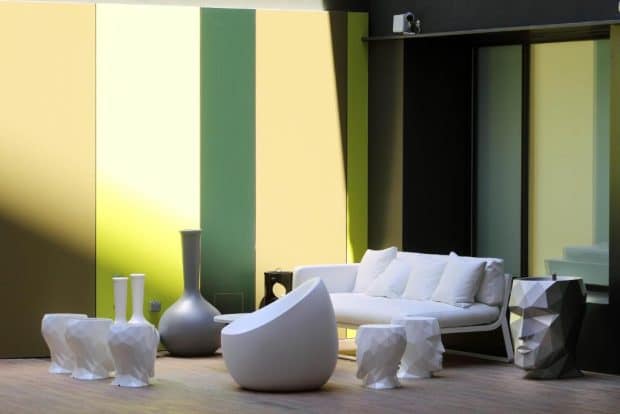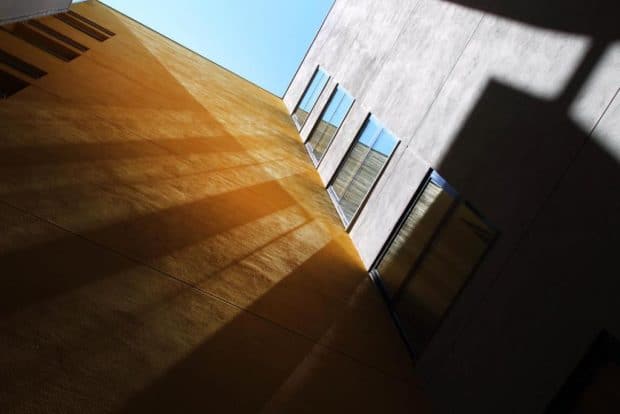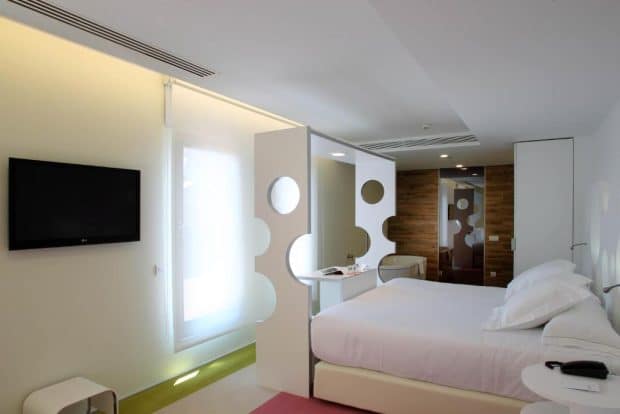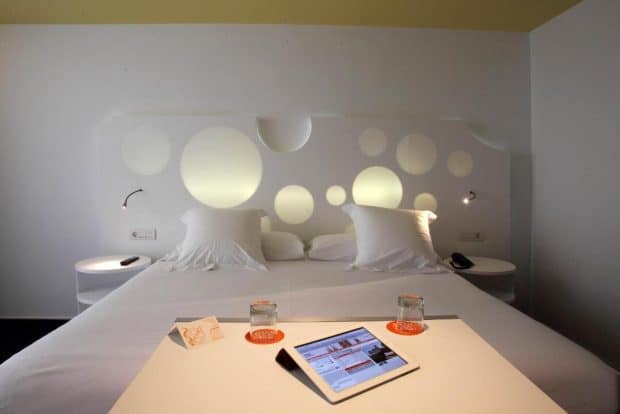 Room Mate Pau is an elegant and stylish 3-star hotel near the Plaça Catalunya metro station in Ciutat Vella – one of Barcelona's most popular districts. With standout design elements that reflect Barcelona's contemporary vibe, this cozy hotel offers amenities such as a welcoming courtyard lounge area, in-room climate control, and free Wi-Fi access. Highly recommended for a delightful weekend retreat in Barcelona, Room Mate Pau ensures a memorable stay by providing excellent service and prime access to nearby attractions and lively entertainment spots.
---
4. Casa Camper Barcelona
Carrer d'Elisabets, 11, 08001 Barcelona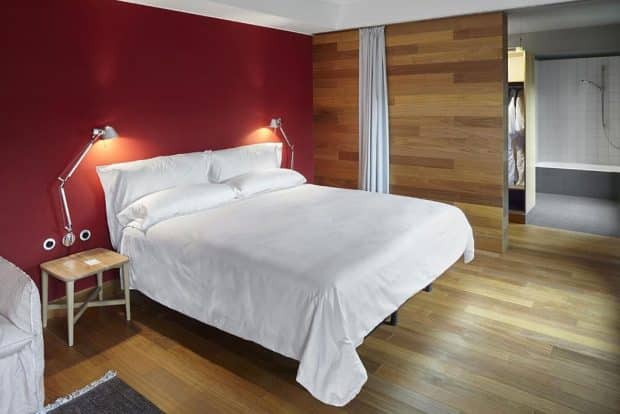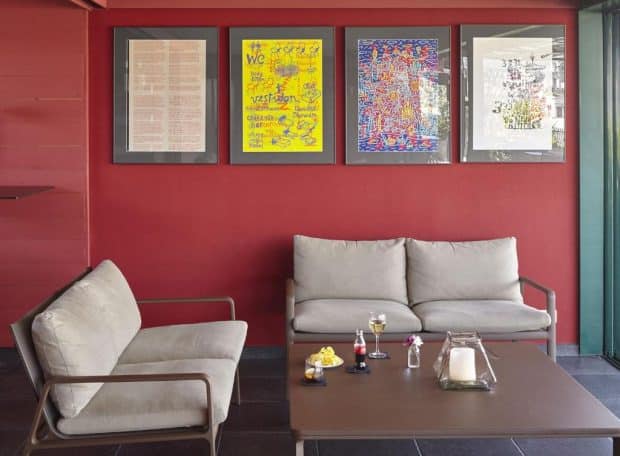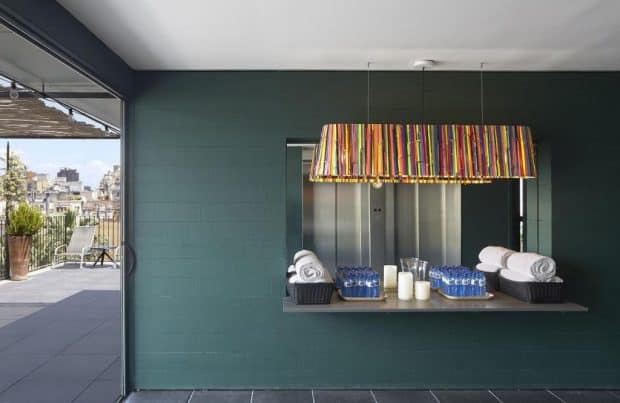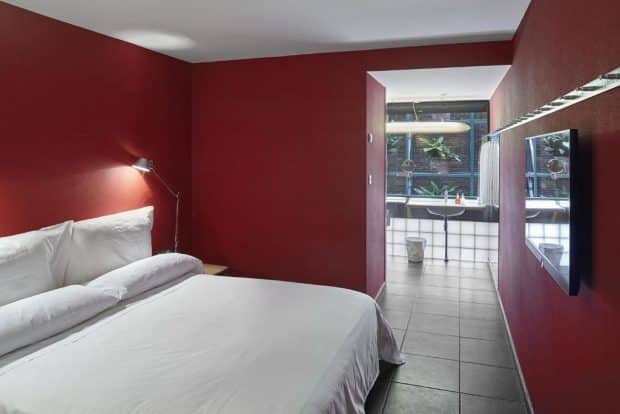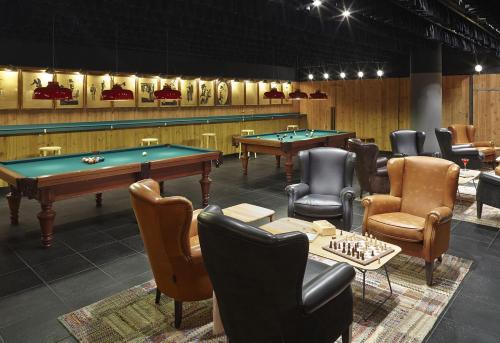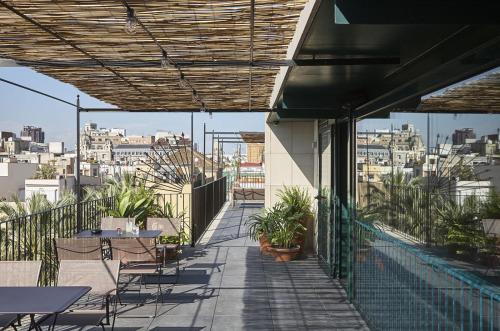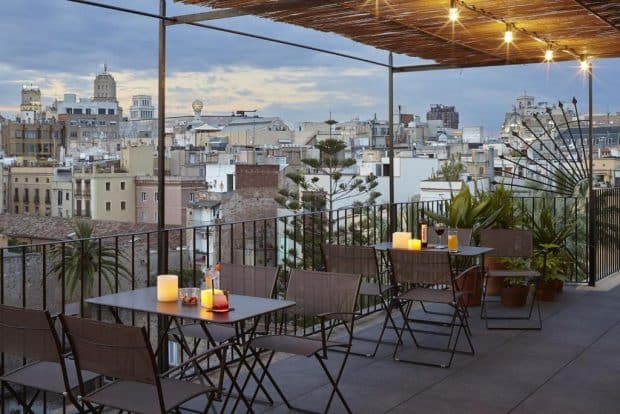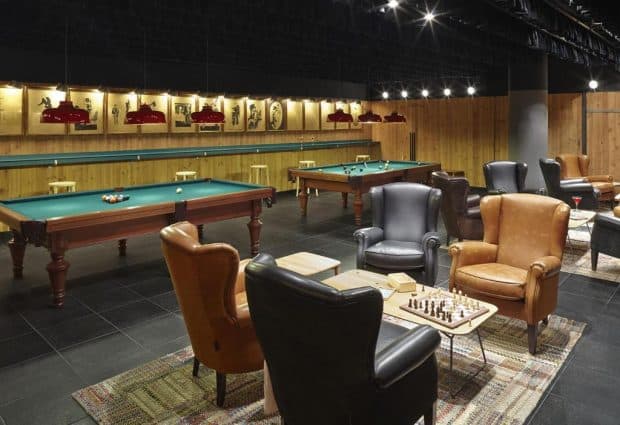 Casa Camper Barcelona is one of the best rated hotels in Barcelona. This trendy boutique hotel situated near the vibrant Las Ramblas and the Boqueria Market in El Raval. This design-centric hotel holds a 4-star rating and offers top-notch amenities, including a fully-equipped fitness center, a 24/7 buffet, and stylish, innovative rooms. Casa Camper is an ideal choice for those looking to experience the creative and artistic side of Barcelona while enjoying modern comforts during their weekend getaway.
---
5. H10 Casa Mimosa
C. de Pau Claris, 179, 08037 Barcelona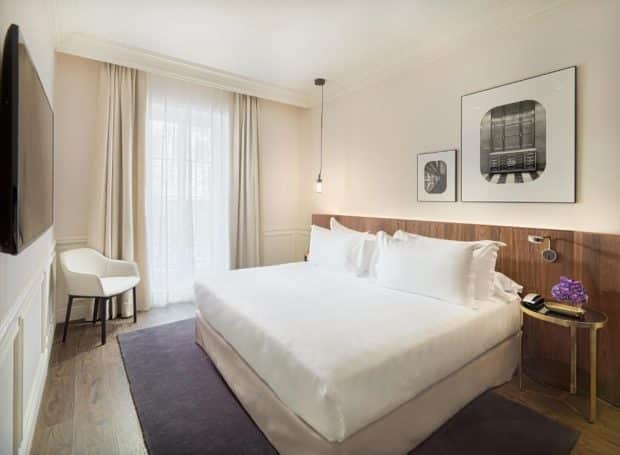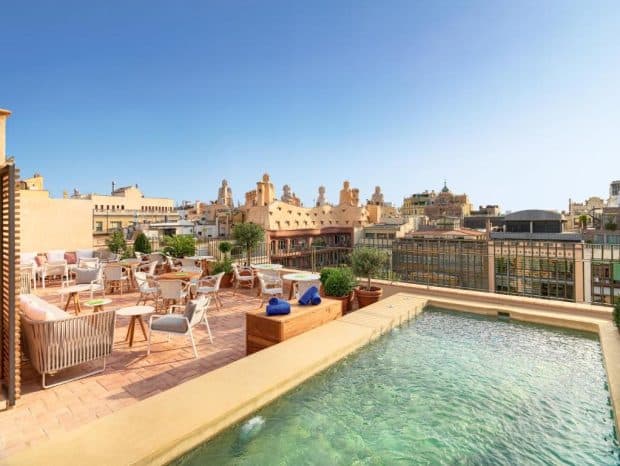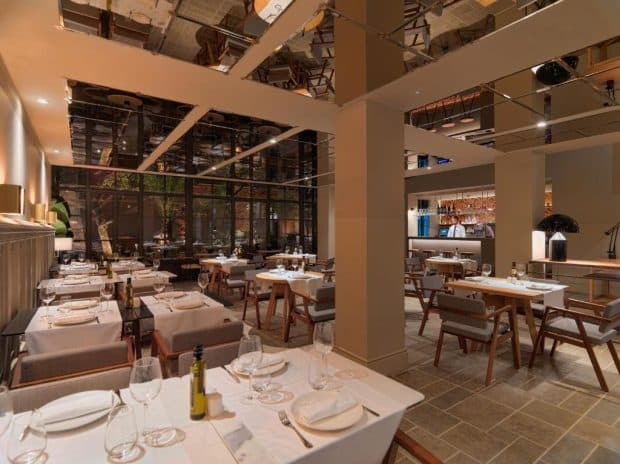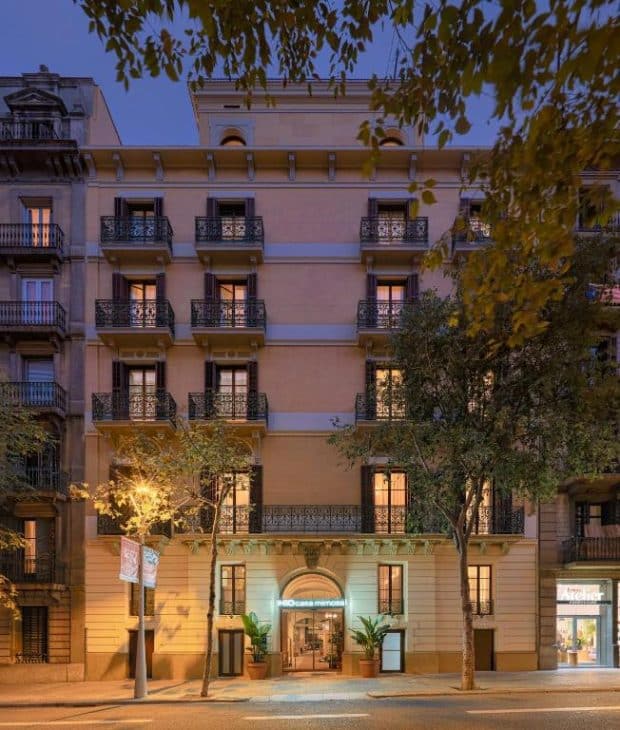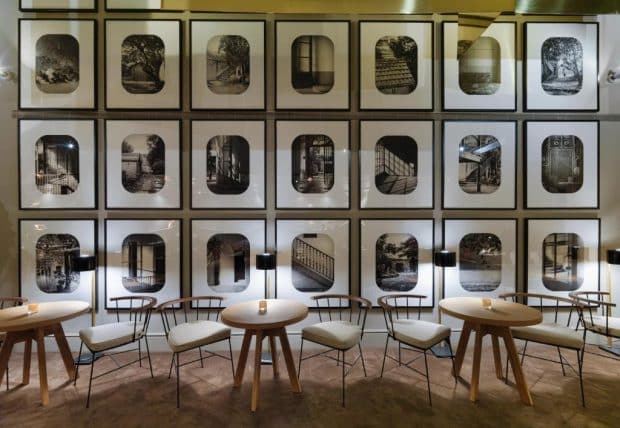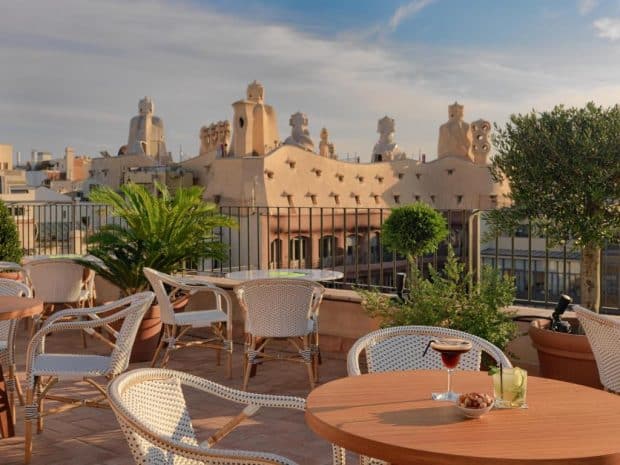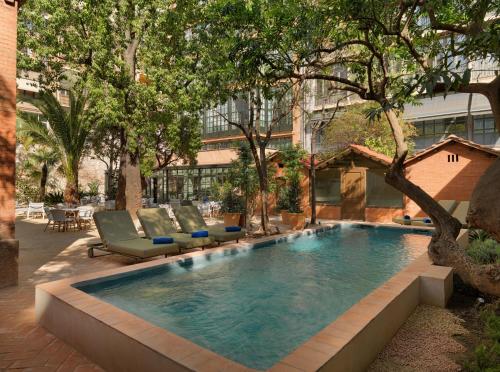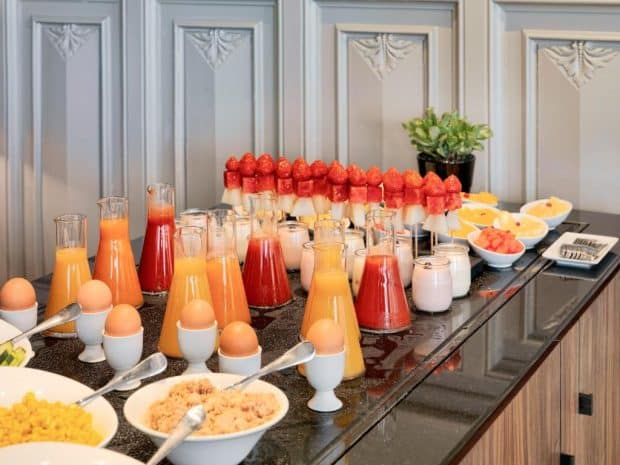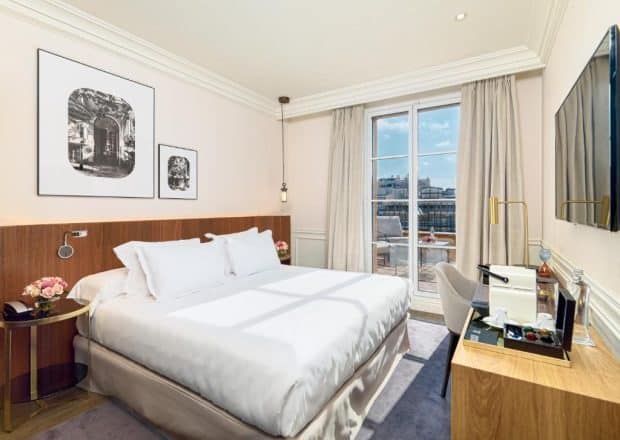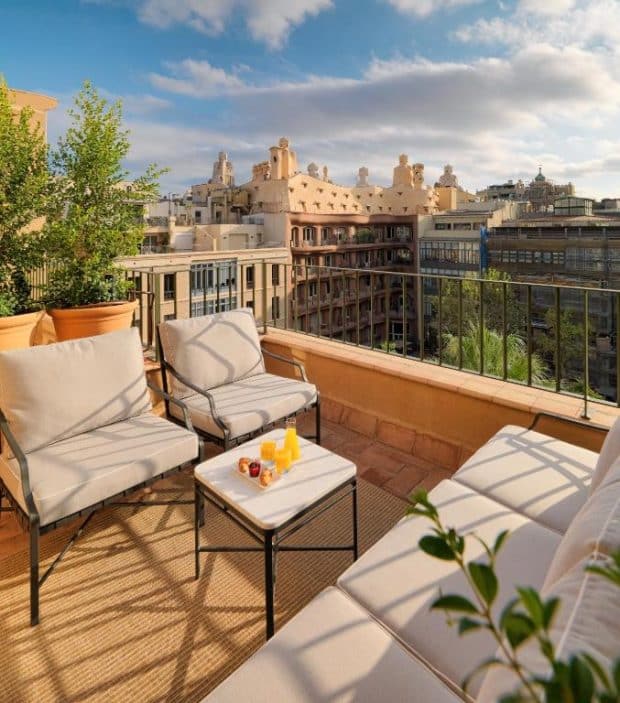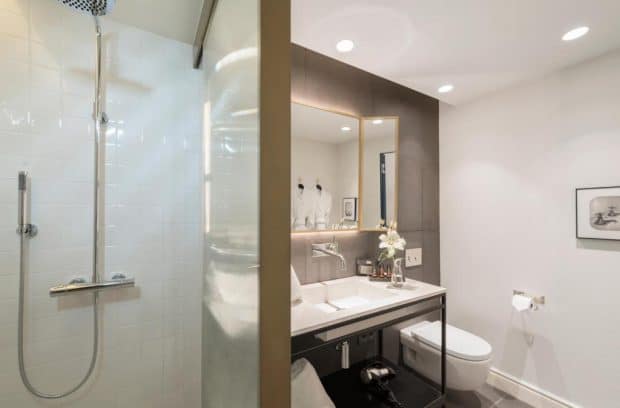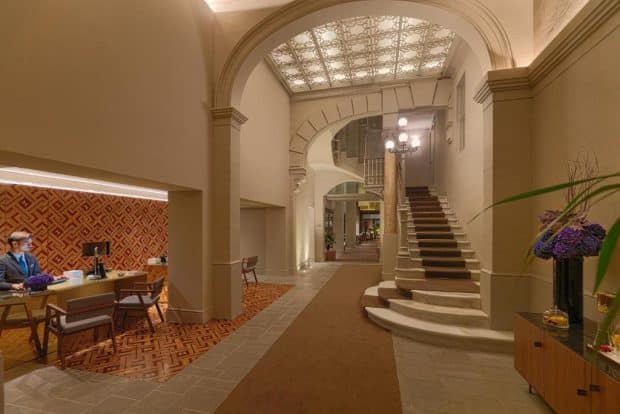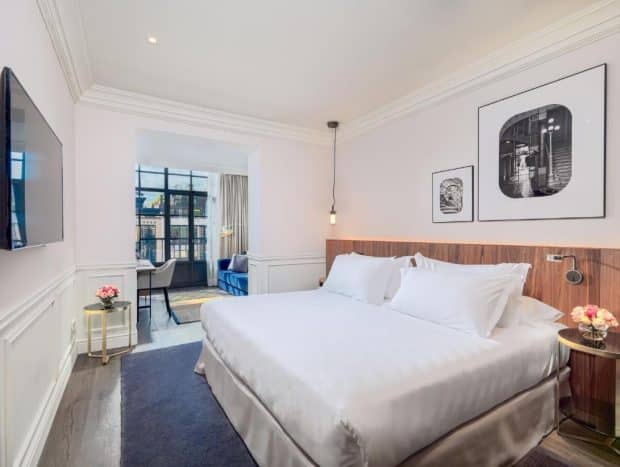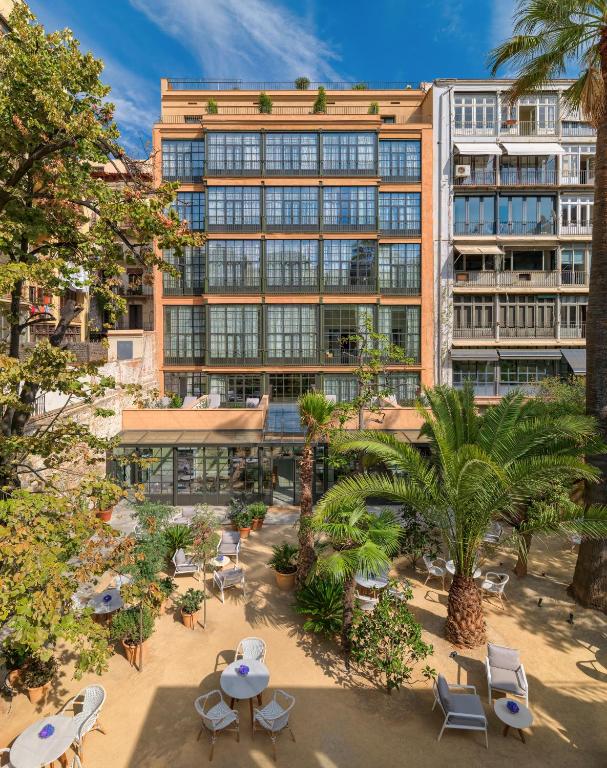 H10 Casa Mimosa is an elegant 4-star superior hotel near Passeig de Gràcia metro station in the exclusive Eixample district. The hotel features stunning modernist architecture, a rooftop terrace with a swimming pool, and beautifully appointed rooms. H10 Casa Mimosa provides guests easy access to renowned landmarks such as Casa Batlló and La Pedrera, making it an excellent choice for travelers seeking culture, luxury, and convenience during their Barcelona weekend break.
---
6. Praktik Èssens
Pg. de Gràcia, 24, 08007 Barcelona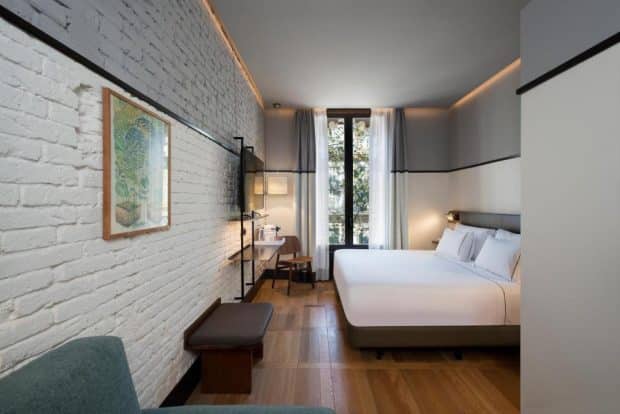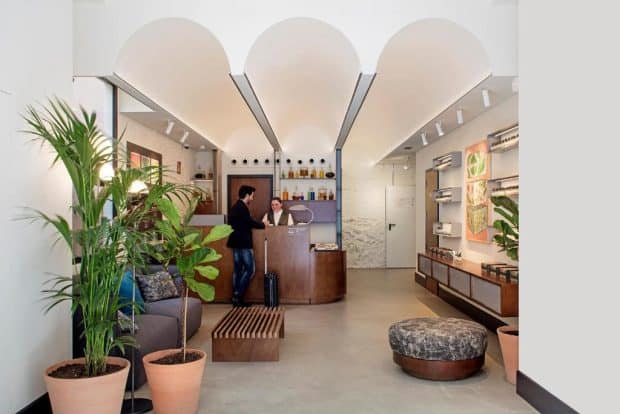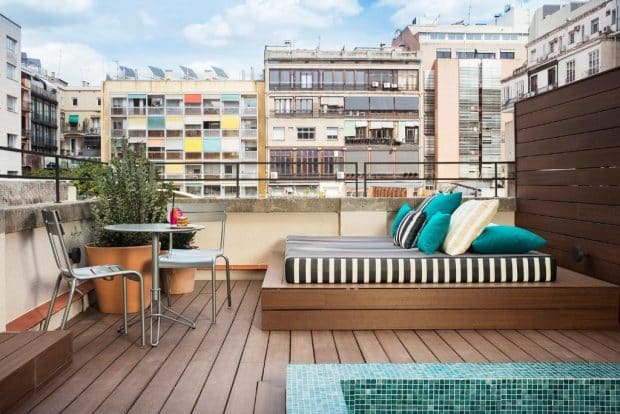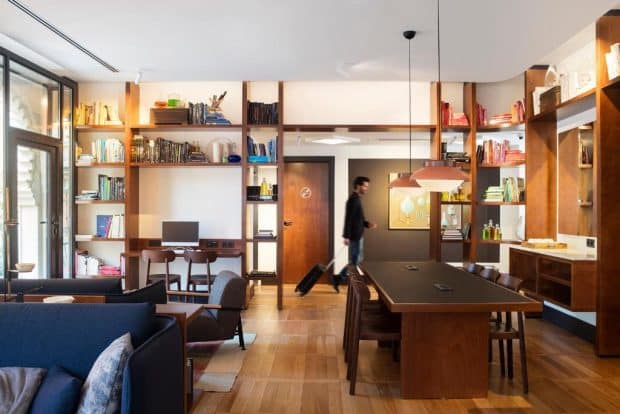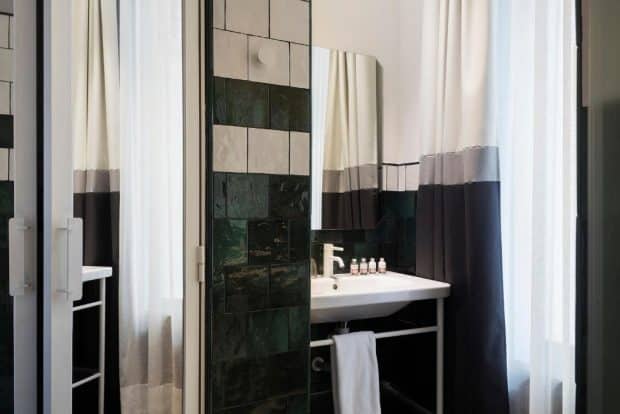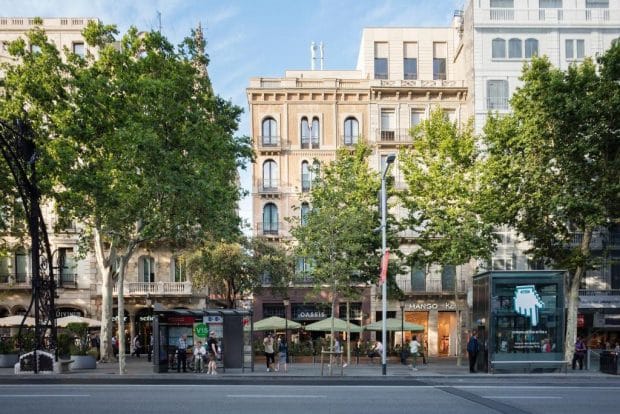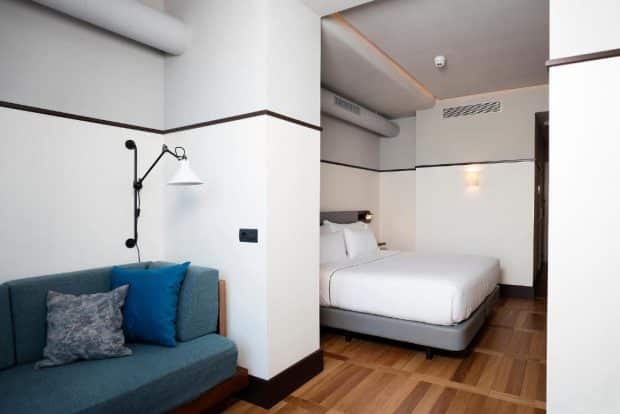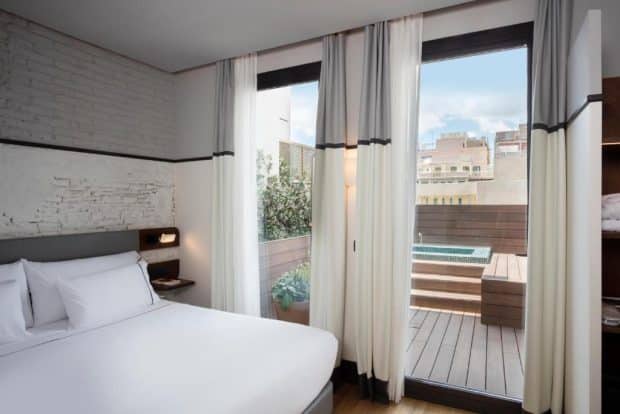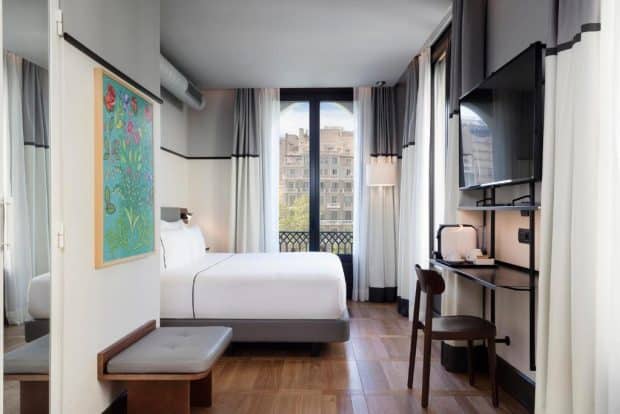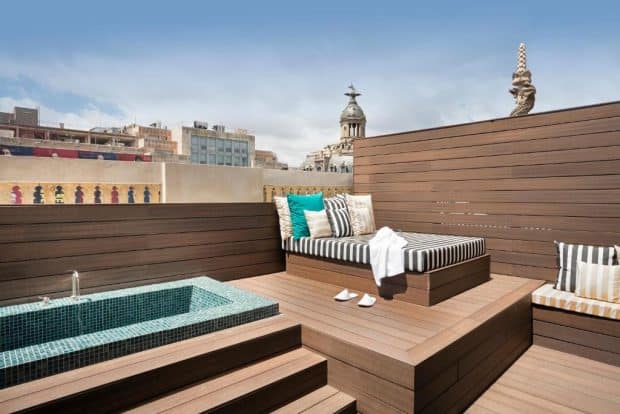 Praktik Èssens is a contemporary 3-star hotel on the bustling Plaça de Catalunya. Designed around the concept of perfumery, Praktik Èssens pays homage to Barcelona's rich fragrance tradition through its beautifully decorated rooms and refreshing ambiance. Key amenities include a dynamic rooftop terrace, lush indoor garden spaces, and proximity to numerous metro lines for quick travel around the city. Its sensory ambiance makes Praktik Èssens perfect for anyone looking to indulge in a weekend getaway full of mystery and romance.
---
7. Yurbban Ramblas Boutique Hotel
La Rambla, 129, 08002 Barcelona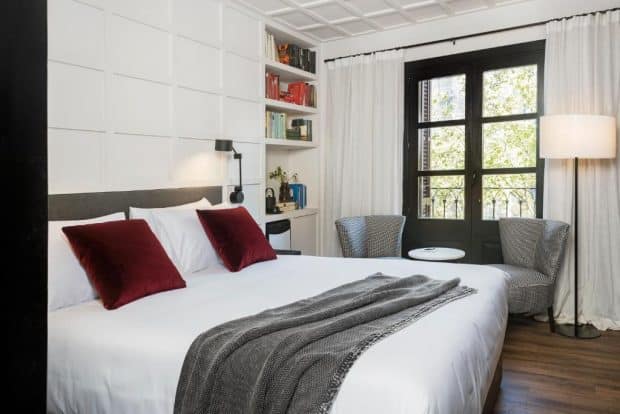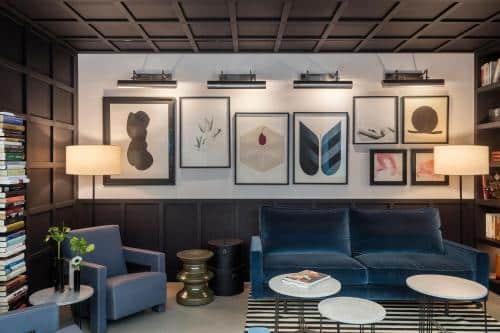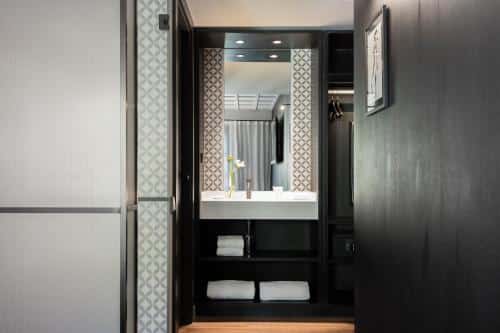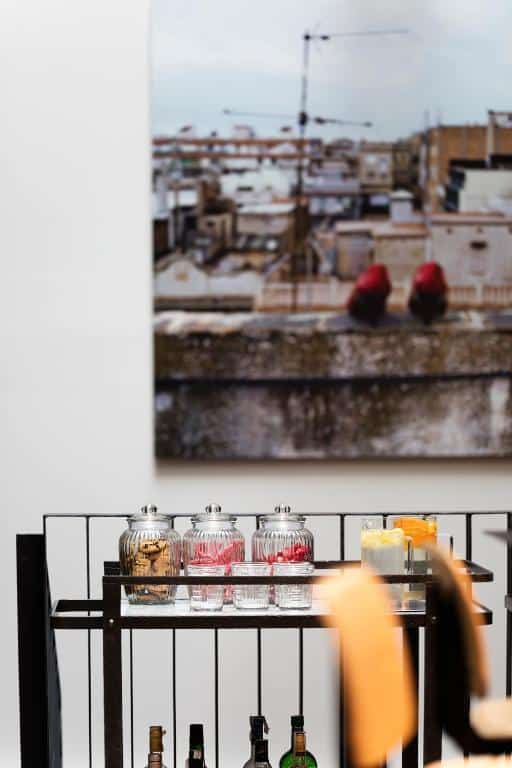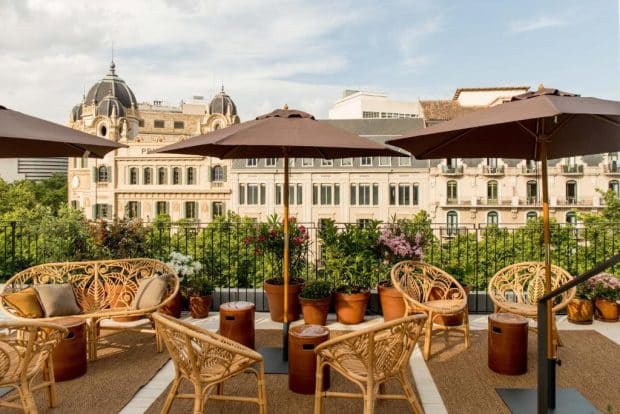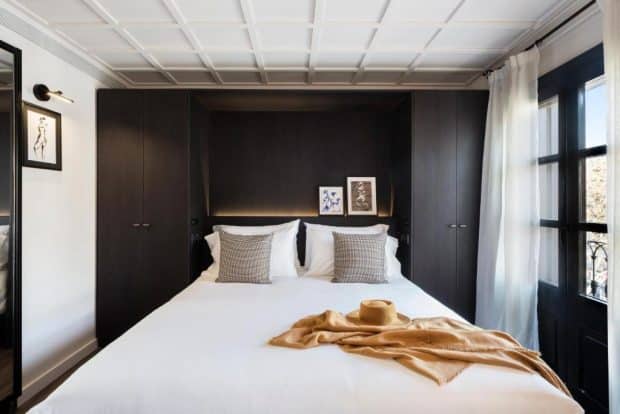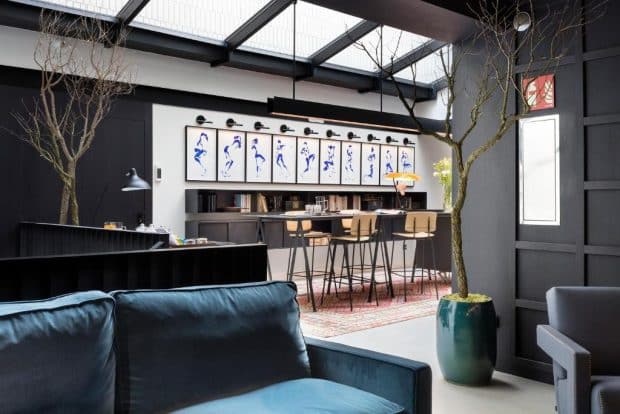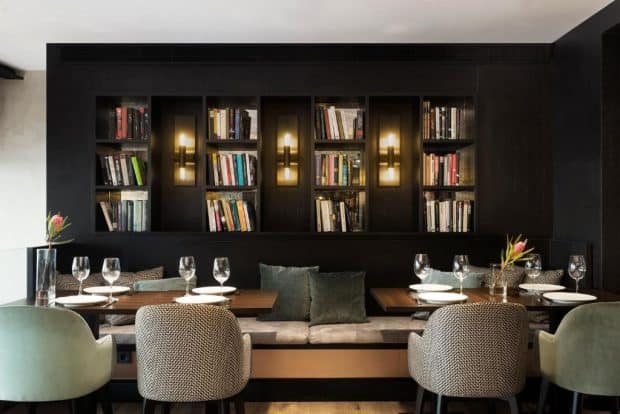 Yurbban Ramblas Boutique Hotel is one of the coolest hotels in Barcelona. It is situated in the lively Raval neighborhood just moments away from the Liceu metro station. This 3-star boutique hotel pampers guests with amenities such as a rooftop terrace offering panoramic city views, an on-site restaurant serving Catalan cuisine, and cozy smart rooms equipped with modern technology. Yurbban Ramblas Boutique Hotel's prime location and upscale offerings make it a favorite choice for travelers seeking a stylish and convenient base for their weekend exploration of Barcelona's vibrant streets.
---
8. Apartments Sixtyfour
Pg. de Gràcia, 64, 08007 Barcelona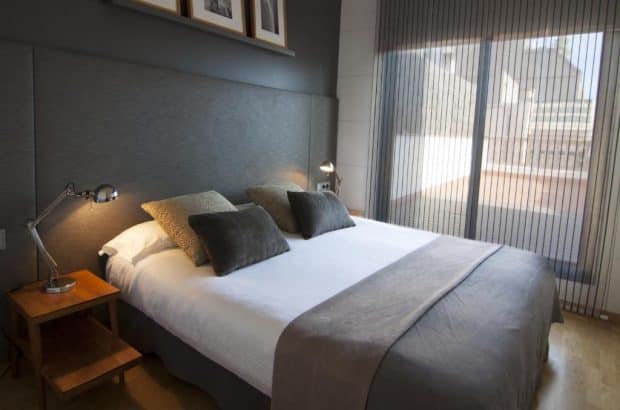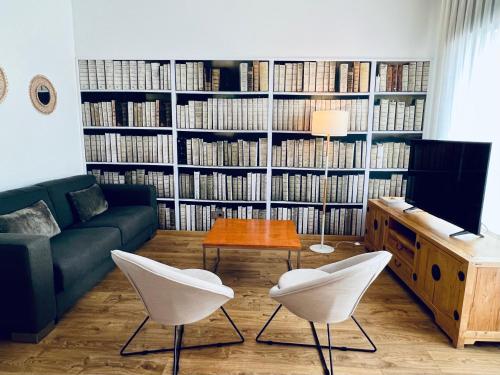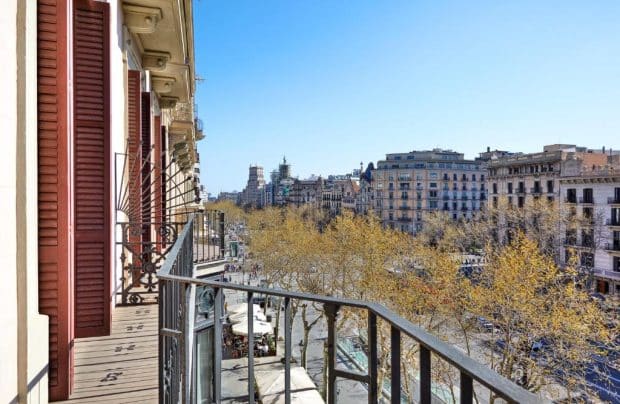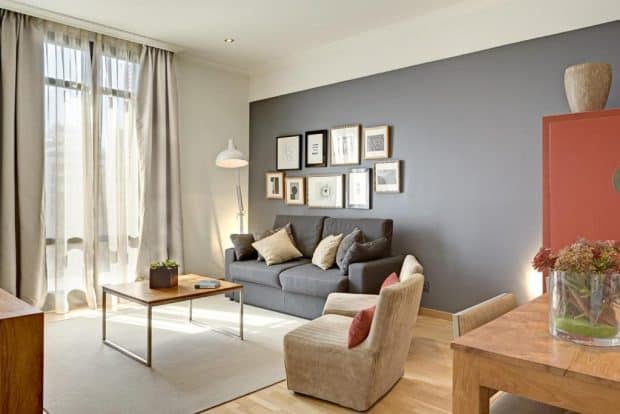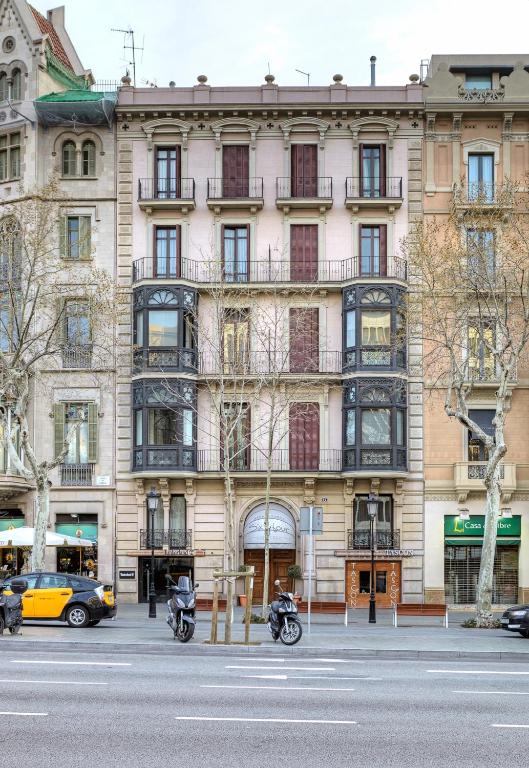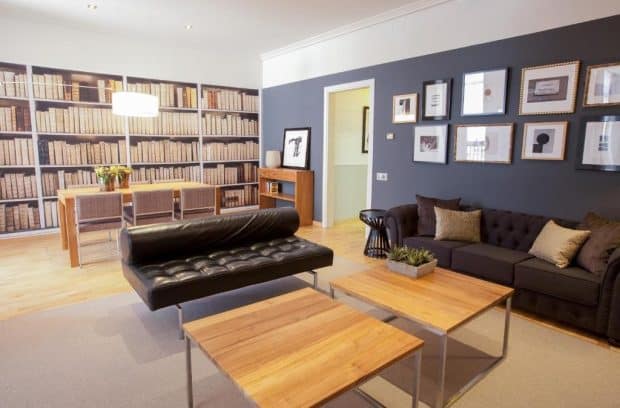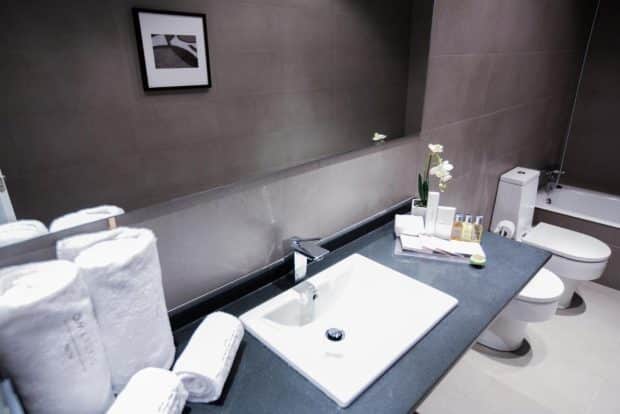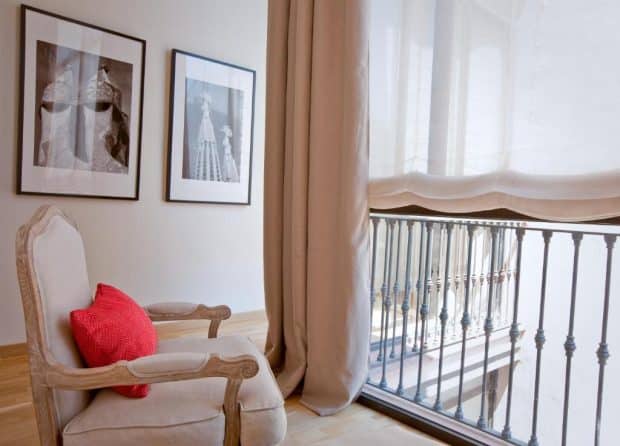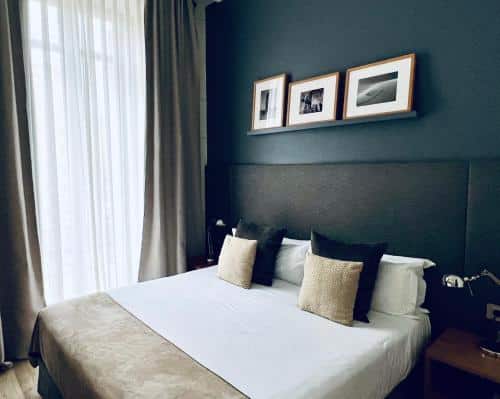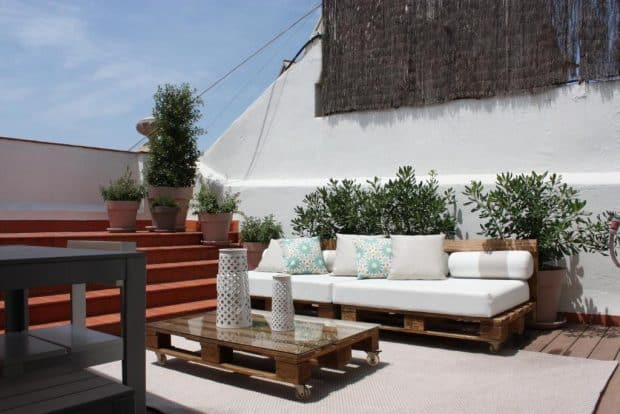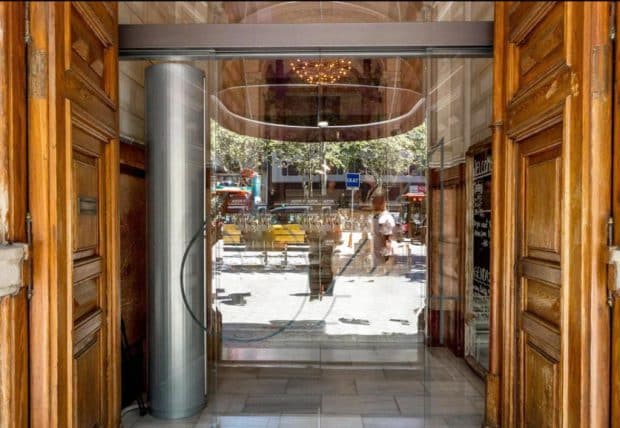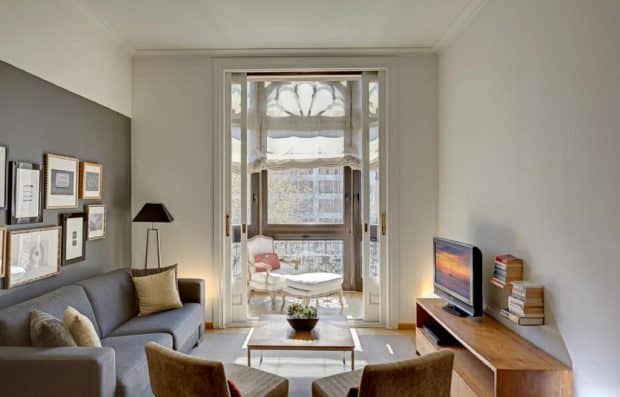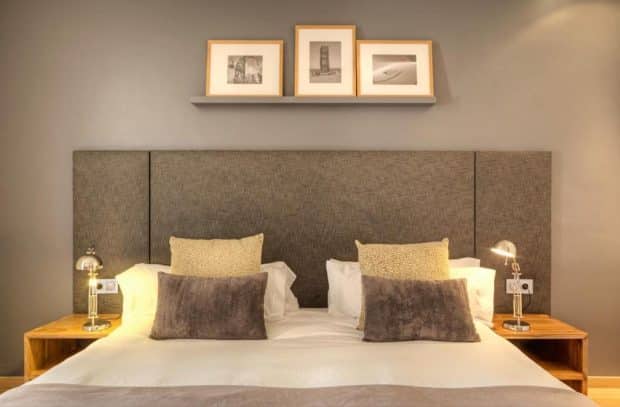 Apartments Sixtyfour, located on Barcelona's famous Passeig de Gràcia, offers spacious and modern accommodations with a 4-star rating. The well-equipped apartments come with kitchens and living areas, making them an ideal choice for a relaxing weekend trip to the city. With easy access to popular attractions such as Gaudi's Casa Batlló and La Pedrera, you'll be right in the middle of the action while enjoying a home-like atmosphere.
---
9. Hotel 1898
La Rambla, 109, 08002 Barcelona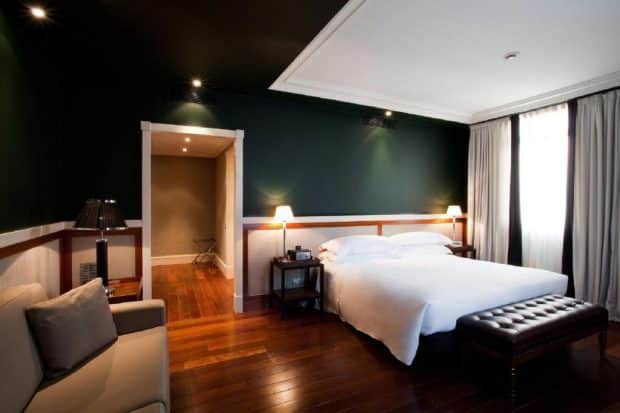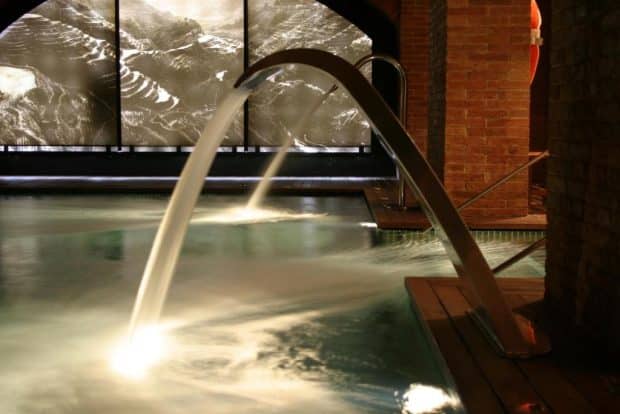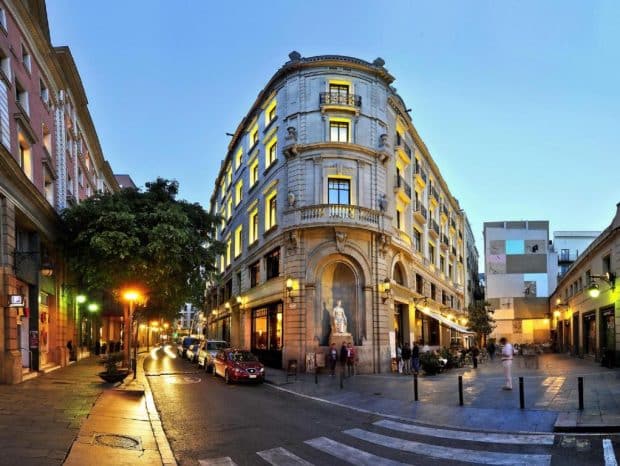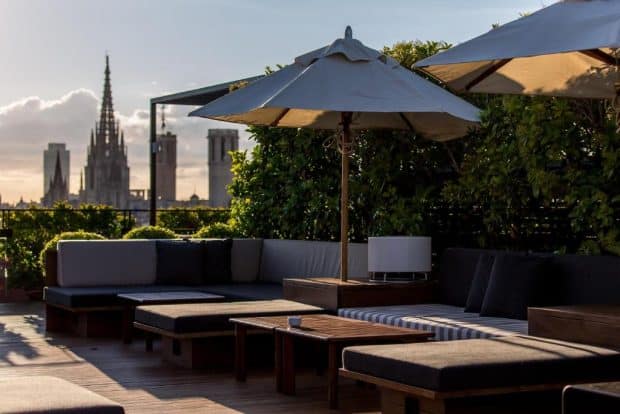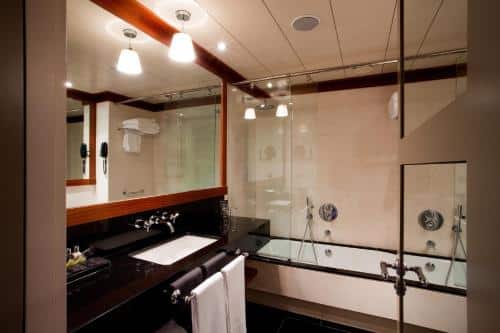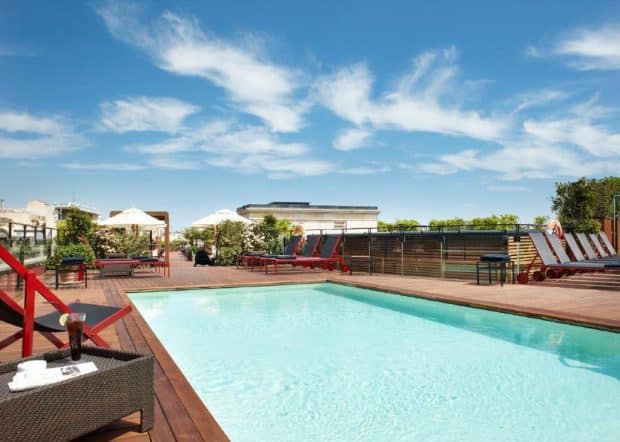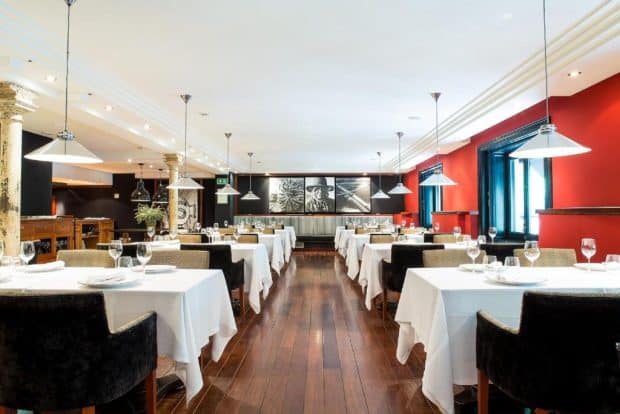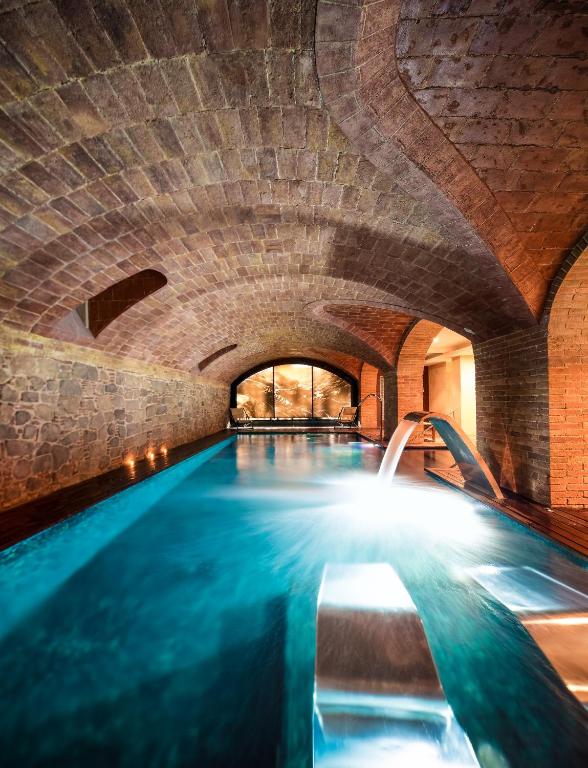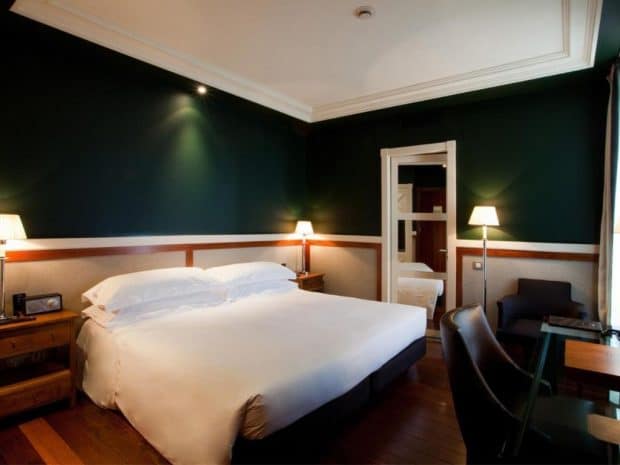 Hotel 1898, a luxurious 4-star property situated on La Rambla in downtown Barcelona, is perfect for a two-day or weekend getaway. The well-appointed rooms provide all the necessary amenities while maintaining the building's historical charm. Enjoy exclusive features such as a rooftop terrace, spa, indoor pool, and fitness center – all within walking distance of key attractions like Plaça de Catalunya and Gothic Quarter.
---
10. Sansi Pedralbes
Av. de Pearson, 1, 08034 Barcelona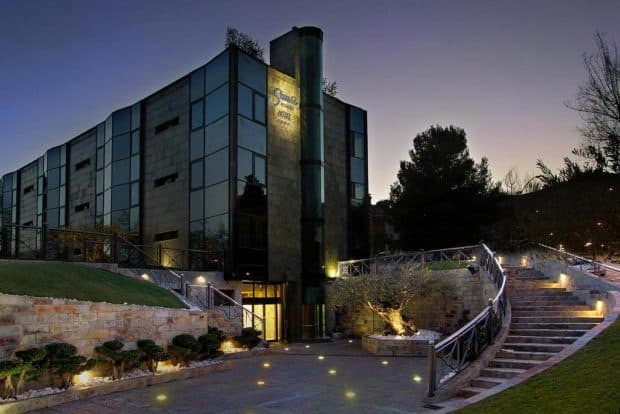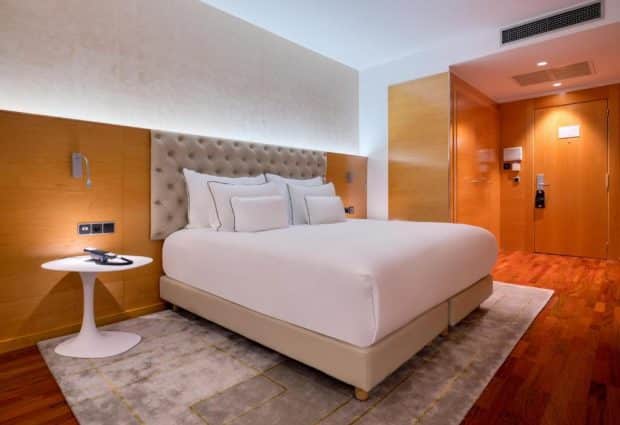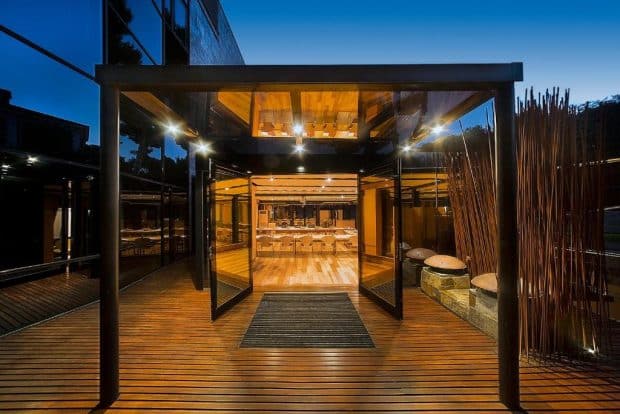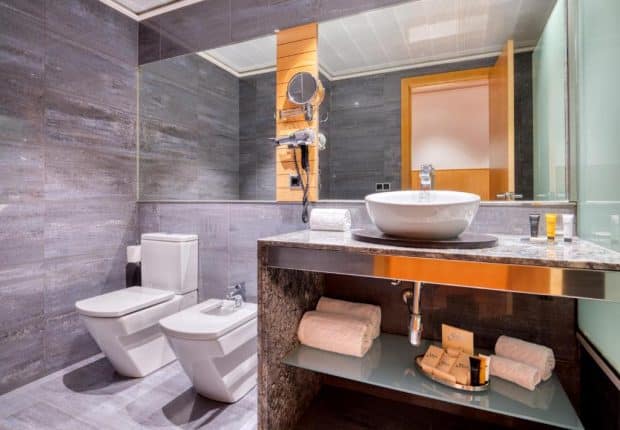 Sansi Pedralbes is a serene 4-star boutique hotel situated in the upscale neighborhood of Pedralbes. This elegant retreat boasts stylish rooms and exceptional service within close proximity to Park Güell and Camp Nou. With its tranquil setting away from the bustle of the city center, Sansi Pedralbes is an ideal choice for those seeking relaxation during their weekend stay in Barcelona.
---