Bristol is a port city located to the southwest of England, in the United Kingdom, less than two hours away from London by train. Its main attractions are the Clifton suspension bridge (which connects the two parts of the city) and the Bristol Cathedral. In this article, we will explore the best areas to stay in Bristol, UK.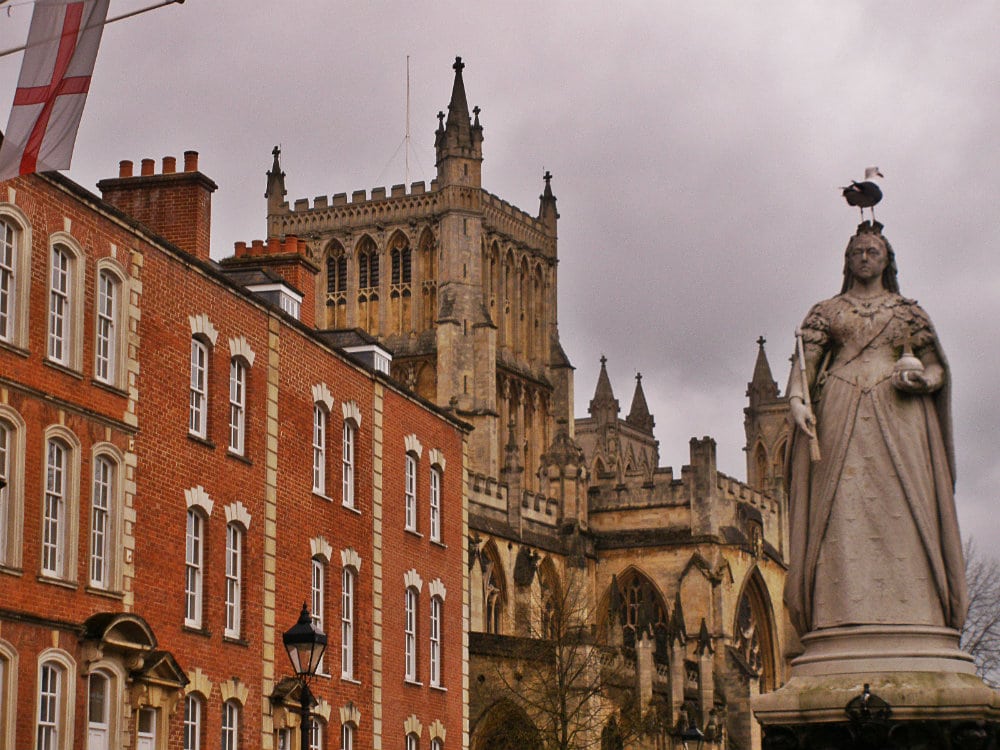 Bristol is known for its large student population, with superior education centres such as the University of Bristol and the University of the West of England, to name just a few. Furthermore, Bristol is called "The Greenest Capital in England" because of its sustainable initiatives.
The climate in Bristol is among the "warmest" in England, with average temperatures of 22º Celsius in the summer, thanks to its convenient location next to the Avon River.
Bristol is also the birthplace of controversial artist Banksy and, therefore, it's home to many of its most iconic murals.
Bristol can easily be explored on foot. It streets are very pedestrian and bike-friendly. It is such a safe and accessible place that choosing where to stay in Bristol depends 100% on personal interests and budget.
If you're looking to explore Bristol's nightlife, Bristol Old City, five minutes from the port and in the city centre, is for you See accommodation in the Old City.
If you're interested in knowing Bristol's history in-depth, Clifton allows you to be close to the bridge, the cathedral and other cultural and natural sights. See accommodation in Clifton.
This is a list with the best areas to stay in Bristol, England.
The Best Areas to Stay in Bristol, England
1. Best Area to Stay: Old City
The Old City is right in the centre of Bristol, and it could not be easier to reach this neighbourhood by bike, bus, car or walking from any corner, as it is quite pedestrian-friendly.
Known as the medieval heart of Bristol, it's possible to see some of the oldest and most important buildings in the city, such as Bristol Cathedral, St. Nicholas Market and Queen Square in this district.
The medieval roots of Old City can be seen in the particular design of its streets and hidden passages.
Additionally, the Old City is a great place for those looking for leisure and fun, due to its large number of restaurants, shops and pubs gathered on its sidewalks.
Old City is the best district to stay in Bristol if you want to enjoy the nightlife and, at the same time, delve into the incredible history of this city.
Hand-picked hotels in this area
---
2. Clifton
Clifton is one of the most exclusive neighbourhoods in central Bristol.
This district is renowned for its avant-garde boutiques and for being home to iconic places in the city, such as the Clifton Suspension Bridge and the Bristol Zoo.
Located northeast from Bristol Old City, on the banks of the River Avon to be specific, Clifton is one of Bristol's young areas par excellence, being home to one of its most important universities: The University of Bristol.
Clifton also houses the Bristol International Balloon Fair , which takes place in Ashton Court every August, so nearby hotels are usually packed during that month and it is necessary to book in advance.
However, Clifton offers hotels of different ranges for all types of visitors during the course of the year.
Hand-picked hotels in this area
---
3. Temple
Temple is a visitor favourite when it comes to where to stay in Bristol, because of its great transportation system.
This area includes the oldest and largest train station in the city, Temple Meads, which connects with the rest of Bristol.
Through Temple Meads, you can get on a train to cities like London and Manchester, making it an ideal place to stay if you want to visit more destinations in England besides Bristol.
Among the most visited places in Temple are the ruins of Temple Church, which was built in the 12th century and bombed during the Second World War.
The church also has recreational gardens for those looking to spend some time outdoors.
Hand-picked hotels in this area
---
4. Old Market
Old Market is the first area of ​​Bristol to be built around the castle and, therefore, a place filled with history.
Old Market is located east from the Old City, and its streets are full of antique shops, vintage clothing and all kinds of Bohemian souvenirs.
This neighbourhood is an excellent alternative for artists, or for those who want to avoid the mainstream attractions.
This area is also known as Bristol's Gay Village thanks to its LGBT-oriented shops, pubs and bars.
Old is considered the most gay-friendly place in Bristol.
If you want to know what Bristol's nightlife has to offer, Old Market is a great place to stay.
Hand-picked hotels in this area
---
5. Harbourside
Harbourside went from being a port area where sailors and merchants bartered to become an incredibly modern area in Bristol.
Harbourside is filled with shops, restaurants and different kinds of hotels, making it one of the main commercial areas of Bristol.
This district is the perfect choice for the most athletic visitors and sports enthusiasts. If you decide to stay in Harbourside, you can join outdoor activities such as rowing and sailing, to name just a few.
Other Harbourside attractions include the Bristol Aquarium and one of the best museums in the UK: The SS Great Britain, a transatlantic ship built in 1843 that makes us travel in time as soon as we set foot on its deck.
Harbourside is one of the best areas to stay in Bristol if you are looking for adventure. However, this neighbourhood also allows to get to know important pieces in the history of this incredible city.
Hand-picked hotels in this area
---
Read this article in other languages:
|ES| Las mejores zonas donde alojarse en Bristol, Reino Unido.