Lisbon, Portugal's capital, is a must-visit destination for any traveler. With its history, stunning architecture, picturesque neighborhoods, and heavenly cuisine, spending two days exploring this city will surely be a memorable experience. In this guide, we will share an ideal itinerary for first-time visitors, from wandering through the maze-like streets of Alfama to enjoying tasty pastéis de nata. So grab your comfortable walking shoes and prepare to go up and downhill a lot, on an unforgettable journey through one of Europe's most captivating cities – two days in Lisbon await!
The Perfect 2 Days Itinerary in Lisbon
Day 1: Exploring Lisbon's Historic Center
Morning: Alfama and São Jorge Castle
The best way to start these two days in Lisbon is to immerse yourself in the city's historic neighborhoods. As such, in the morning, we'll head to Alfama, one of the oldest areas in Lisbon.
Alfama is in the southeastern part of the city, with the Tagus River to the south. Inhabited since ancient times, the Alfama district was an important Moorish settlement before Christian forces took it in 1147. The maze-like streets and narrow alleyways reflect its medieval past. Due to its location near the river and dense construction, the Alfama survived the Great Lisbon Earthquake of 1755 mostly intact.
In Alfama, you can visit the Fado Museum. This museum opened in 1998 and has many objects related to fado and fado singers. Fado is a traditional Portuguese music genre known for its melancholy and longing. Furthermore, there are many fado houses in Alfama to have dinner while listening to live music.
São Jorge Castle, a historic fortress and monument, is located atop a hill in Alfama, overlooking the city from the east. The castle is a must-see place during a first trip to Lisbon.
São Jorge Castle has played a significant role in Portuguese history as well. This Moorish fortress was built in the 11th century and later conquered by Portugal's first king, Afonso Henriques. The castle was a royal residence for many years and a military garrison and prison in later centuries.
The opening hours for São Jorge Castle are from 10:00 to 18:00 from November through February and from 9:00 to 21:00 the rest of the year. Adult entry fees are €10.
To reach Alfama using public transportation, you can use trams, buses, or the metro system. Tram 28 is particularly famous for its route that passes through Alfama District, providing an authentic and scenic travel experience.
Alfama is one of the best areas to stay in Lisbon, so you could also book a hotel in the district. Staying in Alfama, you'll be able to get up earlier to walk around the neighborhood with fewer people. Likewise, there are many great breakfast and brunch spots in Alfama. Café Tati, for example, is a great place to eat, with large portions and live music to start the day in the best mood.
Some of the best viewpoints in Lisbon are in Alfama. As such, this is a great neighborhood to visit during your two days in Lisbon. Not only will you be able to get an idea of what the city's like, but you'll also have great photos to post.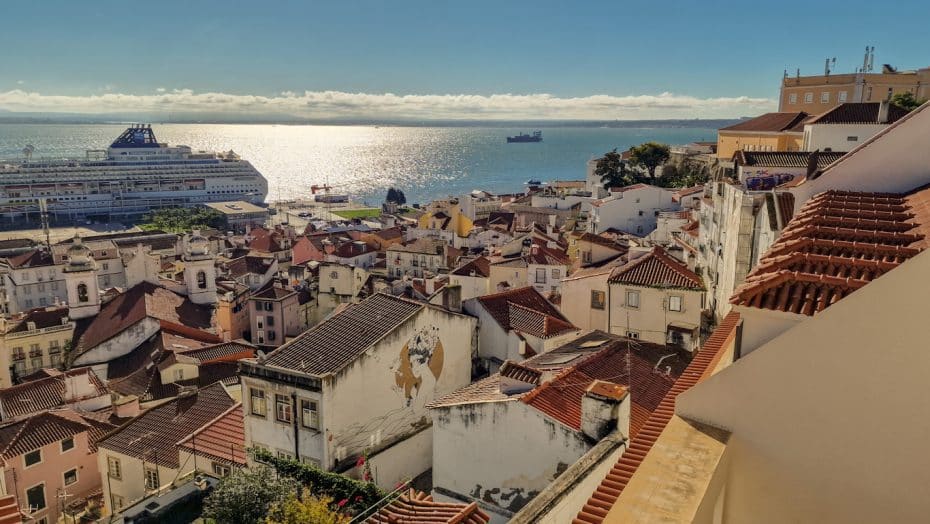 ---
---
Afternoon: Baixa and Chiado
From Alfama, you can walk or take the 737 bus at the Castelo stop to get to Baixa, the next part of our 48-hour Lisbon itinerary. Either way, it'll take around 13 minutes to reach Baixa. And don't worry, if you choose to walk, you'll be going downhill, making it more manageable.
Baixa is in the heart of Lisbon. It lies north of the Tagus River and is a central point within the city, bordered by Avenida da Liberdade to the northwest and Alfama to the east. The district's origins date back to the 18th century, following the 1755 Lisbon Earthquake. This devastating event led to a carefully planned reconstruction, resulting in an elegant grid-like street pattern that persists today.
Historically, Baixa has been an essential commercial and administrative center in Lisbon. Key landmarks within the district include Rossio Square (Praça do Rossio), which hosts several notable buildings like the National Theatre D. Maria II. Meanwhile, Praça do Comércio is a large riverside square surrounded by arcades and government buildings.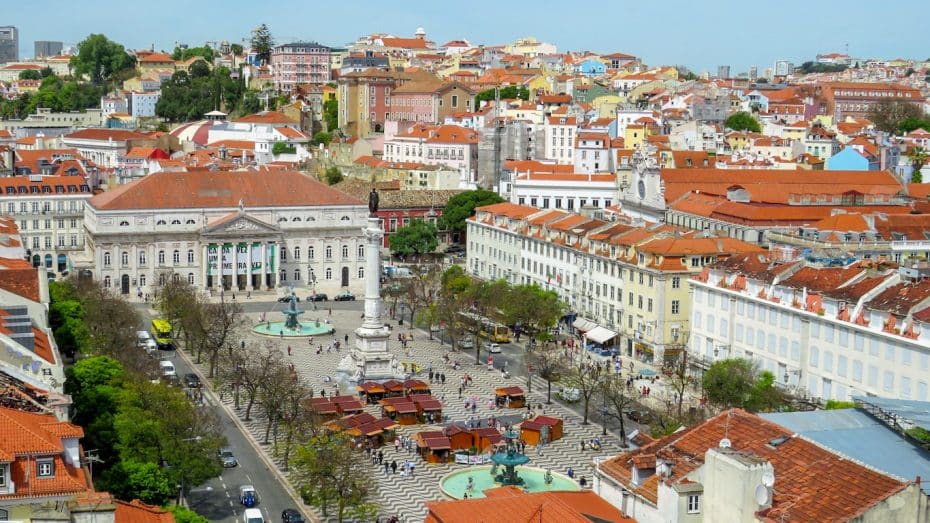 On the other hand, Chiado was an artistic and intellectual hub in the 19th century. Many famous Portuguese writers, poets, and artists spent their time in this area. Today, Chiado showcases its cultural significance with theaters, museums, and galleries among charming cobblestone streets.
This boho-chic neighborhood is home to several boutiques and local designer stores. Hence, Chiado is a must-visit spot if you want to go shopping during your weekend in Lisbon. These shops set Chiado apart from other central areas like Baixa, which mainly host department or chain stores.
One of the main attractions in Chiado is the Santa Justa Lift or Elevador de Santa Justa. This lift stands out for its Neo-gothic style and for being the only conventional elevator in Lisbon. How so? Well, the Santa Justa Lift is 100% vertical, while the rest of the "elevators" in the city are, in fact, funiculars. The lift connects the lower Baixa with Chiado, which is a striking way to get from one area to another.
You can get to A Taberna da Rua das Flores in Chiado when hungry. This restaurant's menu changes every day, but it's always delicious. Try getting there early since they don't take reservations.
---
Nighttime: Bairro Alto
Bairro Alto is famous for its nightlife. Originally a residential area, it is now a bustling district filled with bars, restaurants, and clubs. The narrow streets and traditional architecture create a unique atmosphere when hosting some of the most upbeat venues in the city.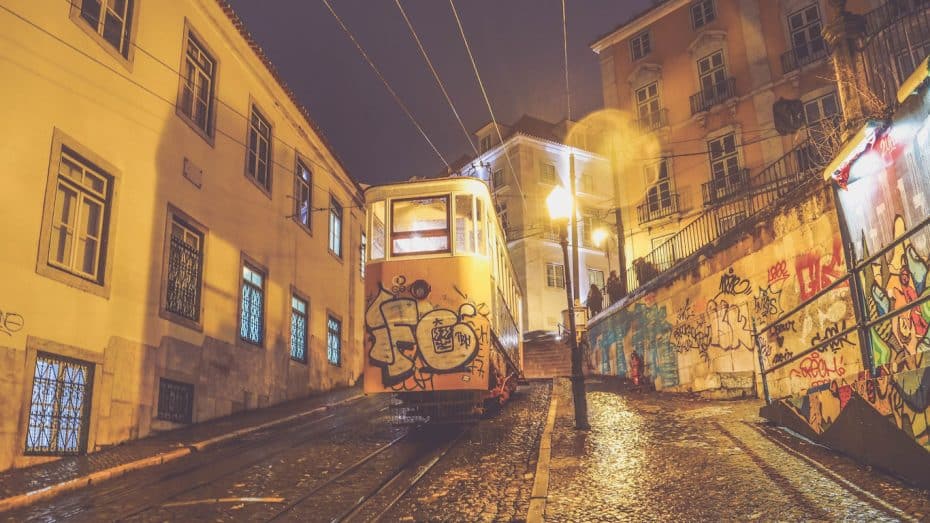 This neighborhood lies west of Baixa, northwest of Chiado, and north of Rua da Misericórdia and Rua do Norte.
The history of Bairro Alto dates back to the 16th century when it was a residential area for working-class citizens and merchants. The district grew in importance during the 18th century when its expansion continued with new streets and squares constructed after the 1755 Lisbon earthquake.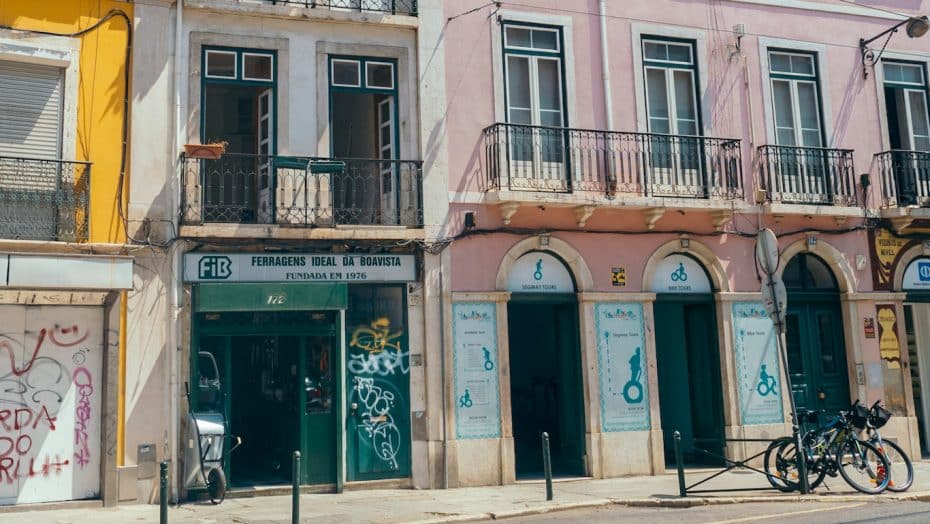 After having dinner in the neighborhood, you can head to Foxtrot, a laidback bar with a great selection of German and Belgian beers. Afterward, if you have the energy, you can go to A Capela, a club located in a former chapel. This venue's DJs play funk and electronic music.
---
2. Day 2: Discovering the Beauty of Belém
Morning: Belém & Mosteiro dos Jerónimos
To start day two of this 48 hours in Lisbon itinerary, we'll take the historic Tram 15 from Praça da Figueira or Praça do Comércio in central Lisbon. Then, we'll get off in Mosteiro Dos Jerónimos, the next stop in this route.
But, before any sightseeing, across the street from the tram station, there's Pastéis de Belém, a famous pastry shop. In the shop, you can get pastéis de nata, a delicious and addictive egg custard tard perfect for breakfast. We'll talk about these treats later.
After having a couple or a handful pastéis, you can move to the Mosteiro dos Jerónimos. Jerónimos Monastery, or Mosteiro dos Jerónimos, is a significant historical site in Lisbon.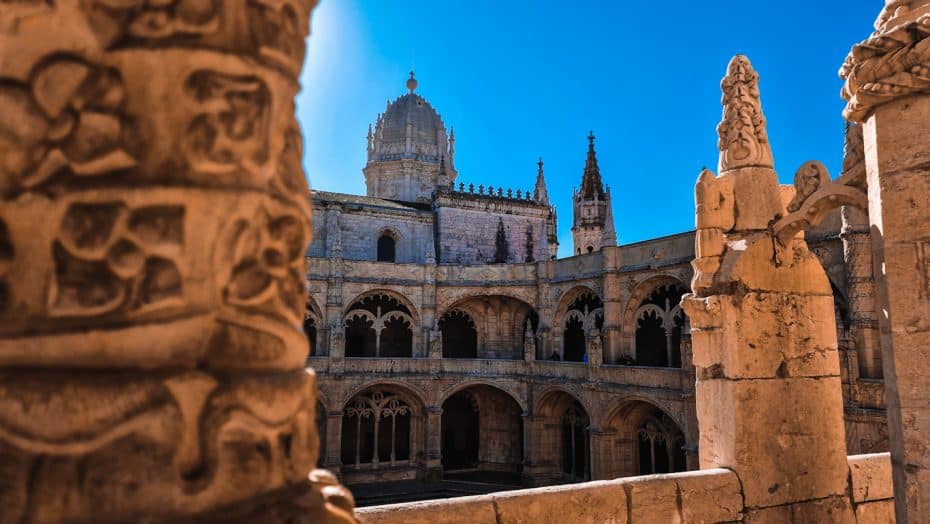 Built during the reign of King Manuel I in the early 16th century, the monastery exemplifies Manueline architecture, a Portuguese Gothic style characterized by ornate and intricate details. The monastery was built to honor Vasco da Gama's discovery of a sea route to India in 1498. Due to its distinguished historical connection and architecture, Jerónimos Monastery was declared a UNESCO World Heritage Site in 1983.
You can walk through the vast church and cloisters and admire the tomb of Vasco da Gama in the monastery.
Then, we'll walk west to the Belém Tower, built between 1514 and 1520. Belém Tower was a fortress and ceremonial gateway to the city, located along the northern bank of the Tagus River. It was crucial in defending Lisbon from potential maritime threats during the Age of Exploration. The tower is another example of Manueline architecture. In 1983, UNESCO recognized Belém Tower as a World Heritage Site due to its prominent cultural and historical value.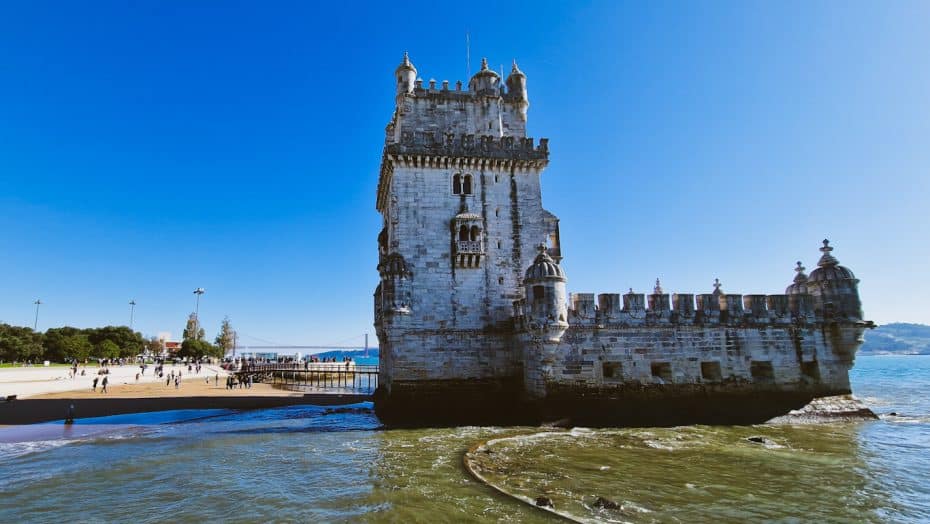 You can see another Lisbon highlight from the tower: The Ponte 25 de Abril. The 25 de Abril bridge resembles San Francisco's Golden Gate Bridge.
---
Afternoon: LX Factory
After seeing what Belém offers, we'll move to one of the coolest places in Lisbon: LX Factory. We'll hop on the 15E bus line at Largo Da Princesa station and get off at Estação Sto Amaro to get there.
LX Factory is an industrial complex turned into a cultural and creative hub. Established in 2008 within a 19th-century manufacturing site, it covers an area of approximately 23,000 square meters.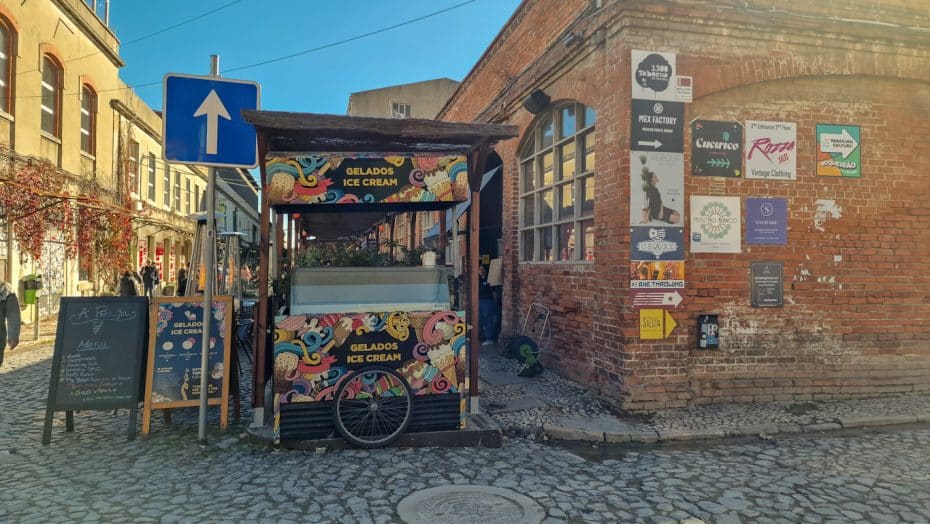 Inside LX Factory, you can find art galleries showcasing contemporary works. In addition, many design studios and creative agencies reside within the complex.
Livraria Ler Devagar, a prominent bookstore with an extensive Portuguese and international literature collection, is also in LX Factory. This bookstore is in a former printing warehouse. The bookstore features intriguing design elements, such as the iconic "flying bicycle" installation by artist Pietro Proserpio.
You can have lunch at LX Factory, with restaurants and cafes serving Portuguese cuisine alongside international dishes. Cafeteria Village Underground Lisboa is noteworthy for its design, which incorporates disused shipping containers and double-decker buses as seating areas.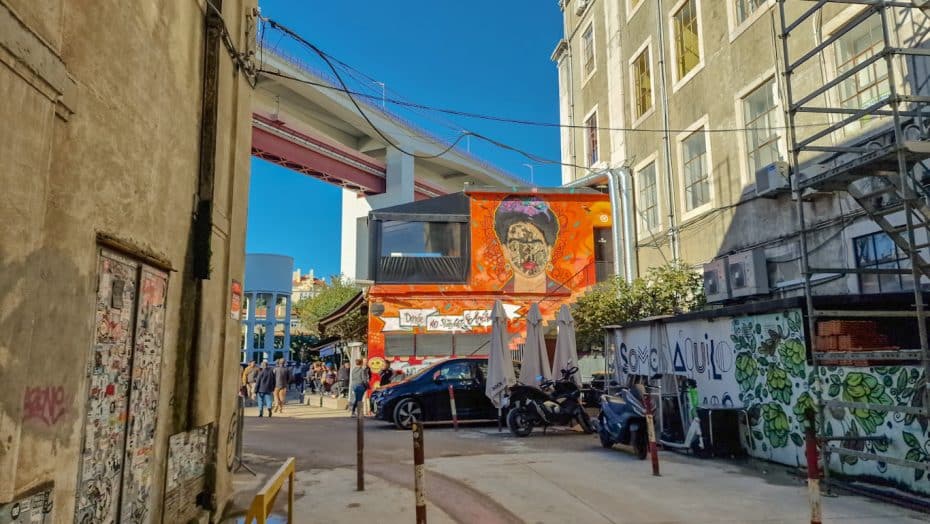 If you're lucky, you can even attend cultural events such as concerts and live performances throughout the year at various venues within the complex.
---
Must-Try Dishes and Delicacies in 2 Days in Lisbon
Pastéis de Nata
People often refer to Pastéis de Nata as Pastéis de Belém because the most famous ones are from that area. And although we already mentioned them, we need to discuss them in-depth. After all, no two days in Lisbon would be complete without sampling them.
Also known as Portuguese egg tarts, pastéis are a classic pastry that originated in the early 19th century. Pastéis have a crisp puff pastry shell filled with creamy custard from egg yolks, milk, and sugar. They are often served warm and sprinkled with powdered sugar or cinnamon.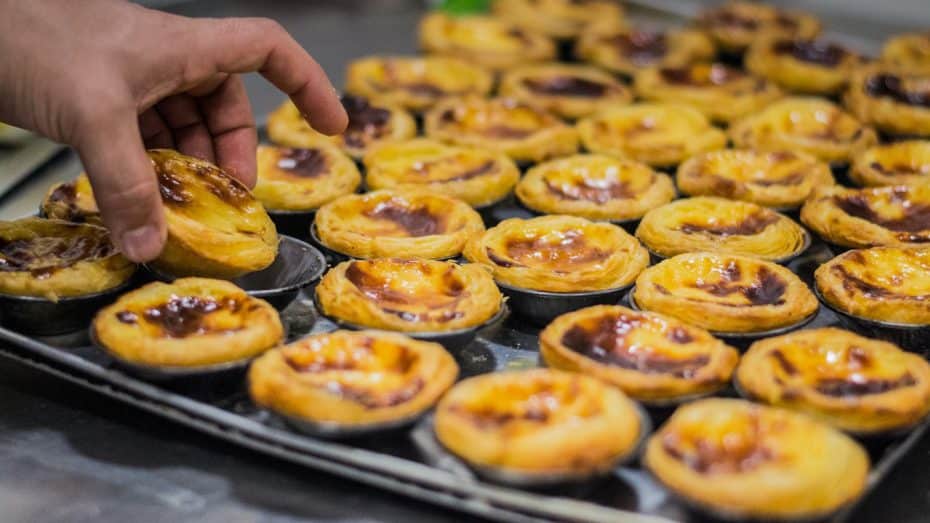 The bakery Pastéis de Belém claims to be the original producer of these pastries. This pastry shop opened in 1837 and still follows the secret recipe developed by monks in the Jerónimos Monastery. It is said that only three people know the exact formula for Pastéis de Belém's custard filling.
---
Seafood, Seafood and More Seafood!
Lisbon has a culinary focus on fish and shellfish. Popular seafood traditionally consumed in the region includes Bacalhau (salted cod), sardines, octopus, clams (Ameijoas à Bulhão Pato), and shrimp.
Bacalhau is Portugal's most representative fish dish and has been integral to Portuguese cuisine since the 16th century. The versatility of Bacalhau allows for numerous preparations in both traditional and modern dishes.
Regarding seafood in Lisbon, you can't go wrong with Cervejaria Ramiro, which opened in the 1950s. Another excellent place for seafood lovers is the Mercado da Ribeira. This historic market opened in 1892 and is now a culinary center known as the Time Out Market Lisbon.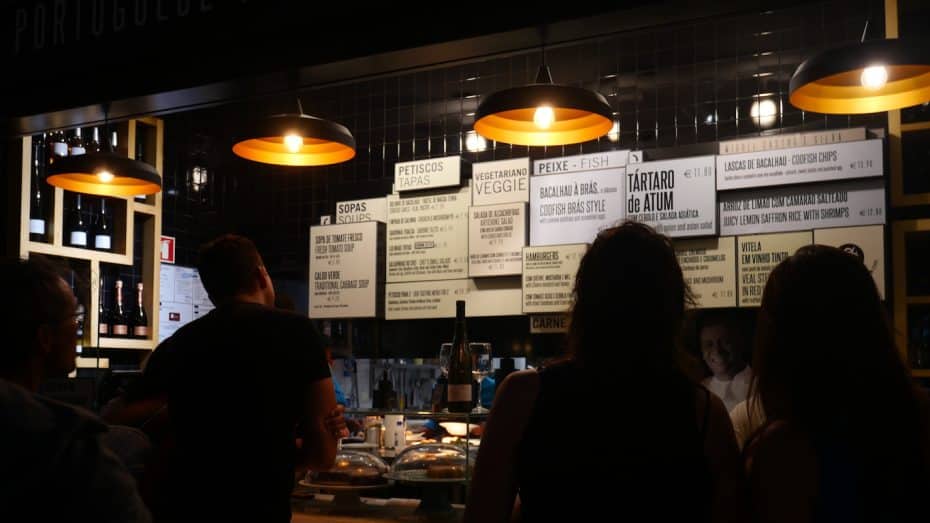 You should book a Lisbon food tour to try the best cuisine in the city and at the highest-rated restaurants.
---
Additional Activities to Do in Lisbon if You Have Extra Time
Visting Sintra and/or Cascais
Sintra and Cascais are two cities near Lisbon.
On one hand, Sintra is about 25 kilometers (15 miles) northwest of Lisbon. Meanwhile, Cascais is approximately 30 kilometers (18 miles) southwest, along the coast.
Sintra's appeal lies in its 19th-century Romantic architecture and well-preserved monuments. The Pena Palace, an example of Romanticism, is on a hilltop. The construction of this palace came as an order from King Ferdinand II between 1842 and 1854. Additionally, the town contains the medieval Castle of the Moors. This castle dates back to the 8th century when Berbers occupied the region.
Cascais has historically been a fishing village that expanded over time due to its port's significance. This city was unofficially established around 1364 as a seigniory granted by King Peter I. Cascais now boasts historical sites such as Cidadela de Cascais. This fortress was built in the 16th century to protect the city from pirates and foreign invaders.
There are plenty of activities for tourists in both cities. In Sintra, you can explore Quinta da Regaleira while appreciating the natural beauty of the nearby Parque Natural de Sintra-Cascais. On the other hand, Cascais offers stunning beaches for sunbathing and water sports such as surfing.