In This Post, You'll Learn…
Where to Stay in Lisbon: What You Need to Know
Lisbon, the city of Discovery, is a beautiful, attractive and untamed city. Its rich history and its theatrical location among capricious hills make it one of the most enchanting capitals of Europe.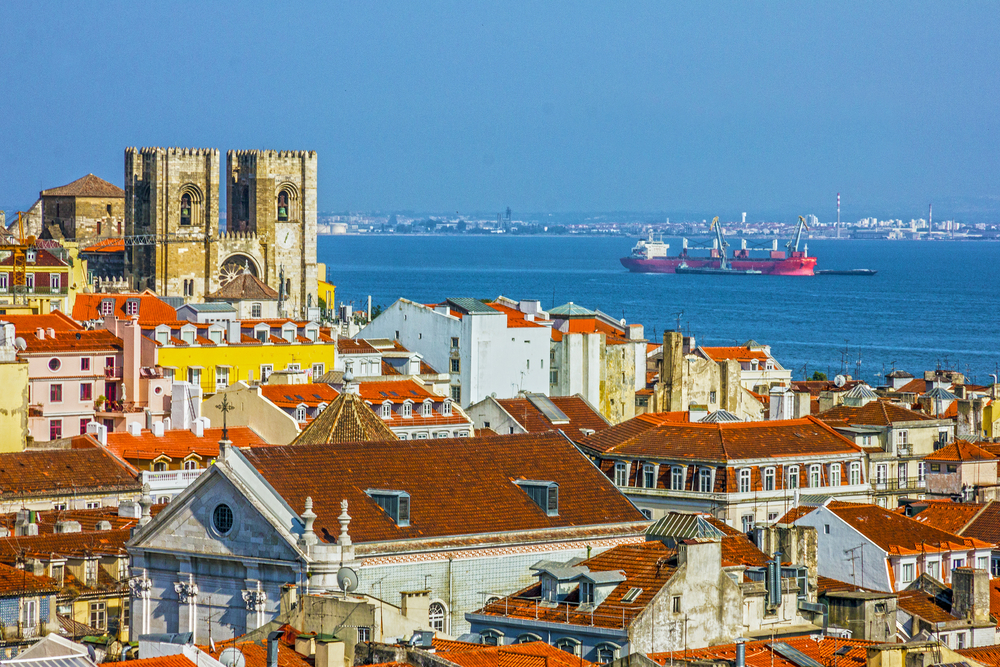 Its location makes it the westernmost capital in Europe. Lisbon sits where the waters of the Tagus River meet the Atlantic Ocean. It is located on several hills, making the views from many points of the city truly incredible.

Lisbon tourist attractions are open and available throughout the year and almost all of the city centre can be walked on foot, by tram, metro, train or funicular. There's always something going on in Lisbon throughout the day and the central neighbourhoods are very lively at night.
Lisbon has a hot and dry summer season, during which many visitors come from all over the world in search of its great beaches and lively nightlife. Winters are mild in temperature but unpredictable in terms of rainfall. The low winter season is the best time to enjoy a quieter, more relaxed side of the city.
The city sports a constant mix between tradition and modernity, residents and visitors, cultural sights and nightlife.
Being one of the least visited capitals of Europe, Lisbon is very budget-friendly in terms of accommodation costs, from hotels to holiday apartments, an average night rate in low season can be as low as €45. It is important to keep in mind that in high season, rates climb to match those of many other capitals in Europe.
As for the best area to stay in Lisbon, the Lisbon City Centre will always be the best area to stay due to its proximity to the city's attractions. See hotels in Central Lisbon.
If you are looking for lower prices, but at the same time being close to the metro, then the area around Praça Marquês de Pombal in Avenidas Novas is the place to stay. See hotels around Praça Marquês de Pombal.
This is a comprehensive guide with the best areas to stay in Lisbon.
The Best areas to stay in Lisbon
1. Best area: Lisboa Centro
Lisbon's City Centre is quite large and diverse, covering at least four neighborhoods; Misericordia, Santa Maria Maior, Chiado and Bairro Alto.
Centro is the oldest part of the city, full of charming narrow streets, ancient churches and hills, lots of hills. Its narrow and quaint streets are full of small shops and restaurants.
Centro also hosts the impressive Praça do Comércio (the most important square in the city) and a large promenade next to the port area.
The architecture varies from neighbourhood to neighbourhood and all the buildings are very picturesque.
Many of Lisbon's attractions are located in the centre of the city, and you will always end up there, which makes it very convenient and accessible if relatively expensive to stay when compared to other neighbourhoods of the city.
However, staying here is worth it, whether you want to spend the day visiting museums, eat well, spend time in the squares, wander around the port or take a boat to a beach, go on a guided walk or party all night, everything will be close.
As the busiest and most important area of ​​Lisbon, here metro, tram, funicular and train lines converge in the area.
Hand-picked hotels in this area
---
2. Avenidas Novas
The Avenidas Novas (New Avenues) district is located in the north of Lisbon.
It is an upmarket business and residential area designed as the city expanded north, away from the medieval town.
Avenidas Novas is a place that mixes old bourgeois palaces with modern buildings in a luxurious setting, it is the favourite shopping spot in town, thanks to its multitude of shopping centres. It also sports several large green areas converted into parks and recreational areas.
Avenidas Novas has very good connections to public transport, but, as it is a major commercial and business hub, you have to take into account the dreaded rush hours.
The area around Marqués de Pombal concentrates a lot of four-star accommodation at very low prices. It is theb best area to stay in Lisbon if you're looking for pocket-friendly luxury.
Hand-picked hotels in this area
---
3. Alfama
If there is a place in the city that can rival the charm of Lisbon's city centre, that is the neighborhood of Alfama.
Alfama is located on the hills directly to the east of the city centre, in a privileged position to enjoy the magnificent views of Lisbon, its bridges and its spectacular sunsets.
This neighbourhood was once an old fisherman's quarter that blossomed on the slopes around St. George's Castle.
Alfama is the cradle of modern Lisbon culture, the birthplace of Fado (typically Portuguese musical expression) and home to Feria de Ladra, the tram 28 and Mirador de Santa Lucia; possibly the most beautiful viewpoint in all of Western Europe.
It is a busy area for tourists, day and night.
The Alfama district is well connected with the rest of the city by trams. Santa Apolonia train station is also nearby.
Hand-picked hotels in this area
---
4. Parque das Nações
The neighborhood of Parque das Nações (Park of the Nations) is undoubtedly the area most far removed from traditional Lisboan architecture and presents an ultramodern design with attractive contemporary spaces.
Located in the northern part of the city, it was the site of the 1998 Universal Exhibition and since then has preserved an atmosphere of its own.
It is a nice, modern area of town and a tourist attraction on its own right, however, it can be a bit generic and lacklustre.
Here, we can find the Lisbon cable car, which gives us a unique view of the Vasco de Gamma bridge and the futuristic Oriente train station, work of Spanish architect Santiago Calatrava.
Although undoubtedly this area lacks the architectural charm of the Lisbon city centre, it is a great area to stay given the more than reasonable prices of accommodation options here.
Hand-picked hotels in this area
---
5. Belém
Belem is one of the most charming districts of Lisbon.
Although it is not connected by metro (but by tram and train) and it's located relatively far from the centre, many tourists prefer to stay here because of the affordability of its rates and its proximity to historical must-see attractions such as the Tower of Belém (symbol of the city) and the Mosteiro dos Jerónimos.
This area is also home to a different kind of Lisbon attraction; the world-known Pasteis de Belém; puff pastries filled with cream. You can buy them straight from the source at the Old Confectionery of Belém.
If you do not need to go out and return to your hotel several times in a day, this may be the neighborhood for you.
Hand-picked hotels in this area
---
6. Arroios
Arroios is located to the northeast of Lisbon.
Separated from the centre, but connected by metro by the green line, Arroios is an area that has many hotels and places to stay and is not at all considered touristy, this makes this municipality a much cheaper option than the rest of town and offers a rare opportunity to enjoy cafes, restaurants and shops in a more Lisbon way.
Among other benefits, parking spaces are abundant in Arroios and its nightlife is quite lively.
Hand-picked hotels in this area
---
Read this post in other languages