One of the best ways to get to know a destination is to try its cuisine. And when it comes to places like Lisbon, the mix of traditional flavours with modern and experimental gastronomy is, without a doubt, a big part of its appeal.
Whether you consider yourself a foodie or not, you may have already heard of some of the specialties of the capital of Portugal. For example, the pastéis de bacalhau, a sort of croquette filled with cod, is an internationally renowned delicacy.
But if there's one thing about big cities like Lisbon is that, with so many restaurants, it may take you longer than you think to decide where to go. Plus, if you're a person prone to indecision like me, you may wonder if you've made the best choice.
Luckily, there are tours with people who know this "city of seven hills" very well and can take you to taste its most authentic dishes. This way, you can avoid the tourist traps as much as possible.
During my only visit to the Portuguese capital so far, I had the opportunity to be part of a walking Lisbon food tour. And, although I thought the rain would ruin the experience, I now only seem to remember the dishes I tasted for the first time that afternoon. In addition, along the walk, we were also listening to stories that helped us become familiar with the city right away.
In this post, I invite you to join me on a Lisbon food tour, including an itinerary, curiosities, and, of course, a brief review of my favorite places and dishes.
---
Walking Lisbon Food Tour
The meeting point of the tour was Praça Dom Pedro IV, better known as Rossio Square. This square is located between Avenida da Liberdade and the beginning of Baixa, one of the best areas to stay in Lisbon.
In Rossio, there are events throughout the entire year and, on the day of the tour, there was a Christmas market. At the market, which was decorated for the occasion, you could get food and toys while Portuguese Christmas carols were playing.
Once we met with the guide, under the roof of Santa's house, we started our walk in the rain.
The first stop on the tour was A Ginjinha, a bar next to the square that opened in 1840. This bar makes and serves ginjinha. This artisanal liquor is made from a berry similar to cherries in appearance and taste, so it has a sour touch.
At the bar, we had a shot of ginjinha each to warm up. Then, we continued with our umbrellas east, along Largo São Domingos, until we reached the church of the same name. Though it was not an "official" stop on the tour, our guide suggested that we saw the interior of the church, built in 1241.
This temple was destroyed by the Lisbon earthquake of 1531. And, though it was rebuilt in baroque style in 1807, it would be very affected by a fire in 1959. The Igreja de São Domingos would reopen in 1994, but its interior keeps traces of the fire as a reminder. Therefore, visiting this church is impressive, even if you only take a quick look.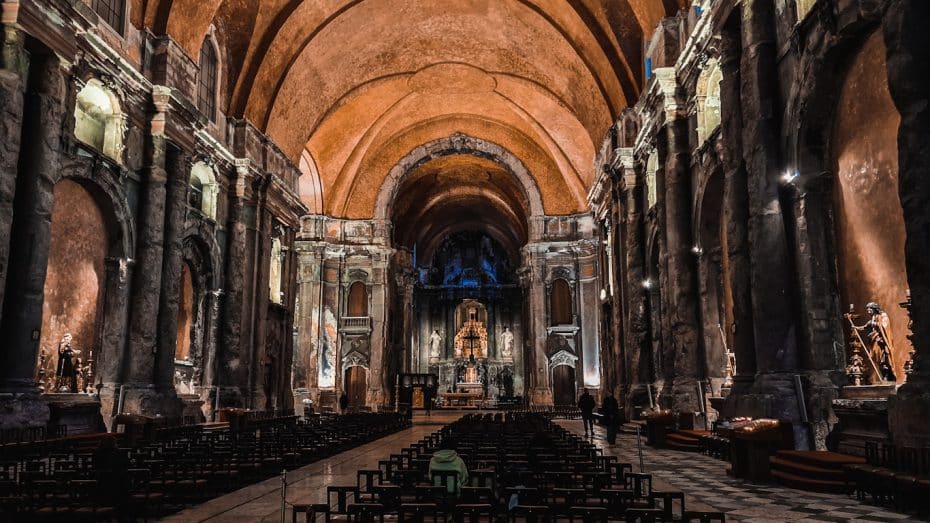 In front of the church, there is a monument in memory of the Jewish people that were victims of the Lisbon Massacre of 1506. The massacre started in this area.
And after this little history lesson, we moved south along Rua Dom Antão de Almada to Manteigaria Silva.
This is a sausage and cheese store where you can also buy codfish. The shop is a favourite of those who live in Lisbon. At this little stop, our guide told us about the best varieties of the city and Portugal.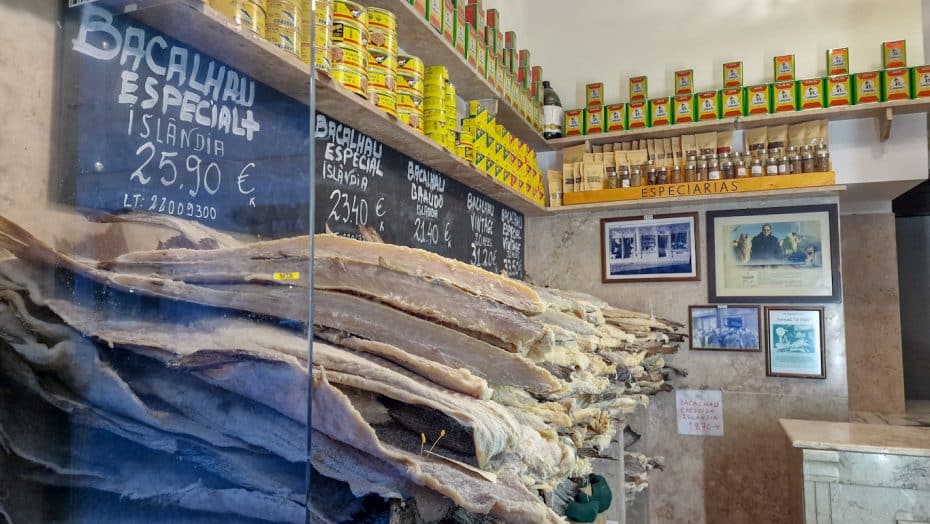 Continuing south to Praça da Figueira and to the left, we got to Casa das Bifanas. This small place sells bifanas, one of the most popular fast food options in the city.
Bifanas are sandwiches filled with pork steaks that are served with mustard or a (very) spicy sauce. If I had to compare bifana to another type of fast food, it would be kebab. Yet, bifanas feel more homemade. Also, as in most parts of Portugal, the food here is quite affordable.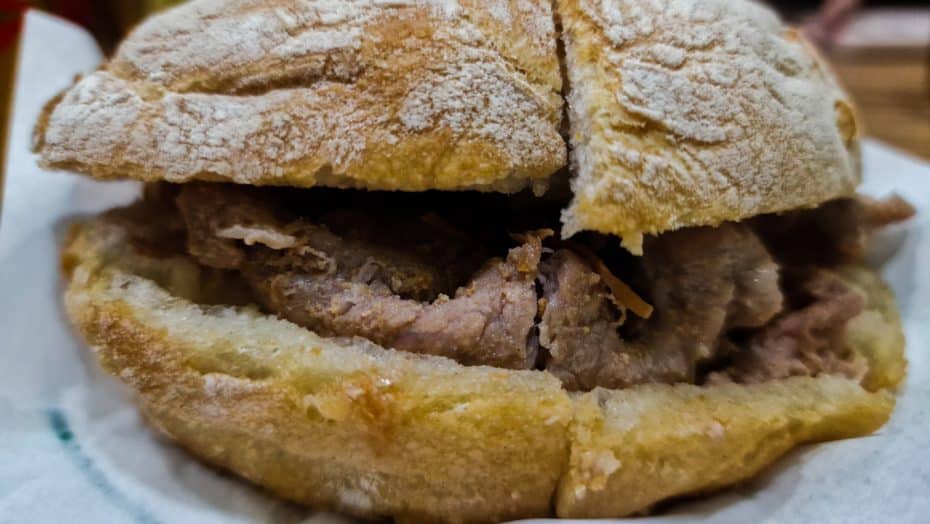 No Lisbon food tour would be complete without the typical pastéis de bacalhau. Therefore, our next stop was a bar where we ate pastéis accompanied by green wine made in Porto.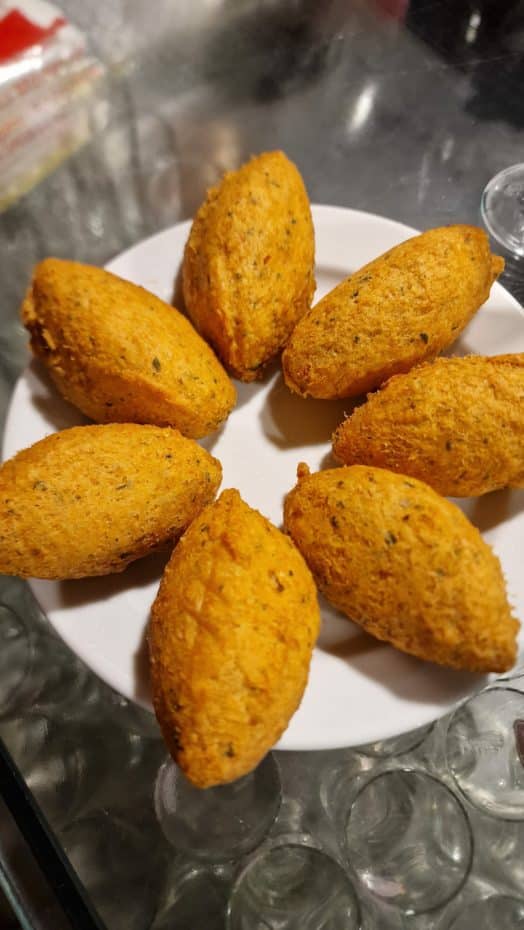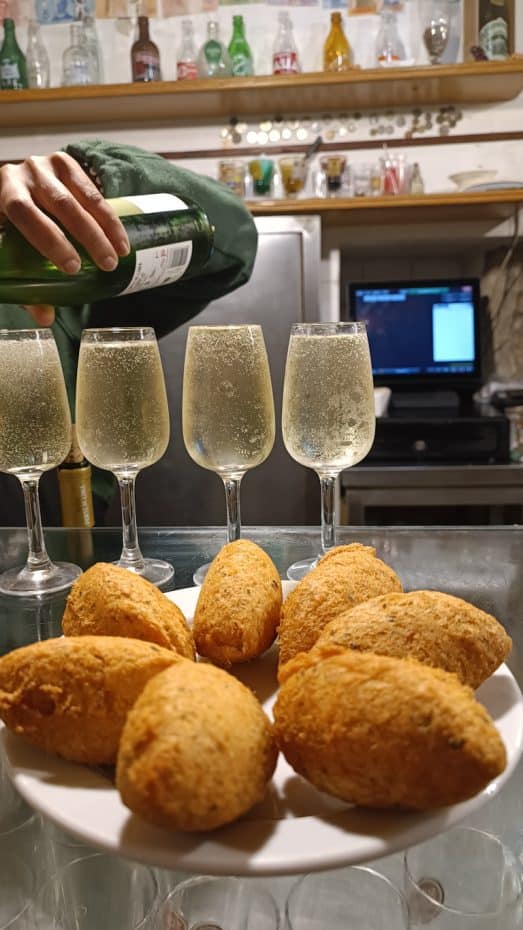 Pastéis are a kind of croquette that, in addition to cod, has potatoes and, in some cases, cheese. But, with or without cheese, pastéis are delicious, and it is a challenge to eat only one.
While the beer we had before was nothing special, the wine, being a Portuguese export par excellence, was incredible.
Two pastéis and two glasses of wine later, we headed to the last stop, the Casa Chineza restaurant. To get to the restaurant, we went back to Rossio Square. Then, we continued south to the entrance of Baixa, Lisbon's Old Town.
Once inside, we were served several types of Portuguese sausages and more wine, this time red. The wine, being sweeter than those in other countries, also works as a dessert. And, with a full belly and no more rain, we ended a very good first night in Lisbon.
A food tour is one of those things to do in Lisbon if you have the chance. Likewise, make sure you visit the different viewpoints in the city to get amazing views.
Read this post in other languages: