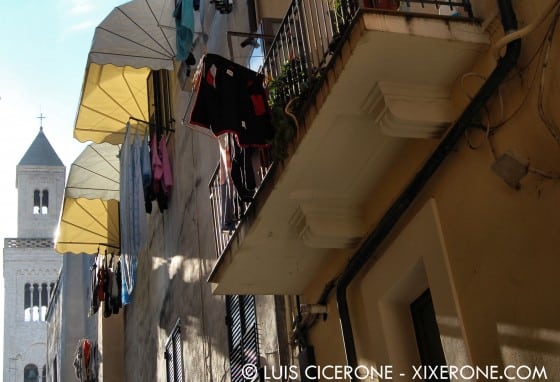 Bari is a town usually ignored by visitors touring Italy.
Bari, the capital of the region of Puglia (Apulia), offers a different view of southern Italy.
In addition to having its own, distinct character, Bari is the gateway to tour one of the most beautiful areas of the peninsula. Places like Alberobello, Polignano a Mare or Matera are all within an hour and a half by train from Bari.
Unlike Rome or the cities in northern Italy, Bari lacks impressive monuments or unmissable landmarks. However, the streets of Bari Vecchia and its many churches and squares provide for more than a pleasant visit.
While the contrast between Nord and Sud Italy is more than palpable for the well-traveled, even the non italophiles will find that Bari has a very distinct atmosphere than the also southern city of Naples, a place most Baresi have nothing nice to say about.
Discover the best areas to stay in Bari.
Ce 'nge n'am'à scí, sciamanínne. Ce non 'nge n'am'à scí, non 'nge ne sime scènne
No, I did not have a seizure while writing this article; this is an example of barese dialect, something that could be loosely translated as "if we need to go, we'll go, but there's no point on going if we don't have to".
And, geographical tensions aside, if there is one thing for which Bari is known for in the rest of Italy, it's for its dialect. Raw, with harsh sounds and apostrophized vowels. Each village in the province uses a different variety of the called Dialetto Barese; a strange hybrid between Italian, Greek and Swabian with subtle French and Spanish influences.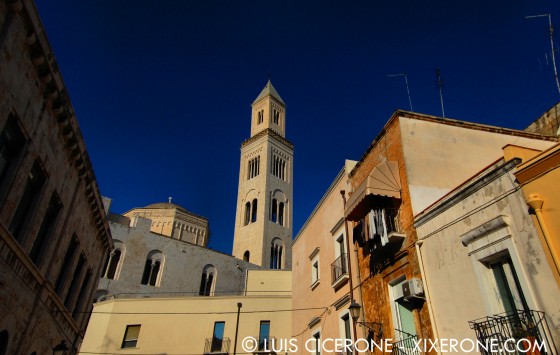 Things to see in Bari, Puglia
Bari Vecchia
The Old City of Bari is located in the area between the old and new ports and displays a typical medieval urban layout.
Not long ago, this district of the city was off-limits to visitors, mainly due to its high crime rate.
In recent years, largely driven by the Bari authorities' effort to renew the Old Town area (mainly around Piazza Mercantile and Piazza Ferrarese), Bari Vecchia has been regenerated and turned into an entertainment, shopping and nightlife hub for the city.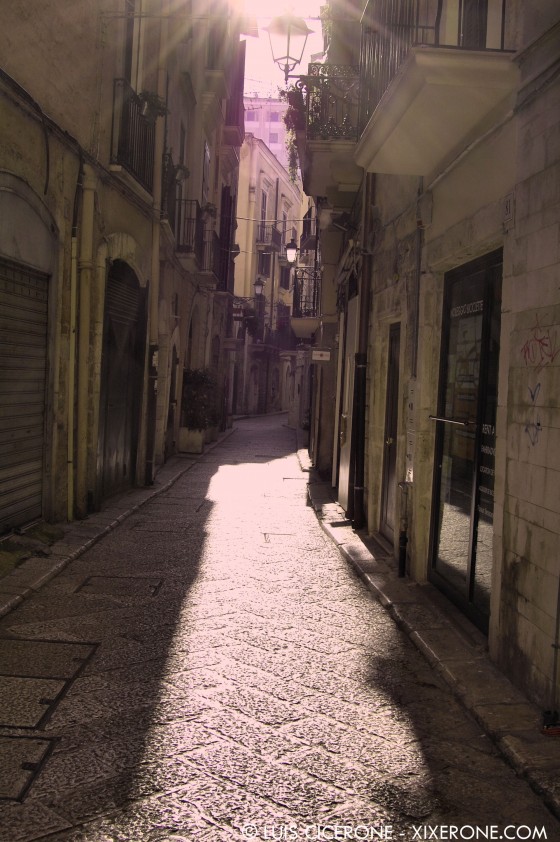 There's a saying in Bari that goes "Se Parigi avesse il mare, sarebbe una piccola Bari" (If Paris had a coastline, it would be like a little Bari). This probably speaks more about the sense of humor of Baresi than of the beauty of their city, but it is true that the increasingly chic Bari Vecchia has a lot of charm in its narrow cobbled stone streets.
Basilica di San Nicola
The Basilica di San Nicola was founded in 1087 to house the relics of the Saint Nicholas, which were brought from Myra in Lycia (now Turkey) and now rest in the crypt under the altar.
It is one of the four Palatine churches of Apulia, the others being the cathedrals of Acquaviva delle Fonti and Altamura and the Basilica of Monte Sant'Angelo sul Gargano.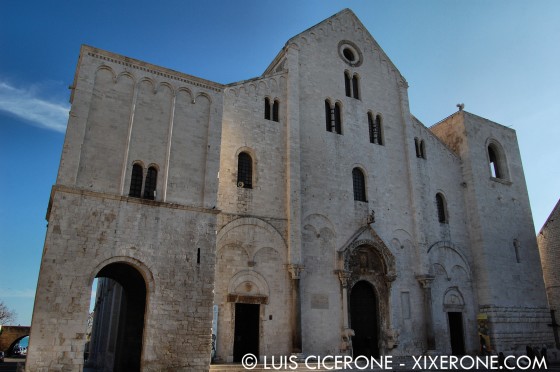 This church is an important pilgrimage center for both Roman Catholic and Orthodox worshipers. Its foundation is related to the recovery of St Nicholas' remains his original sanctuary in Myra.
When Myra was taken over by the Saracens, the Christian Church saw it as an opportunity to move the relics to a friendlier place.
According to (a probably made up) story, the saint, passing through Bari on his way to Rome, chose the southern city as his place of burial.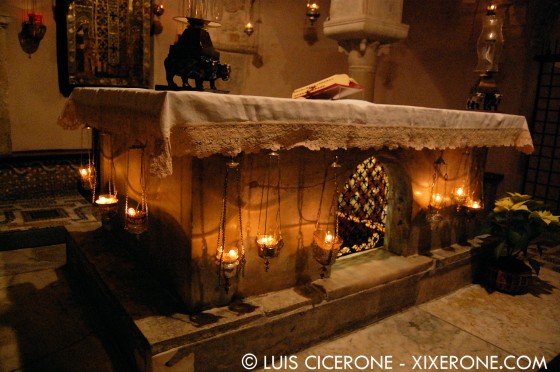 The basilica combines Romanesque and Byzantine styles, has a very robust and fortified exterior and served as a castle several times during history.
Catedrale
Bari Cathedral, dedicated to San Sabino, began construction in 1034 but was destroyed a century later. A new building was erected between 1170 and 1178, inspired in part by the Basilica of St. Nicholas. Only parts of the original building are still visible.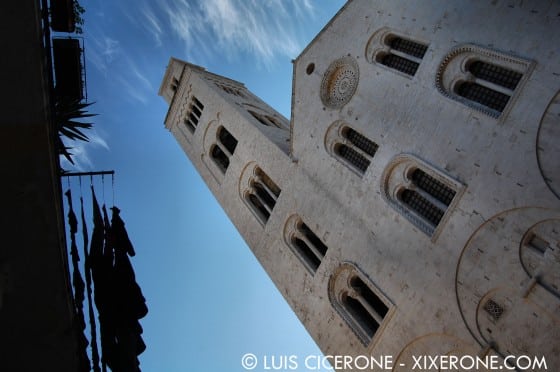 This church is an important example of Pugliese Romanesque architecture. Its plain facade has three portals. The rose window in the upper part is decorated with monsters and apocalyptic figures. The interior consists of two aisles and with Romanesque arches. The crypt houses the relics of St. Sabinus and the icon of the Madonna Odigitria. The side apses exhibit the relic (mummy) of St. Columba.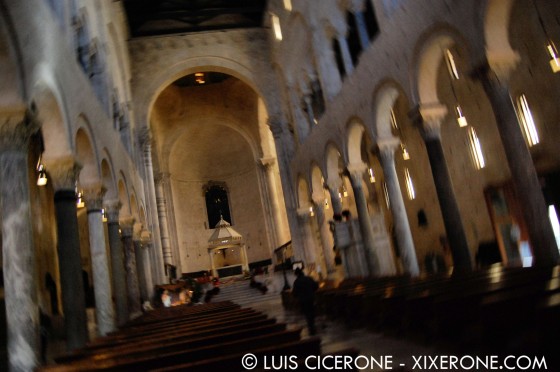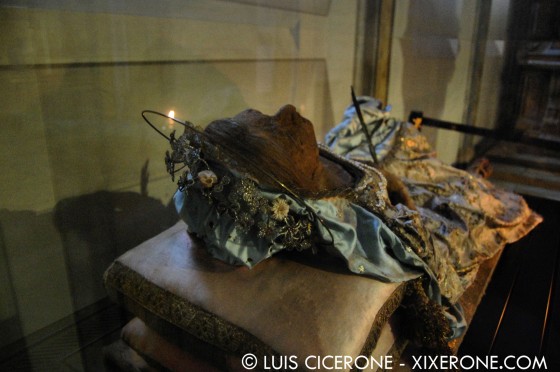 Teatro Petruzzelli
It is one of the largest opera theaters in Italy (after Milan's La Scala and San Carlo in Naples), and it has been the regional cultural hub since the beginning of the twentieth century until its almost total destruction due to a fire in 1991. The Petruzzelli Theater opened again in 2009.
Swabian Castle
The Norman-Hohenstaufen Castle, popularly known as Castello Svevo (Swabian Castle) was built by Roger II of Sicily around 1131. Destroyed in 1156, was rebuilt by Frederick II of Hohenstaufen. Today the castle is a space for temporary exhibitions.