Prato della Valle is in the heart of Padua (Padova), Italy, and is one of Europe's largest squares. This public space played a key role in the city's social fabric for centuries. From its fascinating origins to the events hosted regularly within its grounds, Prato della Valle invites locals and tourists alike to delve into the culture of Padova. In this post, we'll explore the history behind this iconic square while highlighting some architectural gems around it, offering practical tips to visit this must-see landmark.
---
---
What You Need to Know About Pratto della Valle in Padua, Italy
The History of Pratto della Valle
Prato della Valle is a square in Padua (Padova in Italian), a city in the Veneto region in the northeast part of Italy. With an area of 90,000 square meters, it is the largest square in Italy and Europe.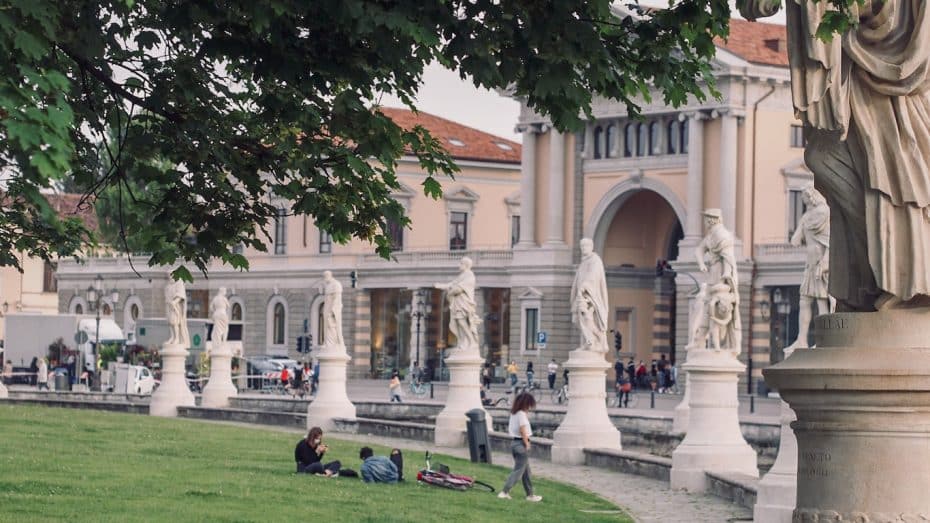 The square has a long history dating back to the Roman period. Over the centuries, it underwent several transformations and was used for different purposes.
In the 1st century AD, Prato della Valle was the site of a large Roman theater that could accommodate up to 20,000 spectators. During the Middle Ages, the area was used for agriculture and was known as "Valle di Prato." And in the 14th century, it became a popular venue for knightly tournaments and public ceremonies.
Significant redevelopment began in the late 18th century under Andrea Memmo. Memmo was a Venetian administrator appointed by the Republic of Venice.
The administrator decided to redesign Prato della Valle with a big green space featuring an elliptical island surrounded by a canal. The project was completed in 1775, and the central island is named Isola Memmia in Memmo's honor.
Prato della Valle is in the southern part of Padova's city center. It is approximately 1.5 km south of Palazzo Moroni and Padova's town hall.
---
---
Things to See in the Prato della Valle Square
Memmia Island features a lush garden with over 70 statues of famous historic figures. These statues, created between 1776 and 1836 by renowned Italian sculptors, represent prominent personalities in arts, sciences, and politics. Key individuals immortalized in these sculptures include authors Ludovico Ariosto and Francesco Petrarch and scientists Galileo Galilei and Nicolaus Copernicus.
These statues are placed on stone pedestals surrounded by four small bridges across the canal. The image of the figures looking over the canal (and the ducks) is one of Padua's most famous postcards. If you're like me, I have no doubt you'll spend at least a few minutes trying to capture the beauty of the square with your camera. That said, I must let you know that photos can't always do it justice.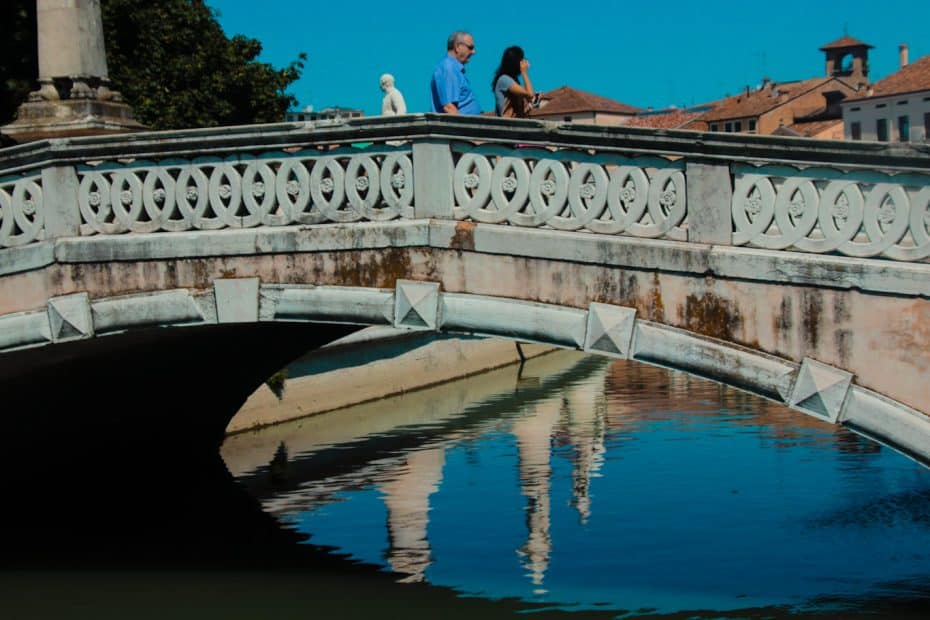 Notably lacking park facilities, Prato della Valle does not cater to recreational activities but serves as a relaxing space. You could also spend time simply admiring the beauty of this impressive square.
---
Attractions Near Padua's Prato della Valle
Around the square, you'll find sites and landmarks like the Basilica di Santa Giustina. This church was built in the 6th century in honor of St. Justina of Padua, a Christian martyr. The temple's current form comes from a 17th-century reconstruction.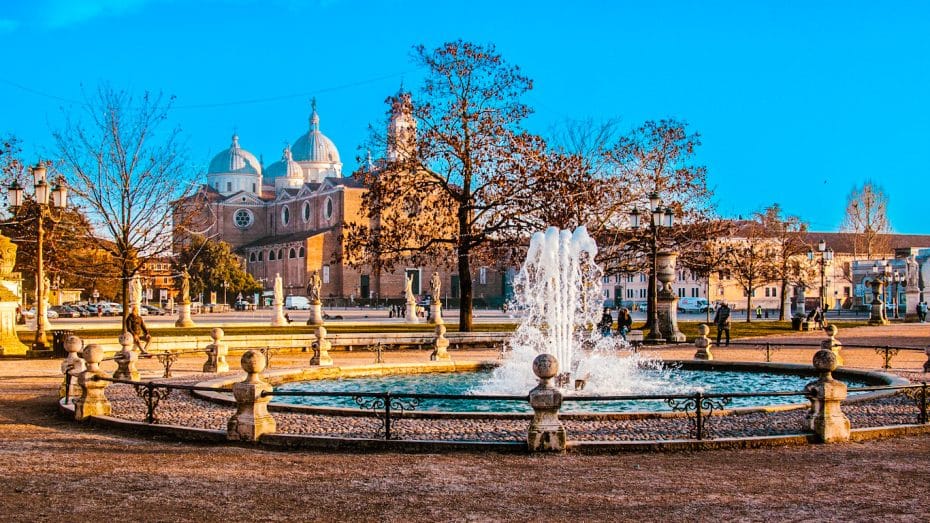 Another important attraction near Prato della Valle is the Orto Botanico di Padova, opened in 1545 by the University of Padua. This is the world's oldest university botanical garden and is still in its original location.
Also close to Prato della Valle are several museums, such as the Museum of Precinema, with insight into pioneering film technologies, and Eremitani Town Museums, which exhibits ancient artifacts.
---
Events in Prato della Valle, Padua
The square hosts events and activities throughout the whole year.
The main event at Prato della Valle is the weekly market, which takes place each Saturday from morning until late afternoon. The market features over 150 stalls with fresh food, clothing, and housewares.
In addition to weekly markets, Prato della Valle is also the venue for annual cultural events and celebrations. For example, the square is home to the Padua International Granfondo Race, a popular cycling event held every May.
Another significant event at Prato della Valle is La Fiera di Sant'Antonio, honoring Saint Anthony of Padua in mid-January. This annual fair incorporates parades, sporting events, live music performances, and fireworks displays. The fair also features traditional Italian cuisine.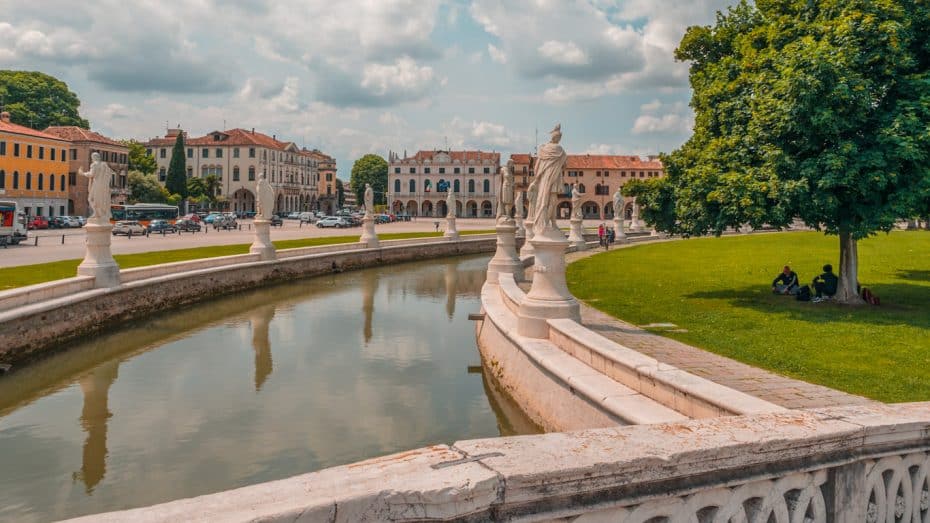 ---
---
How to Get to Padua, Italy
To reach Padua, there are several transportation options available. One common method is to train from larger cities like Venice or Milan, which offer direct connections to Padova's central train station.
Another option is flying to the nearest airports, such as Venice Marco Polo Airport, and then get a transfer from Venice's Airport to Padua. You can also take a shuttle bus, train, taxi, or even rent a car to reach the center of Padua.
---
Accommodation in Padua
Most of the accommodation options near Prato della Valle are tourist apartments. But, as mentioned before, the square has a central location in Padua. So, you can still find some good hotels within walkable distance, like Majestic Toscanelli.
Here are some accommodation options in Padua with an excellent rating on Booking.com:
---
When to Visit Padua, Italy
Padua's weather is most pleasant during spring (April to June) and autumn (September to October). During these periods, temperatures are mild, averaging between 10°C and 25°C, which will allow you to spend more time outdoors, including in Prato della Valle.
Like any trip preparation, you should also consider the budget before traveling to Padua. During the off-peak months, such as November, early December, or January, you can save money due to lower accommodation rates.
Also, keep in mind that there'll be more crowds from June to August. As such, traveling during a different period will give you the chance to enjoy the city with fewer people.