Madrid, Spain's capital, is full of historical landmarks, lush parks, and street art, making it an Instagrammer's paradise. From iconic plazas to breathtaking rooftop views of the city skyline, this Spanish metropolis has countless snap-worthy spots. In this blog post, we'll explore 13 of the most Instagrammable places in Madrid that you won't want to miss on your next visit.
The Top 13 Most Instagrammable Places in Madrid
---
---
1. El Retiro Park
Even if you've never been to Madrid, chances are you've seen El Retiro Park. After all, El Retiro is THE place to go if you're into photography.
This stunning park, located in the central district of Retiro, has many picture-perfect corners. So, let's break these spots down.
Estanque de El Retiro. This artificial lake is one of the most photographed places in Madrid. And although it may seem too mainstream or overdone for certain people, it is too beautiful to ignore. Behind the Estanque de El Retiro, you'll see a giant statue of King Alfonso XII. Yet, the people on rowboats in the lake are what makes the many (many) shots of this place more attractive. The best part? You can capture the lake from a lot of different angles. It is awe-inspiring at sunset.
Palacio de Cristal. The name of this building translates to "crystal palace," and it says it all. This old greenhouse made of glass catches the light as only a few places in Europe can. Hence, the palace is often the backdrop for photoshoots, including fashion, editorial, and wedding photos. Sometimes, there are art exhibits inside of the palace that are Instagram-worthy, too. The pond in front of the palace, with ducks and black swans (!), doesn't hurt either.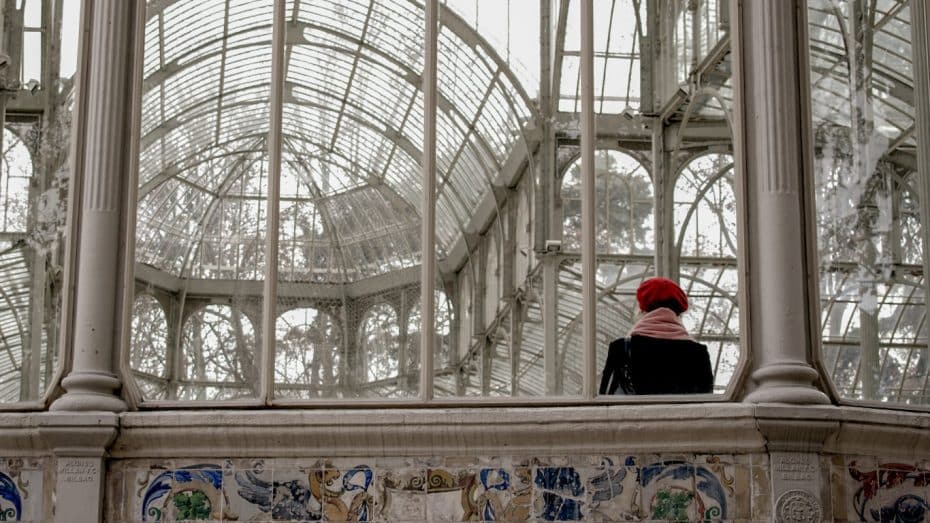 Rosaleda de El Retiro. El Retiro's rose garden is a must-see if you're into flowers. The garden is home to 4,000 rose bushes, with different species and colors coming from worldwide. Though it is, naturally, more beautiful in the spring, you can still take some good pictures of the rosaleda during the summer. Zooming in on these gorgeous flowers is a no-brainer for an Instagram post!
Angel Caído statue. The fallen angel sculpture is one of the few depictions of Lucifer in the art world. Hence, if you appreciate architecture, you'll want to take at least a picture of this statue. Black and white edits of this monument make for a very cinematic and dramatic post.
---
---
2. Gran Vía
Gran Vía translates to "Broadway" and is Madrid's equivalent to New York's musical theater haven and Times Square. Thus, you'll find some of the best theaters in Madrid on this street.
Gran Vía stands out for its gorgeous architecture, with buildings from the early 20th century. The buildings mix styles like Art Nouveau and Art Deco and host great restaurants and luxury hotels with amazing views.
When taking pictures of Gran Vía, check out the following spots:
Schweppes neon sign Building. A Madrilinian icon located on the Callao Square. The Schewepps-branded neon sign is one of Madrid's postcards by excellence and is on the Carrión/Capitol building. The sign, installed in 1972, was only meant to be on display for some time but became a symbol of the city and is now a staple.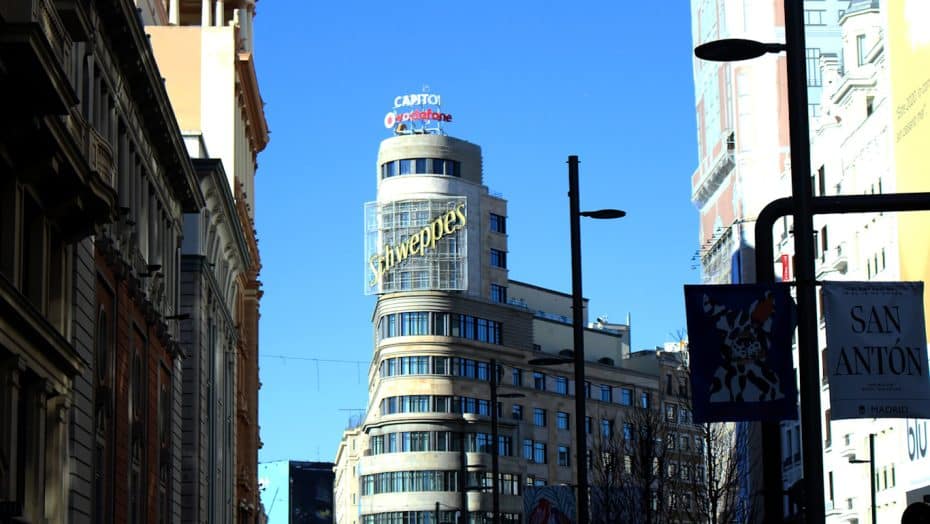 Riu Hotel rooftop. A great way to get a sense of what the city is like is to see it from above. And although there are many viewpoints in central Madrid, the Riu Hotel's rooftop is among the best. From this place, which has a great bar and restaurant, you'll be able to get amazing views and photos. However, please make a reservation since this rooftop is trendy among tourists and locals. Also, keep in mind that you may have to wait in line to take pictures on the glass floor, but it's worth it!
Telefónica Building. This building belongs to Spain's leading phone company and has a beautiful Art Deco facade. The building also has a museum devoted to all things in the telecommunications field.
There are tons of pics of Gran Vía on Social Media, but for a reason: It's a gorgeous street.
Also, like El Retiro, Gran Vía has a very central location and is one of the best areas to stay in Madrid.
---
3. Plaza Mayor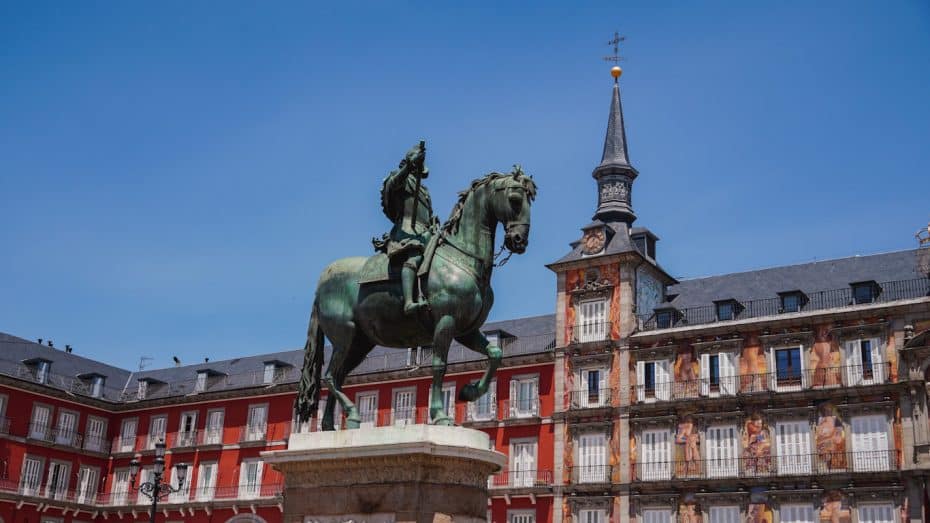 The Plaza Mayor is in the heart of the city. It is one of the oldest squares in Madrid. In the past, the square hosted bullfights, markets, and even public executions. However, nowadays, the square is surrounded by terraces and hotels.
Although Madrid has other great squares, like the more popular Puerta del Sol, Plaza Mayor is more photogenic. The arches surrounding this Baroque square make for a super-symmetrical composition.
The Plaza Mayor tends to be very crowded, so it would be wise to visit it early in the morning. This way, you will have fewer tourists in your shots. You would also have fewer visitors trying to take the same photo as you simultaneously.
---
4. Templo de Debod
Templo de Debod has a central location in Madrid and is an Egyptian temple gifted to Madrid by the Egyptian government.
This temple is near Plaza de España, and its views are among the most Instagrammable places in Madrid. From Templo de Debod, and with the right zoom, you can get great shots of the city skyline. Visible monuments from this part of Madrid include the Royal Palace and the Almudena Cathedral.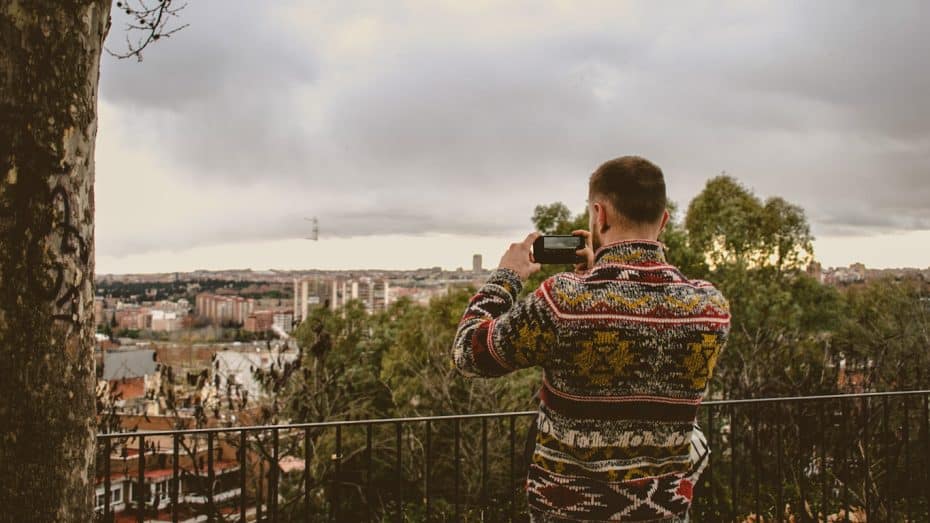 That said, this is a popular viewpoint since it is one of the few free ones in the centro of Madrid. So, although the views are gorgeous at sunset, it may be better to get there early in the morning to beat the crowds.
---
5. El Capricho Park
Although not as central as Retiro, this park is among the top Instagrammable places in Madrid. Its lush English, Italian, and French-style gardens with sculptures don't need a filter!
Located northeast of the city center, El Capricho features a labyrinth, a lake, and an eye-catching temple to Bacchus. The temple, in particular, often appears on reel videos and photos because its location on a hill and surrounding columns make it quite striking.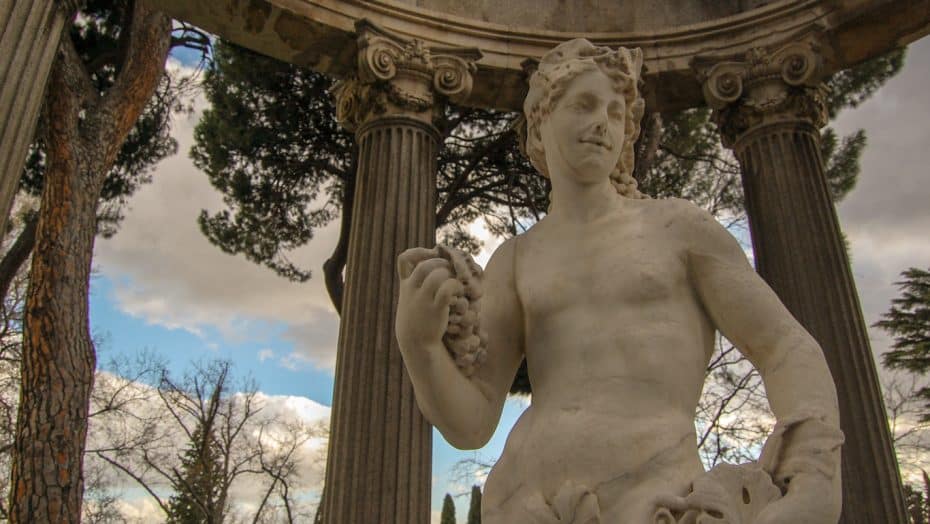 Since El Capricho is less popular than El Retiro, it also allows you to take more original photos. Or, at least, pics from a place in Madrid that your friends may need to be more familiar with. However, please keep in mind that El Capricho only opens on weekends and holidays.
---
6. Paseo del Prado
Paseo del Prado is one of the most famous streets in the city. The street has impressive neoclassical buildings, stunning fountains, and beautifully manicured gardens. Its historical significance and aesthetic appeal make it one of the most photogenic spots in Madrid.
But what places should you capture in Paseo del Prado? I'm glad you asked!
El Prado Museum. It is the most important museum in Madrid and one of the best in Europe. El Prado showcases superb Diego Velázquez, Francisco Goya, and El Greco paintings. And, as long as you keep the flash off, you can take pictures of these incredible works of art. The museum's side facing Paseo del Prado also has an impressive sculpture representing Velázquez.
Palacio de Cíbeles. This white building is beautiful on its own. Yet, when taking pictures of Madrid, you should visit CentroCentro, a cultural center inside the building. Besides its art exhibitions, CentroCentro has a rooftop with great city views. From this viewpoint, you can capture the Cíbeles Fountain, where Real Madrid's fans celebrate its winnings.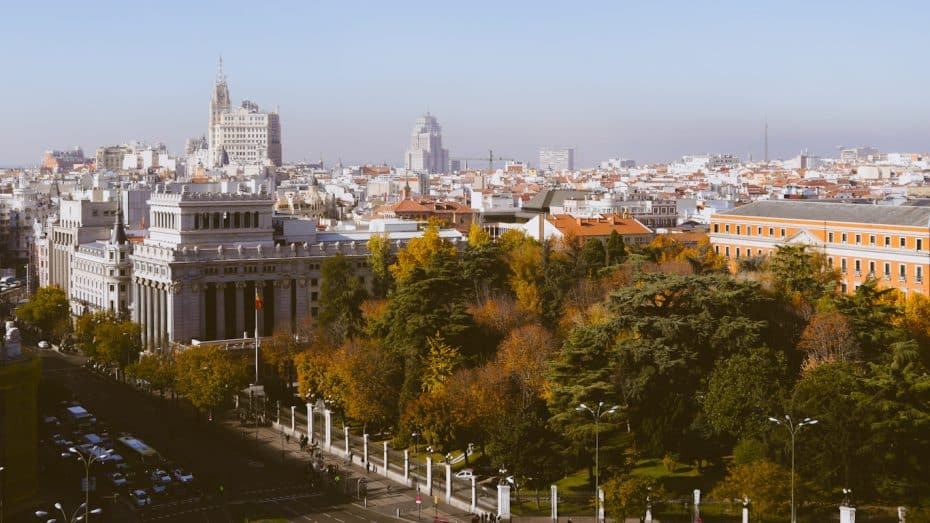 Royal Botanical Garden of Madrid. Another place to go if you're a botanical photographer visiting Madrid. This garden has the largest herbarium in Spain and is particularly gorgeous in the spring.
Neptune Fountain. Like the Cíbeles Fountain, the Neptune Fountain is on a roundabout in Paseo del Prado. Yet, getting a good picture of this neoclassical fountain from the sidewalk seems easier. This representation of the Roman god of the sea will look great on your Instagram feed.
Paseo del Prado is part of Madrid's UNESCO area.
---
7. Royal Palace of Madrid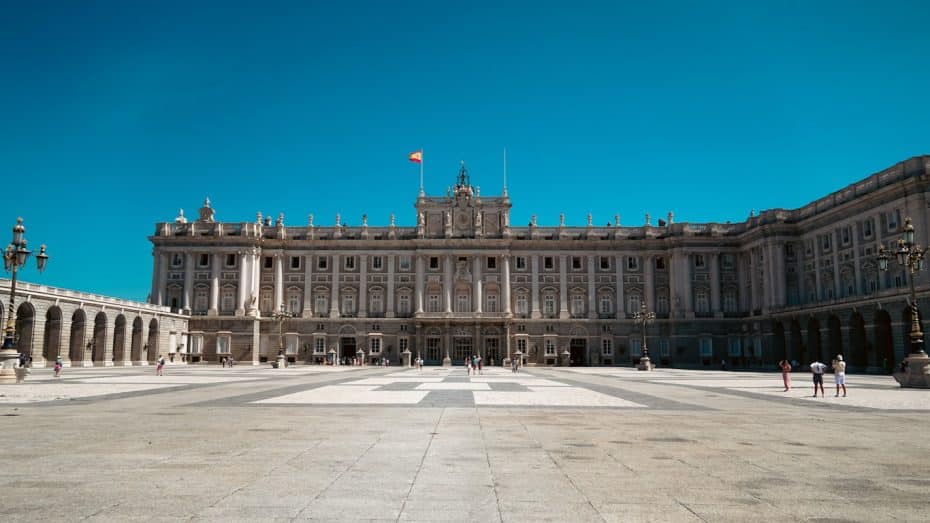 Another one of the most Instagrammable places in Madrid is the Royal Palace.
The Royal Palace of Madrid is in the city's heart and dates back to the 18th century. The creation of this building was during the reign of King Philip V, and it is a testament to the Spanish monarchy's grandeur.
And although the exterior is already quite impressive, the inside of the palace is also gorgeous. The meticulously designed rooms with ornate details are worth a few stories, and main feed posts. But please keep in mind that you can only photograph a few rooms inside the palace.
You can buy tickets to the Royal Palace of Madrid online. If you're into posting your fits on your Instagram, get someone to take pictures of you by the grand staircase. The frescoes and sculptures will give you an exquisite backdrop.
---
8. Puerta del Sol
The Puerta del Sol is the most central point in Madrid and one of its most visited attractions. Hence, there seems to always be a crowd in this landmark.
Yet, there are a few iconic attractions worth capturing in Puerta del Sol, like:
El Oso y el Madroño. The bear and the strawberry tree sculpture is as Madrilian as it gets. This statue represents the city's coat of arms and is made of stone and bronze.
Tío Pepe sign. After the Schweppe's in Gran Vía, this is Madrid's second most famous advertisement. The neon sign promotes a Sherry wine, and it is yet another Madrilian icon.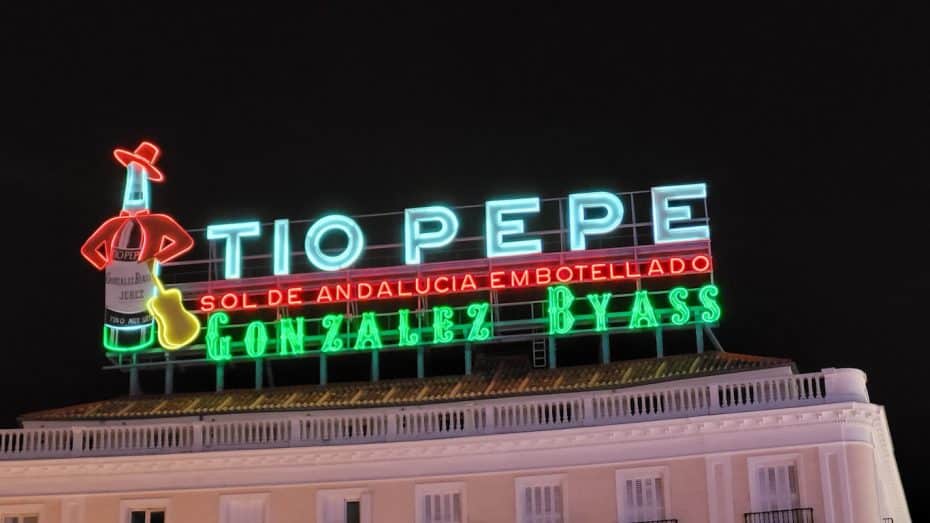 There are public events on Puerta del Sol at different times of the year. So, if you're lucky, you could catch some of the action on your camera.
---
9. Malasaña
Malasaña is one of the coolest neighborhoods in Madrid. This central area has alternative bars, clubs, vintage shops, and bookstores. So, walking through the narrow streets of this barrio is always entertaining.
Malasaña is a neighborhood to wander around and take photos. In particular, the street art in this area is eye-catching and colorful. But you could also capture people drinking on the terraces and the items for sale at the antique shops or street markets. Malasaña is a whole vibe, and one of the best areas in Madrid for nightlife.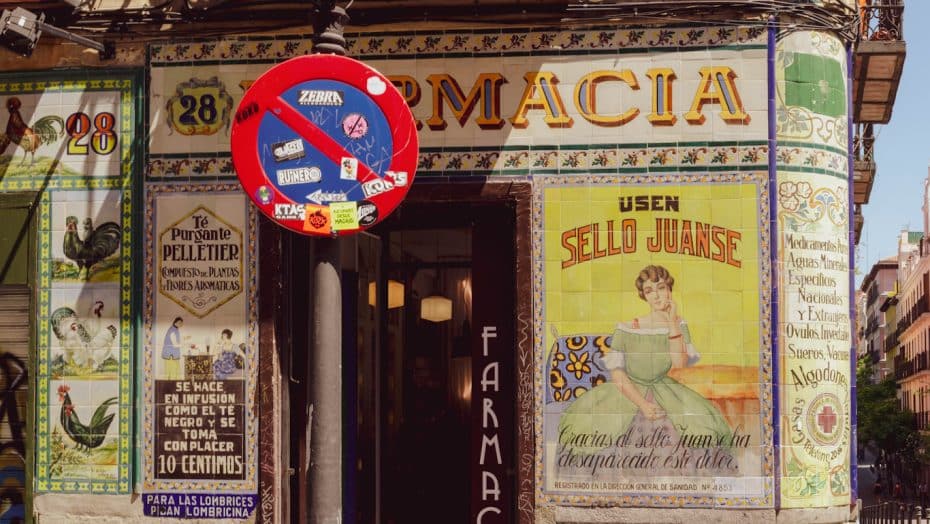 ---
10. Círculo de Bellas Artes rooftop
The Círculo de Bellas Artes rooftop is another popular viewpoint near Gran Vía, on Alcalá Street.
Built in 1926, the Art Deco building's designer was architect Antonio Palacios. The Círculo de Bellas Artes (CBA) is a multi-disciplinary cultural center. Hence, you can attend art exhibitions, workshops, and performances in the building.
Yet, the rooftop is arguably the best part of Madrid's CBA. Some recognizable landmarks from this point include the Gran Vía, the Metropolis Building, and the Telefónica Building. The restaurant and bar on the rooftop are favorites among locals and tourists.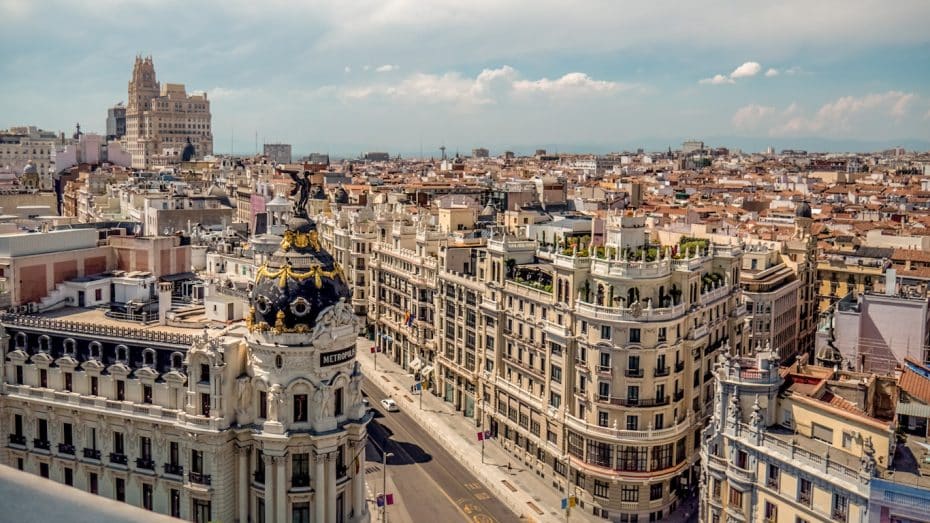 ---
11. Matadero Madrid
Matadero is an old slaughterhouse converted into an art center that is among the top most Instagrammable places in Madrid. As such, it is one of the favorite places for artists and the alternative scene in Madrid.
Inside the Matadero warehouses are restaurants, a greenhouse, and several rooms with exhibitions. During the winter, there's even an ice skating rink in Matadero!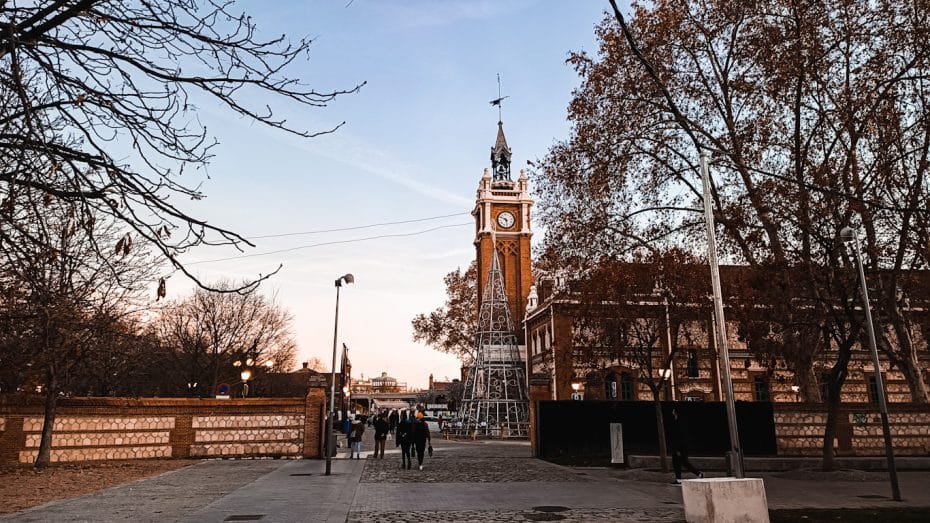 This cultural center is south of Madrid Centro and is a great place to take photos. You can have impromptu photoshoots with the industrial, orange-bricked walls in the background. You can take pictures of the exhibits and Mataderos' iconic water tank. Matadero has yet to become popular among tourists, so you can take as many photos as possible without crowds. If you're lucky, there may even be a concert or event happening during your visit.
---
12. Madrid Río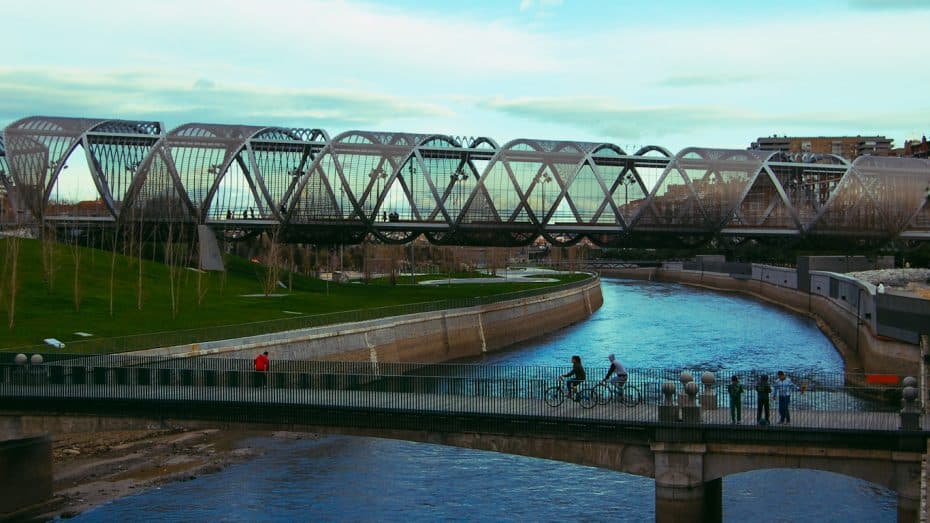 Madríd Río is a really cool park next to Matadero, in the southern part of Madrid's center.
What makes Madrid different than El Retiro and other parks is its rich history that dates back to its development in the early 2000s. The park was built along the banks of the Manzanares River, a city's central feature since ancient times. The creation of Madrid Rio aimed to reclaim the riverbanks and transform them into a vibrant public space.
Many walking and cycling paths wind through the park, offering breathtaking views of the river and the city. The park also features several playgrounds, a big skate park, and picnic areas.
It's worth mentioning that Madrid Rio also holds historical significance. Along its paths, visitors can encounter traces of Madrid's past, such as the Puente de Segovia, a bridge dating back to the 16th century. These historical elements, combined with modern amenities, create a fascinating juxtaposition that adds to the appeal of Madrid Rio.
---
13. La Latina & Lavapies
The Lavapies and La Latina neighborhoods are two of the most Instagrammable places in Madrid.
Lavapies, southeast of Madrid's city center, boasts a wealth of captivating street art. Murals, graffiti, and artistic interventions grace the walls. The neighborhood's abundance of art can be traced back to the early 1980s when social and cultural movements sparked a wave of creativity.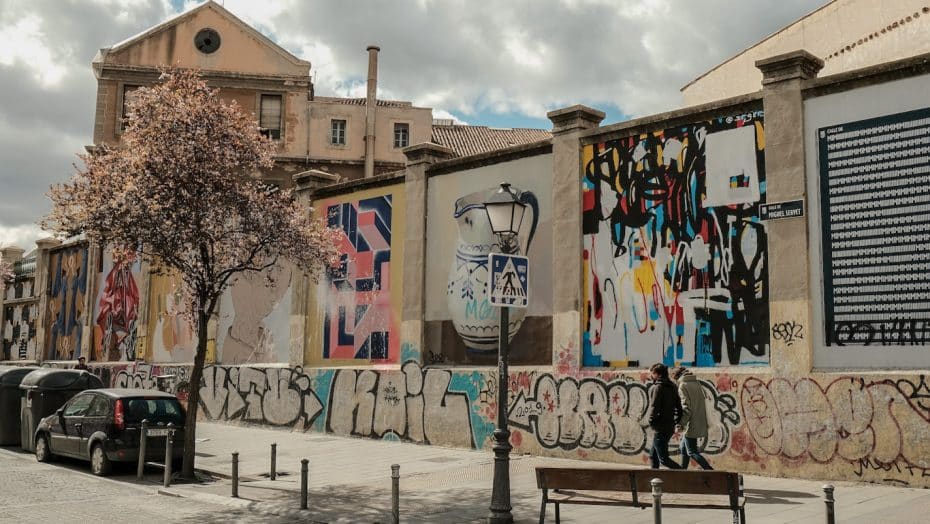 La Latina, positioned to the southwest of the city center, also offers a rich history on its narrow passageways. Exploring La Latina's streets will inevitably lead you to hidden gems like Plaza de la Cebada, where locals and tourists enjoy traditional markets.
These neighborhoods also host several events that are among the most celebrated in Madrid. La Latina is famous for the bustling El Rastro flea market, which takes place every Sunday. With a history spanning over four centuries, El Rastro is a true institution in Madrid. This market has many stalls, from antiques and vintage clothes to artisan crafts and tasty street food. It is a vibrant and lively experience that captures the essence of the neighborhood.