Where to Stay in Torremolinos – What You Need to Know
Torremolinos is a small city located within the Malaga metropolitan area , in the Autonomous Community of Andalusia, located south of the Iberian Peninsula.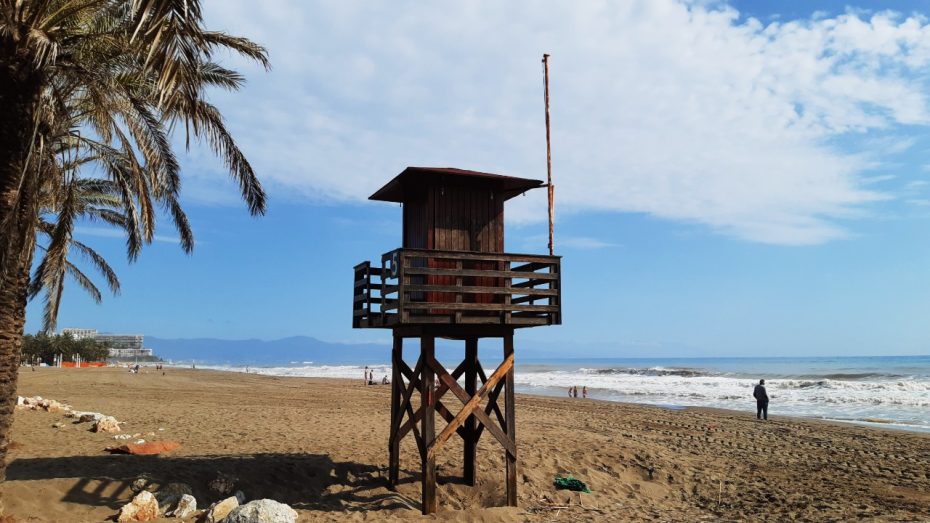 Located just 20 minutes drive from Malaga, Torremolinos stands out for mixing an Andalusian fishing village aesthetic with a vibrant nightlife, including many gay bars and clubs that make it one of the LGBT destinations in Spain par excellence.
Torremolinos is also part of the Costa del Sol, one of the most visited regions in Spain, which is why during the summer, the high season, beaches such as La Carihuela and Bajondillo are filled with tourists from all over Europe.
Therefore, although summer is the best time to travel to Torremolinos and do outdoor activities, it is recommended to book accommodation in advance and, of course, bring sunscreen, since temperatures can exceed 30ºC.
.The closest airport to the city is Malaga-Costa del Sol, from where you can take a train to Torremolinos station, located in the centre of the city
When choosing the best areas to stay in Torremolinos, the city centre is the best option for its variety of accommodation and proximity to the beach (see accommodation in Torremolinos City Centre).
Accommodation Options in Torremolinos
Hotels in Torremolinos
The best hotels to stay in Torremolinos
Hostels in Torremolinos
Hostels and cheap stays in Torremolinos
Apartments in Torremolinos
Looking for independence? Book an apartment in Torremolinos
Bed & Breakfast in Torremolinos
Pensions, B&B and guest houses in Torremolinos, Spain
The Best Areas to Stay in Torremolinos, Spain
1. Recommended Area: Torremolinos City Centre
The central area of ​​Torremolinos has it all, from Andalusian gastronomy to fast food chains, shops, bars and clubs.
Therefore, this is the best area to stay in Torremolinos, regardless of the reason for the trip, since it is located near the Buhardillo beach, the train station and houses Calle San Miguel, the shopping street of the city.
One of the main attractions of Torremolinos is also in the city centre: La Casa de los Navajas, a beautiful Neo-Mudejar-style house that can be accessed for free.
Likewise, the city centre is the best area to stay in Torremolinos for nightlife, especially since it is home to most of the gay bars and clubs in the city, as well as many bars with terraces.
From this area, you can go by train to Malaga and its airport or to other Andalusian cities such as Fuengirola, while, to go to other neighbourhoods in the city, you can take a bus or taxi.
The centre of Torremolinos is a very pedestrian-friendly place with accommodation of all kinds, including pensions, hostels and hotels with spectacular views.
Hand-Picked Hotels in This Area
---
2. La Carihuela
La Carihuela is one of the most visited beaches in Torremolinos during the summer and accommodation in this area includes several luxury resort-type hotels and many tourist apartments.
This area, which is very popular with tourists from northern Europe and backpackers, stands out for its promenade and its many beach bars that serve the typical Andalusian fried fish with cold beer.
Therefore, this is a recommended area to stay in Torremolinos for the summer or for romantic getaways, with spectacular views at sunset.
This old fishing district is southwest of the centre of Torremolinos, 20 minutes by car, but you can also walk between one area and the other when the temperatures are not too high.
Hand-Picked Hotels in This Area
Our Top Pick

Arcos de Montemar is 250 metres from La Carihuela Beach and offers rooms with a private balcony and an outdoor pool surrounded by exotic gardens. There is also a bar.
---
3. Near the Train Station
The train station of Torremolinos has a very central location and, in its surroundings, there are hotels of different categories, restaurants, shops, bars and clubs for all tastes.
Staying near the Torremolinos train station is a good idea for those who visit the city for a few days or have to catch a flight early since it has connections with Malaga-Costa de Sol Airport via commuter trains.
Likewise, from the station you can reach the beach on foot in a matter of minutes, as well as attractions in Torremolinos such as the Casa de los Navajas, the Church of San Miguel Arcángel or Calle San Miguel for shopping.
This is also one of the best areas to stay in Torremolinos for business travellers who make a short stop in the city.
Hand-Picked Hotels in This Area
Our Top Pick

N.Ch is located in the beautiful historic centre of Torremolinos, 350 metres from Bajondillo beach and 50 metres from Calle San Miguel. It offers air-conditioned rooms and free WiFi.
---
Read this post in other languages: