Bathed in sunlight on the eastern coast of Spain, Valencia is a vibrant and historic city known for its mouth-watering paella, striking futuristic architecture, and lively arts scene. The birthplace of the famous Spanish dish, Valencia offers a rich culinary experience all set against a charming blend of Gothic, Romanesque, and Modernist buildings.
---
As one of Spain's largest cities and a thriving cultural hub, Valencia attracts millions of tourists yearly. Among the city's top attractions are the futuristic City of Arts and Sciences, the stunning Valencia Cathedral, the Central Market, and the lush Turia Gardens. Valencia's booming tourism industry has given rise to various accommodations, from incredible luxury hotels to quaint guesthouses and budget-friendly hostels.
Valencia perfectly balances tradition and innovation, offering an incomparable atmosphere where visitors can enjoy historical landmarks and cutting-edge attractions. The city's friendly locals, bustling nightlife scene, and unique festivals like Las Fallas make Valencia an unforgettable destination all add to its charm.
Keep reading this article to uncover more about the best areas to stay in Valencia, Spain, ensuring your trip is memorable and enjoyable.
---
Accommodation Options in Valencia, Spain
---
The Best Areas to Stay in València, Spain: A Summary
If you don't have time to read the full article, this summarizes our recommended districts in Valencia, Spain. Keep on reading to find out more information about each of these areas.
---
What's the Best Area to Stay in Valencia, Spain?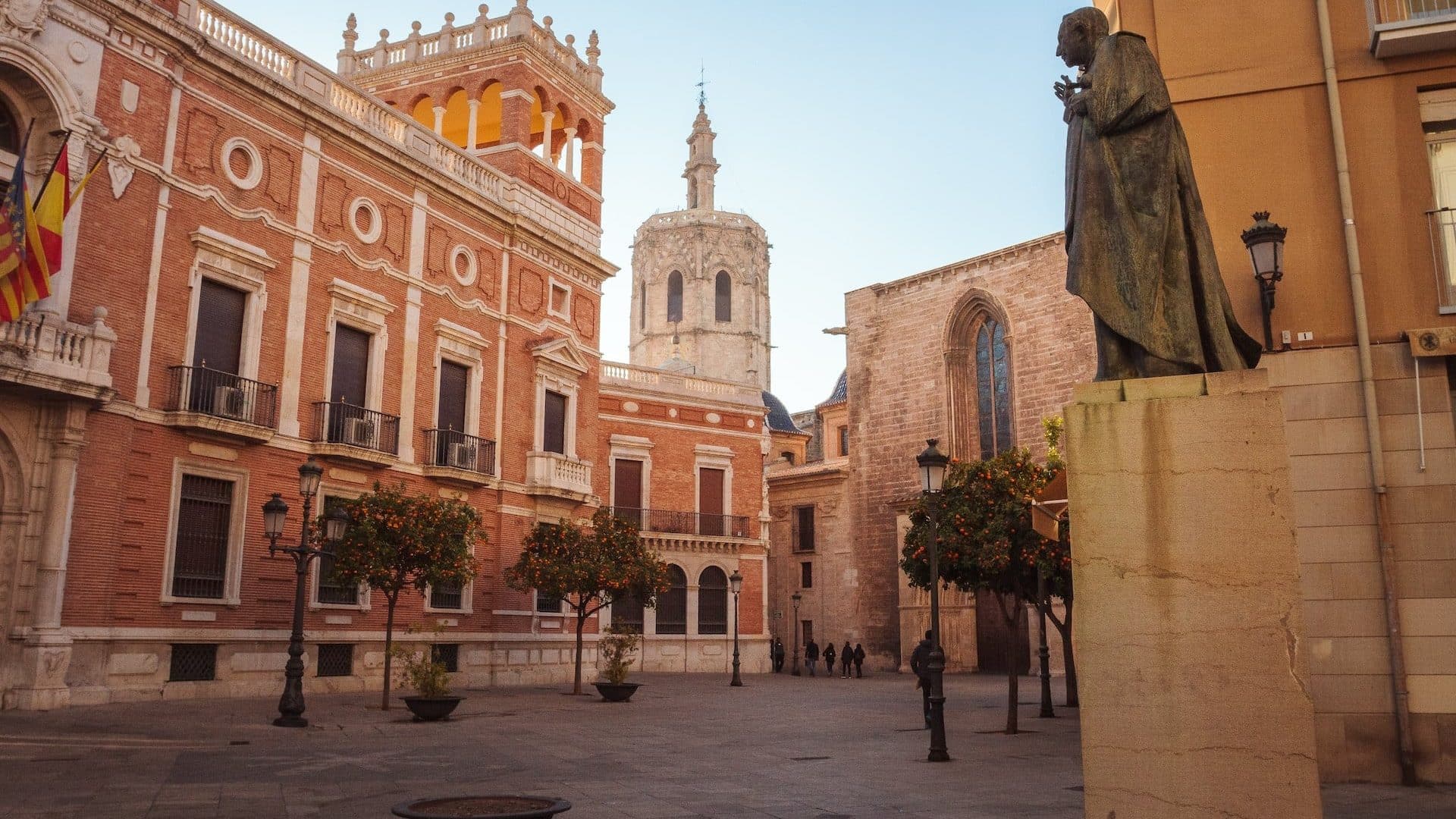 The best area to stay in Valencia is Ciutat Vella. This historic district is home to several important attractions, such as the Valencia Cathedral, La Lonja de la Seda, Torres de Serranos, and Central Market. It is ideal for those visiting the city for the first time. Additionally, some of the best-rated hotels in Valencia can be found here.
Find available accommodation in Ciutat Vella (Valencia).
Best Hotels in Ciutat Vella
---
Where to Stay in Valencia for Sightseeing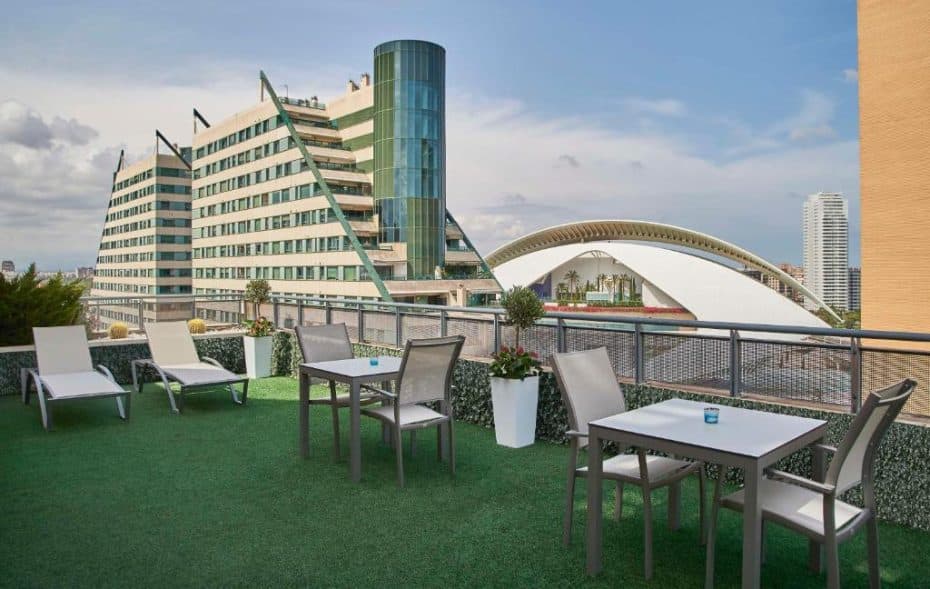 As mentioned above, Ciutat Vella (Old Town) is the best location to stay in València, Spain. That said, there are many more quarters with different atmospheres and sights. These are some of the best districts for tourists in Valencia, Spain:
---
Where to Stay in Valencia, Spain: District by District
1. Ciutat Vella (Historic City Center)
Best Location in Valencia for sightseeing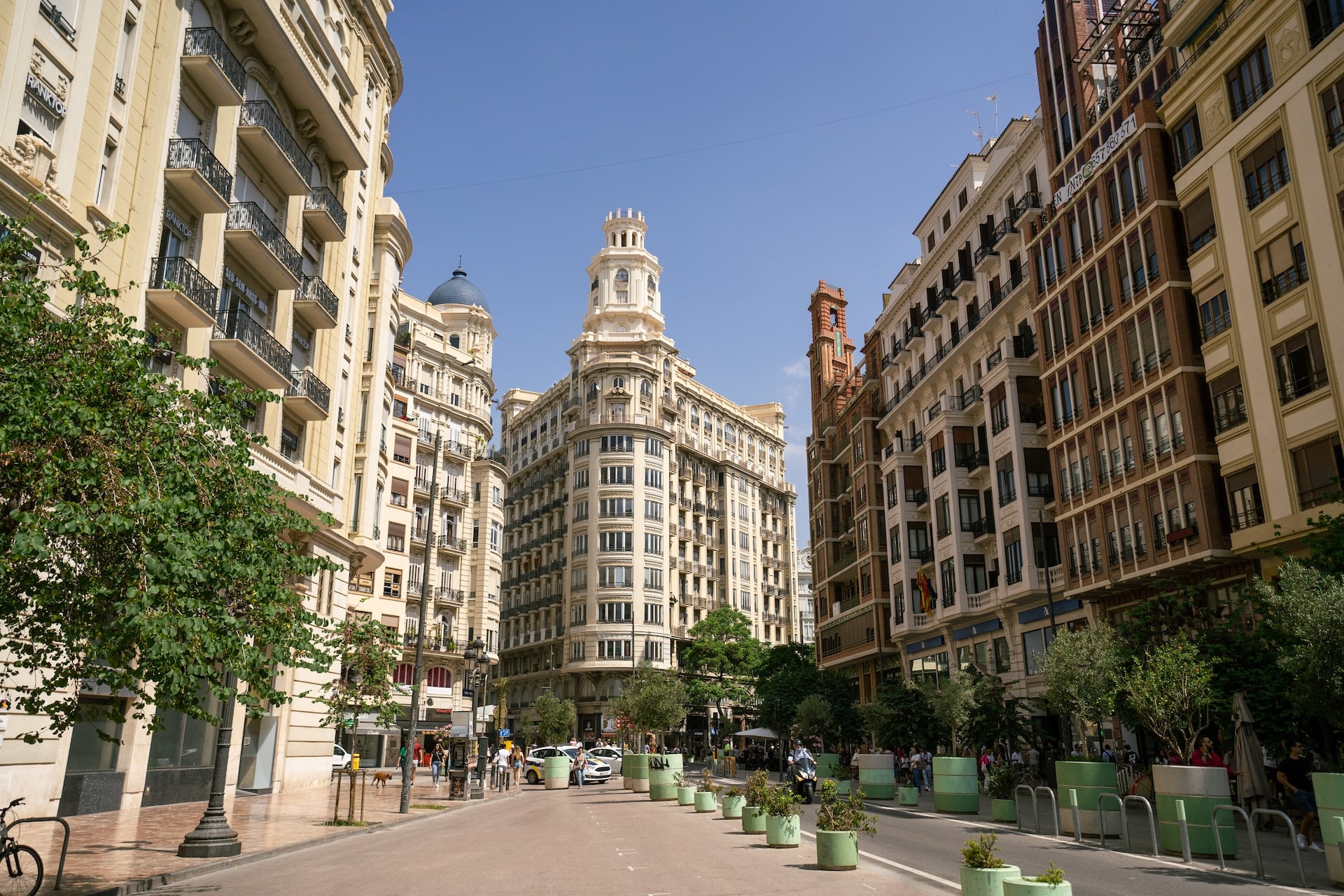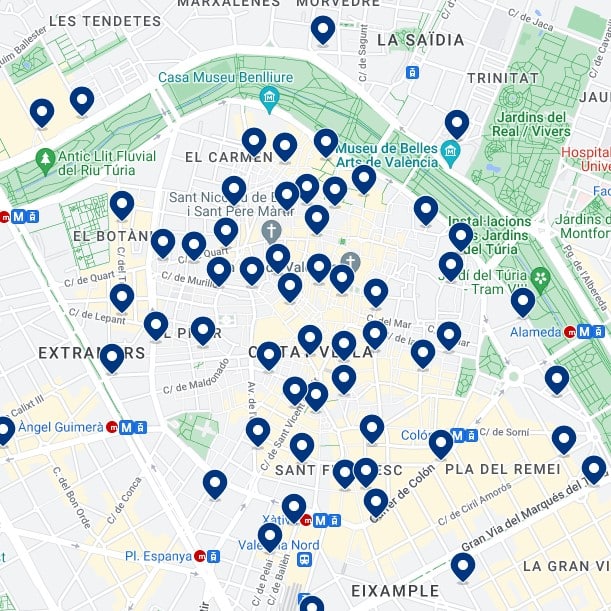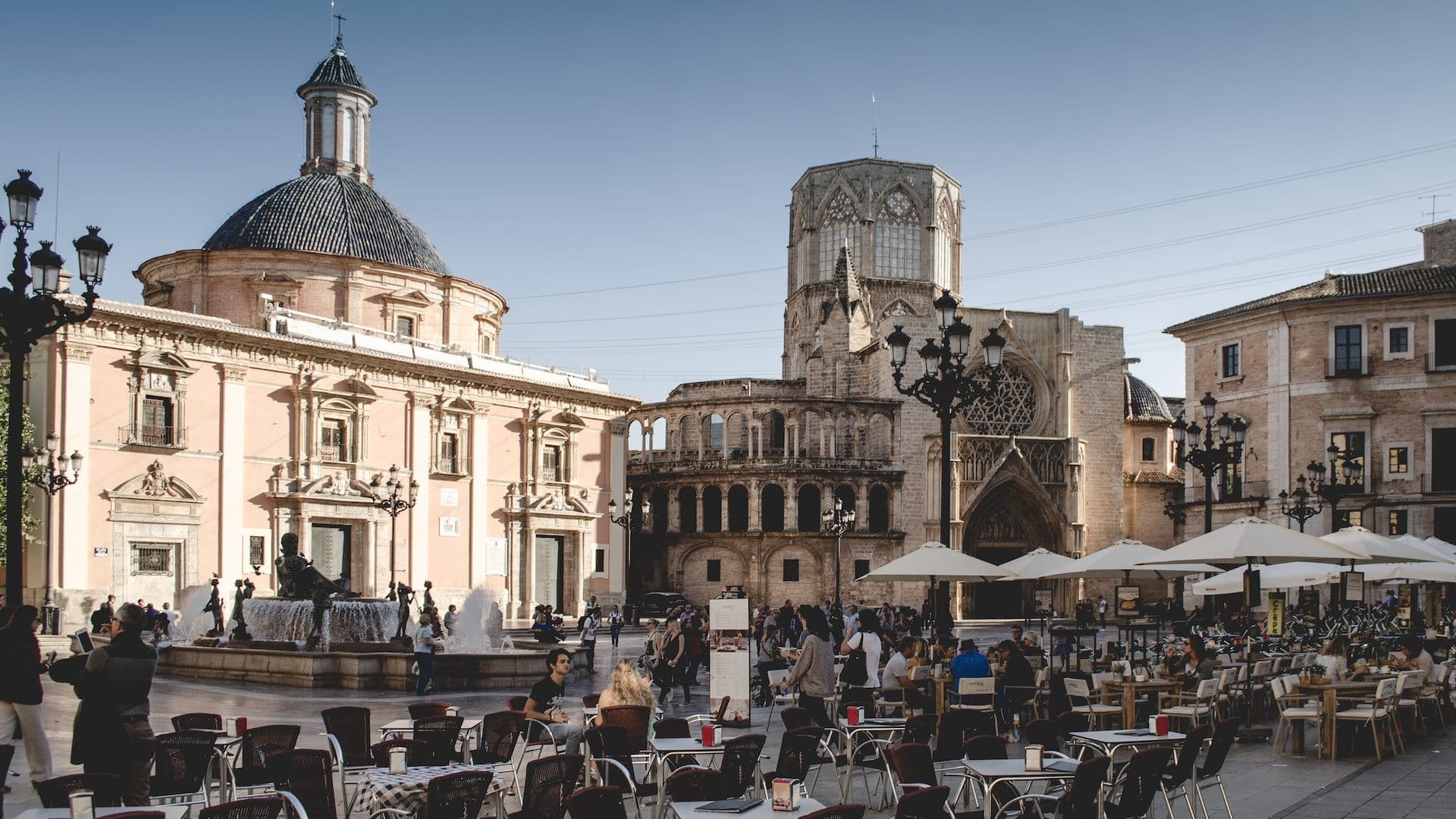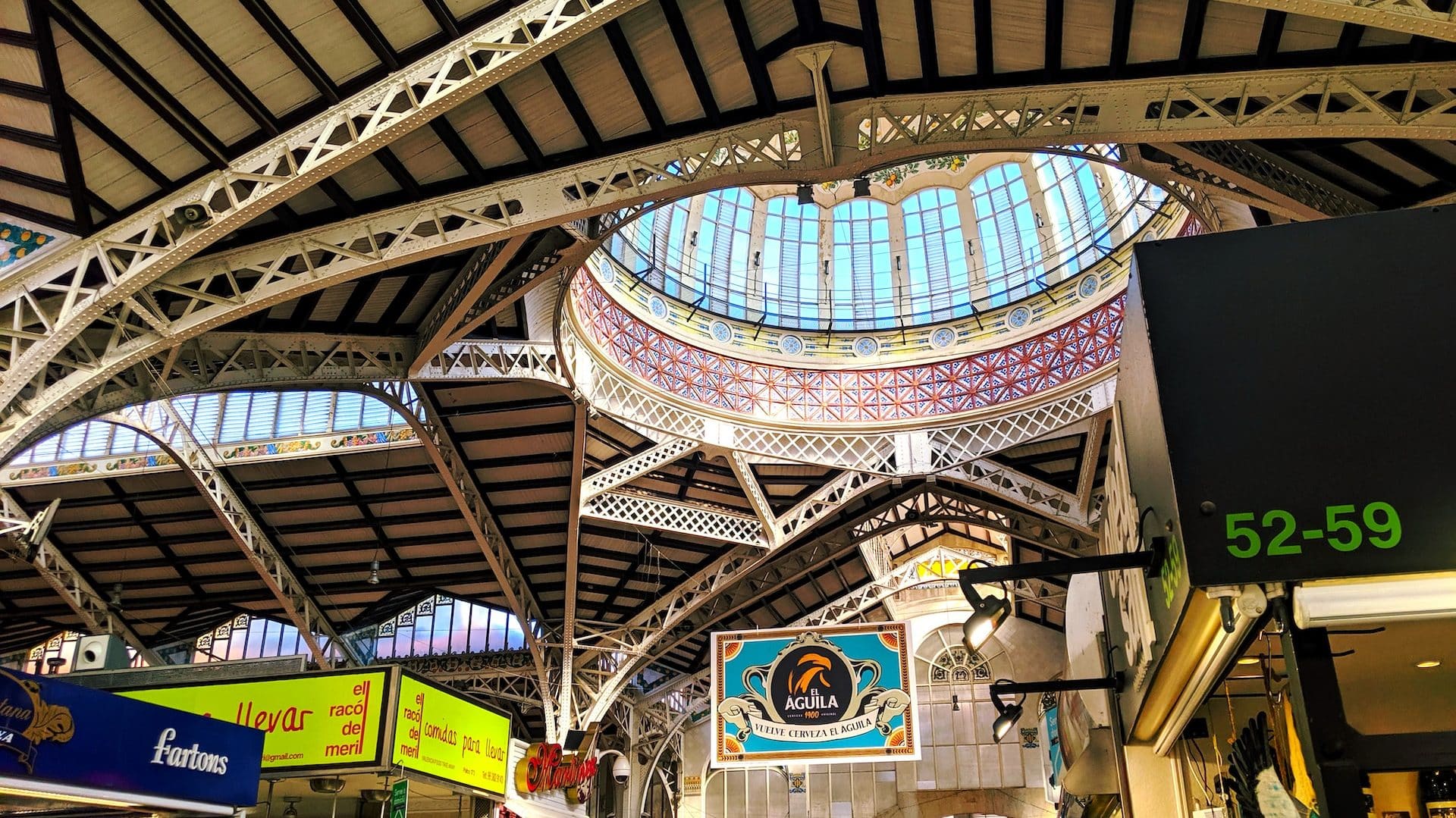 Why is this the best area to stay in València, Spain:

Rich history and stunning architecture
Bustling Central Market
Proximity to major attractions
Lonja de la Seda
Catedral de Valencia
Vibrant nightlife
Diverse dining options
Accessible public transportation
Picturesque plazas
Shopping opportunities
Cultural events and festivals
All kinds of accommodations
Ciutat Vella, or Ciudad Vieja, is the historic city center in Valencia, Spain. It is inside the old city walls and known for its cultural and historical landmarks. Located in the middle of Valencia, Ciutat Vella has a rich history that dates back to Roman times.
The walls around Ciutat Vella have a rich history and were built to protect the city against invasions. Some of these walls remain standing today, like the Torres de Serranos and Torres de Quart, creating an antique atmosphere in the area.
One of the reasons to stay in Ciutat Vella is its architectural and historical attractions. Some must-see sites include the Valencia Cathedral, the Central Market, and the Silk Exchange (La Lonja de la Seda), a UNESCO World Heritage site. The area also has many impressive squares, such as Plaza de la Virgen, Plaza del Ayuntamiento, and Plaza Redonda.
Barrio del Carmen, in the northeastern part of Ciutat Vella, boasts ancient buildings, many from as far back as the Roman and Arab periods, situated next to modern bars, nightclubs, and art galleries, creating an interesting balance between old and new. The area is also known for its street art.
In addition to these key places of interest, Ciutat Vella boasts several museums, such as Museo de Bellas Artes de Valencia and IVAM (Instituto Valenciano de Arte Moderno). Both institutions house an extensive collection of artwork representing various artistic movements from different time periods. Plaça del Ajuntament has many interesting sites like the gorgeous Valencia City Hall and the eclectic Central Post Office.
The nightlife in Ciutat Vella presents a relaxed atmosphere with many bars and cafes where people can enjoy tapas or drinks while taking in the charm of the historic surroundings. Some popular streets known for their lively evenings include Carrer de Caballeros and Carrer del Tossal.
Transportation options for getting around Ciutat Vella include walking or biking (most parts of this area are pedestrianized). Buses also provide access to other parts of the city, as do the two main metro lines, 3 and 5, at their intersections in Xàtiva and Colón stations.
Best Hotels in Ciutat Vella, Valencia
---
2. Quatre Carreres (City of Arts & Sciences)
Best Location in Valencia, Spain, for modern architecture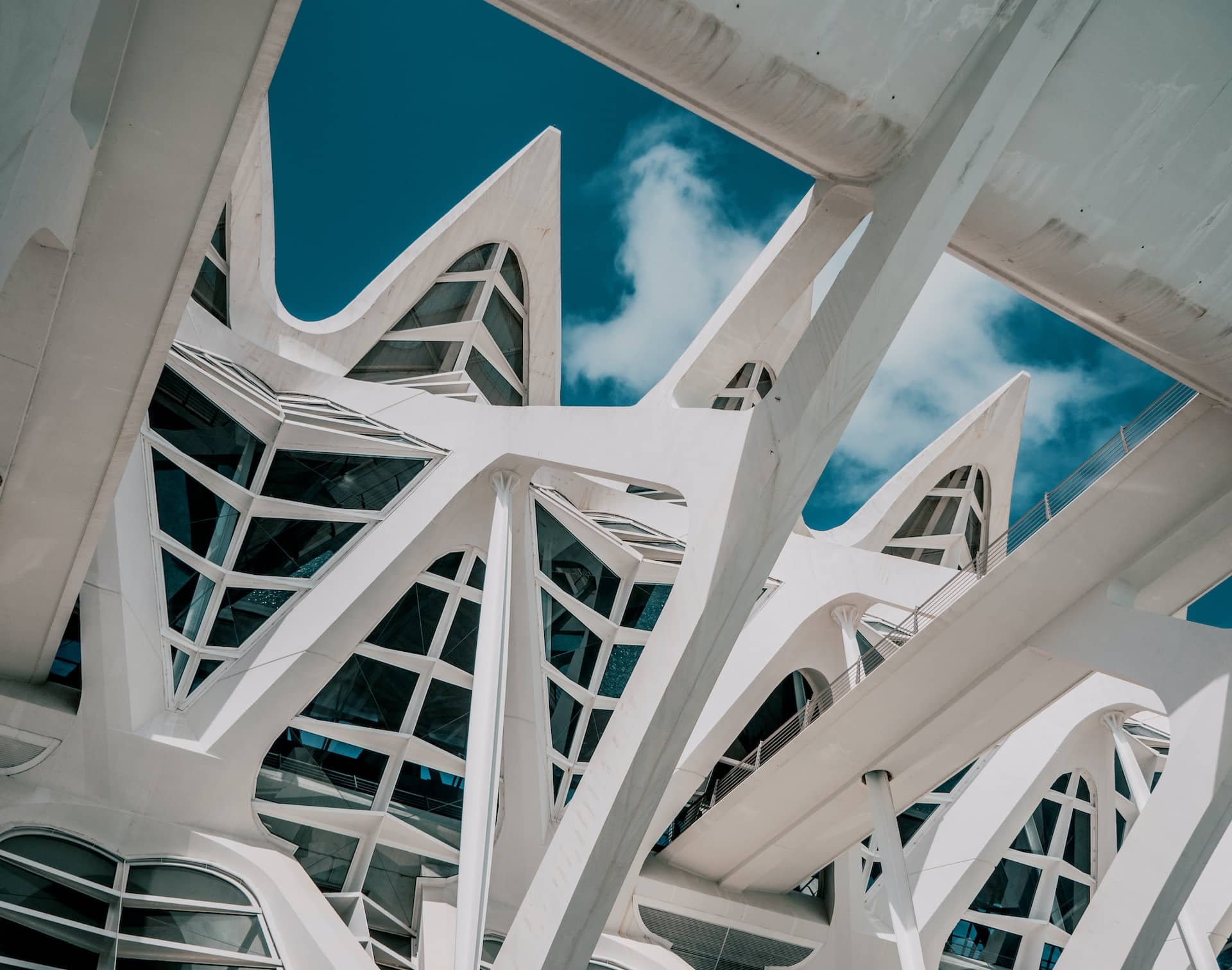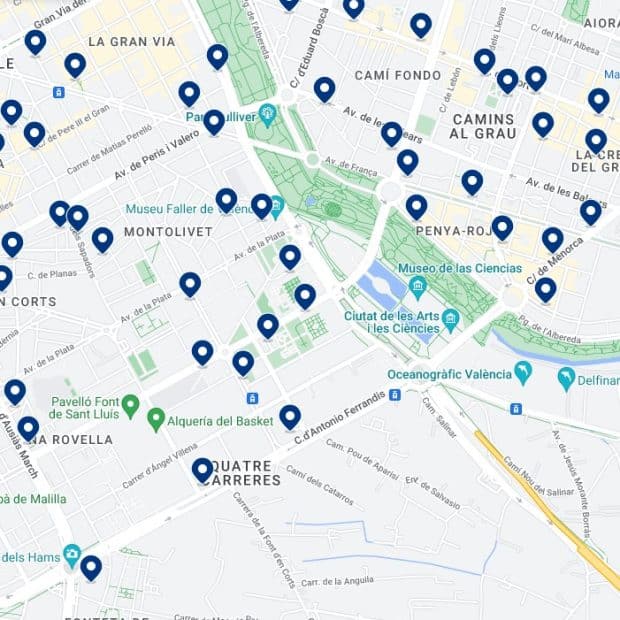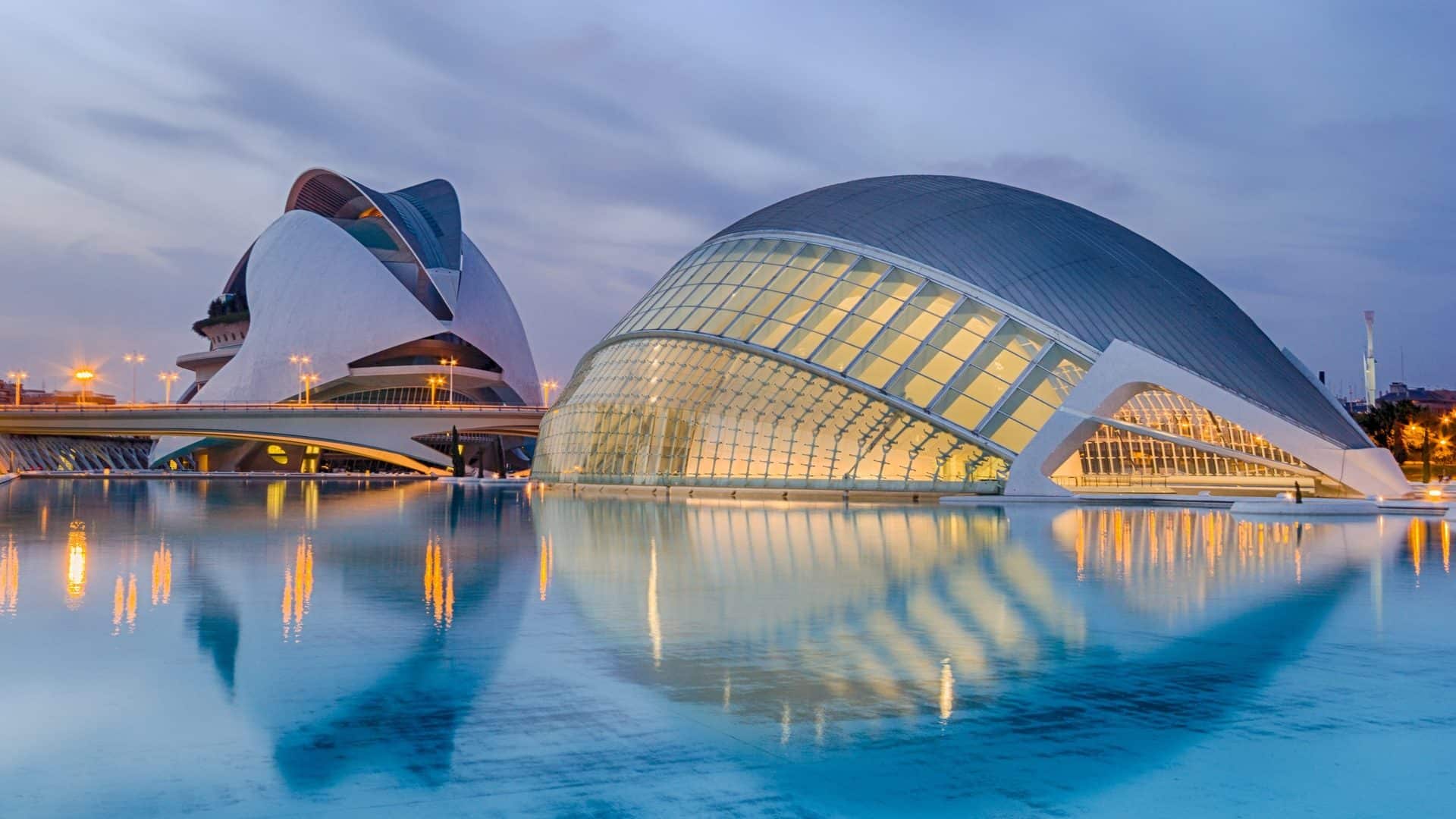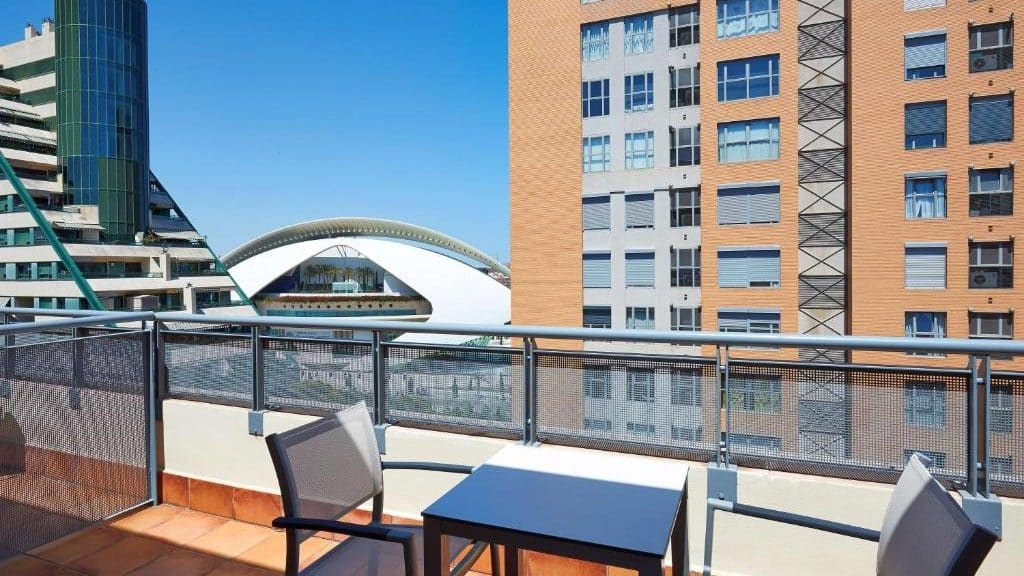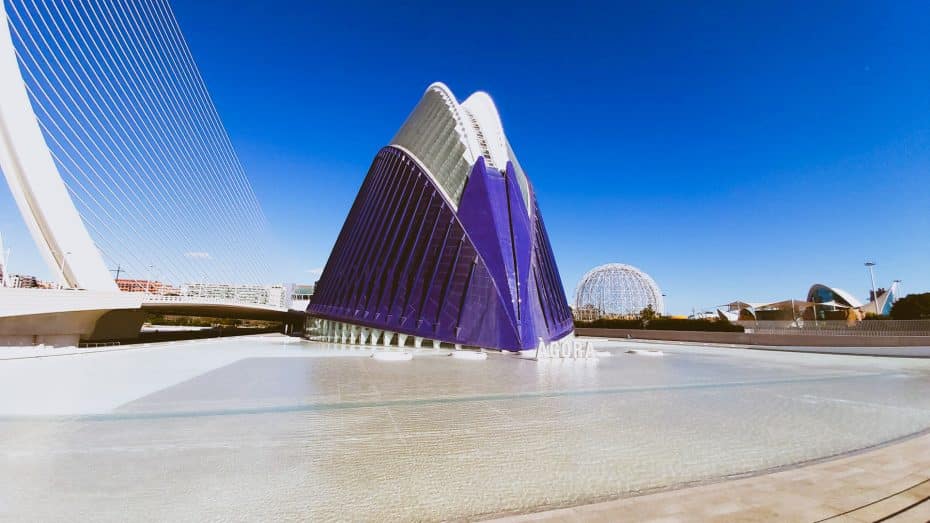 Why is this the best area to stay in València, Spain:

Proximity to the City of Arts and Sciences
Excellent transportation connections
Diverse dining and nightlife options
Modern and comfortable accommodations
Family-friendly attractions and parks
Safe and walkable neighborhood
Access to world-class museums and landmarks
Authentic Valencian atmosphere and charm
Sports facilities and recreational opportunities
Unique shopping experiences
Quatre Carreres is a district in southeastern Valencia. It is divided into several neighborhoods, including Monteolivete, Ciudad de las Artes y las Ciencias, Penya-Roja, and Na Rovella. Its name originates from the four main streets that cross the district.
Geographically, Quatre Carreres is situated south of the Turia River and west of Avenida Ausias March. Valencia City Center lies to the northwest, with the Mediterranean Sea to its east.
One of the major highlights of Quatre Carreres is the presence of Ciutat de les Arts i les Ciències (City of Arts and Sciences), a cultural and architectural complex designed by renowned Spanish architect Santiago Calatrava. Inaugurated in July 1998, this futuristic complex includes the Hemisfèric (a planetarium and IMAX cinema), Oceanogràfic (Europe's largest aquarium), Palau de les Arts Reina Sofía (an opera house and performing arts venue), Museu de les Ciències Príncipe Felipe (a science museum) and Umbracle (a landscaped promenade featuring native plants).
Another notable attraction in the area is the former riverbed of the Turia River, which has been transformed into a picturesque park called Jardín del Turia.
Regarding transportation options within Quatre Carreres, several bus routes and a metro line (Line 10) run through the area.
Best Hotels in Quatre Carreres
---
3. Ruzafa
Best Location in Valencia for nightlife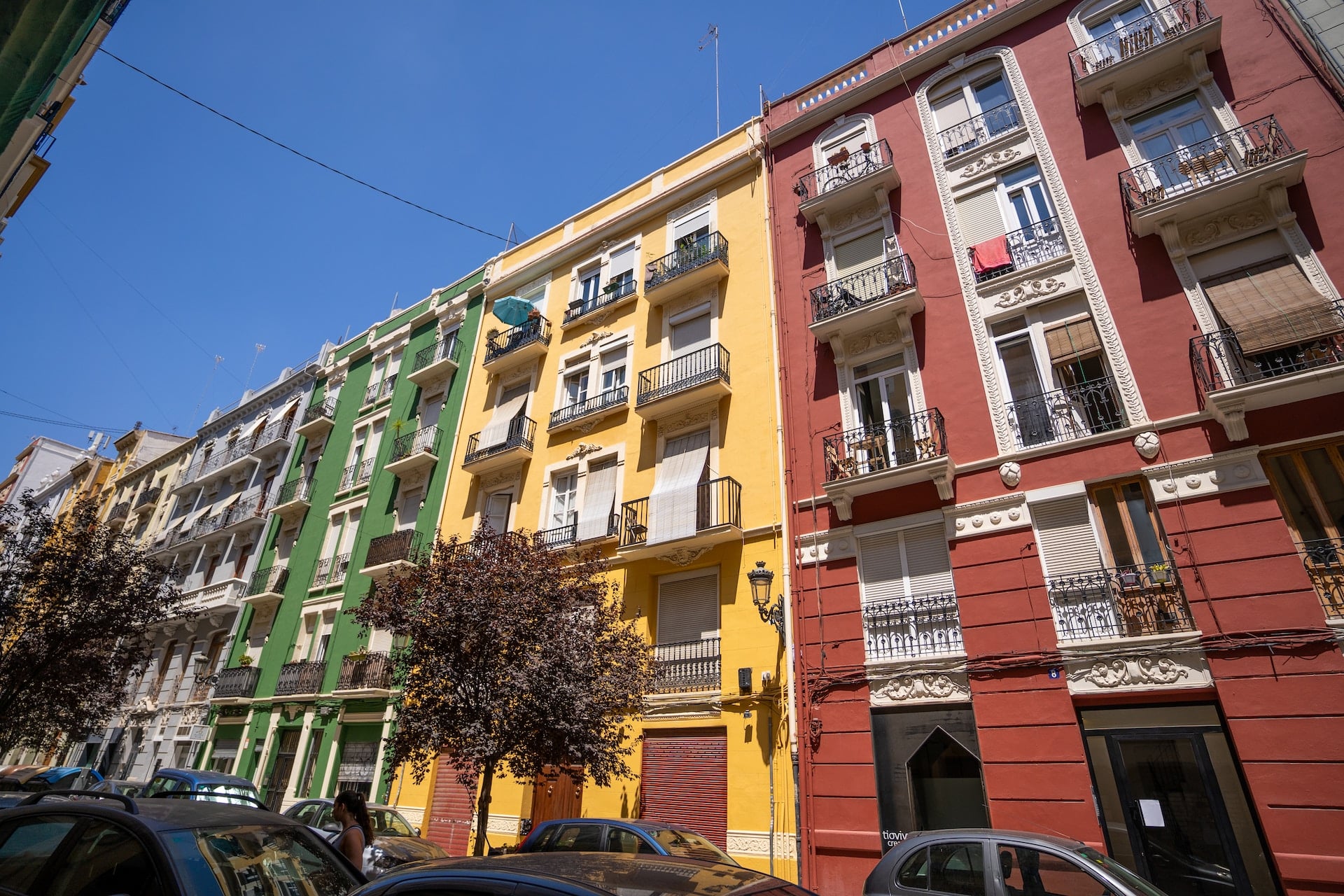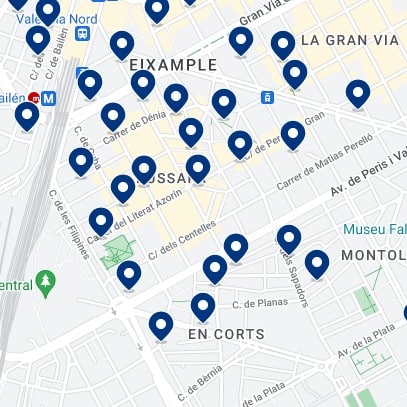 Why is this the best area to stay in València, Spain:

Proximity to major attractions
Central location
Artistic vibe
Vibrant nightlife
Diverse dining options
Cultural events and festivals
Boutique accommodations
Ruzafa is located south of the city center and is part of the Eixample district. Ruzafa is known for its vibrant nightlife, making it a recommended area for travelers to stay in while visiting Valencia.
In the early 1900s, Ruzafa was primarily an industrial zone comprising factories and warehouses. Over time, these structures have been repurposed or replaced by residential buildings, shops, and leisure facilities. The district has maintained much of its historical architecture, as seen in the numerous examples of Modernist and Art Deco buildings.
Some notable attractions in Ruzafa include Gran Via Marqués del Turia, a tree-lined avenue with shops and cafes; Parque Central, a large urban park designed by Kathryn Gustafson and opened in 2019; and Mercat de Russafa (Ruzafa Market), an indoor market that sells fresh produce, meat, fish, and other food items. Another important site is Parroquia de San Valero y San Vicente Mártir, a historic church featuring beautiful stained glass windows and carvings.
The nightlife in Ruzafa stands out due to its variety of bars, clubs, and restaurants that offer live music or performances. Many of these venues are concentrated around Calle Sueca and Calle Cuba streets. The district also hosts cultural events such as Russafart, an annual art festival where local artists open their studios to the public.
When it comes to accommodations in Ruzafa, hotel options fit different budgets and needs. Various lodging choices are available, from boutique hotels with contemporary designs to budget-friendly pensions.
Best Hotels in Ruzafa
---
4. Poblats Marítims
Best Location in Valencia to go to the beach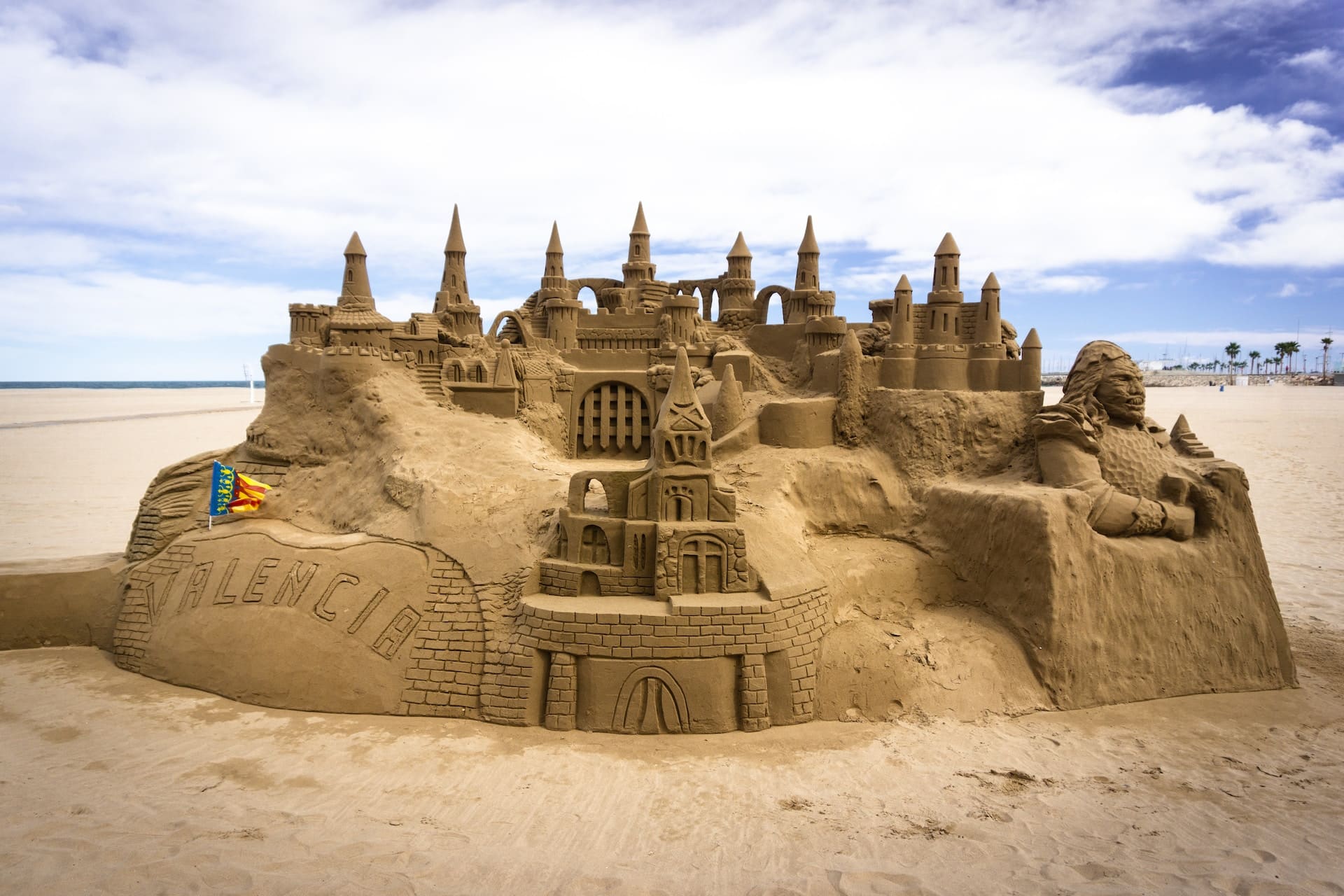 Why is this the best area to stay in València, Spain:

Access to the beach
Best area to eat paella
Bustling nightlife
Well-connected by public transport
Access to the ferry terminal
All kinds of accommodations
Els Poblats Marítims (Poblados Marítimos o Seaside Towns) is a neighborhood in the eastern part of Valencia. Situated near the coast, it offers an excellent location within the city. The area is known for its unique characteristics and is considered one of the best areas to stay in Valencia.
Historically, Poblats Marítims was a fishing village before transforming into a vibrant residential area. The neighborhood has retained some of its traditional charm.
Poblats Marítims is famous for its beautiful beaches, including the popular Malvarrosa Beach. With its golden sand and crystal-clear waters, the beach also offers several activities, such as sunbathing, swimming, and beachside dining at the vibrant beach clubs and restaurants.
Visitors can enjoy convenient access to the nearby Port of Valencia, which offers services to the Balearic islands and other Mediterranean destinations.
Els Poblats Marítims offers a laid-back atmosphere combined with a lively entertainment scene. The waterfront promenade is lined with charming cafes, restaurants, and bars. The neighborhood also offers several nightlife options, including trendy nightclubs, cozy pubs, and live music venues.
Transportation options in Poblats Marítims are convenient and well-connected. The neighborhood is served by several bus lines that provide easy access to the city center and other parts of Valencia.
Best Hotels in Poblats Marítims, Valencia
---
5. L'Eixample
Best transport connections in Valencia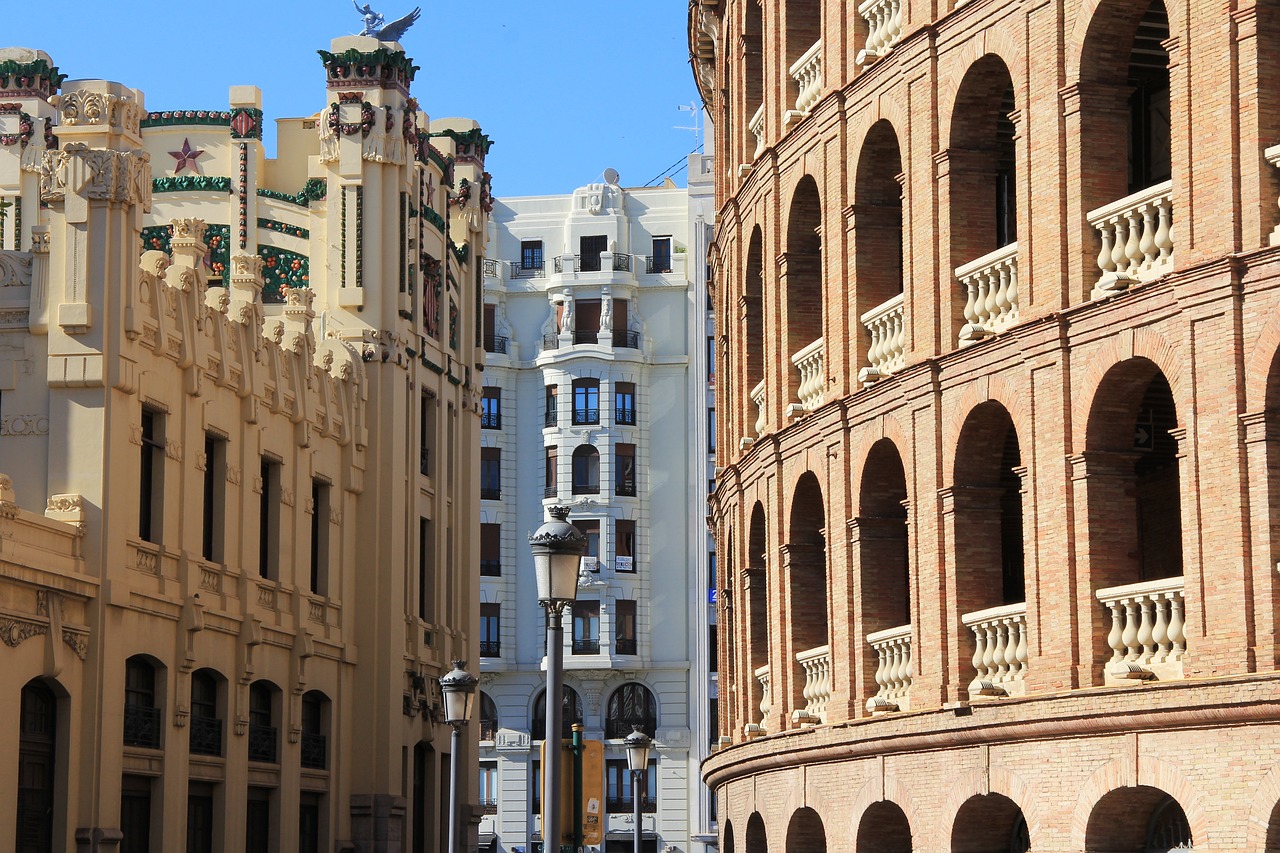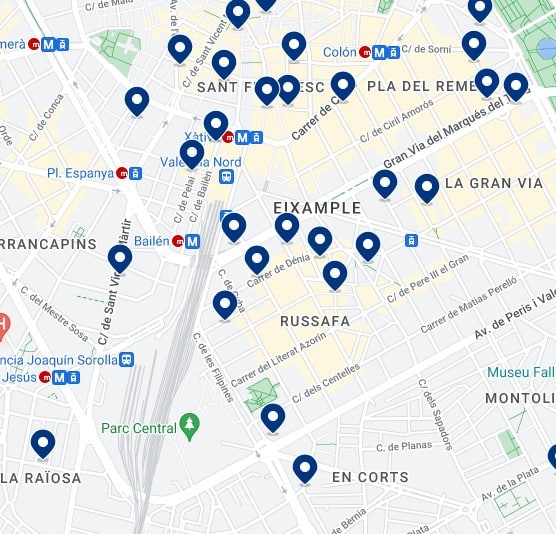 Why is this the best area to stay in València:

Central location
Modernist architecture
Bustling shopping scene
Diverse dining and nightlife options
Wide pedestrian boulevards
Green spaces and parks
Accessible public transportation
Eixample is a district in Valencia, Spain. Not unlike its namesake counterpart in Barcelona, the Eixample district is known for its well-planned streets and Art Nouveau buildings.
The area has a rich history dating back to the 19th century when its layout was designed by architect Salvador Roca and engineer Francisco Mora Berenguer. Some notable attractions within Eixample include the Colón Market, completed in 1916 and designed by Francisco Mora Berenguer, housing a central shopping area with numerous upscale retailers. Another interesting site is the Gran Vía Marqués del Turia, a wide tree-lined avenue featuring numerous modernist buildings designed by some of Valencia's most renowned architects, and the Estació del Nord, a train station built in 1852 by Demetrio Ribes.
Eixample becomes a hub for nightlife entertainment at night, with many bars and clubs operating within its boundaries. However, it also has quieter areas where people can enjoy peaceful strolls or grab a drink at local cafés.
Transportation within Eixample is efficient and easily accessible. Key metro stations within Eixample include Xàtiva, Colón, and Bailén. Furthermore, there are multiple bus routes connecting Eixample to other parts of Valencia city that are easily accessible through the EMT bus service.
Eixample boasts numerous hotels catering to different budgets. The area has a mix of boutique hotels, traditional guesthouses, and luxurious five-star properties.
Best Hotels in Eixample, Valencia
---
6. Extramurs
A great area to stay in Valencia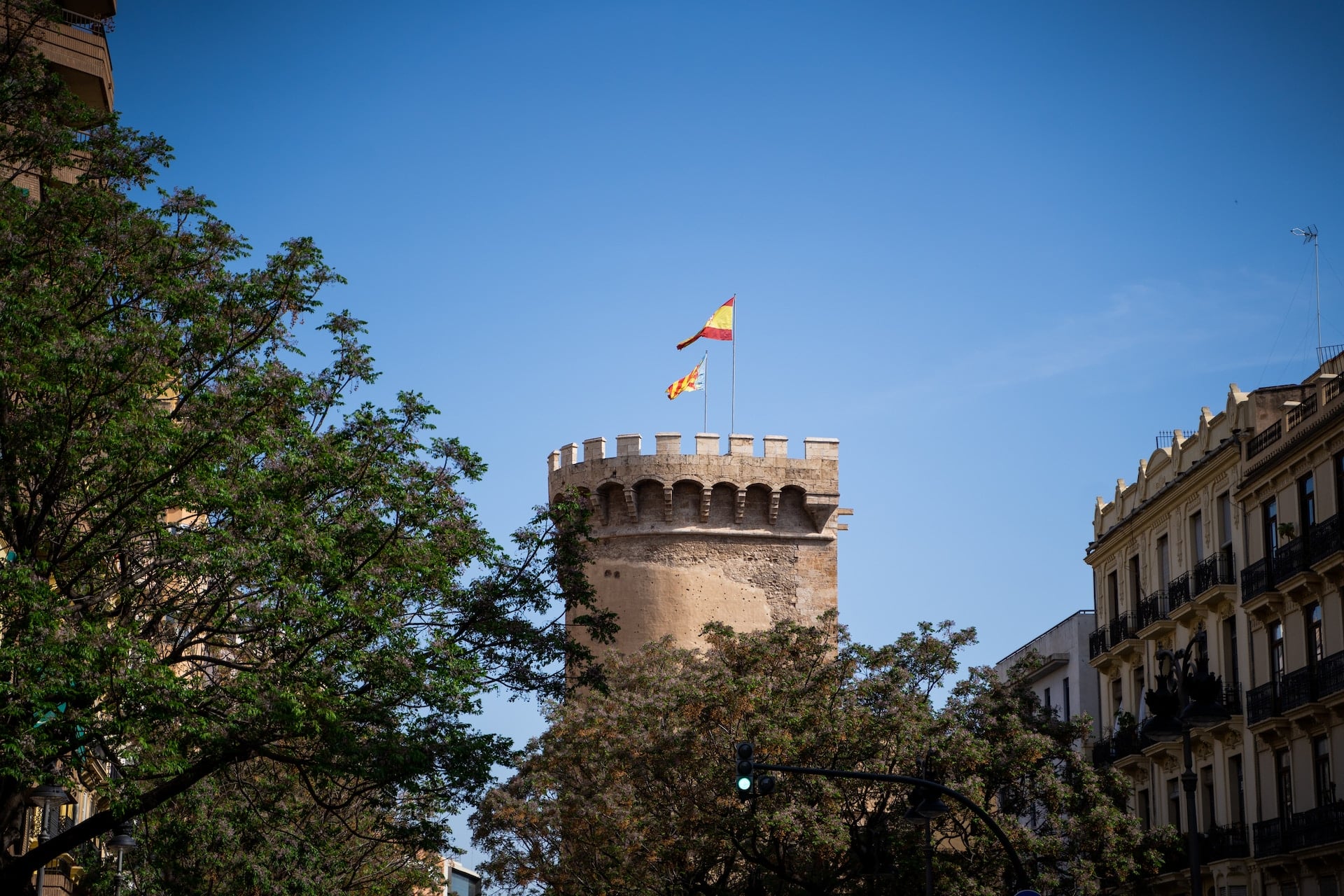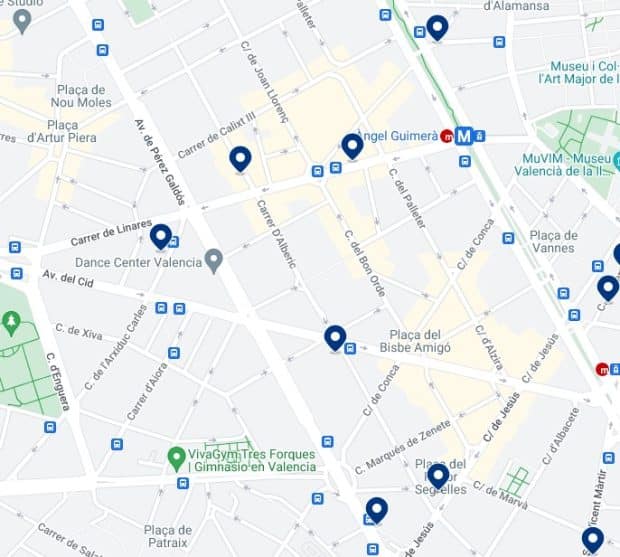 Extramurs is located west of the historic center and the old city walls. The district offers convenient access to major attractions in Valencia.
One notable attraction in Extramurs is the Torres de Quart, a pair of Gothic-style towers that served as part of the city's defenses during the 15th century. The district is also known for its impressive parks and gardens, such as Jardín Botánico de la Universidad de Valencia.
Extramurs is well connected with other parts of the city through Metro Line 3 from Ángel Guimerà station and Metro Line 1 from Jesús station. Additionally, numerous bus routes pass through Extramurs, connecting it with the historic city center and other neighborhoods.
Best Hotels in Extramurs, Valencia
---
Where to Stay in Valencia: Useful Information
Valencia is the capital city of the Comunitat Valenciana region in Spain and holds historical importance in the Iberian Peninsula. Founded in 138 BC, the city showcases a mix of old and modern architecture that appeals to various interests. Situated near the Mediterranean Sea, Valencia offers a pleasant atmosphere throughout the city.
Apart from its architectural appeal, Valencia is known for shopping, culture, cinema, theater, music, museums, and businesses. The city is a hub for avant-garde design and hosts popular European fairs and conferences. The Valencian coast is characterized by fine sand, clean water, and the nearby coastal mountains.
Some notable places to visit in Valencia include the Central Market, Old Turia River Channel, Bioparc Zoo, and the City of Arts and Sciences (Ciudad de las Artes y las Ciencias). Malvarrosa Beach and Perellonet Beach offer coastal recreation options for outdoor enthusiasts, while Gulliver Park and Oceanogràfic Aquarium provide additional leisure activities.
Valencia is also famous for its local cuisine centered around rice dishes like paella. Lastly, navigating Valencia is relatively easy due to its well-connected bus network and train system that connects different parts of the city.
---
Best Areas to Stay in Valencia: Frequently Asked Questions
Which area is best to stay in Valencia?
The best area to stay in Valencia is El Carmen, located in the city's historic center. This neighborhood offers a mix of traditional and modern vibes, with its narrow streets, beautiful plazas, and a wide range of restaurants, bars, and shops. Staying in El Carmen gives visitors easy access to some of the most iconic sights in Valencia, including the cathedral, La Lonja de la Seda, and the Central Market.
Where not to stay in Valencia?
It is advisable not to stay too far from the city center or in industrial areas like La Punta or Vara de Quart, as these neighborhoods may lack the charm and convenience that many tourists seek. These areas are farther from the main attractions and can be less safe at night. Instead, look for accommodations in more central locations such as El Carmen, Ruzafa, or near the City of Arts and Sciences.
What is the most beautiful part of Valencia?
The most beautiful part of Valencia is undoubtedly the Turia Gardens. This massive park spans over nine kilometers and was once a riverbed. Converted into a green oasis filled with lush vegetation, playgrounds, sports facilities, and picturesque paths for walking or cycling, the Turia Gardens make for an enjoyable visit for both locals and tourists. The park also boasts some stunning bridges and hosts many cultural events throughout the year.
What is the main area of Valencia?
The main area of Valencia is its historic center, which includes neighborhoods like El Carmen and La Seu. This area is home to several key landmarks, such as Valencia Cathedral, La Lonja de la Seda, Plaza de la Virgen, Plaza del Ayuntamiento, and the Central Market. The historic center boasts beautiful architecture and bustling streets filled with cafes, restaurants, and shops – making it an ideal place for sightseeing and experiencing Valencian culture.
How many days do you need in Valencia?
To fully immerse yourself in Valencia's rich history, vibrant culture, and delicious cuisine, it's recommended to spend a minimum of three days in the city. This will give you enough time to visit iconic sights like the City of Arts and Sciences, the Central Market, and the Turia Gardens. With a well-planned itinerary, you can also indulge in authentic Valencian dishes at local eateries and explore the city's diverse neighborhoods.
What is the best month to visit Valencia?
The best months to visit Valencia are typically April, May, and October. During these months, the weather is pleasant and mild, with fewer crowds than during the summer months. This makes for an ideal time to explore the city on foot or by bike without having to worry about extreme heat or too many tourists. Additionally, these months often have various local festivals and events that are worth experiencing while visiting Valencia.
Is Valencia an expensive city?
Valencia is relatively affordable for tourists compared to other major Spanish cities like Madrid and Barcelona. Accommodation options range from budget hostels to luxury hotels, allowing for various price points depending on your preferences. Dining out can also be inexpensive if you choose local tapas bars or visit markets for fresh produce. Sightseeing costs are also generally reasonable; many attractions offer free or discounted admission on certain days. While it's not the cheapest destination in Spain, Valencia offers excellent value for money for experiencing its history, culture, and cuisine.
Read this post in other languages
|ES| Dónde dormir en Valencia
|IT| Dove alloggiare a Valencia
|CAT| On allotjar-se a València