Where to stay in Glasgow – What you need to know
Glasgow is the great city of Scotland and one of the most visited in the United Kingdom, next to Edinburgh and London.
It is located on the banks of the Clyde River, in the southern area of the so-called lowlands of Scotland.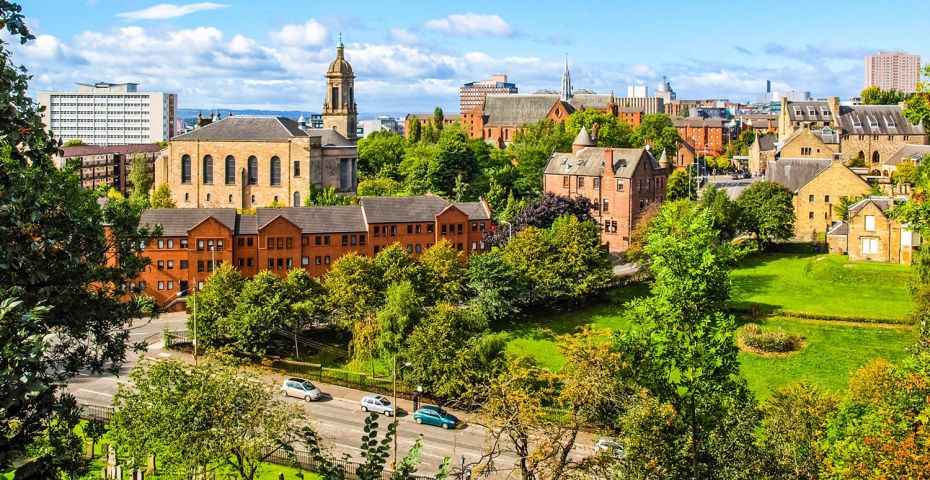 The city is particularly famous for its cultural movement. Recitals, ballet, operas, museums, galleries, bars and live music clubs are among the things to see in Glasgow.
Its old town exhibits the best of Scottish Victorian architecture, with outstanding monuments such as the Cathedral, the University, and the Clyde auditorium, popularly known as the "Armadillo of Glasgow".
Unlike the rest of Scotland, the climate in Glasgow is quite humid, with temperatures similar to those of the north of England. The best time to travel to the city is from March to August when temperatures rise and daylight stays longer.
It is one of the best-connected cities in the United Kingdom since it has the Glasgow metro system, one of the oldest in the world, as well as a rail system that works from the central station.
Glasgow has two airports, the Glasgow International Airport (which is just outside the central area) for international flights, and the Glasgow Prestwick International Airport to the southwest, which covers short flights of low-cost airlines.
Central Glasgow consists of large commercial avenues such as George Square, Argyle Street, Sauchiehall Street, and Buchanan Street.
The best area to stay in Glasgow, the largest city in Scotland, is the central are or the neighbourhoods close to the train station (See accommodation in Central Glasgow).
Here's a guide with the best areas to stay in Glasgow, Scotland.
The best areas to stay in Glasgow
1. Recommended area: Central Glasgow (Financial District, Theatre District & Merchant City)
Hand-picked hotels in this area
---
2. North West Glasgow & West End
Hand-picked hotels in this area
---
3. East End
Hand-picked hotels in this area
---
4. South Glasgow
Hand-picked hotels in this area
---
Read this article in other languages