Portland is a fascinating city located in the Pacific Northwest of the United States. Known for its vibrant arts scene, environmental consciousness, and stunning natural beauty, this bustling urban center attracts those eager to explore its numerous attractions.
---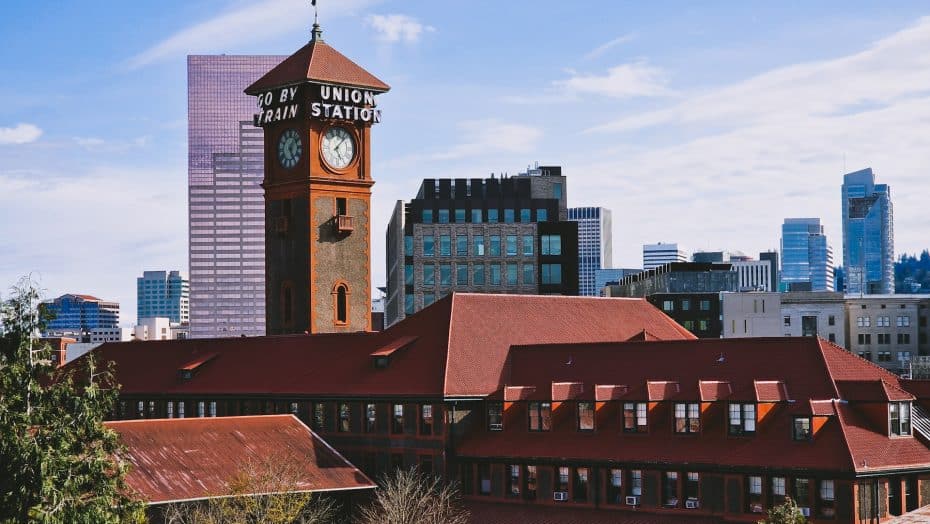 The history of Portland dates back to the mid-19th century when it was settled as a trading center for the Oregon Territory. Over the years, it has transformed into a thriving metropolis that effortlessly embraces urban sophistication and its rich natural environment.
Some noteworthy attractions in Portland include the International Rose Test Garden, which houses over 10,000 rose bushes representing over 500 species. The Oregon Zoo is another popular destination, home to animals from around the world. Art enthusiasts will appreciate the Portland Art Museum and the contemporary art galleries scattered throughout the city.
In addition to its cultural attractions, Portland is also a haven for outdoor enthusiasts. Forest Park, one of the largest urban forests in the United States, offers miles of hiking and biking trails right within city limits. Moreover, scenic locations such as Mount Hood and Multnomah Falls are just a short drive away, providing breathtaking views and ample opportunities for outdoor activities.
---
---
Top Attractions and Things to Do in Portland, Oregon
1. Washington Park
4033 SW Canyon Rd, Portland, OR 97221, USA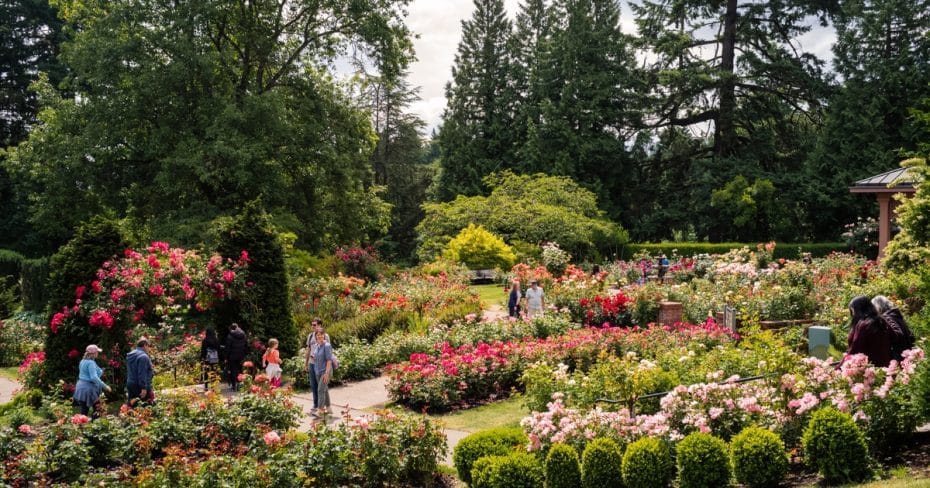 Washington Park encompasses 410 acres of lush green space. Established in 1871 and originally named City Park, Washington Park is situated west of Downtown Portland, bordered by West Burnside Street to the north and Southwest Kingston Avenue to the south. As one of the oldest parks in Portland, it is also one of its must-visit attractions.
The park houses several noteworthy attractions. The Oregon Zoo, founded in 1888 by pharmacist Richard Knight, is home to over 2,000 animals representing over 200 species. The International Rose Test Garden, established in 1917, features over 10,000 individual rose bushes spanning 650 varieties, contributing to Portland's reputation as the "City of Roses." Other key sites include the Portland Japanese Garden (1967), Hoyt Arboretum (1928), and a notable statue of Sacagawea (1905), in recognition of her role as a guide during the Lewis and Clark Expedition.
Visitors can take TriMet bus line #63 or the MAX Red or Blue Line trains to Washington Park Station to reach Washington Park from downtown Portland. Parking is also available throughout the park for those who wish to drive. The park can be accessed year-round from 5:00 a.m. to 10:00 p.m.
---
2. Oregon Zoo
4001 SW Canyon Rd, Portland, OR 97221, USA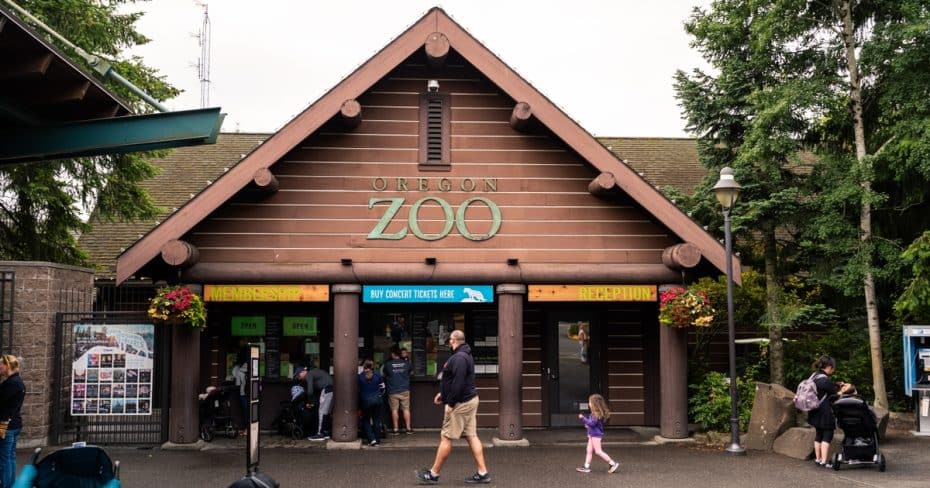 Oregon Zoo was established in 1888 when Richard Knight, a local pharmacist, donated a small collection of animals to the city. This makes Oregon Zoo the oldest North American zoo west of the Mississippi River. Occupying 64 acres within Washington Park, the zoo is situated alongside other renowned attractions such as the International Rose Test Garden and Portland Japanese Garden.
Originally called "The Portland Zoo," it was renamed "Oregon Zoo" in 1998. The zoo is known for its remarkable conservation efforts, research initiatives, and educational programs. Throughout its history, the zoo has been home to numerous well-known animals, like Packy the elephant, who was born in 1962 – the first elephant born in a US zoo in 44 years.
The zoo has five major thematic areas: Great Northwest, Fragile Forests, Asia, Pacific Shores, and Africa. These sections host more than 2,000 animals from over 200 species, including elephants, penguins, primates, and big cats like lions and cheetahs.
The zoo operates daily from 9:30 a.m. to 5 p.m. with extended hours during summer months (mid-March through September), opening at 9:30 a.m. and closing at 6 p.m.
---
3. Portland Japanese Garden
611 SW Kingston Ave, Portland, OR 97205, USA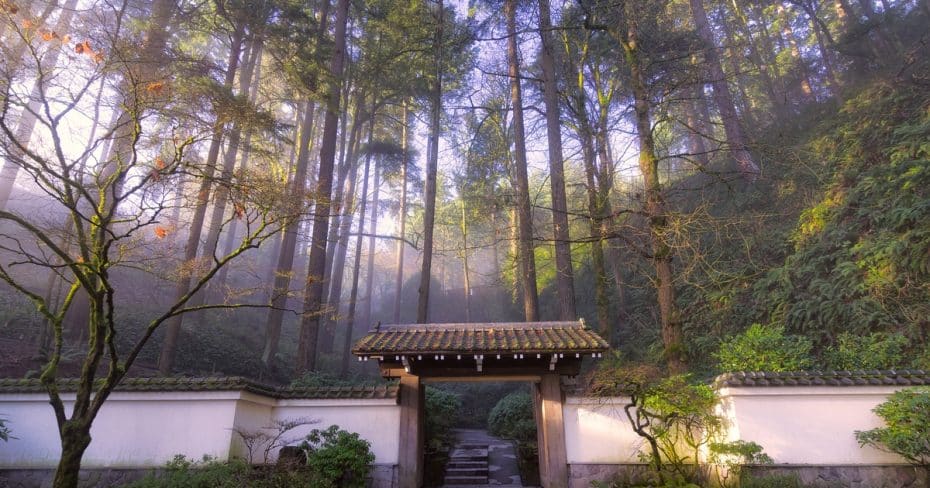 Portland Japanese Garden, located within Washington Park, is a 12-acre traditional Japanese garden that was established in 1963. Professor Takuma Tono, a renowned Japanese landscape architect from Tokyo Agricultural University, created the garden to represent the friendship between Japan and the United States after World War II. The garden is divided into five distinct areas: the Strolling Pond Garden, the Tea Garden, the Sand and Stone Garden, the Natural Garden, and the Flat Garden.
Situated at an elevation of approximately 500 feet above downtown Portland, Portland Japanese Garden offers stunning views of Mount Hood and the city's skyline. Among its many attractions are authentic structures such as the Pavilion Gallery, built in 1980, designed by renowned architect Kengo Kuma, and a traditional tea house known as Kashintei.
The vegetation in Portland Japanese Garden is carefully selected to evoke a sense of tranquility and peace. It features more than 200 species of plants native to Japan and includes cherry trees, Japanese maples, rhododendrons, azaleas, and mosses.
---
4. International Rose Test Garden
400 SW Kingston Ave, Portland, OR 97205, USA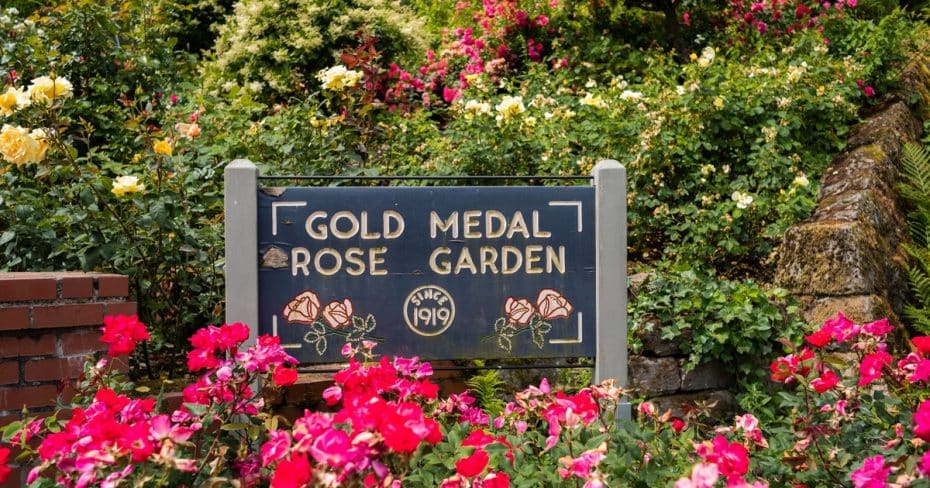 The International Rose Test Garden is an extensive garden and a vital center for rose research. Established in 1917 by Jesse A. Currey, a local rose enthusiast, it served as a sanctuary for European hybrid roses during World War I.
The International Rose Test Garden houses over 10,000 rose bushes, representing approximately 650 different varieties. A notable feature of the garden is the Shakespeare Garden, which contains roses mentioned in the works of William Shakespeare. Additionally, the garden serves as an official testing ground for the All-America Rose Selections (AARS), which evaluates the performance of new rose hybrids.
To enhance their experience, visitors may opt for guided tours led by trained volunteers, available from May through September at specific hours.
---
5. Powell's City of Books
1005 W Burnside St, Portland, OR 97209, USA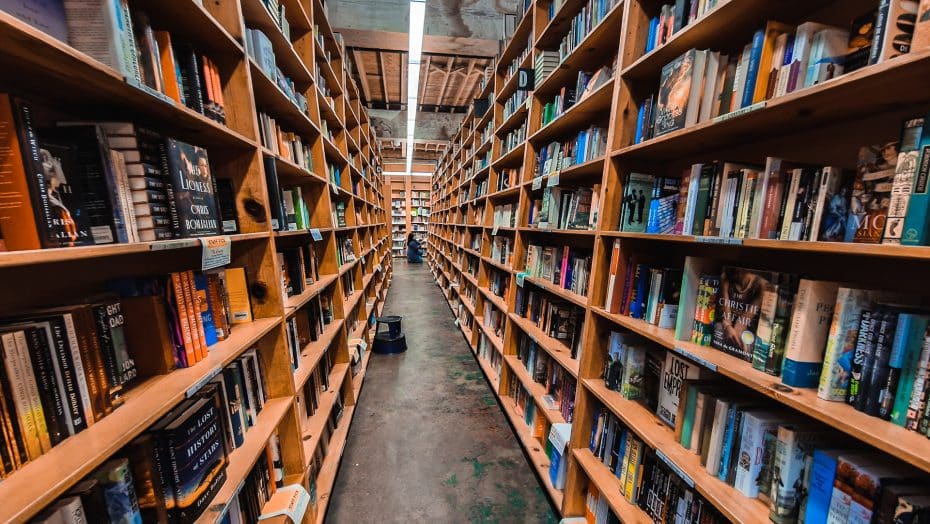 Powell's City of Books, founded by Walter Powell in 1971, is an iconic independent bookstore situated in Portland, Oregon. With roots in a small bookstore started by Walter's son, Michael Powell, in Chicago, this family-owned enterprise has grown to become the world's largest independent new and used bookstore. The store occupies an entire city block, spreading across 68,000 square feet and housing over one million books.
---
6. Pittock Mansion
3229 NW Pittock Dr, Portland, OR 97210, USA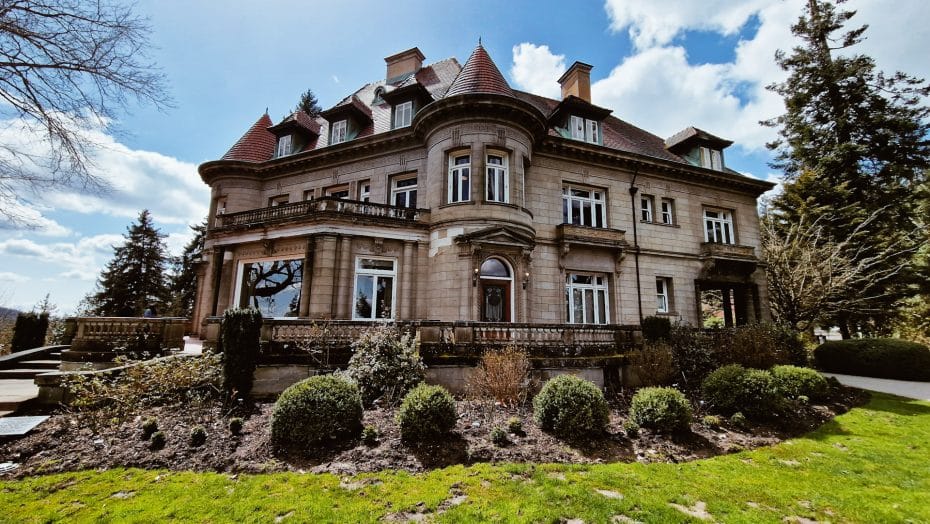 Pittock Mansion, a historic house museum in Portland, was built in 1914 by Henry Pittock, the founder of the Oregonian newspaper. Designed by architect Edward Foulkes and encompassing 46 acres, this French Renaissance-style chateau offers a remarkable view of five Cascade Range mountains. Its elevation of 1,000 feet above Portland ensures that it offers sweeping panoramas of the urban landscape.
Featuring 22 rooms and covering an area of approximately 16,000 square feet, the mansion boasts an elegant Victorian style. Some notable elements include a central vacuum system, intercoms, and indirect lighting.
Within the mansion there are different areas such as the grand ballroom, music room, library, and lavish bedrooms adorned with antique furnishings. The surrounding gardens offer a harmonious blend of horticulture and picturesque landscapes.
---
7. OMSI – Oregon Museum of Science and Industry
1945 SE Water Ave, Portland, OR 97214, USA
OMSI, the Oregon Museum of Science and Industry, is a distinguished science center established in 1944 by physicist John C. Stevens. The museum spans an expansive 219,000 square feet as it sits along the eastern bank of the Willamette River.
The museum includes numerous exhibits covering scientific disciplines such as physics, chemistry, and Earth sciences. Standout attractions include the USS Blueback submarine, which was featured in the movie "The Hunt for Red October." OMSI also houses a planetarium with Laser Light Shows and live presentations on astronomy and space.
---
8. Pioneer Courthouse Square
701 SW 6th Ave, Portland, OR 97204, USA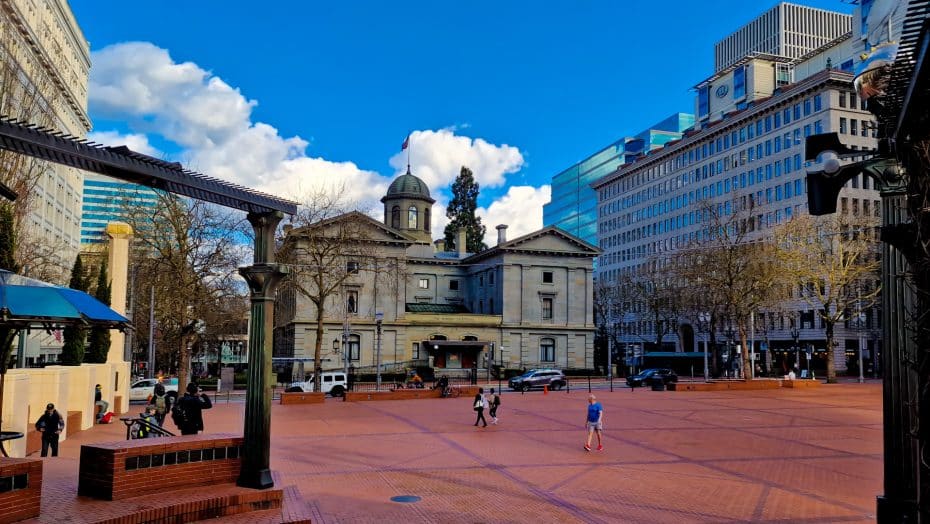 Pioneer Courthouse Square is a bustling urban park located in the heart of downtown Portland. Often referred to as "Portland's living room," the square hosts a variety of events throughout the year, including concerts, farmers' markets, and holiday celebrations. The iconic square is surrounded by historic buildings and numerous shops, cafes, and restaurants, making it a great starting point for visitors exploring the city.
The square derives its name from the Pioneer Courthouse, a historic federal building completed in 1875 that stands at the square's eastern edge.
---
9. Lan Su Chinese Garden
239 NW Everett St, Portland, OR 97209, USA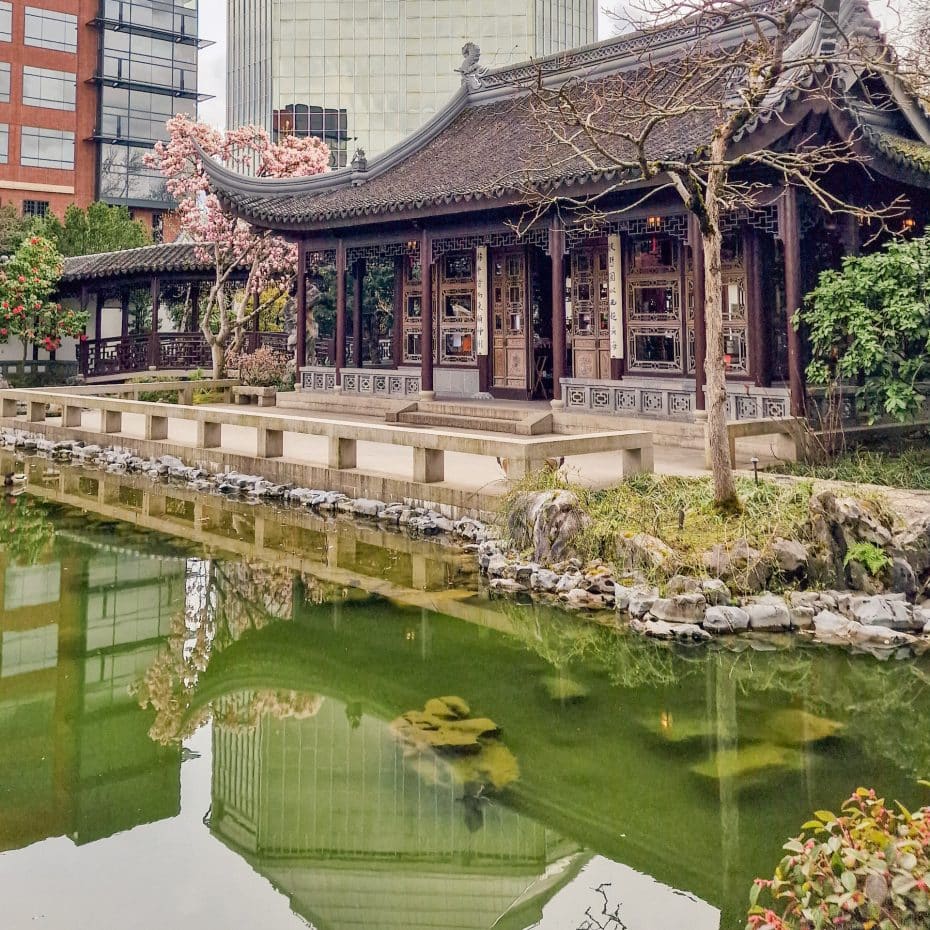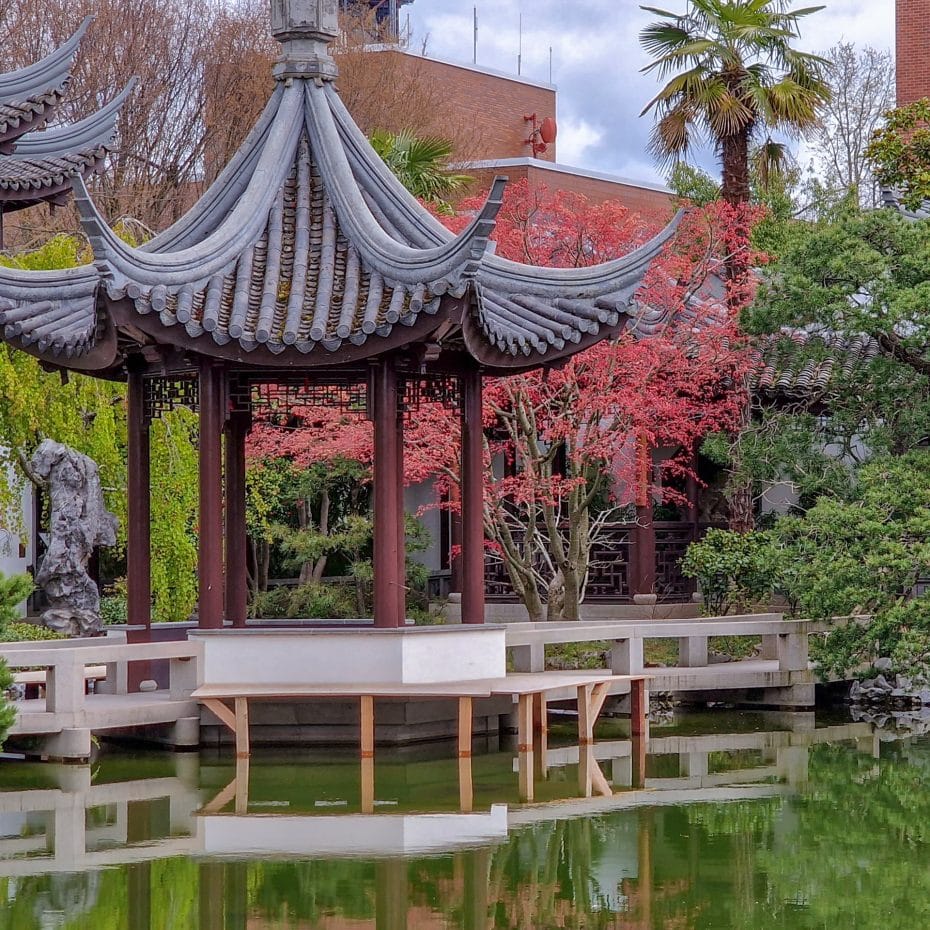 Lan Su Chinese Garden is a magnificent representation of classical Suzhou-style gardens. Inaugurated on September 2000, the garden was a collaborative effort between Portland and its sister city, Suzhou, China. Covering an area of 40,000 square feet, it is enclosed by a wall featuring four distinct galleries.
The garden showcases traditional Chinese architecture, landscaping techniques, and more than 300 plant species indigenous to China. Visitors can explore the Tower of Cosmic Reflections, a two-story traditional Chinese structure housing the Teahouse, offering insight into Chinese tea culture. Another point of interest in the garden is the Scholar's Courtyard, which serves as a hub for learning and contemplation, surrounded by unique rock formations.
---
10. Portland Art Museum
1219 SW Park Ave, Portland, OR 97205, USA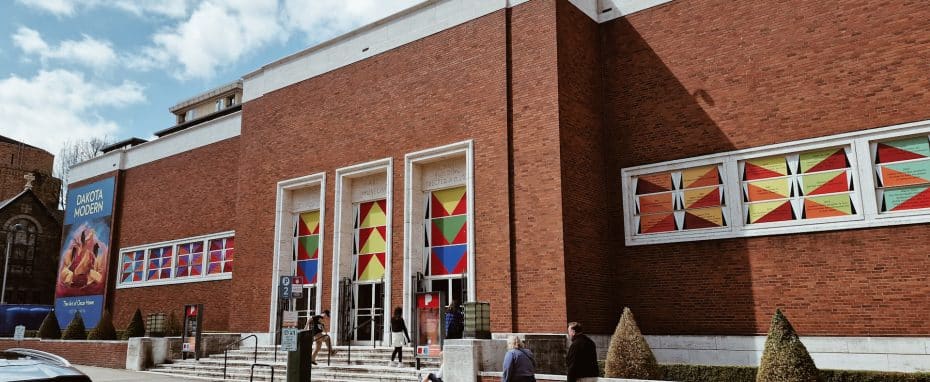 The Portland Art Museum, founded in 1892, holds the title of the oldest art museum in the Pacific Northwest. Located in Downtown Portland, Oregon, this esteemed institution lies within the city's Cultural District. It was established through the efforts of seven leaders from Portland's art industry, including William Whidden and Anna Belle Crocker.
The museum comprises three interconnected buildings and has expanded significantly over time. The original Belluschi Building was designed by architect Pietro Belluschi and completed in 1932. The Mark Building, a former Masonic temple built in 1925, was incorporated into the museum's structure in 2005. Lastly, the sculpture plaza features an outdoor exhibition area showcasing various sculptures.
Visitors to the Portland Art Museum can expect to find a collection of over 42,000 artwork pieces from various regions and periods and distinct categories. Specifically, their holdings include European and American art from the Middle Ages to today, Native American art from prehistoric times to modern-day Oregon artists, and a superb collection of Asian art that spans more than two millennia.
---
11. Pearl District Shopping and Dining
Pearl District, Portland, OR, USA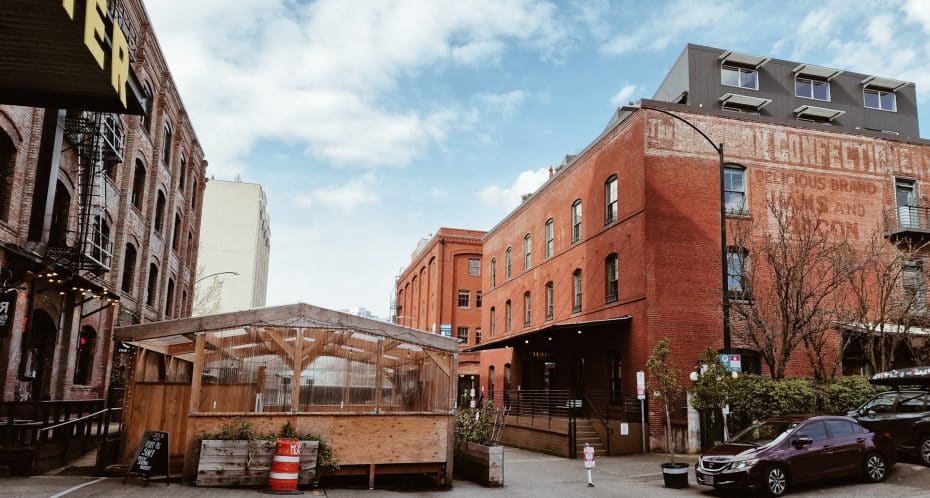 Portland's Pearl District boasts a rich history and vibrant atmosphere. Originally an industrial area in the early 20th century, it underwent significant redevelopment during the 1990s and early 2000s, transforming it into the bustling neighborhood it is today.
One notable feature of the Pearl District is its dining scene, which offers a variety of upscale restaurants and cafes. One must-visit spot is Andina, which serves up exquisite Peruvian cuisine and creative cocktails in a warm and inviting atmosphere. For those craving Italian fare, Oven & Shaker is the go-to location for delicious wood-fired pizzas and craft cocktails.
The Pearl District also showcases an impressive shopping scene with numerous high-end boutiques and independent retailers. Spanning over an entire city block between NW 10th & 11th Avenues and W Burnside Street & NW Couch Street is Powell's City of Books. Meanwhile, another notable shopping destination is The Armory Theater on NW Eleventh Avenue, which was constructed as part of the WWI war effort back in 1911 to create better access to military supplies; it now serves as home to Portland Center Stage.
---
12. Hawthorne
SE Hawthorne Blvd, Portland, OR, USA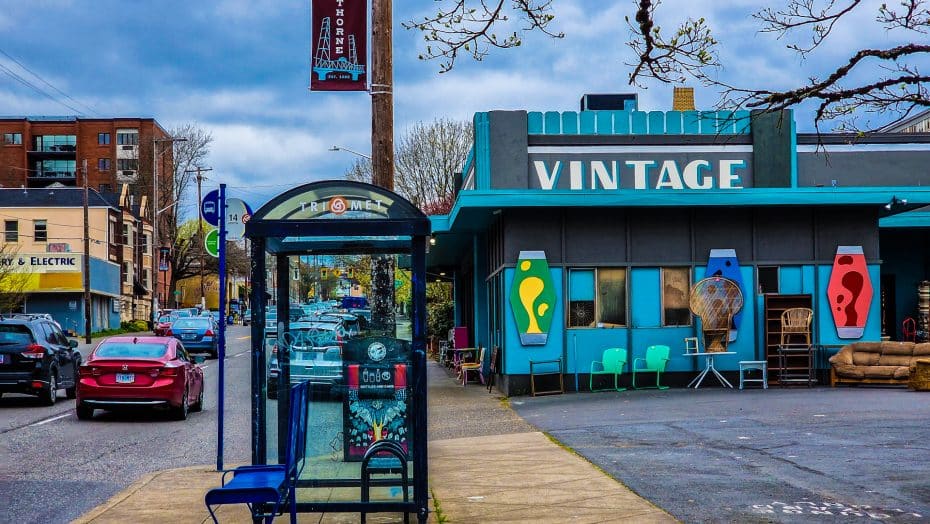 Hawthorne, a district located in Southeast Portland, is known for its vibrant dining and shopping scenes. The bustling area stretches primarily along Southeast Hawthorne Boulevard, between Southeast 12th Avenue and Southeast 60th Avenue. With a rich history dating back to the late 19th century, Hawthorne has evolved into a hub of eclectic shops and restaurants.
Hawthorne offers a great selection of restaurants, including Harlow, which has been serving creative vegetarian and vegan cuisine since 2012. Another notable dining option is Farmhouse Kitchen Thai Cuisine, where visitors can savor authentic Thai dishes.
Hawthorne's shopping scene boasts several independent retail stores. For vinyl lovers, Jackpot Records has been offering music aficionados an extensive collection of rare and new LPs since their opening in 1997. Meanwhile, those interested in eco-friendly products can explore EcoVibe Apparel at 1408 SE Belmont St.
---
13. Alberta Arts District
NE Portland, OR, USA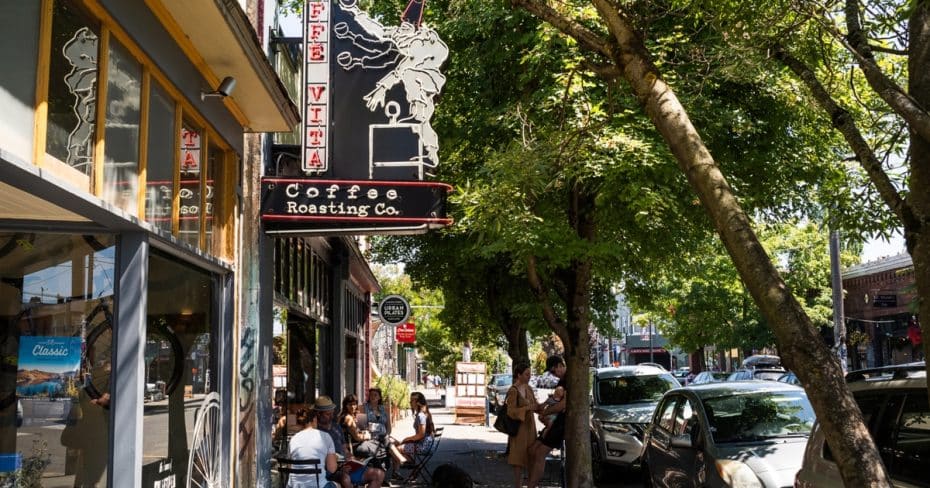 The Alberta Arts District, located in northeast Portland, is a culturally rich neighborhood known for its historical roots, creative spaces, and distinctive attractions. The district spans along Alberta Street from NE Martin Luther King Jr. Boulevard to NE 33rd Avenue.
Initially settled in the early 1900s, Alberta Arts District became a thriving community for African Americans during the construction of the Interstate 5 (I-5) in the 1960s. The transformation of this neighborhood into an artistic hub began with the Last Thursday art walk, initiated in 1997 by local artists Thelma Johnson Streat and Roslyn Hill. This monthly event welcomes visitors to explore numerous galleries, studios, and public artworks.
Prominent artistic venues include the Alberta Street Gallery, Guardino Gallery, and Sidestreet Arts. Visitors can admire the intricate community mural titled "Alberta Artistic License" created in 2009 by Chris Haberman and Jeremy Nichols at NE 20th Avenue and Alberta Street.
The district is well-connected by public transportation; TriMet buses #72 and #17 provide easy access to Alberta Arts from various parts of Portland.
---
14. Mississippi Avenue Food Scene
Mississippi Avenue, Portland, OR, USA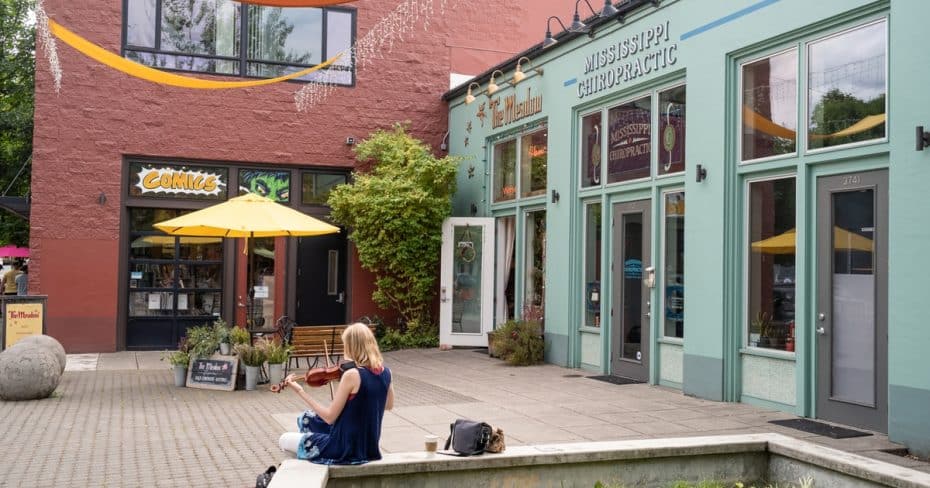 Mississippi Avenue, located in North Portland, has developed into a vibrant culinary destination over the past two decades. The food scene in this area has historical roots dating back to the early 20th century when Italian immigrants established grocery stores and eateries along the street. Today, Mississippi Avenue is well-regarded for its diverse collection of dining options that showcase various international and local cuisines.
The avenue stretches from North Fremont Street to North Skidmore Street and is conveniently accessible via public transportation, including bus lines 4 and 44, as well as the MAX Yellow Line light rail. Several bicycle lanes and ample parking spaces accommodate different modes of transportation for those visiting the area.
Notable dining destinations along Mississippi Avenue include Lovely's Fifty Fifty, known for its wood-fired pizzas and farm-to-table fare.
In addition to the food itself on Mississippi Avenue, there are several events held throughout the year that celebrate the culinary scene. Among these include annual street fairs, such as the Mississippi Street Fair held every July. During this festival, many local restaurants offer special menus or tastings.
---
15. Forest Park
4099 NW Thurman St, Portland, OR, USA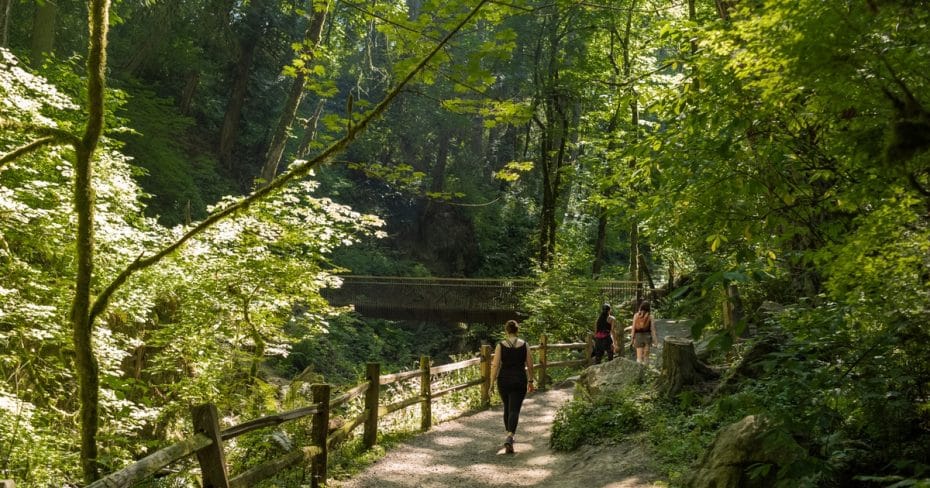 Forest Park is one of the largest urban forests in the United States, spanning over 5,000 acres. It offers a serene escape from the hustle and bustle of the city, with miles of hiking trails through lush greenery. Whether you're an avid hiker or just looking for a peaceful stroll, Forest Park has something for everyone. The park is also home to a variety of wildlife, including deer, owls, and even the occasional bald eagle. Don't forget to bring your camera, as there are stunning views of the city and the Willamette River from some of the higher elevation trails.
---
16. Voodoo Doughnut
22 SW 3rd Ave, Portland, OR 97204, USA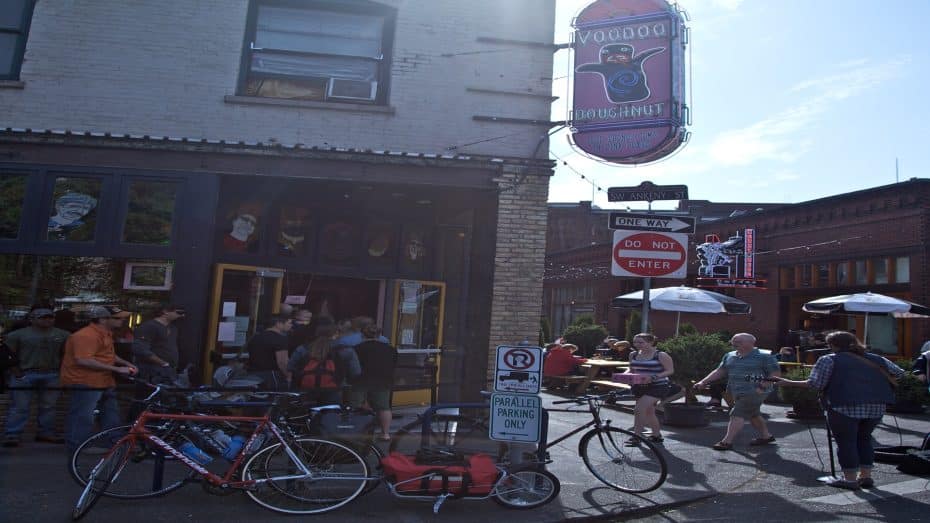 No visit to Portland is complete without a stop at Voodoo Doughnut. This quirky doughnut shop has gained worldwide fame for its creative and delicious doughnut creations. From the famous Voodoo Doll doughnut, complete with a pretzel stake, to the iconic Bacon Maple Bar, there's a flavor for every taste bud. The shop itself is a lively and vibrant space, with brightly colored walls and a fun atmosphere. Be prepared for a line, as Voodoo Doughnut is incredibly popular, but trust us, it's worth the wait.
---
17. Portland Saturday Market
2 SW Naito Pkwy, Portland, OR 97204, USA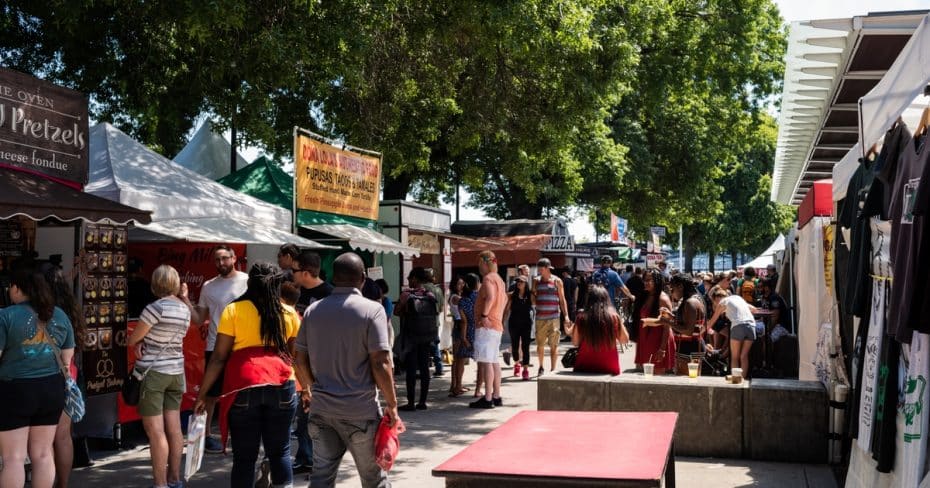 Located in the heart of downtown Portland, the Portland Saturday Market is the largest continually operating outdoor arts and crafts market in the United States. Every Saturday and Sunday from March through December, local artisans gather to showcase their unique creations. From handmade jewelry and pottery to paintings and photography, there's something for everyone at this vibrant market. In addition to the arts and crafts, the market also features live music, delicious food vendors, and a lively atmosphere. Spend a day browsing the stalls, sampling local treats, and soaking up the lively energy of the market.
---
18. Tom McCall Waterfront Park
98 SW Naito Pkwy, Portland, OR 97204, USA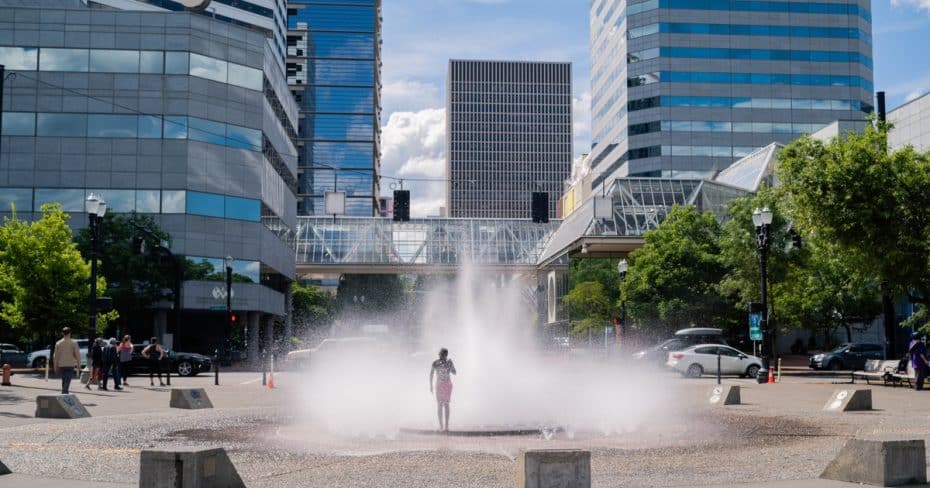 Tom McCall Waterfront Park is a beautiful urban park located along the Willamette River. Spanning over 36 acres, the park offers stunning views of the river and the Portland skyline. It's the perfect place for a leisurely stroll or a picnic on a sunny day. The park is also home to several iconic landmarks, including the famous "Portland, Oregon" sign and the Salmon Street Springs fountain, a popular spot for children to splash around in the summer months. With its scenic beauty and peaceful atmosphere, Tom McCall Waterfront Park is a must-visit destination in Portland.
---
19. Mount Tabor Park
6325 SE Division St, Portland, OR, USA
Mount Tabor Park is a hidden gem in the heart of Southeast Portland. Located on an extinct volcanic cinder cone, the park offers panoramic views of the city and the surrounding mountains. With miles of hiking trails, a beautiful reservoir, and lush picnic areas, Mount Tabor Park is the perfect place to escape the city and connect with nature. You can also explore the unique landscape and learn about the park's volcanic history. Whether you're taking a stroll, having a picnic with friends, or simply enjoying the stunning views, Mount Tabor Park is a must-visit destination in Portland.
---
---