Bogotá, Colombia's vibrant capital city, offers a perfect blend of rich history, stunning architecture, and a lively atmosphere that attracts travelers from around the world. Situated in the heart of Colombia, Bogotá is a bustling metropolis waiting to be discovered.
---
---
Things You Should Know Before Traveling to Bogotá, Colombia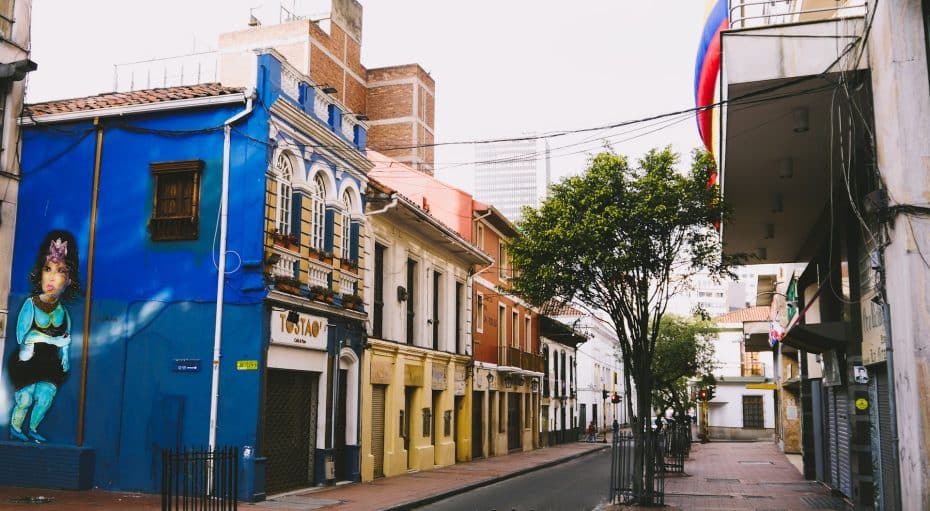 These are some essential Bogotá top travel tips to help you navigate an unforgettable journey in Colombia. Whether it's your first time in Bogotá or you've already been in the city, this article will help you make the most of your stay.
1. What's the Best Time to Travel to Bogotá?
Nestled high up in the Andes Mountains at an altitude of over 2,600 meters (8,500 feet), Bogotá experiences a subtropical highland climate. The city's elevated location results in cooler temperatures and consistent weather patterns throughout the year. Average daily temperatures hover around 14°C (57°F), with nighttime lows typically dipping to 7°C (45°F) and daytime highs reaching 19°C (66°F).
Due to its proximity to the equator, daylight remains relatively constant year-round. This means that visitors can expect approximately 12 hours of daylight each day – perfect for exploring all that Bogotá has to offer!
Rainfall also plays a significant role in shaping Bogotá's climate. Although the city receives precipitation throughout the year, two distinct rainy seasons occur from April to May and October to November.
Ultimately, the most convenient time to visit this dynamic city will depend on your interests and travel style, but here are some travel tips on the best times to visit Bogotá:
Dry Season
December through March is generally considered the best time to visit Bogotá for those hoping to avoid heavy rainfall. During these months, you'll experience less precipitation and have more opportunities for outdoor activities such as sightseeing and hiking.
Festival Season
If you're interested in culture and local events, you might want to consider visiting Bogotá during one of its many festivals. Some popular ones include the Ibero-American Theater Festival held between March and April, Rock al Parque in June or July, and the Bogotá International Film Festival in October.
Off-Peak Season
If you prefer to explore when there are fewer tourists, consider visiting during the shoulder seasons of September and October or April and May.
---
2. Getting to Bogotá
The most convenient way to reach Bogotá is by air. The city's main airport, El Dorado International Airport (BOG), is roughly 15 km (9 mi) from the city center and is a hub for numerous international and domestic flights.
You can find direct flights from major cities across Europe, North America, and South America. Several airlines operate regular services to Bogotá, including national carrier Avianca, American Airlines, Iberia, and many more.
Be sure to check out airfare comparison websites for the best deals.
From the US & Canada
Several North American airlines offer flights from various cities in the US and Canada to Bogotá's El Dorado International Airport, including American Airlines, Delta, United, and Spirit. American Airlines offers direct flights from Miami and Dallas, while Delta offers direct flights from Atlanta and New York City. United and Spirit both provide direct flights from Fort Lauderdale. Meanwhile, Air Canada operates direct flights from Toronto and Montreal.
Avianca has direct connections between El Dorado and several US cities, including New York City, Miami, Dallas, Orlando, San Francisco, and Los Angeles.
From Europe
Bogotá is well-connected to a handful of European cities, particularly in Spain. Iberia, Air Europa, and Avianca offer direct connections between Madrid-Barajas and El Dorado. Meanwhile, Air France-KLM, Turkish Airlines, and Lufthansa operate flights from Paris, Amsterdam, Istanbul, and Frankfurt, respectively.
From the rest of Colombia & Latin America
Thanks to its status as an important regional hub, El Dorado Airport is served by many Colombian airlines flying domestically, including Avianca, LATAM, and Satena. Popular domestic and short-haul destinations include Medellín, Cartagena, Barranquilla, Cali, Panama City, Caracas, Quito, Guayaquil, and Lima.
By Bus
If you're already in Colombia, you can take a bus to Bogotá from many major cities. One of the most popular routes is from Medellín, which takes about 9 hours. Buses from Cali and Barranquilla also offer service to Bogotá. While the bus ride can be long, it can also be scenic (and cheaper) to see the country and its landscapes.
Many bus companies also reach Bogotá from major cities in Ecuador, Peru, and the Venezuelan border.
---
3. Transportation in Bogotá
One of the most surprising things to many travelers is that Bogotá doesn't have a subway system. The closest thing to a metro in Bogotá is the TransMilenio, a massive rapid bus system that covers much of the city. With over 140 stations covering the city's most important areas, Transmilenio is a relatively fast and efficient way to travel. The buses are spacious, air-conditioned, and safe.
Additionally, the city offers several transportation options, including traditional buses, taxis, Uber, and bike rentals.
---
4. Best Area to Stay in Bogotá
If you're planning a trip to Bogotá, choosing the right area to stay in to make the most of your experience, especially as a foreigner or if it's your first time visiting the city, is crucial.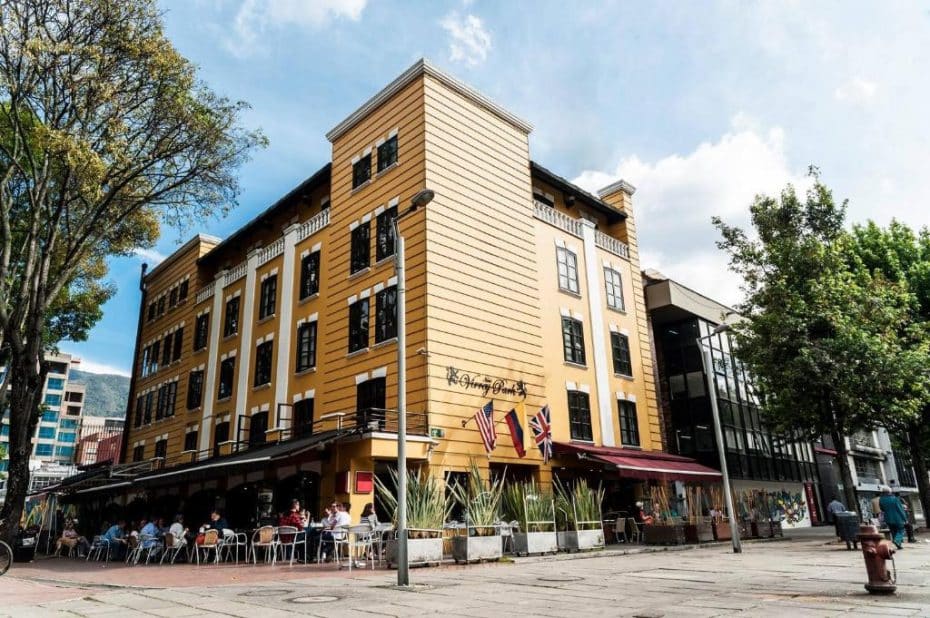 One of the most important things you should be aware of is Bogotá's marked North-South divide, a prominent feature of the city's urban landscape. The southern part of the city is generally poorer than the northern side, which tends to be more affluent, safer, and tourist-friendly.
Bogotá's Zona Rosa

, also known as Zona T, is the best place to stay in Bogotá for those seeking sophistication and fun. This 

vibrant nightlife and commercial district

 is home to some of 

the hottest nightclubs

 in the Colombian capital, as well as restaurants, shopping centers, and designer boutiques.
La Candelaria, the city's historic neighborhood, is also popular, thanks to its many sights and history. It's home to various museums, galleries, and restaurants. Meanwhile, Chapinero is a lively nightlife area with a great blend of residential and commercial spaces. For those interested in a more upscale experience, Usaquén is the perfect choice for luxury hotels and fine dining.
---
5. Top Things to See in Bogotá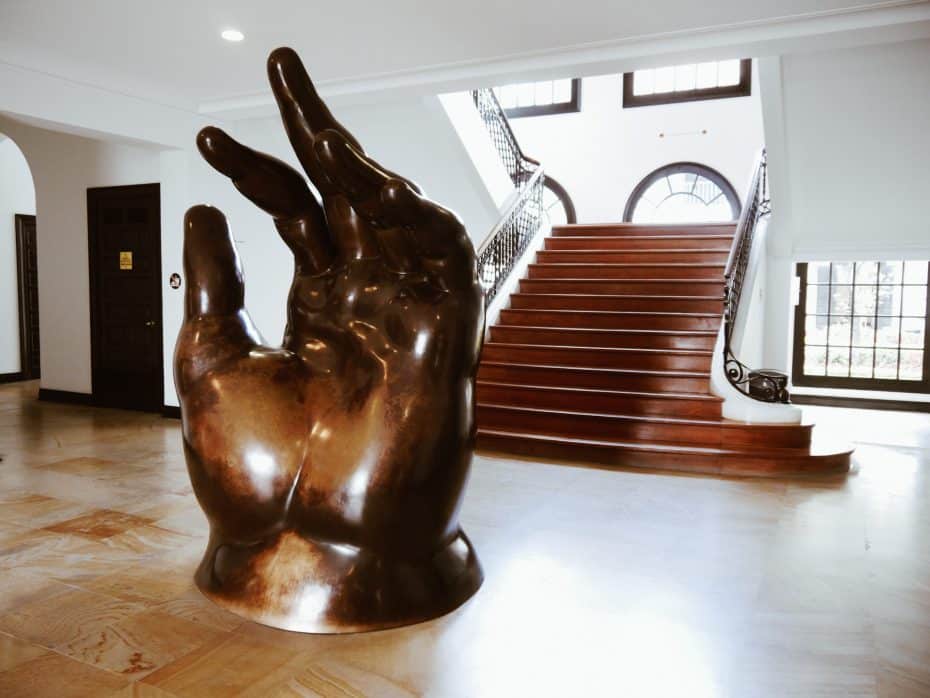 There are many must-see attractions in Bogotá. From incredible museums and galleries to breathtaking viewpoints, quaint colonial quarters, and modern shopping and nightlife districts. These are some of the most popular sights in the Colombian capital:
Gold Museum:
The Gold Museum is located in the heart of the La Candelaria historic district. It houses an incredible collection of pre-Columbian gold and precious stone artifacts. The museum is open from Tuesday to Sunday and offers free admission on Sundays.
Bogota Gold Museum tickets, activities & tours
Botero Museum:
The Botero Museum in Bogotá is dedicated to the works of Fernando Botero, a world-renowned Colombian artist known for his captivating and voluptuous sculptures and paintings. The museum boasts an impressive collection of Botero's works, as well as pieces from other famous artists.
Museo Botero tickets, activities & tours
Plaza Bolívar:
Plaza de Bolívar is an iconic public square in the heart of the city center and surrounded by some of Bogotá's most important buildings, including the Palace of Justice, the Cathedral of Bogotá, and the National Capitol.
Cerro Monserrate:
Monserrate is a mountain located just east of the city center. The view of the city's sprawling landscape from the top of the mountain is breathtaking. Visitors can reach the summit via a funicular or cable car, both of which offer stunning views on the journey up.
Cerro Monserrate guided tour + tickets
Zona Rosa:
This vibrant and diverse area is known for its upscale bars, restaurants, and clubs that attract a stylish and cosmopolitan crowd. Offering a range of options from chic rooftop bars to famous dance clubs, Zona Rosa has something for everyone. During the day, the area is ideal for shopping and dining, with a variety of high-end boutiques and restaurants to explore.
Specialty coffee workshops in Bogota
Zipaquirá Salt Cathedral:
The Zipaquirá Salt Cathedral is an underground Roman Catholic church built within the tunnels of a salt mine. It is located about an hour away from Bogotá.
Catedral de Sal guided tours & activities
---
6. Is Bogotá Safe for Tourists?
When planning a trip to Bogotá, safety might be a concern for many travelers. While the city has a complicated history with drug cartels and violence, it has made significant progress to become a safer and more enjoyable destination in recent years. To stay safe, it's crucial to avoid walking alone at night, especially in isolated areas, and stick to well-lit tourist spots. Additionally, it's essential to use reputable taxi companies or ride-sharing apps like Uber and to keep your belongings close at all times.
As a rule of thumb, the northern districts, where many tourists stay, are generally safe. The southern districts, however, are generally considered less safe, and visitors should avoid walking around alone at night.
Is Bogota Safe for Women Travelers?
Safety might be an even more significant concern for women travelers when visiting Bogotá. While the city has made significant progress in combating violence, incidents of sexual harassment and assault still occur, particularly in crowded public spaces. It's recommended to dress conservatively, avoid driving attention to yourself, and stay aware of your surroundings, especially around the city center or the aforementioned southern districts.
If possible, it can be helpful to travel with a group or have a local guide who can show you around safely.
Is Bogota Safe for LGBTQ+ Travelers?
As with many international destinations, LGBTQ+ travelers may be concerned about Bogotá's safety. While the city is generally considered a gay-friendly place (especially among Latin American countries) and a safe destination for queer visitors, it's important to remember that discrimination and hate crimes against the LGBTQ+ community occasionally occur.
That being said, Bogotá has made progress in recent years with legal protections for LGBTQ+ individuals and a growing community that is becoming more visible. The Chapinero neighborhood is a hub for the LGBTQ+ community, with many bars, clubs, and restaurants catering to a queer audience.
However, it's essential to exercise caution when visiting certain areas, especially at night, and to research specific venues beforehand to ensure they are LGBTQ+ friendly.
---
7. Bogotá's Food Scene
The Colombian capital's food scene is a major draw for visitors to the city. From traditional Colombian cuisine to international dishes, Bogotá has a thriving culinary scene. A must-visit for any foodie is the Paloquemao Market, where you can try local fruits, vegetables, meats, and other delicious treats. Another popular spot is La Candelaria, where you can find cozy cafés, restaurants, and street food vendors.
Zona G is a must if you're looking for a more upscale dining experience. This trendy neighborhood is close to Zona T and home to some of the city's best restaurants, serving everything from local Colombian dishes to international cuisine. The area is known for its vibrant atmosphere and lively nightlife.
When sampling Colombian cuisine in Bogotá, there are a few dishes you simply cannot miss. One of the most beloved is ajiaco, a hearty soup made with chicken, corn, potatoes, and an array of spices. Another must-try dish is bandeja paisa, a filling meal that consists of rice, beans, ground beef, fried pork belly, and a fried egg, among other tasty components. Arepas, corn cakes typically filled with cheese and other ingredients, are another Colombian staple.
---
8. Bogotá Nightlife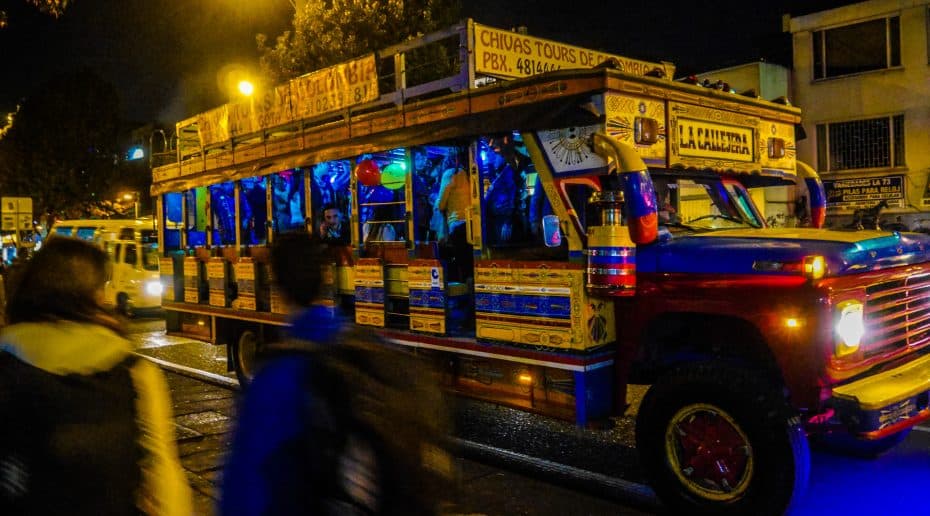 Bogotá's nightlife scene is vibrant and exciting, with a wide range of options for travelers looking to party the night away. Zona Rosa is a lively district known for its trendy bars and clubs. The area is particularly popular with young locals and visitors, and it's a great place to experience the energy and excitement of Bogotá after dark. Other hotspots include Parque de la 93, which offers a more relaxed vibe, and the La Macarena and La Candelaria neighborhoods, known for their bohemian atmosphere and eclectic mix of bars.
For those who enjoy live music, there are plenty of spots to catch a show, including rock bars like Nem Catacoa and Latino Power, as well as jazz venues like Gato Negro and Satchmo. Those who prefer electronic and techno music will find no shortage of clubs like Baum, Video Club, and Octava. And for those who want to relax with a drink and some good conversation, Bogotá has a variety of cozy bars, like El Perro y La Galleta and El Parche de la 93, where you can unwind and socialize.
For the LGBTQ+ crowd, Bogota's queer nightlife scene is also legendary. The most popular Discoteca in town is Theatron. This multi-level club features different themed rooms playing a variety of music genres ranging from pop music to reggaeton, salsa, or ranchera.
---
9. Bogotá Travel Budget
When it comes to travel expenses, Bogotá can be an affordable destination for savvy travelers. While restaurants may be more expensive in Zona Rosa and the northern districts, plenty of budget-friendly options are still available throughout the city, especially in La Candelaria.
Likewise, accommodation costs tend to be noticeably lower in Bogotá than in other major US and European cities, and they can be even lower than other comparable destinations in South America. Hostels are an excellent option, with prices starting as low as $10 per night for a bed in a shared dorm. Mid-range hotels, on the other hand, offer a comfortable stay with prices ranging from $30-70 per night. Finally, for those looking for a more luxurious experience, high-end hotels can go anywhere from $80 to $200 per night.
The city's public transportation system is also relatively inexpensive and easy to navigate. Taxis and Uber are also affordable.
Money-Saving Tips for a Trip to Bogotá
To ensure a fair taxi ride, only hail a taxi with a metered fare. Some taxi drivers have been known to overcharge tourists.
When it comes to cheap eats, visit the local markets. You can find delicious meals for just a few dollars, making it an affordable way to dine in the country.
For a budget-friendly lunch option, look for restaurants offering "almuerzo ejecutivo" or set menus. These meals usually cost only a few dollars and come with a drink and sometimes even dessert.
Always keep Colombian pesos on you. Foreign currencies are not widely accepted.
When paying by card, choose the option to pay in COP whenever possible. Conversion rates given by the local banks are usually more favorable than the ones given by most American and European banks.
Likewise, I found it cheaper to withdraw local money from ATMs than using currency exchange offices. Banco Davivienda had the most reasonable conversion rates.
If you're in the mood for a drink, try the local beer. Colombia produces its own beer brands, which are cheaper than the imported stuff. Drinking like a local can save you some money.
---
10. Bogotá Travel Tools & Websites
---
Read this post in other languages:
|ES| Consejos para viajar a Bogotá, Colombia.
---