There are many things that come to mind when thinking of Amsterdam.
The capital of the Netherlands mixes renowned museums, streets where cycling seems to be worshipped, beautiful canals, tulips and entertainment for all audiences.
However, a Red Light District with more than 300 shop windows with prostitutes, coffee shops where you can legally consume marijuana, clubs and bars of all kinds make Amsterdam an attractive destination for its decadence and wild nightlife that, perhaps, can only be topped by Berlin.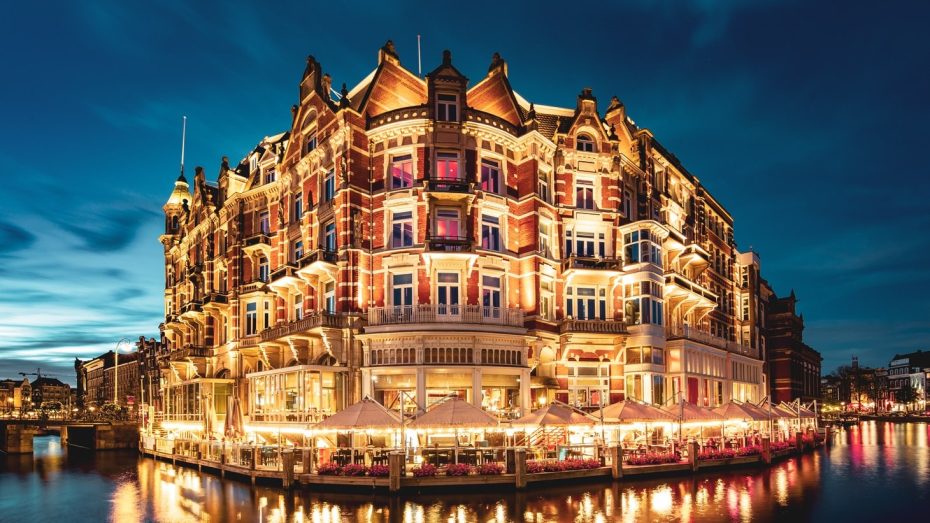 If you are thinking of travelling to Amsterdam to go out, the first thing you have to know is that it is a very safe city and that, unlike other cities in Europe like Madrid, the party in Amsterdam starts early, as the clubs only open until 1:00 a.m. from Monday to Thursday and until 3:00 a.m. on weekends.
On the other hand, one of the best things about partying in Amsterdam is that dress codes practically do not exist, so jeans and a T-shirt are enough to enter almost any nightclub, except for more exclusive venues.
If you've come this far, you're probably wondering why choosing the best area to stay in Amsterdam for nightlife is so important. Considering that trams only work until midnight, it is in your best interest to stay close to the places you want to visit or that suit your interests, to save time and money.
Places like De Pijp are ideal to discover the most alternative side of the city, while Leidseplein and Rembrandtplein are among the best areas to stay in Amsterdam for nightlife for their luxury clubs.
Here are the best neighbourhoods and areas to stay in Amsterdam for nightlife.
The Best Areas to Stay in Amsterdam for Nightlife
1. De Pijp – Hipster Paradise
De Pijp is located south of the canals of Amsterdam and is an area that stands out for its bohemian atmosphere.
This is one of the quintessential hipster neighbourhoods of Amsterdam, with a large number of craft beer bars and, of course, many coffee shops where cannabis use is legal.
Among the attractions in this area of ​​Amsterdam, the Albert Cuyp Market stands out, where you can buy typical food from the Netherlands, including delicious waffles, second-hand clothes and all kinds of vintage items.
Other activity that can be done in De Pijp is the Heineken Experience, a tour of Holland's most popular brewery.
Although De Pijp does not have as many clubs as other neighbourhoods, it is one of the best areas to tay in Amsterdam for nightlife due to its alternative and less touristy bars, recommended for those who want to know a more authentic facet of the city.
In addition, De Pijp is connected to the rest of Amsterdam by trams and is quite centrally located.
Hand-picked Hotels in This Area
---
2. Leidseplein – For concerts and exclusive parties
Leidseplein Square is one of the main entertainment centres of Amsterdam and is surrounded by shops, bars, restaurants, cafes and nightclubs.
This square has a privileged location within the canals of Amsterdam, northeast of the Vondelpark, one of the most important urban parks in the city, with an open-air theatre and many recreation areas.
It is in this area that Paradiso is located, a 19th century church turned into a concert hall where artists such as Arctic Monkeys, Adele, Amy Winehouse and Arcade Fire have performed, to name just a few.
Therefore, the surroundings of Leidseplein are among the best areas to stay in Amsterdam for nightlife and to enjoy live music.
Here, you will also find some of the most exclusive clubs in Amsterdam, so you will probably have to get a good outfit if you want to party in this area.
Need more reasons to stay at Leidseplein? Then, you have to know that this area has the best transport connections in Amsterdam.
Hand-picked Hotels in This Area
---
3. Rembrandtplein – For a Little bit of Everything
Rembrandtplein Square has undergone a drastic transformation, from being a dairy market to becoming a hub of Amsterdam entertainment.
Located in the heart of the city, south of the Red Light District, this area is home to some of the most popular bars and clubs in Amsterdam such as Club Rain and Escape, for example.
The surroundings of Rembrandtplein are also very gay-friendly, so here you will find a good number of bars, shops and cafes aimed at the LGBT community.
However, Amsterdam's big gay clubs are in other neighbourhoods.
This charming area, which is very pedestrian-friendly, has excellent transport connections to the rest of the city, including several tram stops.
Rembrandtplein is one of the best areas to stay in Amsterdam to party due to its clubs and bars with different themes and musical styles.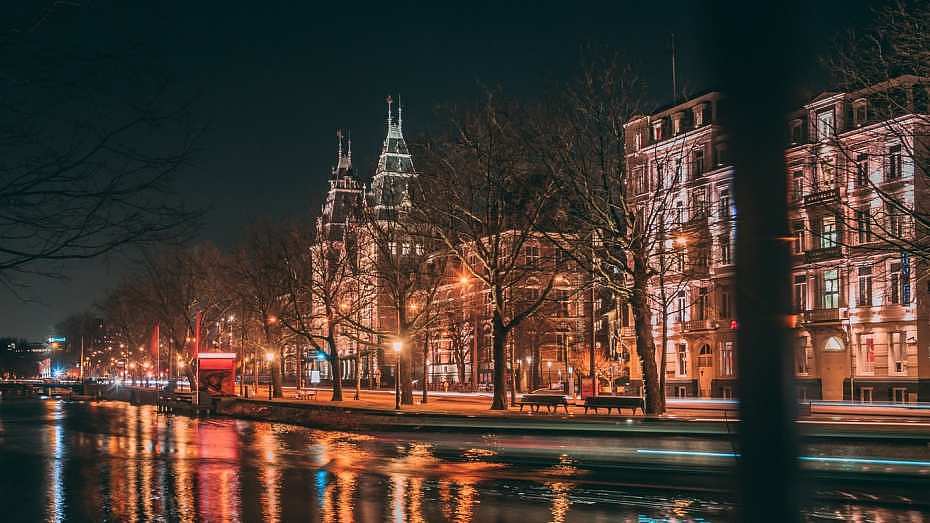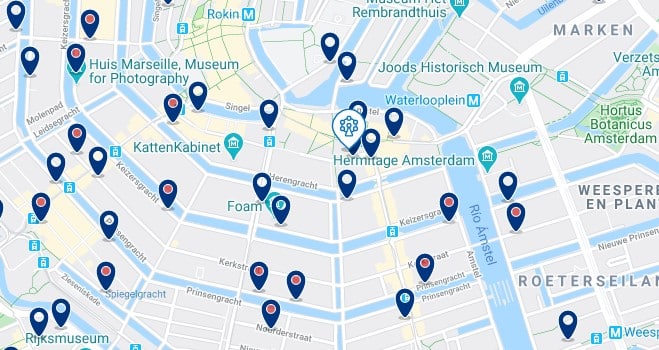 The nightlife here includes:
Hand-picked Hotels in This Area
---
4. Red Light District – More Than You Would Expect
The Red Light District is one of the most famous neighbourhoods in Amsterdam and in the world, so no visit to the city would be complete without, at least, a walk through its alleys.
Amsterdam's Red Light District is known for its neon-lit shop windows where prostitution is legally practiced. In fact, here you will find a museum and a small monument dedicated to this profession.
However, the Red Light District is more than sex shops and erotic shows. The neighbourhood has a good number of picturesque bars for all kinds of audiences.
Although it is an area that is usually related to decadence, the Red Light District is a safe place where to stay in Amsterdam for nightlife, with many boutique hotels and guest houses.
In addition, this neighbourhood has one of the best locations in the city and very good transport connections.
Hand-picked Hotels in This Area
---
5. Westerpark – For festivals and drinks
The Westerpark area is west of Amsterdam's canals and revolves around the park of the same name, which contains picnic areas and a zoo.
One of the main attractions in this area is Westergasfabriek, an old gas factory that has been converted into a cultural centre that houses Gashuder, an important concert hall where festivals are held.
This area, although it is more quiet, has hipster bars that are also cheaper than those in the tourist neighbourhoods.
This is a good area to stay in Amsterdam for nightlife if you are travelling on a budget. +
Similarly, it is possible to move to the rest of the city through trams.
Hand-picked Hotels in This Area
---
6. City Centre – For the Perfect Location
Although the Central District encompasses several of the areas that we have named above, it deserves a mention among the best neighbourhoods to stay in Amsterdam for nightlife for having places like Jordaan and Nieuwmarkt, where bars and coffee shops abound .
This area and its beautiful canals star in most of the photographs that are made of the city.
Also, in the centre of Amsterdam is the most important train station in the city, with connections to other neighbourhoods and cities like Rotterdam that also have a very dynamic nightlife.
Hand-picked Hotels in This Area
---
Read this post in other languages: