Rome's National Gallery of Modern and Contemporary Art is a cultural landmark that showcases an impressive collection of artworks spanning various artistic movements and styles. This renowned gallery has a rich history, fascinating architecture, and diverse exhibitions. In this article, we will delve into the captivating story behind the museum's establishment, explore its key features, highlight noteworthy artworks and artists, and provide insights into the visitor experience and facilities. Whether you are a seasoned art lover or simply curious about Rome's art scene, this blog post will offer a comprehensive guide to exploring the National Gallery of Modern and Contemporary Art.
---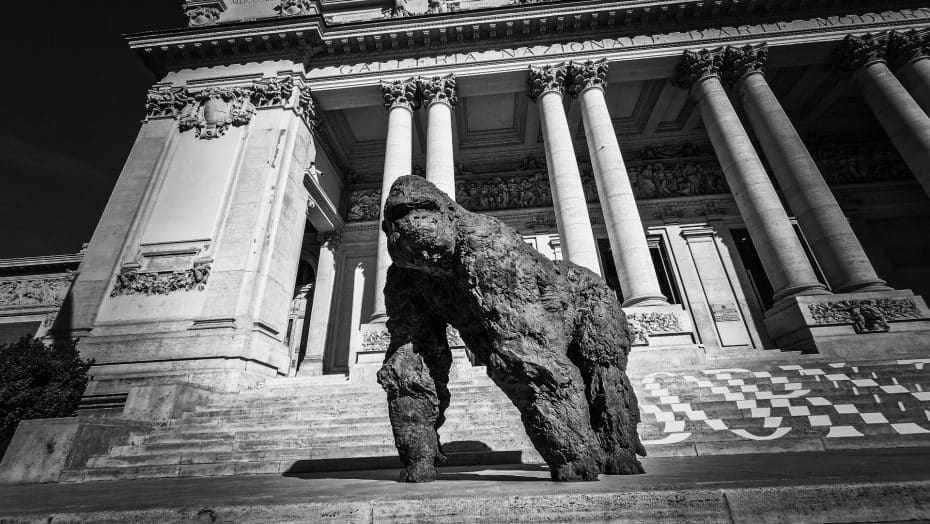 The National Gallery of Modern and Contemporary Art (Italian: Galleria Nazionale d'Arte Moderna e Contemporanea), also known as GNAM, is an art gallery in Rome, Italy. Established in 1883 by the decree of the Minister of Public Education, Francesco de Sanctis, it is dedicated to showcasing modern and contemporary art.
The museum's early collection focused on works by Italian artists from the 19th and 20th centuries. Over time, the GNAM has expanded its focus to include international artists. The gallery now holds over 5,000 paintings, sculptures, and more than 20,000 drawings, prints, and photographs. Notable works include Giacomo Balla, Amedeo Modigliani, Giorgio de Chirico, and Umberto Boccioni pieces.
In 1911, the museum moved to its current location inside the Villa Borghese Park. The main building was designed by Cesare Bazzani, author, among other things, of the Ministry of Public Education building and the Fatebenefratelli Hospital. It has a neoclassical style and was inaugurated in 1915. In addition to the main exhibition spaces, the gallery also features a library with over 80,000 volumes of art history and criticism.
Throughout its history, GNAM has hosted many significant exhibitions showcasing Italian and international artists. In recent years, it has continued to update its collection by acquiring contemporary works by prominent artists such as Anish Kapoor, Antony Gormley, and Vanessa Beecroft.
---
GNAM: The Collection
Collection highlights of Rome's National Gallery of Modern and Contemporary Art include works by famed Italian artists such as Giacomo Balla, Umberto Boccioni, Amedeo Modigliani, and Giorgio de Chirico. The museum also showcases international artists like Vincent van Gogh, Jackson Pollock, and Pablo Picasso.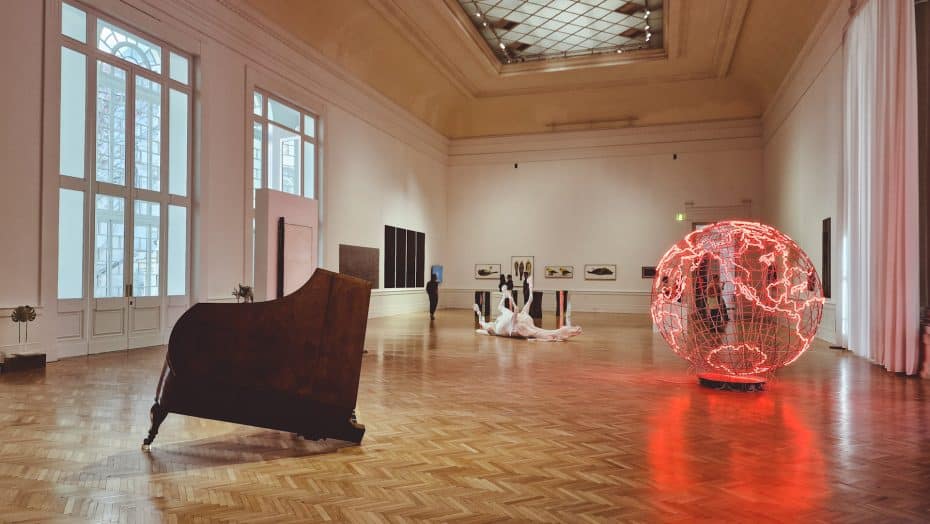 Giacomo Balla's paintings highlight Futurism, a style that originated in Italy in the early 20th century. His work "Dynamism of a Dog on a Leash" (1912) focuses on movement and speed. Similarly, Umberto Boccioni's famous piece "Unique Forms of Continuity in Space" (1913) is a bronze sculpture showcasing the essence of Futurism with its sense of movement and dynamics.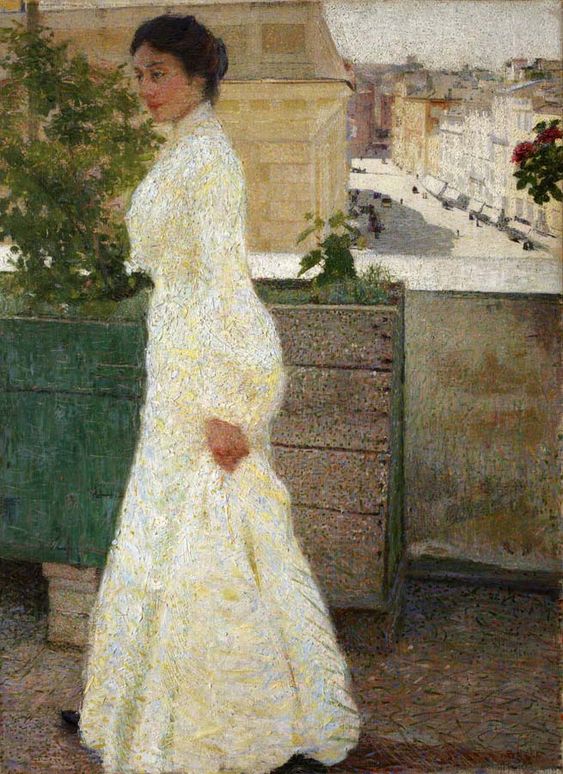 Elongated figures and masks reminiscent of African art characterize Amedeo Modigliani's paintings. His masterpiece "Seated Nude" (1917) is an exquisite example of his signature style.
Giorgio de Chirico's metaphysical works evoke mysterious cityscapes and uncanny scenes. One notable piece at the museum is "The Disquieting Muses" (1916), later famously reinterpreted by Surrealist artist Salvador Dalí.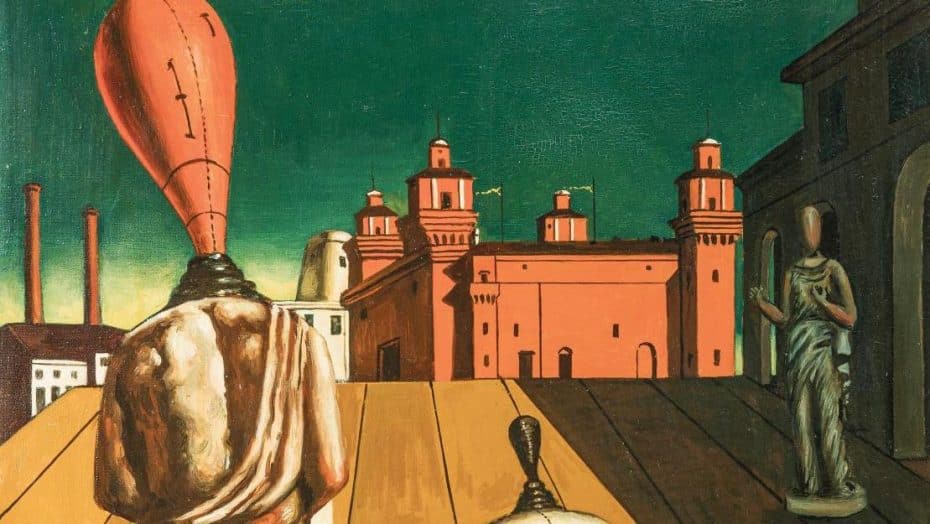 The museum also houses Vincent van Gogh's painting "Wheat Field with Cypresses" (1889), which represents the artist's fascination with nature and his use of vivid colors. Other international artists include Jackson Pollock with his action painting "Number 8, 1949", exemplifying abstract expressionism, and Pablo Picasso's "Homme au mouton, Vallauris" (1943), showcasing his versatile style and reflection on war.
---
---
National Gallery of Modern and Contemporary Art: An iconic building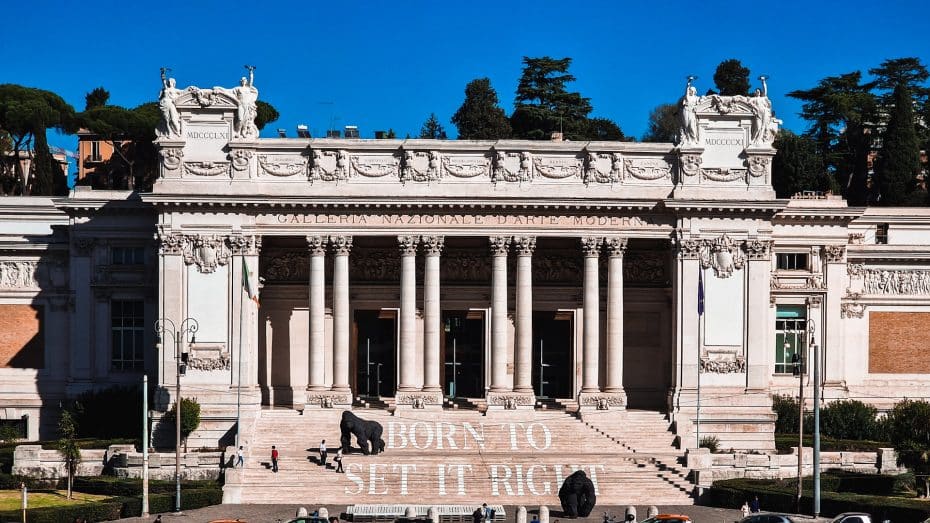 The building, located at Viale delle Belle Arti, is near Villa Borghese. The architecture boasts a notable design by Cesare Bazzani, an Italian architect. Bazzani's draft was chosen as the winning project in a competition held in 1910.
Construction began in 1911 under Bazzani's supervision and was completed in 1915. The structure covers an area of approximately 9,600 square meters. GNAM's façade features elements of neoclassical architectural style, and its symmetrical composition is characterized by including a central dome flanked by two lateral wings.
In 1933, the structure underwent expansion based on designs by architect Luigi Maria Cosenza. Incorporating Cosenza's work added two additional floors to each wing and increased museum space.
One notable element of GNAM's architecture is the staircase, extending from the entrance hall to the mezzanine floor. This staircase is adorned with marble and bronze detailing that reflects traditional Roman craftsmanship.
In recent years, GNAM has undergone further renovations to enhance its accessibility for visitors with disabilities. These modifications to the building's original architecture were overseen by architects Franco Tagliabue and Tommaso Valle in collaboration with regulatory agencies for preservation.
---
Tips for visiting the Galleria Nazionale d'Arte Moderna e Contemporanea
1. Location: The Galleria Nazionale d'Arte Moderna e Contemporanea is situated at Viale delle Belle Arti, 131, 00197 Roma RM, Italy.
2. Transportation: Visitors can reach the Galleria Nazionale d'Arte Moderna e Contemporanea by taking public transit; Rome Metro Line A has a nearby stop at "Flaminio." Additionally, multiple bus lines service the museum.
3. Opening hours: The gallery is typically open Tuesday to Sunday from 8:30 am to 7:30 pm; it remains closed on Mondays.
7. Entry fee: Standard admission costs €10.00; reduced rates are available for eligible parties such as seniors and students.
8. Facilities: Services include guided tours, audio guides available in multiple languages, an educational department for events and workshops, as well as an onsite bookstore and café.
9. Website: lagallerianazionale.com.
---
---