Lanzarote, the northernmost and easternmost of the Canary Islands, is a destination with otherworldly landscapes, beaches, and a rich culture and history. As you plan your journey to this fascinating island, you'll need to gather some essential information to make the most of your visit. In this post, we'll cover ten key aspects every traveler should know before a first trip to Lanzarote. From the island's unique geological features to its local cuisine and exciting local events, we got you covered! With this knowledge, you'll be well-equipped to experience everything Lanzarote offers and create unforgettable memories.
---
10 Things to Know Before Your First Trip to Lanzarote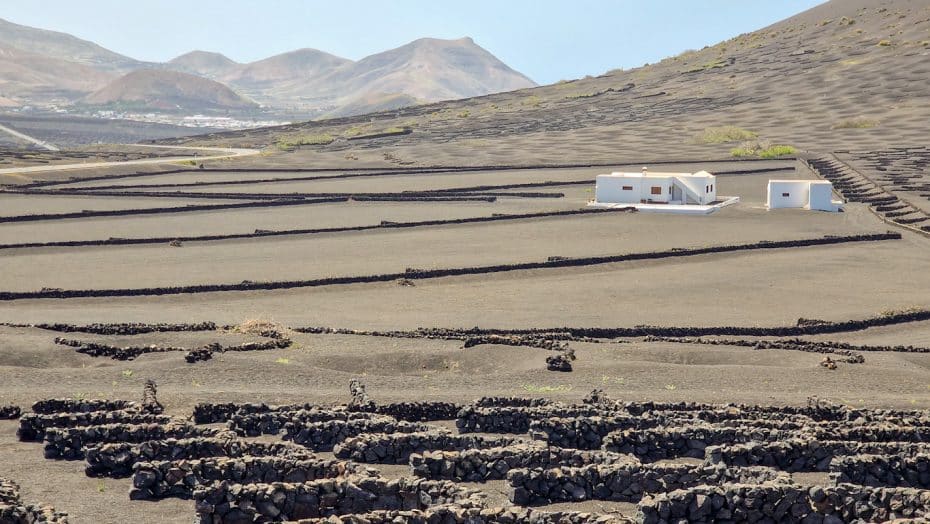 1. Brief History and Location of Lanzarote
Lanzarote is an island of the Canary Islands, an archipelago in the Atlantic Ocean. The Canary Islands are part of Spain, though they are off the coast of northwestern Africa. Volcanic activity formed this island over 15 million years ago.
In 1730, a series of volcanic eruptions began, lasting until 1736. These eruptions covered a quarter of Lanzarote's surface with lava and ash, all while shaping its landscape. Today, about a third of Lanzarote is protected land, making up the Timanfaya National Park. In the park, you can observe many volcanic features.
The first known European exploration of Lanzarote happened in 1312 when Italian navigator Lancelotto Malocello arrived on the island. The name "Lanzarote" comes from Lancelotto's name. In the early 15th century, Spanish explorers conquered the island, led by Jean de Béthencourt and Gadifer de la Salle.
But the island we know today has undergone several transformations, though its natural beauty remains intact.
César Manrique, a prominent architect, and artist born in Lanzarote in 1919, significantly influenced the island's development. Manrique encouraged sustainable tourism practices. The architect played a pivotal role in preventing the creation of large-scale tourist hotels on the island. You'll witness Manrique's influence on the island during your first trip to Lanzarote.
---
2. How to Get to Lanzarote
You can get to Lanzarote by air and sea. The most common method is flying into César Manrique-Lanzarote Airport, also known as Arrecife Airport, the island's main entry. Located five kilometers south of Arrecife, the island's capital, the airport operates flights from major European cities. Thus, you can fly to Lanzarote from London, Madrid, Barcelona, and Berlin, to name only a few cities.
Airlines like Iberia, AirEuropa, Qatar Airways, and British Airways regularly fly to Lanzarote. Flight duration varies depending on the departure city, with direct flights from London taking approximately 4 hours and 25 minutes. Meanwhile, flying from Madrid to Lanzarote takes roughly 2 hours and 45 minutes.
You can book a transfer from the César Manrique-Lanzarote Airport to your hotel to spend less time waiting or in a bus.
On the other hand, you can also get to Lanzarote by sea. Ferries operated by companies such as Fred. Olsen Express and Naviera Armas connect Lanzarote to other Canary Islands like Gran Canaria and Fuerteventura. These ferry services typically depart from ports like Las Palmas de Gran Canaria and Santa Cruz de Tenerife.
Note: It is always a good idea to get travel insurance before your trip.
---
---
3. When to Travel to Lanzarote
The best time to travel to Lanzarote depends on flight costs, tourist influx, and weather conditions. Before your first trip to Lanzarote, consider the following:
Flight costs to Lanzarote tend to be more affordable during the off-peak season, usually from November to March. Also, booking flights in advance might contribute to further cost savings.
Tourist influx generally follows annual patterns, with low seasons and peak seasons. The low seasons usually occur in January and February, considered the coldest months in Lanzarote. On the other hand, the high season is from June to September, when tourists flock to Lanzarote due to school vacations and pleasant weather. Visiting during the "shoulder seasons"—April-May or October-November—might offer an ideal balance between fewer crowds and the best weather.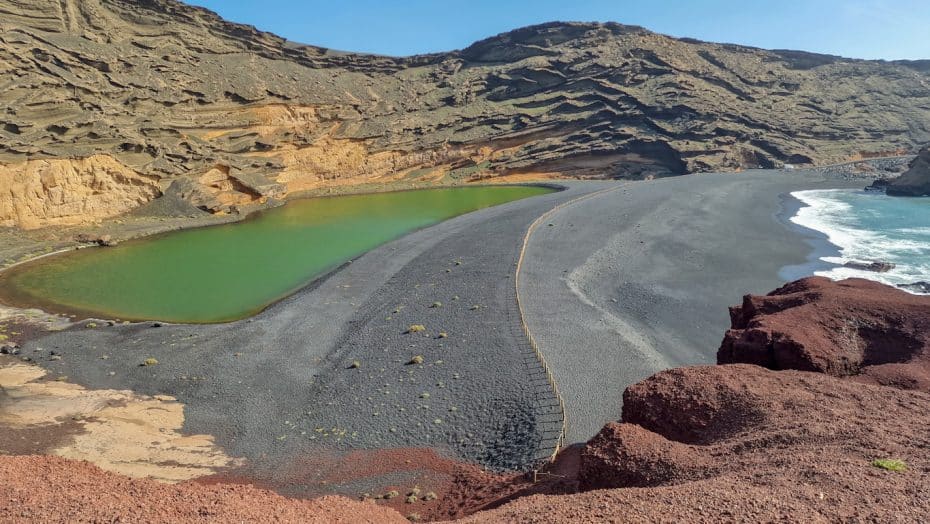 The climate in Lanzarote is predominantly subtropical, with average temperatures of 22 °C (71.6 °F) throughout the year. The warmest months are from July to September, with temperatures between 24 °C (75 °F) and 29 °C (84 °F). Meanwhile, the coldest months are from December through February, with temperatures between 14 °C (57 °F) and 20 °C (68 °F). Precipitation levels are at their lowest between April and September, making these months great for outdoor activities.
---
4. How to Move Around Lanzarote
The transportation system in Lanzarote includes buses, taxis, and rental cars.
Public transportation on Lanzarote is primarily serviced by Arrecife Bus, also known as IntercityBus Lanzarote. The company operates multiple lines connecting places like Arrecife, Puerto del Carmen, a popular tourist destination, and other towns. Línea 3 offers service between Arrecife and the airport at scheduled times throughout the day. Timetables and ticket prices for these routes can be obtained on the company's website or at any bus station.
There are also several rental car companies working in Lanzarote. These companies have locations near the airport and within larger towns on the island for convenient pick-up and drop-off services.
Alternatively, travelers seeking environmentally friendly transport may consider renting a bicycle in Lanzarote. The island has cycling lanes accessible from numerous points to cycle safely while exploring Lanzarote's scenic landscapes. The Council of Lanzarote has adopted a Sustainable Mobility Plan to promote environmentally conscious travel further.
---
5. Where to Stay in Lanzarote
There are several different regions in Lanzarote, each one with its unique charm.
In the southern region, Playa Blanca offers picturesque beaches and a laidback atmosphere, perfect for a first trip to Lanzarote. Tops hotels in the area include the Iberostar Selection Lanzarote Park and the Gran Castillo Tagoro Family & Fun Playa Blanca.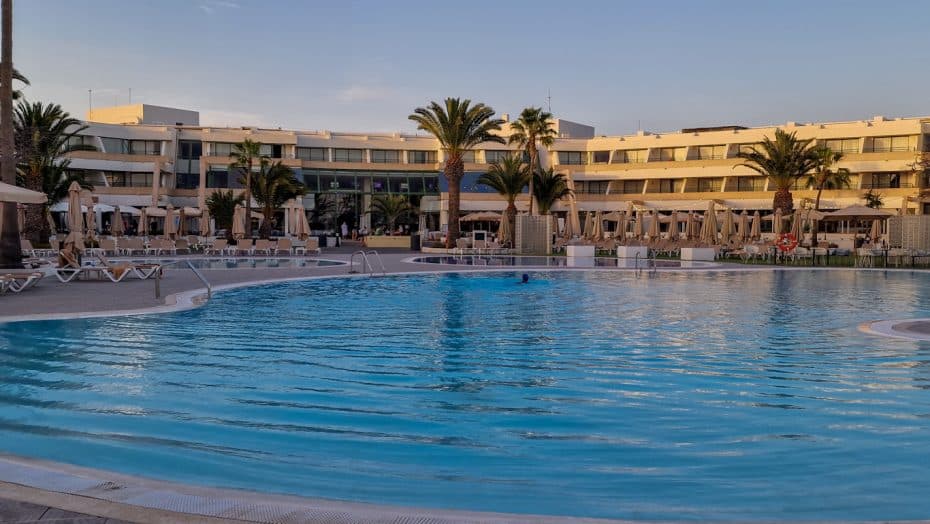 In contrast, Puerto del Carmen serves as a nightlife hub on the island. This area stands out for its bars and clubs, attracting tourists and locals equally. Hotel Lava Beach is one of the best hotels in Puerto del Carmen, Lanzarote.
Read our accommodation guide for more info on where to stay in Lanzarote.
---
6. Must-See Places in Lanzarote
There are many things to do, places to visit, and attractions to see in Lanzarote. However, here's what we consider you shouldn't miss on your first trip to Lanzarote:
Timanfaya National Park: Established in 1974, the park covers 51 square kilometers and features the Montañas del Fuego (Fire Mountains). These mountains were formed during volcanic eruptions from 1730 to 1736. The park is a prime example of a volcanic landscape, with sparse vegetation and minimal human intervention.
Cueva de los Verdes: A 7-kilometer-long lava tube created approximately 3,000 years ago by the eruption of La Corona volcano. This cave complex is one of the longest volcanic tunnels in the world. Throughout history, the cave has been a shelter for locals. César Manrique made an environmentally respectful intervention in Cueva de los Verdes. Thus, you can even hear music while visiting this must-see Lanzarote attraction.
Jameos del Agua: Jameos del Agua is a cultural center in a volcanic tunnel, like Cueva de los Verdes. Jameos del Agua features an underground lake, an auditorium, and various exhibition areas showcasing local art and history. Opened to the public in 1966, it highlights César Manrique's sustainable design principles and respect for natural surroundings.
Mirador del Río: Another of César Manrique's architectural creations, this viewpoint offers panoramic views of the island La Graciosa, north of Lanzarote. Mirador del Río opened in 1974.
Jardín de Cactus: A botanical garden consisting of over 1,400 cactus species from around the world. Jardin de Cactus' design also came César Manrique. This garden opened in 1990.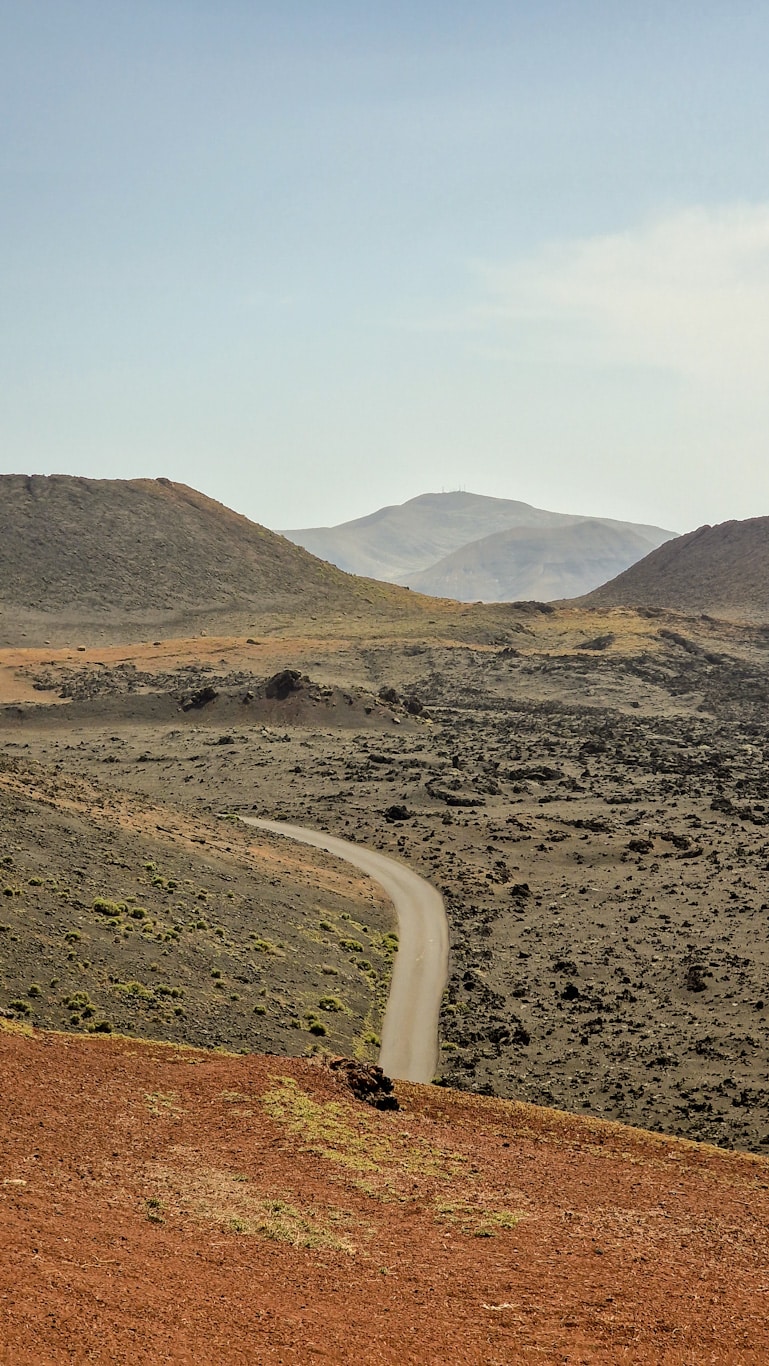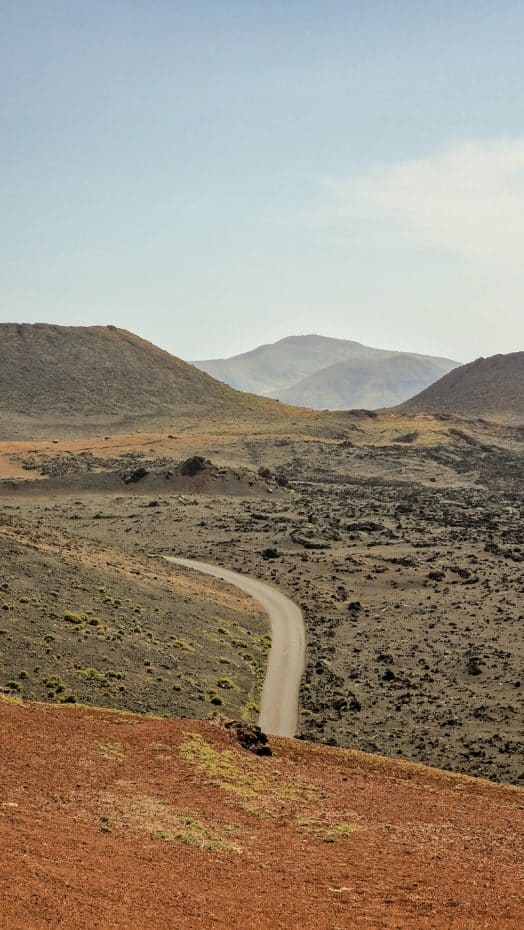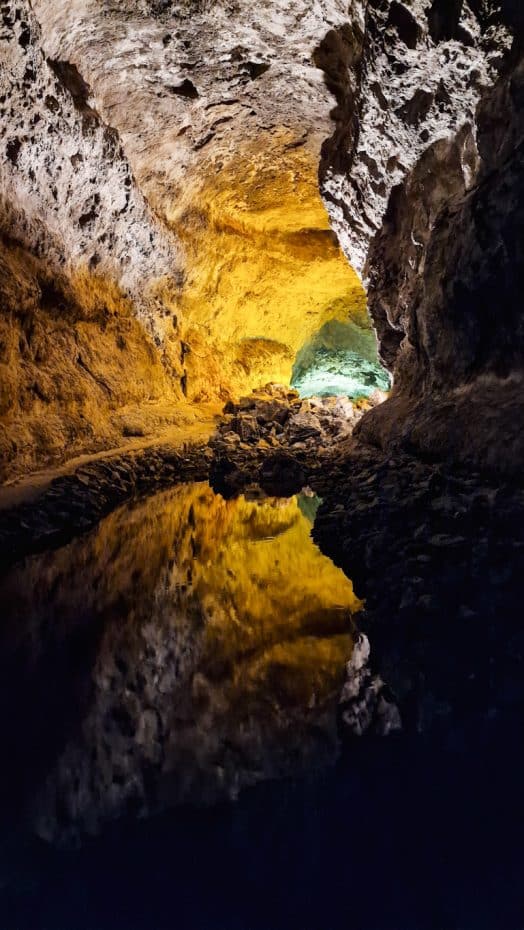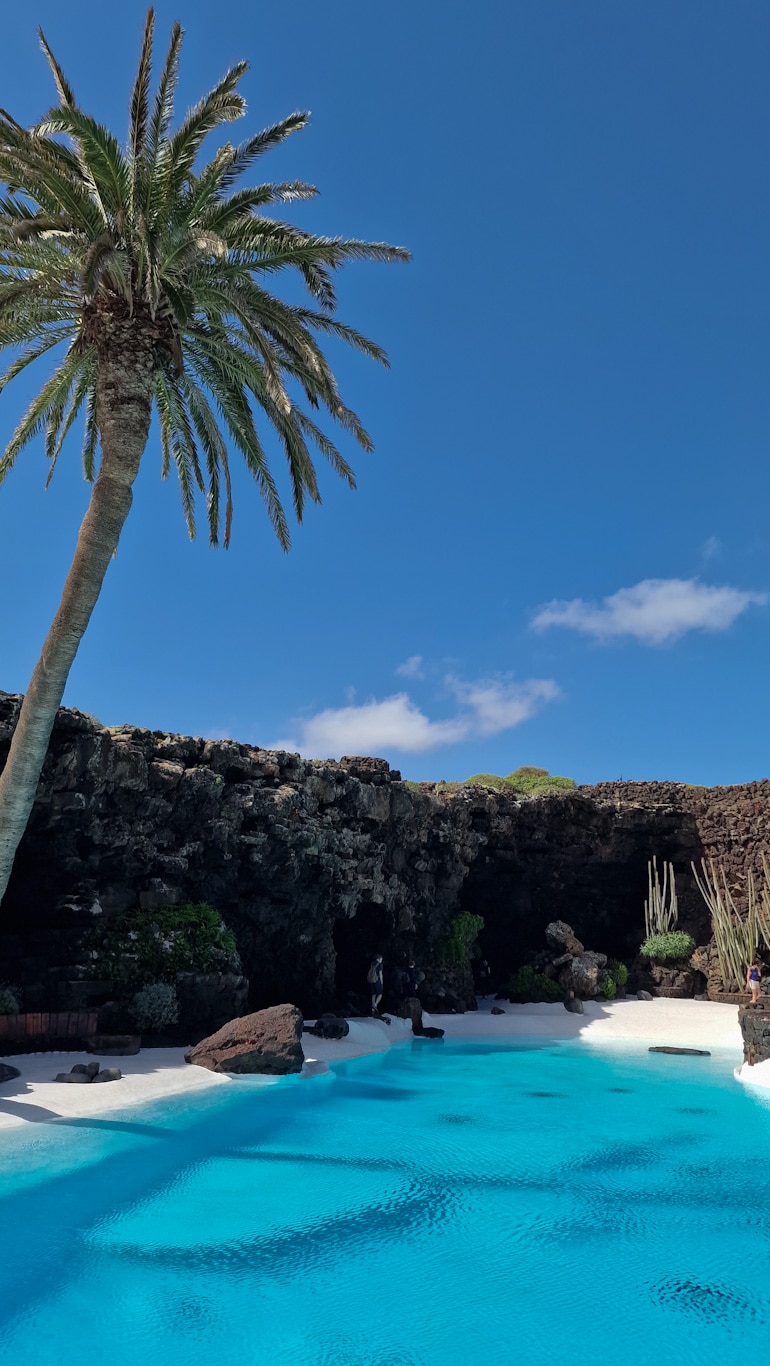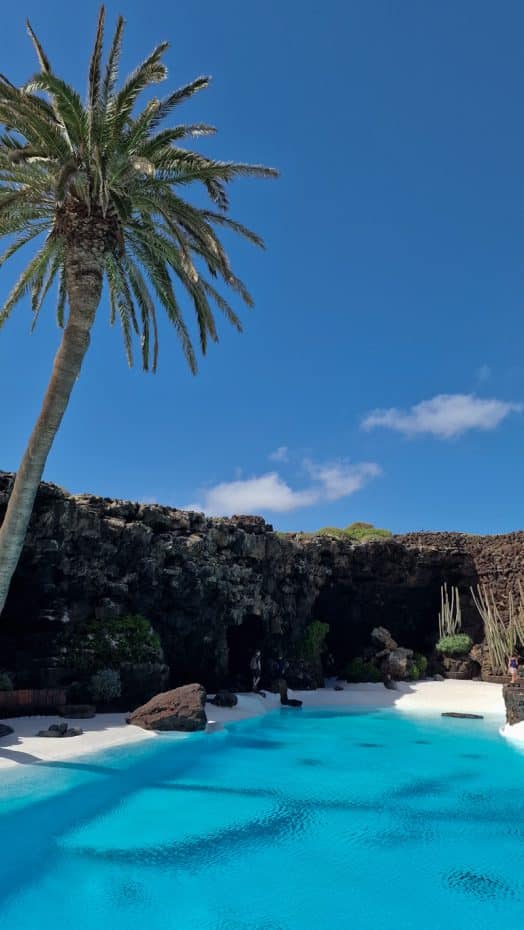 ---
7. What to Eat in Lanzarote and Where
Lanzarote's cuisine incorporates ingredients and recipes from the region. The island's gastronomy includes seafood dishes, traditional Spanish tapas, and Canarian specialties.
One notable dish is Papas Arrugadas con Mojo, made of small potatoes boiled in salt water and served with a choice of two sauces: Mojo Rojo (red) or Mojo Verde (green). Sancocho Canario, a fish stew typically featuring Cherne or similar white fish, is another popular dish. This dish is one you should try during your first trip to Lanzarote.
Other frequently consumed dishes in Lanzarote include Gofio, Almogrote, Bienmesabe, and Potaje de Berros.
Gofio is roasted cornmeal or wheat flour. This type of flour is often used in traditional bread-making or added to soups.
Almogrote is a cheese spread of hardened goat cheese from La Gomera blended with spices. Meanwhile, Bienmesabe is an almond-based dessert, and Potaje de Berros is a watercress soup from the northwestern Canary Islands.
When it comes to where to eat in Lanzarote, these restaurants have the best authentic local cuisine:
El Risco: This family-run restaurant is in the coastal village of Famara, Teguise. The restaurant's specialty is traditional Lanzarote and Spanish dishes, with highlights such as Almogrote and seafood paella.
Restaurante Sol y Luna: Located in Punta Mujeres, this restaurant focuses on Spanish cuisine with solid Canarian influences. Many people keep coming to the restaurant because of the extensive selection of wines from Lanzarote vineyards.
---
8. Where to Shop in Lanzarote: Souvenirs and Clothing
The island's main shopping areas are in the capital city, Arrecife. That said, the tourist hubs of Costa Teguise, Playa Blanca, and Puerto del Carmen also have many shops.
Calle Real, a street in Arrecife, has many shops offering Lanzarote-themed souvenirs and local and branded clothing items. There are also some small shopping centers in Arrecife.
Costa Teguise hosts the Pueblo Marinero Market every Tuesday and Friday evening (from 17:00 to 23:00). You can get handmade crafts, jewellery, clothes, and souvenirs from local artisans in this market.
Puerto del Carmen the Biosfera Plaza Shopping Centre, with several noteworthy fashion retailers and Lanzarote-specific memorabilia shops.
The Teguise Market, held every Sunday, is worth exploring too, for a more authentic shopping experience.
---
9. Best Beaches in Lanzarote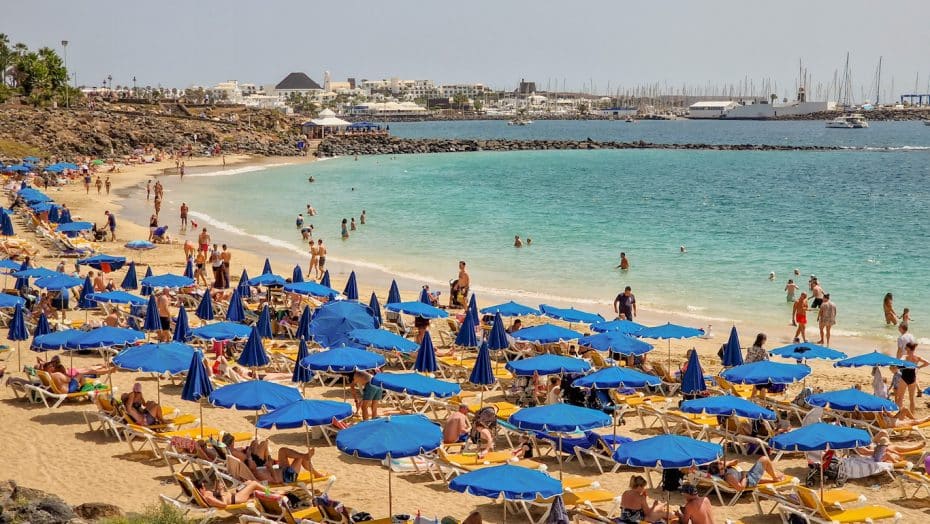 Top beaches in Lanzarote include Papagayo, Famara, Orzola, and Playa Chica.
Papagayo Beach is in the southernmost part of the island. Known for its clear waters and golden sand, it has become a popular spot for swimming and snorkeling. A network of small coves comprises this pristine beach, part of the Los Ajaches Natural Park.
On the northwestern coast lies Famara Beach, an expansive stretch of sand known for its strong winds and powerful waves. Famara is a prime location for water sports enthusiasts, especially surfers. However, swimming at this beach is typically not advisable due to strong currents and rough waters.
In contrast, Orzola Beach is on the northeastern side of Lanzarote and offers calmer waters suitable for swimming. This beach features white sand and clear blue waters created by its proximity to La Graciosa Island. While less populated than other beaches on the island, Orzola maintains a peaceful, relaxing atmosphere.
Playa Chica is in the eastern area of Lanzarote, near Puerto del Carmen's center, and is popular among scuba divers and snorkelers. This small bay has diverse marine life that many vistors get to see first-hand. Also, volcanic rocks protect this beach from strong currents on either side, providing an ideal environment for underwater exploration.
---
10. Best Festivals and Events in Lanzarote
Lanzarote has many exciting festivals and events throughout the year. One of the most significant events is the Carnaval of Arrecife, held in February. This celebration features colorful parades, elaborate costumes, and energetic music, resembling the world-famous carnivals of Rio de Janeiro and Venice. It is a highlight for both children and adults, with a vibrant atmosphere that is truly captivating.
For those interested in arts and culture, the island hosts the International Film Festival of Lanzarote every year in November. This renowned event showcases a selection of international films, providing a platform for talented filmmakers to display their works. Film enthusiasts can attend screenings, workshops, and discussions, making it a must-visit event for cinema lovers.
Additionally, the island is home to various gastronomic festivals that celebrate local ingredients and traditional cuisine. One such festival is the Fiesta de la Almendra, dedicated to the island's almond harvest. Held in the village of Teguise, this festival showcases a range of almond-based dishes and treats.
These are just a few examples of the many festivals and events you could attend during your first trip to Lanzarote. Whether you're interested in artistic expression, or gastronomic delights, Lanzarote offers a wide range of experiences to suit everyone's interests.
---
Share on Pinterest
---