Spain's rich history is rooted in its diverse blend of cultures, and one of the most prominent remnants of these times gone by are the numerous castles that dot the landscape. Having served as formidable fortresses in times of conflict, they embody centuries of architectural prowess and Spain's royal and military past. In this article, we will unveil the top 10 Spanish castle hotels that offer luxurious accommodations and a glimpse into a bygone era of knights and fanfare.
---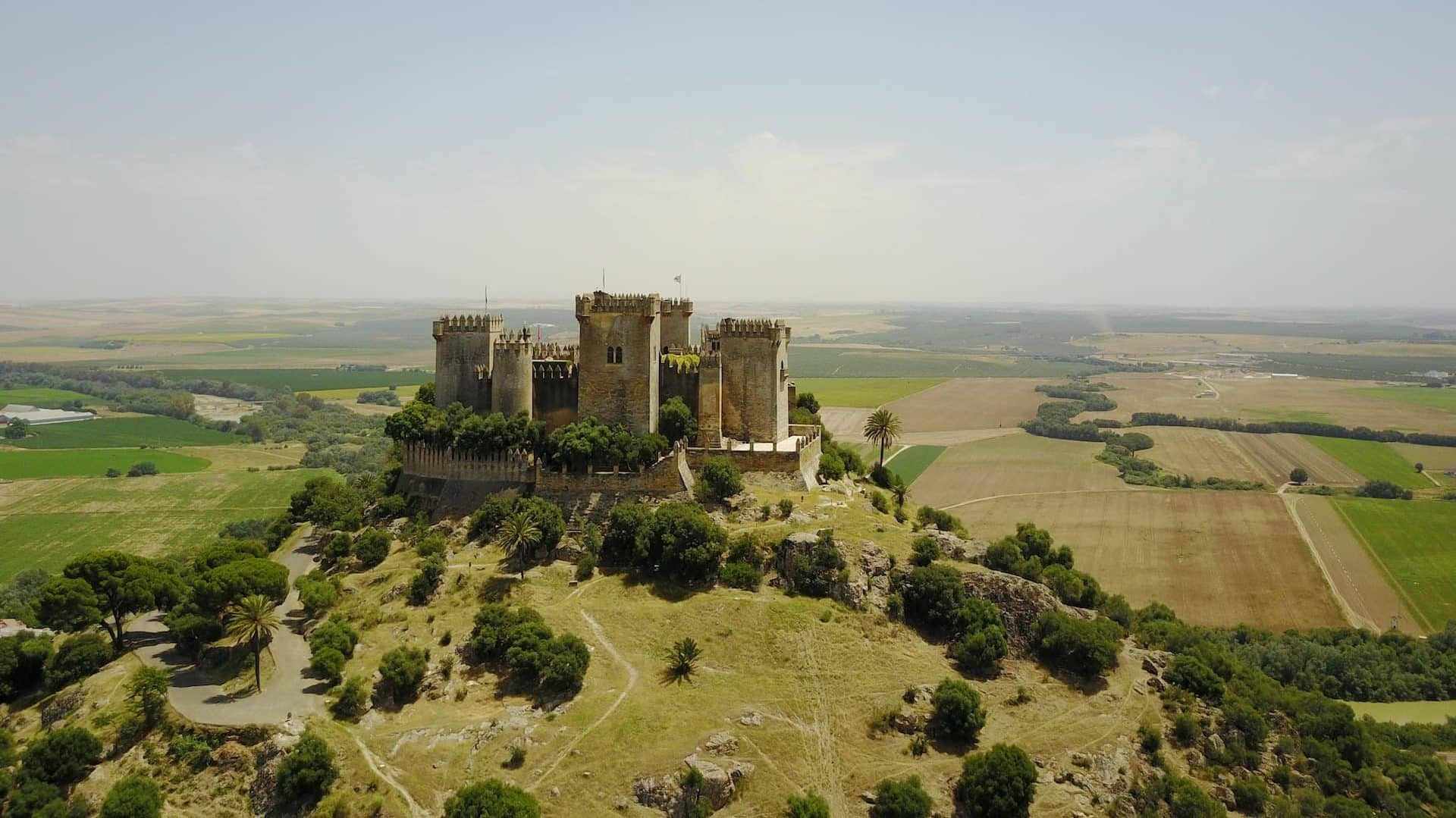 Over time, many of these historic strongholds have found new life as hotels, thanks to the collaborative efforts between the Spanish government, local authorities, and private investors. A notable example is the Paradores hotel brand, which was founded in 1928 with a mission to preserve and promote Spain's cultural heritage while providing luxurious accommodations.
Transforming these medieval edifices into hotels presented unique challenges but resulted in exceptional getaways for travelers. Expect a variety of amenities, ranging from fine dining restaurants to relaxing spas – all designed to complement the historic surroundings. While each castle-turned-hotel boasts unique qualities, guests can anticipate a range of star ratings to match their preferences and desired level of luxury.
Embarking on a journey through Spain's history is now more accessible than ever, as you have the opportunity to rest within the royal confines of its iconic castles-turned-hotels. Delve deeper into this article and discover our curated selection of the top 10 Spanish castles where you can indulge in an unforgettable stay.
---
The Top 10 Spanish Castles Turned into Hotels
1. Parador de Sigüenza
Pl. del Castillo, s/n, 19250 Sigüenza, Guadalajara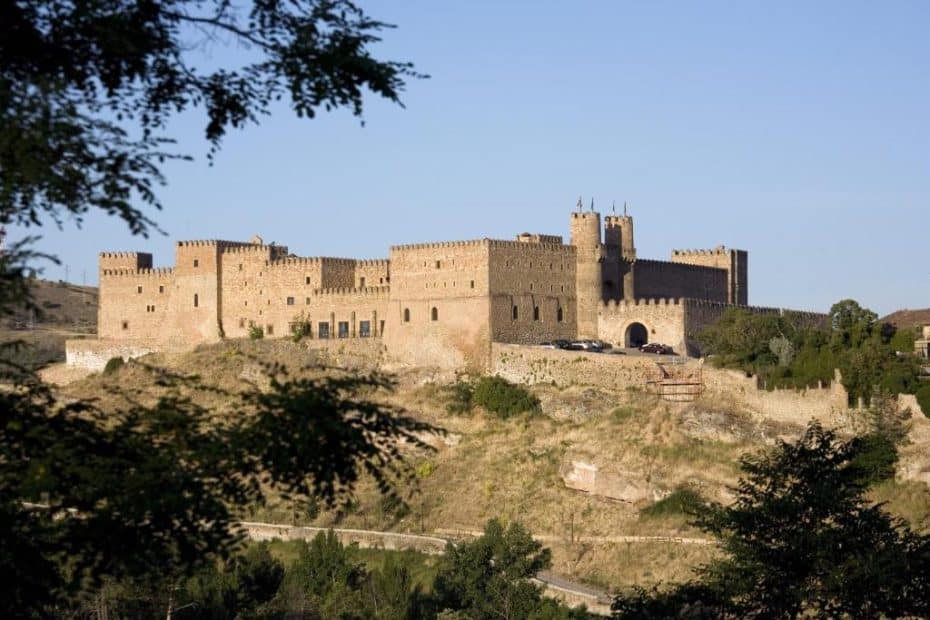 Nestled in the heart of the medieval town of Sigüenza, Parador de Sigüenza offers its guests a unique opportunity to experience Spanish history at its finest. Originally built as a fortress in the 12th century, it was later converted into a bishop's palace and eventually transformed into a luxurious hotel. From its awe-inspiring ancient architecture to its richly decorated rooms and suites, Parador de Sigüenza transports guests to a time of noble knights and grand banquets. The hotel is also renowned for its exquisite local cuisine.
---
2. Parador de Cardona
Castell de Cardona, s/n, 08261 Cardona, Barcelona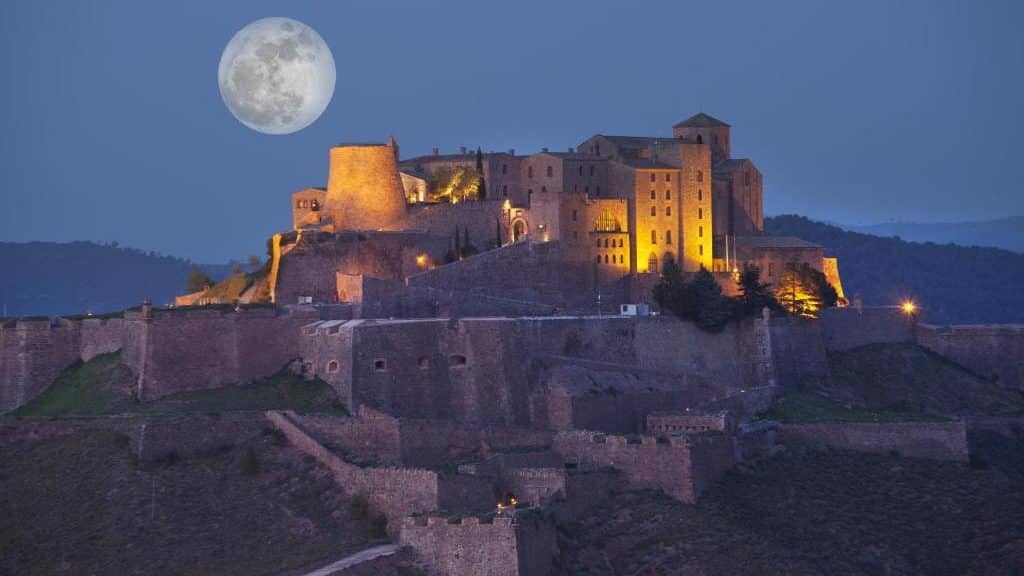 Parador de Cardona is a majestic castle hotel located in the town of Cardona, Spain. It was originally built in the 9th century and served as a strategic defense point throughout its history. Today, the hotel offers guests a unique and luxurious experience with beautifully renovated rooms that maintain their historical charm. The commanding views of the Cardona salt mines and surrounding countryside make it a must-visit destination for travelers seeking history with modern comforts.
---
3. Parador de Alarcón
Avda. Amigos de los Castillos 3, 16214, Cuenca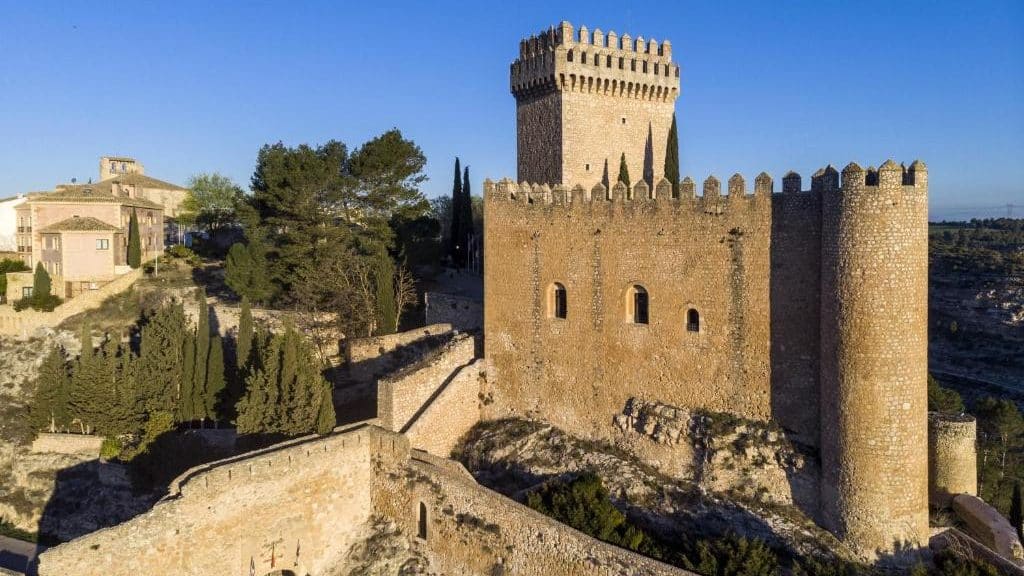 Nestled on a hillside overlooking the picturesque Júcar River, Parador de Alarcón is a stunning medieval castle-turned-hotel. Dating back to the 8th century, this historic fortress has been beautifully transformed into an intimate getaway destination. The fortress walls and ancient charm provide an enchanting atmosphere for guests to enjoy.
---
4. Castillo de Monda
C. Castillo, s/n, 29110 Monda, Málaga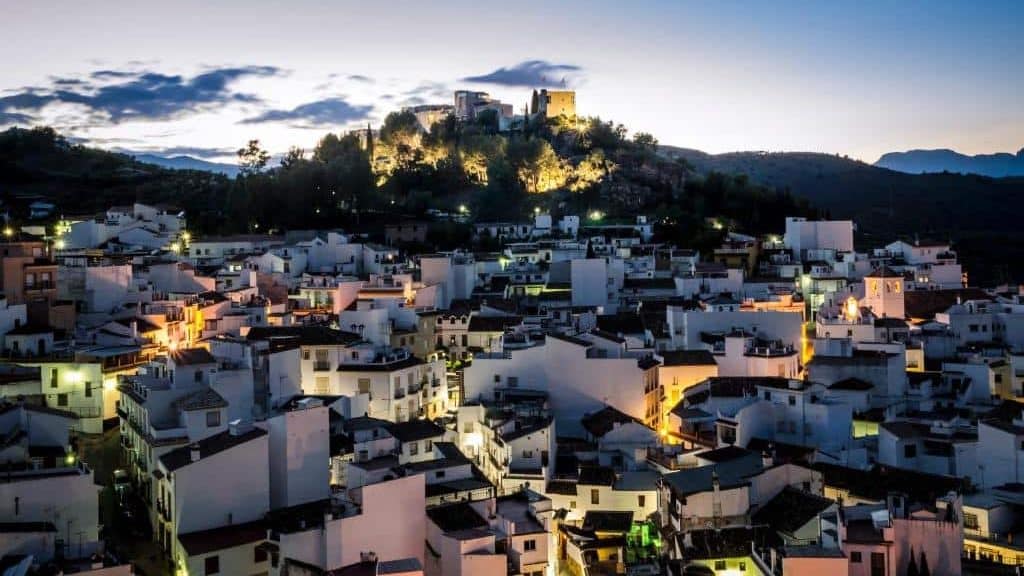 Located in the charming Andalusian village of Monda, Hotel Castillo de Monda is a beautifully restored castle hotel. With origins dating back to Roman times, it was subsequently occupied by Moors, Visigoths, and Christians before being turned into a luxury hotel. The hotel seamlessly combines luxury amenities with authentic historic features, offering guests a unique stay and breathtaking views of the surrounding countryside.
---
5. Parador de Oropesa
Pl. Palacio, 1, 45560 Oropesa, Toledo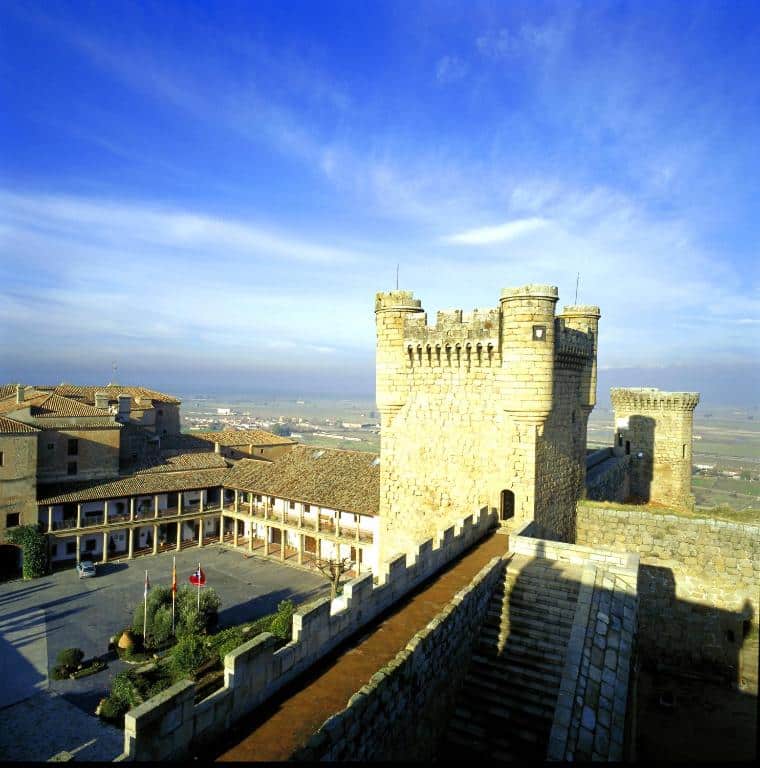 Parador de Oropesa is a magnificent Spanish castle hotel located in the historic town of Oropesa, Toledo. Originally built as a residence for the Counts of Oropesa, the castle has witnessed significant historical events since its construction in the 14th century. Today, it has been beautifully restored and transformed into a luxurious hotel, offering guests an immersive experience of Spain's rich history and culture. Nestled among picturesque landscapes, the Parador de Oropesa promises a unique stay with enchanting views.
---
6. Posada Real Castillo del Buen Amor
Ctra. N-630, Km.317,6, 37799 Topas, Salamanca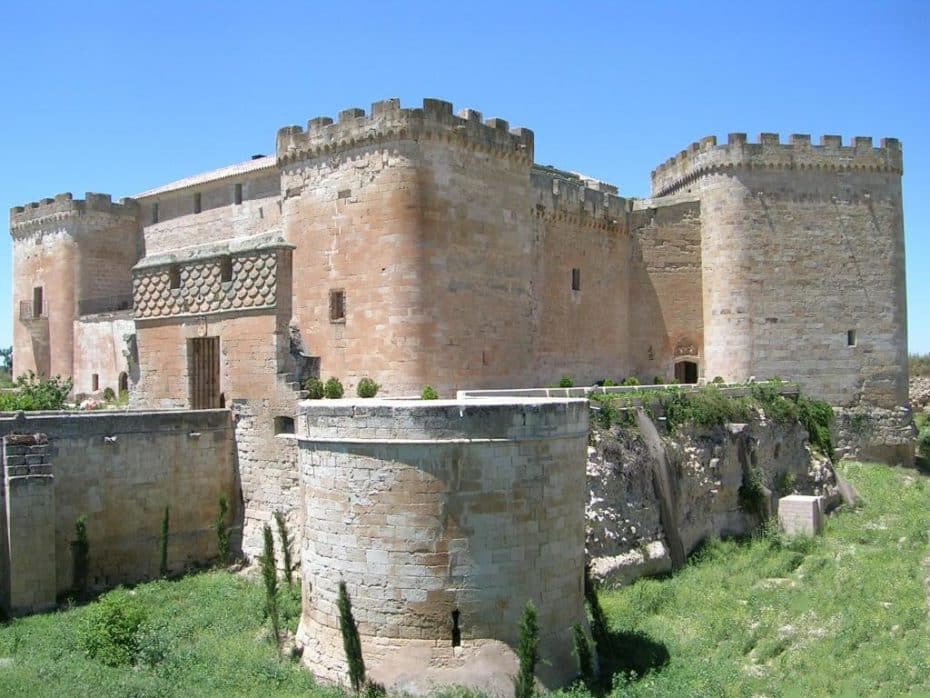 Set in the heart of Castilla y León, Posada Real Castillo del Buen Amor is a stunning 15th-century fortress-turned-hotel that offers an unforgettable historical experience. With its magnificent architecture and captivating history of love and intrigue, the castle is a testament to romance's enduring power. The hotel features original medieval aesthetics coupled with modern amenities. Surrounded by vineyards, ancient oaks, and remarkable gardens, Hotel Castillo del Buen Amor is an ideal Spanish castle getaway.
---
7. Hotel Castell d'Empordà
Castell d'Empordá, 3, 17115 La Bisbal d'Empordà, Girona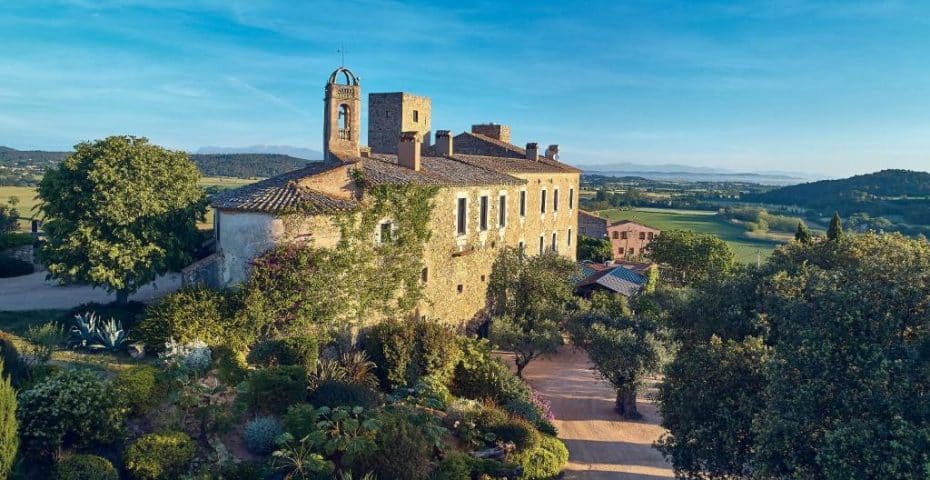 Castell d'Empordà is a stunning castle hotel located in the tranquil village of La Bisbal d'Empordà in Spain. This medieval fortress dates back to the 14th century and has been lovingly restored to its former glory. The castle boasts beautiful views of the surrounding countryside and features luxurious accommodations, including stylishly decorated rooms and suites. Guests can also enjoy the hotel's excellent amenities, such as a swimming pool, a spa, and a gourmet restaurant. Castell d'Empordà is not only a luxurious place to stay but also has a rich history, with ties to the Counts of Empordà and the Order of St. John.
---
8. Parador de Olite
Pl. Teobaldos, 2, 31390 Olite, Navarra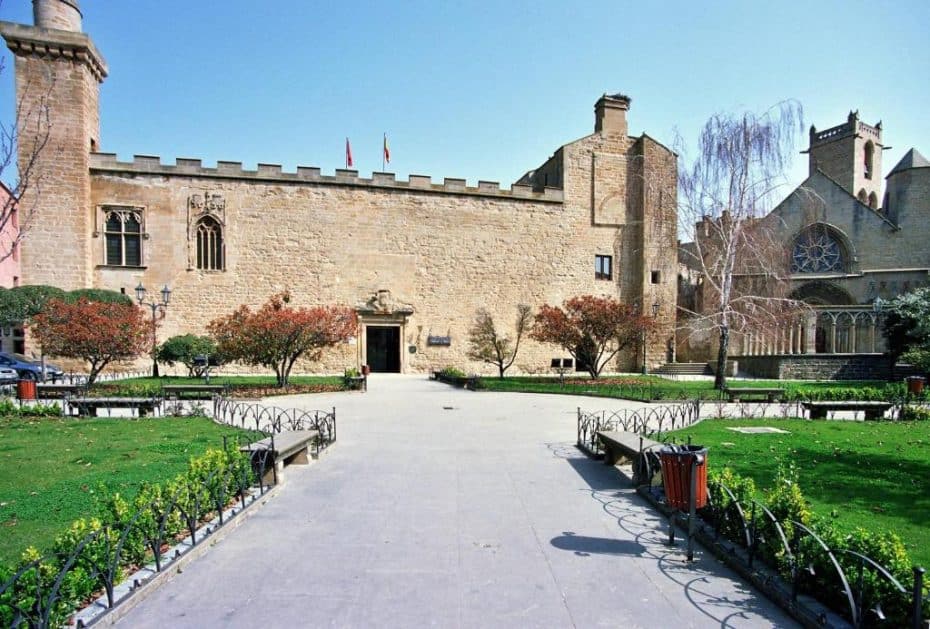 Standing tall within the charming medieval town of Olite in the Navarre region, Parador de Olite is a captivating castle hotel with rich historical significance. Once part of the majestic Royal Palace of Olite, which was built between the 13th and 14th centuries, the hotel has adequately preserved its regal character while integrating modern comforts for guests. Its location in the heart of the town offers an idyllic setting for visitors to explore surrounding historic sites and beautiful natural landscapes.
---
9. Parador de Hondarribia
Plaza de Armas, 14, 20280 Hondarribia, Gipuzkoa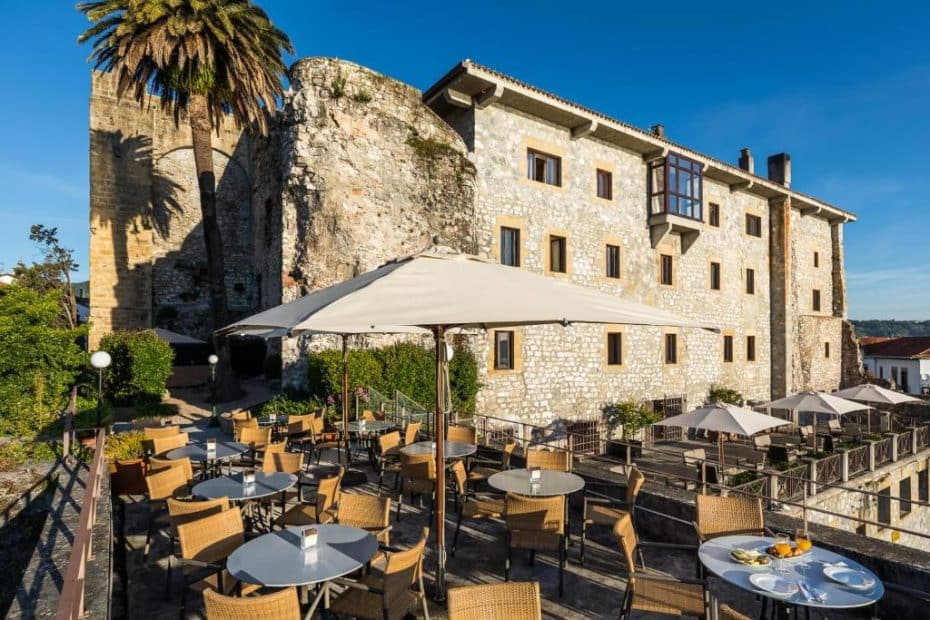 Overlooking the Bidasoa River estuary, Parador de Hondarribia is a stunning 10th-century fortress turned boutique hotel located in Spain's Basque Country. The castle's turbulent past can be felt through carefully preserved architectural features such as thick stone walls, narrow passageways, and watchtowers. Each room is uniquely designed to embrace the imposing atmosphere while maintaining a comfortable and luxurious experience for guests.
---
10. Hotel El Castillo de Los Locos
C. de Acacio Gutiérrez, 141, 39340 Suances, Cantabria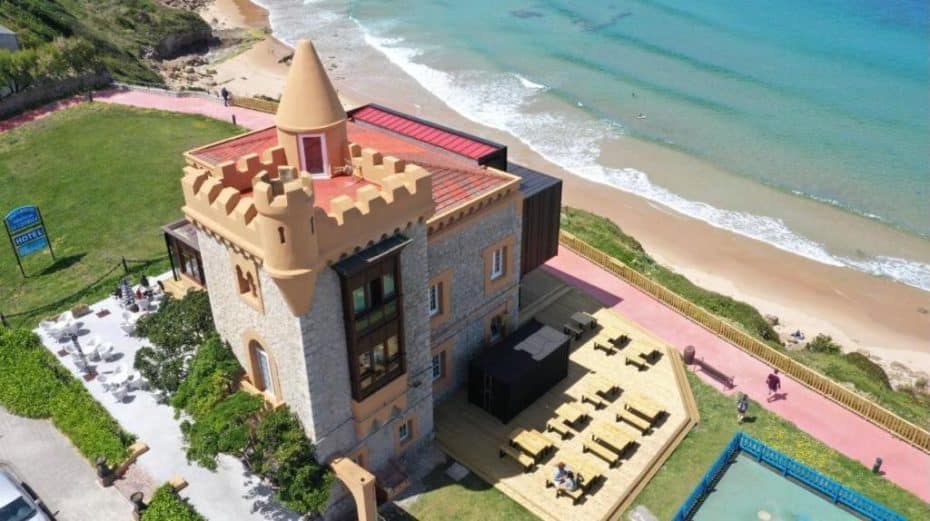 For a somewhat peculiar castle experience, head to Hotel El Castillo de Los Locos (Castle of the Insane), a charming castle hotel located in Cantabria, Spain. This unconventional castle was originally built as a sanatorium in the early 20th century and later converted into a hotel. It is known for its distinctive architecture and beautiful gardens. The hotel offers comfortable and spacious rooms, each uniquely decorated with a mix of modern amenities and rustic charm. Guests can relax by the outdoor pool, enjoy a meal at the hotel's restaurant, or explore the nearby beaches and natural landscapes. The Hotel El Castillo de Los Locos provides a peaceful and relaxing retreat for visitors seeking a unique castle hotel experience in northern Spain.
---
---
---